My Skinny Chicken Tikka tweaks one of the most loved Indian dishes to make it a lighter, without compromising on taste. Delicious cooked on the grill or BBQ, you can enjoy these year round.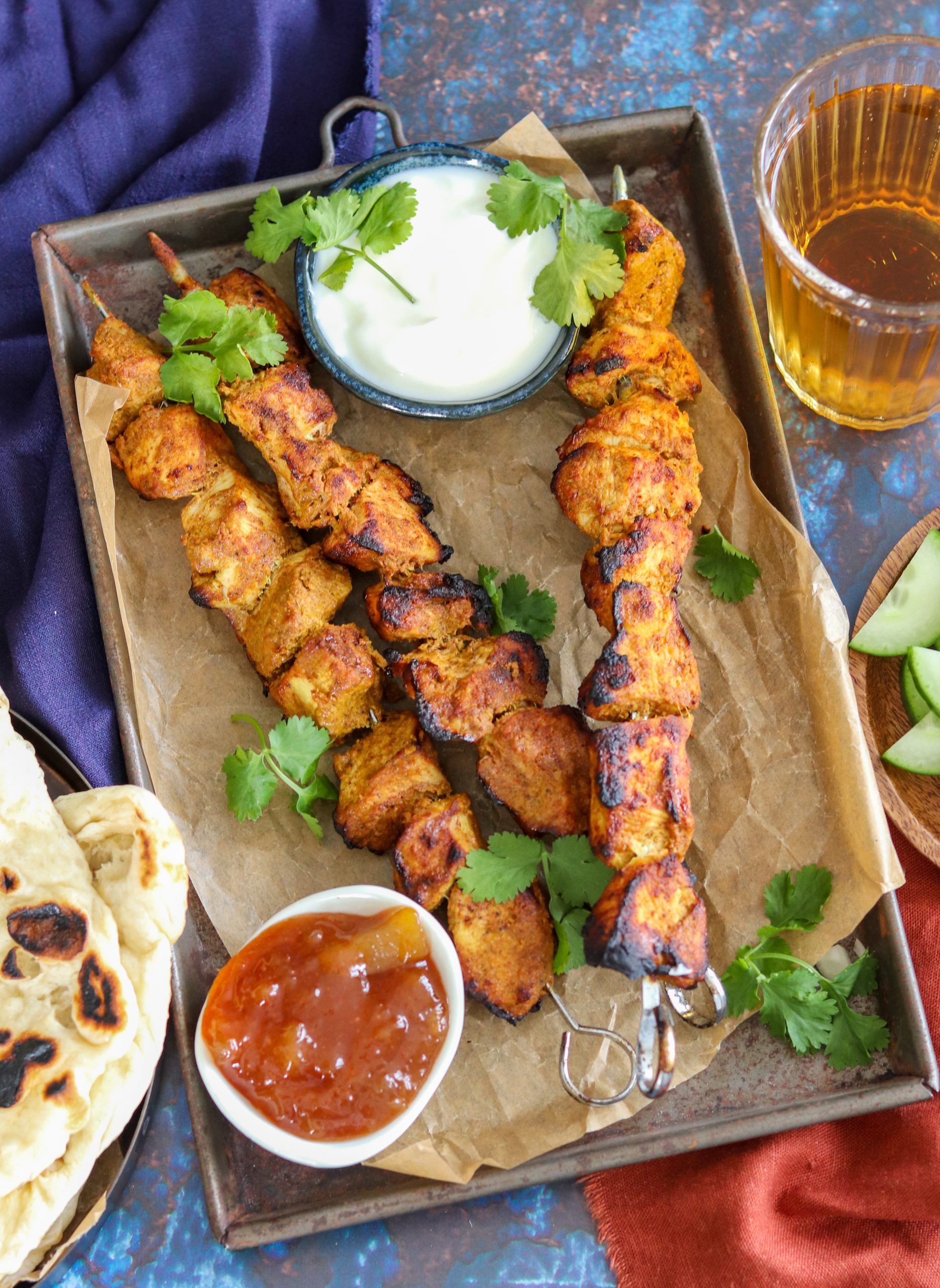 What is chicken tikka?
Chicken Tikka is a dish originating in the Indian subcontinent. It is popular in India, Pakistan and Bangladesh. It is small pieces of boneless chicken skewered and cooked at a high heat.
The chicken is marinated before being cooked in a mixture of spices and yogurt to make it more flavoursome. It is traditionally brushed with ghee (clarified butter) whilst cooking to enhance the flavours further.
Chicken Tikka shouldn't be confused with Chicken Tikka Masala which takes traditionally marinated chicken pieces and serves them in a rich and creamy tomato based sauce.
Chicken Tikka Masala was created by a chef in Scotland to make a saucy dish more suited to local tastes. The early versions are said to have made with a tin of cream of tomato soup.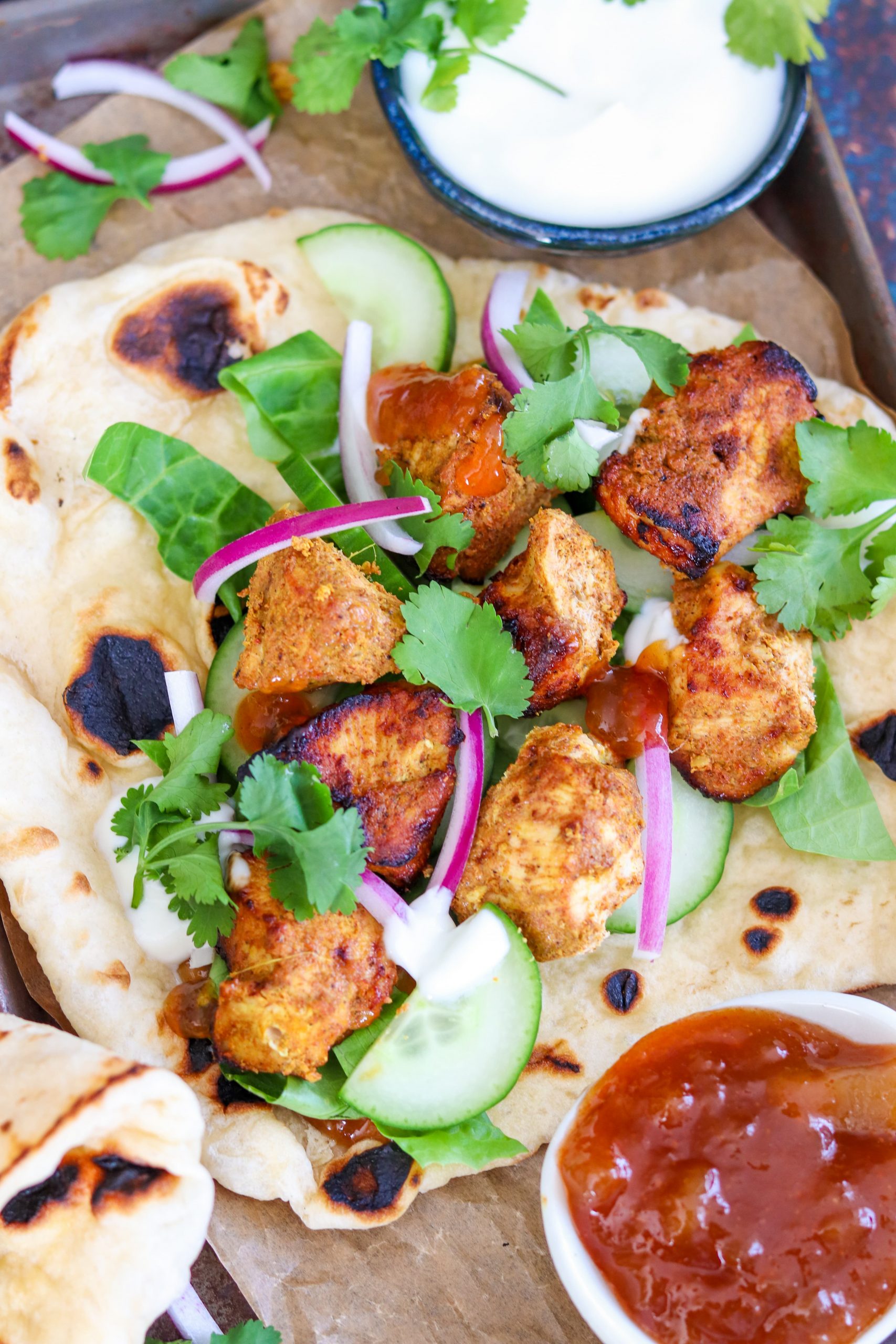 What makes this chicken tikka skinny?
Chicken Tikka is one of my favourite Indian recipes, but it can use quite rich ingredients.
Some recipes marinade the chicken in cream. Instead of this, I use low fat Greek yogurt. You can use low fat natural yogurt if you prefer, but I use Greek yogurt because it tends to be slightly thicker.
Also when the chicken tikka is grilled, it is usually brushed with ghee. This helps keep the chicken moist and adds flavour. However as you need to turn and brush the chicken quite a few times, I decided to tweak this.
Instead of ghee, I use low calorie spray oil. It still keeps the chicken moist, but has a fraction of the fat.
Making lower calorie swaps is only really worth it in my opinion if it doesn't negatively impact the flavour. I firmly believe this Skinny Chicken Tikka is as delicious as higher fat, traditional versions.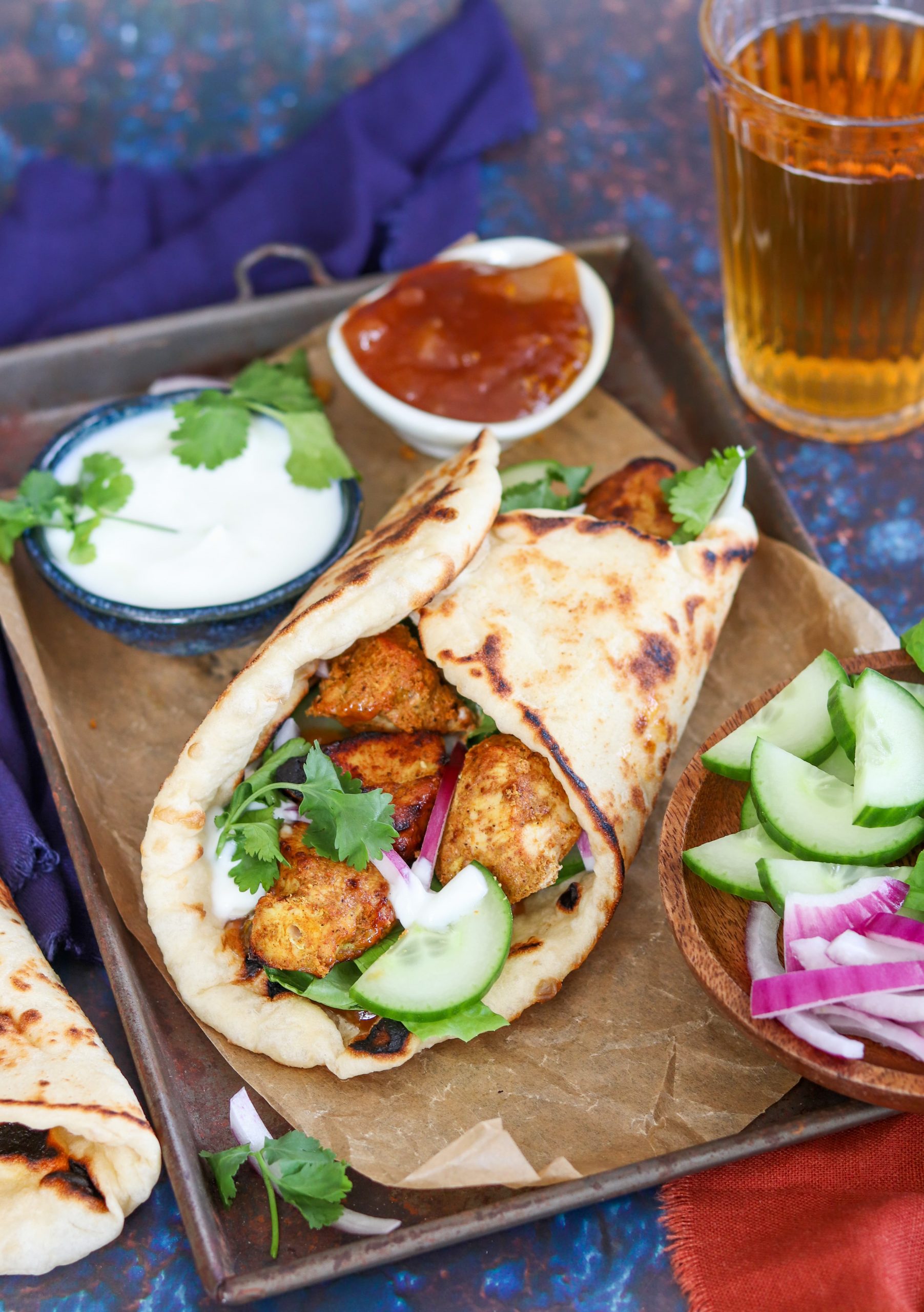 Is this Chicken Tikka spicy?
No, this Chicken Tikka is a great crowd pleasing recipe because it is quite mild.
The only spice comes from the chilli powder, but not much is used at all. You can use mild chilli powder to ensure it is mild. If you prefer a little more heat you can use hot chilli powder or even add a little more.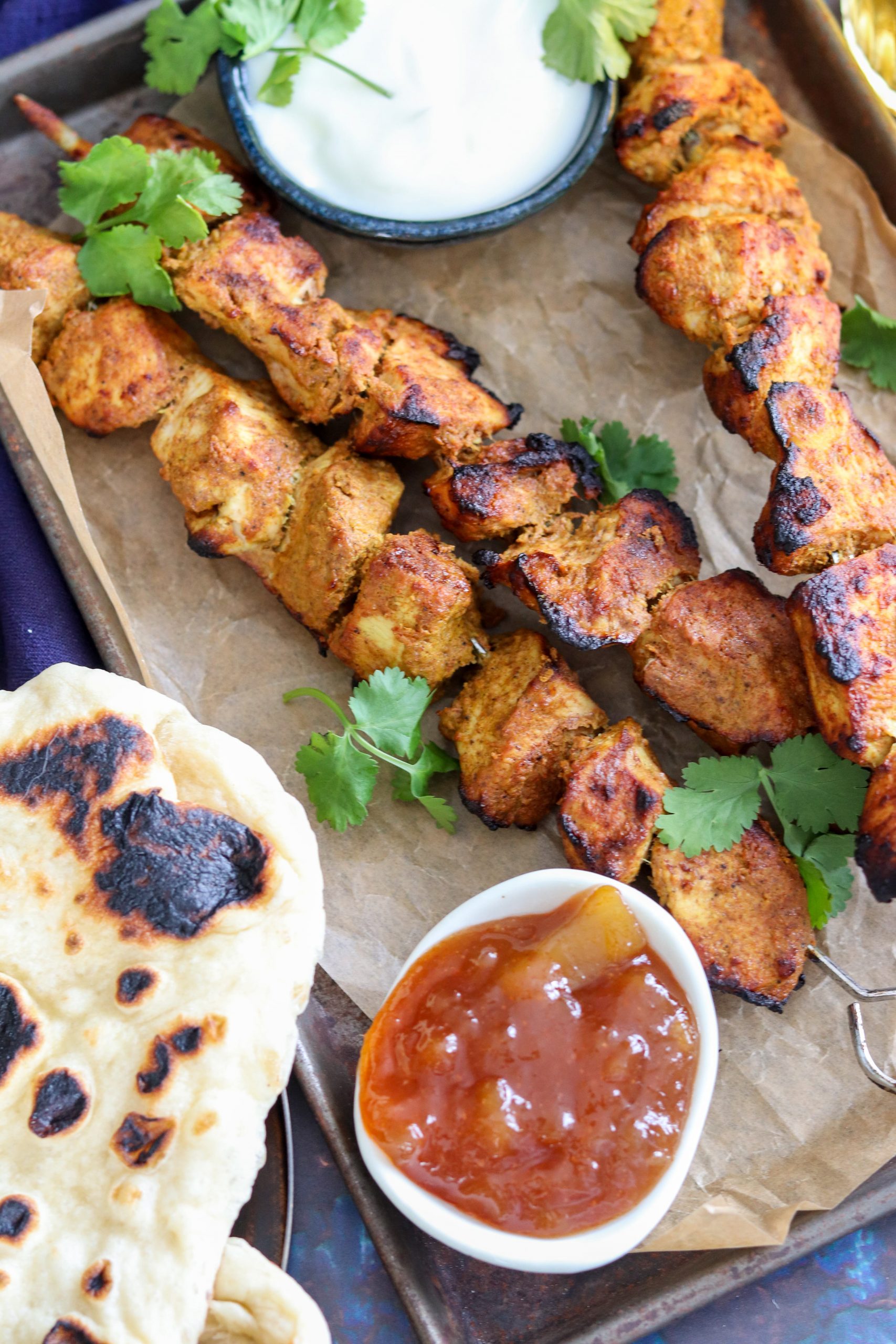 What is garam masala and tandoori masala?
Garam masala is a blend of spices commonly used in Indian, Bangladeshi and Pakistani cooking. Although the spices used can vary, garam masala usually includes cinnamon, peppercorns, cardamom, coriander seeds, cloves and nutmeg.
It is an incredibly handy spice blend to use because you don't need to have all of the separate spices.
Tandoori masala is a spice mix which is commonly used in tandoori chicken. This is very similar to chicken tikka but uses pieces of chicken on the bone.
It is another spice mix that varies depending on region, but it usually includes garlic, ginger, cayenne. It has a bright red colour which is iconic in chicken tikka.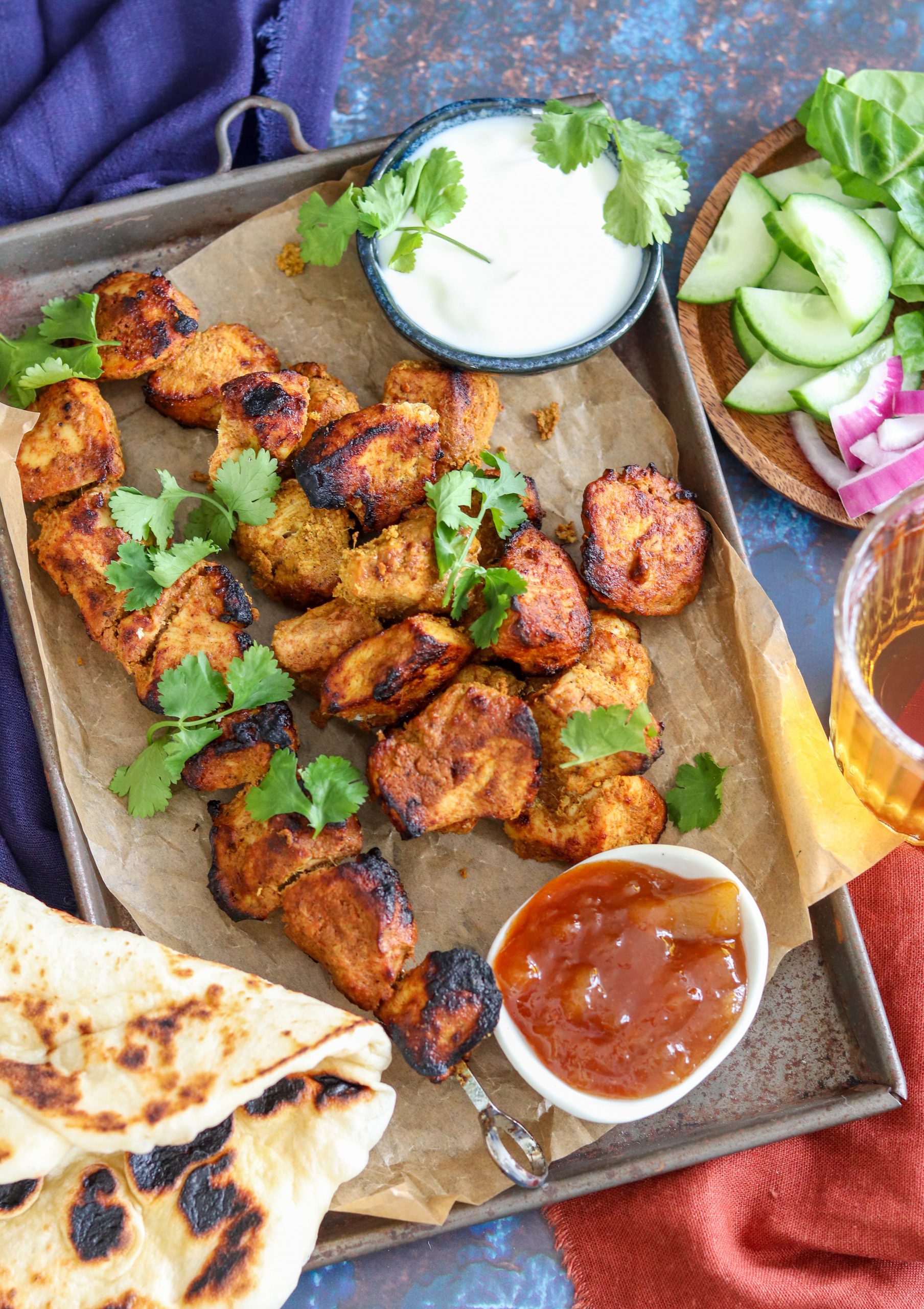 Where can you buy indian spices
You can buy all of the spices for this Skinny Chicken Tikka in most large supermarkets. They are widely available.
Some of the spices such as tandoori masala might not be located in the spice aisle though. But don't panic! Make sure you check the world food aisle as this is where you are likely to find it.
Also, although some of the spices can be found in the spice aisle in those little jars, you might find them cheaper in the world food aisle.
You can also find these spices at Asian supermarkets and grocers. Keep an eye open because you might also find them in your local corner shop.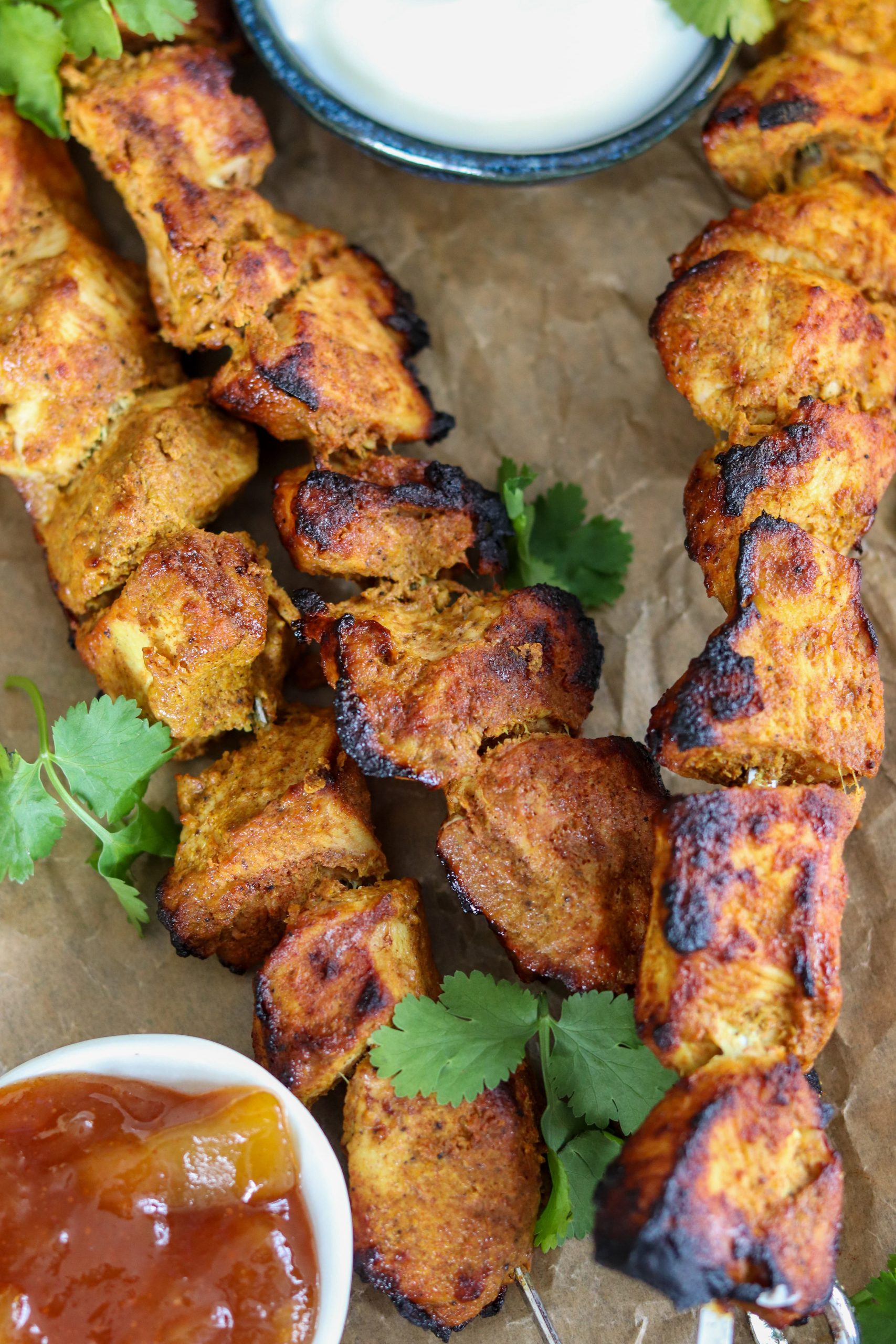 Which cut of chicken is best to use?
You can use chicken breast or thighs for this Skinny Chicken Tikka. I have used both thighs and breast for this recipe and both work really well.
Chicken thighs have slightly more fat which helps to keep the chicken succulent. However marinating the chicken and spraying it with oil during the cooking helps prevent the chicken becoming dry, so breasts would work just as well.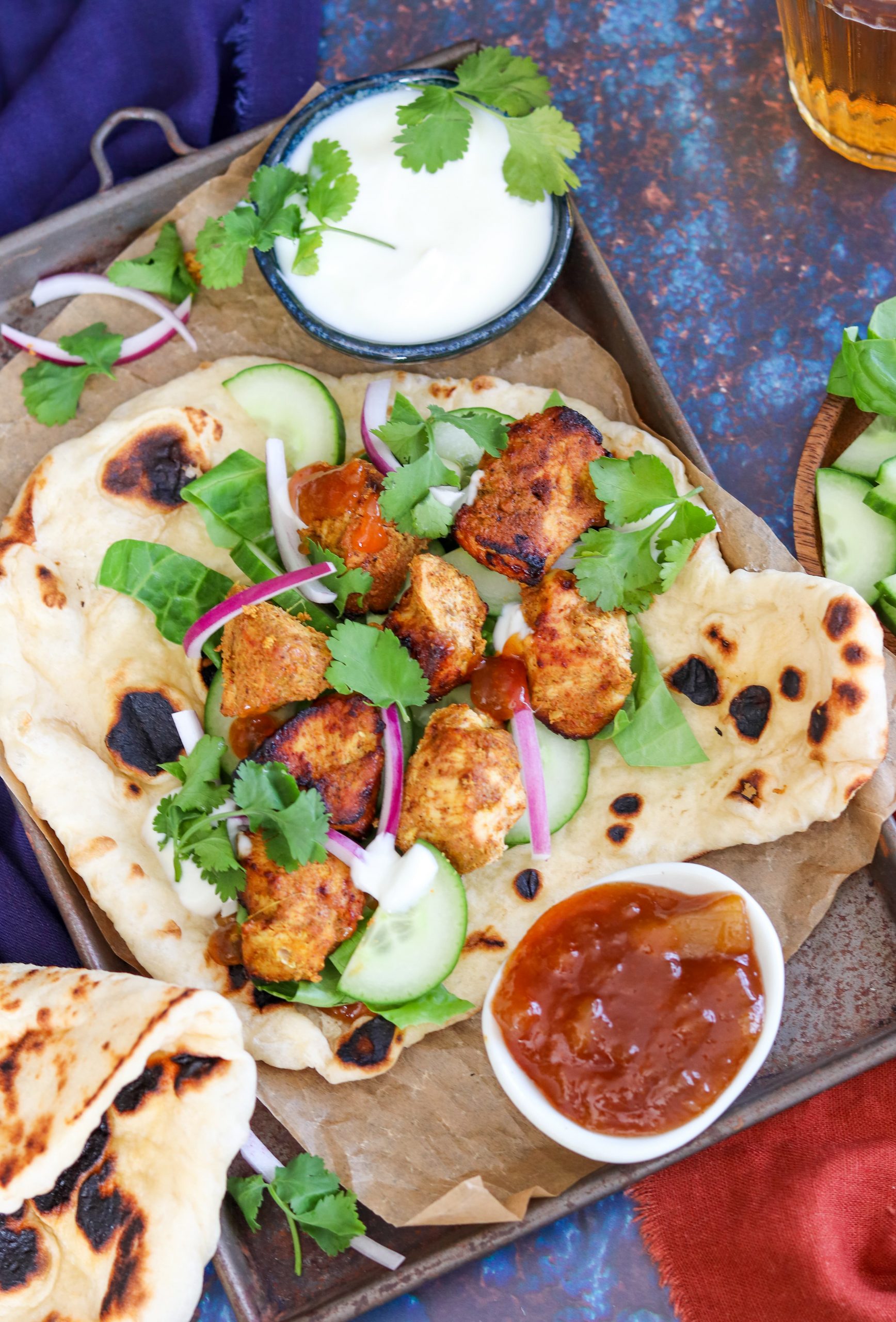 Resist temptation and allow the chicken to marinate!
I know you might be excited to get cooking, but the longer you leave the chicken to marinate, the more delicious your Skinny Chicken Tikka will be.
Every time you open the fridge you will be met by a delicious waft of spices. Trust me though – resist temptation and leave it for up to sixty hours to get the best flavour.
I would say the minimum amount of time you would want to let the chicken marinade for is two hours.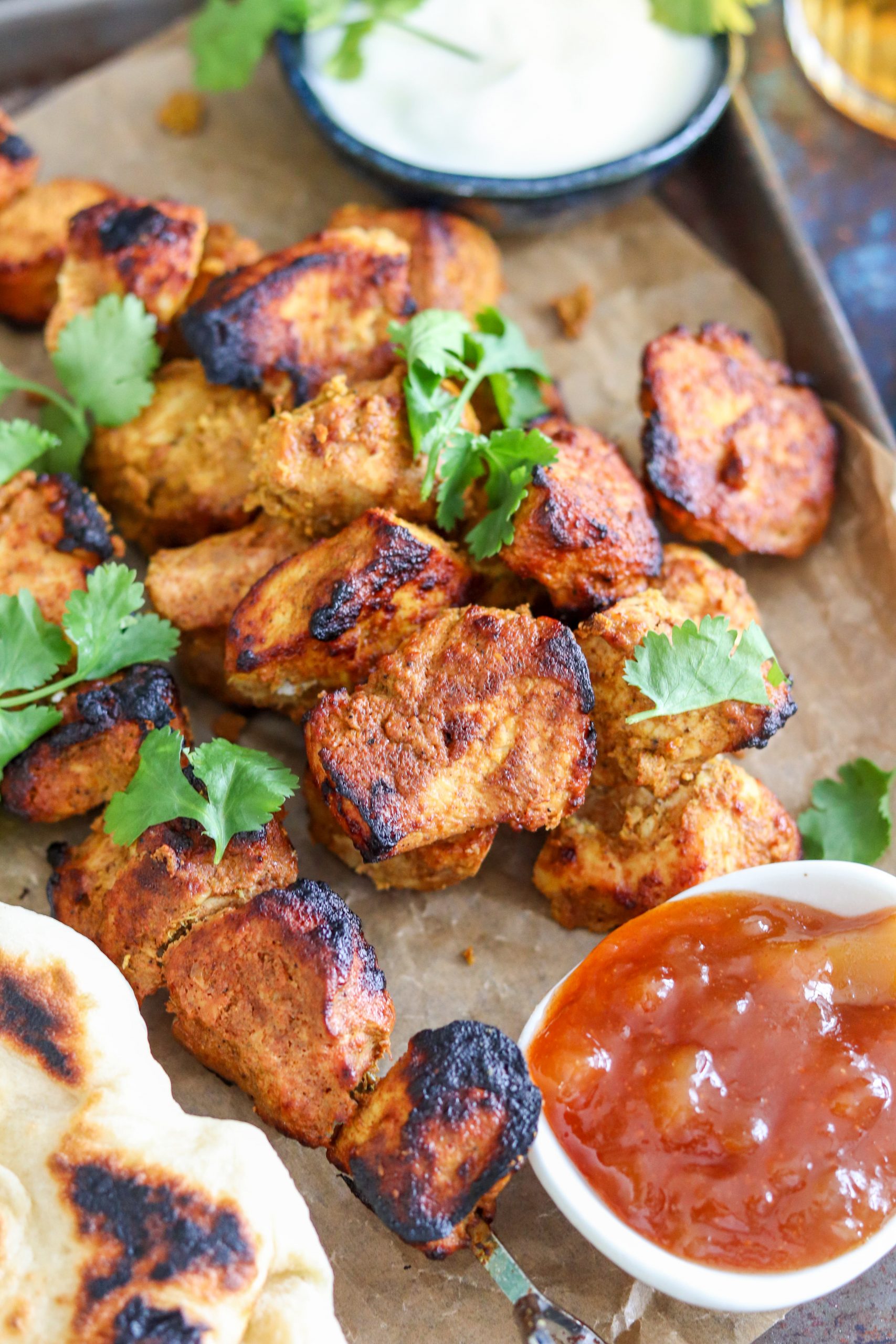 How is best to cook the chicken tikka?
What makes Chicken Tikka so delicious is the char marks which you can achieve by grilling it.
This can be done either using a grill inside, a BBQ or your air fryer. If you grill or BBQ, make sure you turn the chicken every 3-4 minutes and spray with oil.
If you are using a BBQ, I would recommend not spraying the oil onto the chicken while it is on the BBQ as this wouldn't be the safest option.
I prefer to use metal skewers as they are easier. However you can use wooden ones too. Just make sure you soak them thoroughly in water for at least 10 minutes before you thread on the chicken.
Soaking the skewers will prevent them from burning whilst you cook the chicken.
If you like the sound of this recipe but don't fancy grilling the meat, try my Easy Slow Cooker Chicken Tikka for a less hands on meal ready for when you get home in the evening.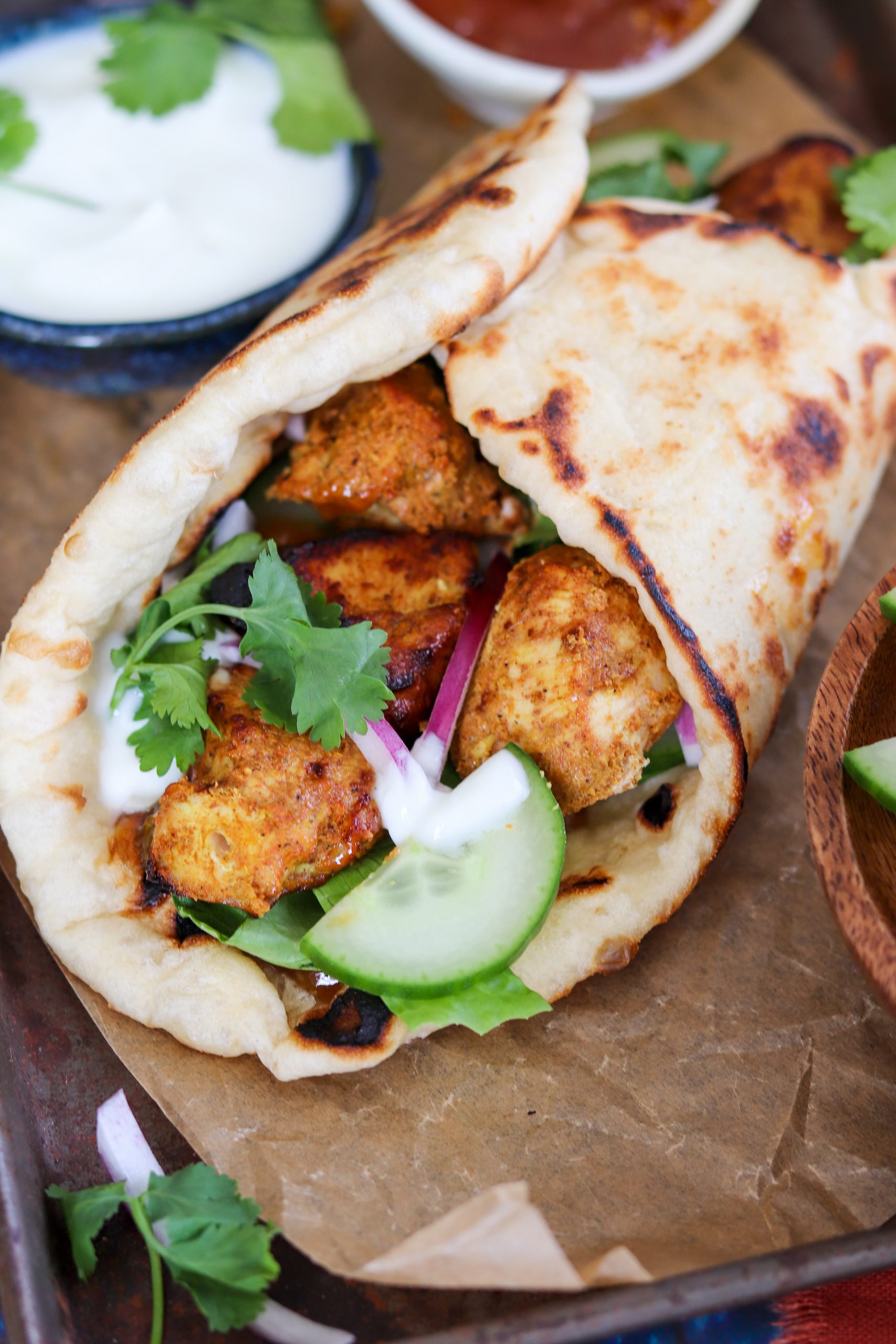 How long will this chicken tikka keep for?
Once cooked, you can keep this Skinny Chicken Tikka in an airtight container in the fridge for up to three days.
You can reheat the chicken if you would like, but it is delicious served cold. I love to serve it in Easy Flatbreads with salad when it is hot or cold.
If you did want to reheat it, I would spray it with oil and put it in the oven for ten minutes, or until it is heated all the way through.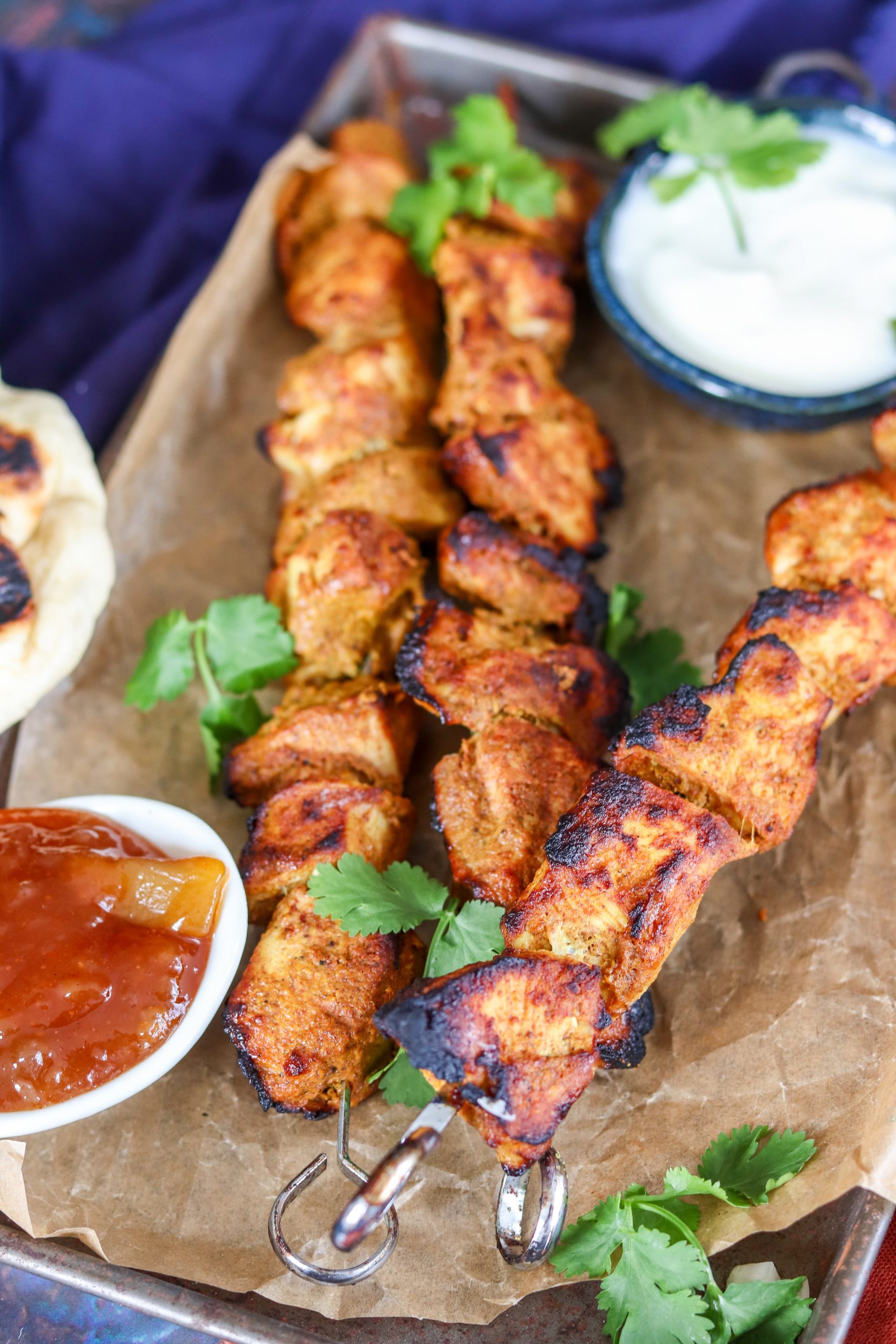 Other recipes you might like
Pin for later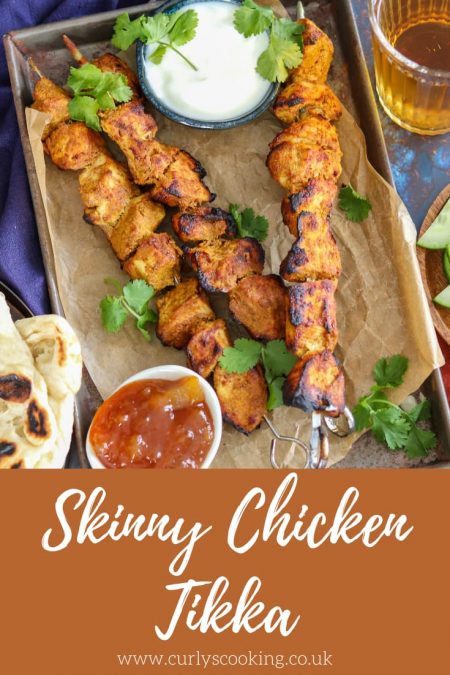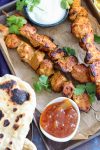 Skinny Chicken Tikka
My Skinny Chicken Tikka tweaks one of the most loved Indian dishes to make it a lighter, without compromising on taste. Delicious cooked on the grill or BBQ, you can enjoy these year round.
Total Time
1
day
40
minutes
Ingredients
700

g

chicken

diced

1

tbsp

lemon juice

1

tsp

sea salt

1

tsp

caster sugar

175

g

low fat Greek yogurt

1

tbsp

ginger puree

1

tbsp

garlic puree

2

tbsp

tandoori masala spice mix

½

tsp

tumeric

½

tsp

garam masala

1

tsp

ground coriander

½

tsp

chilli powder

Spray oil
Instructions
Put 700g chicken into a large bowl. Add 1 tbsp lemon juice, 1 tsp sea salt, 1 tsp caster sugar, 175g low fat Greek yogurt, 1 tbsp ginger puree, 1 tbsp garlic puree, 2 tbsp tandoori masala, ½ tsp tumeric, ½ tsp garam masala, 1 tsp ground coriander and ½ tsp chilli powder to the chicken and stir until completely mixed

Cover the bowl and leave to marinate in the fridge for 2-24 hours

Preheat the grill to high and line the grill pan with foil and spray with oil

Spray metal skewers with oil and thread the chicken pieces on. Place the skewers on the grill pan and spray with oil. Cook quite close to the element for 3-4 minutes

Turn the skewers over, spray with more oil and cook for another 3-4 minutes. Keep turning and spraying with oil until the chicken is cooked through. This should take between 20-25 minutes. You're looking to get charred areas of the chicken

Carefully ease the chicken from the skewers and enjoy hot or cold
Recipe Notes
Nutritional information is given as a guide only and my vary.
Nutrition Facts
Skinny Chicken Tikka
Amount Per Serving
Calories 416
Calories from Fat 243
% Daily Value*
Fat 27g42%
Cholesterol 132mg44%
Sodium 744mg32%
Potassium 457mg13%
Carbohydrates 7g2%
Protein 35g70%
Vitamin A 345IU7%
Vitamin C 6mg7%
Calcium 116mg12%
Iron 2mg11%
* Percent Daily Values are based on a 2000 calorie diet.