Nothing is better than freshly baked Bread Rolls. These are the perfect combination of soft rolls with a slightly chewy crust. A great everyday roll!
Have you made Bread Rolls before?
Bread seems to be something that a lot of people are a little bit afraid of. Bread isn't something that you should feel intimidated by at all.
I am by no means a bread expert but I really enjoy baking it. Even if it doesn't go completely to plan and looks a bit rustic, it will still be very tasty!
If you haven't baked bread before, you really should give it a go! There is nothing more delicious than the smell of freshly baked bread that will fill your house.
Can I still make Bread Rolls without a stand mixer?
You can definitely still make these rolls without a stand mixer. A stand mixer makes it easier and a lot less effort, but isn't an essential piece of equipment.
If you knead the dough by hand you will get exactly the same result. You may just feel a little tired after ten minutes of kneading!
There are quite a few tips on the best kneading techniques. As I said I am no expert, but I like to use my palms as much as possible when kneading.
You are really just looking to stretch the dough to form the gluten so your bread rises. Use whichever technique works for you until you have a smooth dough that springs back when you poke it.
Are these crusty or soft rolls?
These rolls are quite hard to describe; they are neither crusty or super soft. When they come out of the oven they sound like they are going to be quite crisp when you tap the tops. But they soften as they cool and become become really delicious.
The trick of getting this softer texture is putting the rolls quite close together on the baking tray. This means that during their second prove they grow in size and touch slightly. Then when they are baking they join together even more.
The end result is a lovely soft roll with a slight crisp crust.
Can I make the rolls different sizes?
You can make these Bread Rolls whatever size you would like. The size in the recipe will make nine medium sized rolls. I think this is the perfect size for sandwiches or for Pulled Pork rolls.
If you would like to make the rolls bigger, I would still recommend weighing each roll so you can get even sized rolls when baked. Just make sure you tap them on the bottom and check they are hollow when they have finished baking. If they don't sound hollow, cook for a few more minutes.
You can also double the batch to make 18 rolls. This is ideal for a family as the rolls are a good size for children to have one and they're not too big for adults to have two at a time.
You can also freeze any rolls you don't want to eat straight away to enjoy at a later date.

Other recipes you might like
Pin for later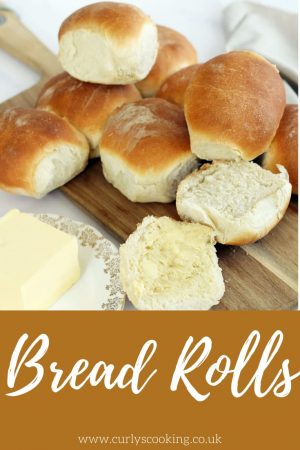 Bread Rolls
Nothing is better than freshly baked Bread Rolls. These are the perfect combination of soft rolls with a slightly chewy crust. A great roll for sandwiches!
Ingredients
500

g

strong white bread flour

1 1/2

tsp

sea salt

1/2

tsp

sugar

7

g

instant yeast

2

tbsp

rapeseed oil

300

ml

lukewarm water

Spray oil
Instructions
Attach the dough hook to your mixer. Add the flour, salt, sugar and yeast to the bowl making a well in the middle. Add the oil and half of the water into the well

Mix on the lowest speed for a couple of minutes

Add the rest of the water and mix on the second speed for 10 minutes

Tip the dough onto a lightly floured surface and knead a couple of times until you get a smooth ball

Put the dough in a greased bowl and cover with a tea towel. Leave somewhere warm to prove for an hour and a half or until the dough has doubled in size

After the dough has doubled in size, lightly flour your work surface. Punch the air out of the dough and then turn the dough out onto the surface

Divide the dough into 90g portions which will be approximately 9 balls

Shape each portion into balls and then place them on a greased baking tray. Make sure they are no more than 2cm apart from each other

Cover the rolls with the tea towel again and leave to prove in a warm place for 30 – 45 minutes. When the rolls are proving, preheat the oven to 190ºC (fan assisted, 210ºC non fan)

Bake the rolls in the oven for 25 minutes – check half way through to see if the tray needs turning if one side is browning quicker than the other

To test the rolls are ready, tap the underneath and if its hollow they're ready. Allow to cool for a couple of minutes on the tray before transferring to a wire rack to cool completely
Recipe Notes
Nutritional information is given as a guide only and my vary.
Nutrition Facts
Bread Rolls
Amount Per Serving
Calories 224
Calories from Fat 27
% Daily Value*
Fat 3g5%
Sodium 388mg17%
Potassium 7mg0%
Carbohydrates 1g0%
Protein 1g2%
* Percent Daily Values are based on a 2000 calorie diet.