This Fig, Prosciutto & Rocket Salad is definitely not a boring salad! The delicious sweet figs are complimented by the peppery rocket and salty ham.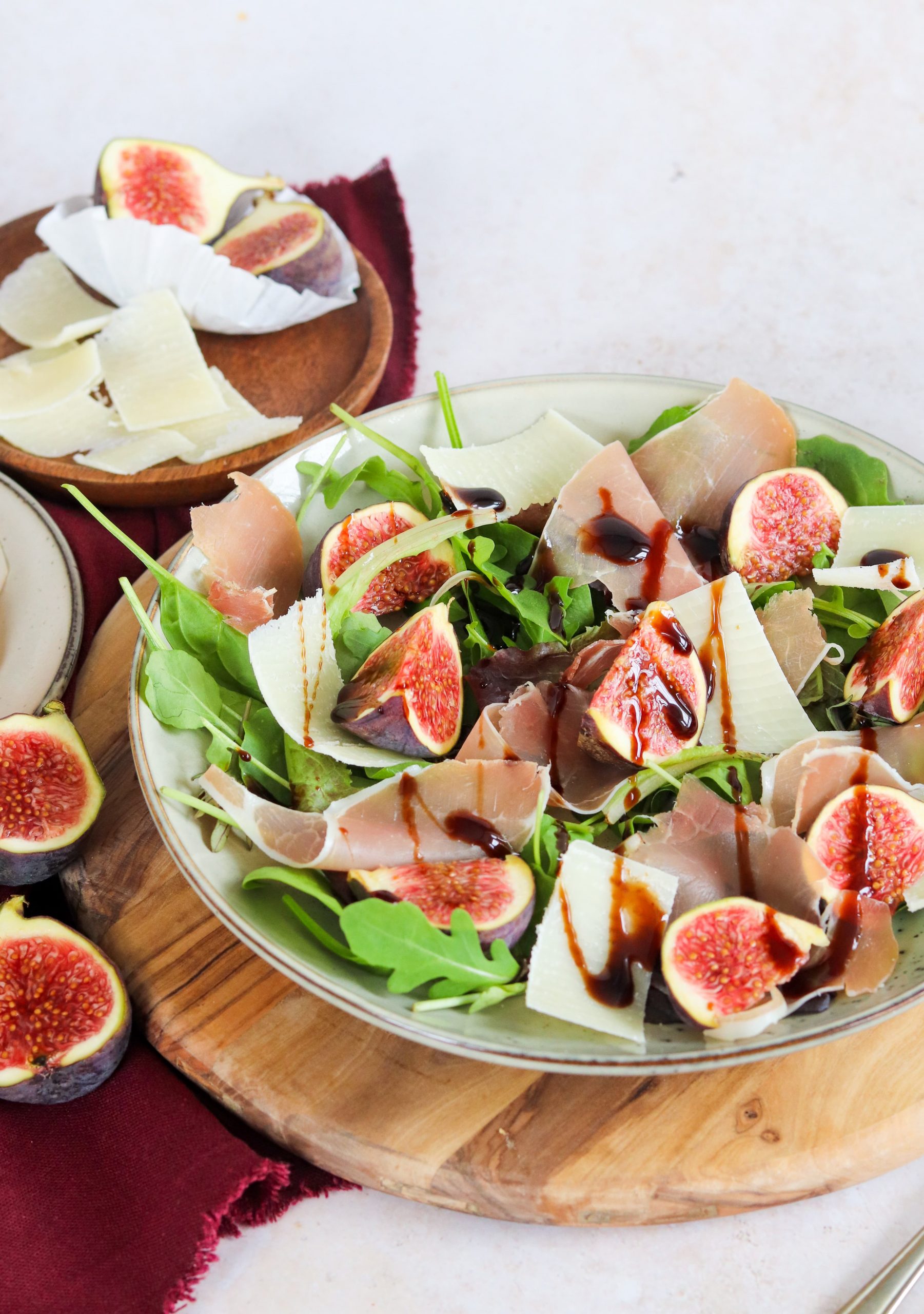 What are figs?
So for those of you that might not have eaten a fig, what are they?
Although often thought of as a fruit, technically figs are inverted flowers. But we can gloss over that!
Figs have a unique sweet flavour. The skin is slightly chewy with a soft flesh dotted with small crunchy seeds. You really do have to taste them to fully understand what they taste like.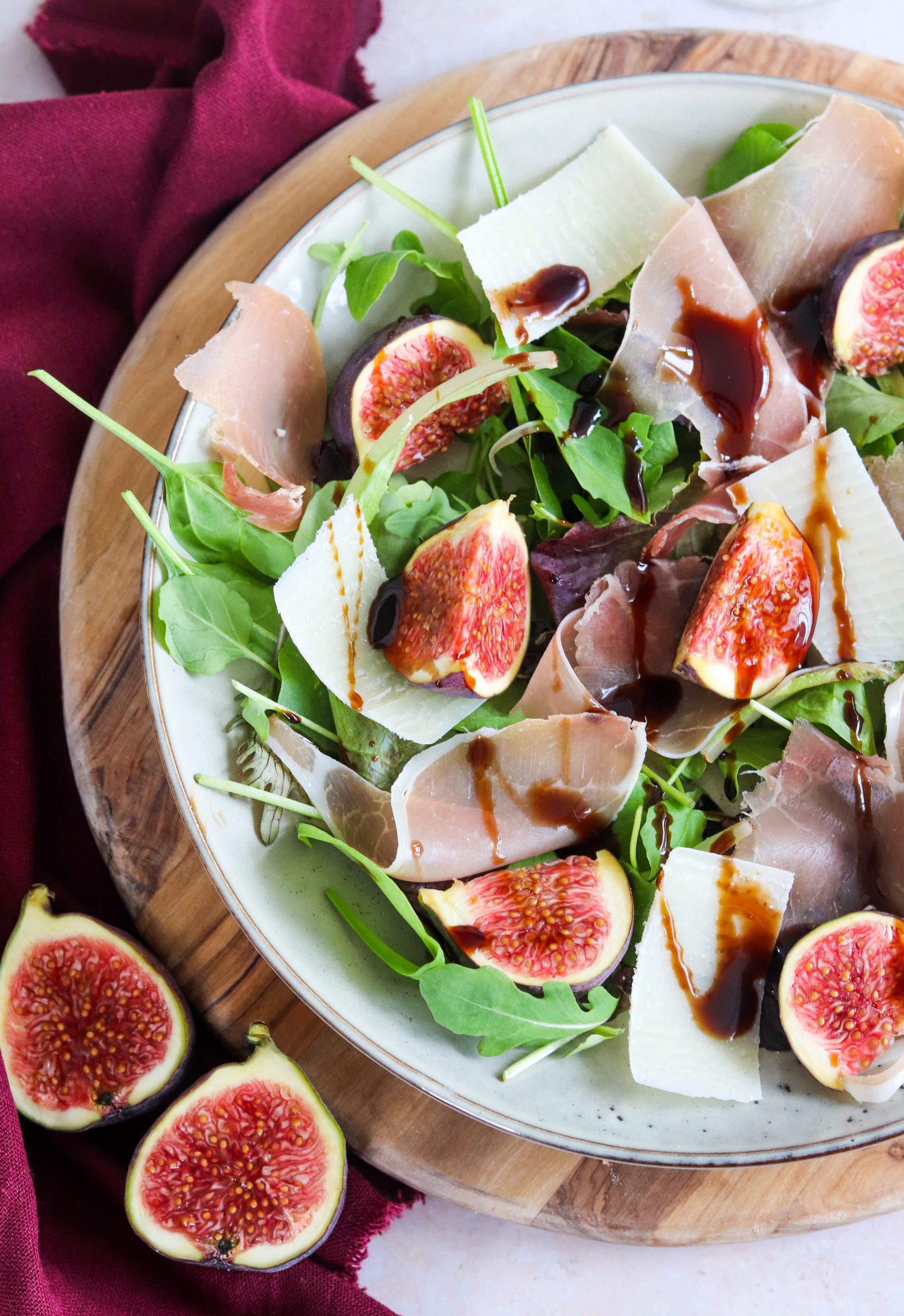 Have you eaten figs before?
I am obsessed with figs. Not only are they delicious but they are really pretty too. I spend all year waiting for them to come into season and then eat as many of them as I can.
I am always shocked by how many people have never seen them let alone tried them. It is my little mission to make as many people aware of figs as possible and if they haven't tried them before, to try and convince them to eat one.
This is a great recipe to try if you haven't eaten figs before because it is so easy and includes familiar ingredients too.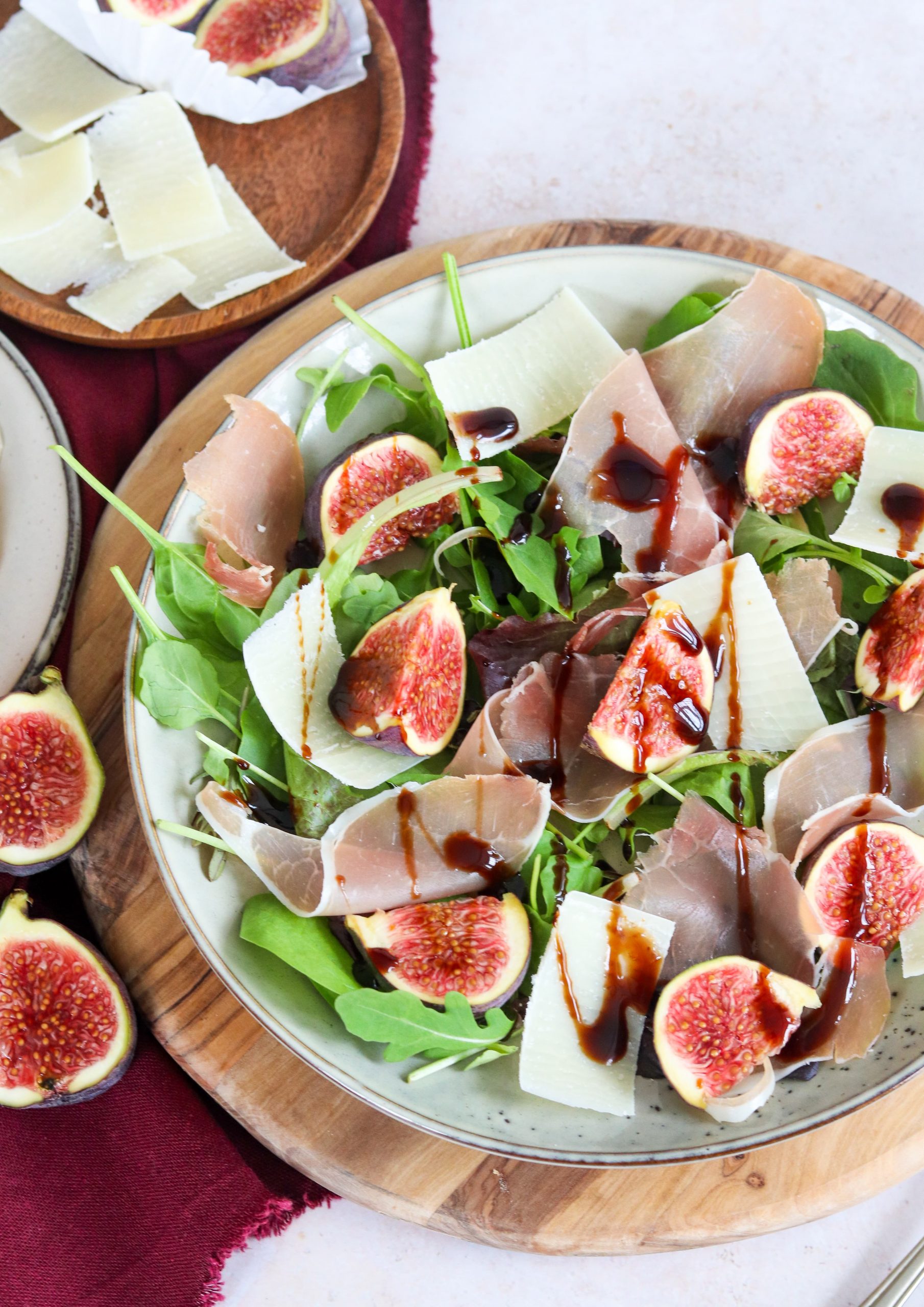 When are figs in season?
There are different varieties of figs that are in season at slightly different times of year. You can get green or black fig varieties. I have personally never tried a green fig!
Black figs are more common here in the UK. They are in season from late August to early October.
The two varieties that you are most likely to be able to find are Black Mission or Brown Turkey Figs. Either would work well for this fig salad.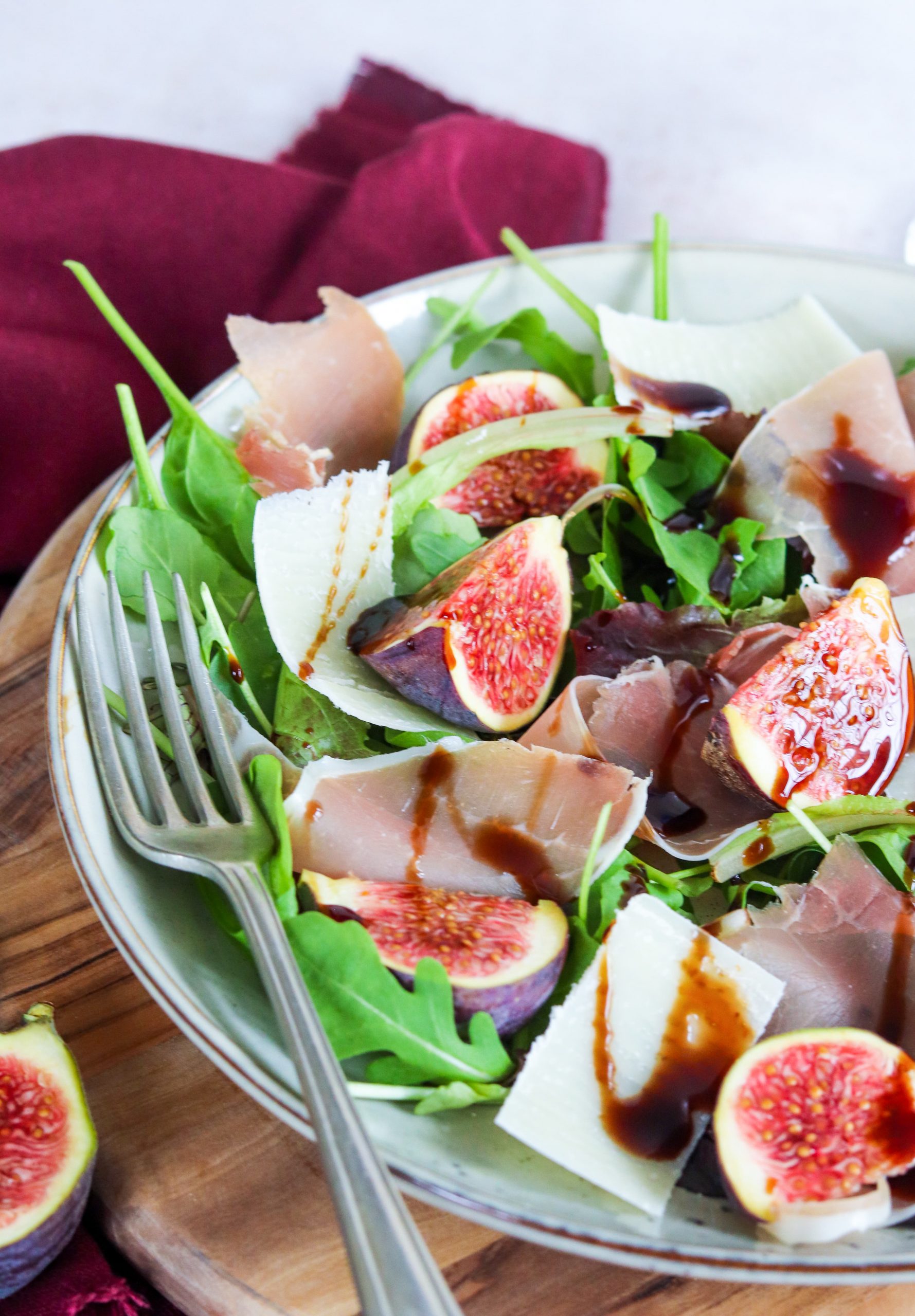 Figs aren't just for sweet dishes
Most people may associate figs with sweet dishes. However figs go really well as part of a savoury dish and add a great sweetness.
This salad makes a lovely starter or light lunch and is healthy too, which is another advantage!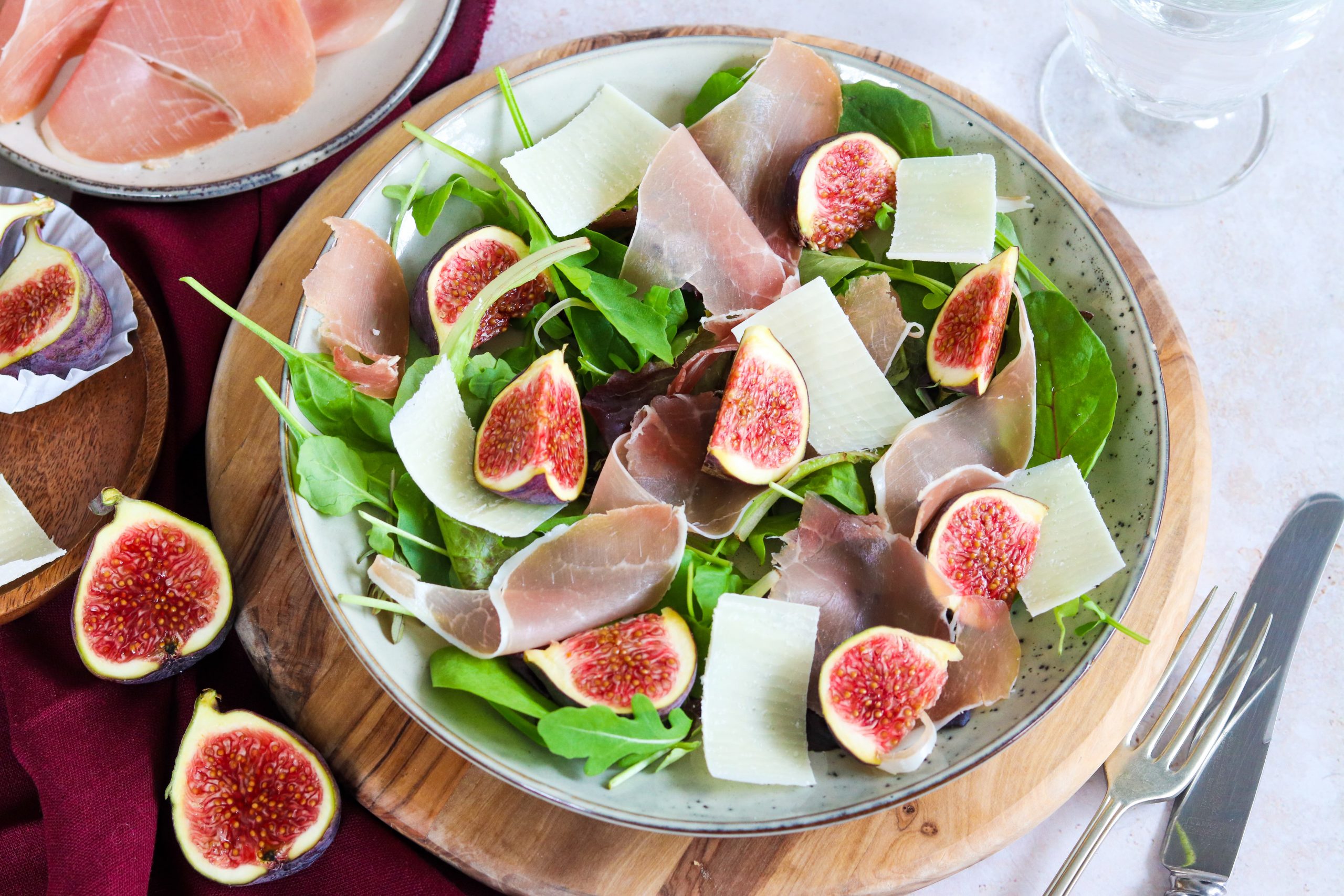 Do I have to use prosciutto?
I decided to use Prosciutto, but feel free to use Serano or any other cured ham instead – just use whichever cured ham you fancy.
This recipe is definitely not set in stone, the quantities below are just a guide so if you want more of one ingredient, go for it.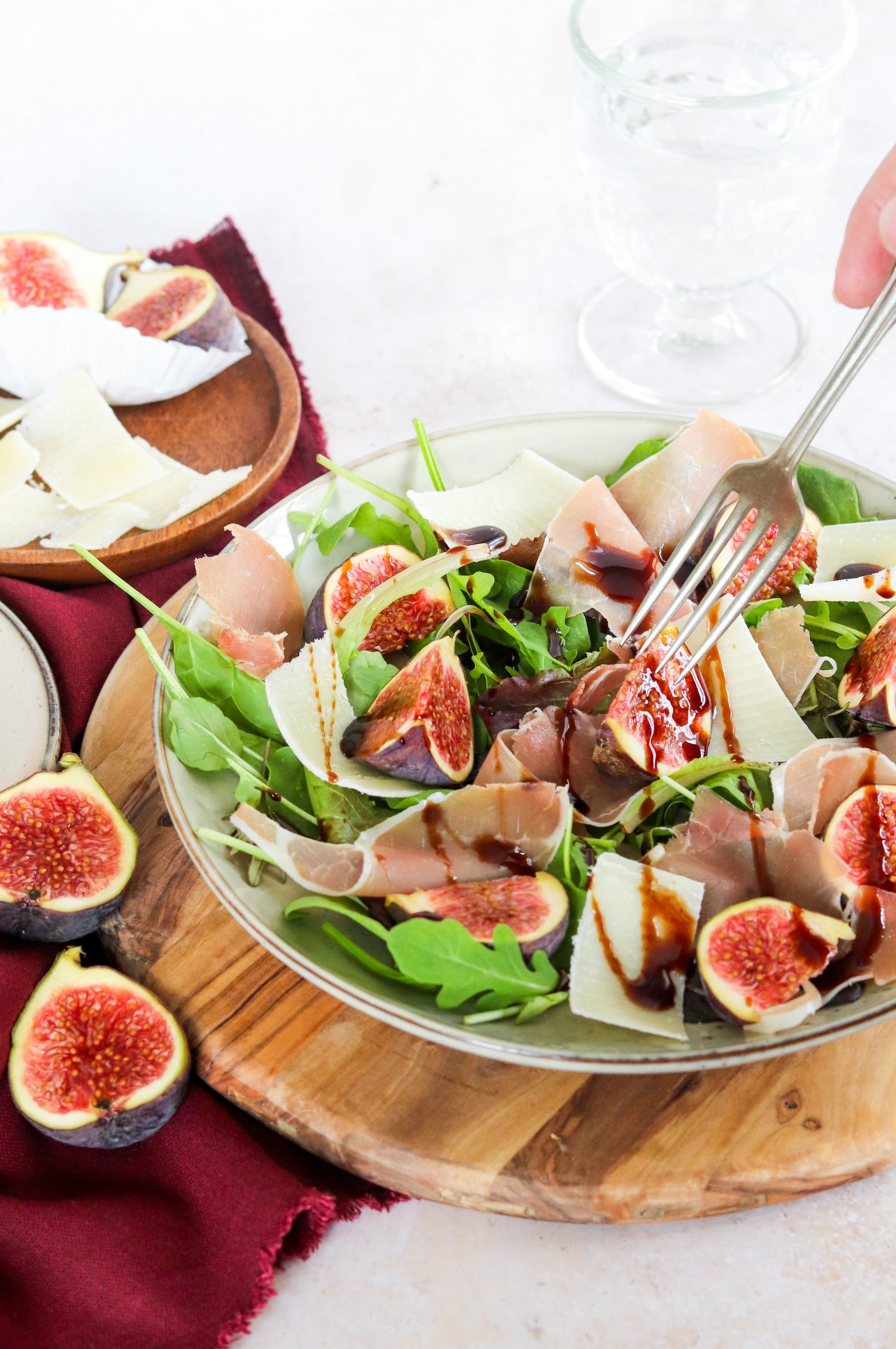 Can I use a different salad leaf rather than rocket?
As someone that isn't keen on black pepper, I actually like the peppery flavour that rocket has. The flavours of this rocket salad work really well with the sweet figs and salty ham.
If you can't find rocket but want the peppery flavour, then use watercress instead.
However if rocket isn't for you, you can use any mix of lettuce leaves that you would like. I quite often buy a bag of mixed baby salad leaves that includes rocket.
Personally, I would try to use something a little more exciting than iceberg lettuce. But if you really want to, you can use it.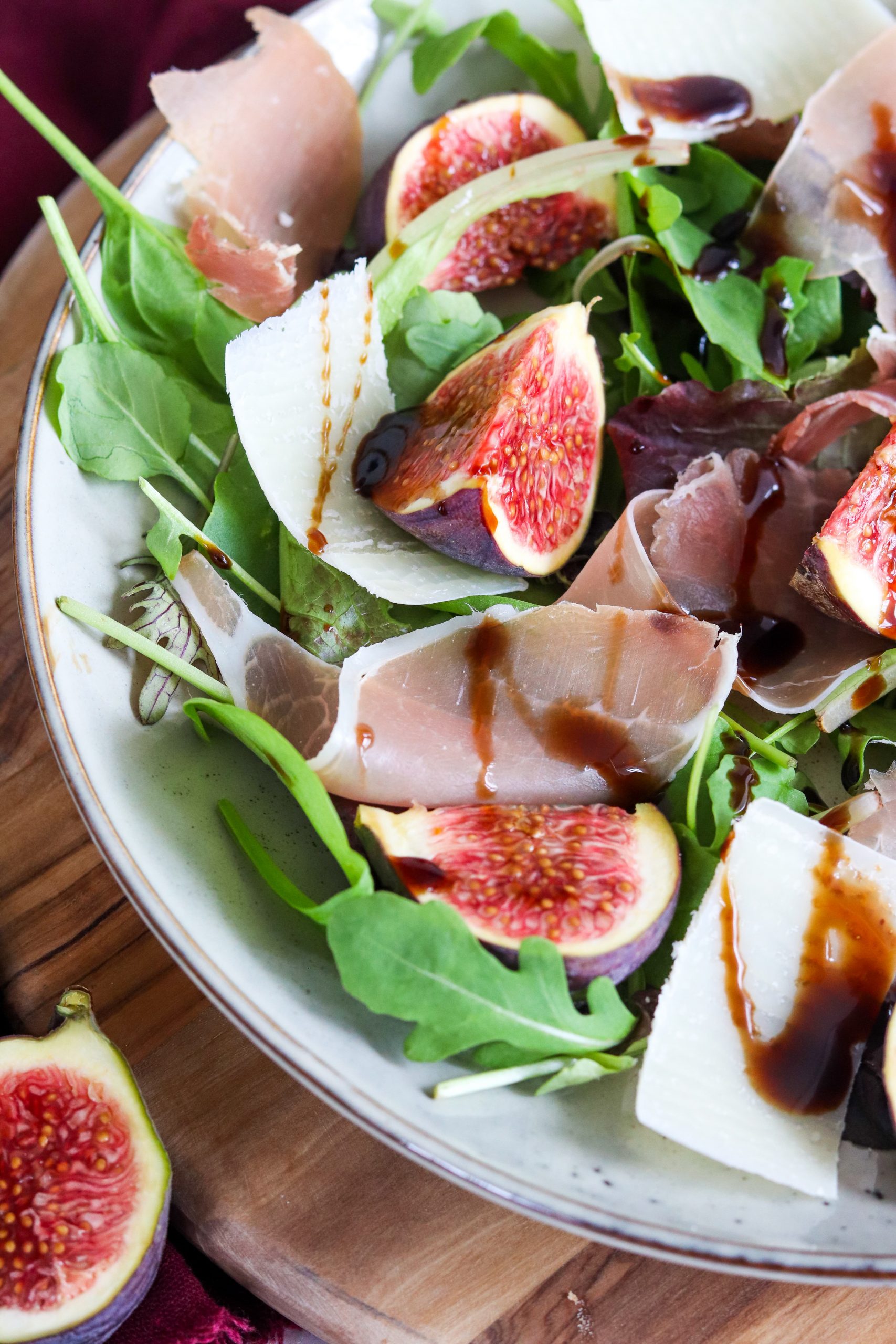 How to make Parmesan shavings
Parmesan shavings aren't essential, but I think they look a lot nicer than using a normal grater.
They couldn't be easier to do either. You just need a standard potato peeler to create these slightly fancier looking shavings.
You could just slice the Parmesan thinly and scatter this over the Fig & Prosciutto Salad. As long as you don't have big lumps of it, you can serve it however you like.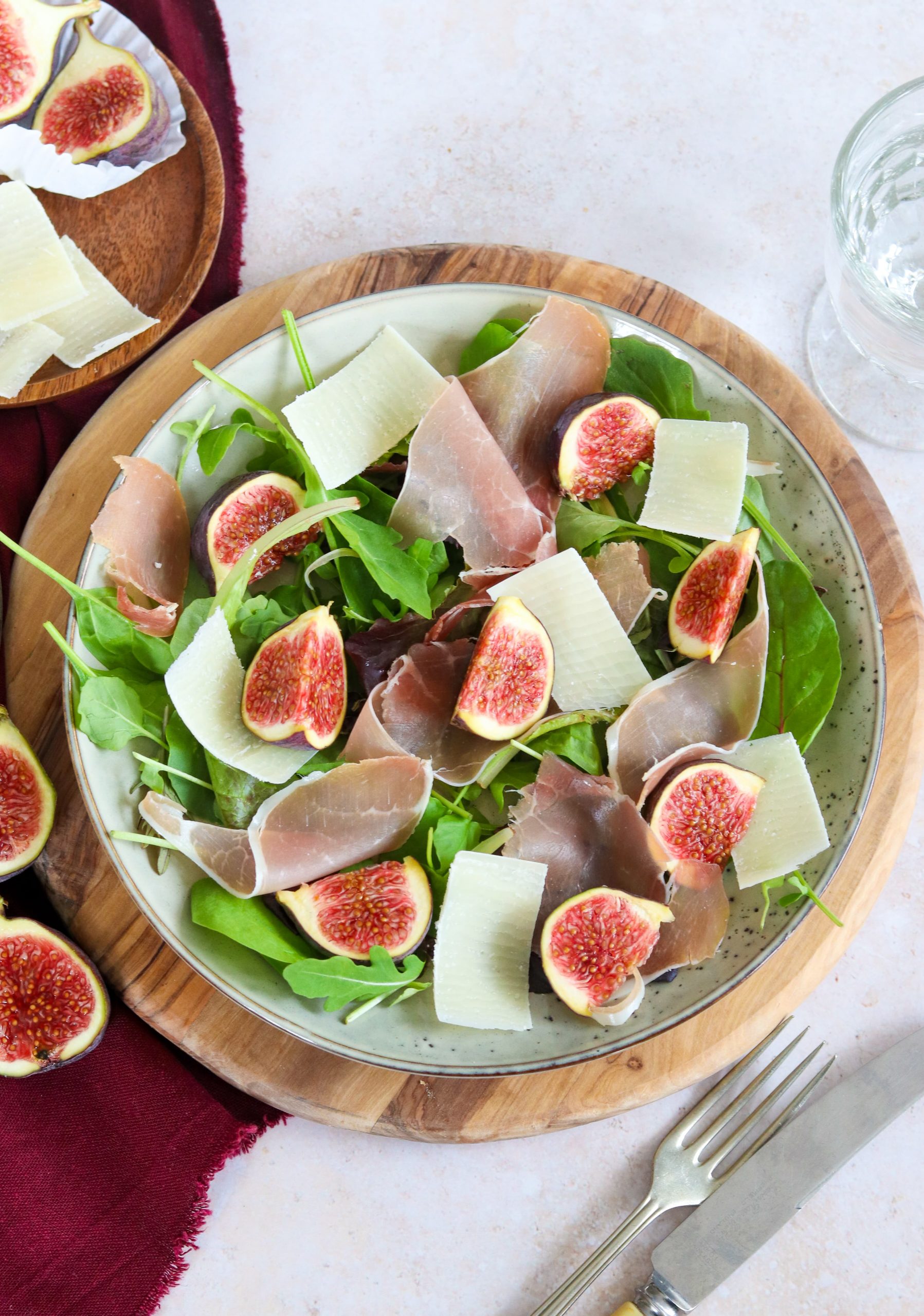 WHAT IS BALSAMIC VINEGAR DRIZZLE?
If you haven't heard of it before, balsamic vinegar drizzle or glaze is a thicker, sweet version of balsamic vinegar.
It is reduced with a sweetener such as honey or brown sugar. This makes it deliciously thick and glossy.
I much prefer using it to dress salads as sometimes balsamic vinegar can be a bit thin and sink to the bottom instead of coating the salad leaves.
It used to be a little trickier to get hold of, but it is now readily available in most large supermarkets. You will find it in the same place as standard balsamic vinegar.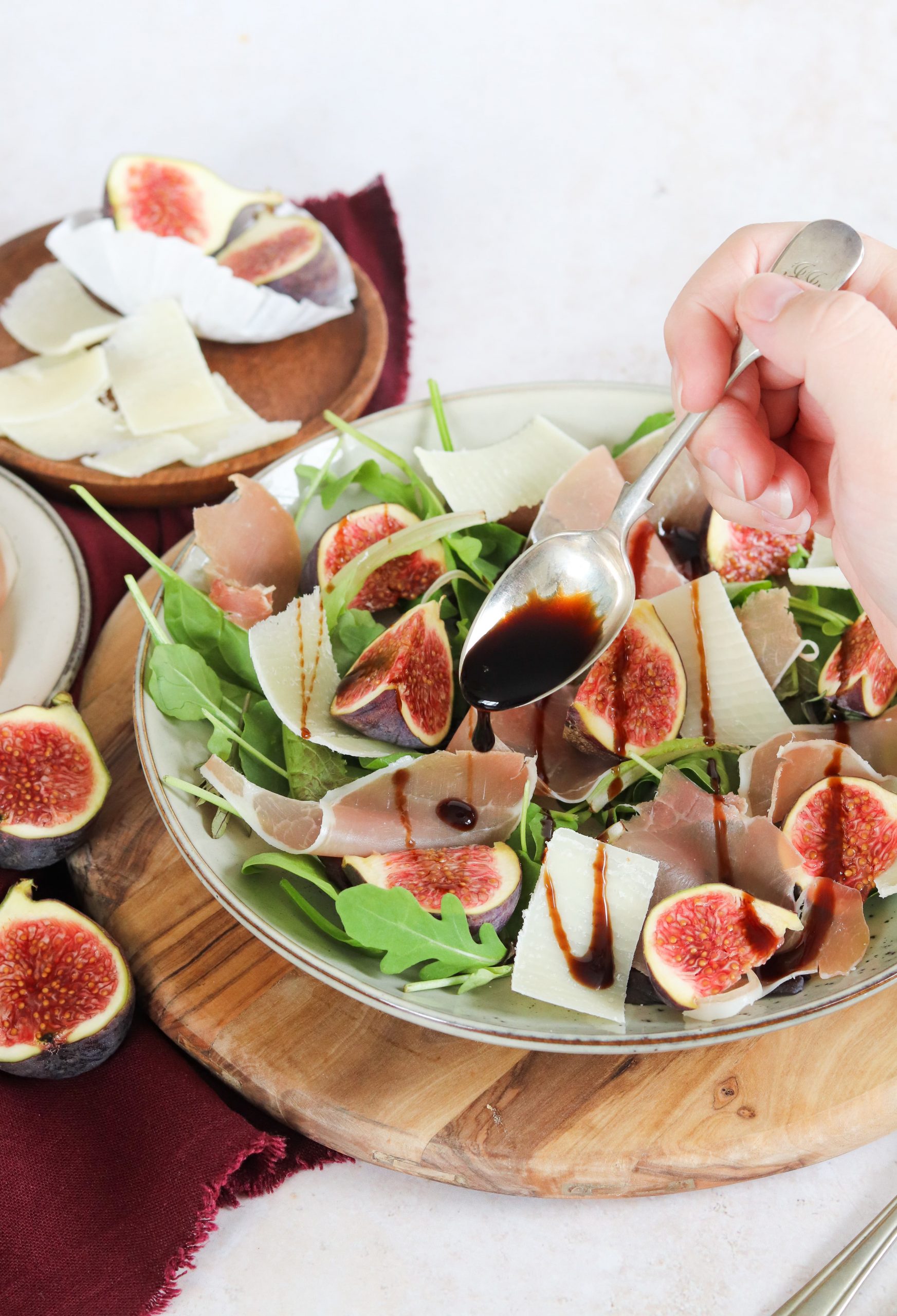 Can this Fig, Prosciutto & Rocket Salad be made in advance?
If you are really tight for time you can make this salad in advance. However it really does only take a couple of minutes to put together.
I would wait until just before serving the salad to add the balsamic drizzle though.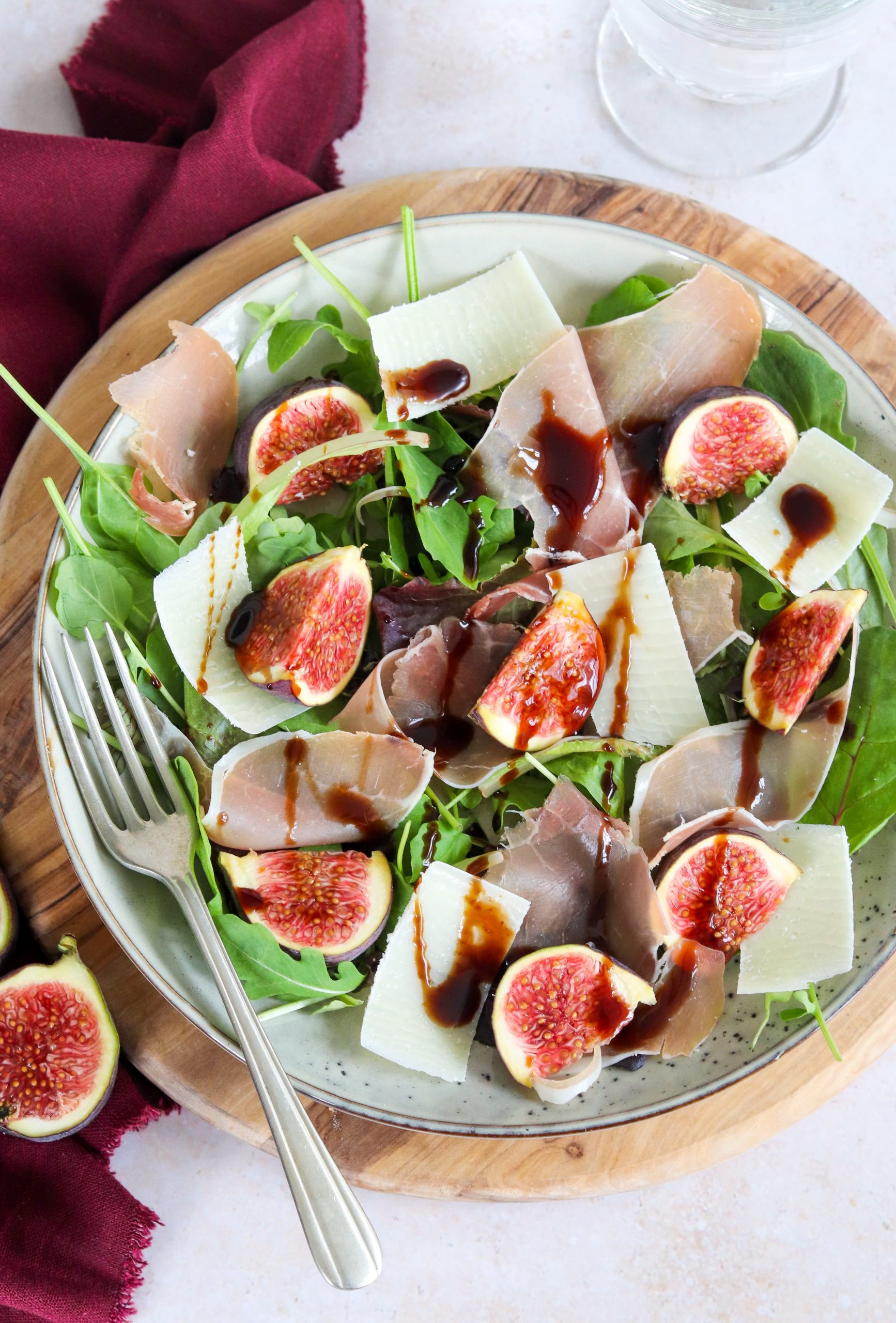 what to serve with this fig, prosciutto & rocket salad
This salad makes a delicious lunch or starter. It is a salad that is a little bit different that is fancy enough to be served at a dinner party.
It would also be perfect to take on a picnic with some Quick Sausage Rolls, Chorizo & Cheese Pinwheels and Cheese Straws.
You could make a lovely little spread by serving this salad alongside my Balsamic Tomato Salad and Rosemary & Salt Fougasse and Puff Pastry Potato Tart.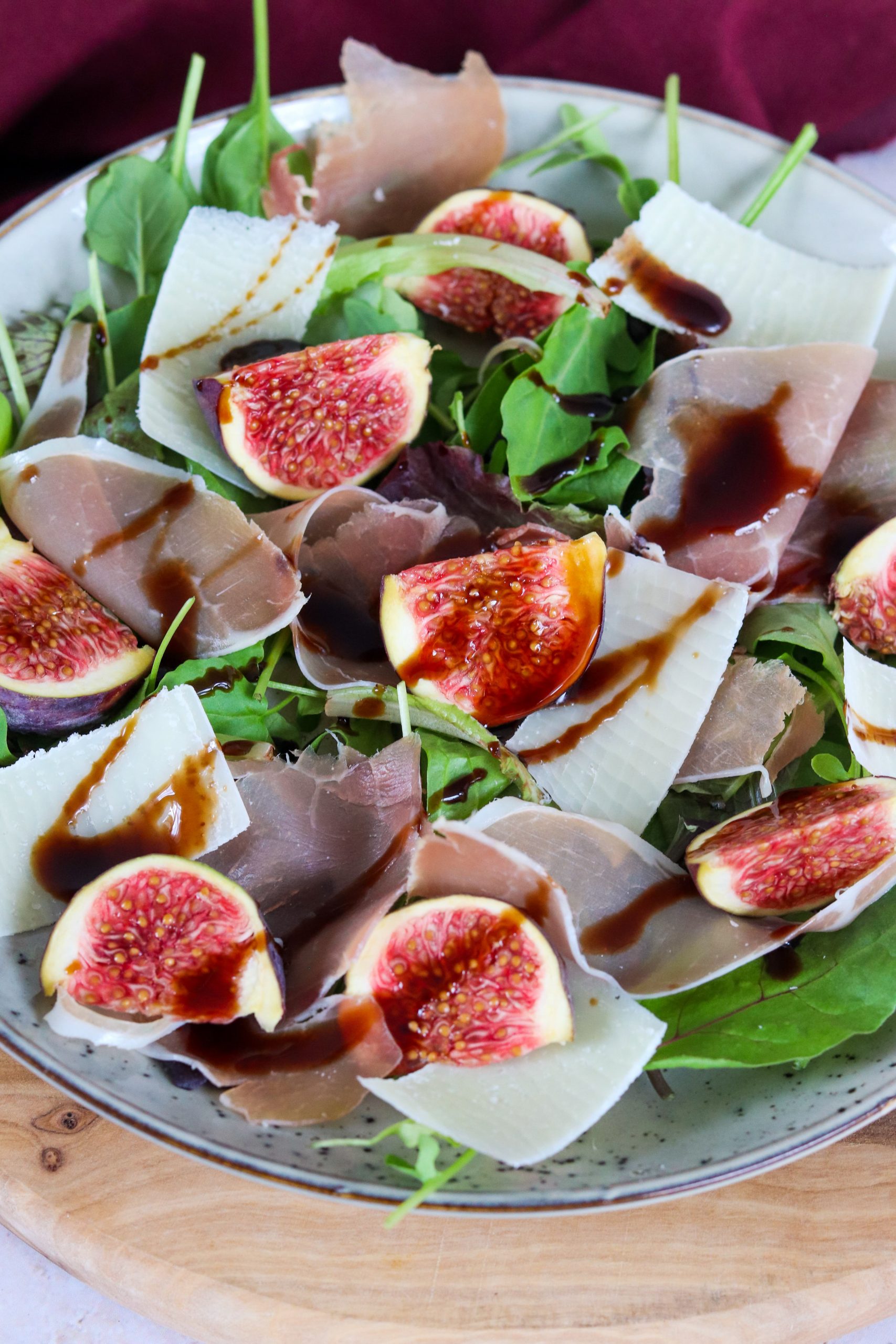 Can this salad be made vegetarian or vegan?
This salad can be made vegetarian or vegan with two small changes.
Obviously prosciutto isn't suitable for vegetarians or vegans so you would need to leave this off. If you are aware of a vegan alternative then feel free to use this.
You would also need to swap the Parmesan. Many people think Parmesan is vegetarian but as it contains rennet which is an animal product; it isn't.
The good news is there are vegetarian and vegan hard cheeses that work just as well as an alternative.
This salad is naturally gluten free.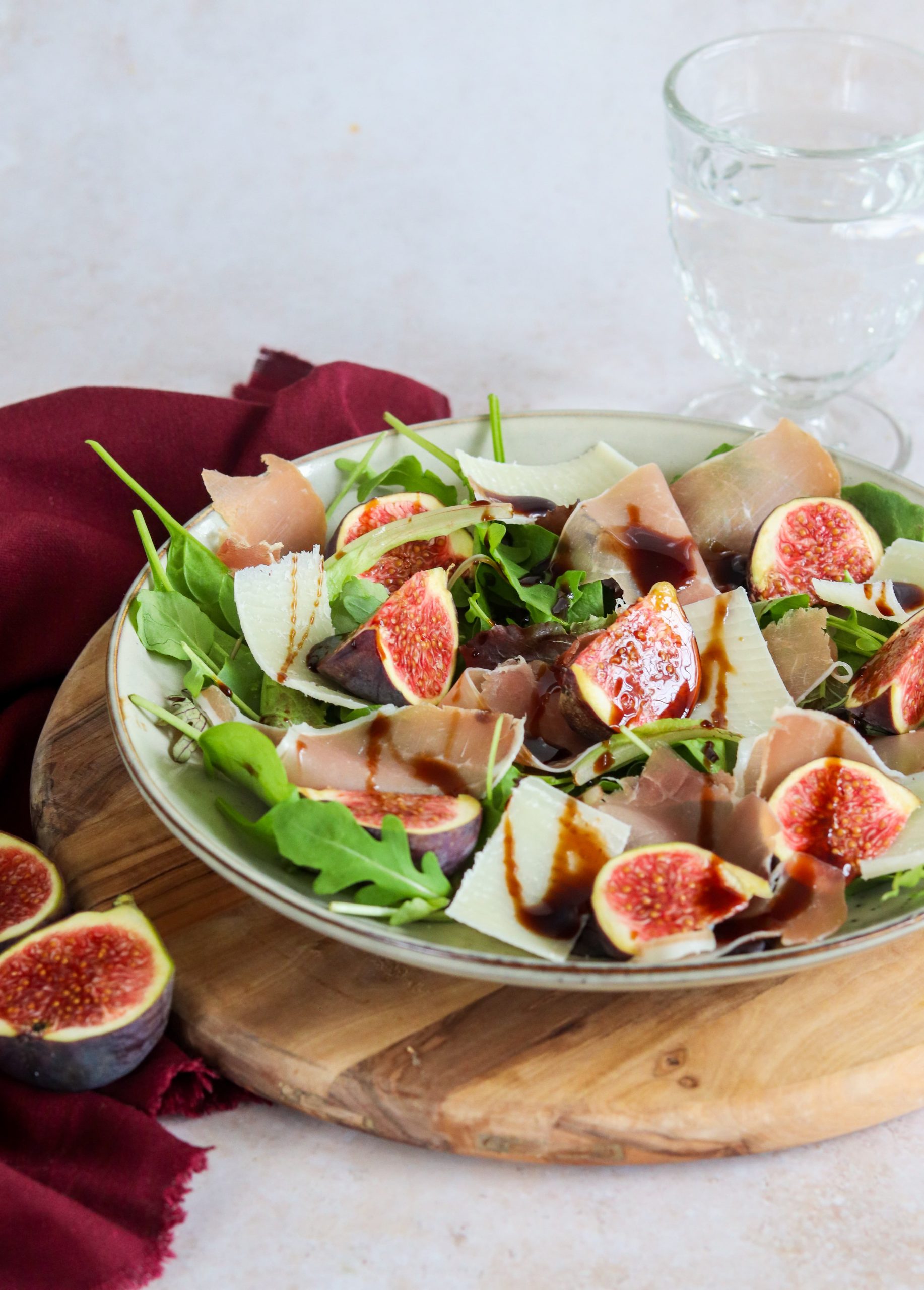 Other recipes you might like
Pin for later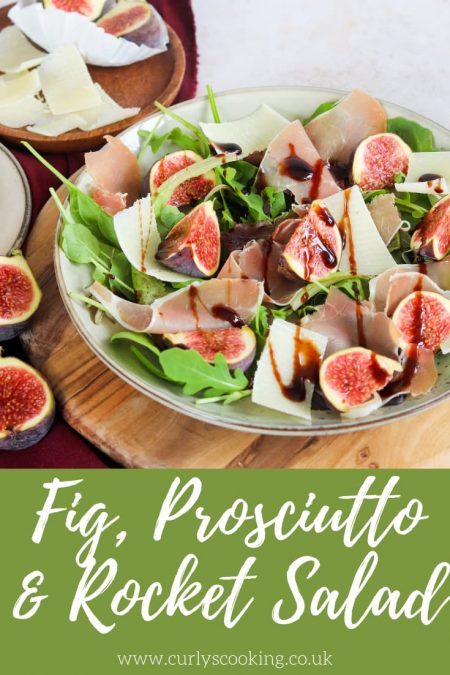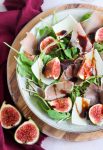 Fig, Prosciutto & Rocket Salad
This Fig, Prosciutto & Rocket Salad is definitely not a boring salad! The delicious sweet figs are complimented by the peppery rocket and salty ham.
Ingredients
60

g

rocket

(1 bag)

6

figs

8

slices

Prosciutto

20

g

Parmesan

Drizzle of balsamic vinegar or balsamic vinegar glaze
Instructions
Rinse the rocket if it hasn't already been washed and scatter over your serving plate or bowl

Cut the figs into quarters or sixths depending on how big they are and add them to the rocket

Drape slices of Prosciutto over the plate

Grate the Parmesan over the salad with a vegetable peeler so you get curls of cheese

Drizzle the salad with balsamic vinegar/balsamic glaze
Nutrition Facts
Fig, Prosciutto & Rocket Salad
Amount Per Serving
Calories 145
Calories from Fat 63
% Daily Value*
Fat 7g11%
Cholesterol 13mg4%
Sodium 190mg8%
Potassium 261mg7%
Carbohydrates 15g5%
Protein 4g8%
Vitamin A 500IU10%
Vitamin C 3.7mg4%
Calcium 109mg11%
Iron 0.6mg3%
* Percent Daily Values are based on a 2000 calorie diet.