Add instant flavour to so many dishes with this delicious Homemade Lemon Pepper Seasoning. Vibrant lemon and punchy black pepper compliment each other perfectly in this tasty seasoning.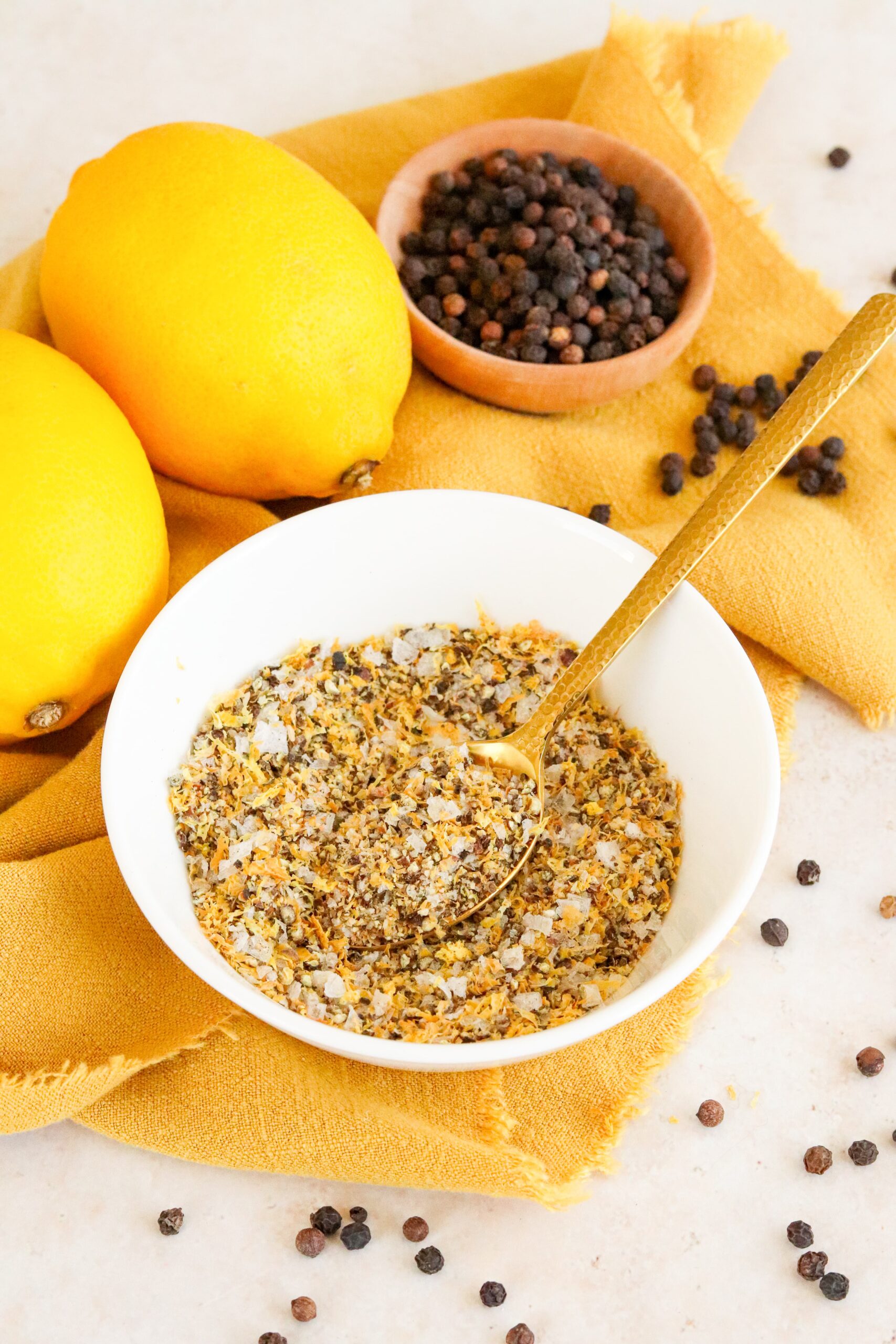 what is in homemade lemon pepper seasoning?
If you're not from America, you may not be very familiar with lemon pepper seasoning. It is a very popular seasoning in the US and is gradually becoming more popular and well known outside of the states.
Although here in the UK we are seeing lemon pepper appearing on menus at places such as Wingstop, it still isn't widely available in supermarkets. So what better excuse than to make it yourself!
As with a lot of seasonings, lemon pepper seasoning does vary. They all obviously include lemon and black pepper. Salt is also essential with some recipes adding garlic and/or onion powder.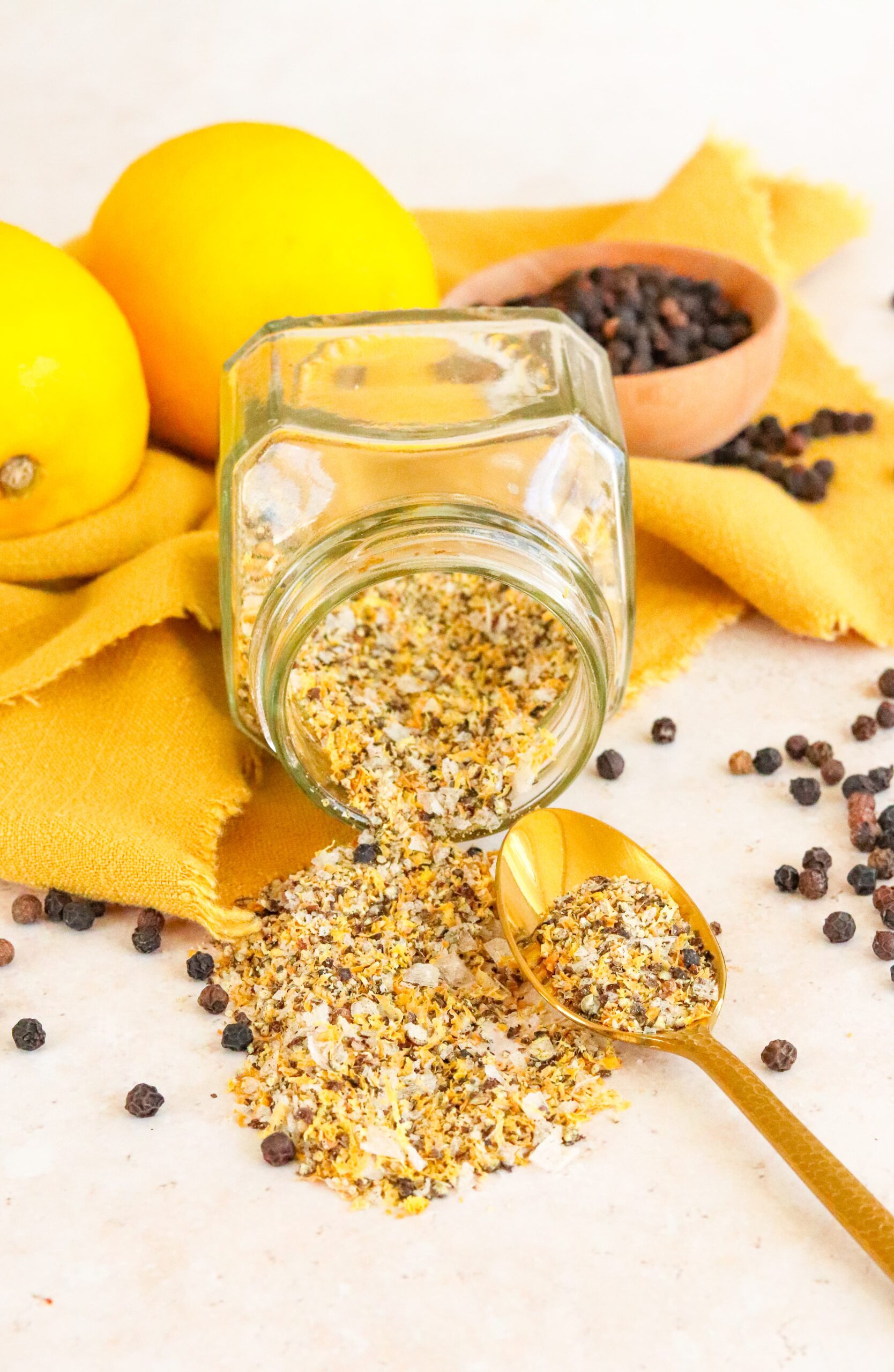 which lemons are best to use?
Lemons play such an essential part in this seasoning so it is worth making sure you get the right ones! By that I mean you really do need to buy unwaxed lemons for this seasoning.
Unwaxed lemons are a little bit more expensive than the waxed versions. However the zest such an integral ingredient in this dish it needs to have the lovely lemon flavour without being covered in wax.
Some people claim that you can scrub a waxed lemon really well to remove the wax. Personally I think it is better to just buy unwaxed lemons and then you know there is no wax involved.
Fresh lemons are also preferable. That might sound obvious but lemons can keep perfectly well for weeks. However the flavour in the zest becomes less vibrant as they age. So a fresher lemon will give you a punchier lemon flavour in your seasoning.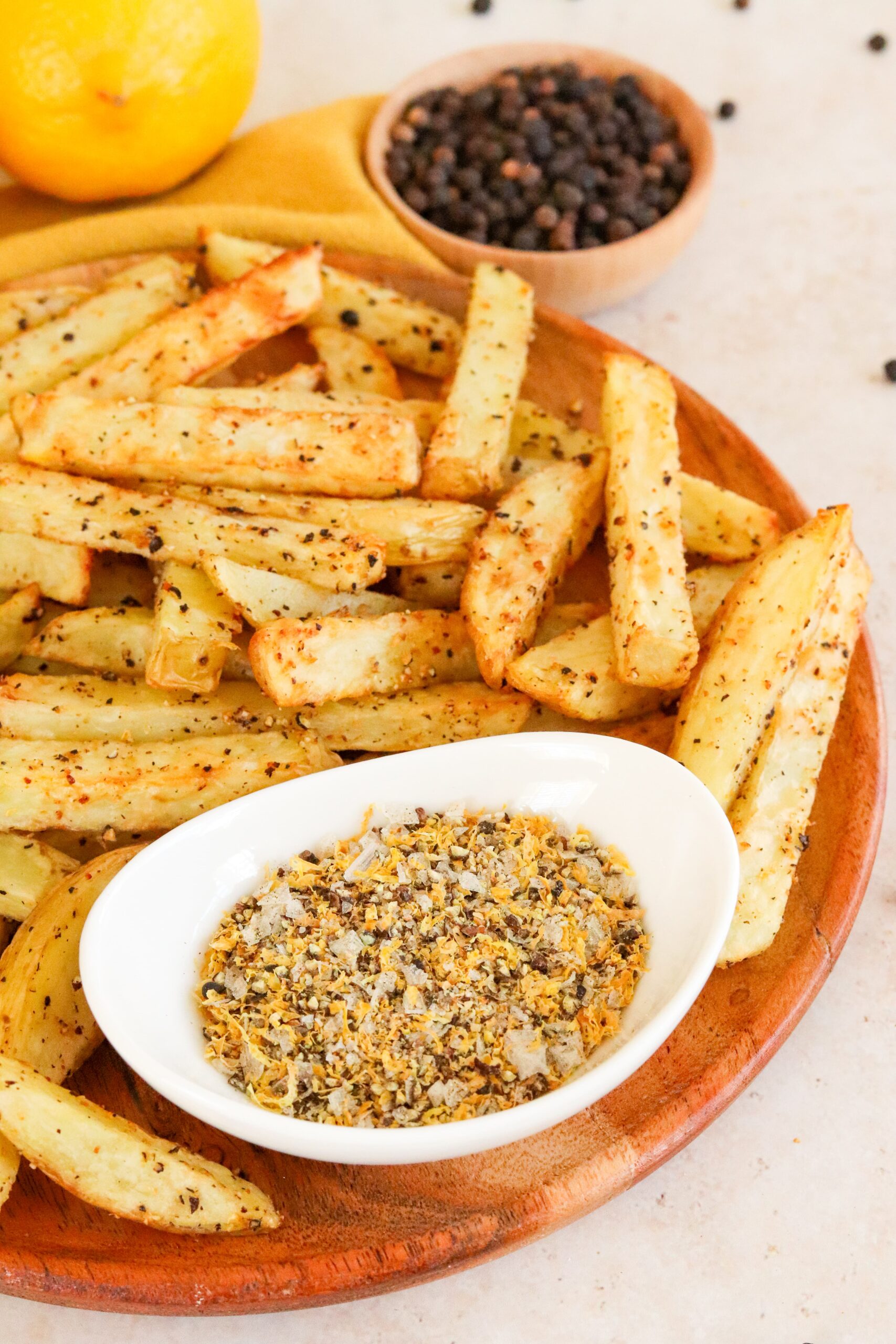 how to dry your lemon zest
When it comes to drying your lemon zest I prefer to bake it in the oven at a relatively high temperature for a short amount of time. The other option is a low temperature for a long time, but who's got time for that?!
I found that zesting the lemons with a grater or zester such as a microplane worked better than using a knife to cut strips of zest off the lemon.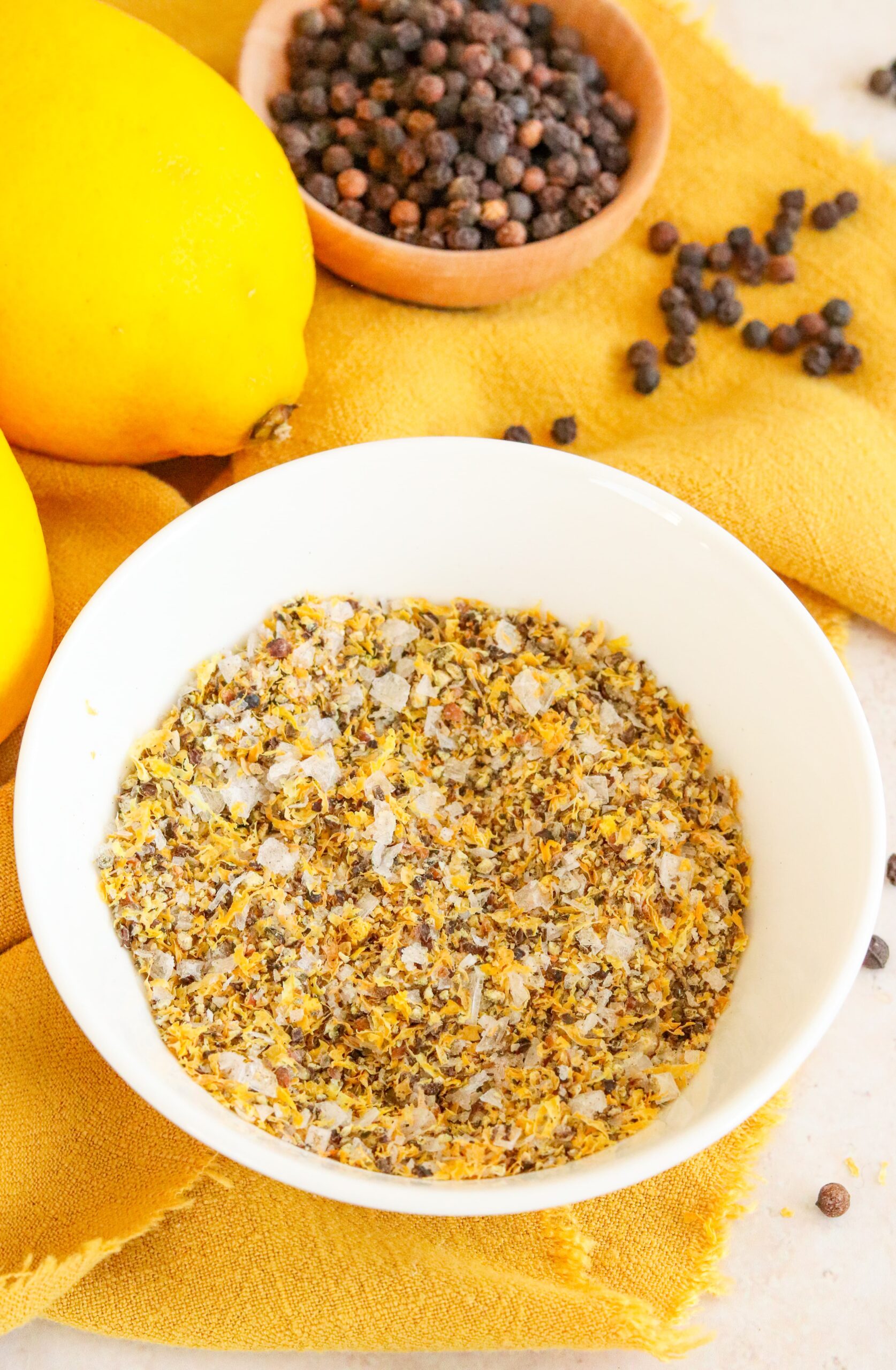 Using a fine grater means you don't run the risk of getting the white pith. Also it makes it much easier to use in the seasoning without having to grind it using a spice grinder.
It also takes less time to dry in the oven when it is finely grated. So in my opinion it is a no brainer.
If your air fryer has a dehydrate setting on it, you could try drying the lemon zest in there. You are looking for the zest to have no moisture left and crumble easily.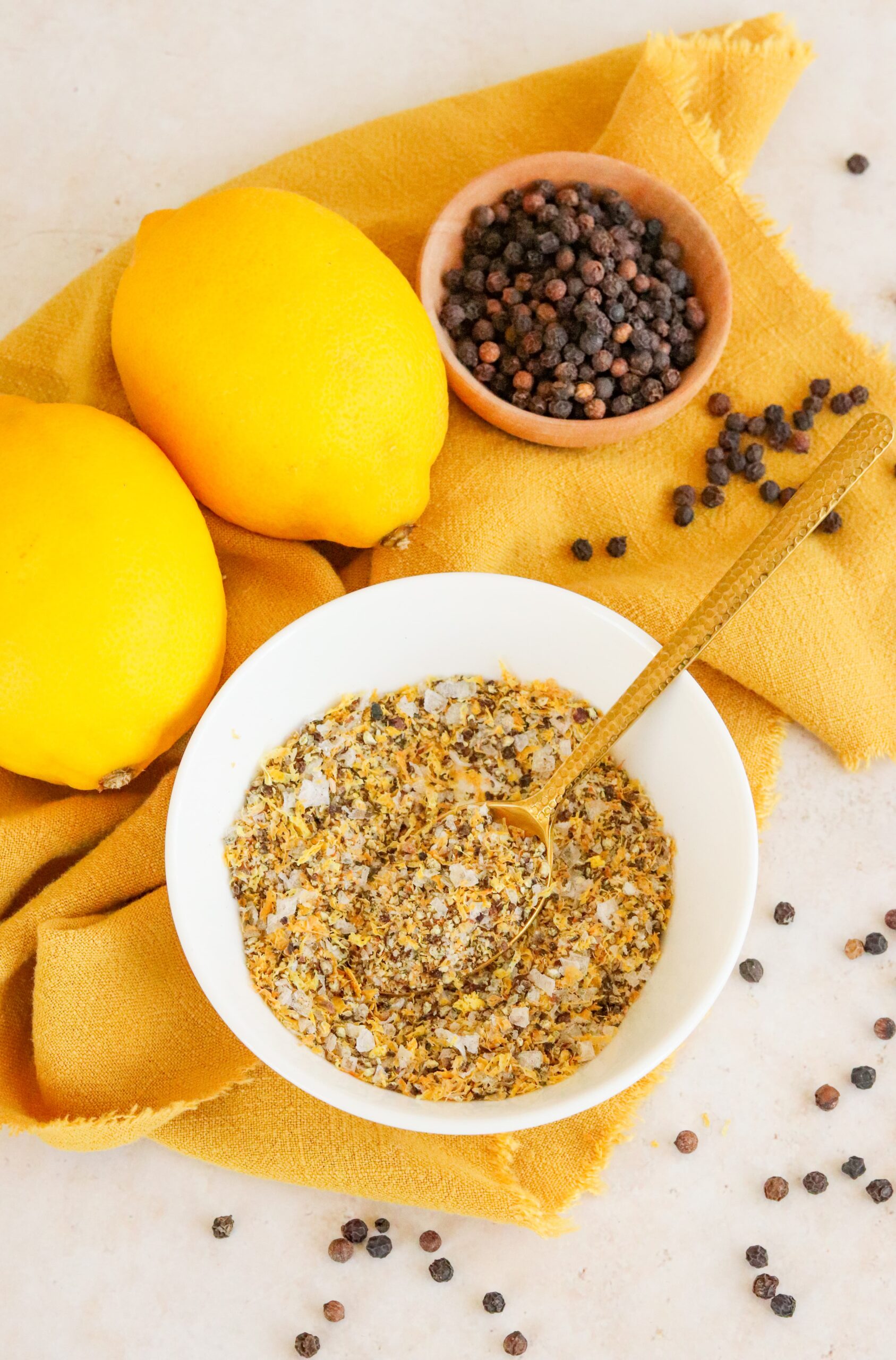 which black pepper is best to use?
It is down to personal preference how finely ground you like your black pepper to be. Personally I don't like my black pepper to be coarsely ground and much prefer it to be finely ground.
I definitely wouldn't use bought ground black pepper. Grinding it yourself not only can ensure you get the coarseness you prefer, but it has a better flavour than pepper sold already ground.
Grinding the pepper yourself will ensure you get the best pepper flavour in your homemade lemon pepper seasoning.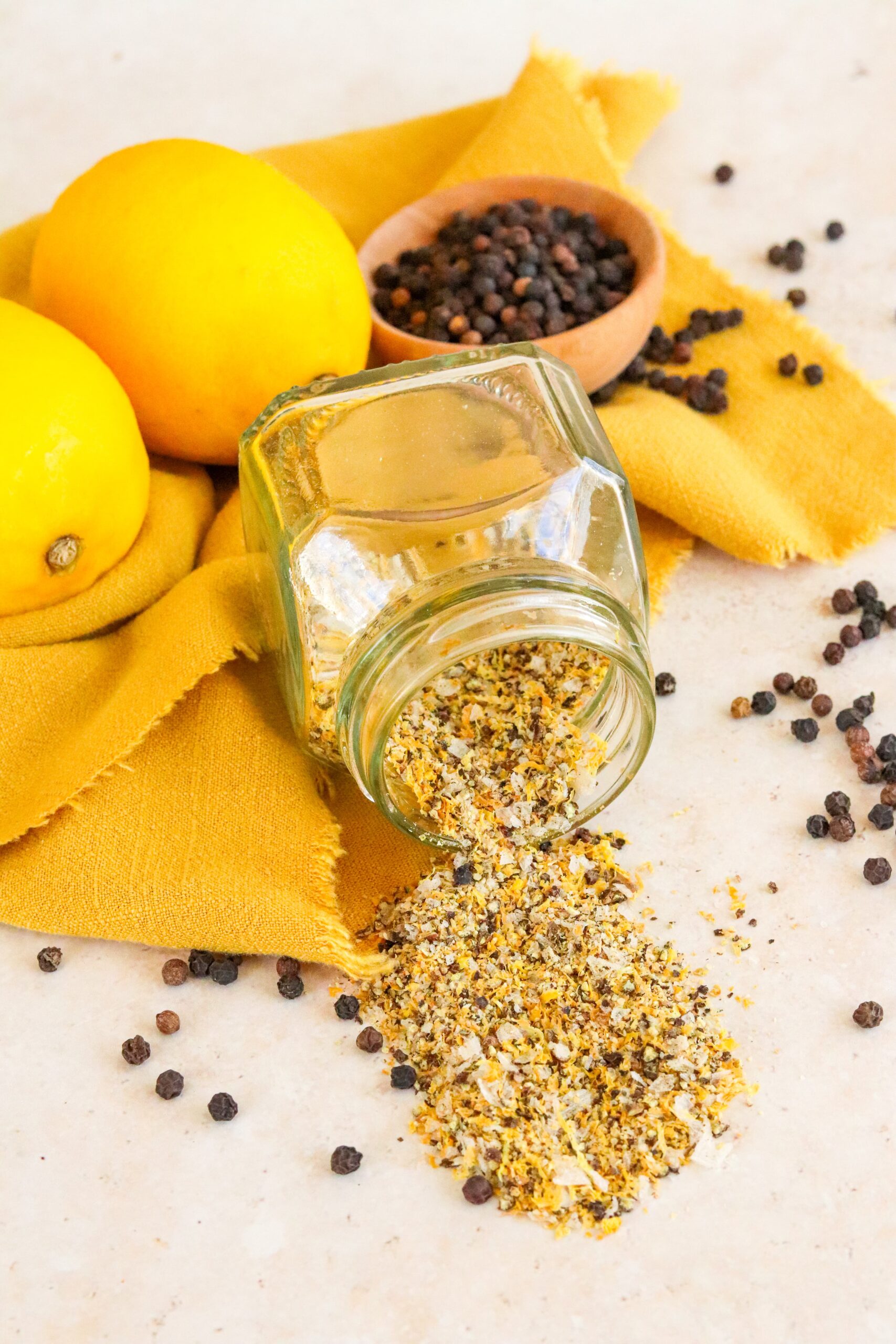 do you need a spice grinder?
No you don't need a spice grinder to make this homemade lemon pepper seasoning. That was my top priority aside from flavour when creating this recipe. Spice grinders are expensive and most of us don't actually need one in our cupboards.
My method for drying the lemon zest means that it is already pretty fine. If you want it finer, you can grind it a bit more with the end of a rolling pin or something similar.
When it comes to the pepper, all you need for that is a standard pepper grinder. These aren't anything fancy and you can get them in every supermarket.
It doesn't take much time at all to grind enough pepper for this recipe and is much cheaper than buying a spice grinder!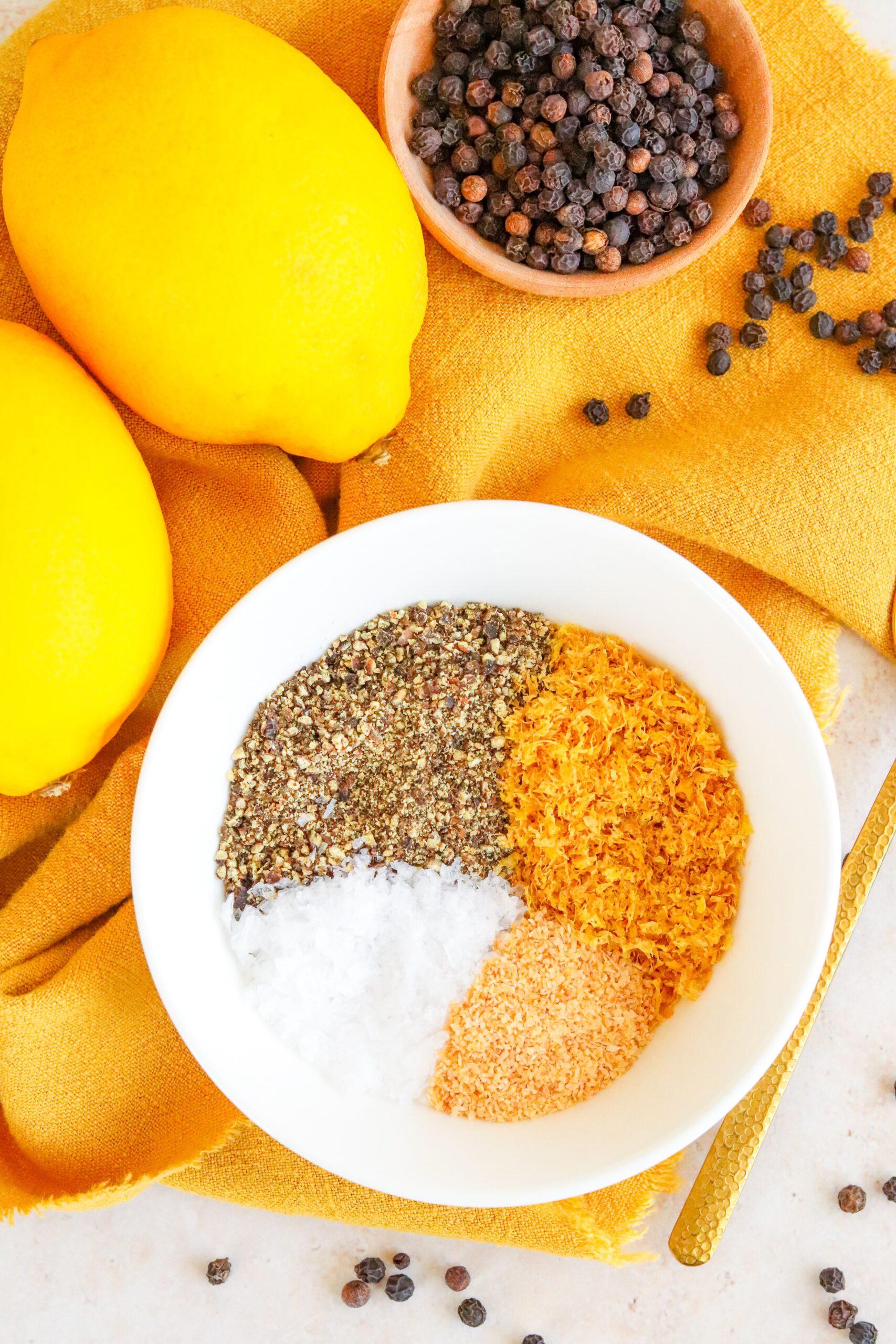 how long will lemon pepper seasoning keep for?
As with most seasonings, this homemade lemon pepper seasoning will start to loose it's vibrant flavour after around six months even when kept in an airtight container or jar.
The recipe as written doesn't make a huge amount of seasoning. You can of course scale it up, but I prefer to make little quantities more often to keep the flavour at its best.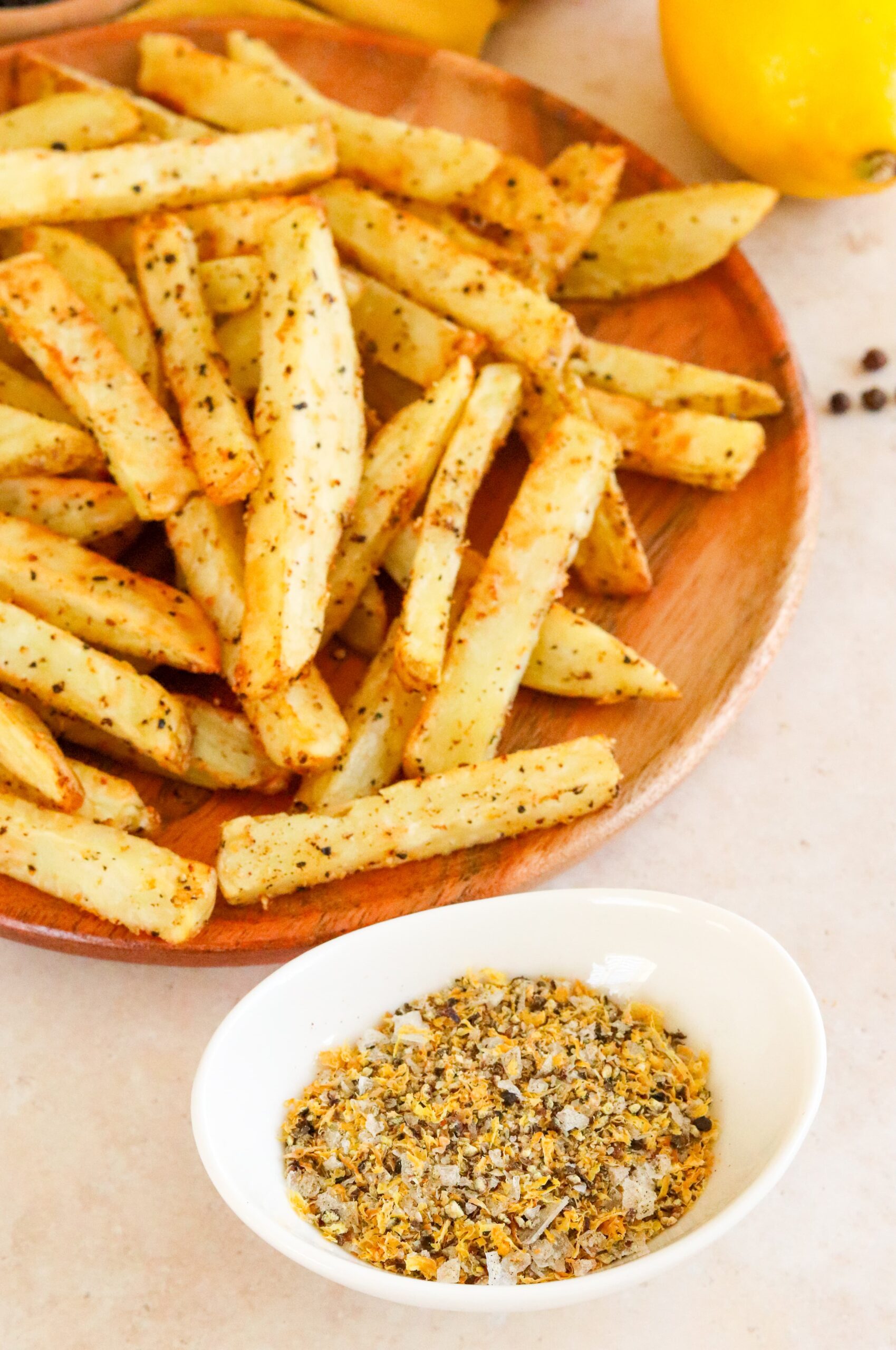 how to use lemon pepper seasoning
The most common ways of using lemon pepper seasoning are to make lemon pepper fries and chicken wings. These have been made popular by American chains like Wingstop, and it is obvious to see why!
You can adjust the amount of seasoning you use to your preferences. Personally I prefer a lighter coating of this seasoning whereas my husband likes a more generous helping.
You could use this lemon pepper seasoning to season all kinds of things. Chicken and salmon would work really well with the seasoning. You could also sprinkle some over vegetables like tenderstem broccoli and asparagus. Get creative!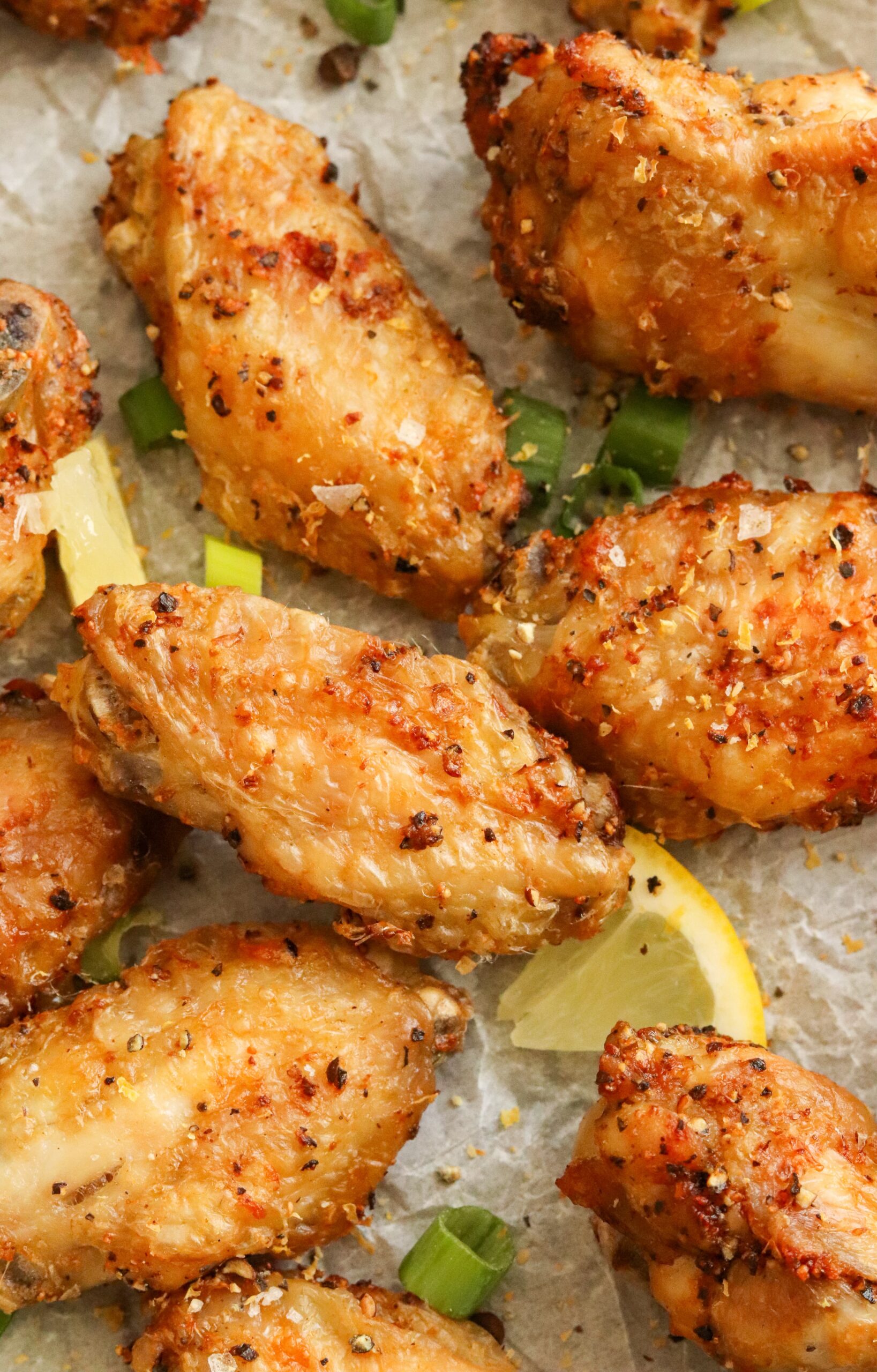 other recipes you might like
Pin for later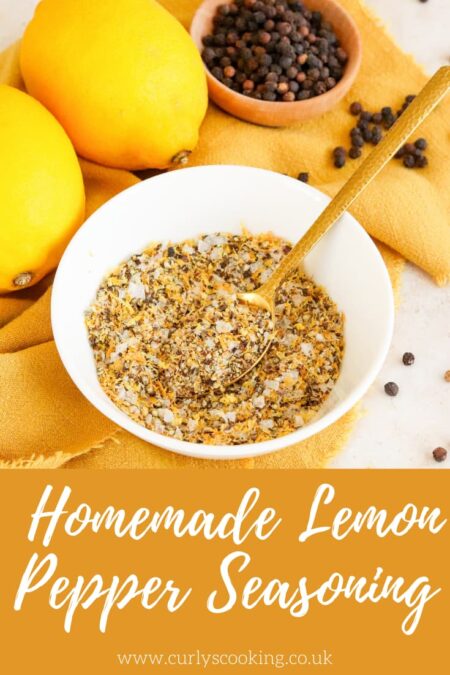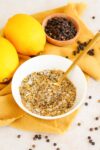 Homemade Lemon Pepper Seasoning
Add instant flavour to so many dishes with this delicious Homemade Lemon Pepper Seasoning. Vibrant lemon and punchy black pepper compliment each other perfectly in this tasty seasoning.
Ingredients
1

tbsp

lemon zest

(3 large unwaxed lemons)

1

tbsp

ground black pepper

1 ½

tsp

sea salt

1

tsp

garlic granules
Instructions
Preheat your oven to 170°C

Zest 3 large lemons or the equivalent until you get 1 tbsp lemon zest

Scatter the lemon zest onto a lined baking tray trying to get it in one even layer

Cook in the oven for 7-8 minutes until the lemon zest is dry without becoming too brown. Leave to cool

Once the lemon zest is cooled, add it to a bowl or jar along with 1 tbsp black pepper, 1½ tsp sea salt and 1 tsp garlic granules

Mix or shake to fully combine
Recipe Notes
Make sure you only use the lemon zest and not the bitter pith.
Ovens may vary so check on the lemon zest to make sure it isn't becoming too brown.
Nutritional information is given as a guide only and may vary.
Nutrition Facts
Homemade Lemon Pepper Seasoning
Amount Per Serving (1 tsp)
Calories 4
% Daily Value*
Fat 0.03g0%
Polyunsaturated Fat 0.01g
Monounsaturated Fat 0.01g
Sodium 499mg22%
Potassium 18mg1%
Carbohydrates 1g0%
Protein 0.2g0%
Vitamin A 5IU0%
Vitamin C 1mg1%
Calcium 6mg1%
Iron 0.1mg1%
* Percent Daily Values are based on a 2000 calorie diet.