These Air Fryer Lemon Pepper Fries are deliciously addictive and packed full of punchy flavour. The lemon zest and black pepper are the perfect addition to tasty fries. They're so simple you can make your own instead of ordering a takeaway.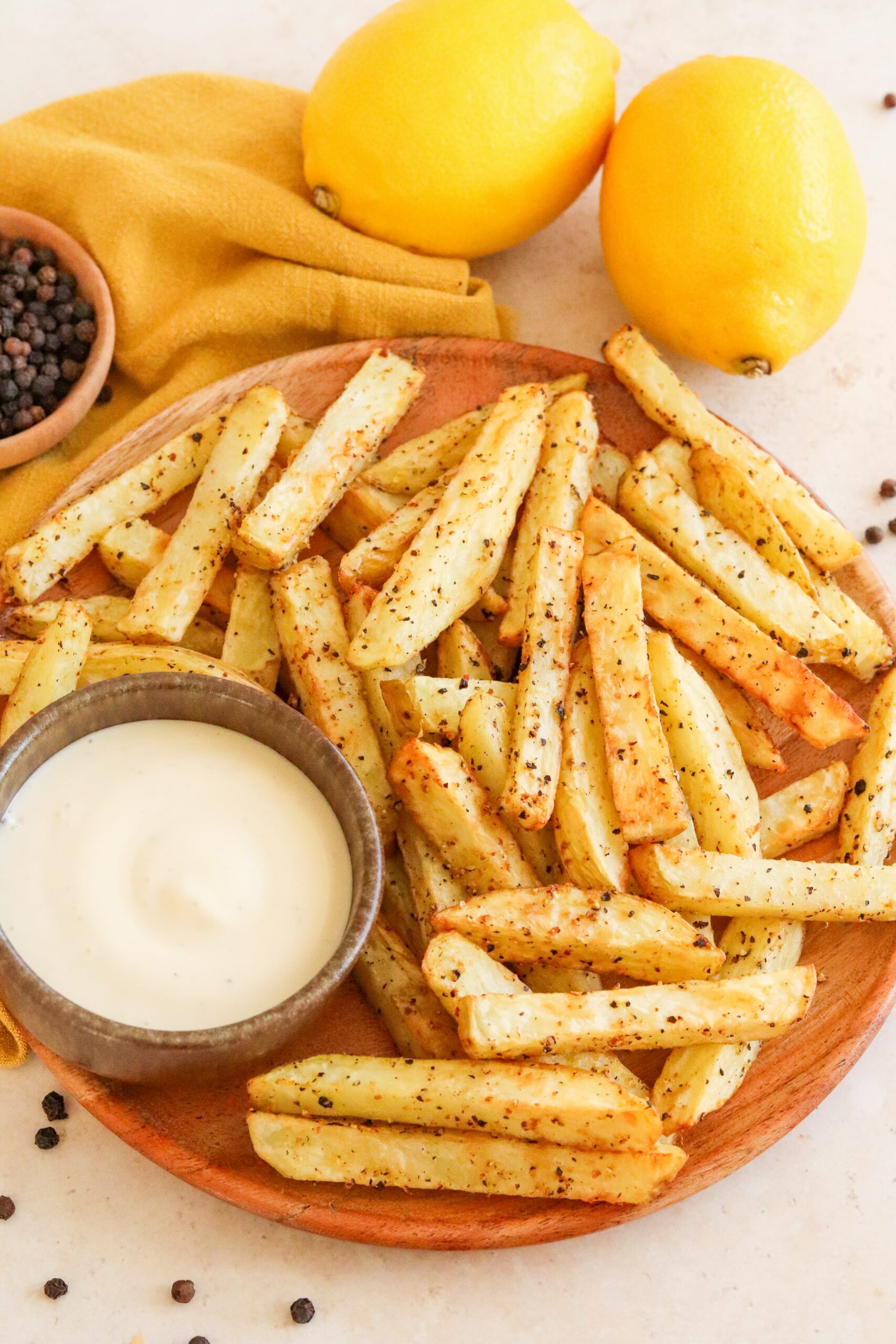 WHY USE AN AIR FRYER AND NOT AN OVEN?
Air fryers cook food quicker than a standard convection oven which is great for saving energy and pennies but also for busy families that want to be able to cook food quickly.
Another advantage is that air fryers are smaller than ovens and grills so you're not heating up a full-sized oven and instead a smaller air fryer. This means you're using less energy because you're heating up a smaller appliance as well as cooking the food faster.
Chips are the main reason I bought my first air fryer years ago. I think homemade chips cook much more evenly and more quickly in an air fryer compared to a standard oven.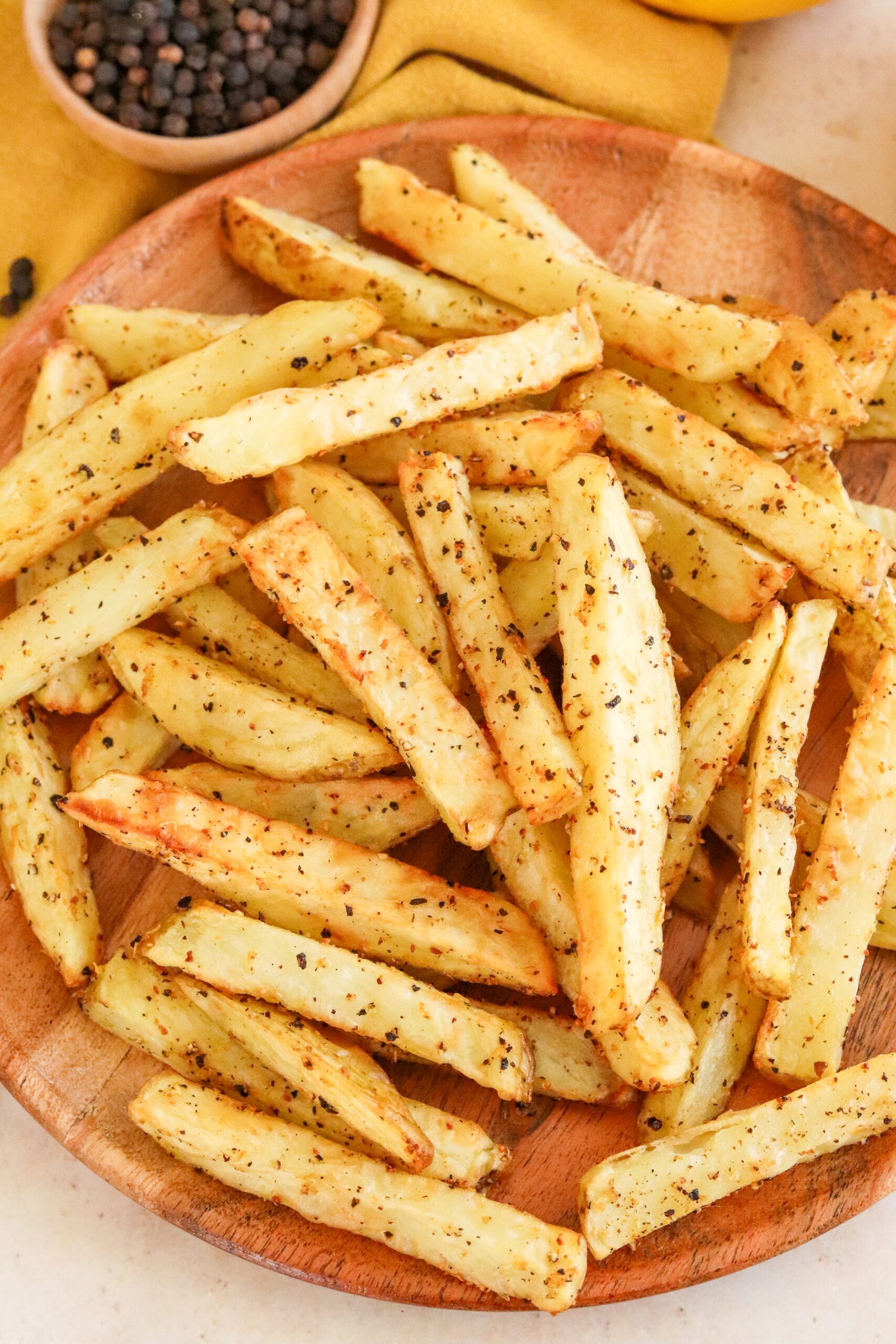 what is in homemade lemon pepper seasoning?
If you're not from America, you may not be very familiar with lemon pepper seasoning. It is a very popular seasoning in the US and is gradually becoming more popular and well known outside of the states.
Although here in the UK we are seeing lemon pepper appearing on menus at places such as Wingstop, it still isn't widely available in supermarkets. So what better excuse than to make it yourself!
As with a lot of seasonings, lemon pepper seasoning does vary. They all obviously include lemon and black pepper. Salt is also essential with some recipes adding garlic and/or onion powder.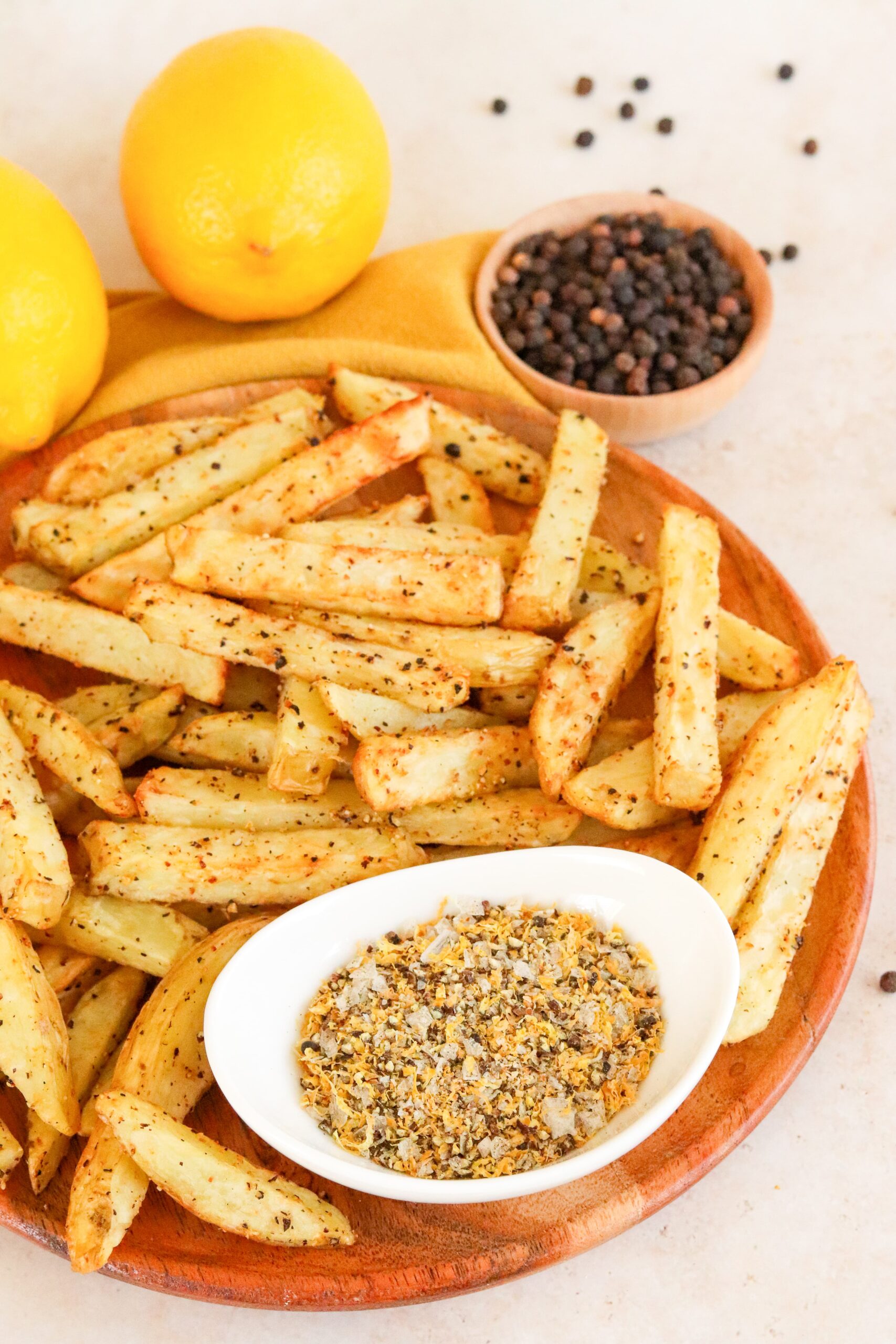 which fries make the best lemon pepper fries?
I like to use my air fryer chips recipe when making these lemon pepper fries. This makes them pretty similar to Wing Stop fries. My air fryer chip recipe has more detailed information about which potatoes to use and other helpful chip making advice.
Air Fryer Chips
Crisp chips with a fluffy interior cooked in twenty minutes with no soaking or par boiling. Air Fryer Chips are simple and incredibly delicious – your family will ask for these time and time again!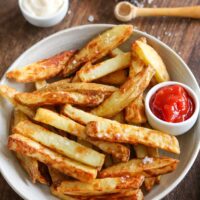 But you can use the lemon pepper seasoning on any of my air fryer potato recipes and they will be delicious. They don't have to be in the typical fry shape – new potatoes and smashed potatoes will be very tasty with lemon pepper seasoning too!
You can also use frozen chips if want quicker lemon pepper fries. I wouldn't usually add any oil to frozen chips when air frying them, but you need the seasoning to stick. I like to use oil in a spray bottle to give a fine spray and then sprinkle with the seasoning.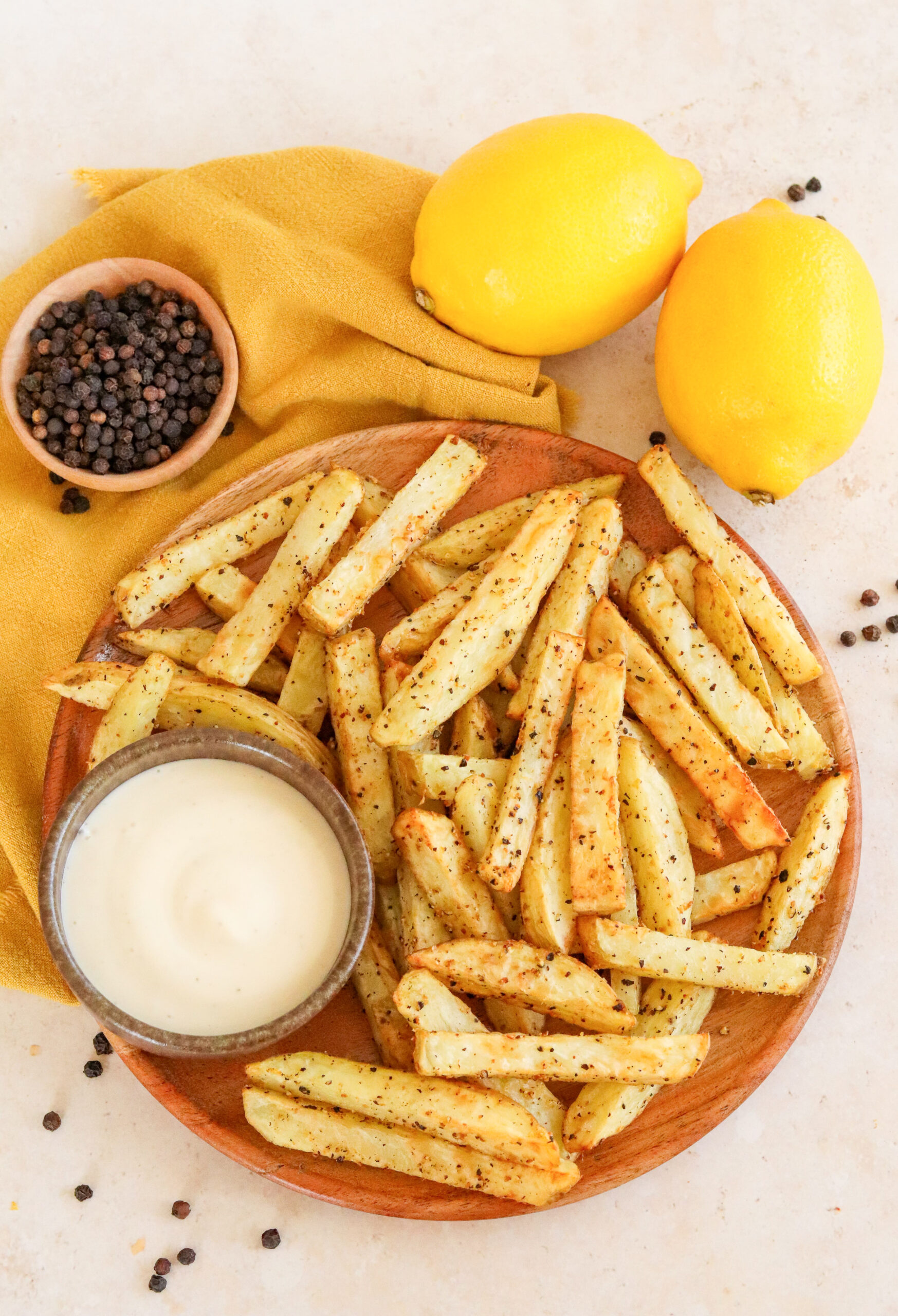 How much lemon pepper seasoning to use
How much seasoning you use is down to personal preference. I prefer a lighter sprinkling of the seasoning on my fries because I think pepper can be overpowering. Whereas my husband loves a much more liberal scattering.
This is why in the recipe I say to use one to two teaspoons of the seasoning. After you have made these fries once, you will know whether you would prefer to add more or less seasoning next time.
Of course you can add less than one teaspoon or go crazy and add as much as you like. It is all down to your preference.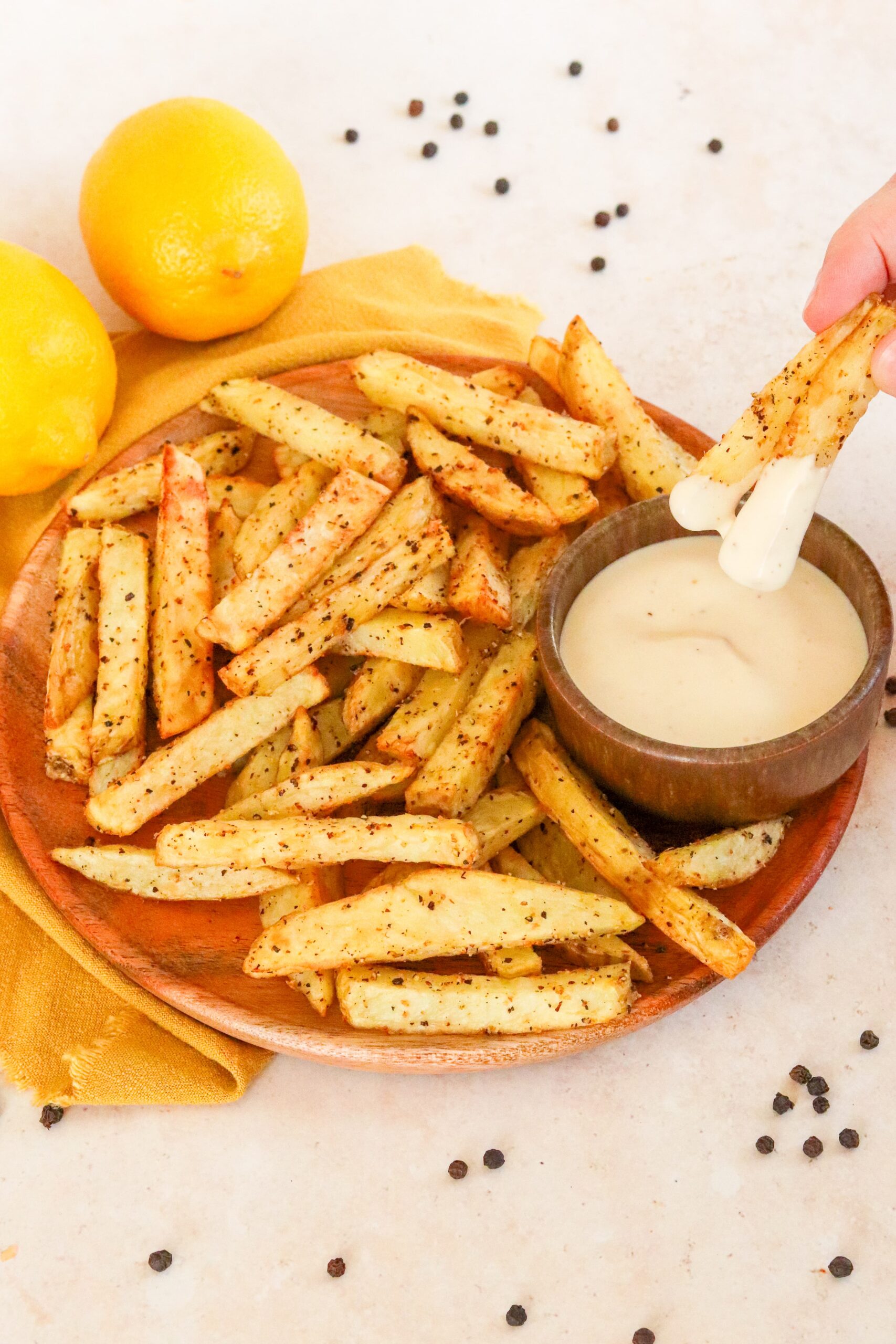 do you need to preheat an air fryer?
That depends on your air fryer, some require preheating whilst others don't. I have a Ninja Foodi 7-in-1 multicooker and a Ninja Foodi Flexdrawer and I have never preheated either.
If your air fryer does require preheating, check the chips a few minutes sooner than the recipe states. If your air fryer is warm, food is likely to cook a few minutes faster.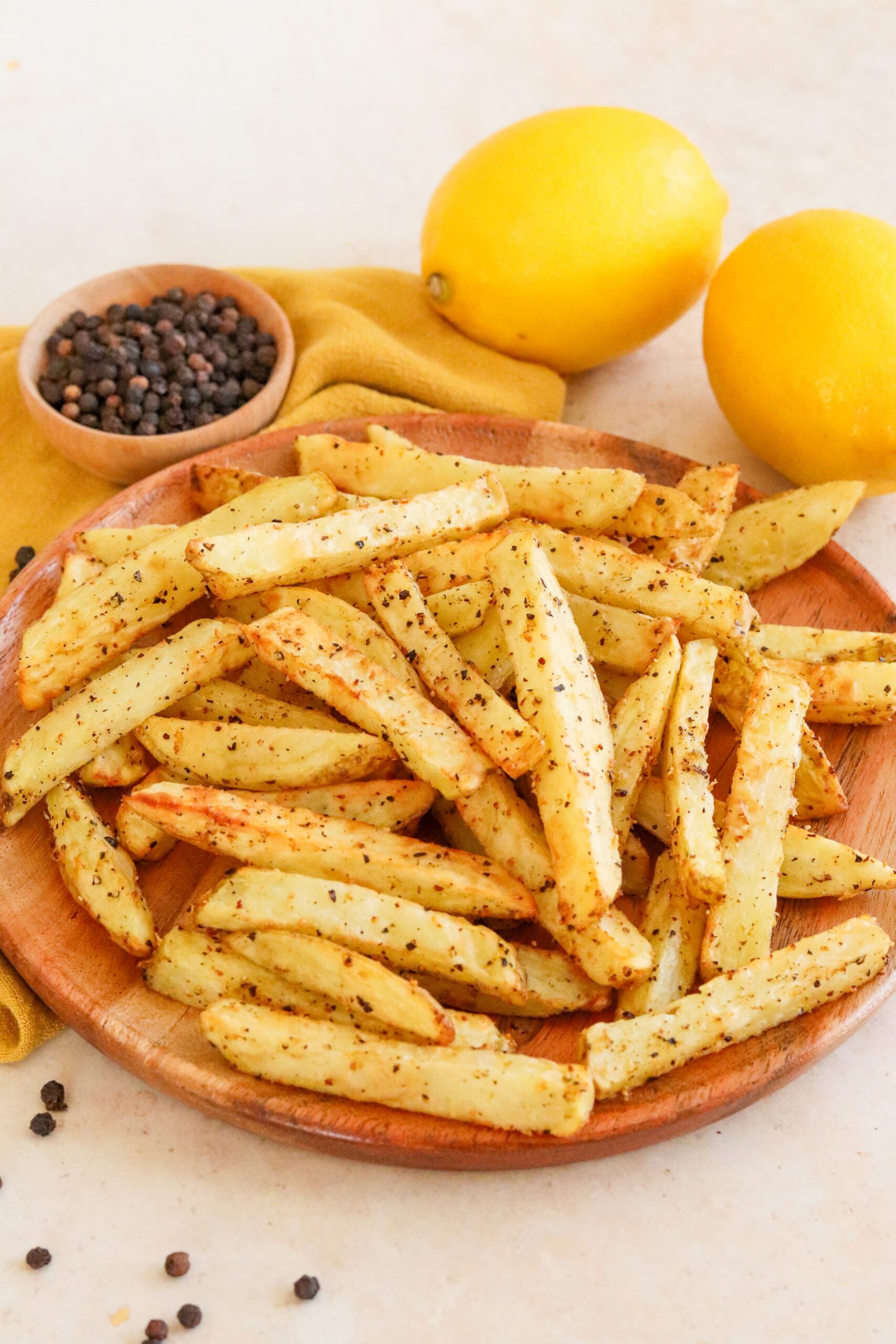 can you use an air fryer liner?
Air fryer liners are a great time saving addition because they are usually easier to wash than the basket of your air fryer.
Most reusable air fryer liners are silicone and although they are handy to have, I wouldn't recommend using them for all recipes.
Fries take longer to crisp up if you use a liner but you could use one if you really wanted.
I've written a whole post on whether you should use an air fryer liner, check it out for more information.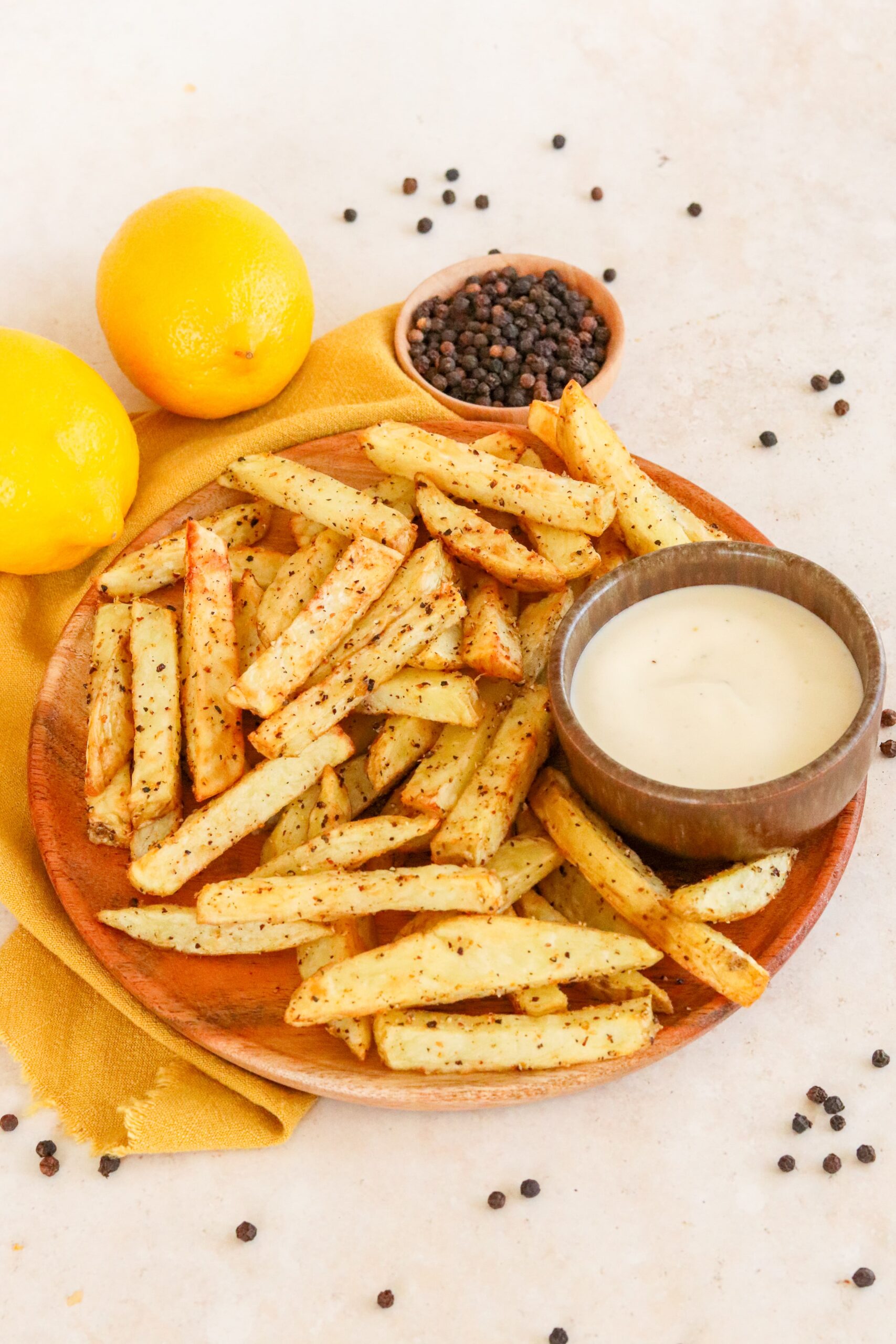 How to serve air fryer lemon pepper fries
Lemon pepper fries are most popularly served with foods like, chicken wings, chicken nuggets and burgers. This is probably because they are most commonly served at fast food chains like Wingstop and these meals are how people associate eating them.
You can see why this is such a popular way to serve these air fryer lemon pepper fries though because it is a match made in heaven. Make sure you don't forget the sauces though! My ranch dip and honey mustard mayo are essential for dipping!
But don't limit yourself to serving these fries with just nuggets and burgers. There are so many delicious meals you can create.
The lemon zest in the seasoning would compliment fish really nicely. A piece of simple grilled fish with these fries and some broccoli would make a lovely light meal.
As I said before, you don't have to use the seasoning to make standard looking fries. Switch up the potatoes you use and the way you prepare them for all sorts of lemon pepper potatoes.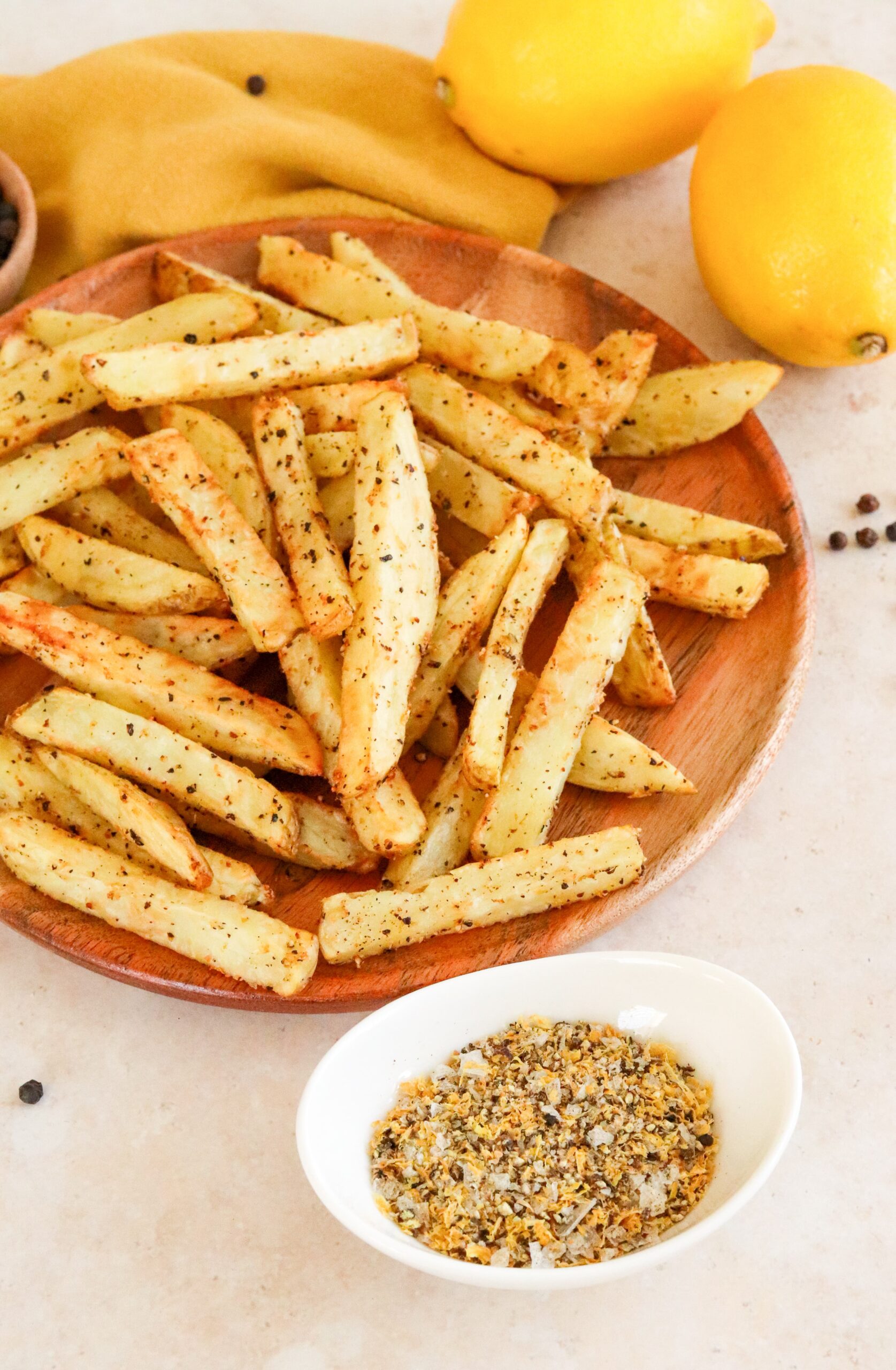 other recipes you might like
Pin for later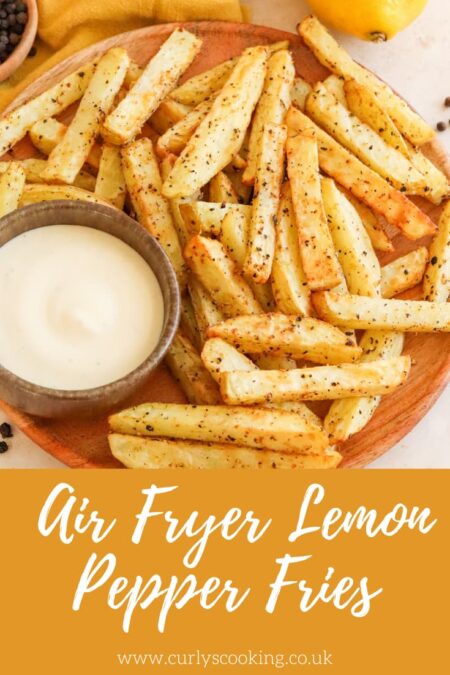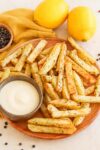 Air Fryer Lemon Pepper Fries
These Air Fryer Lemon Pepper Fries are deliciously addictive and packed full of punchy flavour. The lemon zest and black pepper are the perfect addition to tasty fries. They're so simple you can make your own instead of ordering a takeaway.
Instructions
Preheat your air fryer if needed

Wash and thoroughly dry 600g potatoes. Cut into fries approximately 1cm wide

Add the fries to a bowl along with 1 tbsp vegetable oil and 2-3 tsp lemon pepper seasoning depending on how strong you want the seasoning to be

Toss until the fries are fully coated in the seasoning. Tip into the basket of your air fryer

Cook for 20 minutes, turning half way
Recipe Notes
Nutritional information is given as a guide only and may vary.
Nutrition Facts
Air Fryer Lemon Pepper Fries
Amount Per Serving
Calories 298
Calories from Fat 63
% Daily Value*
Fat 7g11%
Sodium 0.4mg0%
Potassium 27mg1%
Carbohydrates 1g0%
Protein 0.2g0%
Vitamin A 11IU0%
Calcium 9mg1%
Iron 0.2mg1%
* Percent Daily Values are based on a 2000 calorie diet.