This Potato Seasoning is a combination of spices that will add delicious flavour to all sorts of potato dishes. Make a batch so you can add instant flavour to easily elevate meals.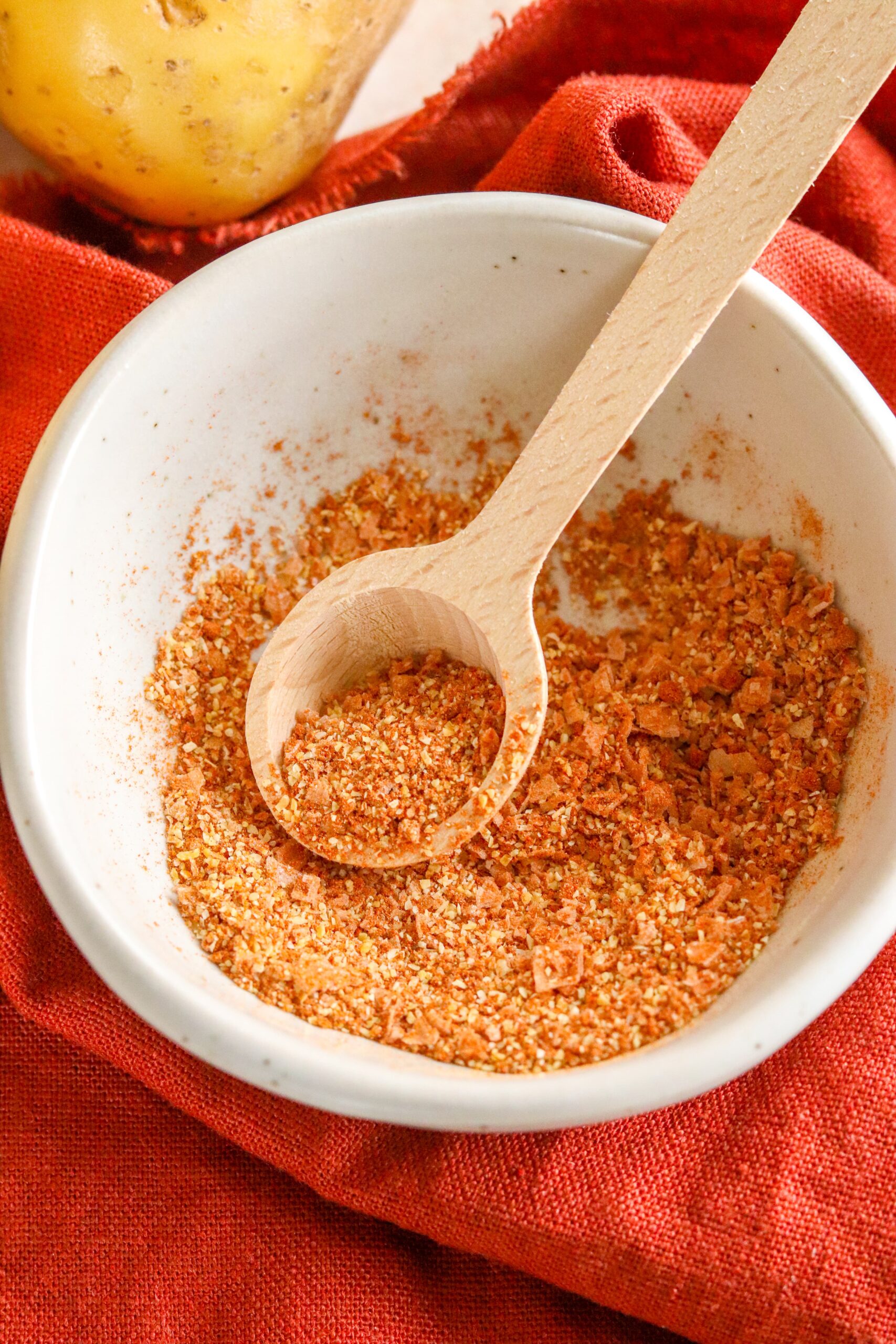 Why use potato seasoning?
Potato seasoning is a fantastic way to add delicious flavour to so many potato recipes. But why do you need a premixed seasoning you might ask.
Some people may not be confident in knowing which spices would work well together. Getting the quantities of each ingredient right might also be a concern for some people.
This recipe tells you exactly what flavours and quantities you will need for a really tasty seasoning.
Another advantage is you can make a batch and store it in the cupboard so it is really quick when you want to add flavour to your potatoes.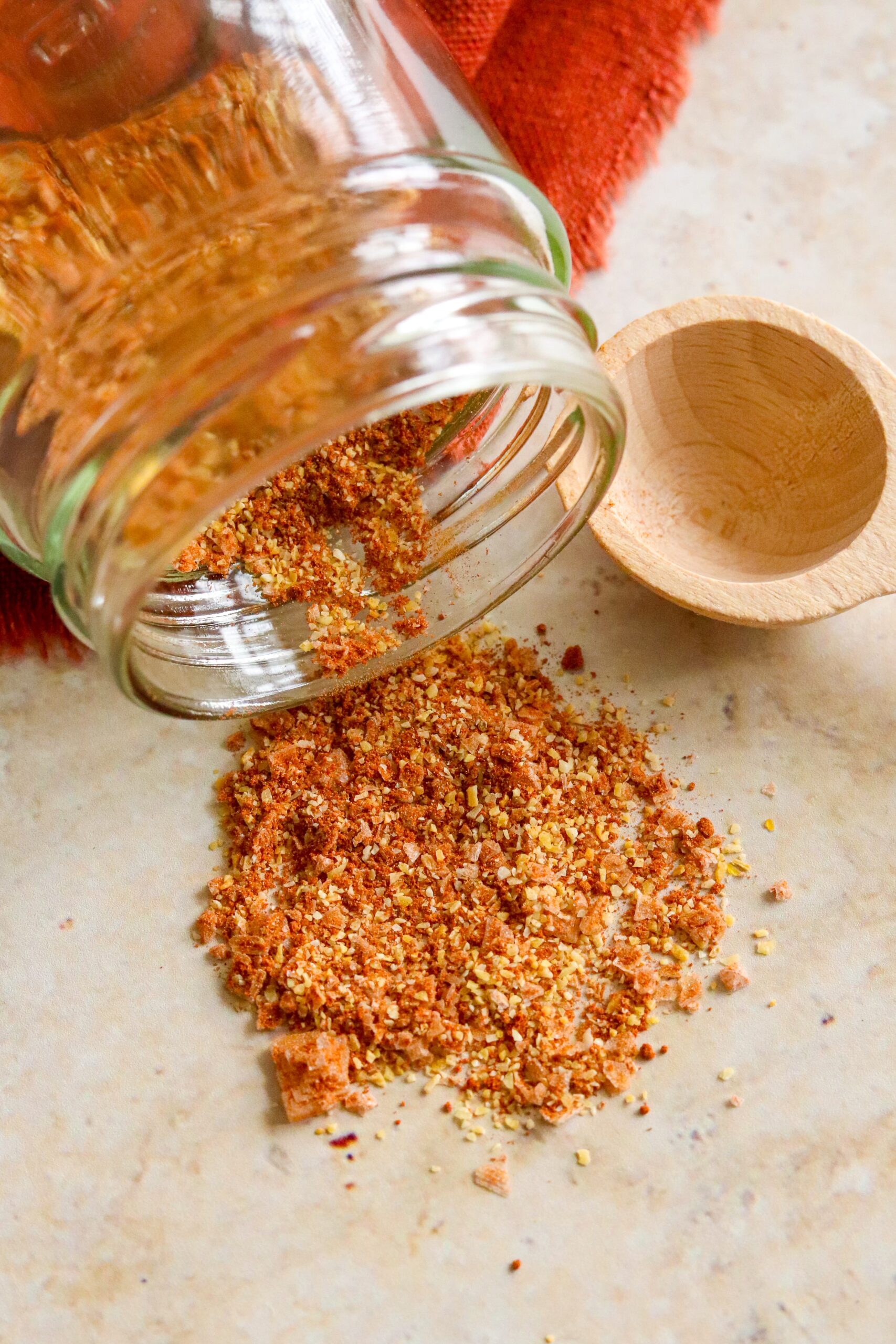 what ingredients are in potato seasoning?
This seasoning is a simple blend of four spices. All of which you should be able to find in any supermarket.
Sea salt – more often than not I use sea salt in cooking. If you prefer to use table salt you definitely can, but you will need to use less. I would recommend using half of the amount in the recipe below
Garlic granules – one of my favourite spices! You can also use garlic powder or flakes if you prefer
Paprika – you can use standard or smoked paprika for this seasoning. You could even use hot paprika for some added spice
Pepper – I prefer to use white pepper because as someone that isn't fond of pepper, I find the flavour more subtle. You can absolutely use black pepper instead. Also feel free to add more if you are a fan of pepper, you can easily double the quantity in the recipe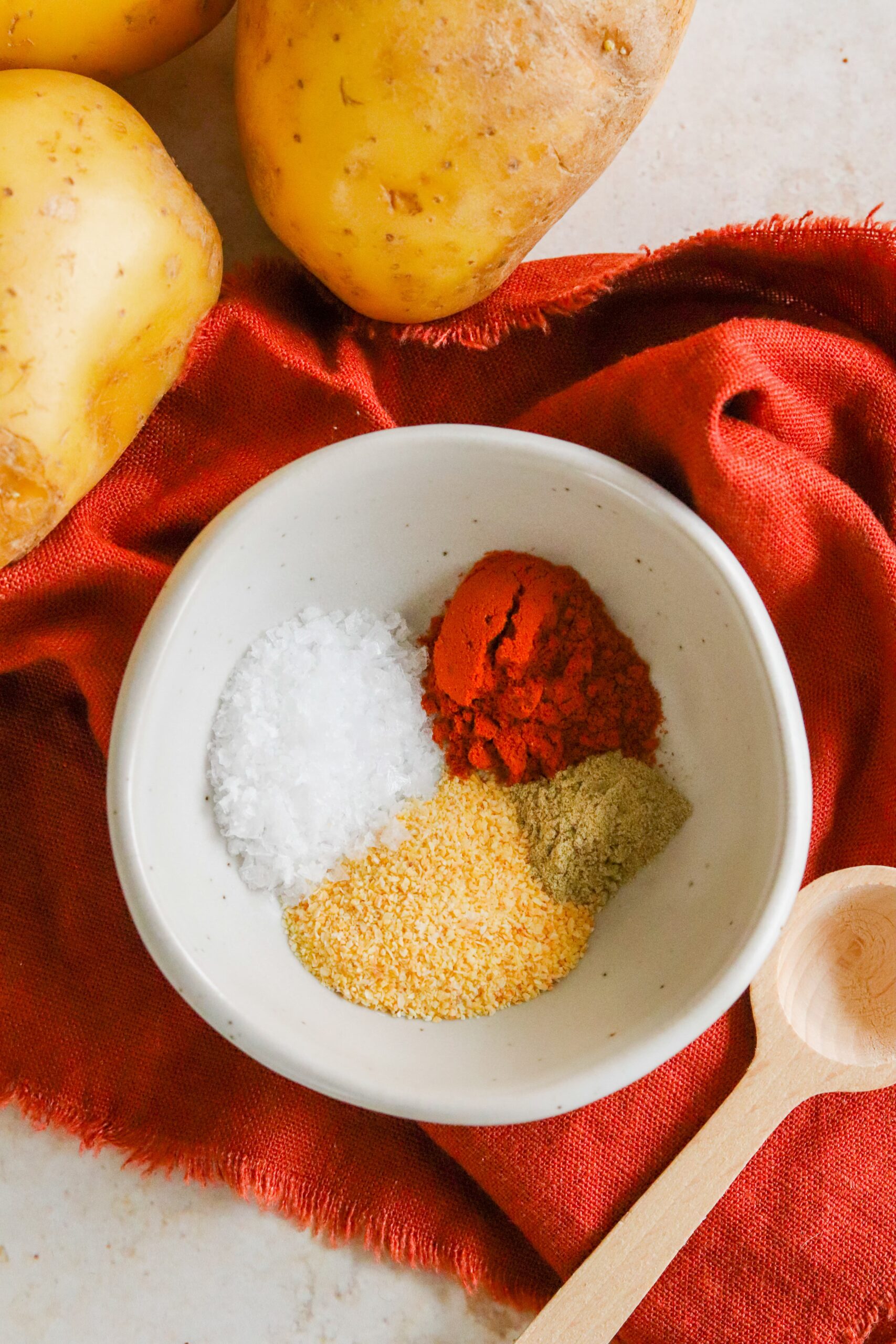 how to make potato seasoning
Making potato seasoning really couldn't be easier. All you need to do is measure out the spices and mix them together.
You can add the spices directly into the jar you are going to store the seasoning in. If you do this, you can shake them right there in the jar to mix them up.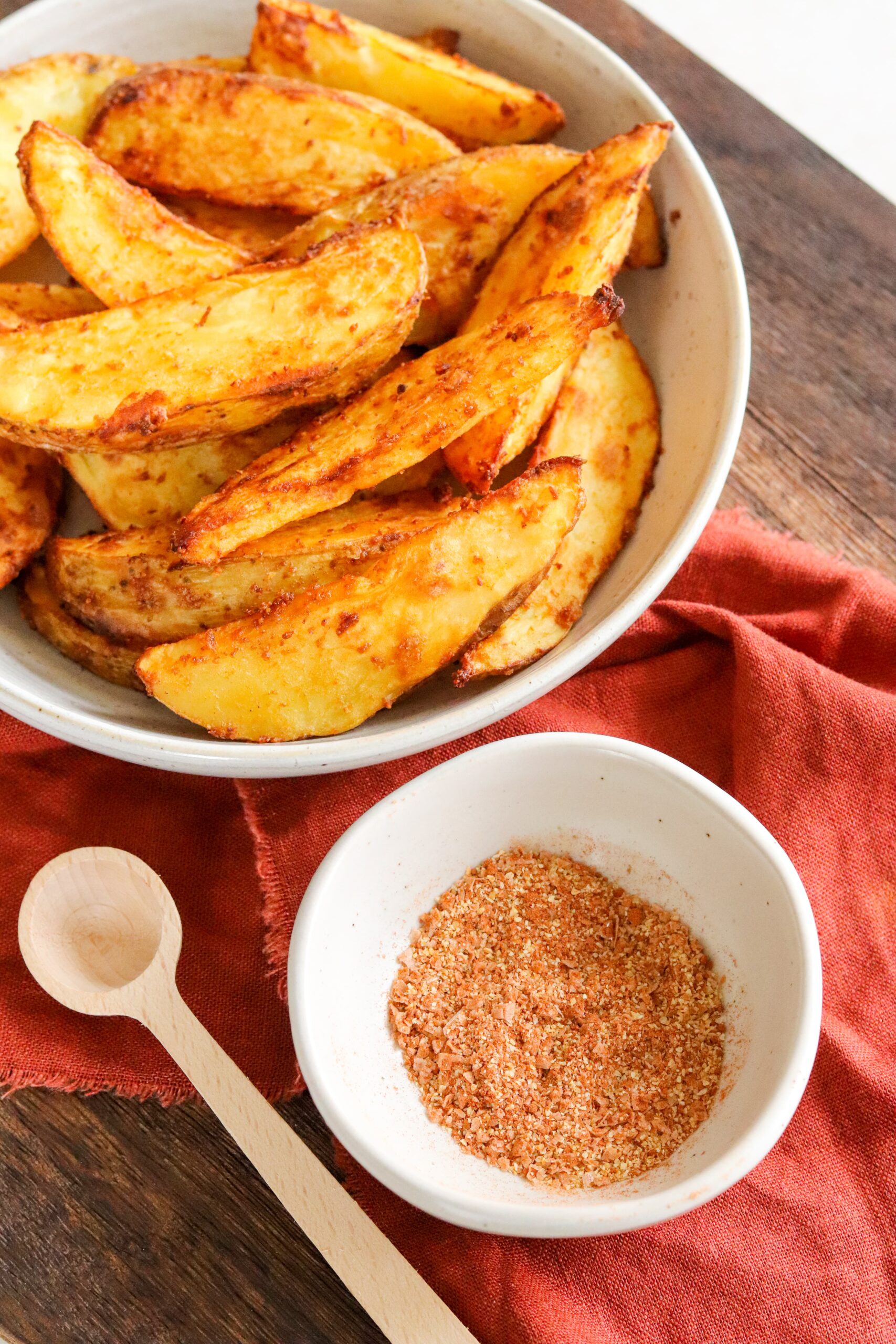 Scale up the recipe
This recipe is incredibly easy to scale up. It is up to you how much seasoning you would like to make. Also you can scale down the recipe to make enough for just one portion of potatoes.
In the recipe card below, hover over the number of servings and you will get a slider bar. Here you can adjust the recipe to the number of servings you would like to make.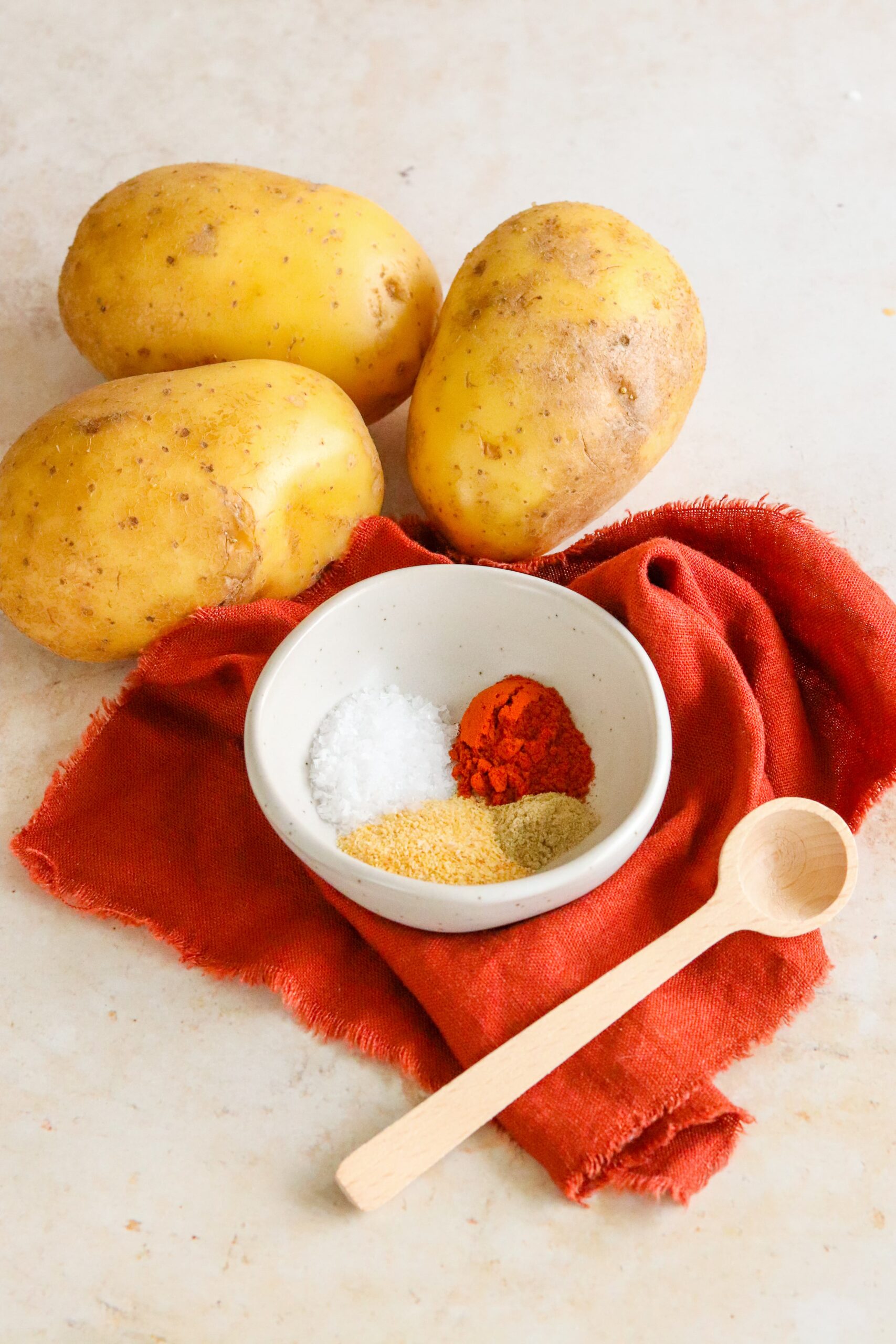 how much potato seasoning to use
One tablespoon of the potato seasoning will perfectly season around 500-600g of potatoes. If you would like the potatoes to be lightly seasoned, you can always reduce the amount you add to your potatoes.
This potato seasoning is meant to be used to season the potatoes before they are cooked. I would not recommend adding it after potatoes are cooked.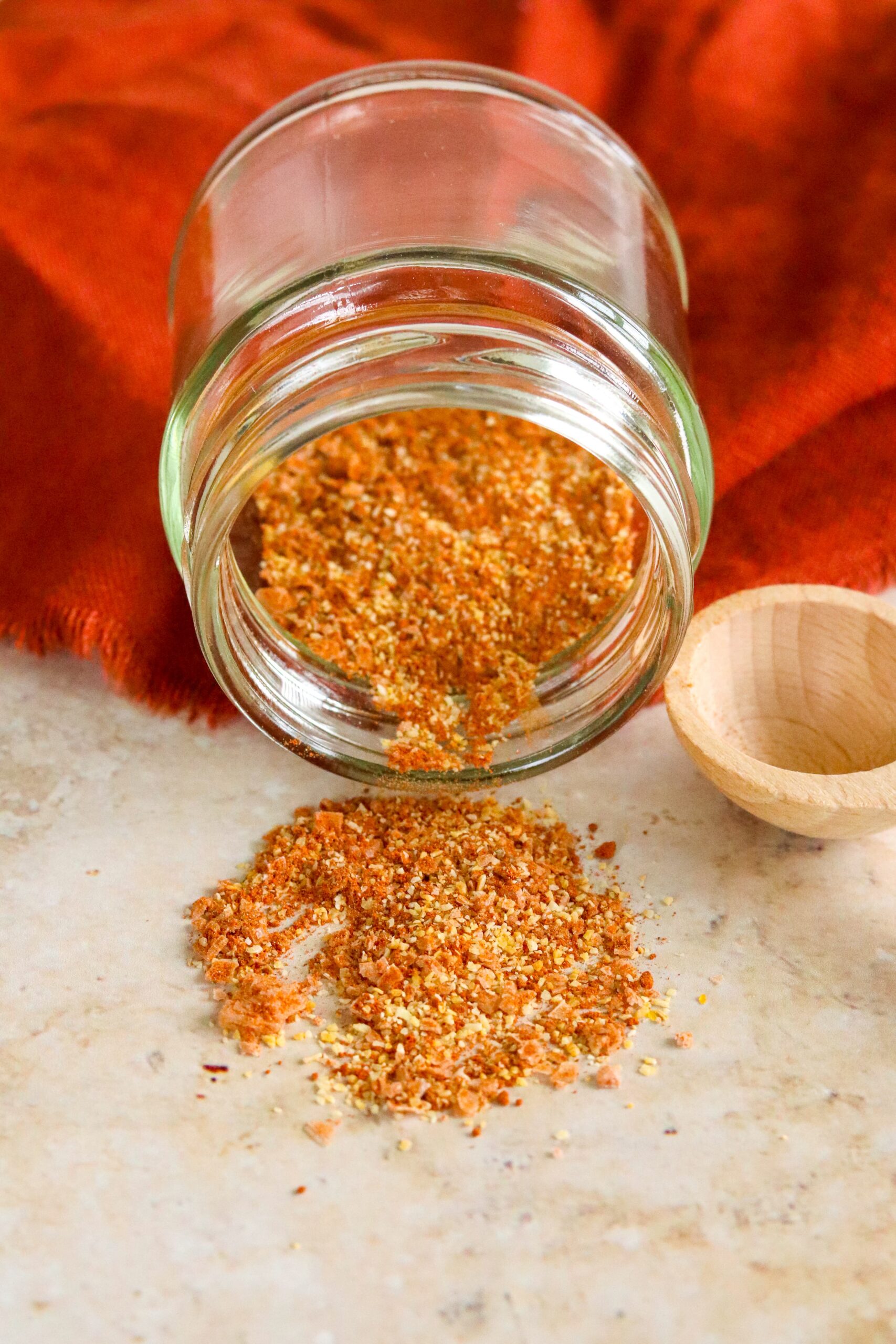 How long will potato seasoning keep for?
If you store this potato seasoning in an air tight jar or container, it will keep for at least 6 months.
The spices themselves usually have a shelf life of twelve months so you can keep the seasoning for longer. However spices can begin to lose their flavour slightly as they get older.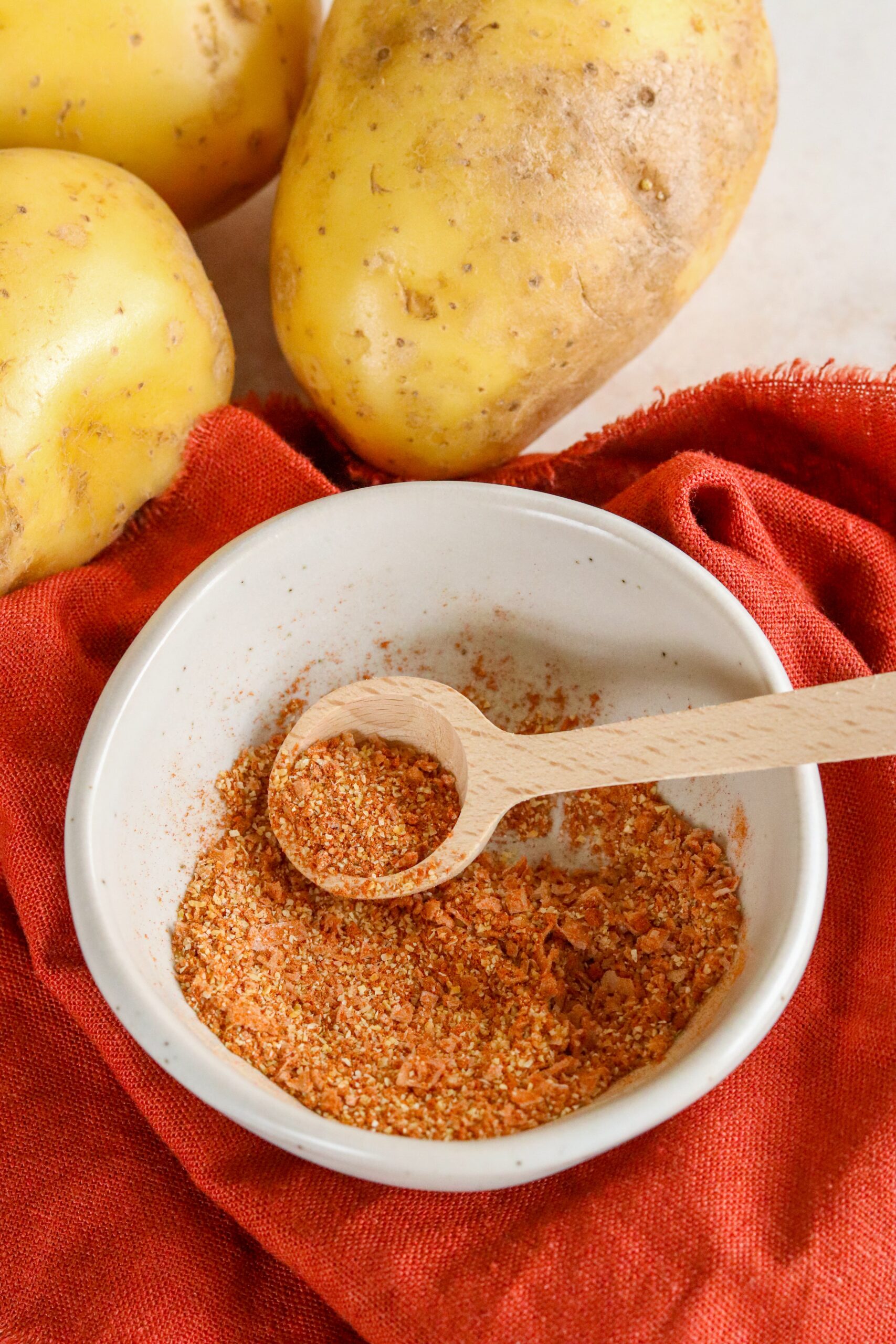 How to use potato seasoning
This seasoning is the perfect flavour enhancer to so many different potato recipes. I absolutely love using this seasoning on my Air Fryer Potato Wedges. It seasons them perfectly!
But as luck would have it, I have quite a few other suggestions for you!
Just because this is called a potato seasoning, doesn't mean you can only use it exclusively for potatoes. It is really delicious on chicken too.
I have used this seasoning instead of fajita seasoning in my Chicken Fajita Burrito Bowl. It has similar flavours to fajita seasoning so is a great substitute if you don't have fajita seasoning or would just fancy a change.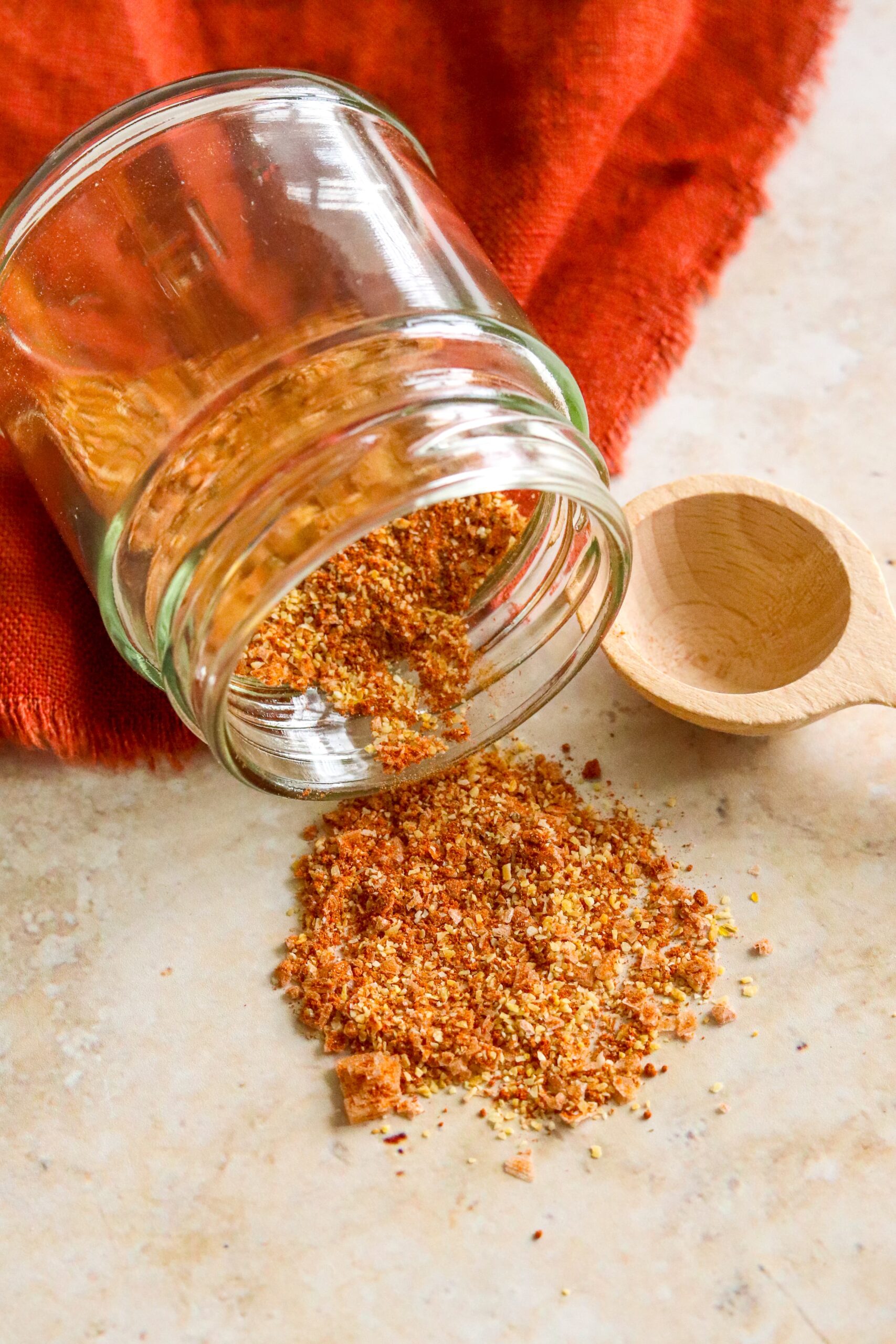 Other recipes you might like
Pin for later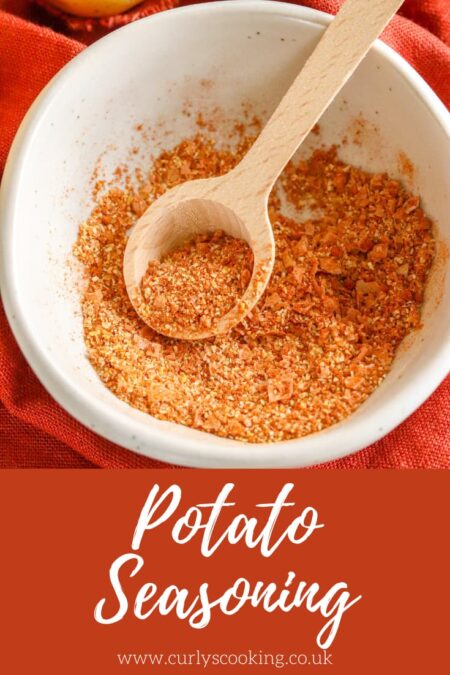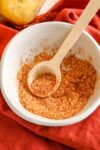 Potato Seasoning
This Potato Seasoning is a combination of spices that will add delicious flavour to all sorts of potato dishes. Make a batch so you can add instant flavour to easily elevate meals.
Ingredients
4

tsp

sea salt

4

tsp

garlic granules

2

tsp

paprika

½

tsp

white or black pepper
Instructions
Add 4 tsp sea salt, 4 tsp garlic granules, 2 tsp paprika and ½ tsp pepper to a bowl or jar

Mix thoroughly to combine. Store in an air tight jar or container
Recipe Notes
Store in an air tight jar or container for 6 months.
Nutritional information is given as a guide only and may vary.
Nutrition Facts
Potato Seasoning
Amount Per Serving (1 tbsp)
Calories 13
Calories from Fat 2
% Daily Value*
Fat 0.2g0%
Monounsaturated Fat 0.02g
Sodium 2328mg101%
Potassium 59mg2%
Carbohydrates 3g1%
Protein 1g2%
Vitamin A 493IU10%
Vitamin C 0.05mg0%
Calcium 6mg1%
Iron 0.4mg2%
* Percent Daily Values are based on a 2000 calorie diet.