Crisp chips with a fluffy interior cooked in twenty minutes with no soaking or par boiling. Air Fryer Chips are simple and incredibly delicious – your family will ask for these time and time again!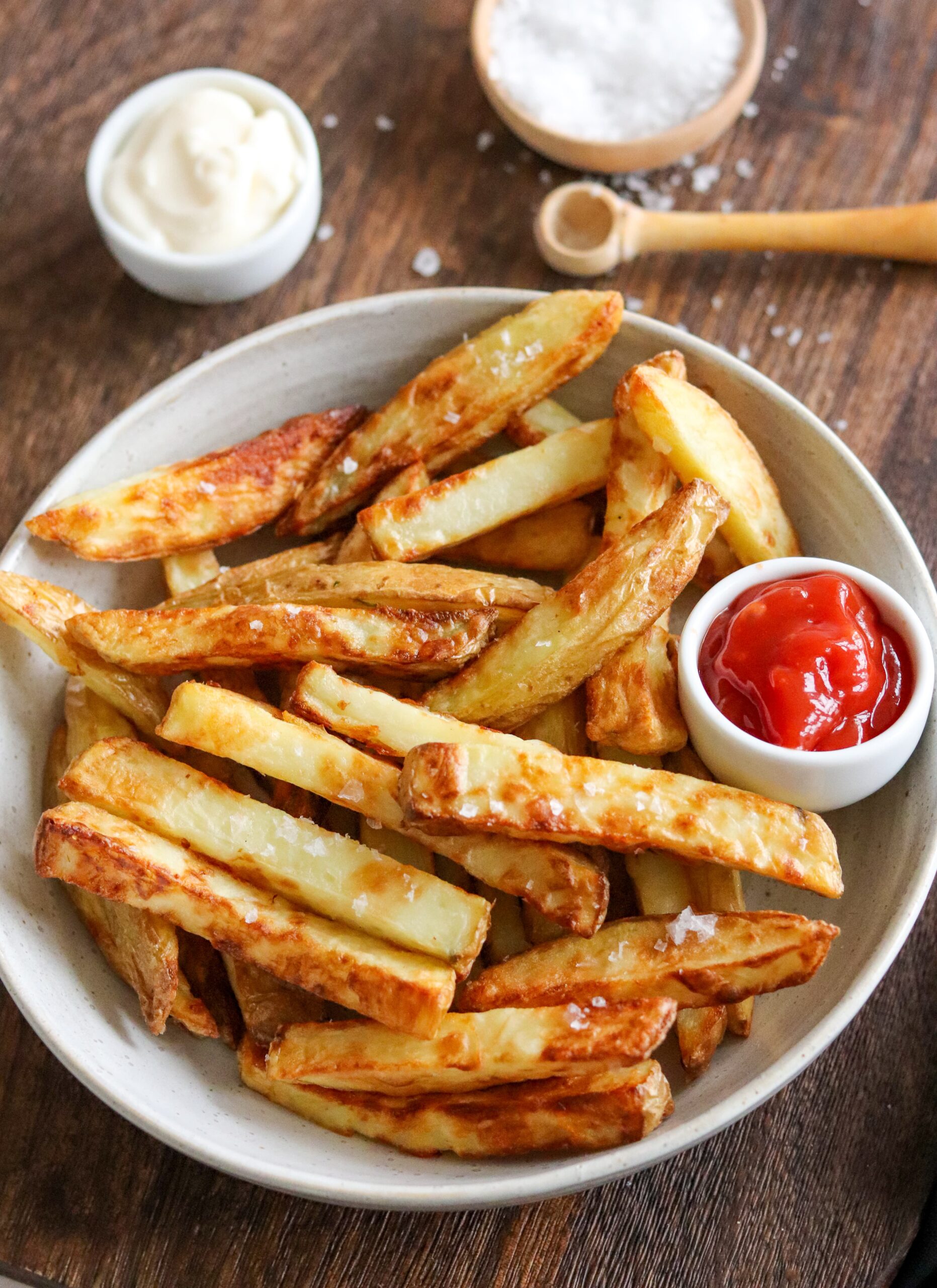 WHY USE AN AIR FRYER AND NOT AN OVEN?
Air fryers cook food quicker than a standard convection oven which is great for saving energy and pennies but also for busy families that want to be able to cook food quickly.
Another advantage is that air fryers are smaller than ovens and grills so you're not heating up a full-sized oven and instead a smaller air fryer. This means you're using less energy because you're heating up a smaller appliance as well as cooking the food faster.
Chips are the main reason I bought my first air fryer years ago. I think homemade chips cook much more evenly and more quickly in an air fryer compared to a standard oven.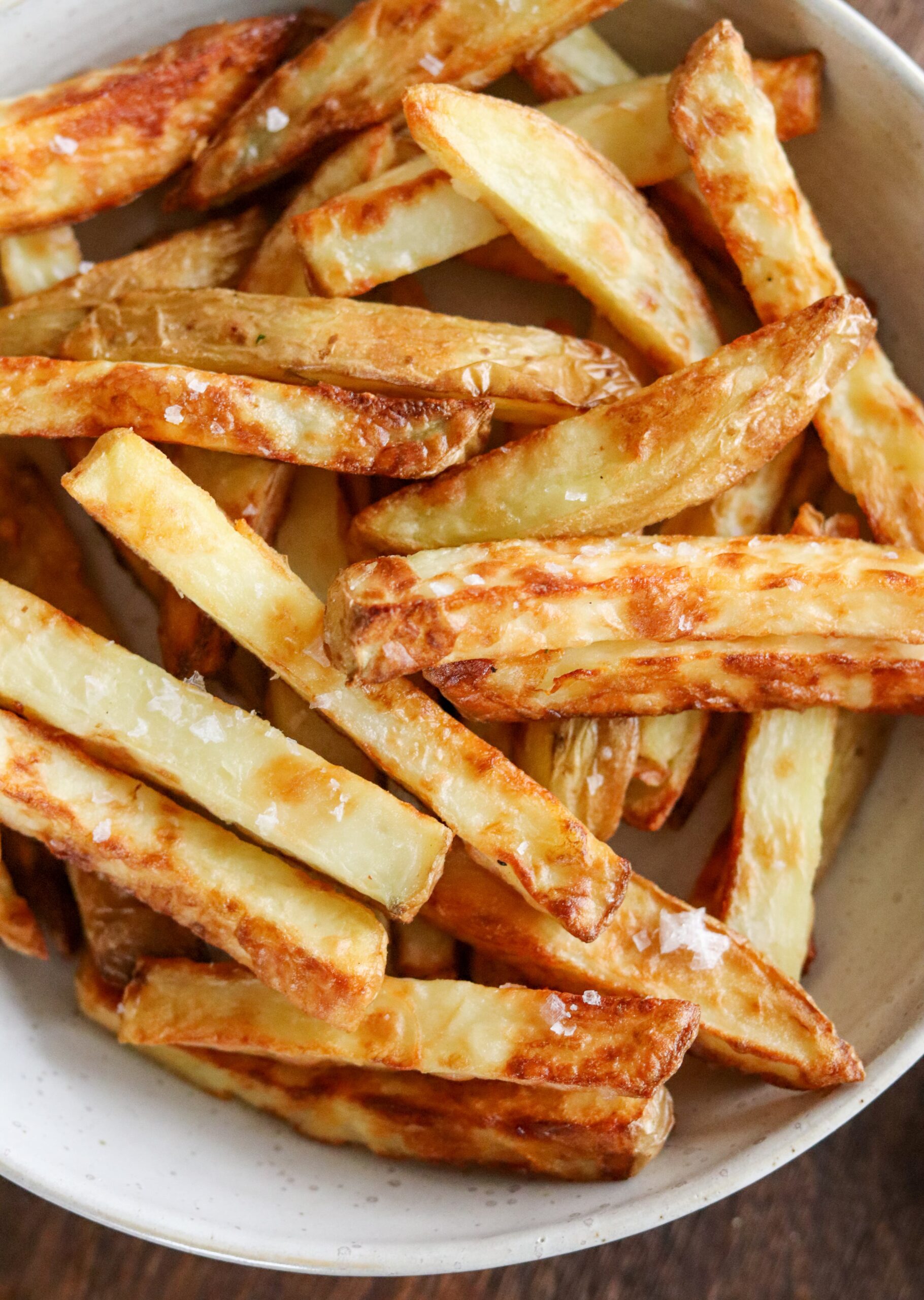 which potatoes are recommended for chips?
For a good chip, you want a fluffy interior and a nice crisp exterior. To get that, you need to start with the right potato.
In the UK, the best options are Maris Piper and King Edward potatoes. It helps that these are also the most commonly found potatoes so you shouldn't have any problems finding them.
If you look for any potato variety considered an 'all rounder' such as estima, melody or marfona then you can't go wrong.
If you're in the US, Yukon Gold potatoes will work really well.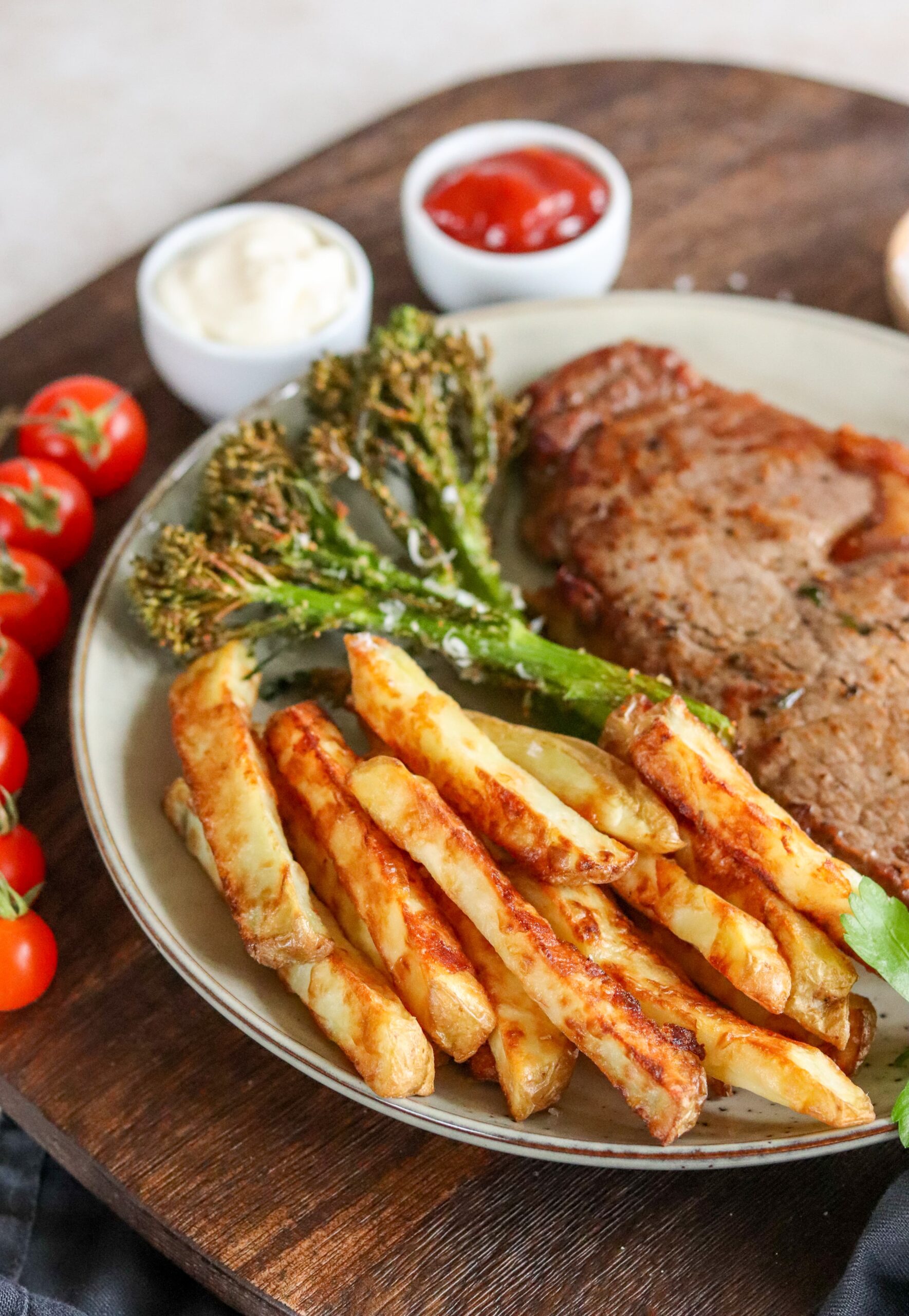 is it worth soaking your potatoes in water?
Soaking chips in water is a tip people use to draw out some of the excess starch from the potatoes to leave you with the crispest chips.
I have been making chips in my air fryer for years and never soaked my potatoes before cooking. However I wanted to try this method just in case it changed my life.
I left my chips to soak for nearly one hour before draining and thoroughly drying them. I didn't notice any difference after cooking the chips. So personally, soaking the chips isn't worth the additional time and effort.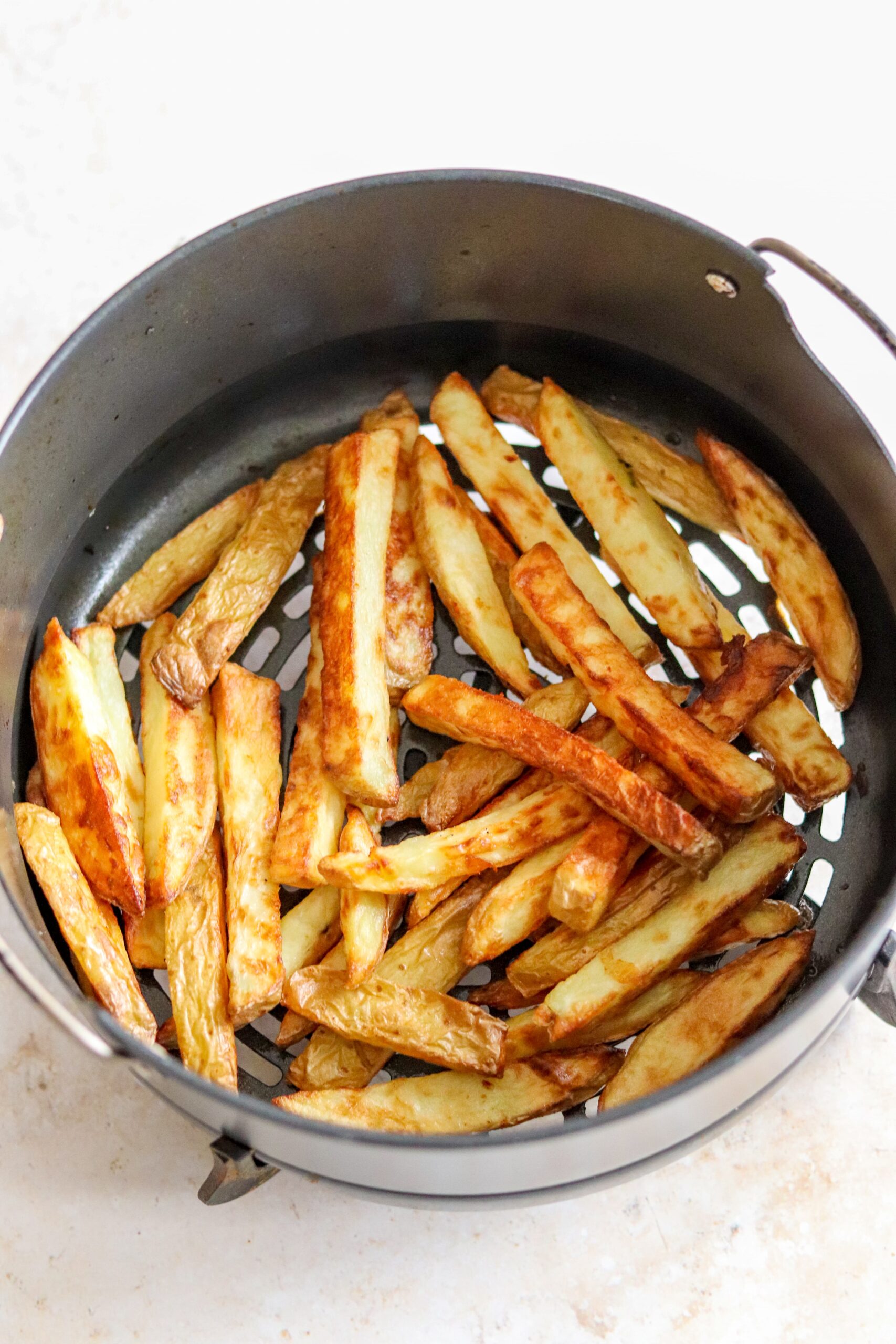 do you need to peel the potatoes?
It is completely up to you whether you peel your potatoes when making chips. More often than not, I don't peel my potatoes.
I like to leave the skin on because I like the flavour of the skin. But also it saves a lot of time not having to peel the potatoes!
If I'm making my Lemon Pepper Fries I don't peel the potatoes so they are a close replica for Wingstop's version.
If you do peel your potatoes, make sure you keep the peelings to make my Air Fryer Potato Peel Crisps.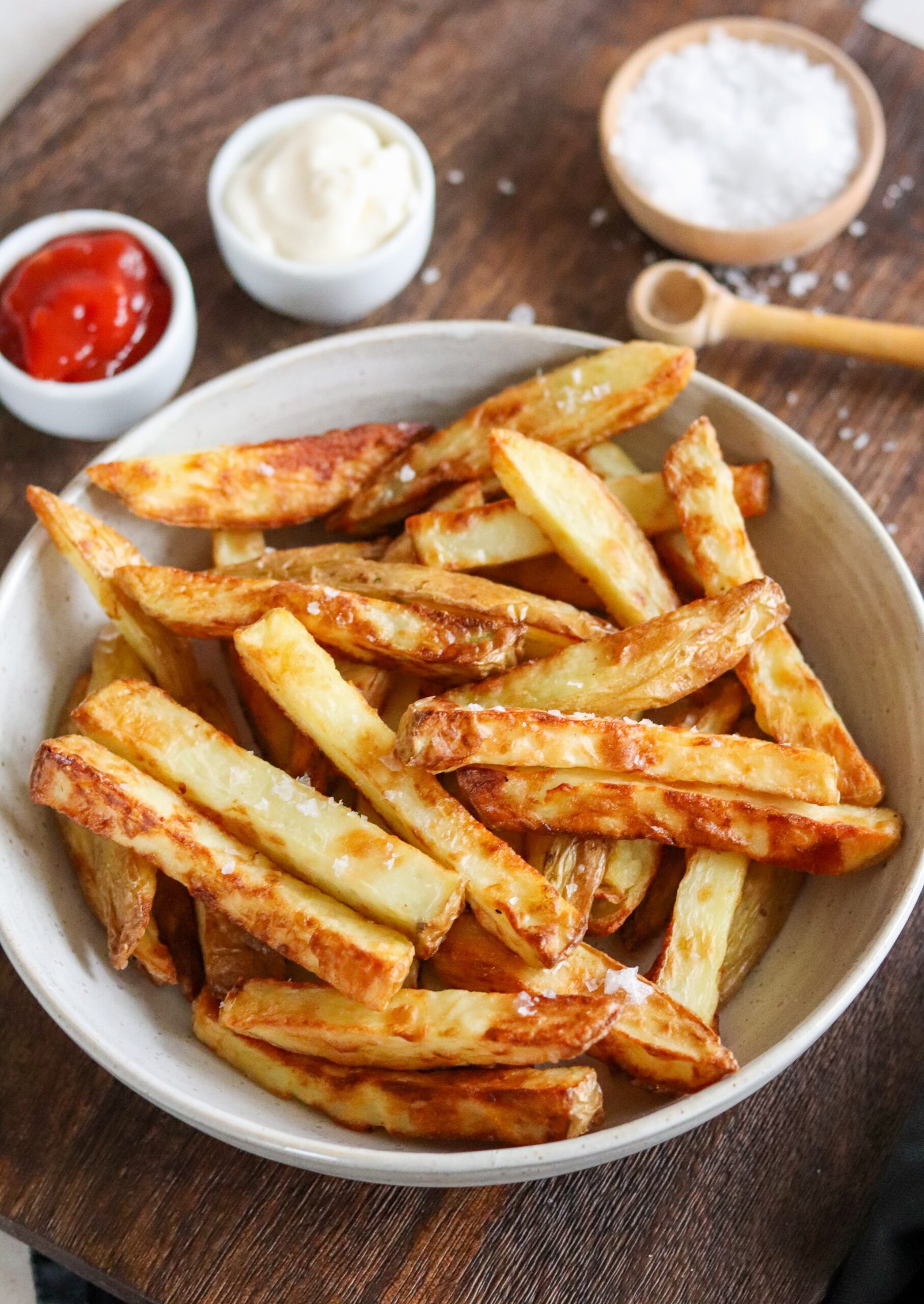 How to cut the potatoes into chips
When I am making chips, I usually cut them so they are roughly one centimetre thick. The timings below are for that size of chip but that doesn't mean you can't change things up.
If you want to cut the chips thinner than in the recipe, they will take less time. I would check them after 12-15 minutes and cook for longer if needed.
If you want to make really chunky chips then they are likely to take 25-30 minutes to cook. You might also want to check out my Air Fryer Potato Wedges if you prefer wedges over chips.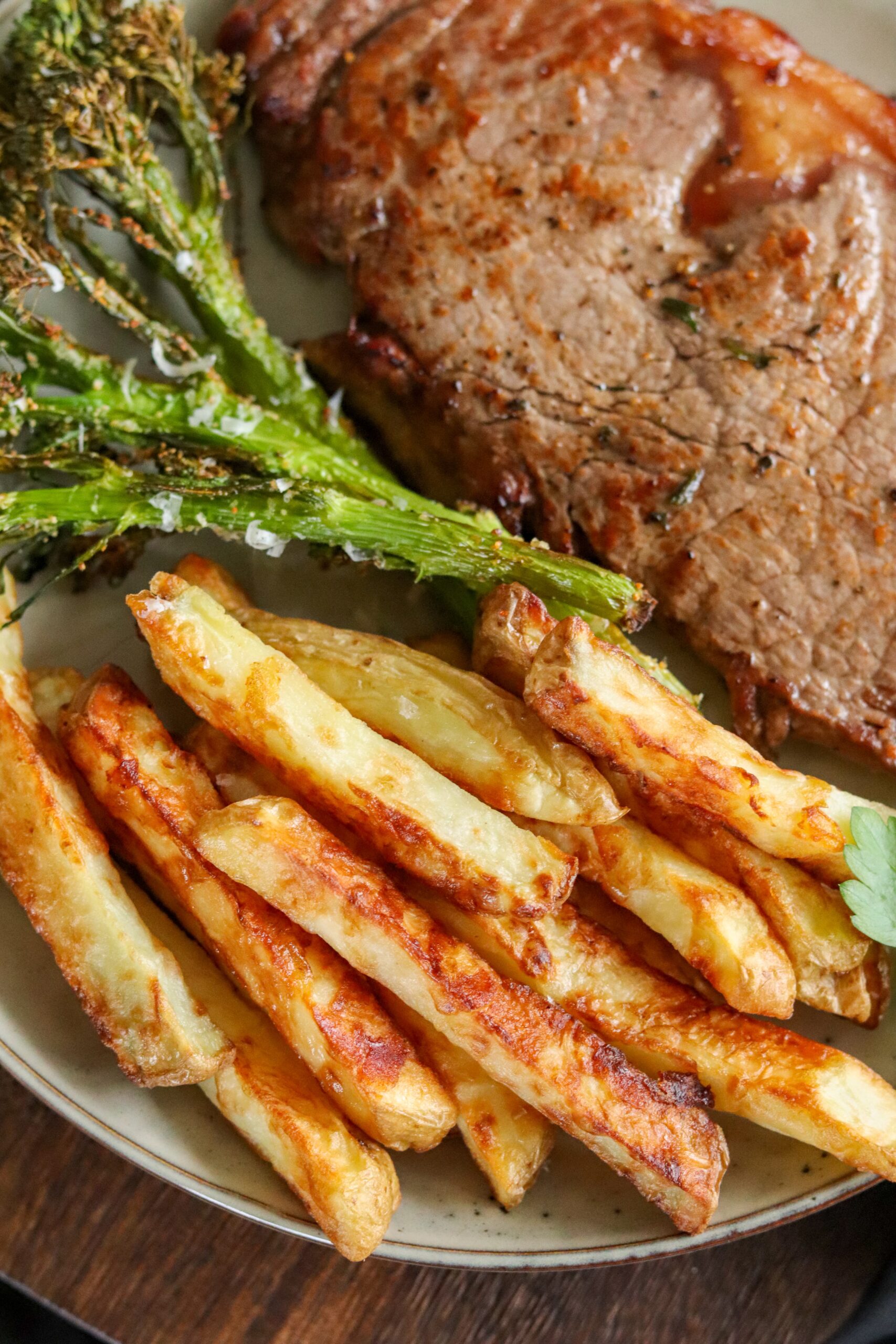 add other flavours to your chips
I have purposely left these air fryer chips really simple in their flavourings; just oil and salt. This is because once you know the basic method, you can add as many different flavourings as you like.

You might want to try out these flavours to spice up your chips
Garlic
Peri peri seasoning
Chinese salt & pepper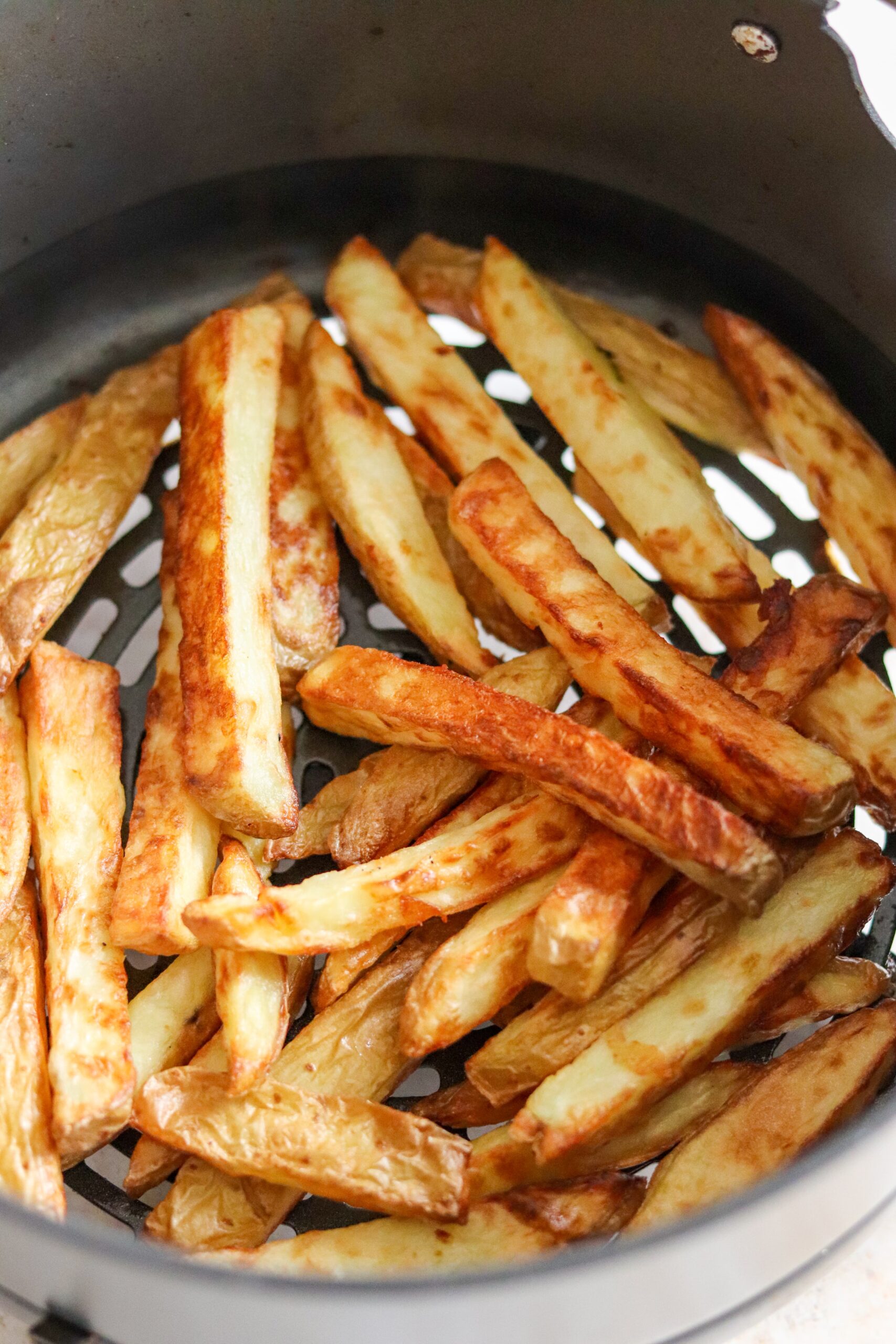 How many chips can you cook in an air fryer?
How many chips you can cook in your air fryer depends on the size of your air fryer. Obviously with a larger basket you can cook more chips.
It isn't quite as simple as that though. If you are cooking a larger number of chips, they are likely to take a little longer to cook as the air isn't able to circulate as well as if there were fewer in the basket.
This also means the chips will benefit from tossing a couple of times to ensure even cooking.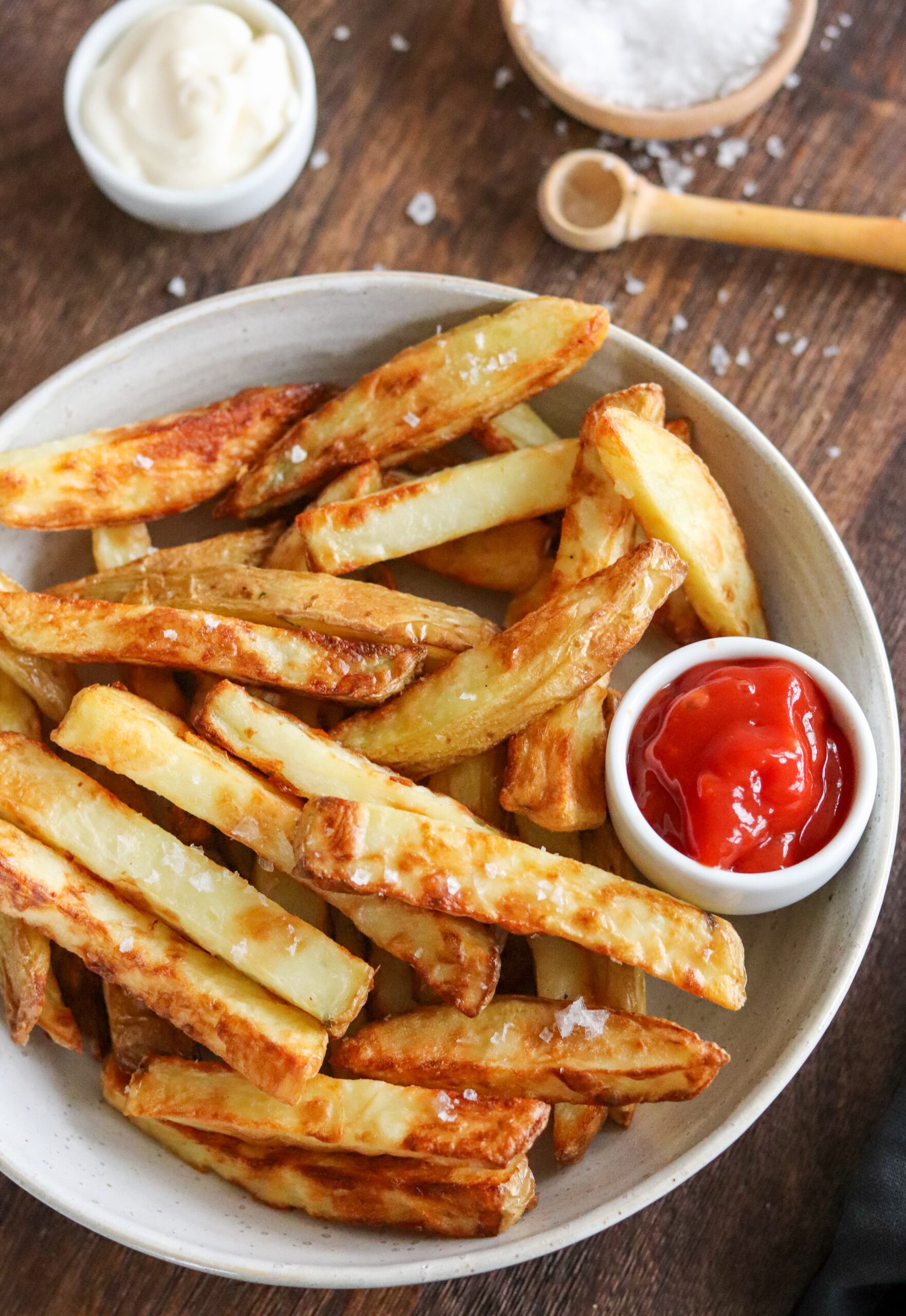 do you need to preheat an air fryer?
That depends on your air fryer, some require preheating whilst others don't. I have a Ninja 7-in-1 multicooker and I have never preheated mine.
If your air fryer does require preheating, check the chips a few minutes sooner than the recipe states. If your air fryer is warm, food is likely to cook a few minutes faster.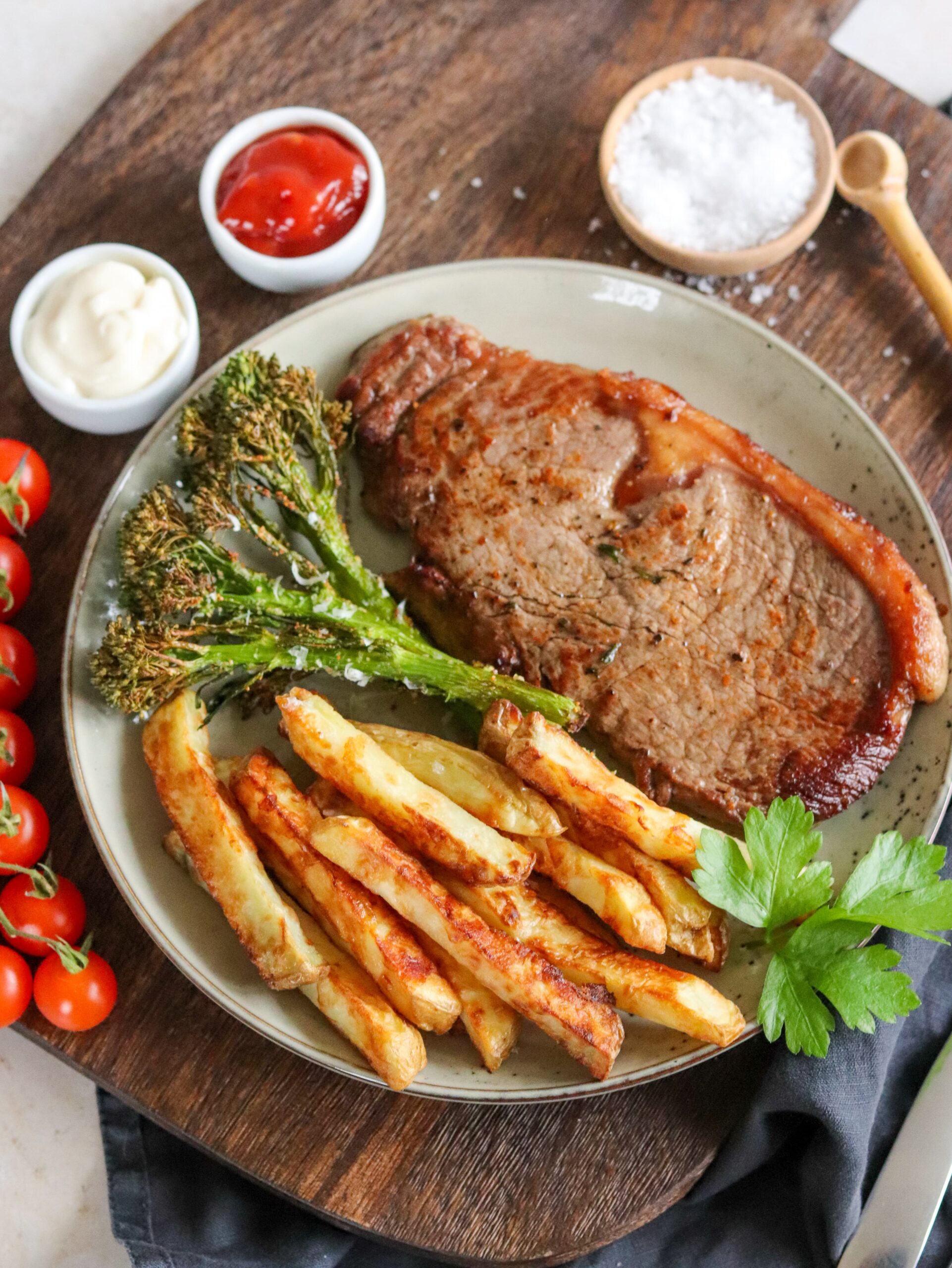 can you use an air fryer liner?
Air fryer liners are a great time saving addition because they are usually easier to wash than the basket of your air fryer.
Most reusable air fryer liners are silicone and although they are handy to have, I wouldn't recommend using them for all recipes.
Chips would take longer to crisp up if you use a liner but you could use one if you really wanted.
I've written a whole post on whether you should use an air fryer liner, check it out for more information.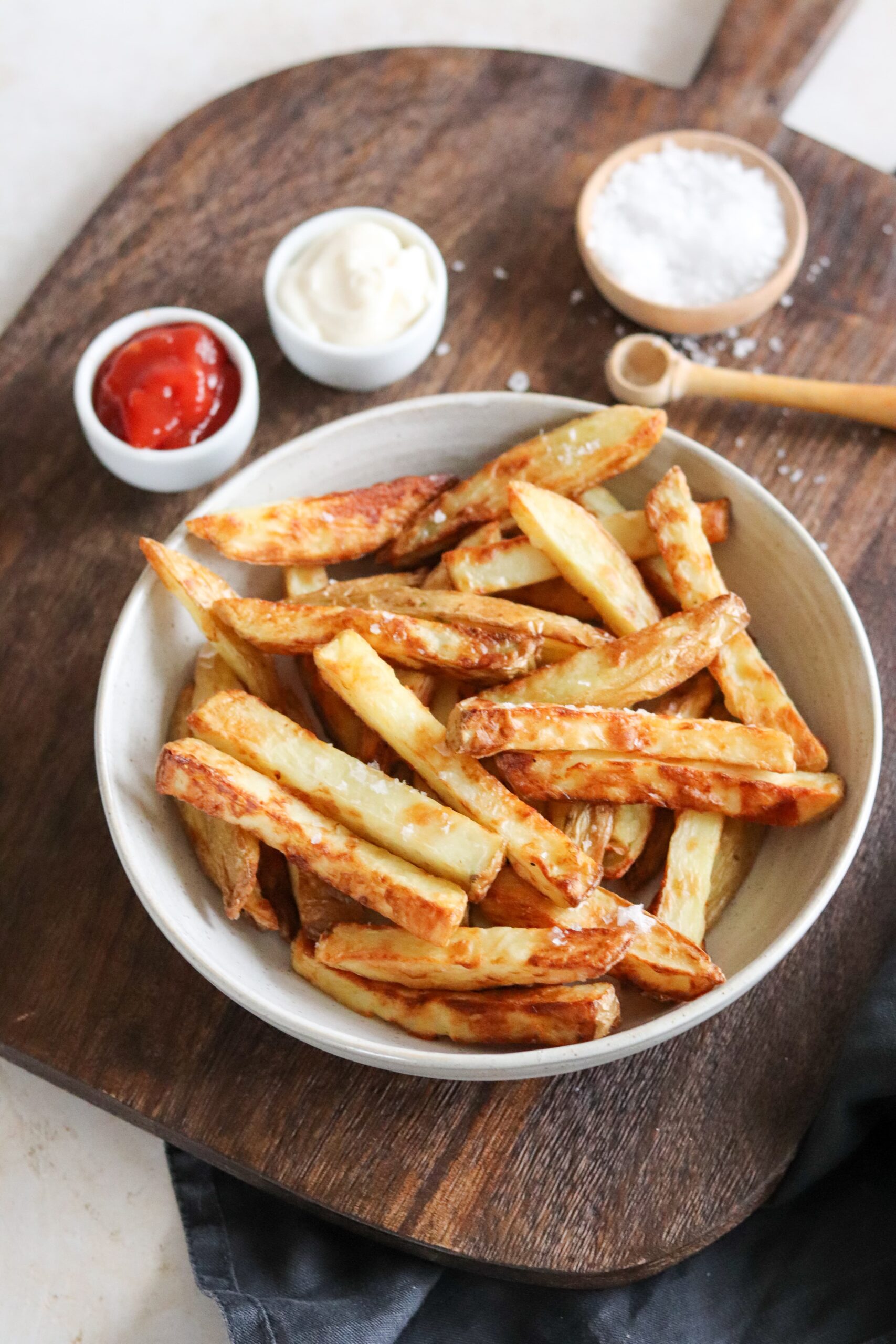 How to serve Air Fryer Chips
I'm sure everyone knows many ways they like to serve homemade chips. Even so, I will give you some ways I like to serve them.
Two of my favourite ways to serve these chips is with steak, Parmesan Tenderstem Broccoli and a simple salad with my Balsamic Tomato Salad. The other way is with a pork loin chop, the same broccoli and Brussels Sprouts with Bacon & Garlic.
You can also never go wrong with burger and chips! My Bacon Cheese Burgers, Herby Turkey Burgers and Halloumi Burgers are all delicious options. Chicken nuggets are also a solid choice to serve with chips.
These air fryer chips also perfect for my Air Fryer Pizza Fries and Cheese & Bacon Loaded Fries.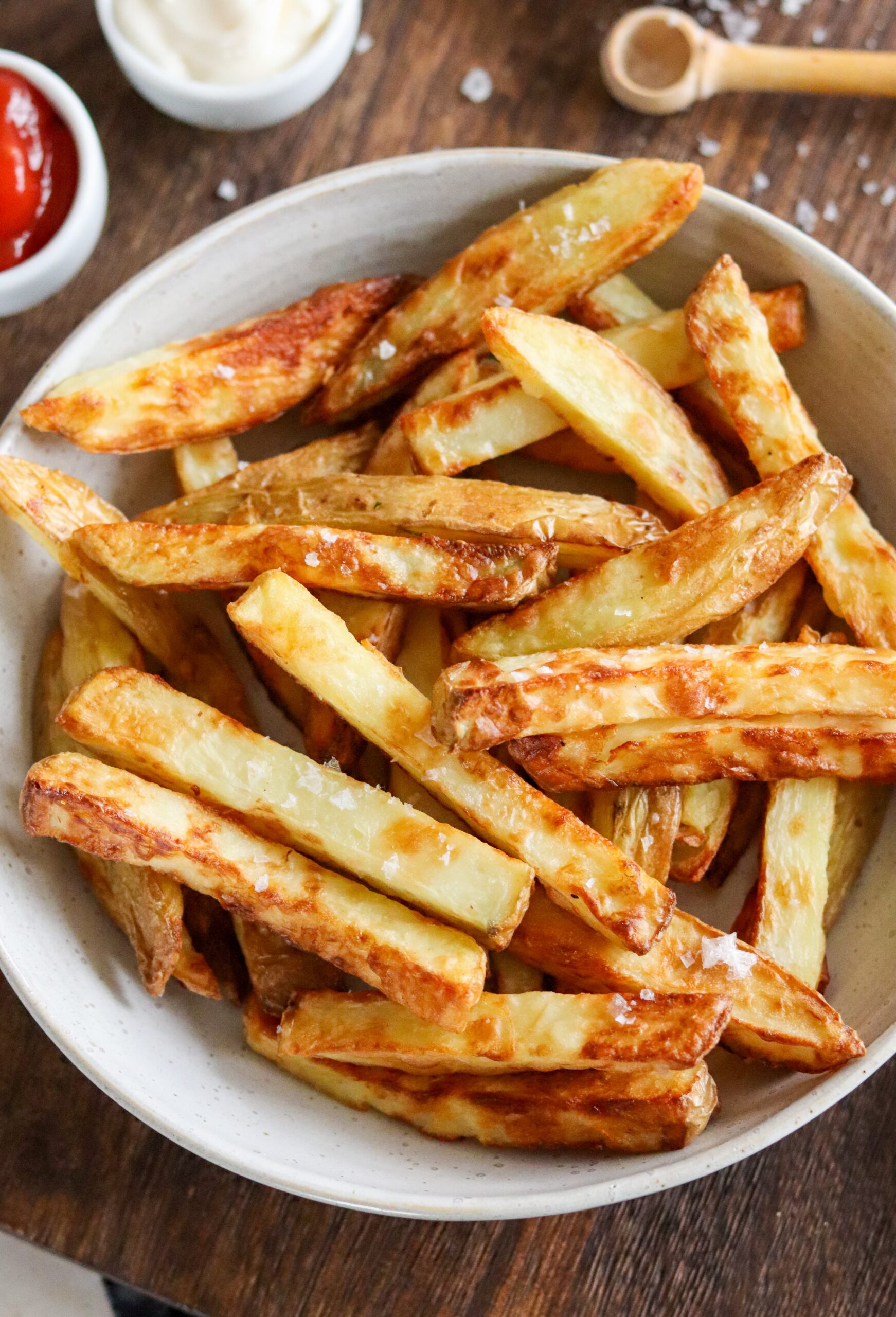 Other recipes you might like
Pin for later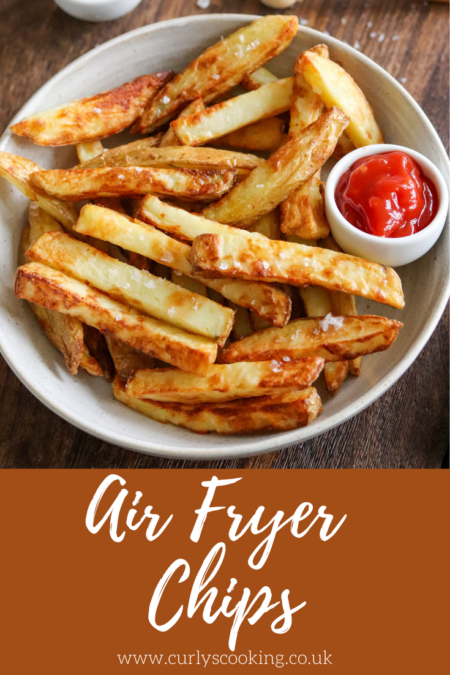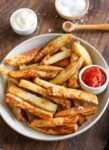 Air Fryer Chips
Crisp chips with a fluffy interior cooked in twenty minutes with no soaking or par boiling. Air Fryer Chips are simple and incredibly delicious – your family will ask for these time and time again!
Ingredients
600

g

potatoes

1

tbsp

sunflower oil

1

tsp

sea salt
Instructions
Preheat your air fryer if needed

Peel your potatoes or wash and dry them if you're not peeling them

Cut 600g potatoes into chips roughly 1cm in thickness

Add the chips to a bowl and drizzle with 1 tbsp sunflower oil and 1 tsp sea salt. Toss to coat

Add the chips to the air fryer basket, keeping them in one layer if possible

Cook at 190°C for 20-25 minutes, gently turning the chips once or twice during the cooking time
Recipe Notes
If your air fryer requires preheating, check the chips a couple of minutes before the recipe states.
Nutritional information is given as a guide only and may vary.
Nutrition Facts
Air Fryer Chips
Amount Per Serving
Calories 337
Calories from Fat 63
% Daily Value*
Fat 7g11%
Sodium 1163mg51%
Potassium 0.2mg0%
Calcium 1mg0%
Iron 0.01mg0%
* Percent Daily Values are based on a 2000 calorie diet.