This Gochujang Chicken Rice Bowl is quick, easy and really customisable. The rice is the perfect base for the slightly sweet and spicy chicken and crisp vegetables.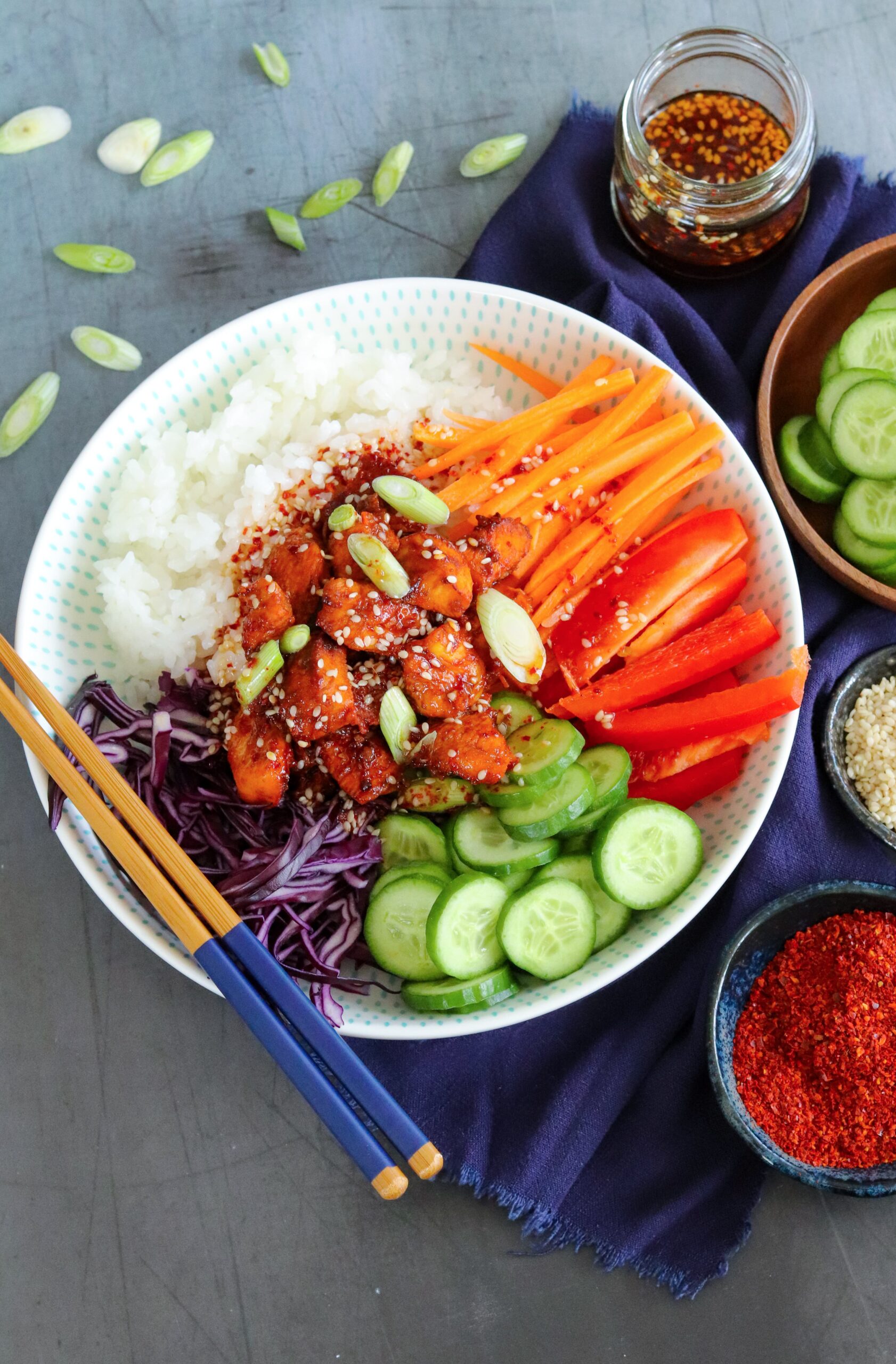 Rice bowls are simple and delicious
Rice bowls have become increasingly popular in the last few years. They seem to be very fashionable at the moment and I can definitely see why.
As the name suggests their base is rice which is then topped with all sorts of tasty vegetables and often protein.
Different cuisines have their own versions. For example Hawaii have poke bowls and the Tex Mex version is a burrito bowl.
I was inspired by Korea's Bibimbap (which is a hot rice bowl) to create a lighter version using raw vegetables to add a crunch.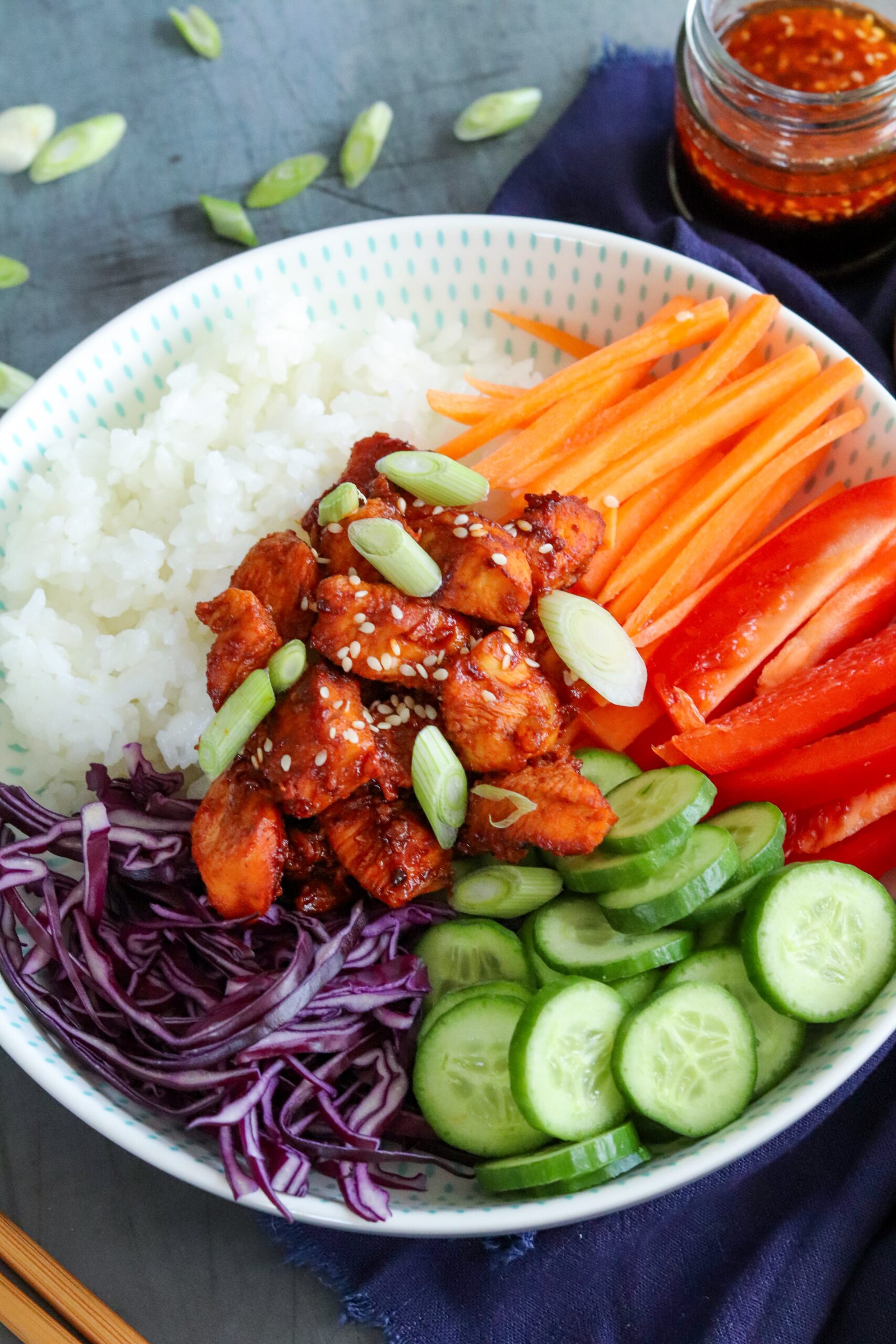 what is gochujang?
Gochujang is a fermented sweet and spicy red chilli paste made from chilli powder, glutinous/sticky rice, fermented soy beans and salt. It has a very thick, sticky texture with a vibrant red colour.
As it is quite spicy, I always recommend using sparingly until you know how spicy you like things. This chicken is mild to medium but you can definitely adjust to your tastes.
Gochujang is becoming more widely available. It used to only be available in Asian supermarkets but I have seen it in the world food aisle of large supermarkets recently.
If you cannot find it where you live, you can always buy it online at places like Amazon.
Once you have made these, you will also want to try my Korean Beef Bibimbap and Spicy Korean Pork Stew.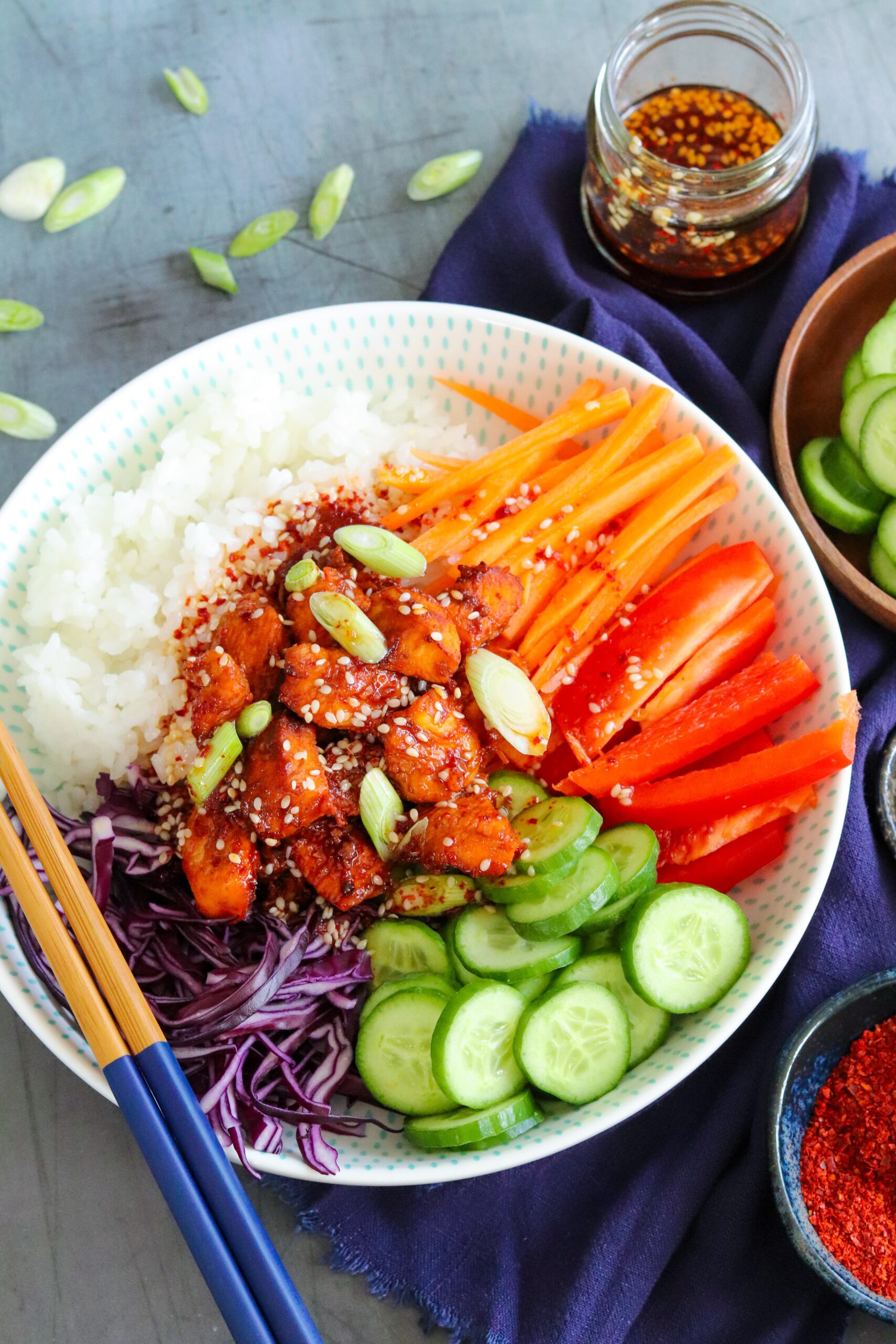 which cut of chicken is best to use?
You can use chicken breasts or thigh for this gochujang chicken rice bowls. Both work really well so it is just down to personal preference.
I like to cut the chicken into fairly small pieces so that you are more like to have a piece of chicken in more bites when you're eating.
If you don't want to use chicken you could use pork, beef or fish like salmon. You would need to adjust the cooking time to whichever protein you use.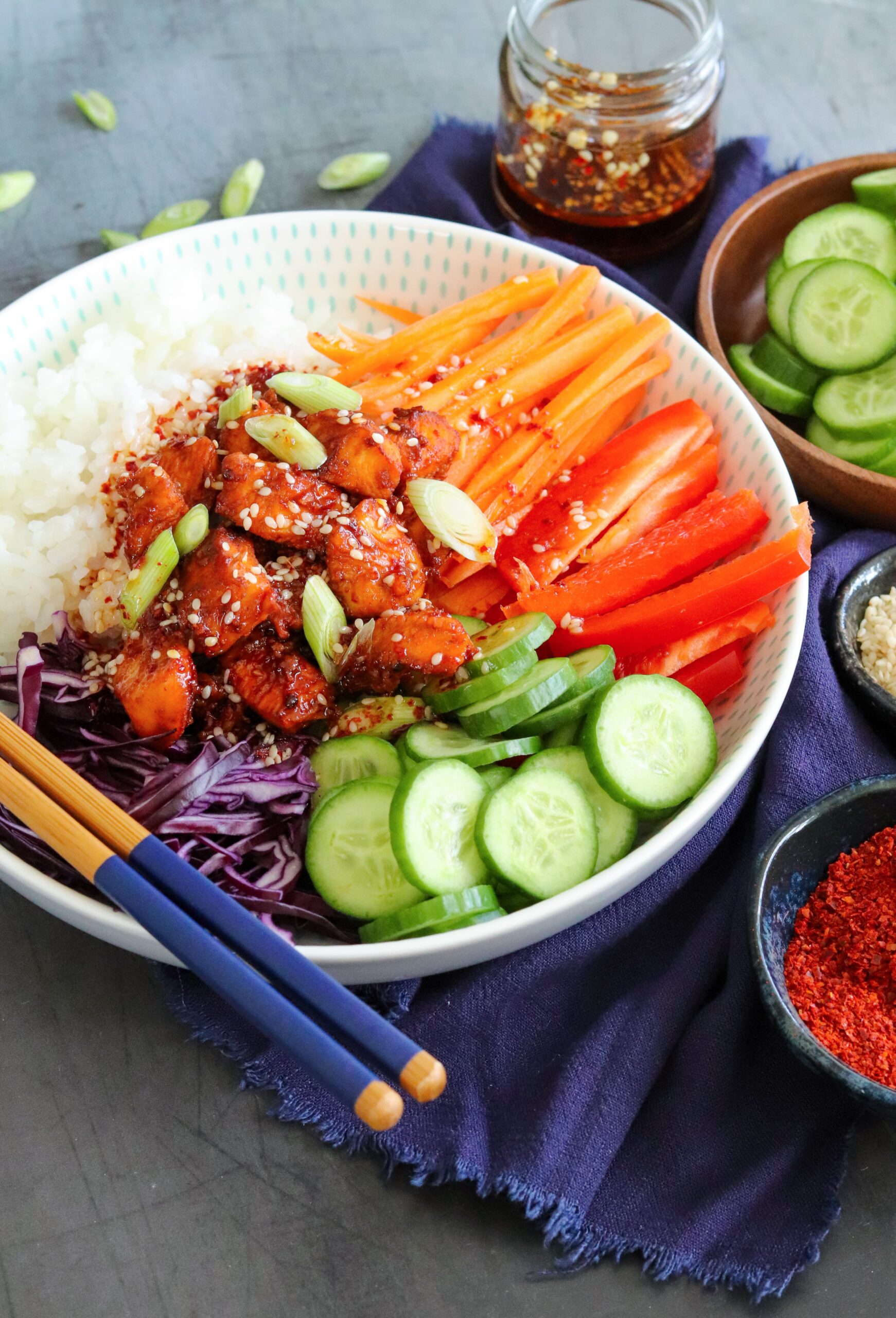 which rice is best to use?
Koreans tend to eat mainly white short grain rice which is sometimes called sticky or sushi rice. It is my go-to rice to use for Asian recipes because it is incredibly delicious and is perfect for these rice bowls
You should be able to find short grain rice in most large supermarkets. All Asian supermarkets will also sell it, possibly at a better price.
If you haven't cooked sticky rice before you be unsure of how is best to cook it. This how to cook sticky rice guide explains exactly how to get perfect rice every time.
I really would recommend using short grain rice if you can. Alternatively you can use long grain rice.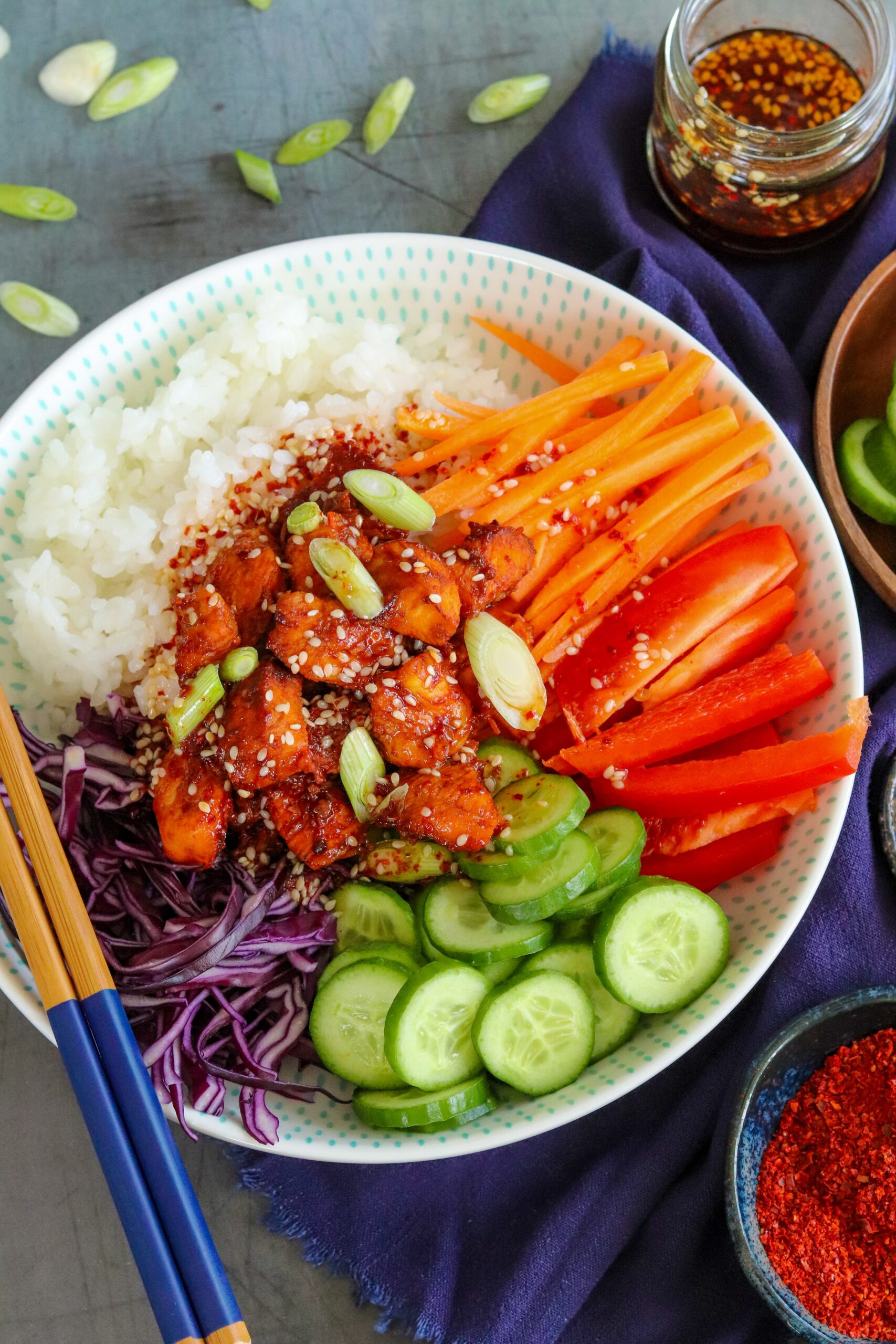 which vegetables work in a rice bowl?
My go-to vegetables to use in these rice bowls are red cabbage, carrots, peppers and cucumber. But I really recommend customising these bowls to add whatever you like or have in the fridge.
I do think some crunch is necessary so I would definitely make sure you add at least one vegetable that will provide this. Apart from that, any vegetables that you like to eat raw would work.
Mushrooms, radishes and edamame would all be good options that you may like to add.
Similarly to when I make Bibimbap, I like to keep all of my vegetables separate. I think it makes the finished rice bowl look really striking.
But if you're not concerned about this, you could just add all of the vegetables to a bowl and top the rice bowls with it. This is what I do for my crunchy Asian slaw.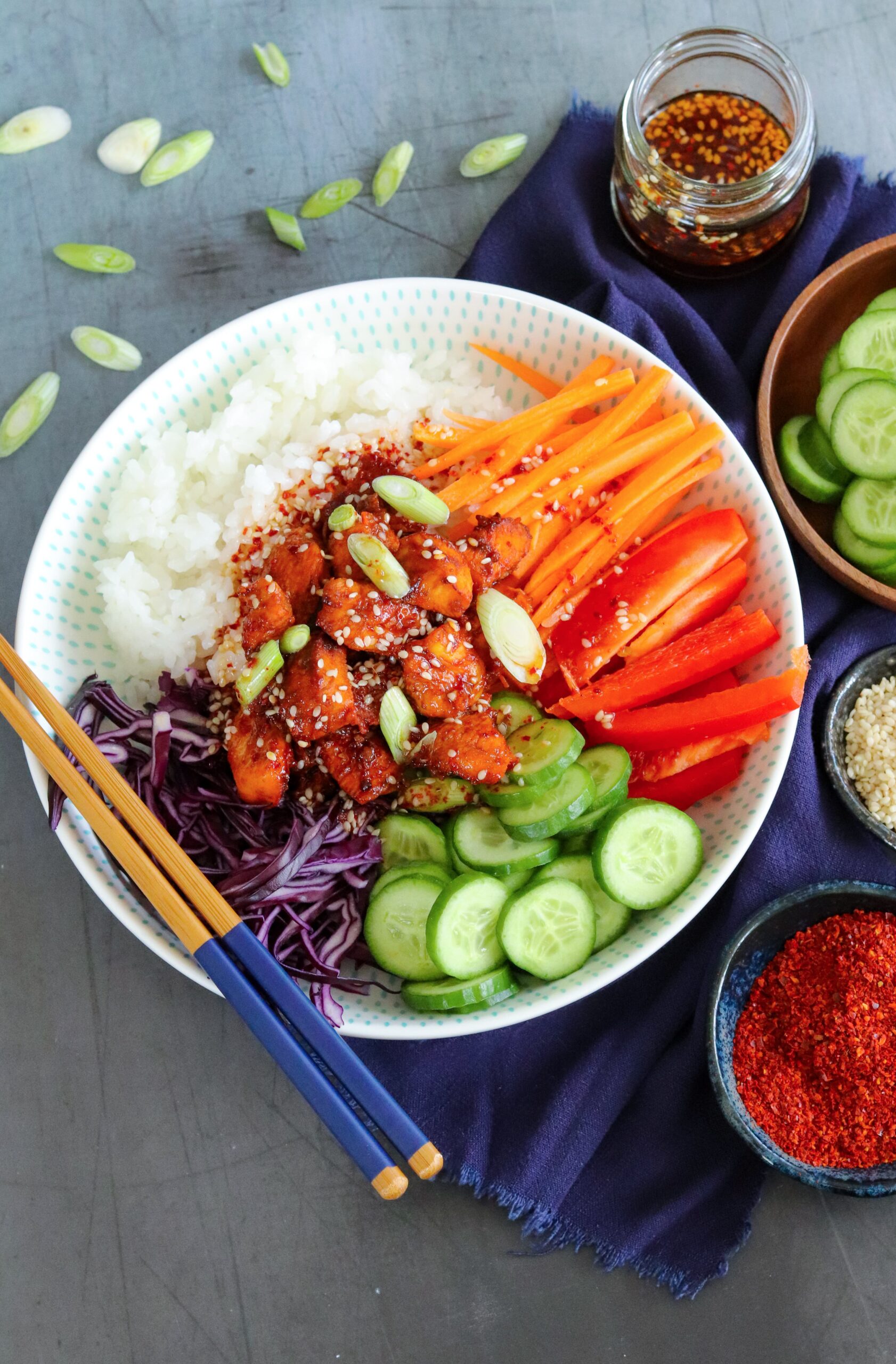 How to make these rice bowls gluten free, vegetarian or vegan
To make these rice bowls gluten free you would need to use a gluten free gochujang. Although most gochujang isn't suitable, more gluten free options are becoming available. If you can't find any, sriracha is probably your closest alternative.
You will also need to switch the soy sauce in the dressing to tamari to make it gluten free.
For a vegetarian option you would just need to swap the chicken. I don't think omitting the chicken element is a viable option because you want the flavours from the sauce it is cooked in.
I would recommend either using tofu or your favourite meat substitute. This way you can still coat it in the sauce so you get the delicious flavours.
To make these rice bowls vegan, use tofu or a vegan meat substitute. For the honey in the marinade and dressing you will need to swap this for agave or maple syrup. The flavour might be slightly different but it would provide the sweetness.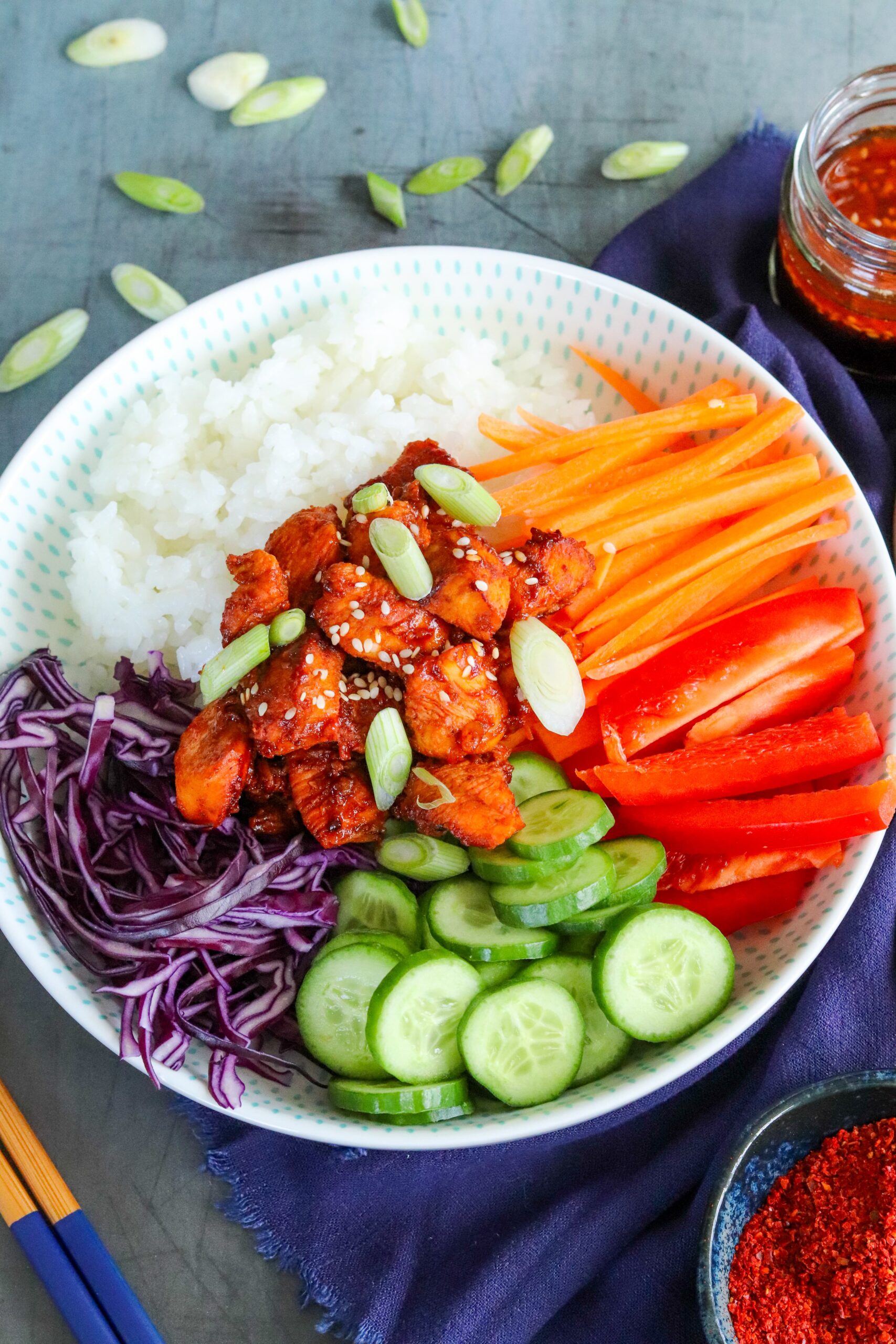 Can you make these rice bowls in advance?
You can prepare the elements of these rice bowls in advance but I would recommend cooking the rice when you are ready to serve.
The chicken doesn't have to be served hot so you could cook this up to two days before you want to use it. Make sure you keep it in an airtight container in the fridge. You can either reheat it when you are ready to serve or add it to the rice bowls cold.
The vegetables can also all be prepared in advance and stored in the fridge. The dressing can be made and stored in the fridge for up to four days.
These rice bowls would be great for people that like to meal prep. You could get everything ready ahead of time and just cook a microwave sushi rice pot when you are ready to eat and add the chicken and vegetables.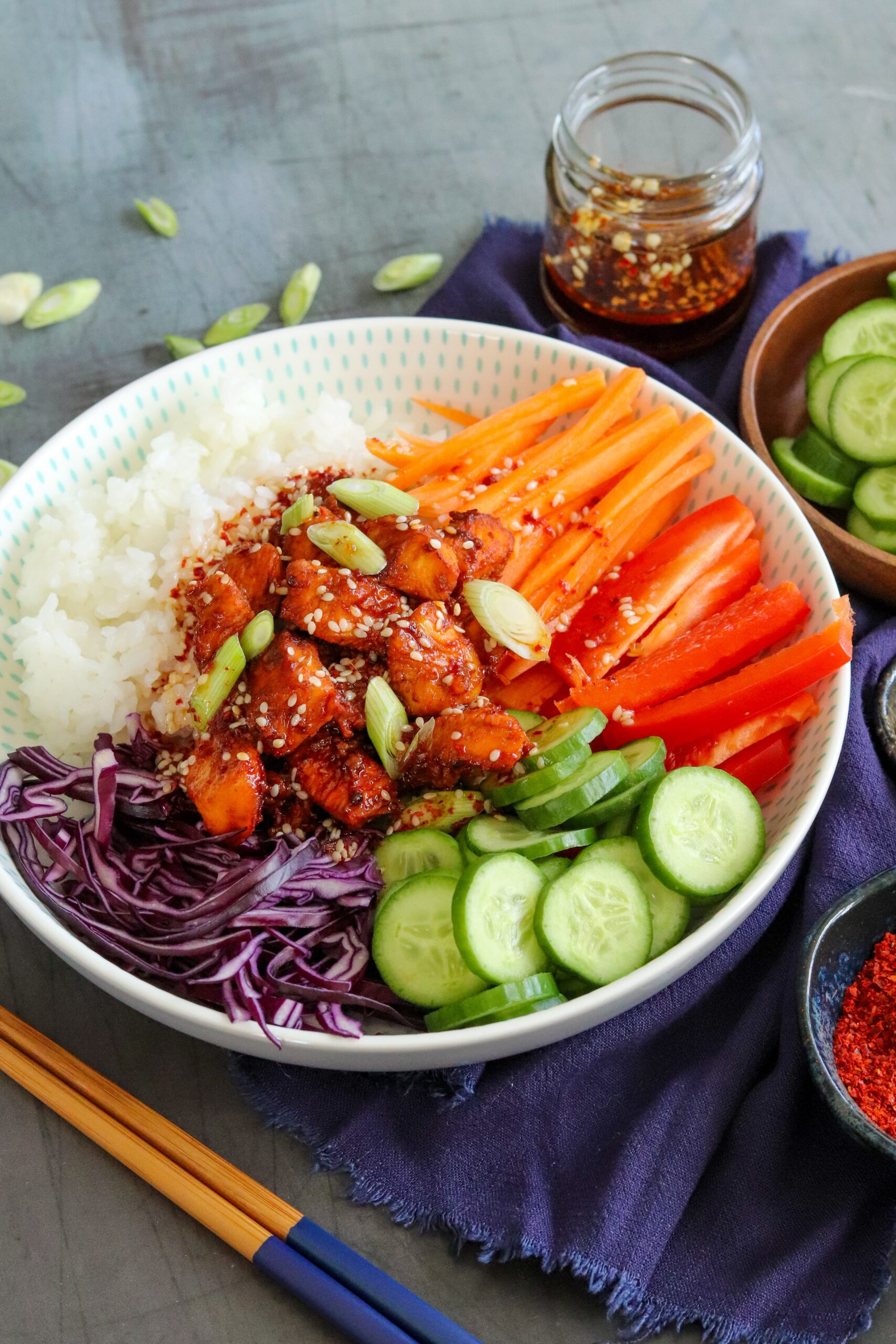 other recipes you might like
Pin for later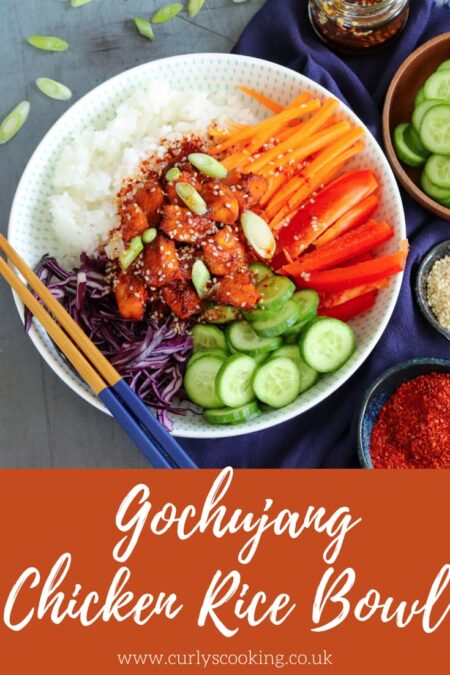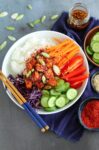 Gochujang Chicken Rice Bowl
This Gochujang Chicken Rice Bowl is quick, easy and really customisable. The rice is the perfect base for the slightly sweet and spicy chicken and crisp vegetables.
Ingredients
For the chicken
400

g

chicken

1

tbsp

gochujang

1

tbsp

runny honey

1

tsp

sesame oil

1

tsp

minced garlic

1

tsp

apple cider vinegar

1

tsp

sea salt

1

tsp

sunflower oil
To serve
230

g

sushi rice

170

g

red cabbage

approx ¼ of a cabbage

2

carrots

1

pepper

½

cucumber

3

spring onions

6

tbsp

Gochugaru & Honey Dressing

2

tsp

sesame seeds
Instructions
In a bowl, add 1 tbsp gochujang, 1 tbsp runny honey, 1 tsp sesame oil, 1 tsp minced garlic, 1 tsp apple cider vinegar and 1 tsp sea salt

Stir thoroughly to combine

Dice 400g chicken into quite small pieces and add to the sauce. Stir to combine and set to one side

Put 230g sushi rice on to cook. Slice 170g red cabbage, 2 carrots, 1 pepper, ½ cucumber and 3 spring onions fairly thinly and add to a plate ready to assemble later

Heat 1 tsp sunflower oil in a frying pan over a medium heat. Once hot, add the chicken

Add the chicken and cook for 5-7 minutes. Stir often so the honey doesn't burn

Assemble the bowls by adding rice and then the prepared vegetables and chicken. Drizzle 6 tbsp Gochujang & Honey dressing over the 4 bowls. Finish by sprinkling over 2 tsp sesame seeds
Recipe Notes
Nutritional information is given as a guide only and may vary.
Nutrition Facts
Gochujang Chicken Rice Bowl
Amount Per Serving
Calories 529
Calories from Fat 162
% Daily Value*
Fat 18g28%
Cholesterol 75mg25%
Sodium 692mg30%
Potassium 585mg17%
Carbohydrates 62g21%
Protein 24g48%
Vitamin A 5944IU119%
Vitamin C 55mg67%
Calcium 73mg7%
Iron 3mg17%
* Percent Daily Values are based on a 2000 calorie diet.