This Homemade Fajita Seasoning is incredibly easy to make with ingredients you are likely to already have in your cupboards. Once you have made this you definitely won't be buying fajita seasoning from the shops again!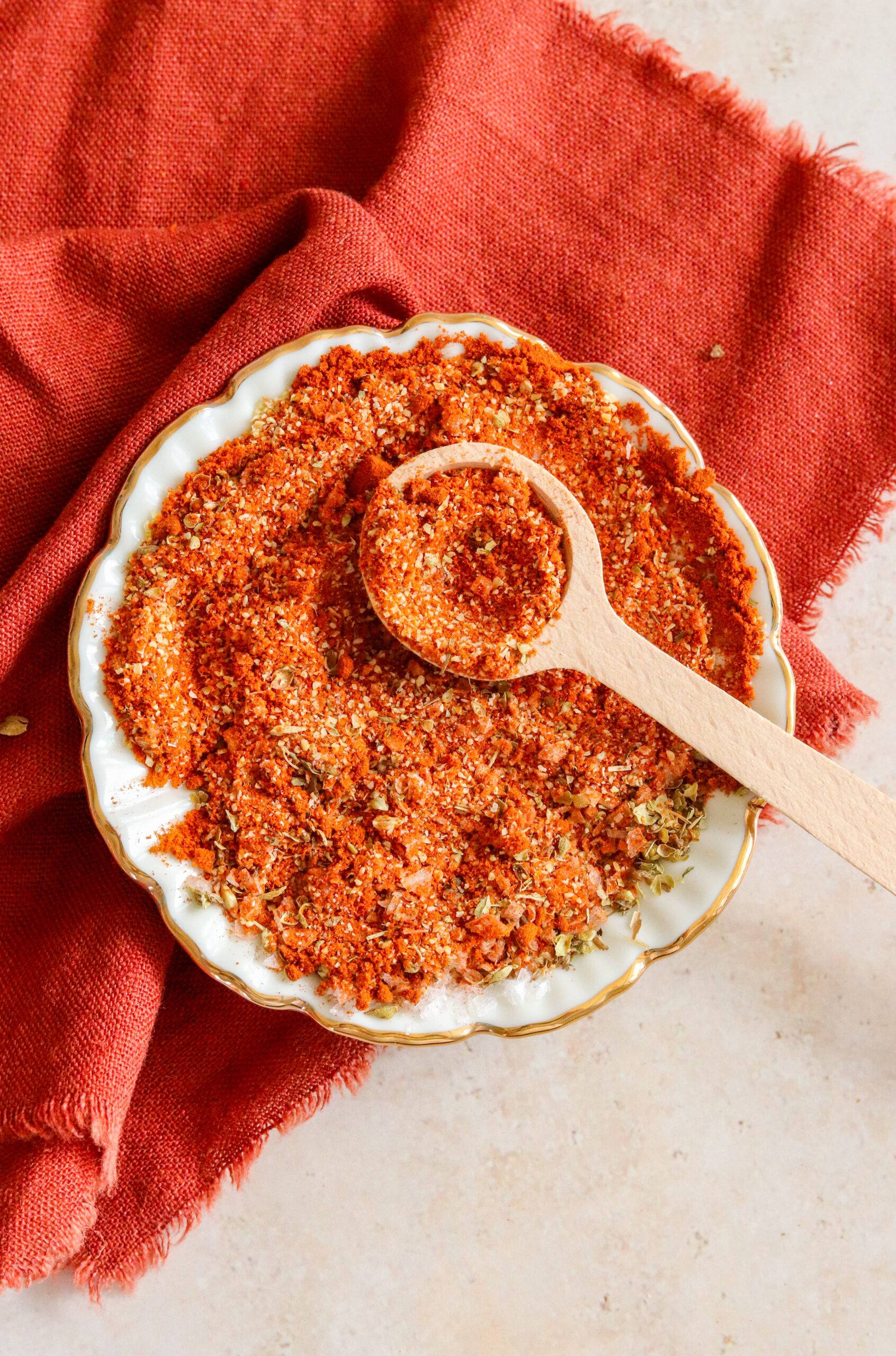 why make your own fajita seasoning?
Making your own Fajita Seasoning really couldn't be any easier! It is as simple as measuring out a few ingredients and mixing them together. It is so fast and easy and you'll have the most delicious seasoning.
Although it is easy to make, why not just buy fajita seasoning from the supermarket? By making it yourself you know exactly what is in it.
This has two benefits; you can tailor it to your own taste preferences and you also know there are no preservatives or other ingredients you wouldn't necesserily want in your seasoning.
Making your own seasoning is also going to be more cost effective in the long run – especially if you buy those fajita seasoning sachets.
You probably have most of the ingredients in your cupboards already so you might not need to buy any specifically for this seasoning.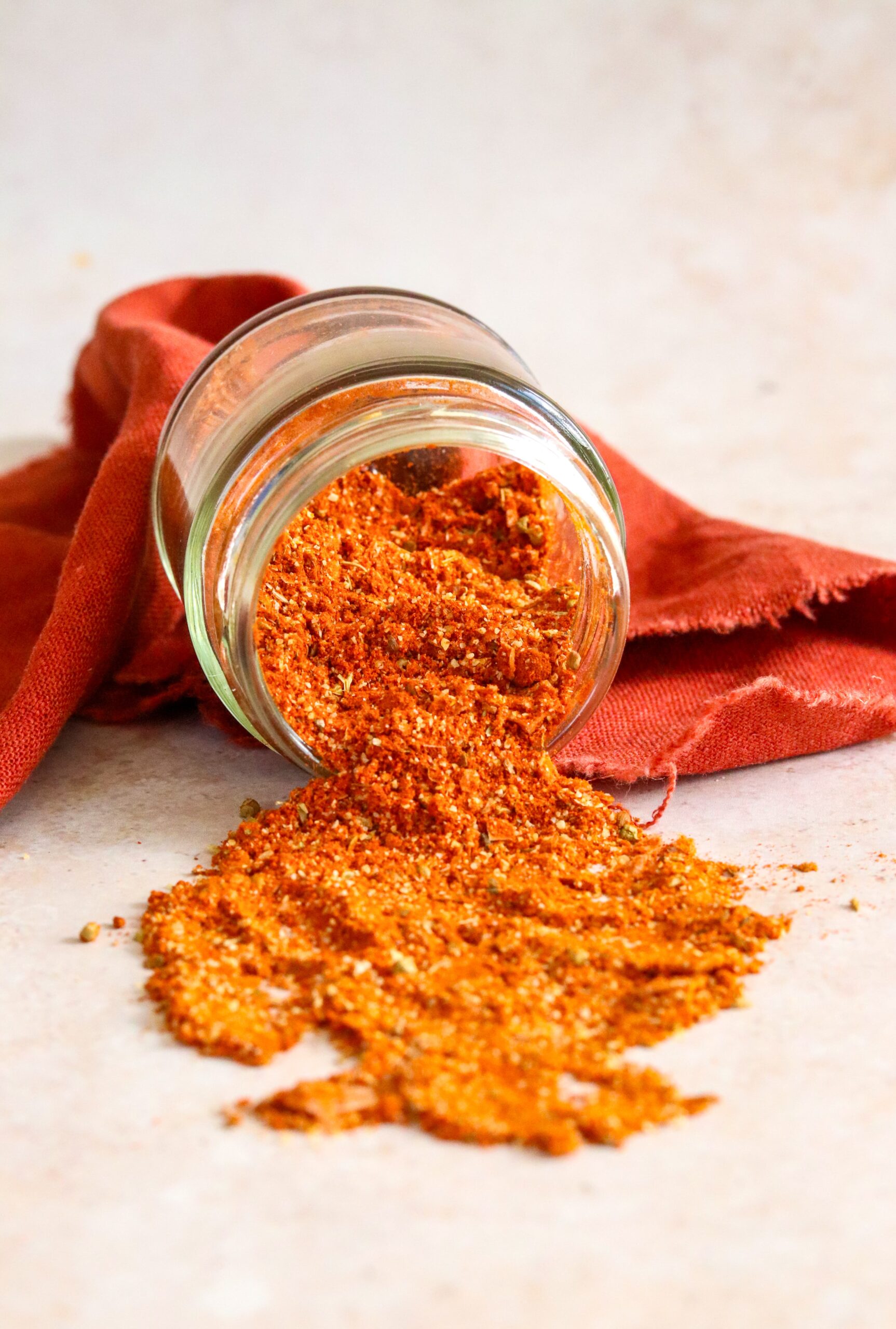 what is in homemade fajita seasoning?
As I've already said, you only need a few ingredients that you probably already have to make this Homemade Fajita Seasoning.
Garlic
I am a huge fan of garlic granules and they are my go-to type of garlic when I'm not using fresh.
If you prefer you can use garlic powder, however you may want to reduce the quantity slightly as garlic powder is more potent than granules. I would recommend using 3-3½ teaspoon as a start; you can always add more.
You could also use garlic flakes (dried garlic) if you have nothing else. The flakes can be quite chunky so they will be more noticeable in your finished seasoning. Again you might need to adjust the quantities slightly.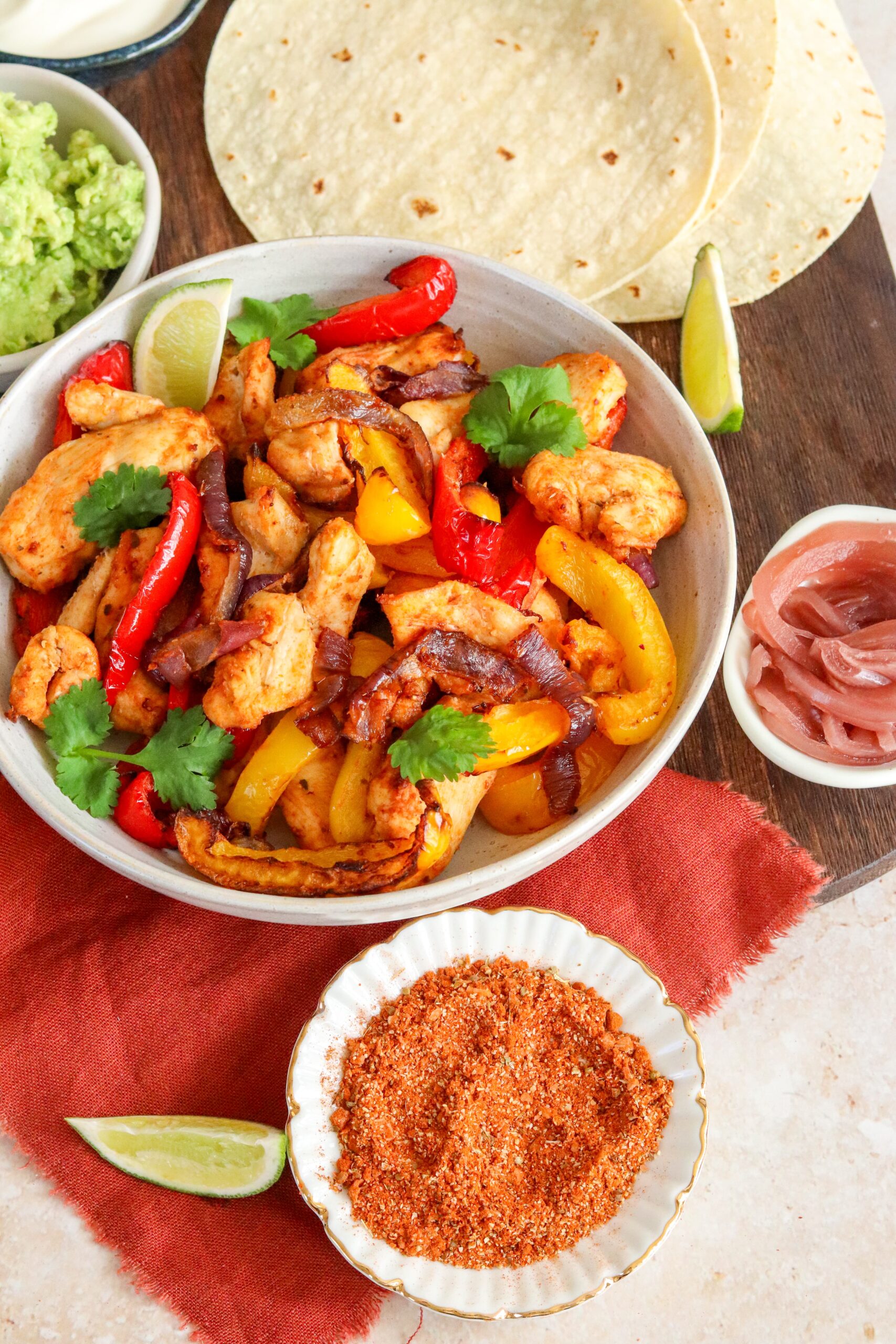 Paprika
If your paprika is labelled simply as that, then it is more than likely sweet paprika. You can also buy smoked and hot paprika.
I have deliberately been quite vague in the recipe and just said 'paprika' as all three would work well for this fajita seasoning.
Smoked paprika would add a lovely smoked flavour to the seasoning. If you like the Old El Paso smoky BBQ fajita seasoning, I would definitely recommend adding smoked paprika.
If you like your fajitas with a bit of heat, using hot paprika would work really well. You can always reduce the quantities to adjust the spice level.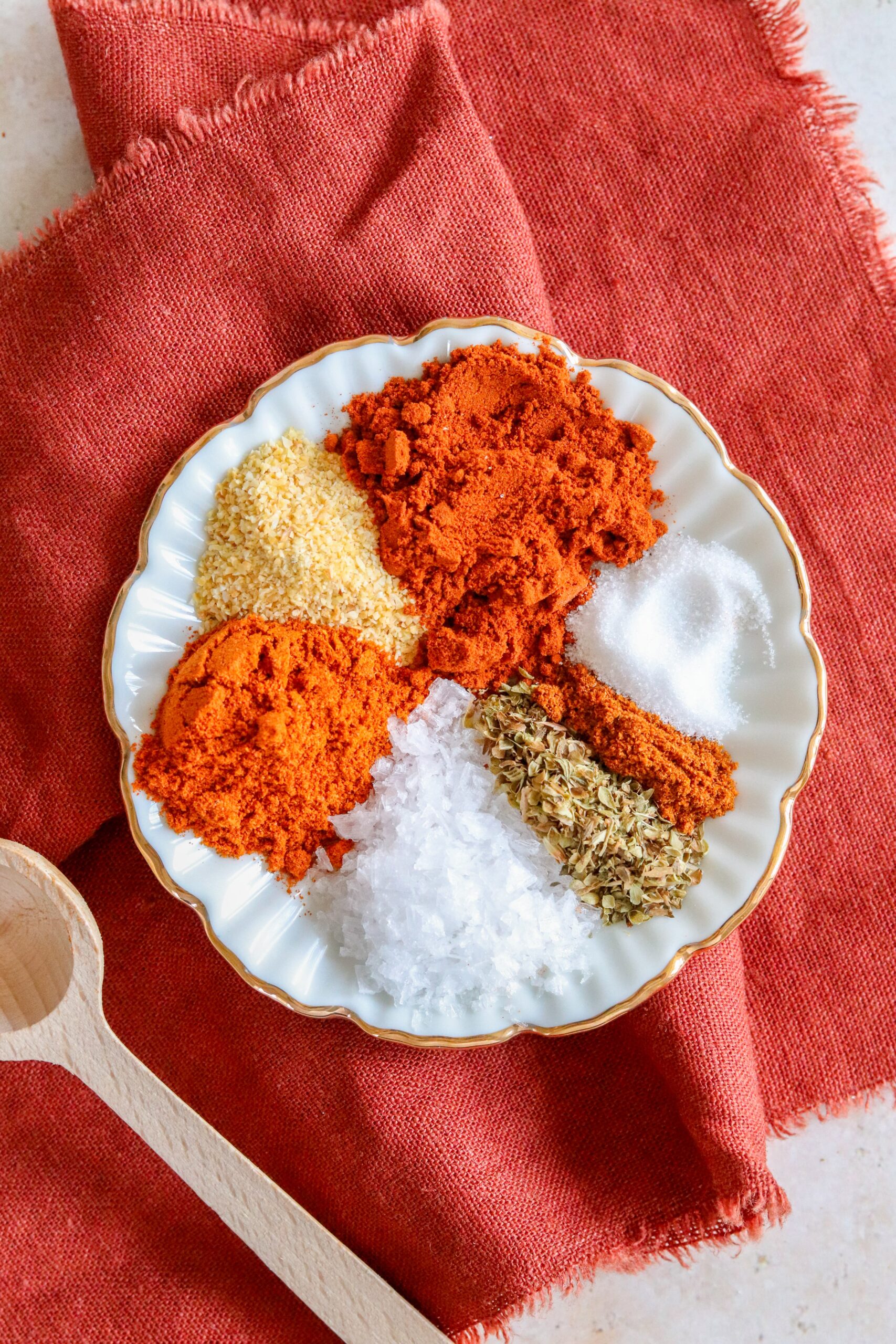 Chilli powder
Although fajita seasoning isn't typically spicy, you can use whichever chilli powder you prefer. Mild and hot chilli powders are the most common found in supermarkets and both would work. If you decide to use hot chilli powder, adjust it to your spice tolerance.
You can also mix it up and use different chilli powders such as ancho and chipotle. They vary in heat so you may need to adjust the quantities in the recipe below.
Chipotle has a lovely smoky flavour to its heat which would be really great in the fajita seasoning.
Sea salt
Sea salt is usually my preference, however table salt will be absolutely fine for this recipe. You will need to reduce the amount of salt by at least half if you are using table salt.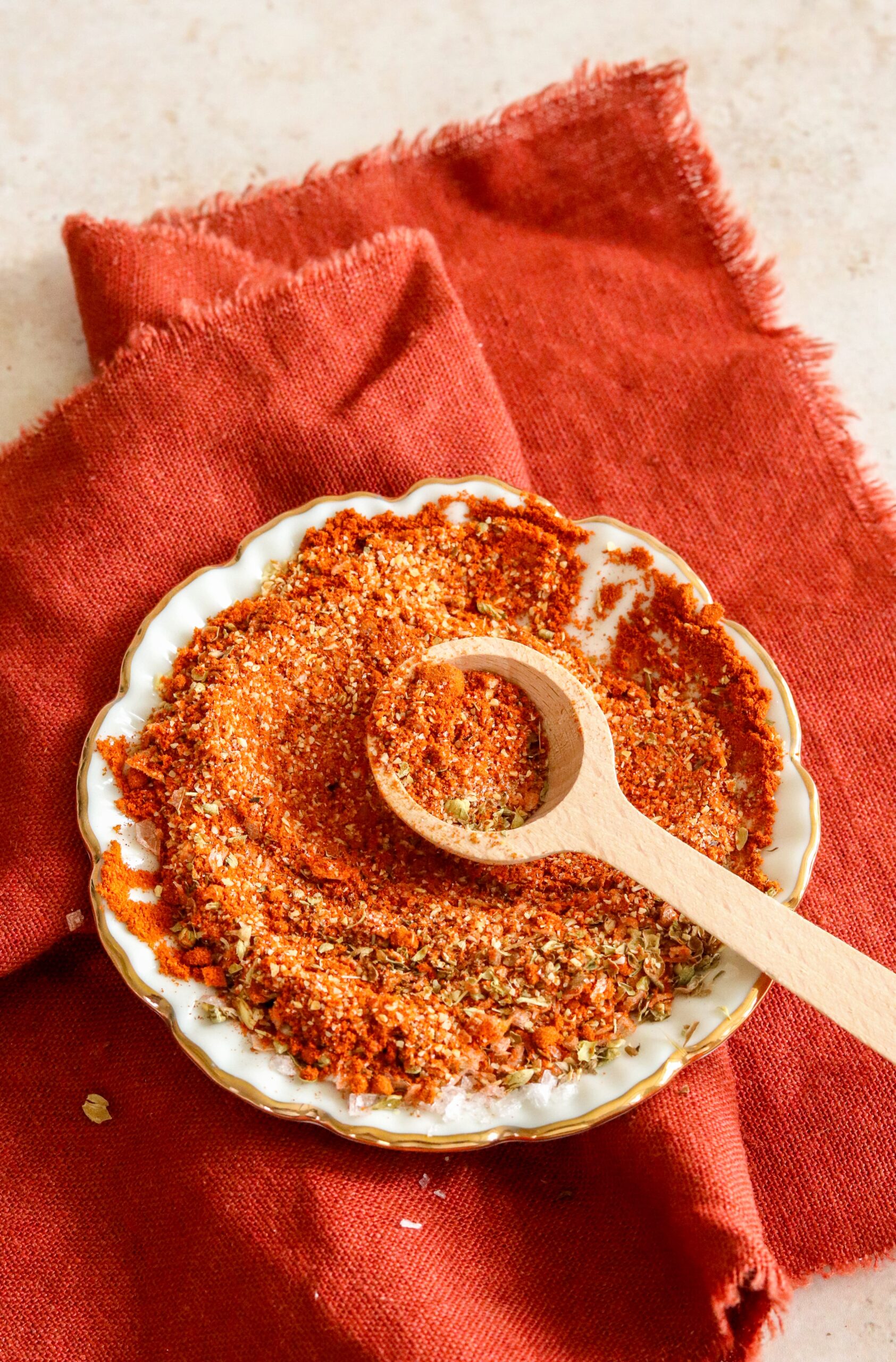 oregano
More often than not I use standard dried oregano that you can find in any supermarket. However I do sometimes like to change things up and use Mexican oregano.
Mexican oregano has a citrus flavour which brings a nice change to the seasoning. This is a little harder to find and online is probably your best bet for finding it.
cayenne pepper
Cayenne pepper adds a subtle warmth to the seasoning. I have used a small amount so it provides its flavour without too much heat.
sugar
Don't worry, adding a small amount of sugar will not make this seasoning sweet. Instead it helps balance out the flavours.
However if you would rather leave it out entirely, you absolutely can.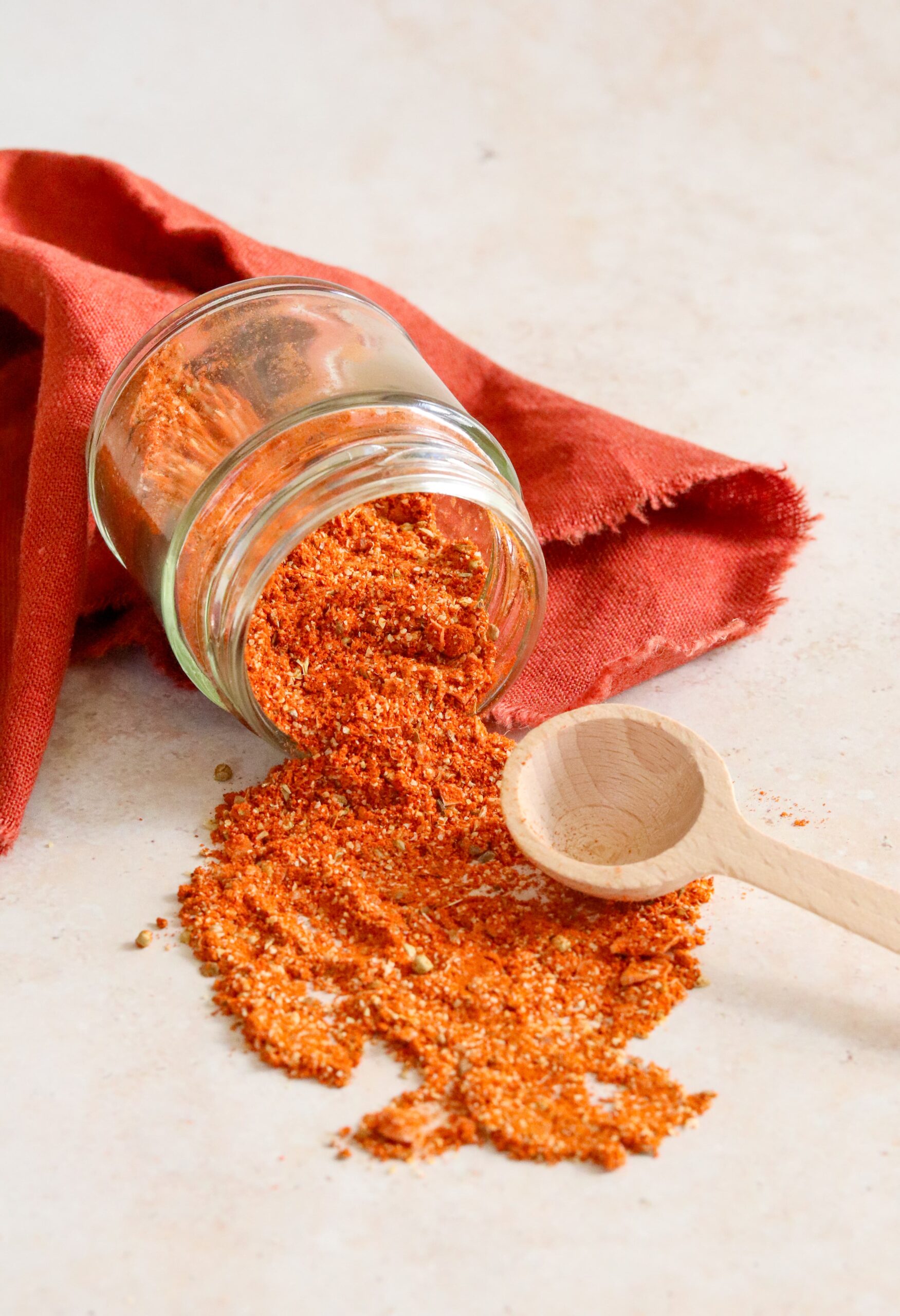 Customise your fajita seasoning
Hopefully if you have read this far I have portrayed just how easy this fajita seasoning is to customise. That is one of the main reasons to make your own rather than buying a shop bought version afterall!
Tailor your seasoning to match your family's preferences. If you are cooking for children who like things super mild, you can reduce the chilli powder and cayenne. Alternatively if you like a bit of spice, add more!
My fajita seasoning doesn't include onion powder which you might find in others. I like mine without it but you can always add some to yours if you would like.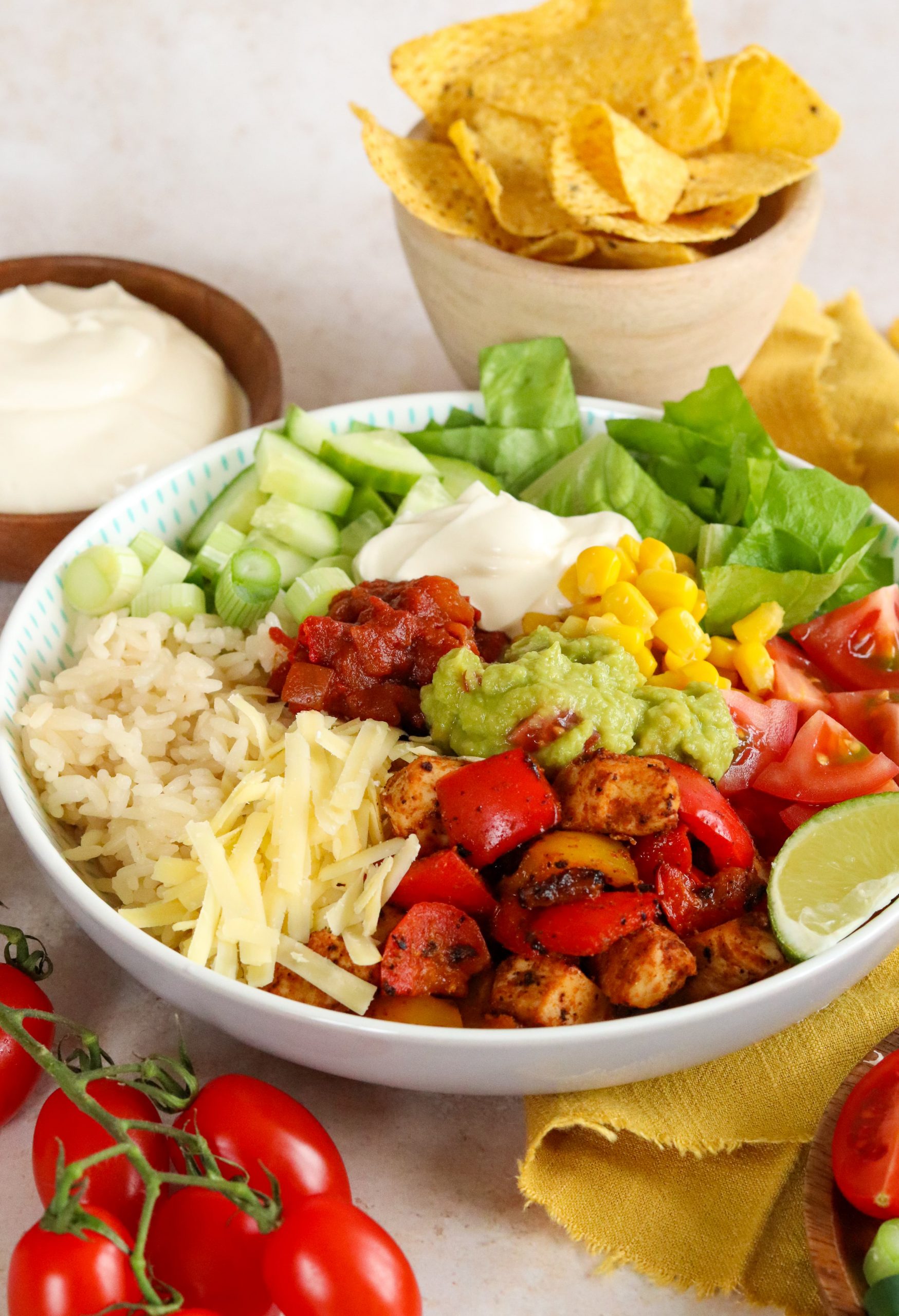 is this fajita seasoning spicY?
Personally I would consider this fajita seasoning to be pretty mild. However you can build the spice level by using more of it in your chosen dish. For example if a recipe calls for one teaspoon of seasoning, you can add more to increase the spice level.
Similarly you can add less of the seasoning to make it even milder. This makes it easy to adapt to who you are cooking for without having to change the actual seasoning.
You can of course reduce the amount of chilli and cayenne powders if you prefer.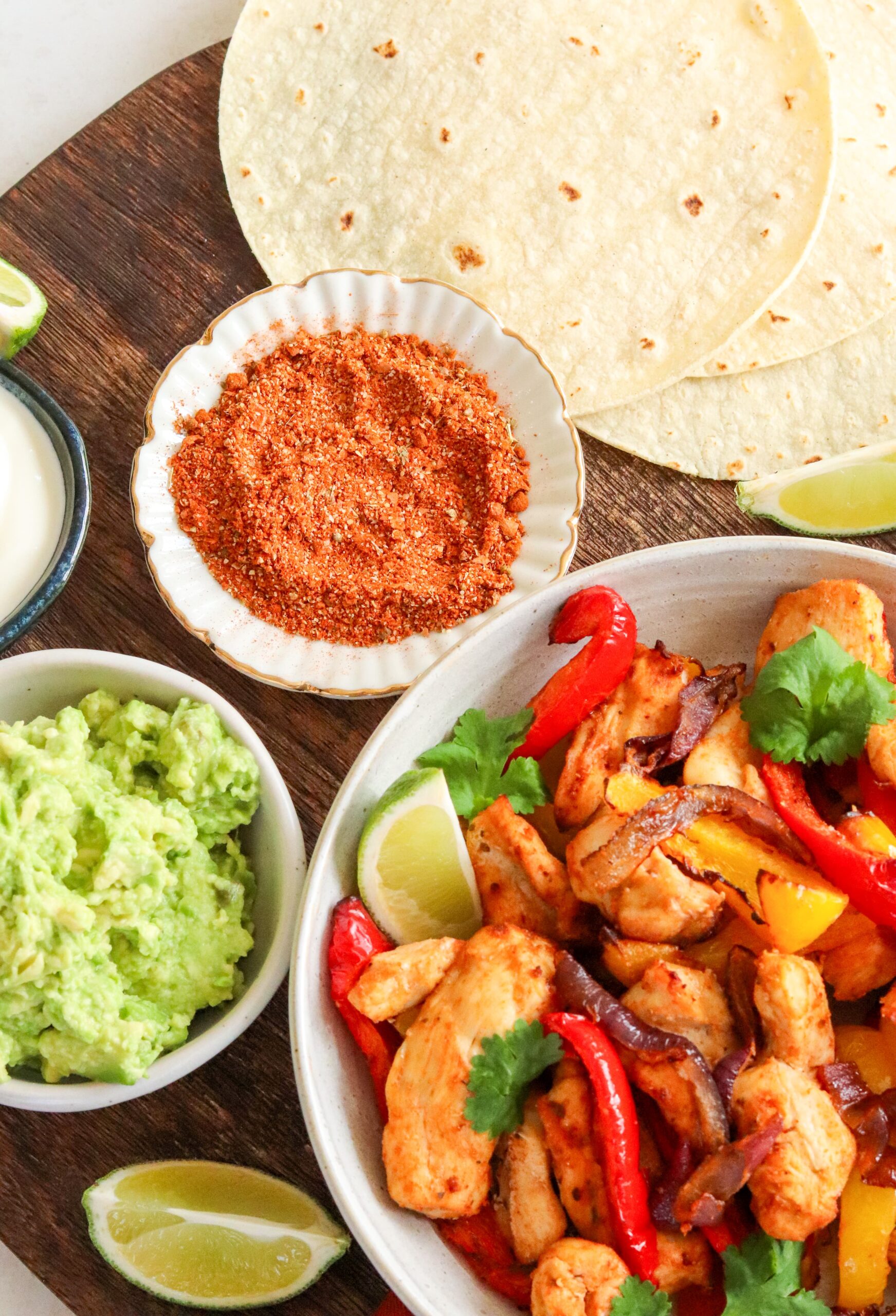 how long does fajita seasoning keep for?
If you store the seasoning in an airtight jar or container in a cupboard it will easily keep for six months. I usually make at least a double batch so I have a supply to keep me going for a few months.
However it only takes a couple of minutes to mix up so you don't have to make big quantites.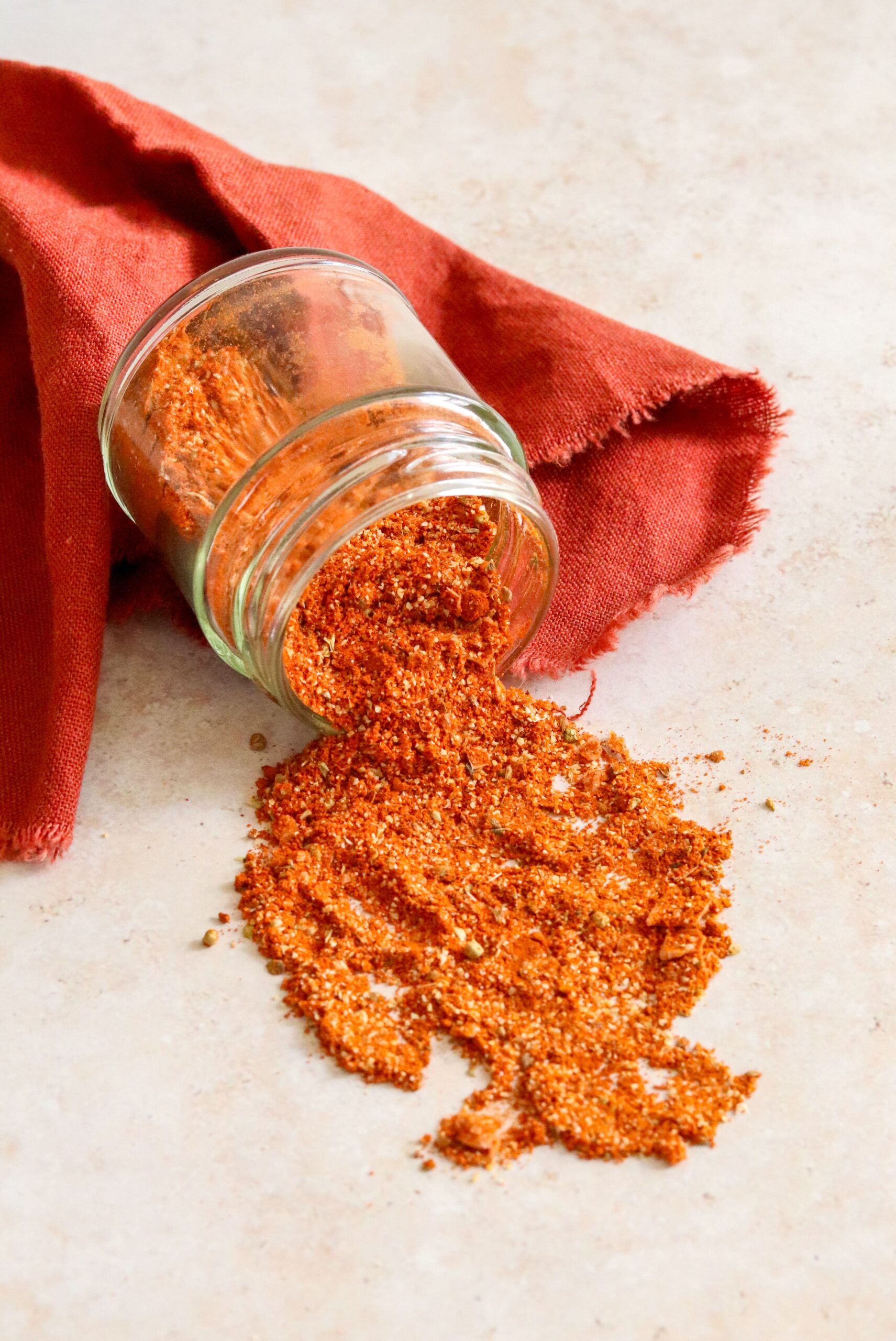 how to use fajita seasoning
It should go without saying that this is the absolute perfect seasoning to make fajitas with. Chicken, beef, pork, fish or halloumi – all would be delicious cooked with this tasty homemade seasoning.
Another of my favourite ways to use this seasoning is in my Chicken Fajita Burrito Bowl. It is basically a salad form of chicken fajitas and one of my absolute favourite meals.
You could use this seasoning in my Slow Cooker Turkey Chilli for a quick way of adding instant flavour. Or use it to flavour some Air Fryer Potato Wedges.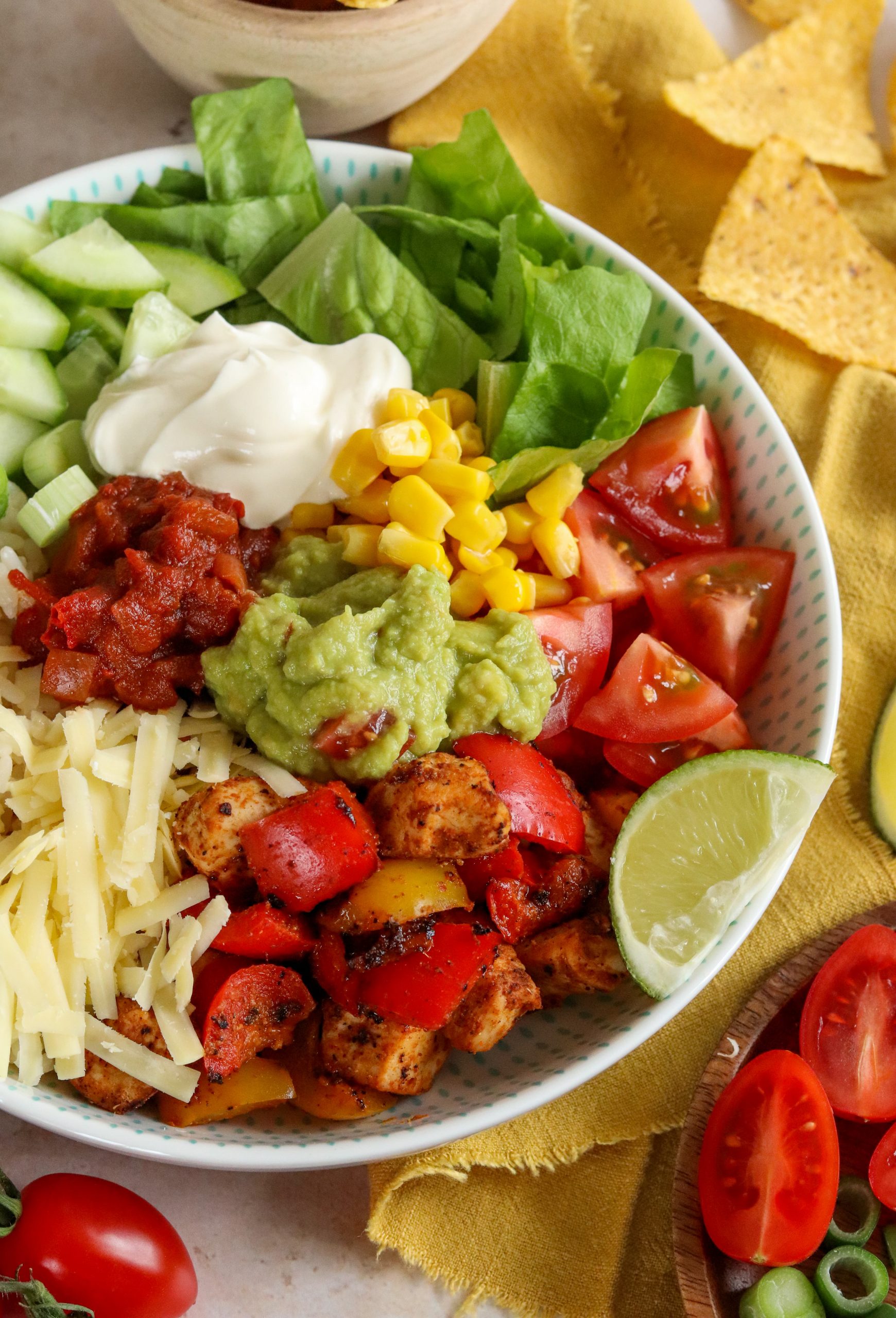 other recipes you might like
Pin for later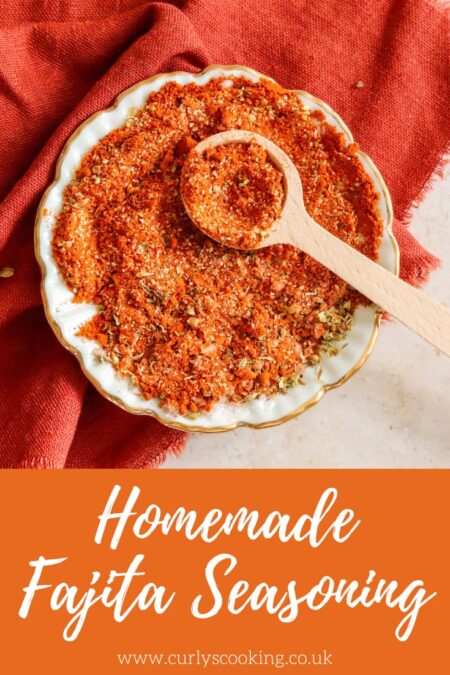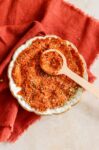 Homemade Fajita Seasoning
This Homemade Fajita Seasoning is incredibly easy to make with ingredients you are likely to already have in your cupboards. Once you have made this you definitely won't be buying fajita seasoning from the shops again!
Ingredients
4

tsp

garlic granules

4

tsp

paprika

4

tsp

chilli powder

4

tsp

sea salt

2

tsp

dried oregano

1

tsp

cayenne pepper

1

tsp

caster sugar
Instructions
Add 4 tsp garlic granules, 4 tsp paprika, 4 tsp chilli powder, 4 tsp sea salt, 2 tsp dried oregano, 1 tsp cayenne pepper and 1 tsp caster sugar to a bowl or jar

Stir or shake the ingredients until completely mixed

Store in an airtight container
Recipe Notes
Nutritional information is given as a guide only and may vary.
Nutrition Facts
Homemade Fajita Seasoning
Amount Per Serving (1 tsp)
Calories 4
Calories from Fat 1
% Daily Value*
Fat 0.1g0%
Monounsaturated Fat 0.02g
Sodium 394mg17%
Potassium 22mg1%
Carbohydrates 1g0%
Protein 0.2g0%
Vitamin A 298IU6%
Vitamin C 0.1mg0%
Calcium 3mg0%
Iron 0.2mg1%
* Percent Daily Values are based on a 2000 calorie diet.