These Mustard & Sage Sausage Rolls are packed full of delicious flavours perfect for eating warm or cold. The only issue is they definitely won't last very long!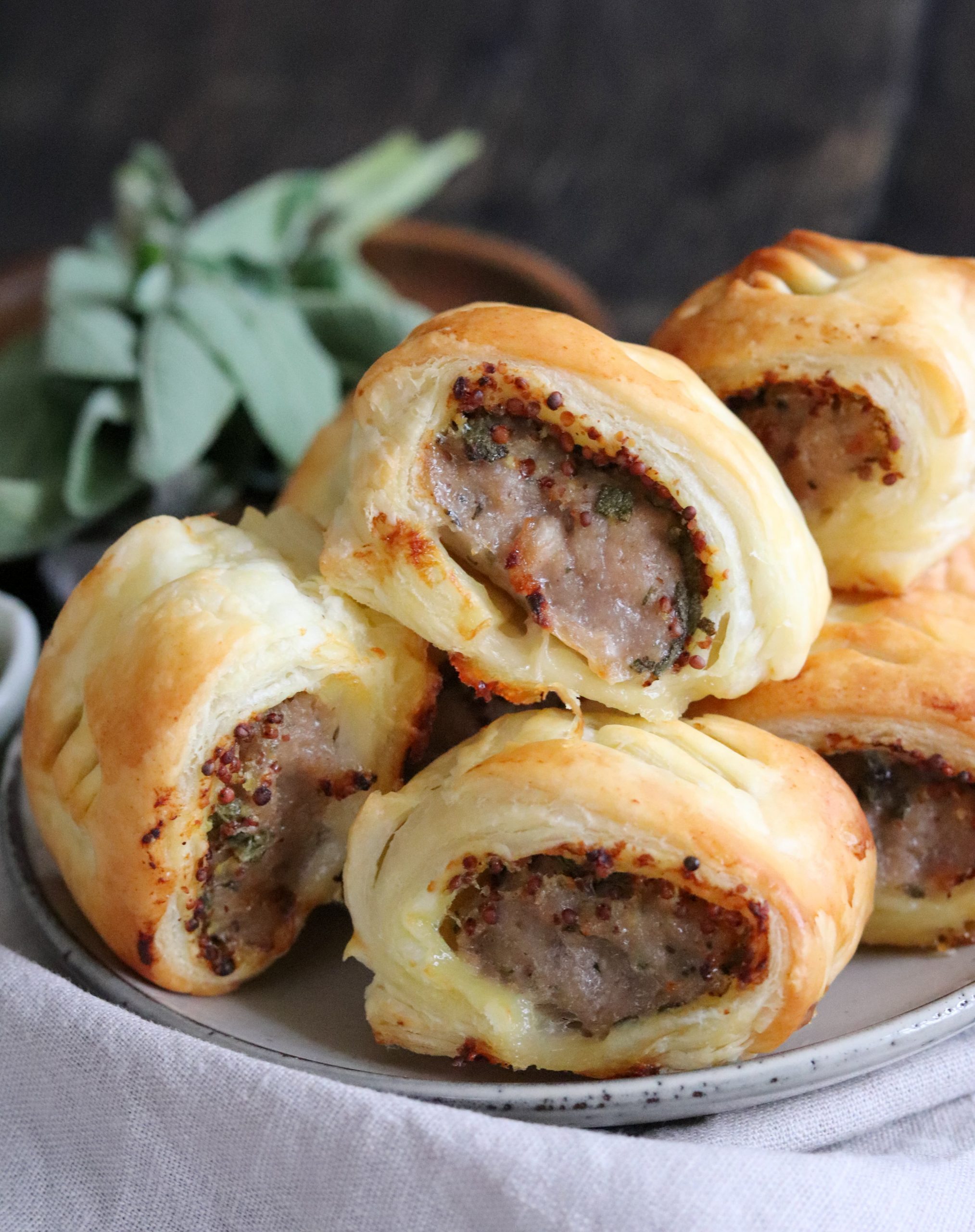 Who doesn't like Sausage rolls?
Sausage rolls are a thing of beauty. Who doesn't like a tasty sausage roll?!
Even vegetarians and vegans don't need to miss out on sausage rolls these days as there are so many options available for different diets.
There is something about the deliciously crisp flaky pastry and delicious sausage meat that makes them irresistible. You can't beat a Quick Sausage Roll, but you can add so many tasty flavourings.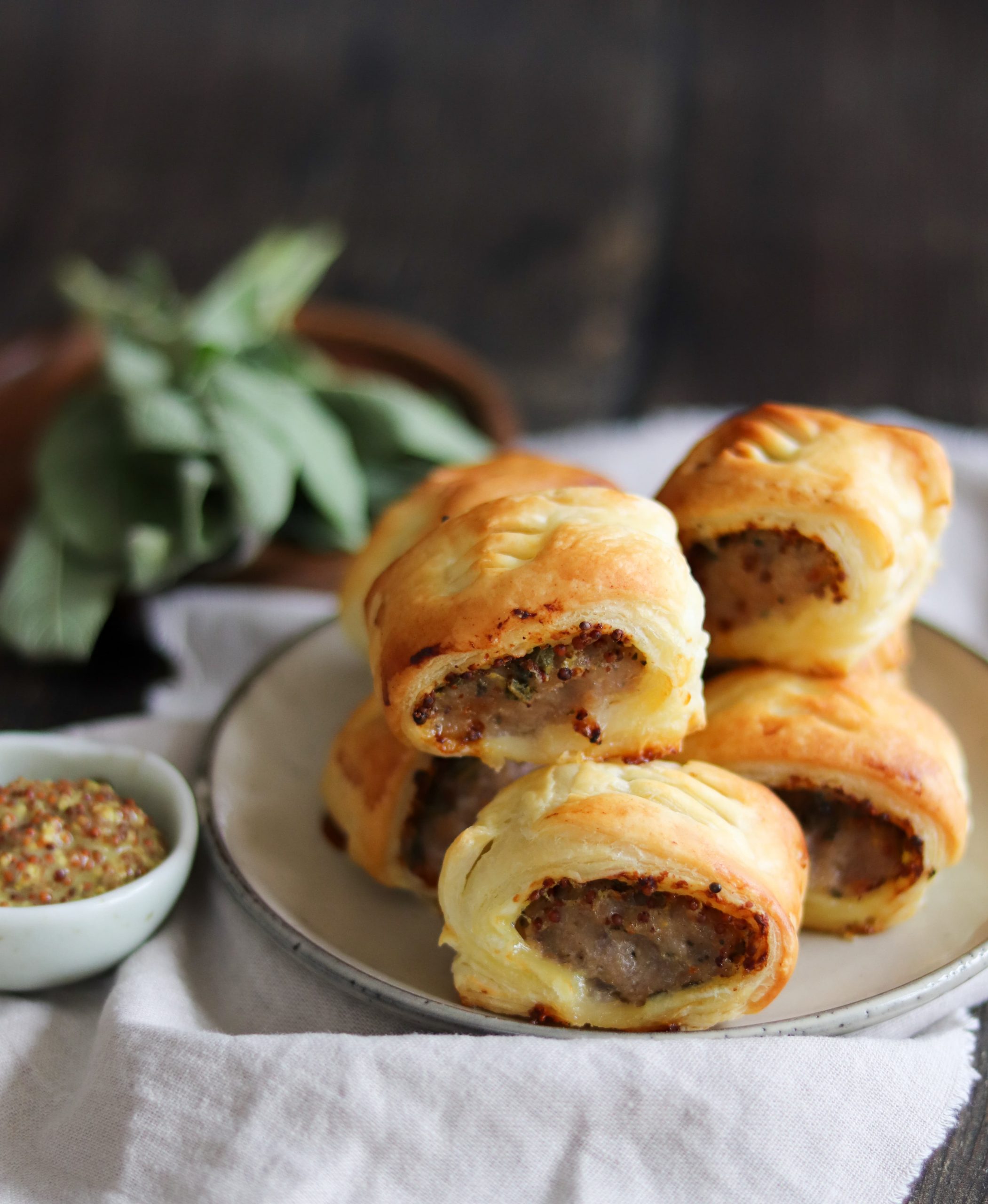 Is using shop bought pastry cheating?
No, I definitely don't think so! Using shop bought pastry is nothing to be ashamed of!
It means making sausage rolls yourself isn't hard and doesn't take long at all. I prefer making sausage rolls myself because you know exactly what is in them and can buy a good quality sausage.
I take it a step further and not only do I buy my pastry, I buy ready rolled pastry too! Rolling pastry into exact rectangles is not my strong point, so ready rolled pastry is amazing for me.
The ready rolled pastry also makes these Mustard & Sage Sausage Rolls even quicker and easier to make. Win win!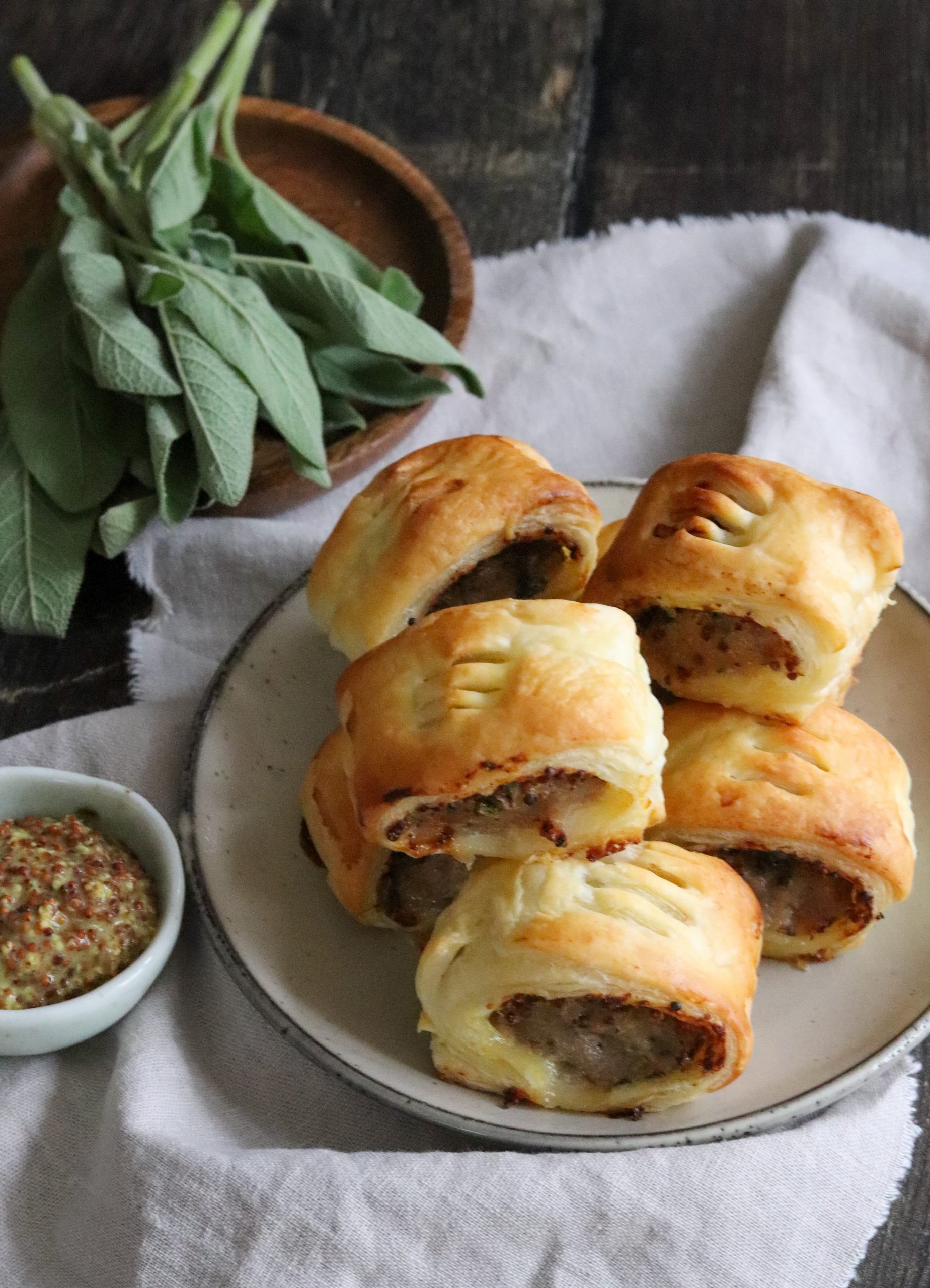 Can light puff pastry be used?
Supermarkets sell lighter puff pastry which is lower in fat. I must admit, I have used it before and have not noticed a difference in taste at all.
I do find it slightly trickier to work with though. It is a bit softer due to the lower fat content. This makes it more flexible.
You can absolutely use light puff pastry, just bear in mind that you might have to work a bit faster. If you aren't a confident cook then I would recommend sticking to the full fat version for ease.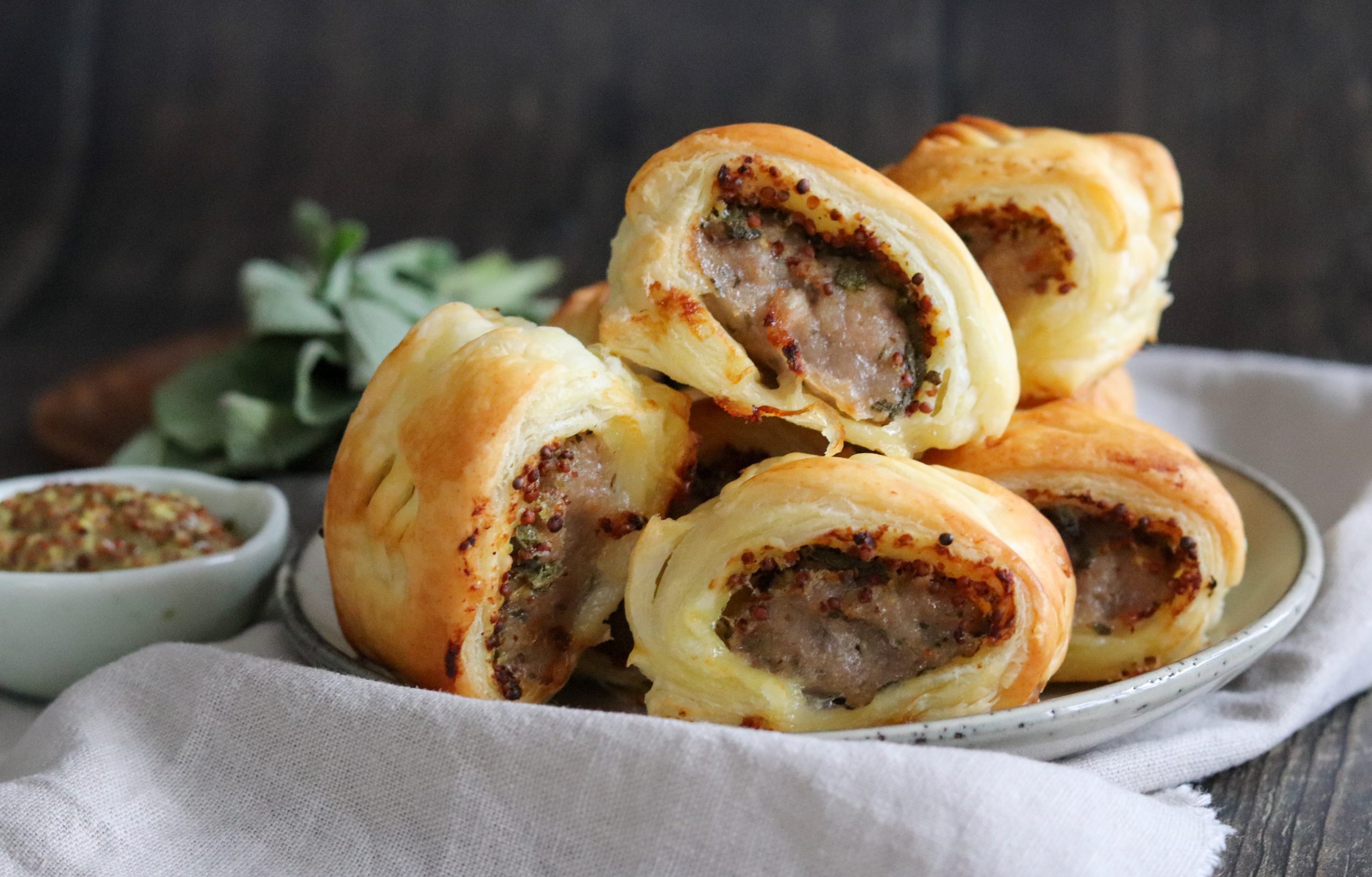 Mustard and sage are a delicious flavour combination
Mustard and sage are not only delicious together, but work really well with pork.
They are flavours that I use in my Slow Cooker Pork & Mustard Stew and Slow Cooker Pork & Sage Ragu. I find them really comforting and they were an obvious flavour choice for sausage rolls for me.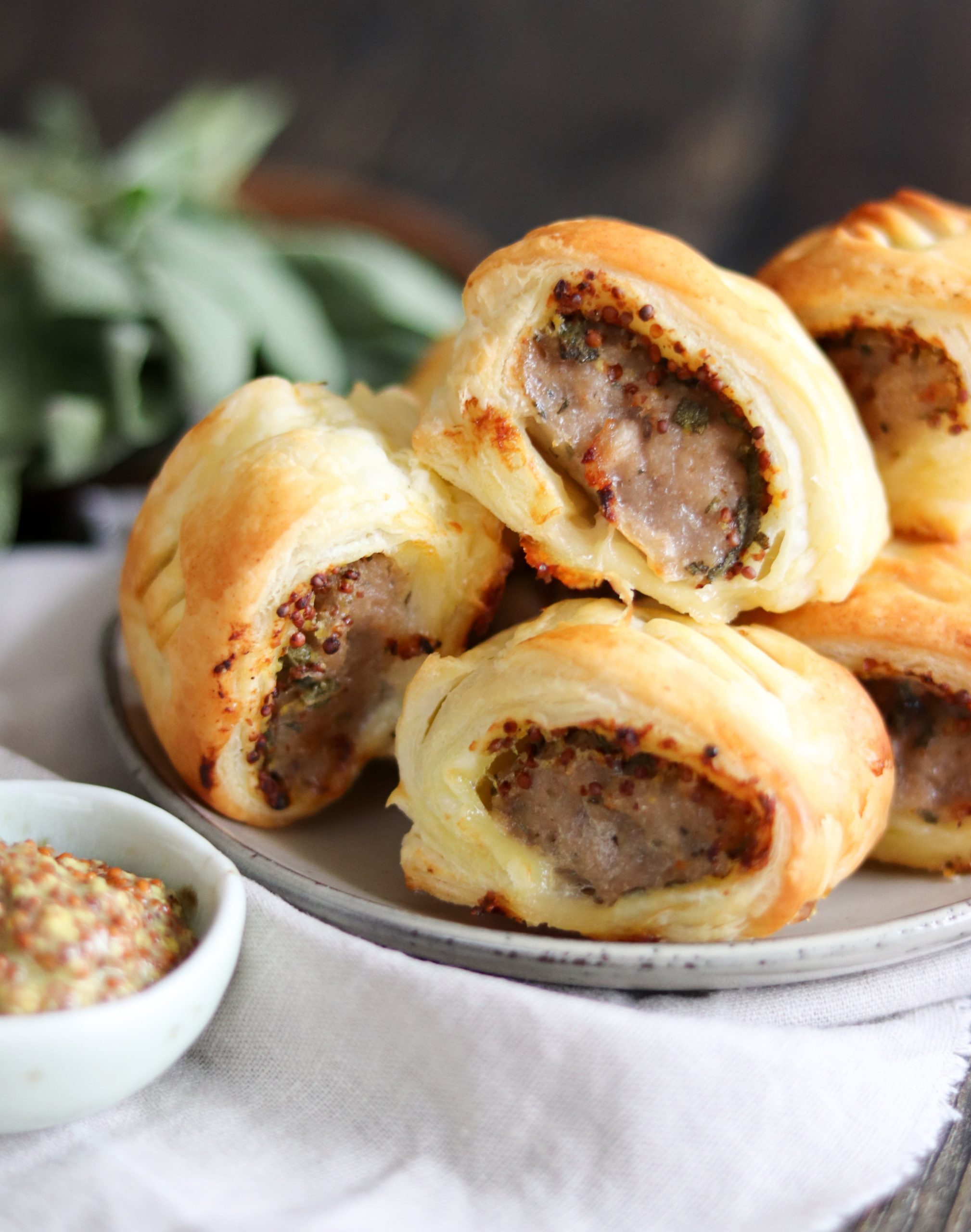 Which type of sausages are best to use?
Lincolnshire sausages are great for these Mustard & Sage Sausage Rolls because they typically have sage in their mix.
If you didn't want to use a Lincolnshire sausage you could use standard pork sausages or Cumberland sausages. Personally I don't like Cumberland sausages because I find them too heavily seasoned with black pepper, but I know lots of people like this.
You can definitely use standard pork sausages or sausage meat for this recipe too. The flavours you add to the sausages mean plain pork sausages would work really well.
Whichever sausages you use, I would recommend making sure they are good quality and have a high pork content if possible.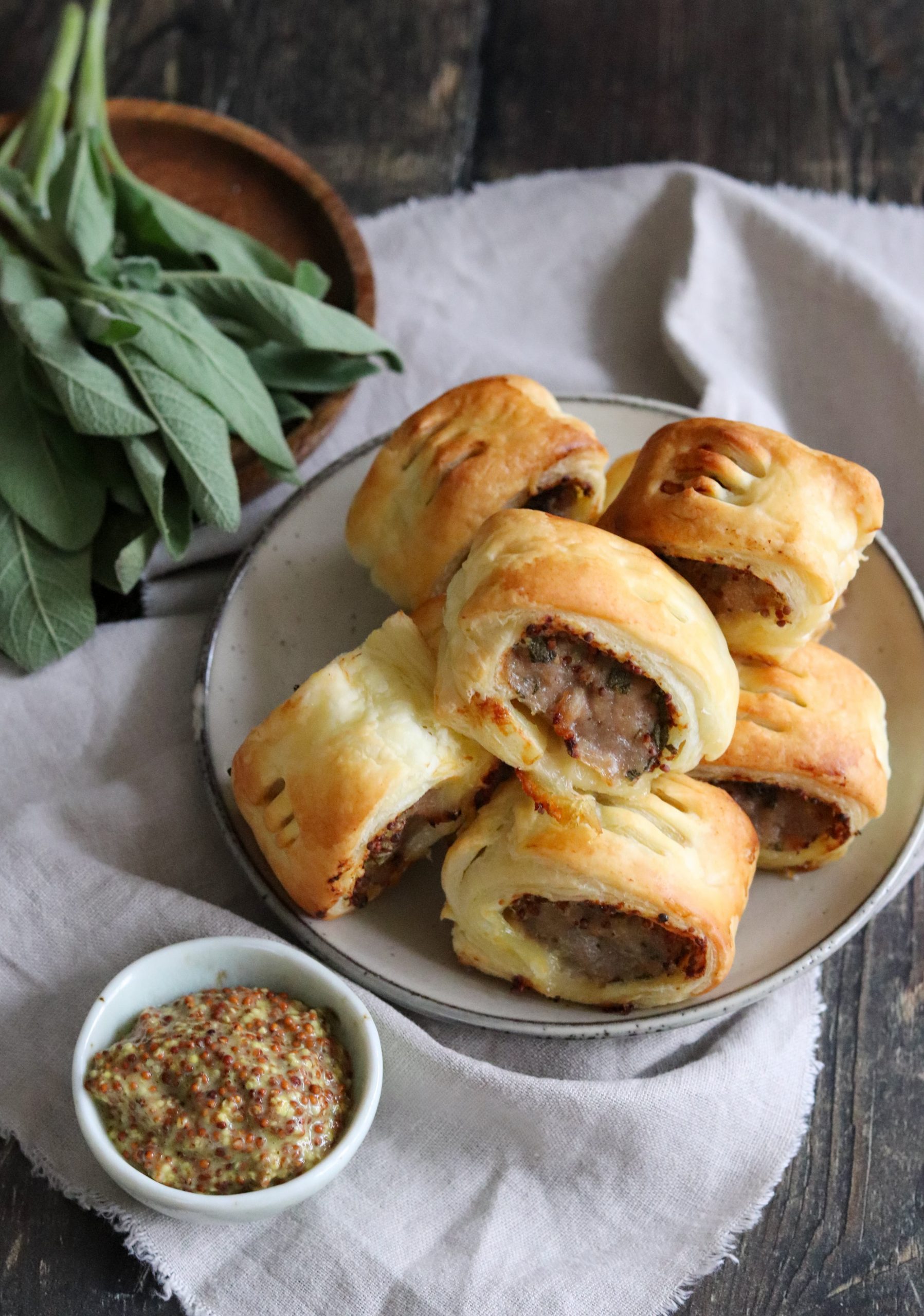 Which mustard is best to use?
Wholegrain mustard is my favourite type of mustard and the one I always tend to use when cooking.
I think it has a milder taste than some of the other types of mustard which mean it doesn't overpower the other flavours.
I cover the pastry in a layer of wholegrain mustard, but if you were worried about it being too strong you could add a thinner layer of mustard.
You could also use another type of mustard if you prefer. Just be careful to not add too much if it is strong!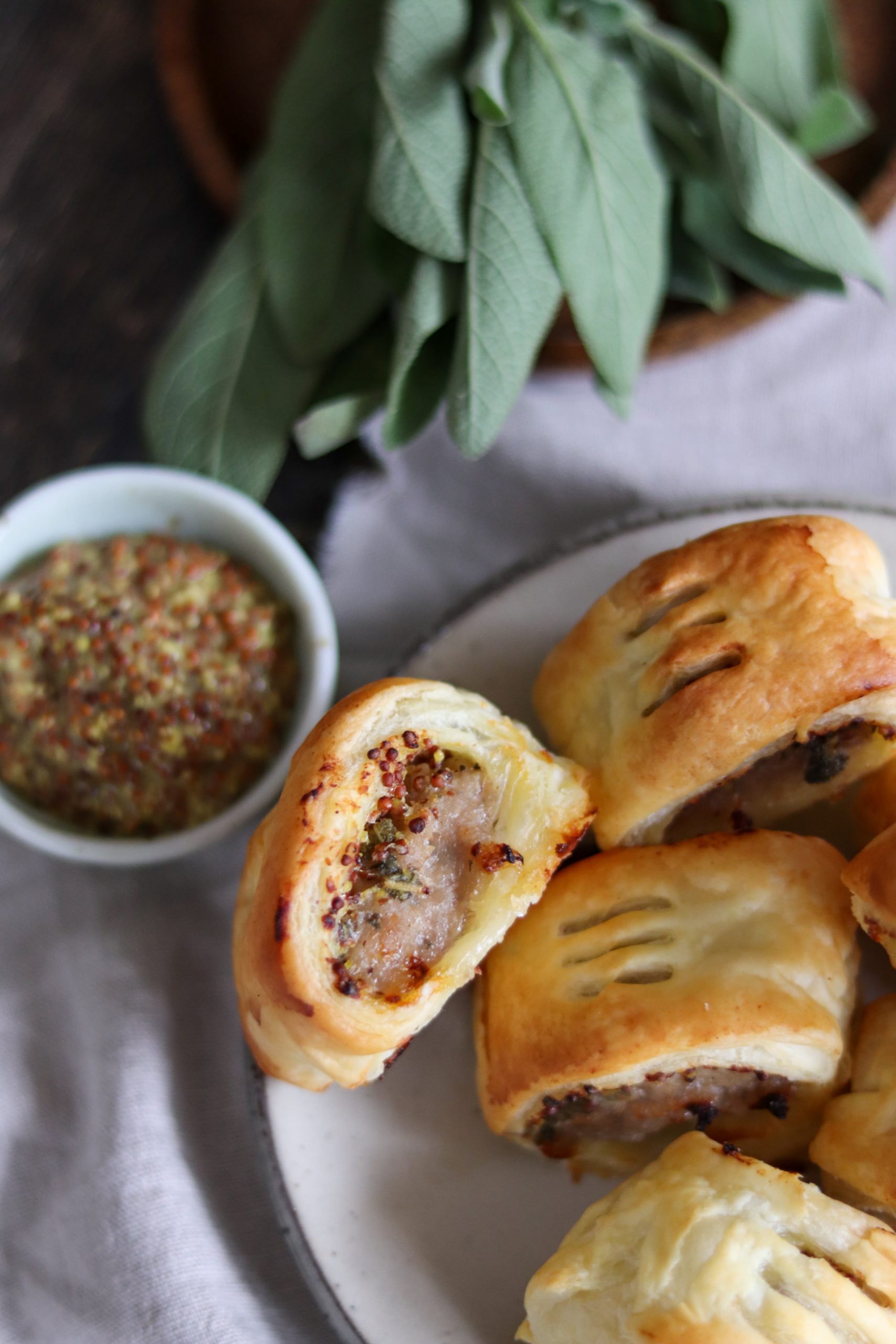 How many sausage rolls does this recipe make?
That depends how big you want them to be! I usually cut them quite small so they are 'snack size' and get around 20 sausage rolls.
You could cut them much larger if you were going to have them as part of your dinner. If you did this you should get 6 sausage rolls.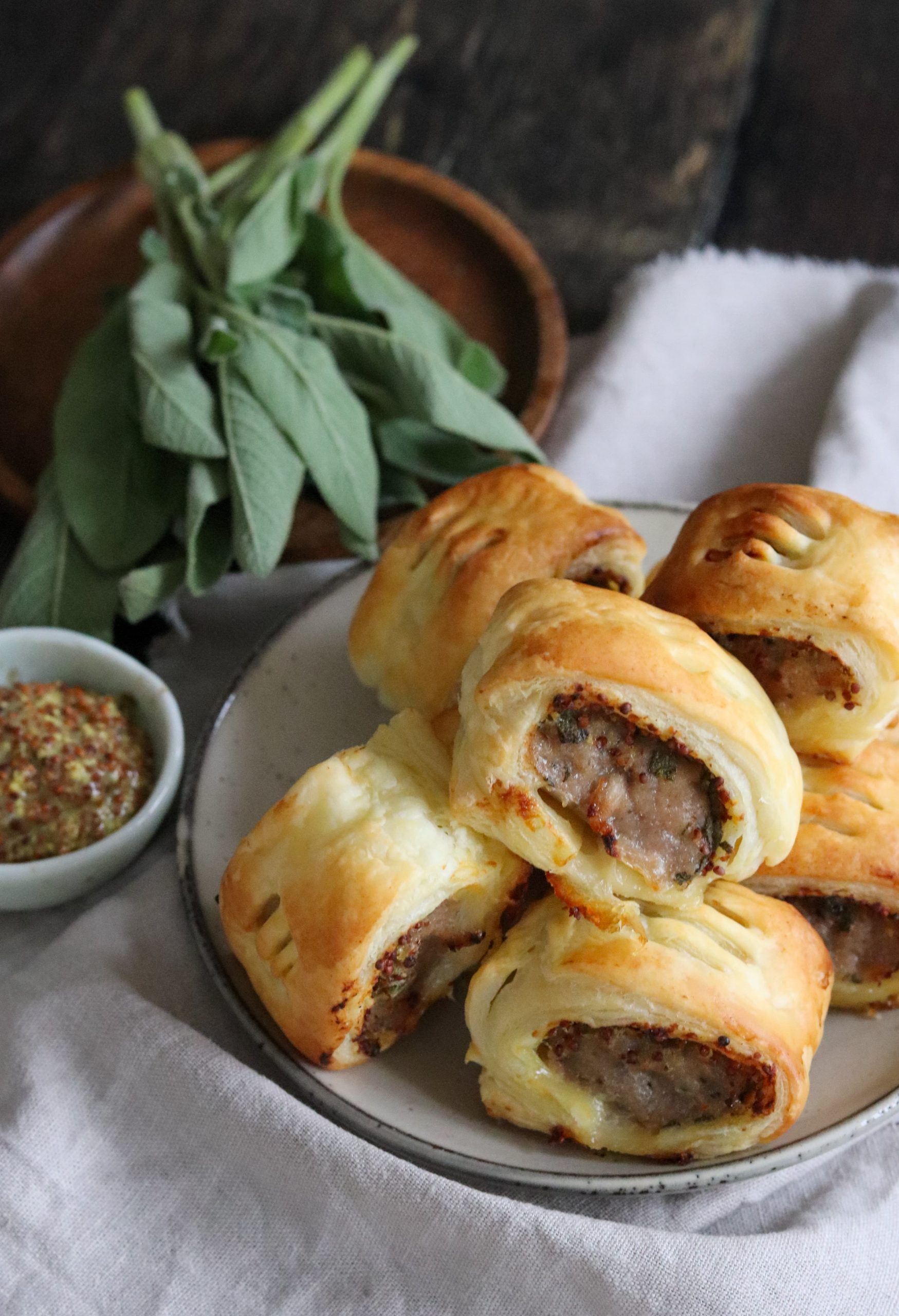 how to make these gluten free, vegetarian or vegan
These Mustard & Sage Sausage Rolls are very easy to make gluten free. Make sure your sausages are gluten free and then buy gluten free puff pastry.
Most supermarkets now stock gluten free pastry. It used to only be found in the freezer aisles but I believe it can now be found in the chilled section too.
To make these sausage rolls vegetarian or vegan chose your favourite meat free sausage. Most pastry is accidentally vegan apart from the all butter versions. So just double check this.
Then instead of standard milk, use your preferred plant based milk to make them vegan.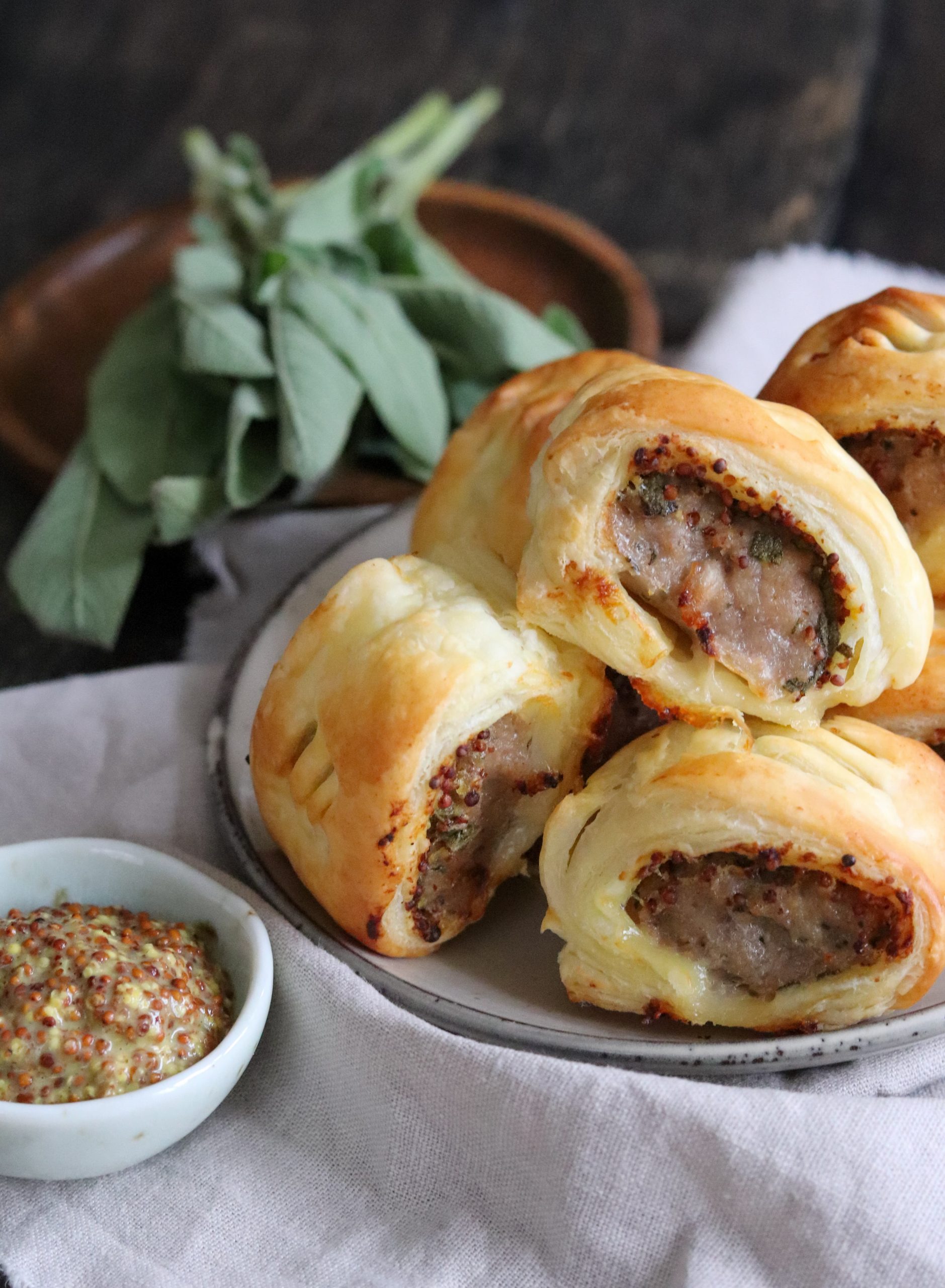 How long will these Mustard & Sage Sausage Rolls keep for?
These sausage rolls will keep in an airtight container in the fridge for 3-4 days. They are delicious eaten hot or cold.
If you do want to reheat them, I would recommend putting them in the oven rather than the microwave to keep them crisp.
If you want them to keep for longer, I would recommend freezing them.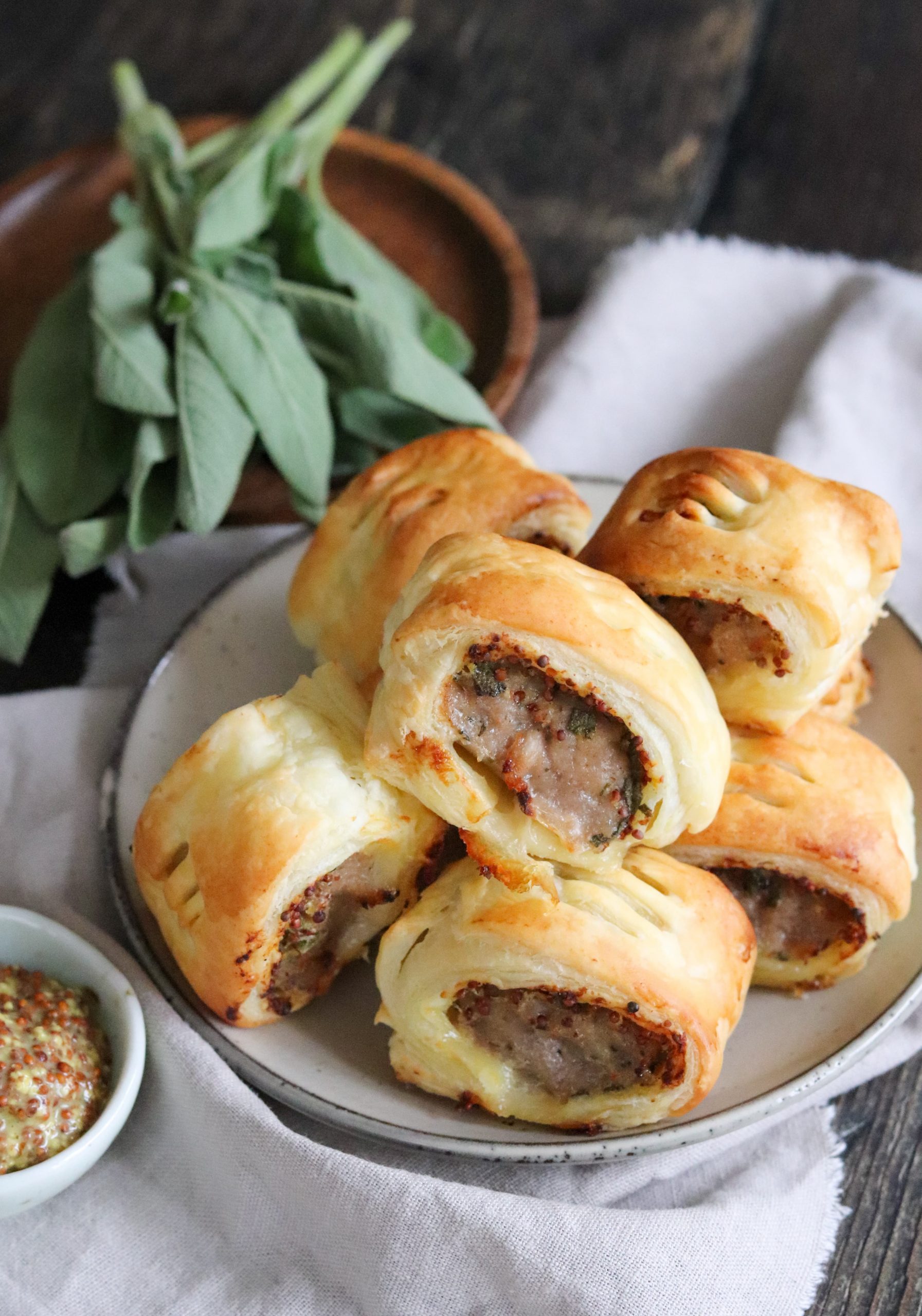 How to freeze these sausage rolls
Sausage rolls are incredibly easy to freeze. On the build up to Christmas each year, I prepare lots of sausage rolls and freeze them ready to bake as and when I want them later on.
Prepare the sausage rolls as the recipe states but don't brush them with milk. Then freeze them flat on the baking tray for around one hour so they are firm.
Once they are slightly frozen, you can package them up into a container or a bag and freeze completely. They can be frozen for up to three months.
When you want to cook them, take out however many you want and place them on a baking tray. Brush them with milk and bake them for 10 minutes longer than the recipe states.
You will then have delicious, freshly baked sausage rolls to enjoy!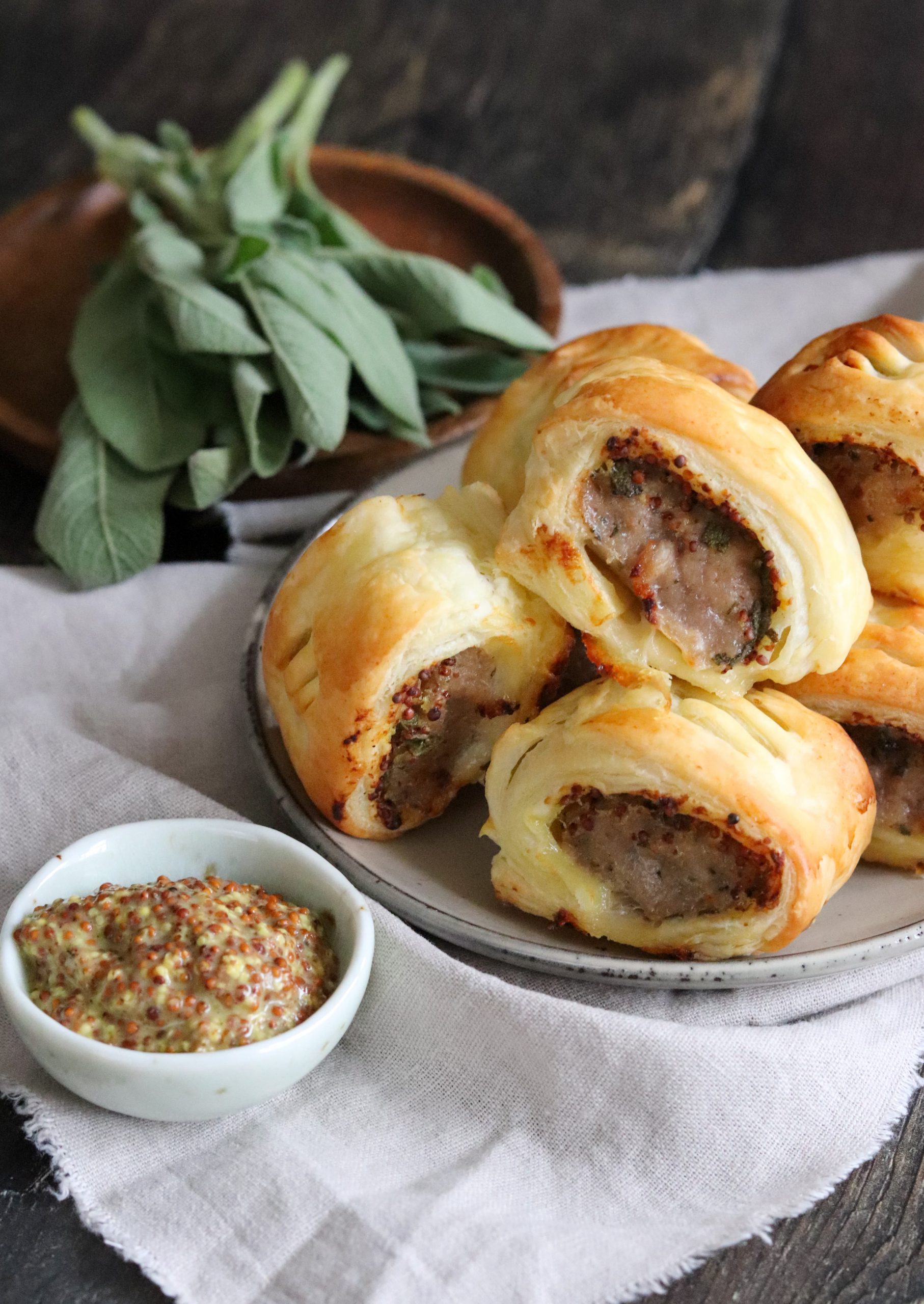 Cooking in an air fryer
These Mustard & Sage Sausage Rolls can be cooked in an air fryer as well as an oven. They take less time to cook in an air fryer and it is a great way to cook just a few without heating the whole oven.
Make the sausage rolls as per the recipe below and then head over to my Air Fryer Sausage Rolls for the instructions on how to cook them.
Other recipes you might like
Pin for later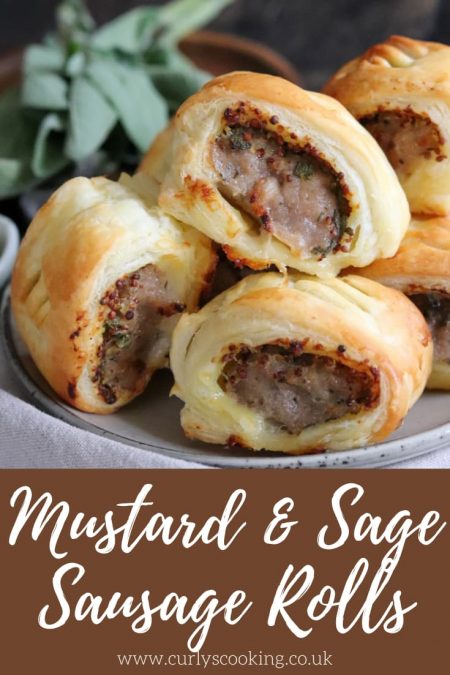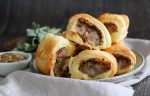 Mustard & Sage Sausage Rolls
These Mustard & Sage Sausage Rolls are packed full of delicious flavours perfect for eating warm or cold. The only issue is they definitely won't last very long!
Ingredients
1 x

375g

ready rolled puff pastry

400

g

Lincolnshire sausages

(6 sausages)

3

tbsp

wholegrain mustard

1

tsp

fresh sage

1

tsp

milk

Spray oil
Instructions
Preheat the oven to 200ºC (fan assisted 180ºC non fan)

Unroll the ready rolled pastry and cut it in half length ways. Spoon 1½ tbsp of wholegrain mustard onto each pastry strip. Spread out to form a strip down the middle of the pastry, leaving a gap to either side

Finely chop the sage and scatter it over the mustard

Remove the sausages from their casing and place three sausages on the middle of each strip of pastry. You will need to stretch the sausages slightly to make them a bit longer to cover the length of the pastry

Brush one of the long edges of pastry with the milk and then roll the other side of the pastry over the sausage. Keep rolling until the seam of the pastry is underneath. Repeat with the second pastry strip

Cut each long roll of pastry into smaller rolls. Spray two baking trays with oil and then place the sausage roll on them

Brush each sausage roll with milk and then make three small cuts in the top of each with scissors

Bake in the oven on the middle shelf for 20 minutes or until golden brown
Recipe Notes
Keep in an airtight container in the fridge for 3-4 days.
Nutritional information is given as a guide only and may vary.
Nutrition Facts
Mustard & Sage Sausage Rolls
Amount Per Serving
Calories 136
% Daily Value*
Sodium 25mg1%
Potassium 3mg0%
Calcium 2mg0%
* Percent Daily Values are based on a 2000 calorie diet.
Linking to