These Mustard & Sage Sausage Rolls are packed full of delicious flavours perfect for eating warm or cold. The only issue is they definitely won't last very long!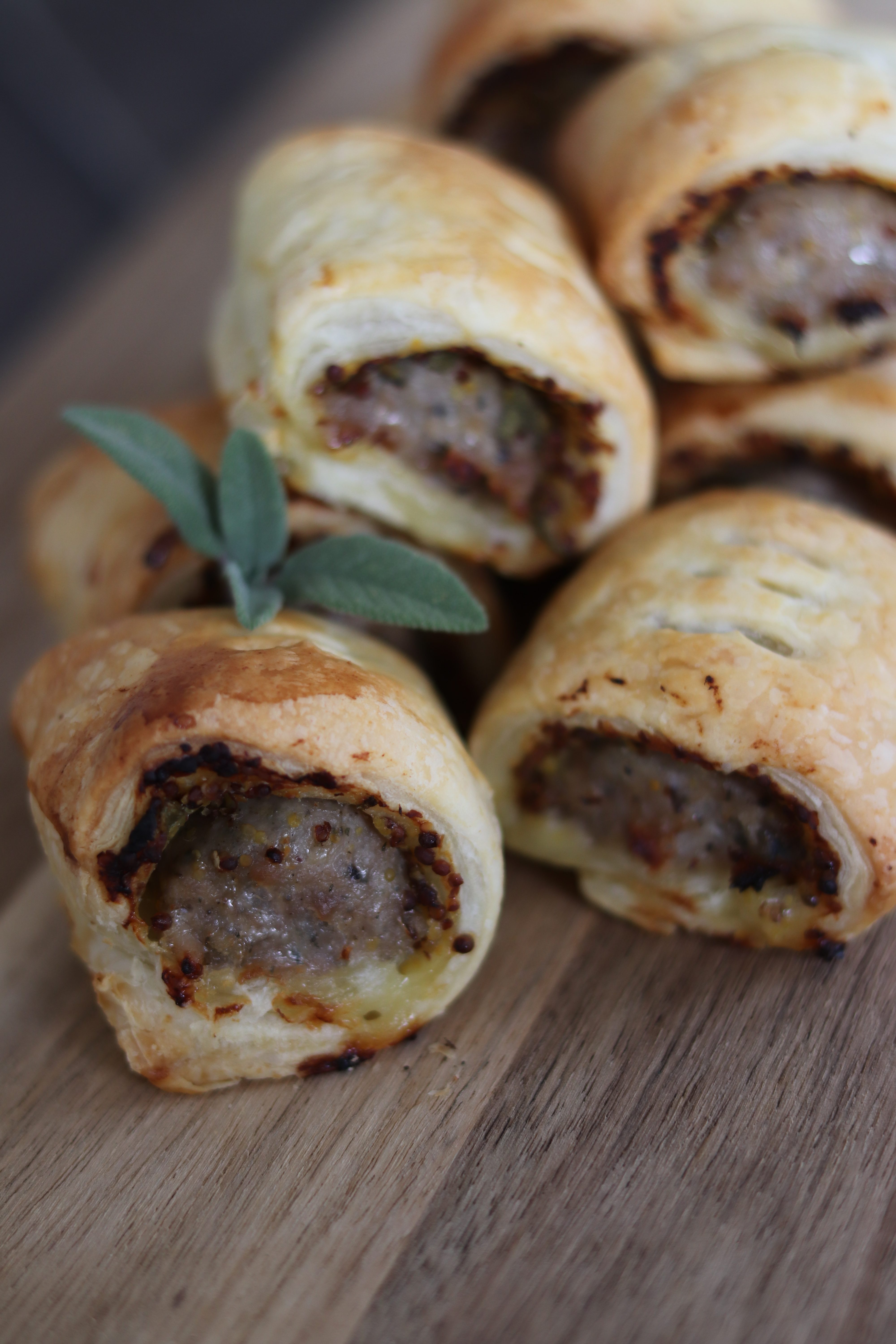 Who doesn't like Sausage rolls?
Sausage rolls are a thing of beauty. Who doesn't like a tasty sausage roll?!
Well obviously not vegetarians and vegans, but excluding that I don't think I have ever met someone who doesn't like a good sausage roll.
There is something about the deliciously crisp flaky pastry and delicious sausage meat that makes them irresistible. You can't beat a Quick Sausage Roll, but you can add so many tasty flavourings!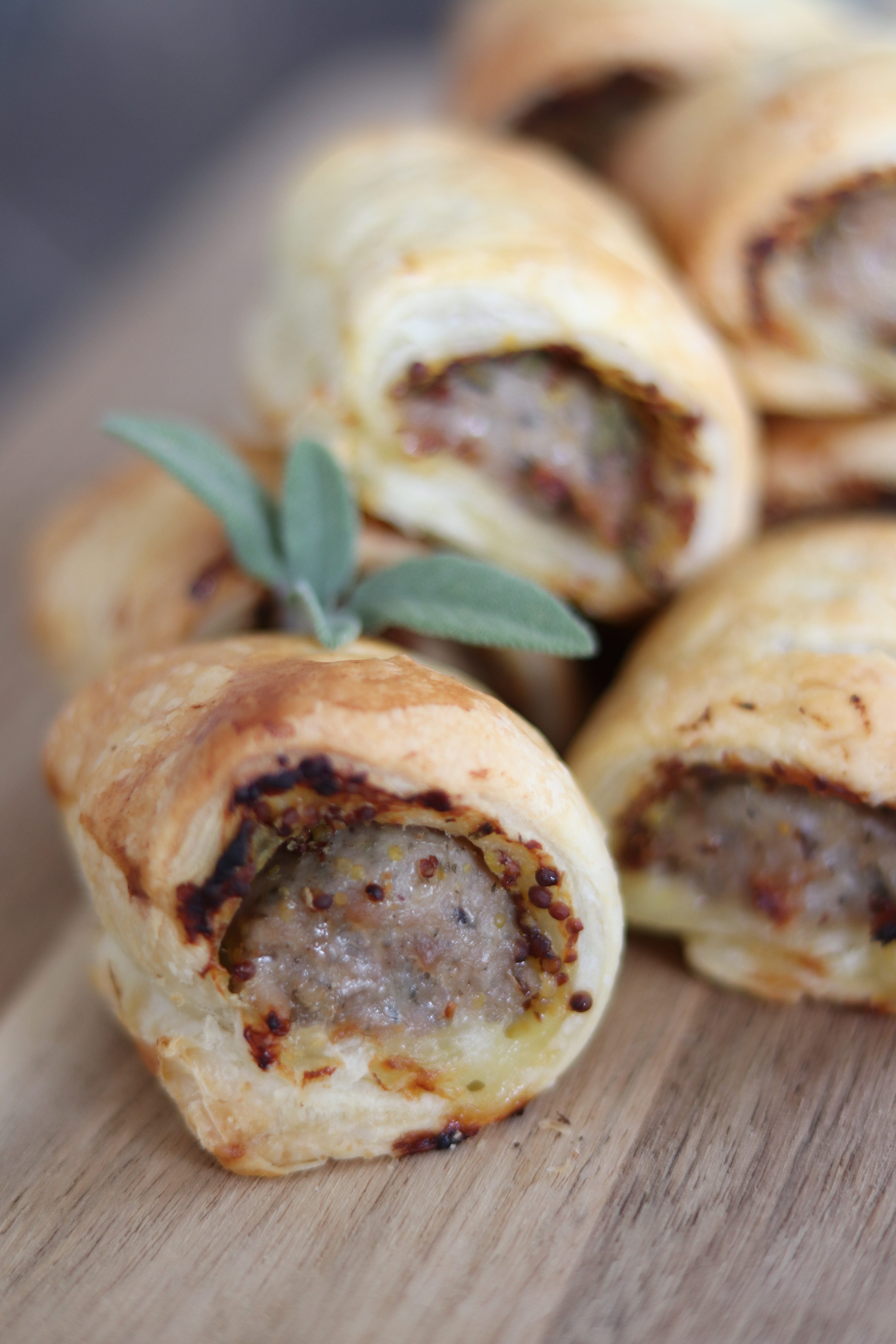 Is using shop bought pastry cheating?
No, I definitely don't think so!Using shop bought pastry is nothing to be ashamed of!
It means making sausage rolls yourself isn't hard and doesn't take long at all. I also prefer making sausage rolls myself because you know exactly what is in them and can buy a good quality sausage.
I take it a step further and not only do I buy my pastry, I buy ready rolled pastry too! Rolling pastry into exact rectangles is not my string point, so ready rolled pastry is amazing for me.
I made my Turkey & Cranberry Sausage Rolls last Christmas and one of our friends really liked them. So when we met up for this birthday, I thought I would make him another variation which is where I came up with these Mustard & Sage Sausage Rolls.
The ready rolled pastry also makes these Mustard & Sage Sausage Rolls even quicker and easier to make. Win win!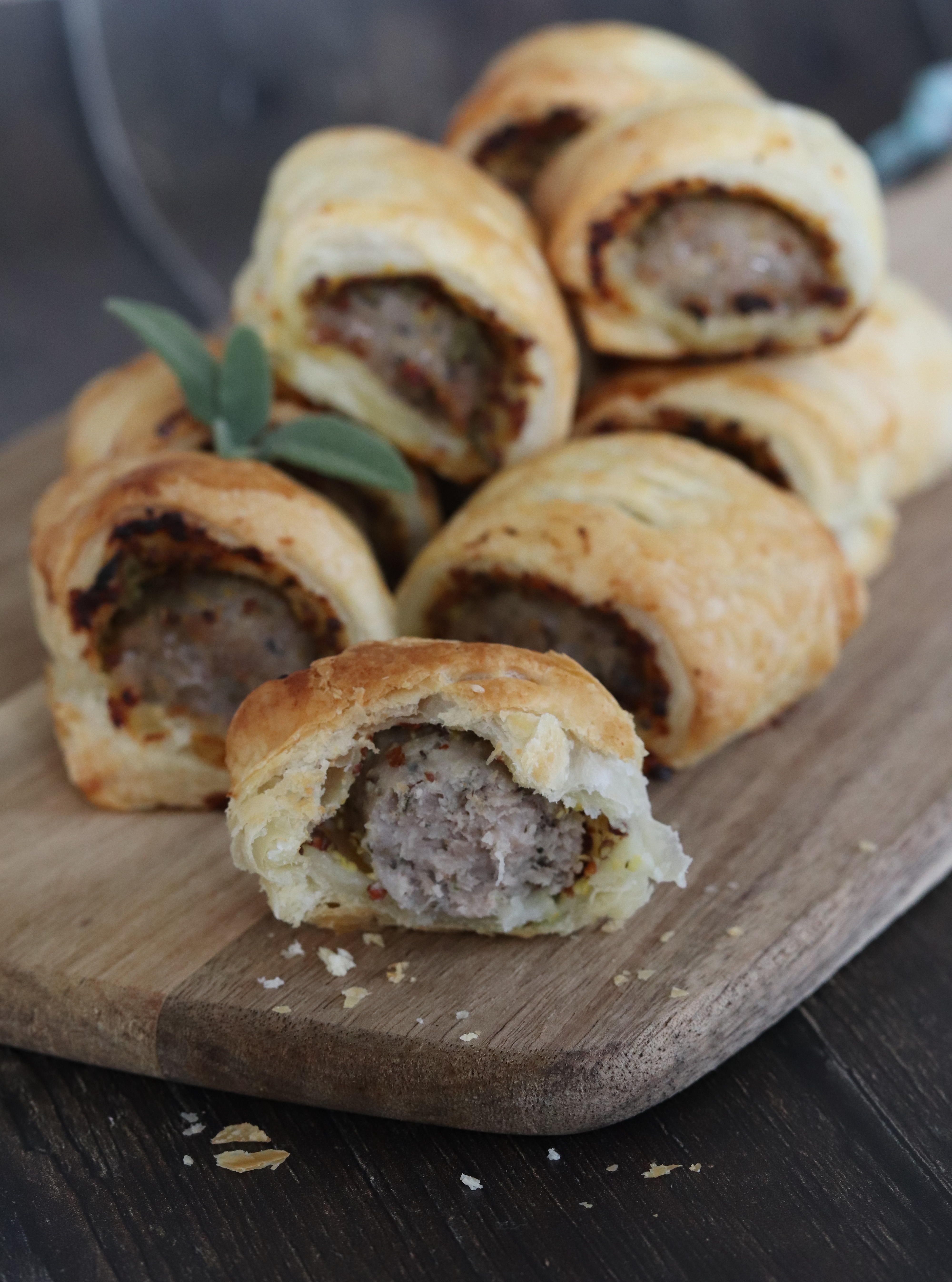 Pork, Mustard & sage are a delicious combination
Pork and mustard are a classic combination. I really like to use wholegrain mustard because it is a more subtle taste than other types of mustard.
Although it looks like I have used a lot of mustard in these sausage rolls, the flavour is not overpowering at all.
Sage is another flavour that works really well with pork. I have lovingly been caring for my herbs throughout the hot weather we have had this summer and take any opportunity I can get to use them in my recipes. The fresh sage mirrors the flavours in the sausage perfectly.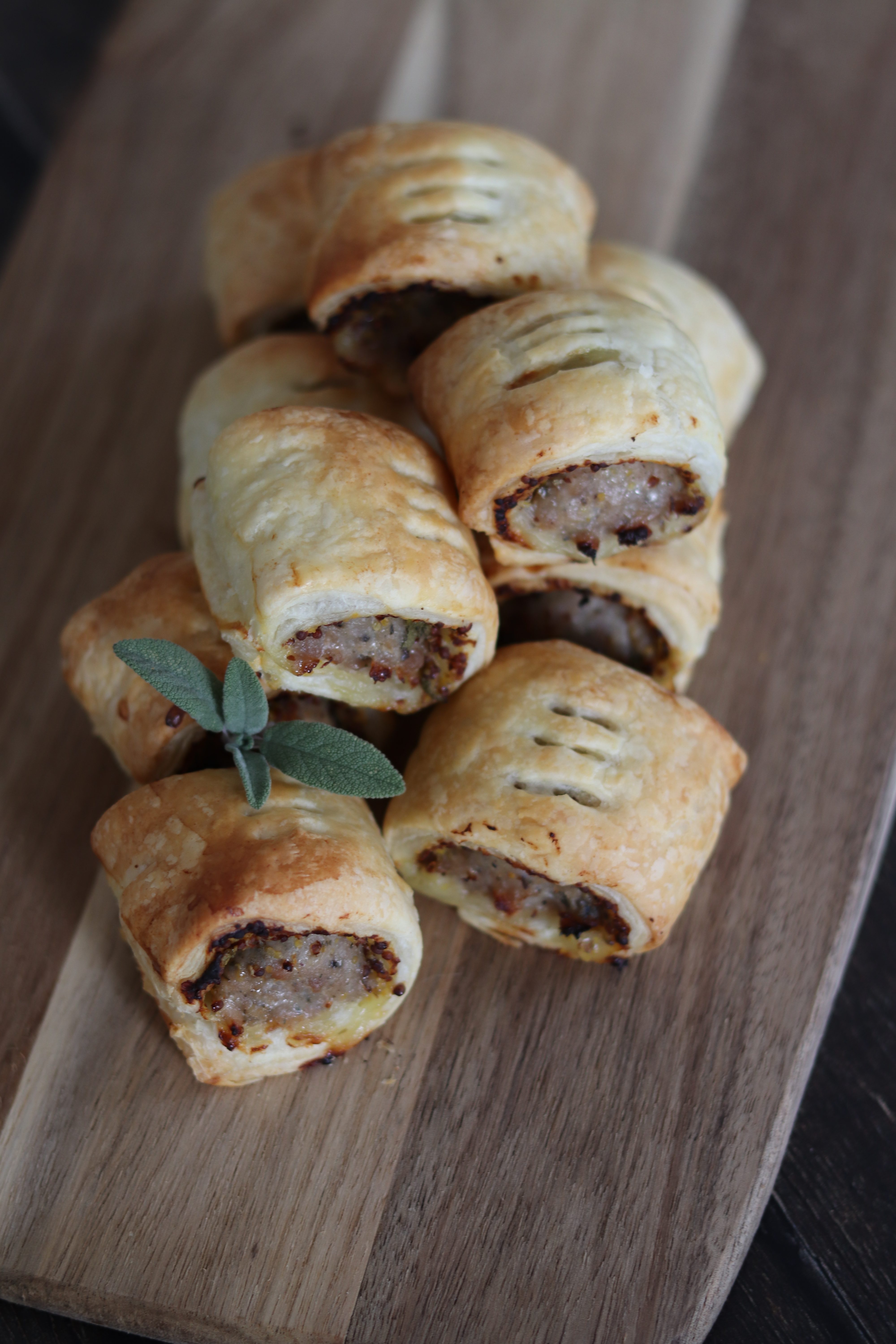 Which type of sausages are best to use?
Lincolnshire sausages are great for these Mustard & Sage Sausage Rolls because they typically have sage in their mix.
If you didn't want to use a Lincolnshire sausage you could use standard pork sausages or Cumberland sausages. Personally I don't like Cumberland sausages because I find the too heavily seasoned with black pepper, but I know lots of people like this.
You can definitely use standard pork sausages or sausage meat for this recipe too. The flavours you add to the sausages mean plain pork sausages would work really well.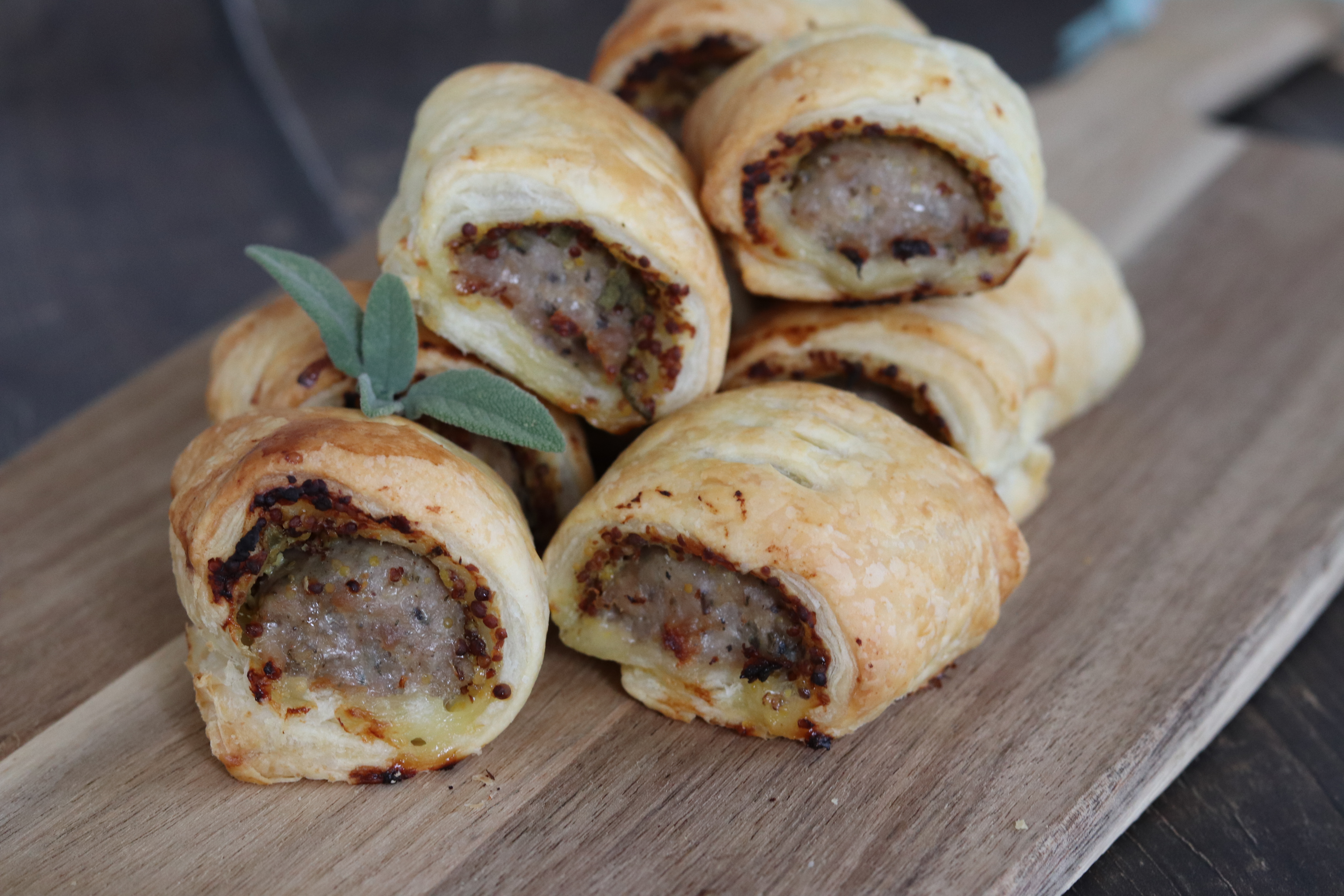 Pin for later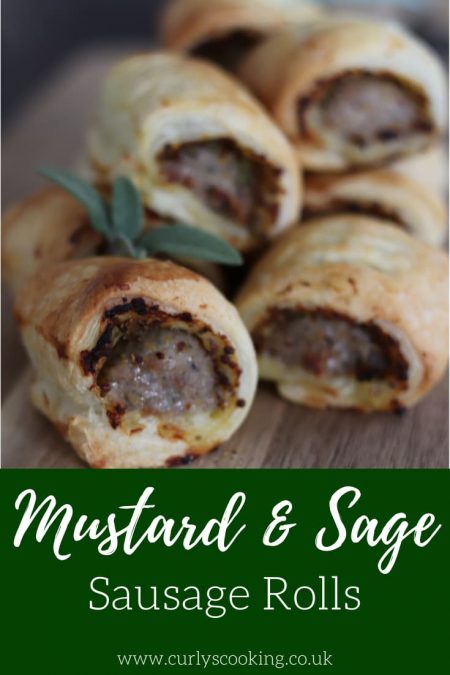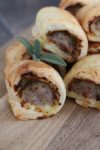 Mustard & Sage Sausage Rolls
These Mustard & Sage Sausage Rolls are packed full of delicious flavours perfect for eating warm or cold. The only issue is they definitely won't last very long!
Ingredients
1 x

375g

ready rolled puff pastry

400

g

Lincolnshire sausages

(6 sausages)

3

tbsp

wholegrain mustard

1

tsp

fresh sage

1

tsp

milk

Spray oil
Instructions
Preheat the oven to 200ºC (fan assisted 180ºC non fan)

Unroll the ready rolled pastry and cut it in half length ways. Spoon 1½ tbsp of wholegrain mustard onto each pastry strip. Spread out to form a strip down the middle of the pastry, leaving a gap to either side

Finely chop the sage and scatter it over the mustard

Remove the sausages from their casing and place three sausages on the middle of each strip of pastry. You will need to stretch the sausages slightly to make them a bit longer to cover the length of the pastry

Brush one of the long edges of pastry with the milk and then roll the other side of the pastry over the sausage. Keep rolling until the seam of the pastry is underneath. Repeat with the second pastry strip

Cut each long roll of pastry into smaller rolls. Spray two baking trays with oil and then place the sausage roll on them

Brush each sausage roll with milk and then make three small cuts in the top of each with scissors

Bake in the oven on the middle shelf for 20 minutes or until golden brown
Nutrition Facts
Mustard & Sage Sausage Rolls
Amount Per Serving
Calories 136
% Daily Value*
Sodium 25mg1%
Potassium 3mg0%
Calcium 2mg0%
* Percent Daily Values are based on a 2000 calorie diet.
Linking to