Flaky puff pastry encasing sweet caramelised onion chutney and creamy goat's cheese. These Puff Pastry Goat's Cheese & Onion Tarts are simple yet so delicious.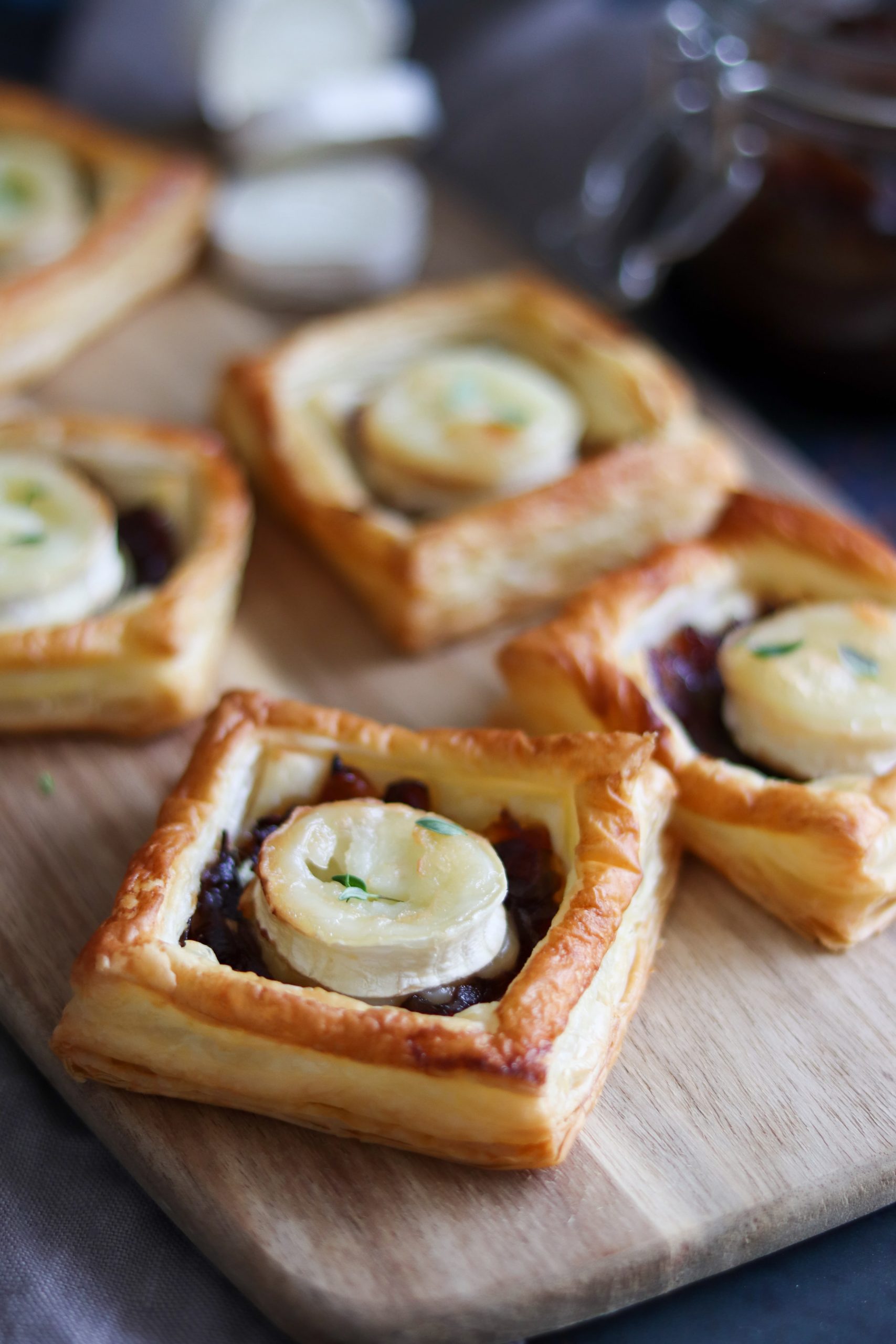 cheese & onion is a classic flavour combination
Cheese and onion is a very classic flavour combination that is very popular.
Although I am not generally an onion fan, if you change that to Caramelised Onion Chutney then I'm in. It pairs so well with lots of cheeses and is an essential on a cheeseboard for me.
But these delicious flavours shouldn't just be enjoyed as part of a cheeseboard which is why I came up with these Puff Pastry Goat's Cheese & Onion Tarts.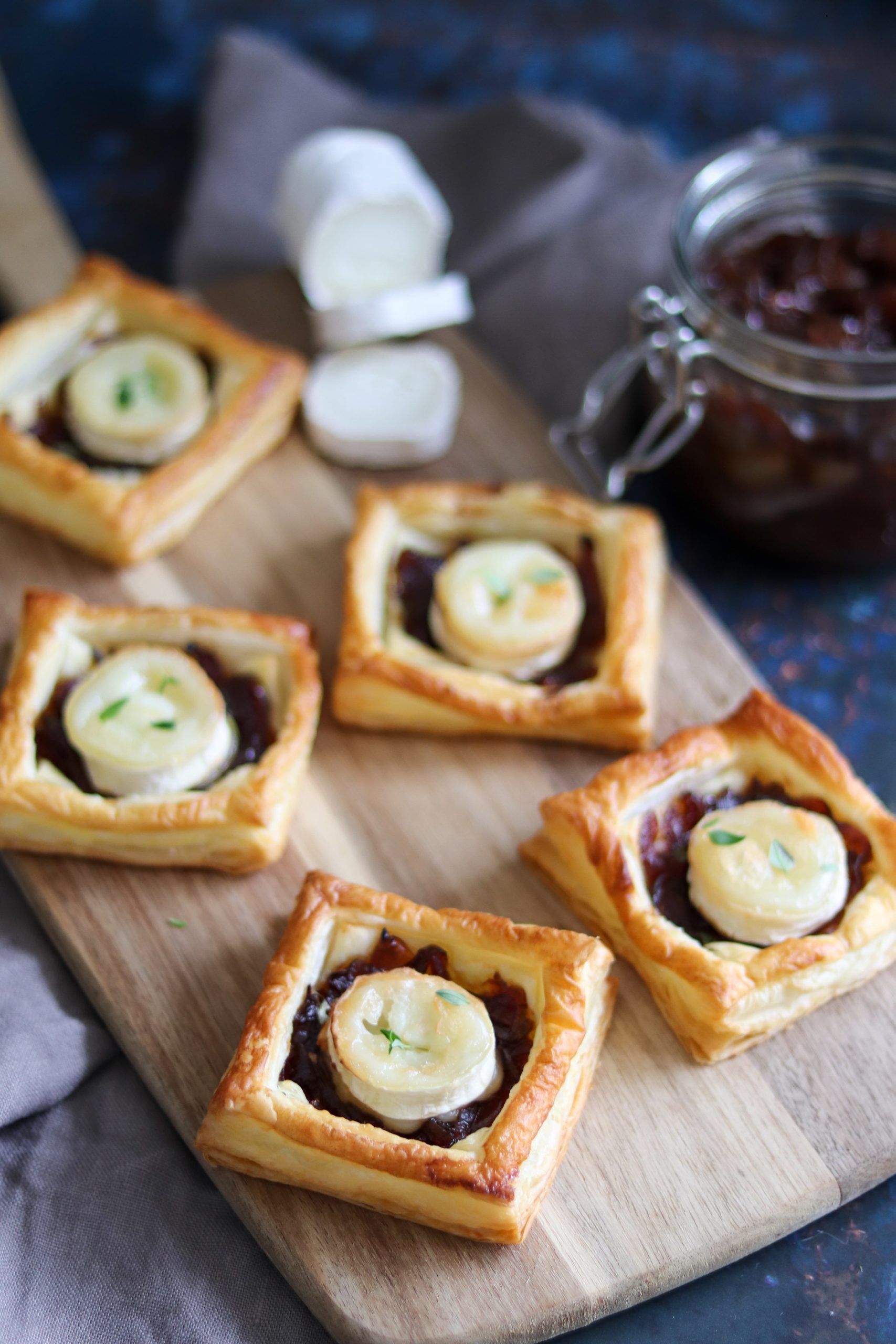 using shop bought pastry isn't cheating
I am a firm believer that shop bought pastry isn't cheating. Lots of chefs say that when they are in their own homes they use shop bought pastry.
It is a massive timesaver to use ready made pastry and I'm not ashamed to say I use it all the time. I also go a step further and buy ready rolled shop bought pastry.
I have never been very good at rolling pastry out into neat rectangles. Those are skills I don't seem to have! So ready rolled pastry is perfect for me.
If you want to buy a block of puff pastry and roll it out, or even make your own puff pastry; please feel free.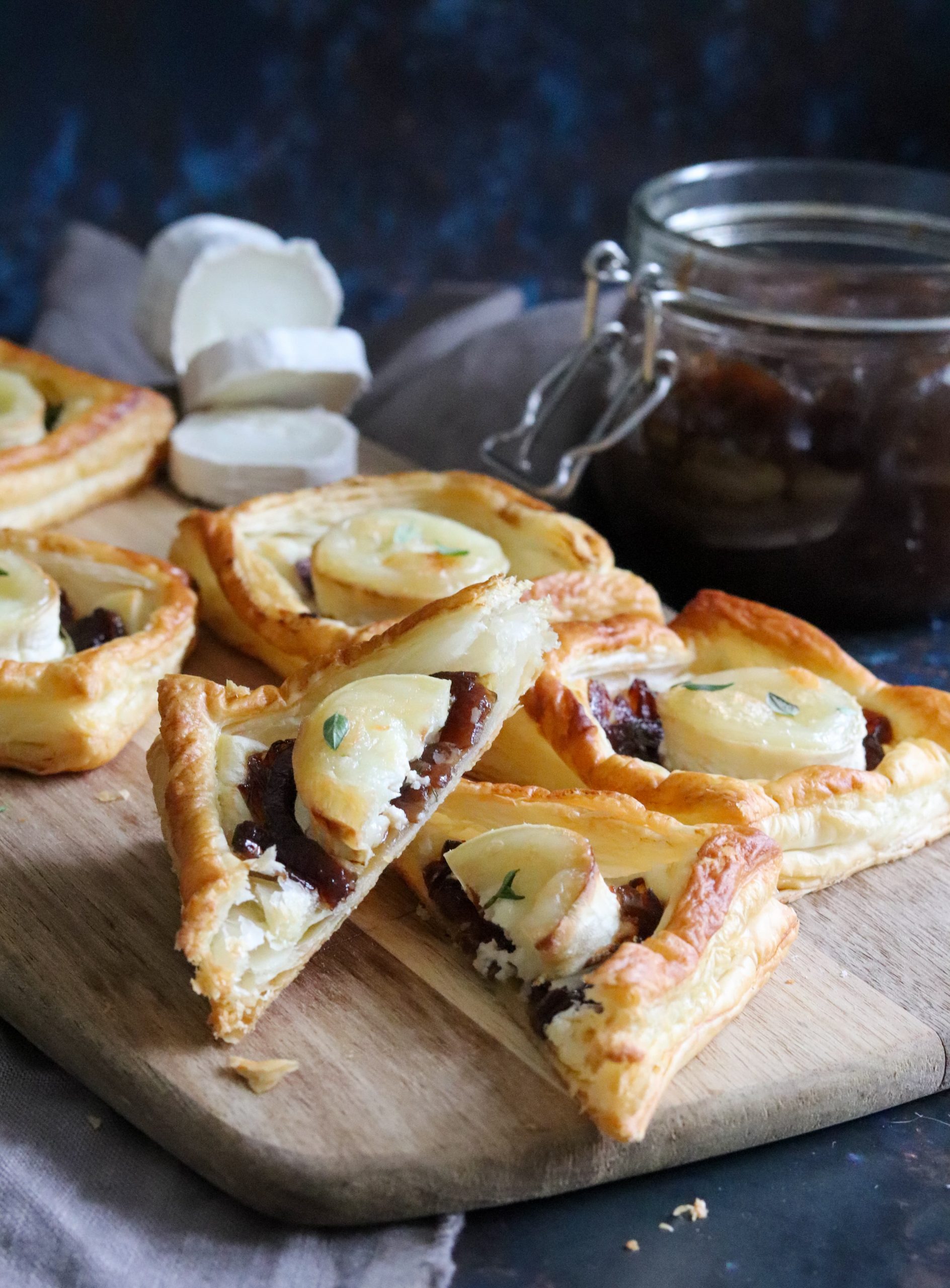 which goat's cheese is best to use?
For these tarts, you need to find a a small log of goat's cheese with a rind. Don't worry the rind is perfectly edible! It keeps the cheese together while it bakes which I think looks nicer.
You cant to look for a small log of goat's cheese that will be small enough to fit in the centre of the puff pastry without having to cut it.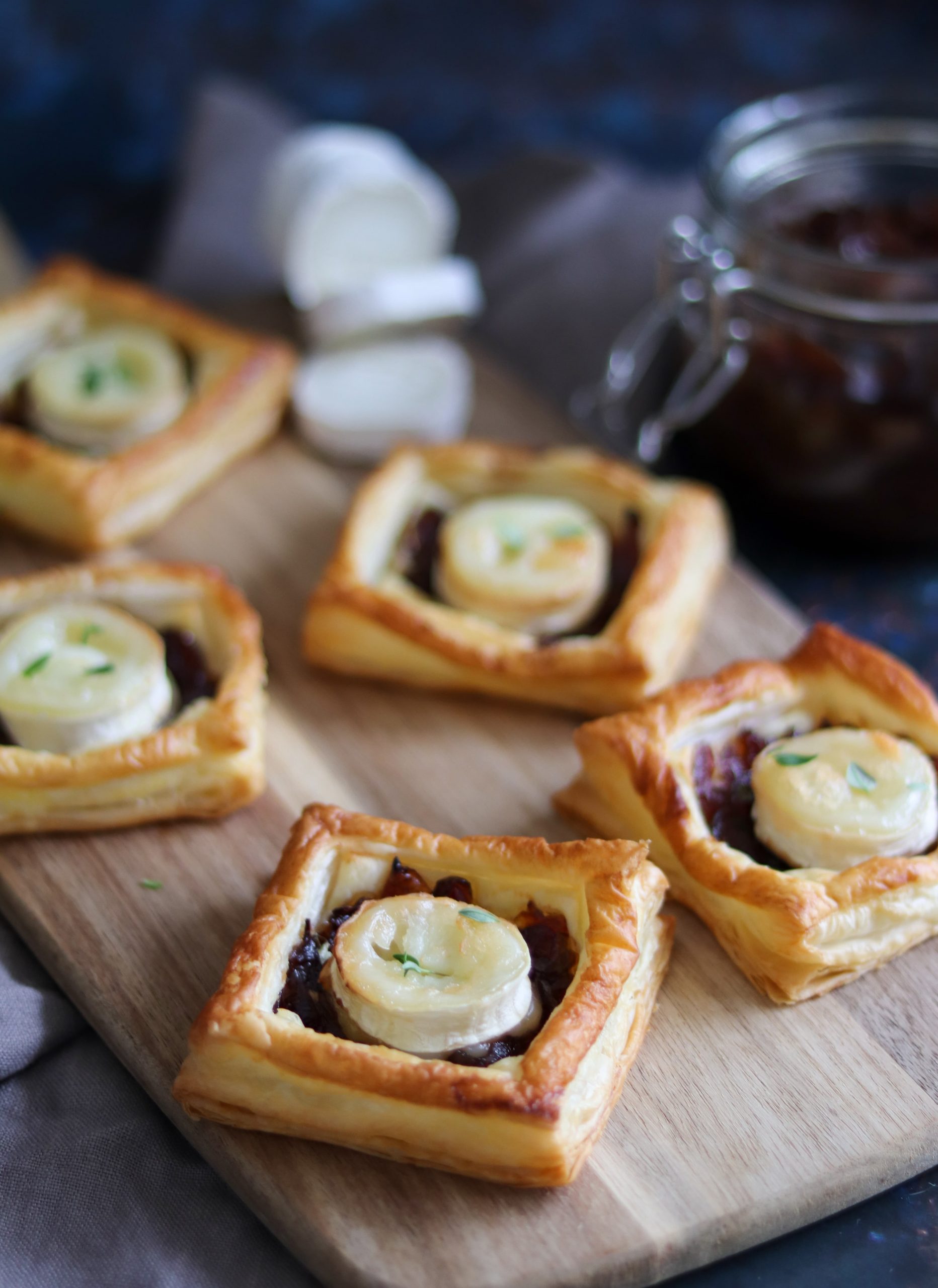 The small logs of goat's cheese with rind seem to bit harder to find than ones without rind. But most large supermarkets should have them.
If you are really against using a cheese with rind, you can use any creamy goat's cheese and crumble it on top of the onion chutney.
I would recommend using a creamy goat's cheese without any added herbs.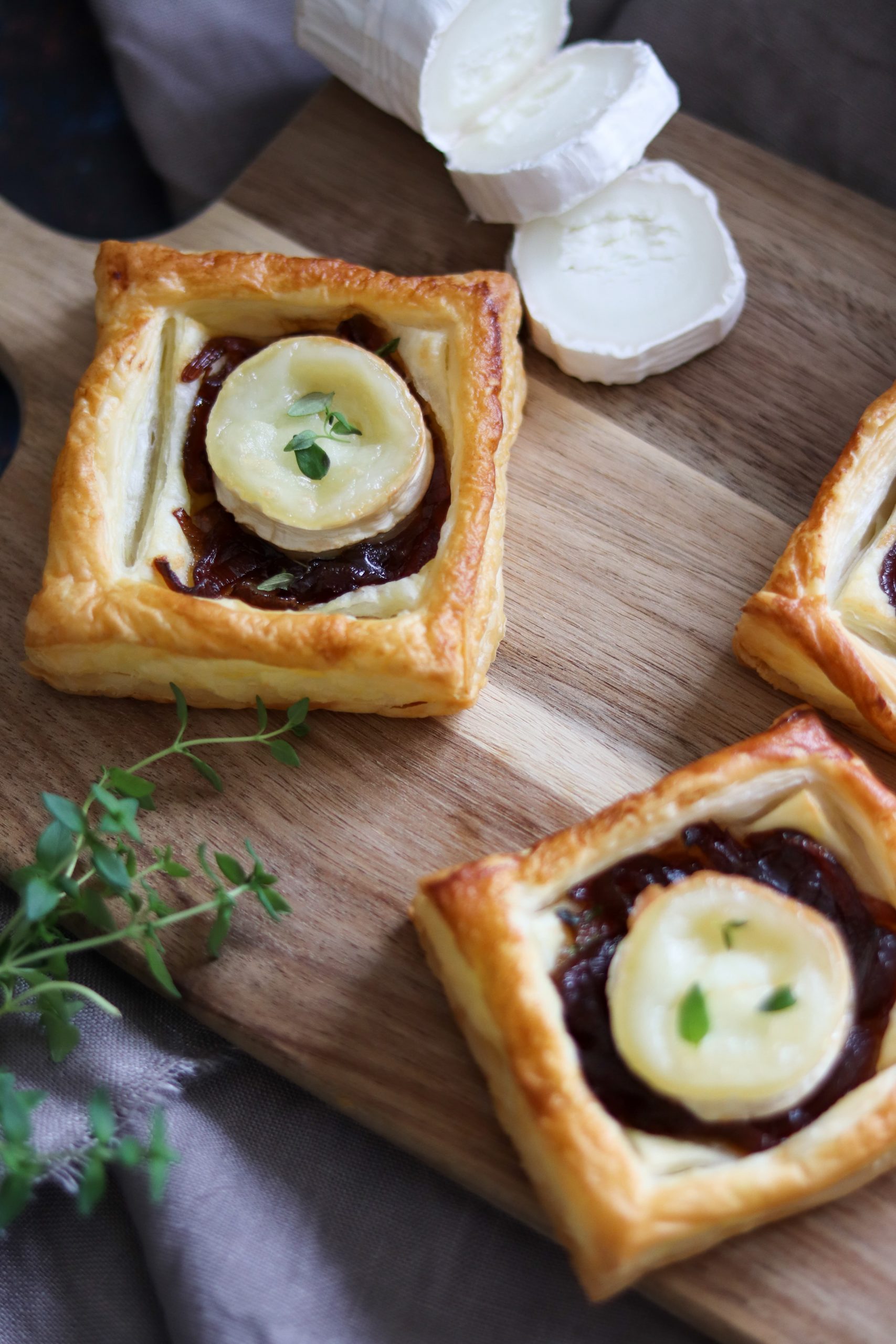 which onion chutney is recommended?
Obviously I would recommend that you make my Caramelised Onion Chutney to use for these tarts. It is delicious and I do think that homemade is best.
I wouldn't necessarily suggest making the chutney just for this recipe; but it can be used for so many other delicious recipes that I would recommend giving it a go.
However if you would rather buy the chutney this is perfectly fine! I would try to buy a good quality one if you can because you will be able to taste the difference.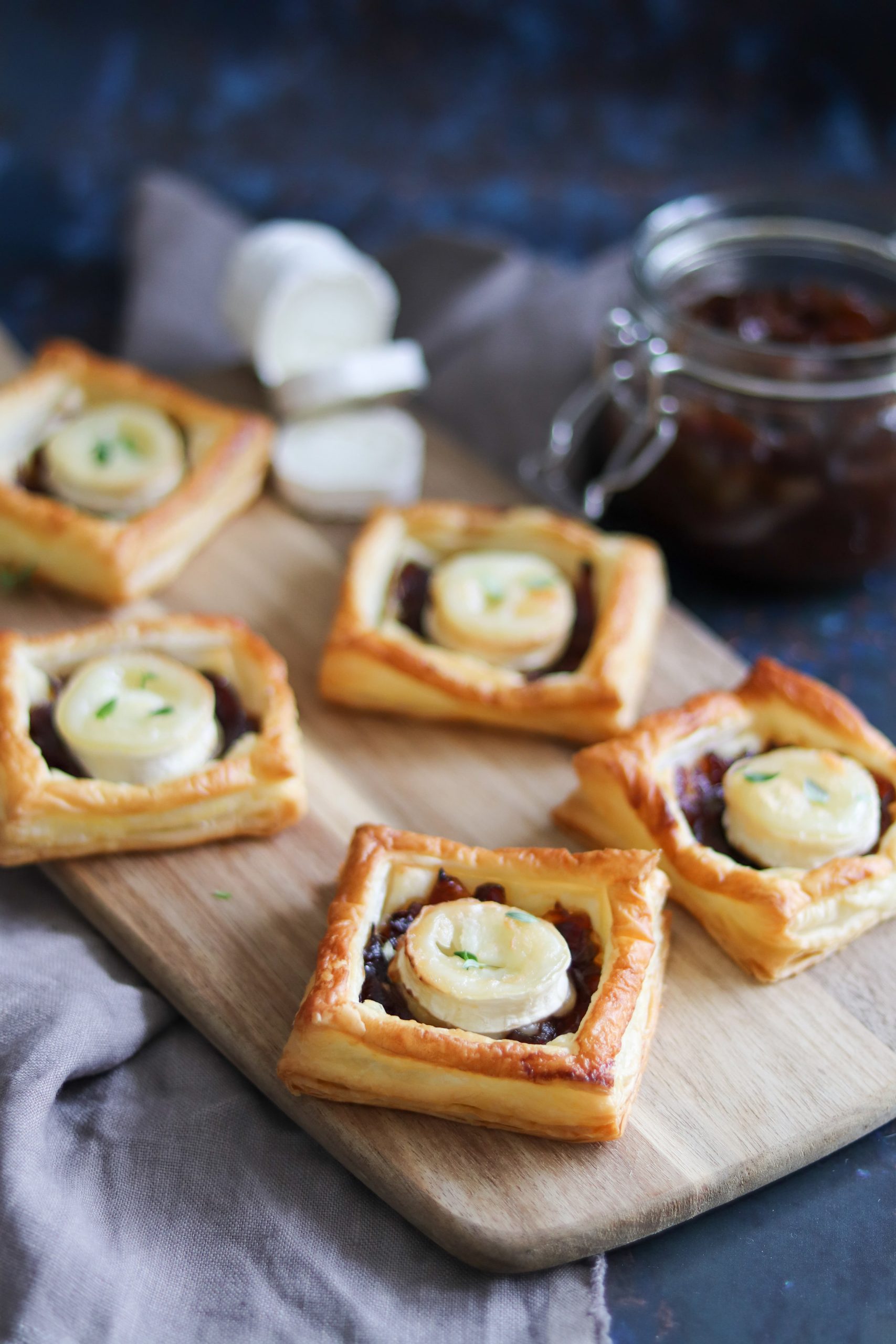 how to serve these tarts
These Puff Pastry Goat's Cheese & Onion Tarts make a delicious lunch or starter.
For either of these options I think they are really lovely served with a really simple salad. You could drizzle over some balsamic glaze if you wanted too.
I also think these tarts would be the perfect starter for a dinner party, Christmas Day or Thanksgiving. They are simple to make but also look that little bit special.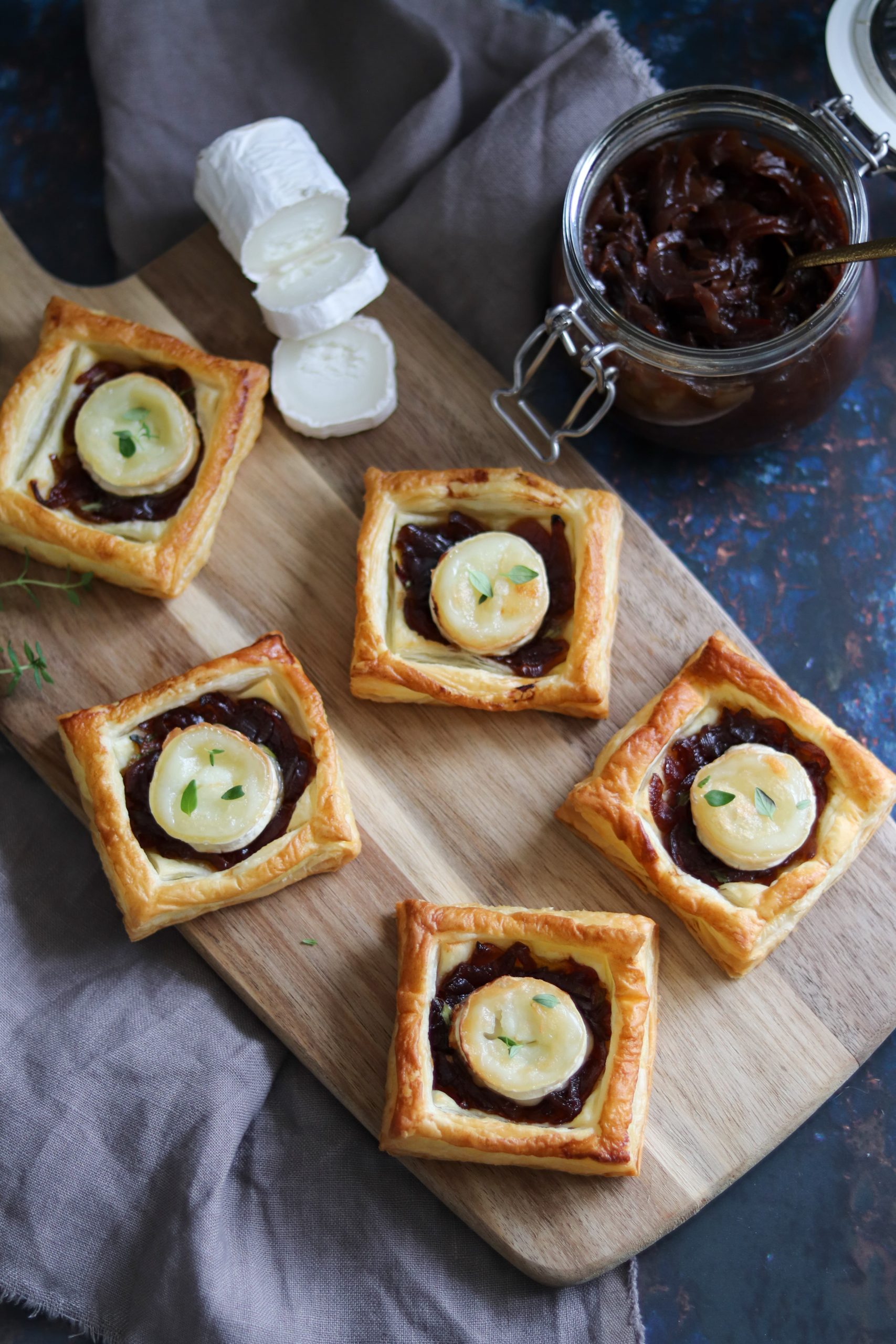 Can you reheat these tarts?
Yes, they reheat really well which means they are perfect to make in advance.
Keep them in an airtight container in the fridge for up to two days. When you want to reheat them, place the on a baking tray and put them in the oven for 5 – 10 minutes at 180°C.
You are just looking for them to warm though, not to get too brown.
I wouldn't recommend reheating them in the microwave because this will turn the pastry a bit soggy instead of being crisp and flaky.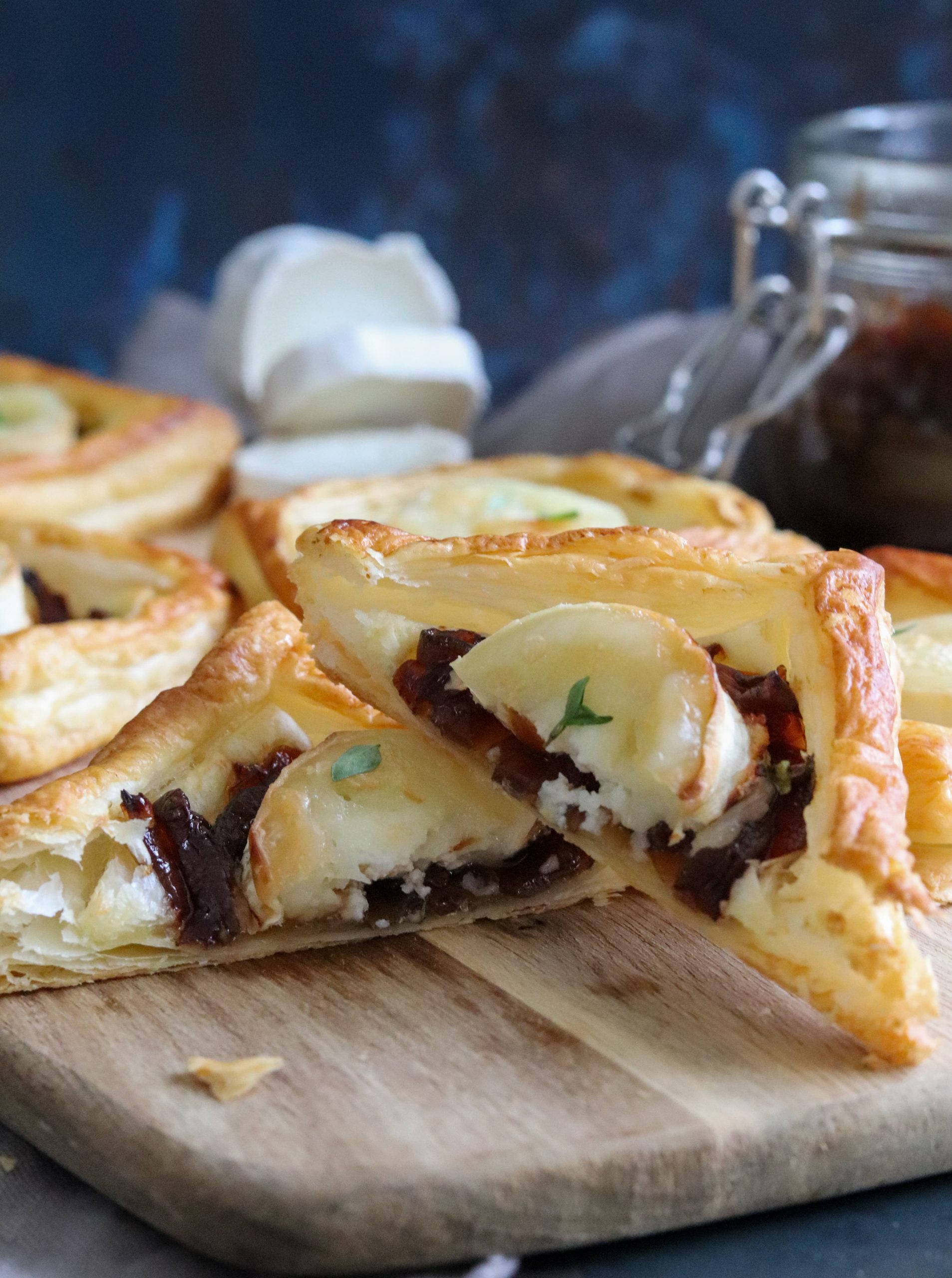 can you freeze these goat's cheese tarts?
You could easily assemble these Puff Pastry Goat's Cheese & Onion Tarts and then freeze them before they are baked.
Lay them on a baking tray as normal and then place them in the freezer for around an hour to become firm. Then you can put them into a bag or container to freeze completely.
When you are ready to bake them, place them on a baking tray and brush with milk. Bake for ten minutes longer than the recipe below until brown and crisp.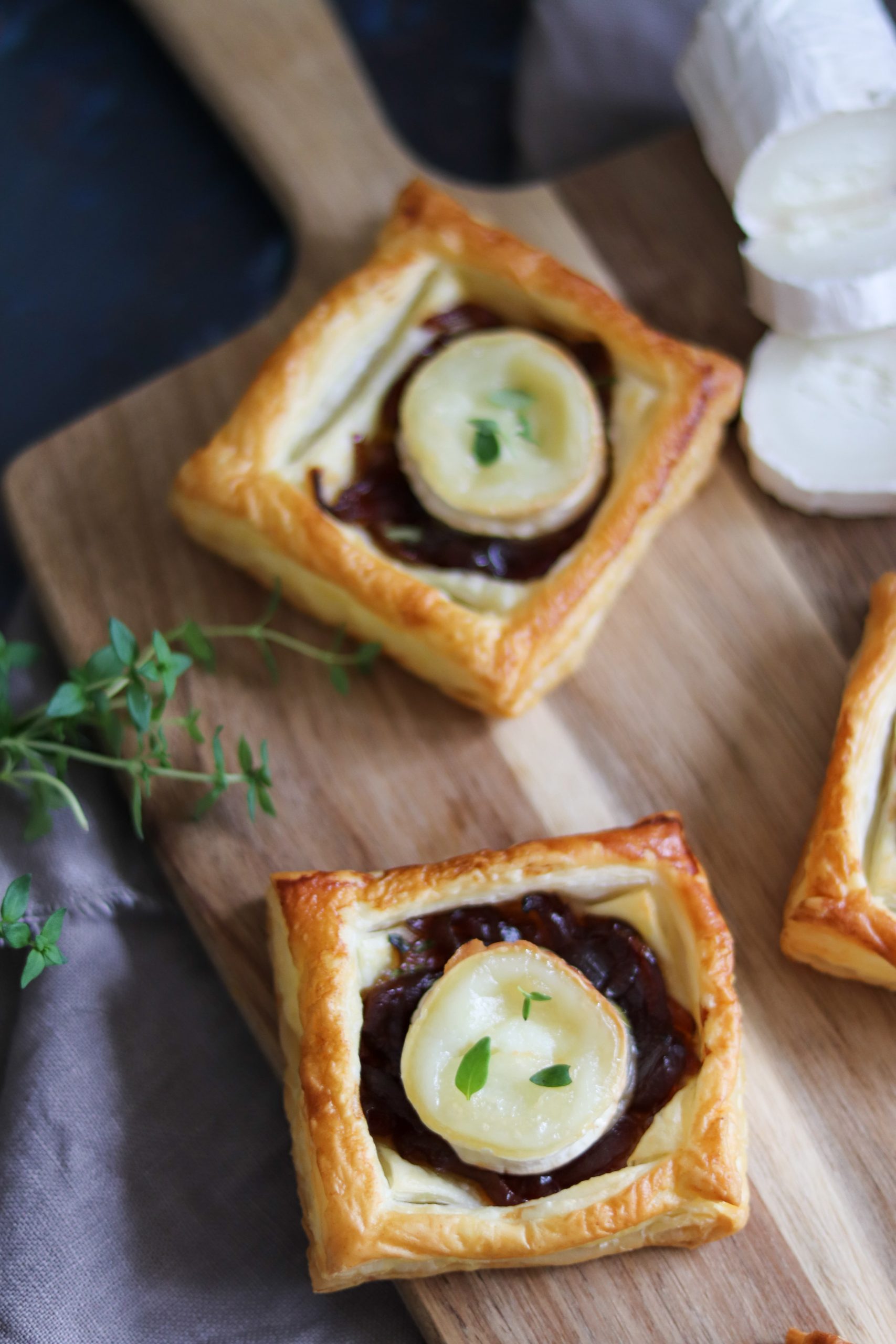 making these tarts gluten free, & vegan
It is really simple to adjust these tarts so they are gluten free or vegan.
If you want to make them gluten free, you just need to swap the pastry. Gluten free pastry is widely available in most large supermarkets.
It was more commonly found in the freezer department but a popular well known brand here in the UK is now doing ready rolled gluten free puff pastry in the fresh section.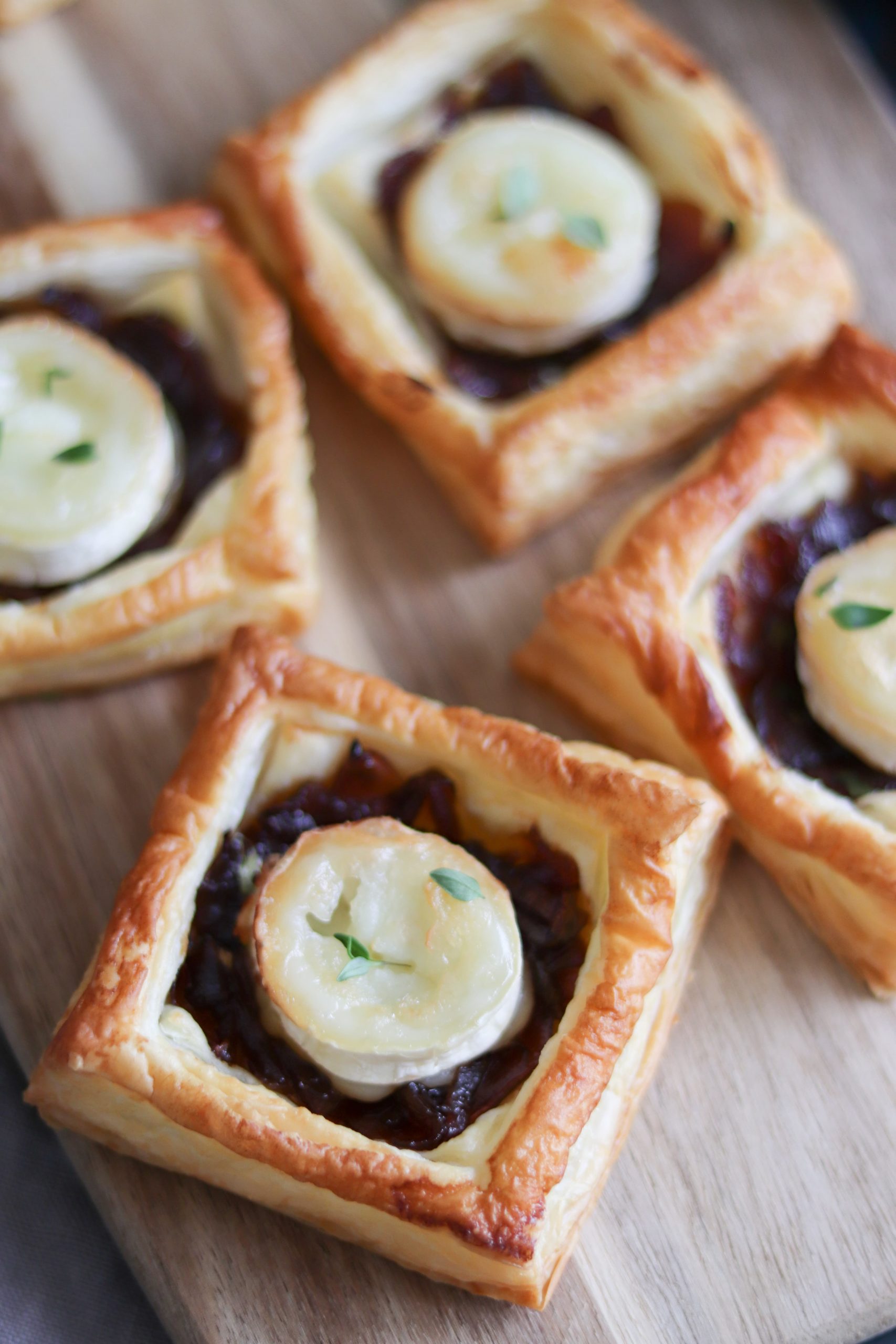 Most shop bought puff pastry is accidentally vegan so just check the packet. You would need to swap the goat's cheese for a vegan alternative.
As vegan cheeses have a more limited selection, if you can't get a goat's cheese something similar to a brie would work well.
Then just brush the pastry with your go-to dairy free milk and it is suitable for vegans.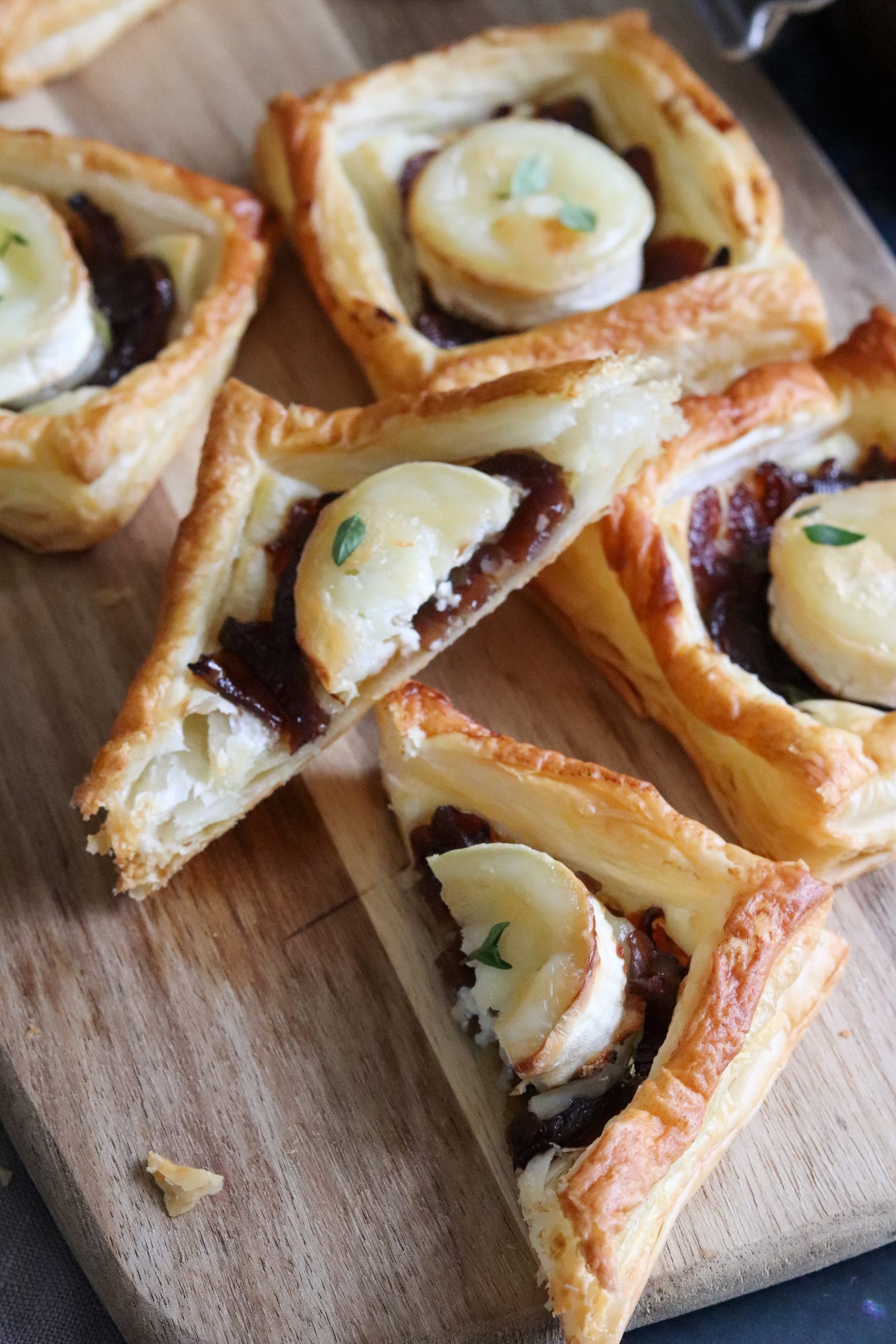 Goat's Cheese & Onion Tart tips
If you want to make sure each tart is the same size, I do recommend cracking out your ruler. This might seem a bit extreme but it is the best way of making sure your tarts look as similar as possible.
Once you have cut the puff pastry into squares, it is best to transfer the pastry to your baking tray then. I found out the hard way that it is far trickier to transfer the pastry when it is fully topped.
Don't worry if like me you forget and assemble your tarts on the baking paper it comes on. Just use a fish slice to gently slide the tarts onto the oiled baking tray.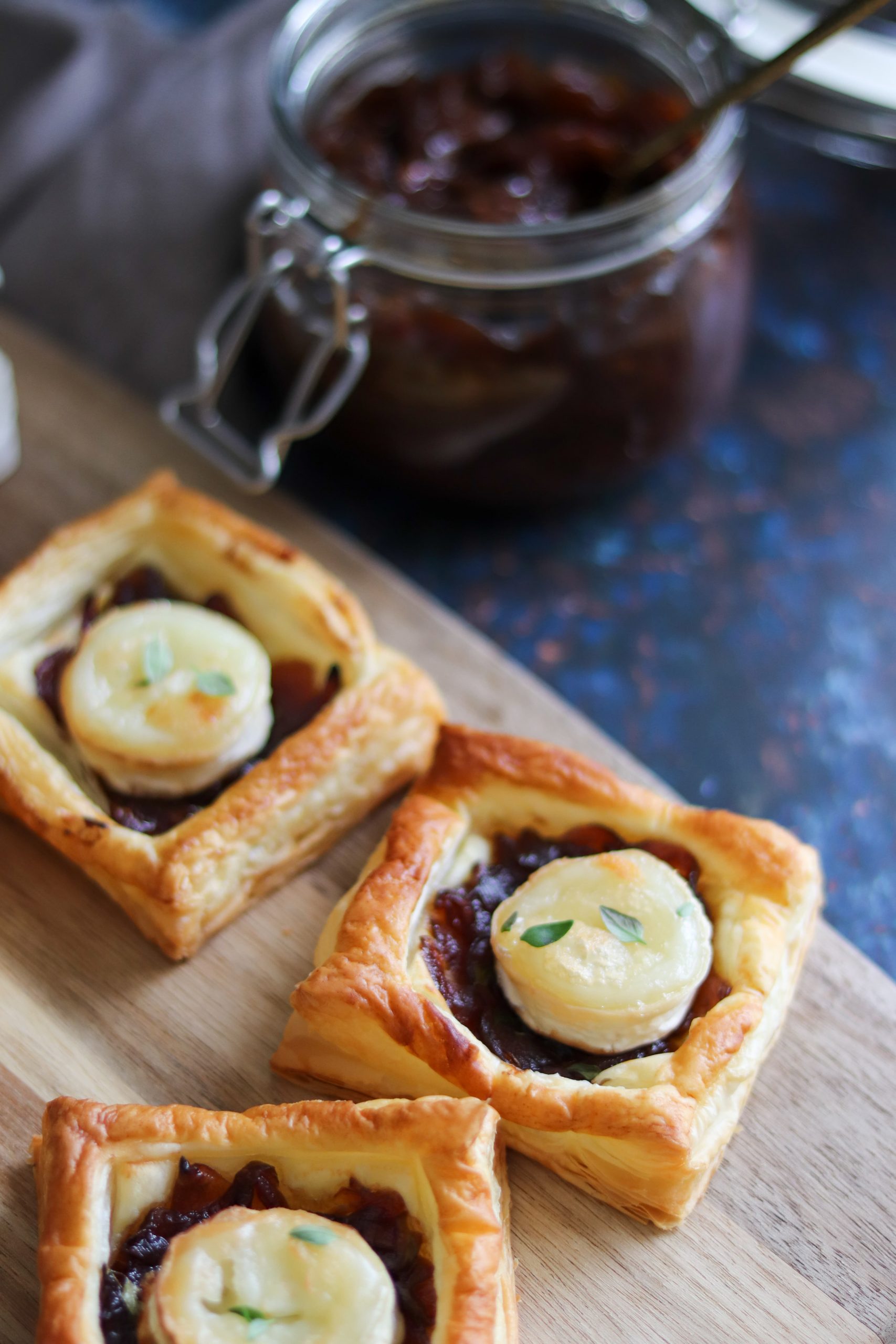 other recipes you might like
Pin for later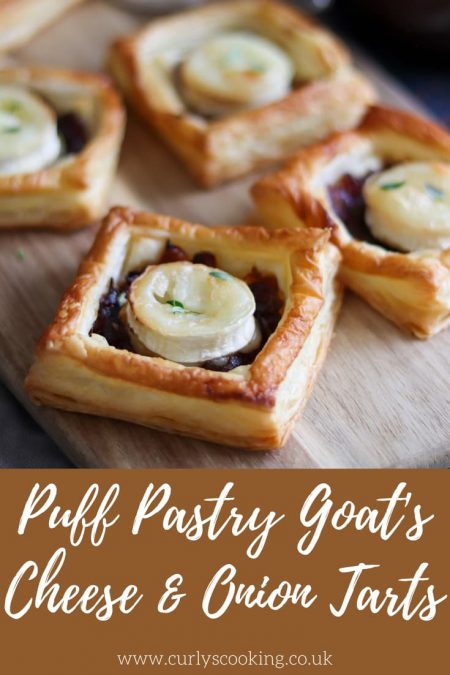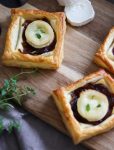 Puff Pastry Goat's Cheese & Onion Tarts
Flaky puff pastry encasing sweet caramelised onion chutney and creamy goat's cheese. These Puff Pastry Goat's Cheese & Onion Tarts are simple yet so delicious.
Ingredients
375

g

ready rolled puff pastry

150

g

onion chutney

220

g

goat's cheese

with rind

½

tbsp

fresh thyme leaves

1

tbsp

milk

spray oil
Instructions
Preheat the oven to 180°C (fan assisted, 200°C non fan)

Unravel the puff pastry and divide it into 12 equal squares. Lay the squares on a baking tray sprayed with oil allowing space to expand

Score a border 1cm from the edge of each square of pastry. Prick the pastry inside the border with a fork

Add the onion chutney inside the border. Sprinkle the thyme leaves on top of the onion chutney

Cut the goat's cheese into approximately 1cm thick slices and place a slice on top of the chutney in each square

Brush the edges of the pastry with milk and bake in the oven for 15 minutes until golden. Finish by sprinkling with a couple of thyme leaves
Recipe Notes
Keep in the fridge in an airtight container for 2 days.
Nutritional information is given as a guide only and may vary.
Nutrition Facts
Puff Pastry Goat's Cheese & Onion Tarts
Amount Per Serving
Calories 232
Calories from Fat 9
% Daily Value*
Fat 1g2%
Cholesterol 1mg0%
Sodium 1mg0%
Carbohydrates 1g0%
Protein 1g2%
Vitamin A 14IU0%
Vitamin C 1mg1%
Calcium 3mg0%
Iron 1mg6%
* Percent Daily Values are based on a 2000 calorie diet.
Linking to