Fluffy savoury muffins with onion chutney – the perfect snack. If you are a cheese fan, my Cheese & Onion Chutney Muffins are definitely for you!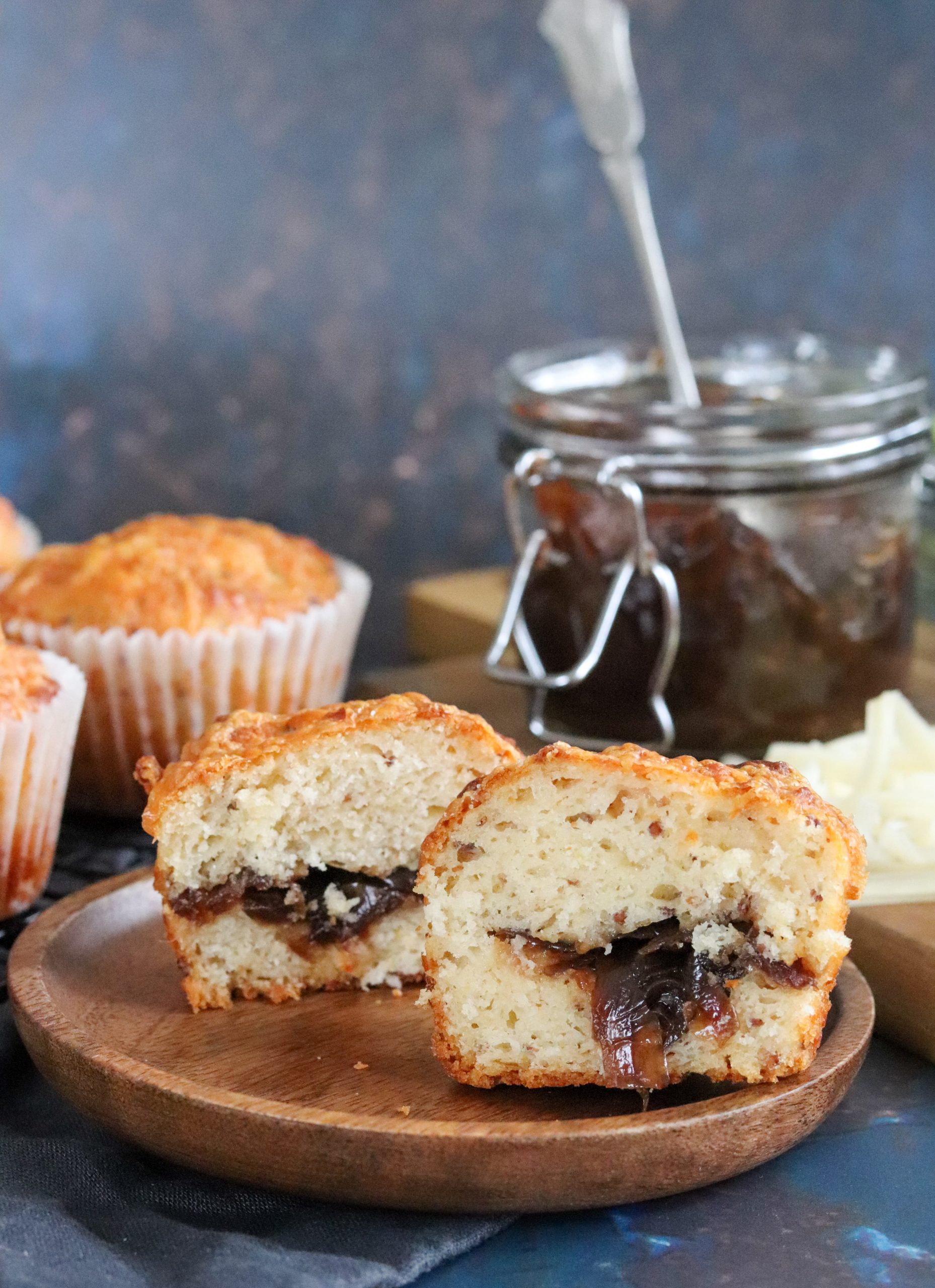 Cheese & onion is a classic combination
Cheese and onion is a classic flavour combination loved by many. I'm slightly different and am not a fan of onions; that is unless they are in the form of pickled onions or red onion chutney!
For quite a few years now I have been making my own chutney at Christmas. They make great gifts for people, but I also like to have it in the house for myself.
It is great with cheese and crackers but I wanted to think of other ways to use it. That is where these Cheese & Onion Chutney Muffins came from!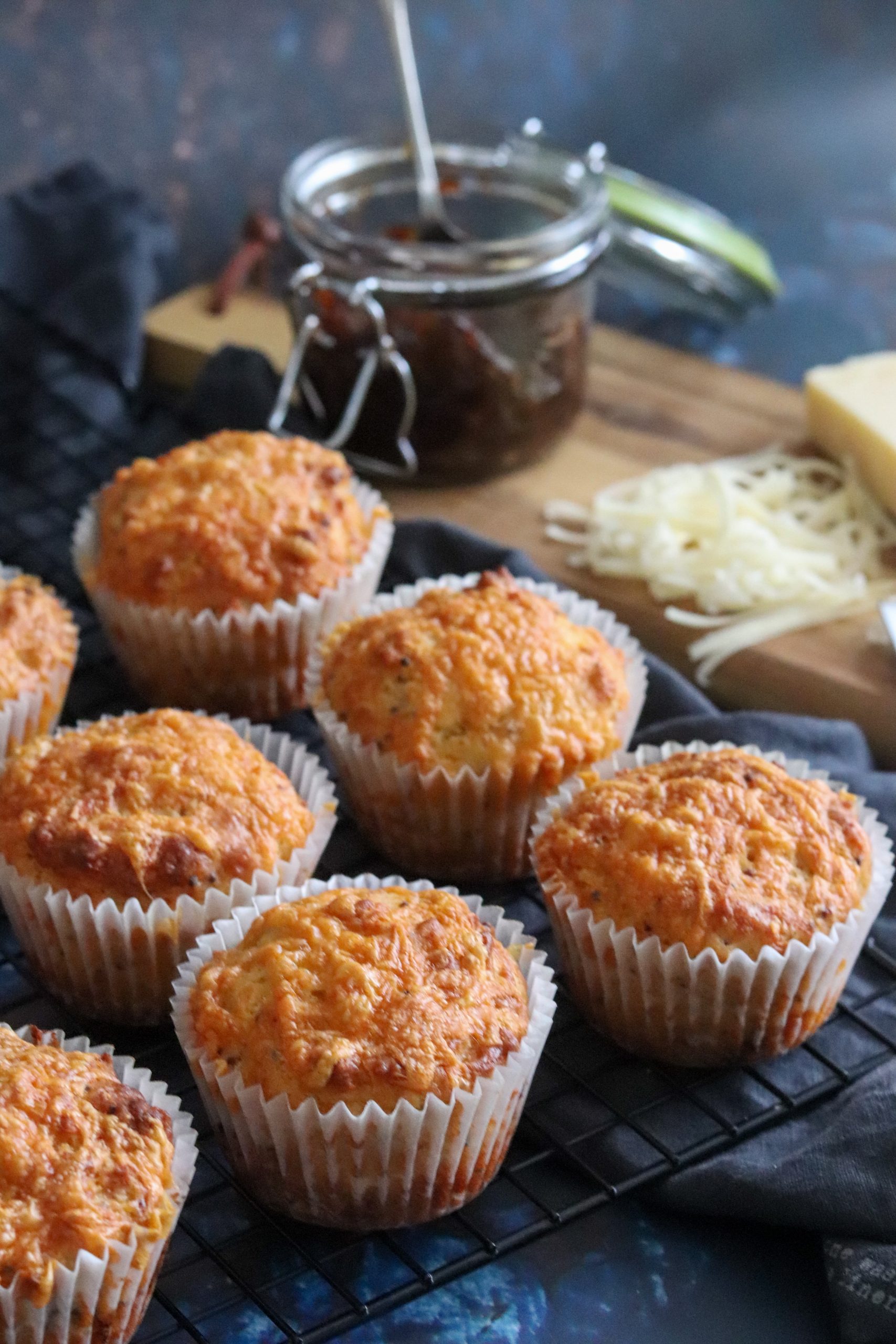 Which cheese is recommended to use?
I like to use an extra mature cheddar cheese for everything in life. These Cheese & Onion Chutney Muffins are no exception.
I love its strong taste and saltiness which is everything I want from a cheddar.
You can use whichever cheddar you like, mild, mature, extra mature. You could also use reduced fat cheese. It doesn't tend to melt as well as standard cheese but I don't think this is an issue in these muffins.
If you don't have cheddar, you could use any hard cheese. Gruyere and gouda would also work well.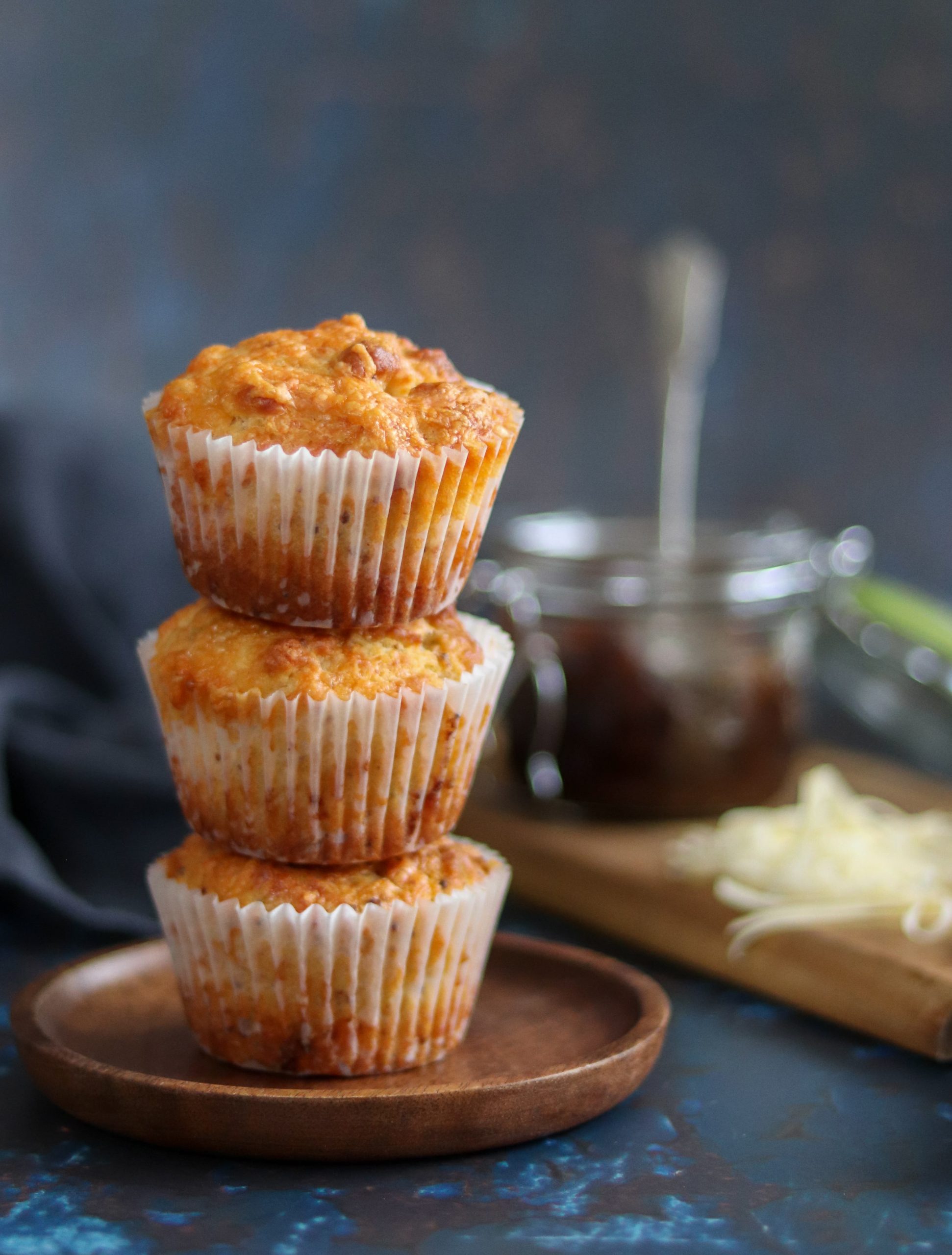 Which onion chutney is best to use?
I always use my homemade Caramelised Onion Chutney for these muffins. That is because it is my absolute favourite onion chutney and I always have some in the cupboard.
If you aren't going to make your own, make sure you buy a good quality shop bought version. It really is worth finding a really nice chutney because it will make your muffins even tastier!
If you don't like onion chutney, you could use any other chutney that you would like to eat with cheese.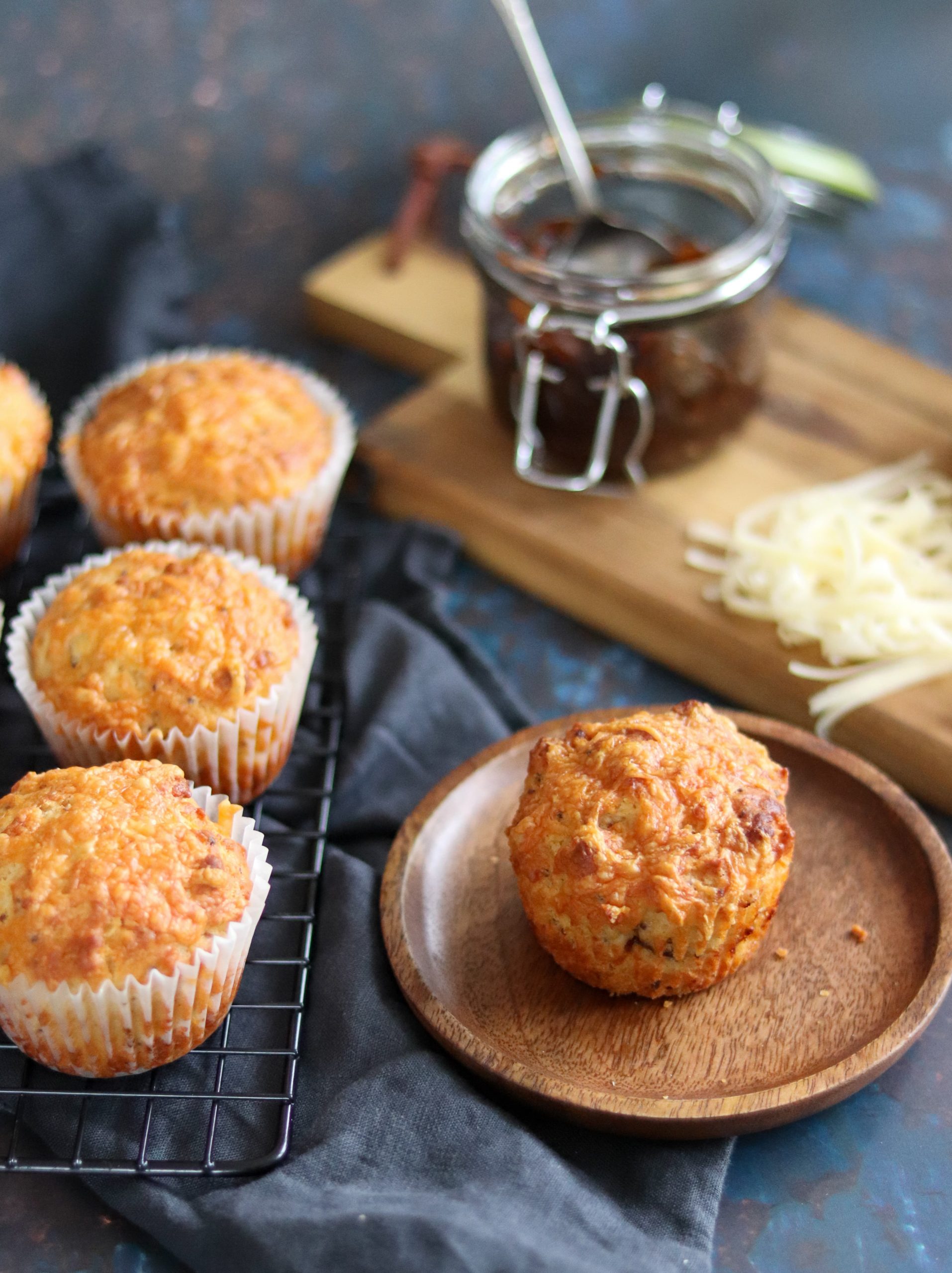 Are these muffins spicy?
Although these muffins have two types of mustard and cayenne pepper; they are not spicy.
Mustard and cayenne really enhance the cheese flavour. They don't overpower the flavour of the muffins at all. I use these flavours in my Cheese Scones and Cheese Straws.
I like to use wholegrain mustard because it has a more subtle flavour than other types of mustard. If you are worried about the mustard, half the amount of wholegrain mustard.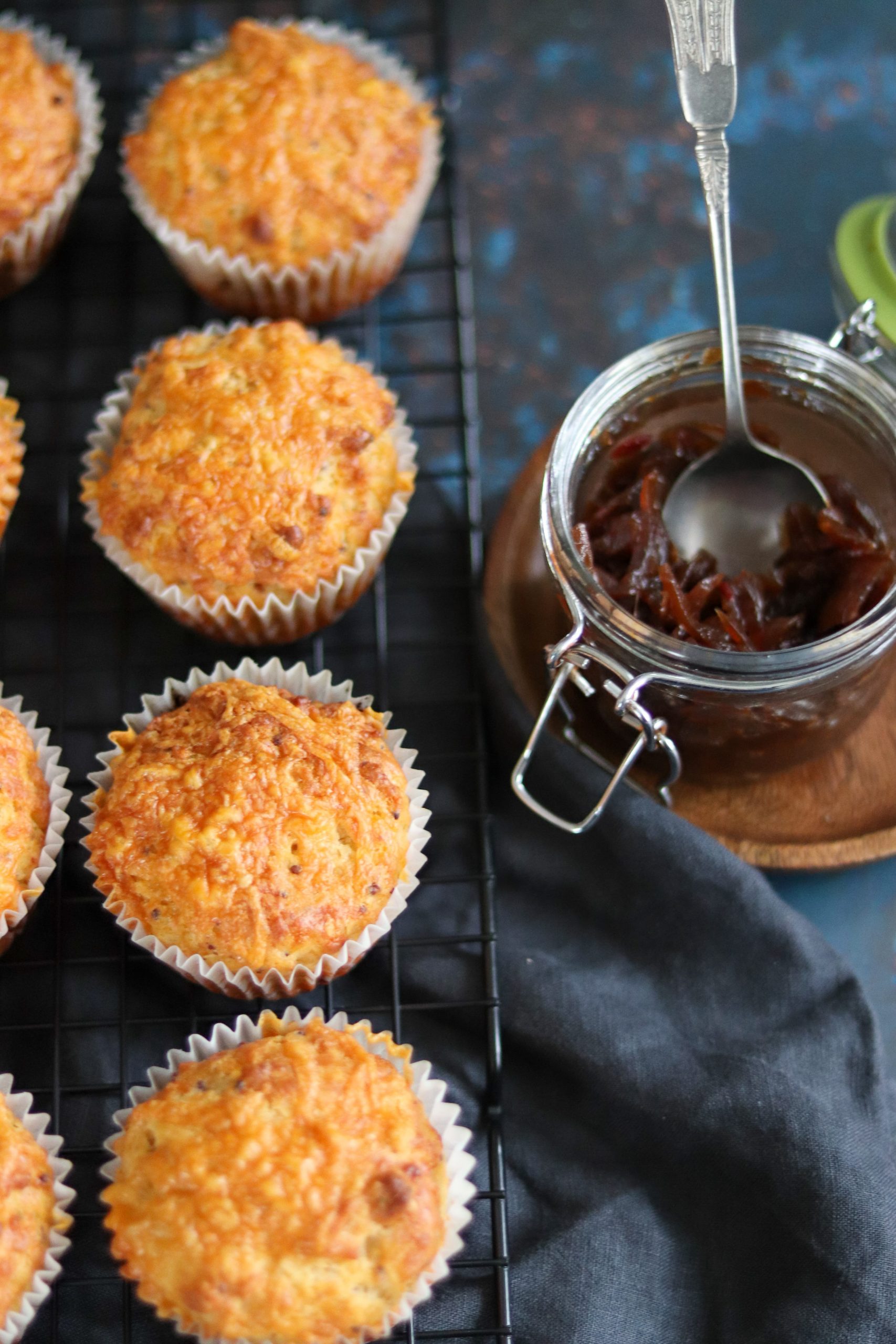 So simple & easy to make
One of the things I like about these muffins is that you don't need any fancy equipment like a mixer. They are also really quick and easy to make. Muffins are best when you mix them as little as possible.
The most strenuous task is grating some cheese! How easy they are makes them a perfect muffin to whip up if you have guests coming (or if you fancy a treat!). As they are so easy, they are also a great bake to make with children.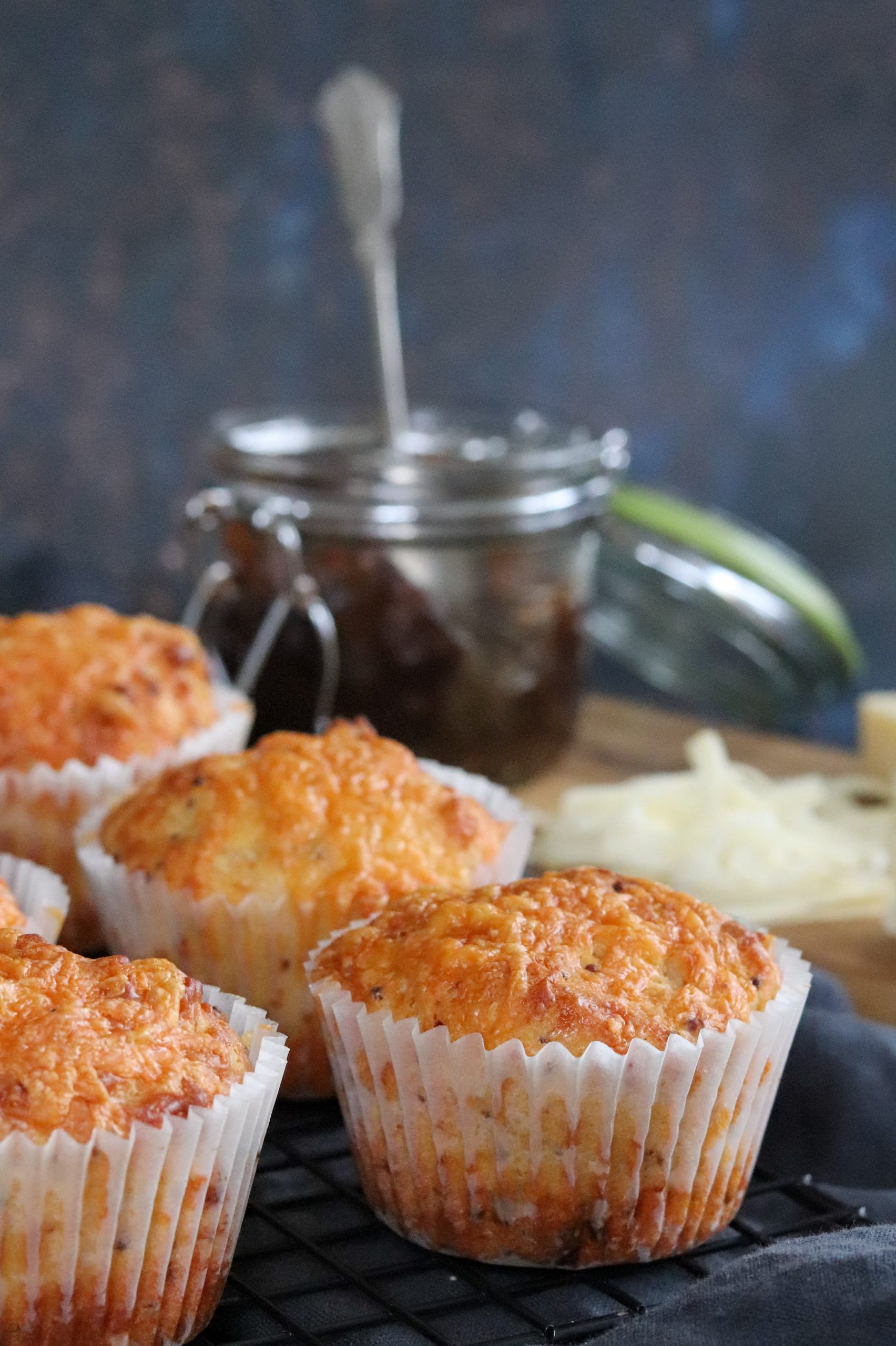 How many muffins does this recipe make?
The mix is enough to make 9 muffins even though it may not look like it will.
Put roughly one tablespoon of the mix in the bottom of each muffin before you add the chutney and then divide the remaining mix.
You could stretch it to make 12 muffins, but they would be smaller. I like my muffins to rise above the muffin cases so I prefer to make 9 larger muffins.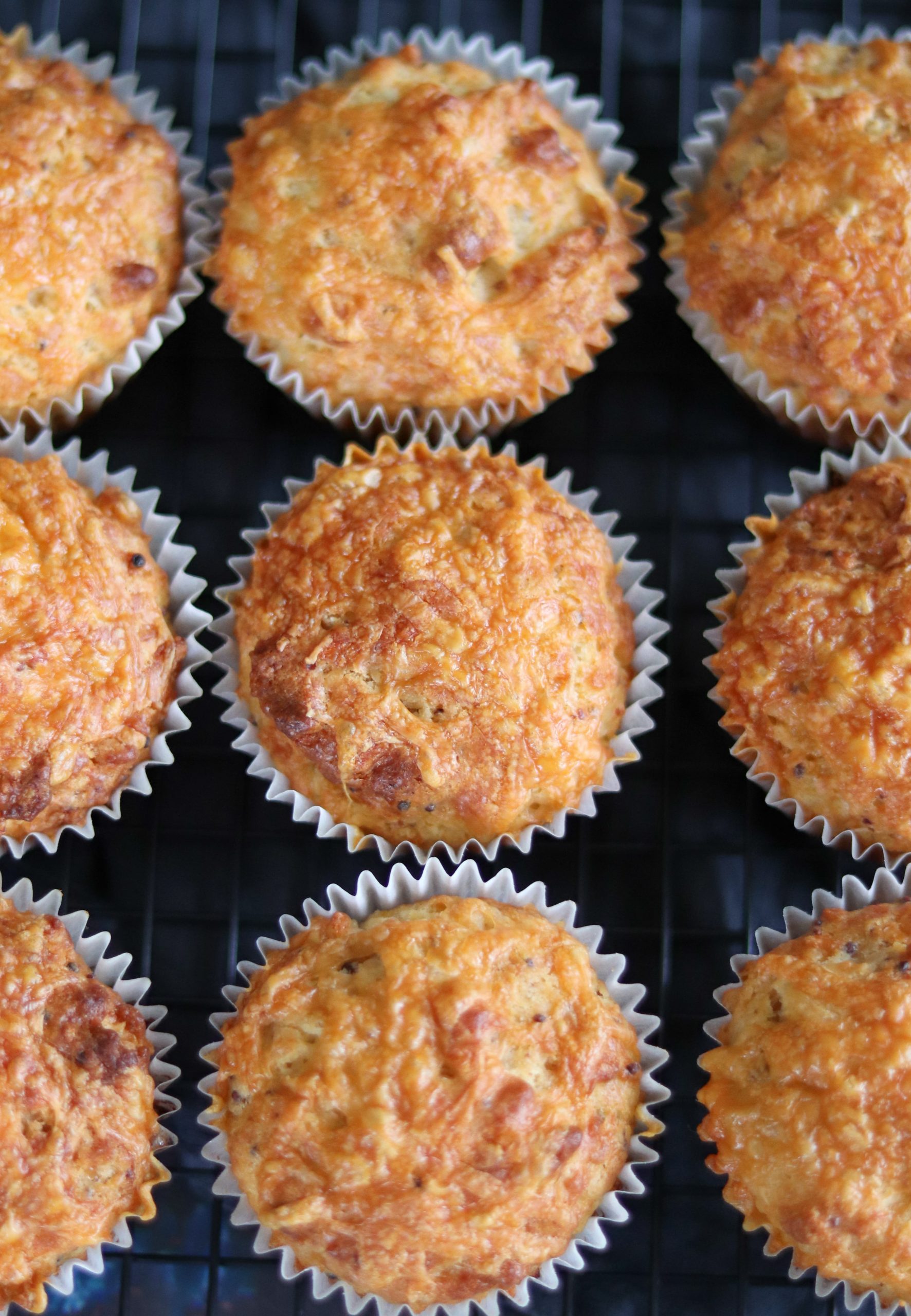 Don't add too much chutney
Don't get overexciting and add a huge dollop of chutney because it will ooze out and mean you don't get the perfect looking muffin.
The most you will want to add is a level teaspoon. If you do add more, the muffins will still taste delicious, but will be slightly more rustic.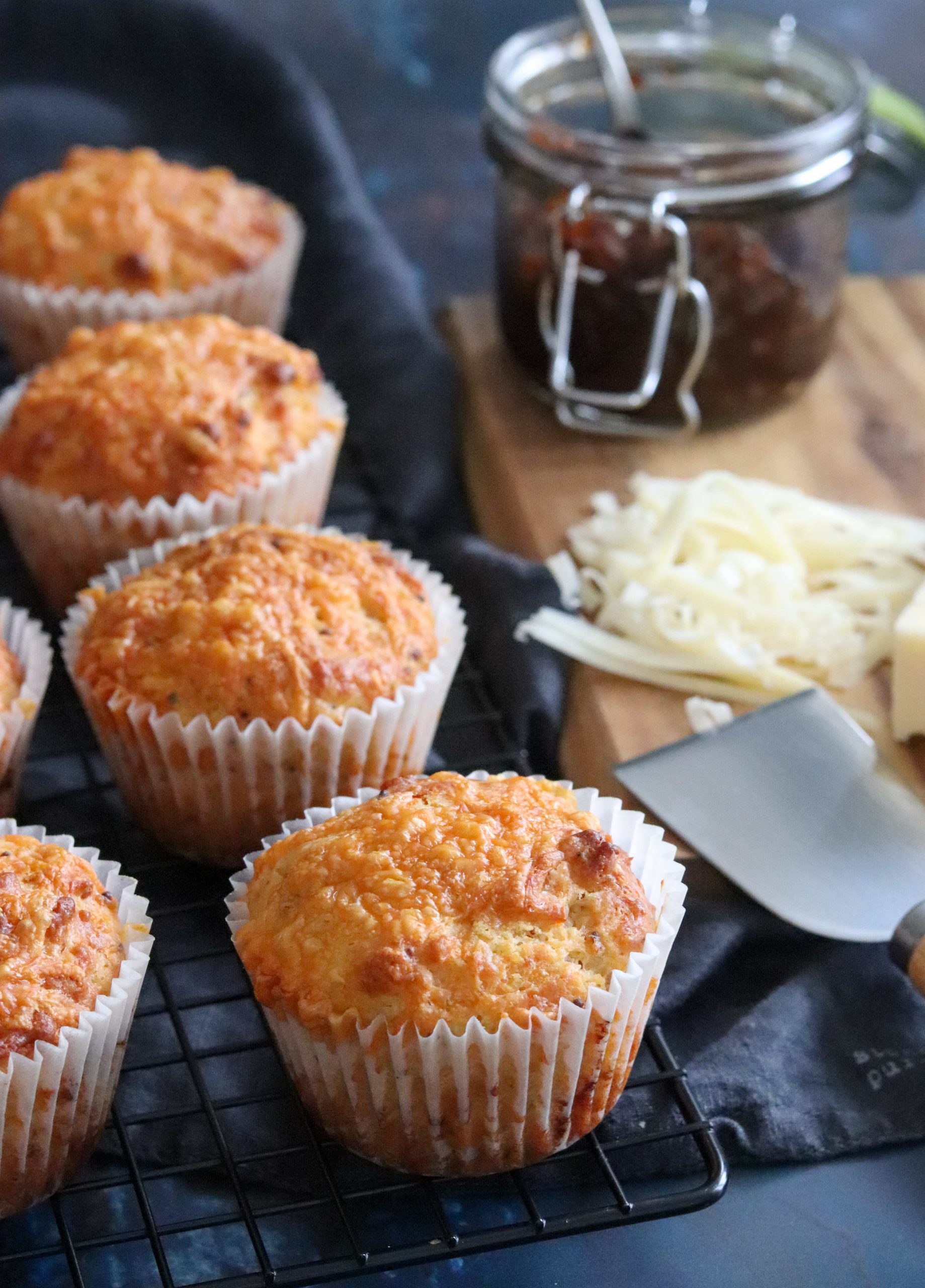 Let them cool before digging in
I know it will be very tempting to tuck straight in as soon as these muffins come out of the oven. But you really do need to wait for them to cool slightly.
Wait at least 10 minutes from them to cool in a wire rack. This gives the chutney chance to cool down slightly. Hot chutney burns and you definitely don't want to burn your mouth!
I actually prefer these Cheese & Onion Chutney Muffins at room temperature because you can really taste all the delicious flavours.
The cases also peel off easier when the muffins have completely cooled.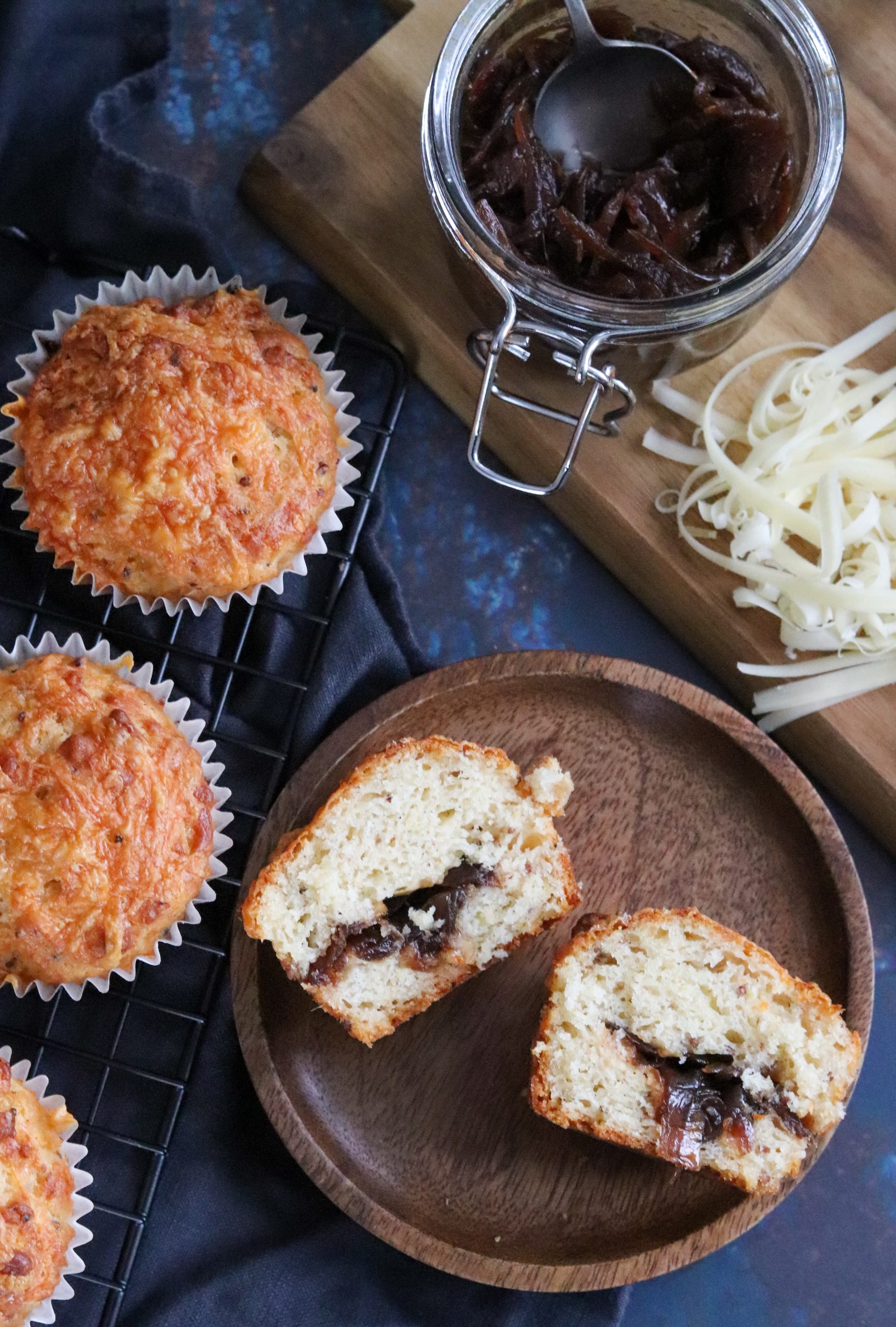 How long will these muffins last?
Although muffins are delicious, they don't last for ages.
Personally, I think muffins should be eaten on the day you bake them or the best day for them to be at their tastiest. After this they start getting a little dryer.
If you don't think you will eat all of the muffins in this time, I recommend freezing them.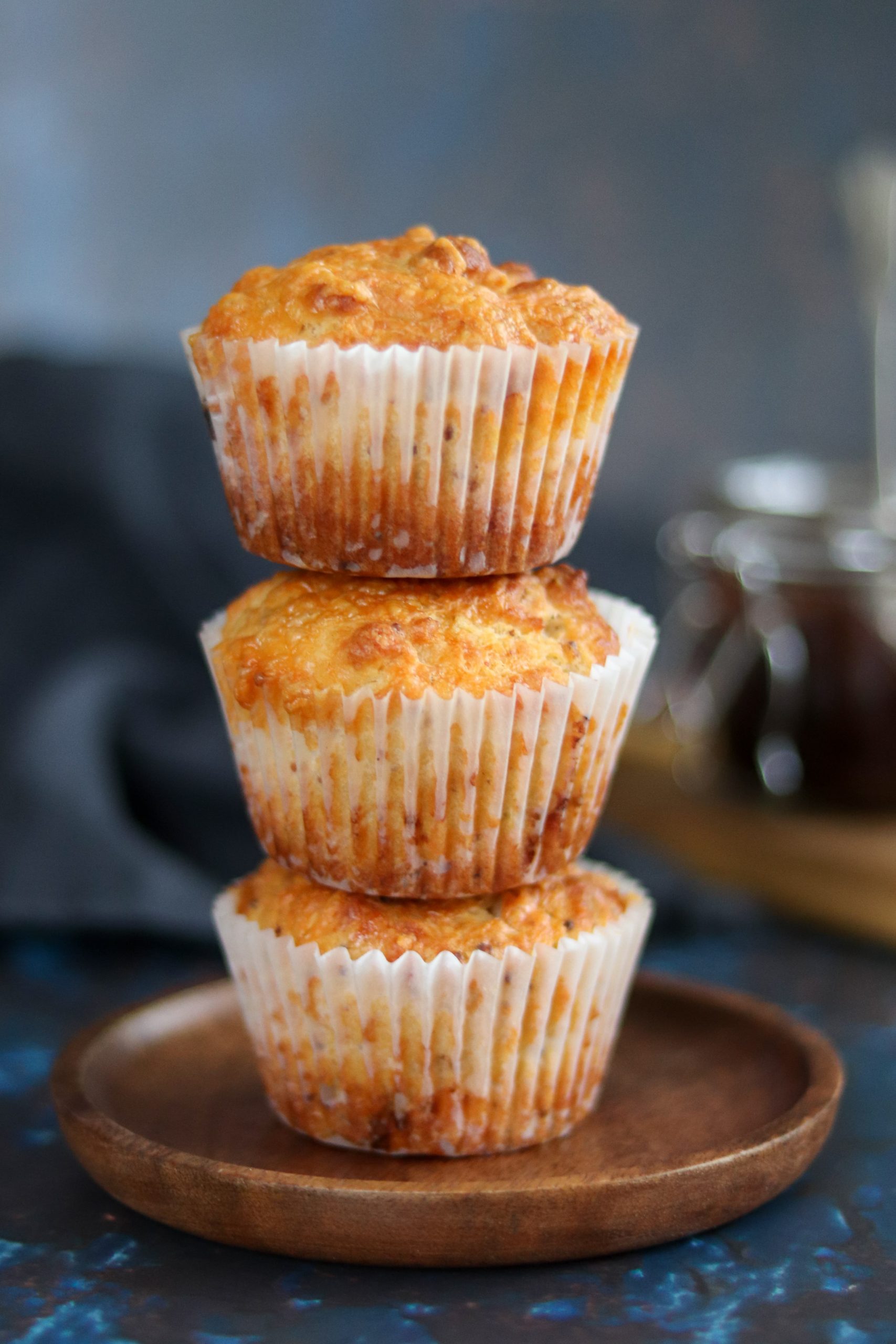 How to freeze the muffins
To freeze the muffins, make sure they are completely cooled.
Wrap each muffin in cling film and add to a bag or container. Keep in the freezer for up to three months.
When you want to eat one, just get it out and leave it at room temperature for a couple of hours. Then it is ready to enjoy!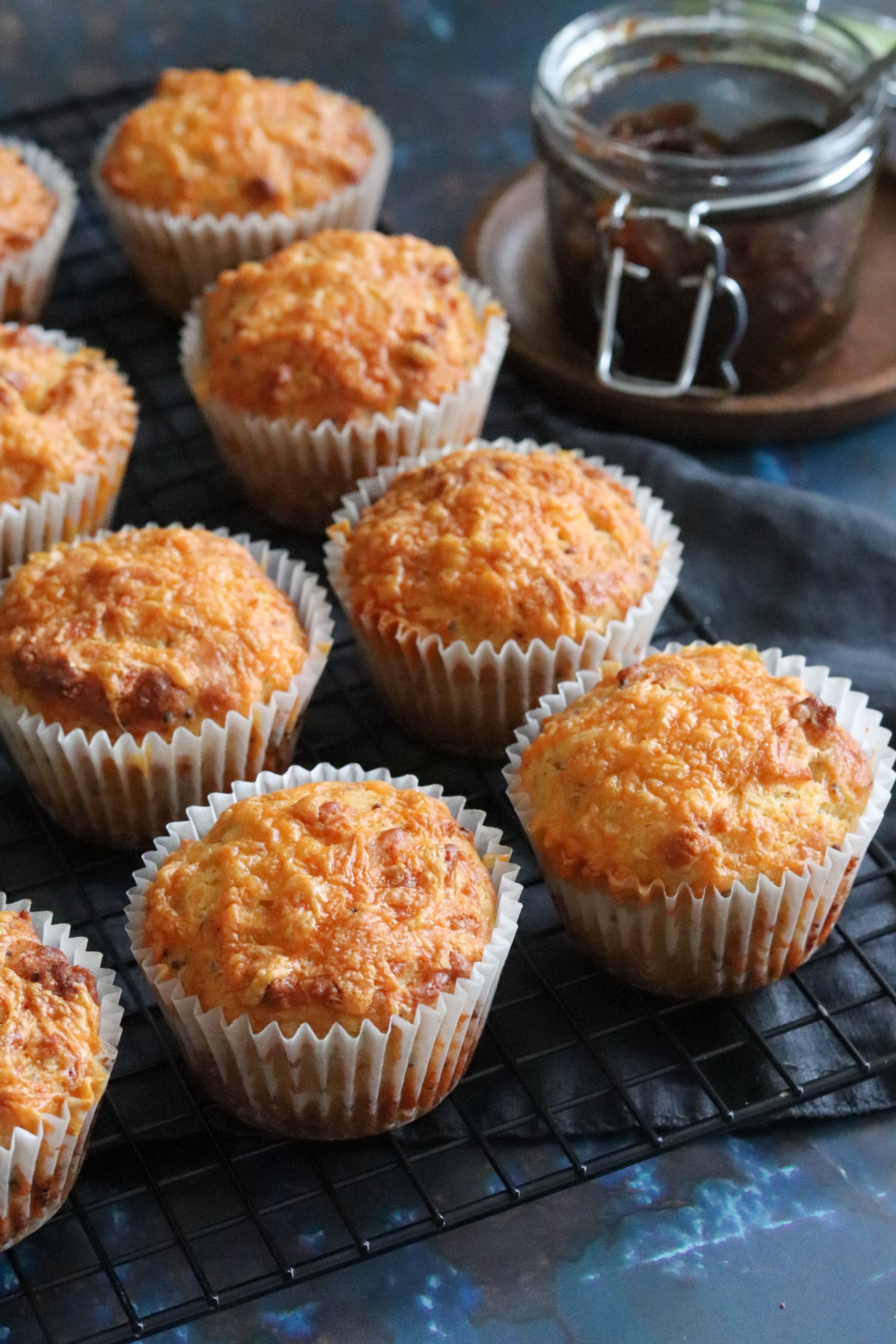 When to eat these Cheese & Onion Chutney Muffins
These muffins are delicious eaten at any time of day. They make a great grab and go breakfast as well as the perfect snack.
They would also be a great addition to any picnic or buffet. Rustle up some Quick Sausage Rolls and an Easy Greek Salad and you've got yourself a lovely little spread.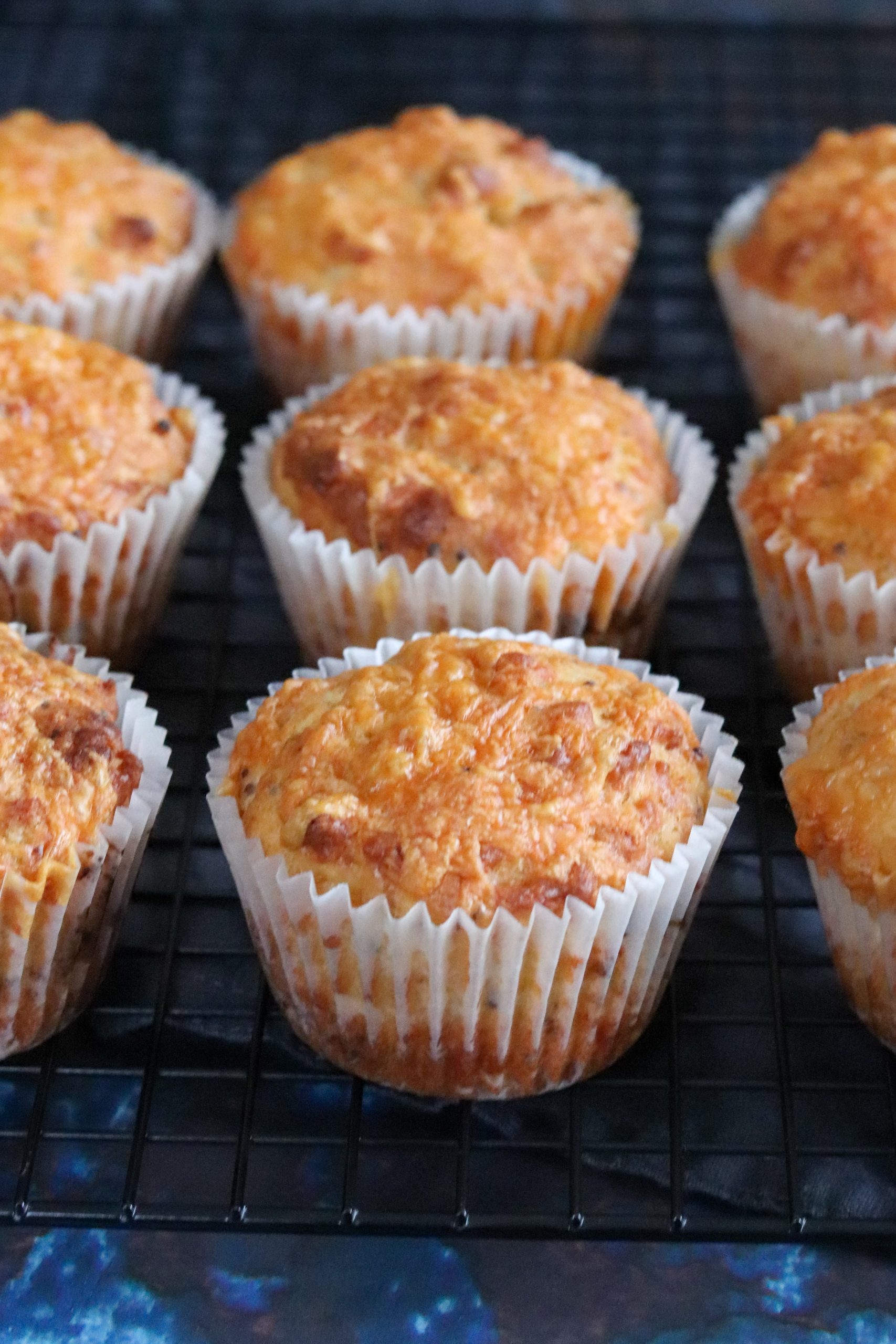 Other recipes you might like
Pin for later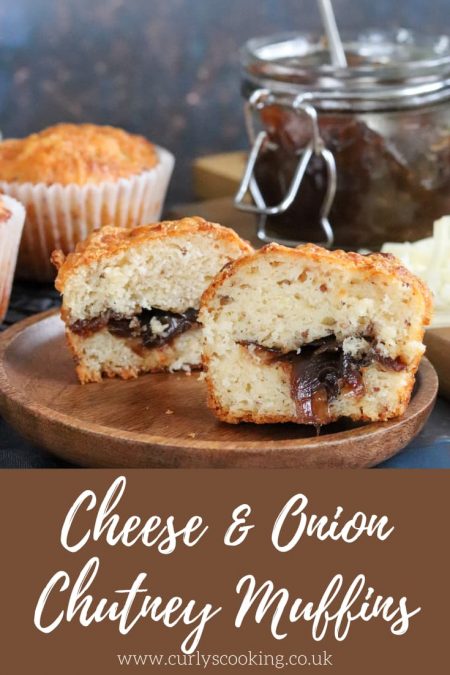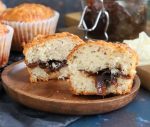 Cheese & Onion Chutney Muffins
Fluffy savoury muffins with onion chutney – the perfect snack. If you are a cheese fan, my Cheese & Onion Chutney Muffins are definitely for you!
Ingredients
175

g

plain flour

120

g

cheddar cheese

grated

80

ml

semi-skimmed milk

60

ml

sunflower or vegetable oil

1

egg

1

tbsp

wholegrain mustard

2

tsp

baking powder

2

tsp

caster sugar

1/2

tsp

salt

pinch

of pepper

pinch

of cayenne pepper

1/4

tsp

mustard powder

75

g

onion chutney
To finish
30

g

cheddar cheese

grated
Instructions
Preheat the oven to 190ºC (fan assisted, 210ºC non fan) and line a muffin tin with cases

Mix the flour, baking powder, sugar, mustard powder, cayenne pepper, salt and pepper in a bowl. Stir in the grated cheese

In a jug, beat the egg, milk, oil and wholegrain mustard together

Stir the wet ingredients with the dry ingredients until just combined – don't overwork it

Spoon a tablespoon of mixture into the muffin cases and spread it out so it completely covers the bottom of the cases

Put a small amount of chutney in the centre of each muffin case – no more than a level teaspoon

Spoon the rest of the mixture in the muffin cases, taking care to try and keep the chutney in the centre

Sprinkle the remaining cheese on top of each muffin

Bake in oven for 18 minutes until golden brown and they have a nice crust on top

Cool on a wire rack for at least 10 minutes before eating – hot chutney burns!
Recipe Notes
Keep the muffins in an airtight container for 2 days.
Nutritional information is given as a guide only and may vary.
Nutrition Facts
Cheese & Onion Chutney Muffins
Amount Per Serving
Calories 216
Calories from Fat 54
% Daily Value*
Fat 6g9%
Cholesterol 36mg12%
Sodium 264mg11%
Potassium 165mg5%
Carbohydrates 17g6%
Protein 7g14%
Vitamin A 200IU4%
Calcium 185mg19%
Iron 1.2mg7%
* Percent Daily Values are based on a 2000 calorie diet.
linking to