Fluffy savoury muffins with onion chutney – the perfect snack. If you are a cheese fan, my Cheese & Onion Chutney Muffins are definitely for you!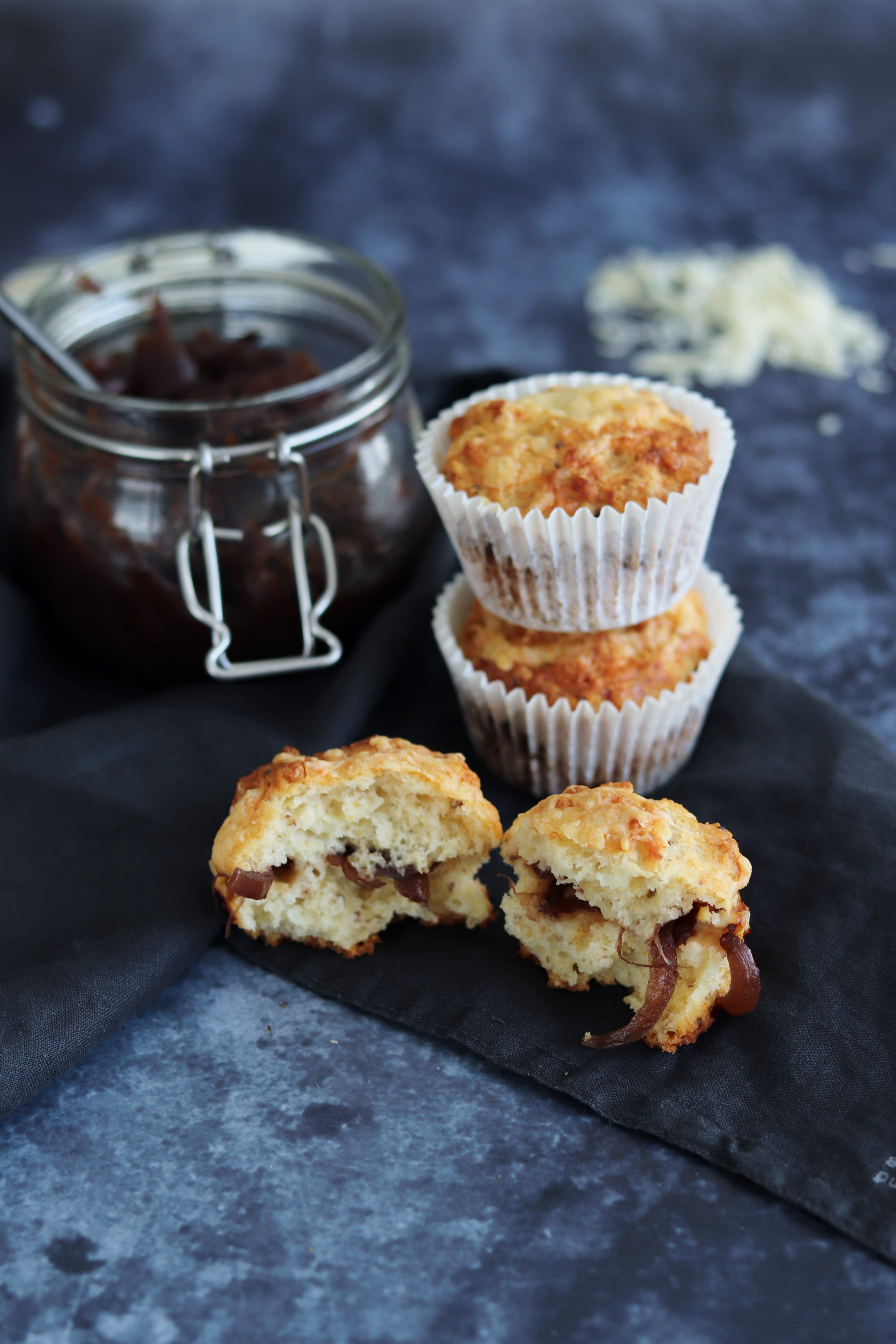 Cheese & onion is a classic combination
Cheese and onion is a classic flavour combination loved by many. I'm slightly different and am not a fan of onions, that is unless they are in the form of pickled onions or red onion chutney!
For quite a few years now I have been making my own chutney at Christmas. They make great gifts for people, but I also like to have it in the house for myself.
It is great with cheese and crackers but I wanted to think of other ways to use it. That is where these Cheese & Onion Chutney Muffins came from!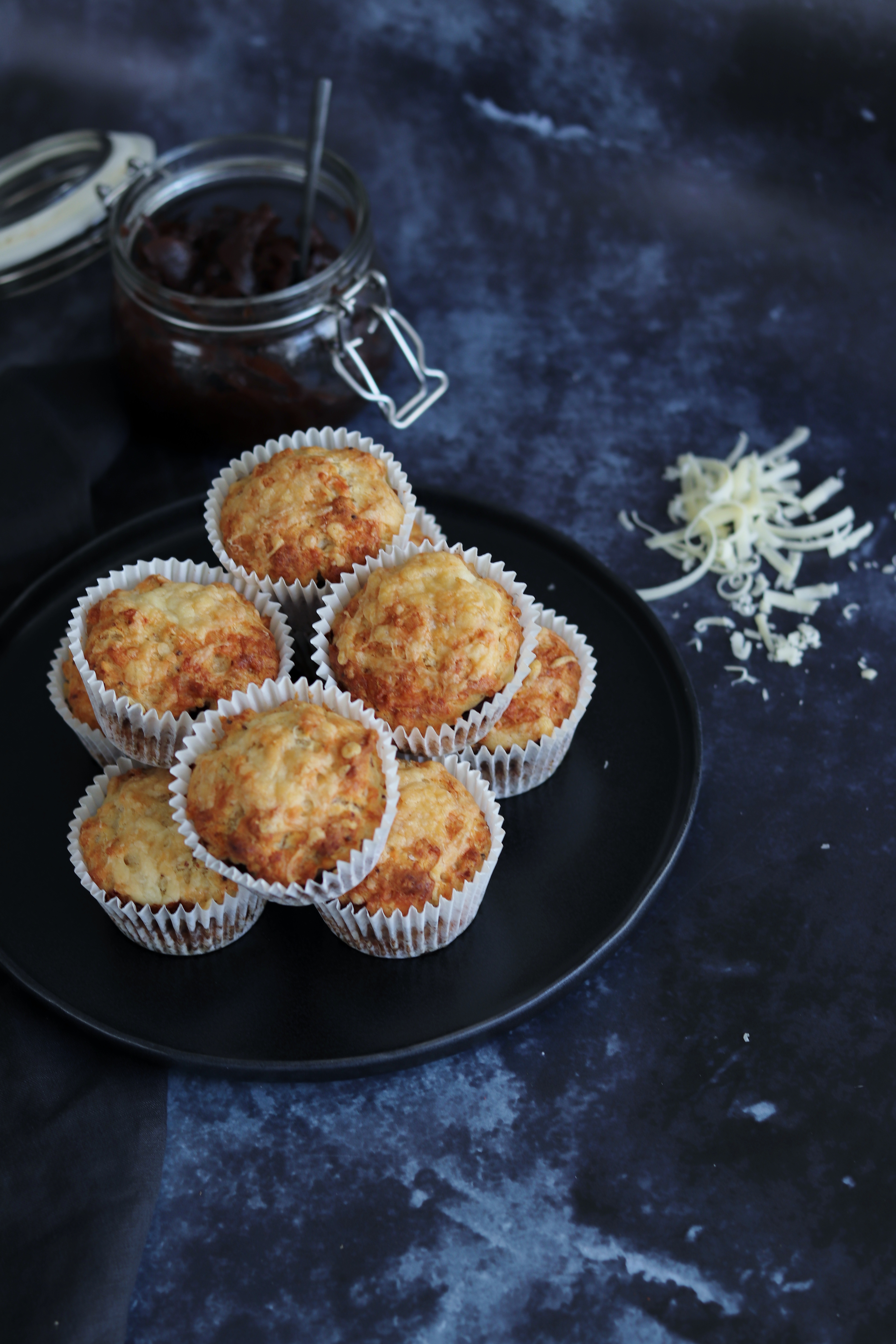 I made these Cheese & Onion Chutney Muffins to take into work quite a few months ago because everyone I work with is a cheese fanatic. To say they went down well is an understatement!
Since then, one person in particular keeps asking when I am next making them. I finally caved in and made them again. Mr Curly is not very happy that I'm taking them into work and has asked a couple of times if there are any spares so it looks like I might be making them again pretty soon!
Which onion chutney is best to use?
I always use my homemade Caramelised Onion Chutney for these muffins. That is because it is my absolute favourite onion chutney and I always have some in the cupboard.
If you aren't going to make your own, make sure you buy a good quality shop bought version. It really is worth finding a really nice chutney because it will make your muffins even tastier!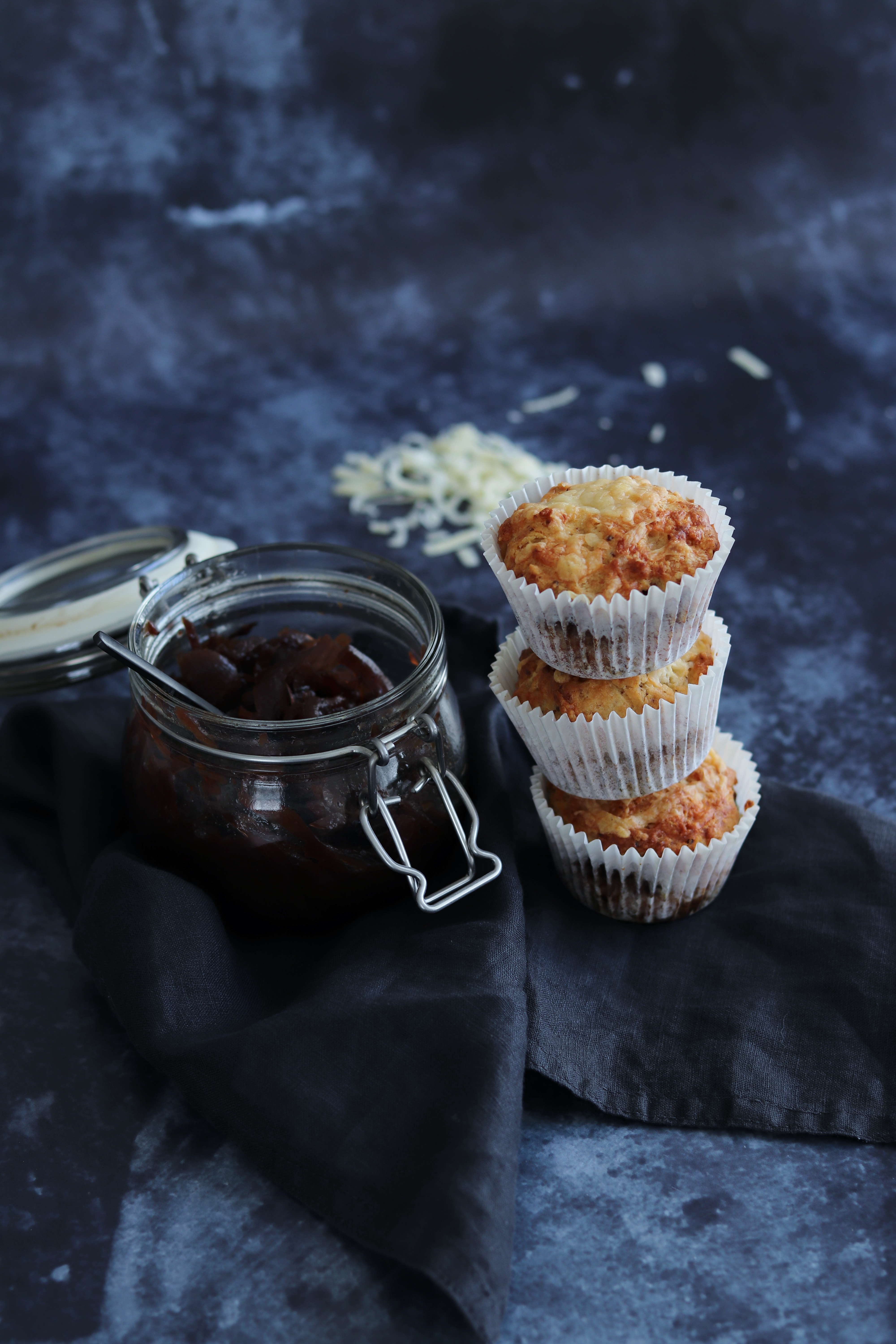 So simple & easy to make
One of the things I like about these muffins is that you don't need any fancy equipment like a mixer. They are also really quick and easy to make; muffins are best when you mix them as little as possible.
The most strenuous task is grating some cheese! How easy they are makes them a perfect muffin to whip up if you have guests coming (or if you fancy a treat!). As they are so easy, they are also a great bake to make with children.
Cheese & Onion Chutney baking tips
The mix is enough to make 9 muffins even though it may not look like it will. Put roughly one tablespoon of the mix in the bottom of each muffin before you add the chutney and then divide the remaining mix.
Don't get overexciting and add a huge dollop of chutney because it will ooze out and mean you don't get the perfect looking muffin.
The most you will want to add is a level teaspoon, but if you do add more, the muffins will still taste delicious, but will be slightly more rustic.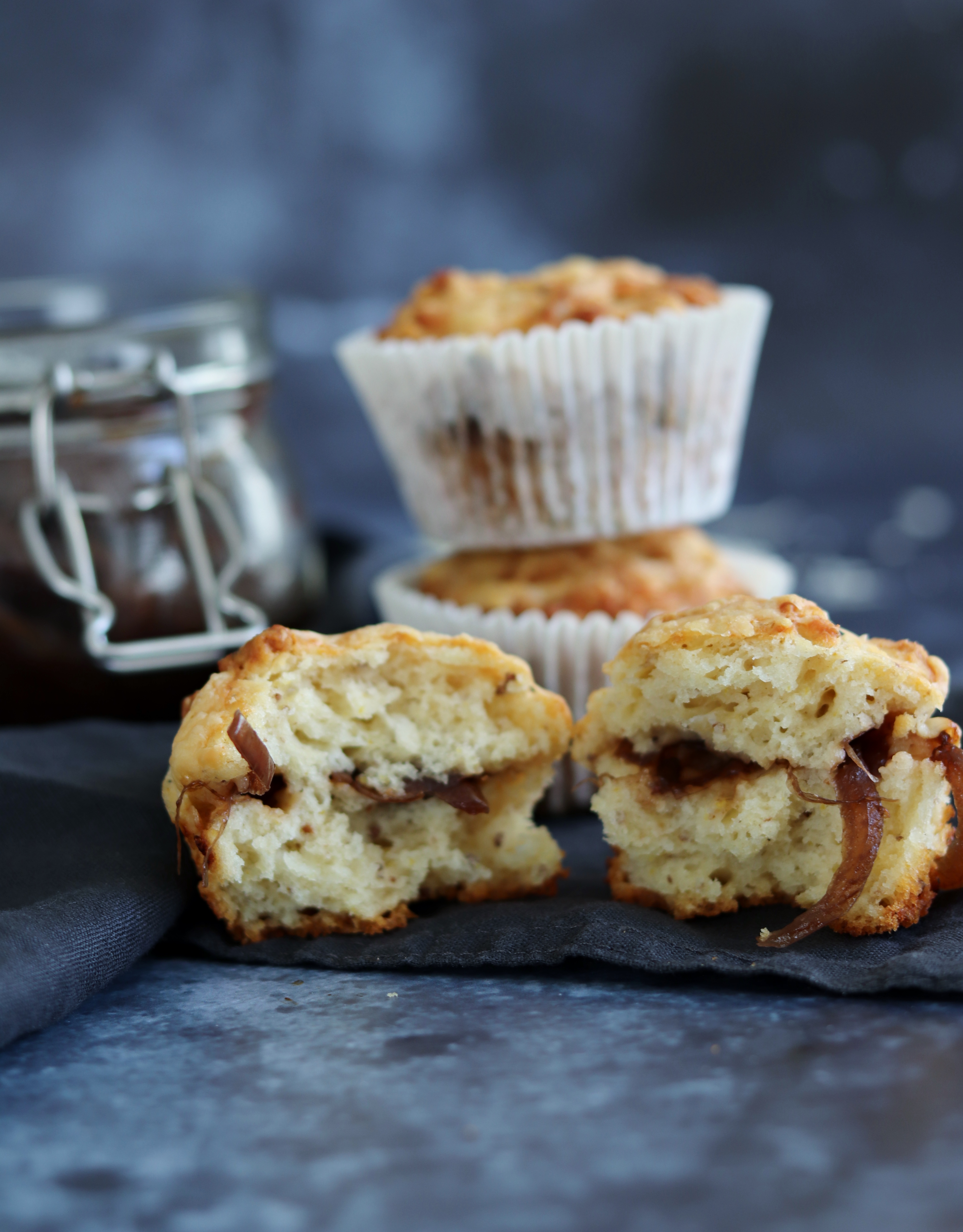 Pin for later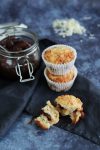 Cheese & Onion Chutney Muffins
Fluffy savoury muffins with onion chutney - the perfect snack. If you are a cheese fan, my Cheese & Onion Chutney Muffins are definitely for you!
Ingredients
175

g

plain flour

120

g

cheddar cheese

grated

80

ml

semi-skimmed milk

60

ml

sunflower or vegetable oil

1

egg

1

tbsp

wholegrain mustard

2

tsp

baking powder

2

tsp

caster sugar

1/2

tsp

salt

pinch

of pepper

pinch

of cayenne pepper

1/4

tsp

mustard powder

75

g

onion chutney
To finish
30

g

cheddar cheese

grated
Instructions
Preheat the oven to 190ºC (fan assisted, 210ºC non fan) and line a muffin tin with cases

Mix the flour, baking powder, sugar, mustard powder, cayenne pepper, salt and pepper in a bowl. Stir in the grated cheese

In a jug, beat the egg, milk, oil and wholegrain mustard together

Stir the wet ingredients with the dry ingredients until just combined - don't overwork it

Spoon a tablespoon of mixture into the muffin cases and spread it out so it completely covers the bottom of the cases

Put a small amount of chutney in the centre of each muffin case - no more than a level teaspoon

Spoon the rest of the mixture in the muffin cases, taking care to try and keep the chutney in the centre

Sprinkle the remaining cheese on top of each muffin

Bake in oven for 18 minutes until golden brown and they have a nice crust on top

Cool on a wire rack for at least 10 minutes before eating - hot chutney burns!
Nutrition Facts
Cheese & Onion Chutney Muffins
Amount Per Serving
Calories 216
Calories from Fat 54
% Daily Value*
Fat 6g9%
Cholesterol 36mg12%
Sodium 264mg11%
Potassium 165mg5%
Carbohydrates 17g6%
Protein 7g14%
Vitamin A 200IU4%
Calcium 185mg19%
Iron 1.2mg7%
* Percent Daily Values are based on a 2000 calorie diet.