Less of a recipe and more of a guide on how to cook Air Fryer Sausages. Once you have cooked sausages in the air fryer, you won't cook them any other way again!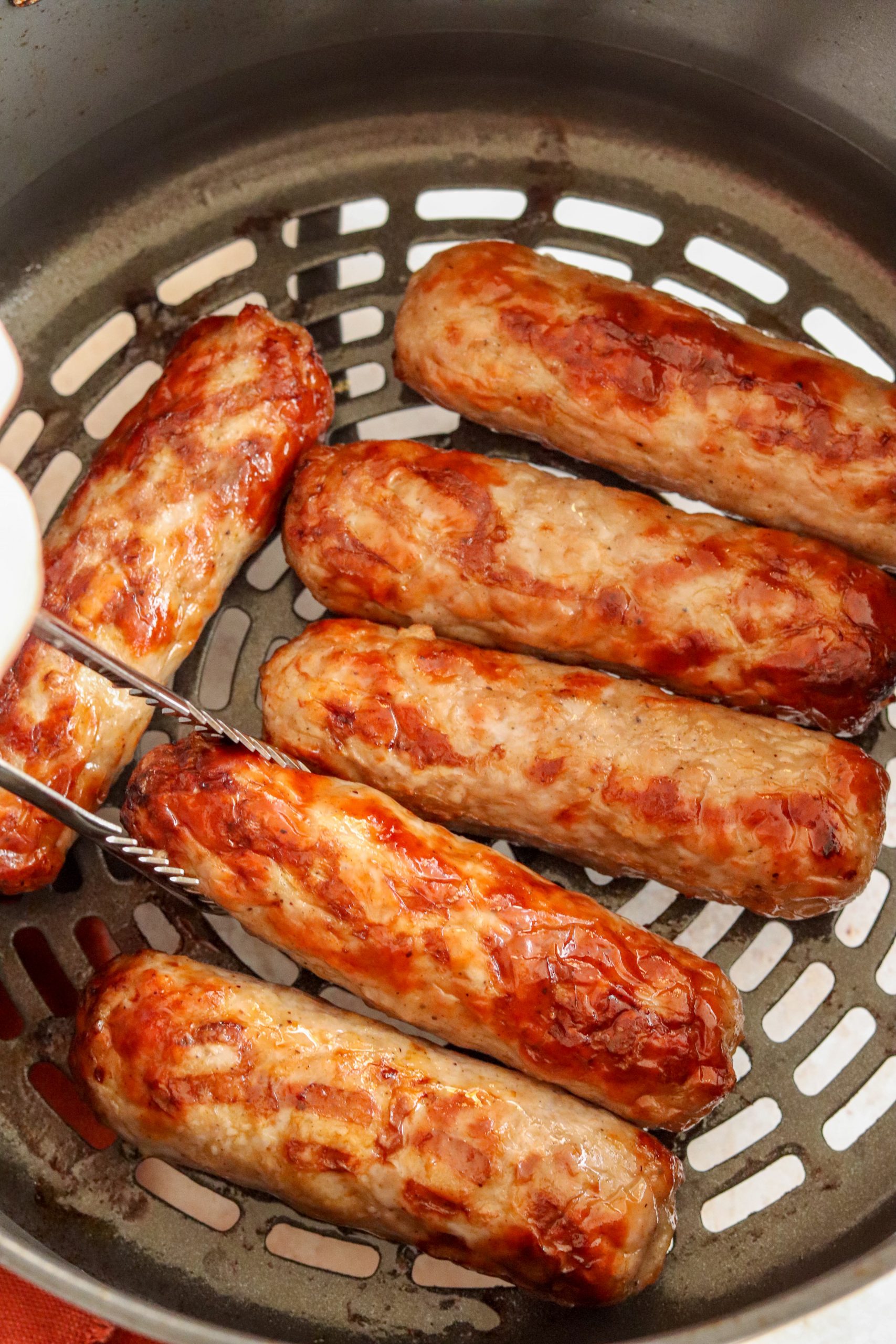 why cook sausages in an air fryer rather than an oven or grill?
Air fryers have been gaining momentum over the last few years but have sky rocketed in popularity in the last few months. People are looking for more cost effective ways of cooking and air fryers are a great option.
Air fryers cook food quicker than a standard convection oven which is great for saving energy and pennies but also for busy families that want to be able to cook food quickly.
Another advantage is that air fryers are smaller than ovens and grills so you're not heating up a full-sized oven and instead a smaller air fryer. This means you're using less energy because you're heating up a smaller appliance as well as cooking the food faster.
I have always cooked sausages in my oven, but after trying them in the air fryer I will never go back! The even colour and crispness is perfect and quicker to achieve than in the oven.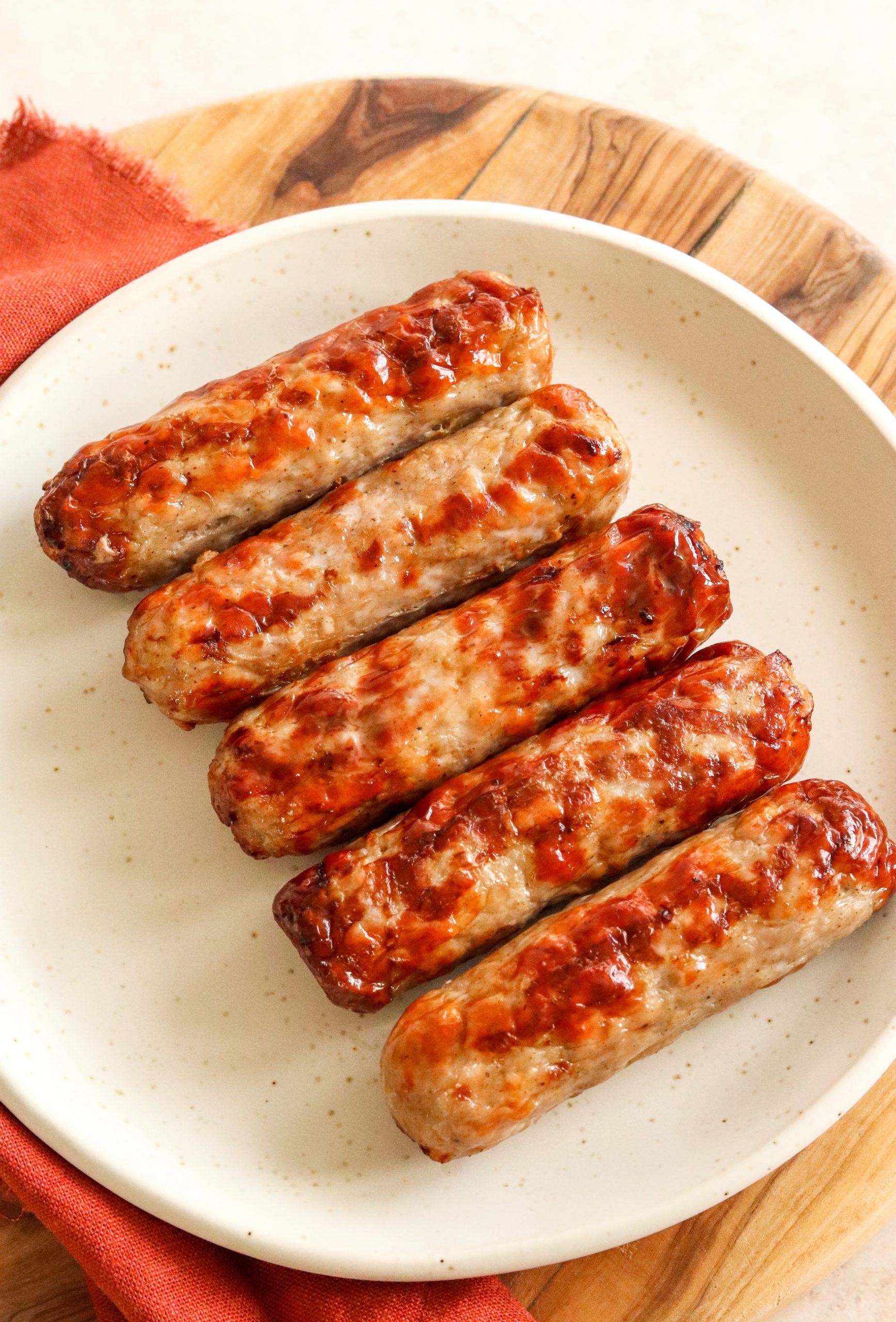 how long do different sausages take to cook?
As you would expect, the thickness of the sausages you are cooking affects the cooking time.
Standard thick sausages whether they are pork, beef or chicken; take 15 minutes to cook. You will know when they're cooked because there will be no pinkness on the inside and they'll be nice and brown.
Chipolatas take less time to cook because they are thinner. They only take 10 minutes to cook. You can also fit more chipolatas into your air fryer because they're smaller.
I also have instructions on how to cook pigs in blankets in an air fryer.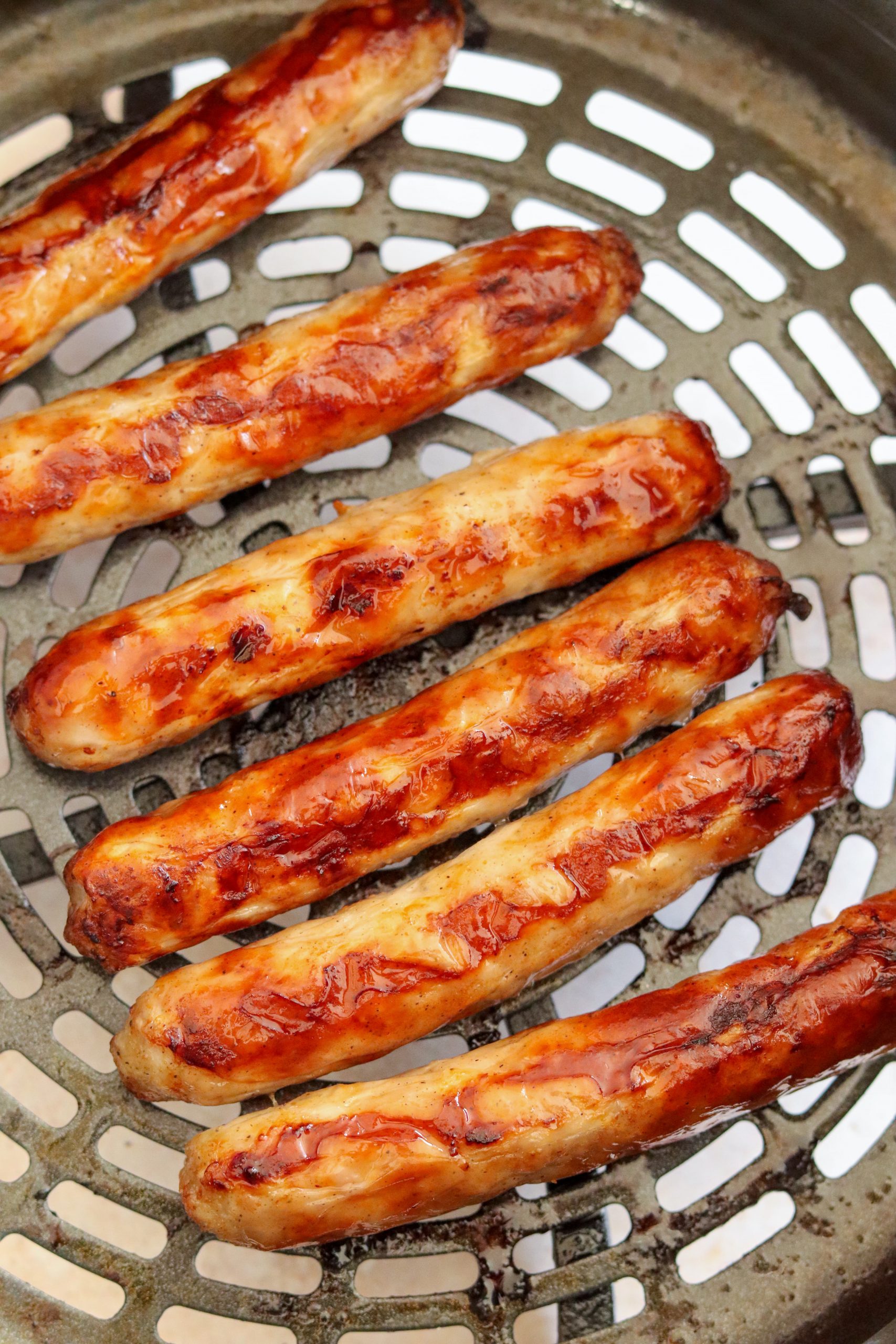 how crisp do you like your sausages?
I am that person that looks for the sausage at a barbeque that got caught on the charcoal and is a little darker and crispier than the others.
So personally, I like to cook my sausages for a little bit longer than the recipe states. If like me you want a crisper sausage, cook them for 18-20 minutes for thick sausages and 12-13 for chipolatas.
Even if you cook your sausages for 20 minutes, the air fryer doesn't dry them out. To get them nicely crisp in the oven you can be cooking them for around 30 minutes and that can sometimes mean they don't stay as moist inside.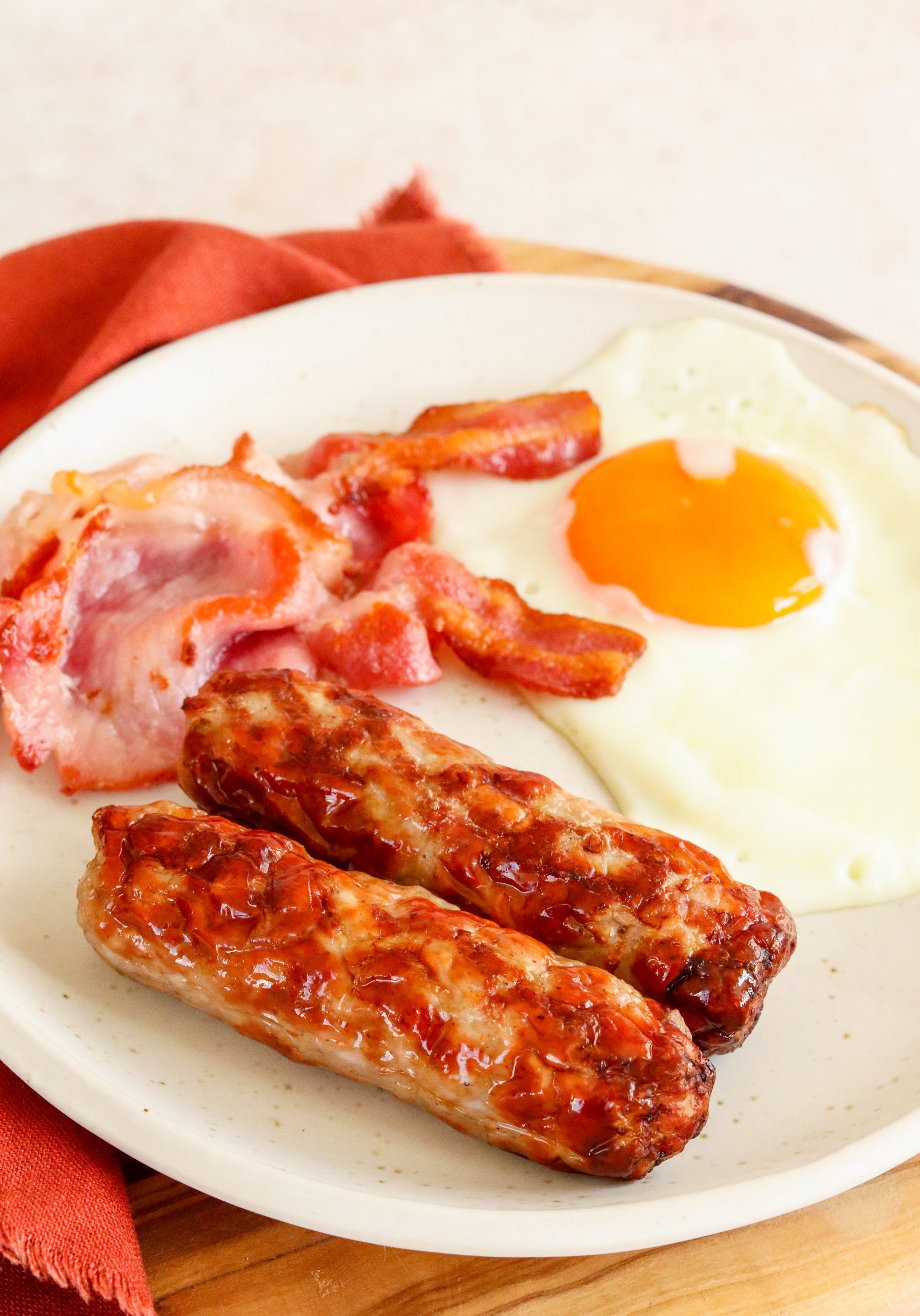 DO YOU NEED TO PREHEAT AN AIR FRYER?
That depends on your air fryer, some require preheating whilst others don't. I have a Ninja 7-in-1 multicooker and I have never preheated mine.
If your air fryer does require preheating, check the sausages after 12-13 minutes for thick sausages and 8 minutes for chipolatas. If your air fryer is warm, food is likely to cook a few minutes faster.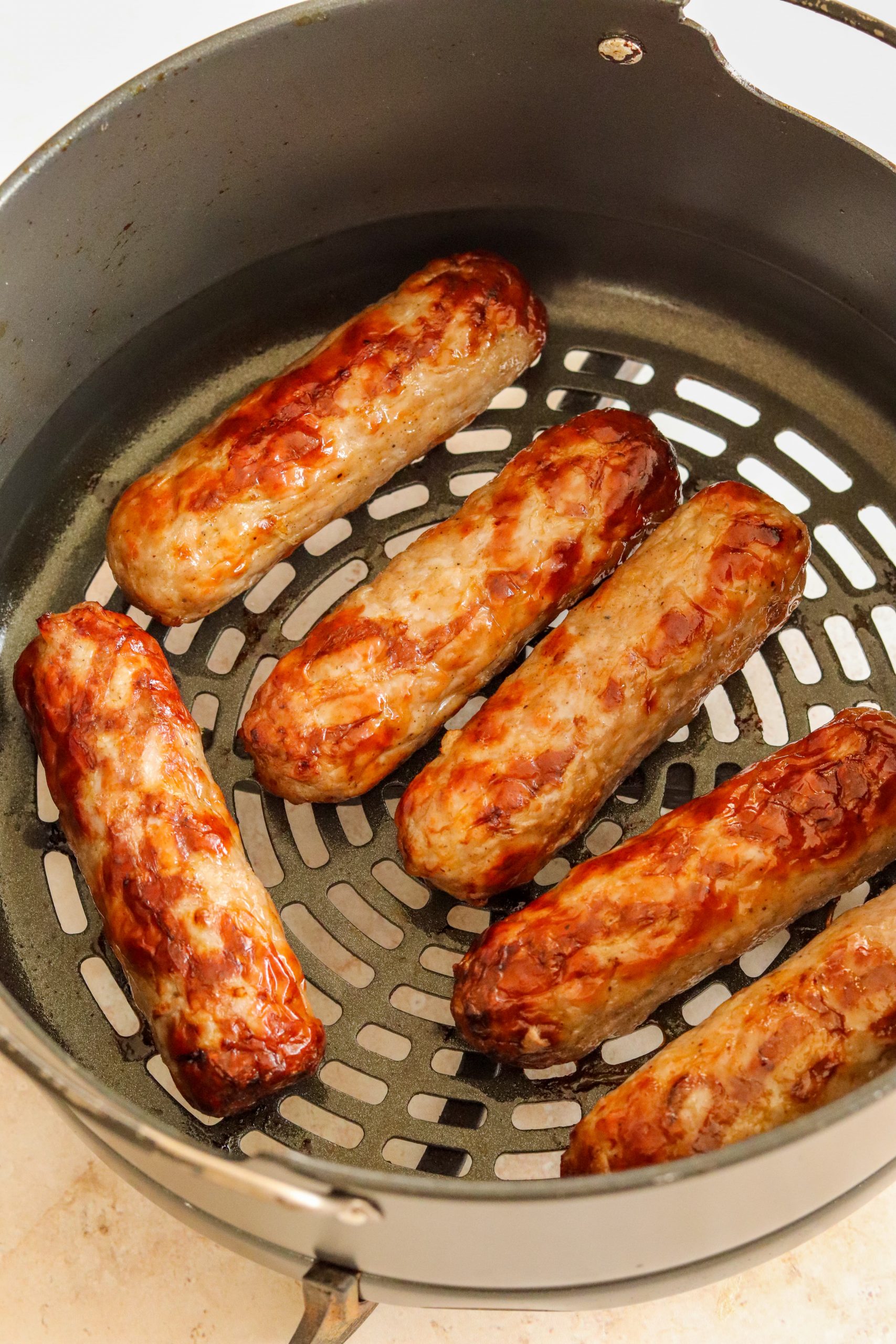 can you use an air fryer liner?
Air fryer liners are a great time saving addition because they are usually easier to wash than the basket of your air fryer.
Most reusable air fryer liners are silicone and although they are handy to have, I wouldn't recommend using them for all recipes. For these sausages you should be fine to use a liner, but they might take a little longer to cook.
I would also definitely recommend turning them half way through cooking if you use a liner so they brown evenly.
I've written a whole post on whether you should use an air fryer liner, check it out for more information.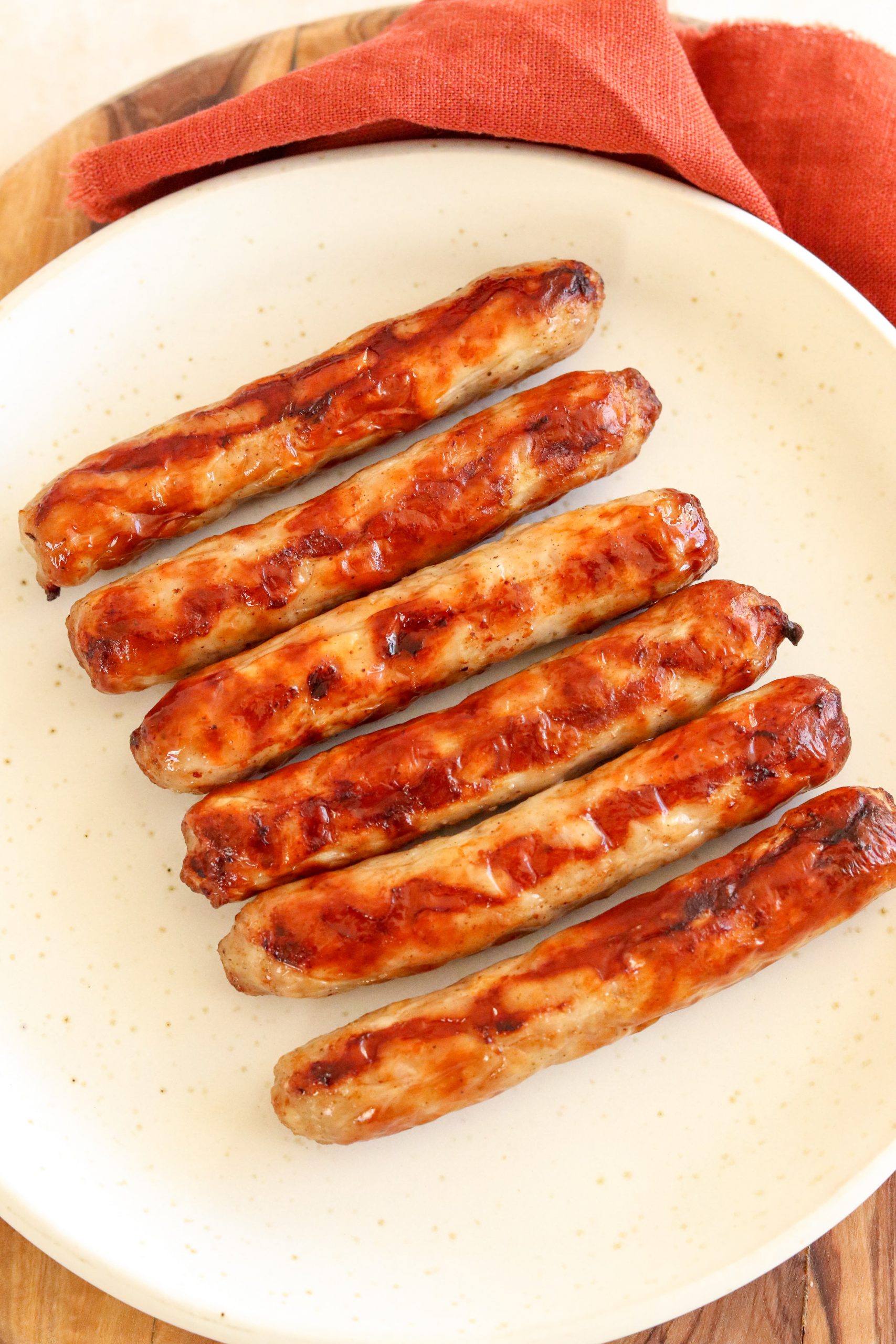 What to serve with air fryer sausages
You can serve these sausages however you would usually eat sausages.
For breakfast they are great as any from of a fry up. By cooking them in the air fryer they are quicker and you don't have to heat the whole oven up for a couple of sausages.
For lunch or dinner you can serve these sausages with so many different sides. Cheese & Bacon Loaded Fries, Baked Chipotle Wedges and Roasted New Potatoes would all be great options. Or you could keep it simple with chips – either homemade or frozen.
Coleslaw, Creamy Mustard New Potato Salad and my Greek Style Salad would be great options for lighter sides.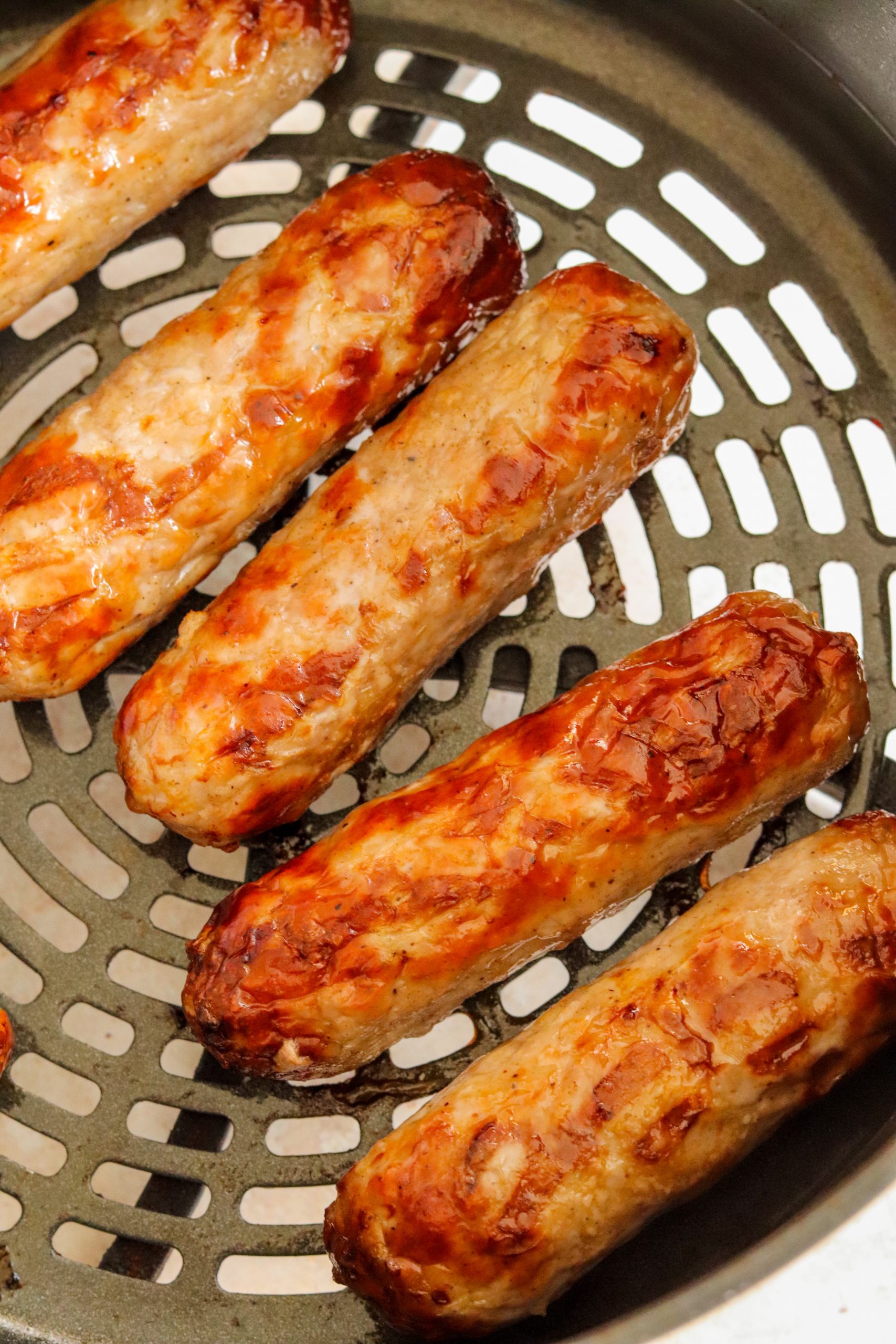 can you reheat sausages in the air fryer?
You don't have to reheat the sausages once they are cooked, but if you do want to you can do so in the air fryer.
They only need 4-5 minutes in the air fryer at 180°C until they are warmed through.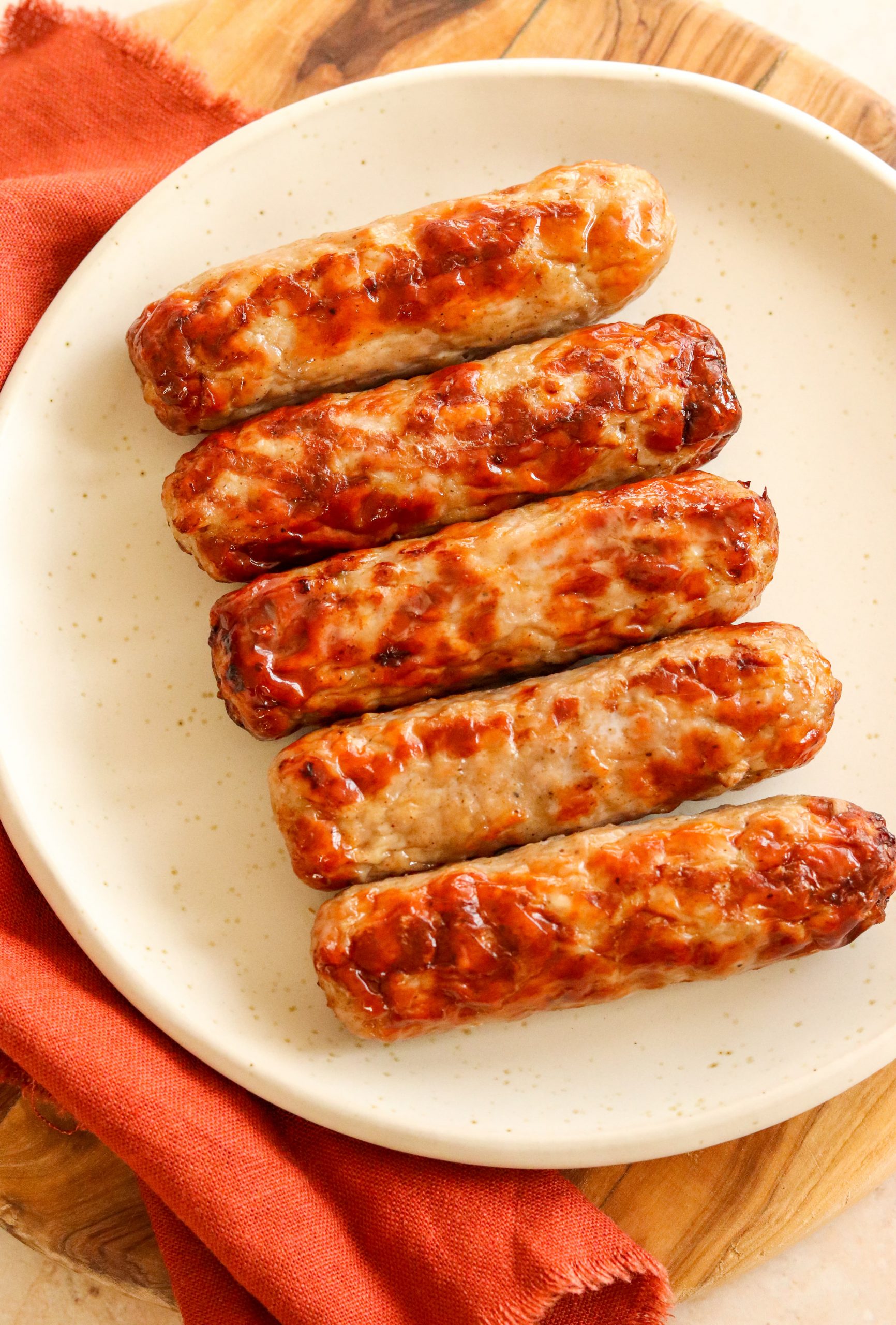 other recipes you might like
Pin for later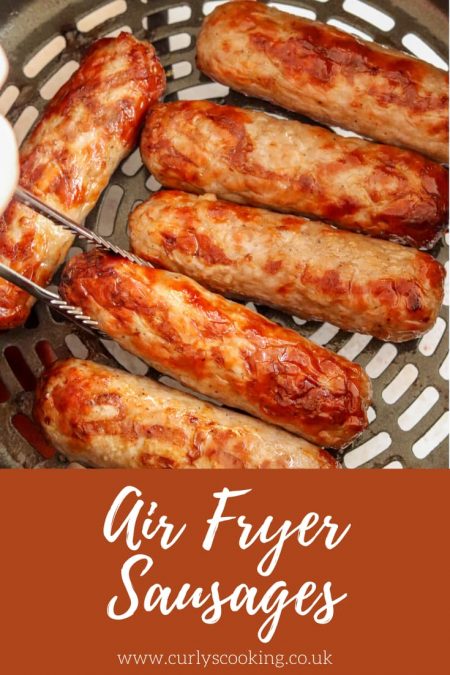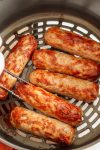 Air Fryer Sausages
Less of a recipe and more of a guide on how to cook Air Fryer Sausages. Once you have cooked sausages in the air fryer, you won't cook them any other way again!
Instructions
Preheat your air fryer if required

Place 6 sausages into your air fryer making sure they aren't touching

Cook thick sausages for 15 minutes and chipolatas for 10 minutes at 180°C. I like to turn the sausages half way through but you might not need to
Recipe Notes
Nutritional information is given as a guide only and my vary.
If your air fryer requires preheating, check your sausages a couple of minutes before the recipe states.
Nutrition Facts
Air Fryer Sausages
Amount Per Serving
Calories 258
Calories from Fat 207
% Daily Value*
Fat 23g35%
Cholesterol 61mg20%
Sodium 541mg24%
Potassium 211mg6%
Protein 13g26%
Vitamin A 64IU1%
Vitamin C 1mg1%
Calcium 8mg1%
Iron 1mg6%
* Percent Daily Values are based on a 2000 calorie diet.