If you're looking for a comforting winter warmer, you definitely need to try my Slow Cooker Beef & Ale Stew. Melt in your mouth beef in a thick and rich gravy with deliciously sweet carrots.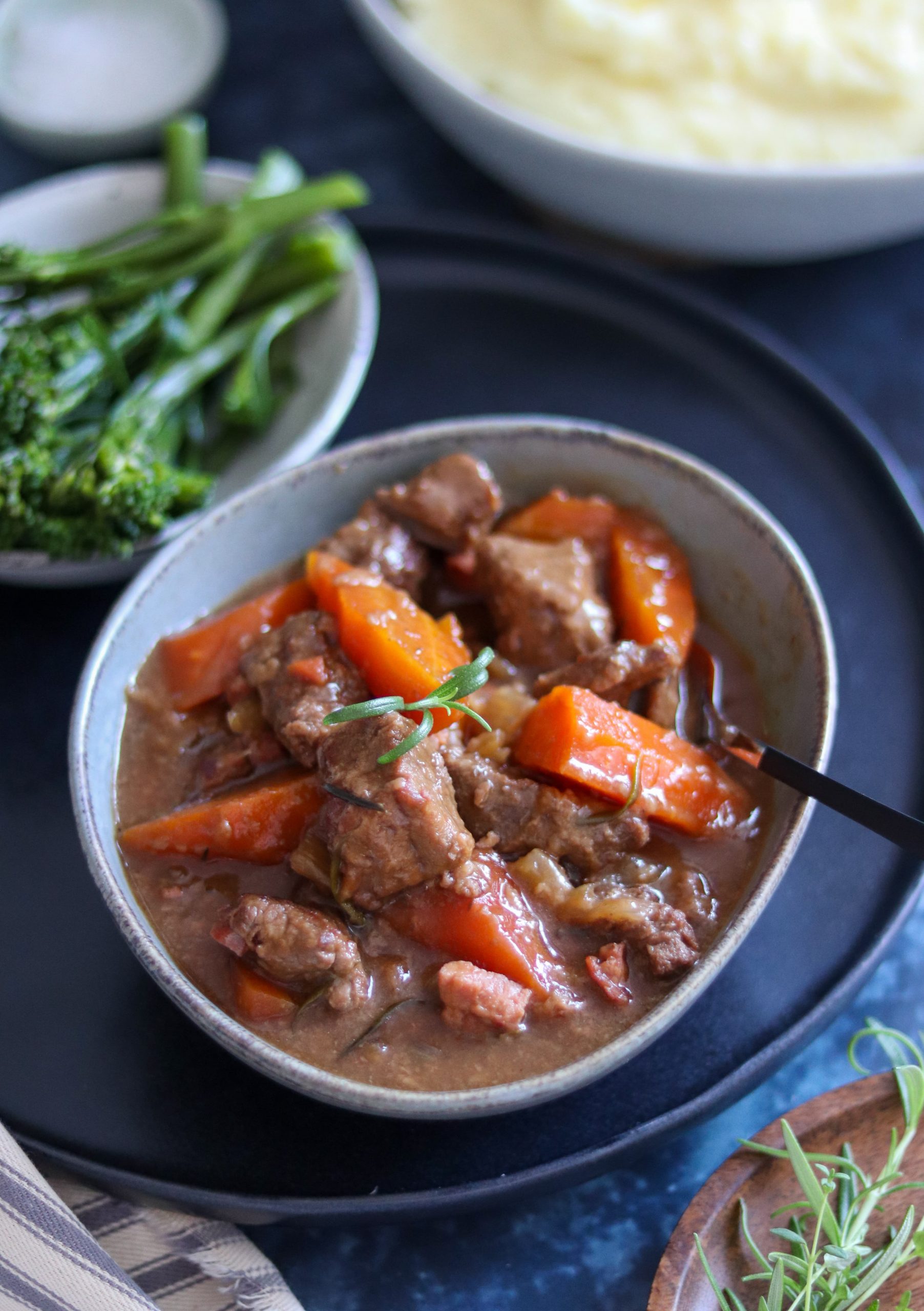 Colder weather is the perfect time to use your slow cooker
This time of year really does lend itself to slow cooked dishes. When the weather is cold and miserable I like a lot of people want warm and comforting food.
And surely it's not just me that feels a bit lazy when the weather is a bit rubbish? That's another reason why slow cooked meals are so great, once you have spent a few minutes assembling them at the start, you can then pretty much just forget about them.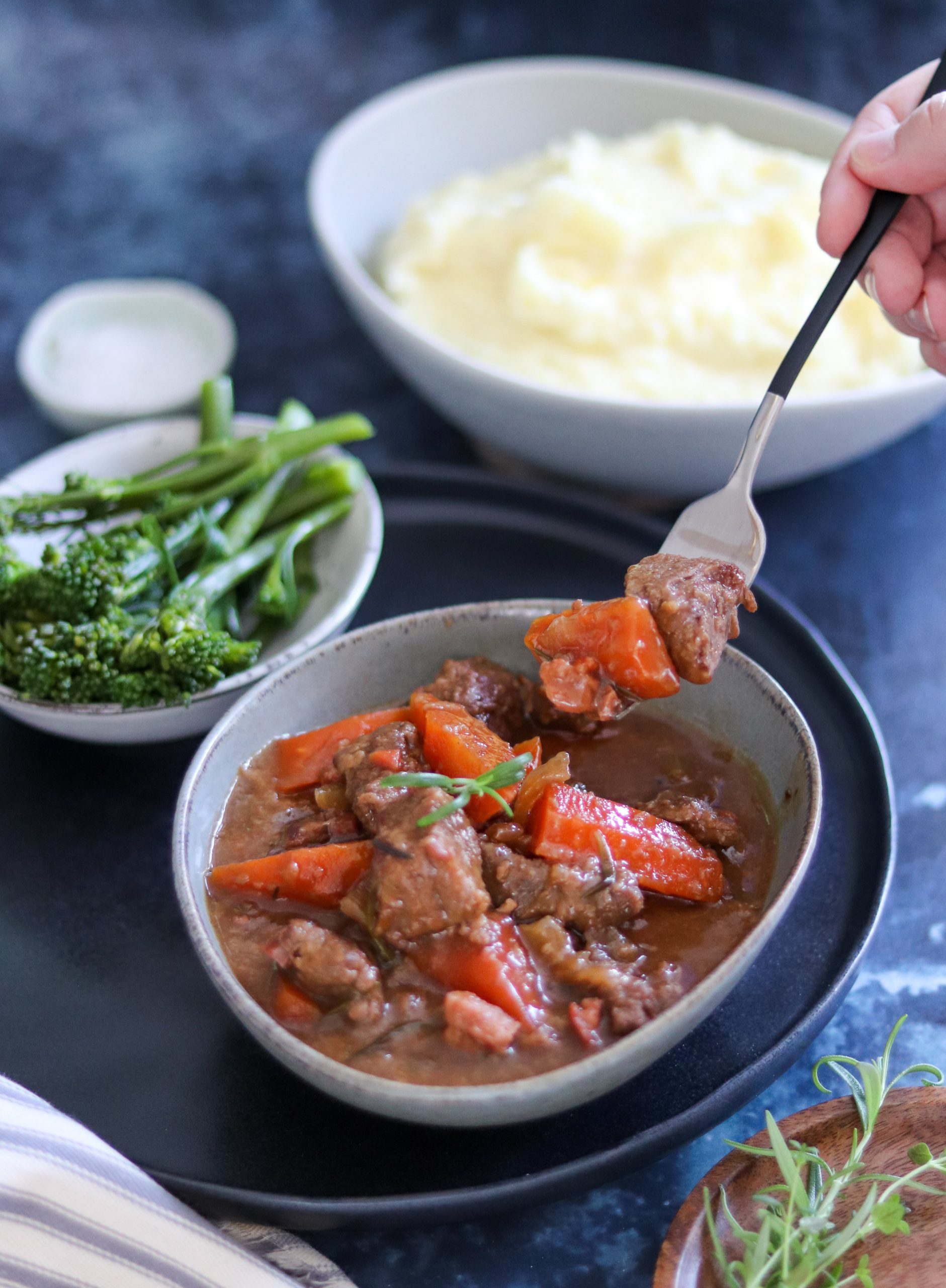 Beef is delicious slow cooked
Beef is a great meat for long, slow cooking because it becomes deliciously tender. I also think long cooking allows the gravy to become rich and flavoursome.
Slow cooking is a relaxed way of letting the flavours develop over time where they can really intensify. I had to stop myself spooning all of this gravy straight from the slow cooker it was that tasty.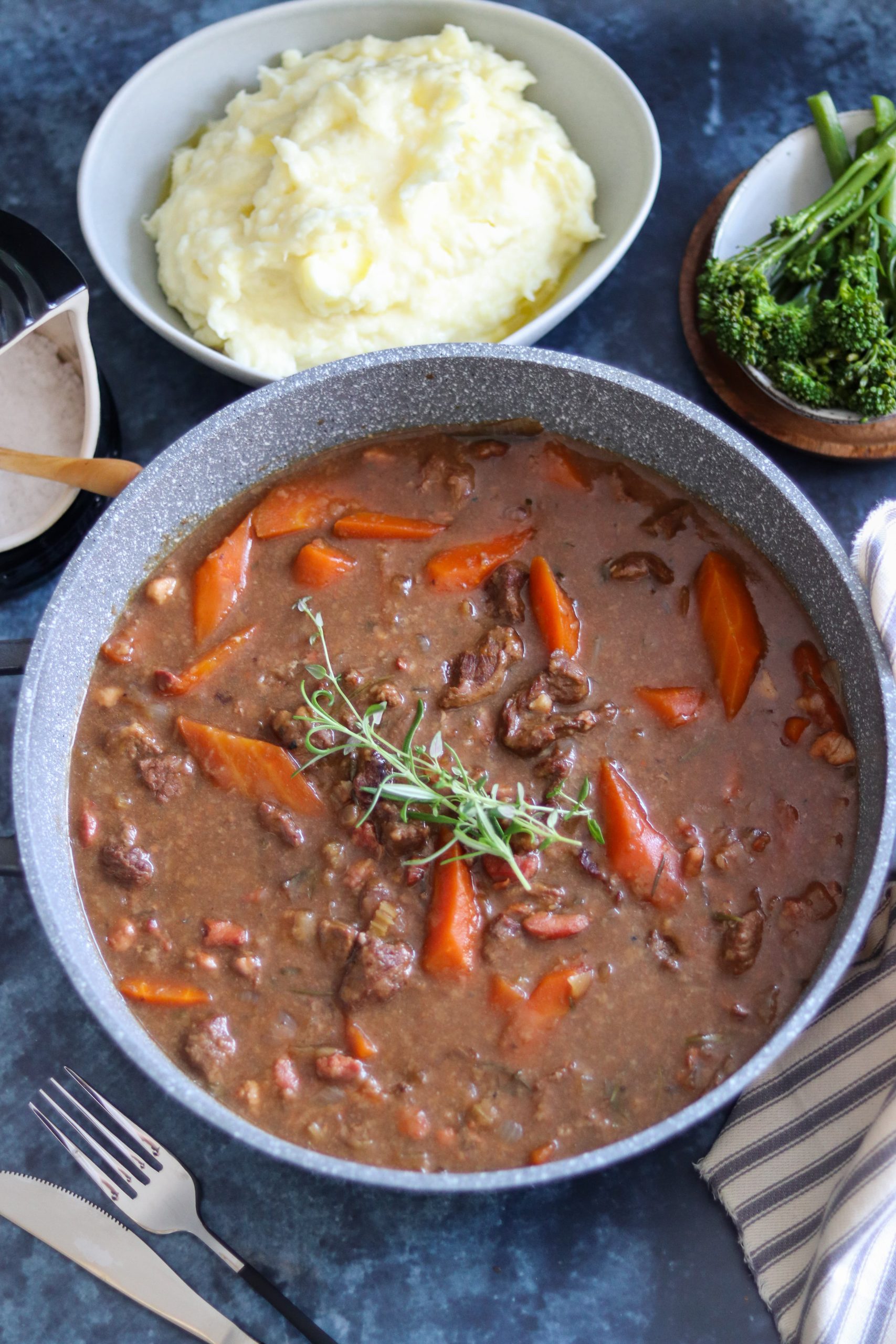 Which cut of beef is recommended to use?
I recommend using braising steak/chuck steak for this Beef & Ale Stew. It has a delicious richness of flavour and good balance of meat and fat.
Braising steak becomes wonderfully tender and juicy when it is slow cooked. It is also a more economical cut of beef making it a great choice.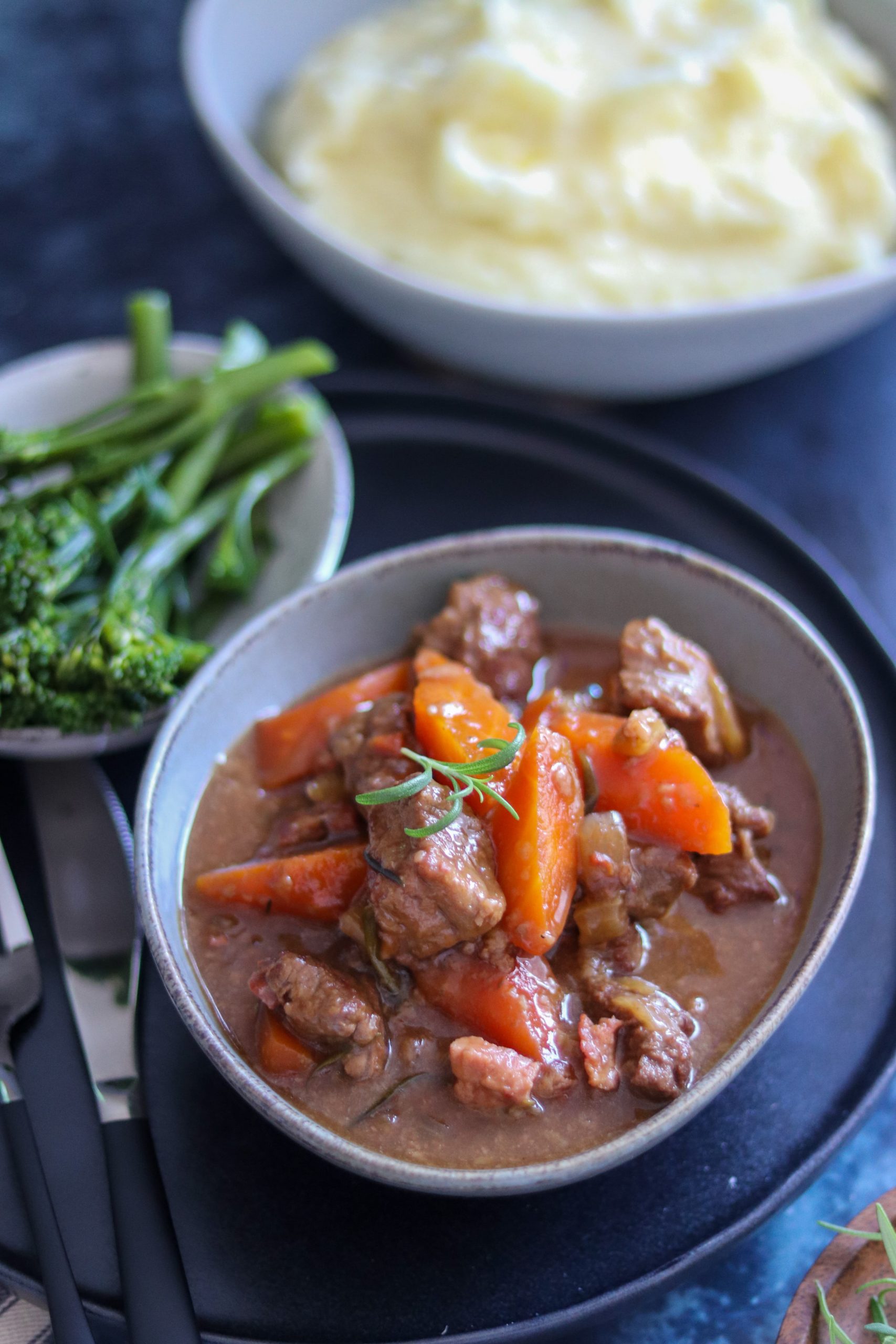 How long do you need to cook this stew for?
You can cook this on high for 5-6 hours, but if you have the time, I would recommend letting it cook on low for 8-9 hours. This will make the beef even more tender.
I put this on just before I went to bed and got up to the most amazing smell the next morning. If you want to eat it that day, you can just reheat it later. Alternatively you can freeze it for a really quick meal another day.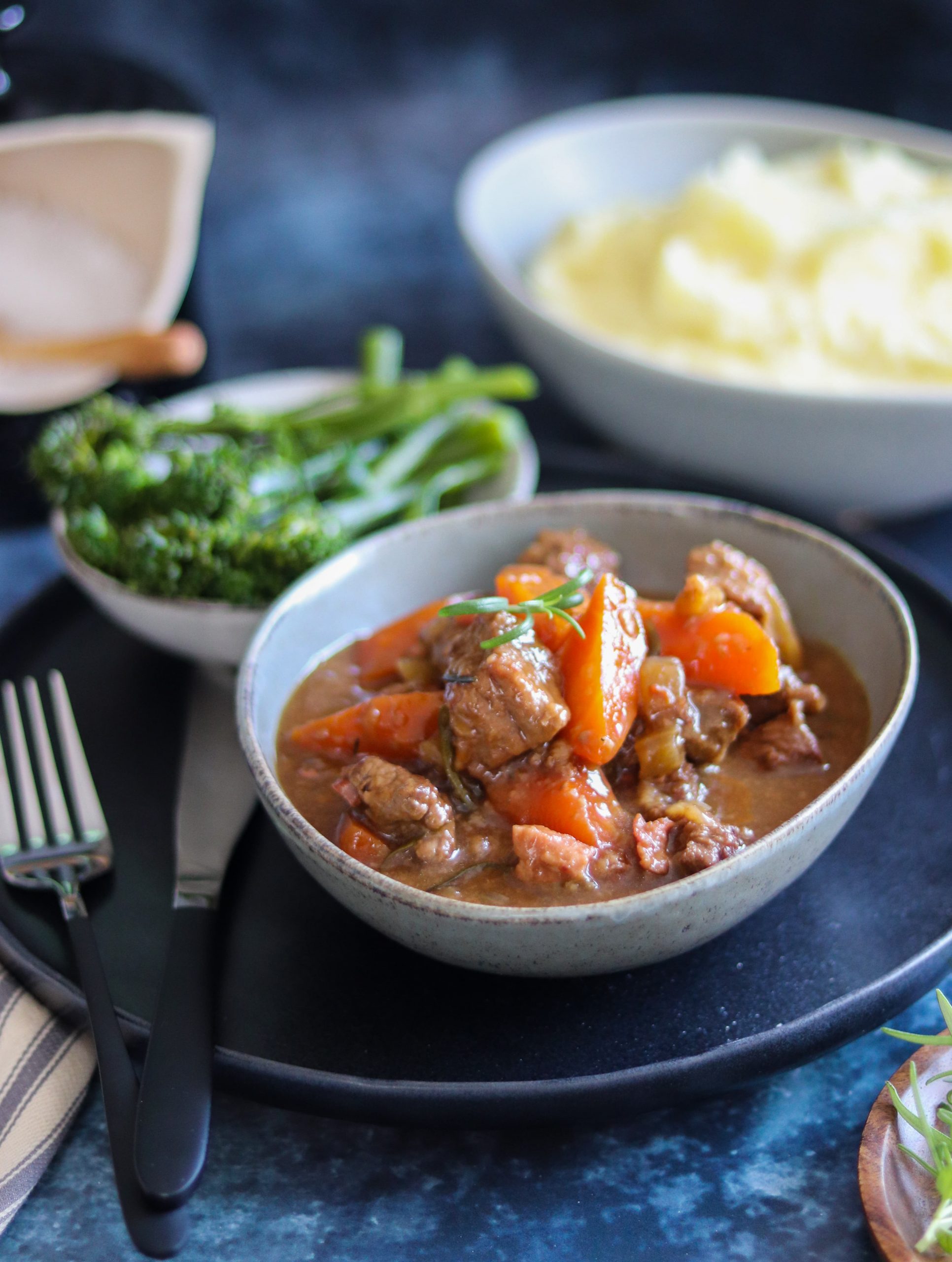 How should I prepare the vegetables?
As this is cooking for such a long time, I like to leave the carrots quite chunky because I want them to keep their shape. You can cut them smaller if you like but they may disintegrate slightly.
I like the onions and celery to become really soft so I cut them a lot smaller so they become part of the sauce.
I think mushrooms would make a great addition to this stew but as with the carrots I would leave them quite chunky or add them half way through the cooking time.
You can use whichever ale you like in this recipe. I used a dark ale that said it worked well with red meat, but I think any medium to dark ale would be great.
You could also use Guinness which would be really tasty. If you do not want to use ale in this recipe, you could just add more beef stock. I would also consider adding a tablespoon of Bovril.
This would help add a depth and richness to the gravy – I love the stuff!
Can you still make this stew if you don't have a slow cooker?
If you don't have a slow cooker but want to give this stew a go do not panic – you can absolutely cook this in the oven! I haven't tried it, but if I was, I would cook it for around 5-6 hours at 120ºC with a lid on and then for the last 30 minutes to an hour take the lid off.
I would also add around 250ml more stock which would help ensure it doesn't dry out. Obviously I wouldn't recommend leaving this overnight, as you would need to check it every few hours and give it a stir.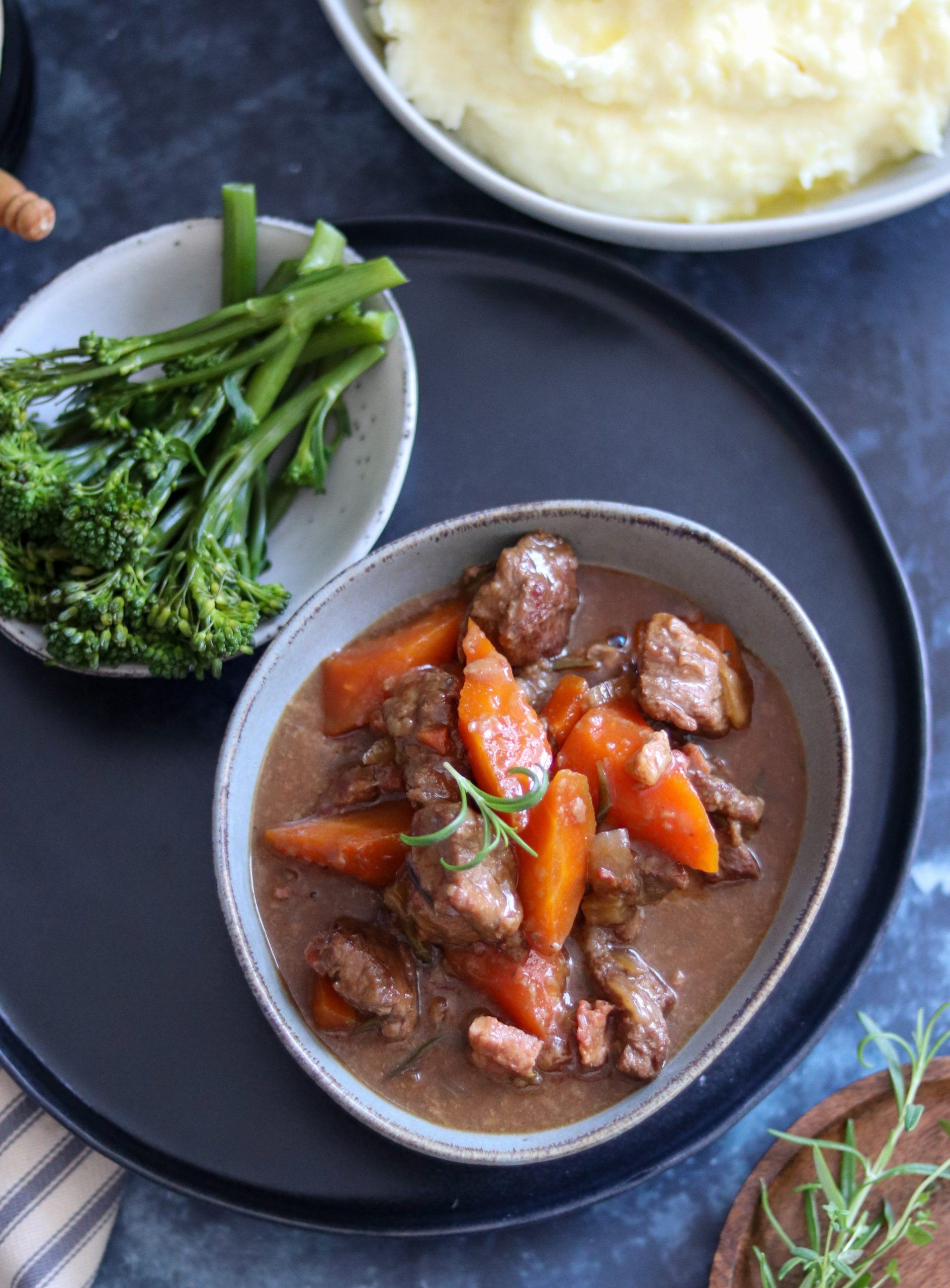 What to serve with this Beef & Ale Stew
There are so many potato sides to serve with this Slow Cooker Beef & Ale Stew. My Potato & Thyme Stacks, a baked potato, parmentier potatoes or mashed potato would all be delicious. Or as I mentioned before, some bread is a great alternative to mop up all of that delicious gravy!
Although the stew has carrots in it, I like to serve it with some additional vegetables too. My Roasted Parmesan Tenderstem Broccoli or Brussels Sprouts with Bacon & Garlic would be perfect.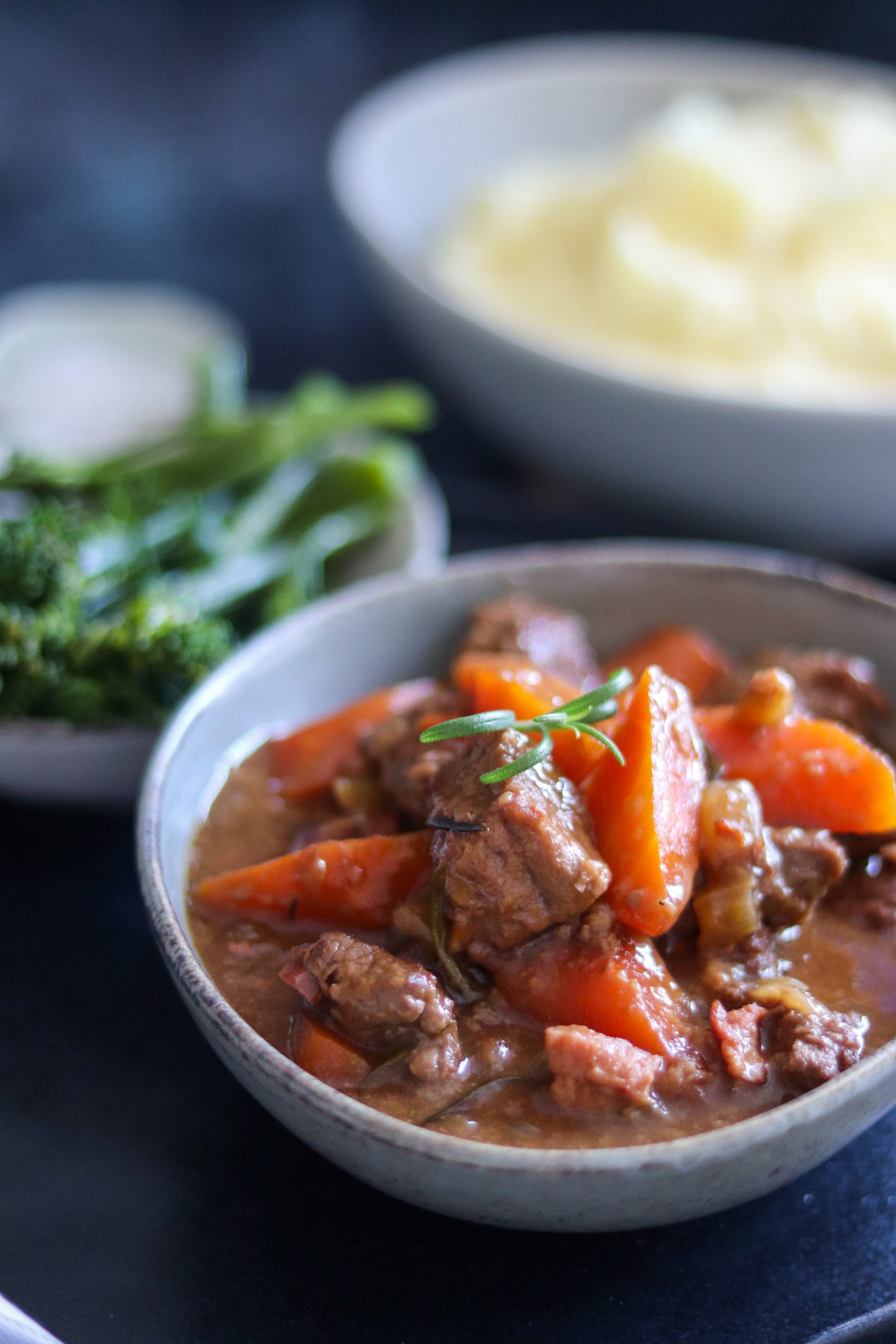 Can this beef & Ale stew be frozen?
Absolutely, this stew freezes really well. Make sure you put the stew in the freezer within two hours of it finishing cooking.
When you want to defrost it, put it in the fridge for eight hours or overnight. I prefer to reheat the stew on the hob rather than in the microwave. This is because you can make any adjustments more easily.
You can add a splash of water if you want more gravy, or turn up the heat if you have too much liquid.
Make sure it is piping hot before serving.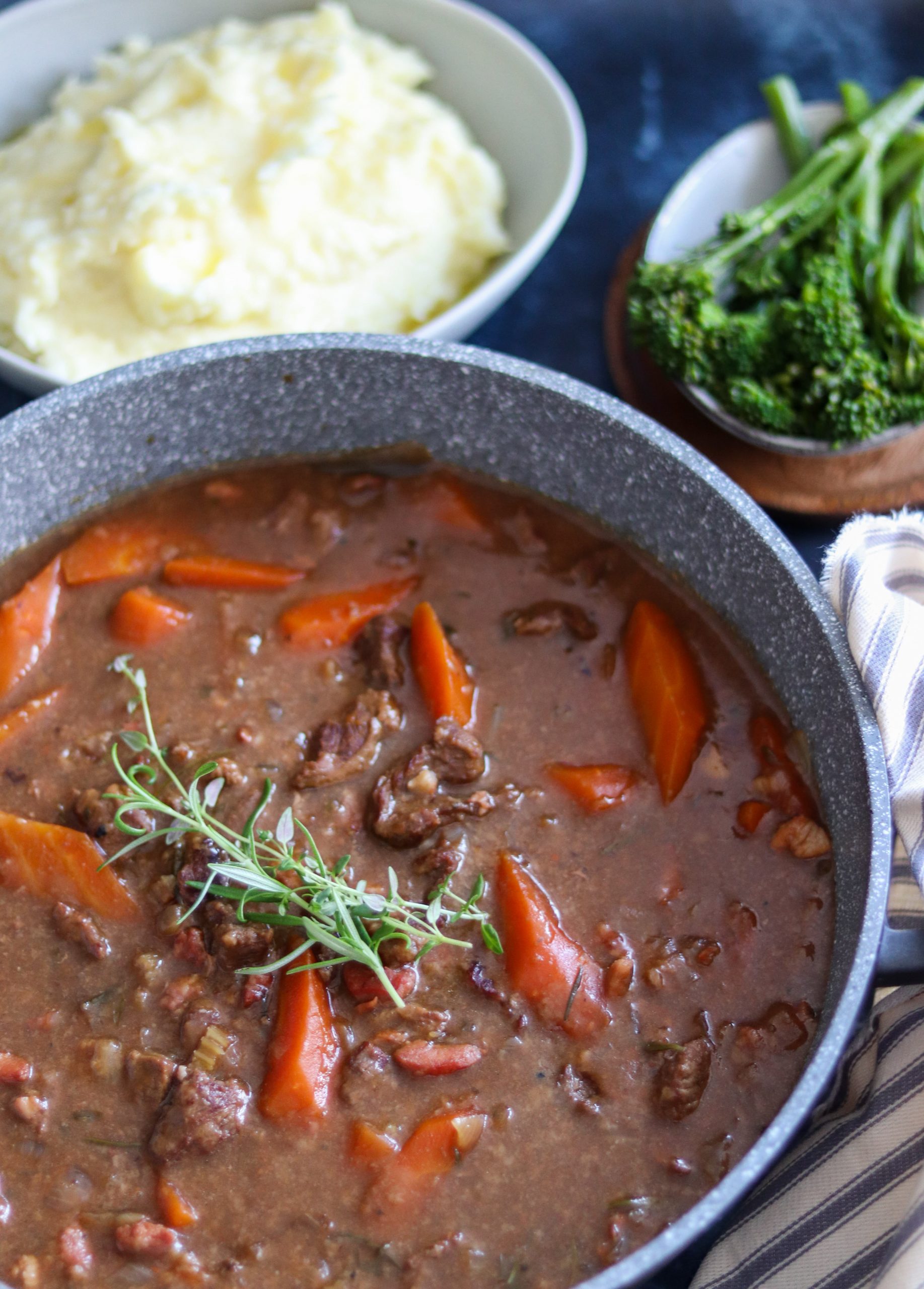 Can this stew be made gluten free?
Yes it is really simple to make this stew gluten free.
When you are coating the beef before browning it, just use gluten free flour instead. Also when it comes to your choice of ale, make sure you pick a gluten free option.
I would always recommend checking the ingredients in your stock pot to make sure they are gluten free. And make sure you leave out the optional Bovril as this isn't gluten free.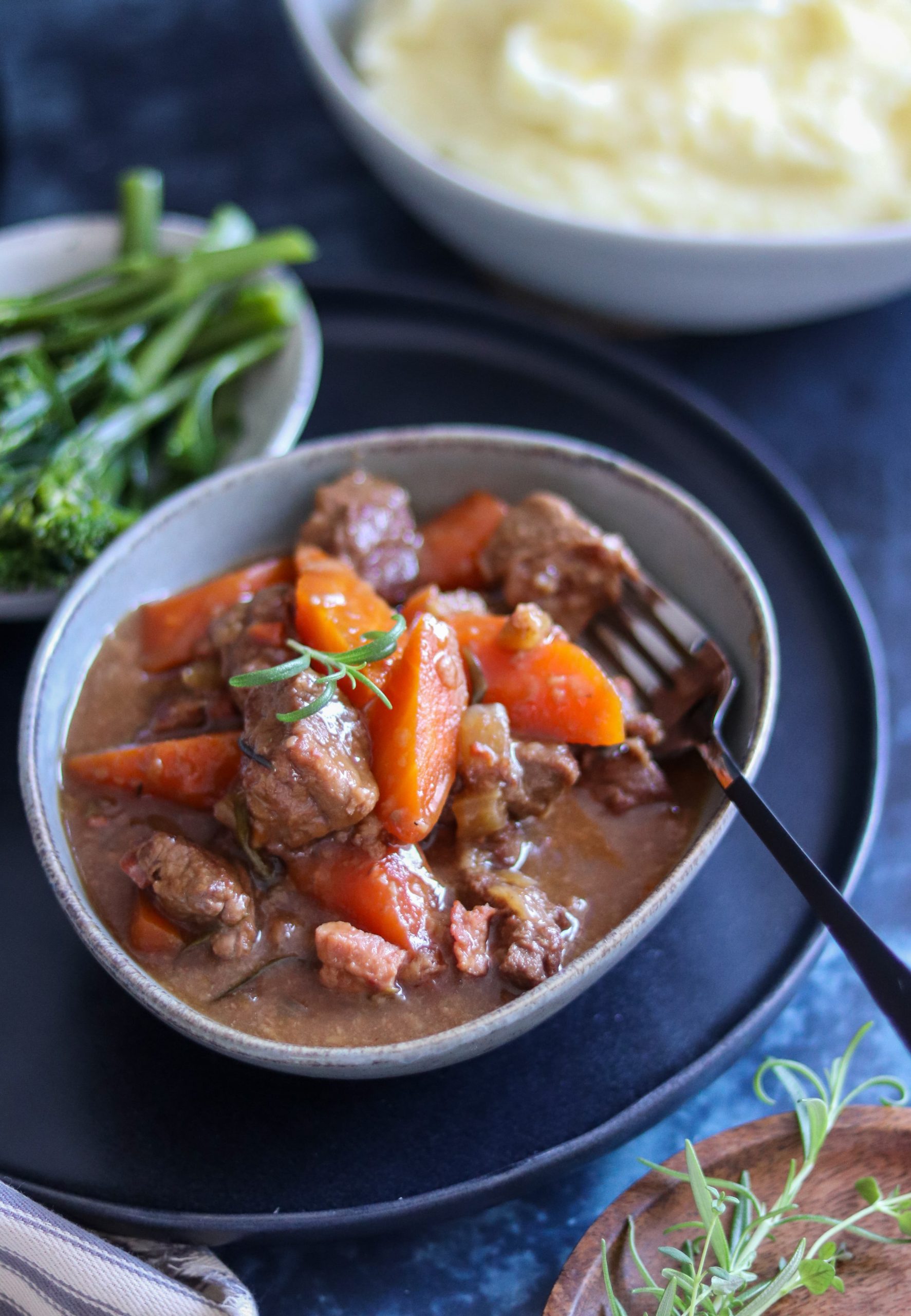 Other comforting recipes you might like
Pin for later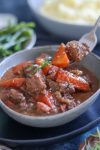 Slow Cooker Beef & Ale Stew
If you're looking for a comforting winter warmer, you definitely need to try my Slow Cooker Beef & Ale Stew. Melt in your mouth beef in a thick and rich gravy with deliciously sweet carrots - yum.
Total Time
8
hours
25
minutes
Ingredients
700

g

braising steak

200

g

smoked bacon lardons

30

g

plain flour mixed with 1 tsp sea salt & ¼ tsp black pepper

550

g

carrots

sliced

1

stick of celery

sliced

1

onion

diced

2

sprigs of rosemary

½

tbsp

thyme leaves

2

tsp

sea salt

½

tsp

black pepper

500

ml

dark ale

1

beef stock pot

1

tbsp

Bovril

(optional)

1

tsp

sunflower oi
Instructions
Add the bacon lardons to your slow cooker if you can use it directly on the hob, alternatively add them to a pan. Cook them until crisp and set aside

Mix the flour together with the salt and pepper. Depending on how much oil the bacon left, add a little more if needed

Coat the beef lightly in the flour and then brown it in the slow cooker/pan in batches

Once all of the beef has been browned, add it back to the slow cooker

Add the bacon and the rest of the ingredients to the slow cooker and stir to combine

Cook on low for 8-9 hours. Remove the rosemary sprigs and serve
Recipe Notes
I use a 3.5L slow cooker for this recipe.
Nutritional information is given as a guide only and may vary.
Nutrition Facts
Slow Cooker Beef & Ale Stew
Amount Per Serving
Calories 475
Calories from Fat 9
% Daily Value*
Fat 1g2%
Sodium 1258mg55%
Potassium 480mg14%
Carbohydrates 16g5%
Protein 1g2%
Vitamin A 23010IU460%
Vitamin C 11.6mg14%
Calcium 55mg6%
Iron 0.6mg3%
* Percent Daily Values are based on a 2000 calorie diet.