These Air Fryer Baked Potatoes are the quickest way to get fluffy baked potatoes with delicious crisp skin. Cook them in the microwave before crisping them to perfection in your air fryer.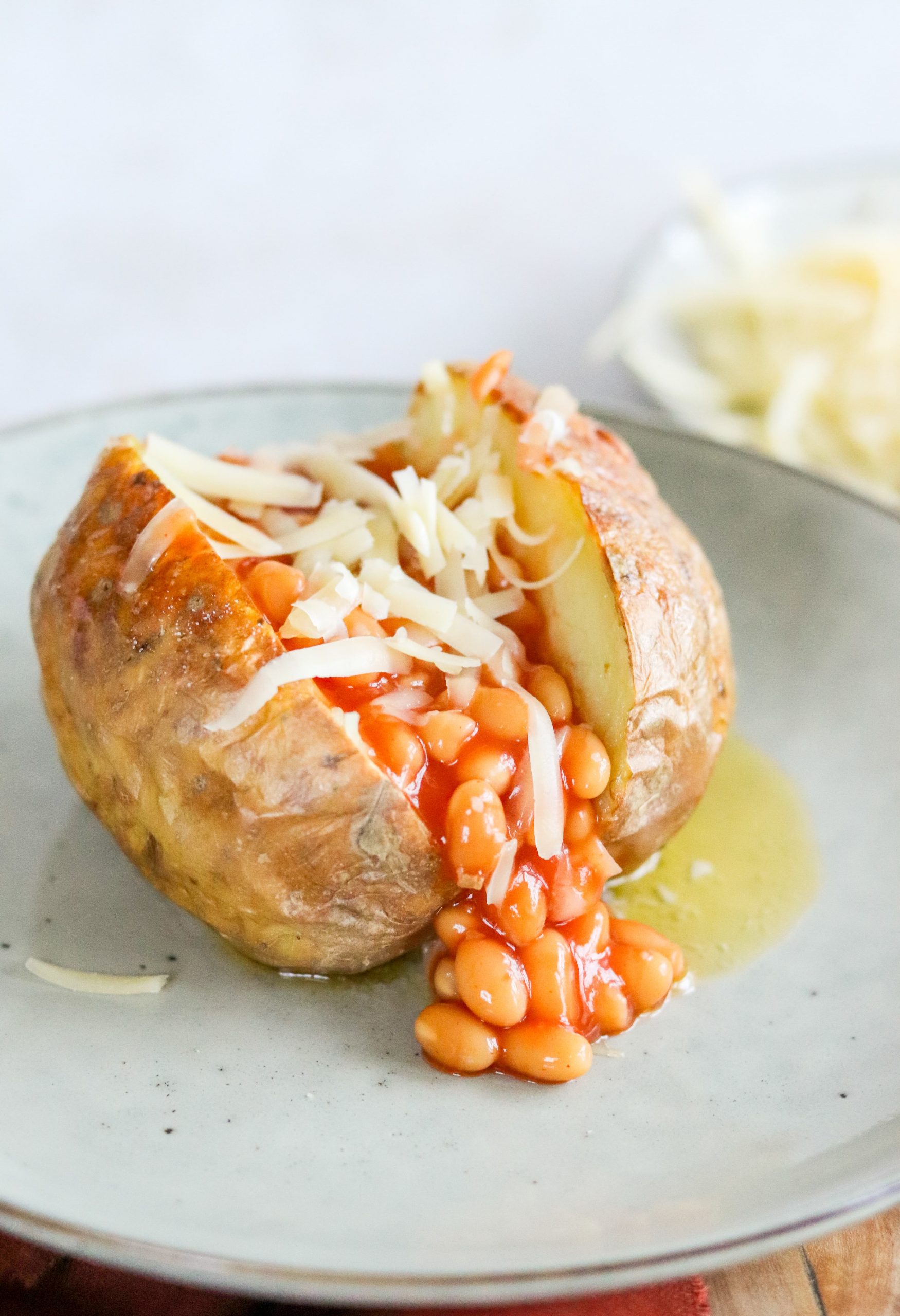 Using your microwave & air fryer to bake potatoes
I think what most of us want from our baked potatoes is a fluffy centre with deliciously crisp skin. Well, those of us that want to eat the skin that is!
Cooking baked potatoes in the microwave is commonly known to be the quickest way to cook them. The only downside to microwaved baked potatoes is that the skin is soft.
This is where the air fryer comes in! Twenty minutes in the air fryer and you have the perfect baked potato.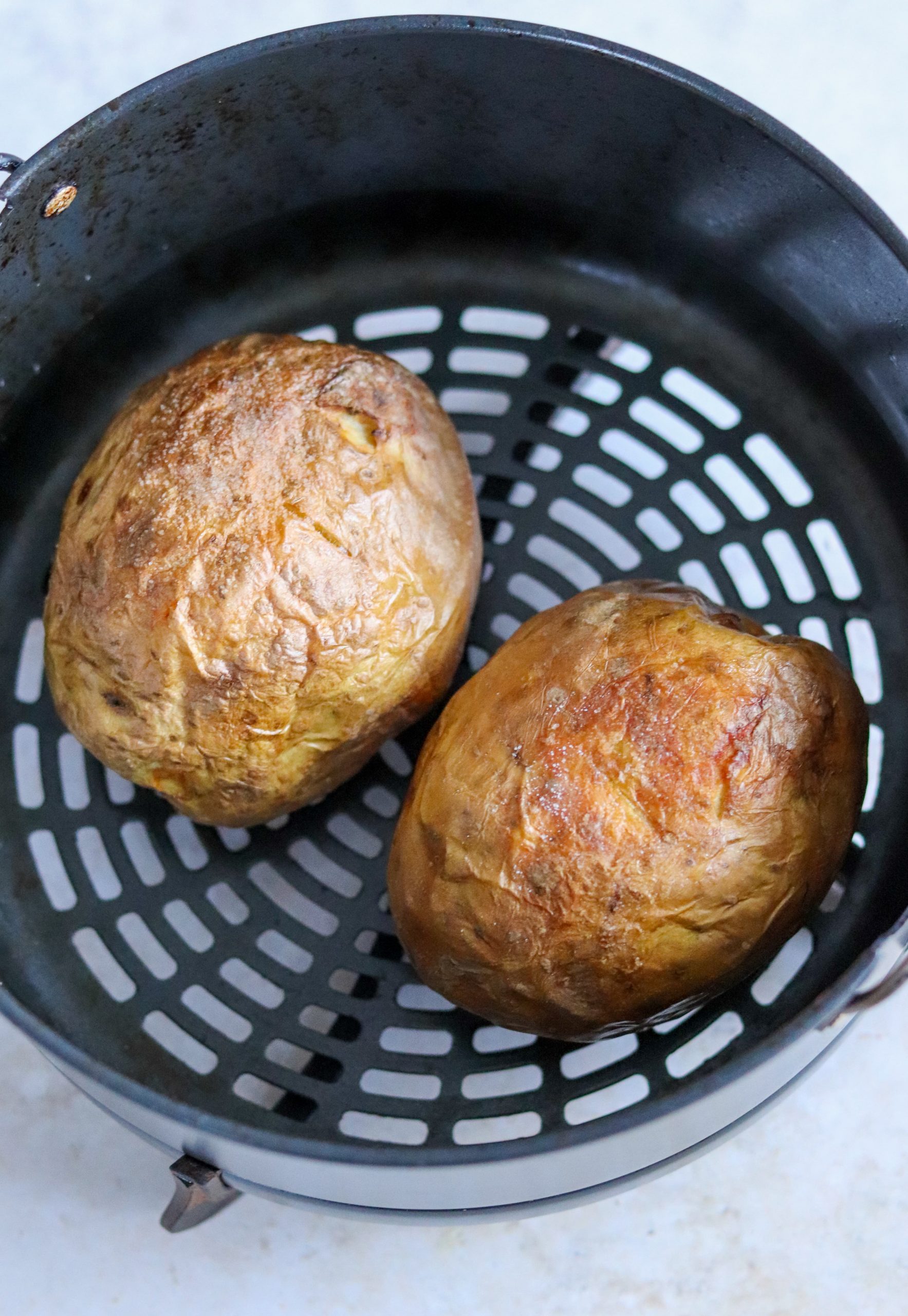 why use an air fryer instead of an oven?
Air fryers cook food quicker than a standard convection oven which is great for saving energy and pennies but also for busy families that want to be able to make food quickly.
Another advantage is that air fryers are smaller than ovens so you're not heating up a full-sized oven but instead a smaller air fryer. This means you're using less energy because you're heating up a smaller appliance as well as the food cooking quicker.
Using the combination of a microwave and air fryer to bake potatoes is more cost effective than using an oven or air fryer alone. It is also a lot quicker so it really is a no brainer!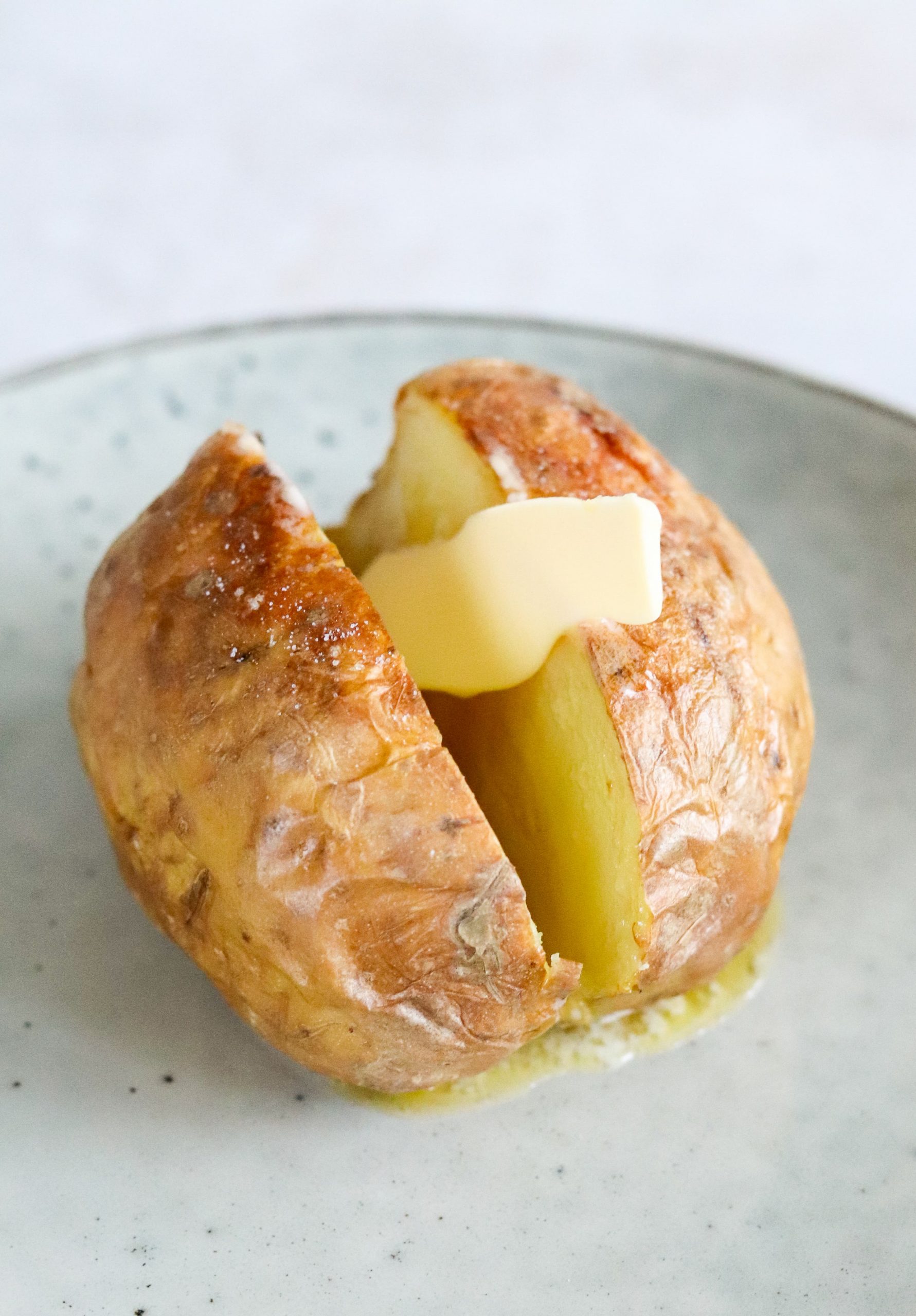 Which potatoes are best to use for baked potatoes?
I do tend to buy potatoes sold as baking potatoes for ease. However if you are looking for specific varieties I would opt for Maris Piper or King Edward potatoes.
These varieties are known for their fluffy interior which is ideal for baked potatoes.
If you are in the US, I would recommend looking for russet potatoes.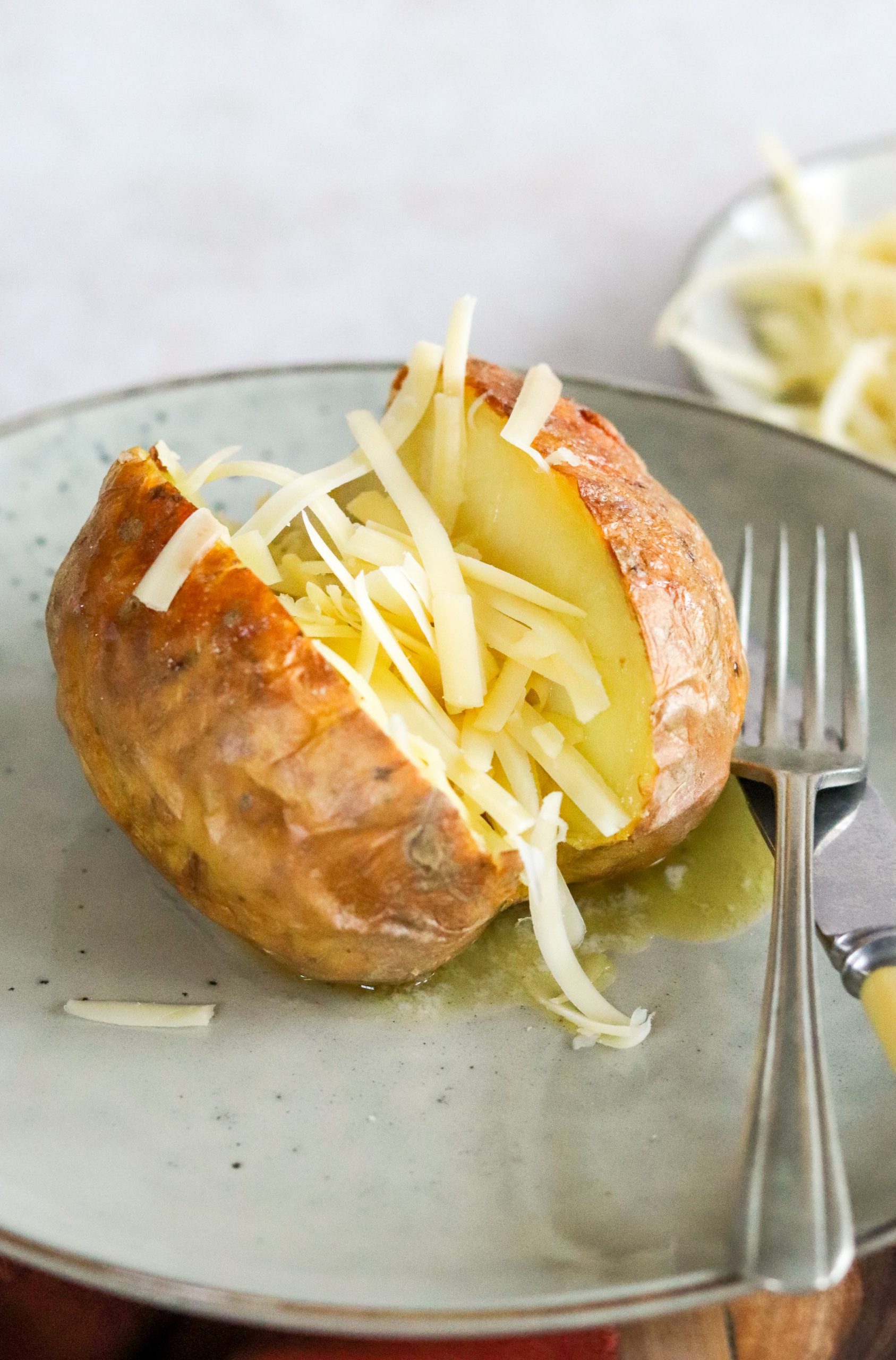 which oil and salt is best to use?
It is personal preference which oil and salt you use for your baked potatoes – or whether you use them at all! I often don't use either when I am air frying the potatoes and they are still delicious.
My oil of choice for air fryer cooking in general is vegetable or sunflower oil in a spray bottle. Most large supermarkets sell this and it is really handy. However this is not Frylight and I would definitely not recommend using this in your air fryer or on anything non stick.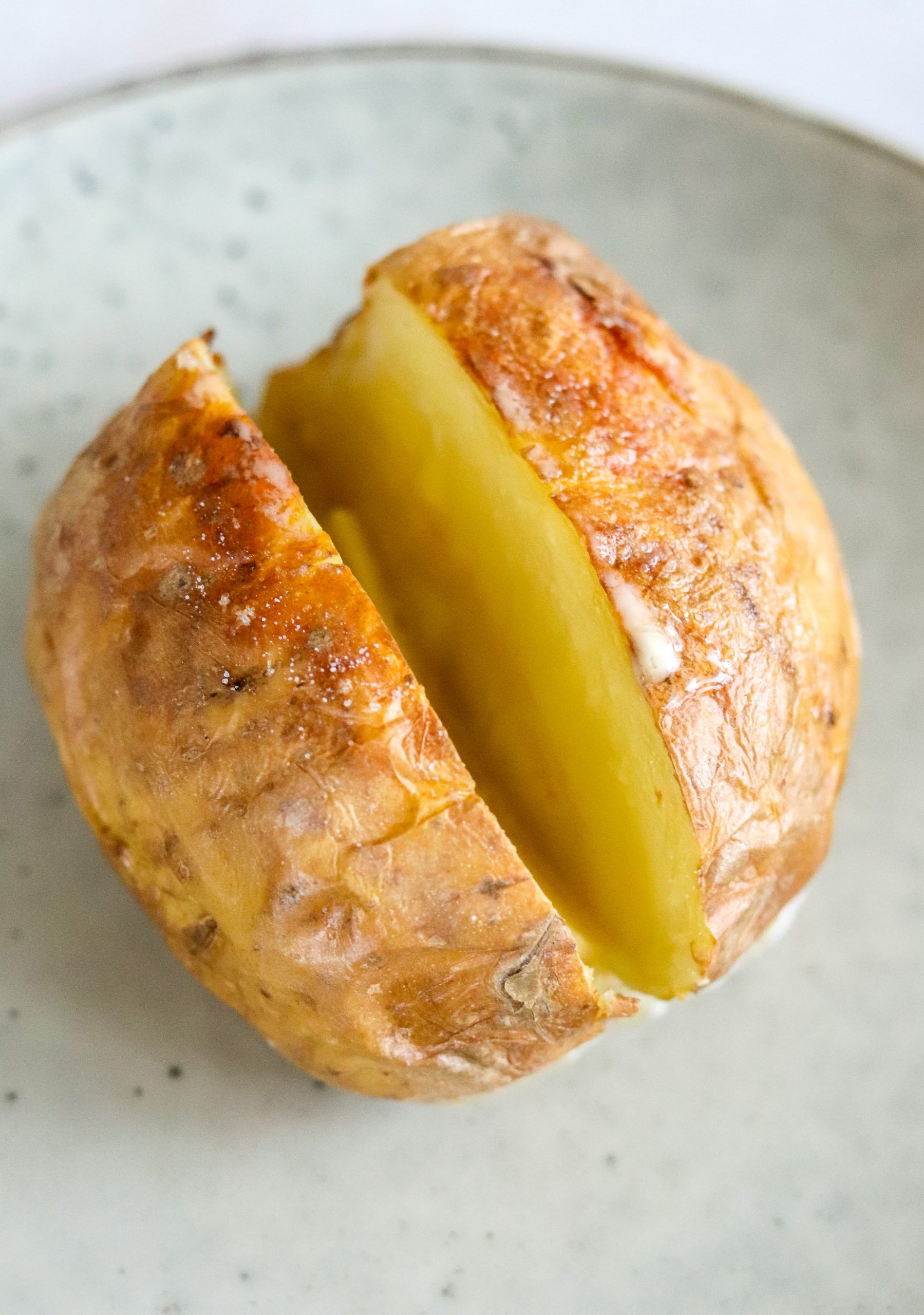 You can brush your potatoes with oil but I'm lazy and feel like using a spray oil is easier. You also use less oil this way.
My salt of choice is nearly always sea salt flakes. However they don't seem to stick too well when I use the spray oil and most of it slides off. So instead I use standard table salt on my baked potatoes.
If you are brushing your potatoes with oil, sea salt flakes might stick better. So it is completely down to personal preference which you use.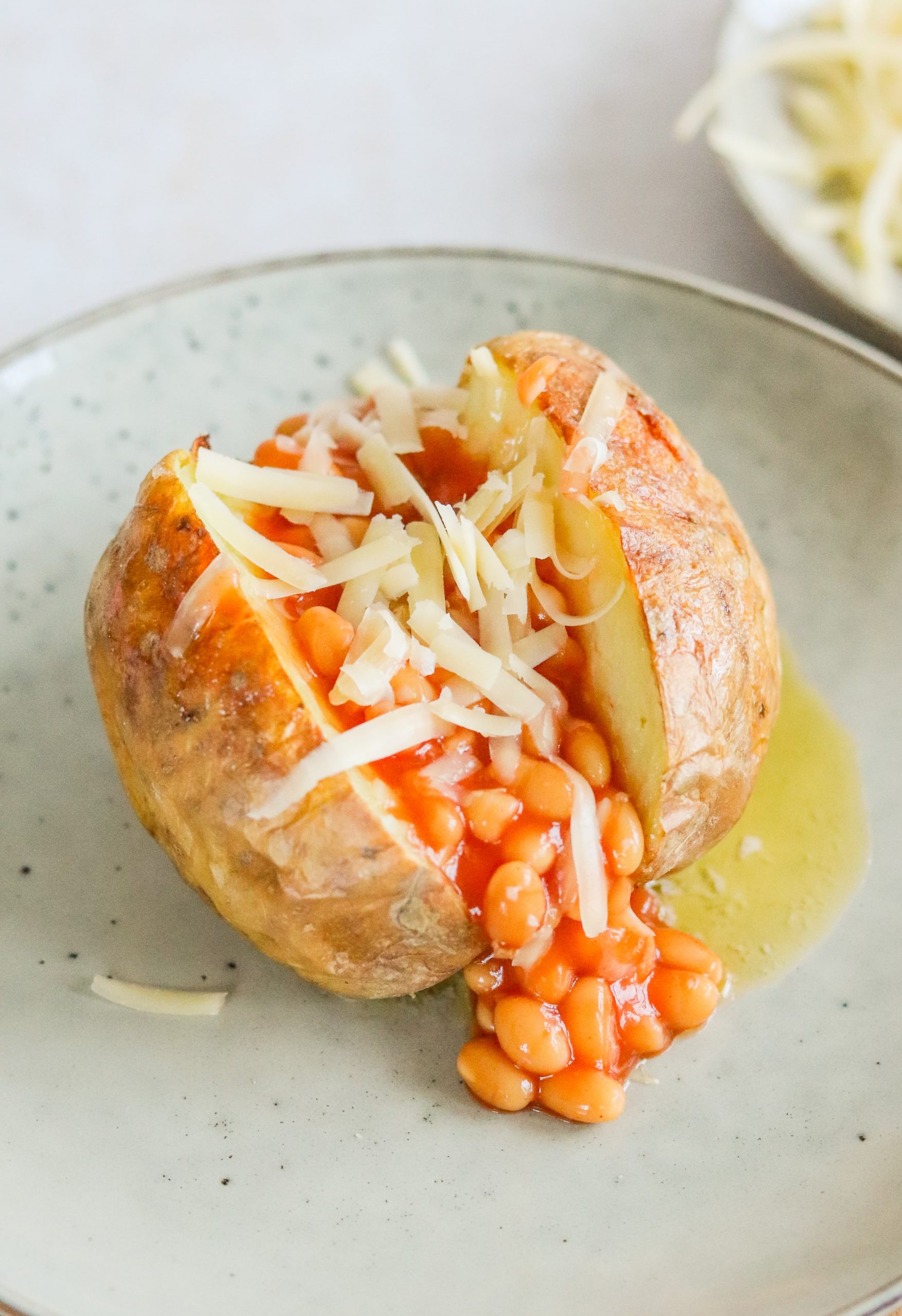 How long to microwave the potatoes for?
By mostly cooking the potatoes through in the microwave, it reduces the time they need to be air fried for. There are a few things to consider when microwaving potatoes:
How many potatoes are you microwaving?
How big are your potatoes?
What voltage is your microwave?
I usually cook two potatoes that are roughly 300g at the same time in my 900w microwave. This takes 10 minutes. But obviously this might vary for you depending on the factors above.
The more potatoes you microwave at once will increase the time you need to cook them for. And obviously how big they are can alter the cooking time too.
But don't panic, the more you experiment the quicker you will find out what works for you. You will know when your potatoes are done when you can easily insert a sharp knife.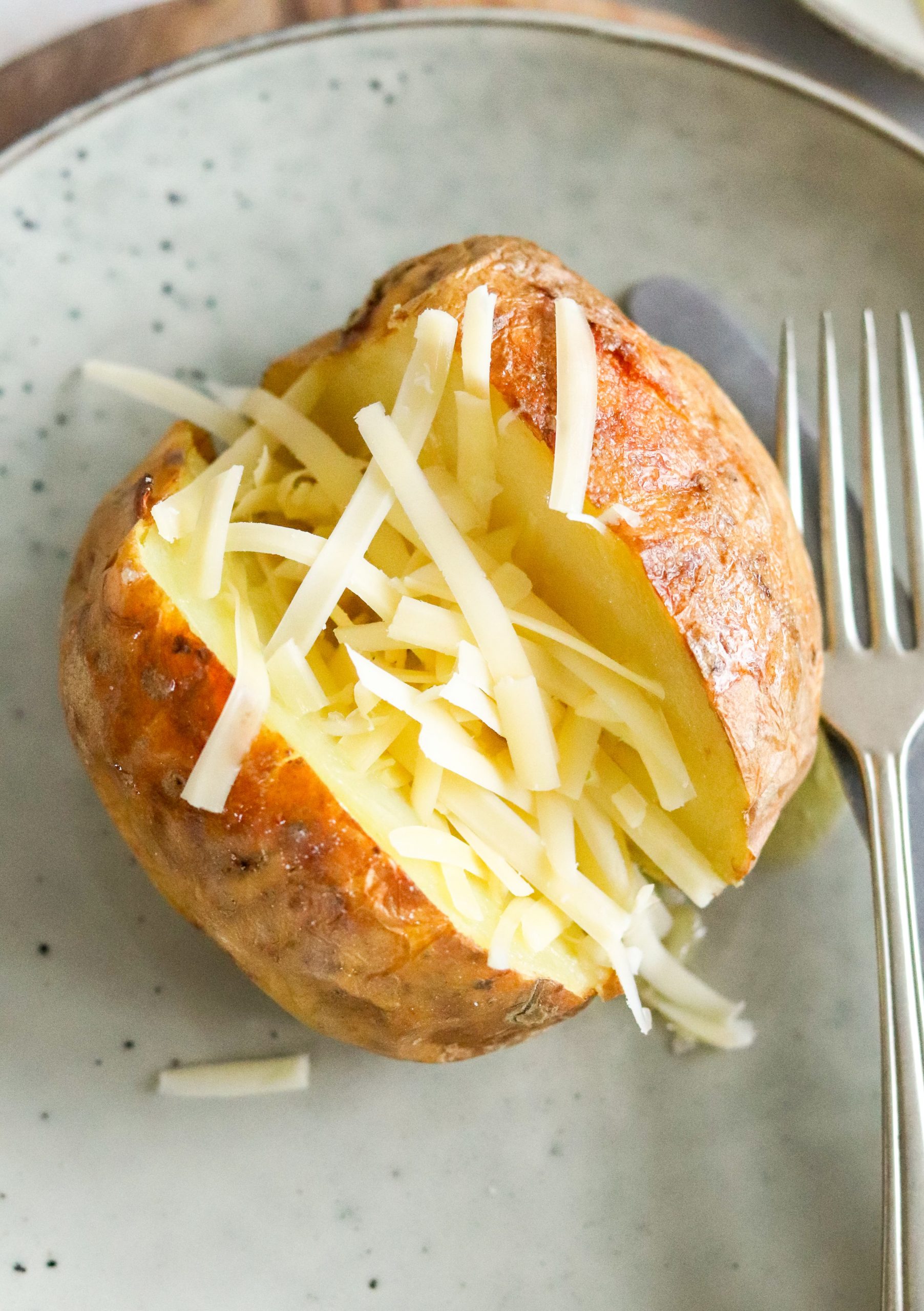 how long do the potatoes take in the air fryer?
How long your baked potatoes take in the air fryer is mostly down to personal preference of how crisp you like them to be.
I think they are at a good level of crispness after 20 minutes, but if you like them really crispy I would leave them to cook for 25 minutes.
If you air fryer requires preheating then your potatoes are likely to crisp up slightly quicker than the time stated above. I have a Ninja 7-in-1 multicooker and I have never preheated mine.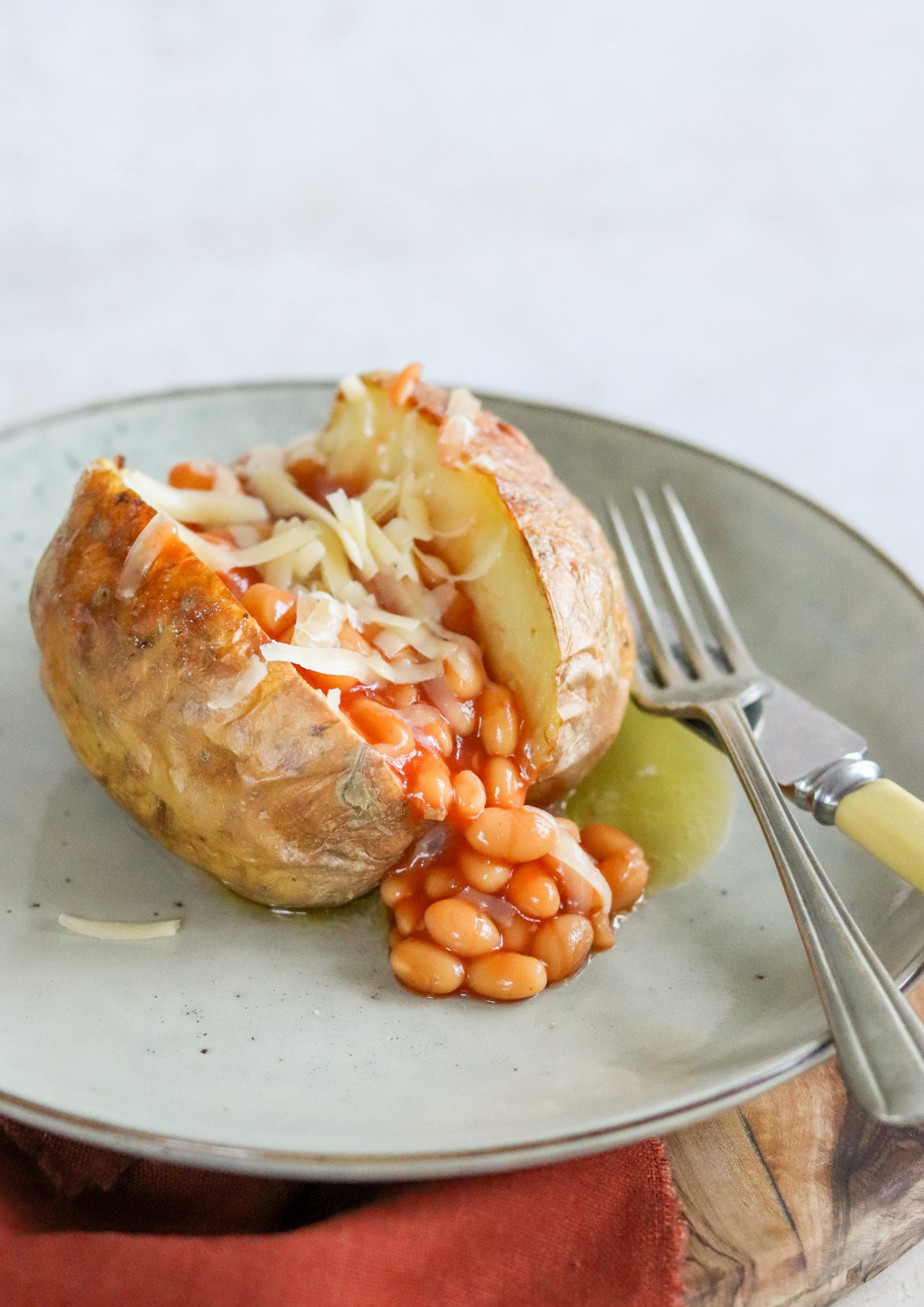 How many baked potatoes can you cook at once?
How many potatoes you can cook at once depends mainly on the size of your microwave and air fryer. I could probably fit six medium potatoes in my microwave, but I definitely couldn't fit that many in my air fryer.
You don't want to overcrowd your air fryer because then the potatoes won't crisp up as quickly because the air can't circulate.
I have a 3.7L capacity air fryer that can fit three large potatoes or four medium potatoes. If you have a larger basket or a dual basket air fryer you may be able to cook more at once.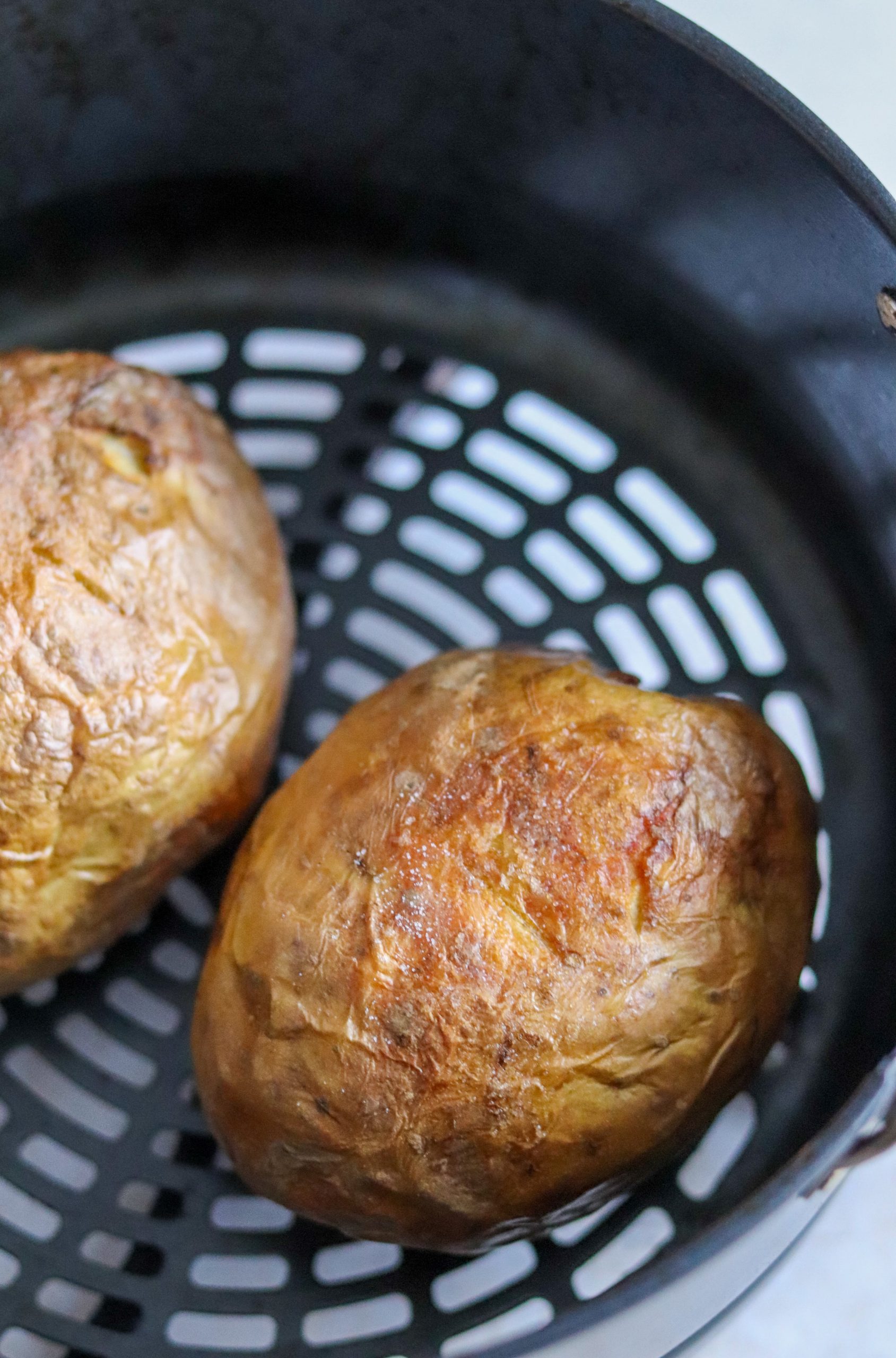 what to serve with these air fryer baked potatoes
Baked potatoes make a delicious meal in their own right, but they also are a great side dish.
I like nothing more than a baked potato loaded with toppings. Some classic favourites are beans and cheese and tuna mayonnaise. Simple but absolutely delicious.
My Vegan Lentil Chilli, Skinny Slow Cooker Turkey Chilli and Chilli Con Carne would all make delicious toppings too.
I also love serving stews and casseroles like my Slow Cooker Chicken Casserole and Slow Cooker Pork & Mustard Stew with a nice crisp baked potato.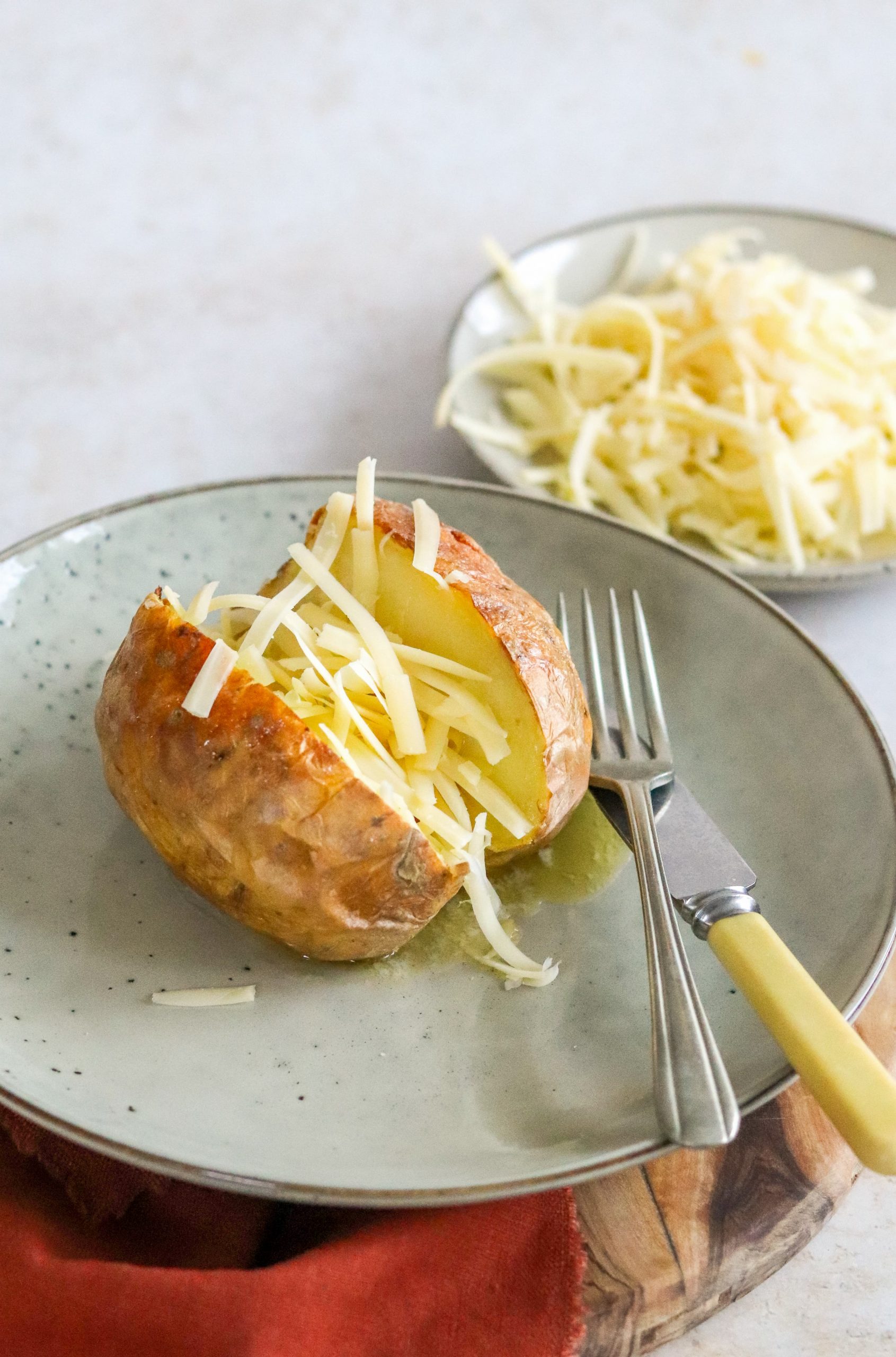 other recipes you might like
pin for later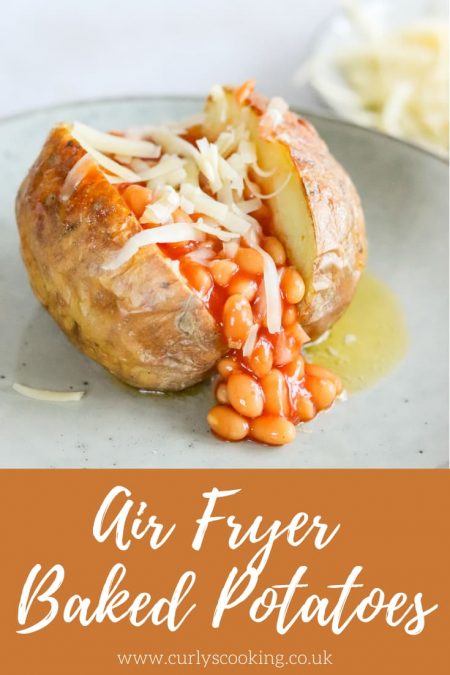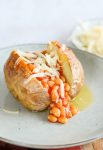 Air Fryer Baked Potatoes
These Air Fryer Baked Potatoes are the quickest way to get fluffy baked potatoes with delicious crisp skin. Cook them in the microwave before crisping them to perfection in your air fryer.
Ingredients
2

potatoes

(approx 300g each)

vegetable oil spray

¼

tsp

table salt
Instructions
Prick 2 potatoes with a fork. Cook them in the microwave for 10 minutes or until a sharp knife inserts easily

Preheat your air fryer if required

Place the potatoes in your air fryer basket. Spray with vegetable oil and sprinkle ¼ tsp table salt over them

Air fry at 200°C for 20 minutes or until they are your desired level of crispness
Recipe Notes
I use an air fryer with a 3.7L basket.
Cooking time may vary depending on your microwave and air fryer.
Nutritional information is given as a guide only and may vary.
Nutrition Facts
Air Fryer Baked Potatoes
Amount Per Serving
Calories 268
% Daily Value*
Sodium 291mg13%
Potassium 1mg0%
Calcium 1mg0%
* Percent Daily Values are based on a 2000 calorie diet.