Air Fryer Parmentier Potatoes are delicious diced potatoes cooked with herbs and garlic. They are crisp on the outside and fluffy inside. A simple and delicious way to elevate the humble potato.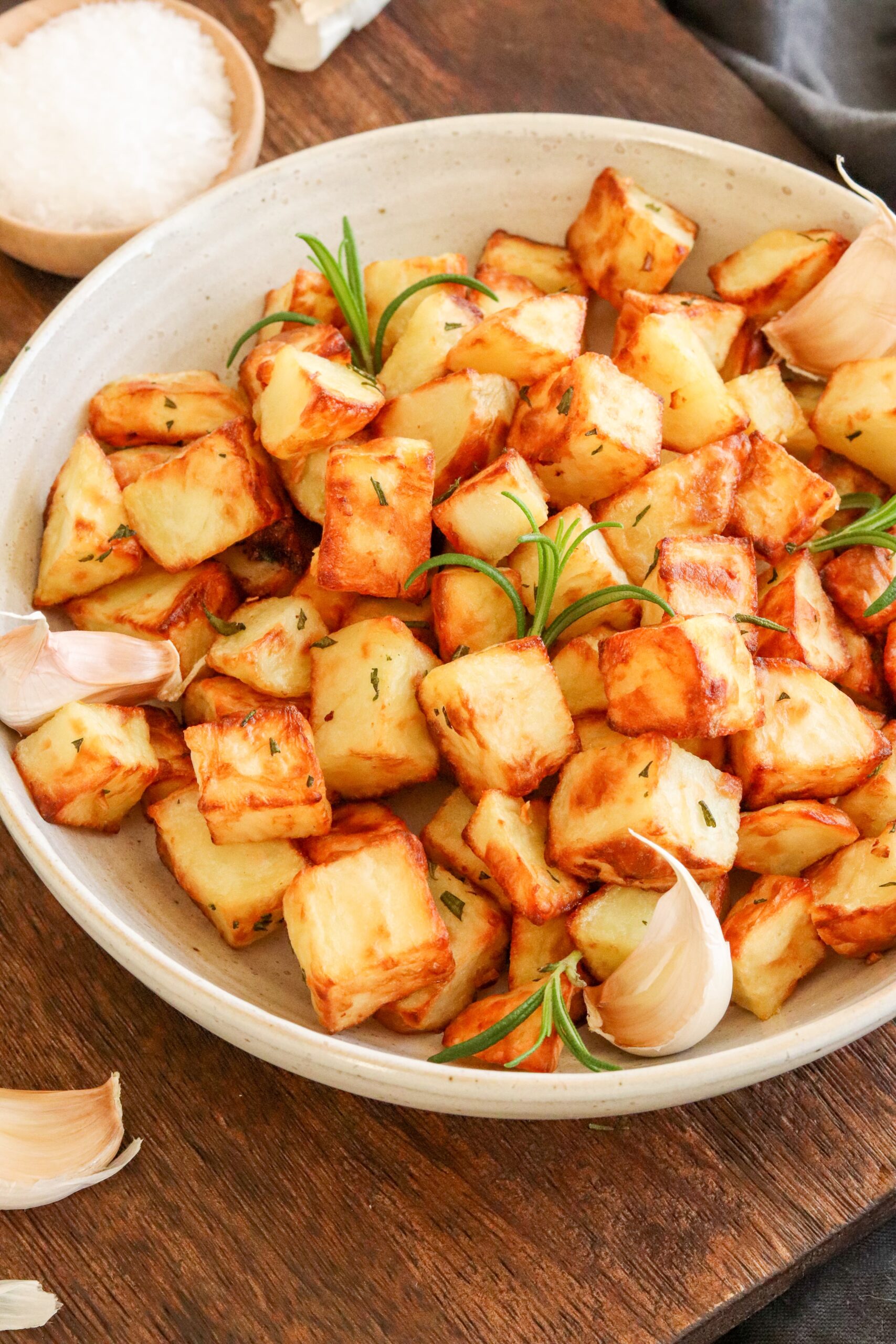 what are air fryer parmentier potatoes?
Parmentier means 'containing potato' in French. So although a lot of dishes could be described as parmentier potatoes, it is just this cubed potato recipe that got given the name.
Their French name makes them sound fancier than they are. They are simply peeled and diced potatoes which are cooked with garlic and herbs. Think of them as mini cubes of roast potatoes.
They are usually roasted in the oven, however I like to cook them in my air fryer because it is a quicker way to get delicious Parmentier potatoes.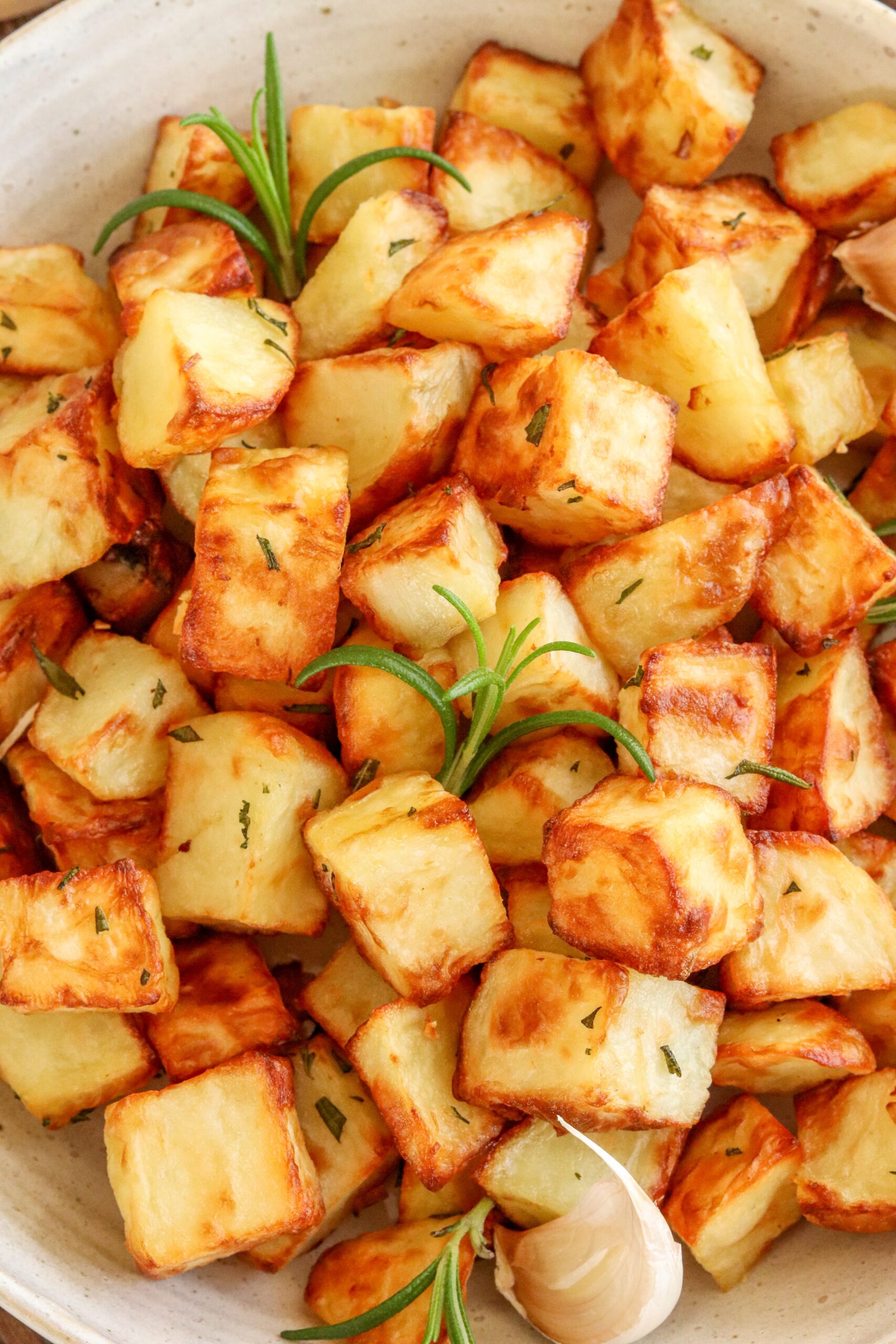 WHY USE AN AIR FRYER AND NOT AN OVEN?
Air fryers cook food quicker than a standard convection oven which is great for saving energy and pennies but also for busy families that want to be able to cook food quickly.
Another advantage is that air fryers are smaller than ovens and grills so you're not heating up a full-sized oven and instead a smaller air fryer. This means you're using less energy because you're heating up a smaller appliance as well as cooking the food faster.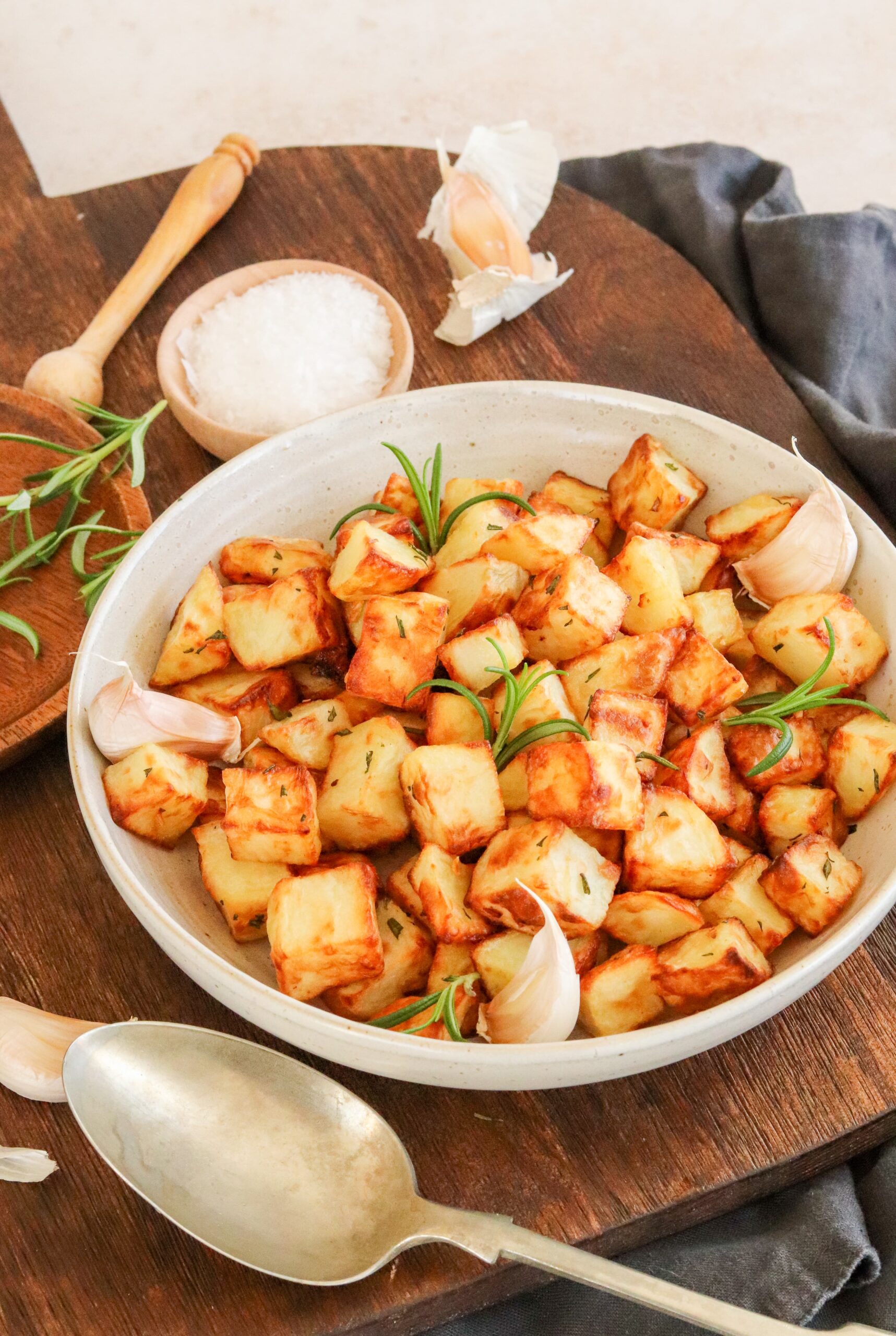 which potatoes are recommended for parmentier potatoes?
For Parmentier potatoes, you want a fluffy interior and a nice crisp exterior. To get that, you need to start with the right potato.
In the UK, the best options are Maris Piper and King Edward potatoes. It helps that these are also the most commonly found potatoes so you shouldn't have any problems finding them.
If you look for any potato variety considered an 'all rounder' such as estima, melody or marfona then you can't go wrong.
If you're in the US, Yukon Gold potatoes will work really well.
Don't throw away the potato peelings, instead make my Air Fryer Potato Peel Crisps.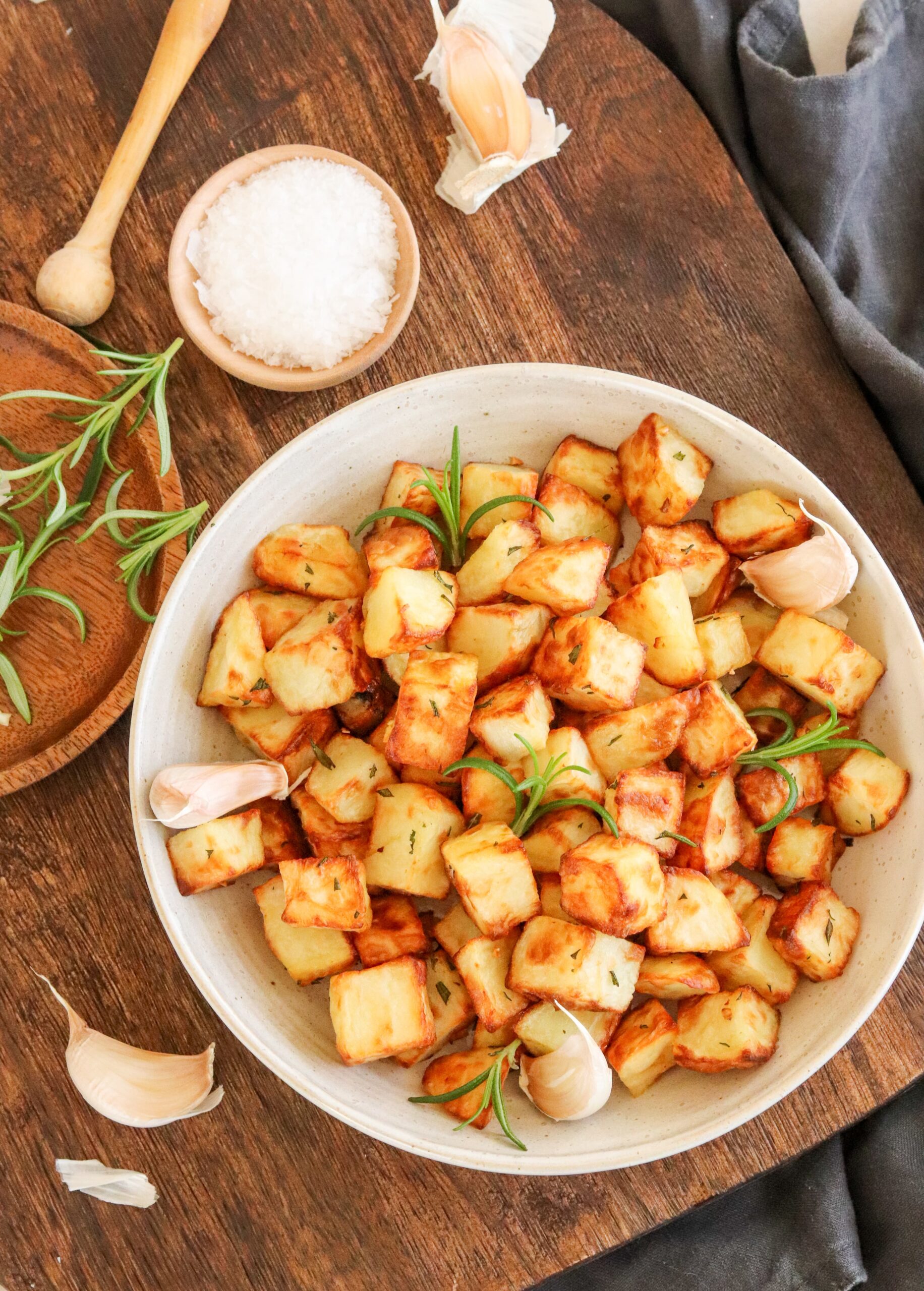 Which herbs are best to use
Woody herbs such as rosemary and thyme are best for recipes like these parmentier potatoes. I prefer to use fresh rosemary, but you could easily use thyme instead.
Although I do tend to use fresh herbs for these potatoes, if you don't have them you could use dried herbs as an alternative.
If you are using dried herbs, I would recommend using half a tablespoon as they can have a stronger flavour than their fresh versions.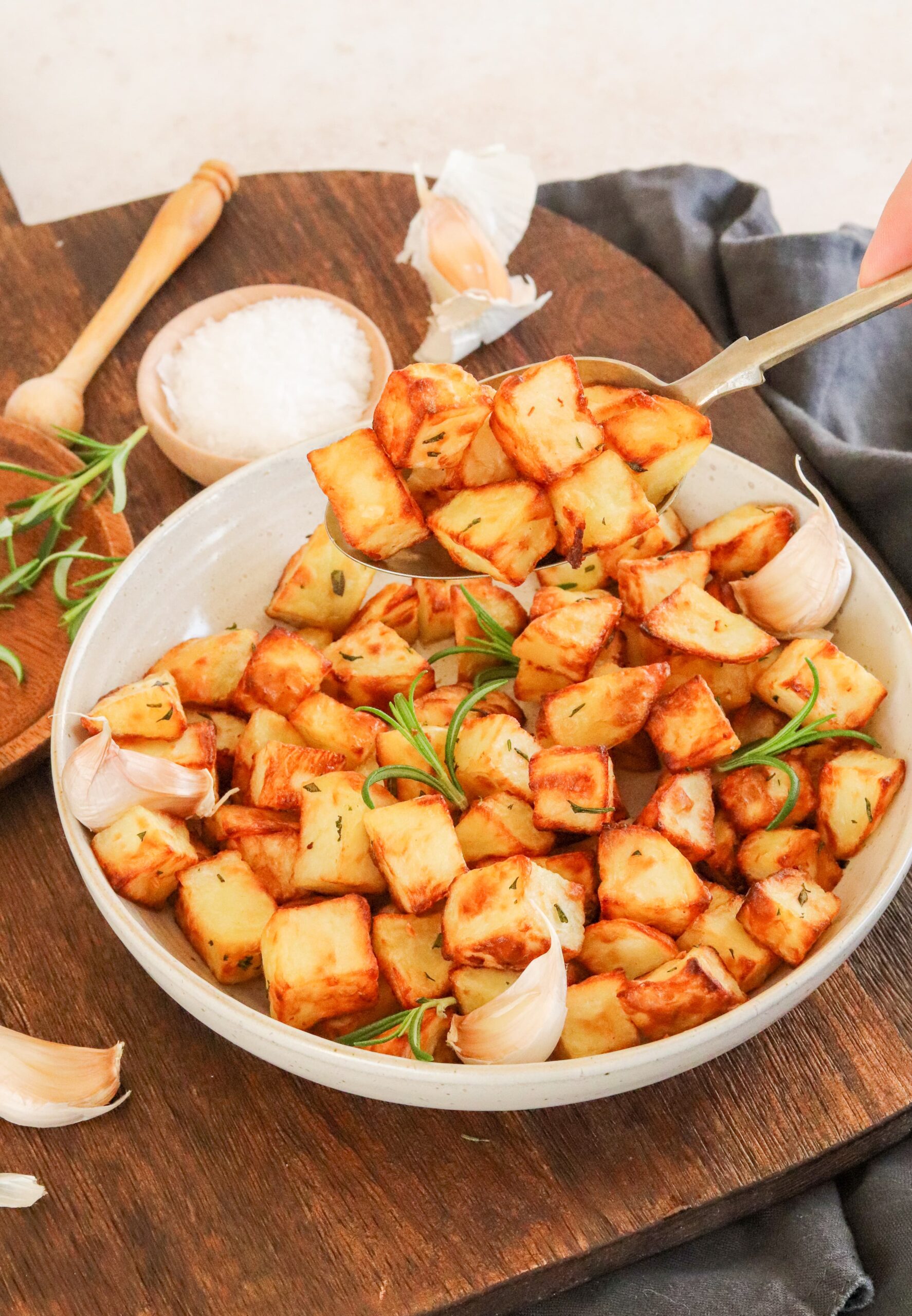 which garlic is recommended to use?
I am a huge fan of jars of minced or diced garlic such as lazy garlic and use them all the time. However recipes like these parmentier potatoes and garlic bread are an examples of where I would prefer to use fresh garlic.
Garlic is something I think people should measure with their hearts. So if you want to add more garlic, you absolutely can do.
If you don't have fresh garlic, I would recommend using jarred diced garlic rather than minced garlic or garlic granules. Garlic granules run the risk of burning whilst cooking.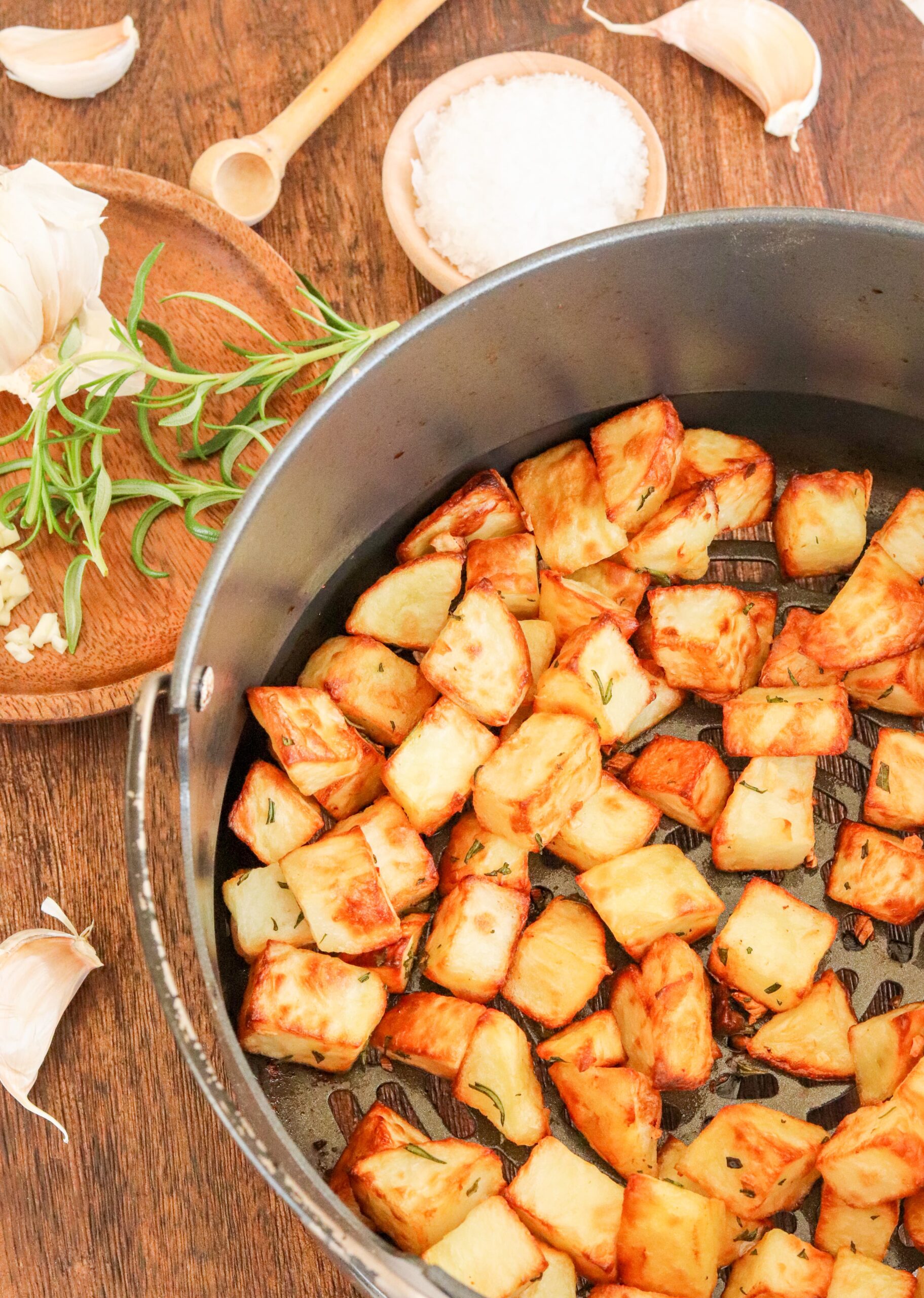 do you need to parboil your potatoes?
Many recipes for Parmentier potatoes cooked in the oven recommend the diced potatoes to be par boiled before they are roasted. This helps speed up the time they take to cook in the oven.
I don't think that is necessary for these Air Fryer Parmentier Potatoes because they cook faster in the air fryer. Therefore I think it is an unnecessary extra step.
If you would prefer to par boil them you definitely can. I would boil them for approximately 5 minutes until they are starting to soften. I would then let them steam dry until continuing with the recipe as it is below.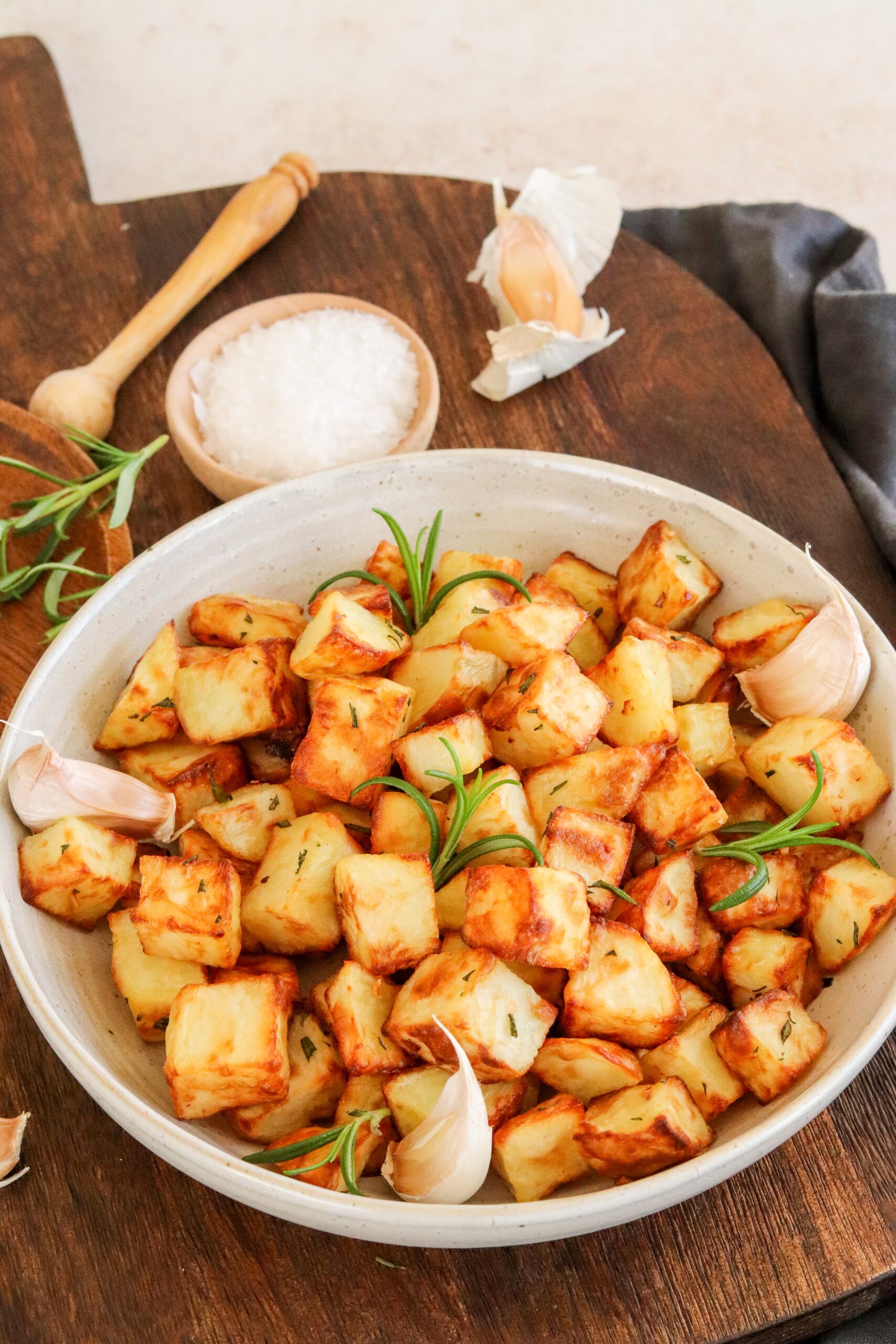 do you need to preheat an air fryer?
That depends on your air fryer, some require preheating whilst others don't. I have a Ninja 7-in-1 multicooker and I have never preheated mine.
If your air fryer does require preheating, check the potatoes a few minutes sooner than the recipe states. If your air fryer is warm, food is likely to cook a few minutes faster.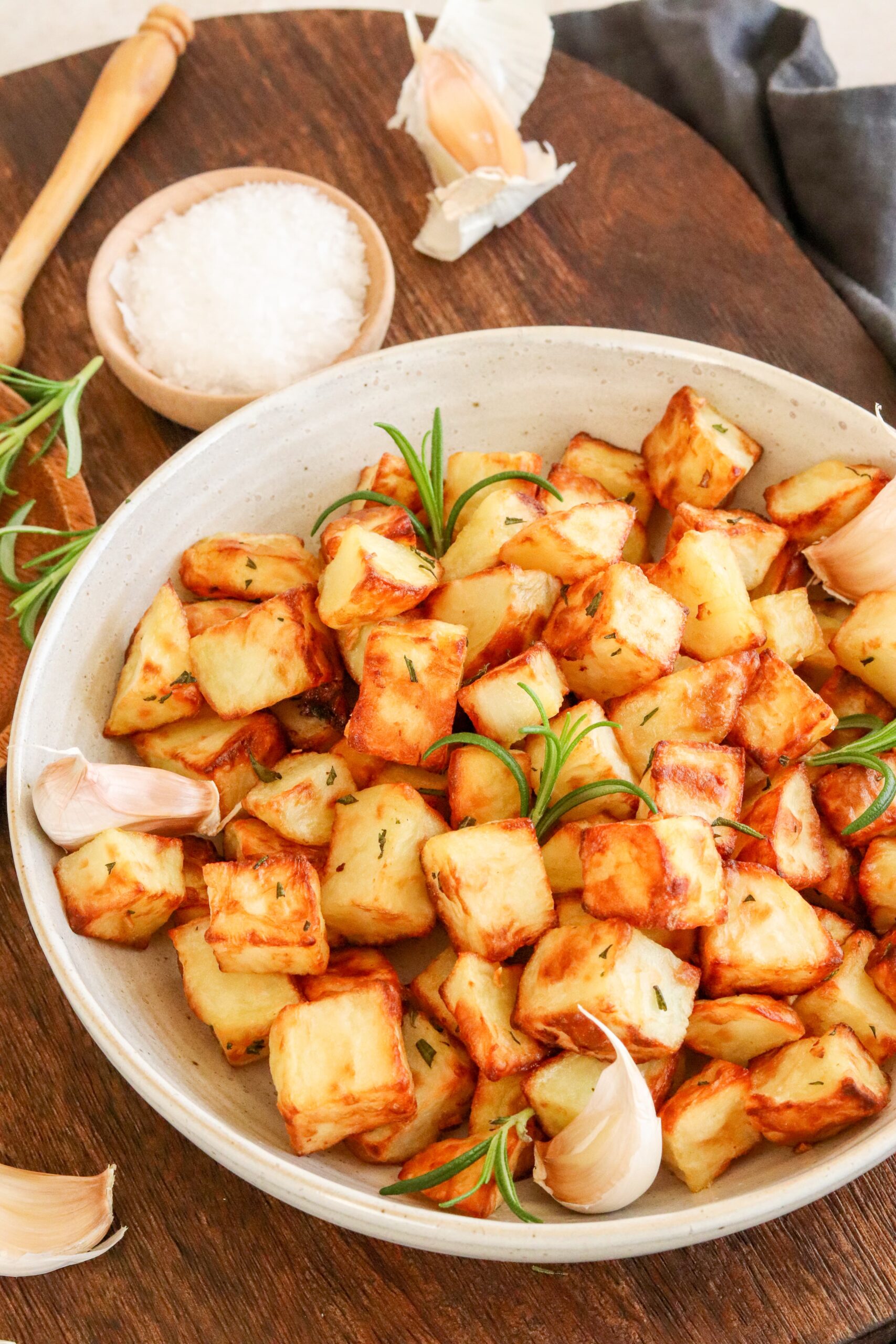 can you use an air fryer liner?
Air fryer liners are a great time saving addition because they are usually easier to wash than the basket of your air fryer.
Most reusable air fryer liners are silicone and although they are handy to have, I wouldn't recommend using them for all recipes.
Parmentier potatoes would take longer to crisp up if you use a liner but you could use one if you really wanted.
I've written a whole post on whether you should use an air fryer liner, check it out for more information.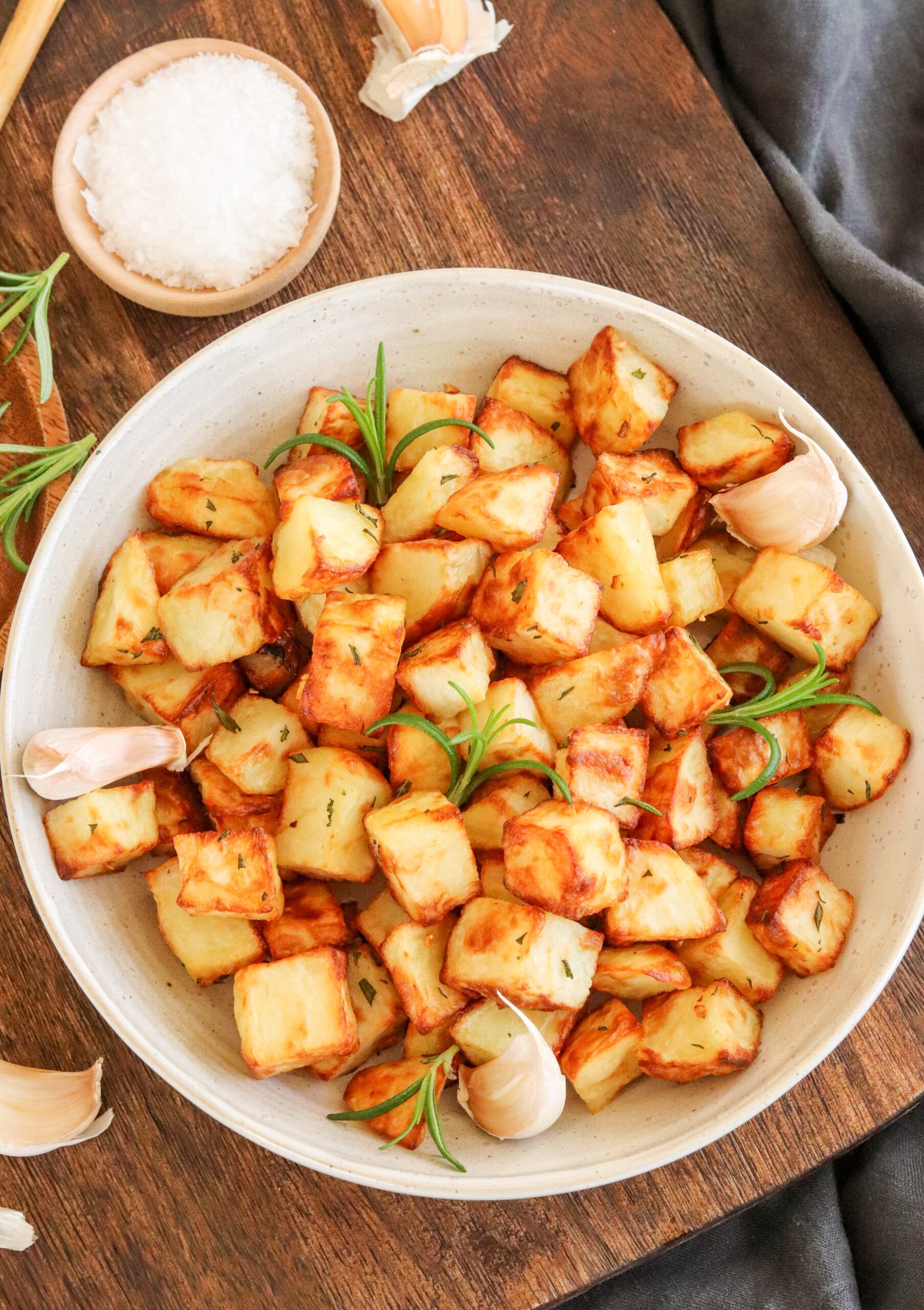 How to serve air fryer parmentier potatoes
These parmentier potatoes make a delicious side dish for all sorts of meals. You could serve them in most instances when you would serve any other form of potato.
They would be delicious instead of roast potatoes served with a roast chicken. Or you could serve them with leftover honey glazed ham.
Parmentier potatoes also make a delicious alternative to chips to serve with my bacon cheese burger, turkey burger or halloumi burger.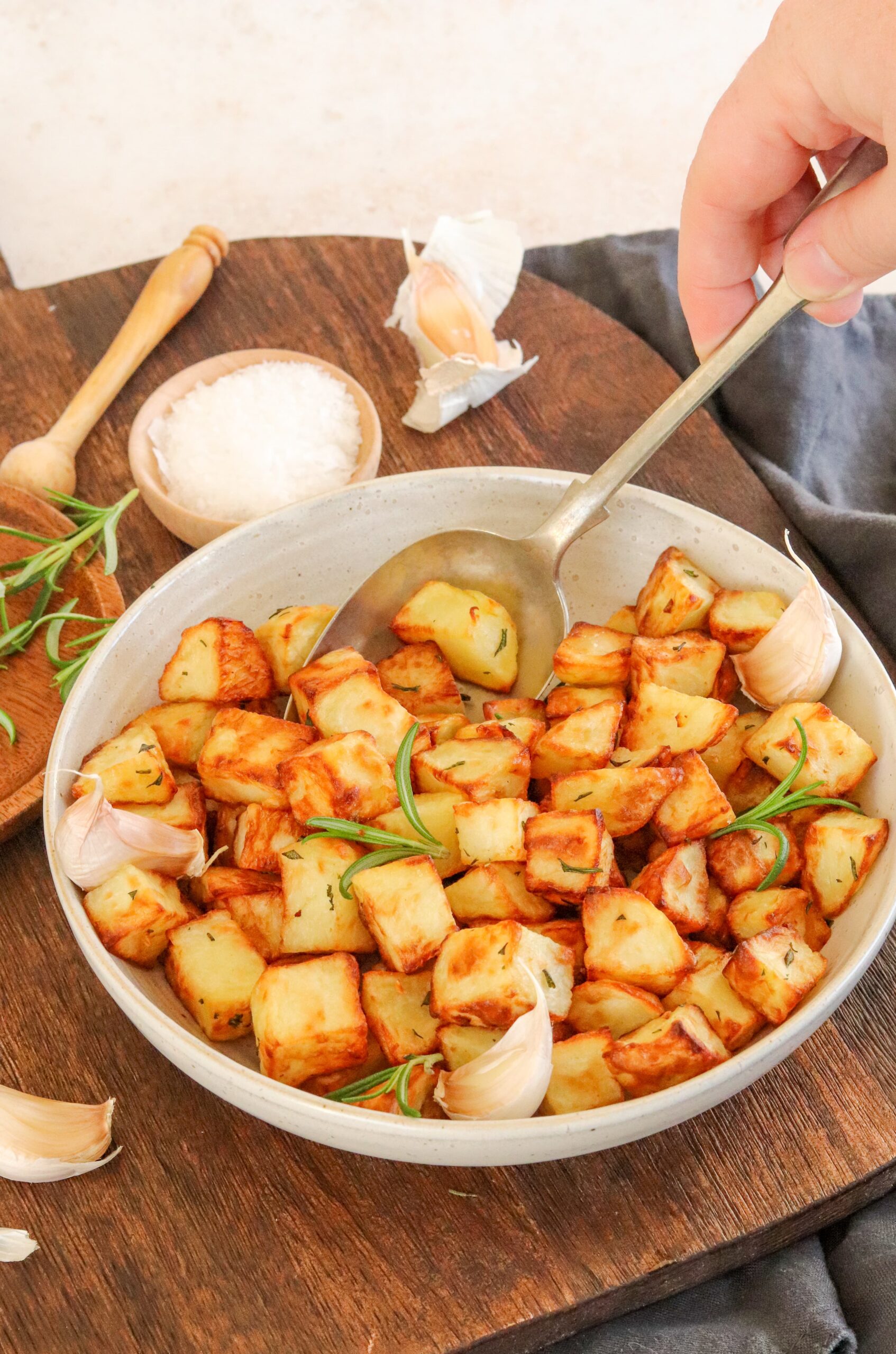 other recipes you might like
Pin for later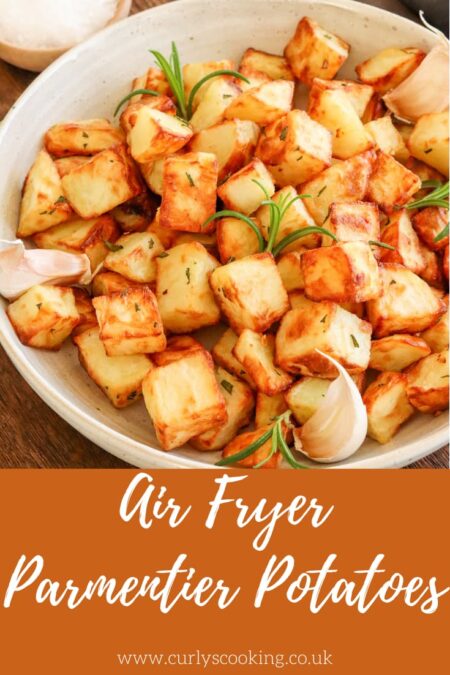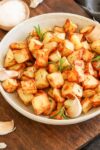 Air Fryer Parmentier Potatoes
Air Fryer Parmentier Potatoes are delicious diced potatoes cooked with herbs and garlic. They are crisp on the outside and fluffy inside. A simple and delicious way to elevate the humble potato.
Ingredients
600

g

potatoes

diced

1

tbsp

sunflower oil

1

tsp

sea salt

1

tbsp

fresh rosemary

(2 sprigs)

2-3

cloves

garlic

minced
Instructions
Peel 600g potatoes and cut them into cubes approximately 1.5cm square

Add them to a bowl and pour over 1 tbsp sunflower oil and 1 tsp sea salt flakes. Toss to coat evenly

Add the potatoes to your air fryer and cook for 15 mins at 190°C

Finely dice 2-3 cloves of garlic and chop up 1 tbsp fresh rosemary

Carefully turn the potatoes before adding the rosemary and garlic

Cook for a further 10 minutes, turning again if needed
Recipe Notes
Nutritional information is given as a guide only and may vary.
Nutrition Facts
Air Fryer Parmentier Potatoes
Amount Per Serving
Calories 299
Calories from Fat 63
% Daily Value*
Fat 7g11%
Sodium 1164mg51%
Potassium 19mg1%
Carbohydrates 1g0%
Protein 0.2g0%
Vitamin A 30IU1%
Vitamin C 1mg1%
Calcium 9mg1%
Iron 0.1mg1%
* Percent Daily Values are based on a 2000 calorie diet.