This Slow Cooker Fiesta Chicken will quickly become your new favourite. It is simple to make and packed full of delicious flavours.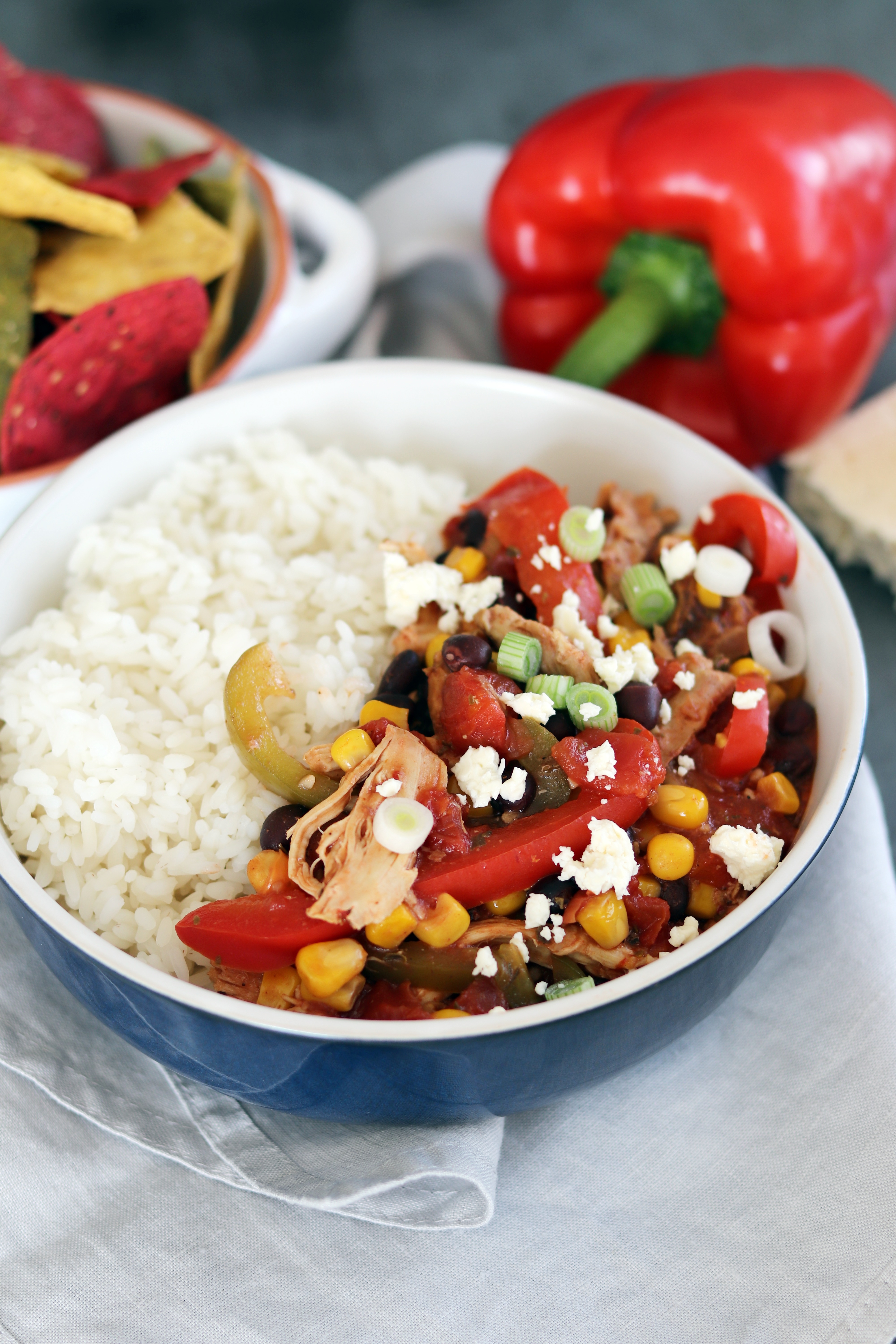 The joy of slow cooking
I was incredibly late to slow cooking. My sister had been trying to convince me for ages to get one but I was reluctant. She then took matters into her own hand and bought me my own slow cooker for my birthday.
This Slow Cooker Fiesta Chicken was the first recipe I played around with and made. It was the recipe that made me realise how amazing slow cookers are! Minimal effort with such delicious flavours that come from a long cooking time.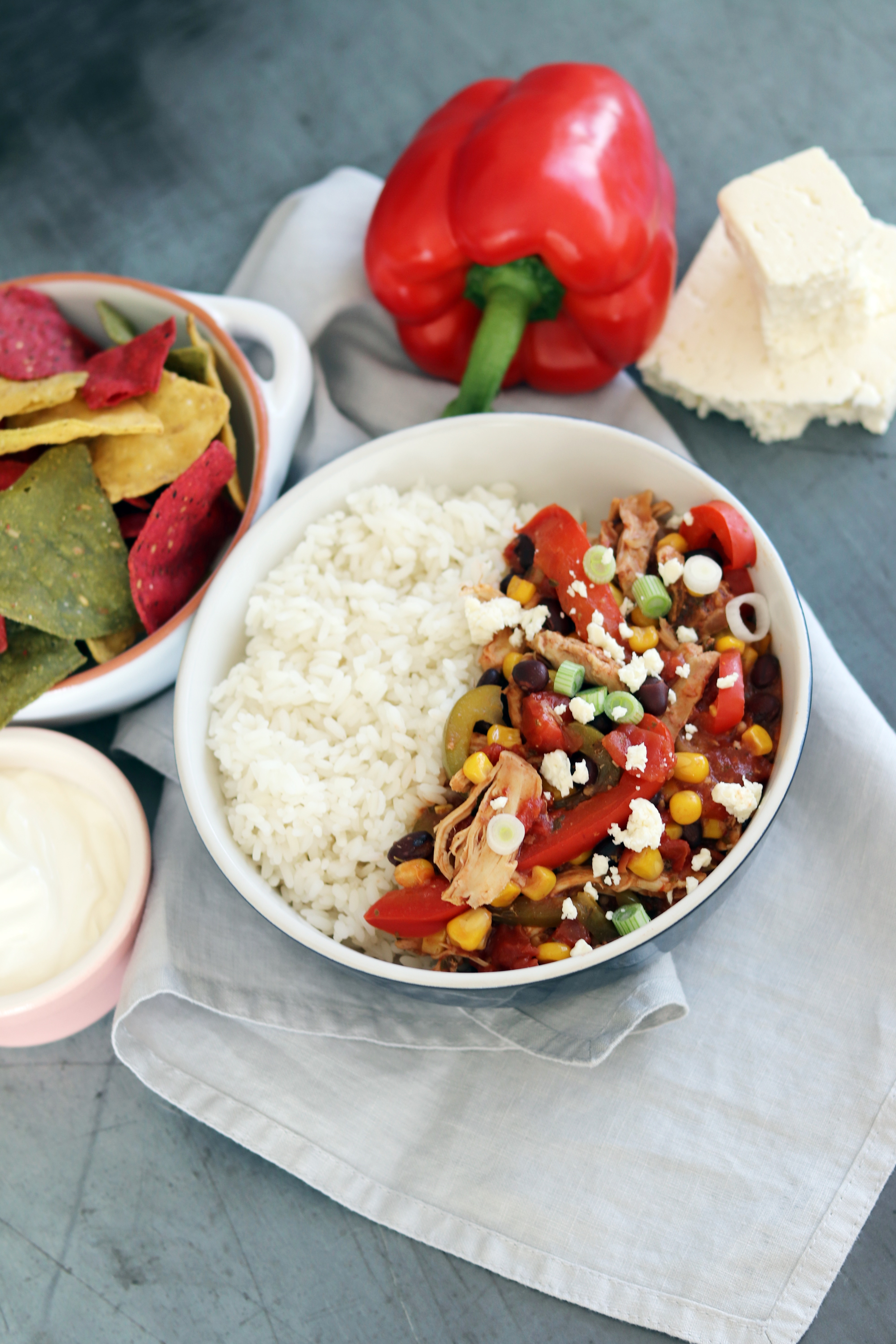 Make this Slow Cooker Fiesta Chicken your own
This recipe is really flexible. Add more of what you want, less or none of what you don't and make it your own.
I prefer to use chicken thighs because they stay moist even after longer cooking times. You can definitely use breasts if you prefer.
I like to use a combination of chilli powders when I make Mexican food. Each chilli powder adds a slightly different taste to the final dish which I really like.
I like to use chipotle chilli powder for its smoky spiciness and ancho chilli powder and flakes for its sweet smokiness. These are now a lot more readily available and you should be able to buy them in most large supermarkets.
However if you can't find, or don't want to use these, you can use standard chilli powder too. If you are using standard chilli powder, I would recommend adding one teaspoon of smoked paprika to two teaspoons of chilli powder.
If you are making this Slow Cooker Fiesta Chicken for the first time I would always veer on the side of caution with the chilli power.
When you take the chicken out to shred it, give the sauce a taste. You can always add some more chilli at this stage if it needs a bit more of a kick.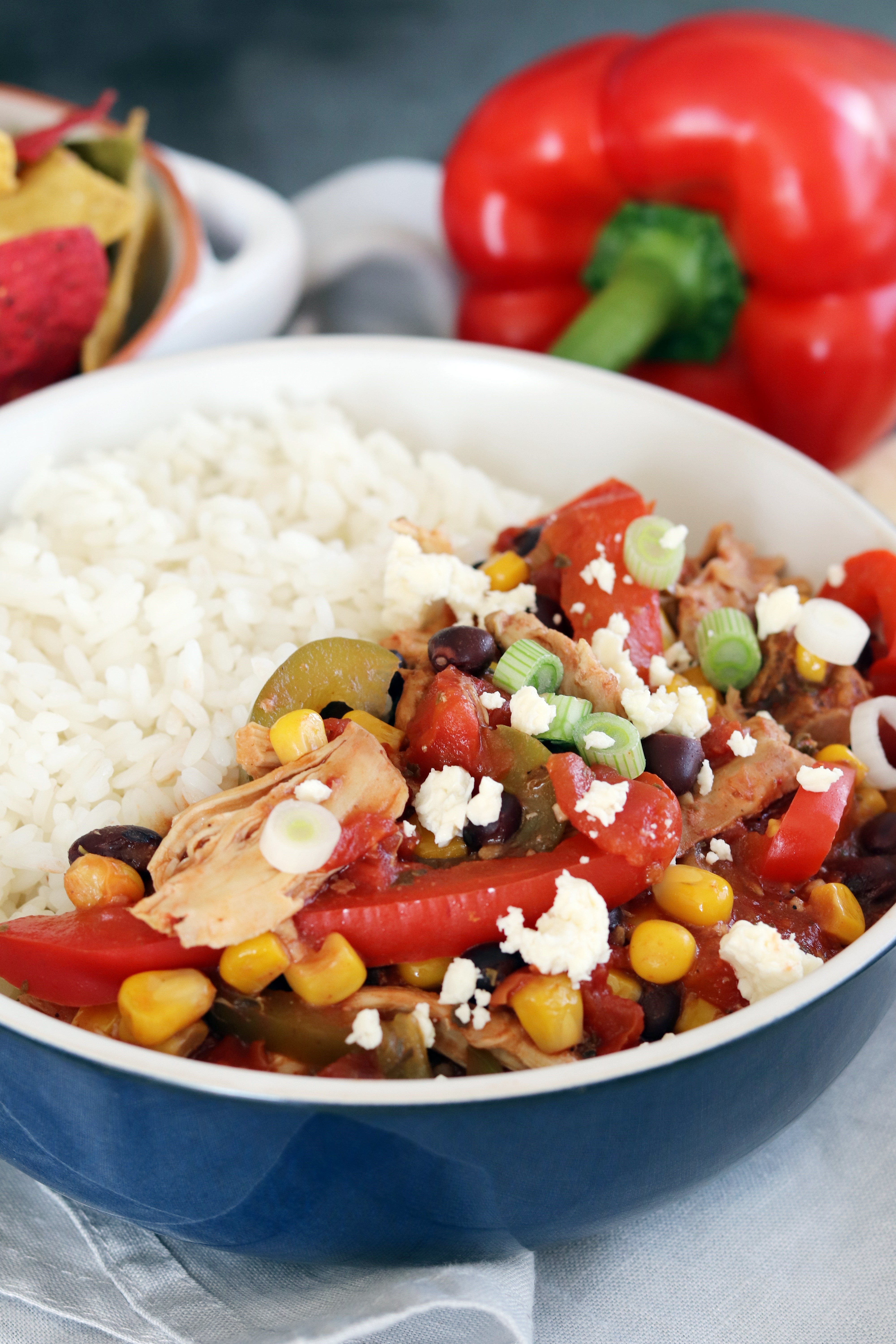 How to thicken your Slow Cooker Fiesta Chicken
I am now a full slow cooker covert. One thing I have found is that because the lid stays on for the duration of the cook, the liquid doesn't evaporate.
If you add the same amount of liquid as you would to a dish you were cooking on the hob, you will probably find it isn't as thick as you would like.
I don't like to reduce the liquid too much because I don't want the meal to get too dry. This is especially important if you are leaving the slow cooker unattended.
Instead, I would rather add a little bit more liquid and then reduce it at the end. I tend to do this by making a slurry by mixing cornflour together with water and stirring this through. It quickly thickens the sauce and you can make it as thick or saucy as you like.
Another way to thicken without using cornflour would be to take the lid off the slow cooker for the last 30 minutes or so.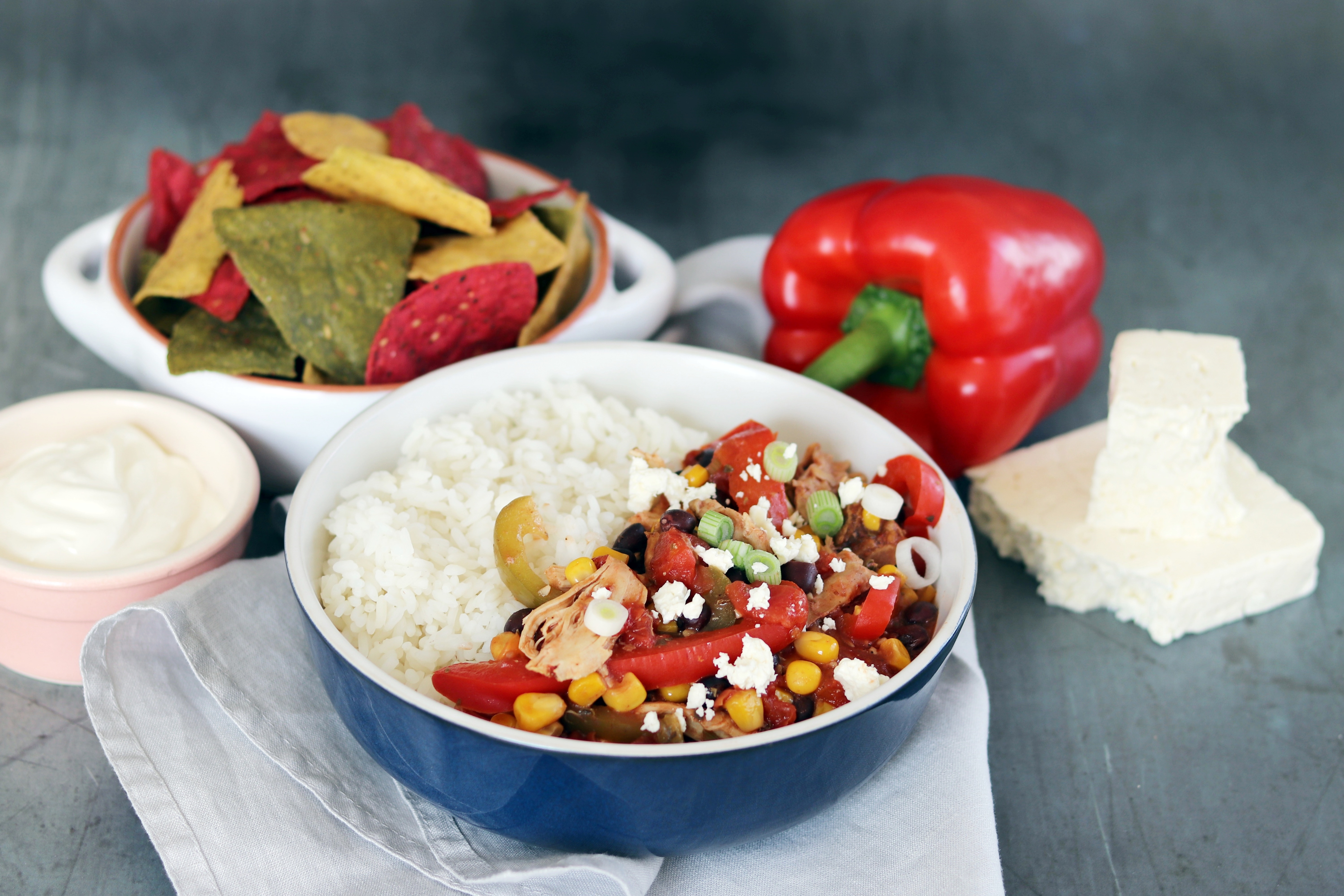 Can you freeze this recipe?
Absolutely, it freezes really well.
I freeze some every time I make it for quick and easy weeknight dinners. Make sure you put the Slow Cooker Fiesta Chicken in the freezer within two hours of it finishing cooking.
When you take it out of the freezer, leave it to defrost thoroughly in the fridge either overnight or for around 8 hours.
I like to reheat frozen dishes in a pan on the hob rather than in the microwave. This is because I can see whether I need to add more water or increase the heat to reduce the liquid.
I also like to taste as I go to see if it needs anything else. I find it benefits from a squirt of tomato puree to help to enrich the sauce again.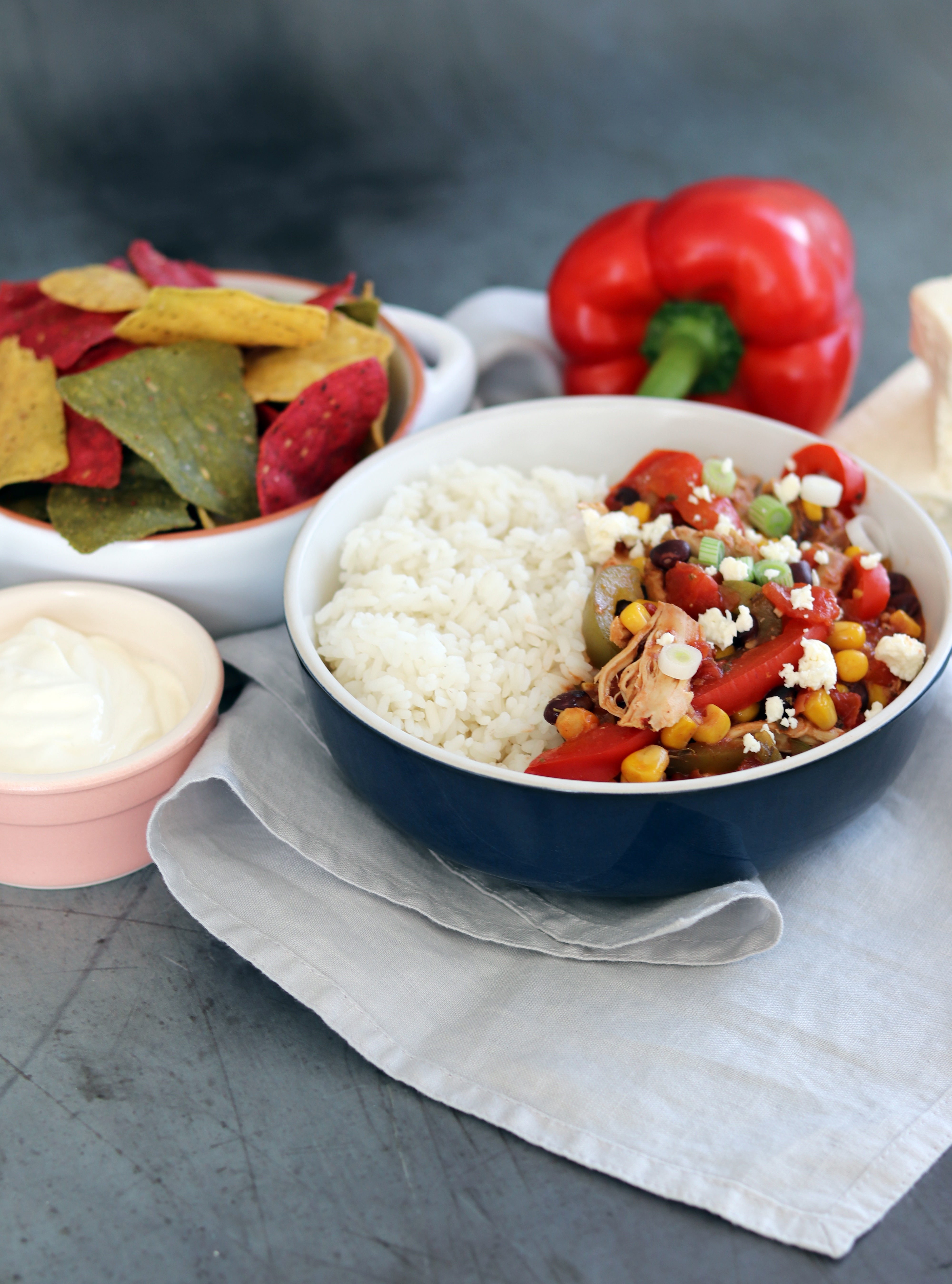 other recipes you might like
Pin for later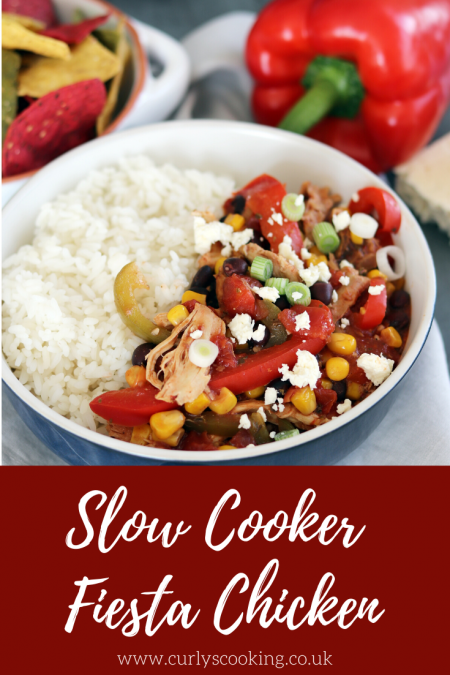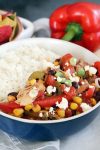 Slow Cooker Fiesta Chicken
This Slow Cooker Fiesta Chicken will quickly become your new favourite. It is simple to make and packed full of delicious flavours.


Ingredients
500

g

chicken thighs

boneless & skinless

1

tsp

ancho chilli powder

1

tsp

ancho chilli flakes

1

tsp

chipotle chilli powder

1 ½

tbsp

Mexican oregano

2

tsp

sea salt

1

tbsp

tomato puree

400

g

tin of tomatoes

400

g

tin of black beans

drained and rinsed

340

g

tin sweetcorn

drained

2

peppers

sliced

300

ml

chicken stock

3

spring onions

sliced

2

garlic cloves

crushed

1

tbsp

cornflour mixed with water

if needed to thicken
Instructions
Make sure all skin and bones are removed from the chicken. Sprinkle the chicken with the chilli powders

Add the tomatoes, black beans, sweetcorn, pepper, stock, spring onions, garlic, salt, Mexican oregano and tomato puree to the slow cooker and stir to mix

Lie the chicken on top of the ingredients and put the lid on the slow cooker

Cook for 8 hours on low or 5 hours on high

30 mins before serving, take the chicken out onto a board and shred using two forks. Return to the slow cooker and stir through

If there is too much liquid, in a glass mix the cornflour with just enough water to make a liquid and add this to the slow cooker and continue cooking for 30 minutes
Recipe Notes
Nutritional information is given as a guide only and my vary.
Nutrition Facts
Slow Cooker Fiesta Chicken
Amount Per Serving
Calories 293
Calories from Fat 135
% Daily Value*
Fat 15g23%
Cholesterol 83mg28%
Sodium 914mg40%
Potassium 321mg9%
Carbohydrates 5g2%
Protein 15g30%
Vitamin A 285IU6%
Vitamin C 34mg41%
Calcium 17mg2%
Iron 1mg6%
* Percent Daily Values are based on a 2000 calorie diet.