Everyone needs a good guacamole recipe! It is such a delicious accompaniment to so many different meals. This Chunky Guacamole is simple and very tasty.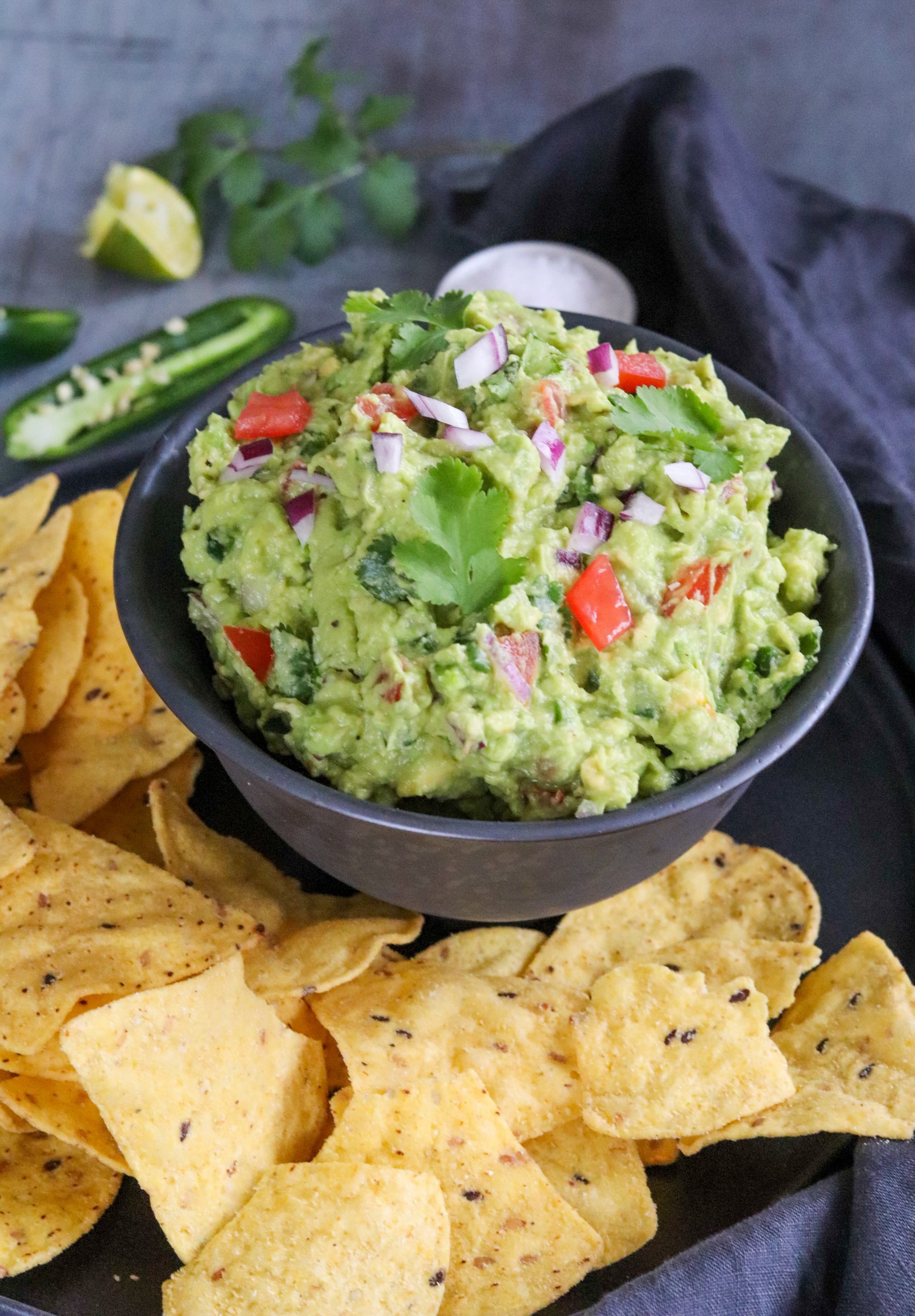 what is guacamole?
Guacamole is an avocado based dip from Mexico. It is commonly served with a whole range of Mexican dishes such as tortillas, tacos and quesadillas.
Guacamole is usually made from the same ingredients; avocado, red onion, green chillies, tomatoes, lime juice and seasoning. Although different recipes tend to be similar, everyone has their preference of how to make it and quantities.
This Chunky Guacamole is one my sister came up with and it is how my family have been making it ever since.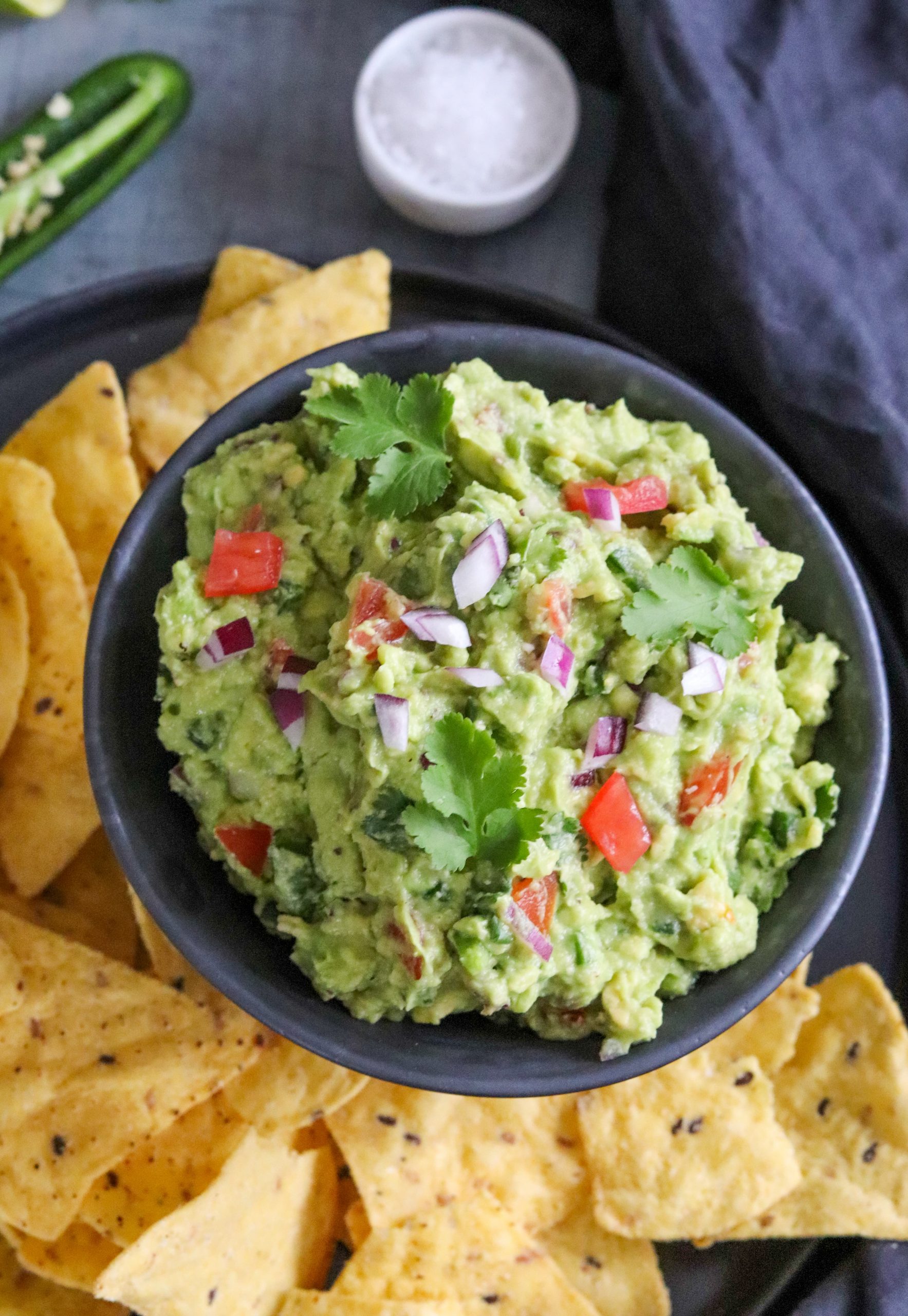 which avocados are best to use?
There are two different types of avocado that are commonly available.
Haas avocados are the variety that we are most familiar with here in the UK. They are slightly smaller with dark green, bumpy skin.
Haas avocados have a higher level of fat which gives them a lovely creaminess. It's fattiness lends it really well to being mashed and turned into a delicious guacamole.
The other type of avocado are more common in America I believe. These are referred to as Florida or California avocados.
These are a much lighter green and far less bumpy. They tend to be larger too; but don't get lured in by their size because they aren't as good for guacamole!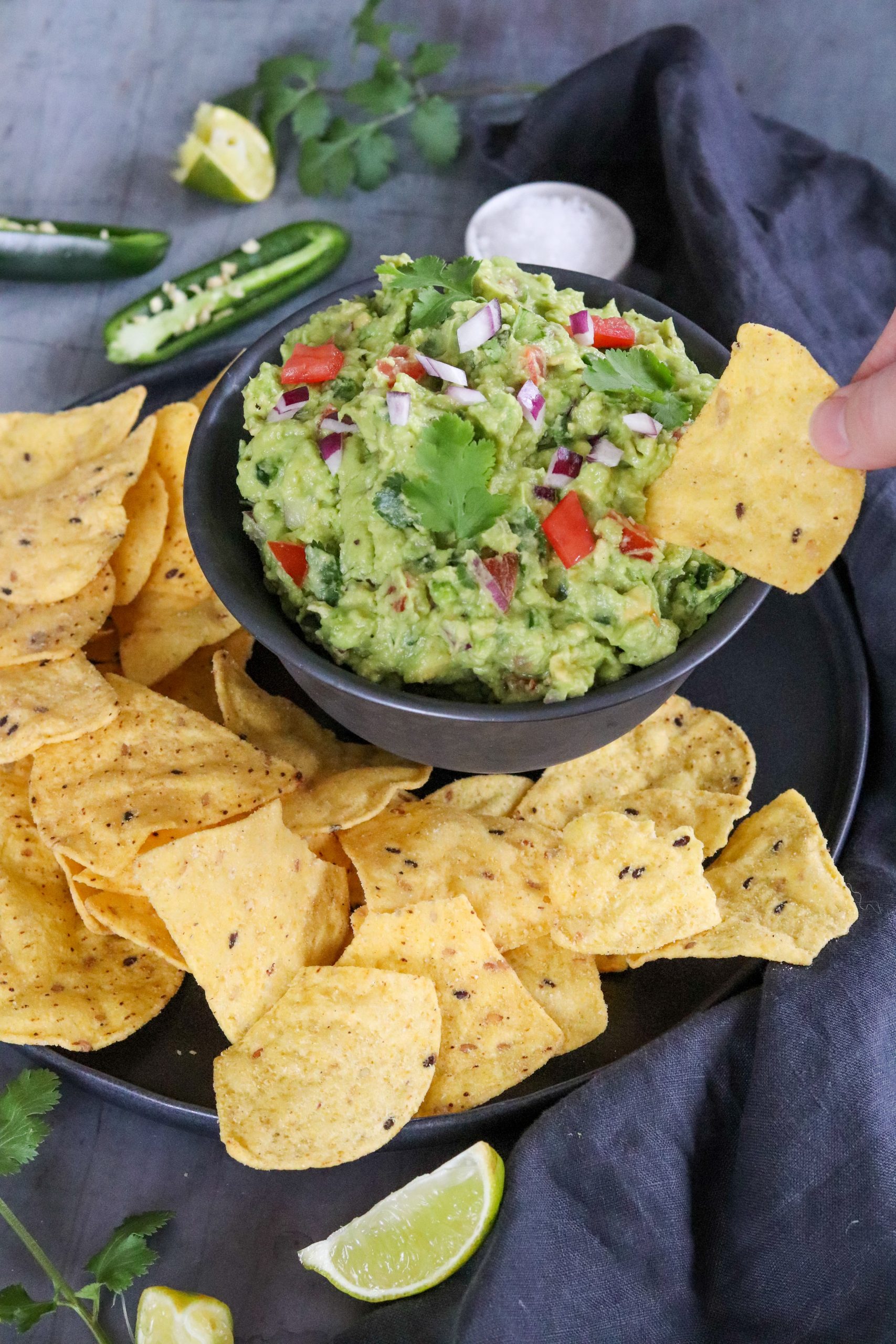 how to tell if your avocado is ripe
Avocados are famously known for being tricky little things. They can go from unripe to overripe in the blink of an eye!
There are a few ways of checking whether they are ripe. Some people test the avocados by pressing them gently and if resists slightly then it is ripe and ready to use.
I came across a different way of seeing whether avocados are ripe from Northwest Edible Life. If you cannot remove the stalk then it is not yet ripe, if you remove the stalk and the underneath is green the avocado is ripe. And if you remove the stalk and it is brown underneath, it is likely to be overripe.
I like this method because you don't risk bruising the avocado by squeezing it to test it's ripeness.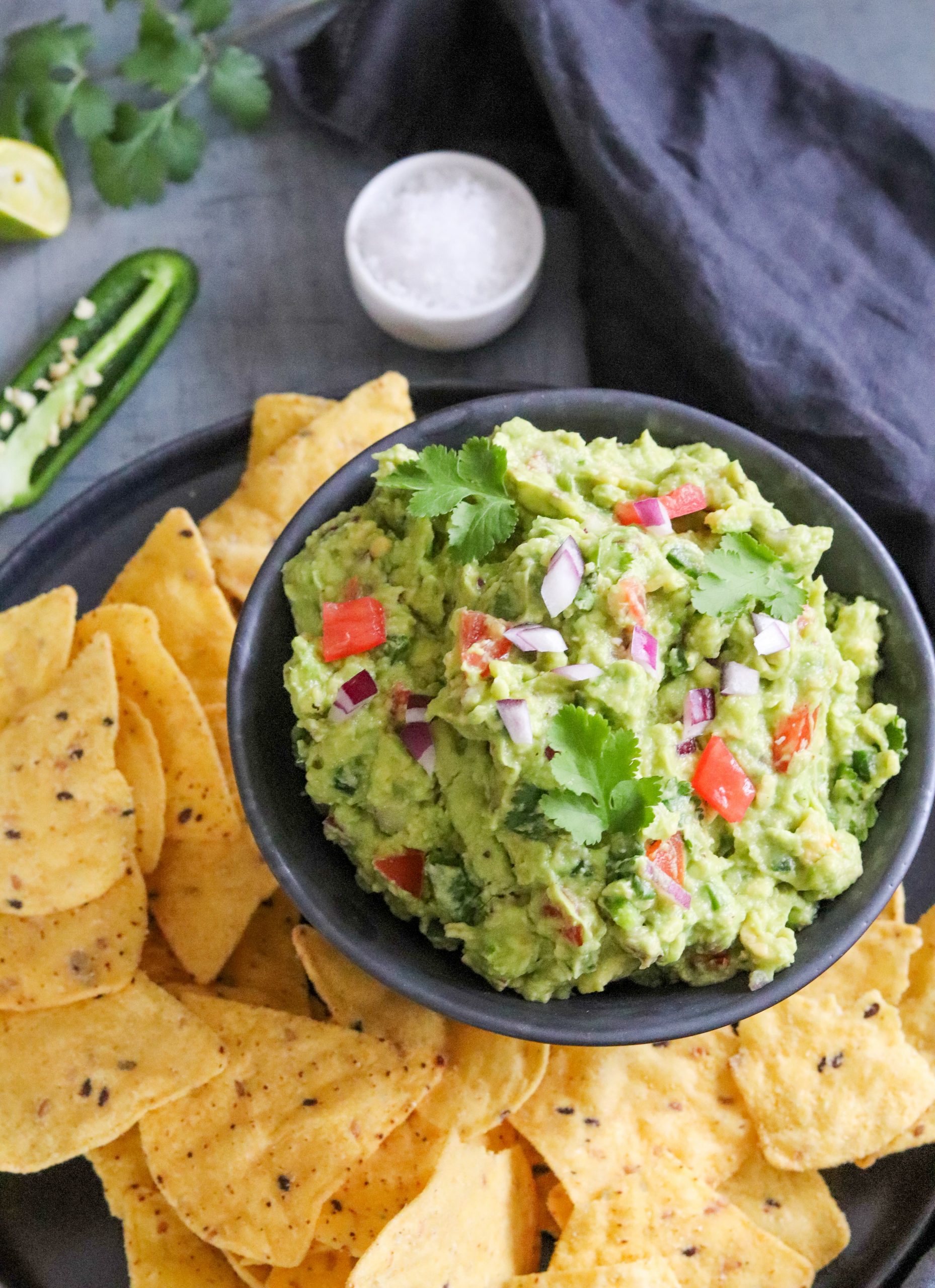 Preparing the chunky guacamole
As the name suggests, this is Chunky Guacamole rather than one that is more of a puree.
I dice the red onion, green chilli and tomatoes before adding them to the avocado and mashing. I prefer this chunkier texture because you can really see all of the ingredients.
It is also very simple as you can mix it all together in a bowl. Finely dicing the vegetables doesn't take more than a couple of minutes anyway!
If you do prefer a smoother guacamole, then by all means use a mini food processor to whiz up all of the ingredients.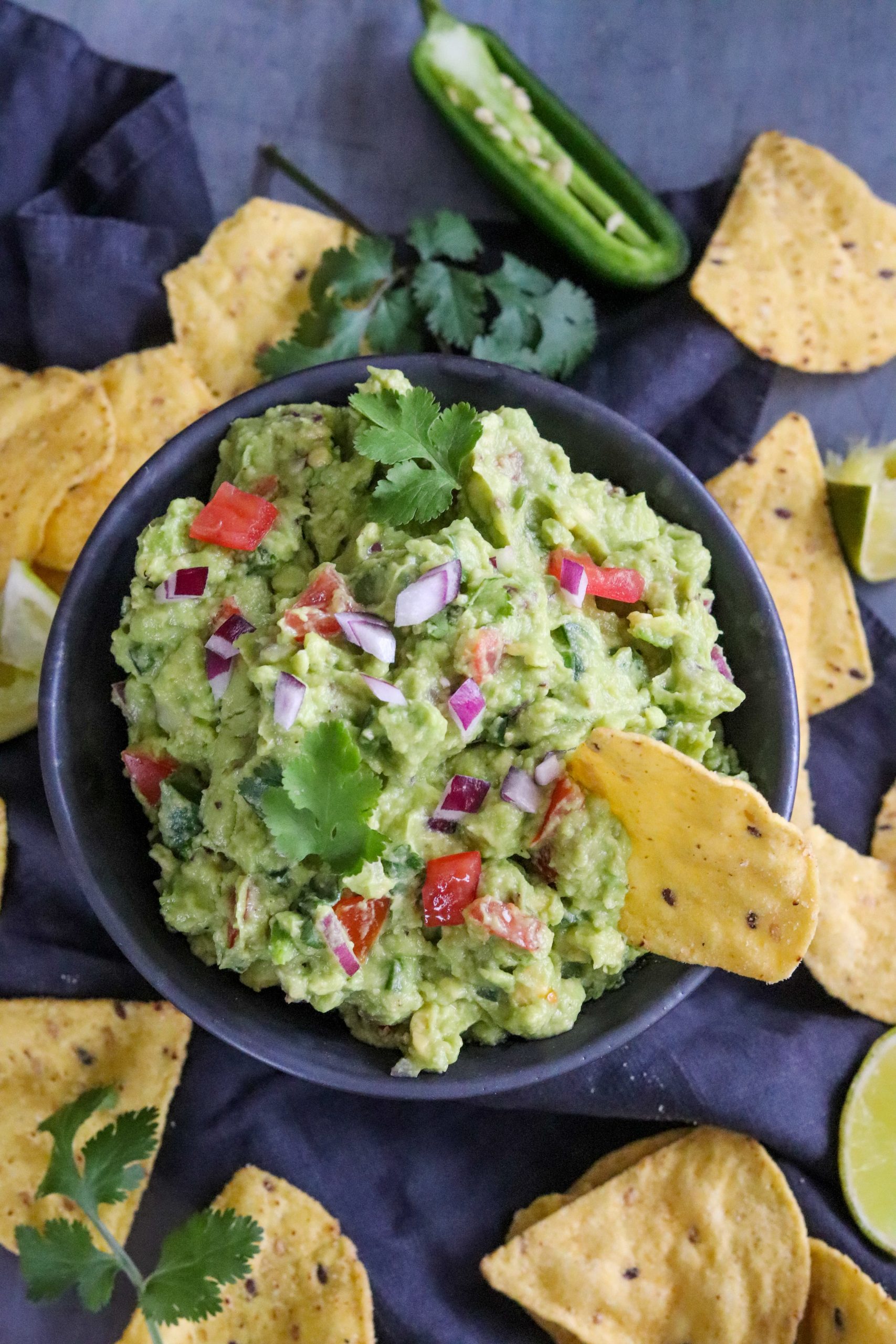 Adjusting the guacamole to your tastes
The recipe below is more of a guide and is how my family like it. But that doesn't mean you shouldn't make your own changes!
Taste the guacamole as you go along and add a little bit more of ingredients to make it how you like it. If you want a bit more heat, leave the seeds in the chilli or add more.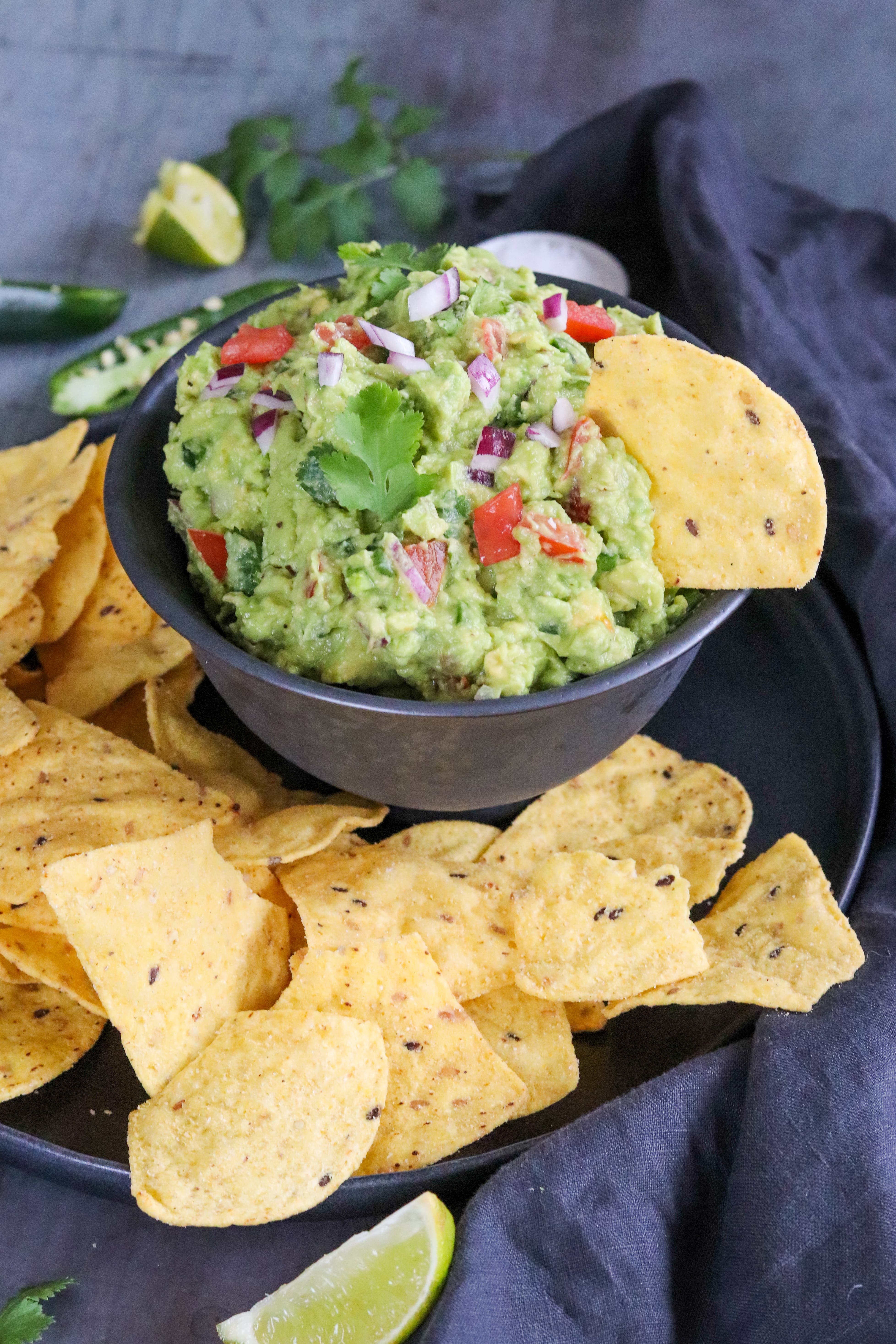 How many people will this chunky guacamole serve?
That really does depend what you are serving it with. As a side dish to most meals it should feed 4-6 people.
However if you are eating it as a main part of a meal, such as on a muffin for example; then it may only feed two people.
It is very easy to increase the quantities to feed more people.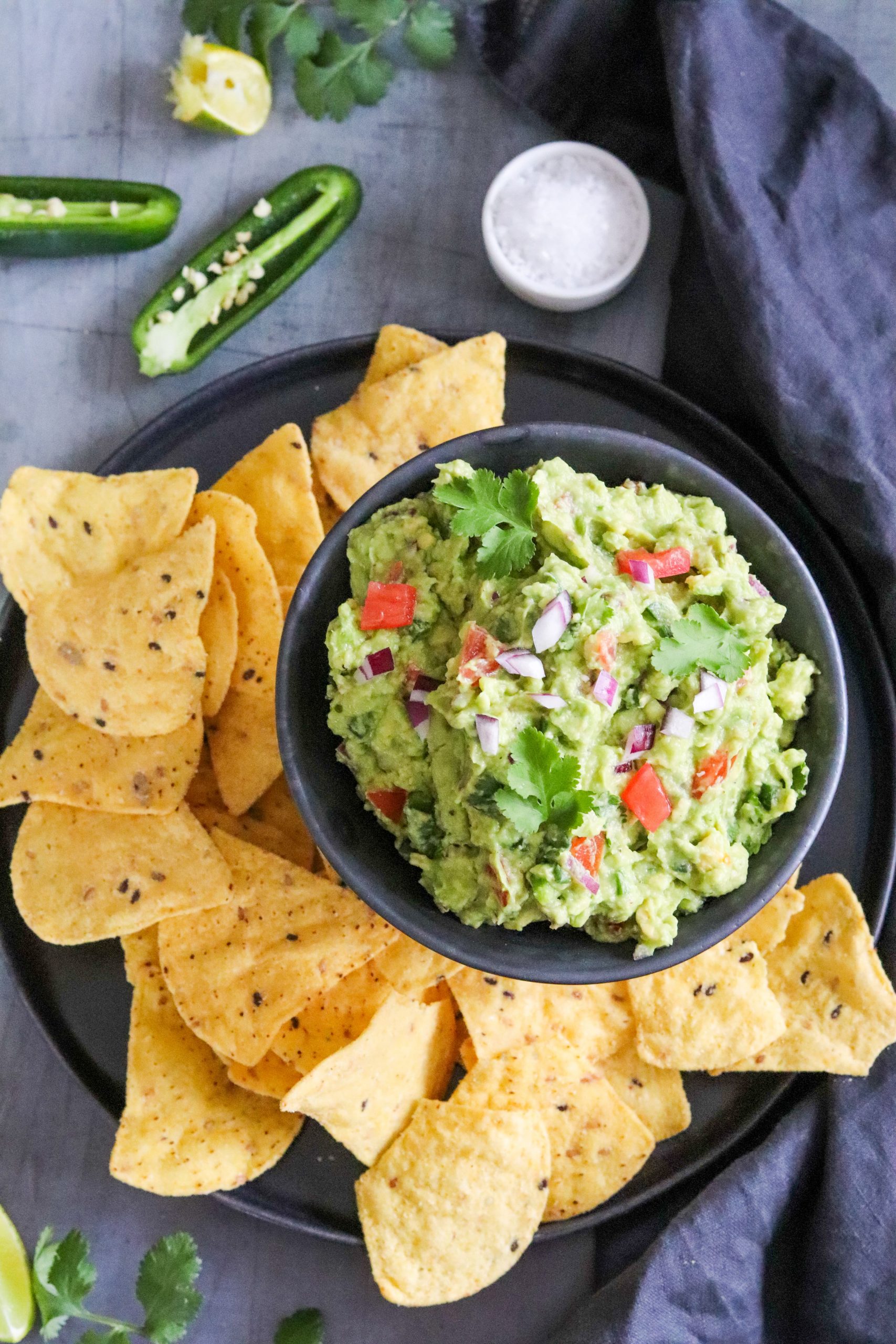 How long does guacamole keep for?
As soon as you cut into an avocado, it almost feels like a race against time before it starts to go brown. The lime juice in this guacamole helps prevent it from happening so quickly.
There are a few methods people have for prolonging the life of your guacamole. I would just recommend eating it the day you make it or the next if there are any leftovers.
Guacamole should always be kept in an airtight container in the fridge. Air is the avocado's enemy and what causes it to go brown.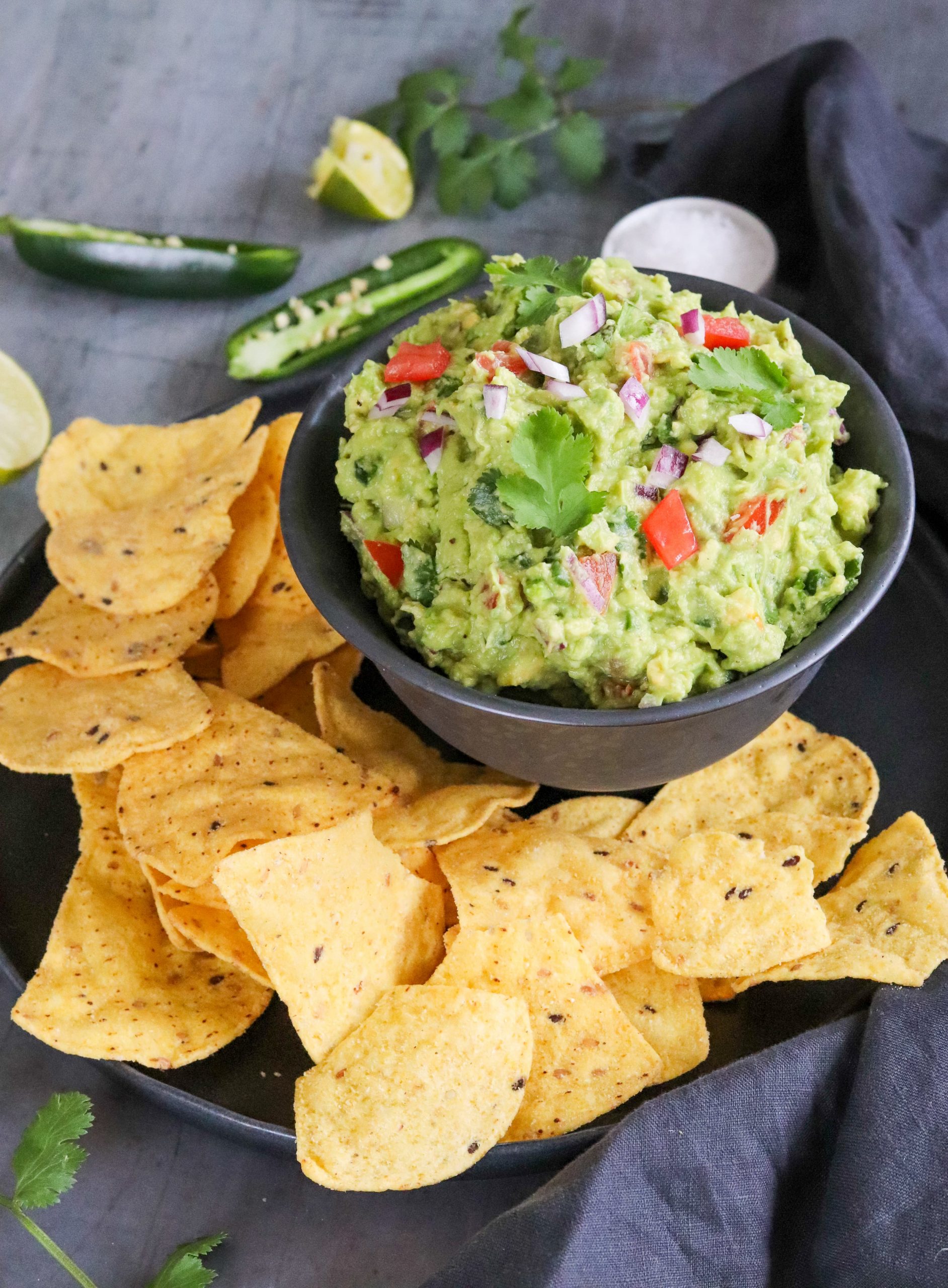 what to serve guacamole with
There are so many different recipes you can serve guacamole with. Basically, anything that is Mexican inspired should be delicious with guacamole.
Quesadillas are one of my favourite meals to serve guacamole with. It is perfect with my Chorizo & Potato Quesadillas as well as my Cavolo Nero & Sweetcorn Quesadillas.
Similar to quesadillas, this Chunky Guacamole would be a great addition to my Sweet Potato & Feta Taquitos or Pasilla Pork Tacos.
Who has nachos without guacamole?! It is an essential addition to my Chicken & Chorizo Nachos, and any nachos in general!
Guacamole can also be eaten at breakfast and would be lovely with my Chorizo & Egg Breakfast Burritos or Breakfast Quesadillas (recipe coming soon).
And finally, if you don't have enough suggestions on what to serve guacamole with; it is great served alongside these main meals.
I think I have shown that Chunky Guacamole is a great recipe to have because you can add it to so many delicious things!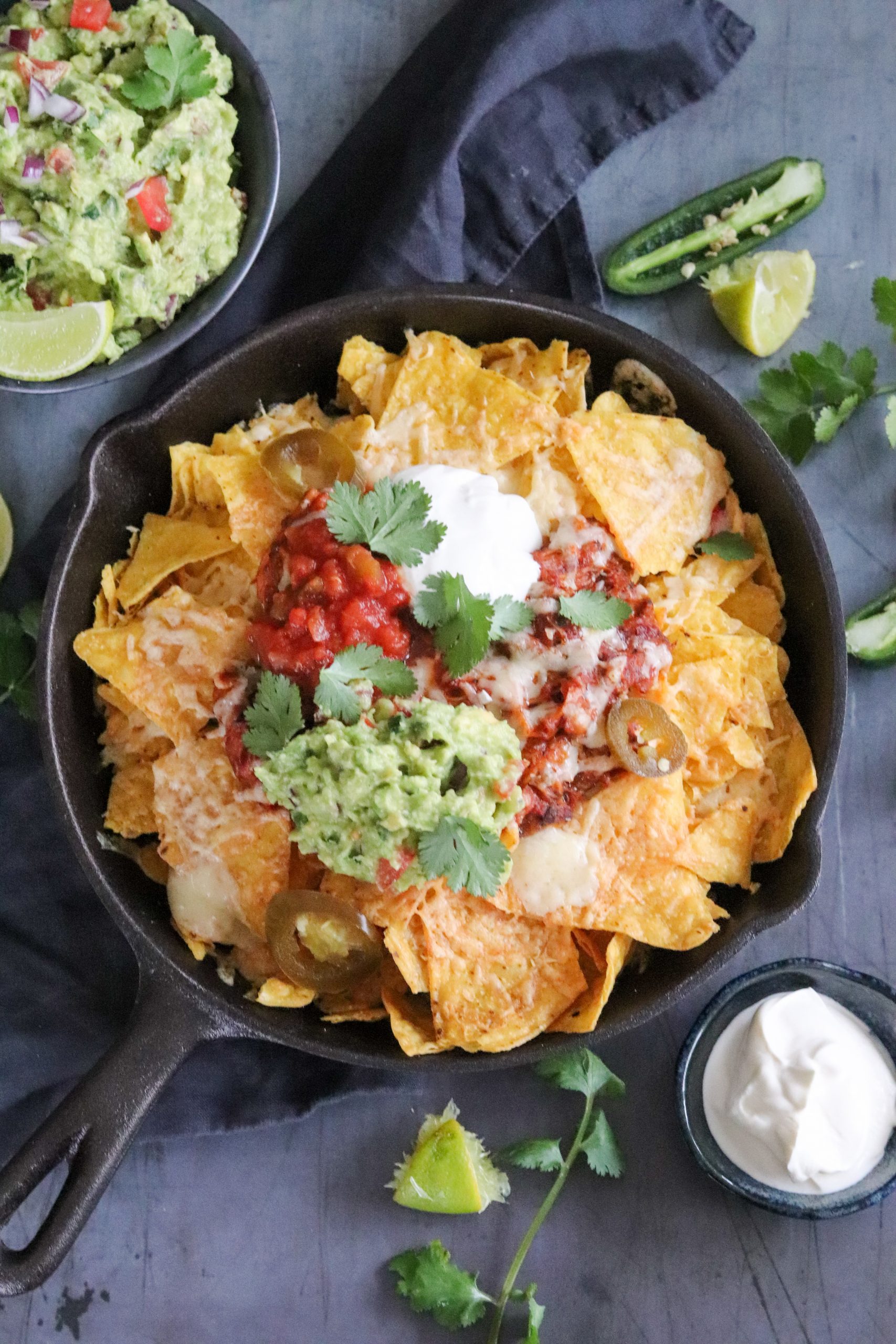 Suitable for most diets
Aside from it's taste, one of the great things about Chunky Guacamole is that it is suitable for so many diets!
It is naturally gluten free, vegetarian, vegan and gluten free. This is great because it should be something that most people can enjoy.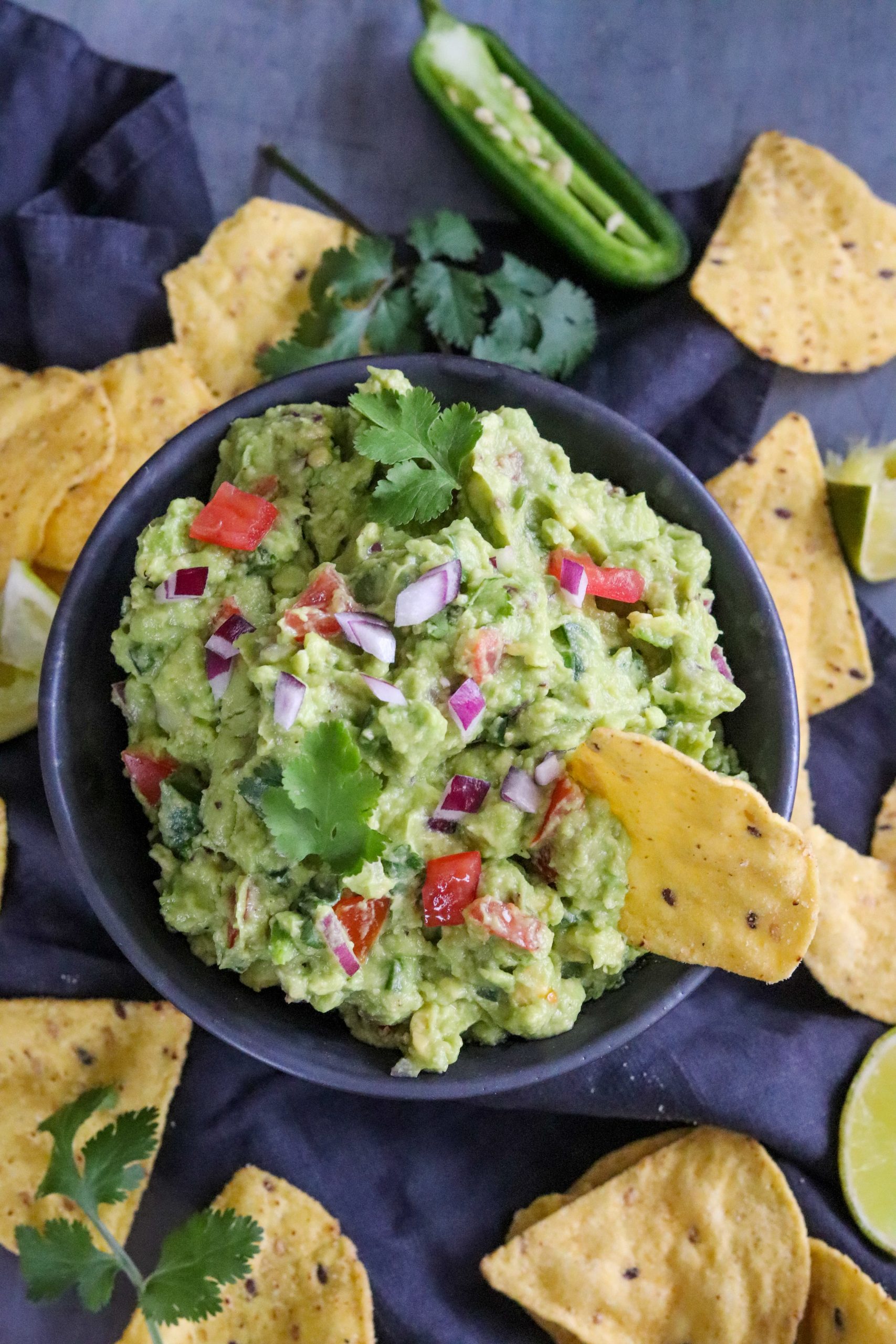 other recipes you might like
Pin for later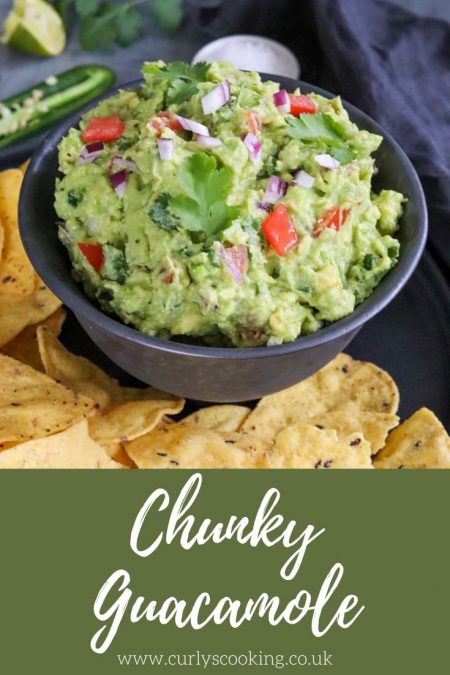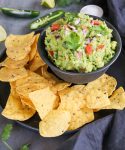 Chunky Guacamole
Everyone needs a good guacamole recipe! It is such a delicious accompaniment to so many different meals. This Chunky Guacamole is simple and very tasty.
Ingredients
2

large

hass avocados

½

small

red onion

finely diced

50

g

tomatoes

deseeded (roughly 3 small vine tomatoes)

1

green chilli

seeds removed, finely diced

1

tsp

sea salt

pinch

black pepper

2

tbsp

coriander

1½

tbsp

fresh lime juice

1

clove

garlic

finely minced
Instructions
Finely dice the red onion and green chilli and deseed the tomatoes and dice. Add to a bowl with the avocado

Mash with a fork to break up the avocado

Add the salt, pepper, coriander, lime juice and garlic. Mix through before serving
Recipe Notes
Nutritional information is given as a guide only and may vary.
Nutrition Facts
Chunky Guacamole
Amount Per Serving
Calories 172
Calories from Fat 135
% Daily Value*
Fat 15g23%
Sodium 627mg27%
Potassium 538mg15%
Carbohydrates 11g4%
Protein 2g4%
Vitamin A 265IU5%
Vitamin C 14mg17%
Calcium 17mg2%
Iron 1mg6%
* Percent Daily Values are based on a 2000 calorie diet.