Deliciously gooey and fudgy, these Chocolate Brownies with Cocoa are the perfect treat. Incredibly hard to resist and once you've made them you'll find any excuse to make them again!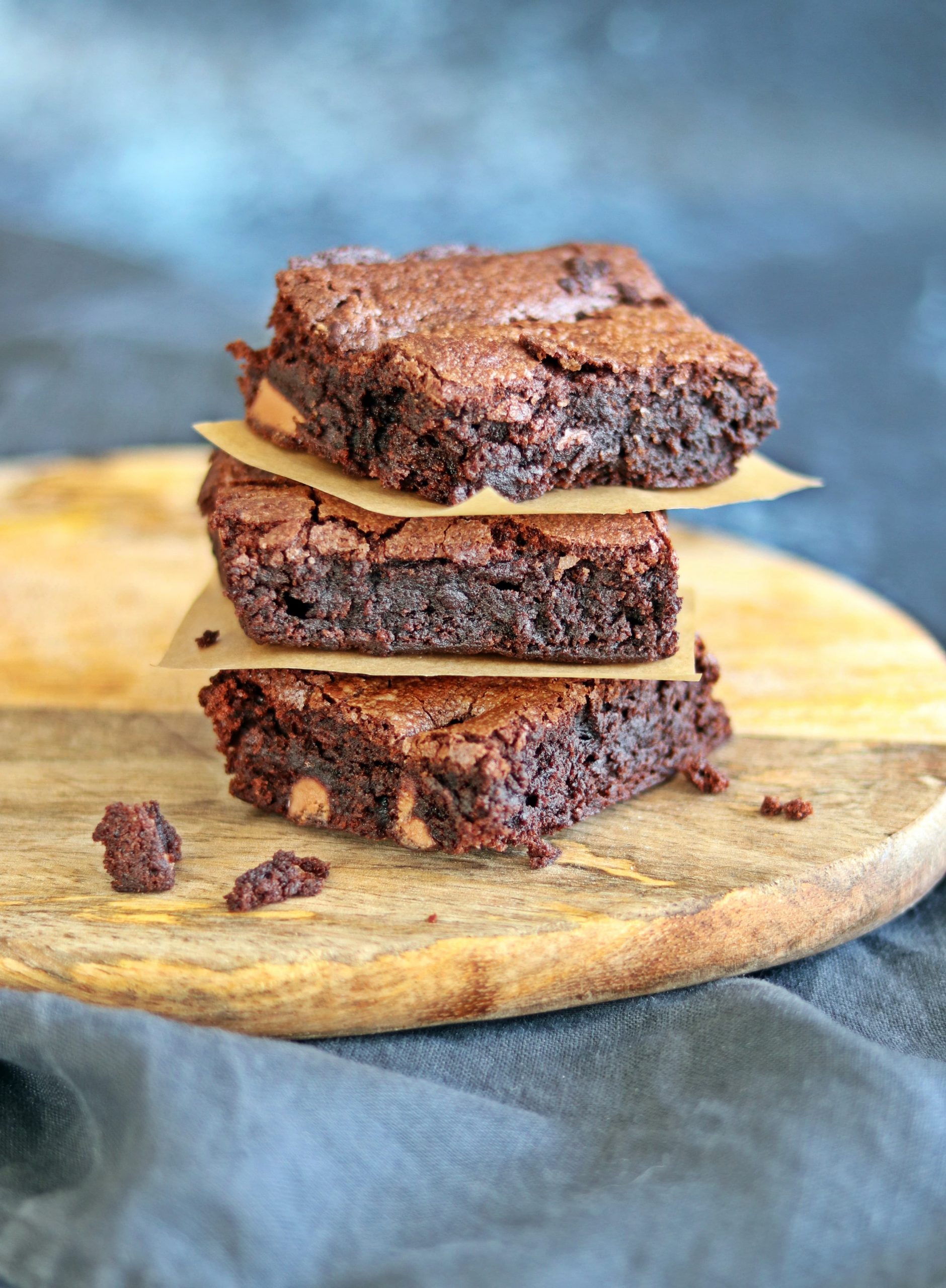 Chocolate brownies with cocoa inspiration
These brownies are absolutely delicious. Rich, fudgy and very indulgent; they are everything a brownie should be.
These Chocolate Brownies with Cocoa are a tweaked version of Nigel Slater's brownie recipe. Nigel Slater is one of my favourite chefs; not just because of his recipes but also because of how he describes food.
What makes a good brownie?
There is a huge difference between a really good and average brownie in my opinion. If it isn't gooey and fudgy in the middle then it isn't a brownie.
Brownies are probably the baked good that I have been disappointed with the most over the years. I've bought them hoping for a delicious gooey brownie and been disappointed with what it essentially a chocolate cake.
Nigel Slater worded it perfectly in his original recipe, "Oh, and if you pull out your skewer and it comes out clean then I'm afraid you have blown it."
He is quite right, What makes a brownie so delicious is its gooeyness so if you over bake it you have ruined it, as harsh as that sounds.
Paul Hollywood recently said on The Great British Bake Off "The bake on the brownie is the most critical thing, if you overbake it will become very very dry and cake like." So a gooey brownie is definitely expected amongst chefs!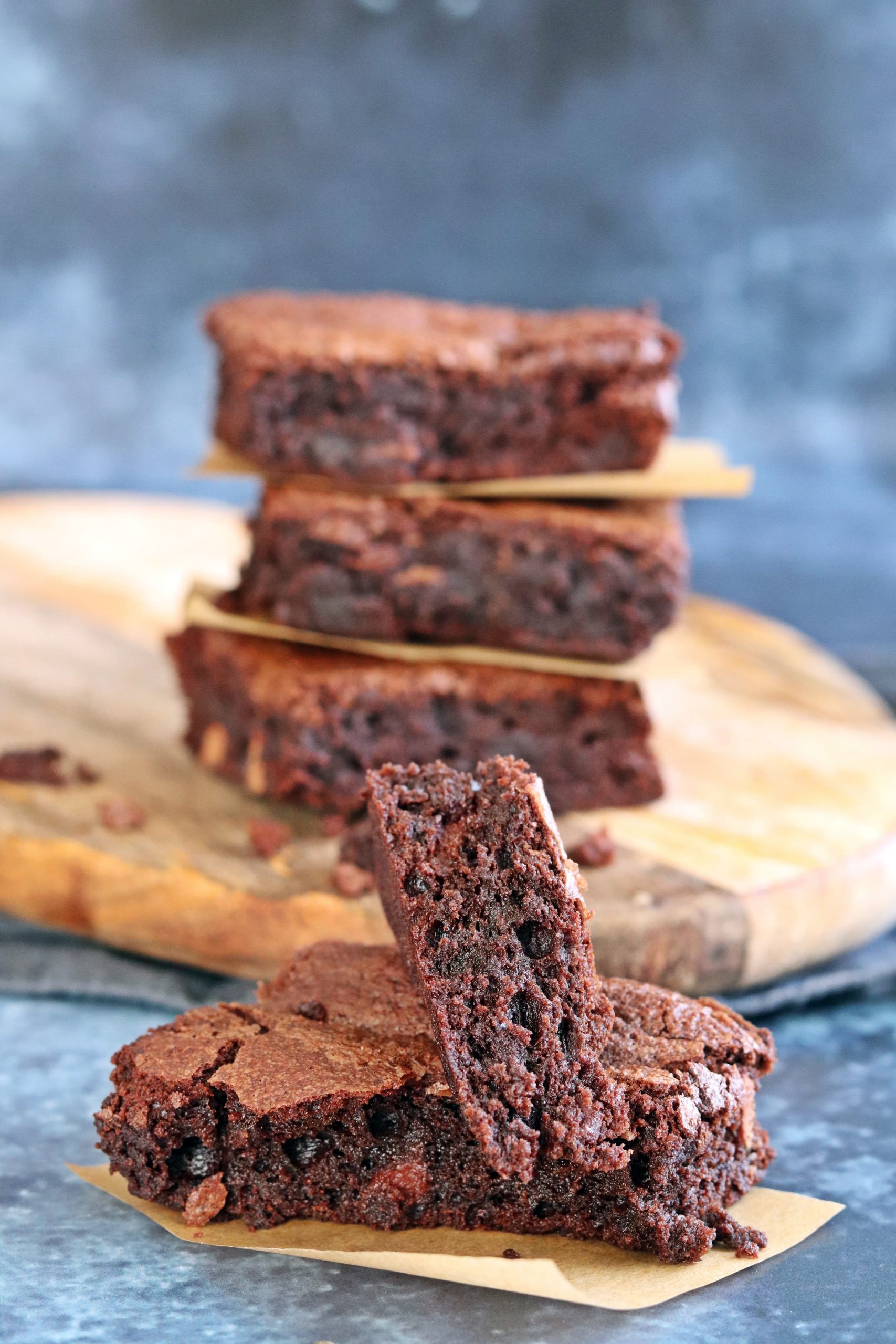 Brownies are the perfect bake to make gluten free
I often use gluten free flour to make both these Chocolate Brownies with Cocoa and my Small Batch Brownies.
Brownies really lend themselves to be gluten free because they need such little flour that when you use gluten free flour you really can't tell.
They taste exactly the same whether you use gluten free or standard flour. This makes them great to make for a group as no one is compromising on flavour.
Why use cocoa powder and chocolate?
The combination of cocoa powder and chocolate is essential in brownies.
Cocoa powder helps provide the delicious chewiness that is essential for the brownie's crust. If you are a bit put off by using cocoa powder, try it and then make up your mind.
You can buy fancy cocoa powders these days but being completely honest, I use ones I can buy in the supermarket which are nothing too fancy.
If you're stuck, you can use hot chocolate at a push, but I would use this as a last resort.
The chocolate is also needed as it provides the fudgy texture – again essential.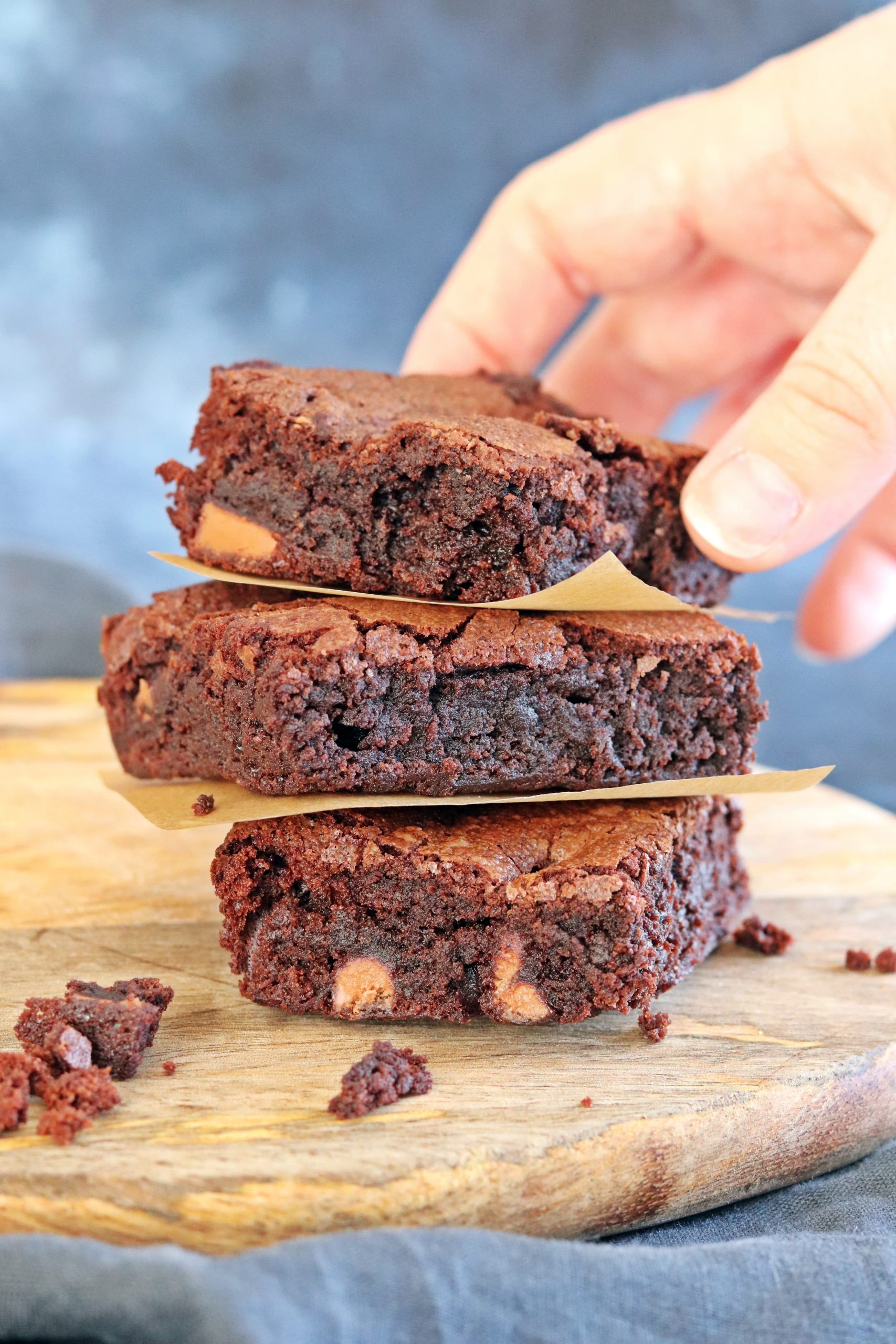 Which chocolate is best to use?
Traditionally brownies are made with good quality dark chocolate with a high percentage or cocoa solids.
I can sometimes find this too rich. So what I tend to do is use a mix of milk and dark chocolate. This still makes an incredibly gooey, rich brownie but it is more to my taste.
Whichever combination of chocolate you use, try to use a good quality chocolate as you will notice the difference.
Resist the temptation and allow the brownies to cool in the tin
I know that when these Chocolate Brownies with Cocoa come out of the oven all you will want to do is dive in.
But wait. Leave them to cool in the tin for at least 30 minutes. They really need this to settle down and relax.
If you try to take them out of the tin too soon there is the chance they will run slightly and not hold their shape.
It is common for them to sink slightly as they cool so don't panic if this happens to yours.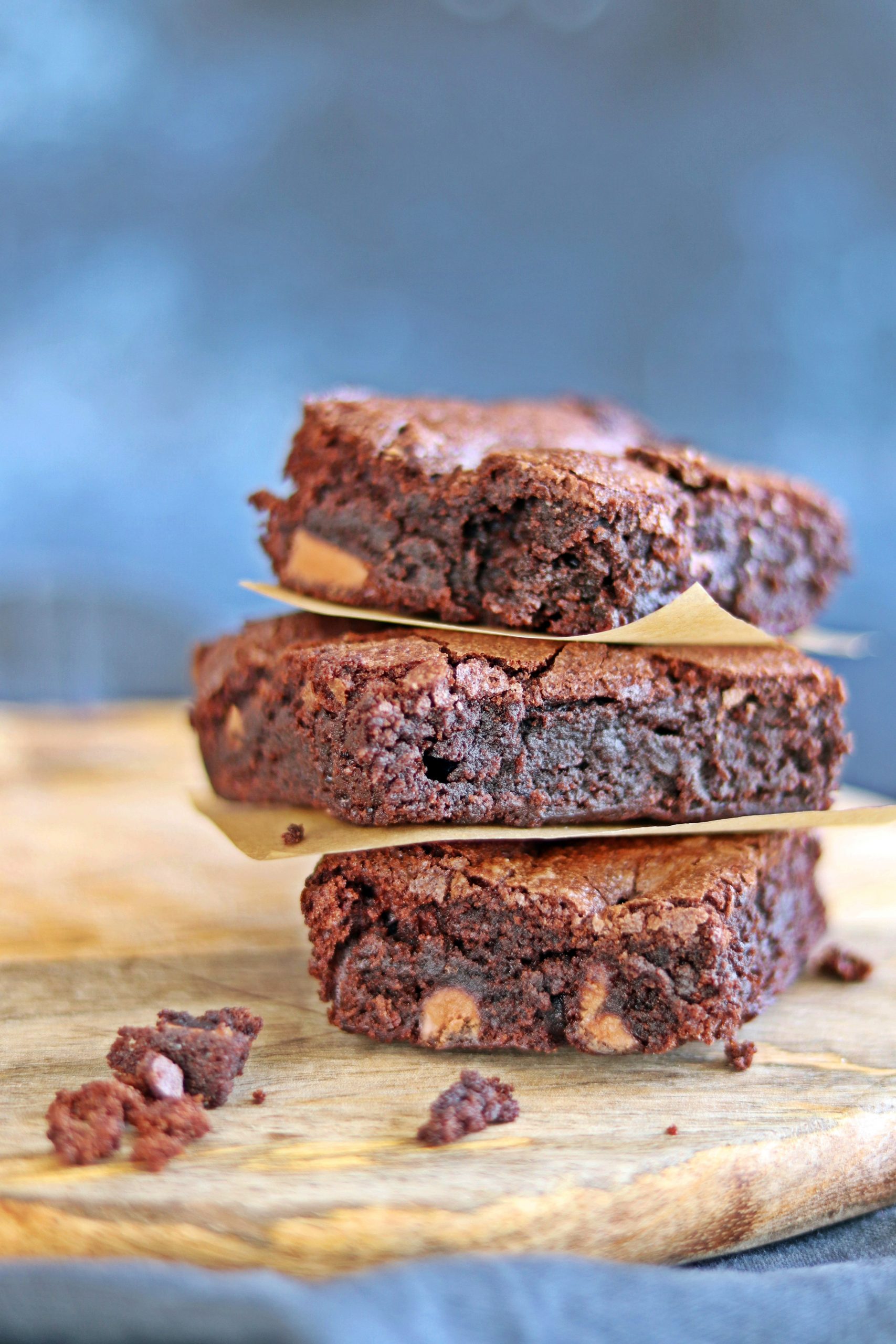 How many people will these brownies serve?
Well that depends entirely on how hungry you are and how much you like to share!
If you prefer larger brownies you may want to cut these brownies into nine. However I think they work really well cut into 12.
If you have used all dark chocolate, the brownies will be richer so a smaller piece would work well.
If you are looking to feed less people, try my Small Batch Brownies.
How long do they keep for?
Brownies keep quite well as far as bakes are concerned.
This is because they are deliciously moist and gooey which I always finds helps them keep fresh for longer.
Keep them in an airtight container for three to four days. After this they will still be edible but a little less gooey.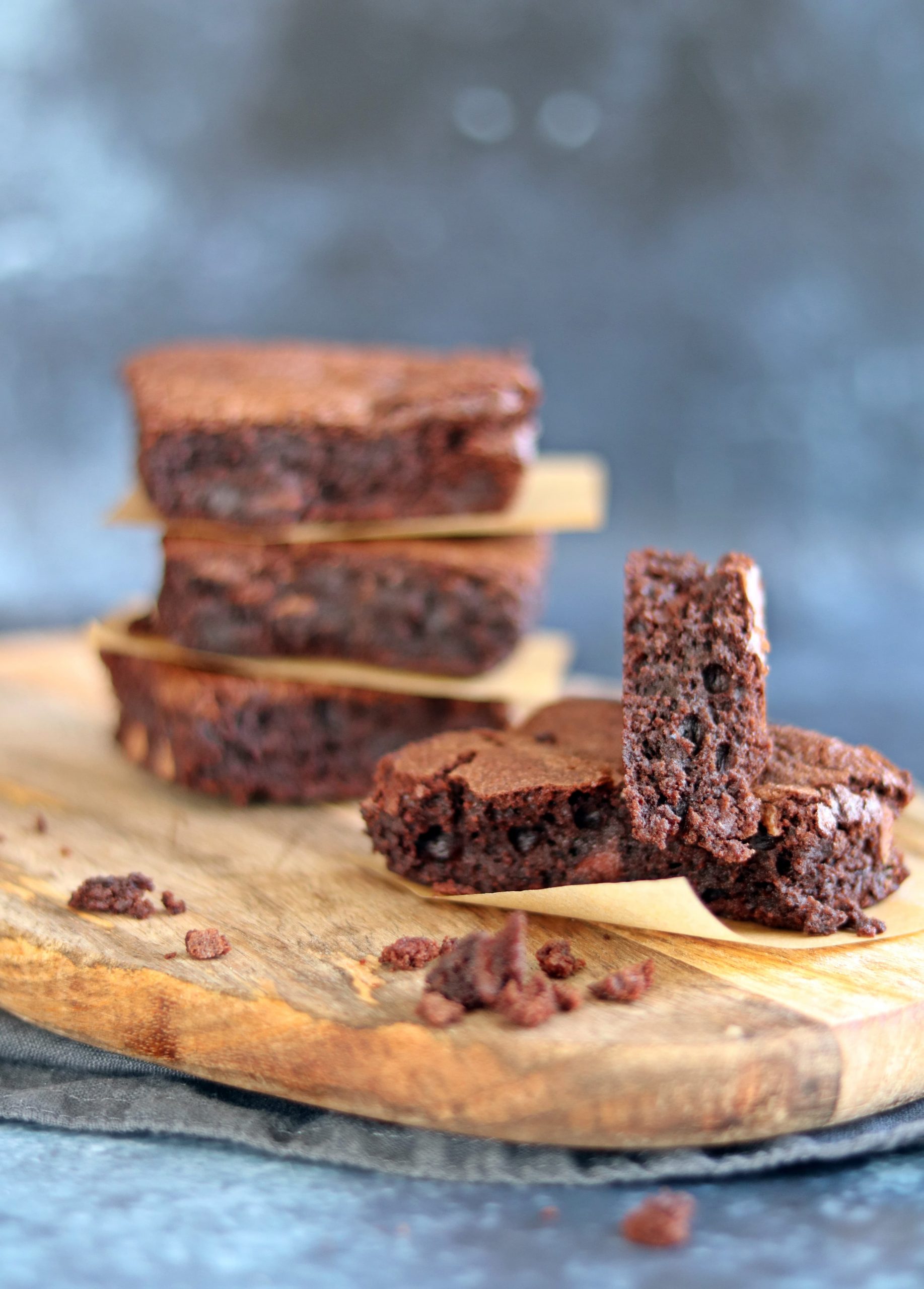 Customise your brownies
Brownies are one of the best bakes to customise.
You can add ingredients to the batter such as nuts if you would like. I would roughly chop 100g and add them when you add the chocolate.
One of the most simple and delicious ways to customise brownies is with your favourite chocolate bar.
When you have poured the batter into the tin, level it and then press the chocolate bars slightly into the batter. I have done this with Snickers, Oreo's, Reece's Pieces – the list goes on.
If you wanted to make sure each piece would have some of the chocolate bar, cut it up before pressing it gently into the batter.
You could also try swirling through Nutella, peanut butter or any type of chocolate spread. Use a knife or cocktail stick to ripple it through the batter before baking.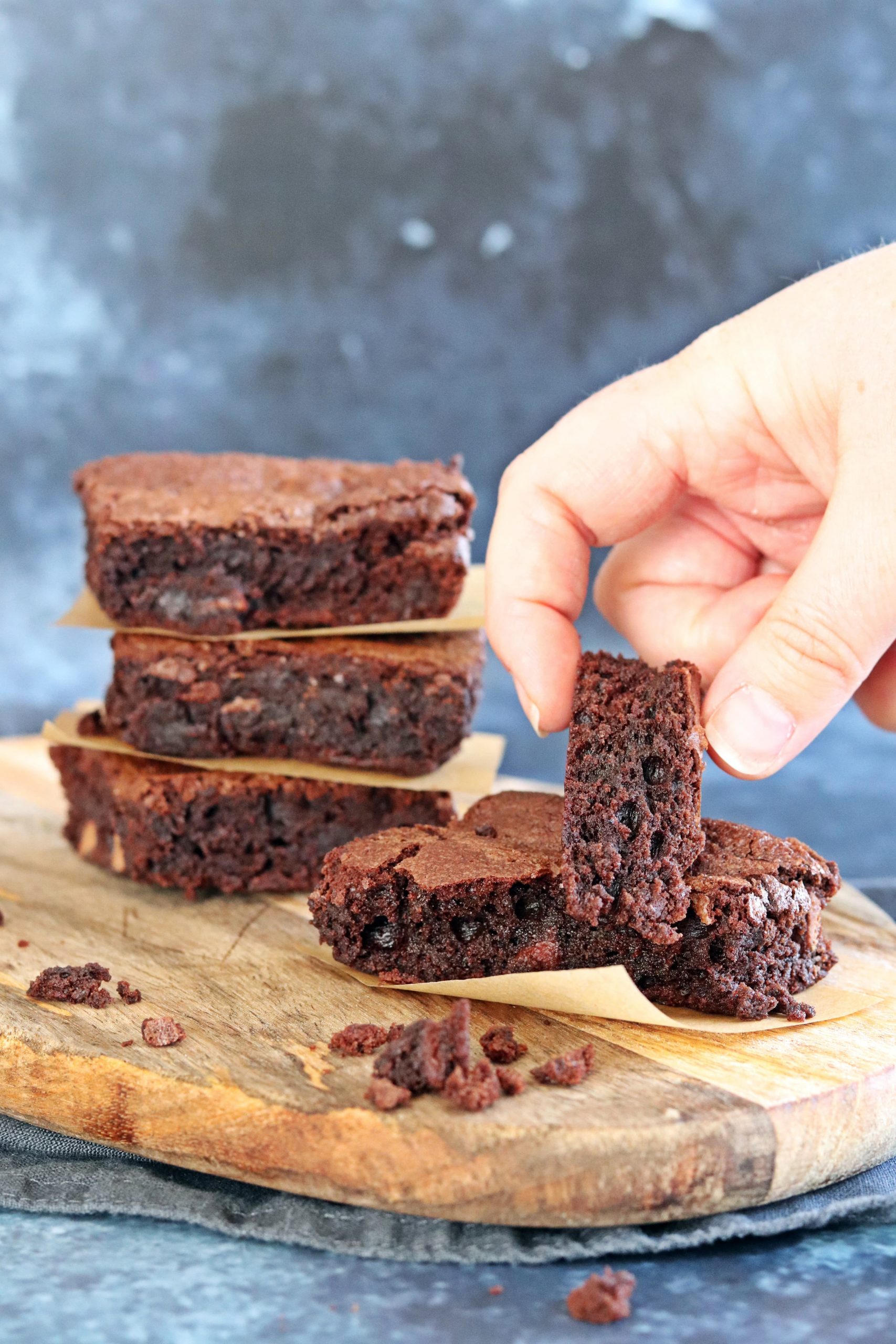 Other chocolate treats you may enjoy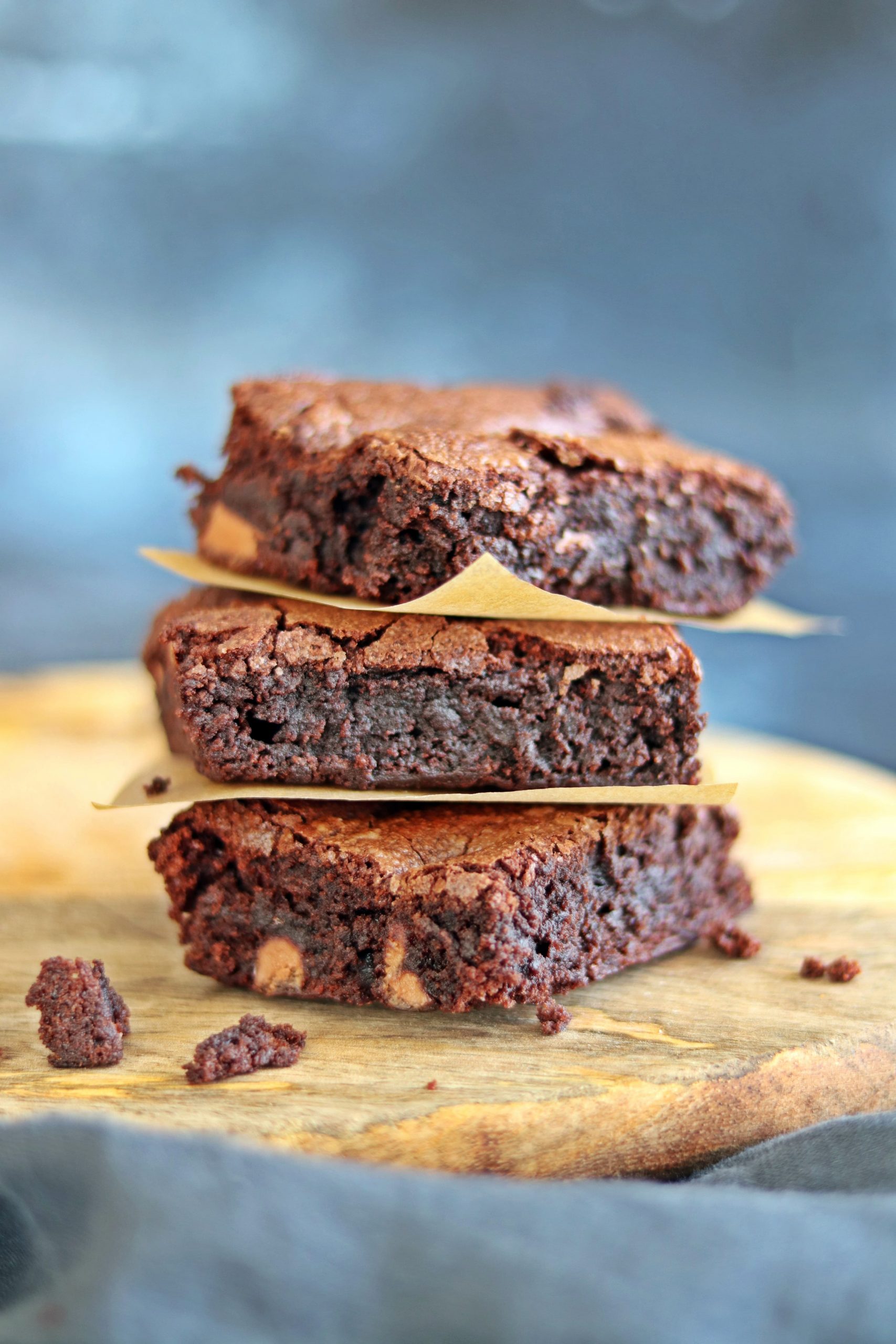 Pin for later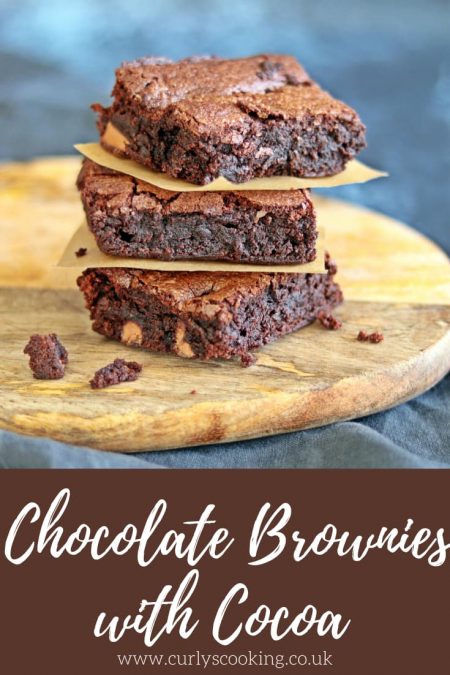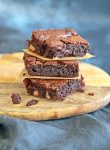 Chocolate Brownies with Cocoa
Deliciously gooey and fudgy, these Chocolate Brownies with Cocoa are the perfect treat. Incredibly hard to resist and once you've made them you'll find any excuse to make them again!
Ingredients
300

g

caster sugar

250

g

unsalted butter

250

g

dark chocolate

(or a mix of dark & milk)

3

large

eggs

60

g

plain flour

pinch

salt

60

g

cocoa powder

½

tsp

baking powder
Instructions
Preheat the oven to 180°C (fan assisted, 200°C non fan) and line a 23cm x 23cm tin with baking parchment

Break 200g of the chocolate into pieces and melt in the microwave in short bursts stirring in between. Set aside

Beat the sugar and and butter for at least 5 minutes until white and fluffy

Chop the remaining 50g of chocolate into small chunks and set aside

Add the eggs to the butter and sugar and mix until combined

Remove from the mixer and add in the melted and chopped chocolate. Fold in gently until combined

Add in the flour, cocoa powder, baking powder and salt and fold gently. This may take a couple of minutes to make sure all of the ingredients are combined

Once fully mixed, tip into the prepared tin and smooth the top

Bake in the oven for 28 – 30 minutes. Test they are cooked by using a cocktail stick, the mix should look sticky but not raw and wet. If the mix still looks raw, bake for another 2 minutes before testing again

Leave the brownies in the tin to cool for at least 30 – 45 minutes before removing from the tin and cutting
Recipe Notes
These will keep in an airtight container for 3-4 days.
Nutritional information is given as a guide only and my vary.
Nutrition Facts
Chocolate Brownies with Cocoa
Amount Per Serving
Calories 418
Calories from Fat 252
% Daily Value*
Fat 28g43%
Cholesterol 92mg31%
Sodium 172mg7%
Potassium 274mg8%
Carbohydrates 41g14%
Protein 5g10%
Vitamin A 596IU12%
Calcium 43mg4%
Iron 4mg22%
* Percent Daily Values are based on a 2000 calorie diet.