Spiced Haddock Rice is my version of a classic Kedgeree. Subtly spiced rice with flaked smoked haddock is topped with a fried egg in my take on the popular breakfast dish. Give it a try and I'm sure it'll become your favourite!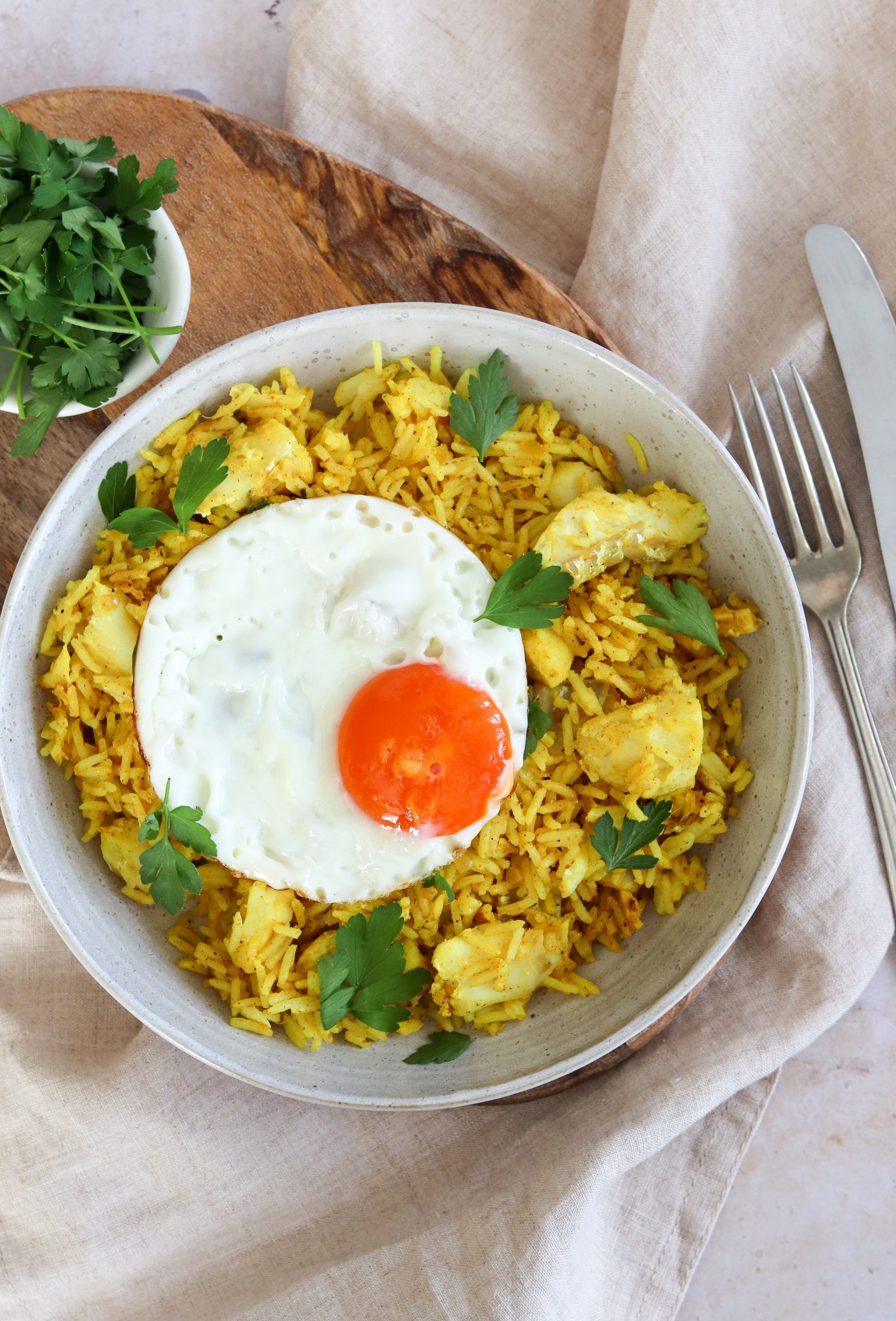 what is kedgeree?
Kedgeree is a rice based dish featuring fish which is usually smoked haddock. Curry powder, parsley and boiled eggs are also usually found in a traditional kedgeree.
It is said kedgeree was a take on the rice and lentil Indian dish Khichuri which dates back to the 14th century. It is widely regarded that these flavours were brought back from India by British Colonials, who introduced it as a breakfast recipe in Victorian times.
The dish developed over the years and the lentils were removed. The rice was served alongside fish and eventually topped with boiled eggs.
It is the Scottish that take credit for incorporating the smoked haddock with the rice and finalising the dish we know as kedgeree today.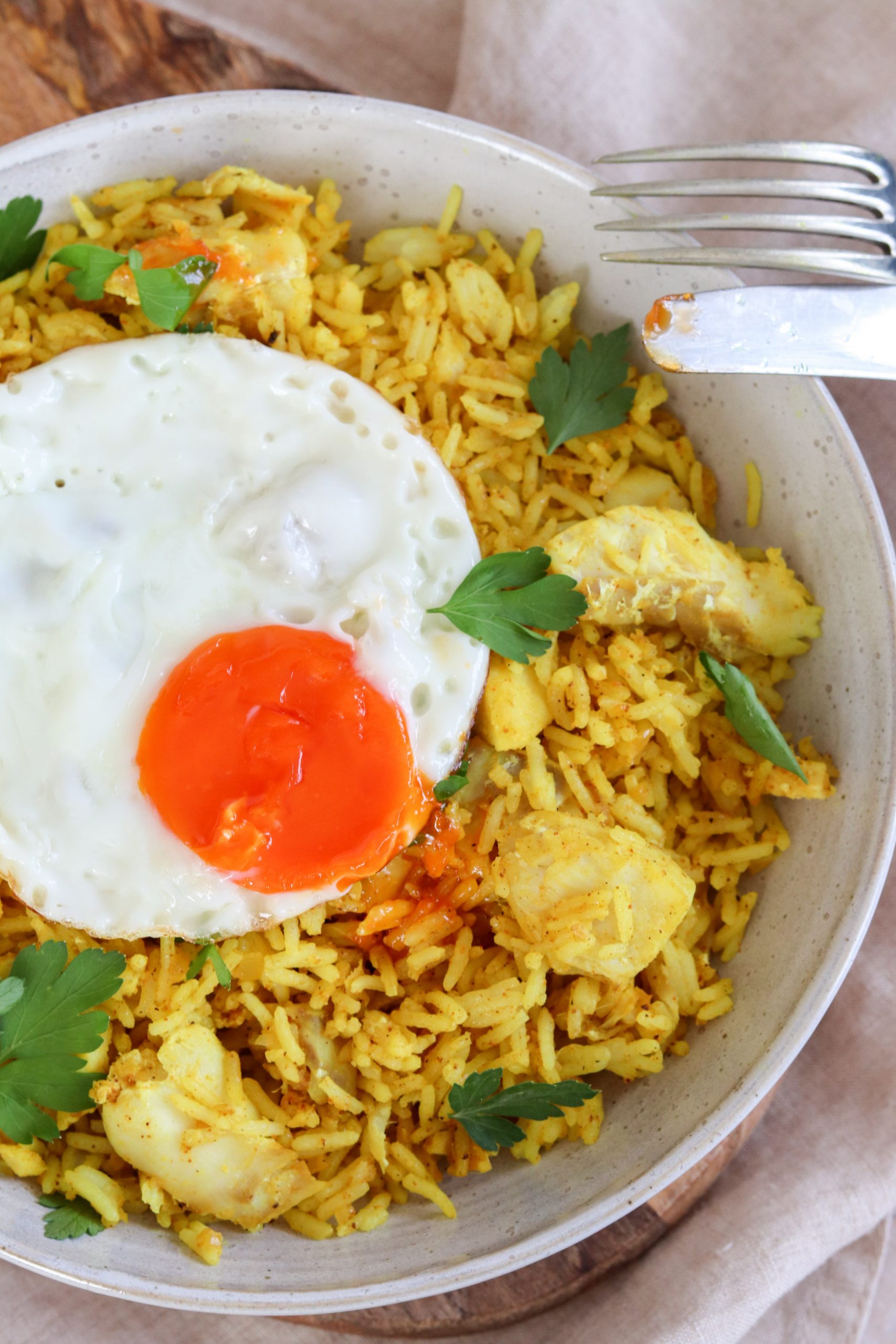 what makes my spiced haddock rice different?
I grew up eating my Mum's version of kedgeree. It is no secret to her that I really didn't like it. Sorry Mum. She served hers with peas and larger pieces of onion that I really didn't like. It was then topped with hard boiled egg.
The peas have been completely scrapped because they have no place in my kitchen. But the onions did manage to stay. However I cut them very fine and allow them time to soften so they provide their flavour but are undetectable. Perfect for children…and me.
I know boiled eggs are the traditional topping. But I don't know why anyone would pick a hard boiled egg over a fried egg. So my Spiced Haddock Rice is topped with a delicious fried egg. After all, this recipe is how I prefer to eat Kedgeree.
I am definitely not claiming my version is authentic. I have taken the idea of kedgeree and made it my own. Feel free to do the same when you make it.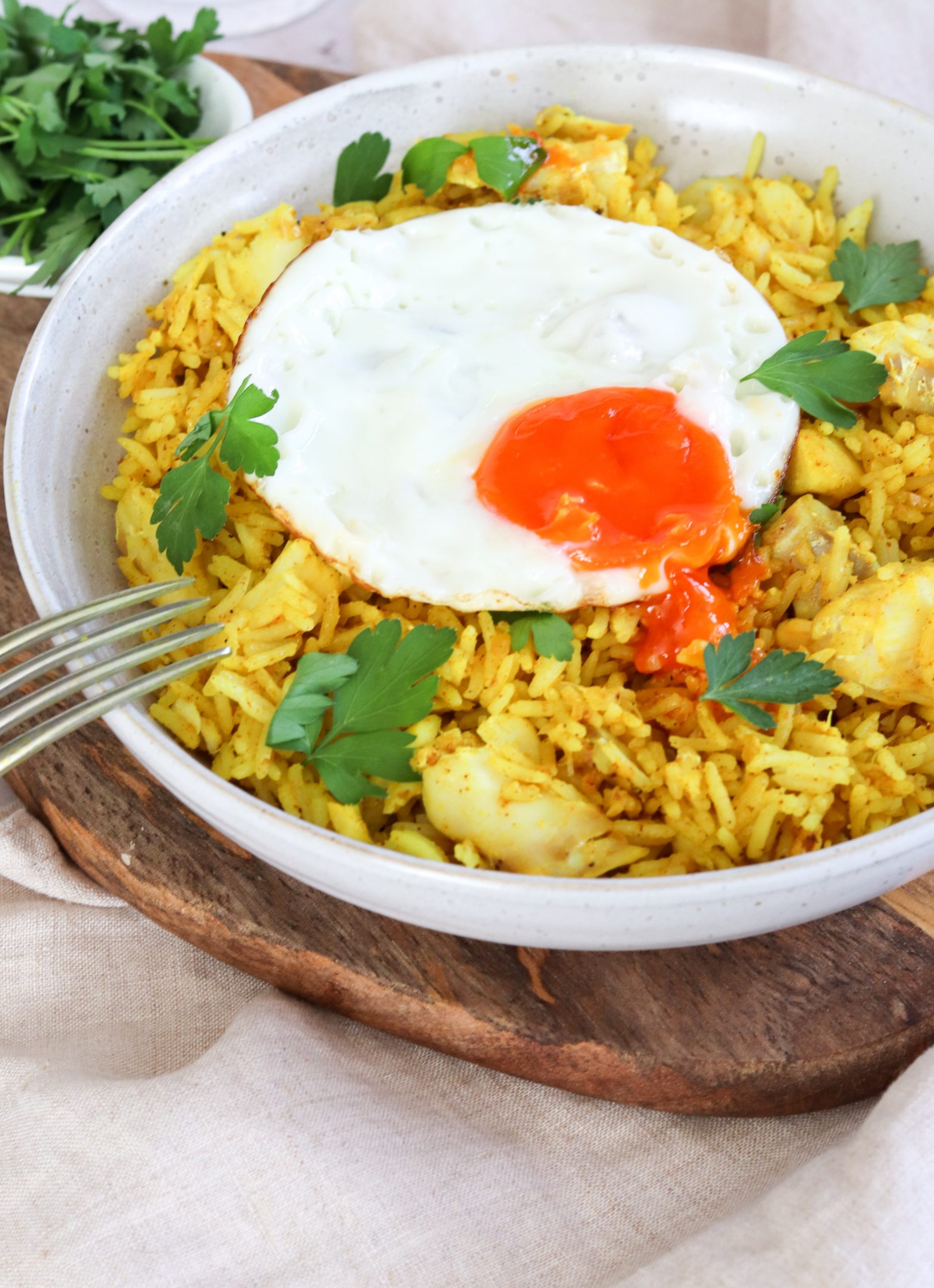 when is spiced haddock rice usually eaten?
Traditionally kedgeree was served as a breakfast dish. But I think it is a shame to limit such a tasty dish to just one time of day.
My Spiced Haddock Rice makes a delicious hearty breakfast or brunch. But it also makes a fantastic lunch or dinner. Eat and enjoy it whenever you like!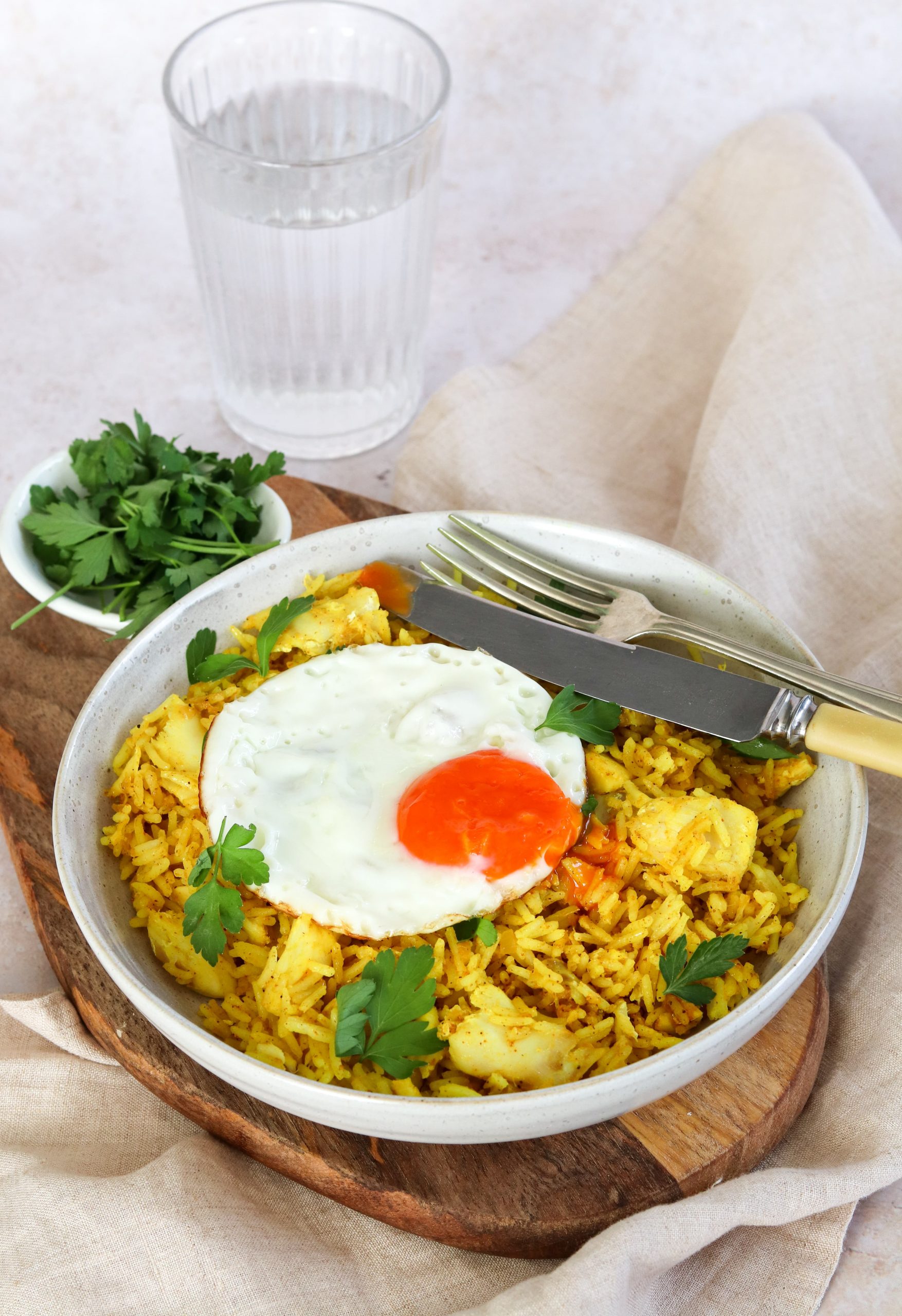 which haddock is best to use?
Smoked haddock is the traditional and popular choice for Kedgeree. It adds even more flavour to the finished dish.
When haddock was cold smoked over wood, it turned a yellowish colour itself. However the majority of haddock is smoked mechanically these days and doesn't change in colour.
This is why some smoked haddock is dyed to give it the yellow colour. Both dyed and undyed smoked haddock will work just as well for this Spiced Haddock Rice.
If you would prefer to use unsmoked haddock you definitely can; I've made this recipe with smoked and unsmoked haddock and both are delicious.
I know this goes against tradition, but don't limit yourself to just using haddock. I don't like a lot of fish but I think Pollock would work well in this kedgeree. Another great option would be to use Smoked Mackerel.
Sustainability is quite important when choosing fish. Try to buy MSC registered fish if you can.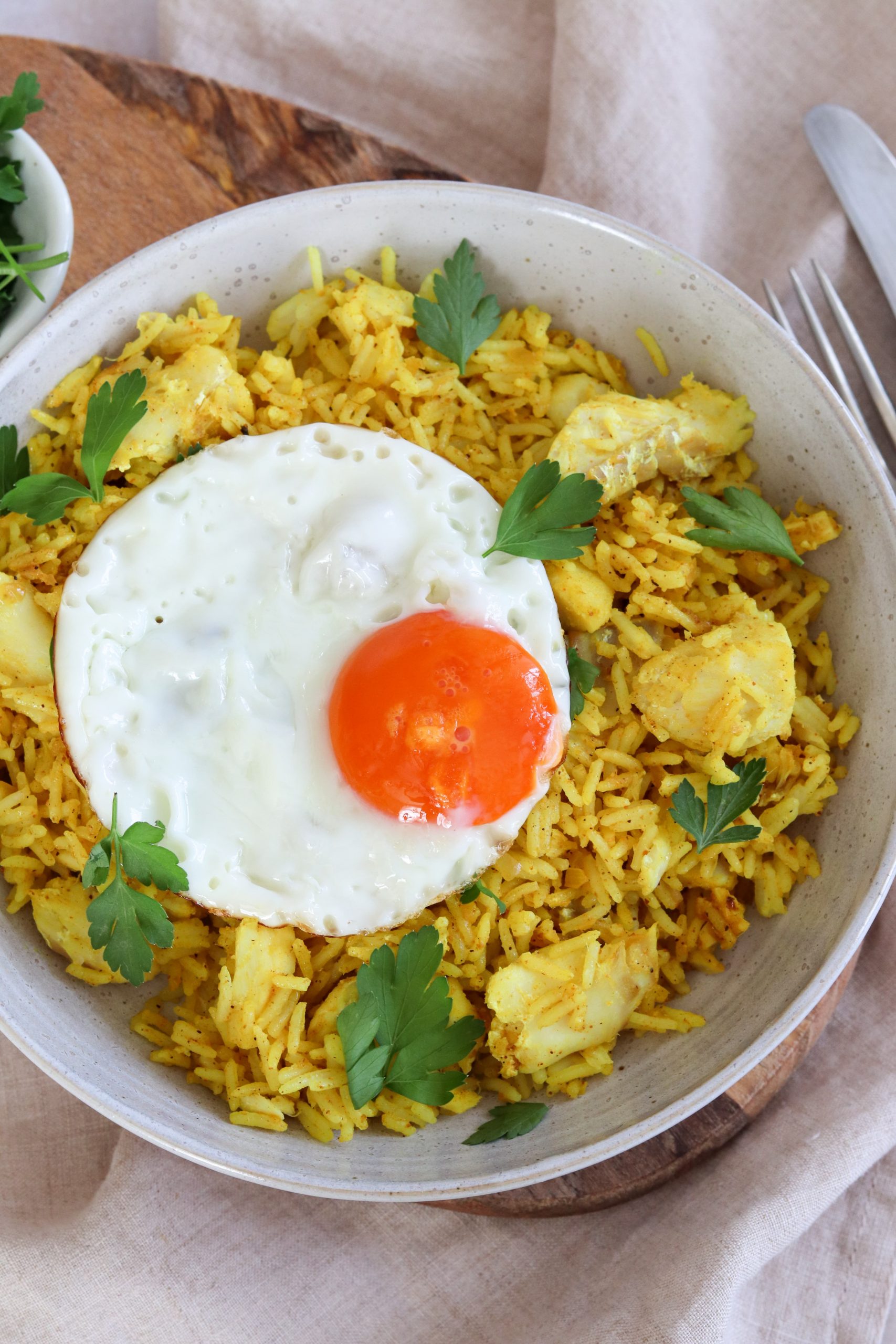 which rice is recommended to use?
I like to use basmati rice for my Spiced Haddock Rice because I like it's slender, longer grains and slight aromatic flavour.
But you can definitely use long grain rice instead if you prefer. Just please don't use microwaveable rice because you will miss the added flavour of the rice cooking in some of the fish poaching liquid.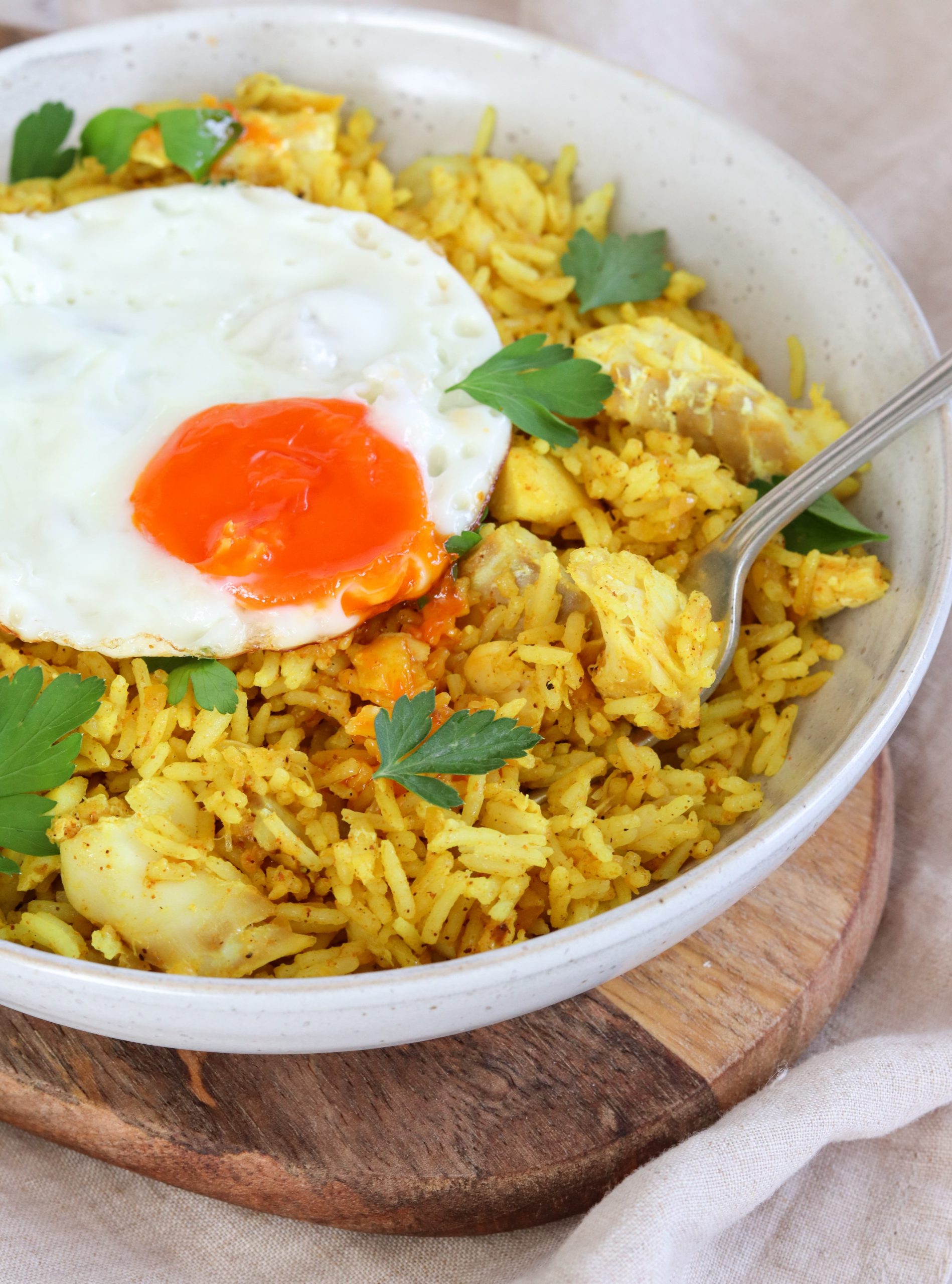 is this kedgeree spicy?
No, not at all. The spices are subtle and should be suitable for nearly everyone. I am confident you wouldn't need to adjust the recipe below for it to be suitable for children that don't like spicy food.
I use a shop bought mild curry powder. It is a blend of spices that make this dish super easy to make. However it is mild and not overpowering at all.
If you do like a bit of spice, you can always use a medium or hot curry powder. Alternatively you could add some diced red chilli to the onions and add more heat this way.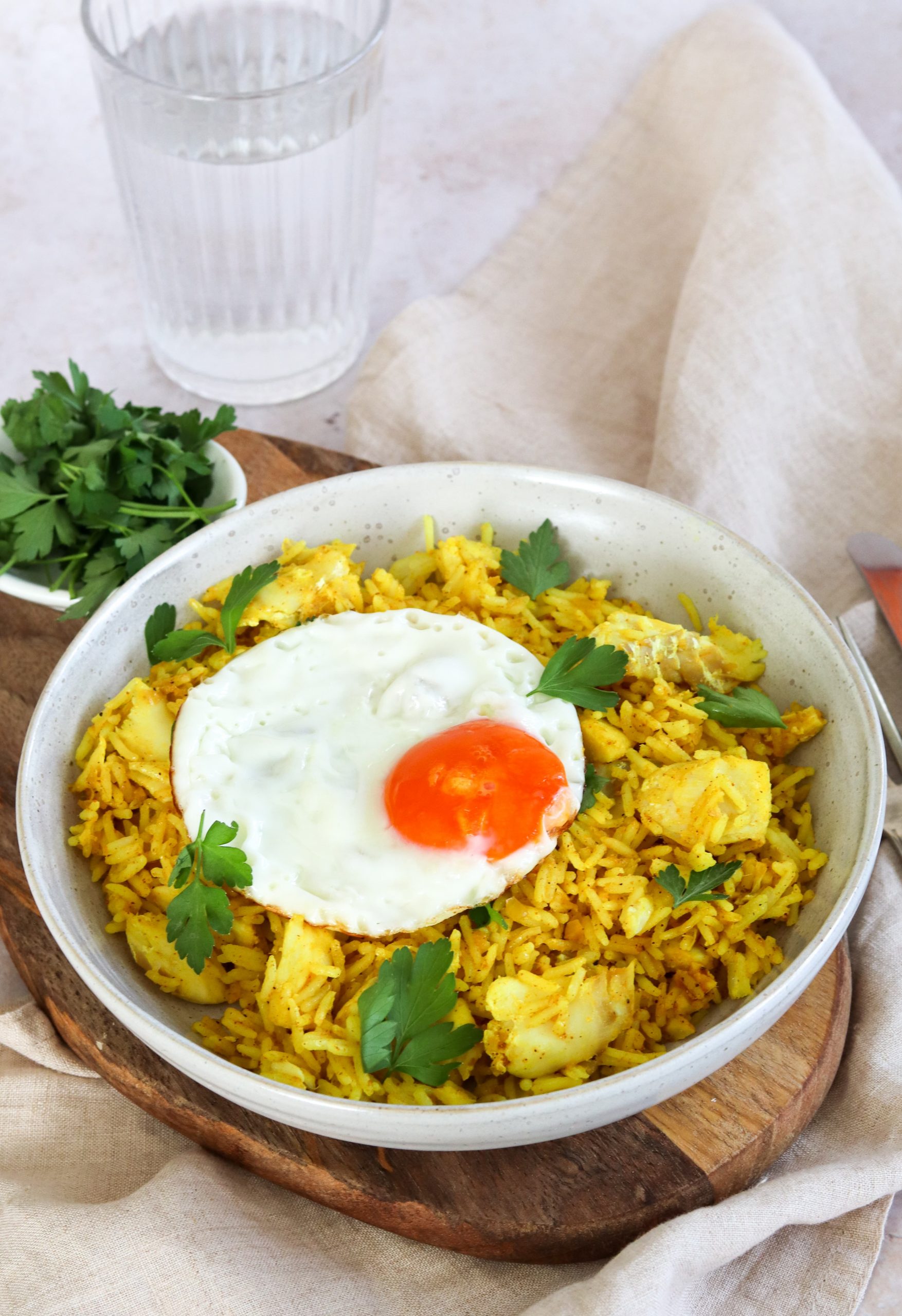 don't forget the egg!
I know hard boiled eggs are the traditional topping for kedgeree, but there's nothing wrong with changing things up!
I much prefer fried eggs to hard boiled eggs so this is what I go for. My preference is to cook the egg so you get a nice crispy egg white.
A poached egg would also be a delicious way of serving the egg. I'm all about the runny yolk mixing with the rice!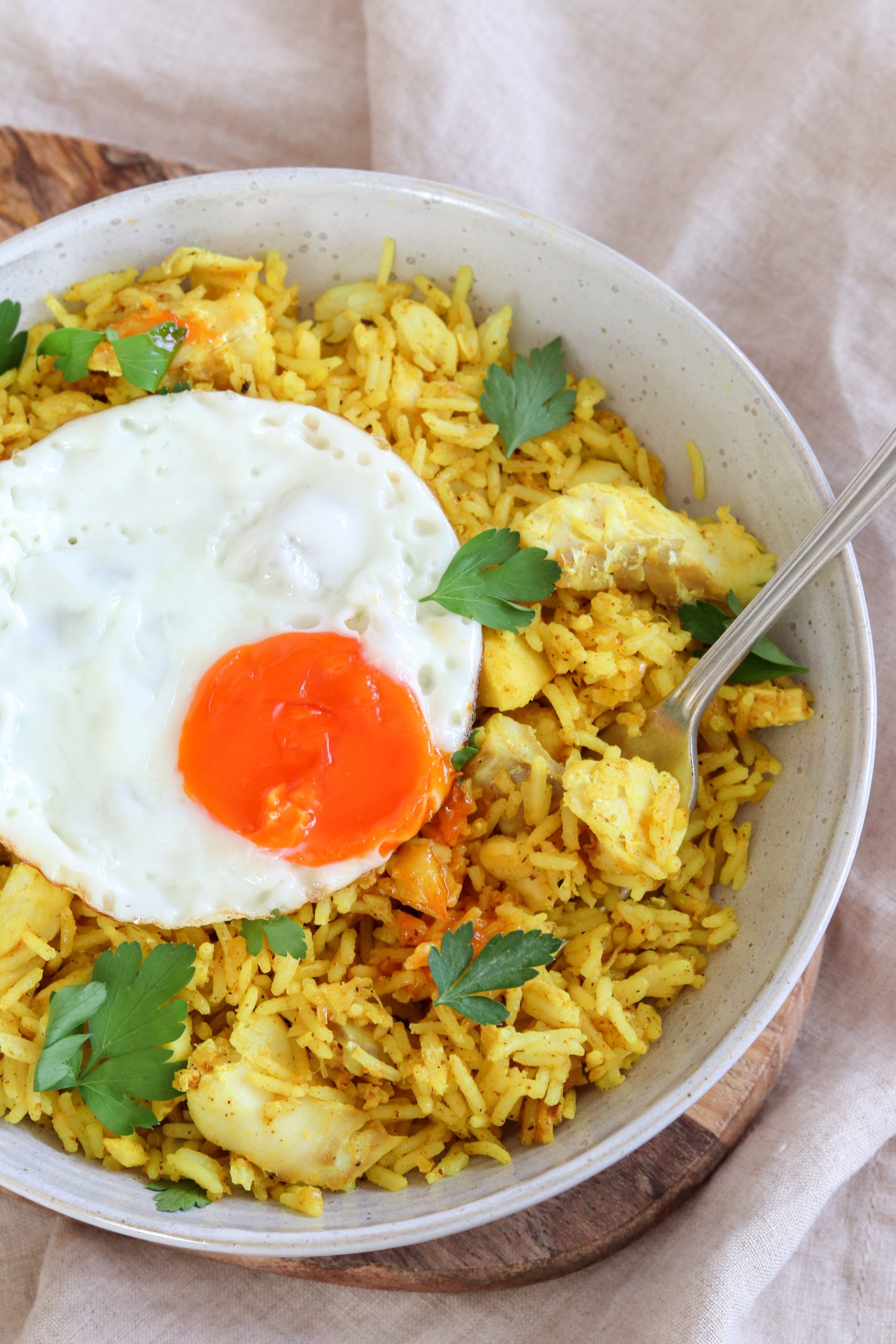 how to make kedgeree gluten free or vegetarian
This Spiced Haddock Rice should be naturally gluten free. The only ingredient to watch out for is the curry powder.
The individual spices are gluten free, but it is always worth checking the packaging as some spice mixes are made in factories that handle gluten.
To make this vegetarian, you can just leave out the smoked haddock. I would still cook the rice in a combination of milk and water to give it added creaminess.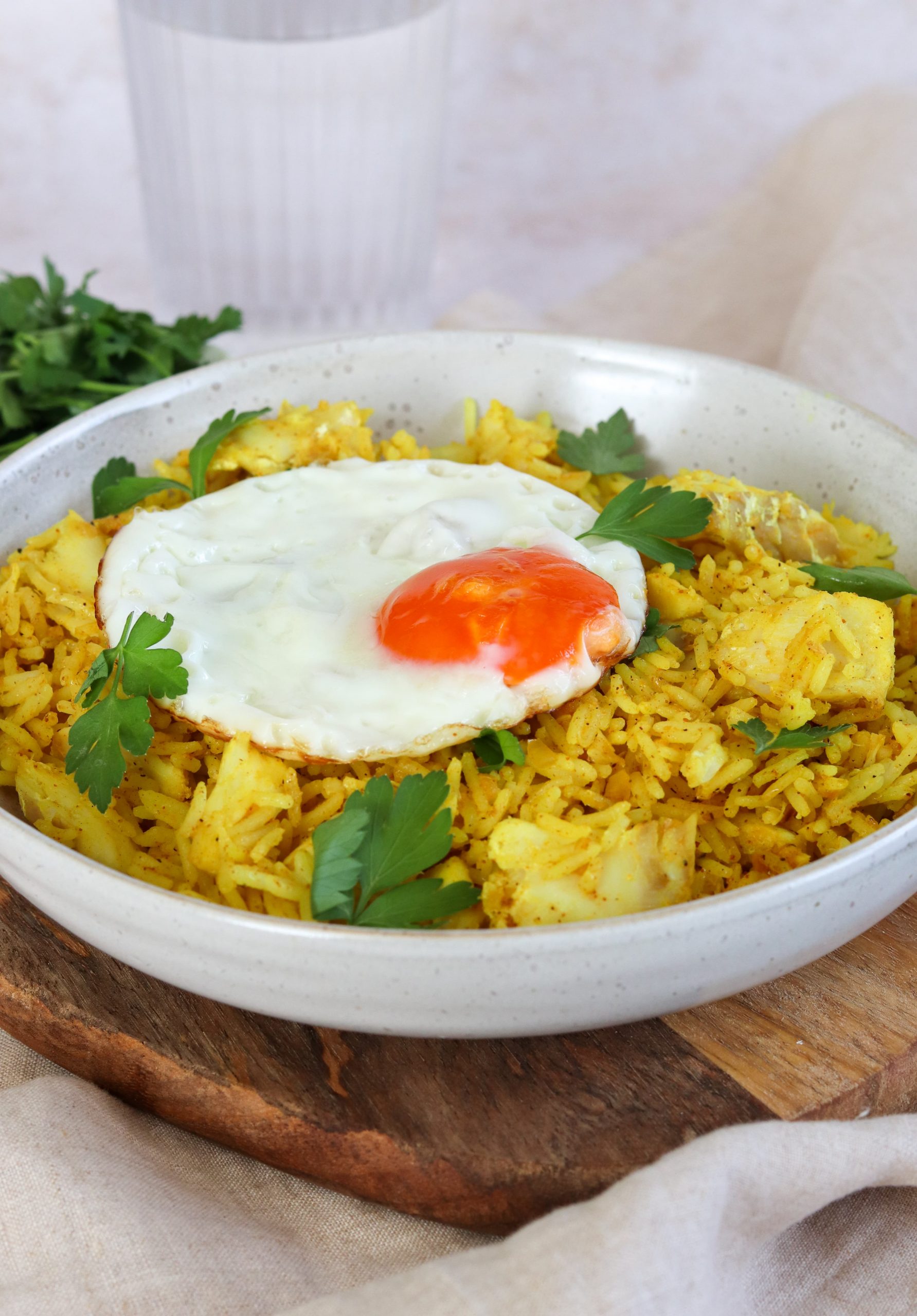 other recipes you might like
Pin for later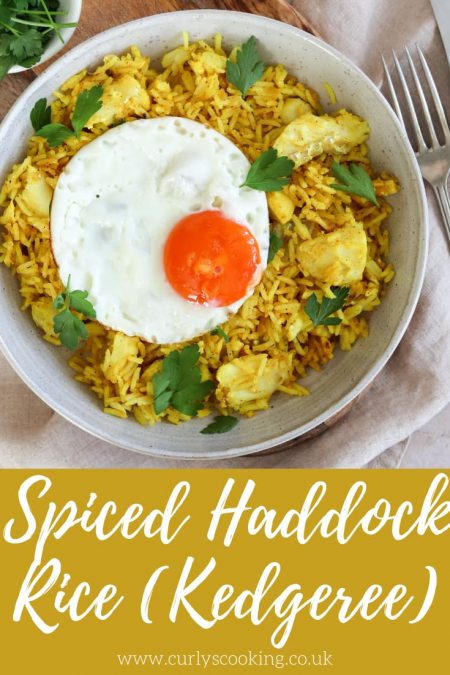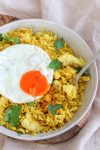 Spiced Haddock Rice (Kedgeree)
Spiced Haddock Rice is my version of a classic Kedgeree. Subtly spiced rice with flaked smoked haddock is topped with a fried egg in my take on the popular breakfast dish. Give it a try and I'm sure it'll become your favourite!
Ingredients
200

g

smoked haddock

300

ml

semi skimmed milk

200

g

basmati rice

250

ml

water

1

tbsp

sunflower oil

½

onion

diced

½

tsp

tumeric

¾

tsp

mild curry powder

¾

tsp

sea salt

20

g

unsalted butter

pinch

black pepper
To finish
1

tbsp

sunflower oil

2

eggs

1

tbsp

fresh parsley
Instructions
Add 200g smoked haddock to a small pan and add 300ml semi skimmed milk or until the milk is nearly covering the fish

Put the pan on a low heat and leave to very gently simmer for 8-10 minutes until the fish is white all the way through

Drain the fish through a sieve making sure you reserve the milk. Put the fish back in the pan with the lid on to keep it warm

Add 200g basmati rice to a saucepan along with 200ml of the reserved fish poaching milk, 250ml water and a pinch of salt

Bring the rice to a boil over a medium/high heat. Once it has come to the boil, reduce the temperature to the lowest setting, put the lid on and leave to cook for 10 minutes

After 10 minutes, turn the heat off and keep the lid on – don't lift the lid. Leave for 10 minutes before forking through

While the rice is finishing cooking, flake the haddock into large pieces checking for any bones

Finely dice ½ onion. Add 1 tbsp sunflower oil to a pan on a medium heat. Add the onion and cook for a couple of minutes until it is starting to soften

Add ½ tsp tumeric, ¾ tsp mild curry powder, ¾ tsp sea salt and 20g unsalted butter to the onions and stir until the onions are completely coated

Add the cooked rice and flaked haddock to the pan along with a pinch of black pepper and stir through gently to get everything incorporated without breaking up the fish too much. Leave on a low heat

Add 1 tbsp sunflower oil to a frying pan and cook 2 eggs to your liking

Serve the rice scattered with fresh parsley and topped with a fried egg
Recipe Notes
Nutritional information is given as a guide only and may vary.
Nutrition Facts
Spiced Haddock Rice (Kedgeree)
Amount Per Serving
Calories 828
Calories from Fat 279
% Daily Value*
Fat 31g48%
Cholesterol 274mg91%
Sodium 1783mg78%
Potassium 867mg25%
Carbohydrates 90g30%
Protein 43g86%
Vitamin A 890IU18%
Vitamin C 5mg6%
Calcium 298mg30%
Iron 3mg17%
* Percent Daily Values are based on a 2000 calorie diet.