This Sweet Potato & Chickpea Curry is deliciously comforting & creamy making it the perfect mild curry. It is vegan & gluten free making it a real crowd-pleaser.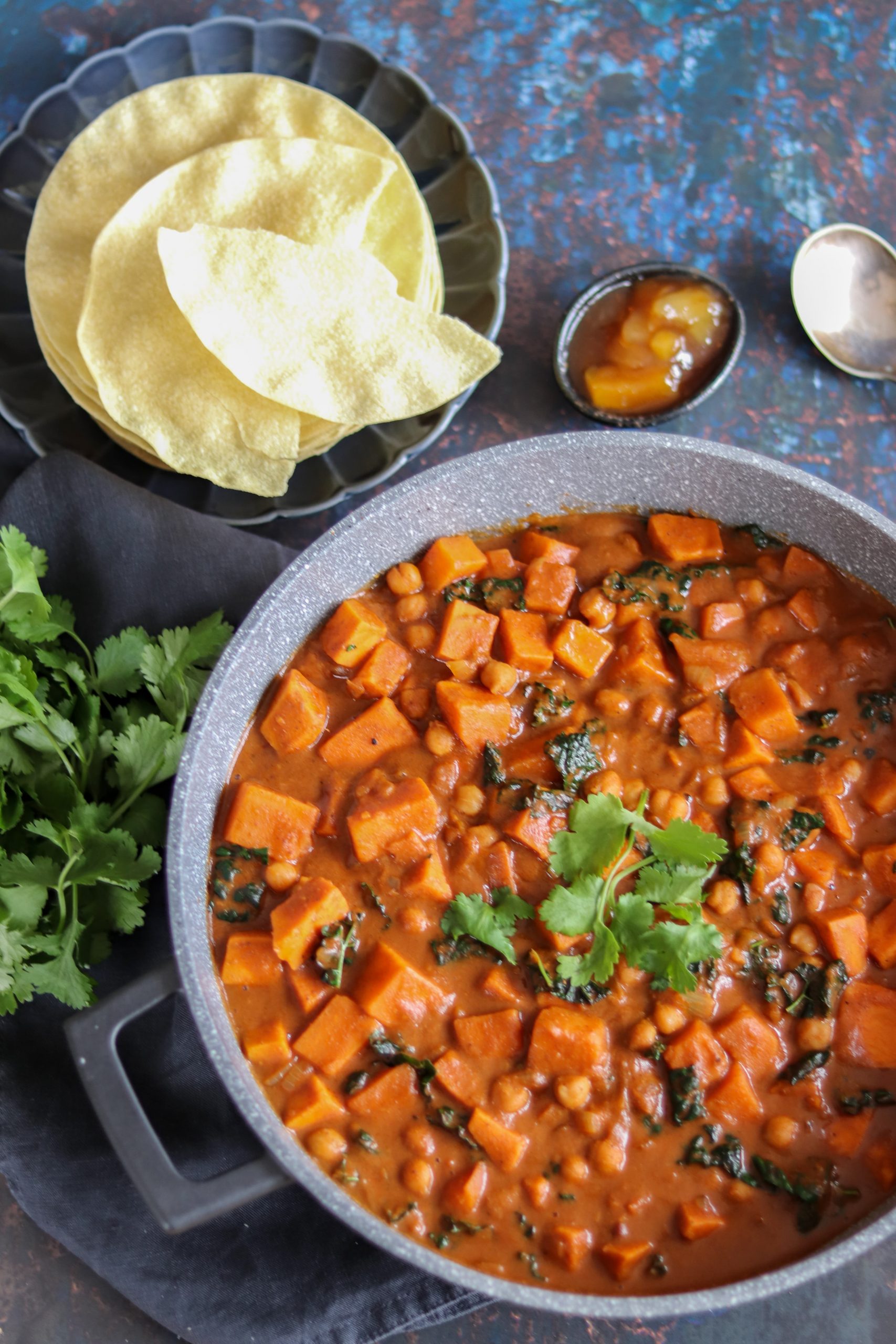 Curries are easier than you may think!
I am not very adventurous at all when I visit Indian restaurants. I always order chicken tikka masala which is why I came up with my Skinny Chicken Tikka.
But in recent years, I have started to become more adventurous with my Indian cooking at home.
Since finding out I like coconut milk and ground coriander, the world has been my oyster! With a few basic Indian spices in your cupboard, you really can't go wrong.
One of our favourite recipes in my house is my Vegetable & Red Lentil Curry. That is another vegan recipe but uses a spice paste for ease.
I wanted to make another delicious curry completely from scratch that was just as easy.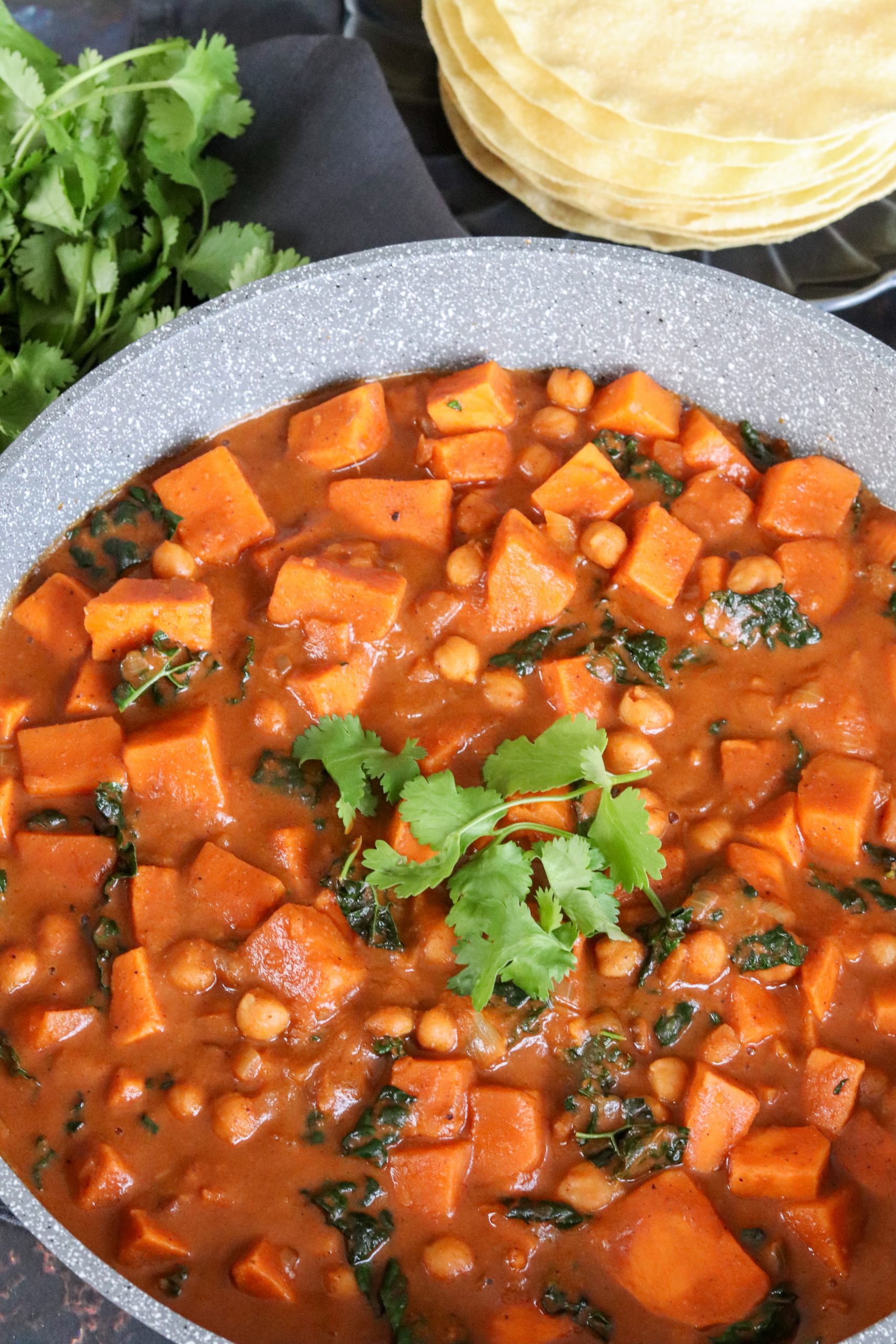 Indian food is ideal for Vegetarian and Vegan recipes
Ignoring the fact that large numbers of people living in India are vegetarian; the cuisine is perfect for vegetarian and vegan meals.
As someone that isn't vegan, I think that when you are creating meat free meals for people that typically eat meat they need to have lots of flavour.
This is especially the case for people that may not be as enthusiastic to try meat free meals. My thinking is that if a meal is packed full of flavour, people will hopefully not miss the meat!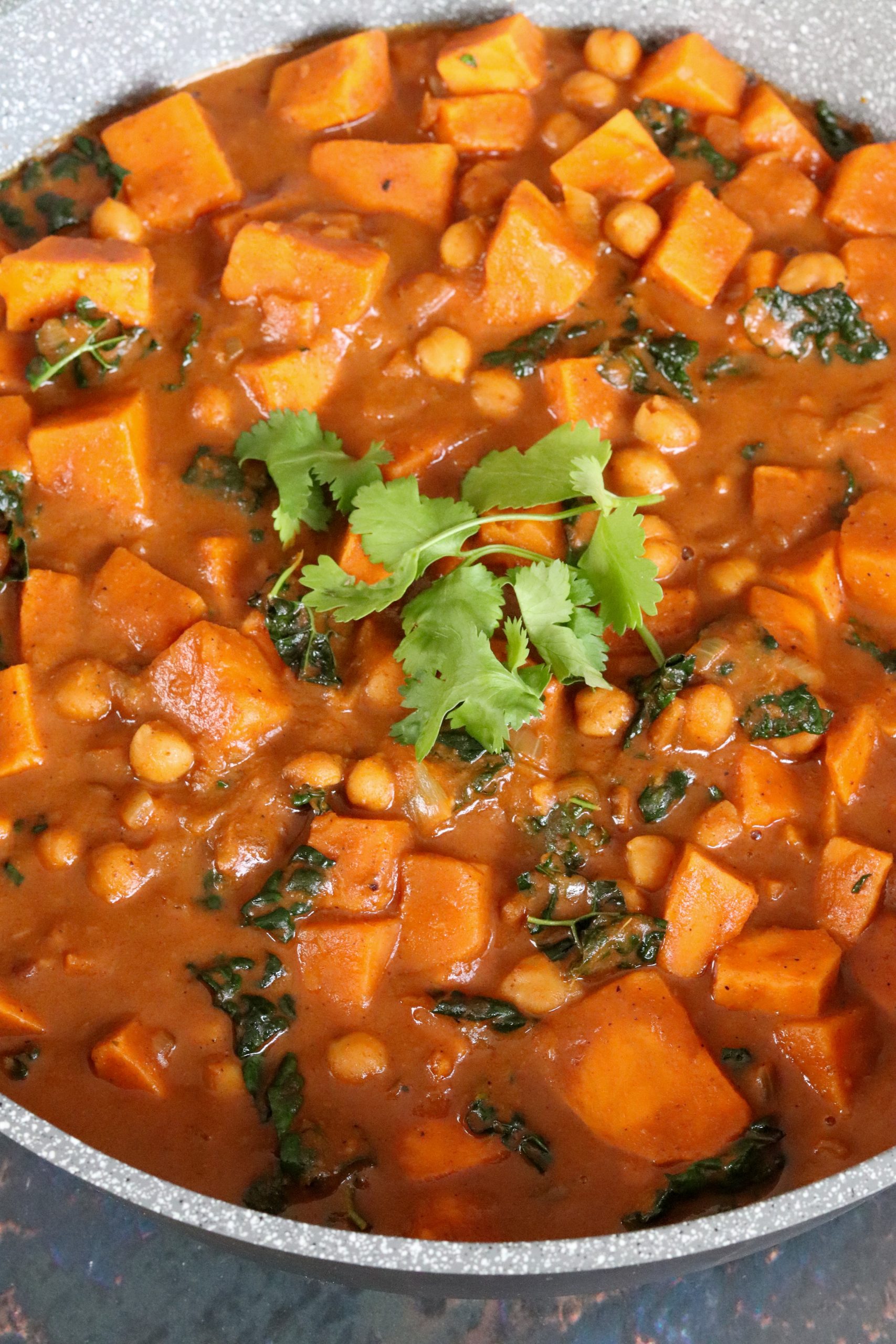 which chickpeas are best to use?
For ease, I would recommend using tinned or jarred chickpeas. These can be used as they are, they just need a quick rinse.
You can obviously use dried chickpeas too, but you will need to prepare ahead and let these soak overnight before adding them to the curry.
A mild but flavoursome curry
This Sweet Potato & Chickpea Curry is quite a mild curry. I chose to keep it mild so that it would suit most people's tastes. It also makes it easier for people to add spice if they would like to.
If you do like a bit of heat, you could either add chilli powder or fresh chillies. I would add this with the rest of the spices and then you can check the spice level and add more if needed before you add the cavolo nero.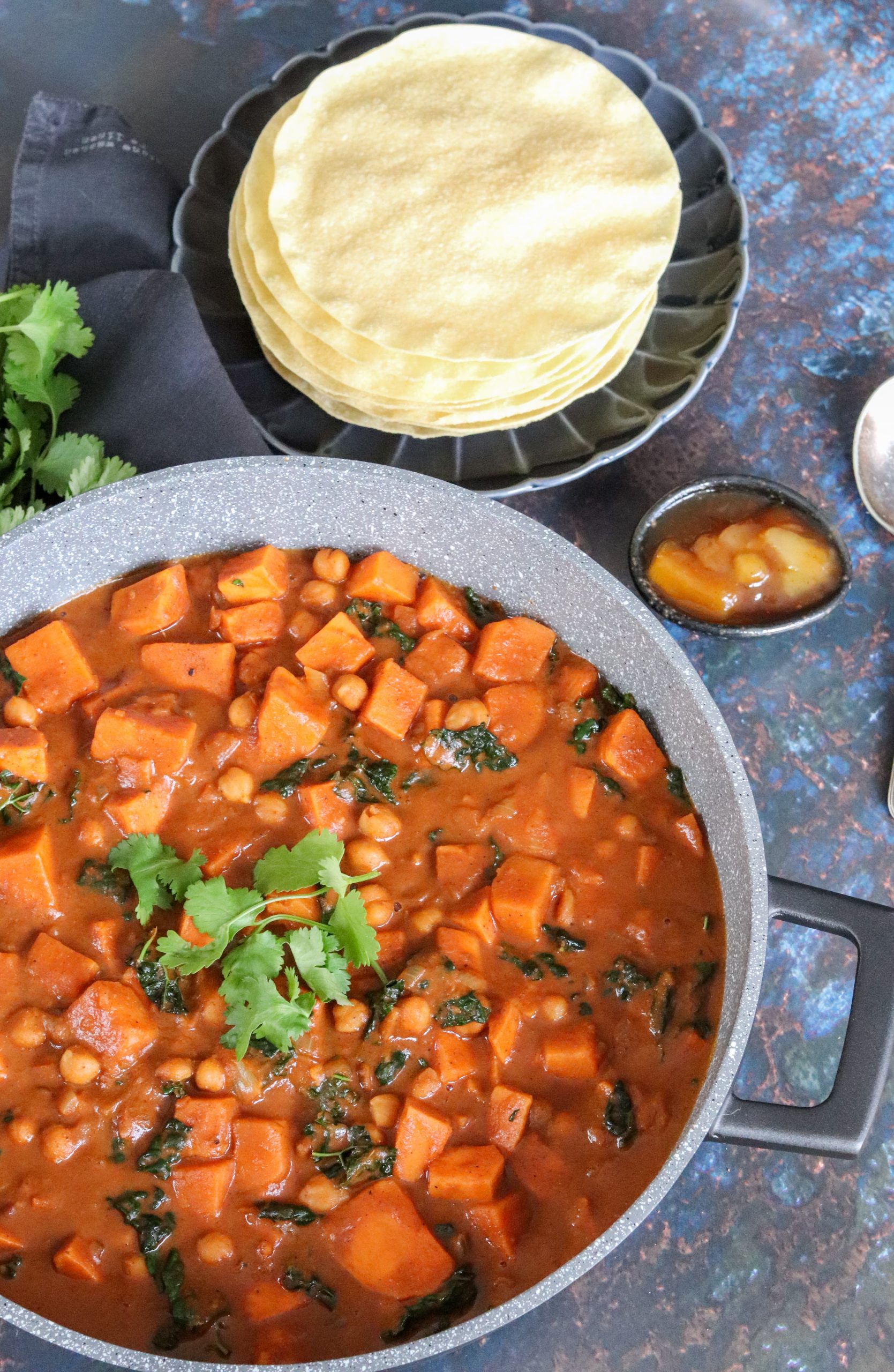 Which coconut milk should be used?
You can use either full fat or reduced fat coconut milk. I know a lot of people prefer to use full fat coconut milk because it is creamier and they prefer this.
I don't mind using light coconut milk because I think this still makes a lovely creamy curry, but please feel free to use whichever you prefer.
Cavolo nero in a curry?!
Cavolo nero probably isn't the most traditionally used ingredient in Indian cooking, but it works really well.
I'm not really a fan of spinach which is more commonly used which is why I used cavolo nero. You can definitely use spinach or kale if you would rather not use cavolo nero or it's not in season.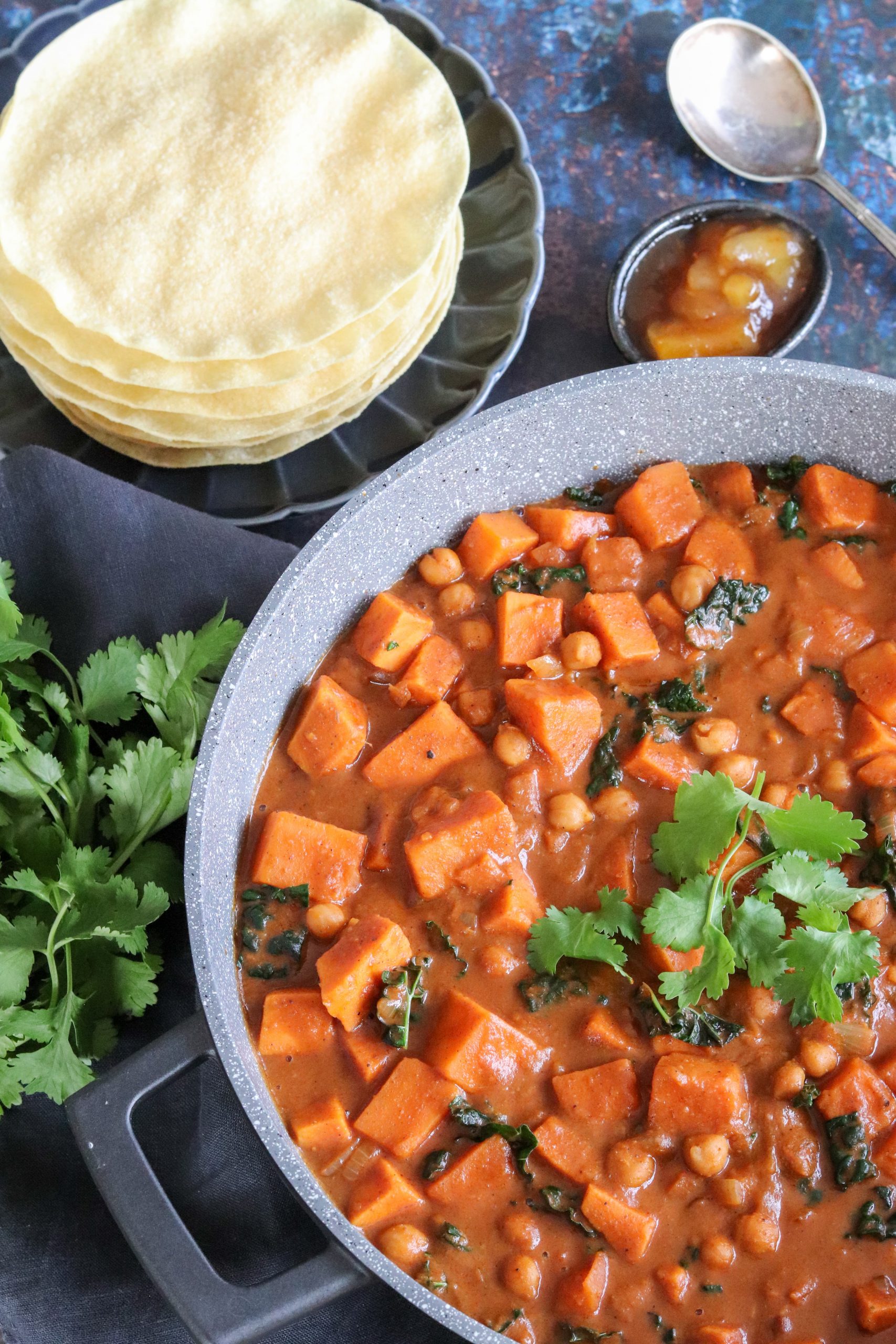 Suitable for most diets
Not only is it vegetarian and vegan, it is also gluten free and dairy free.
This makes it a great meal which should appeal to a large number of people with various dietary requirements.
How to serve this Sweet Potato & Chickpea Curry
As this curry has sweet potatoes in it already, I don't personally serve it with rice. But if you wanted to some simple basmati rice would be perfect.
I like to serve it with some poppadoms to give some added crunch to the curry. Also a spoonful of mango chutney goes very well!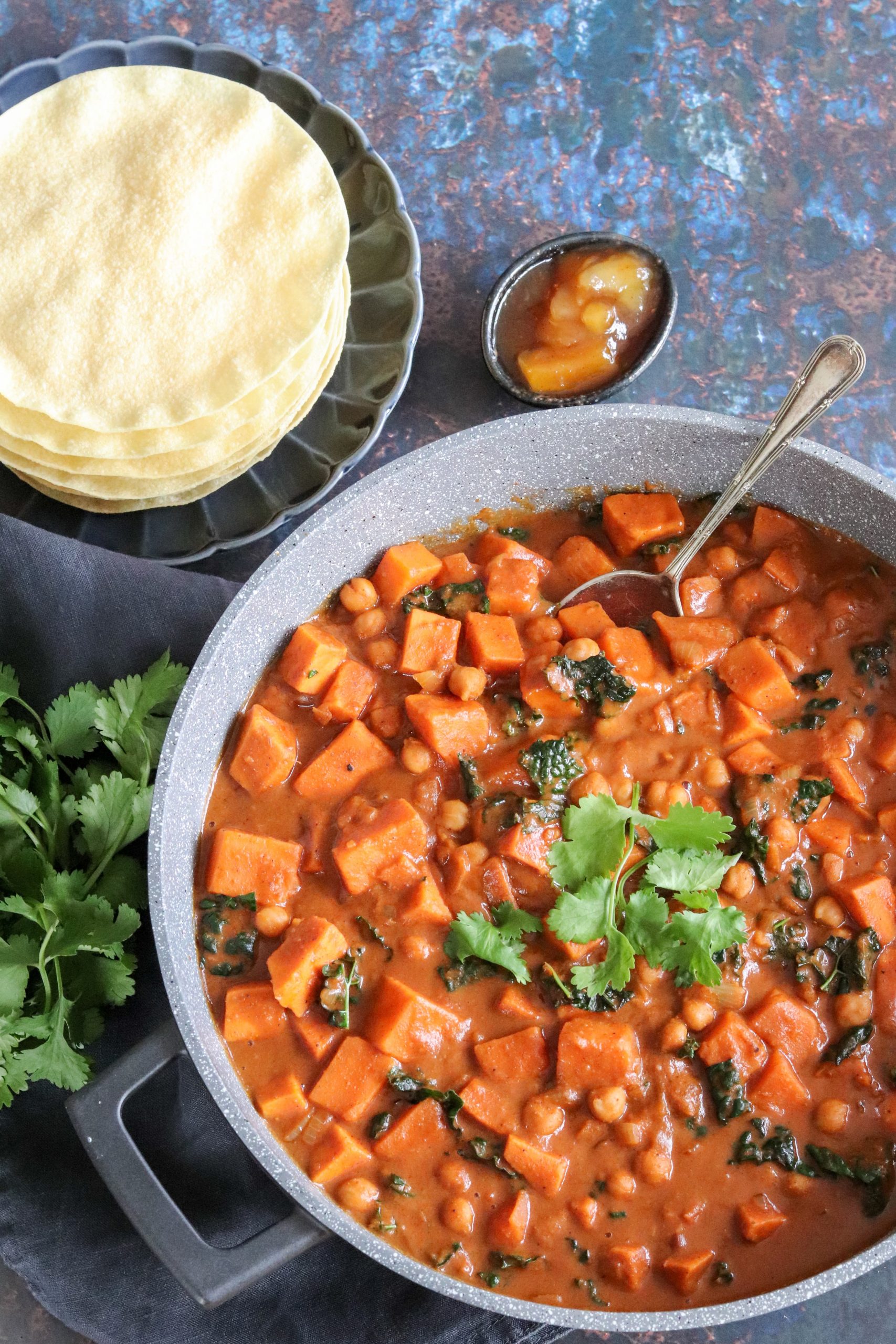 Can you reheat this curry?
Yes, absolutely. It will keep in an airtight container for up to three days.
If you would like to keep it longer, I would suggest freezing it.
I prefer to reheat the curry in a pan on the hob so you can make any adjustments, but you can use the microwave if you'd prefer.
Always make sure it is piping hot before serving.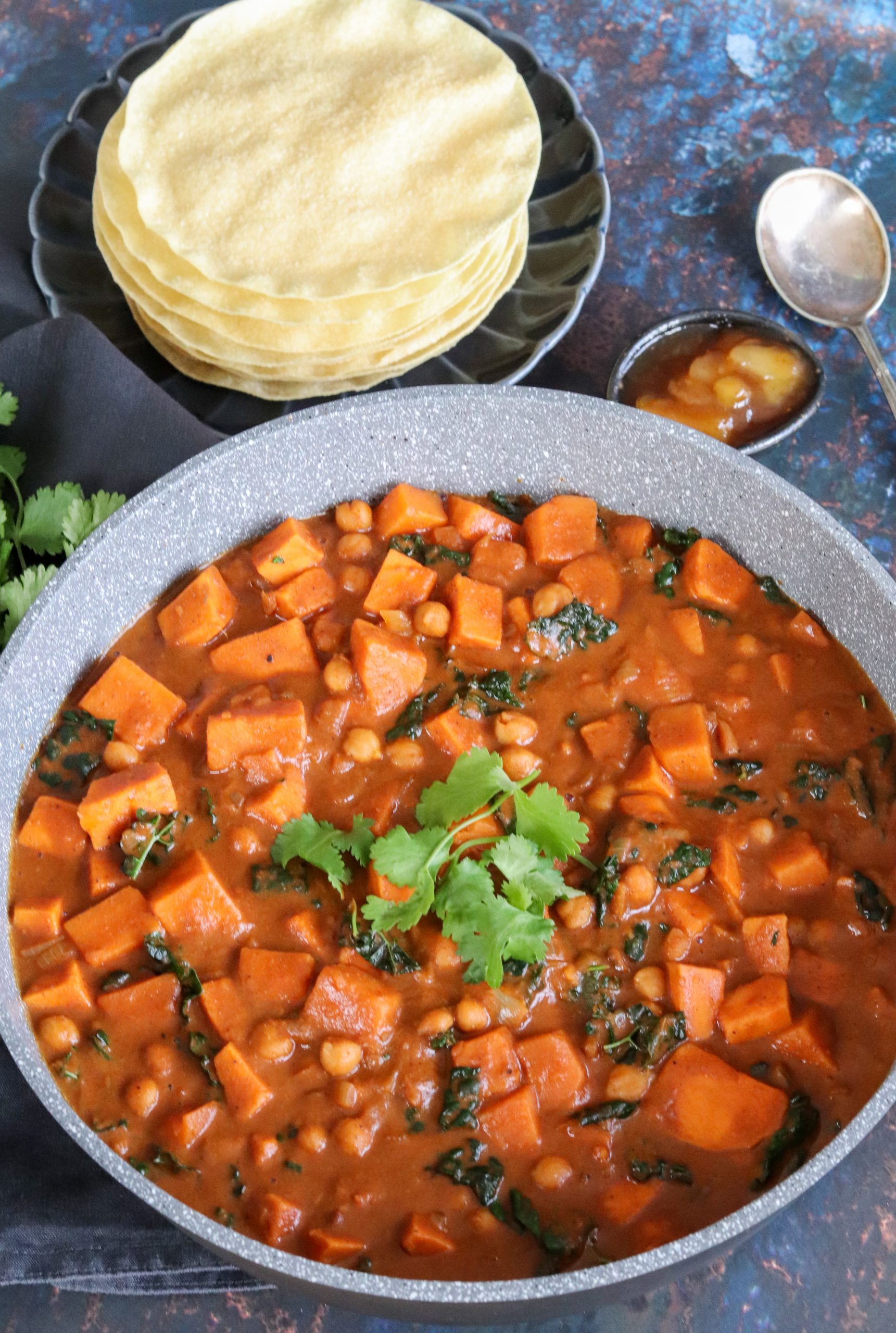 Is this curry suitable for freezing?
Yes, definitely. I make a batch of this and we eat half for dinner and then I freeze the second half for a quick and easy dinner another night.
Make sure you freeze the curry within two hours of it finishing cooking. It can be kept in the freezer for up to three months.
When you would like to eat it, leave it to defrost in the fridge.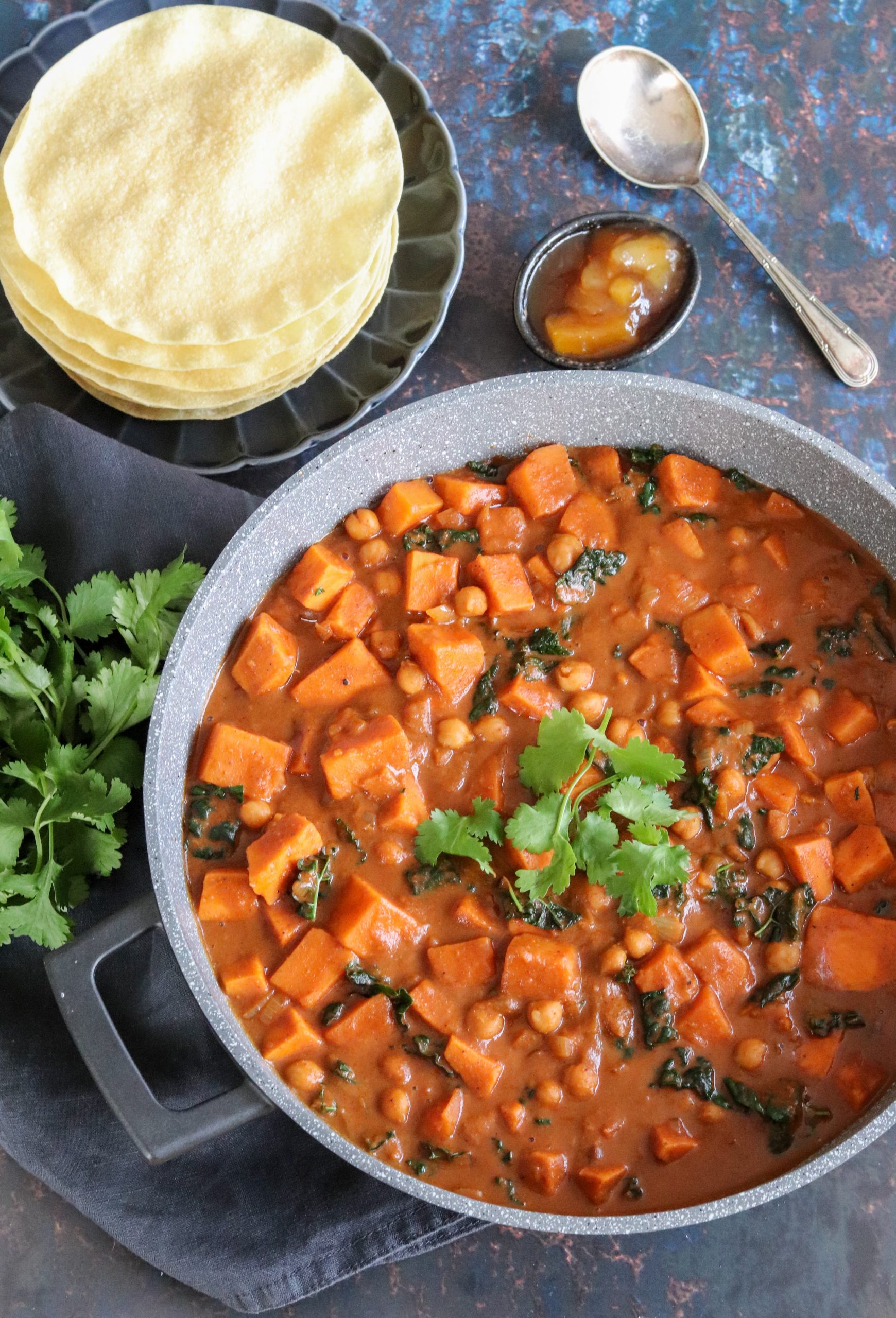 other recipes you might like
Pin for later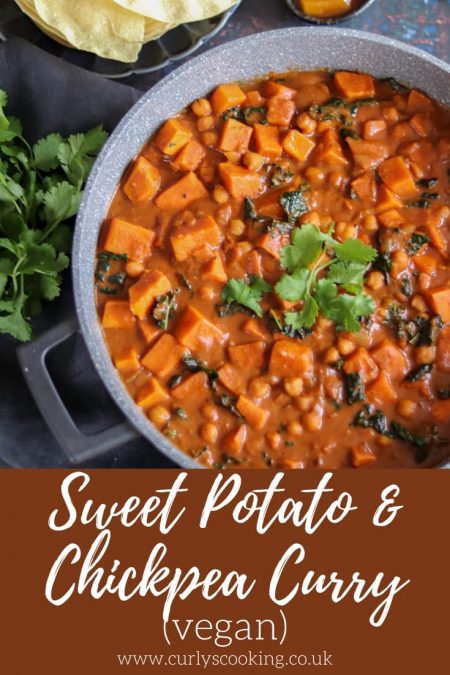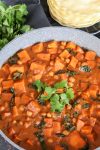 Sweet Potato & Chickpea Curry (Vegan)
This Sweet Potato & Chickpea Curry is deliciously comforting & creamy making it the perfect mild curry. It is vegan & gluten free making it a real crowd-pleaser.


Ingredients
½

tbsp

sunflower oil

1

onion

diced

½

tbsp

ginger paste

1

cloves

garlic paste

800

g

sweet potato

(2 large) peeled and diced

2

tsp

ground coriander

2

tsp

ground cumin

1

tsp

ground turmeric

2

tbsp

garam masala

1 ½

tsp

sea salt

¼

tsp

black pepper

1 ½

tbsp

tomato puree

500

g

passata

400

g

tin of chickpeas

drained & rinsed

400

ml

tin of light coconut milk

300

ml

vegetable stock

100

g

cavolo nero
Instructions
Heat a large pan over a medium heat before adding the oil. When warm, add the onion and allow to soften without colouring for a couple of minutes

Add the ginger and garlic paste to the onions and allow to cook for minute or two, stirring frequently

Add the diced sweet potato, all of the spices and tomato puree. Mix to coat the sweet potatoes in all of the spices

Pour in the passata, drained chickpeas, coconut milk and stock. Stir thoroughly and then turn the heat down to low so that the curry is barely bubbling. Cover and leave to cook for 30 minutes, stirring every so often

After 30 minutes, remove the lid and check the sweet potato is cooked by inserting the point of a knife. If the knife doesn't go in easily, let the curry cook for another 5-10 minutes

Wash the cavolo nero and remove the middle stalk. Slice and add to the pan. Stir through and leave to cook for 10 minutes without the lid on

Serve scattered with fresh coriander with rice, poppadoms or naan bread
Recipe Notes
Nutritional information is given as a guide only and my vary.
Nutrition Facts
Sweet Potato & Chickpea Curry (Vegan)
Amount Per Serving
Calories 410
Calories from Fat 27
% Daily Value*
Fat 3g5%
Sodium 1323mg58%
Potassium 1332mg38%
Carbohydrates 58g19%
Protein 6g12%
Vitamin A 29215IU584%
Vitamin C 21mg25%
Calcium 105mg11%
Iron 5mg28%
* Percent Daily Values are based on a 2000 calorie diet.