Mary Berry's Christmas Chocolate Cupcakes are light, fluffy and topped with festive vanilla buttercream. Great for children to help decorate too!
my go-to Chocolate Cupcake recipe
This is my go-to recipe for chocolate cupcakes and is so tasty I haven't felt the need to look for an alternative. I have been making this recipe for years.
I've slightly adapted Mary Berry's recipe to make these festive beauties. You can't go wrong with a Mary Berry classic.
What are Mary Berry's Christmas Chocolate Cupcakes?
These are Mary Berry's chocolate cupcake recipe with a few tweaks to the recipe.
Mary Berry's original recipe is a chocolate cupcake with chocolate buttercream that is spread on with a palate knife.
I decided to swap the buttercream to vanilla because sometimes a chocolate cupcake and frosting can be a bit too much for people.
Also, I wanted to make the frosting look like a Christmas Tree which would be easier to colour with a vanilla frosting.
I have also altered the cooking temperature as I prefer a lower oven temperature when cooking cupcakes to help create a flat topped cupcake.
How to make Christmas Tree buttercream
It is the buttercream that makes these cupcakes really festive. This is actually really easy, especially once you have practised your piping skills.
Which colouring is recommended to use?
The green colour comes from gel food colouring which I would definitely recommend you use instead of liquid food colourings. The gel colours are thick and a small amount goes a long way. You need so much of the liquid colours and even then the final colour isn't very vibrant.
Piping & decorating
This is easier than you may think! Just pipe slowly and remember if you really make a mess you can always carefully scrape off the buttercream and start again!
The beauty of Christmas trees are that they aren't very neat so if your piping isn't it won't matter!
When your trees have been piped, you can then decorate them however you would like. Think of them as your own Christmas tree at home and add your own personality!
Or better yet, get your children to help you and you will probably end up with brightly coloured trees with far too many sprinkles!
And a mess on the floor. You're welcome 🙂
If piping really isn't for you, try my Chocolate Orange Tray Bake instead.
An even more luxurious touch
If you want the buttercream to be a bit more luxurious, you could use whole milk or even cream.
I use semi-skimmed or sometimes 1% fat milk as this is what I always have in the house and the icing is still really delicious.
Pin for later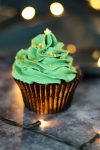 Mary Berry's Christmas Chocolate Cupcakes
Mary Berry's Christmas Chocolate Cupcakes are light, fluffy and topped with festive vanilla buttercream. Great for children to help decorate too!
Ingredients
For the cupcakes
4

tbsp

water

boiled

40

g

cocoa powder

3

eggs

175

g

margarine

165

g

caster sugar

115

g

self raising four

1

tsp

baking powder
For the buttercream
140

g

unsalted butter

(softened)

280

g

icing sugar

1-2

tbsp

milk

green food colouring
Instructions
Preheat the oven to 160ºC (fan assisted, 180ºC non fan) and line a cupcake tin with 12 liners and set aside

Sift the cocoa powder into a bowl and add the boiling water. Mix until it forms a thick paste and then add the remaining cake ingredients. Mix until combined

Divide the mix between the cupcake liners. Bake in the oven for 10 minutes until a cocktail stick comes out clean

Leave to cool in the tin for 10 minutes or so before allowing to cool completely on a wire rack

When the cupcakes have cooled completely, make the buttercream. Beat the softened butter for a minute or so before adding the icing sugar

Add half of the milk and beat until the buttercream is smooth. Add small amounts of food colouring until you have managed to create a tree-like green. If the buttercream is too stiff, add a touch more milk

Spoon the buttercream into a piping bag with a star shaped tip. Starting at the edge of the cupcake, pipe round in a circle and then upwards to create the Christmas Tree look

Add any decorations you like to make it look like a Christmas Tree
Recipe Notes
When making the buttercream, add less milk to start with as if you're like me it will take a while to get the green colour you're looking for. Due to this, the buttercream will probably get mixed quite a lot making it looser.
Nutritional information is given as a guide only
Nutrition Facts
Mary Berry's Christmas Chocolate Cupcakes
Amount Per Serving
Calories 389
Calories from Fat 198
% Daily Value*
Fat 22g34%
Cholesterol 66mg22%
Sodium 156mg7%
Potassium 114mg3%
Carbohydrates 39g13%
Protein 2g4%
Vitamin A 875IU18%
Calcium 37mg4%
Iron 0.7mg4%
* Percent Daily Values are based on a 2000 calorie diet.
Linking to