This Mexican Street Corn Salad makes a perfect side dish to so many different dishes. The charred sweetcorn is delicious with a subtle chilli kick and freshness from the lime juice and mayo.
Street Corn Salad – Inspired by a Mexican classic
Elotes are a classic Mexican street food. They are corn on the cob charred on the grill and then spread with mayonnaise, chilli and cheese.
Then there are Esquites which is what my Mexican Street Corn Salad is inspired by. Esquites have the same flavours as elotes, but the corn is cut off the cob and is therefore more of a salad.
Elotes and esquites are popular snacks sold by vendors on the streets of Mexico and at festivals.
What makes my recipe a little bit different is that I use tinned corn instead of fresh corn on the cob. You can combine this recipe along with my Air Fryer Corn on the Cob and make elotes though!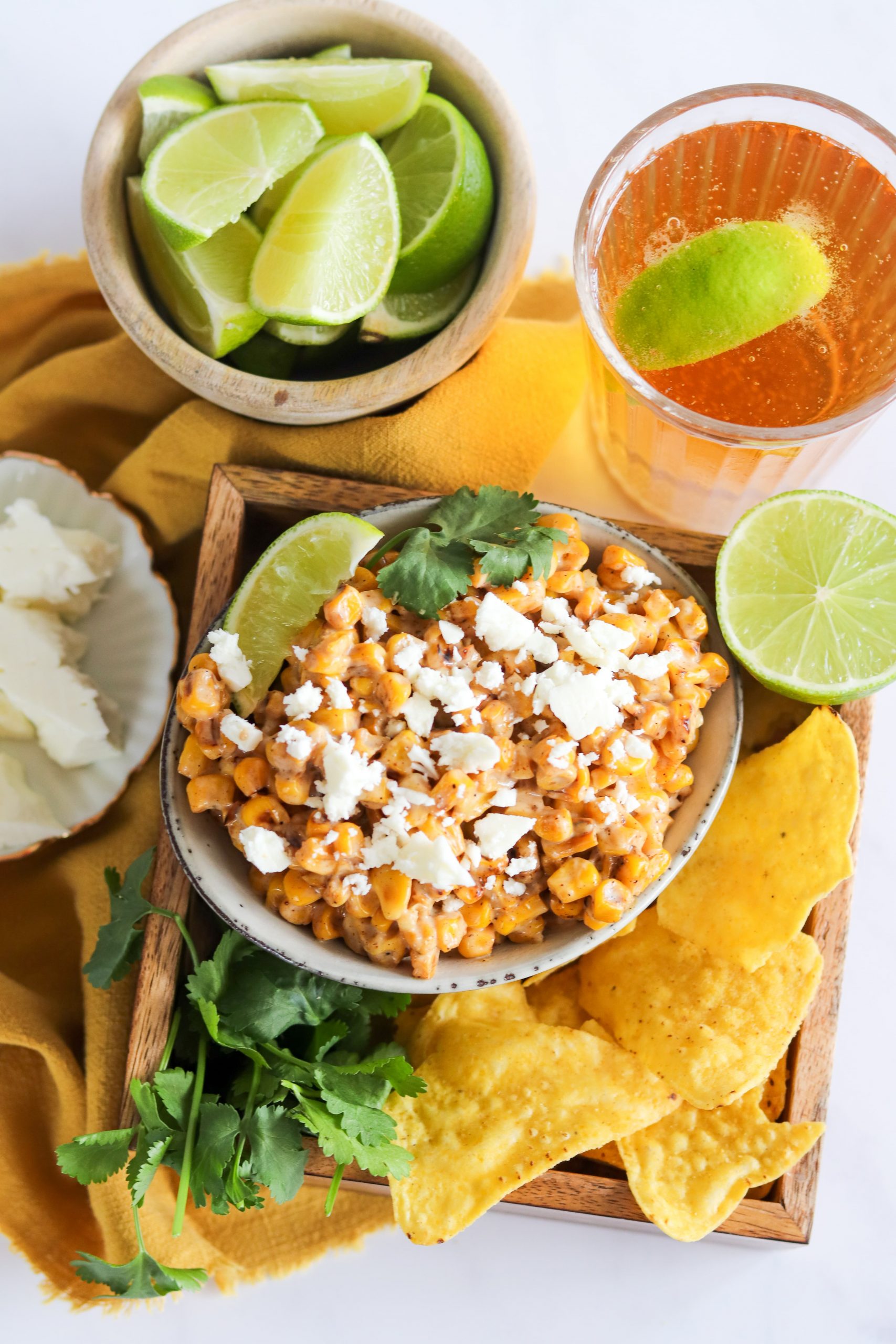 Tinned Sweetcorn is very underrated!
I have loved tinned corn for as long as I can remember. I used to come home from school as a child and as a treat eat a small tin of sweetcorn straight from the tin.
But I am a bit fussy – something you will know if you have followed my blog for a while. I am loyal to a particular brand of sweetcorn. For me it has to be Green Giant sweetcorn with salt and sugar.
I am not usually loyal to brands, but I have tried others and nothing can compare! And the sugar and salt really does make a difference!
But you don't need to take my word for it, you can use whichever tinned sweetcorn you usually buy.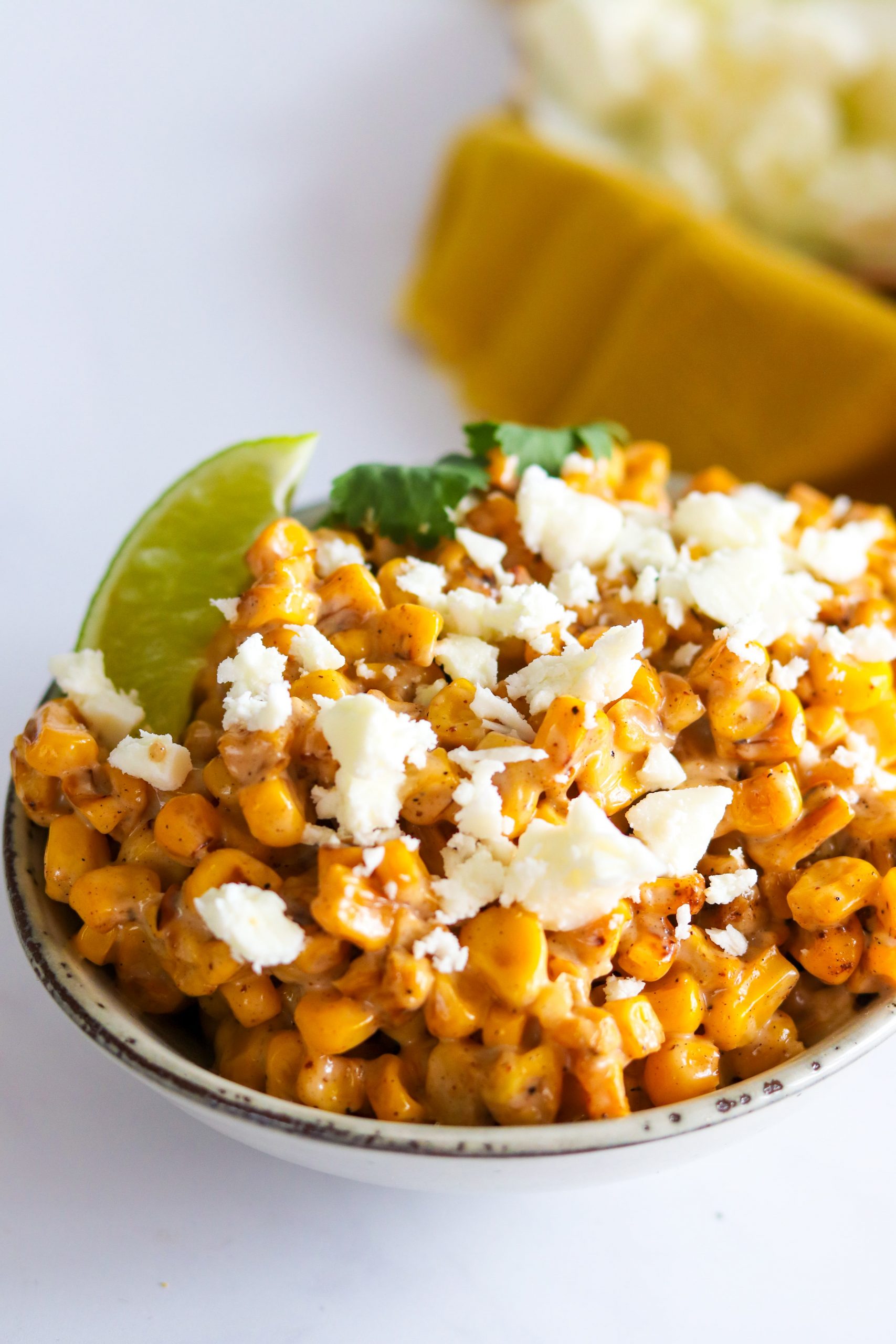 Which type of sweetcorn should I use for this Mexican Street corn Salad?
Although I prefer and will always use my favourite brand of tinned sweetcorn, you can use whatever you like.
Frozen sweetcorn is another option that is just as easy as using tinned corn. You could leave it in the fridge or run it under cold water to defrost it if you would like. Otherwise you could add it straight to the pan.
You could also use fresh corn. You would just need to remove the kernels from the cob before charring them in the pan.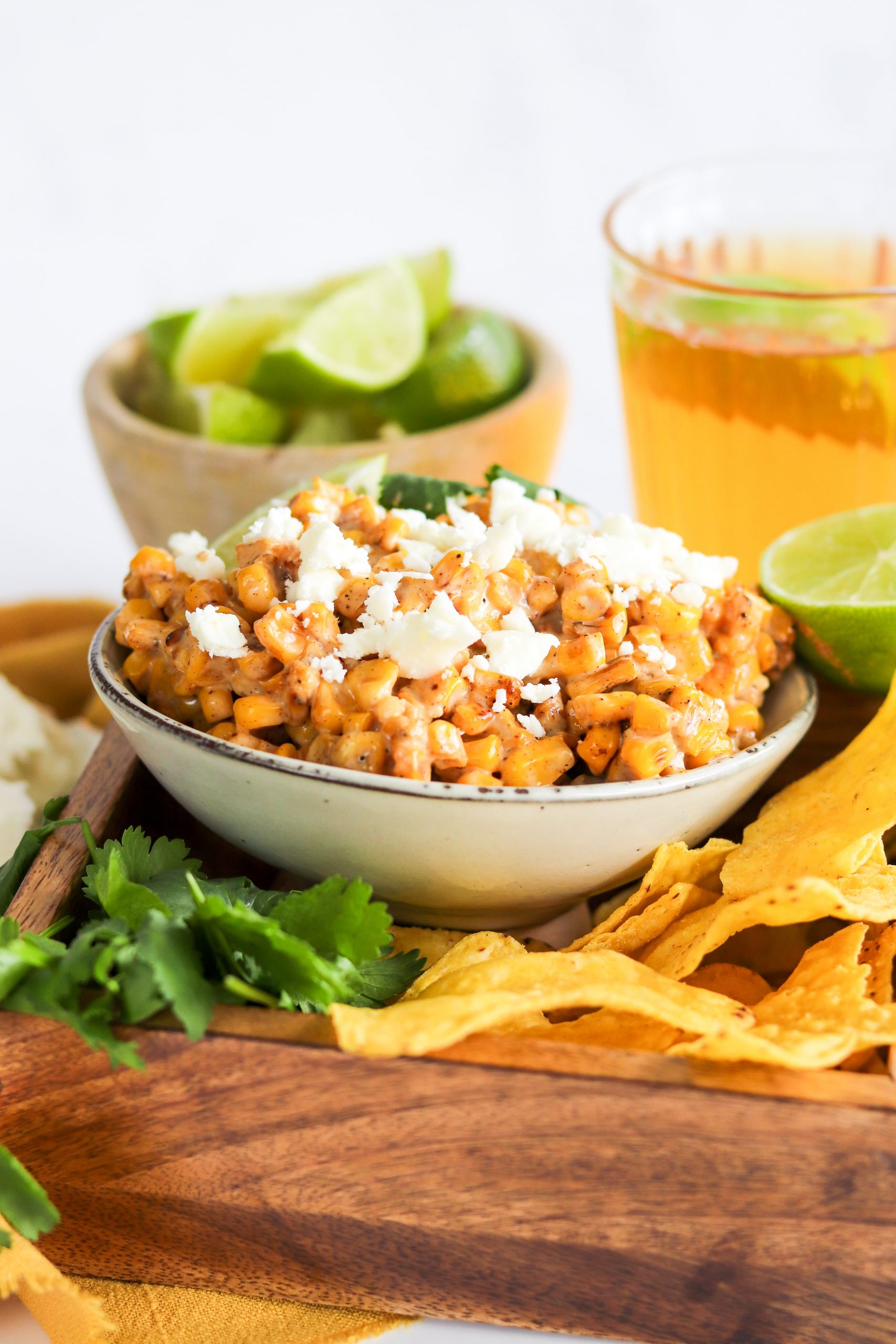 What can I use if I don't have ancho chilli powder?
If you like Mexican food, I would recommend buying some ancho chilli powder. It is one of my favourite chilli powders and I have a lot of recipes that I use it in.
Ancho chillies are dried poblano peppers. They are relatively mild and have an almost fruity flavour.
However if you don't have any, you can use any chilli powder that you have. I would always recommend adding a small amount and then tweaking. Remember, you can always add, but you can't take away!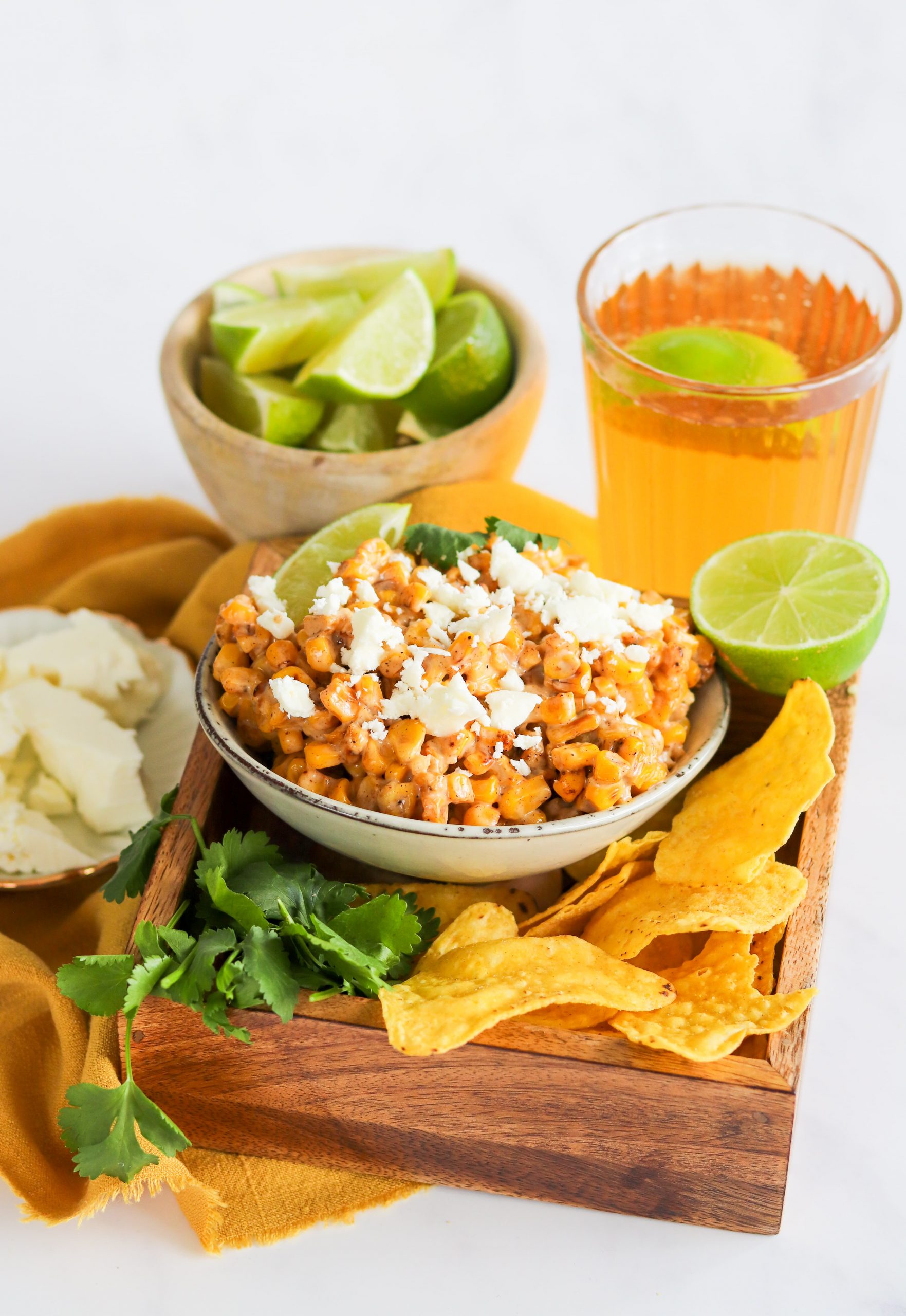 Feta in a mexican recipe?
It might sound a little bit strange to use feta in a Mexican inspired recipe, but it is the best option I have found.
Traditionally, you would use cotija cheese which is a crumbly and salty Mexican cheese. It isn't something that is readily available here in the UK.
Feta has a similar flavour and texture which means it is a very good substitute. You can buy it in every shop which makes it far easier!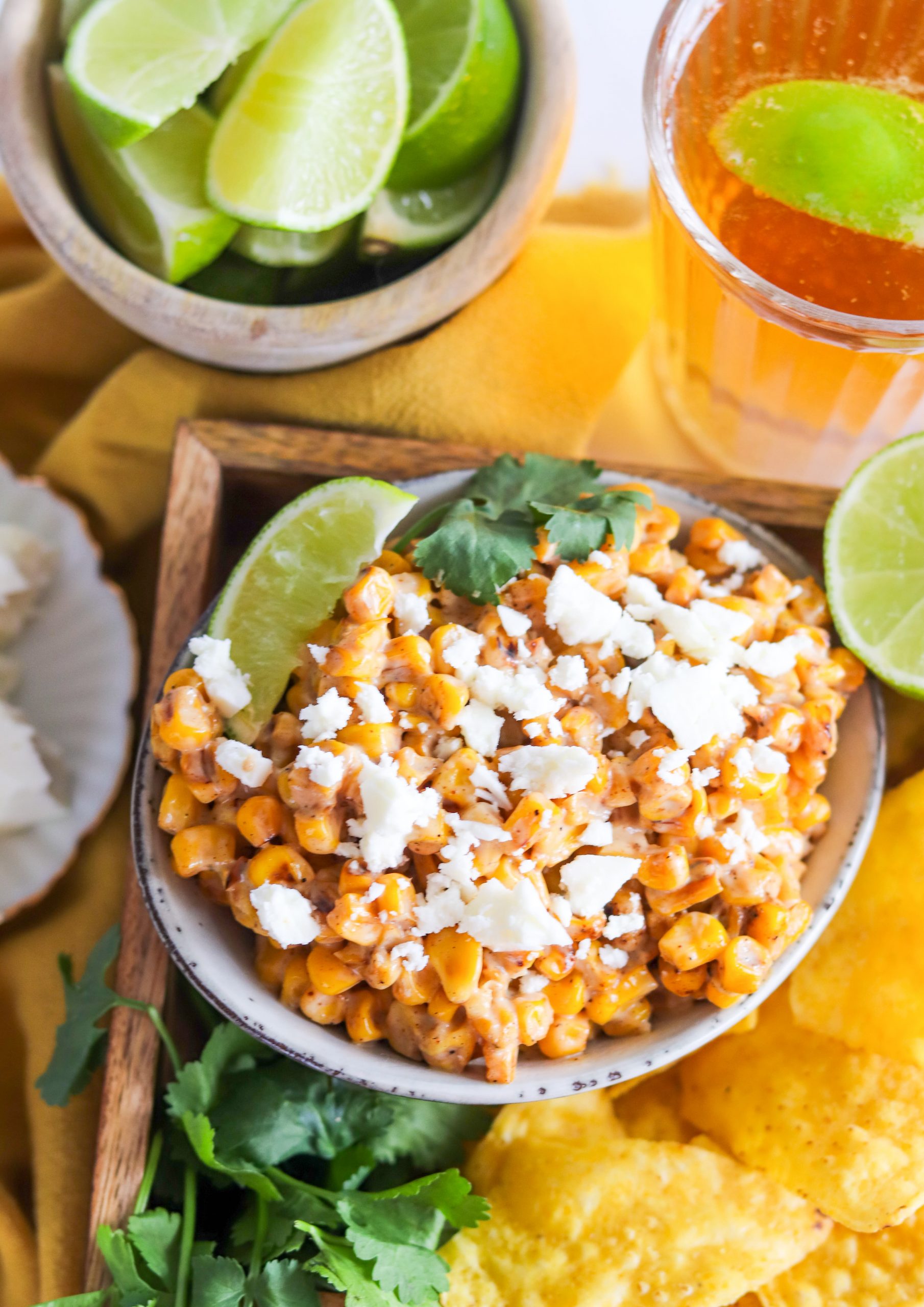 Adapt the recipe to your tastes
The beauty of this recipe is that you can taste and tweak it as you go.
I like a strong taste of garlic and a hit of chilli, but you might prefer less. I would always recommend starting off with a small amount and adding more.
You can then try it and see if you would like to add some more garlic or chilli.
The same applies to the mayonnaise. Mr Curly likes it with quite a bit of mayonnaise in it, so feel free to add a little more if you prefer it like this.
Make this salad how you like it!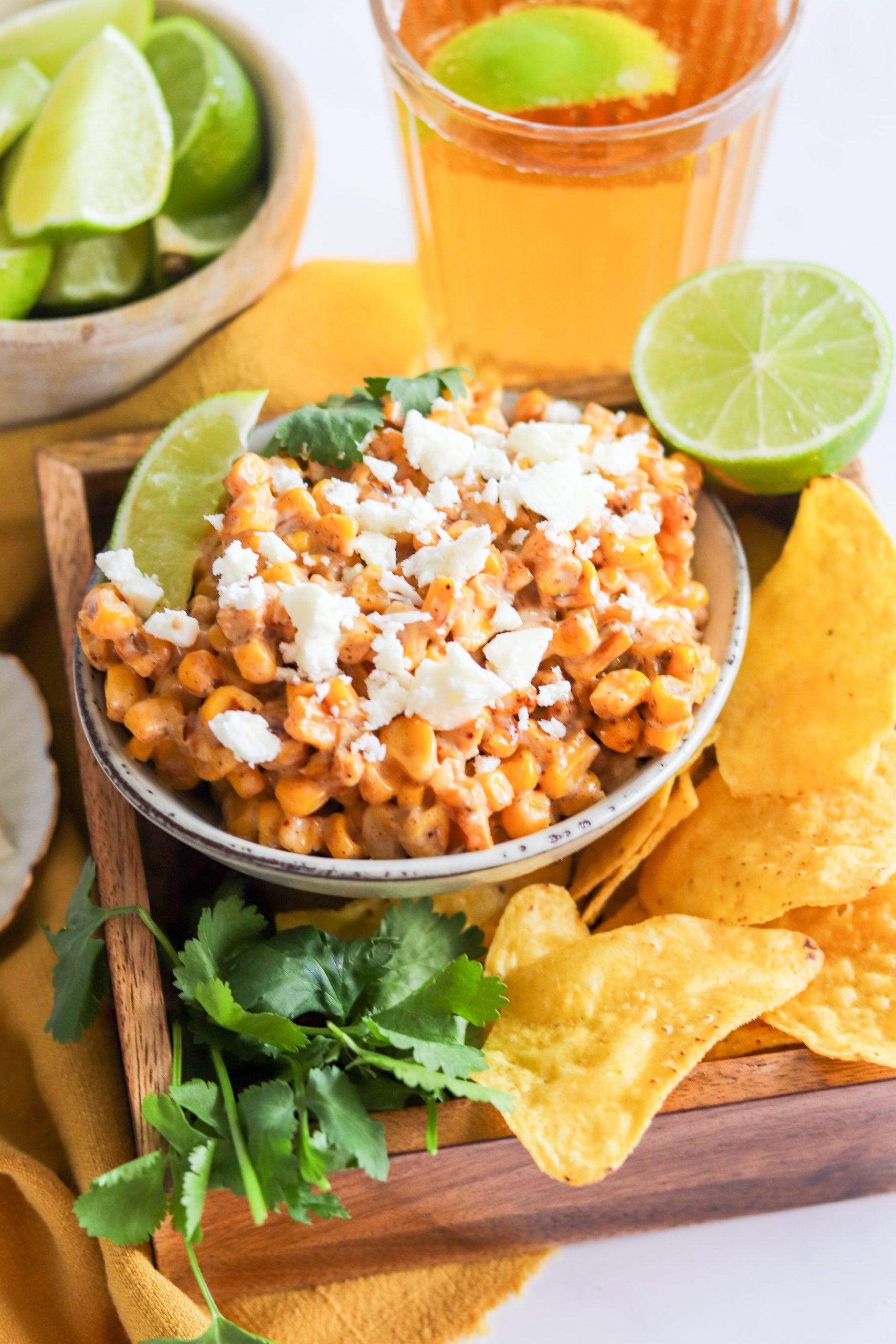 Charring the tinned corn
When cooking the sweetcorn, you are looking to get some real colour on it.
Don't be alarmed when the sweetcorn starts getting charred and black. This is what you want! It will give such a lovely flavour to the finished salad.
It also might jump around in the pan so watch out for this. Keep an eye out for flying corn kernels that are trying to escape the pan!
Once you have got a nice colour on the sweetcorn, let it cool in a bowl for a few minutes before adding the mayonnaise and other ingredients.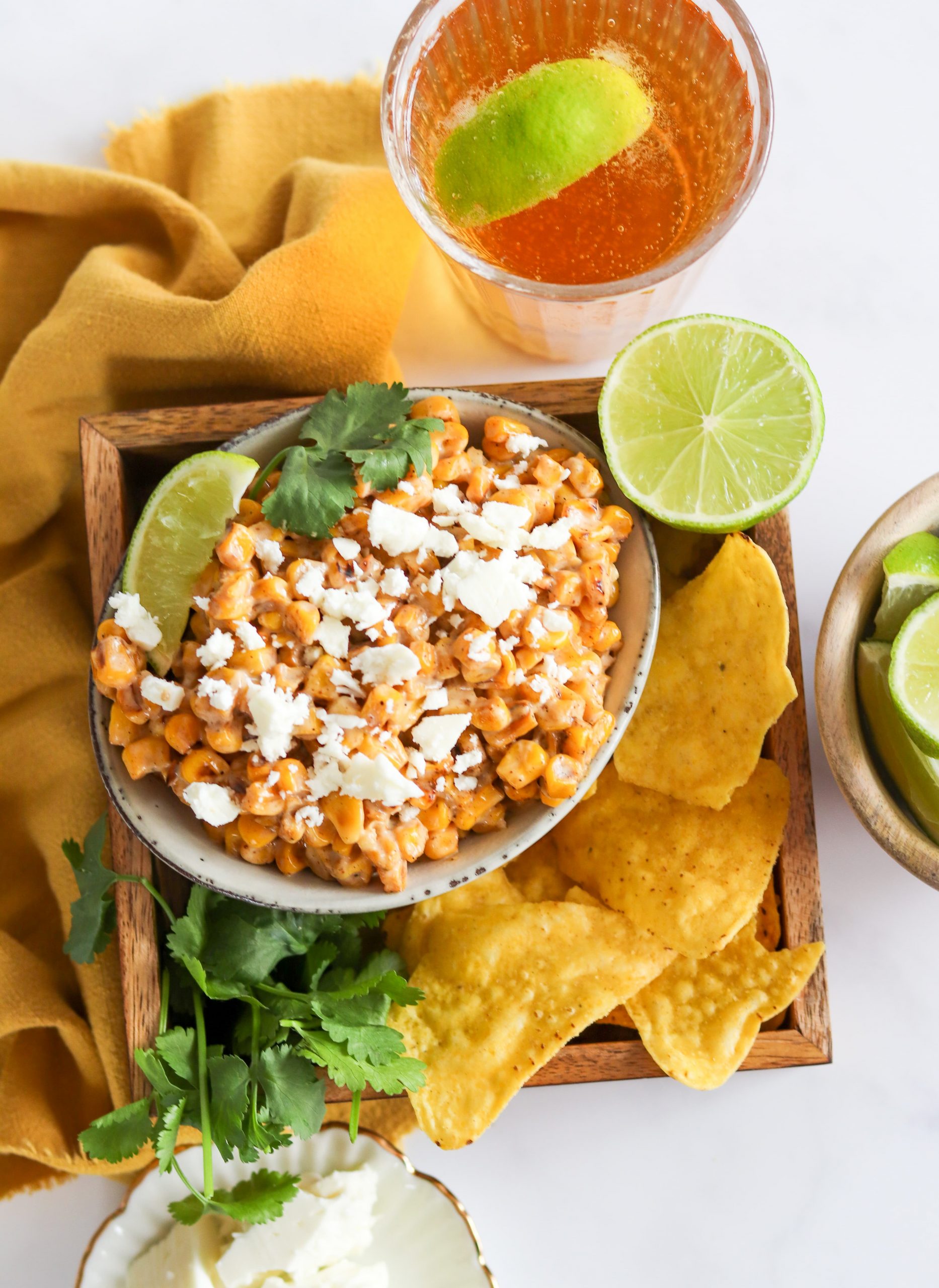 How many people does this Mexican Street corn Salad serve?
Well that depends how much people like it! The recipe should feed 6 people, but if in doubt I would recommend making more.
Mr Curly and I can quite happily eat half of this between the two of us. It is one of our favourite side dishes!
That is why the recipe below is a larger portion because you will be surprised at how quickly it all gets eaten.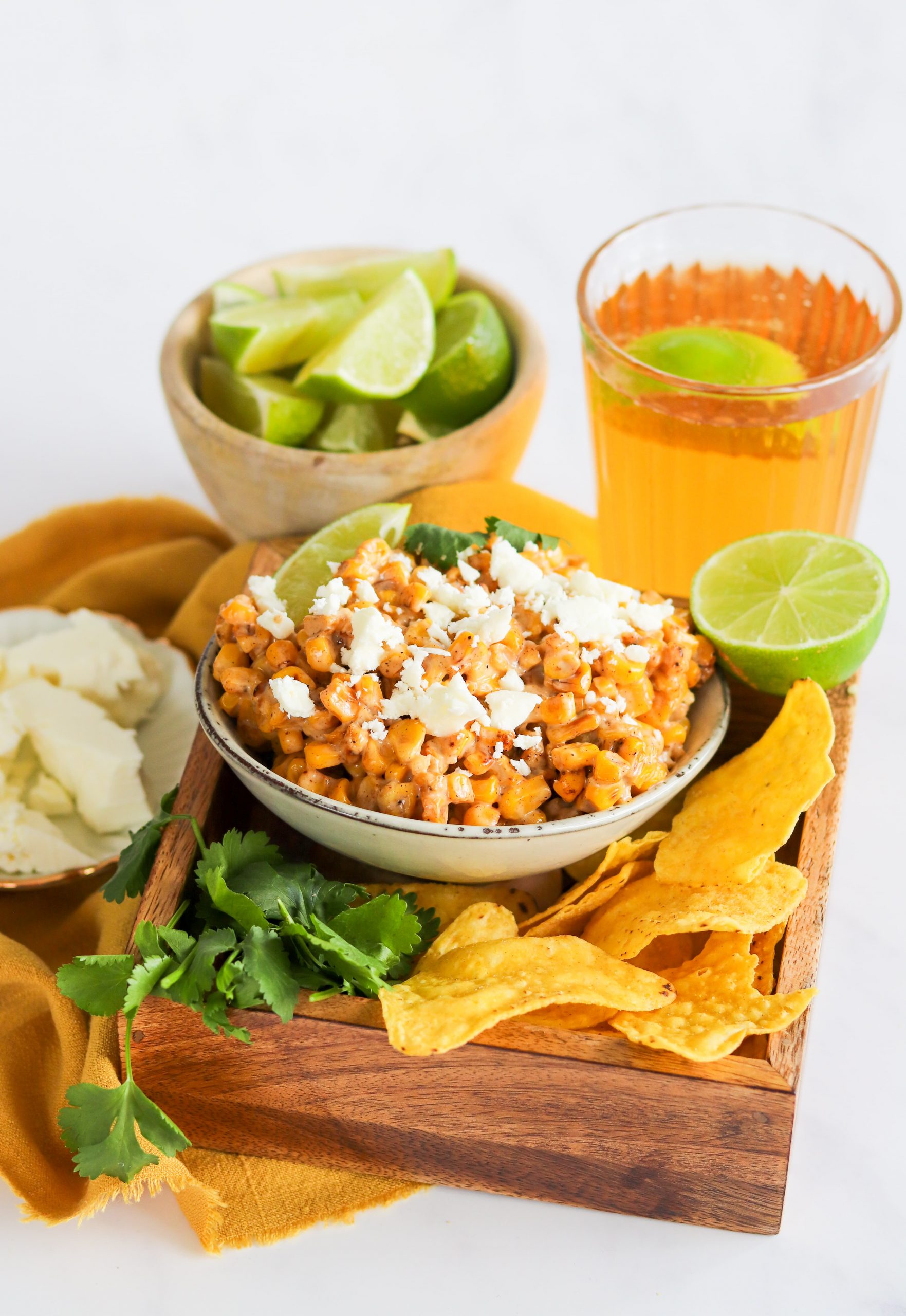 How long can leftovers be kept?
If you do have some leftovers, keep them in an airtight container in the fridge. It will keep for 2-3 days in the fridge.
I would recommend adding more sprinkled feta onto it when you are going to eat it again.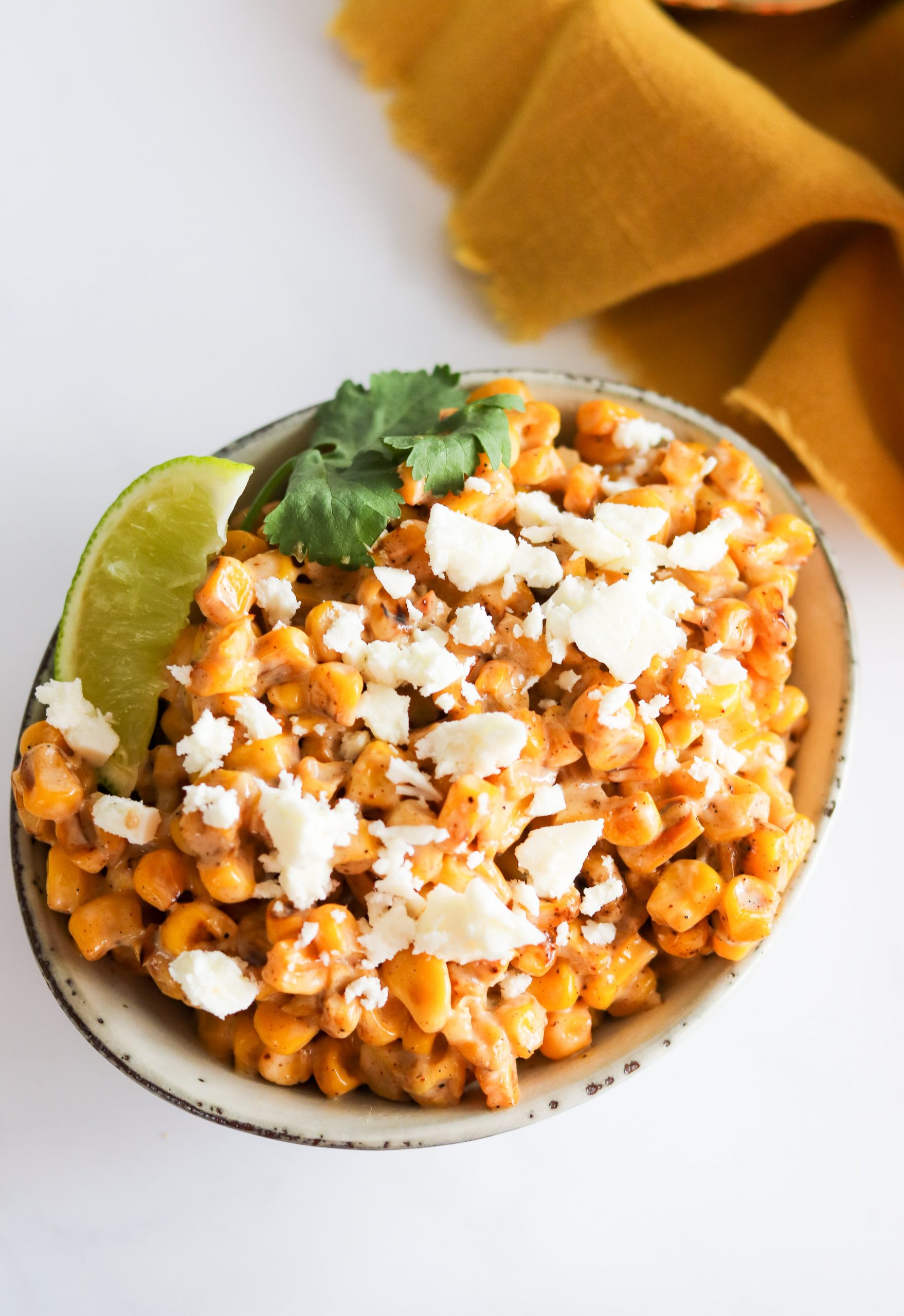 What can I serve this Mexican Street corn Salad with?
So many things! If you follow my blog, you will see this Mexican Street Corn Salad cropping up in the background quite a lot!
It is such a great side dish to eat with a number of meals and makes a fantastic side dish for any BBQ. It would be delicious with my Ancho Chilli Chicken, Garlic & Lime Chicken Thighs or Ultimate Bacon Cheese Burgers.
This salad is also the perfect accompaniment to tacos, like my Pasilla Pork Tacos.
Another of my favourite ways to serve this Mexican Street Corn Salad is with my Slow Cooker Pulled Pork in Bread Rolls with Baked Chipotle Wedges.
Now if that hasn't provided you with enough delicious ways to enjoy this salad then I don't know what will!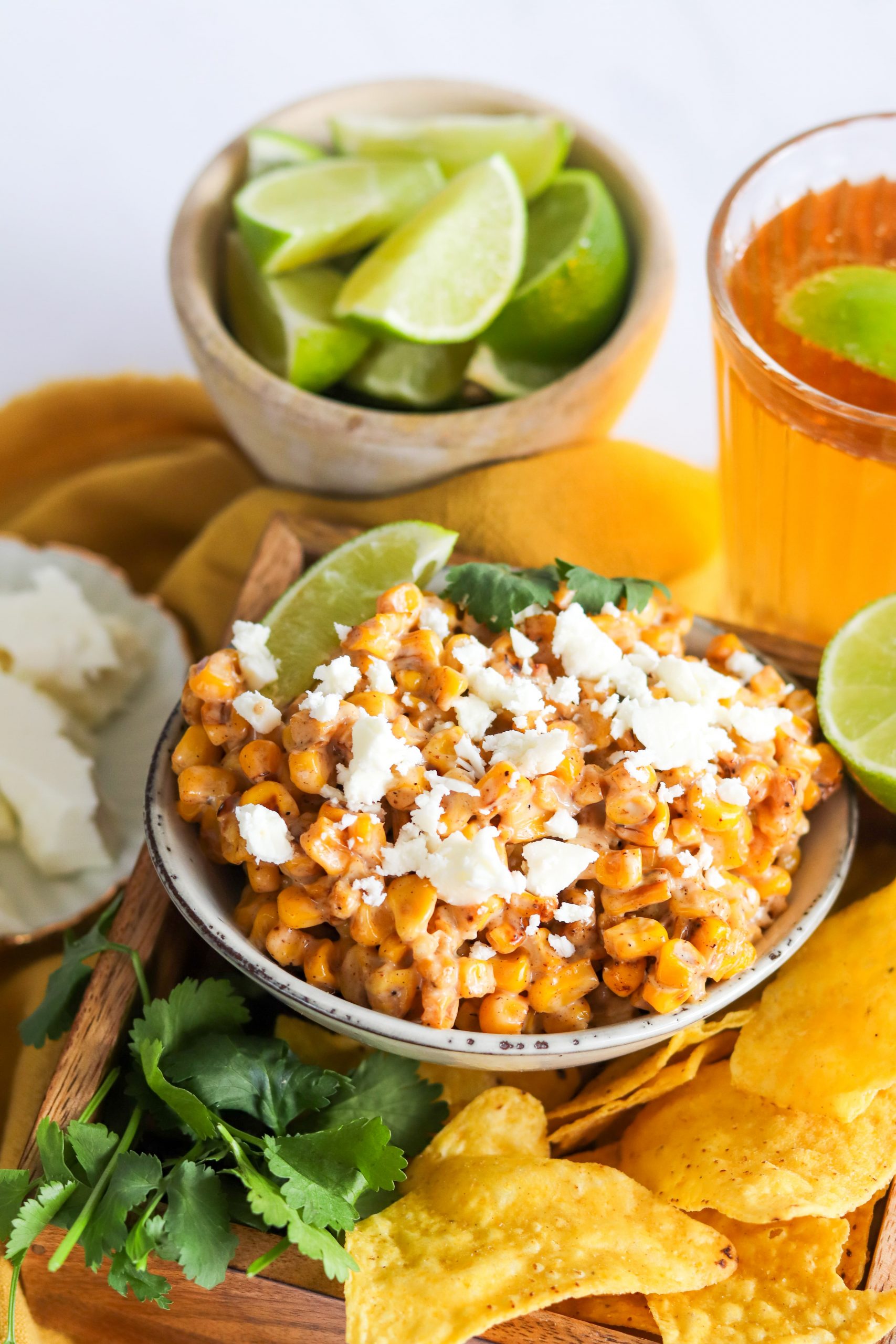 Other recipes you might like
Pin for later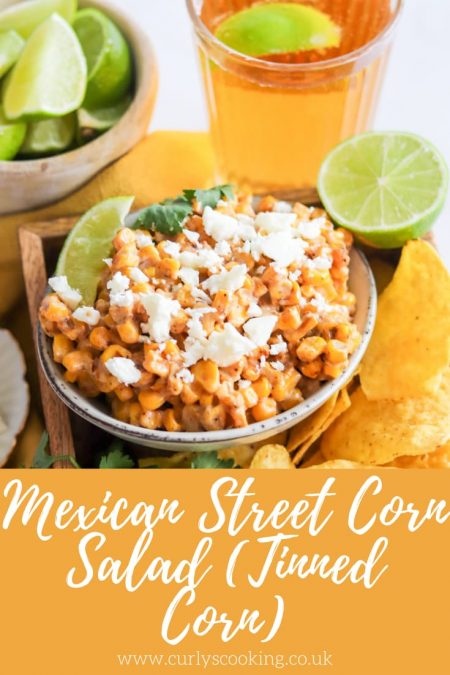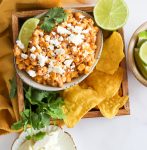 Mexican Street Corn Salad
This Mexican Street Corn Salad makes a perfect side dish to so many different dishes. The charred sweetcorn is delicious with a subtle chilli kick and freshness from the lime juice and mayo.
Ingredients
680

g

sweetcorn

(2 large tins) drained

2

tbsp

sunflower oil

3

tbsp

mayonnaise

light

2

tbsp

fresh lime juice

1

clove

garlic

minced

¼

tsp

ancho chilli powder

½

tsp

sea salt

30

g

feta
Instructions
Heat 2 tbsp sunflower oil in a pan over a medium heat. Add 680g tinned sweetcorn and let it cook until it starts to char making sure you stir it occasionally

When the sweetcorn is nicely charred, let it cool for a couple of minutes

Add the sweetcorn to a bowl along with 3 tbsp light mayonnaise, 2 tbsp lime juice, 1 clove minced garlic, ¼ tsp ancho chilli powder and ½ tsp sea salt and stir

Finish by sprinkling 10g feta on top
Recipe Notes
Keep in the fridge for 2-3 days
Nutritional information is given as a guide only and my vary.
Nutrition Facts
Mexican Street Corn Salad
Amount Per Serving
Calories 174
Calories from Fat 108
% Daily Value*
Fat 12g18%
Cholesterol 7mg2%
Sodium 312mg14%
Potassium 306mg9%
Carbohydrates 21g7%
Protein 4g8%
Vitamin A 265IU5%
Vitamin C 7.8mg9%
Calcium 27mg3%
Iron 0.6mg3%
* Percent Daily Values are based on a 2000 calorie diet.