This Blueberry Crumble with Oats is the perfect simple and delicious dessert. A tasty sweet blueberry filling covered in a crisp crumble – will you serve yours with cream or custard?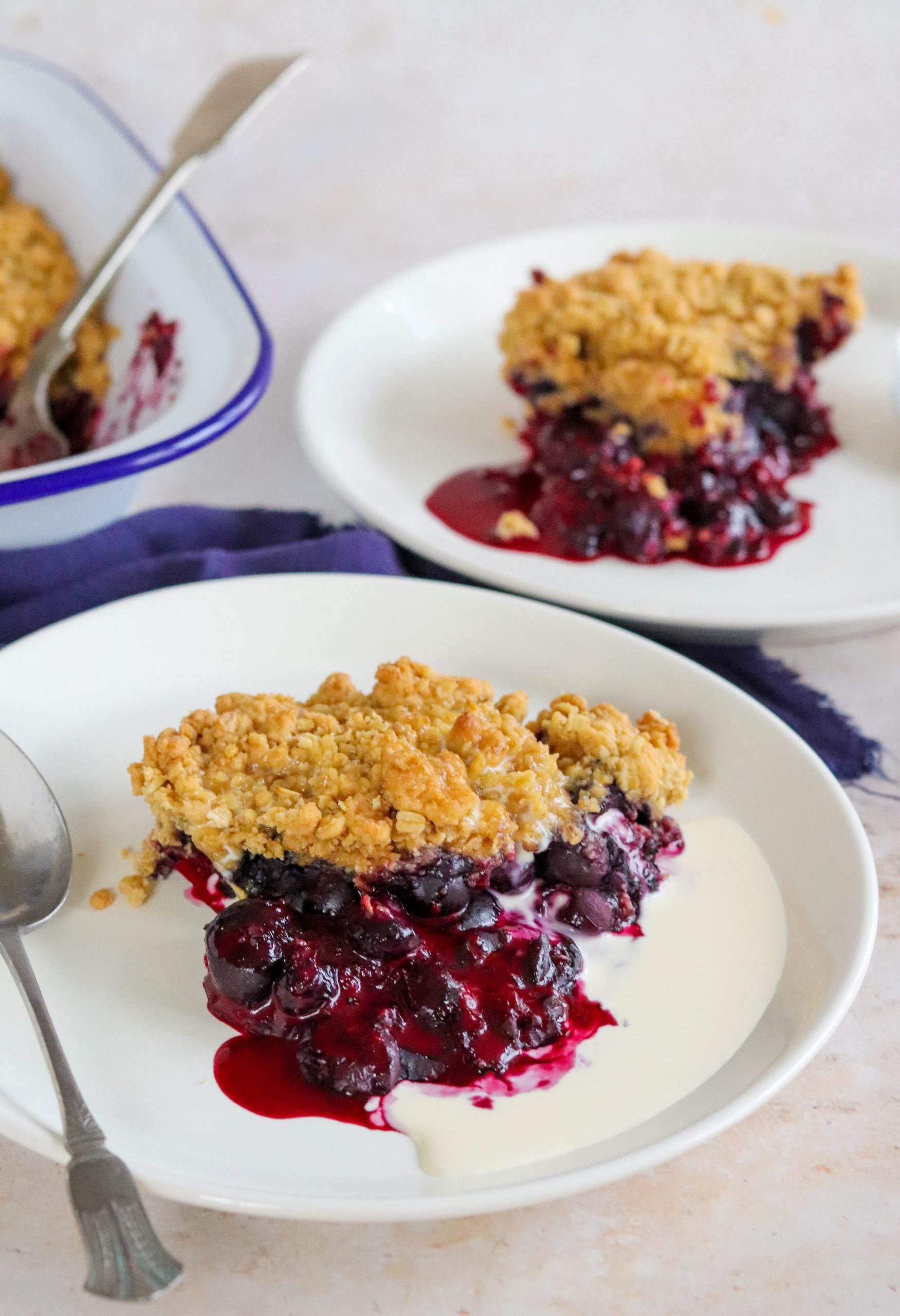 How are crumbles and crisps different?
Crumbles, cobblers and crisps are all similar desserts but with slight differences. They are feature a fruit base and the differences can be found in the topping.
Crumbles are a British dessert which most people know and love. Cobblers, crisps and buckles have American influences inspired by a classic crumble.
A traditional crumble has a simple topping which is a combination of butter, flour and sugar. Cobblers have dollops of batter on top of the fruit. When the fruit cooks, it seeps up around the batter to look like cobblestone streets.
Crisps are more similar to crumbles but have a lighter topping that usually includes oats.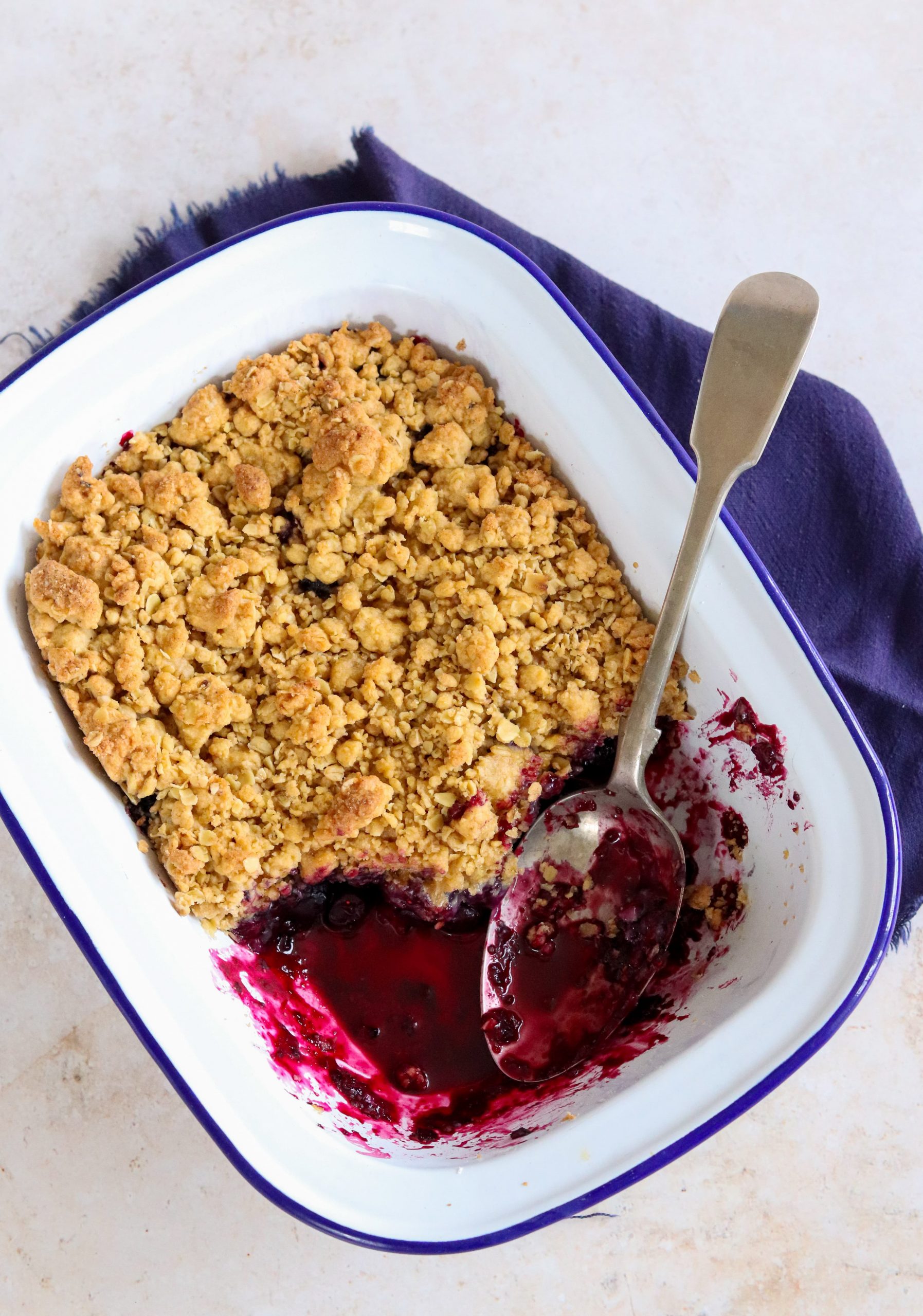 why add oats to the crumble topping?
If oats aren't traditionally used in a crumble, why have I added them to mine you might ask. I have been using oats in my Oaty Rhubarb & Port Crumble for years and love the extra texture and crunch they provide.
So naturally when it came to this Blueberry Crumble I wanted to add oats too. The oats crisp during baking which works really nicely with the soft blueberries and adds some extra crunch.
I suppose this makes it a combination of a crumble and a crisp. So that will keep both people that like the texture of a crisp and those that like the comfort of a crumble happy.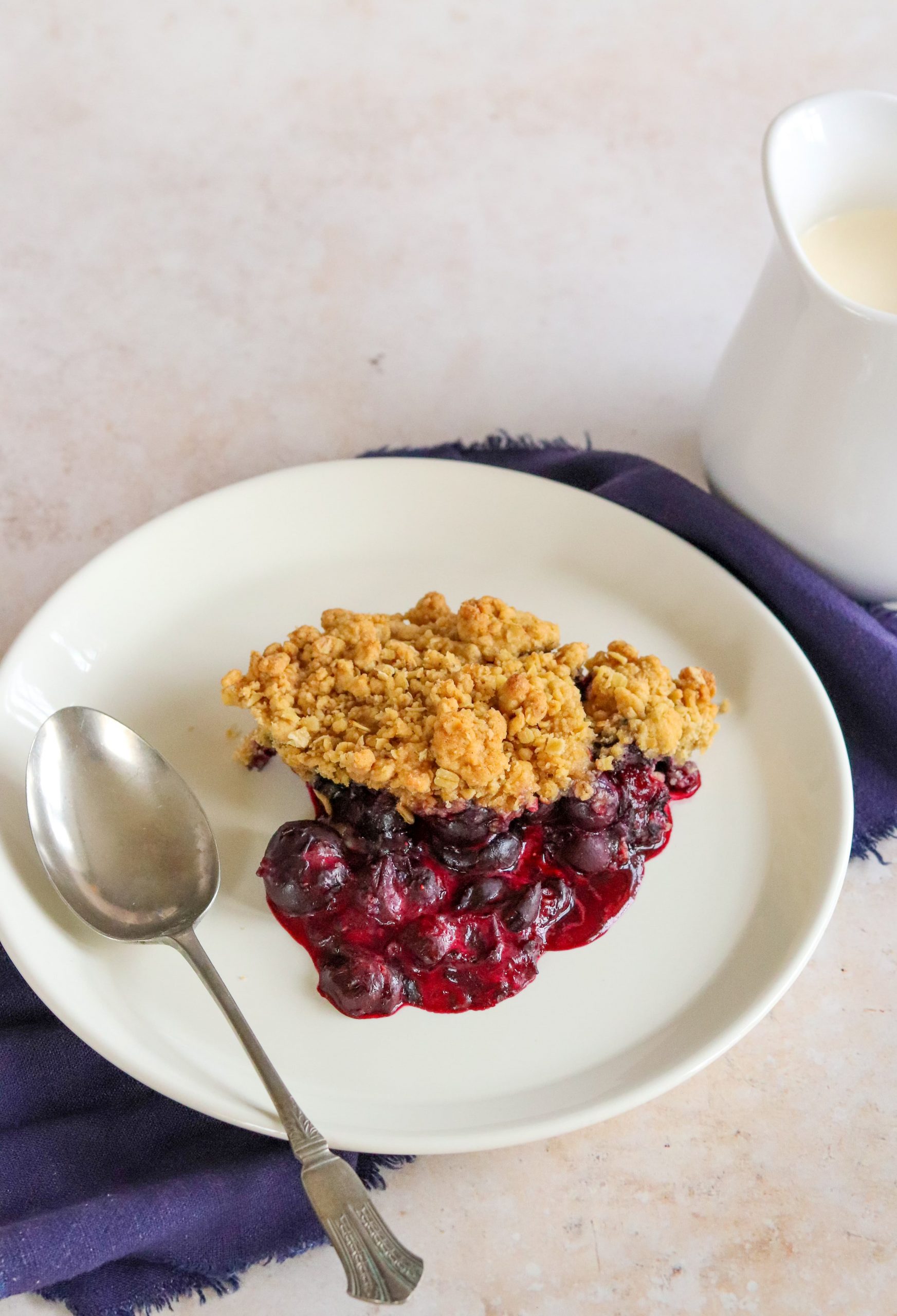 fresh or frozen blueberries?
You can use either fresh or frozen blueberries for this crumble. Both work just as well. When deciding which to use, there are a couple of points you might want to take into account.
Not all frozen blueberries are created equal. I have bought bags of frozen blueberries from a few supermarkets and the size of the berries does vary greatly.
Some bags have lovely large blueberries, whilst others are quite small. Personally I prefer a large blueberry, but the size doesn't affect the taste.
Advantages of using frozen blueberries is that they are convenient and much cheaper than fresh blueberries. You can have them in the freezer ready for when the crumble cravings hit.
Whichever berries you use, if they are particularly tart you can add a little more sugar for extra sweetness.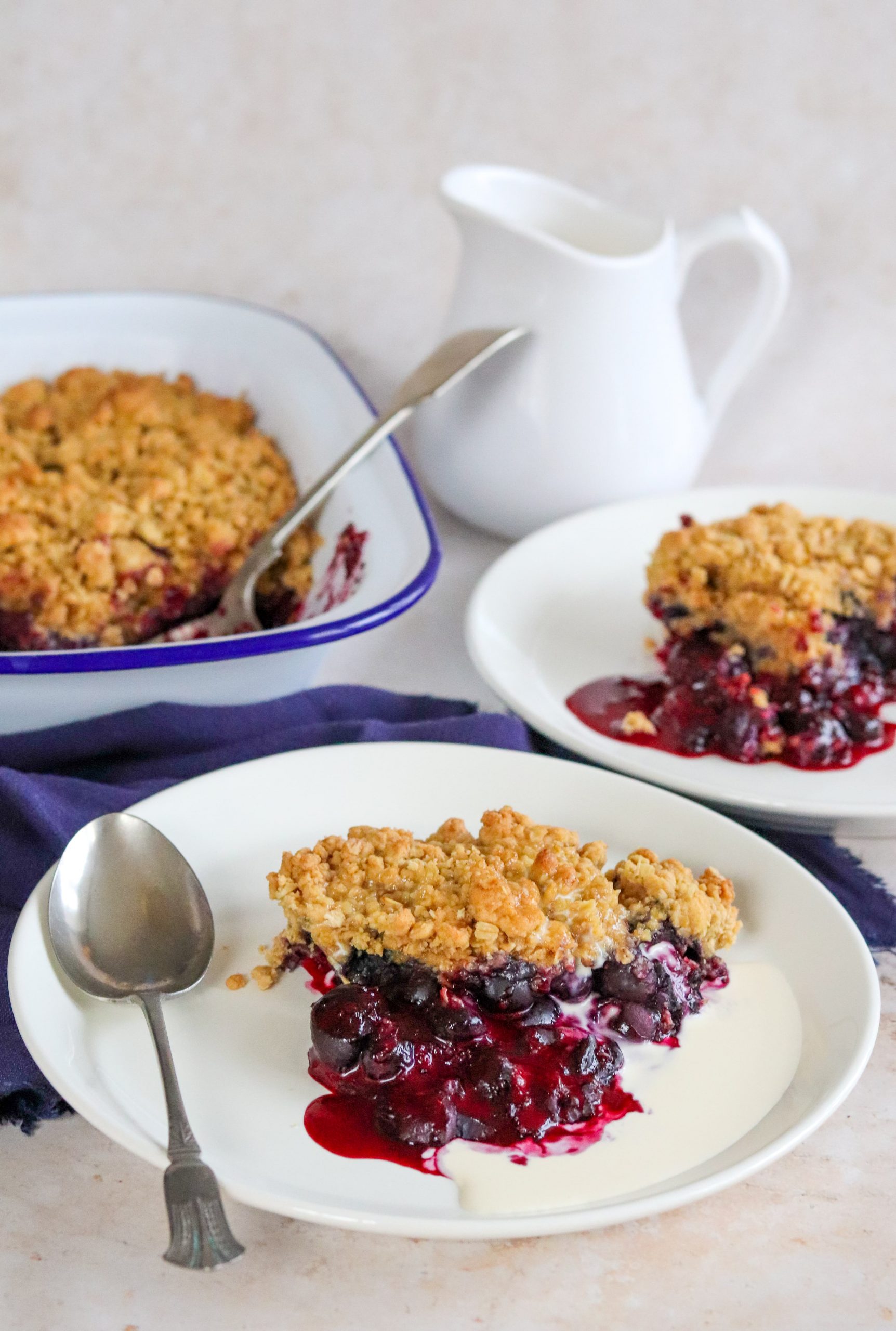 What is the perfect ratio of fruit to crumble?
Depending on who you speak to, you will get a different answer to this question.
My Mum prefers lots of crumble with a small amount of fruit whereas my sister is the opposite and likes a lot more fruit than crumble.
I think this recipe should suit most people's preferences, however it is very simple to adapt. You can very easily increase the amount of blueberries you use or make more crumble. Make it how you like it.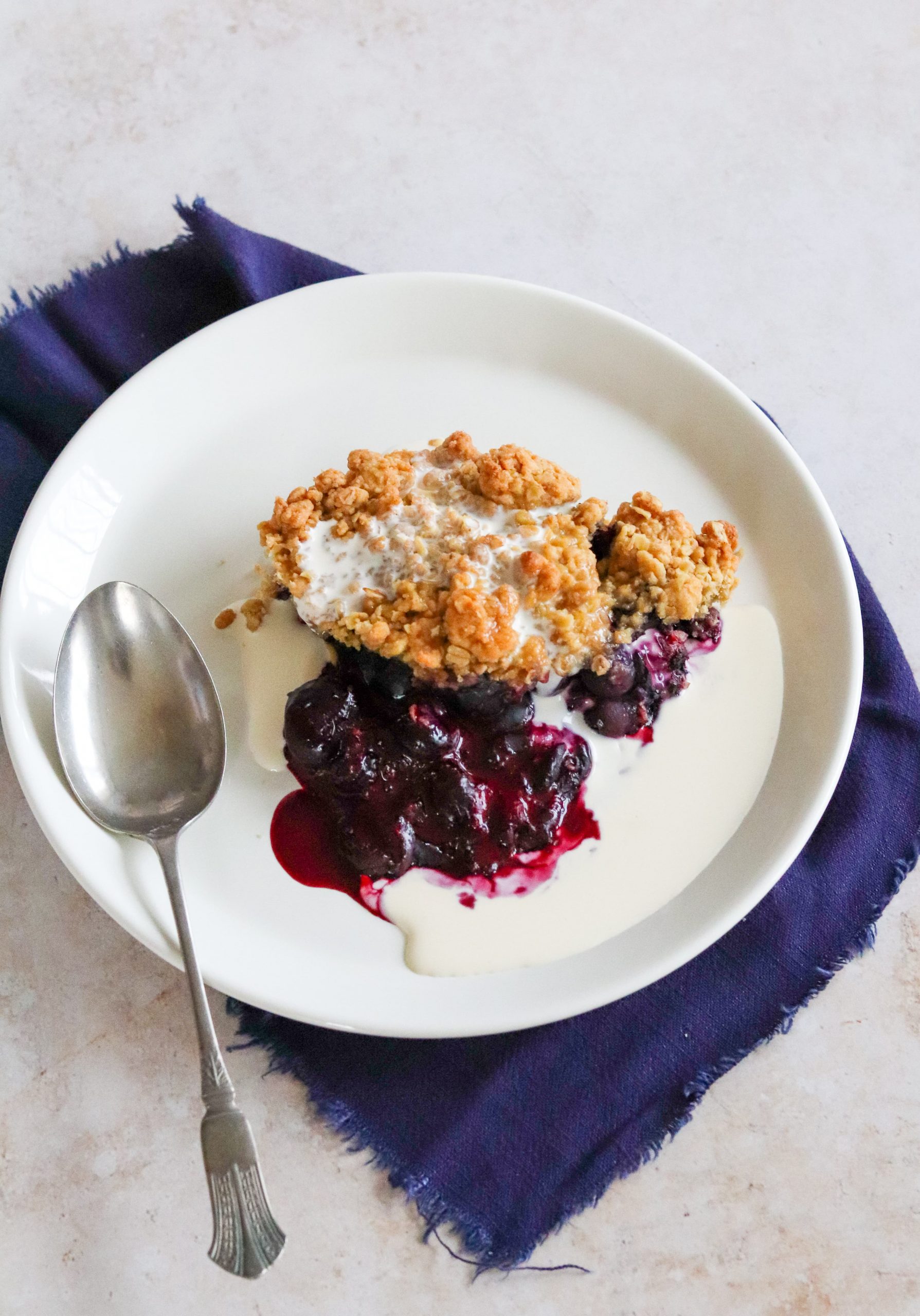 Can this blueberry crumble be made gluten free or vegan?
Crumbles are one of my favourite desserts to make when I am catering for someone with allergies.
To make this vegan you just need to use a dairy free butter in the crumble. I've done this a number of times and it works just as well as standard butter.
It is also simple to make this Blueberry Crumble gluten free. Cornflour is naturally gluten free so that is nothing to worry about.
Although oats are naturally gluten free, some are prepared in factories that deal with gluten so it is always worth checking.
You will also need to swap the self raising flour for a gluten free alternative. It is such a simple swap and I don't think you can taste the difference.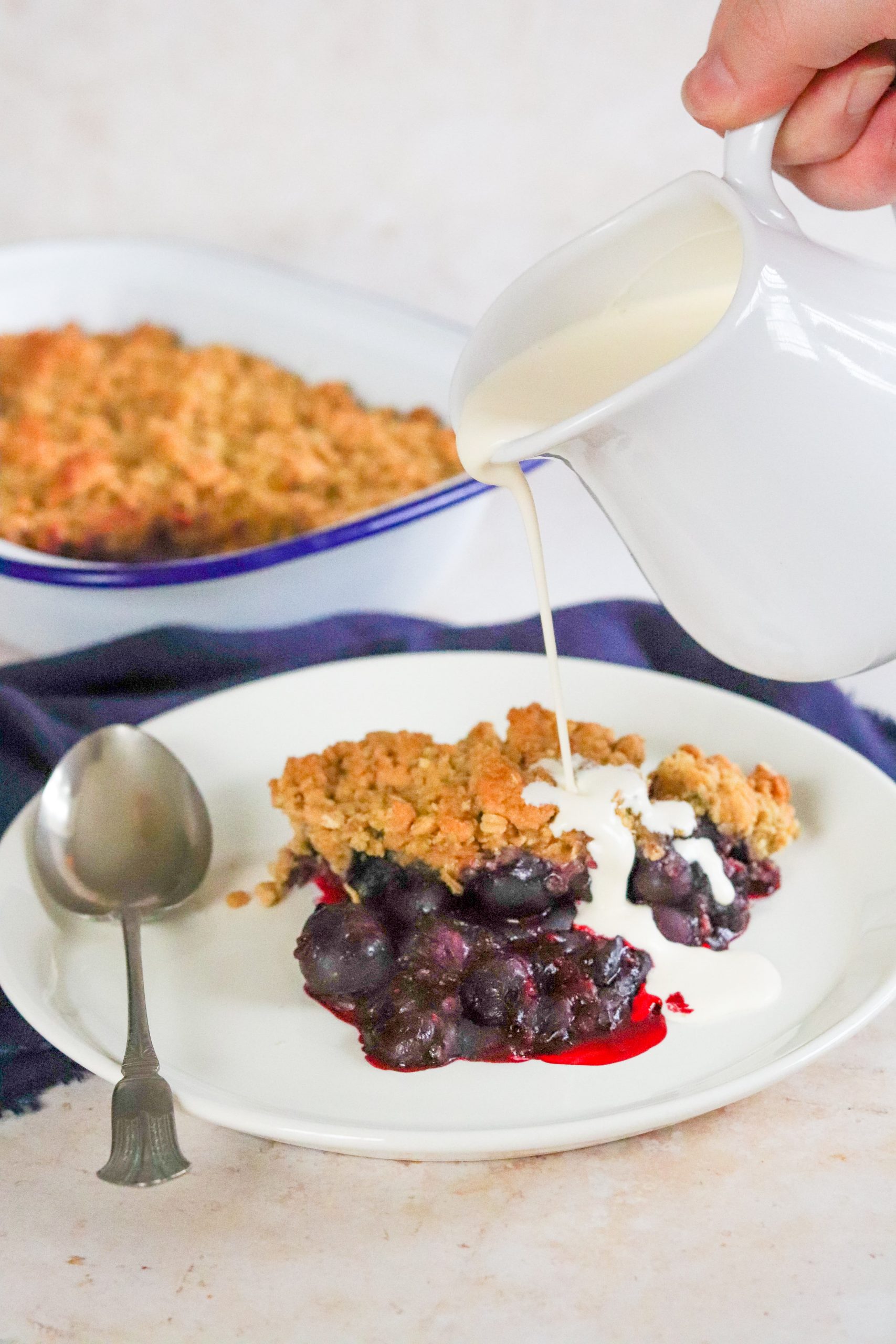 how to serve blueberry crumble
Once your crumble comes out of the oven, it may be tempting to dive straight in. But as tempting as that sounds, please give it a few minutes to cool slightly. The blueberry filling will be as hot as molten lava and you will almost certainly burn your mouth.
What you serve your crumble with is your choice. I will always pick double cream because I love the cool cream and the hot crumble.
Custard is also a very popular choice. If you've gone to the trouble to make your own delicious crumble, I think you owe it to yourself to make your own custard from scratch.
A really good quality vanilla ice cream would also be a great accompaniment to this crumble.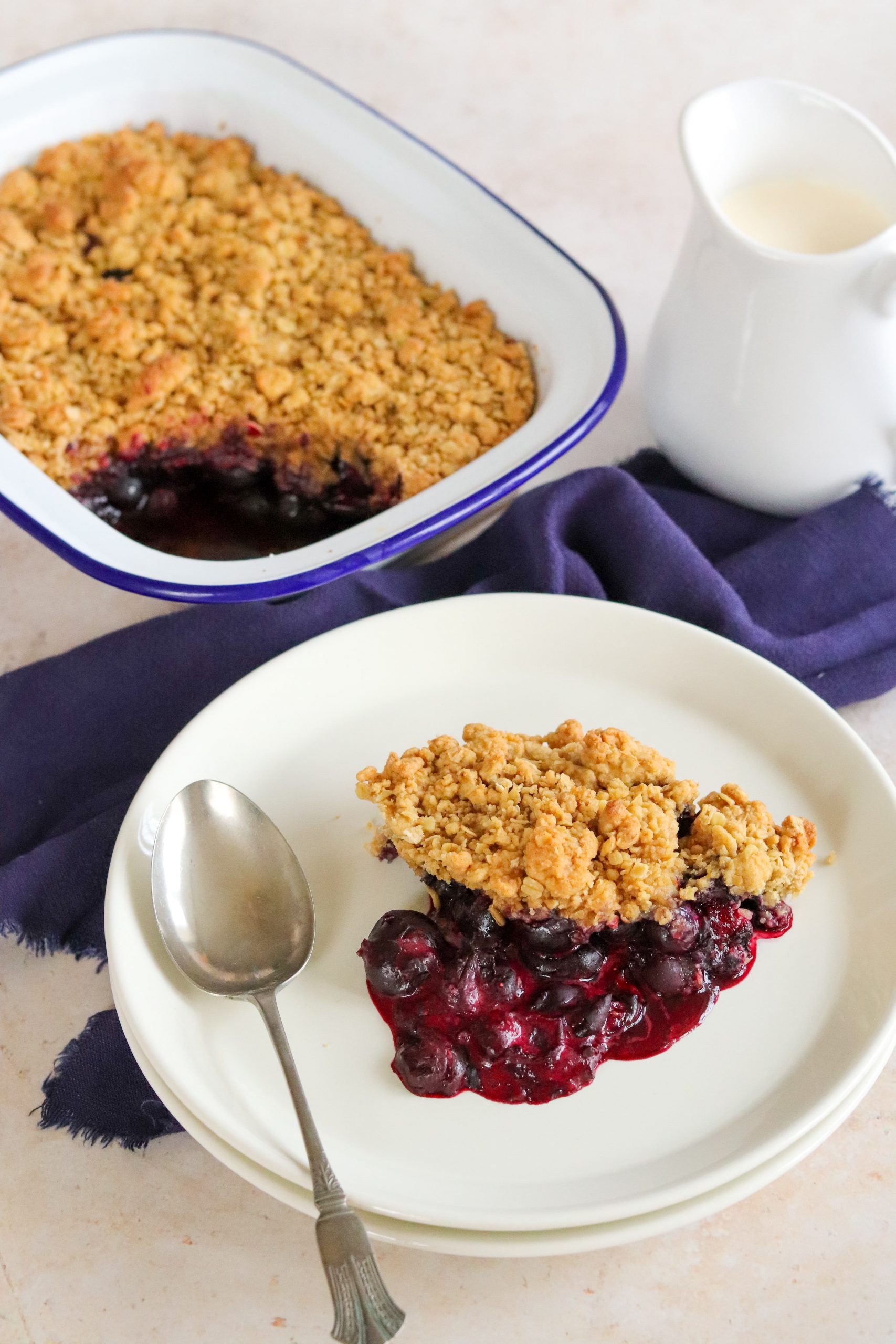 how long will this crumble keep for?
If you have any leftover crumble keep it in an airtight container in the fridge. It will keep for up to three days.
I really do recommend heating the crumble up before you eat it, cold crumble doesn't sound appealing to me.
For ease, I usually reheat my crumble in the microwave. It does make the crumble topping a little bit softer, but I don't mind this.
If you did want the topping to retain it's crispness, I would reheat it in the oven.
However you reheat the crumble, make sure it is piping hot before you serve it.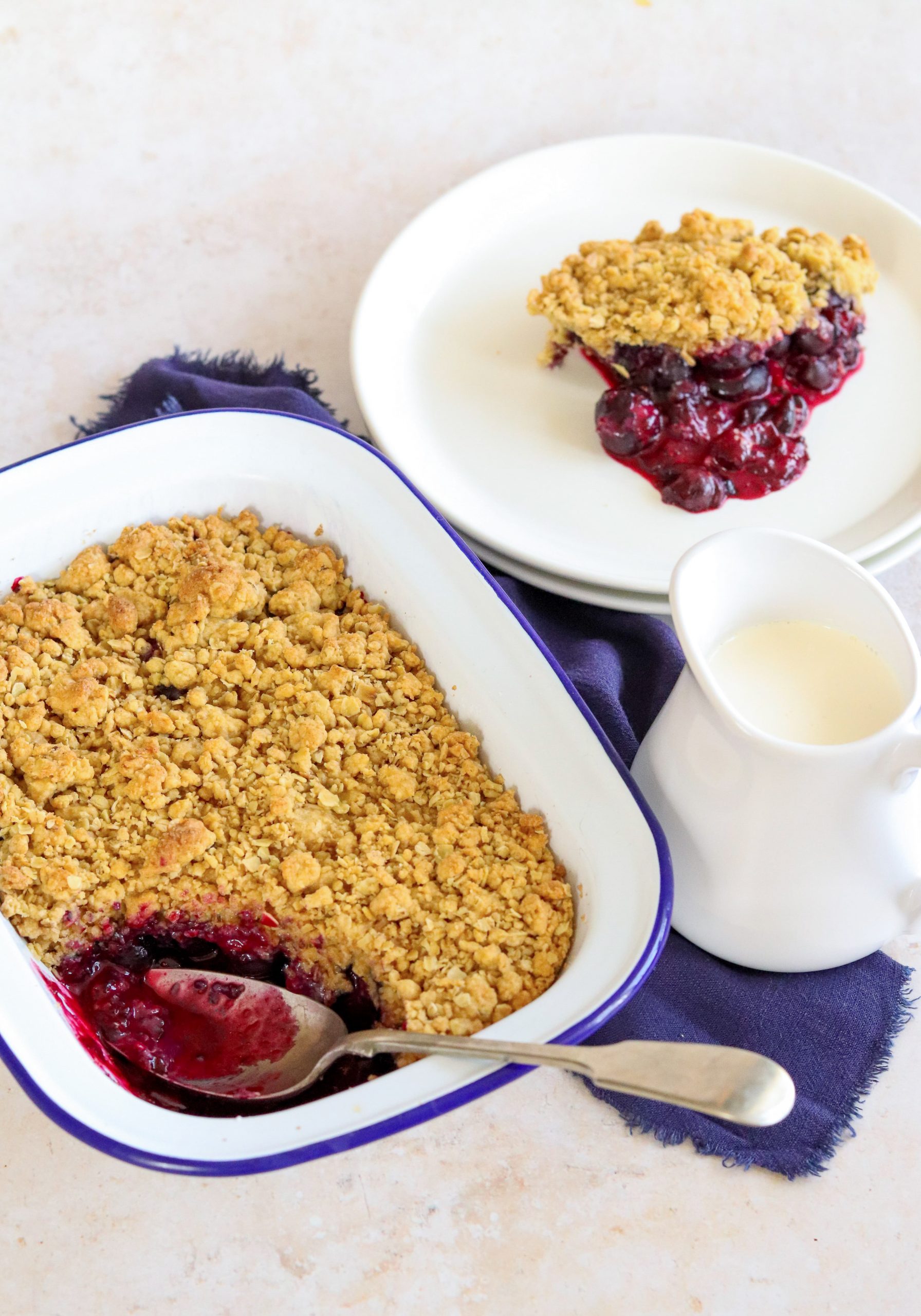 Can you freeze this crumble?
Yes this crumble would freeze really well.
Make it as the recipe states below but I would recommend assembling it in a metal takeaway container. You can then remove the cardboard lid and cook it in the foil container.
The crumble will keep for up to 3 months in the freezer. Defrost it thoroughly in the fridge for 8 hours or overnight.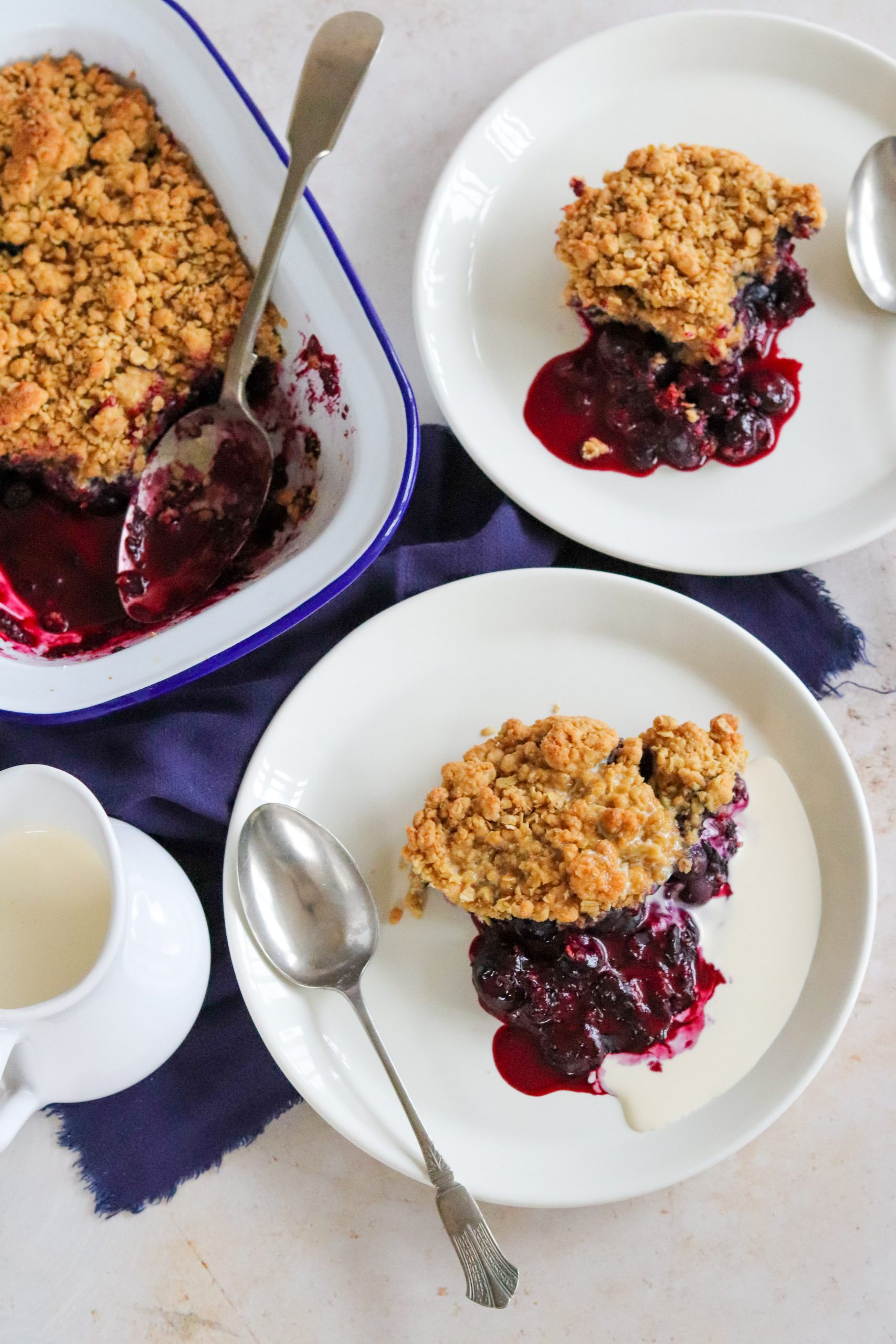 Other recipes you might like
Pin for later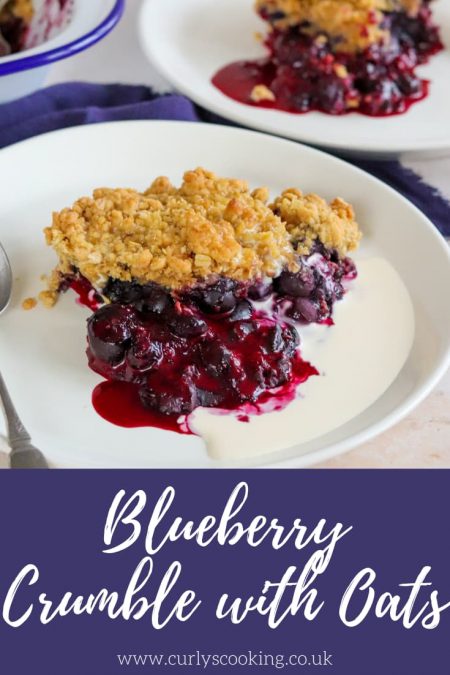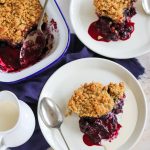 Blueberry Crumble with Oats
This Blueberry Crumble with Oats is the perfect simple and delicious dessert. A tasty sweet blueberry filling covered in a crisp crumble – will you serve yours with cream or custard?
Ingredients
For the filling
400

g

blueberries

2

tbsp

caster sugar

40

g

cornflour
For the crumble topping
140

g

self raising flour

85

g

unsalted butter

65

g

light brown sugar

70

g

porridge oats
Instructions
Preheat the oven to 180°C (fan assisted, 200°C non fan)

Add 400g blueberries to bowl along with 2 tbsp caster sugar and 40g cornflour

Mix until the blueberries are completely covered in the sugar and cornflour and then pour into a medium baking dish

Add 140g self raising flour, 85g unsalted butter and 65g light brown sugar to a bowl. Rub the ingredients together with your finger tips to form breadcrumbs

Add 70g porridge oats and distribute through with your fingers

Sprinkle the crumble topping over the blueberries making sure they are all covered

Bake in the oven for 30-35 minutes until the crumble is golden brown
Recipe Notes
Nutritional information is given as a guide only and may vary.
Nutrition Facts
Blueberry Crumble with Oats
Amount Per Serving
Calories 522
Calories from Fat 162
% Daily Value*
Fat 18g28%
Cholesterol 46mg15%
Sodium 10mg0%
Potassium 139mg4%
Carbohydrates 71g24%
Protein 5g10%
Vitamin A 586IU12%
Vitamin C 10mg12%
Calcium 30mg3%
Iron 1mg6%
* Percent Daily Values are based on a 2000 calorie diet.