Inspired by Chinese flavours, this Chicken & Pineapple stir fry is delicious whether its a midweek meal or weekend fake away. This sweet but savoury sauce coating crisp vegetables and chicken is perfect served with rice.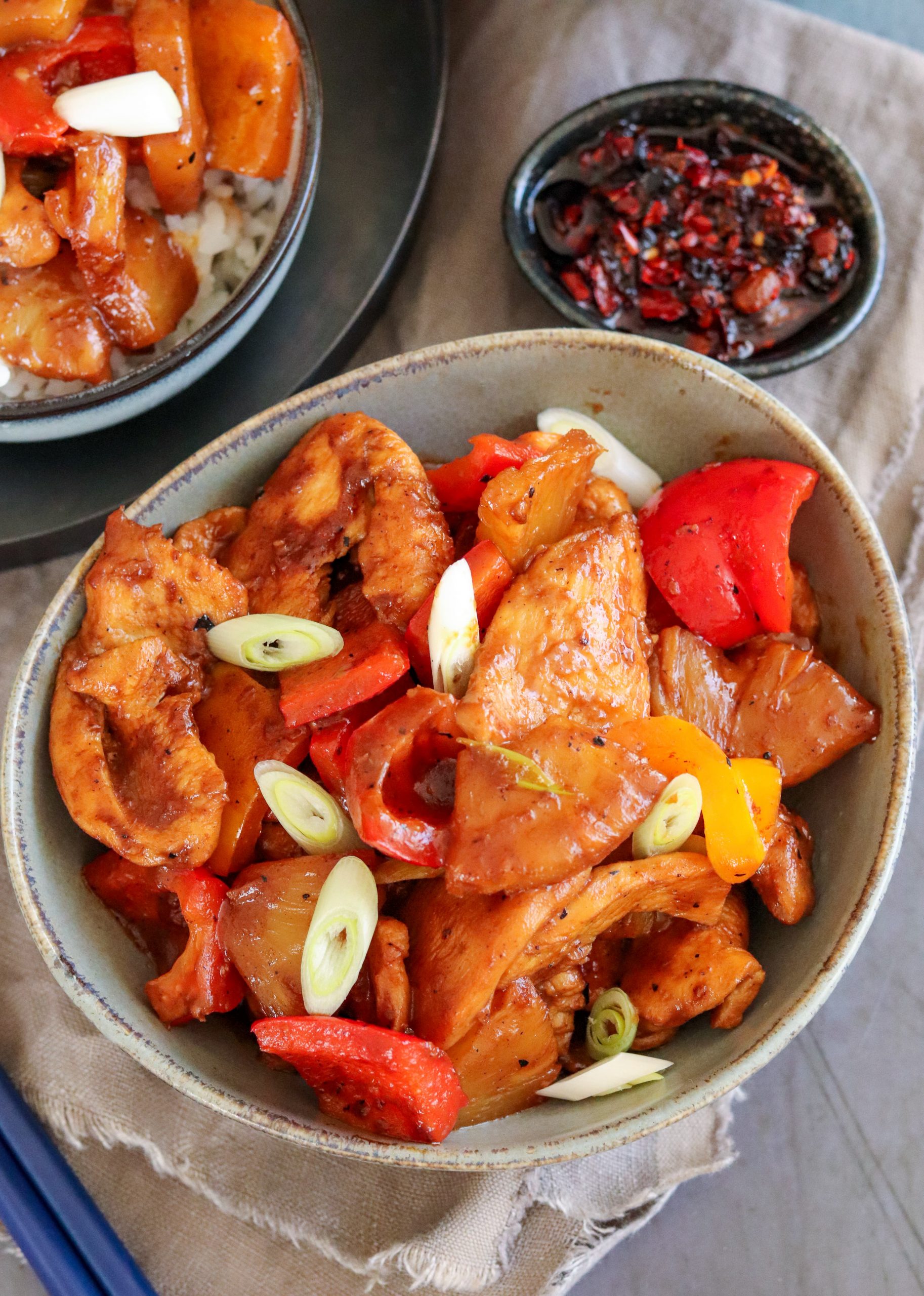 What is chicken & pineapple?
Chicken & Pineapple is a delicious quick and easy stir fry. If you like sweet and sour chicken, I am almost certain you will like this too. There are similarities but the sauce is where the difference is.
Although this recipe uses ingredients commonly used in Chinese cooking, it is definitely not an authentic recipe. You might see Chicken & Pineapple on a Chinese takeaway menu, but I think this is them catering towards Western tastes.
Aside from it being delicious, stir fry is quick and easy to make. There is some simple prep work involved as with most stir fries and then the cooking is speedy and it can be on your plate in 30 minutes or less.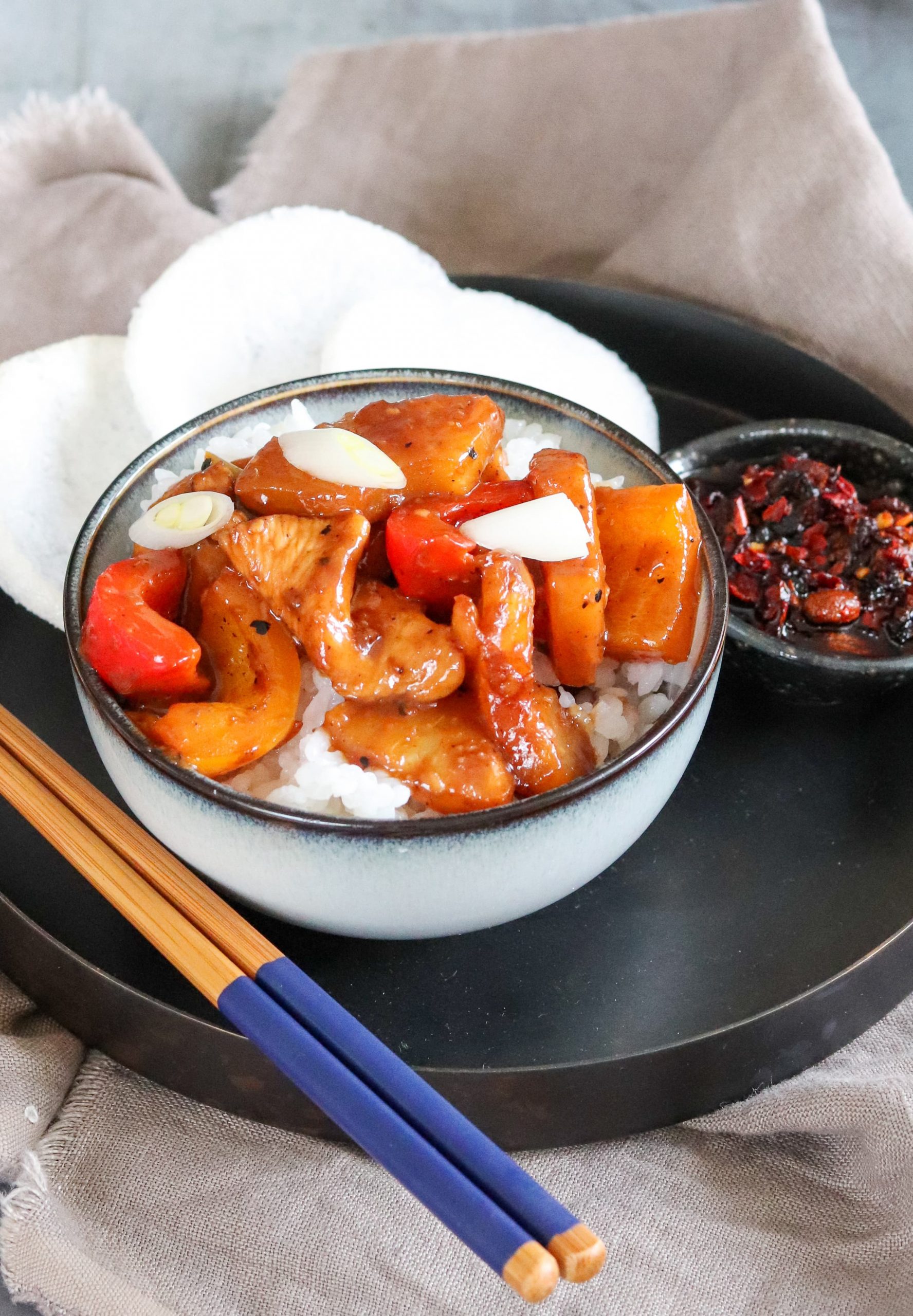 Which cut of chicken is best to use?
I usually use chicken breasts for this recipe for two reasons. The chicken is tenderised with cornflour and it is cooked so quickly it doesn't have a chance to dry out like chicken breasts can in other recipes.
You can definitely use chicken thighs for this recipe too. I would buy boneless and skinless thighs to make your job easier.
If I am making a recipe where the chicken cooks for longer like my Slow Cooker Teriyaki Chicken I would use thighs so it stays moist. However with a stir fry the chicken cooks so quickly it doesn't have a chance to become dry.
Whether you use breasts or thighs, I personally like to cut them into thinly. This means it cooks more quickly which is what we're looking for here.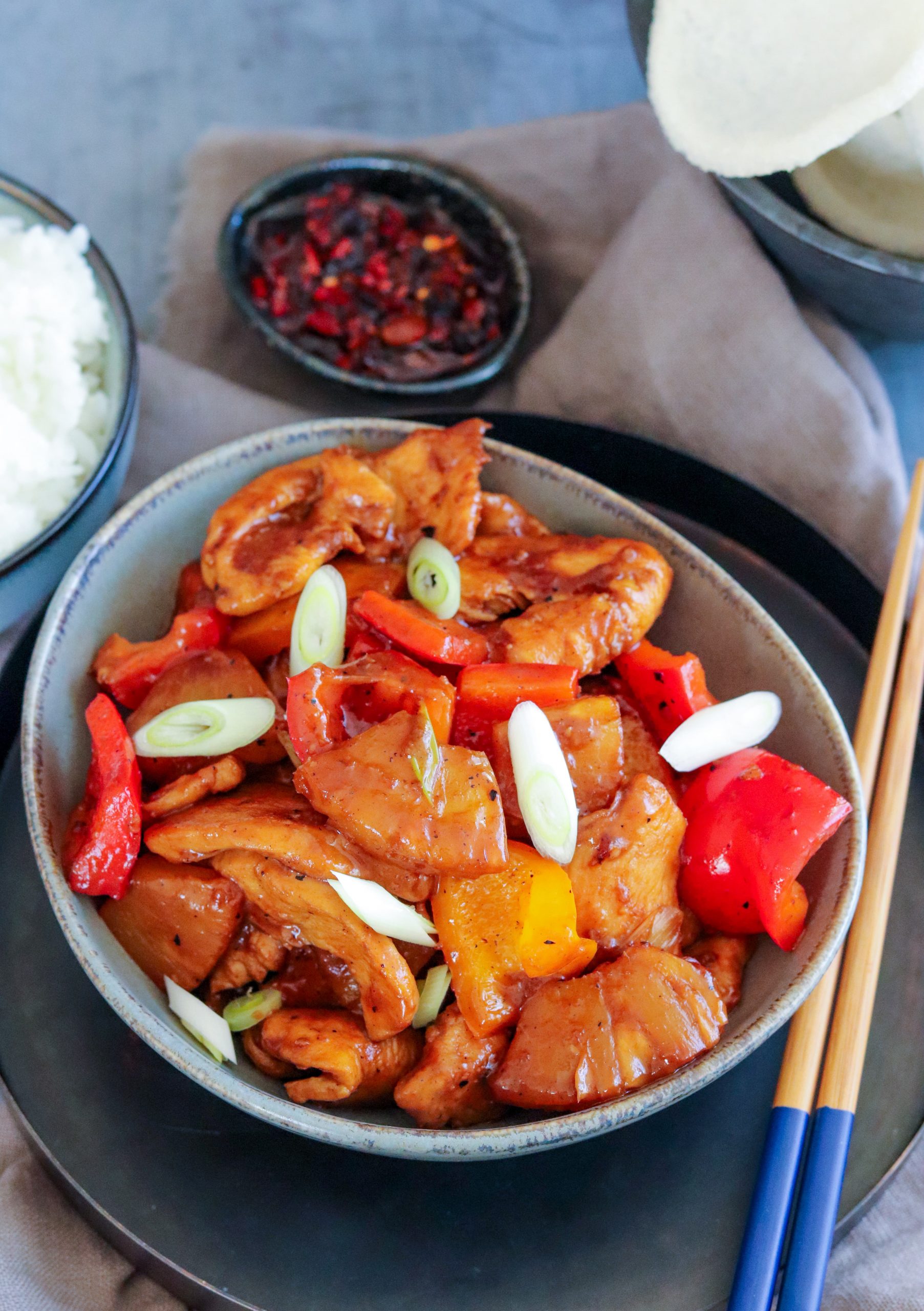 why mix the chicken with cornflour?
Mixing chicken with cornflour and sometimes other ingredients is a popular technique used in Chinese and other Asian cooking. It is called velveting and helps to tenderise the chicken before cooking so it stays juicy.
Instead of cornflour, some recipes use bicarbonate of soda or egg whites. All achieve the same goal but I prefer to use cornflour.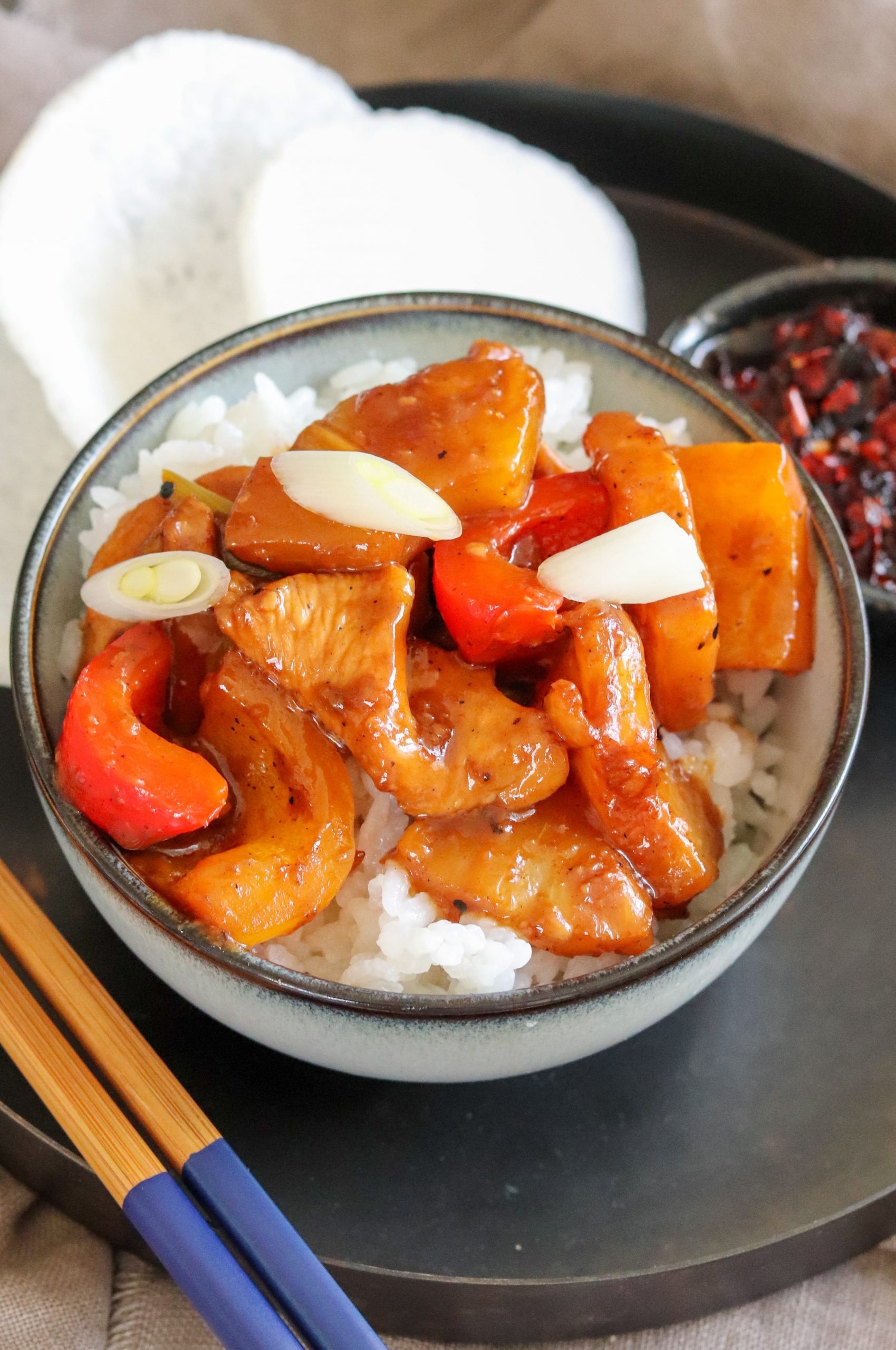 which pineapple is recommended to use?
I personally prefer fresh pineapple over tinned because it is much more flavourful. It makes a real difference in recipes like my Bacon Wrapped Pineapple.
However for this Chicken & Pineapple, I do prefer to use tinned pineapple. It is really convenient because you can use the juice it comes in for the sauce.
I prefer to buy tinned slices because you can cut them to the size you like. You can buy tins of pineapple chunks too but they tend to be a little smaller.
If you did want to use fresh pineapple you definitely can. Pineapple juice is readily available to buy in the fruit juice section.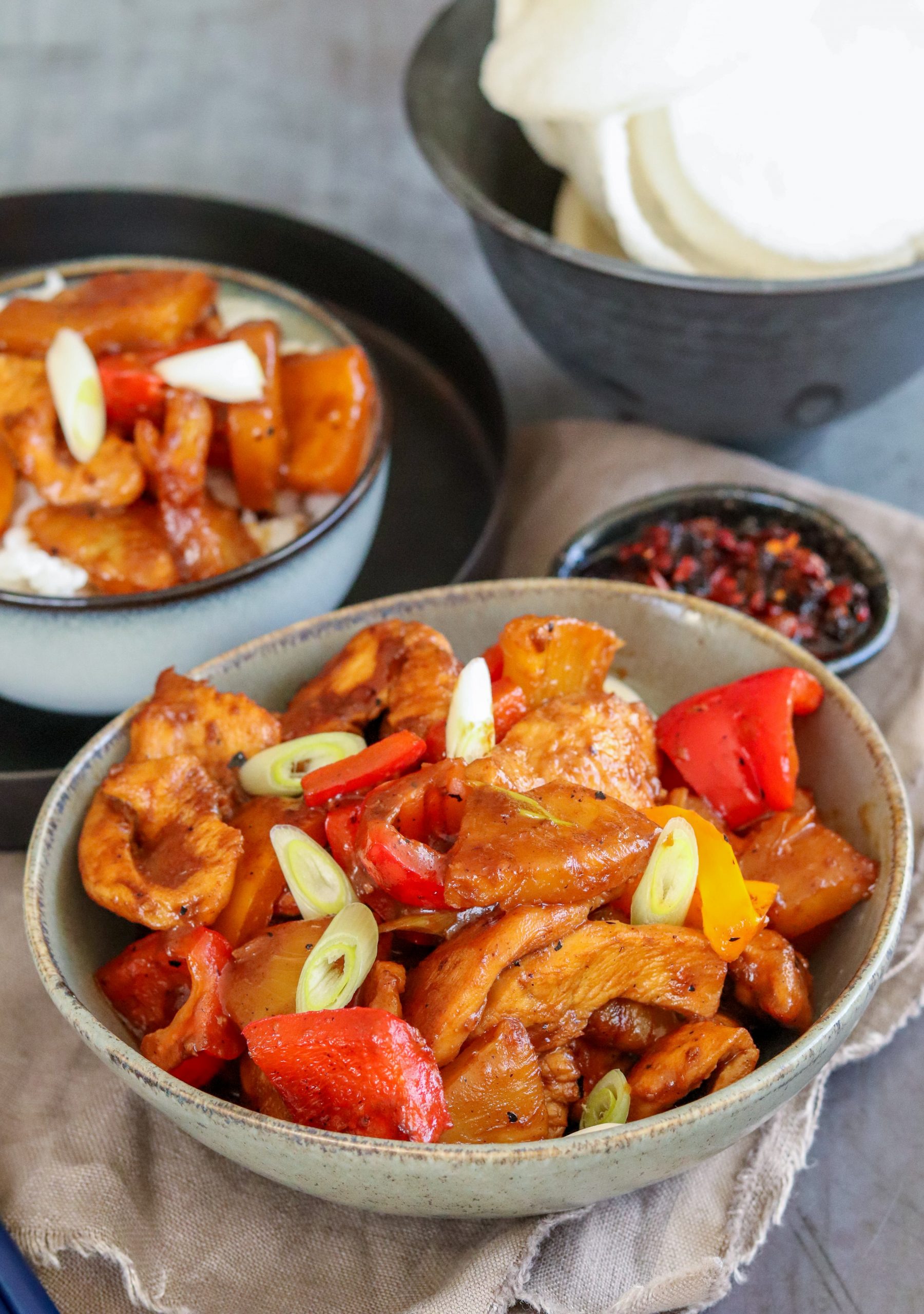 where to buy the sauce ingredients
I am a huge fan of Asian supermarkets and I would always recommend buying ingredients from there where you can. Asian supermarkets have a larger selection of options meaning you can usually pick which size bottle you want as well as you preferred brand.
Asian supermarkets typically have better prices for these ingredients too so I really would recommend trying there if you one close.
If you aren't lucky enough to live near an Asian supermarket, you will be able to get all of these ingredients in a standard supermarket. Most have an Asian section or a world food's aisle.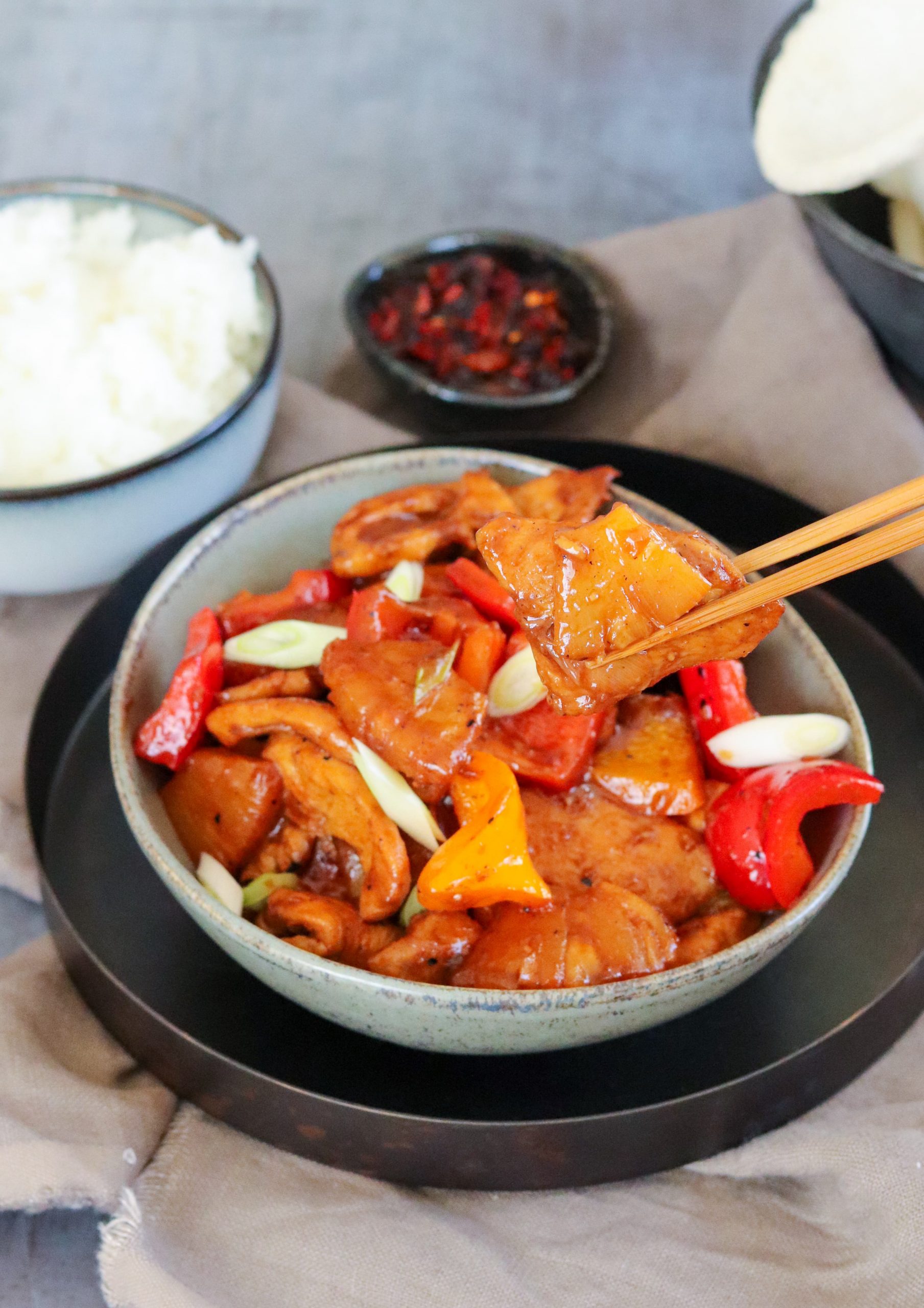 how to make this gluten free, vegetarian or vegan
This recipe is really simple to make gluten free. You will need to swap the soy sauce tamari which is the gluten free version. Shaoxing rice wine is also not gluten free so I would recommend using dry sherry instead.
To make it vegetarian or vegan, the first step is to obviously leave out the chicken. You could add a chicken substitute or tofu as good alternatives.
You will also need to use vegetable stock instead of chicken stock.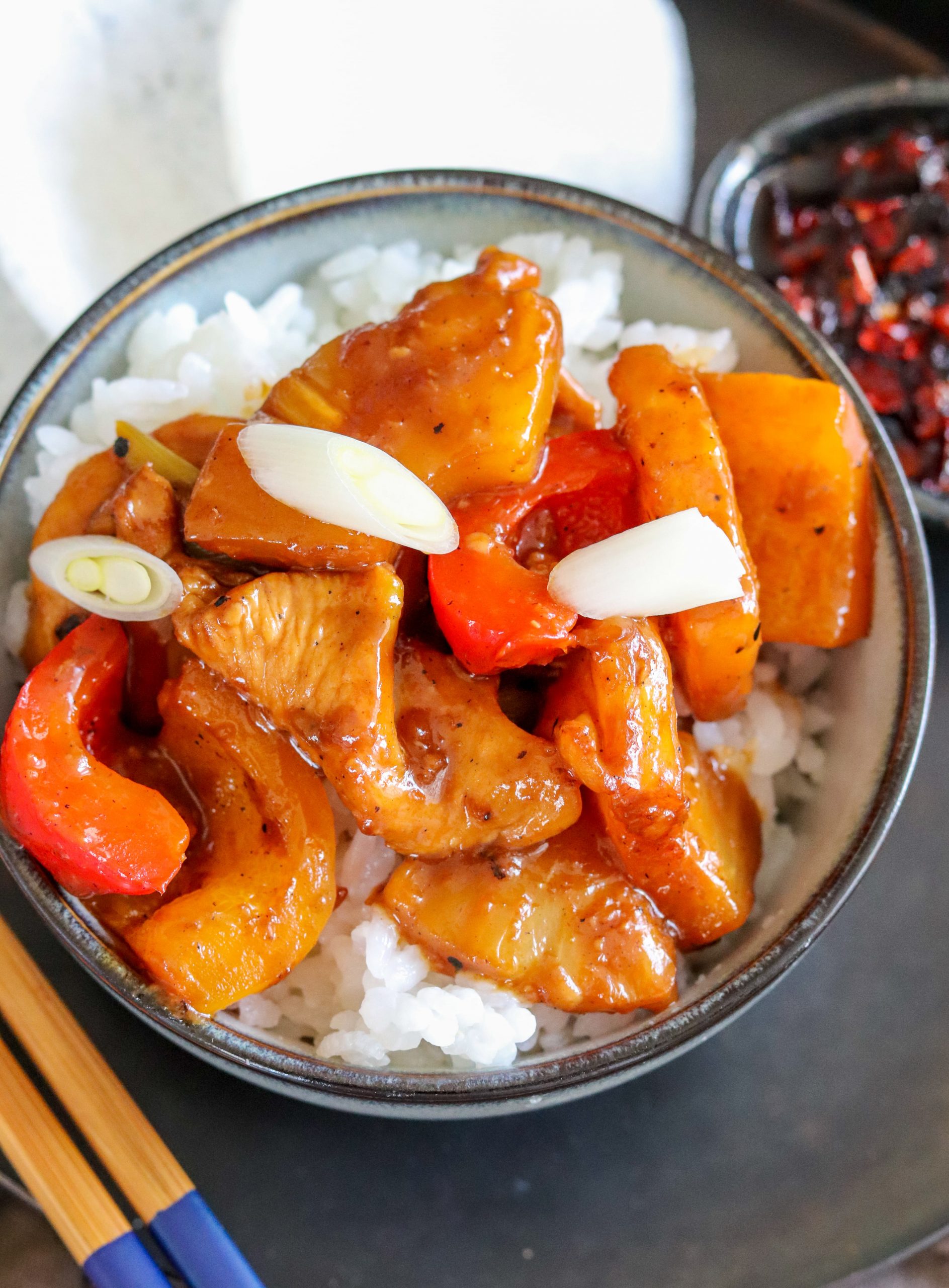 is there a substitute for shaoxing?
If you enjoy Chinese cooking, I really would recommend buying some Shaoxing rice wine. It isn't too expensive and a bottle should last a while.
However if you can't eat Shaoxing there are a few alternatives. Although they won't provide exactly the same taste, it should be similar.
As I mentioned before, Shaoxing isn't gluten free so instead you could use dry sherry.
However if you don't drink alcohol then a non alcoholic alternative would be to use a little more chicken stock.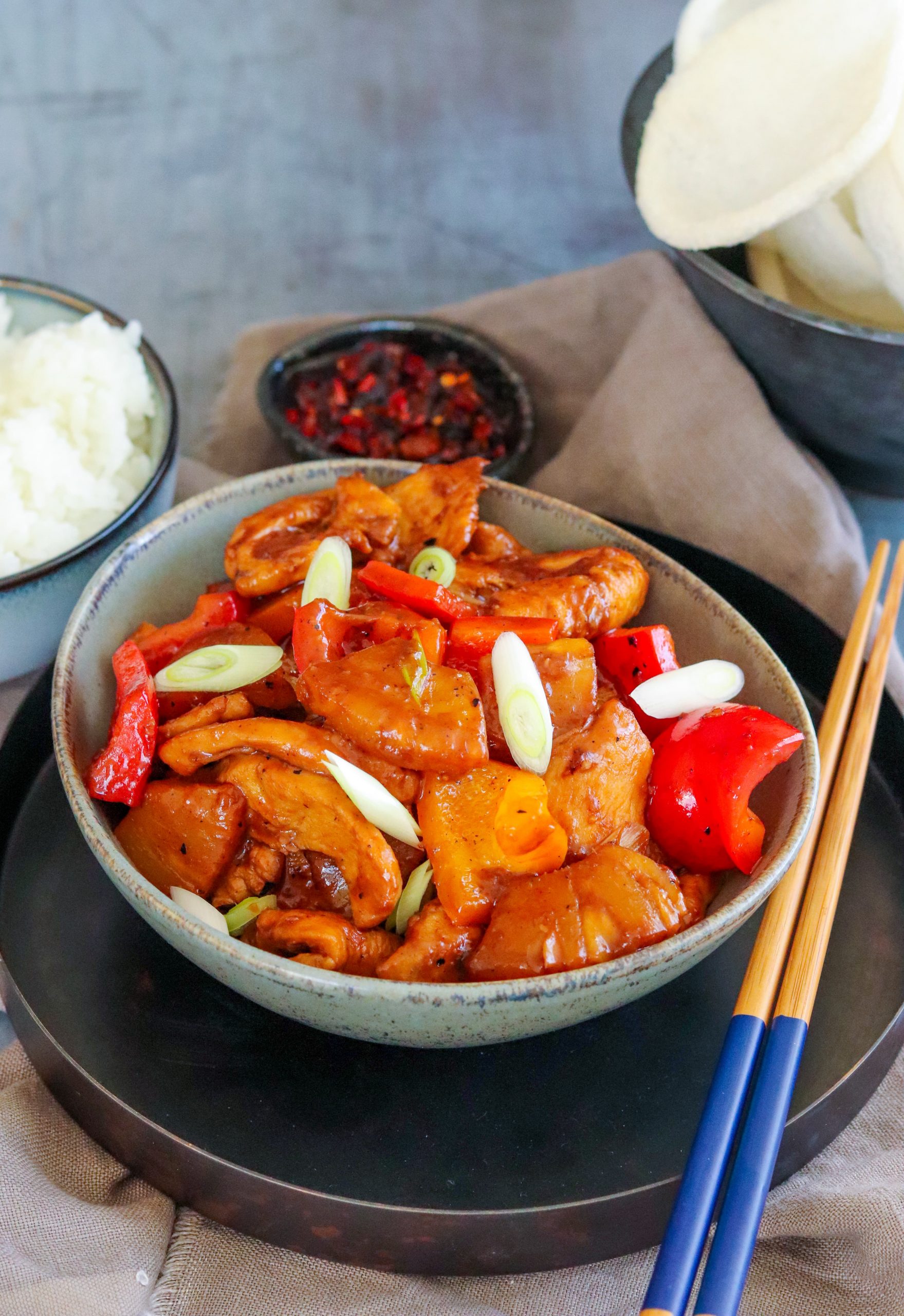 what to serve with chicken & Pineapple
The most common way I serve this is with sticky rice. It would also be delicious served with my Vegetable Fried Rice.
You could also easily make a Chinese style banquet and make other dishes alongside this Chicken & Pineapple.
Chicken Chow Mein is an absolute must in my opinion and my recipe is as good as the best takeaway you will have ever had. Another noodle option would be my Pork & Green Bean Stir Fry.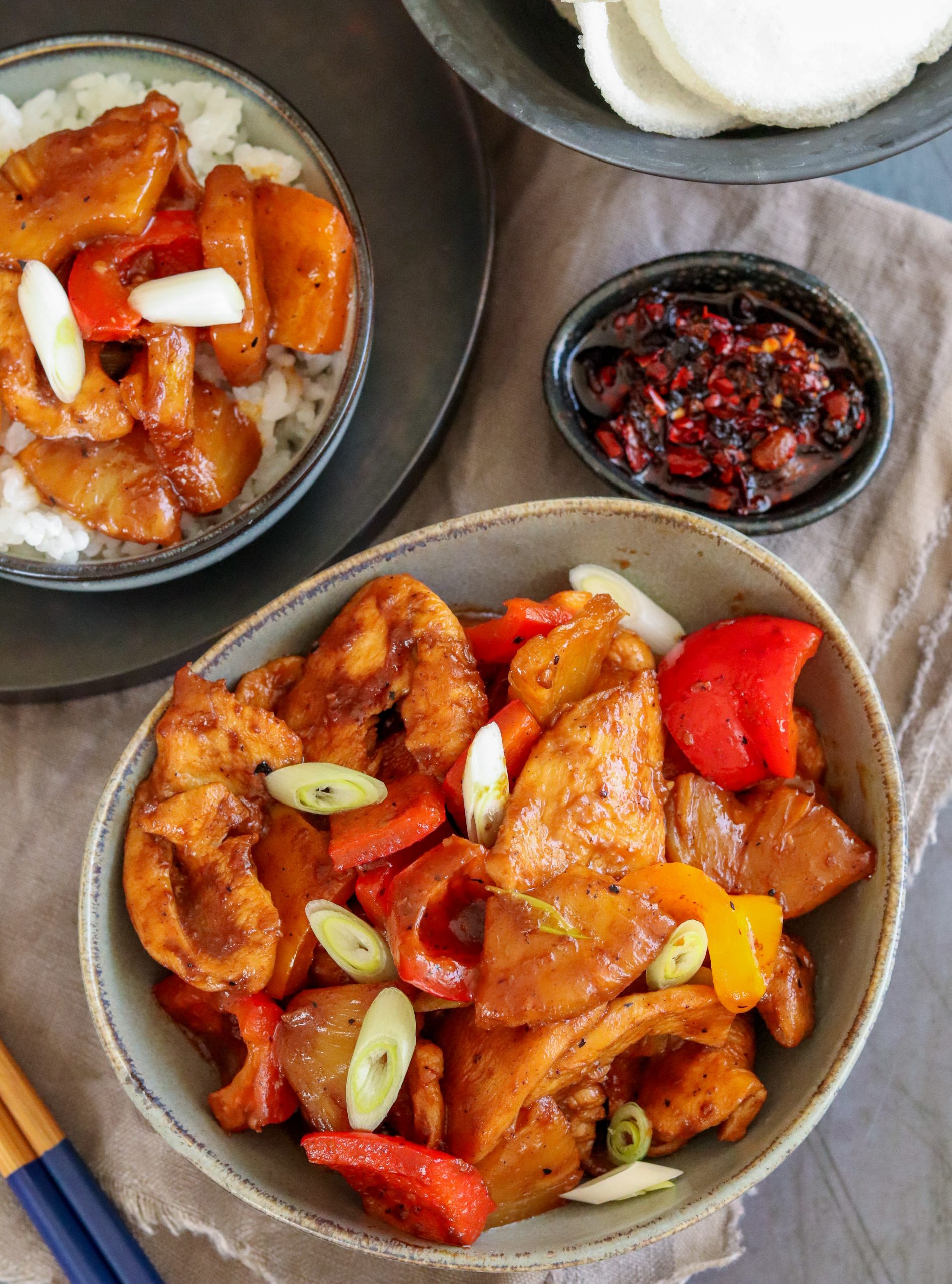 other recipes you might like
Pin for later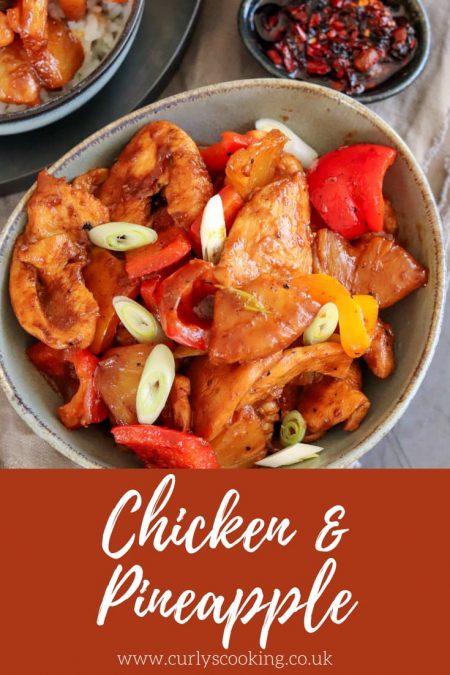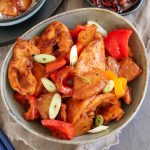 Chicken & Pineapple
Inspired by Chinese flavours, this Chicken & Pineapple stir fry is delicious whether its a midweek meal or weekend fake away. This sweet but savoury sauce coating crisp vegetables and chicken is perfect served with rice.
Ingredients
For the chicken
500

g

chicken breast

2

tbsp

light soy sauce

2

tbsp

cornflour

1

tbsp

water
For the sauce
3

tbsp

light soy sauce

3

tbsp

shaoxing rice wine

1 ½

tbsp

dark soy sauce

½

tsp

caster sugar

3

tbsp

pineapple juice

1

tsp

sesame oil

140

ml

chicken stock
1

pepper

diced

425g

tin

pineapple

reserve juice & dice

3

spring onions

sliced

3

tbsp

vegetable oil

1

tbsp

minced garlic

1

tbsp

minced ginger
to finish
1

tbsp

cornflour

1

tbsp

water
Instructions
Slice 500g chicken breast and add to a bowl along with 2 tbsp light soy sauce, 2 tbsp cornflour and 1 tbsp water. Mix and set aside

Deseed and dice 1 pepper and slice 3 spring onions. Drain a 425g tin of pineapple making sure you reserve the juice. Dice the pineapple and set aside with the pepper

In a jug, mix together 3 tbsp light soy sauce, 3 tbsp shaoxing rice wine, 1 ½ tbsp dark soy sauce, ½ tsp caster sugar, 3 tbsp pineapple juice, 1 tsp sesame oil and 140ml chicken stock. Set aside

Heat 2 tbsp of vegetable oil in a wok on a high heat. When the wok is smoking hot add the chicken and stir fry stirring constantly for 2-3 minutes until the chicken is white and nearly cooked through

Remove the chicken from the wok and set aside

Add 1 tbsp vegetable oil to the wok and wait for it to get smoking hot again. Add 1 tbsp minced garlic and 1 tbsp minced ginger. Stir for 20 seconds

Add the diced pepper, pineapple and spring onions. Stir fry for 2-3 minutes stirring constantly

Add the chicken back to the pan and cook with the vegetables for a further 2-3 minutes

Add the prepared sauce ingredients and let cook for 2 minutes, stirring frequently

Mix 1 tbsp cornflour with 1 tbsp water to form a slurry. Add this to the wok to thicken the sauce

Cook for a further 1 minute until the sauce has thickened and then serve
Recipe Notes
Nutritional information is given as a guide only and may vary.
Nutrition Facts
Chicken & Pineapple
Amount Per Serving
Calories 276
Calories from Fat 45
% Daily Value*
Fat 5g8%
Cholesterol 81mg27%
Sodium 1456mg63%
Potassium 754mg22%
Carbohydrates 26g9%
Protein 31g62%
Vitamin A 301IU6%
Vitamin C 79mg96%
Calcium 37mg4%
Iron 2mg11%
* Percent Daily Values are based on a 2000 calorie diet.