Who doesn't love cheese? And what better way to enjoy it than in some big fluffy Cheese Scones?! These are simple to make and a real crowd-pleaser.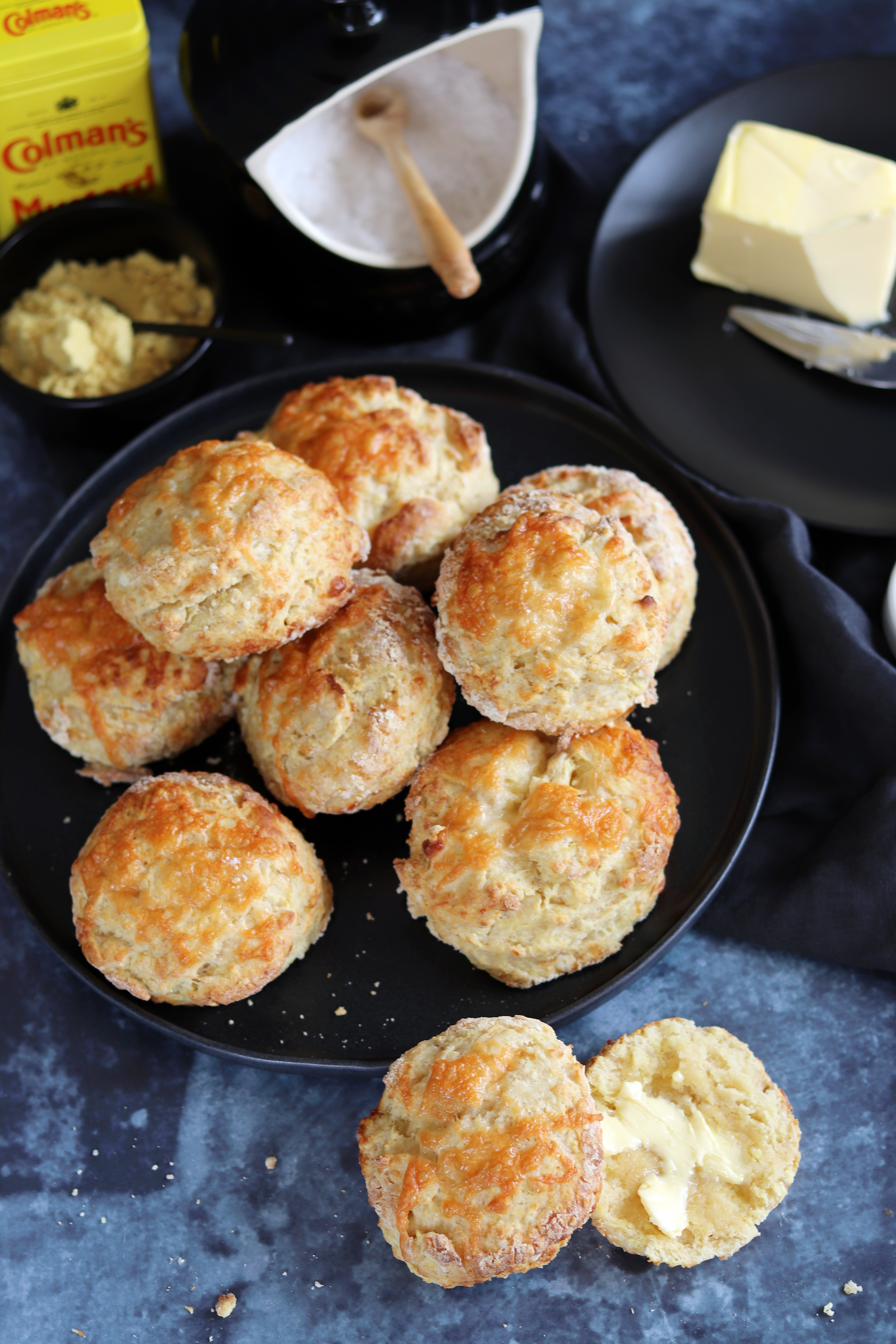 A Cheese Scone to remember
Until now, the only cheese scones I remember eating are those made by my lovely friend SJ. I used to work with SJ and she would often treat us with her lovely cheese scones.
She would get up extra early and bake them for us before work. Every time she made them they were absolutely perfect.
So obviously I had to ask for her recipe. And I have been meaning to make my own version for years. It was only when I was making baby friendly cheese scones for my nephew that I realised it was definitely time!
So I dug out her recipe (that she gave me in 2015!) and got to work!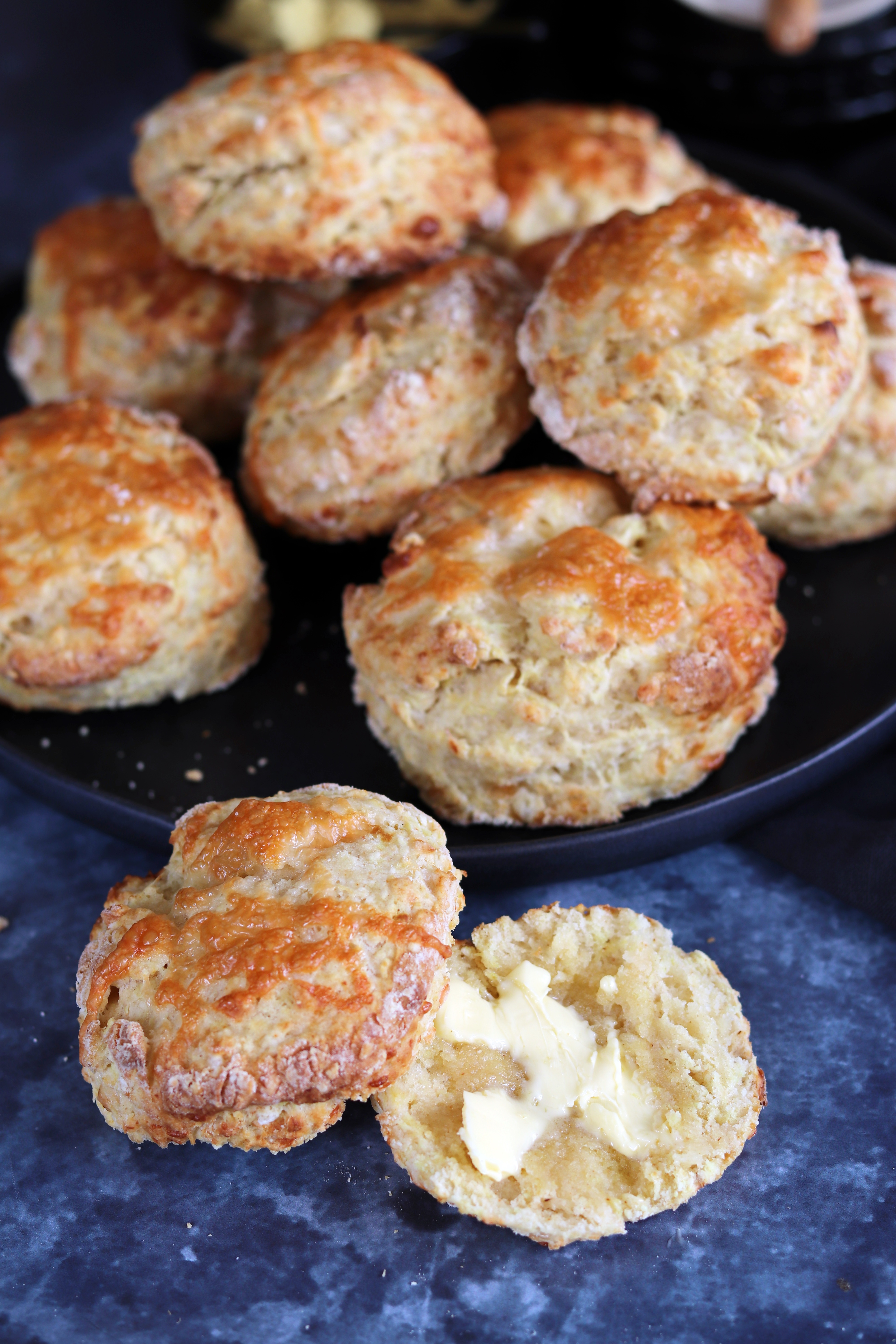 Tweaking an existing Cheese Scone recipe
So I had SJ's recipe, but it had the amount of cheese missing! I saw this as an opportunity to add how much cheese I wanted. I did ask her how much cheese was meant to be in the recipe after I had made mine.
Let's just say my version is more generous with the cheese! I also added some Parmesan because I love the slightly salty flavour it gives.
The tweaks weren't just with the cheese. Cheese calls out for mustard powder and cayenne pepper! These spices really enhance the cheese flavour without overpowering it.
Another tweak was to brush the scones with milk instead of egg. I prefer to use milk because even if you use a small egg, you won't need all of it and the rest goes to waste.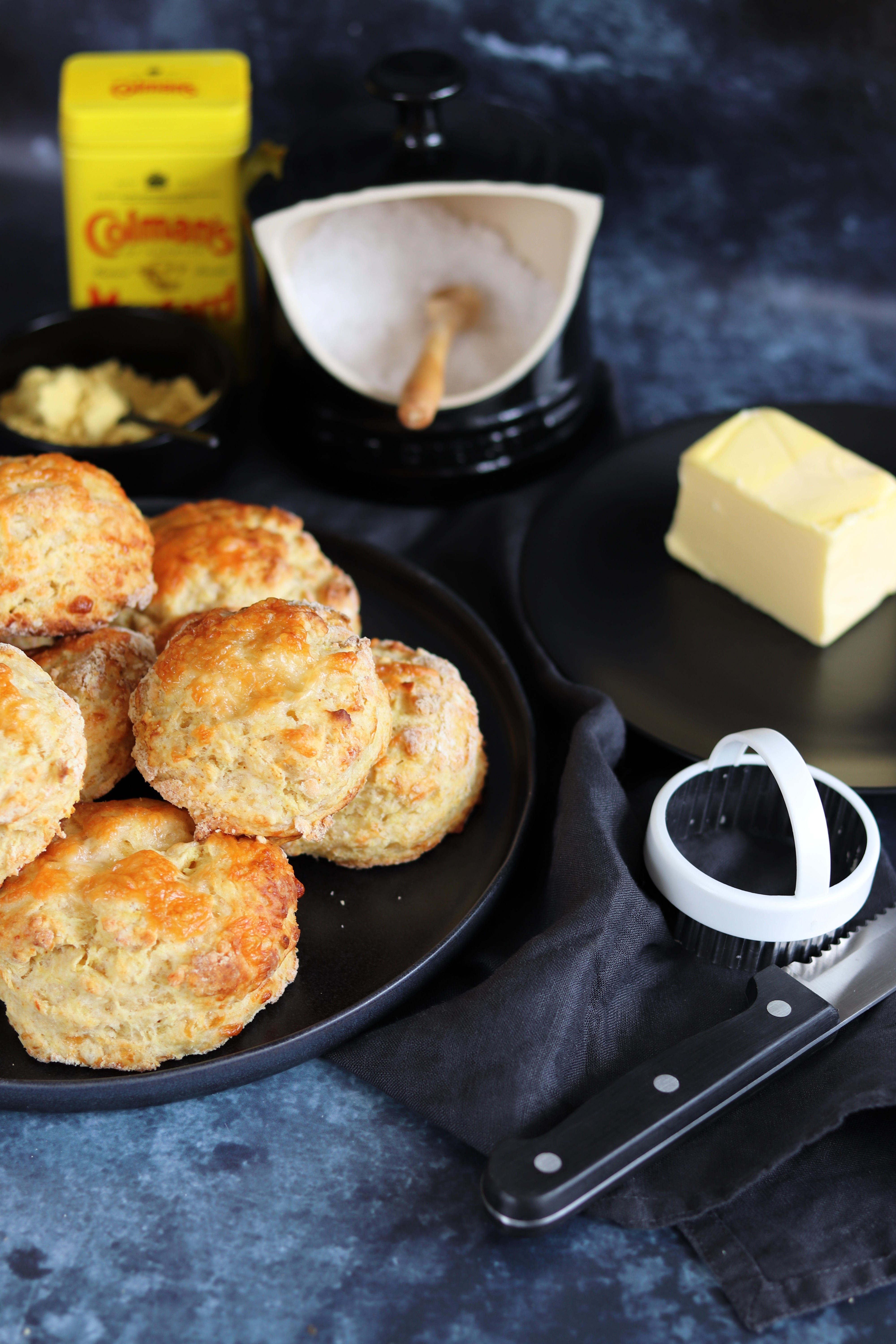 Cheese Scone baking tips
I am no cheese scone pro (that's SJ), but I do have some tips! As with all scones, the less you can handle it; the better. Do not be tempted to start kneading the dough to get it smooth and soft.
Because of this, some of my scones are a little rustic on top with a few cracks. I don't mind this at all! I would rather have a slightly more rustic looking scone that is delicious and light inside rather than a smooth topped scone that is a bit dense.
Also make sure you don't brush the milk on the sides of the scones as this can affect how well they rise. And one thing you don't want is a flat scone!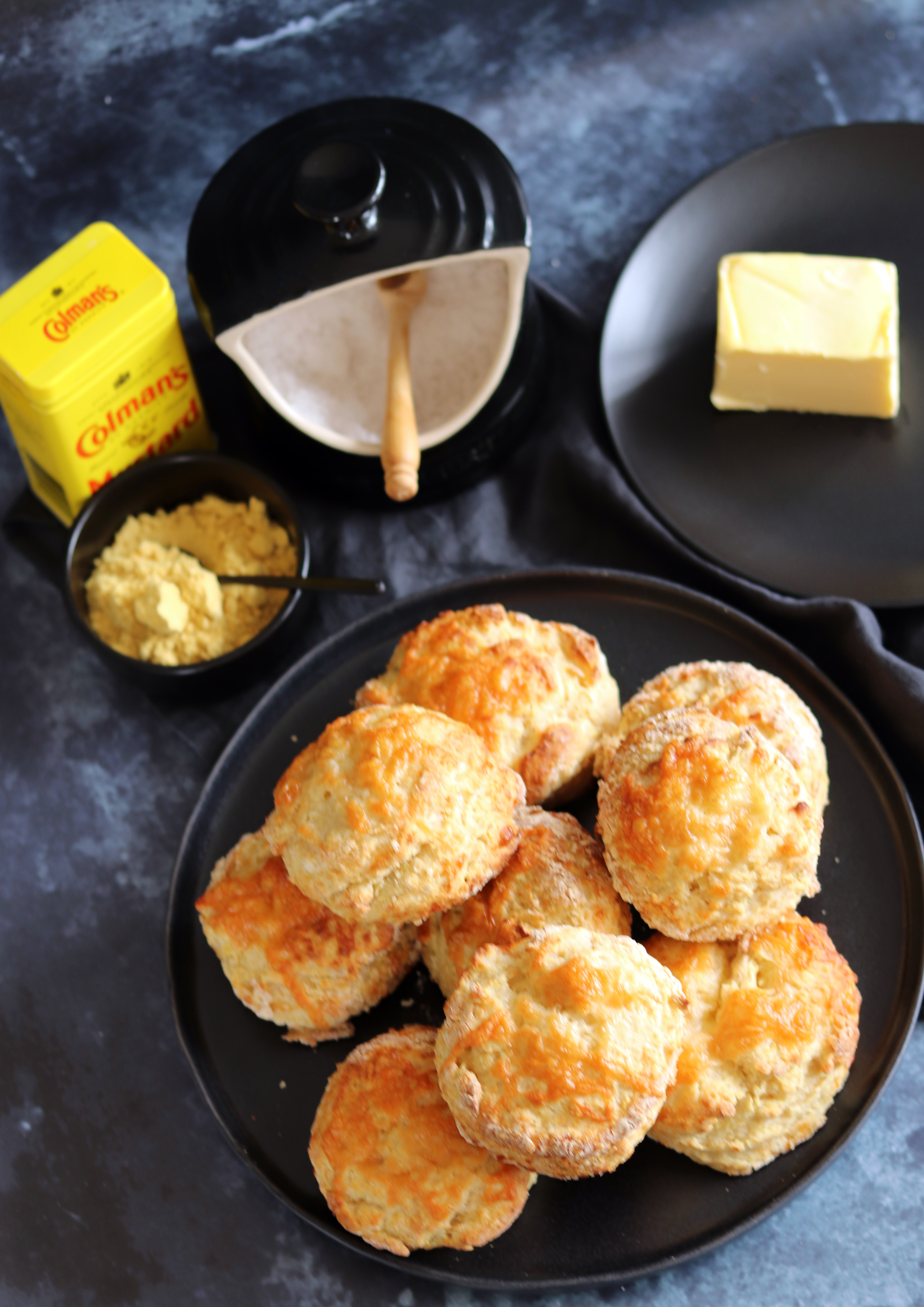 Best eaten fresh!
As with all scones, these Cheese Scones are best eaten on the day you bake them. You could stretch it to the day after too if needed. If twelve is too much for you to eat, you could always half the recipe and make six.
Alternatively you can freeze them for up to a month.
If after day two you still have the odd one left, you could put them in the microwave briefly to revive them!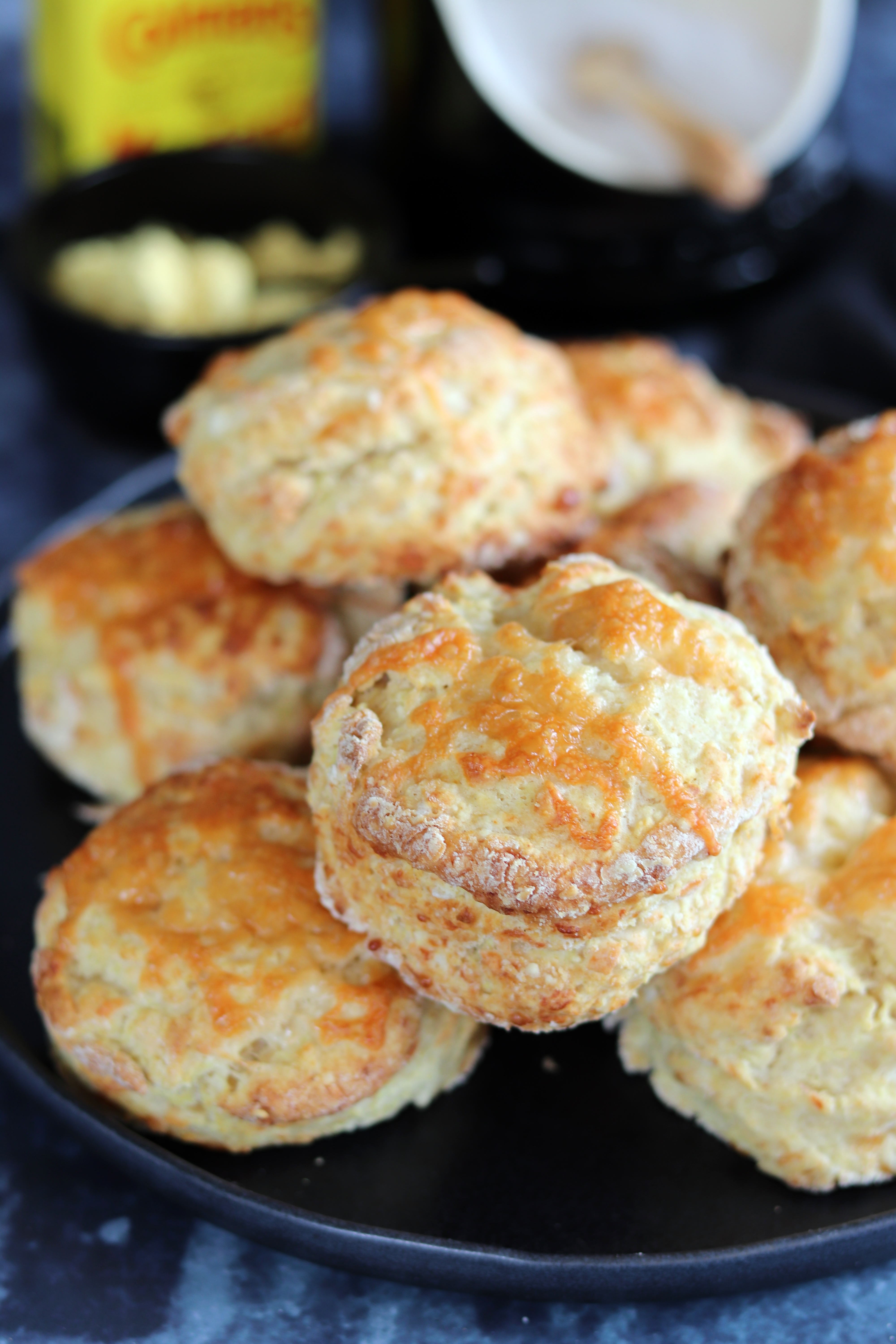 Other recipes you might like
Pin for later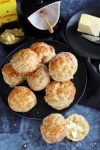 Cheese Scones
Who doesn't love cheese? And what better way to enjoy it than in some big fluffy Cheese Scones?! These are simple to make and a real crowd-pleaser.
Ingredients
500

g

plain flour

1

tsp

sea salt

2

tsp

bicarbonate of soda

4½

tsp

cream of tartar

2

tsp

mustard powder

1

tsp

cayenne pepper

50

g

unsalted butter

300

ml

semi-skimmed milk

150

g

cheddar cheese

grated

20

g

Parmesan

finely grated
To finish
1

tbsp

semi-skimmed milk

20

g

cheddar cheese

grated
Instructions
Preheat the oven to 200°C (fan assisted, 220°C non fan). Line two baking trays with silicon liners or spray with oil

In a large bowl, mix together the flour, salt, bicarbonate of soda, cream of tartar, mustard powder and cayenne pepper

Cut the butter into cubes and add it to the flour. Rub the butter into the flour using your fingertips to get a very fine breadcrumb consistency

Add the grated cheddar and Parmesan and mix briefly

Add the milk and begin stirring with a knife to combine. Use your hands to finish bringing the dough together

Tip out onto a lightly floured surface and bring the dough into a circle roughly 2½-3cm in depth. Make sure you handle the dough as little as possible

Flour a 6½cm round cutter and then cut out scones and lay them on the prepared trays. Make sure you leave enough of a gap for the scones to spread when cooking

Gather up the remaining dough and bring together to form a smaller circle. Keep cutting out more scones until all of the dough is used

Brush each scone with milk and scatter with cheese

Bake in the oven for 10 minutes until risen and golden brown
Recipe Notes
Nutritional information is given as a guide only.
Nutrition Facts
Cheese Scones
Amount Per Serving
Calories 263
Calories from Fat 90
% Daily Value*
Fat 10g15%
Cholesterol 27mg9%
Sodium 533mg23%
Potassium 280mg8%
Carbohydrates 34g11%
Protein 9g18%
Vitamin A 345IU7%
Vitamin C 0.1mg0%
Calcium 162mg16%
Iron 2.1mg12%
* Percent Daily Values are based on a 2000 calorie diet.