Sweet Potato & Feta Baked Taquitos are a delicious Mexican inspired vegetarian dish. Subtle but delicious flavours in a healthier version of a well known classic.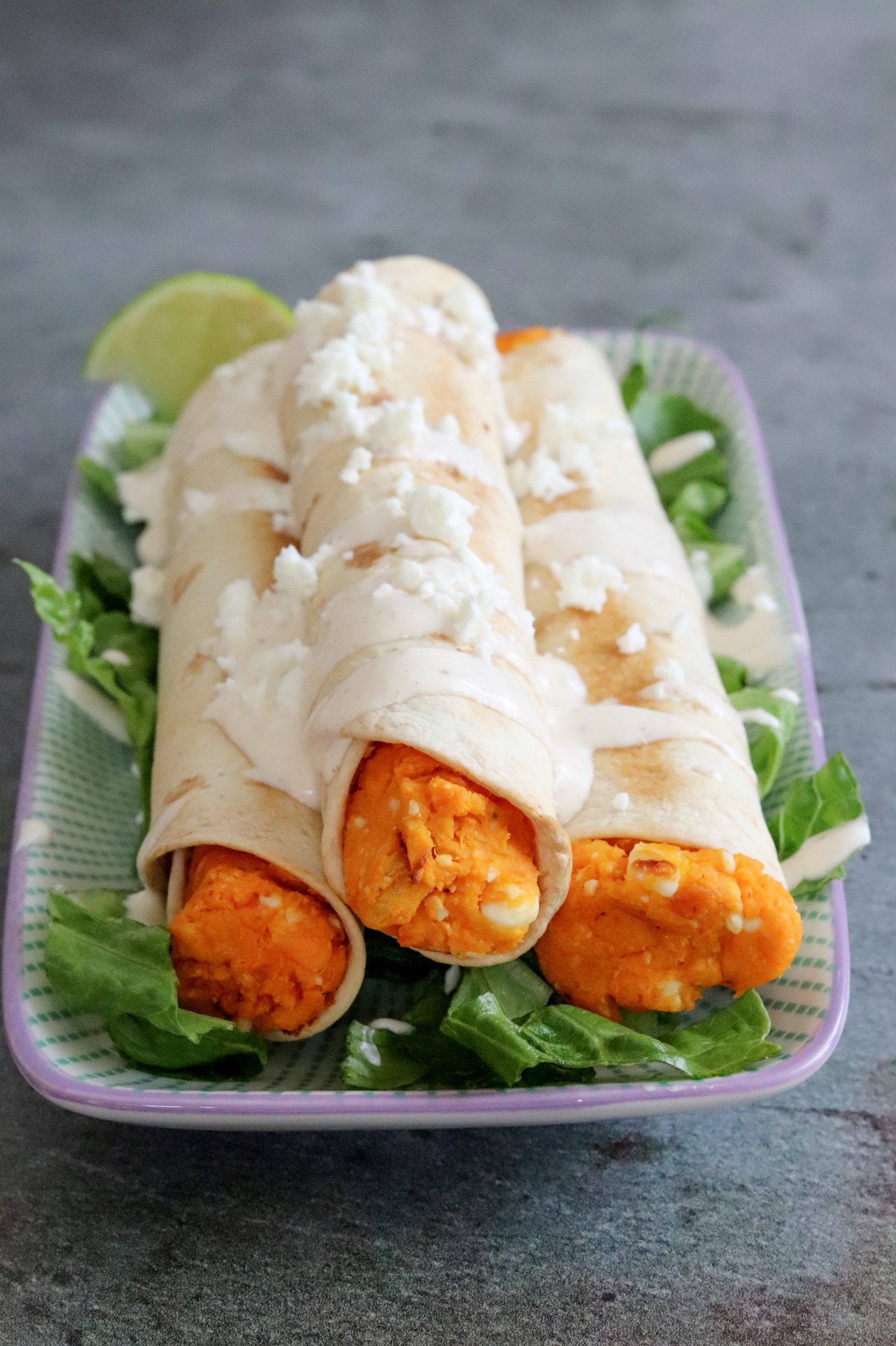 What is a taquito?
Taquitos or flautas are a well known Mexican dish. They are rolled up tortillas filled with meat or cheese and usually fried.
They are also typically served with sour cream or guacamole.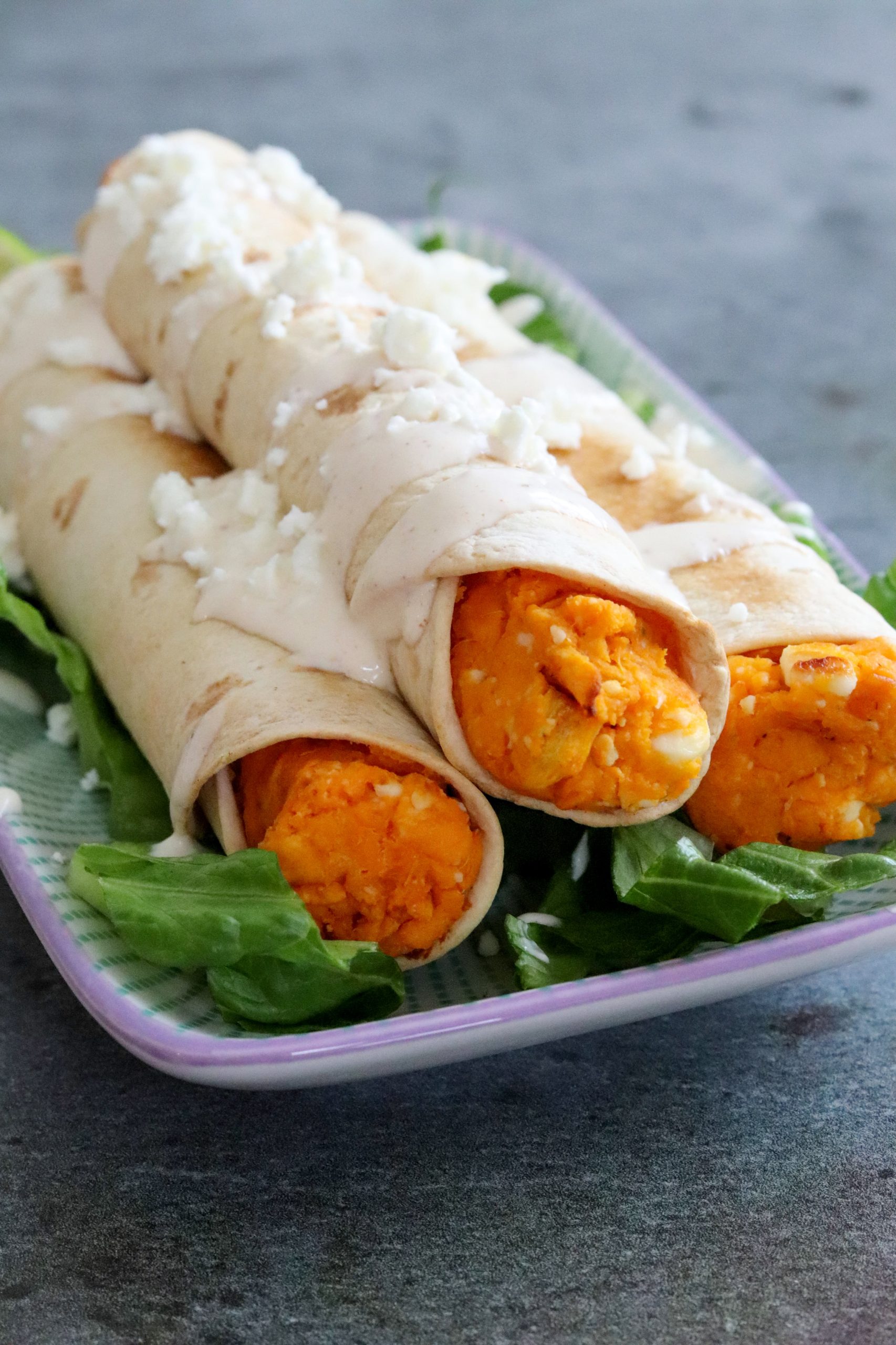 Sweet Potato & Feta Baked Taquitos are my take on a Mexican classic
Although I do not claim that these Sweet Potato & Feta Baked Taquitos are authentically Mexican; they are delicious.
All of the ingredients are used in Mexican cooking, but these are my interpretation. Authentic Mexican ingredients aren't as common here in the UK.
For example, a traditional Mexican cheese is Oaxaca which isn't readily available here. Instead, I use feta because it has a similar creamy, salty flavour.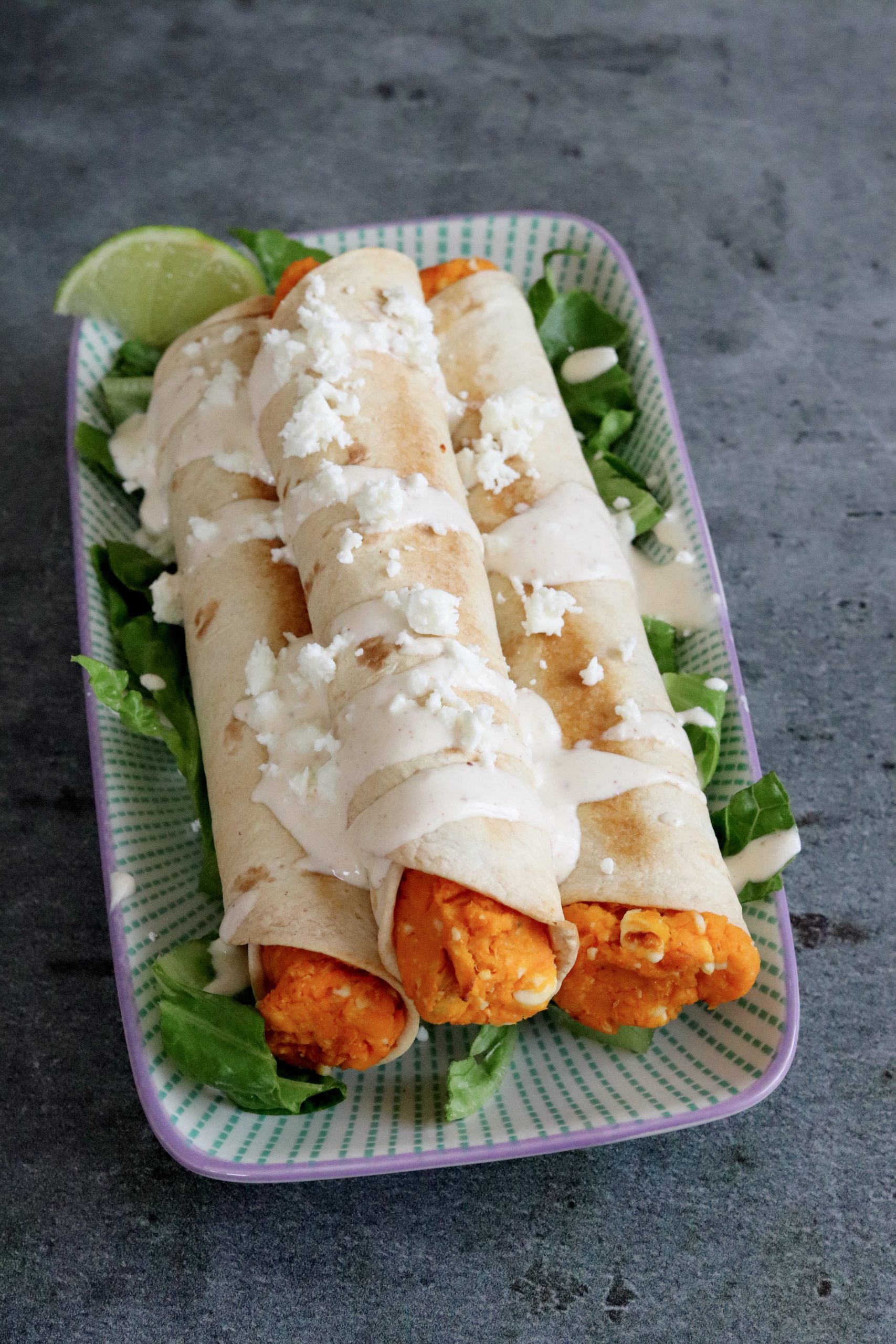 Baked not fried
Taquitos are traditionally fried to get a deliciously crisp crunch on the tortilla.
However I try to avoid deep frying at home as much as possible. Instead I decided to bake the taquitos.
Baking the taquitos still provides the crispness you are looking for and is easier and healthier.
These would also be really good cooked in an air fryer.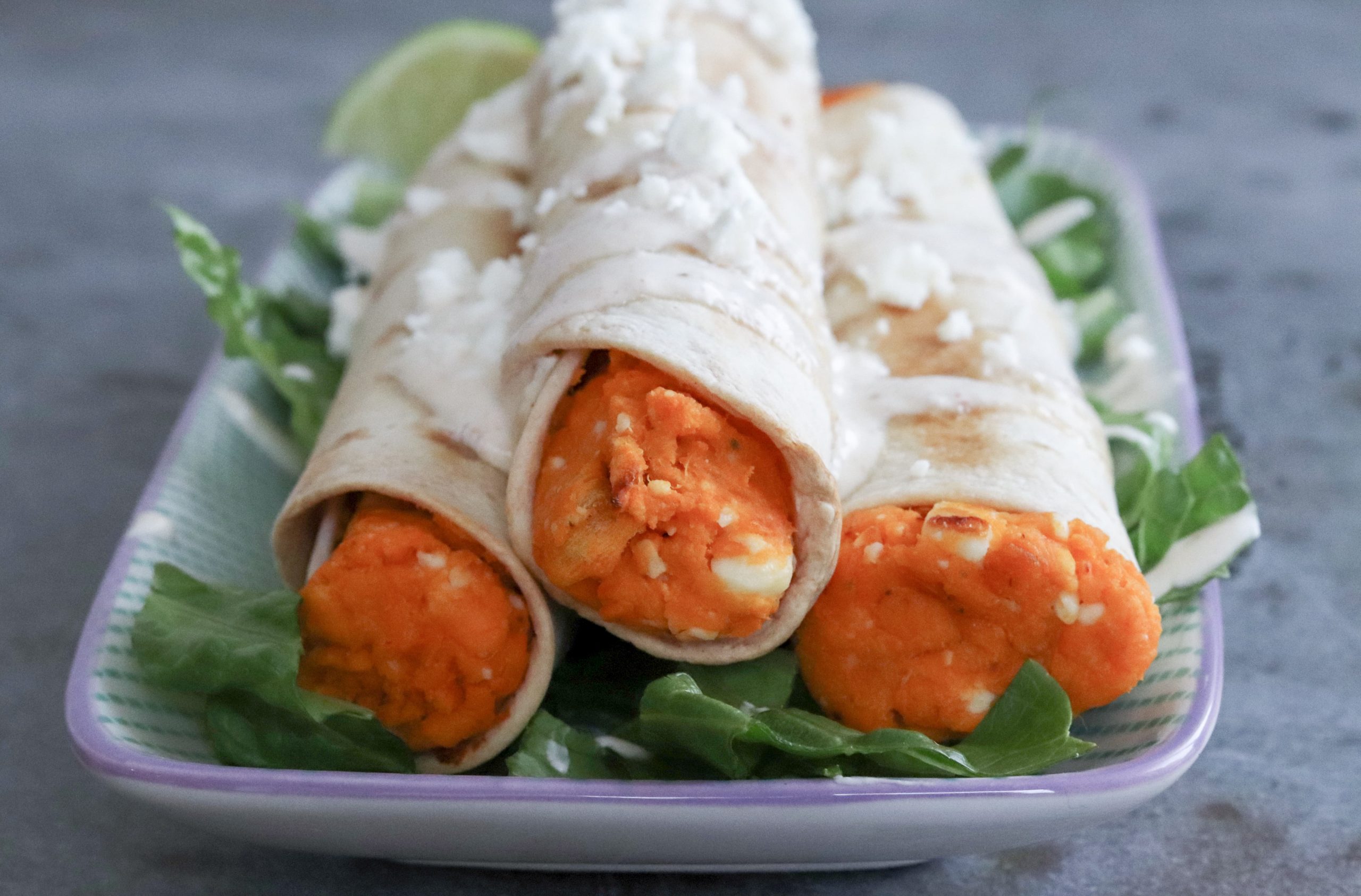 Microwaving your sweet potatoes
I love using the microwave to cook potatoes. When I am having a baked potato, I always cook them in the microwave before finishing them off in the oven to crisp up.
The microwave is such a quick and easy way to cook the sweet potatoes for these taquitos.
The time it will take to cook your sweet potatoes depends on how large they are. Start with seven minutes and test if they are cooked by inserting a sharp knife.
If the knife goes in easily then they are cooked. If the knife doesn't go in easily, keep cooking for a minute or so until it does.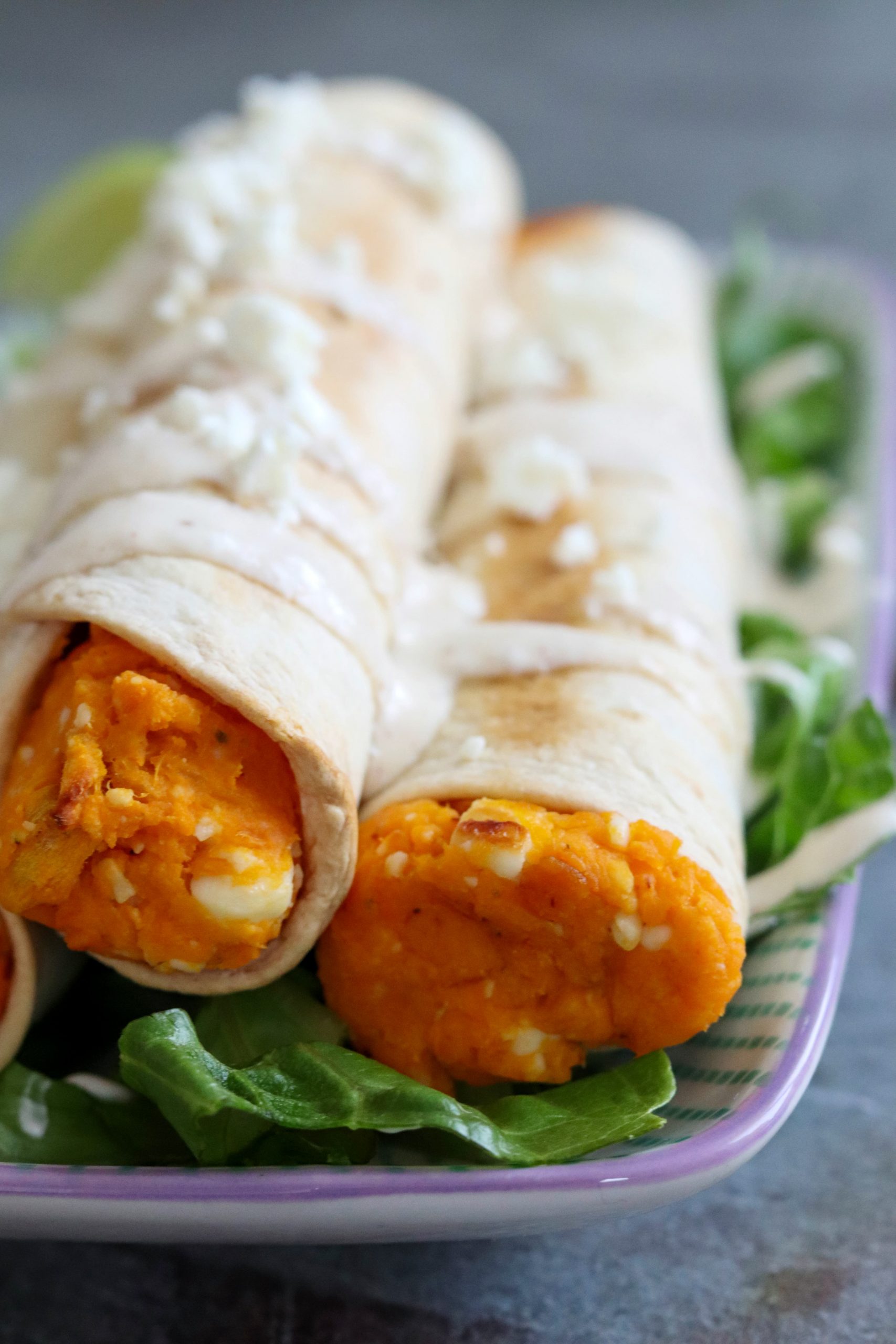 Are these Sweet Potato & Feta Baked Taquitos spicy?
Not at all, they are very mild.
I didn't want any chilli flavours to overpower the sweet potato or feta which is why I have showed restraint and only used a pinch. If you are a chilli fiend, you can add some more.
I have used ancho chilli powder because this is one of my favourites, but you can use whichever chilli powder you like.
You could also use a fresh chilli in the taquitos if you would prefer. Remove the seeds and membrane if you would like it to be milder.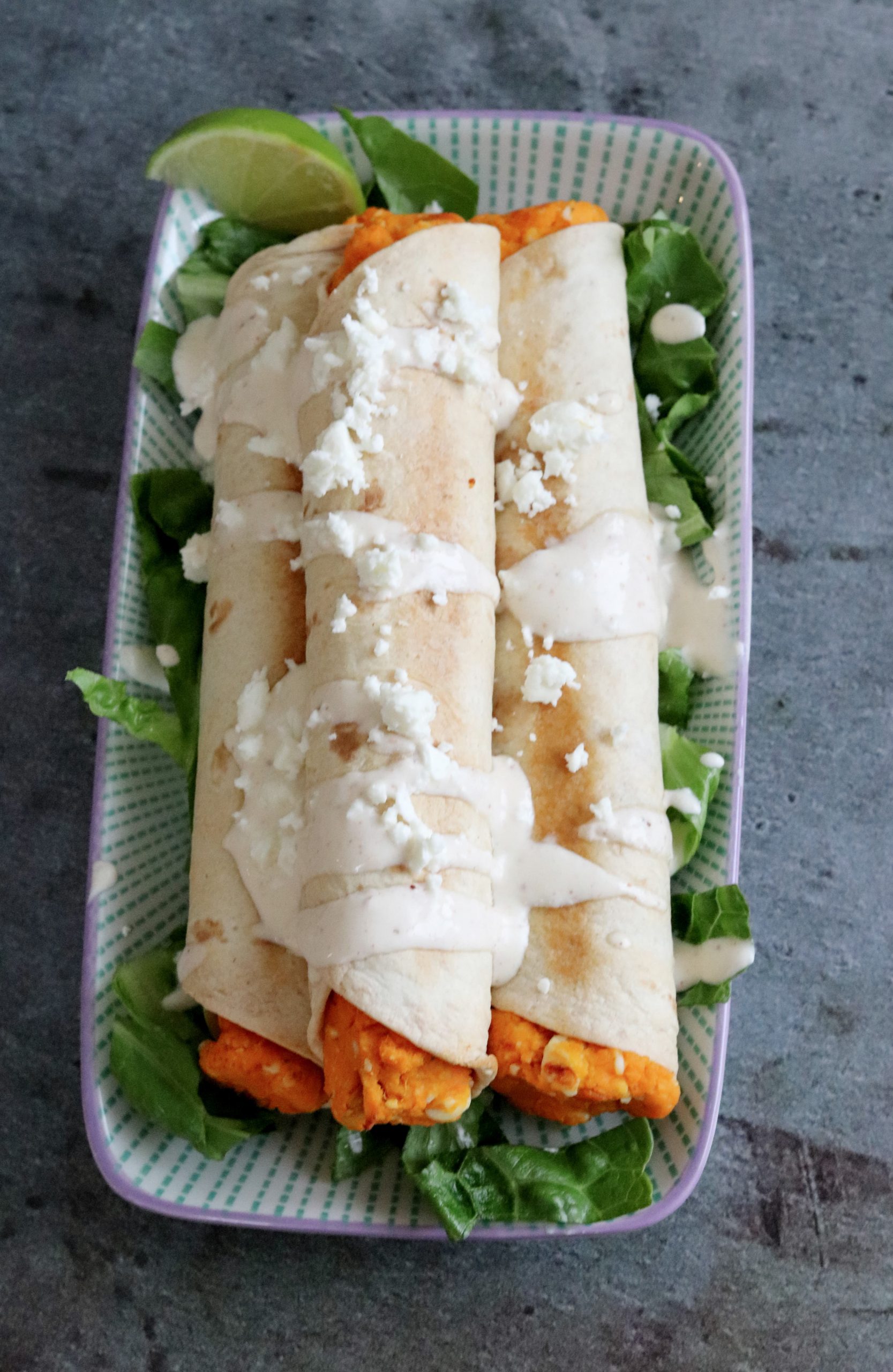 Can these taquitos be made gluten free and suitable for vegans?
Yes they can easily be made gluten free or suitable for vegans.
Instead of using flour tortillas, use corn tortillas to make them gluten free. Corn tortillas are sometimes slightly thicker so you can heat them for ten seconds or so in the microwave to soften them up to make them easier to roll.
To make these taquitos vegan, swap the feta cheese for a vegan alternative. Vegan Greek style cheese is readily available.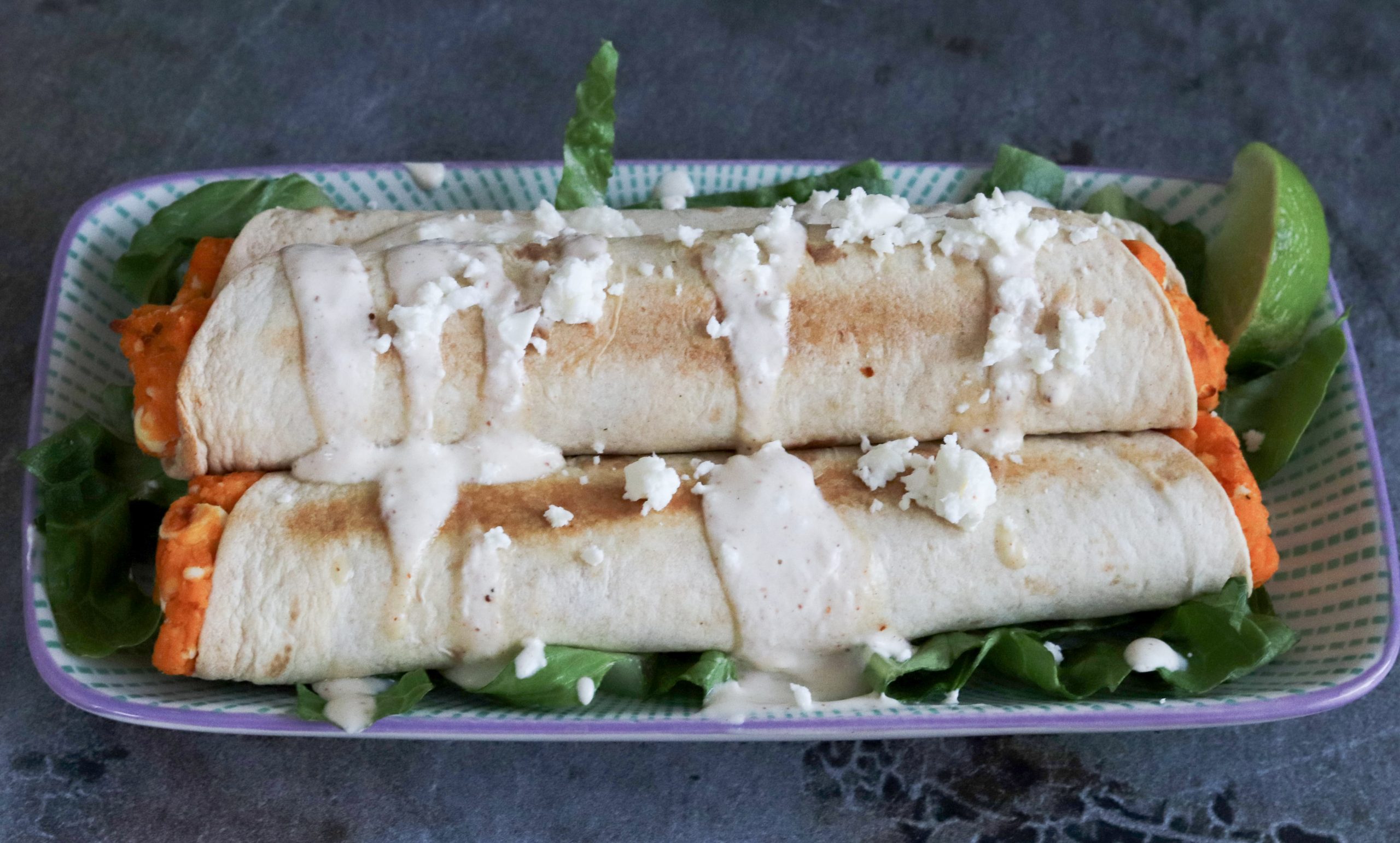 How to serve these Sweet Potato & Feta Baked Taquitos
These Taquitos are best served hot. They can be reheated but I would definitely recommend reheating them in the oven to keep them crisp. These are great for lunch or a starter.
I like to serve them with shredded lettuce and the sour cream sauce.
You could also serve my Mexican Sweetcorn Salad with these.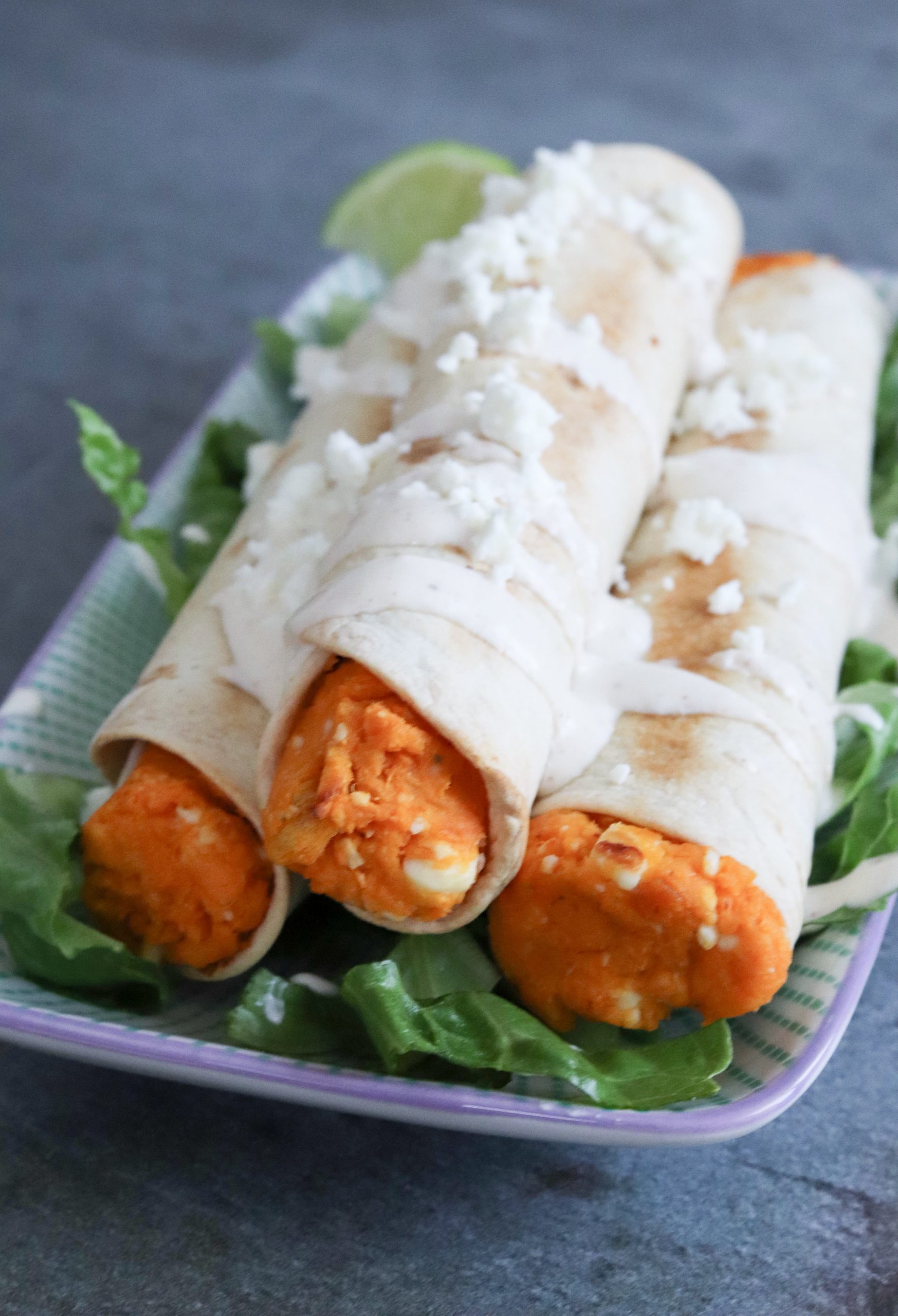 Other recipes you might like
Pin for later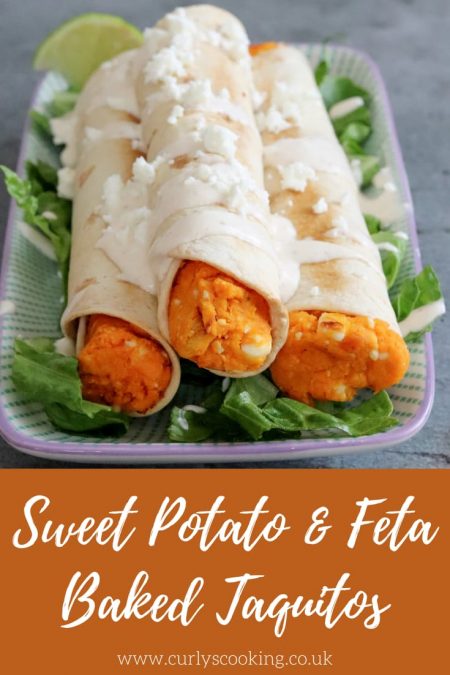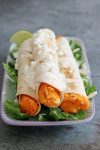 Sweet Potato & Feta Baked Taquitos
Sweet Potato & Feta Baked Taquitos are a delicious Mexican inspired vegetarian dish. Subtle but delicious flavours in a healthier version of a well known classic.
Ingredients
For the taquitos
600

g

sweet potato

100

g

feta

½

tsp

sea salt

¹⁄8

tsp

ancho chilli powder

Pinch

of black pepper

6

mini

flour tortillas

Spray oil
For the sauce
50

g

soured cream

1 ½

tsp

lime juice

pinch

of sea salt

pinch

of ancho chilli powder
Instructions
Cook the sweet potatoes in the microwave for 7-10 minutes until they are soft

Preheat the oven to 190ºC (fan assisted 210ºC non fan)

Allow the sweet potatoes to cool before peeling the skin and adding the potato to a bowl

Crumble in the feta and add the salt, pepper and ancho chilli powder and mash together

Line your mini tortillas out and add a long sausage shape of the sweet potato filling slightly of centre of each tortilla

Roll the tortillas up tightly and place them on a baking tray sprayed with oil

Bake them in the oven for 20 minutes, turning so they brown evenly

Make the sauce by stirring the ingredients together in a bowl until completely mixed

Serve hot on a bed of shredded lettuce drizzled with the sauce
Recipe Notes
Nutritional information is given as a guide only and may vary.
Nutrition Facts
Sweet Potato & Feta Baked Taquitos
Amount Per Serving
Calories 234
Calories from Fat 45
% Daily Value*
Fat 5g8%
Cholesterol 19mg6%
Sodium 441mg19%
Potassium 359mg10%
Carbohydrates 21g7%
Protein 4g8%
Vitamin A 14309IU286%
Vitamin C 3mg4%
Calcium 121mg12%
Iron 1mg6%
* Percent Daily Values are based on a 2000 calorie diet.