This Creamy Chicken Orzo with Prosciutto is a delicious one pot meal that the whole family will love. It is perfect for a mid week dinner but also fancy enough for serving guests or for special occasions.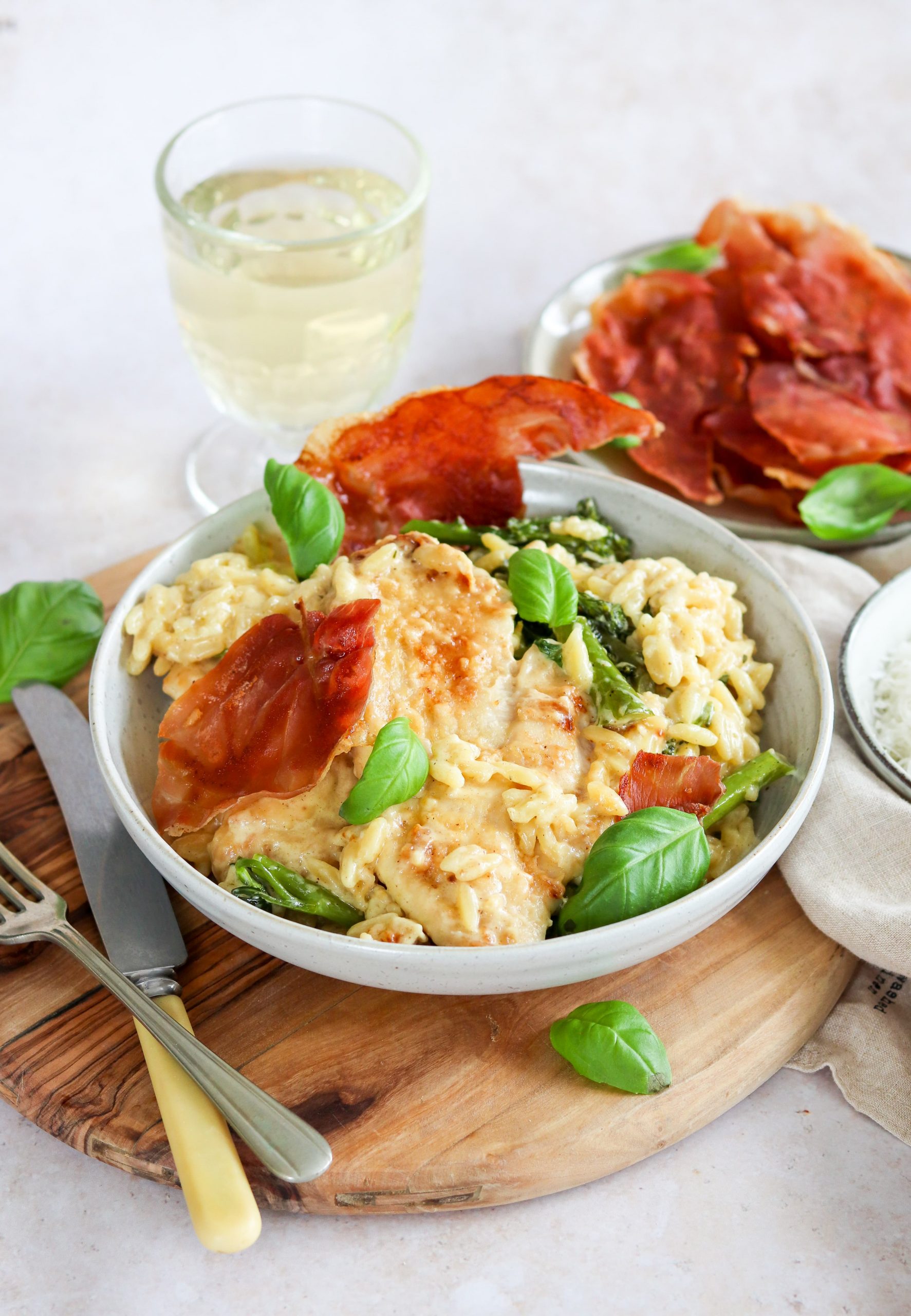 what is orzo?
Orzo, sometimes referred to as risoni, is a short cut pasta which is shaped like a large grain of rice. But don't be mistaken, it is definitely pasta and not rice!
Orzo is traditionally made from white flour but can also be made from whole grain.
It isn't the most common pasta shape to find, but you should be able to find it in most large supermarkets. Just probably not your corner shop like other types of pasta.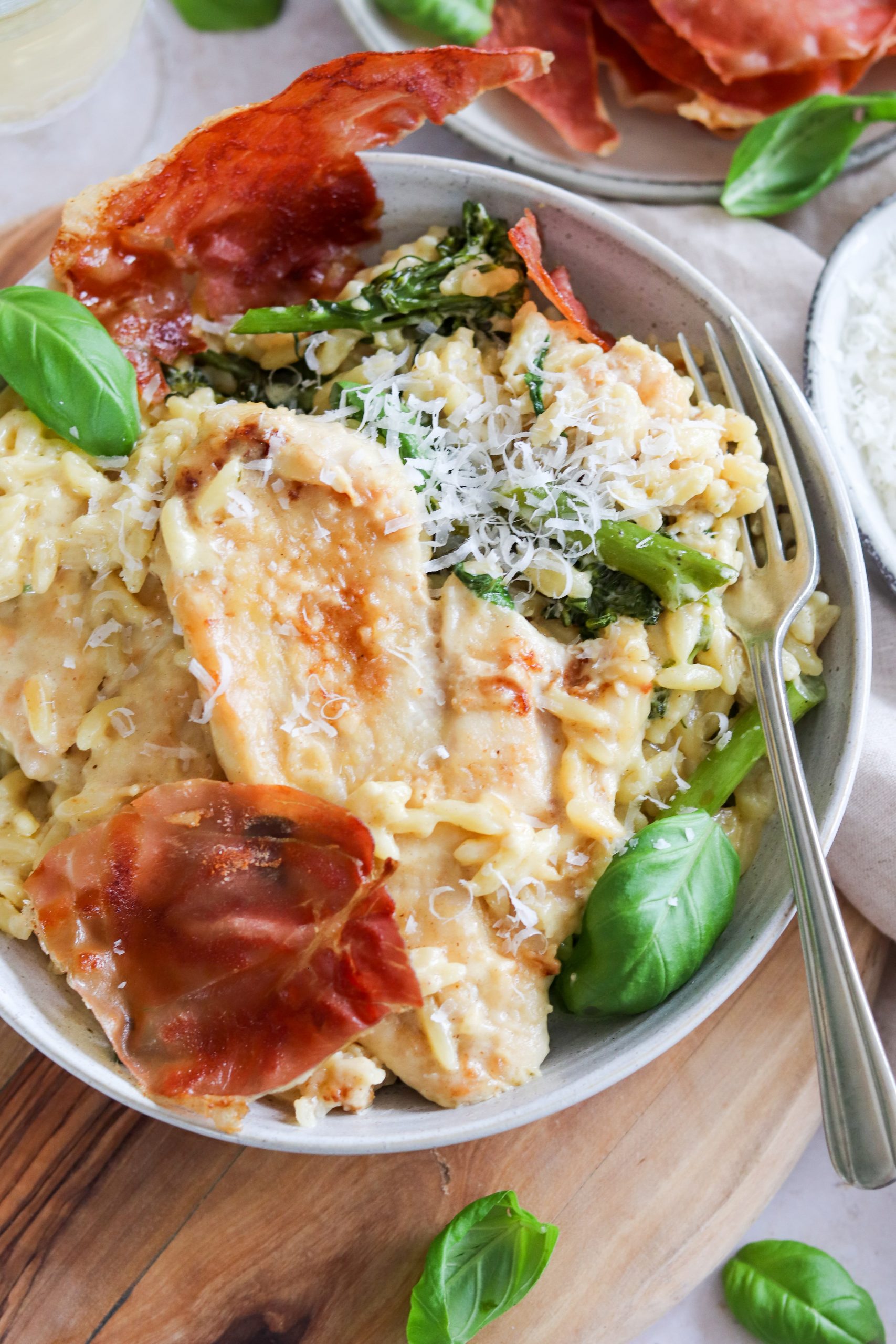 Creamy Chicken Orzo is the perfect one pot recipe
Why are one pot recipes so great you might ask? Well firstly it reduces the amount of washing up that needs doing! But it also means you don't have three things on the go at once that you need to keep an eye on.
Ok, ok technically you need another pan to crisp up the prosciutto…but you'll let me off for that, right? If you really don't want to use another pan you can leave the prosciutto as it is.
This Creamy Chicken Orzo with Prosciutto has all the components of a complete meal in one pan so you don't need to cook anything additionally. Perfect for fuss free midweek cooking!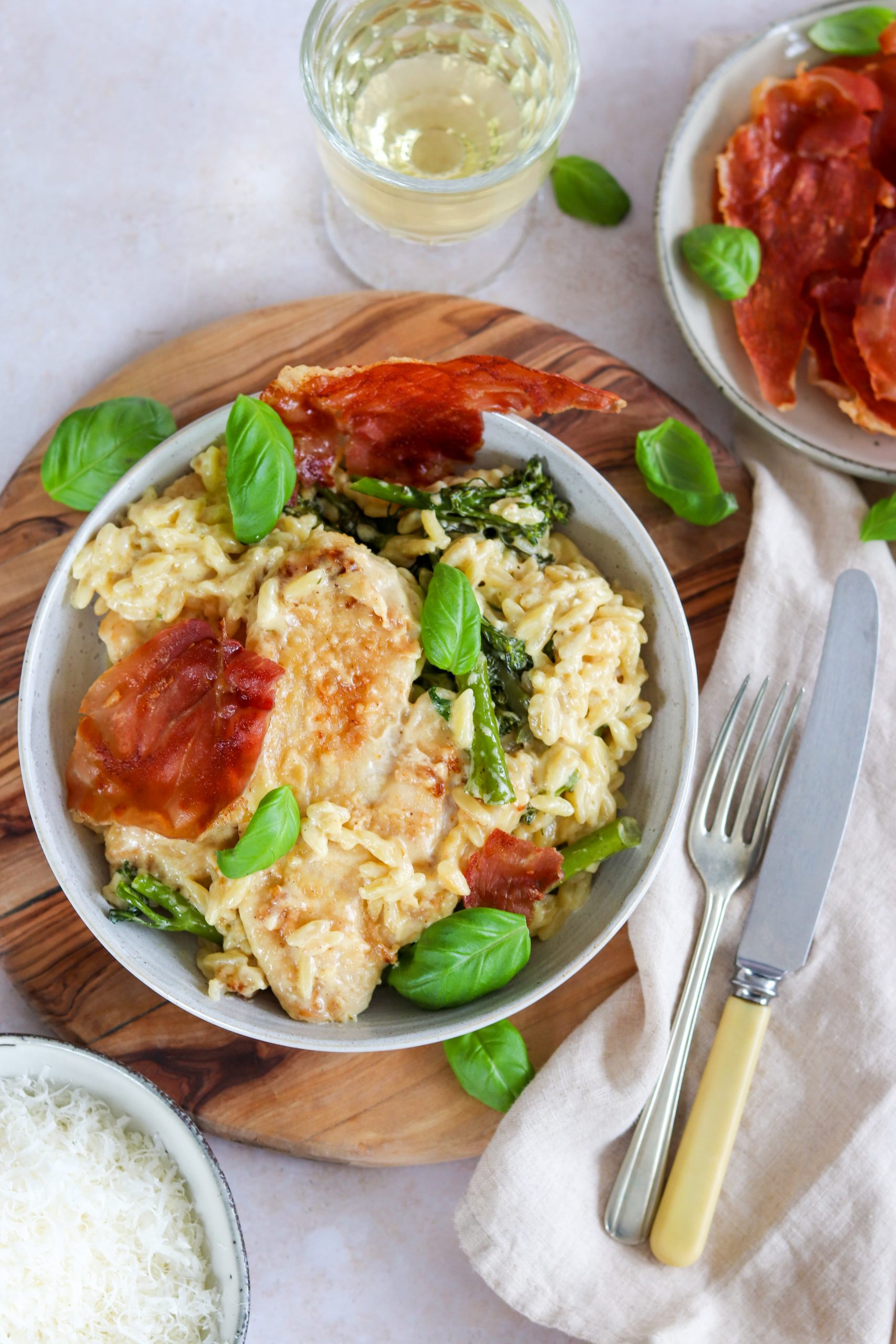 which cut of chicken is best to use?
Personally I use chicken breasts for this recipe. As the chicken isn't being cooked for a long time I think chicken breasts are fine to use because they will keep their moisture.
You could definitely use chicken thighs if you prefer. Whichever cut of chicken you use, it is always worth double checking the chicken is cooked. Either cut the thickest part of the chicken and check the juices run clear, or use a meat thermometer.
Leftover roast chicken would also work really well for this recipe. I would shred it and add it onto the pan when the recipe says to add the chicken back and add the cream.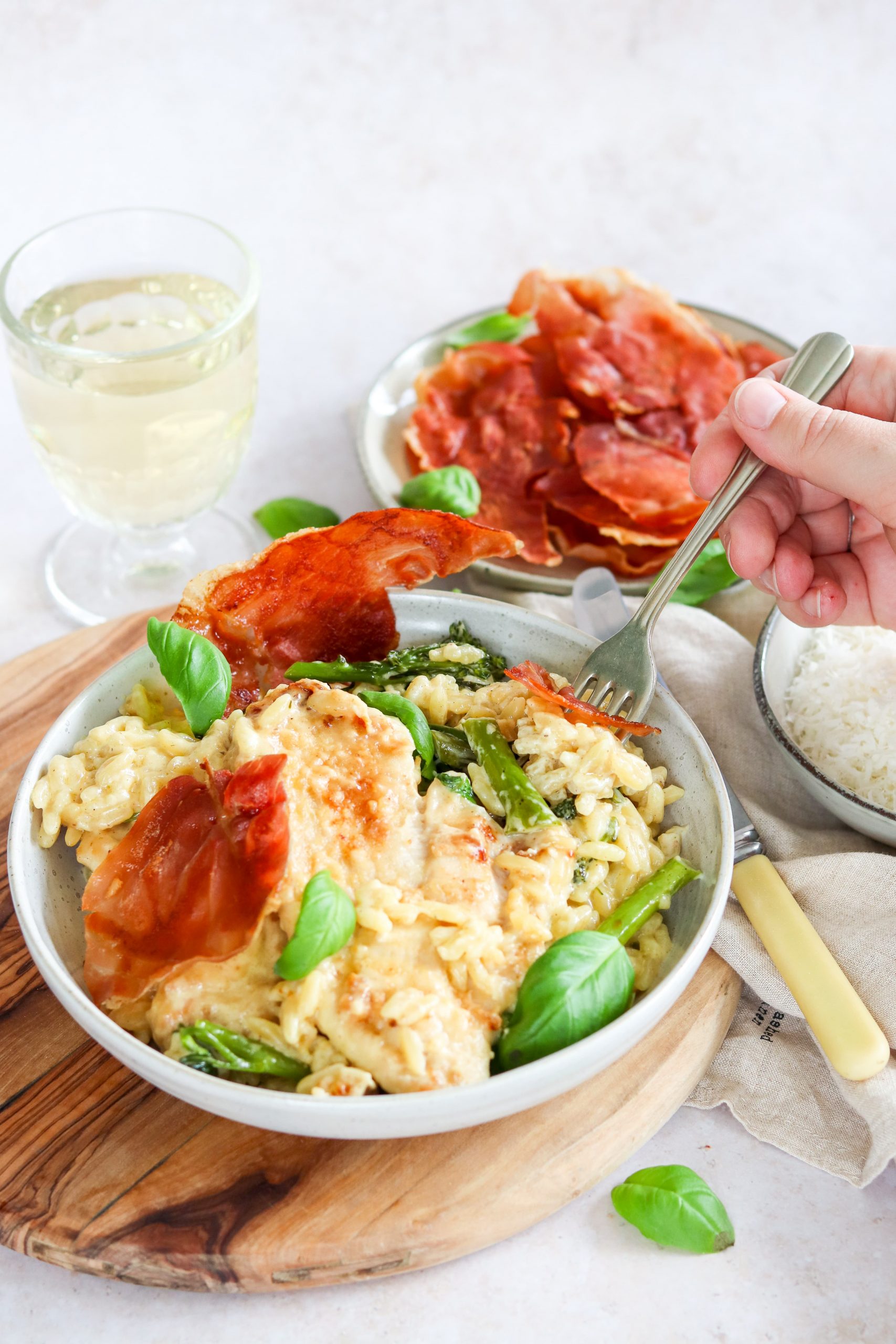 Adapting this creamy chicken orzo
This recipe is really easy to adapt. As I have already mentioned you can use leftover cooked chicken instead.
I have added tenderstem broccoli because it is my favourite vegetable. But you can definitely change this up depending on the time of year and what's in season.
You could add asparagus and peas in the spring when they are fresh and delicious. In summer you could slice in courgettes (zucchini), because people always seem to have an abundance!
Then in Autumn onwards you could shred up some cavolo nero. You may need to adjust the cooking times depending on which vegetables you are using.
Adapt this recipe not only to your tastes, but to celebrate which vegetables are in season too.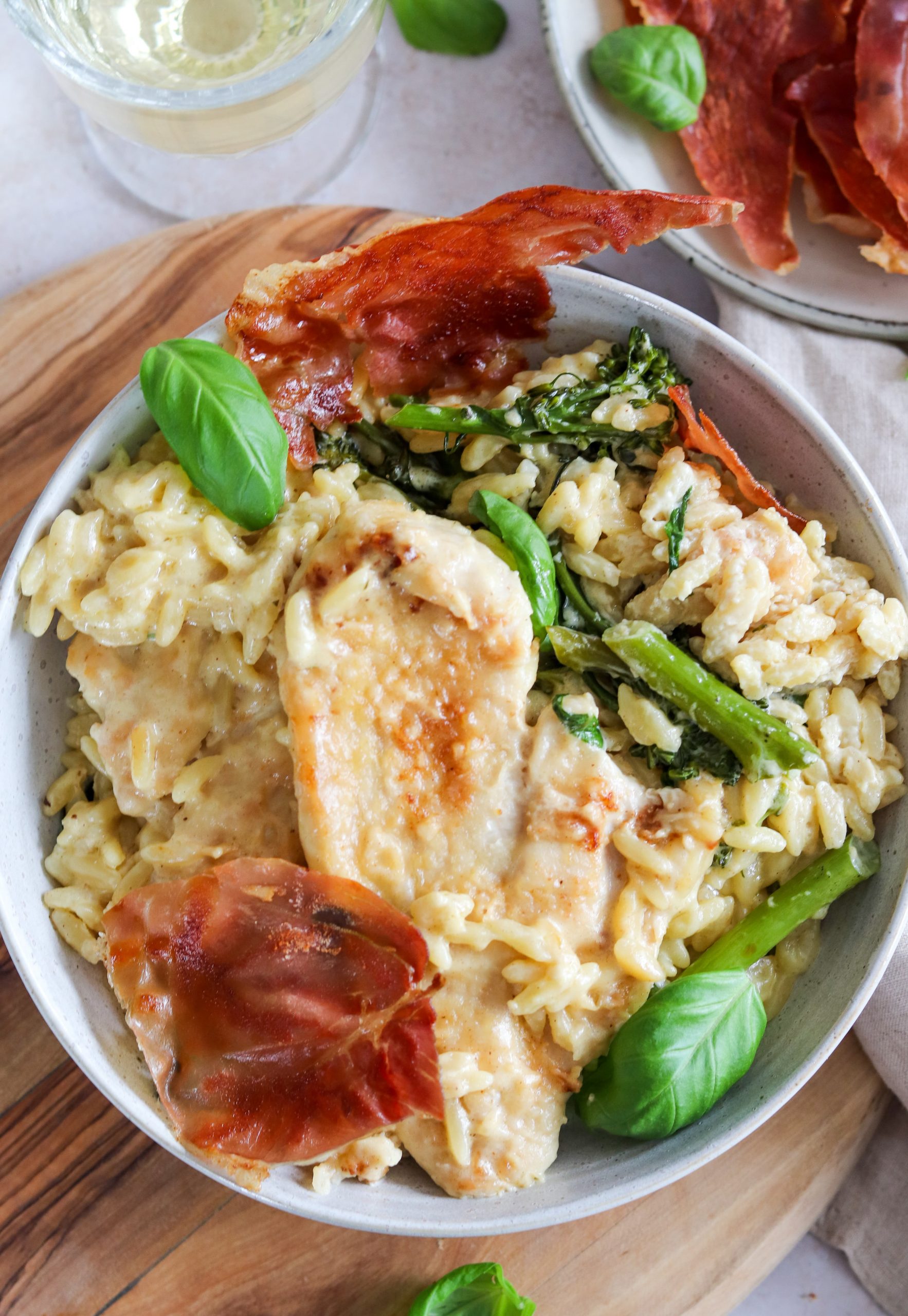 do you have to use double cream?
I don't tend to use double cream (heavy cream) when I'm cooking because it is so indulgent. I use different ingredients in recipes like my Creamy Chicken Potato Bake and Skinny Creamy Chicken Sausage Pasta to add the creamy element.
But for this Creamy Chicken Orzo with Prosciutto I decided to use the real deal and it really is delicious! However you can tweak it if you wish.
Instead of double cream, you could use single cream (light cream). This will still add a delicious creaminess but is slightly lighter.
You could also leave out the cream altogether and use something like crème fraiche or sour cream to add the creaminess.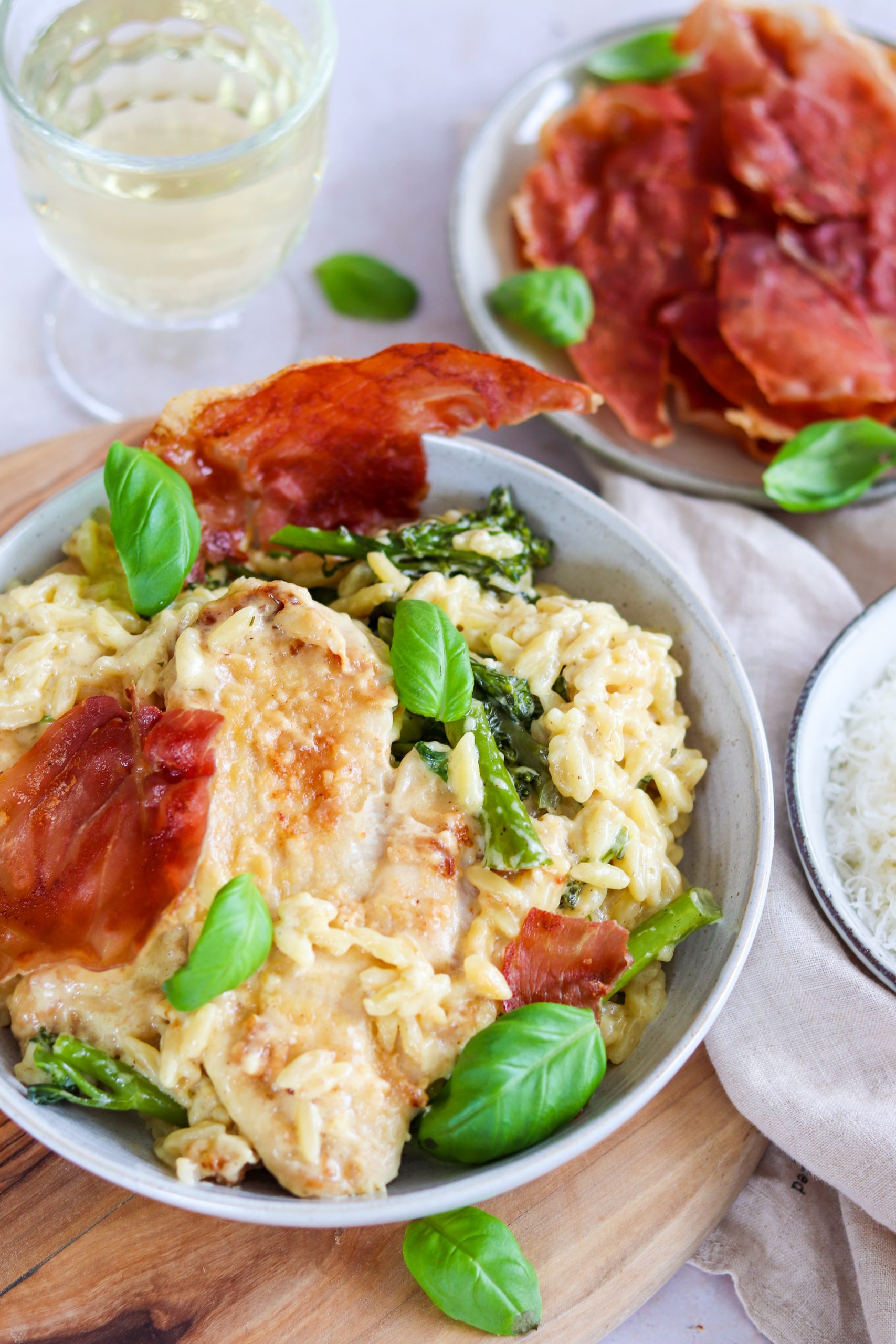 how to make this orzo gluten free, vegetarian or vegan
Without extensively looking, gluten free orzo doesn't seem to be the most common pasta to find. If you follow a gluten free diet, you may know of better places to look. However if you can't find orzo, use any small gluten free pasta you can find.
To make this Creamy Chicken Orzo with Prosciutto gluten free you will also need to use gluten free flour or cornflour to dredge the chicken.
To make this vegetarian you will obviously need to omit the chicken and prosciutto. You can choose whether to include a meat substitute or whether to add more vegetables instead.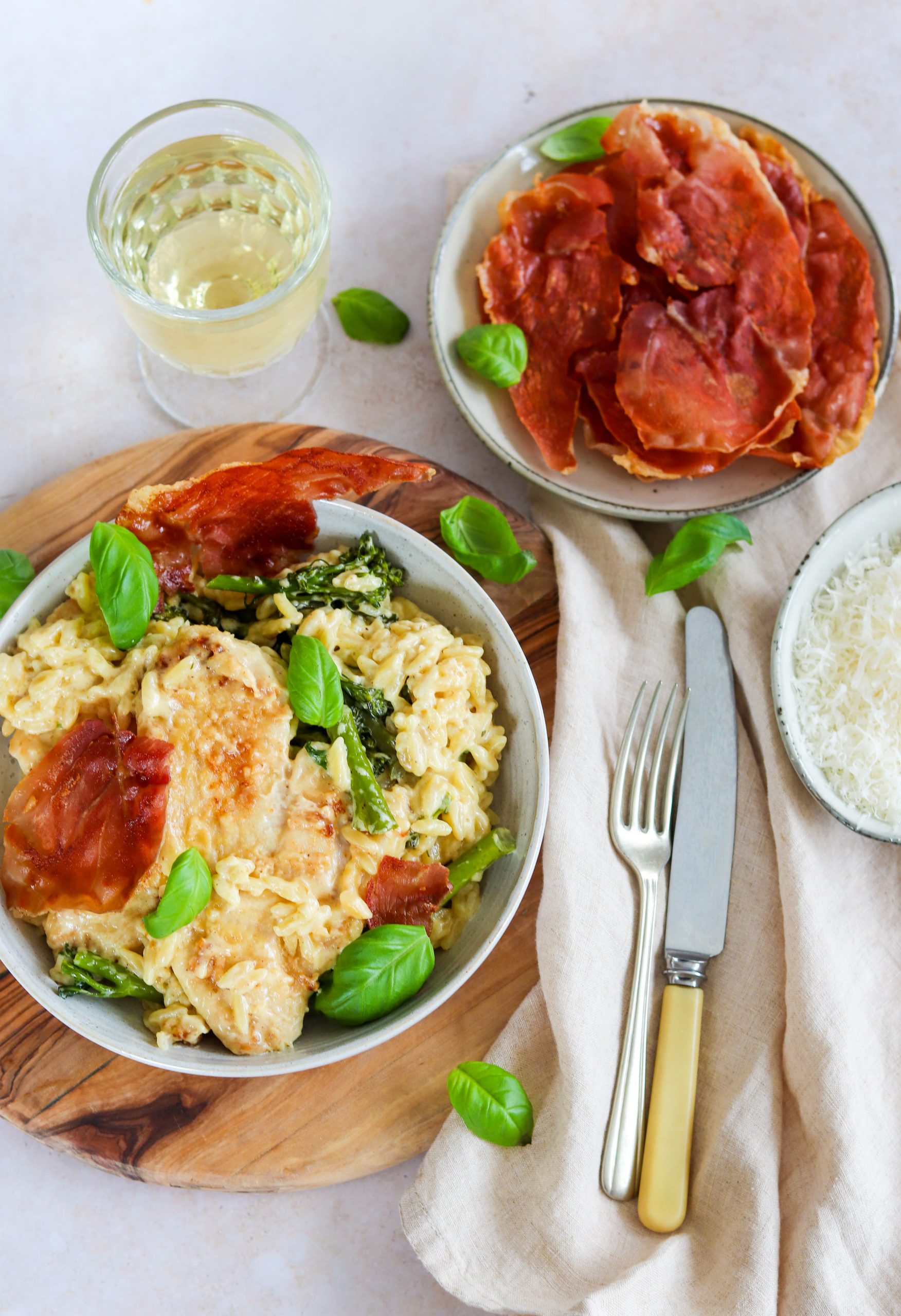 It is very simple to swap the chicken stock to vegetable. Lastly you will need to swap the Parmesan for a vegetarian alternative. Parmesan isn't suitable for vegetarians because it contains rennet which is an animal product.
To make this orzo vegan you would need to make all of the above vegetarian changes plus a couple more. You would need to swap the butter and double cream to your favourite dairy free alternatives.
It is worth mentioning that I haven't tested this recipe with dairy free options so I'm not sure if they would split or react differently in the dish to their dairy counterparts.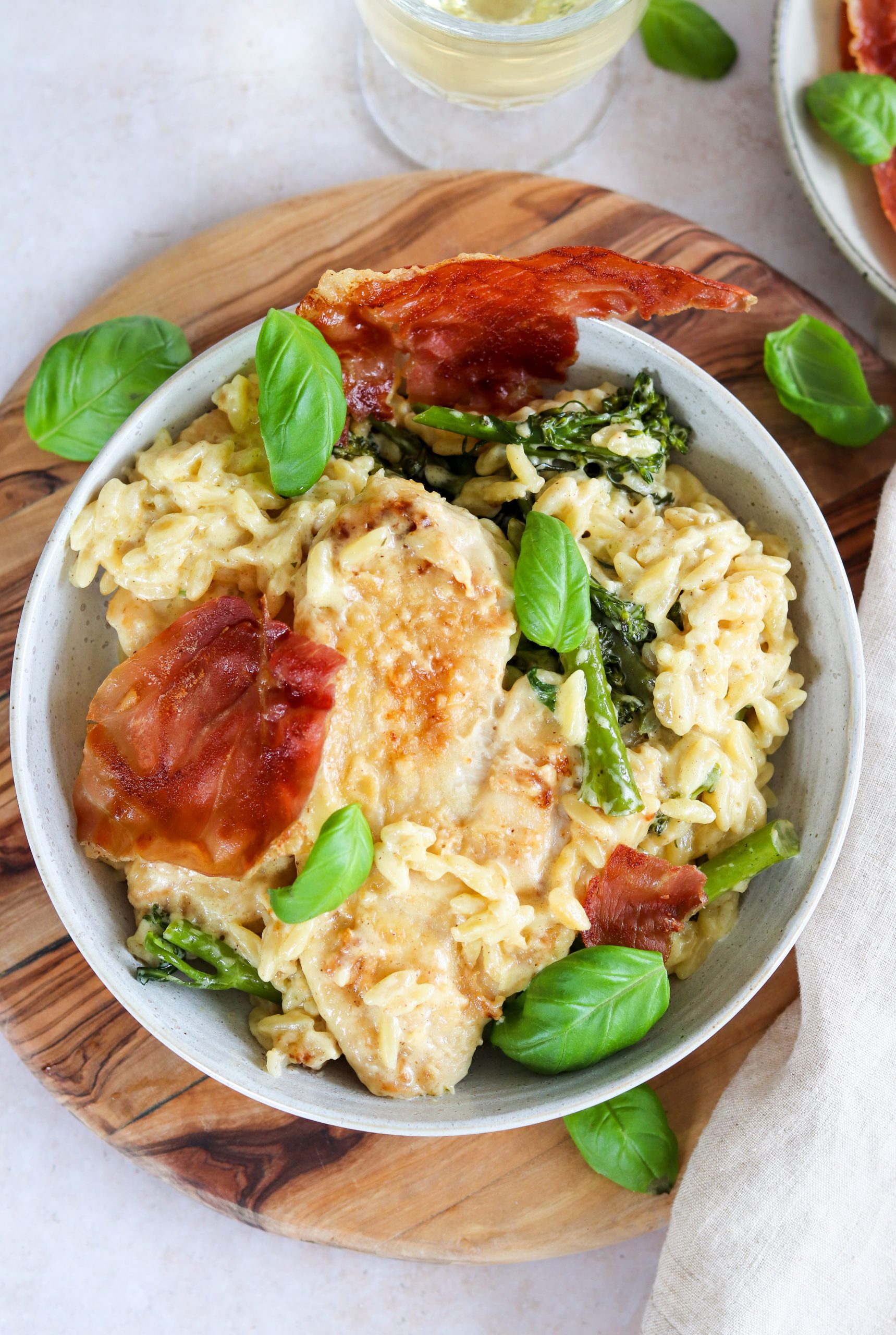 Does this creamy chicken orzo make good leftovers?
Personally I am not a fan of reheating recipes with a thick, creamy sauce like this. When they are reheated the sauce has a tendency to split and look a little less appealing.
Reheating won't affect the taste, it will still be delicious. But it will probably affect the appearance so this is something to bear in mind.
I would recommend adding a splash of hot water when you reheat as the sauce is likely to have thicken as it cooled. This will help loosen it again.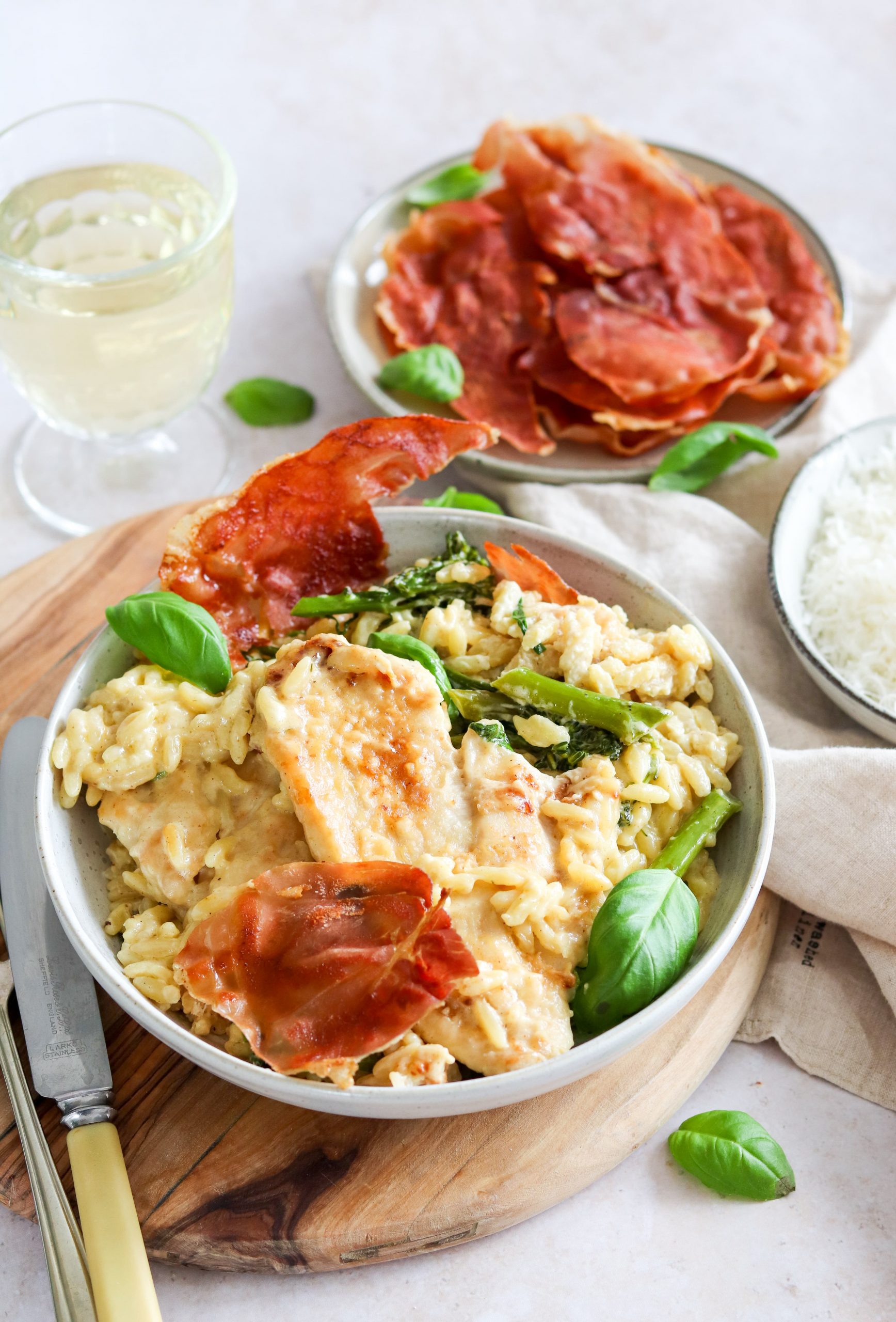 Other recipes you might like
Pin for later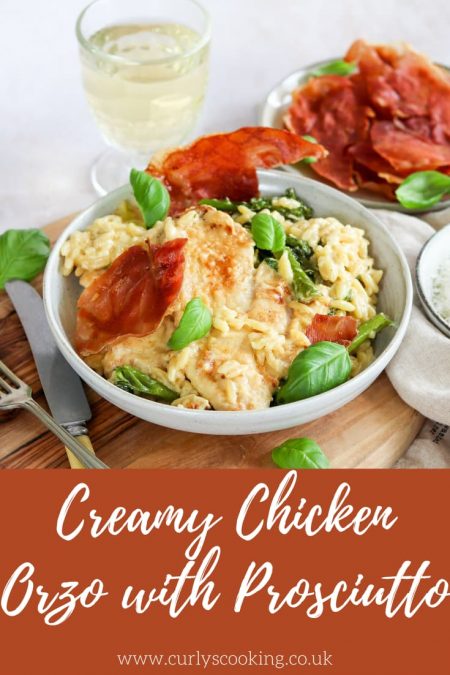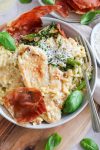 Creamy Chicken Orzo with Prosciutto
This Creamy Chicken Orzo with Prosciutto is a delicious one pot meal that the whole family will love. It is perfect for a mid week dinner but also fancy enough for serving guests or for special occasions.
Ingredients
300

g

chicken breasts

20

g

plain flour

1

tsp

sea salt

pinch

black pepper

½

tsp

garlic granules

1

tbsp

sunflower oil

150

g

orzo

400

ml

chicken stock

25

g

Parmesan

grated

20

g

butter

2

cloves

garlic

minced

100

g

tenderstem broccoli

cut in half

100

ml

double cream

2

tbsp

basil leaves

4

slices

Prosciutto
Instructions
Slice 300g of chicken breasts in half horizontally. In a shallow dish, mix 20g plain flour, ½ tsp sea salt, pinch of black pepper & ½ tsp garlic granules

Coat the halved chicken breasts in the flour mix

Heat 1 tbsp sunflower oil in a large wide pan over a medium heat. Add the chicken and cook for 3 minutes on each side until golden brown

Once nicely golden, add 20g butter and cook for a further 2 minutes. Reduce the heat if the chicken is getting too much colour

Remove the chicken from the pan and set aside. Add 150g orzo and stir to coat in the juices from the pan

Add 400ml chicken stock, 2 garlic cloves and ½ tsp sea salt. Stir and leave to simmer over a medium/low heat for 5 minutes, stirring occasionally

Add 80g tenderstem broccoli and cook for 5 minutes with a lid on

In a separate frying pan, add the 4 slices of Prosciutto and cook for 2 minutes on each side until crisp. Set aside

Add 100ml double cream and 25g Parmesan and stir well. If it is a bit thick add a splash of water

Return the chicken to the pan and leave uncovered for 2-3 minutes

Finish by adding 2 tbsp basil leaves. Stir through and serve topped with the crisp Prosciutto
Recipe Notes
If at any point the orzo starts looking a little dry, add a splash more stock or water.
Stir regularly to avoid the orzo sticking to the bottom of the pan.
Nutritional information is given as a guide only and may vary.
Nutrition Facts
Creamy Chicken Orzo with Prosciutto
Amount Per Serving
Calories 987
Calories from Fat 459
% Daily Value*
Fat 51g78%
Cholesterol 211mg70%
Sodium 2025mg88%
Potassium 1053mg30%
Carbohydrates 74g25%
Protein 56g112%
Vitamin A 1245IU25%
Vitamin C 4mg5%
Calcium 225mg23%
Iron 3mg17%
* Percent Daily Values are based on a 2000 calorie diet.