Don't throw your potato peelings away! Instead make my Air Fryer Potato Peel Crisps for an incredibly easy and deliciously moreish snack.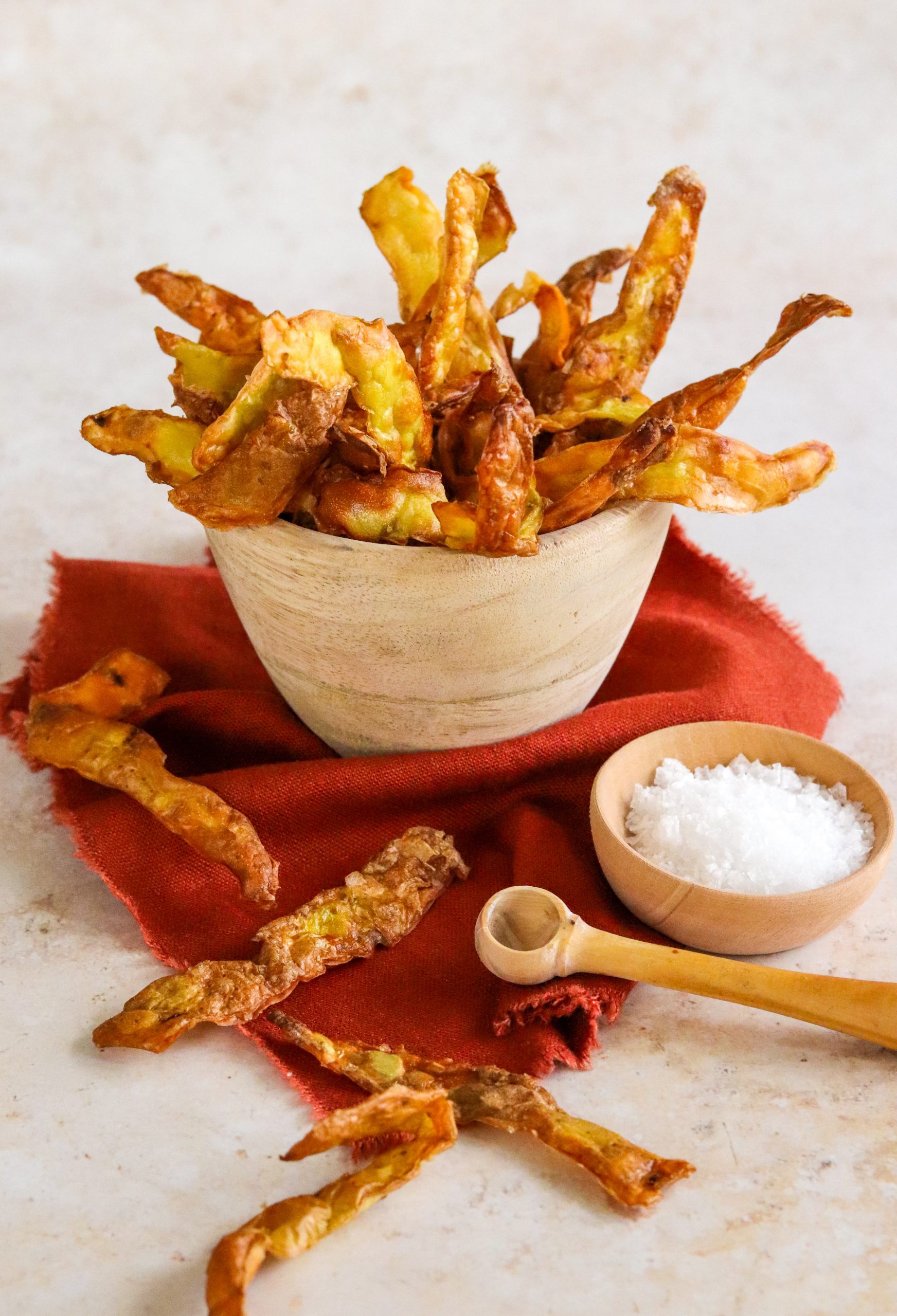 what to do with potato peelings?
Increasingly people are looking for ways to help reduce food waste. Once you have peeled your potatoes to make something like Simple Air Fryer Roast Potatoes, people usually throw away the potato peelings.
Stop! Don't throw them away! Instead you can use those potato peelings to make a quick and very tasty snack.
So by repurposing potato scraps, you can create a deliciously crunchy treat using something you would usually throw away. You can't get more budget friendly than that!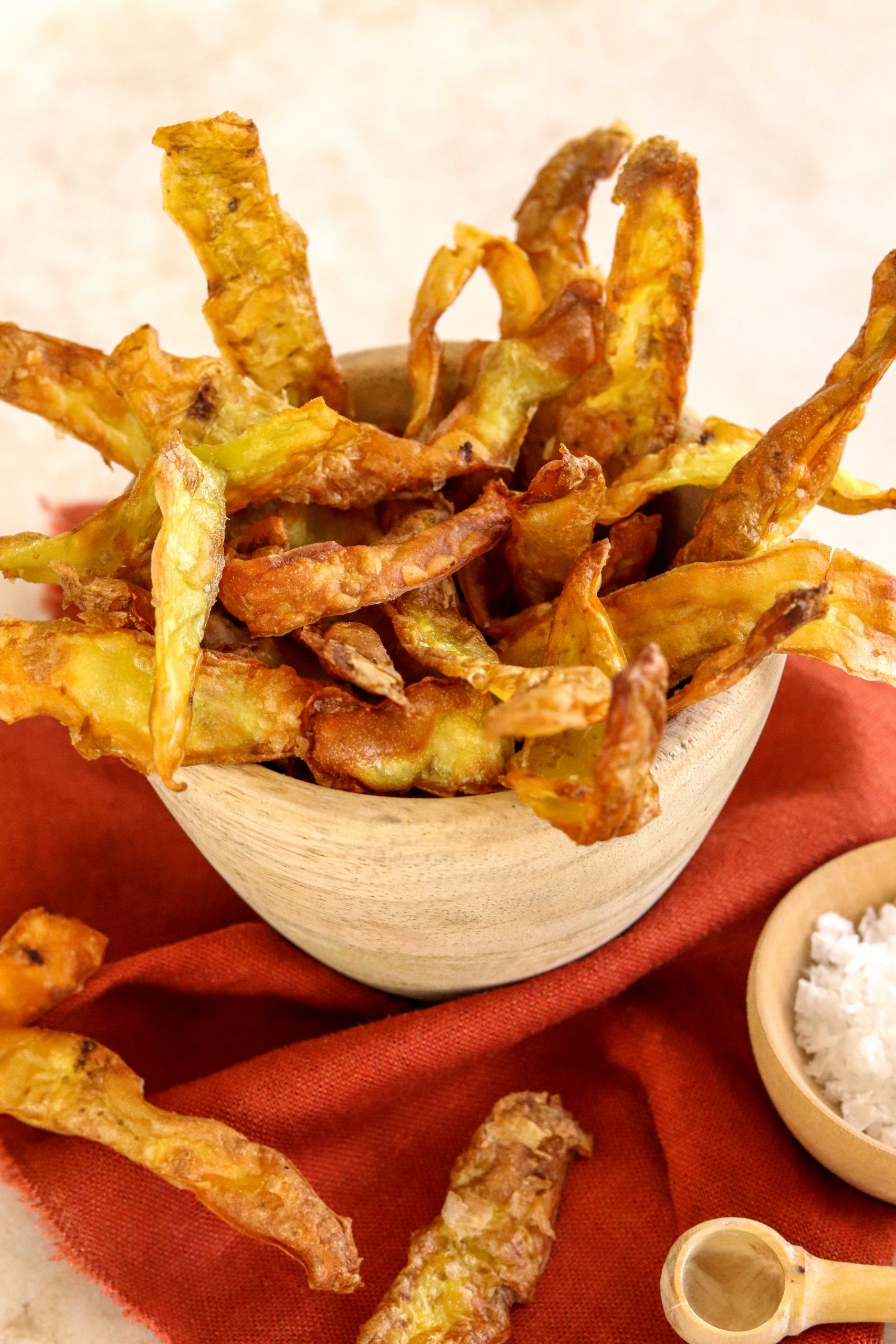 a great three ingredient recipe
This recipe couldn't get much simpler. Just three ingredients that most people will always have in the cupboards and you have a tasty snack minutes away.
You don't need any fancy flavourings of specific oil to make these potato crisps. It also doesn't matter which kind of potatoes you have peelings from.
Just simply toss the potato peels with whichever oil you have and add some salt and you're ready to go. Easy, quick and really addictive.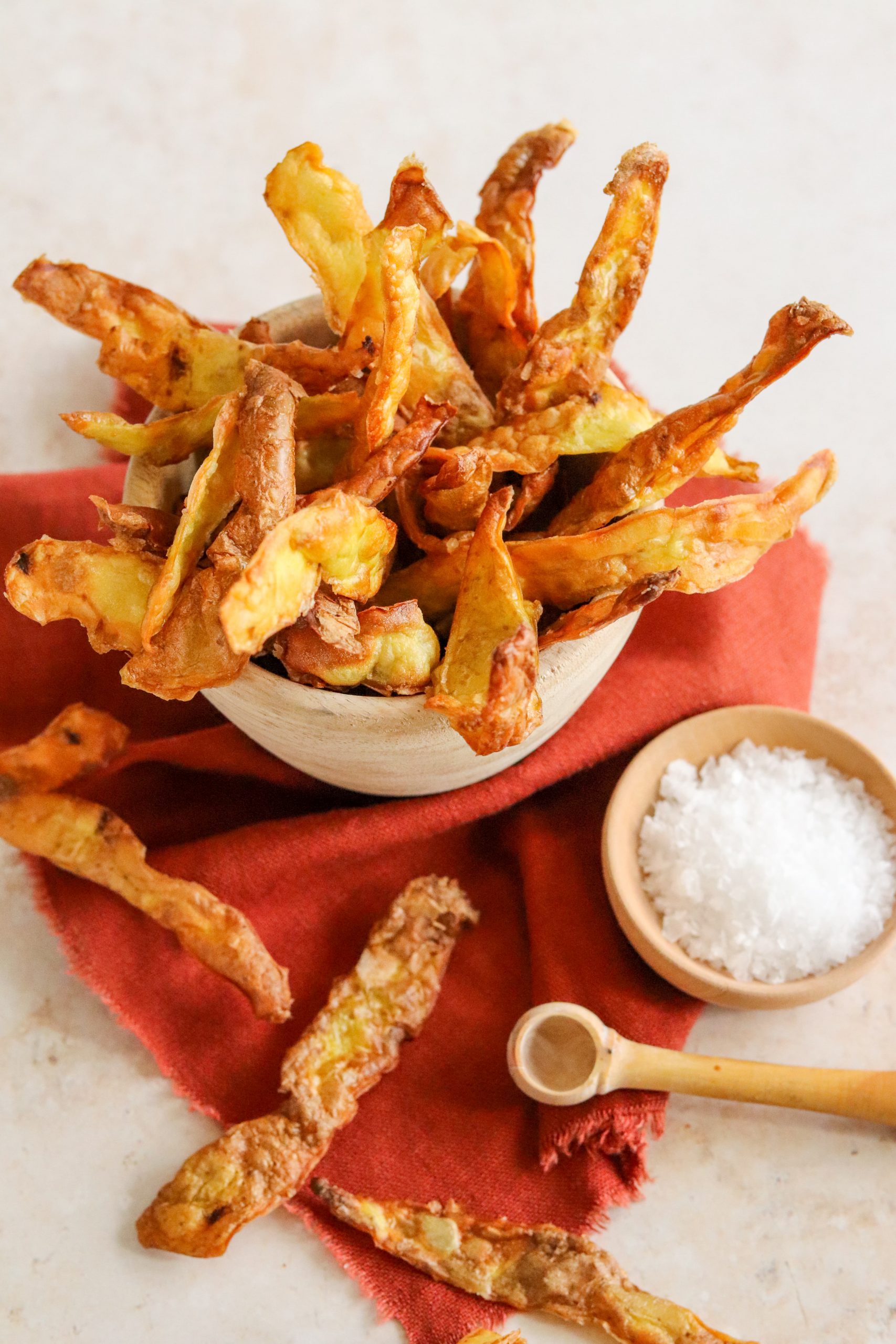 Adding extra flavours to your Air Fryer Potato Peel Crisps
I have kept these Potato Peel Crisps really simple and just use sea salt as a flavouring. But that really is just the start. You add so many delicious flavourings to these potato crisps to create endless combinations.
Here are some you might like to try in addition to salt:
Just remember that the potato peels shrink as they cook so be careful not to over season them.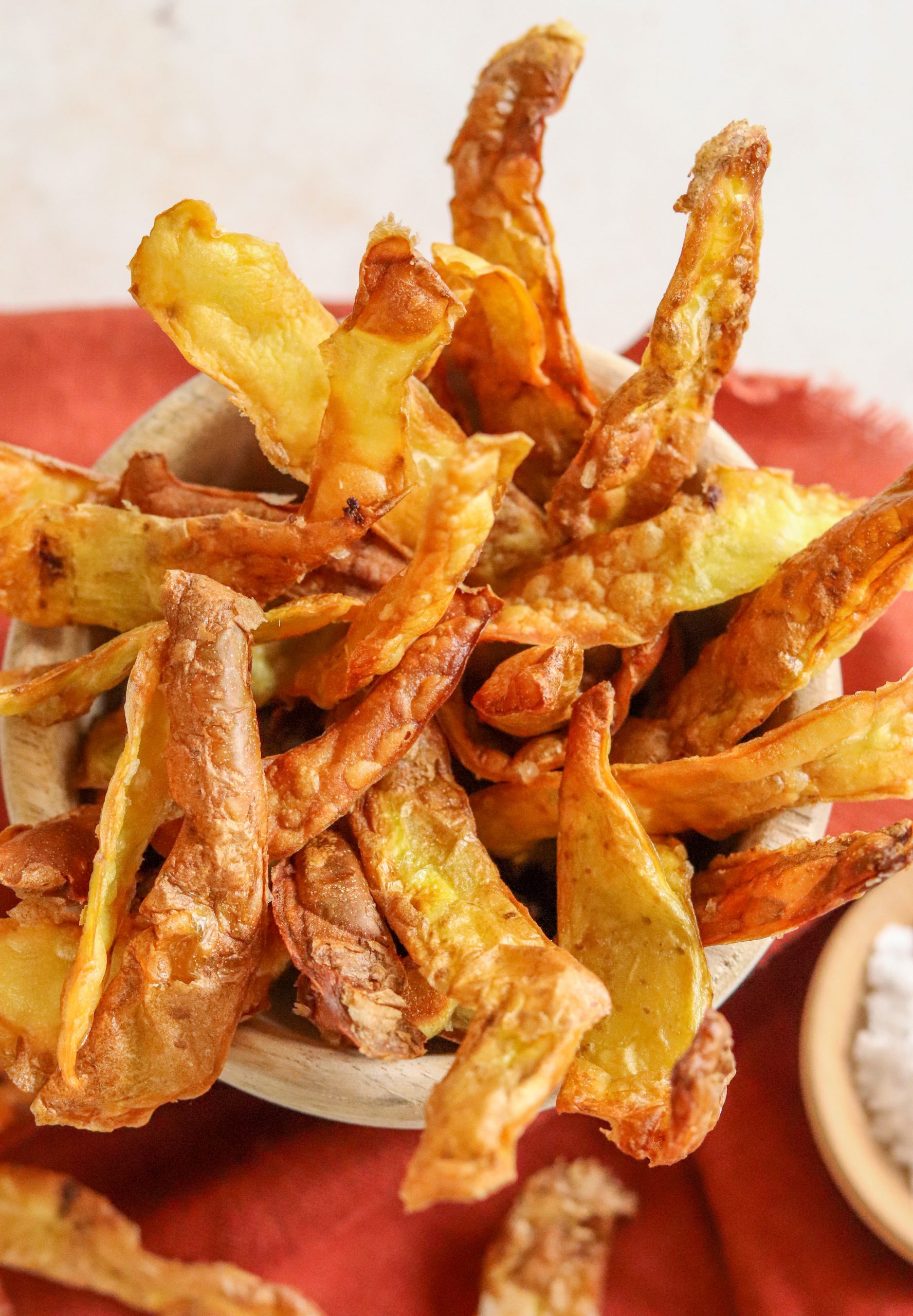 Don't overcrowd your air fryer
These Potato Peel Crisps are best when they are deliciously crisp. Air fryers vary in size so depending on the size of your air fryer, you might need to cook the potato crisps in batches.
If you overcrowd your air fryer, the potato crisps will take longer to get crisp. Cooking in batches will produce better results than trying to cram them all in at once and having to cook them for a lot longer.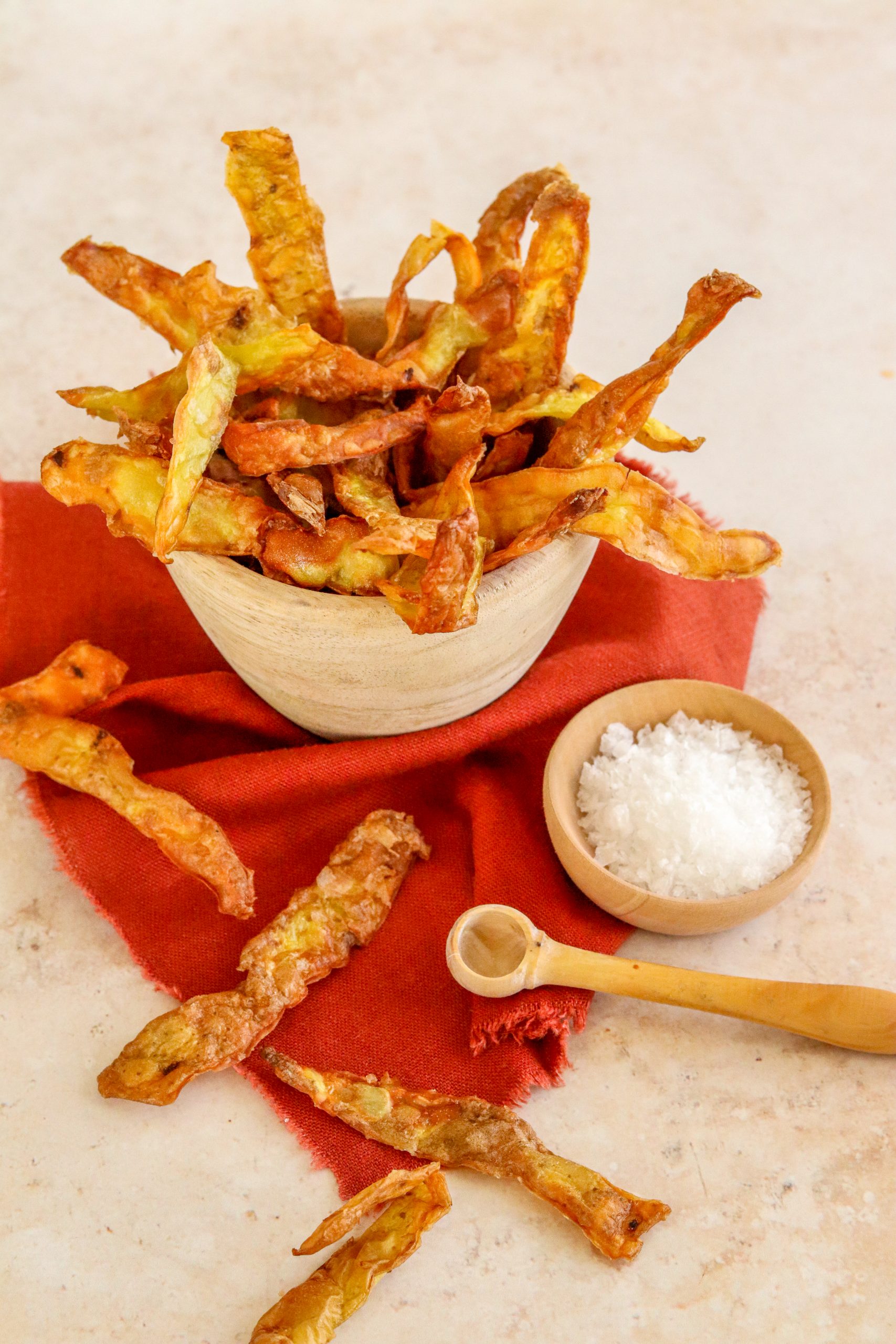 Potato skin is good for you!
The skin of a potato holds up to 12 times more antioxidants than the flesh. They are a great source of potassium and magnesium and are packed with fibre too.
If you don't usually eat the skin on your potato, I would definitely still give these a try. They are so crunchy and moreish I challenge anyone to say they don't like them!
These potato crisps are also gluten free, vegetarian and vegan which means most people will love them.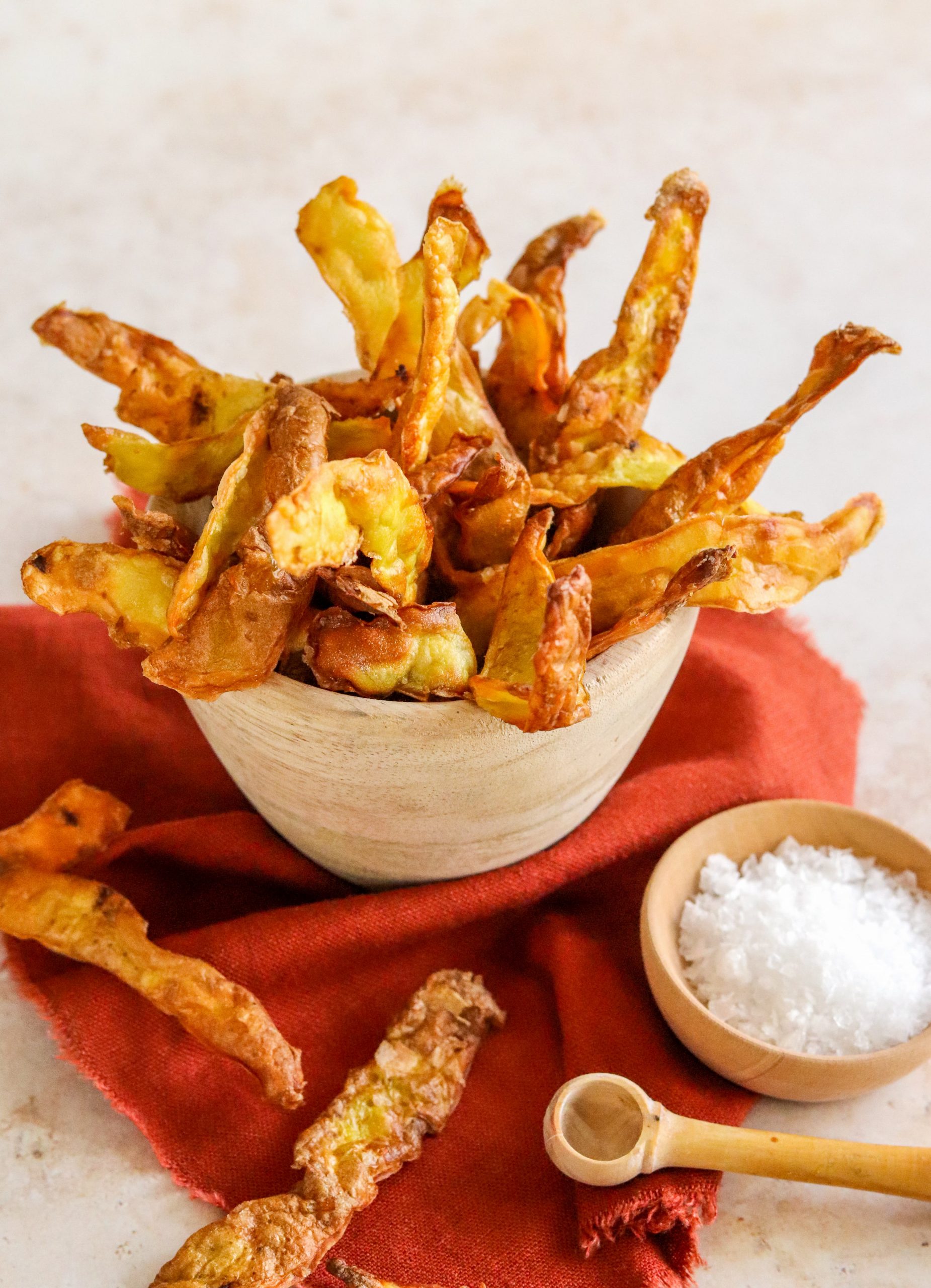 How to serve Air Fryer Potato Peel Crisps?
Personally, my favourite way to serve these is as a little snack to munch on while I'm waiting for dinner to cook! Nothing like a pre-dinner snack.
But they would also make a delicious canape with a glass of something at a dinner party. Or serve a bowl of these as part of a buffet.
You could make them fancier by adding toppings. Sour cream, crisp bacon and spring onions would provide the usual potato skins flavours but with using the potato peelings instead.
They would also make a delicious topping to so many soups, especially my Leek & Potato Soup.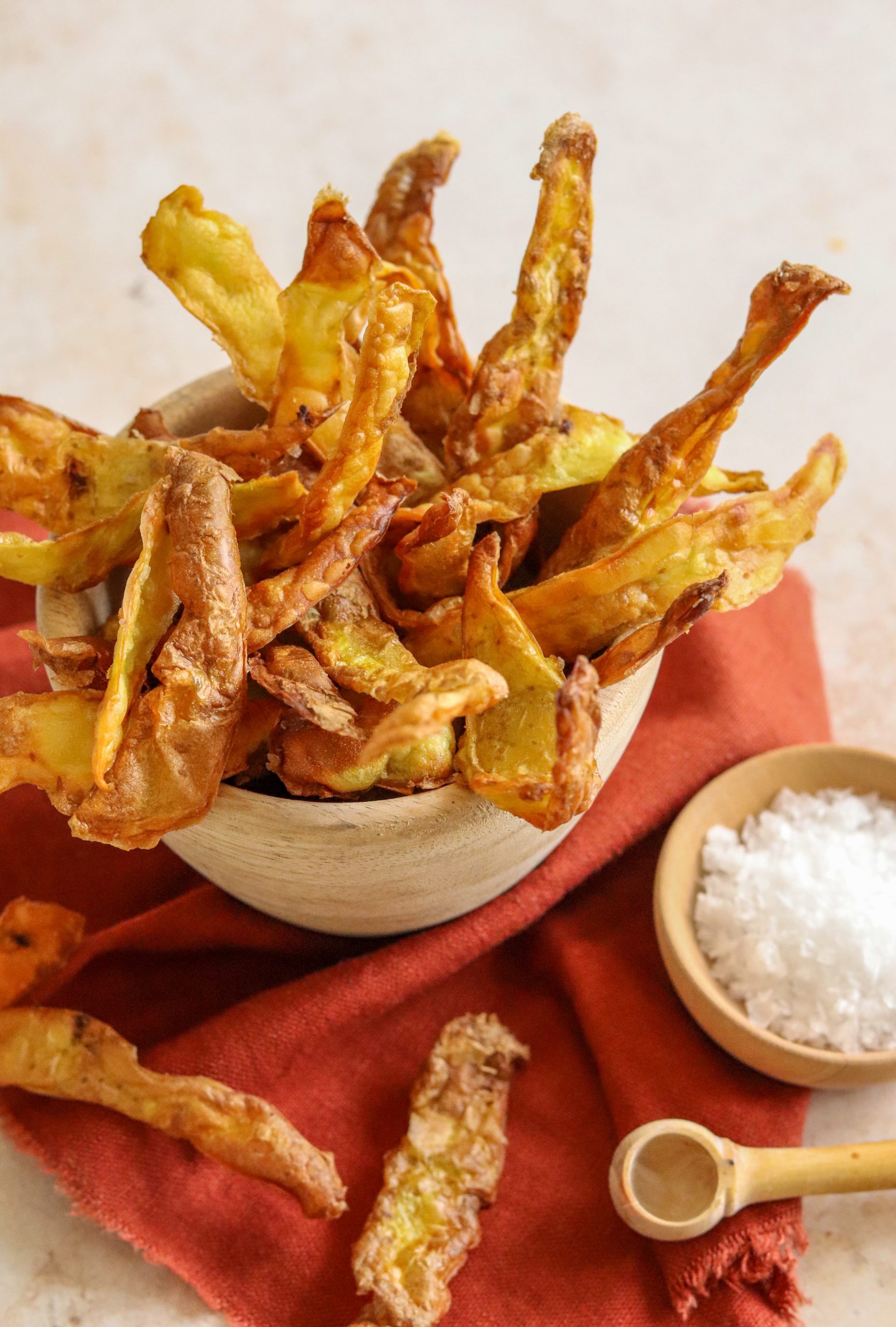 can potato peel crisps be made without an air fryer?
Yes absolutely. If you don't have an air fryer you can make these in the oven.
Cook them for 15-20 mins at 200°C until they have reached your preferred level or crispness. You will need to turn them at least once to make sure they are cooking evenly.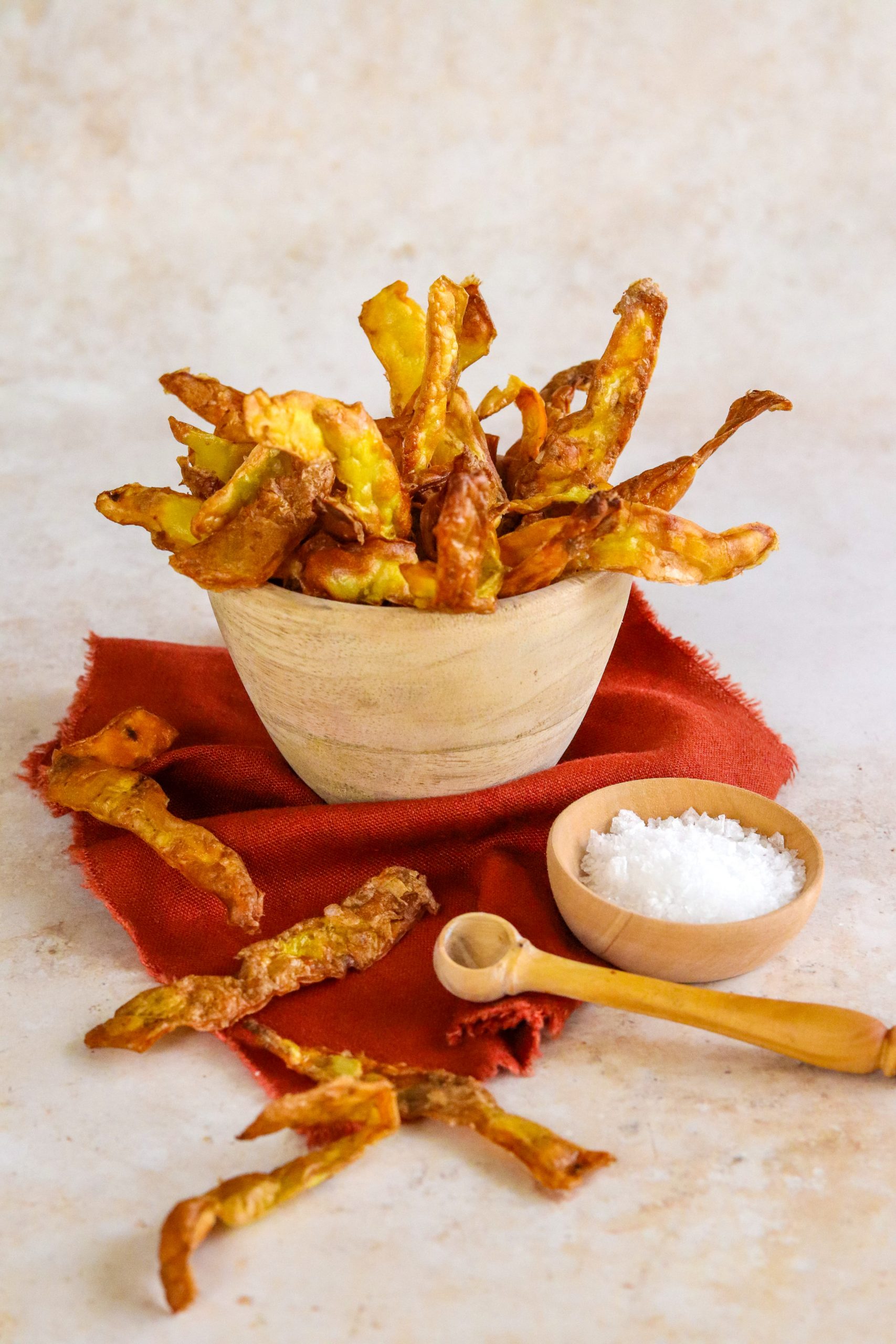 Other recipes you might like
Pin for later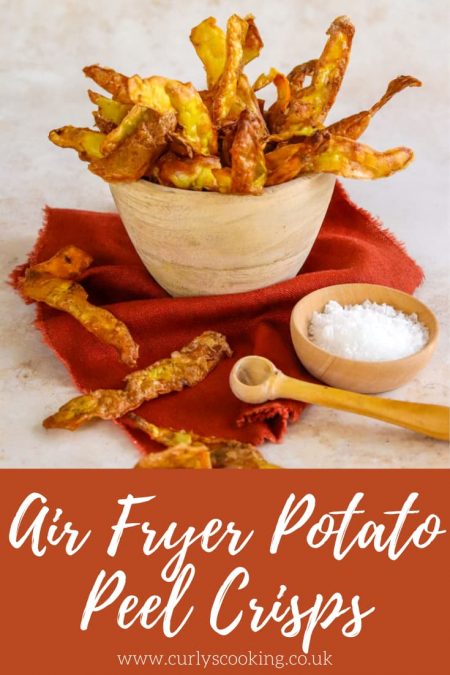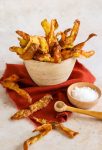 Air Fryer Potato Peel Crisps
Don't throw your potato peelings away! Instead make my Air Fryer Potato Peel Crisps for an incredibly easy and deliciously moreish snack.
Ingredients
4

large

potatoes – peelings only

1

tsp

sunflower oil

½

tsp

sea salt
Instructions
Take the peelings from four large potatoes and add to a bowl

Add 1 tsp sunflower oil to the potato peelings along with ½ tsp sea salt. Toss until all of the peelings are coated

*Preheat your air fryer if required. This usually varies depending on your machine*

Add the potato peelings to your air fryer basket and cook for 10-12 minutes at 190°C tossing the peelings half way through
Recipe Notes
If your air fryer required preheating, your potato peel crisps might take less time to cook. Check them after 8 minutes. You want them to be crisp but not burnt.
Nutritional information is given as a guide only and may vary.
Nutrition Facts
Air Fryer Potato Peel Crisps
Amount Per Serving
Calories 59
Calories from Fat 9
% Daily Value*
Fat 1g2%
Sodium 291mg13%
Potassium 1mg0%
Calcium 1mg0%
Iron 1mg6%
* Percent Daily Values are based on a 2000 calorie diet.