My Chicken & Ham Hock Filo Pie is a lighter way to enjoy a pie. A delicious creamy filling packed with chicken and ham hock and topped with crisp filo pastry.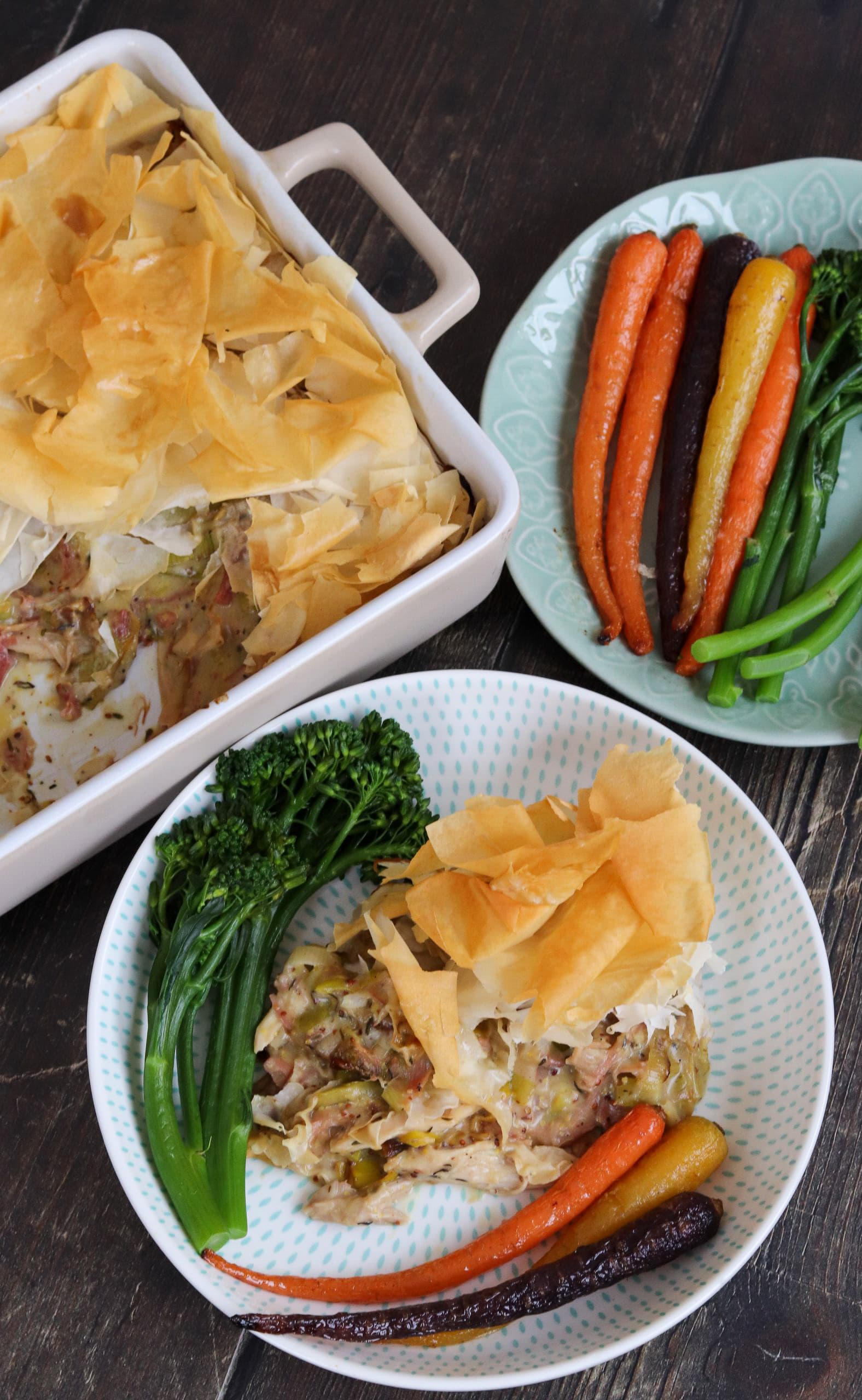 What makes a pie, a pie?
Pies are a British Institution. As a nation we do love our pies and this can be seen by just how many variations of pies there are. There are so many different pies out there with lots of variations of fillings and pastry used.
Technically I think a pie is defined as a pastry lined dish usually topped with pastry. I however think pies can also just be topped with pastry.
Apologies if this offends you but I'm still going to refer to my dish as a pie even though it isn't pastry lined!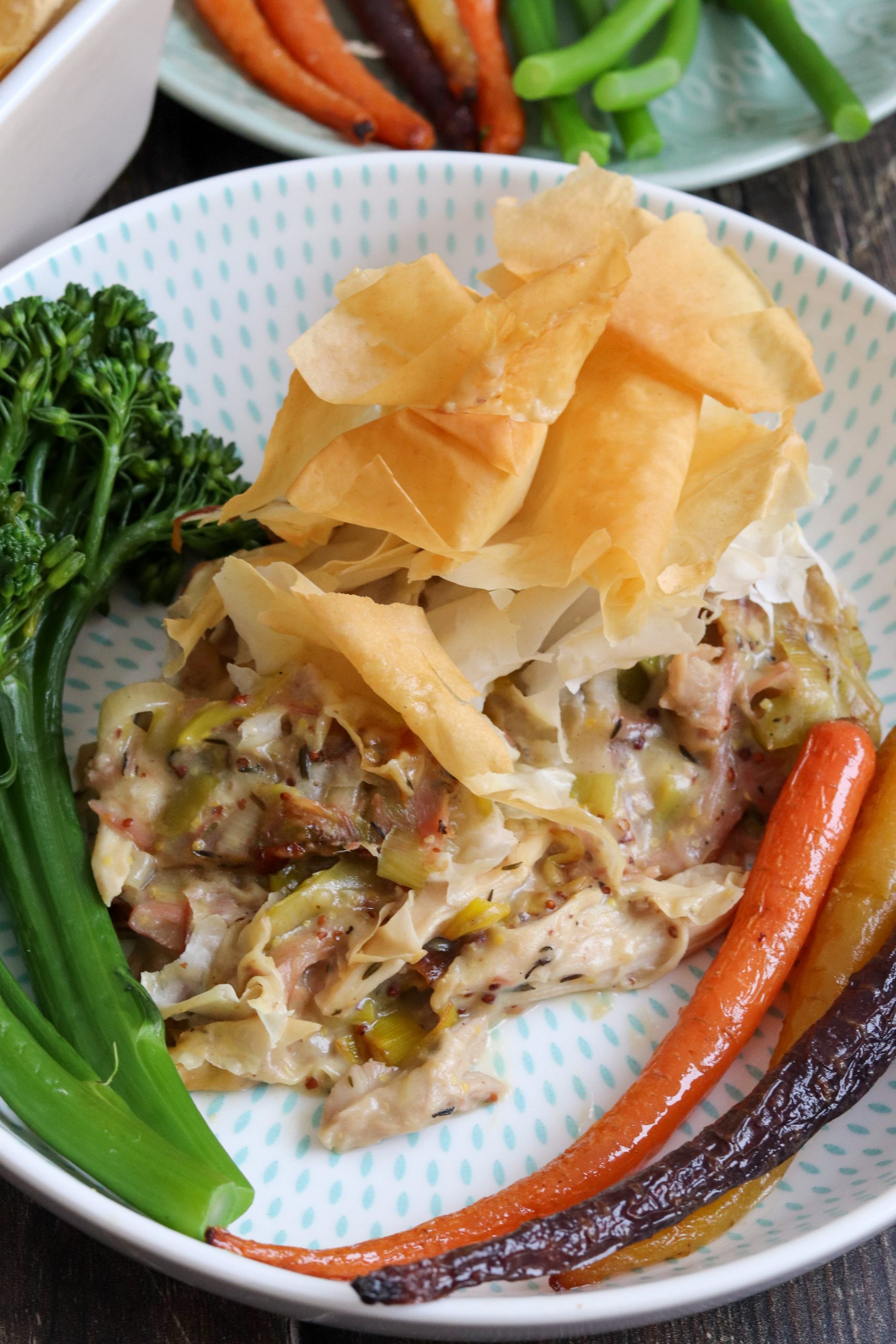 Chicken & Ham Hock Filo Pie – a healthier pie
I do love a pie, they are comforting and delicious. I don't associate pies with healthy eating however as the pastry is usually quite calorific. The fillings can also be quite rich which isn't always what you're looking for.
This is why I came up with my Chicken & Ham Hock Filo Pie as a lighter way to enjoy a pie. Using filo pastry as a pie topping isn't a new idea, but it is far lower in calories than a lot of other types.
Not only is it healthier, but it is also far lighter and less dense than shortcrust pastry, for example. This makes this pie perfect for enjoying in spring and even summer.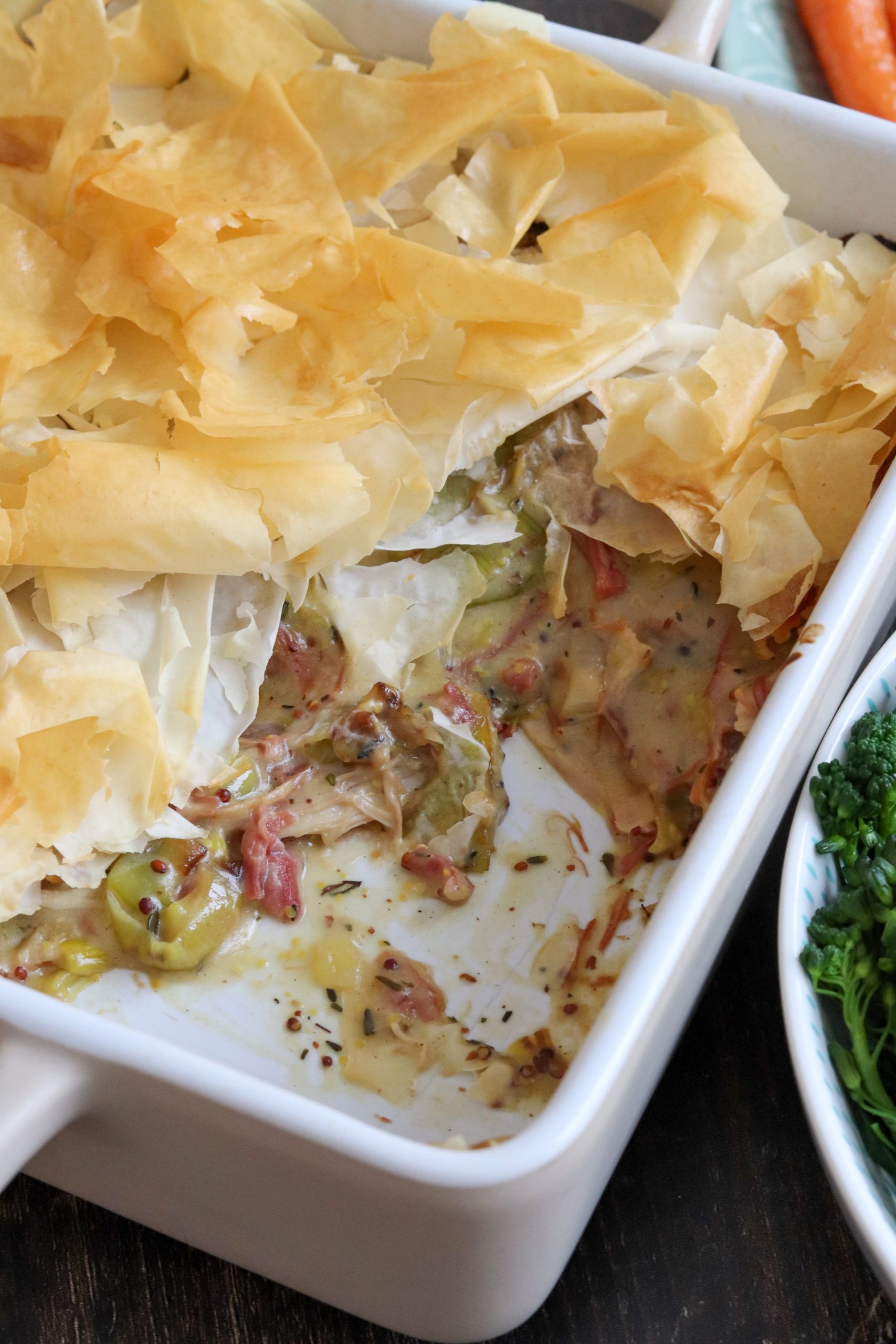 A great way to use up leftover chicken
Lots of people have leftovers from their roast chicken on a Sunday. This would be a perfect way to use it and it feels like you are eating something completely different.
If you don't have any leftover chicken you can definitely still make this pie. I would put a couple of chicken breasts or four to five chicken thighs on a baking tray. I would drizzle with a little olive oil and season with salt and pepper.
Cook it in the oven at 180ºC for 15-20 minutes until it is cooked through. You can then shred it or cut it into cubes ready to use in the pie.
I prefer to cook it in the oven because I find it the easiest way. You can also cook the chicken in advanced and keep it in the fridge until you're ready to make the pie.

Ham hock substitutes
Ham hock is usually sold shredded in the cooked meats section of the supermarket. I like using ham hock because it distributed into the sauce really nicely as it is shredded.
If you didn't want to use ham hock, you could chop up some ham or add some cooked bacon lardons. Or you could try my Chicken & Chorizo Filo Pie.
Or if you don't want to use it, you can leave it out altogether.
Do you have to use filo pastry?
No, you can use puff or even shortcrust pastry if you prefer.
I like using filo pastry because it is a lot lighter, but is also really easy. You don't need to be neat and you don't have to worry about crimping the sides and egg washing the pastry. You just scrunch it up and spray it with oil.
If you do want to use puff or shortcrust pastry, brush the edge of your dish with a beaten egg or milk. This helps the pastry stick. Then once the pastry lid has been laid on top, brush it again so it has a lovely colour when cooked.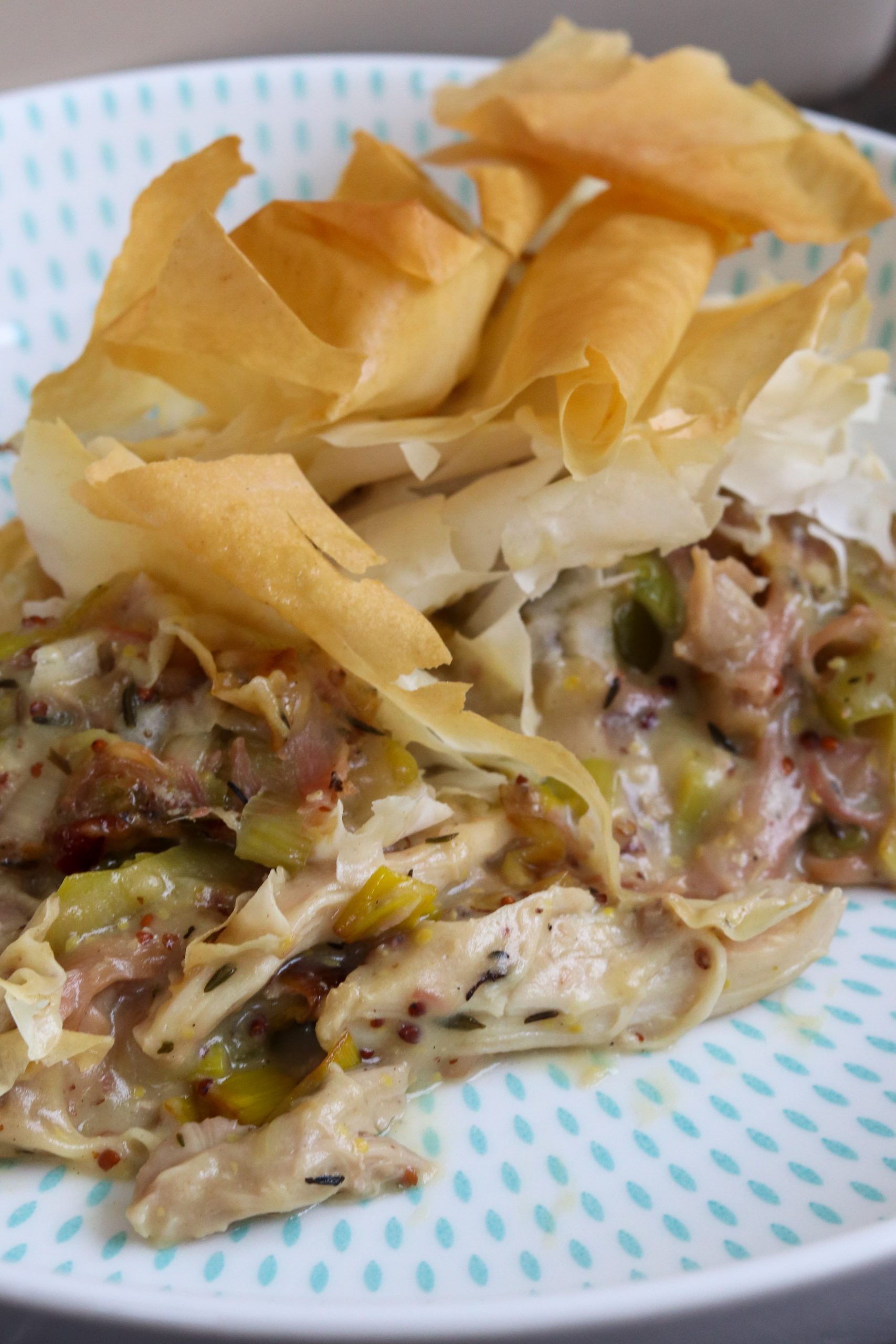 Fresh or dried thyme?
I really love using fresh thyme. It is one of my favourite herbs and I like to have a pot in my kitchen window sill.
If you don't have fresh thyme, you can definitely use dried. Dried thyme has a stronger flavour so you will need to use about half of the amount.
If you don't have thyme at all, rosemary would be a great alternative; fresh or dried.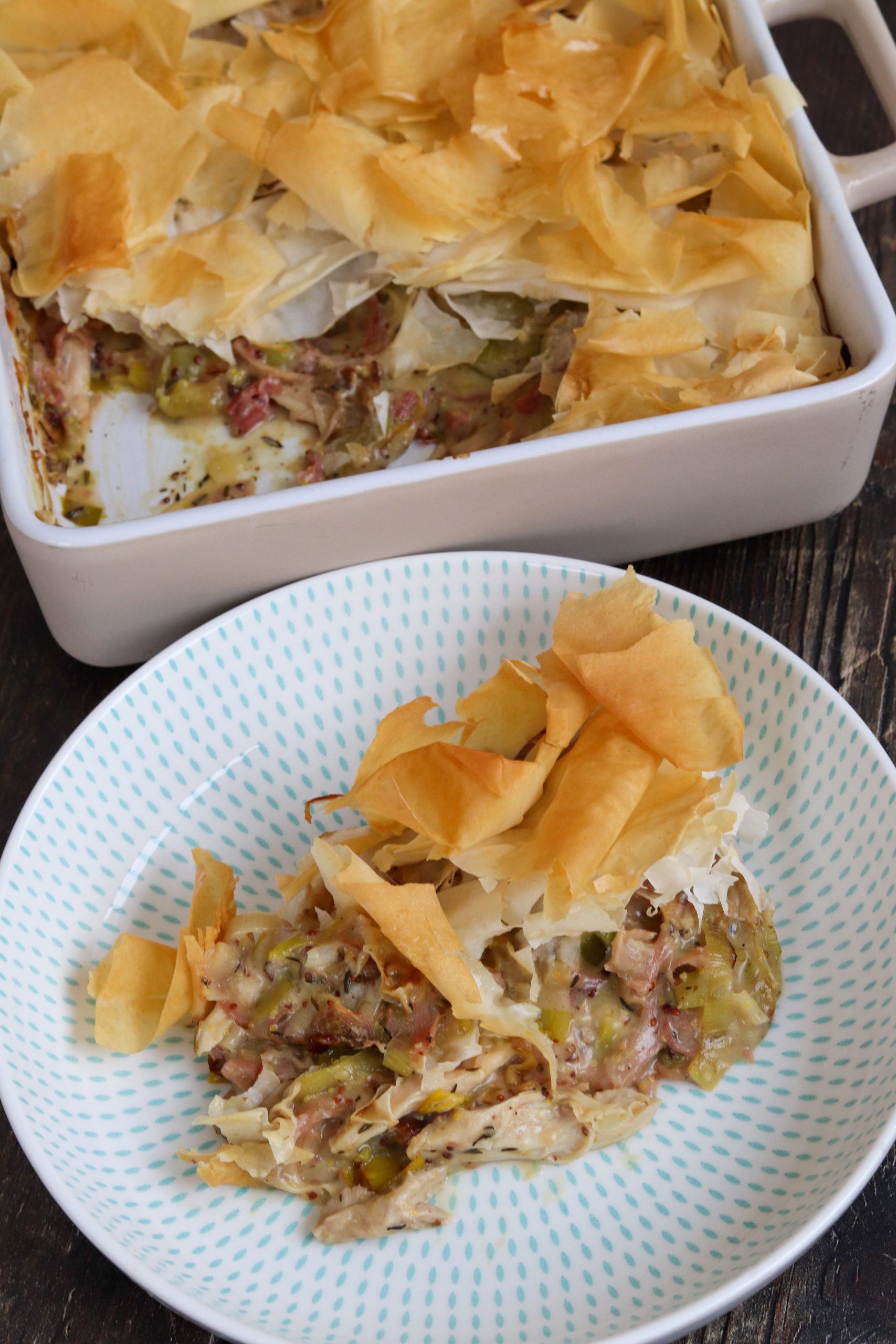 Can this pie be frozen?
Yes it can be. I would make the filling and freeze it and then when you want to eat it, defrost it and add the filo pastry topping.
If you want to freeze it, put it in the freezer with two hours of it finishing cooking. Freeze for up to three months.
When you want to defrost it, put it in the fridge for eight hours or overnight. Then cook it as per the instructions below.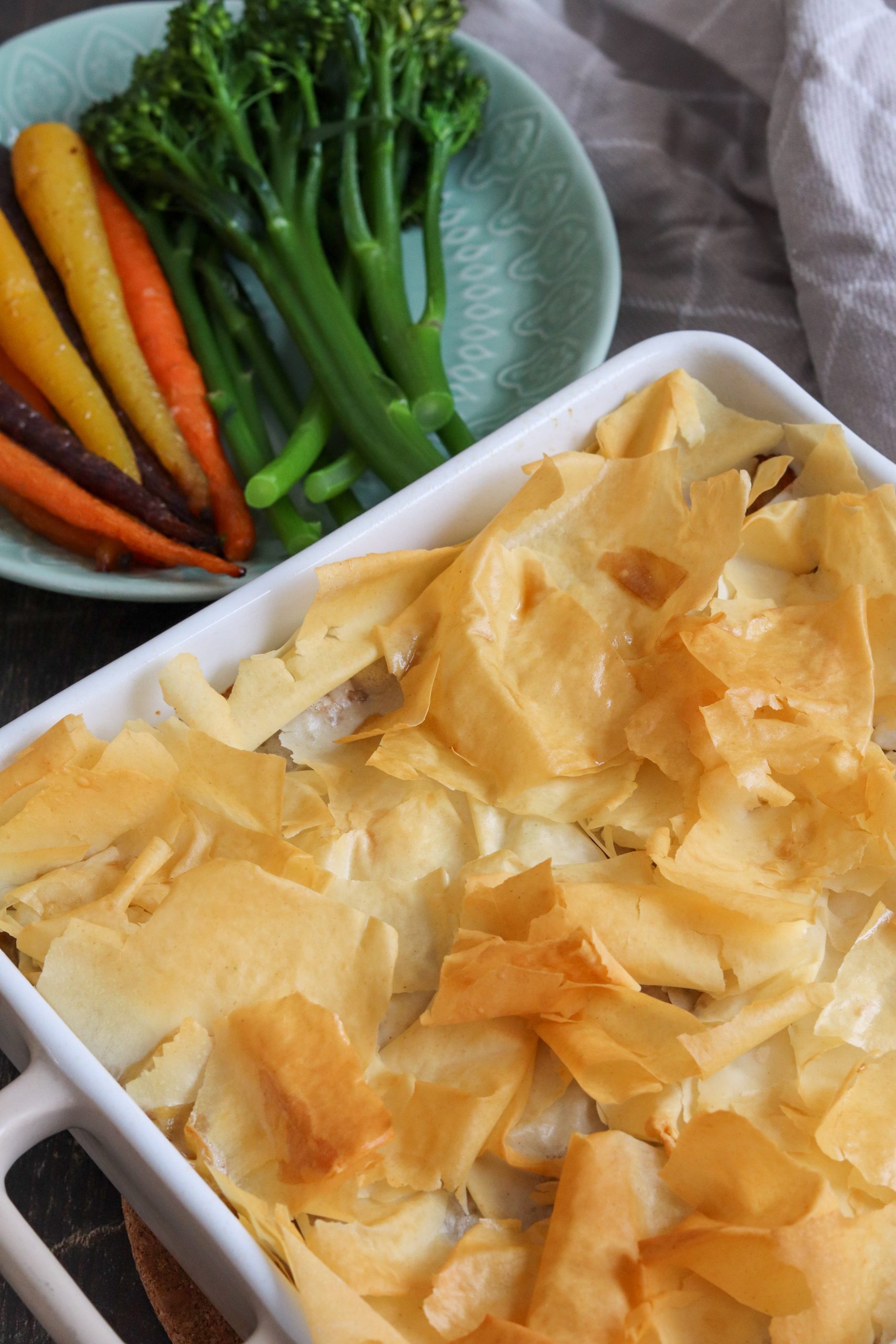 Can this pie be made gluten free, vegetarian or vegan?
To make this pie gluten free, you only need to swap the pastry. I don't know if gluten free filo pastry is available, but if it is it isn't common.
Instead I would swap the pastry to gluten free puff pastry and use the tips above for how to adjust the recipe for puff pastry.
Filo pastry is actually suitable for vegans so no adjustments need to be made for vegetarians or vegans.
I would swap the chicken and ham hock for a meat substitute such as Quorn. But if you didn't want to use a meat substitute you could easily add in more vegetables such as mushrooms.
The sauce is easy to make suitable too. You would just need to use vegetable stock for vegetarians and then also swap the milk for plant based milk for vegans.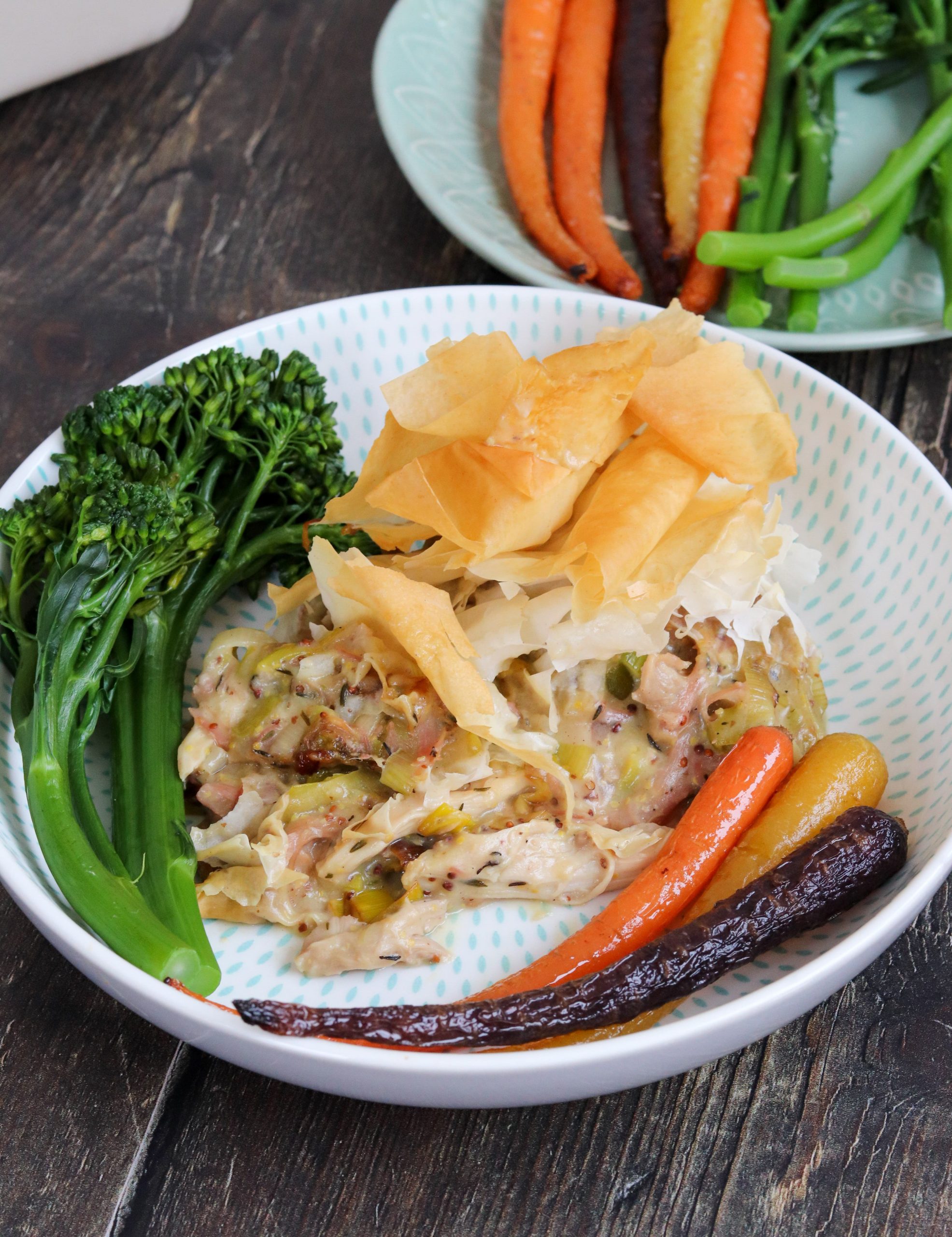 What to serve with this Chicken & Ham Hock Filo Pie
I like to serve this pie with some steamed tenderstem broccoli and roasted carrots. my Brussels Sprouts with Bacon & Garlic would also be very tasty.
If you wanted to add some potatoes to the meal, you could make my Potato & Thyme Stacks or Roasted New Potatoes.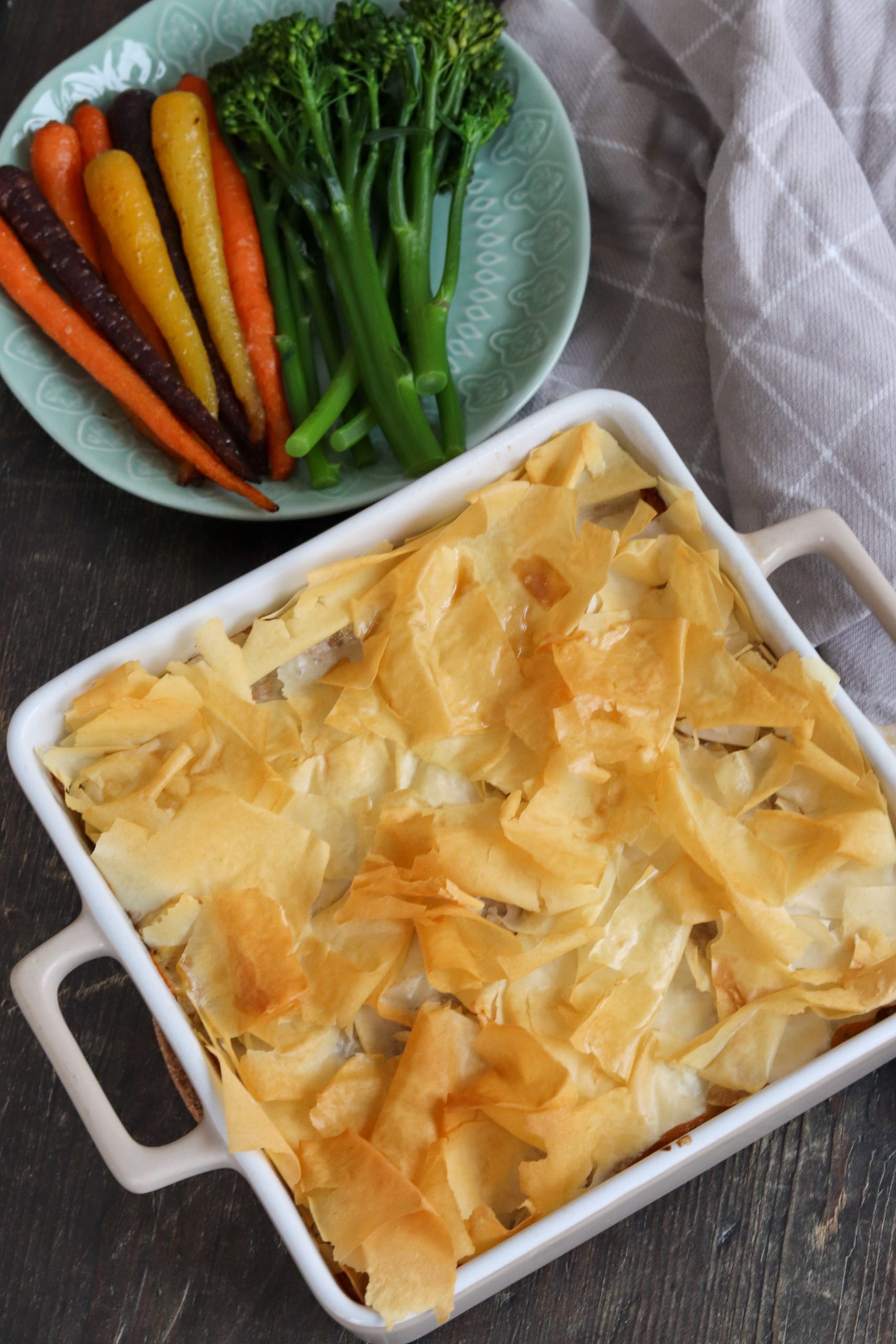 Other recipes you might like
Pin for later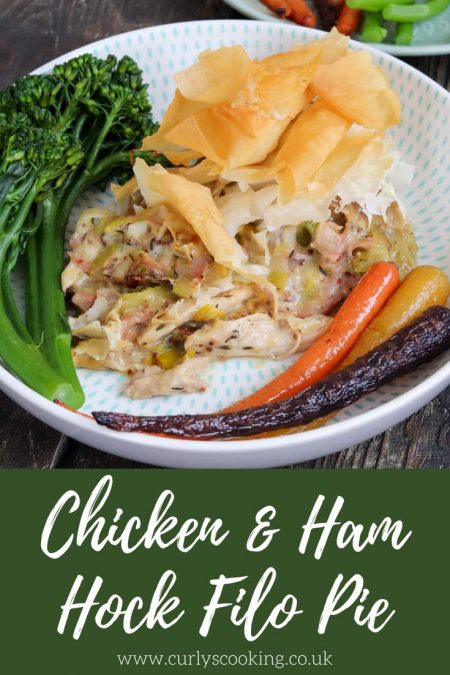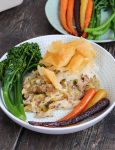 Chicken & Ham Hock Filo Pie
My Chicken & Ham Hock Filo Pie is a lighter way to enjoy a pie, perfect for #BritishPieWeek. A delicious creamy filling packed with chicken and ham hock and topped with crisp filo pastry.

Ingredients
1

tsp

vegetable oil

1

large leek

sliced

3

tbsp

plain flour

1 ½

tbsp

olive oil

250

ml

chicken stock

250

ml

semi skimmed milk

1

tsp

fresh thyme

or ½ tsp dried thyme

1

tbsp

wholegrain mustard

½

tsp

sea salt

Pinch

of black pepper

¼

tsp

mustard powder

150

g

cooked chicken

shredded

100

g

ham hock

5

sheets filo pastry

Spray oil
Instructions
Add the vegetable oil to a frying pan of a medium heat and add the sliced leek. Stir for approximately 10 minutes until soft

Remove the leeks from the pan and set aside. In the same pan, add the olive oil and the flour. Stir to create a paste and cook for a minute

Slowly add the chicken stock whisking to make sure it is all absorbed before you add more

Once all of the stock has been added, gradually pour in the milk and whisk to combine

Add the thyme, wholegrain mustard, salt, pepper and mustard powder and simmer for a couple of minutes until the sauce thickens

After the sauce has thickened, add the cooked chicken, ham hock and leeks. Stir though to make sure everything is coated in the sauce

Preheat the oven to 180ºC (fan or 200ºC non fan assisted). Pour the pie filling into a dish

Unwrap the filo pastry and crumple each sheet on top of the pie filling – this doesn't have to be neat

Once the pie is completely covered with the filo pastry, spray thoroughly with oil and put in the oven for 30 minutes or until the pastry is golden brown
Recipe Notes
I use a baking dish approximately 20x20cm and 4cm deep.
Nutritional information is given as a guide only.
Nutrition Facts
Chicken & Ham Hock Filo Pie
Amount Per Serving
Calories 391
Calories from Fat 351
% Daily Value*
Fat 39g60%
Cholesterol 56mg19%
Sodium 2236mg97%
Potassium 564mg16%
Carbohydrates 195g65%
Protein 43g86%
Vitamin A 95IU2%
Vitamin C 0.3mg0%
Calcium 122mg12%
Iron 12.6mg70%
* Percent Daily Values are based on a 2000 calorie diet.