A vibrant, fresh and flavoursome sauce that is simple and quick to make. This delicious Hazelnut Pesto will quickly become your go-to pesto.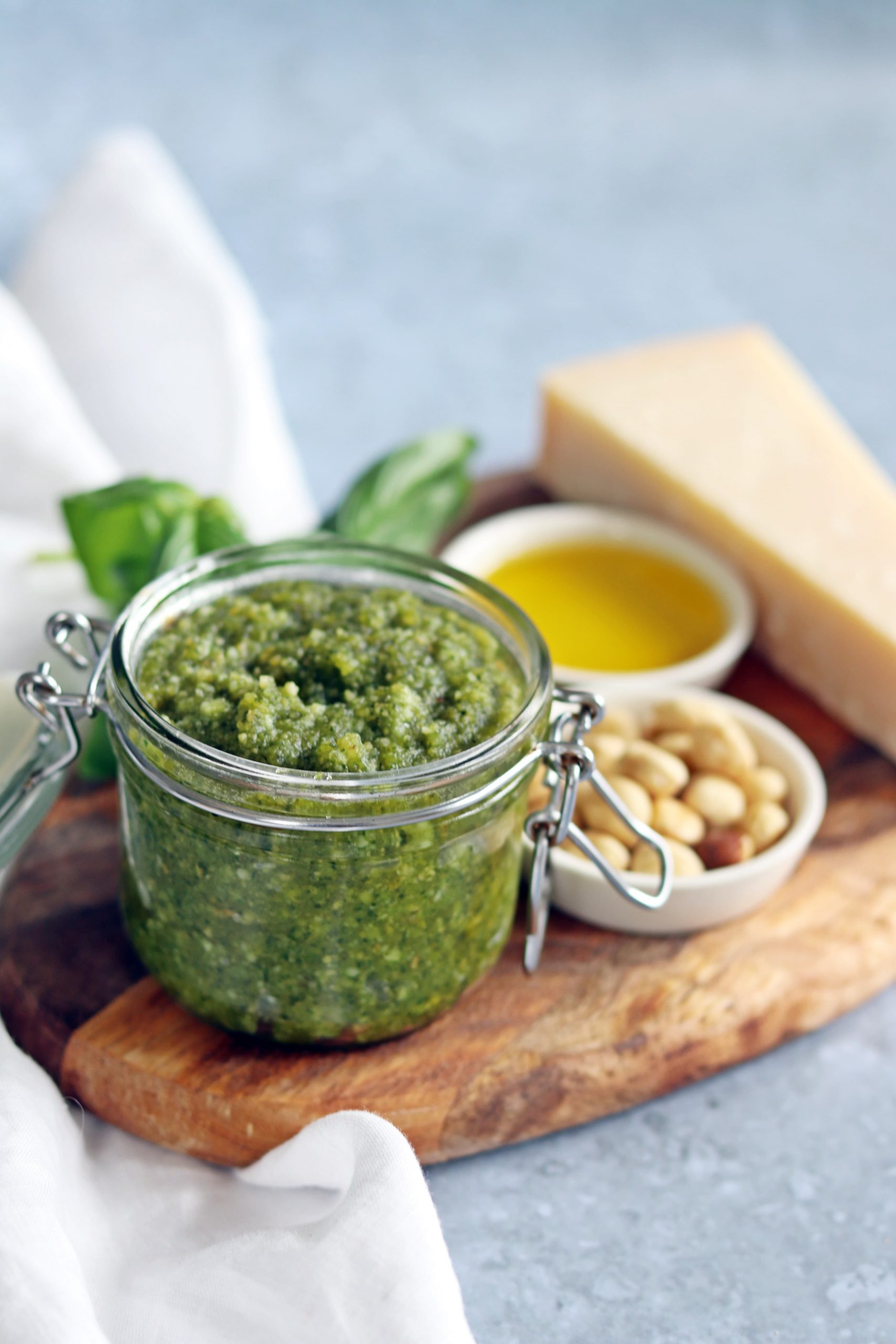 What is pesto?
Pesto is something a lot of us have heard of, but might not know exactly what it is.
It is a bright green sauce from Genoa in Italy. It comes from the word 'pestare' which means 'to crush'. Traditionally pesto was made in a pestle and mortar, crushing the ingredients together.
Classic pesto is made using pine nuts, basil, olive oil and Parmesan. I'm sure every Italian family will have their own slightly different recipe. But pesto, like a lot of recipes is meant to be tweaked to your preference.
Why use hazelnuts?
Why not hazelnuts?!
I am not really a fan of pine nuts. They don't offend me, but I'd never choose to eat them.
So instead of using them to make pesto, I decided to use my favourite nuts – hazelnuts!
They work really well because they have the oily nuttiness that you need like pine nuts have.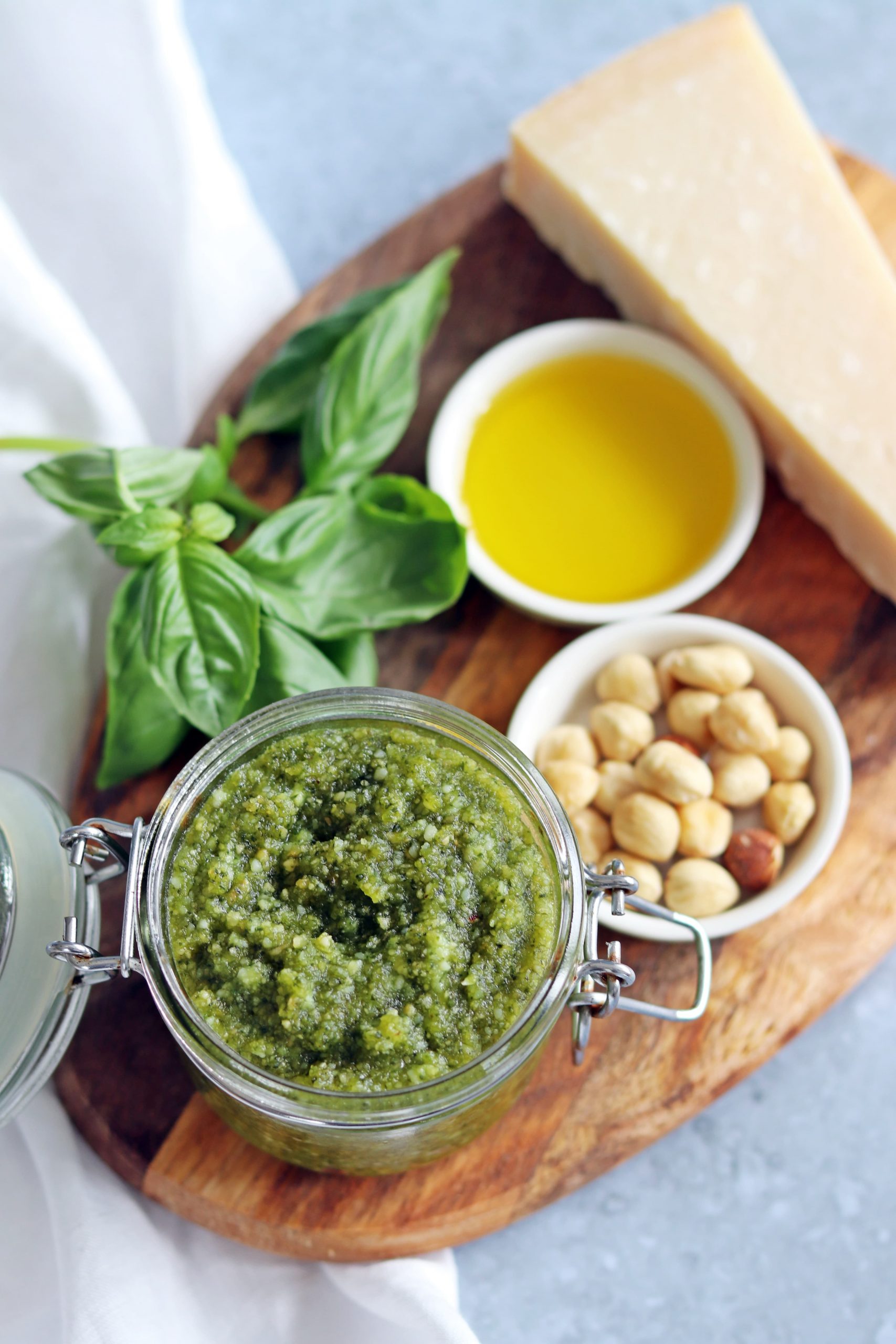 Which hazelnuts are best to use?
For this Hazelnut Pesto, my preferred hazelnuts are whole blanched hazelnuts.
By blanching the hazelnuts this removes the thin skin. You can buy unblanched hazelnuts and blanch them yourself if you want.
Alternatively if you aren't fussy you can keep them as they are, the skins are edible, they might just add brown flecks to your finished pesto.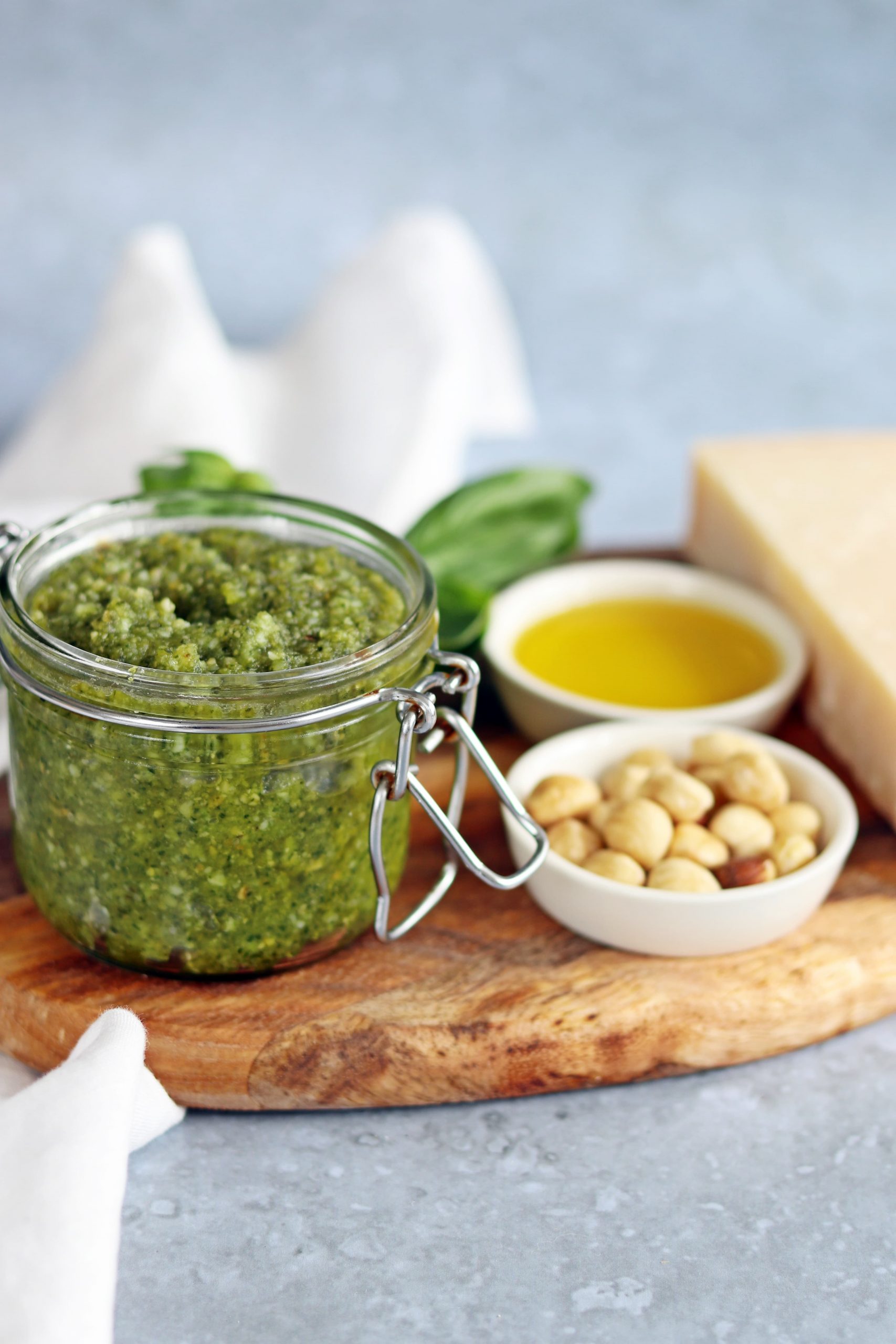 why use extra virgin olive oil?
Extra virgin olive oil is my preference to use in dressings anything that isn't going to be cooked.
It uses pure cold pressed olives which means it is more flavoursome than standard olive oil. When you aren't using it to cook with, you want the olive oil to flavour your food. You will get a much better flavour from extra virgin olive oil.
It is also the time to crack out a high quality extra virgin olive oil. You don't have to spend a fortune, but if you have a nicer bottle I would definitely use it!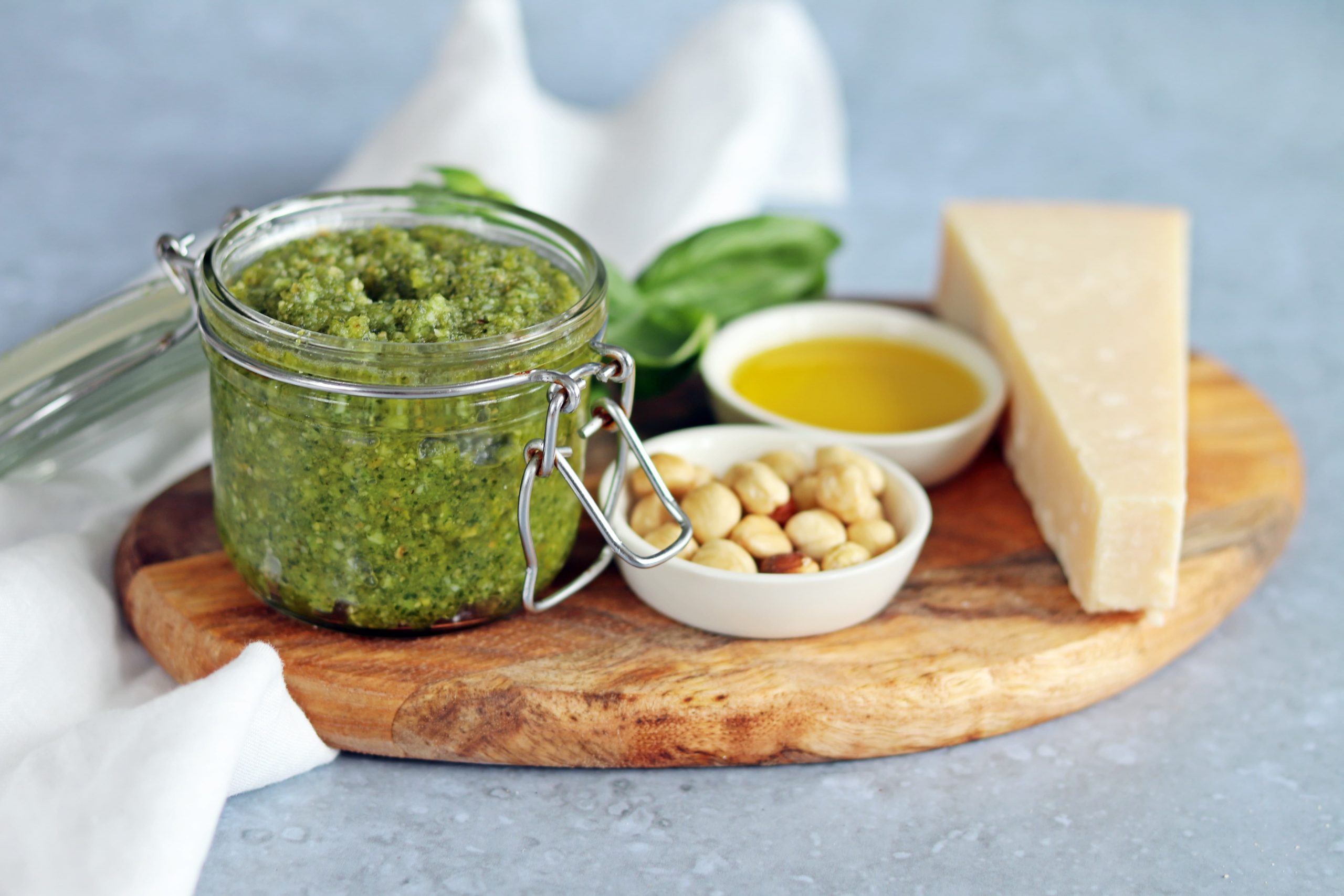 How long does this hazelnut pesto keep for?
Once this hazelnut pesto is made, keep it in an airtight container in the fridge.
I like to keep the pesto in a sterilised jar. it doesn't have to be anything fancy, it would be a jam jar.
It will keep in the fridge for 3-4 days, but if you aren't going to eat it all in that time I recommend freezing it.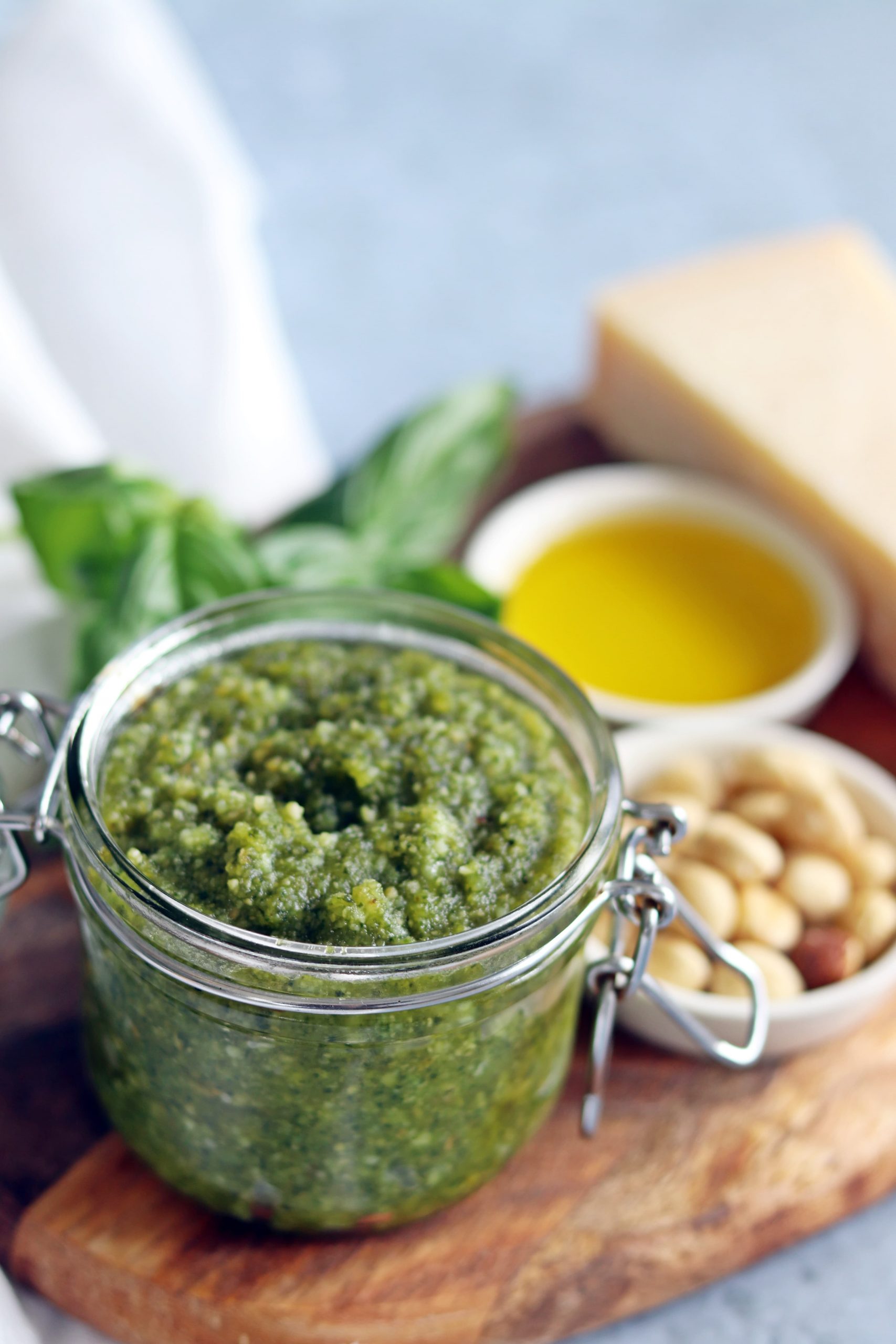 freezing your hazelnut pesto
Freezing pesto is a great way to keep it for later if you aren't going to eat it all in a few days.
I like to freeze the pesto in an ice cube tray. This is because you then have small individual portions to use. You don't have to defrost it all, only what you need.
I spoon the pesto into the ice cube tray and then put in the freezer to freeze completely. Once frozen, pop the pesto cubes out and put them in a container or bag in the freezer.
Depending on what you are going to be using them for, you can use them straight from the freezer if you are cooking with them. If you're not heating the pesto, leave it to defrost in the fridge.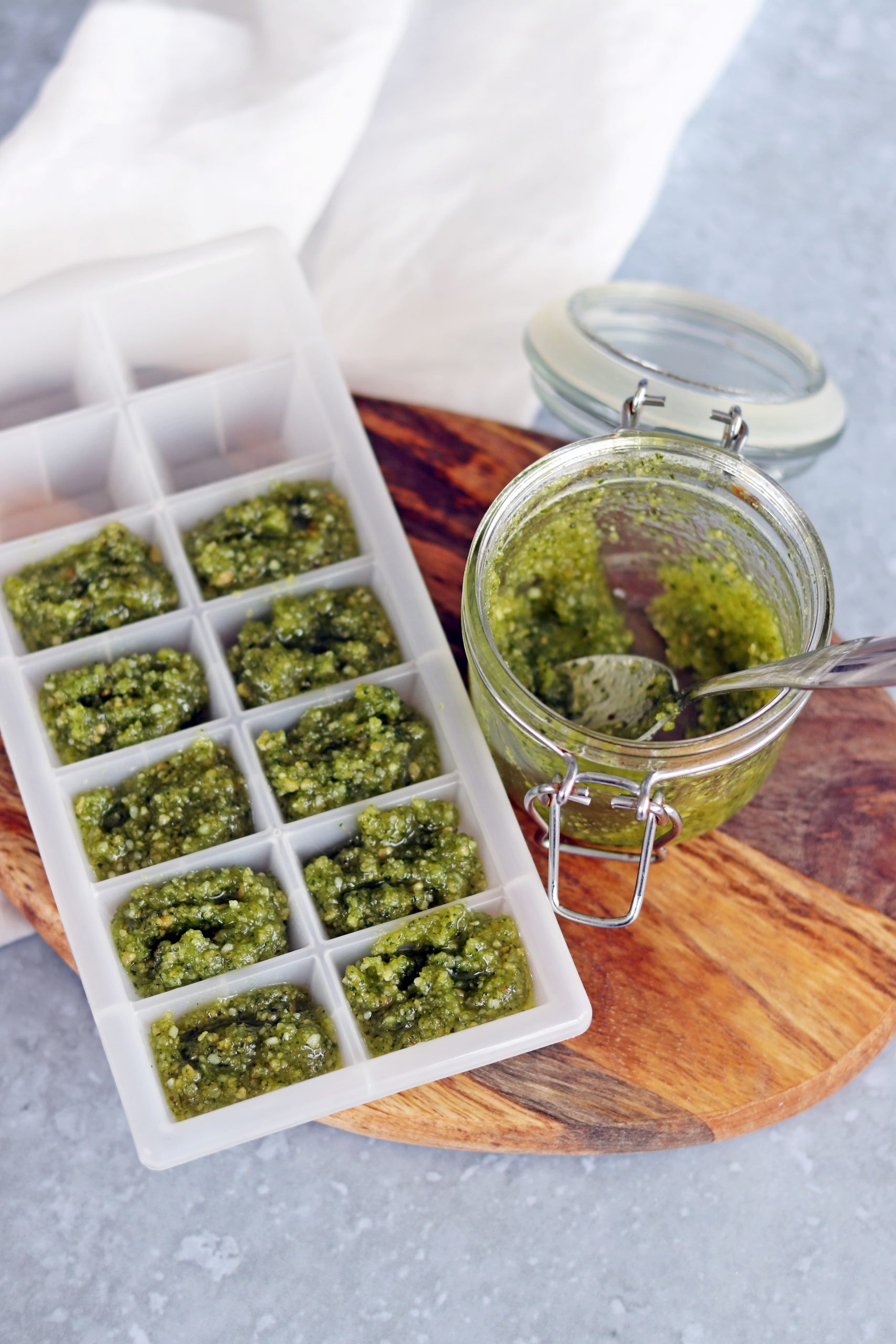 tweak the hazelnut pesto until it meets your tastes
Pesto is meant to be adapted to your tastes and also what you are using it for.
The most common tweak would be to add more extra virgin olive oil. The recipe below makes quite a thick pesto which is very versatile.
It is the perfect consistency for using as a pasta sauce for example as the pasta water will thin it out slightly.
However if you are wanting to drizzle the hazelnut pesto over tomatoes and mozzarella you may want to add a little more olive oil to thin it out.
The salt and garlic I have added are quite subtle to enhance the flavours of the hazelnut pesto. If you would prefer to add more after having a taste, please do so.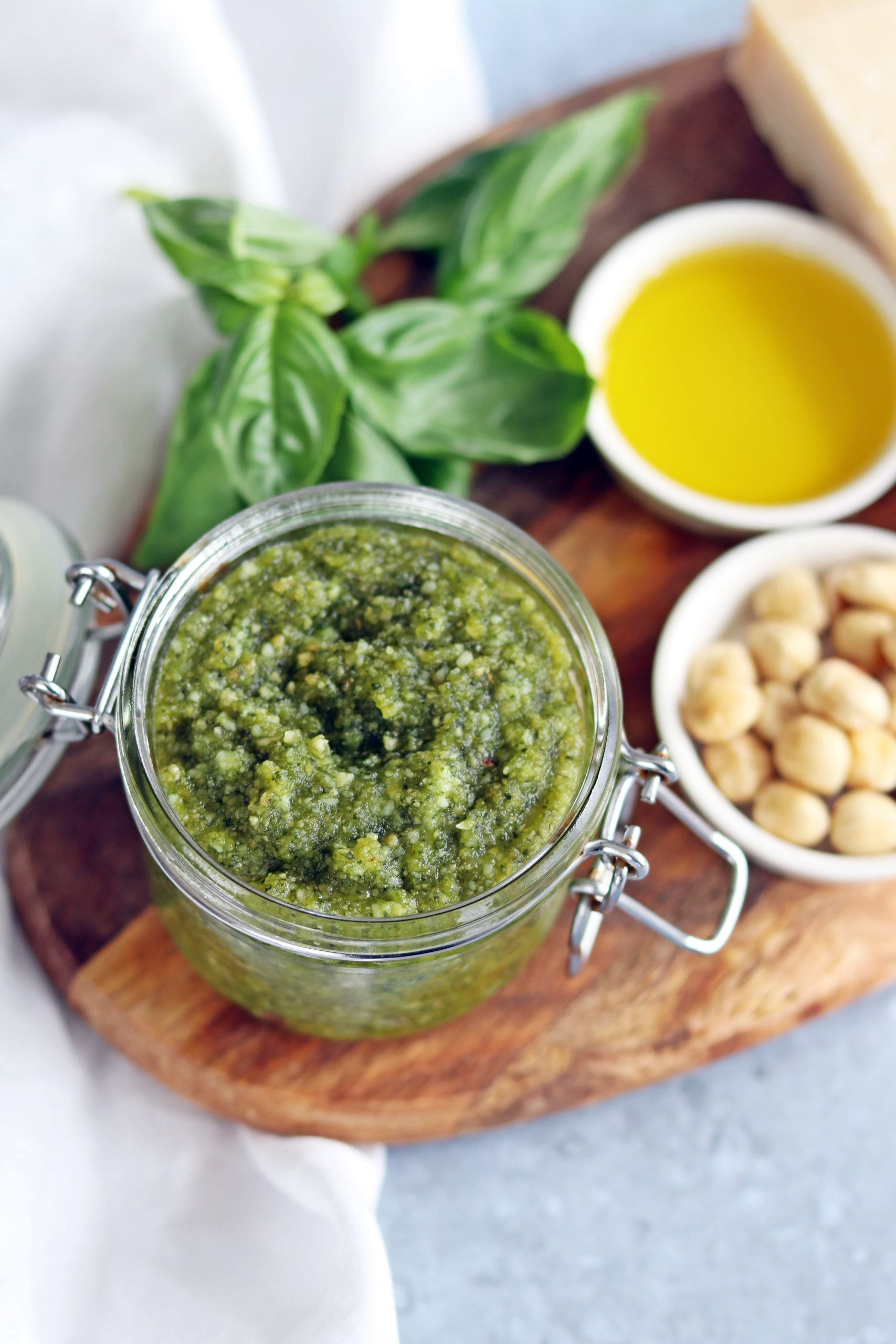 How to make hazelnut pesto vegetarian and vegan
Hazelnut pesto isn't naturally vegetarian and vegan.
Unfortunately this is as Parmesan cheese isn't vegetarian. This is because it includes rennet which is an animal product.
It is really simple to make this Hazelnut Pesto vegetarian and vegan. There are vegetarian and vegan hard cheeses that would work just as well for this recipe.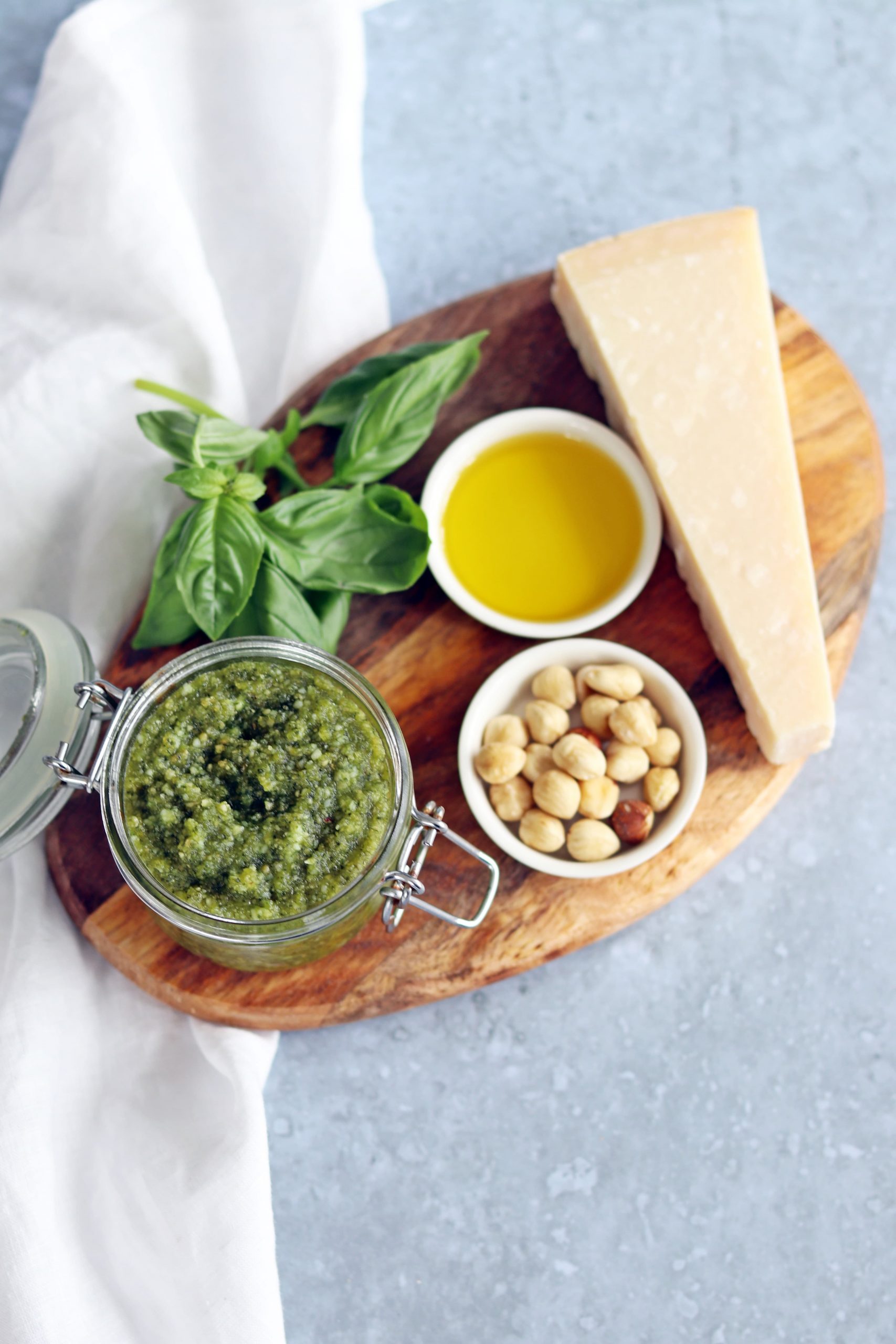 what to serve with hazelnut pesto?
In it's simplest form, this Hazelnut Pesto would be delicious drizzled over tomatoes and mozzarella. This would be a fantastically simple lunch or starter in the summer.
Pesto pasta is also a very popular meal that couldn't be easier to make. I cook the pasta and then add in a few hazelnut pesto cubes and mix through until create a sauce with a splash of the pasta cooking water. The most delicious midweek meal.
The reason I actually came up with this Hazelnut Pesto recipe was for my Puff Pastry Tomato Tart with Pesto.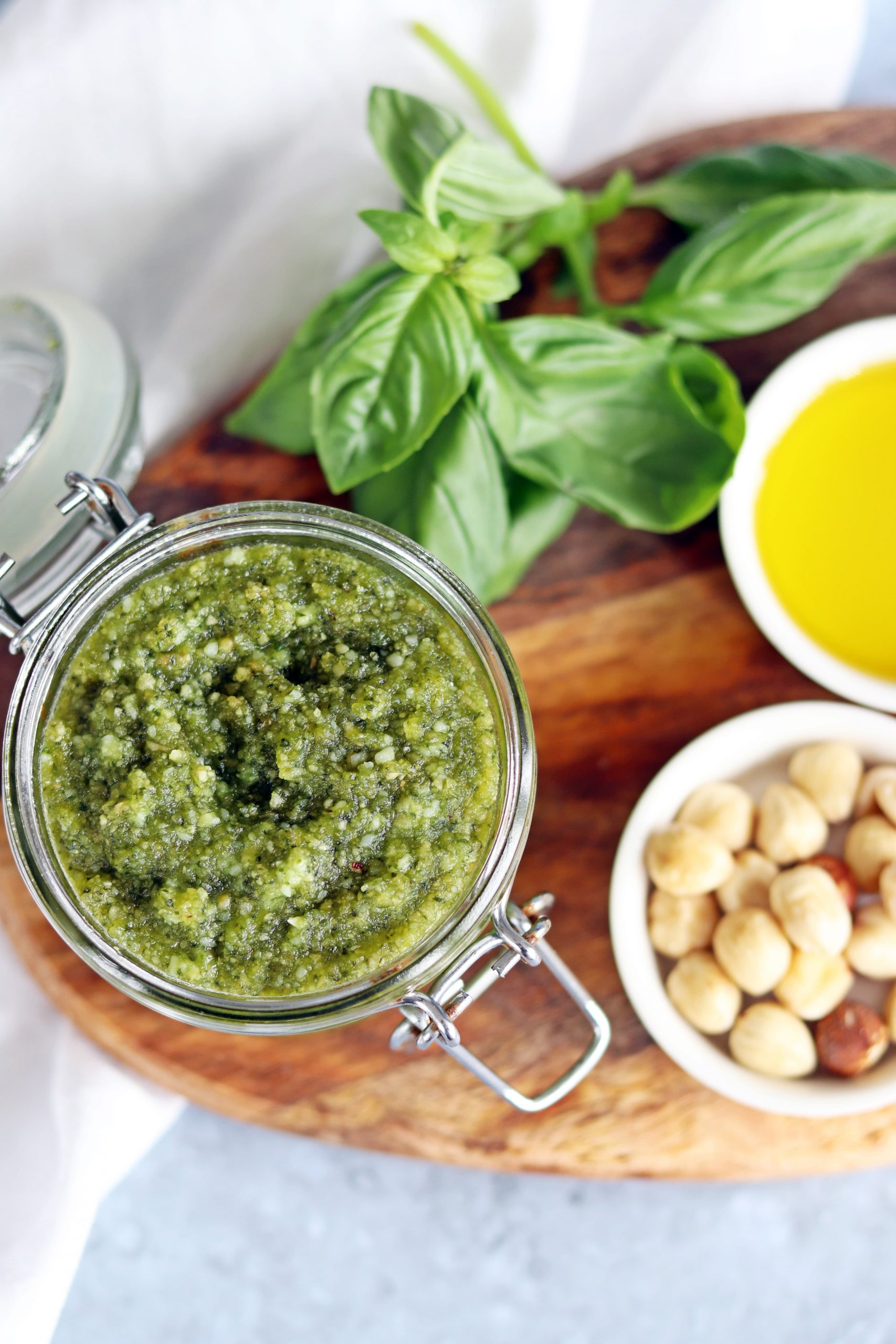 Other recipes you might like
Pin for later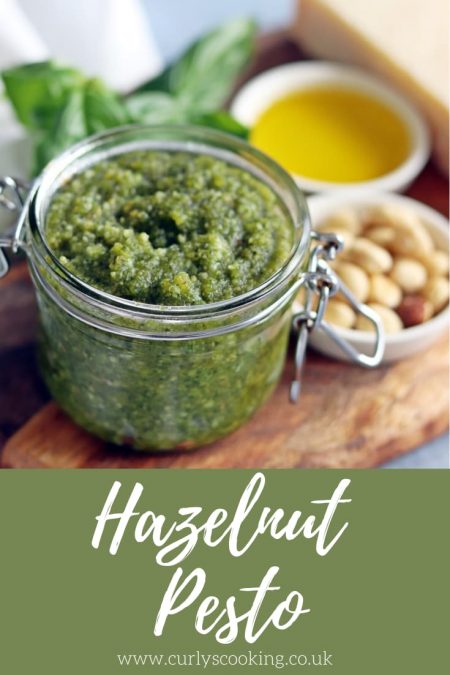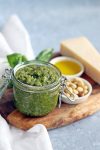 Hazelnut Pesto
A vibrant, fresh and flavoursome sauce that is simple and quick to make. This delicious Hazelnut Pesto will quickly become your go-to pesto.
Ingredients
100

g

hazelnuts

blanched

20

g

basil leaves

(large bunch)

120

ml

extra virgin olive oil

50

g

Parmesan

grated

½

clove

garlic

½

tsp

sea salt
Instructions
Add all of the ingredients to a small food processor or mini chopper

Pulse until all of the ingredients are blended. Use a spatula to scrape the sides to make sure it is all mixed

Transfer to a sterilised jar for storing
Recipe Notes
Store in a sterilised jar in the fridge for 3-4 days.
Freeze in ice cube trays if you want to keep it for longer.
Nutritional information is given as a guide only and may vary.
Nutrition Facts
Hazelnut Pesto
Amount Per Serving (1 tbsp)
Calories 73
Calories from Fat 9
% Daily Value*
Fat 1g2%
Cholesterol 1mg0%
Sodium 5mg0%
Potassium 2mg0%
Carbohydrates 1g0%
Protein 1g2%
Vitamin A 4IU0%
Vitamin C 1mg1%
Calcium 2mg0%
Iron 1mg6%
* Percent Daily Values are based on a 2000 calorie diet.
Linking to