Deliciously fresh and full of flavour, this Pineapple & Corn Salsa is the flavours of Summer. It is simple to make and great for BBQ's & lots more!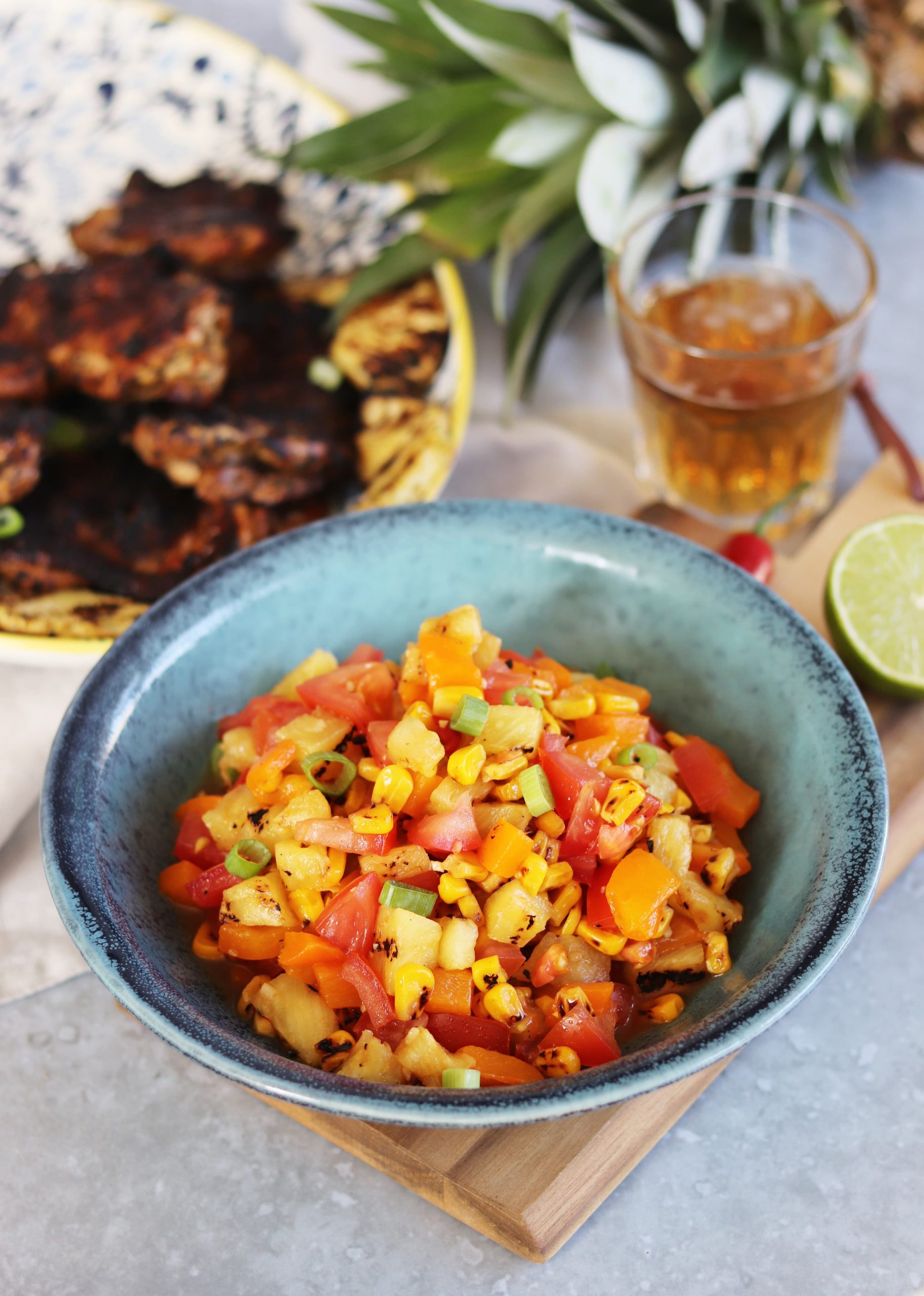 Pineapple & Corn salsa is summer in a bowl
As the weather gets warmer and we all get a bit excited thinking about Summer, what we eat changes.
We go from wanting comfort food to fresh and vibrant food that is light for the warmer weather. That is where this Pineapple & Corn Salsa comes into play.
Packed with fresh and deliciously ripe ingredients, this salsa is the perfect dish for the warmer weather.
Salsas don't have to be tomato based
Growing up, all salsa seemed to be mainly tomatoes with a few other ingredients added. These would usually be onions and coriander – not my favourite ingredients.
Salsas have changed over the years and there are so many delicious options out there. And much to my joy, they don't have to just be tomatoes, onions and coriander! You can add coriander to this salsa if you'd like though.
The inspiration for this Pineapple & Corn Salsa came from my Mexican Sweetcorn Salad. Sweetcorn is one of my favourite vegetables and was a great place to start to build this tasty salsa.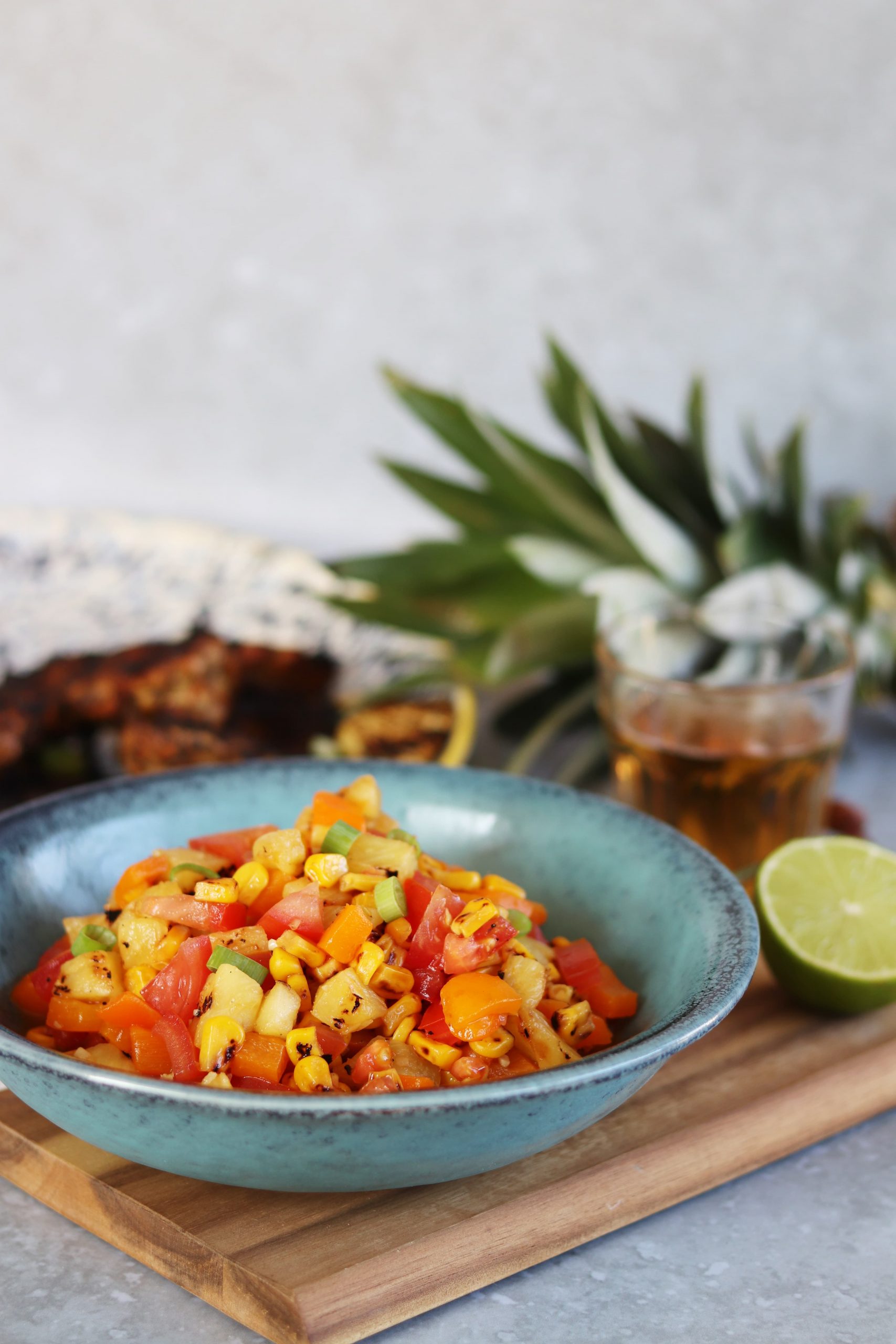 Why grill the vegetables for this pineapple & corn salsa?
For this salsa, I choose to grill the pineapple, sweetcorn and pepper. This is for one main reason – flavour.
I really love the flavour grilling adds to vegetables and pineapple. I actually prefer grilled pineapple to fresh pineapple. Grilling caramelises the natural sugars in the pineapple making it even tastier.
Grilling the vegetables really doesn't take very long at all. You're looking to char them and get some colour, not fully cook them through.
If you would prefer not to grill them, you don't have to. But I really would recommend it!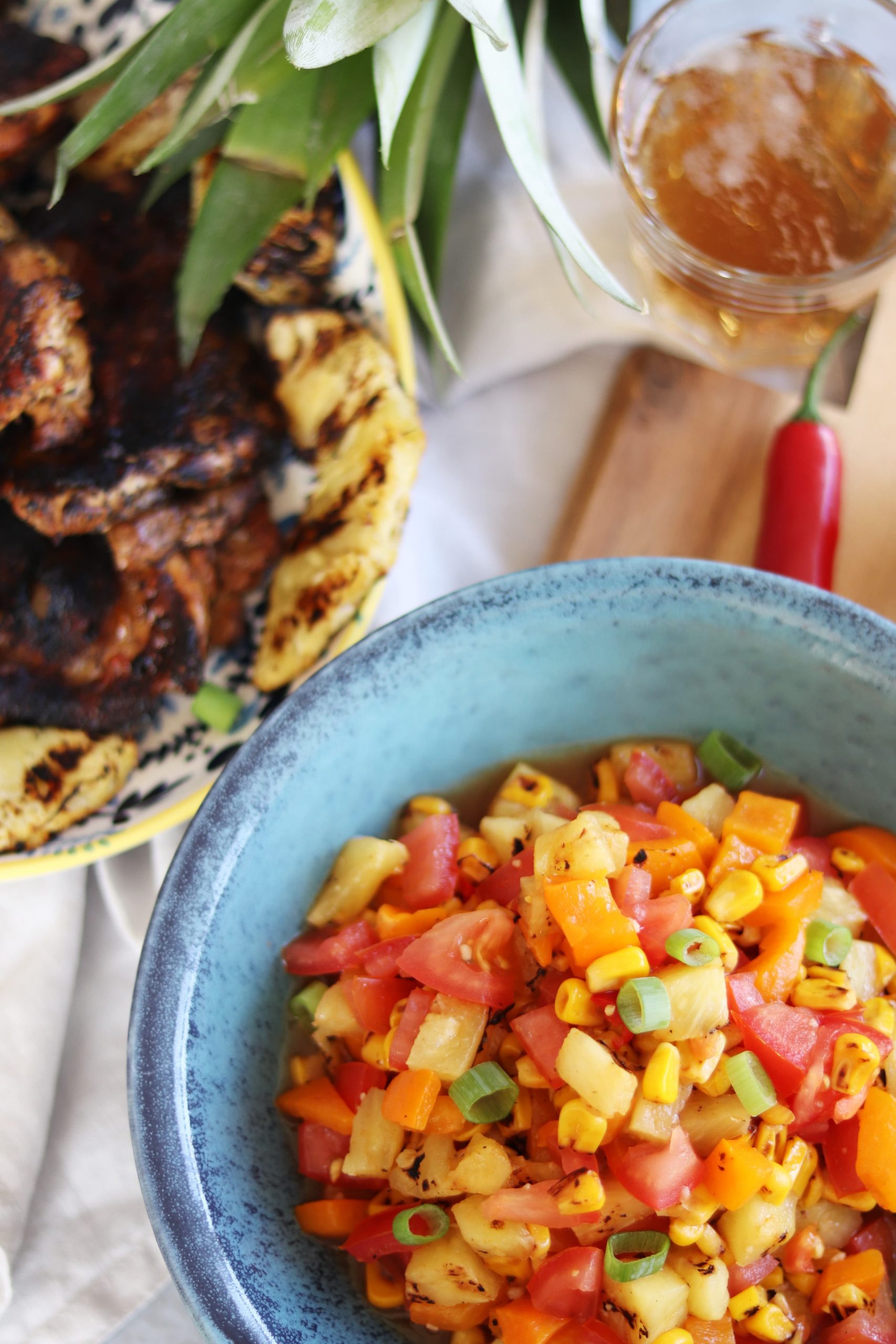 How to grill the ingredients
I grill the pineapple and sweetcorn in a grill pan but you could use a standard frying pan.
I like to char the pepper directly into the flame of my gas hob. Make sure you do this safely and hold the pepper with metal tongs and wear an oven glove.
If you don't have a gas hob you can char your pepper in the oven or on the BBQ. If you're using the oven, de-seed it and cut it into thick slices.
If you're using the BBQ you can do the same, or if you have a charcoal BBQ you can sit it in cool coals until the skin blisters and blackens.
You can also grill the pineapple on the BBQ if you would like too.
Which pineapple is recommended to use?
I have used fresh pineapple for this salsa because I think it is more flavoursome. But I do completely understand it is a bit of a pain to prepare.
If you would like to use fresh pineapple but without the fuss of preparing it, you can buy ready prepared pineapple. Although this is a more costly option.
Tinned pineapple is a great alternative and not something that should think negatively about in my opinion. It is a great ingredient to have in the cupboard ready to use whenever you want.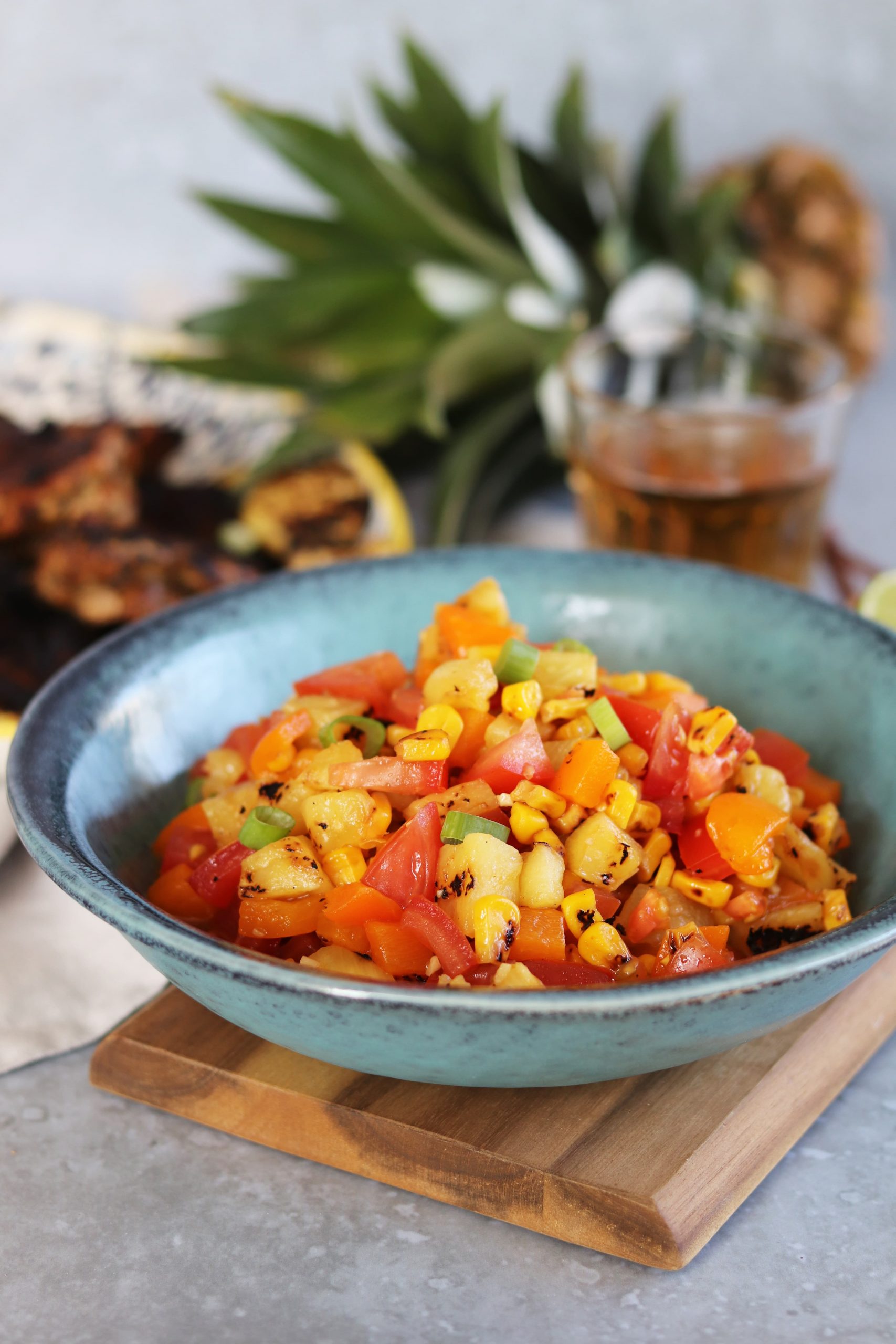 Which corn should i use?
As I have mentioned in previous recipes, I am a bit of a sweetcorn snob. Not only do I much prefer tinned corn, I am very loyal to a big brand.
But that is just me and my preference!
You could absolutely use frozen sweetcorn or fresh corn on the cob for this salsa. Either would work just as well as tinned corn.
Do I need to de-seed the tomatoes?
Lots of salsas require the seeds to be removed from the tomatoes. This is because they can lead a more watery salsa.
I leave the seeds in my tomatoes because they don't offend me. But I would recommend you possibly removing them if you are planning on having leftovers.
The longer the salsa sits, the more the juice will come out of the tomatoes. So if you don't plan on eating all of the salsa on the day you make it I would suggest removing the seeds.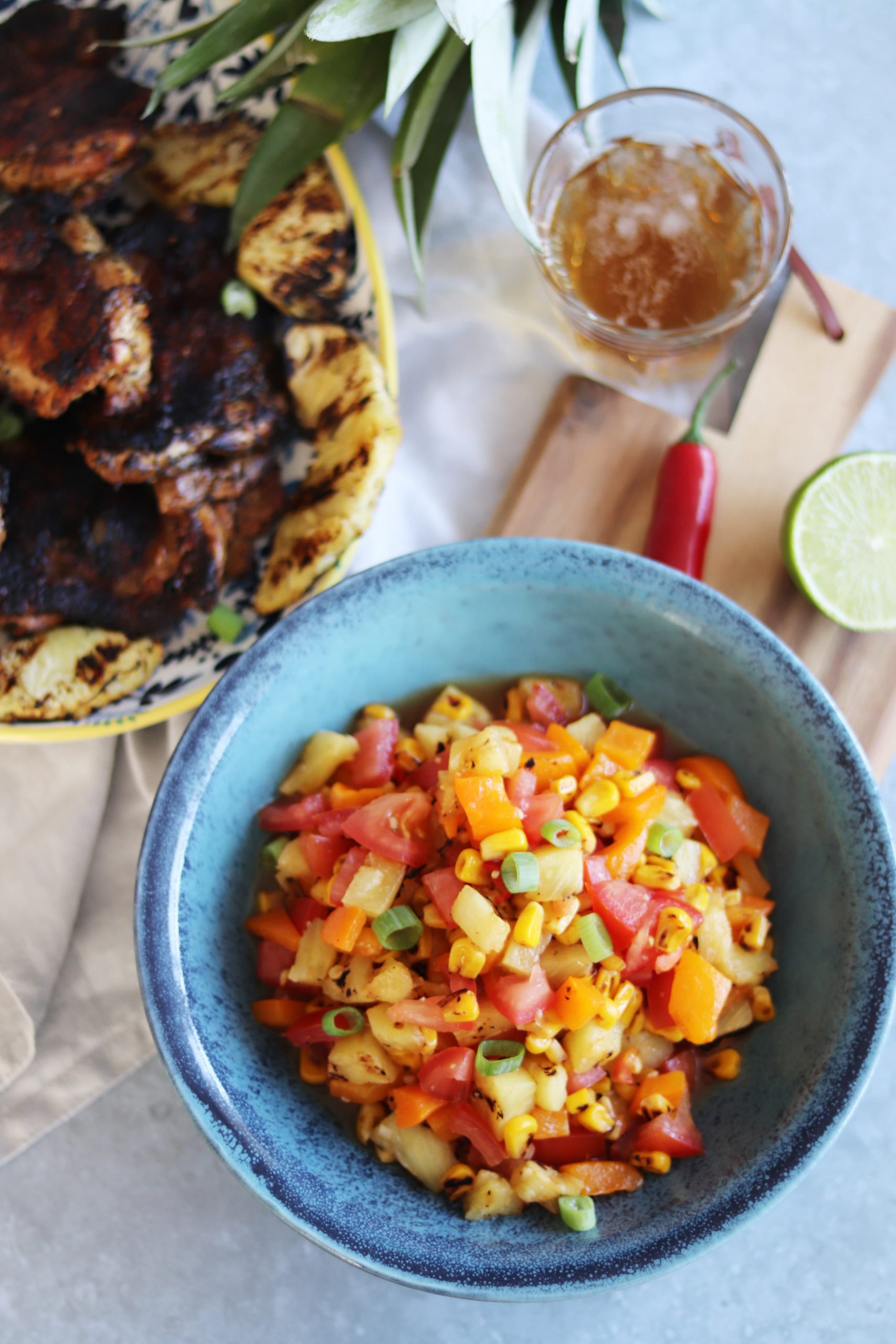 Can I make this Pineapple & Corn salsa in advance?
Yes you can definitely make this salsa in advance.
As I mentioned above, if you want to make it make it the day before I would recommend removing the seeds from the tomatoes. It isn't essential, but it will help keep the dressing as it should be and not with a little more water.
Store the salsa in an airtight container in the fridge until just before you are going to use it. I like to take it out of the fridge and bring it to room temperature again before serving it.
How long will this salsa keep?
This Pineapple & Corn Salsa will keep in an airtight container in the fridge for 2-3 days.
The salsa will become slightly more 'wet' the longer you keep it. This is because the moisture from the fruit and vegetables will be released.
If this doesn't appeal to you then you can easily drain this off using a slotted spoon. But I don't mind this at all – it's all flavour!
I wouldn't recommend trying to freeze any leftover salsa.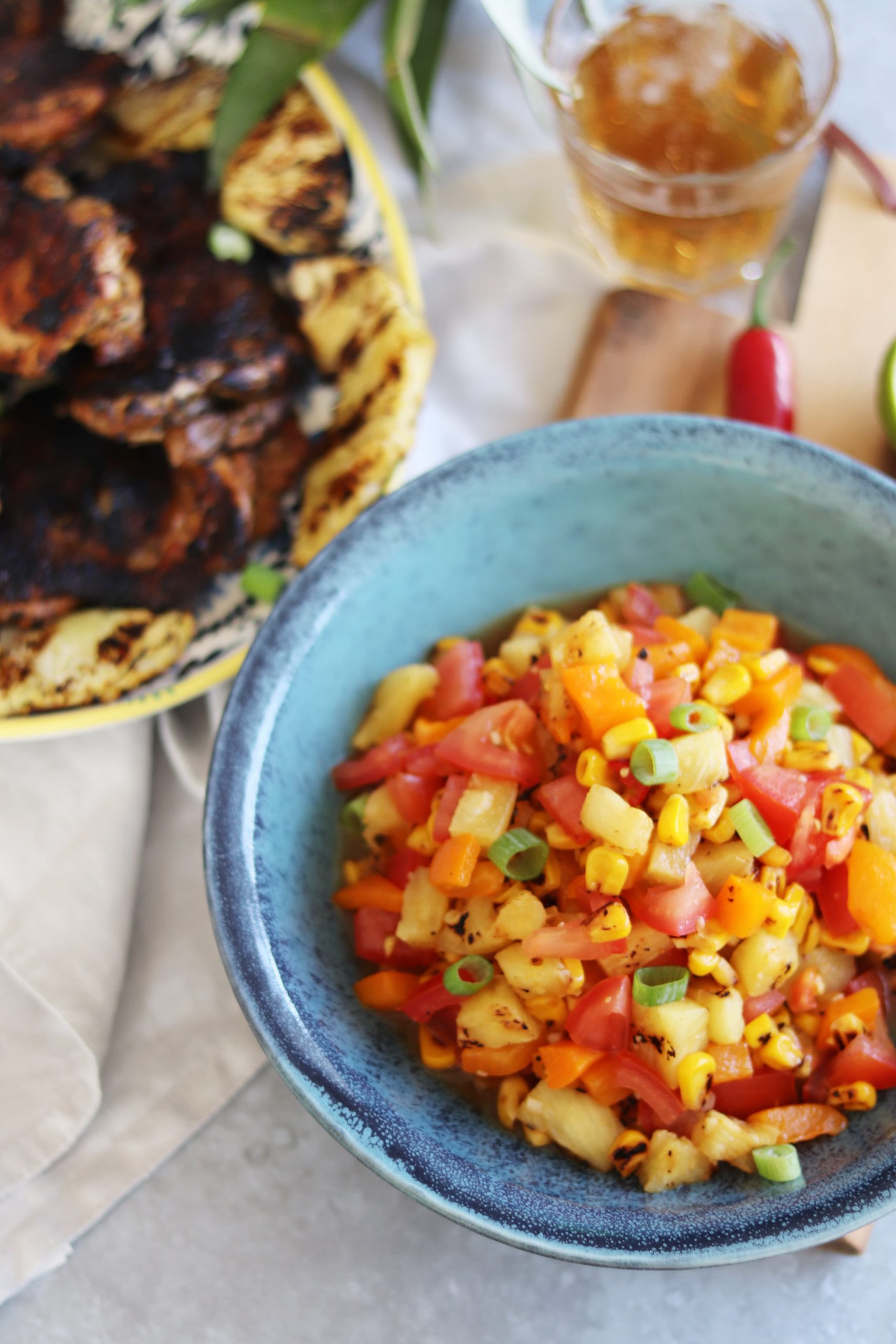 What do you recommend serving with this Pineapple & Corn salsa?
This salsa is a delicious addition to so many different meals. It is especially good as part of a BBQ.
I think the flavours in the salsa work really nicely with pork in particular. Pork and pineapple is a classic flavour combination (think gammon and pineapple). So this salsa is perfect even with a simple grilled pork chop!
It would be particularly delicious with the following recipes:
Naturally gluten free, vegetarian and vegan
This Pineapple & Corn Salsa is naturally gluten free, vegetarian and vegan. This makes it a fantastic option for everyone to enjoy without having to adapt or make any changes.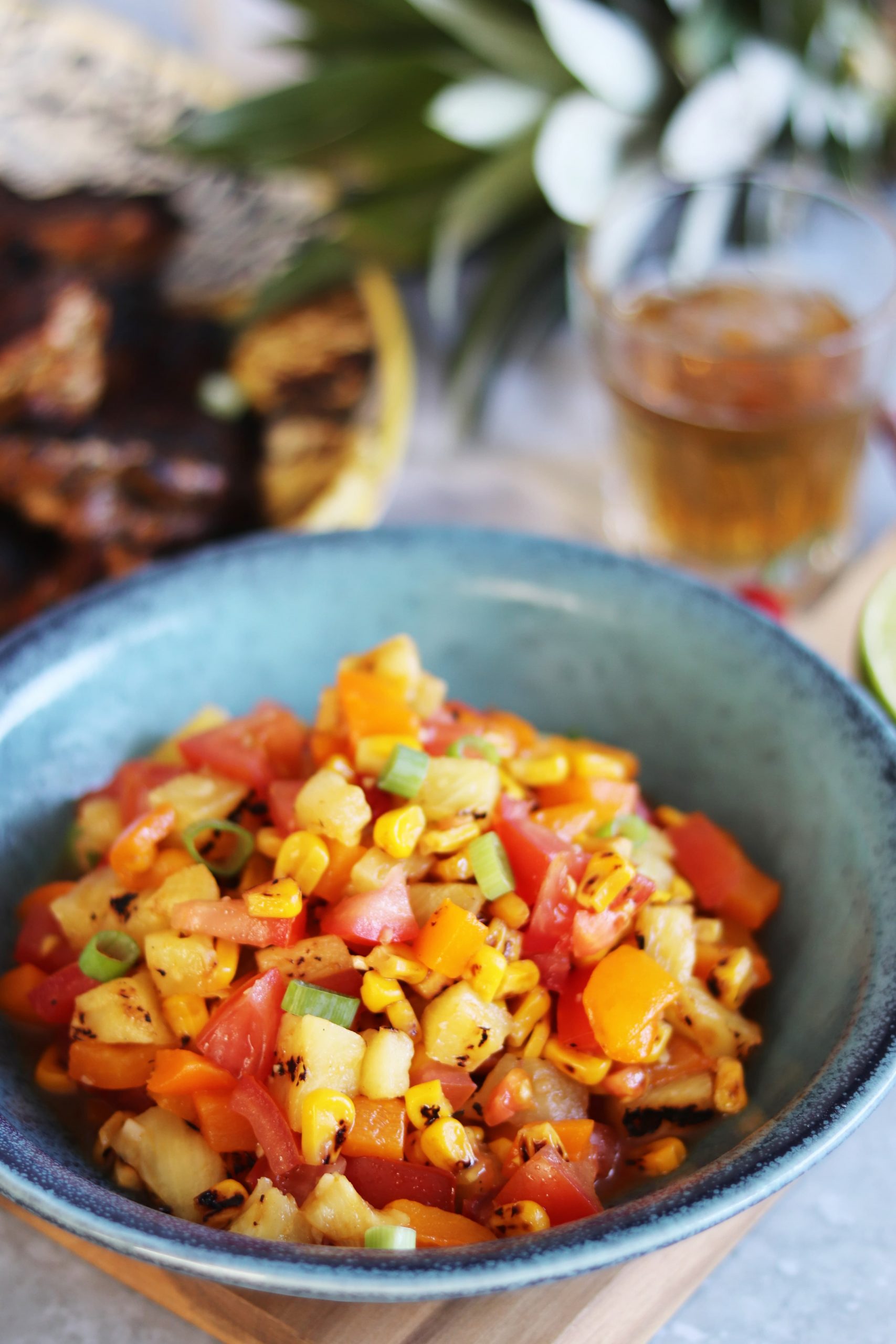 other recies you might like
Pin for later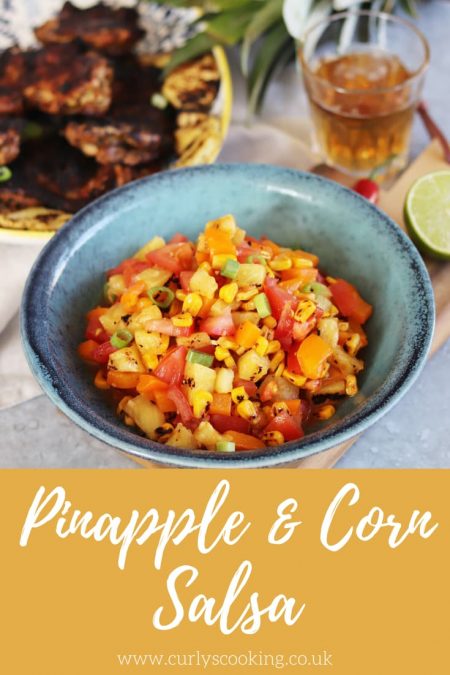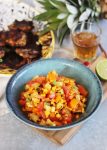 Pineapple & Corn Salsa
Deliciously fresh and full of flavour, this Pineapple & Corn Salsa is the flavours of Summer. It is simple to make and great for BBQ's & lots more!
Ingredients
1

pepper

(bell pepper)

150

g

pineapple

3

large vine tomatoes

½

red chilli

198

g

tin of sweetcorn

2

spring onions

½

clove

garlic

minced

1

tbsp

fresh lime juice

1½

tbsp

extra virgin olive oil

1

tsp

sea salt

½

tsp

apple cider vinegar
Instructions
Start by charring the whole pepper. If you have a gas hob you can hold it directly on the flame until the skin blackens and blisters. If you don't you can de-seed, slice it and roast it in the oven at a high heat until it is charred. Set aside

Remove the rind and core of the pineapple and cut it into slices. Grill in a dry pan on a medium high heat until you get dark charred marks. Set to one side

In the same pan, add the drained sweetcorn and char

In a bowl, add the lime juice, olive oil, sea salt and apple cider vinegar. Stir to combine

When the pepper has cooled enough, remove the skin and de-seed it if you haven't already. Dice and add to the bowl with the dressing

Dice the pineapple and tomatoes to a similar size to the pepper and add to the bowl along with the sliced spring onion and minced garlic and finely diced red chilli. Stir through
Recipe Notes
Keep in an airtight container in the fridge for 2-3 days.
Nutritional information is given as a guide only and my vary.
Nutrition Facts
Pineapple & Corn Salsa
Amount Per Serving
Calories 101
Calories from Fat 45
% Daily Value*
Fat 5g8%
Sodium 584mg25%
Potassium 128mg4%
Carbohydrates 7g2%
Protein 1g2%
Vitamin A 245IU5%
Vitamin C 51mg62%
Calcium 12mg1%
Iron 1mg6%
* Percent Daily Values are based on a 2000 calorie diet.