Mince Pies but without all the fiddly pastry! These Frangipane Mince Pie Slices have all the flavours you'd associate with mince pies but in a tray bake instead of an individual little pie.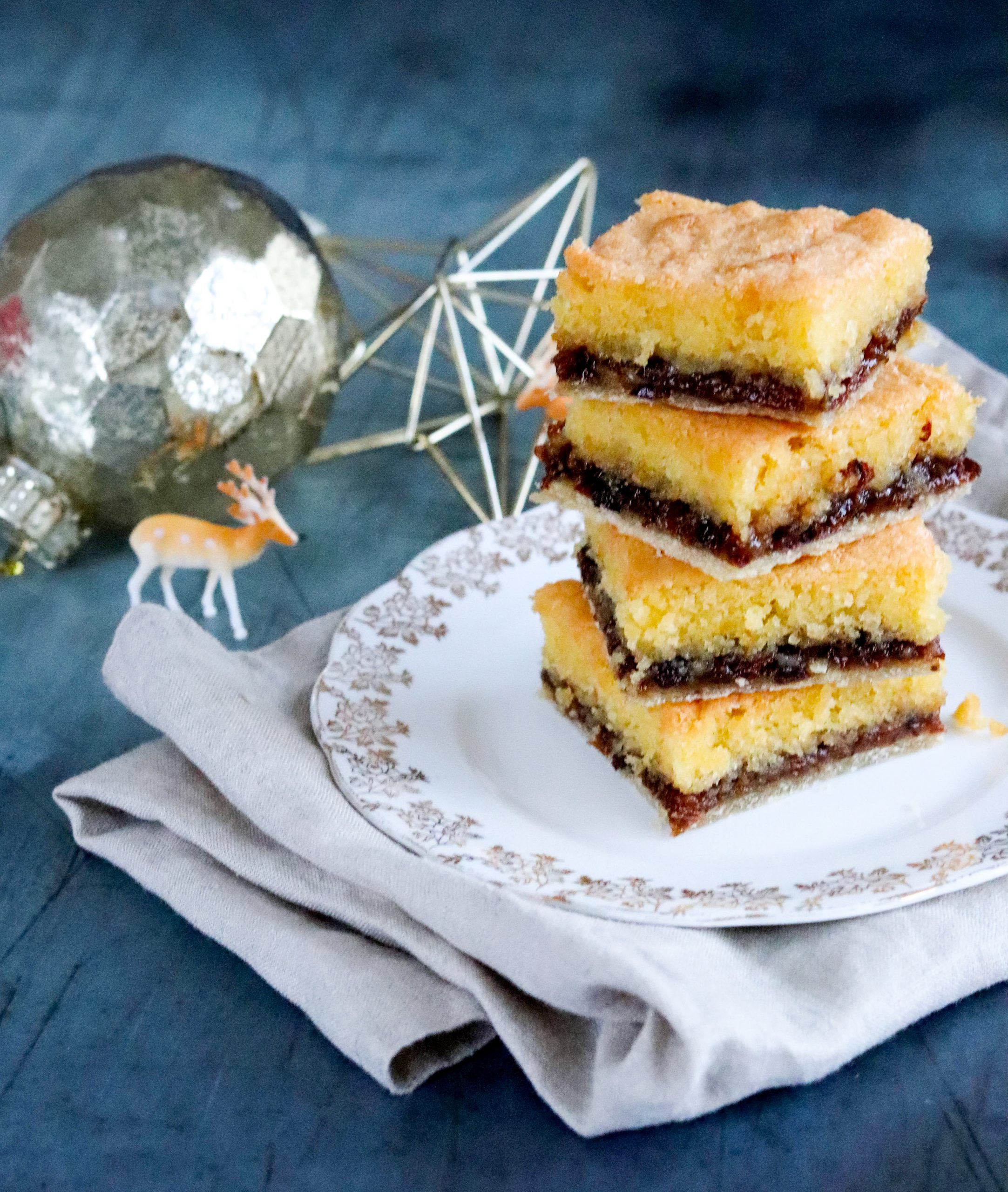 What is a mince pie?
Mince Pies may not be something you are aware of if you're not from the UK. They are little sweet pastry pies filled with mincemeat which is a sweet filling consisting of dried fruits, spices and spirits.
Although I love a mince pie, mincemeat does divide people and it's not everyone's thing! For me it isn't Christmas until the mince pies have been made.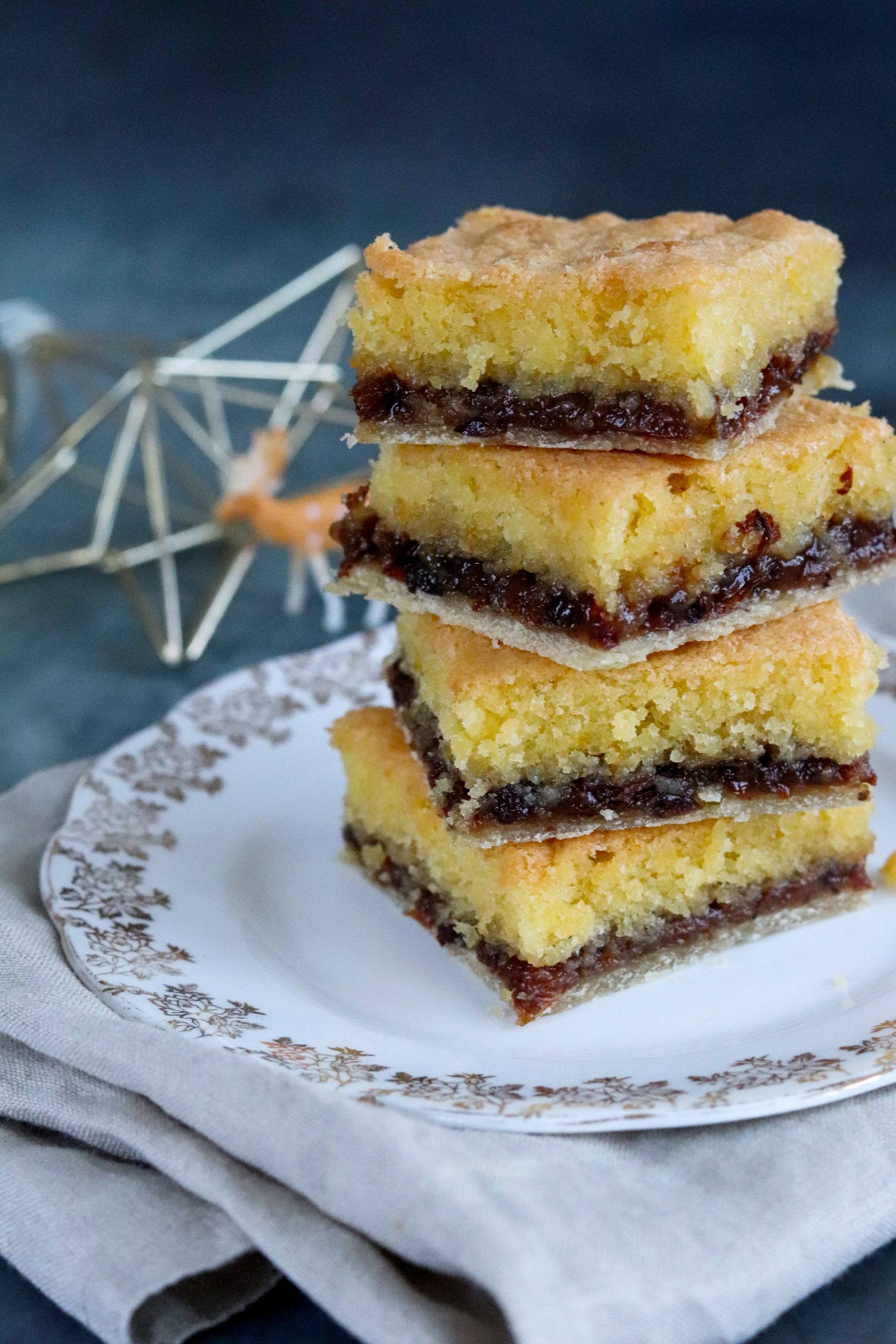 Making mince pies
The traditional way of making mince is a little fiddly as you have to cut out circles of pastry before filling with mincemeat and then topping with more pastry.
Maybe it is just me that finds making mince pies tedious? I love eating them but for some reason I really don't enjoy making them! That is unless they are my Crumble Topped Mince Pies which are quicker and easier than traditional mince pies.
This probably has something to do with me being greedy and always overfilling them so the mincemeat spills out and sticks to the tray.
At a time of year when there is always so much going on, a quicker version is always welcome!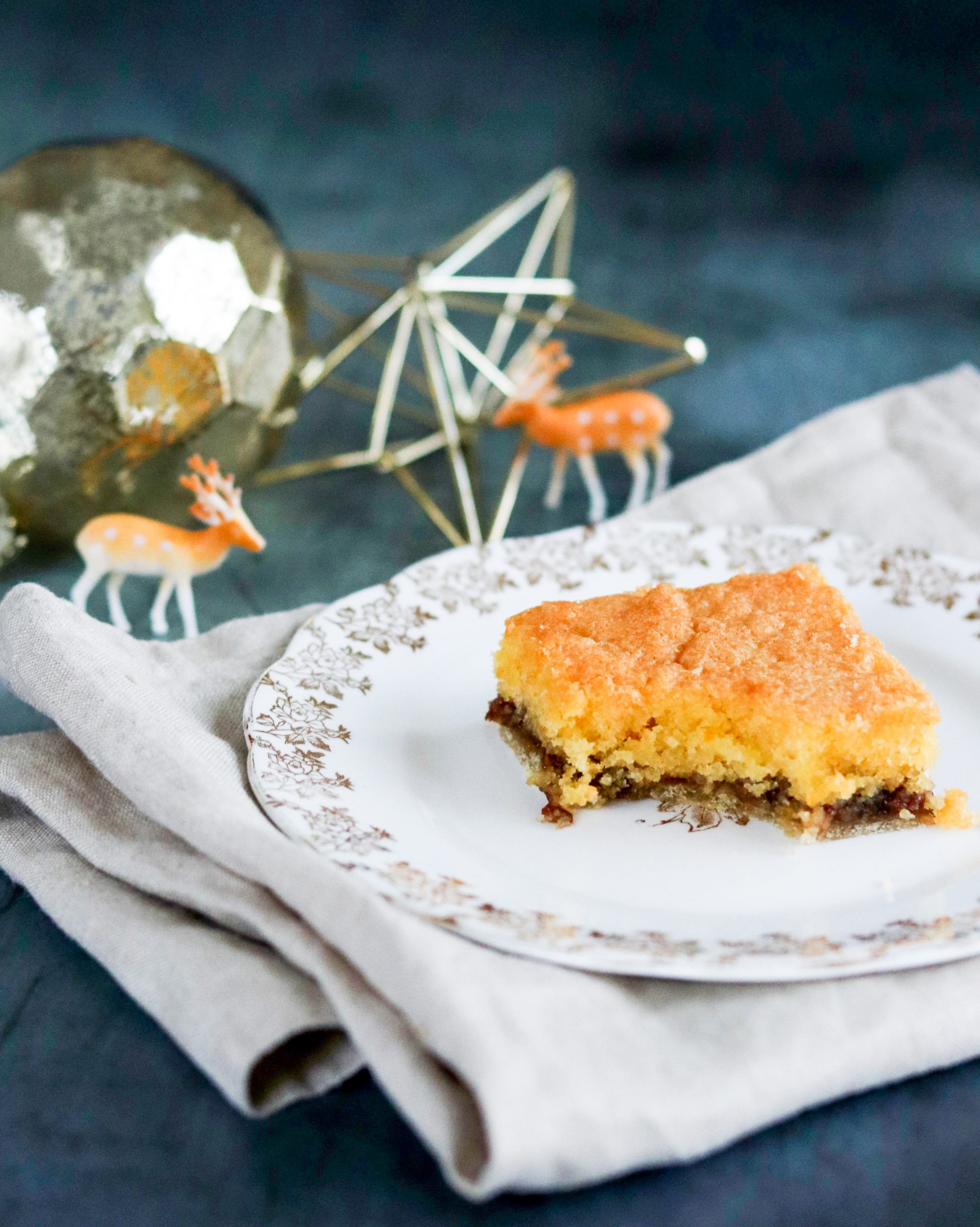 Frangipane Mince Pie Slices – Mince Pies in Tray Bake form
I thought about making a tray bake as a way to speed the mince pie process up. It is quicker, easier and the risk of mincemeat spilling out is far less than with mince pies!
I also decided to change things up a little and add a layer of frangipane to the top of the mincemeat and pastry.
My Mum used to make frangipane mince pies when I was growing up and they were always delicious so I took inspiration from her.
While you have your tray bake tin out, why not whip up a batch of my Mincemeat Christmas Flapjacks too?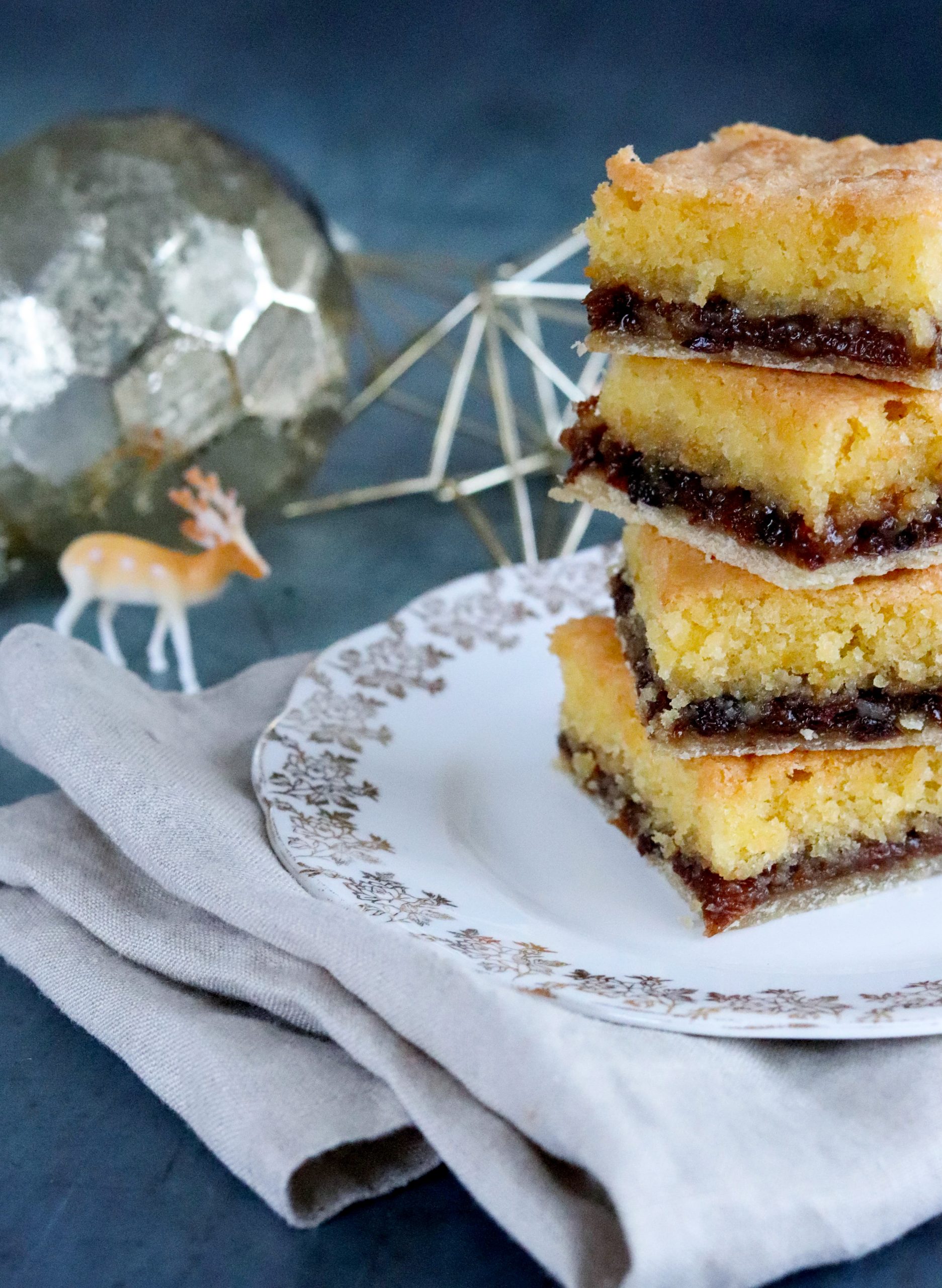 What is Frangipane?
Frangipane is a almond flavoured sponge that has a lovely sweet, nutty taste.
It is used in pastries, cakes and tarts. One of it's common uses is in Bakewell Slices or tarts.
The almond flavour of the frangipane works really well with the fruits and spices in the mincemeat.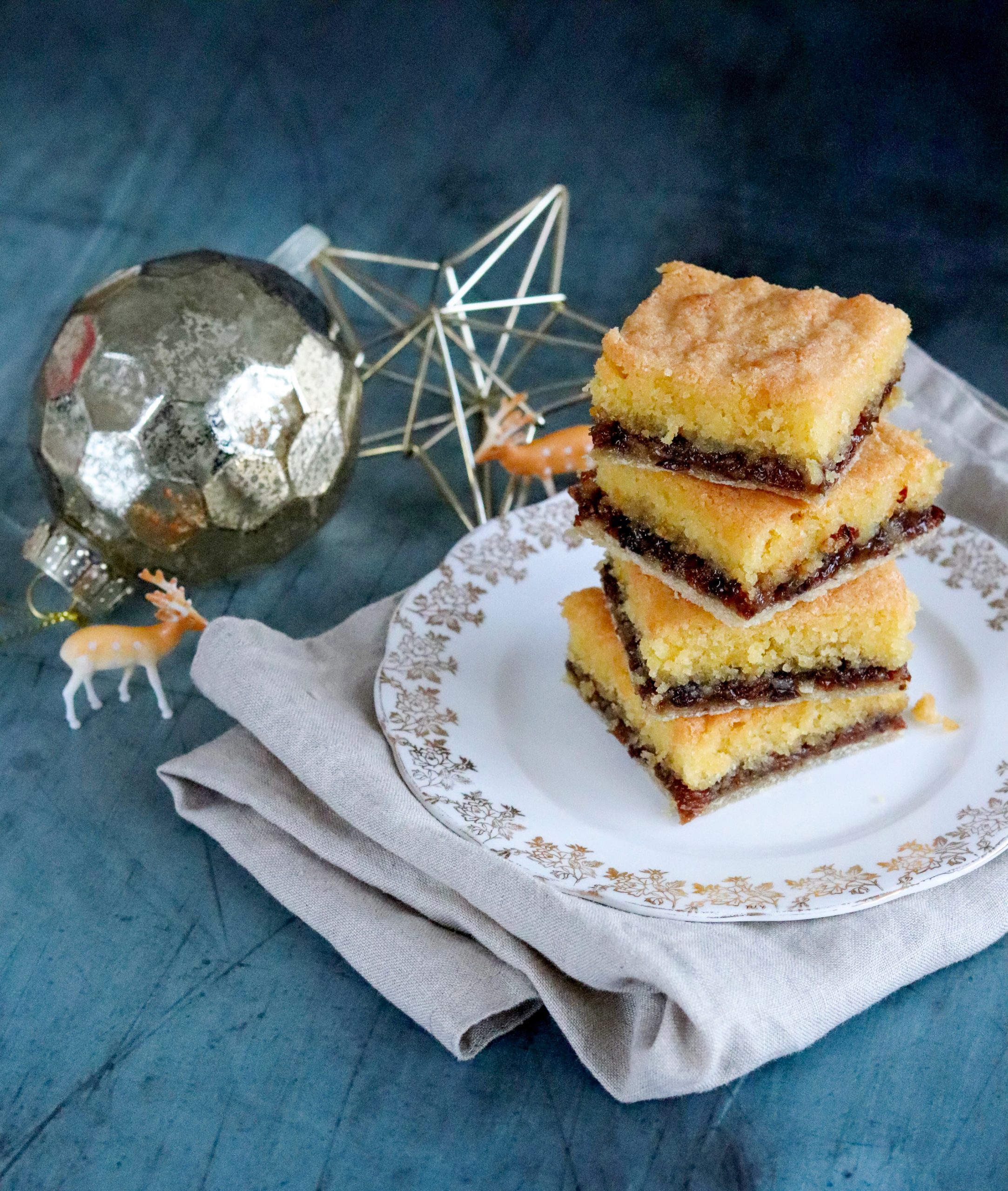 Which mincemeat is best to use?
I would always recommend making my Quick Mincemeat because it is so delicious and easy to make. You can make a batch and have it ready to make festive treats.
I don't think there is anything wrong with using shop bought mincemeat. This is what most people tend to do and it is convenient.
I would recommend trying to choose a good quality mincemeat. There are quite a few choices; the fruits and spirits use vary and some may even include nuts. Pick one that appeals to you.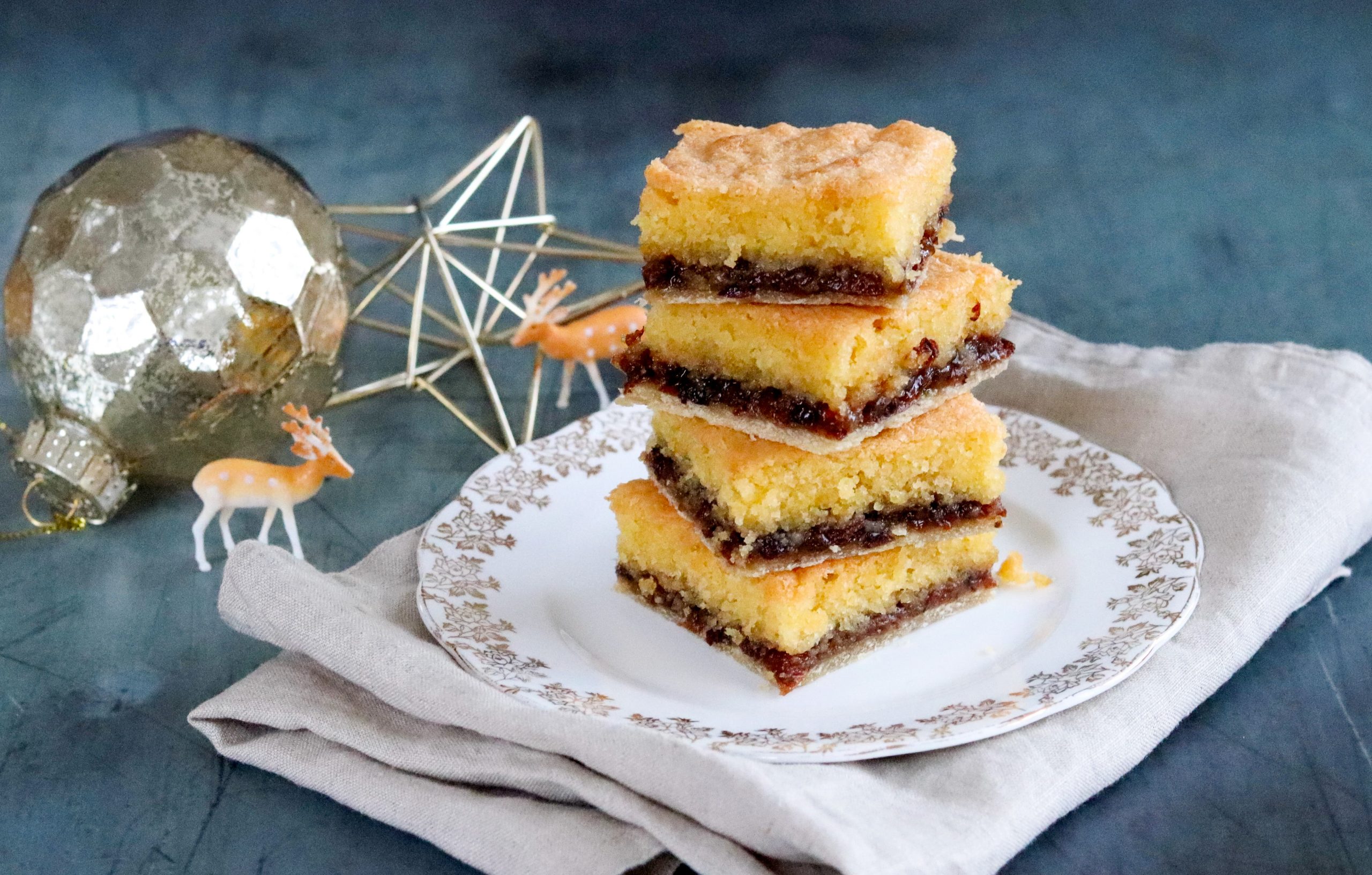 Pastry isn't as tricky as you might think
Being completely honest, pastry is not my strong point. For some reason I completely lack the ability to roll pastry out in anything that resembles a rectangle.
This is why I use shop bought ready-rolled pastry in a lot of recipes. However it is really simple to make your own for these.
Don't be scared about making your own pastry for these Mince Pie Slices. And if like me, you struggle to roll out perfect rectangles don't let that worry you.
You can always patch the pastry together so no one will know if it's not perfect. Also no one is going to inspect the bottom of your slices that closely anyway!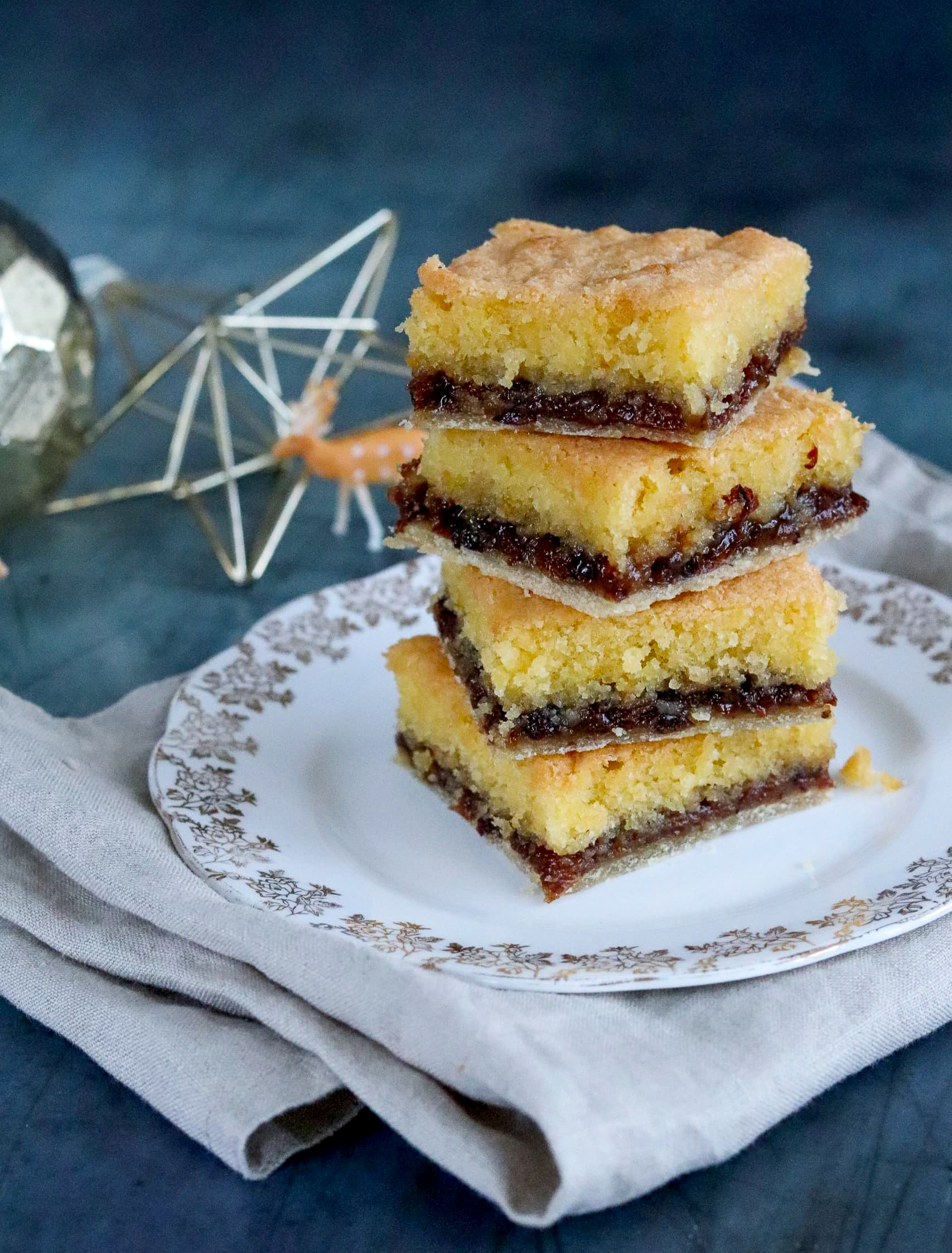 Customise these Mince Pie Slices
I like to add almond extract to the frangipane to enhance the almond flavour further. If you don't have this, you can leave it out no problem.
I have also added some orange zest because I love the citrus burst it brings. Again if you don't have an orange, they will still be delicious without it.
As I have mentioned before, I am greedy and like a thick layer or mincemeat. If you would prefer less, you can absolutely add less.
If you have some flaked almonds, you could scatter some of these over the top of the frangipane before putting it in the oven.
How many slices does this recipe make?
That depends entirely how big you want to cut them!
I tend to cut them into 24 squares because I think this is a similar size to a mince pie. You can cut them smaller or larger if you prefer.
You can also cut them into rectangles instead of squares if you prefer.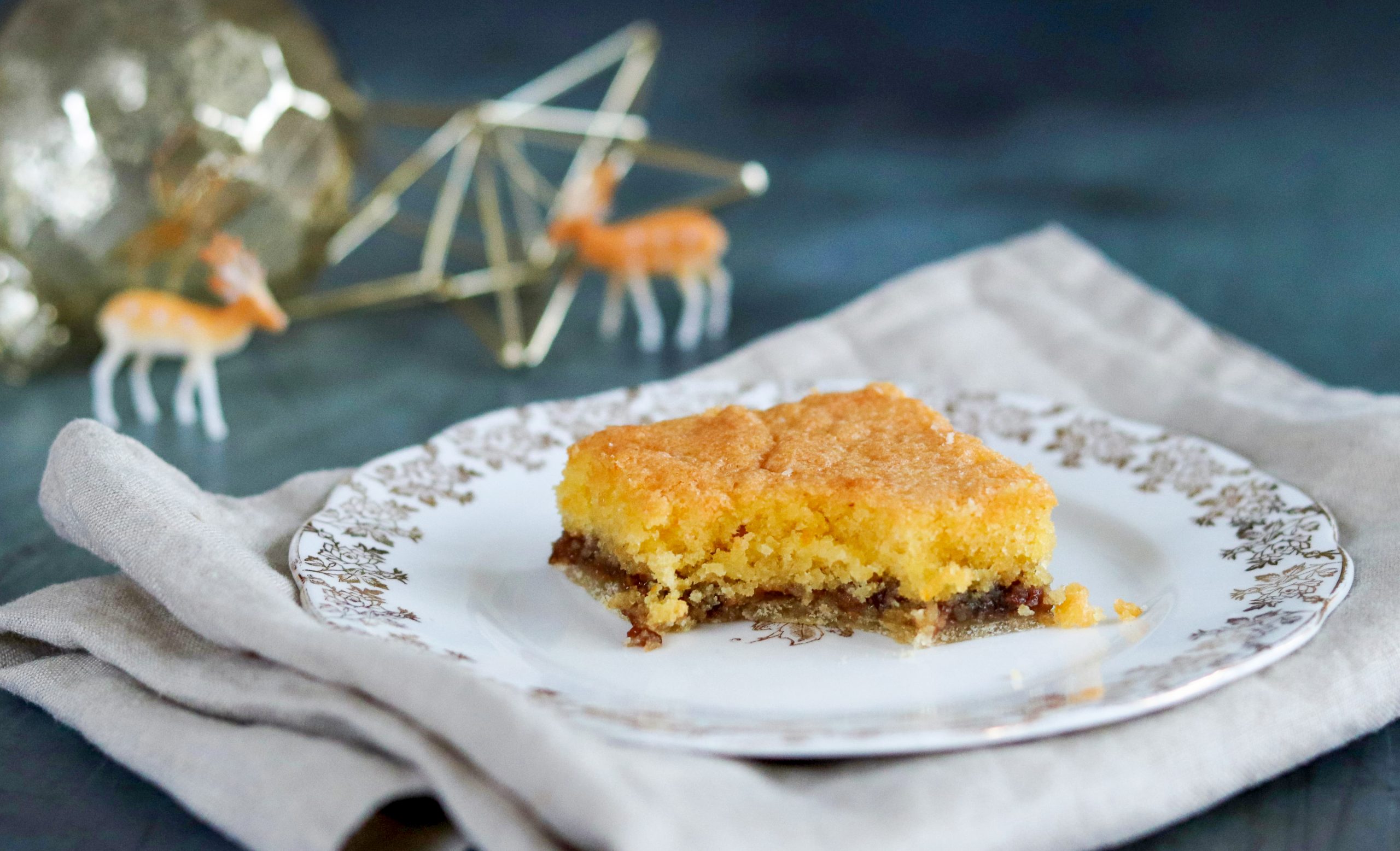 Are these suitable for vegetarians?
Despite the name, mincemeat doesn't actually have any meat in it!
Most mincemeat that you buy uses vegetarian suet so it is suitable for vegetarians. I would just recommend checking the ingredients to make sure.
How long do these Frangipane Mince Pie Slices keep for?
These Mince Pie Slices will keep in an airtight container for 3-4 days.
If you would like them to keep longer or would like to make them in advance you can freeze them.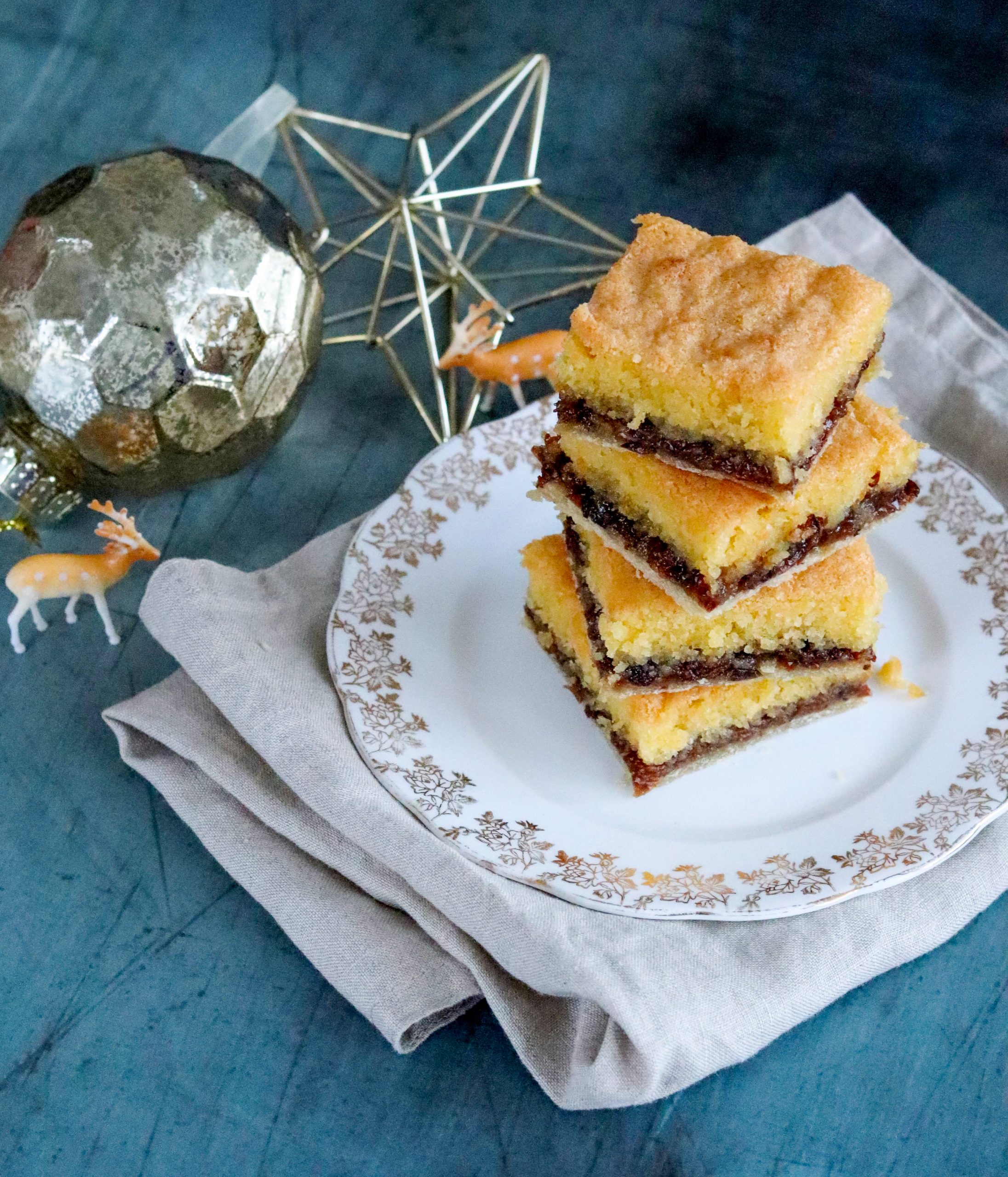 Can these be frozen?
These Frangipane Mince Pie Slices freeze really well so make a batch and freeze some ready to whip out the night before you have guests coming.
You will then have a lovely home baked treat for your guests without any last minute stress!
Cook them as per the instructions below and allow them to cook. Stack them in a container with parchment paper in between to prevent them sticking.
When you want to serve them, allow them to defrost at room temperature for a few hours.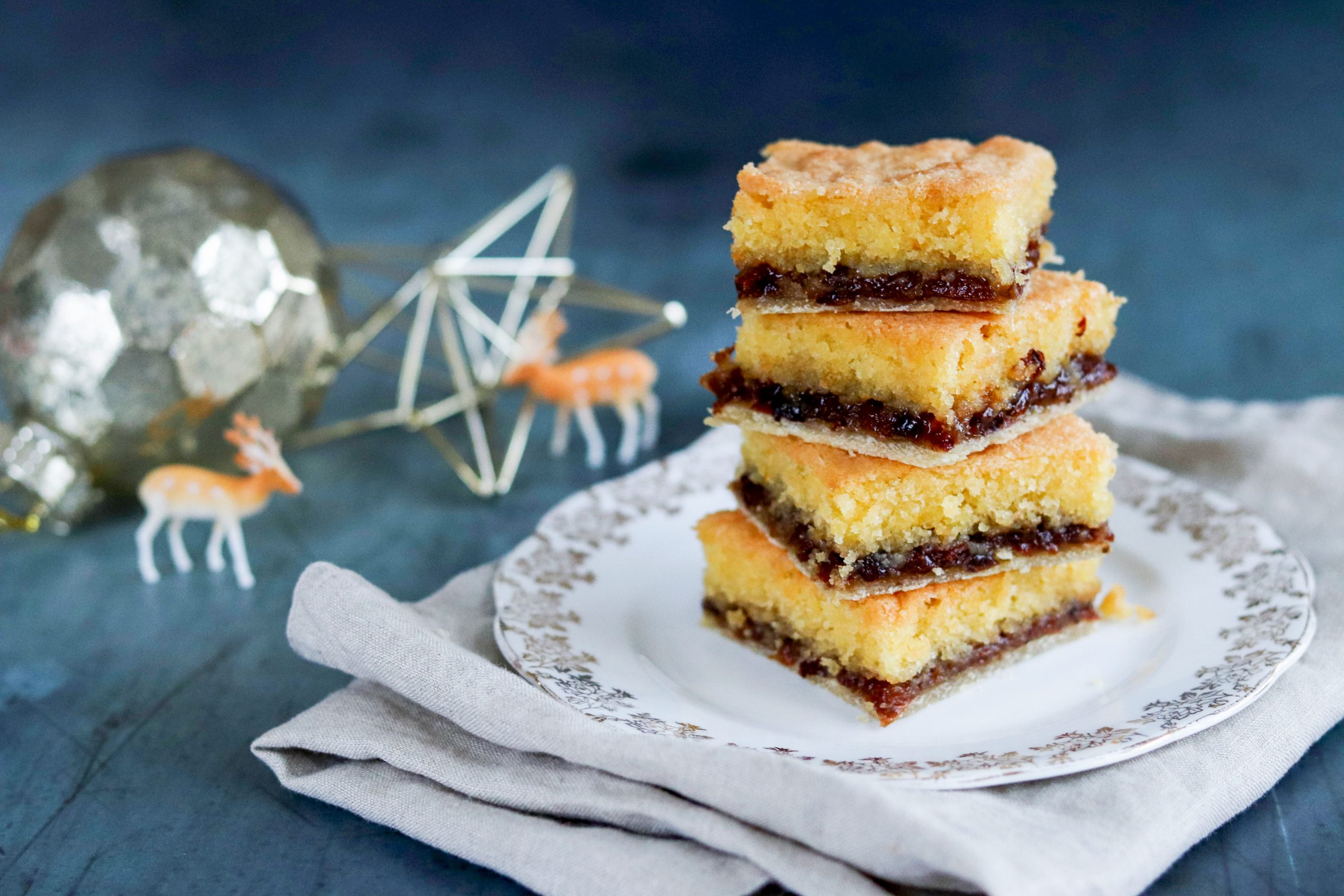 Other recipes you might like
Pin for later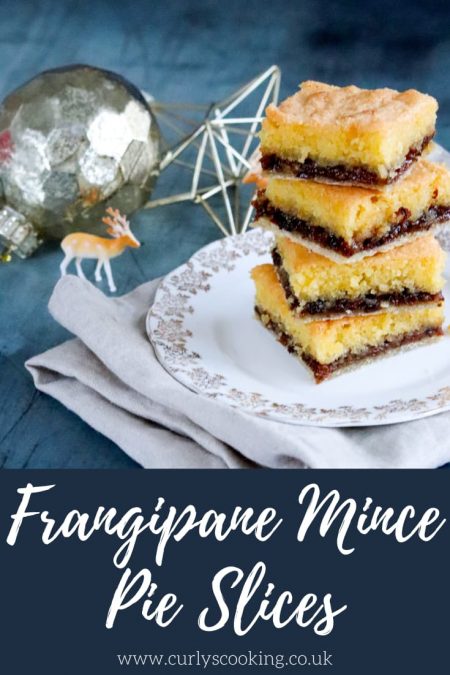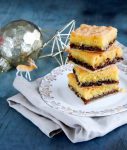 Frangipane Mince Pie Slices
Mince Pies but without all the fiddly pastry! These Frangipane Mince Pie Slices have all the flavours you'd associate with mince pies but in a tray bake instead of an individual little pie.
Ingredients
For the pastry
175

g

plain flour

75

g

unsalted butter

2-3

tbsp

cold water
For the frangipane
150

g

margarine

150

g

caster sugar

60

g

plain flour

90

g

ground almonds

3

medium

eggs

¼

tsp

almond extract

1

orange zested
Instructions
For the pastry, measure the flour into a bowl and rub in the butter with your fingertips until the mixture resembles fine breadcrumbs

Add enough water to form a soft dough. Add it gradually because you might not need to add all three tablespoons

Preheat the oven to 160°C (fan assisted, 180°C non fan). Roll the dough out on a slightly floured surface and line the bottom of a 33x24cm tin with it

In another bowl cream the butter and sugar until light and fluffy. Add the rest of the frangipane ingredients and mix until combined

Spread the mincemeat evenly across the pastry making sure you get right to the edges

Dot spoonfuls of the frangipane on top of the mincemeat and spread evenly across the mincemeat

Bake in the oven for 30 minutes and then allow to cool in the tin for 10 minutes or so before turning out onto to wire rack to cool completely

Cut into 24 equal squares
Recipe Notes
Nutritional information is given as a guide only.
Nutrition Facts
Frangipane Mince Pie Slices
Amount Per Serving
Calories 219
Calories from Fat 90
% Daily Value*
Fat 10g15%
Cholesterol 27mg9%
Sodium 183mg8%
Potassium 20mg1%
Carbohydrates 30g10%
Protein 3g6%
Vitamin A 330IU7%
Calcium 15mg2%
Iron 0.7mg4%
* Percent Daily Values are based on a 2000 calorie diet.