All-butter puff pastry filled with deliciously rich egg custard flavoured with vanilla is my idea of heaven – I love these Pasteis de Nata!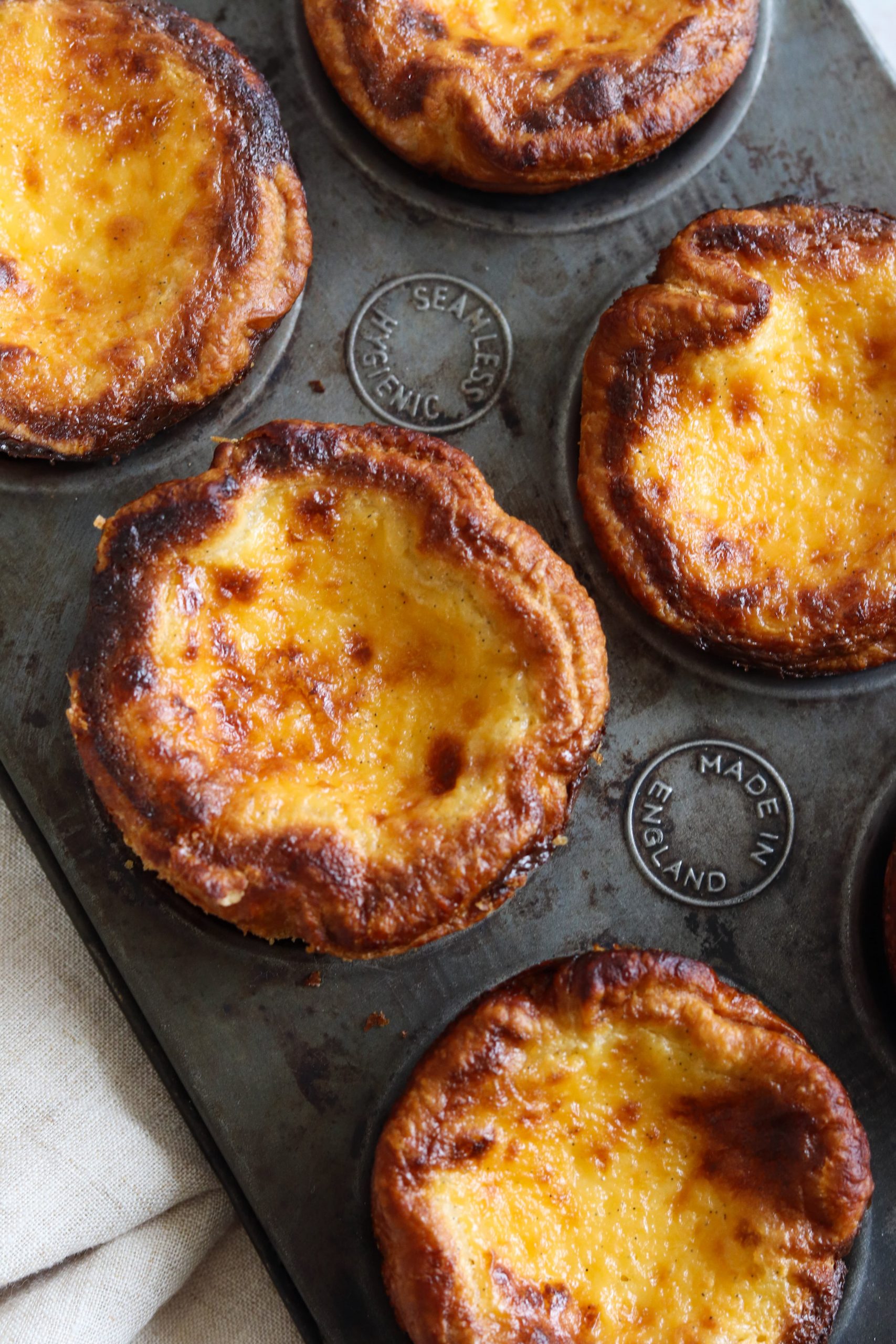 What are Pasteis de Nata?
Pasteis de Nata are incredibly delicious Portuguese egg custard tarts. They are soft and rich egg custard encased in crisp buttery pastry. Pure heaven.
Although Pasteis de Nata or Portuguese Custard Tarts can be found all over Portugal, they originate in the Belem region of Lisbon. One particular café is so popular that Pasteis de Nata are sometimes referred to as Pasteis de Belem after the café.
On a trip to Lisbon a few years ago with my friend, we sampled as many Pasteis de Nata as we could. They are so delicious and definitely something I think people should replicate at home.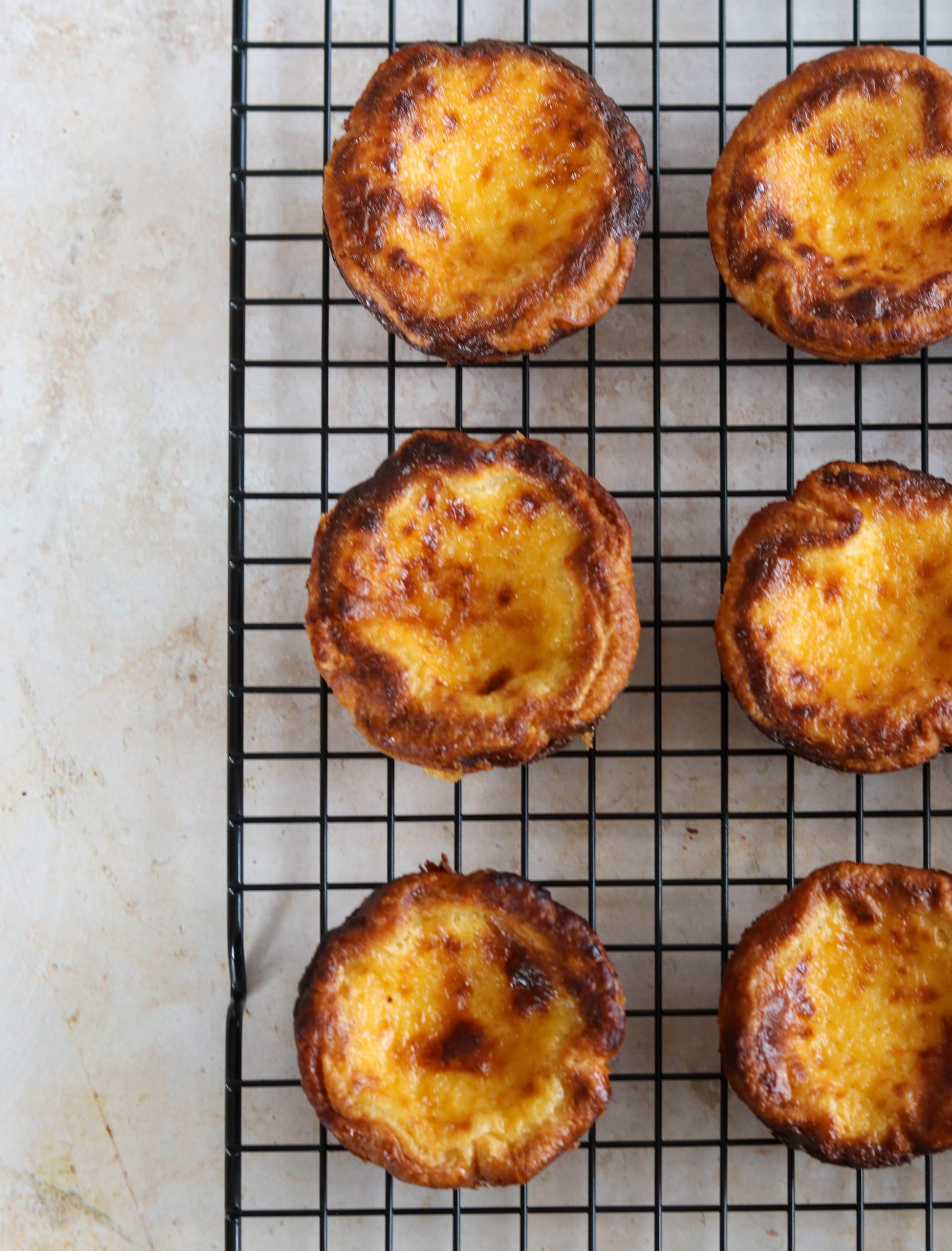 Finding the right recipe
Mr Curly's Aunt found this Pasteis de Nata recipe and it is so tasty it is the one I have always used. It isn't my recipe, it is from the Guardian website.
The original write up of the recipe is quite brief, so hopefully the additional tips I provide will be of use to some people!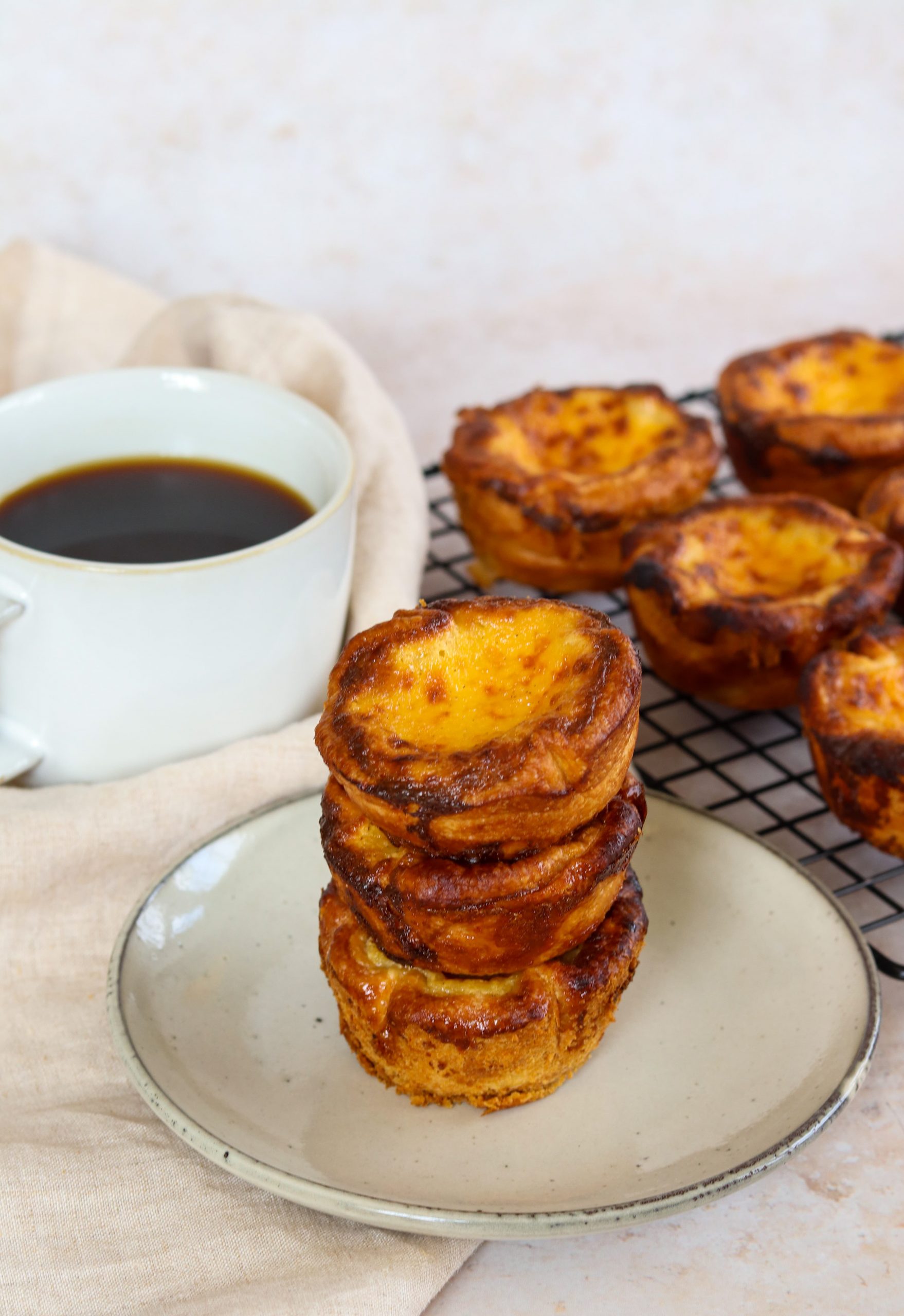 Is it cheating using ready made pastry?
Definitely not; more often than not I use ready made pastry because it is super convenient and easy.
I also take it a step further and use ready rolled pastry because this makes my life so much easier. I am not blessed with the skills of rolling pastry into a perfect rectangle. So ready rolled pastry is a huge timesaver for me.
You can of course make your own puff pastry for these Pasteis de Nata if you would like.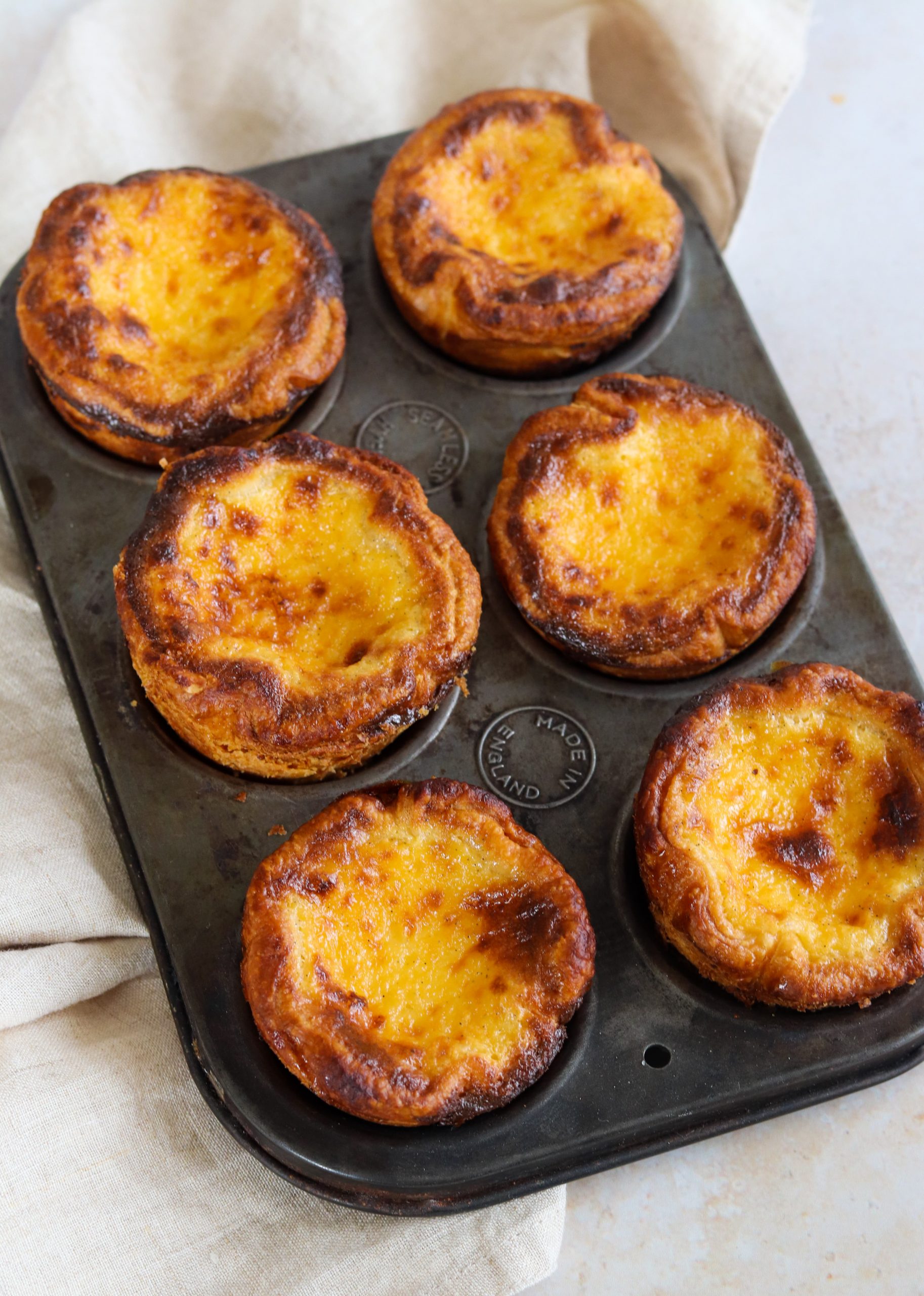 Do you have to use all-butter puff pastry?
I think Pasties de Nata are the perfect time to go all out and use all-butter puff pastry. Due to the higher level of butter it makes these extra indulgent.
All-butter puff pastry doesn't seem to be as readily available here in the UK. It isn't available in all supermarkets but I do know you can buy it in Sainsburys and Waitrose.
If you can't find all-butter puff pastry, or don't want to go searching for it; you can use standard puff pastry.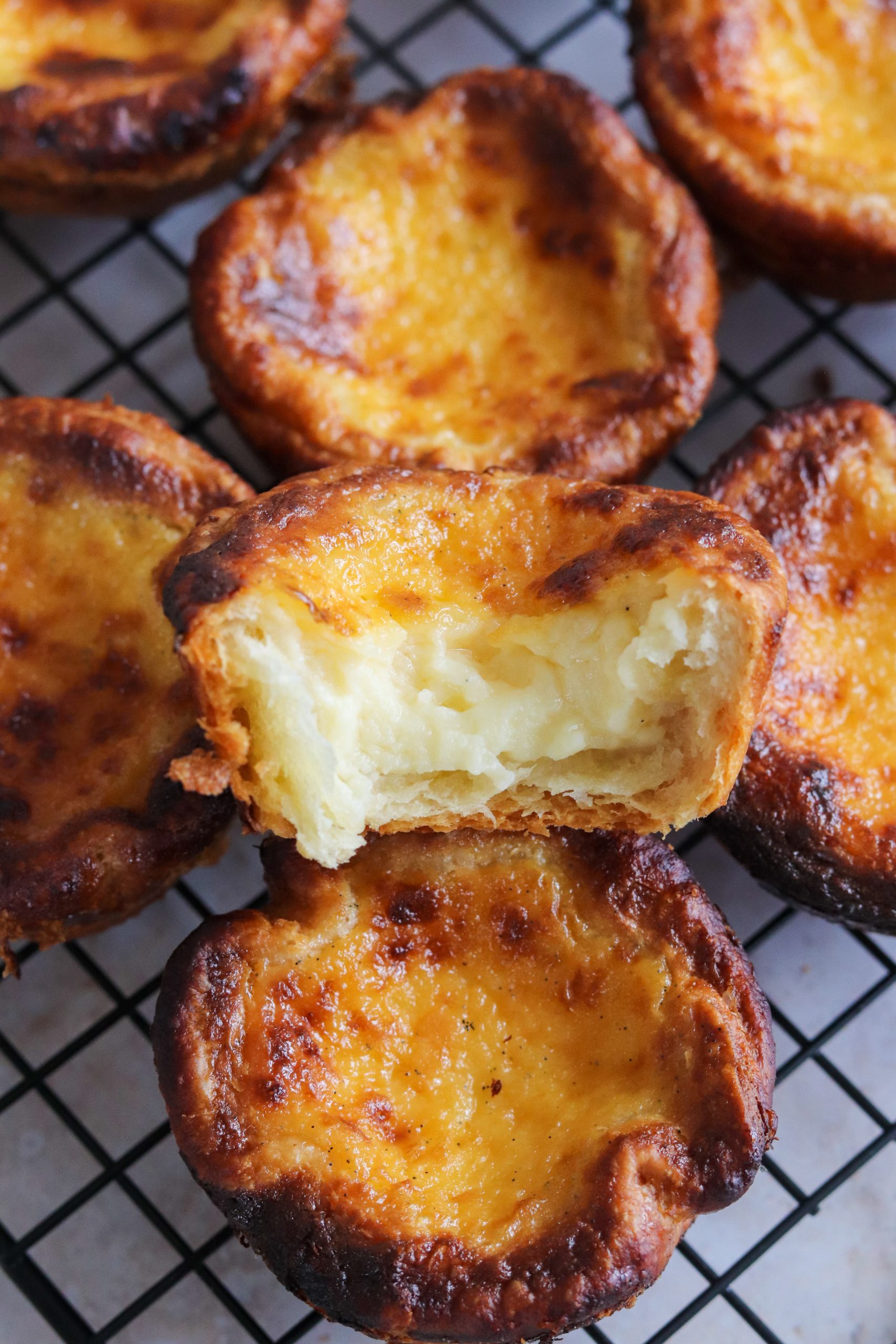 Tips for working with pastry
Pastry can be a little daunting to some people, but there is nothing to be scared of!
The main piece of advice to remember for this recipe is to chill your pastry. All-butter puff pastry tends to be a bit stickier to work with. If it starts to stick or look like it is melting slightly just put it in the fridge for a couple of minutes to firm up again.
Chilling the muffin tin helps to keep the pastry cold, but before you get to this stage you can take a break and chill your pastry.
I wouldn't recommend putting the pastry in the freezer to chill. This is likely to chill it too much and may alter the texture of the pastry.
Don't worry about making sure you roll the pastry to exactly 11cm in diameter. It is just a rough estimate of the size you need.
Also don't worry if you get folds in the pastry when you drape it into the muffin tins. Folds are normal and will add to the look of the finished pastries.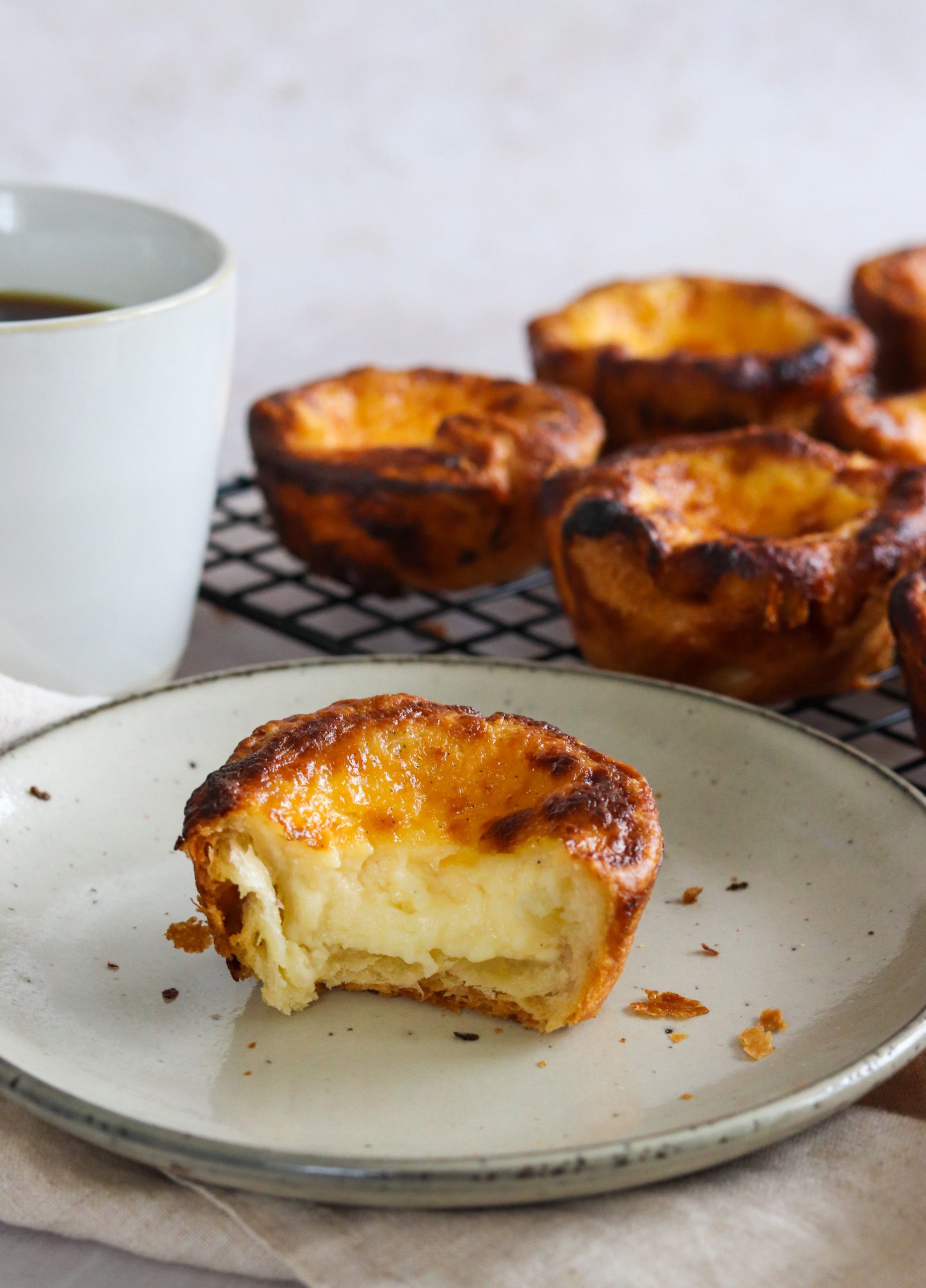 Which vanilla is best to use?
Vanilla pods are traditionally used in Pasteis de Nata. They add an unbeatable flavour to the custard.
They are a little bit more expensive than other types of vanilla, but I think it is worth pushing the boat out for something like these tarts. You can find vanilla pods in most large supermarkets in the baking aisle.
If you don't have vanilla pods, you can use vanilla bean paste. I would use ½ tsp if you are using this instead.
I wouldn't recommend using vanilla extract for these tarts. There are instances when it is best to splash out a little and this is definitely one of those occasions.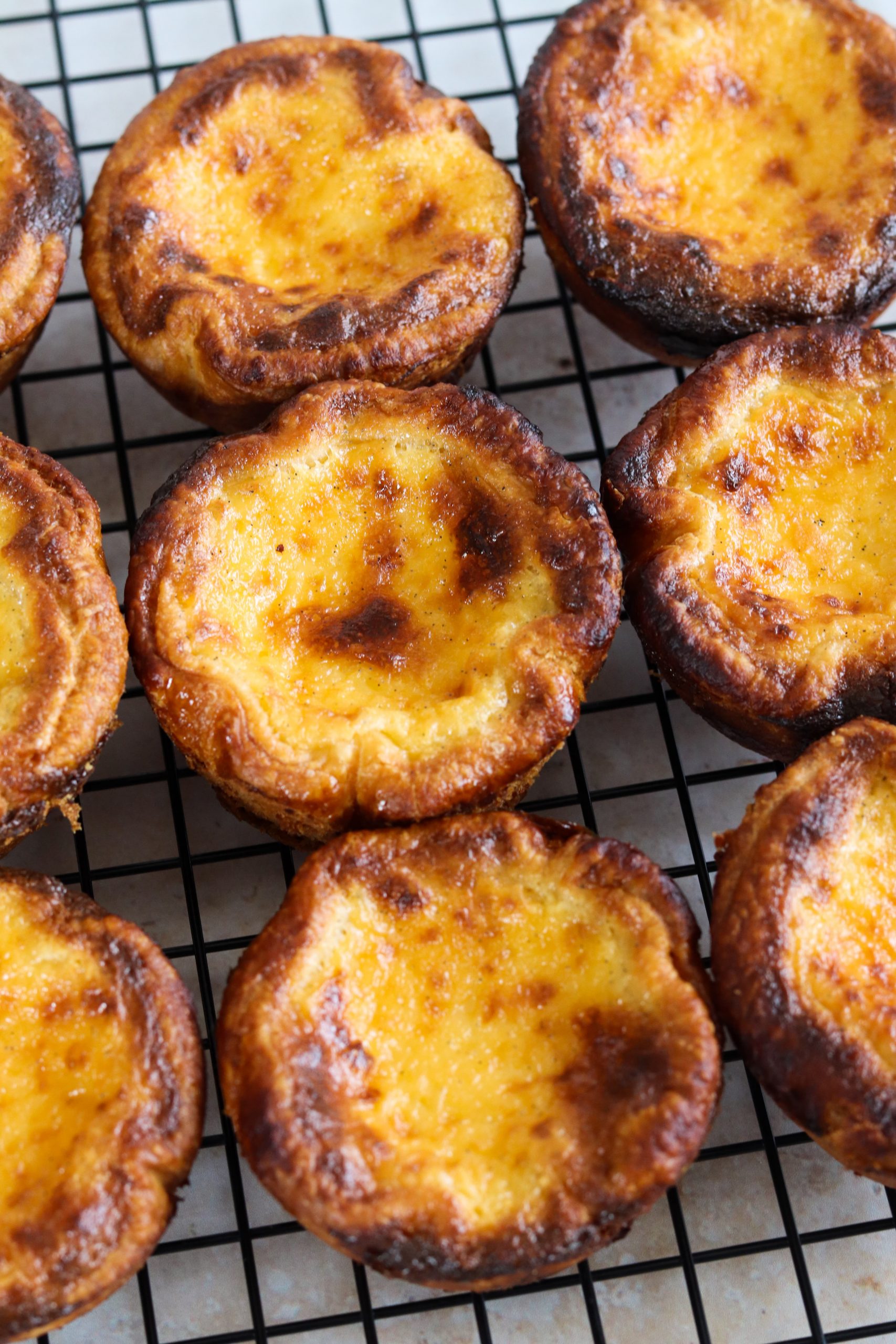 How to eat pasteis de nata
These Portuguese custard tarts are best eaten when they are warm. The pastry is crisp and brittle and the custard is warm and silky.
It is quite common in Lisbon to sprinkle cinnamon and sometimes icing sugar on top. Although my friend's Portuguese husband has recommended I try cinnamon, I am still yet to try this! How do you eat yours?
If you aren't eating them on the day they are baked, I would recommend reheating them. The easiest way to do this is for 30 seconds or so in the microwave. However this does make the pastry less crisp.
You can also reheat them in the oven for around 5 minutes until they are warmed through.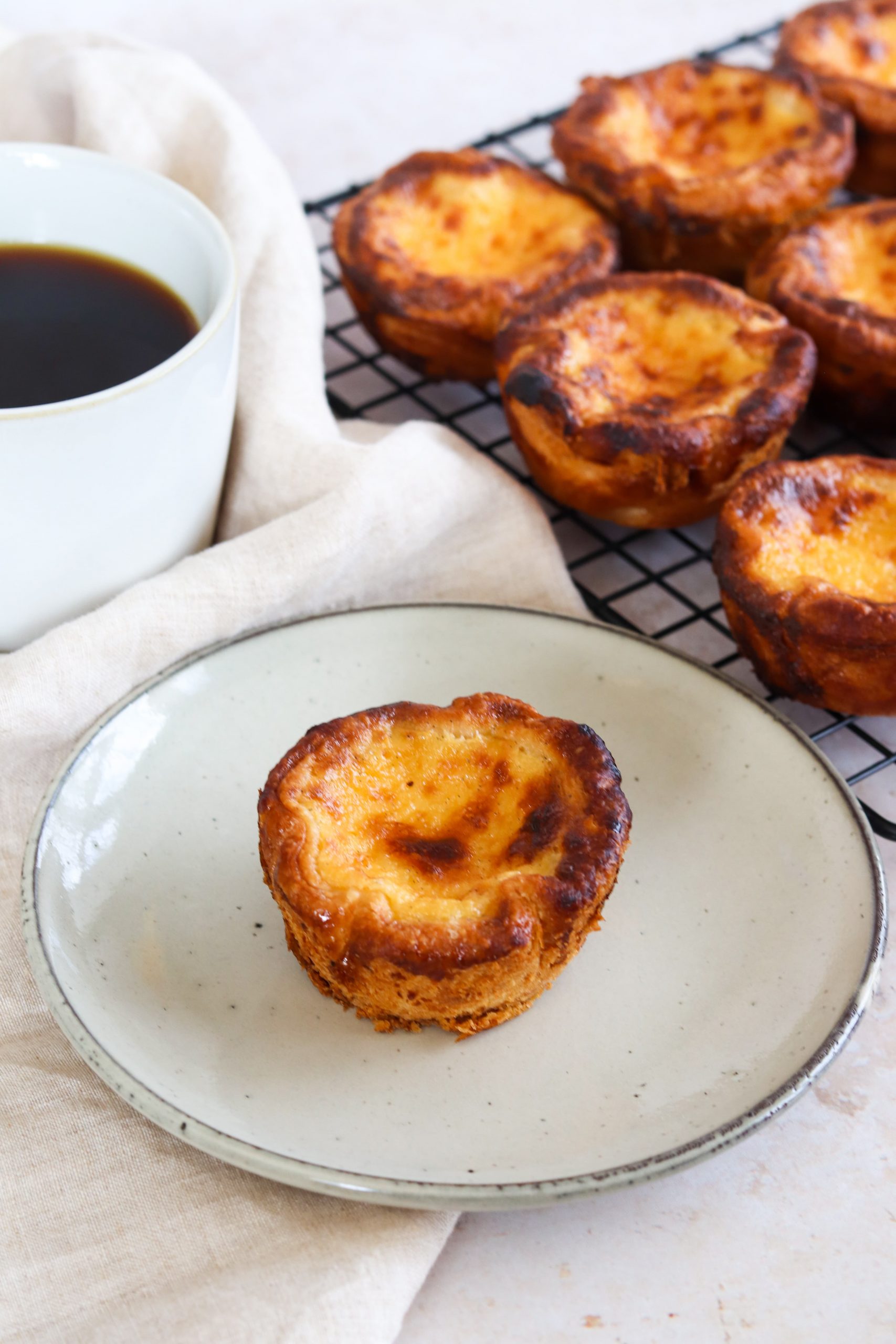 What to do with the leftover egg whites?
This recipe requires three egg yolks for the rich egg custard so you will have egg whites leftover.
Here are some suggestions of what you could make with the egg whites: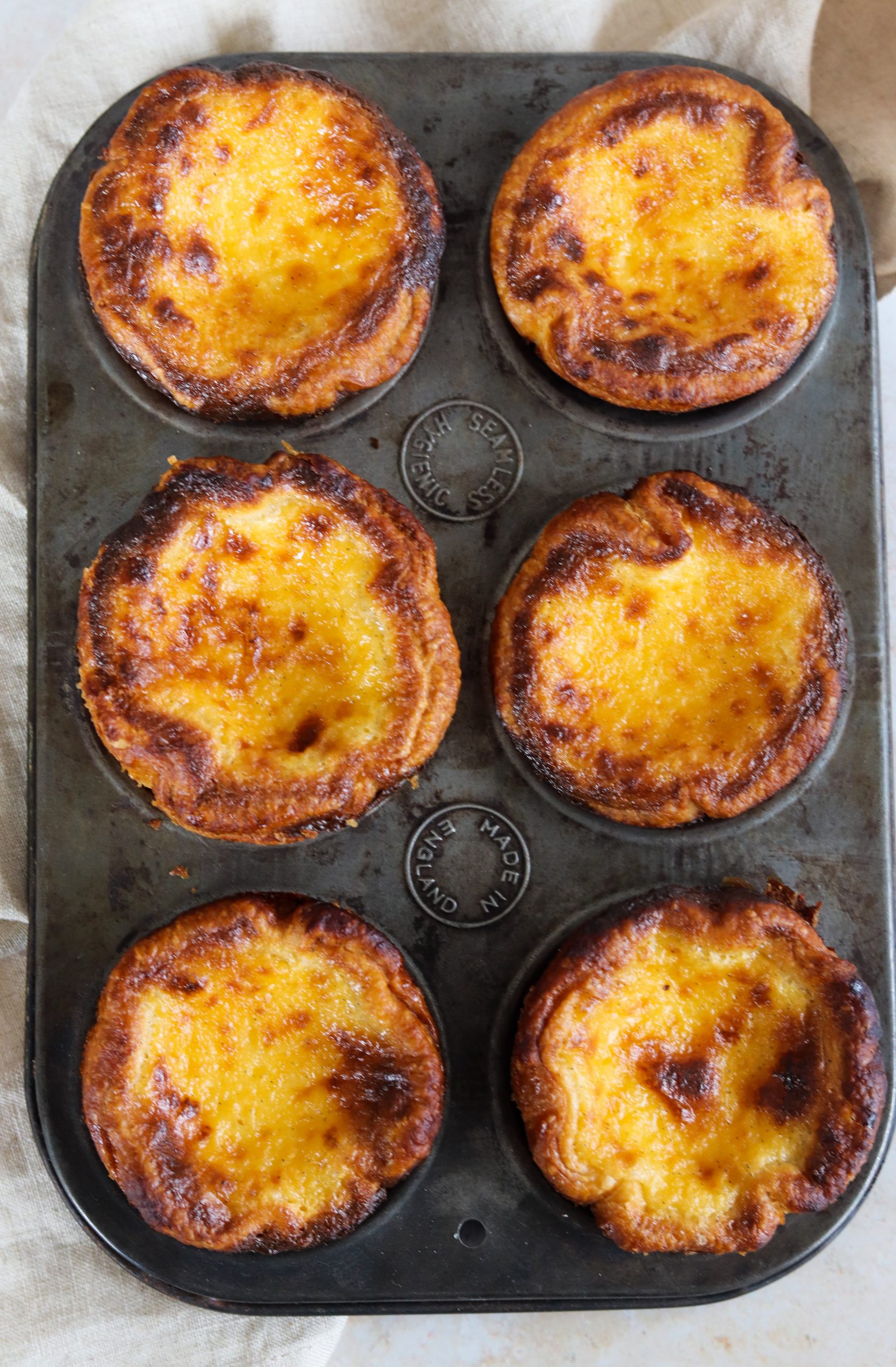 Making these tarts gluten free
It is very simple to make these Pasteis de Nata gluten free.
You will need to swap the pastry to gluten free puff pastry. I don't think you can buy all-butter gluten free puff pastry so the standard version will work absolutely fine.
This recipe includes cornflour, but that is suitable for gluten free diets as are the rest of the ingredients.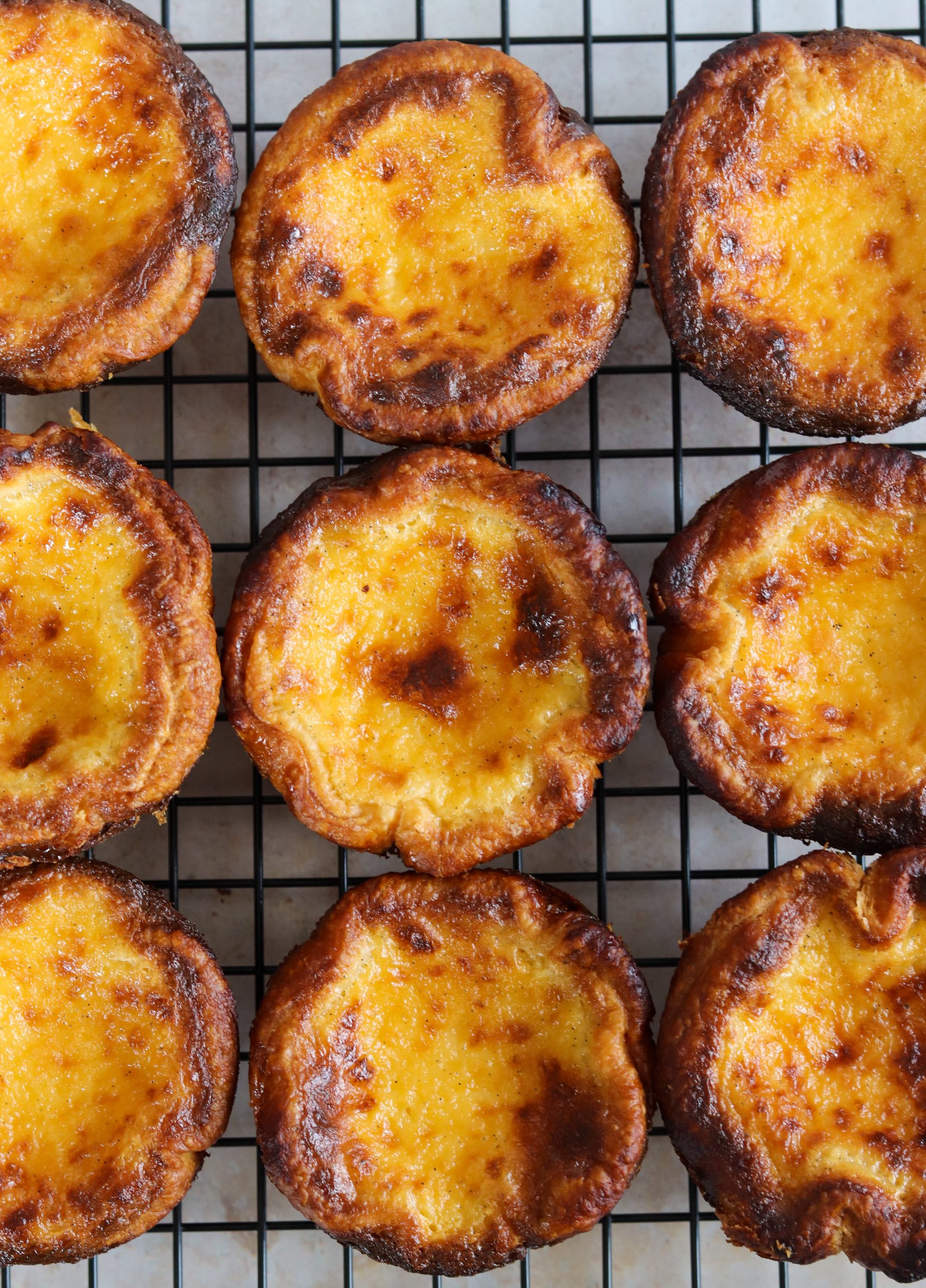 How long will these pasties de nata keep for?
Although I don't recommend eating these cold, I do recommend keeping them in the fridge.
As they are custard, it really is best to keep these tarts in the fridge in an airtight container. They will keep for 2-3 days.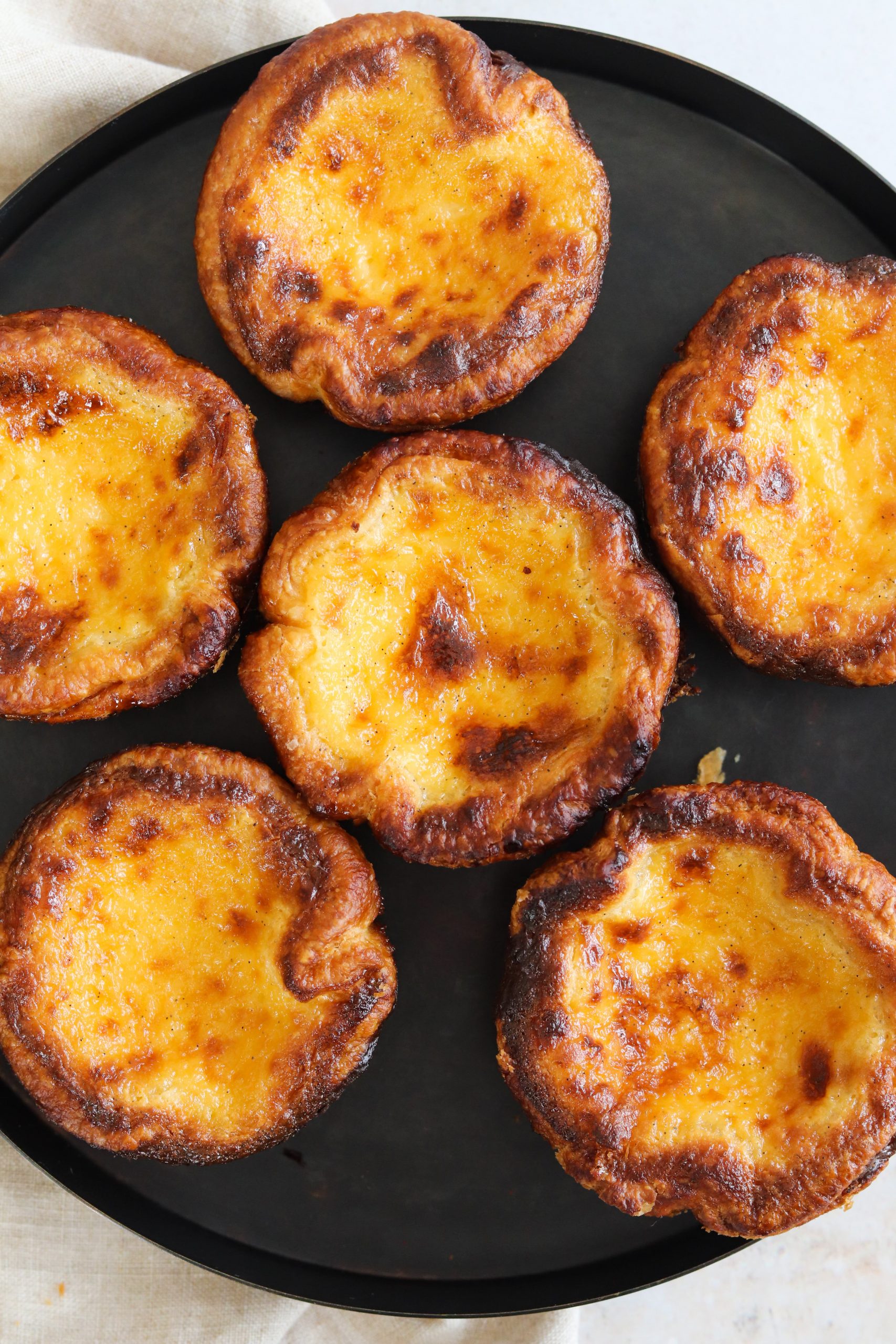 Other recipes you might like
Pin for later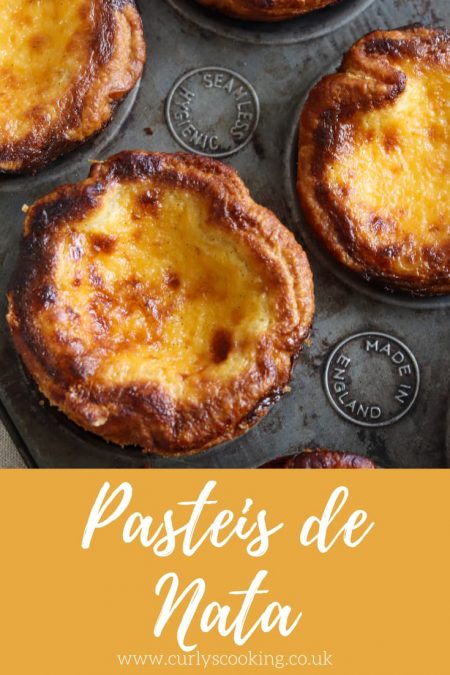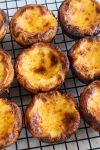 Pasteis de Nata
All-butter puff pastry filled with deliciously rich egg custard flavoured with vanilla is my idea of heaven – I love these Pasteis de Nata!
Ingredients
375

g

pre-rolled all-butter pastry

3

egg yolks

100

g

caster sugar

2

tbsp

cornflour

200

ml

single cream

250

ml

whole milk

+ 1 tbsp

½

vanilla pod

Spray oil for greasing

Icing sugar for dusting
Instructions
Preheat the oven to 200ºC (fan assisted, 210°C non fan). Grease a 12 hole muffin tray and put in the freezer

Take 375g pre-rolled all butter pastry straight from the fridge and dust with icing sugar. Roll along the longest side into a tight log

Cut the log into 12 equal sized pieces

Dust each section with icing sugar and stand it on its end so you can see the rolls in the pastry. Roll each piece of pastry into a circle roughly 11cm across

Push each round into the muffin tray, it doesn't have to be flat around the edges as they are meant to have folds in the pastry. Put the tray in the fridge

Whisk three egg yolks and 100g caster sugar in a large bowl until creamy

Mix 2 tbsp cornflour with a 1 tbsp of milk and then whisk into the egg yolks. It has an unusual consistency

Add 200 ml single cream, 250ml whole milk and the seeds from ½ vanilla pod to a pan and heat until almost boiling

Remove from the heat and whisk slowly into the yolks adding a small amount of the hot milk mixture at a time

Pour the mixture back into the pan and heat gently for three minutes, stirring continuously

Pour into the pastry cases and bake for 25-30 minutes until the pastry is golden and dark spots appear on the custard

Allow to cool slightly before removing from the tin
Recipe Notes
Keep in an airtight container in the fridge for 2-3 days.
Nutritional information is given as a guide only and may vary.
Nutrition Facts
Pasteis de Nata
Amount Per Serving
Calories 269
Calories from Fat 63
% Daily Value*
Fat 7g11%
Cholesterol 69mg23%
Sodium 17mg1%
Potassium 49mg1%
Carbohydrates 11g4%
Protein 2g4%
Vitamin A 267IU5%
Vitamin C 1mg1%
Calcium 41mg4%
Iron 1mg6%
* Percent Daily Values are based on a 2000 calorie diet.