These Baked Chipotle Wedges are the perfect side dish to so many meals. Crisp on the outside and fluffy within with a slight heat, these wedges are delicious.

Do you prefer wedges or chips?
Wedges are a firm favourite in our house. Mr Curly would always prefer to have wedges instead of chips. This is perfectly fine with me as they are so easy to make.
Don't get me wrong, chips aren't hard to make, but they tend to use peeled potatoes. Wedges have always been my preference to make because peeling potatoes has to be one of my least favourite kitchen jobs.
Apart from being quicker by not peeling the potatoes, I also like the flavour of the skin. I'm one of those people that likes crisp skin on my baked potato and I can't understand the people that don't eat the skin at all!
If you prefer chips, you can easily turn these Baked Chipotle Wedges into chips. You can decide whether you would like to peel the potatoes or leave the skin on.
Depending on how thin you cut the chips may affect the cooking time so bear this in mind.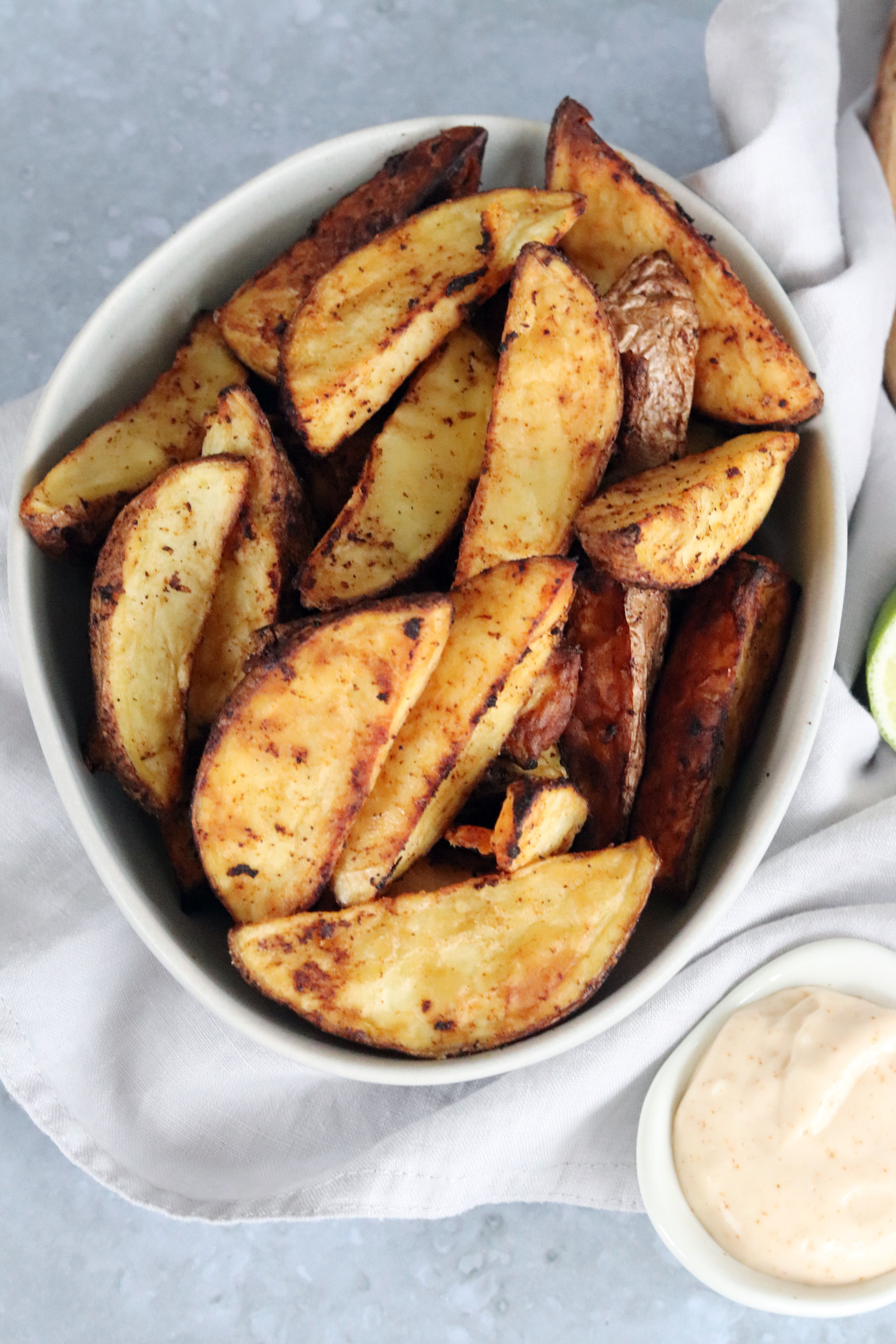 Baked Chipotle Wedges are a healthier option
These wedges are a delicious and healthier option because they are baked. By coating them in a small amount of oil before you lay them on the baking tray, you are reducing the amount of oil used.
In the past I have made wedges by drizzling oil straight from the bottle onto the wedges. This tends to mean you get more oil than needed a lot of the time.
By tossing them in the oil it also helps the spices stick which means you get a more even coating.
Which potatoes are best to use?
For wedges you are looking for a fluffy inside but a crisp outside.
The best potatoes for this is are Maris Piper, King Edward or Yukon Gold because they are floury. Waxy potatoes and new potatoes won't be able to provide the fluffy inside that we are looking for.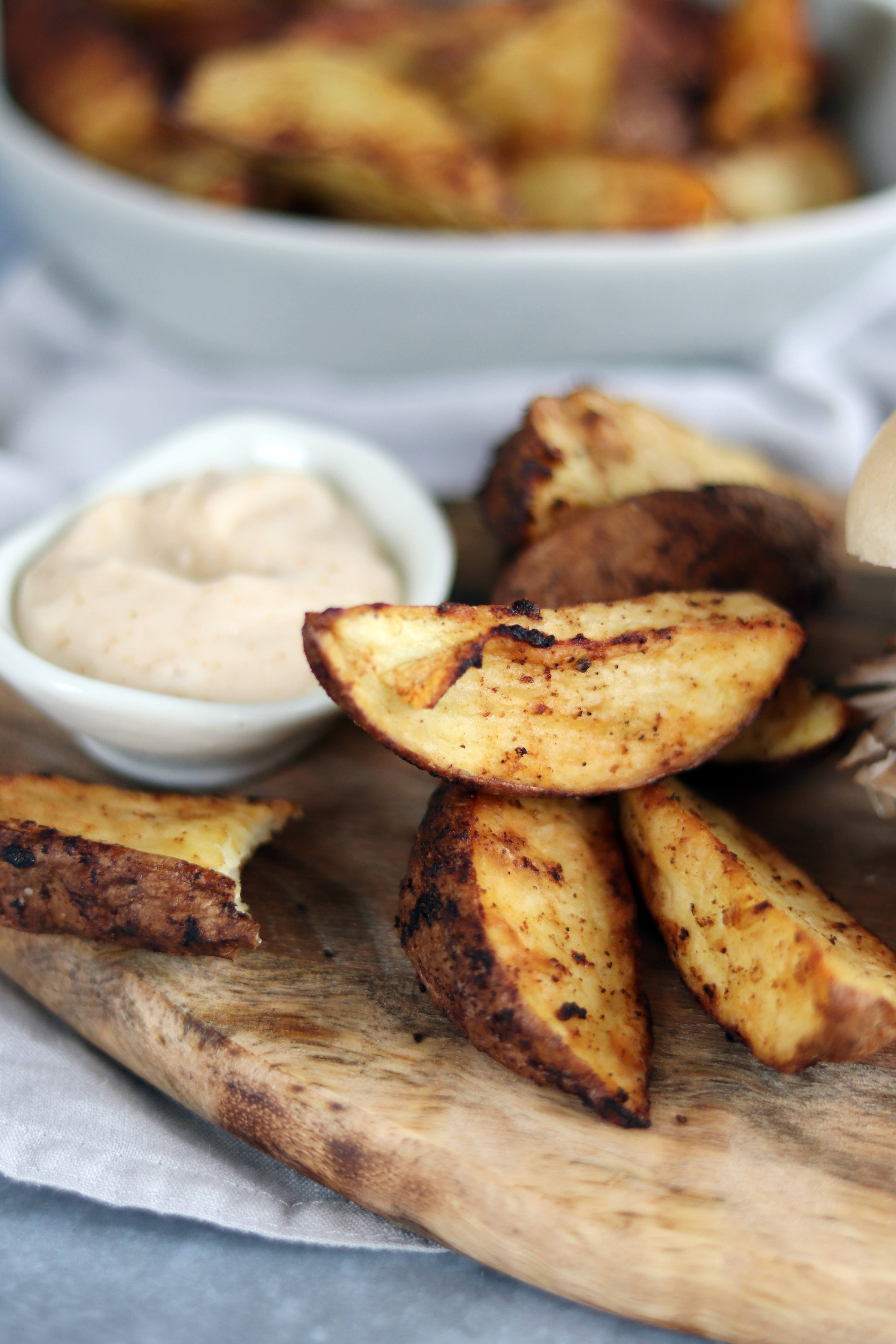 What are chipotle chillies?
Chipotle chillies are dried and smoked jalapenos.
You can buy chipotles whole, as flakes and as powder. Another common way of buying them is in adobo sauce. The flakes or powder would work well in this recipe.
Chipotles are as hot as standard jalapenos. Jalapenos are a more common reference for people to understand I think. If you are cooking for children or people that prefer less spice, just add a little less.
They have a great smokiness as well as their slight spice which I love.
Do you have to use chipotle chilli powder?
No, you can use whatever chilli powder you like. I like chipotle chilli for these wedges because it adds a smokiness which is lovely with the wedges and in the mayo.
It is slightly spicier than other chillies so I would always recommend being cautious the first time you make these if you don't like too much spice.
You should be able to find chipotle chilli powder in most large supermarkets these days. Another slightly milder alternative would be ancho chilli powder which is a bit more common.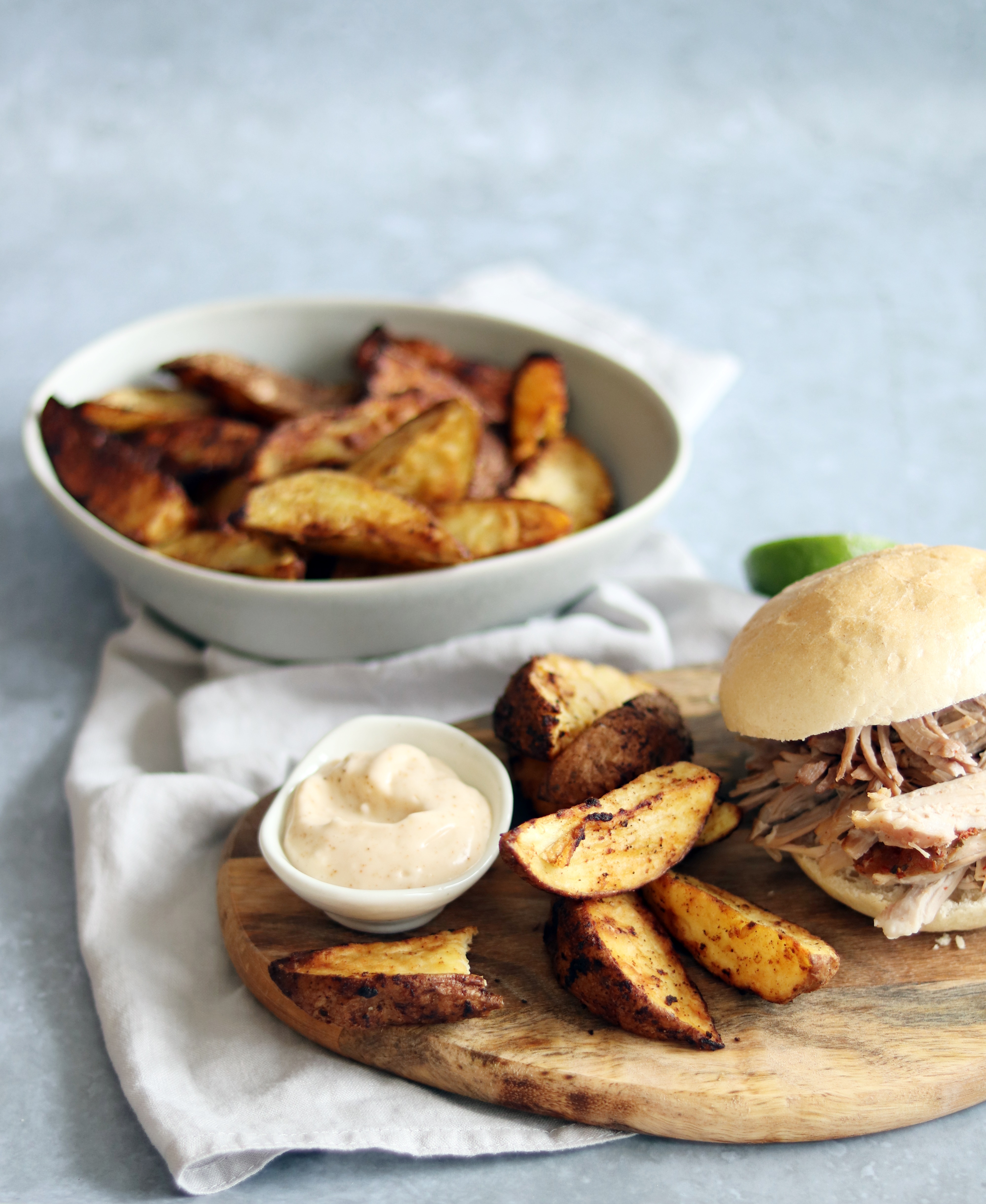 Can I cook these in my air fryer?
Yes! These Baked Chipotle Wedges turn out perfectly cooked in an air fryer or ActiFry. Set your air fryer to 190ºC and cook for 30-35 minutes. Make sure you toss/turn over the wedges half way through the cooking time (this isn't necessary with an ActiFry).
Do I need to soak my potatoes?
Some people say to soak your potatoes in salted water prior to cooking them. This is meant to allow them to release their starch to provide a crisper chip or wedge.
This is something I have never done and have always been happy with the crispness of my wedges.
I think I would soak my potatoes if I was frying them, but these wedges are baked in the oven so I don't feel the need to.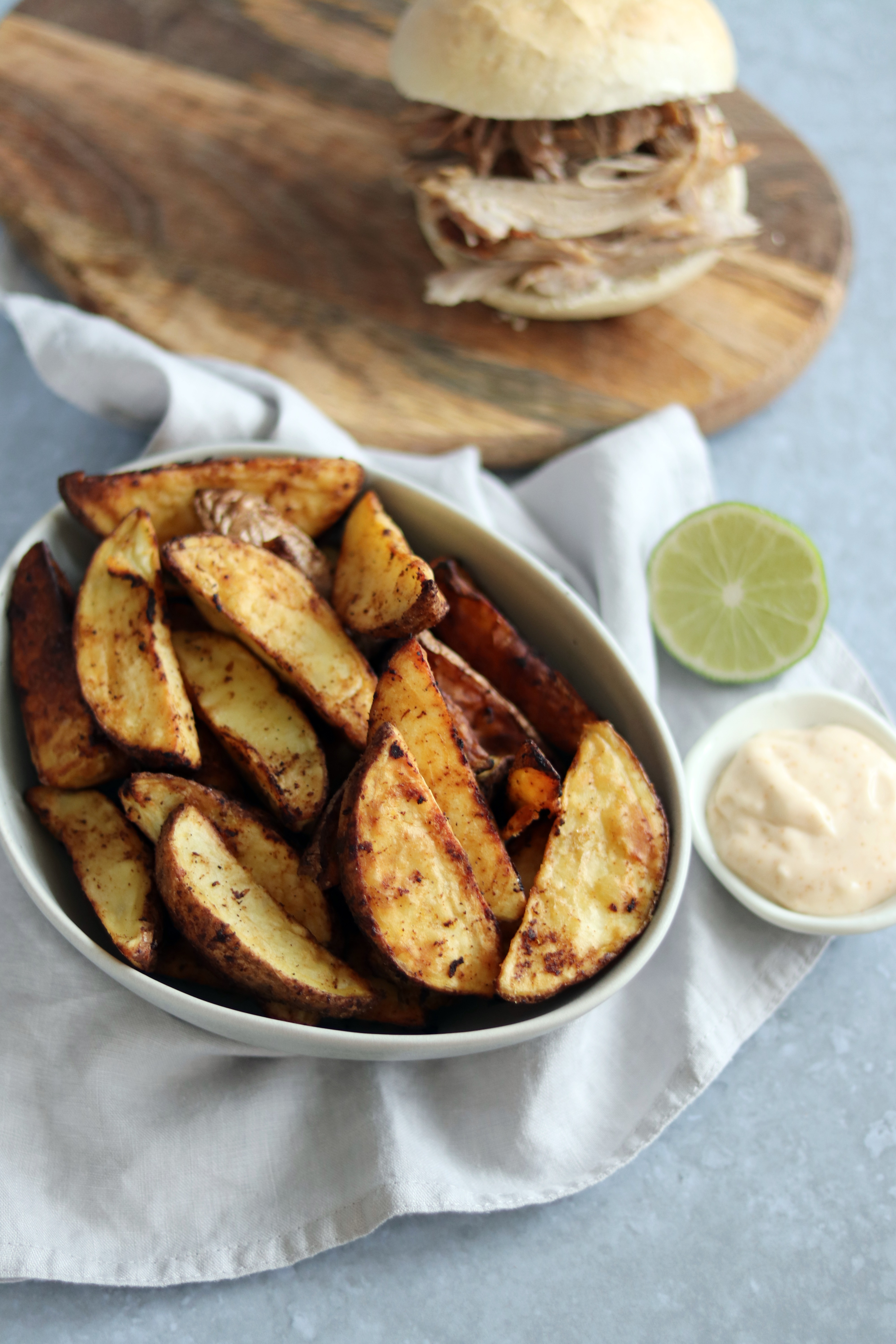 What to serve these Baked Chipotle Wedges with
These wedges are a great accompaniment to so many dishes. Some of my personal favourites to serve these with are Slow Cooker Pulled Pork, Garlic & Lime Chicken Thighs and Ancho Chilli Chicken.
Make it into a full meal by serving them with my Mexican Sweetcorn Salad too.
A different and very delicious way of serving these Baked Chipotle wedges would be covered in Chilli Con Carne or Skinny Slow Cooker Turkey Chilli.
I would put the wedges in an oven proof dish and spoon on the chilli. I would sprinkle on some cheese and put it all in the oven for a few minutes until the cheese has melted.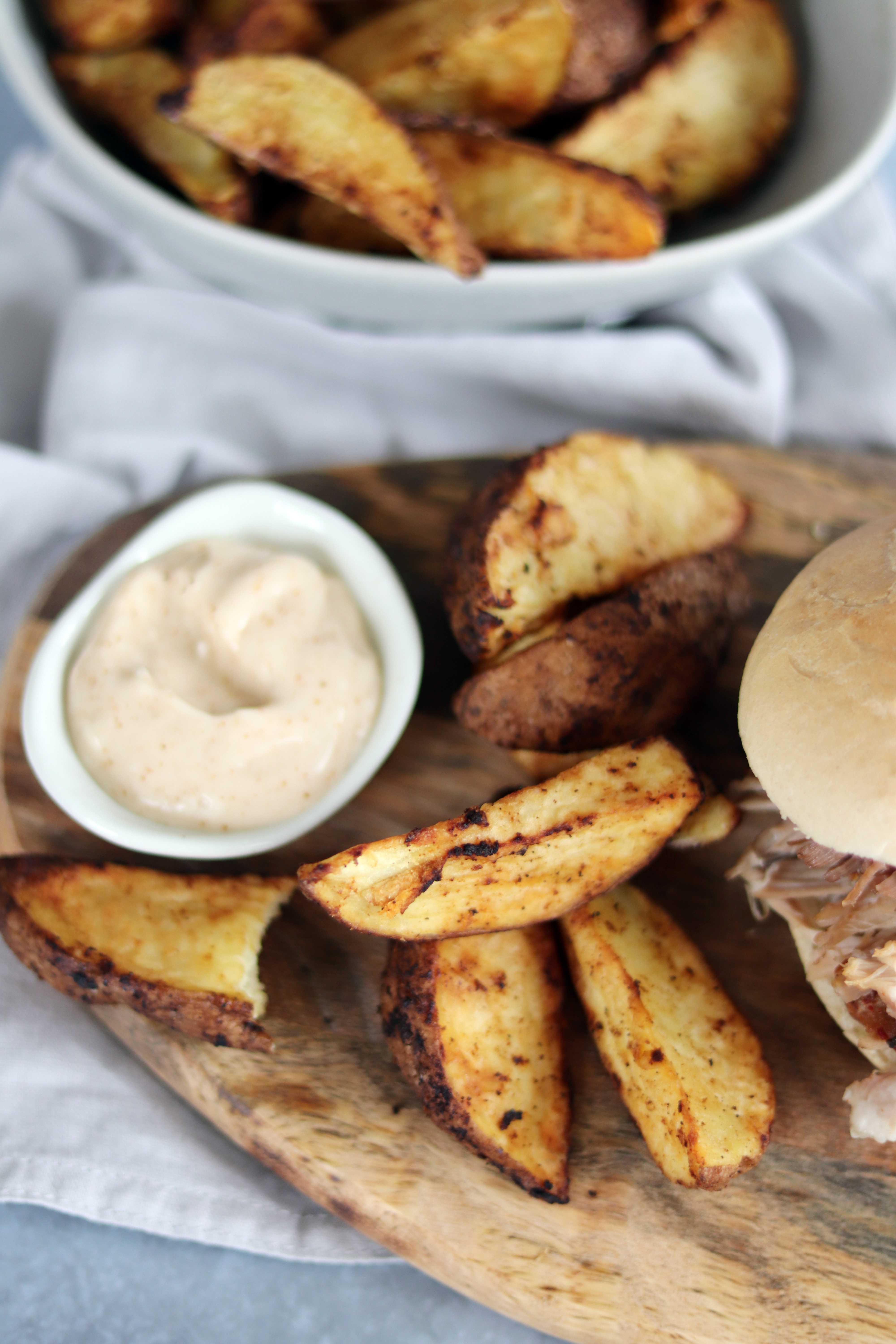 Spice up your mayo!
I know people don't always have time to make their own mayonnaise – I know I don't. But that doesn't mean you can't add more flavour to shop bought mayo. By adding a few additional flavours it really elevates it and makes it a bit more special.
The mayo has chipotle chilli powder in it too which mirrors the flavours of the wedges. Although it has chilli powder in it, it does act as a cooling effect to the wedges. The recipe below makes approximately two heaped tablespoons so you can adjust the quantities as needed.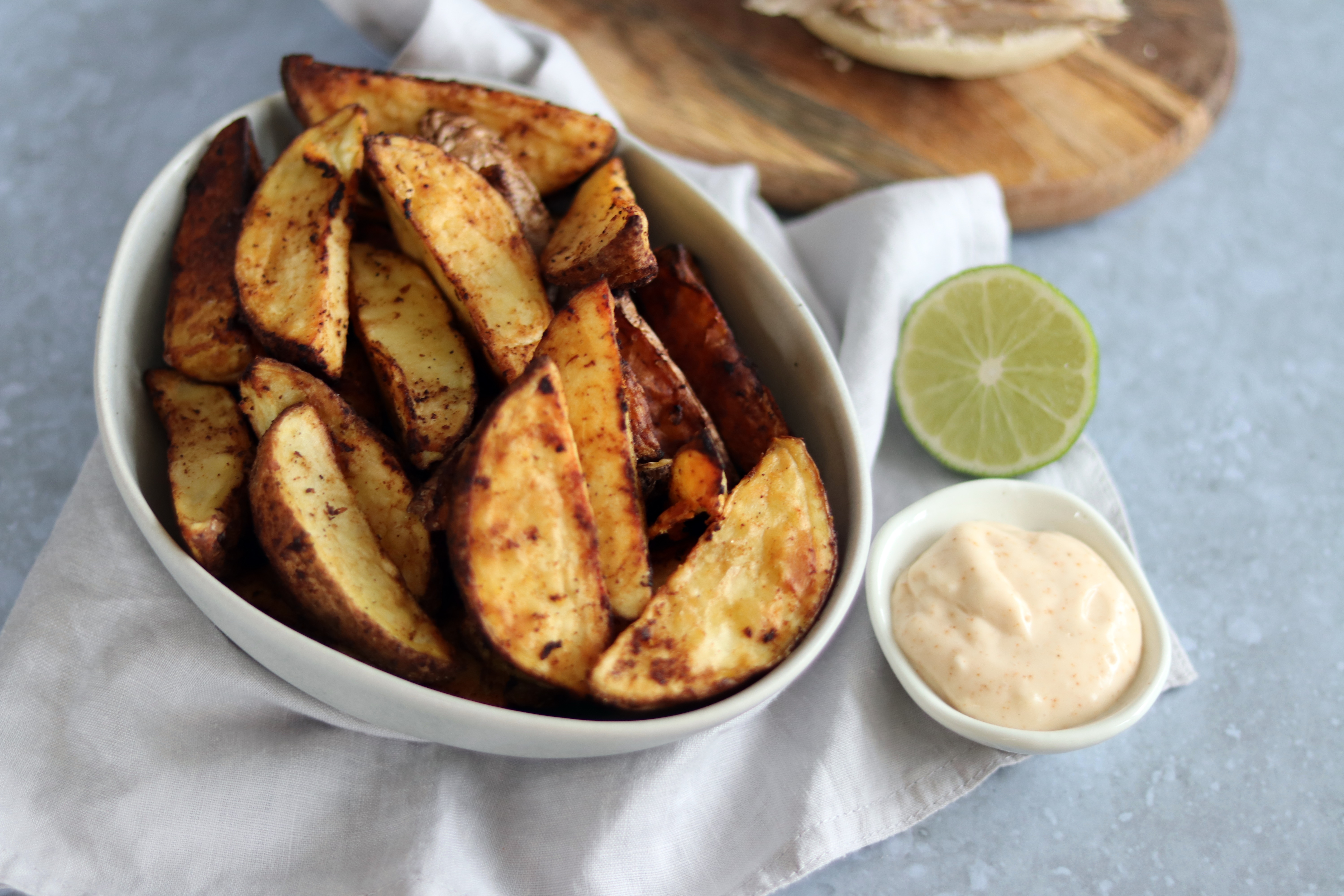 Other recipes you might like
Pin for later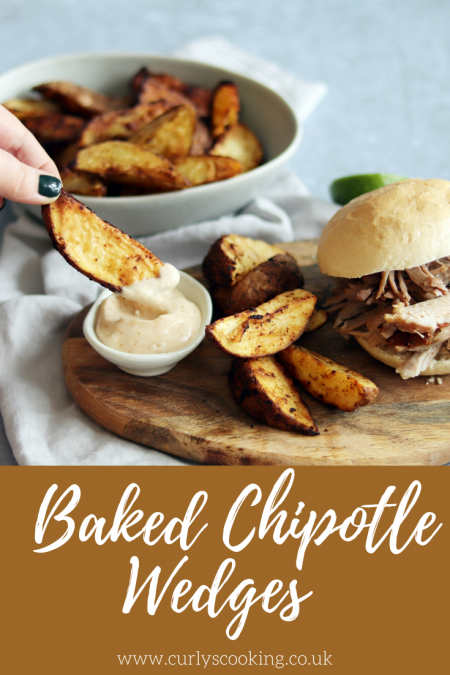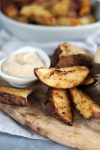 Baked Chipotle Wedges
These Baked Chipotle Wedges are the perfect side dish to so many meals, especially a BBQ. Crisp on the outside and fluffy within with a slight heat, these wedges are delicious.


Ingredients
For the wedges
800

g

potatoes

something like a Maris Piper

1 ½

tbsp

sunflower oil

1

tsp

sea salt

½ – ¾

tsp

chipotle chilli powder

pinch

black pepper

¼

tsp

garlic granules
For the chipotle mayo
60

g

light mayonnaise

1 – 1½

tbsp

lime juice

(1 lime)

pinch

sea salt

¼

tsp

chipotle chilli powder
Instructions
Preheat the oven to 190ºC (fan assisted or 210ºC non fan)

Wash and remove any bruises or eyes from the potatoes. Then cut each potato into wedges keeping each wedge a similar size

Add the wedges to a large bowl along with the rest of the ingredients and mix thoroughly making sure each wedge is nicely covered in the spices

Line the wedges on a large baking tray and bake in the oven for 40-45 minutes

Turn the wedges half way through the cooking time. You want the wedges to be soft when poked with a sharp knife but crisp and brown on the outside
Recipe Notes
Nutritional information is given as a guide only and my vary.
Nutrition Facts
Baked Chipotle Wedges
Amount Per Serving
Calories 201
Calories from Fat 81
% Daily Value*
Fat 9g14%
Cholesterol 2mg1%
Sodium 713mg31%
Potassium 837mg24%
Carbohydrates 27g9%
Protein 5g10%
Vitamin C 26mg32%
Calcium 60mg6%
Iron 6mg33%
* Percent Daily Values are based on a 2000 calorie diet.