Air Fryer Parmesan Tenderstem Broccoli is the most delicious way to serve broccoli. It is the perfect side dish for so many meals and takes only ten minutes.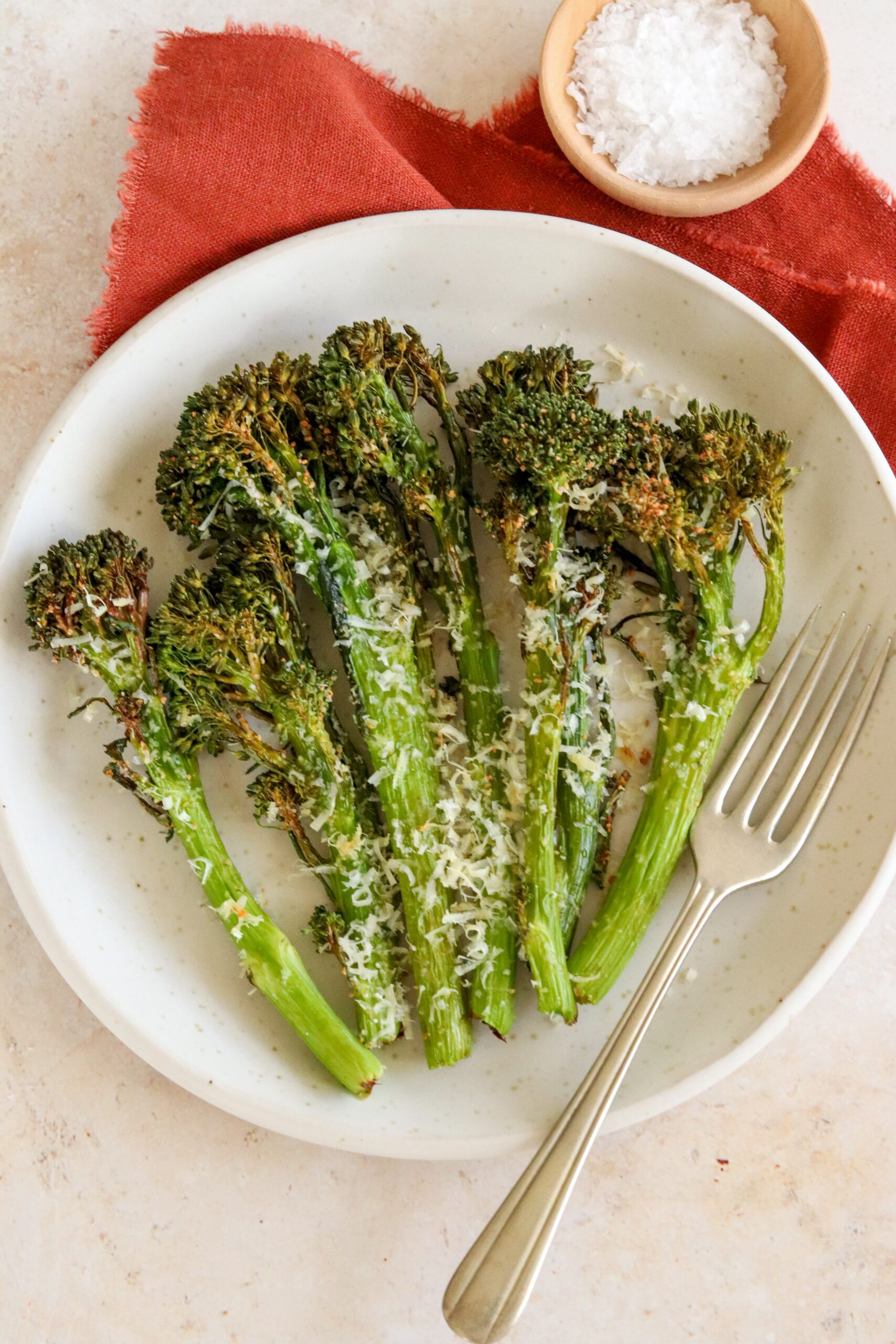 why use an air fryer instead of an oven?
I have been making my Roasted Parmesan Tenderstem Broccoli for years. It is one of my favourite side dishes and I make it weekly. So why change a recipe that already works so well?
People's priorities have changed and the price of energy impacts which appliances people choose to use. Air fryers have been steadily growing in popularity over the last year but have really taken off in the last few months.
Air fryers cook food quicker than a standard convection oven which is great for saving energy and pennies but also for busy families that want to be able to make food quickly.
Another advantage is that air fryers are smaller than ovens so you're not heating up a full-sized oven but instead a smaller air fryer. This means you're using less energy because you're heating up a smaller appliance as well as the food cooking quicker.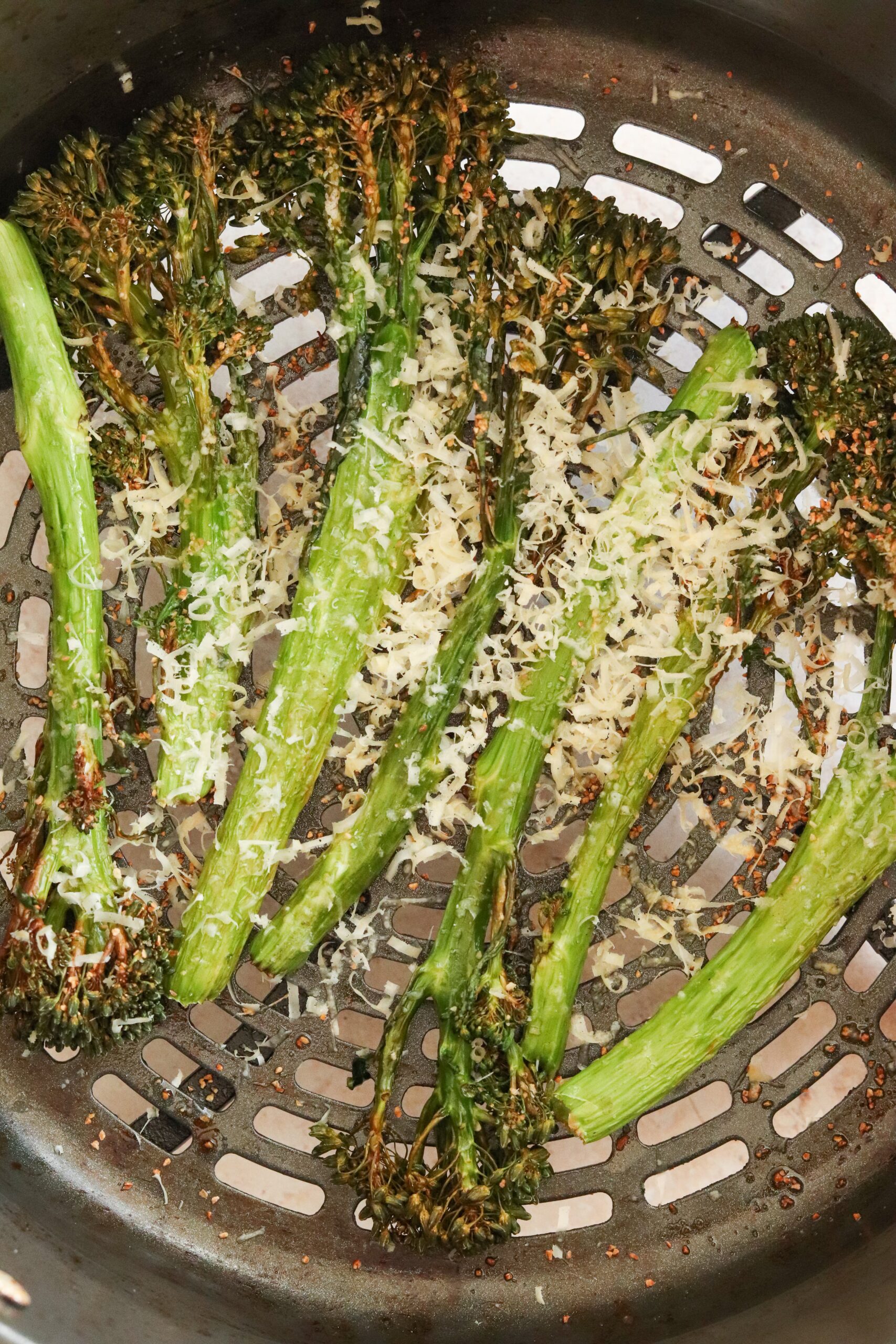 Can you use standard broccoli?
Yes you could use standard broccoli for this recipe if you would prefer instead of Tenderstem broccoli or broccolini if you're from the US.
If you are using standard broccoli, cut it into florets. I like to leave a good amount of stem on as it is just as tasty as the rest of it.
Depending on the size of the florets, it might take a few more minutes to cook. You're looking for the broccoli to be slightly crunchy but not hard.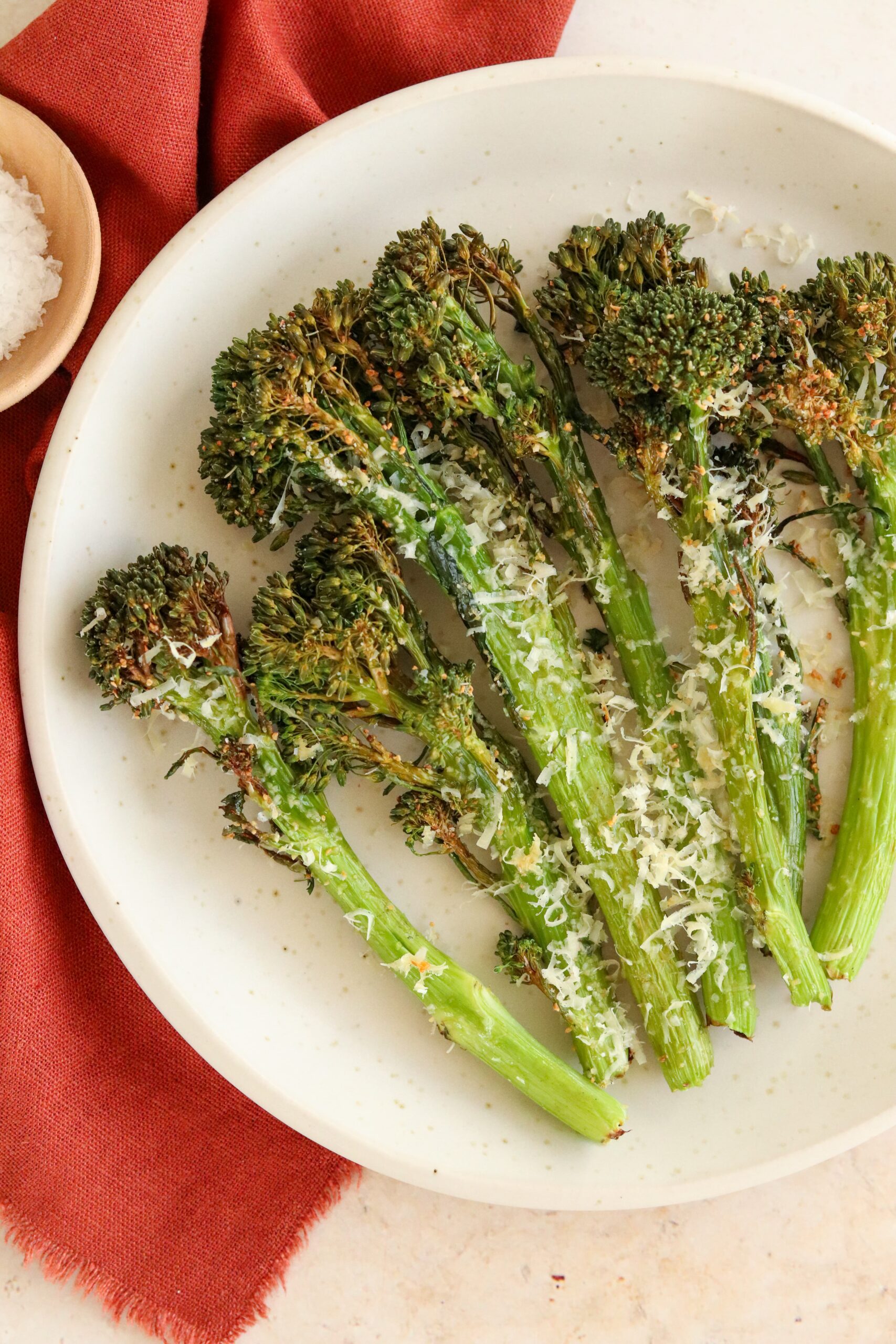 which oil is best to use?
My oil of choice for air fryer cooking in general is vegetable or sunflower oil in a spray bottle. Most large supermarkets sell this and it is really handy. However this is not Frylight and I would definitely not recommend using this in your air fryer or on anything non stick.
You can obviously use any form of vegetable or sunflower oil that you like. If you aren't using spray oil, you won't need more than half a teaspoon.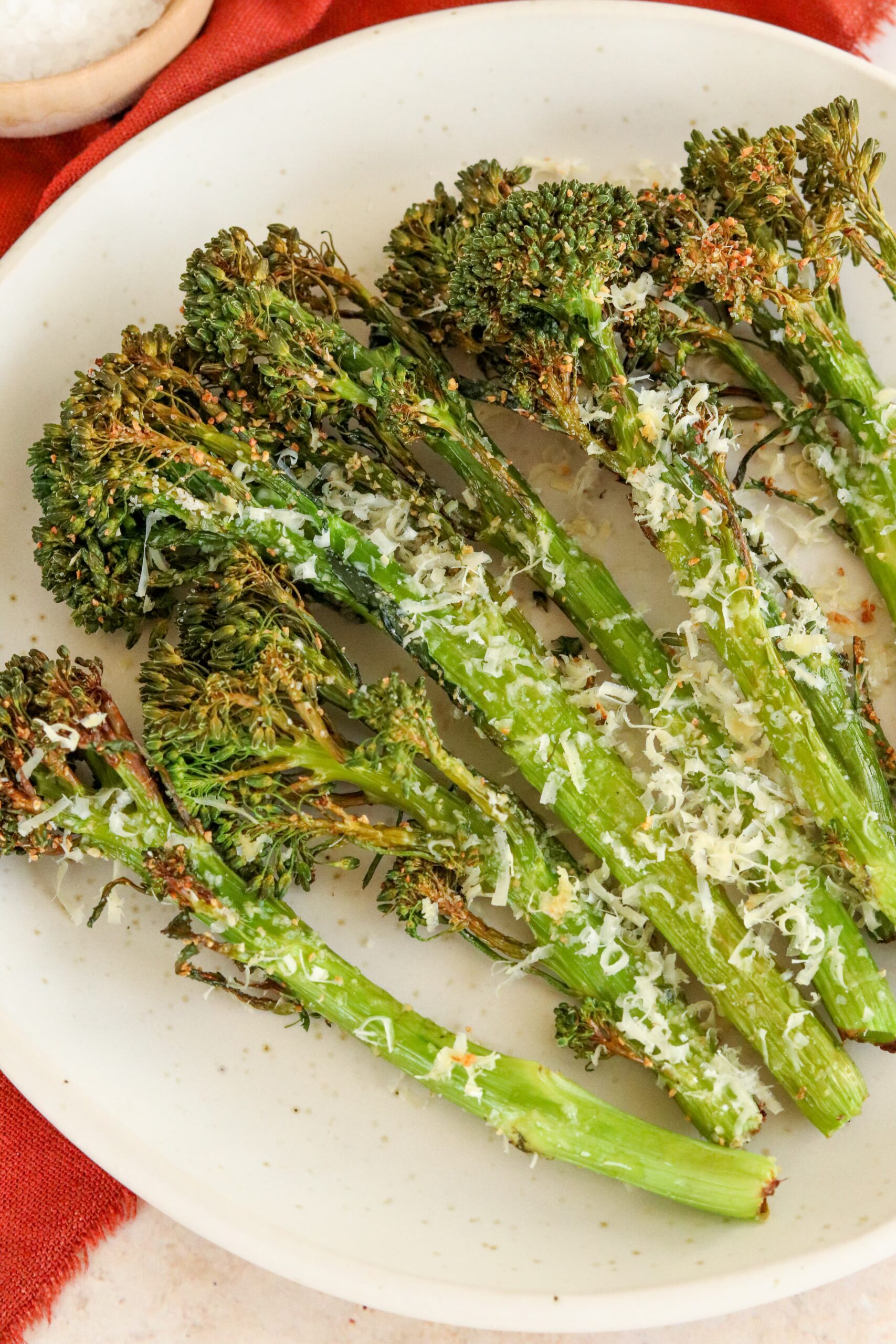 Which garlic is best to use?
I have always used garlic granules when making this broccoli. It is very convenient, requires no prep and can easily be sprinkled over the broccoli evenly.
It also doesn't burn as easily as other forms of garlic. You can use fresh garlic if you want but I would mince it rather than dice or slice it. This should hopefully prevent it from burning in the air fryer.
You could also use garlic salt if you wish, but you would need to reduce or completely omit the salt in the recipe.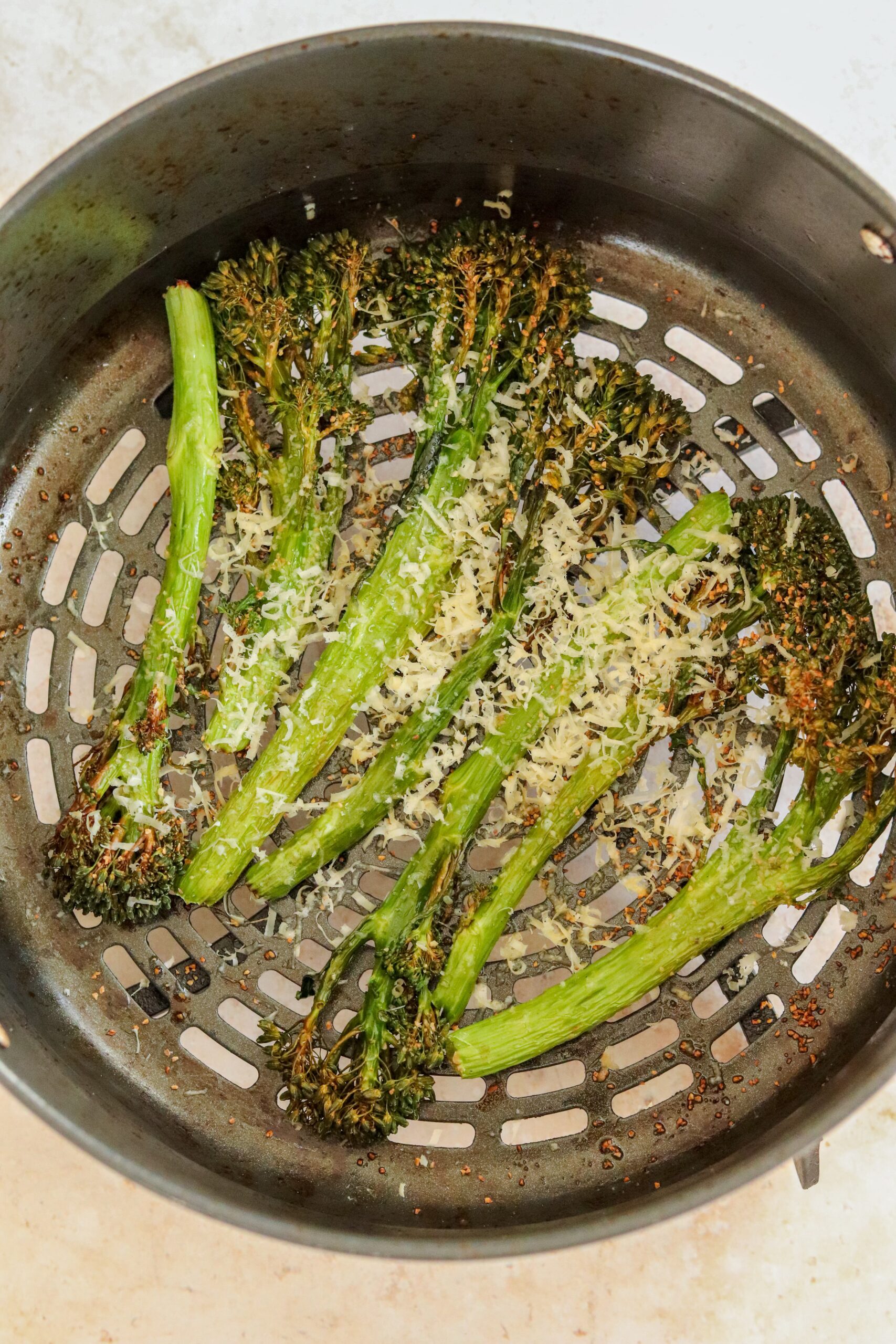 do you need to preheat an air fryer?
That depends on your air fryer, some require preheating whilst others don't. I have a Ninja 7-in-1 multicooker and I have never preheated mine.
If your air fryer does require preheating, check the broccoli a few minutes sooner than the recipe states. If your air fryer is warm, food is likely to cook a few minutes faster.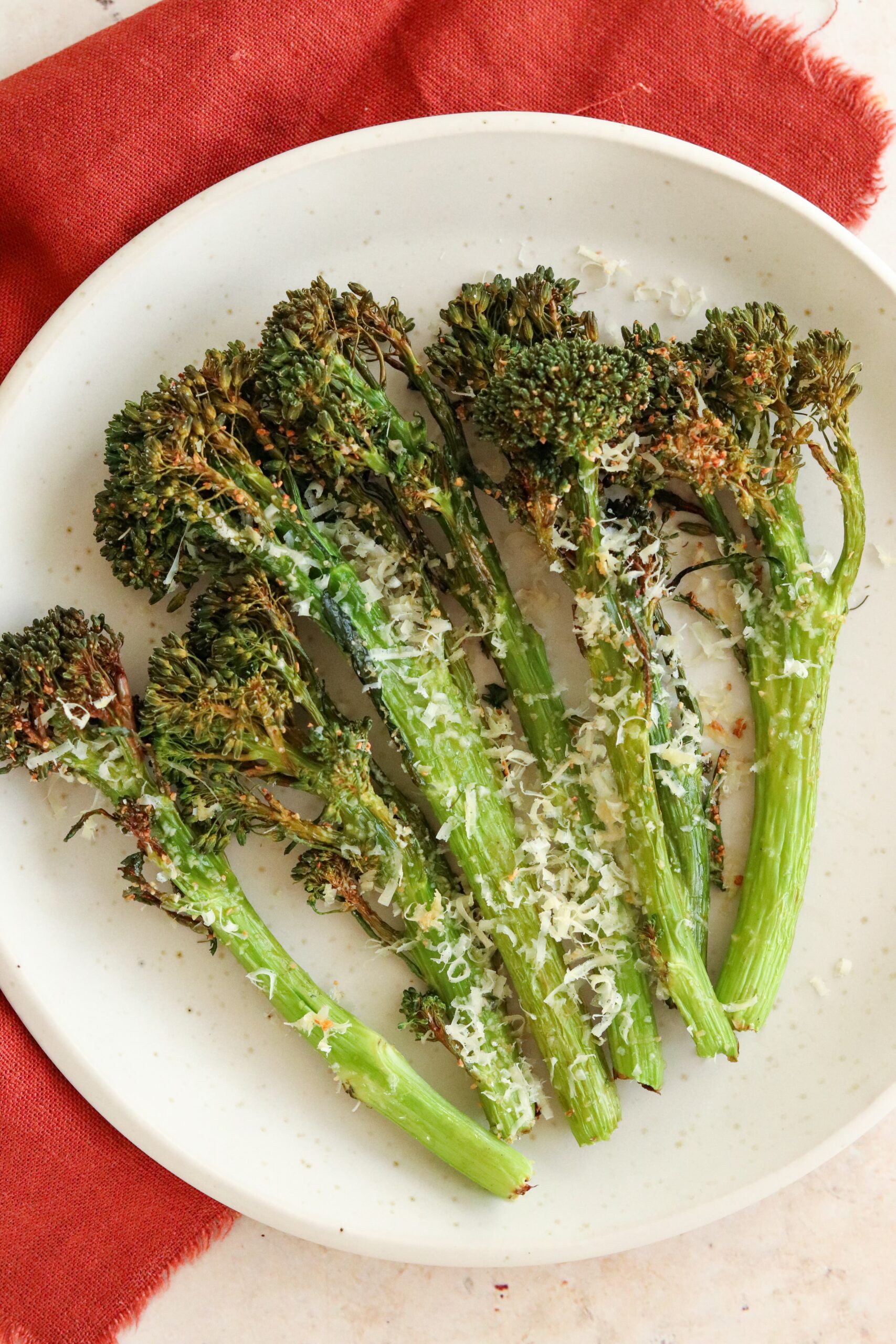 can you use an air fryer liner?
Air fryer liners are a great time saving addition because they are usually easier to wash than the basket of your air fryer.
Most reusable air fryer liners are silicone and although they are handy to have, I wouldn't recommend using them for all recipes. For this tenderstem broccoli you should be fine to use a liner, but it might take a little longer to cook.
This Air Fryer Parmesan Tenderstem Broccoli doesn't leave any stickiness or anything that is difficult to clean. So personally I wouldn't bother using a liner for this recipe.
I've written a whole post on whether you should use an air fryer liner, check it out for more information.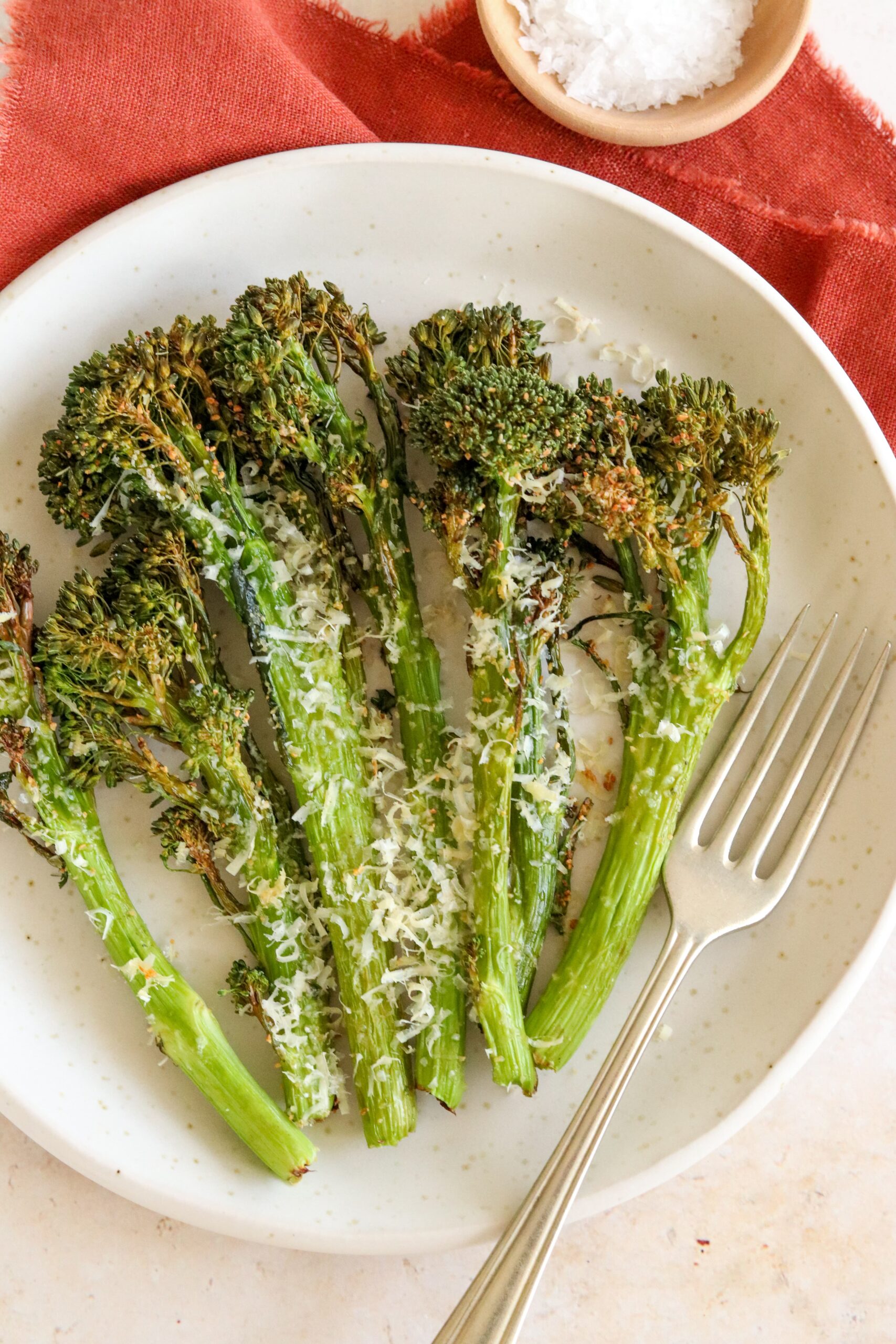 Make this broccoli vegetarian or vegan
You may think this broccoli is vegetarian already, but it is not. Parmesan cheese is unfortunately not vegetarian because it contains animal rennet.
Instead of Parmesan, you can swap to a vegetarian alternative which would work just as well. You can also buy vegan versions of Parmesan cheese too so everyone can enjoy this dish.
This recipe is also gluten free which makes it a great option to have in your repertoire.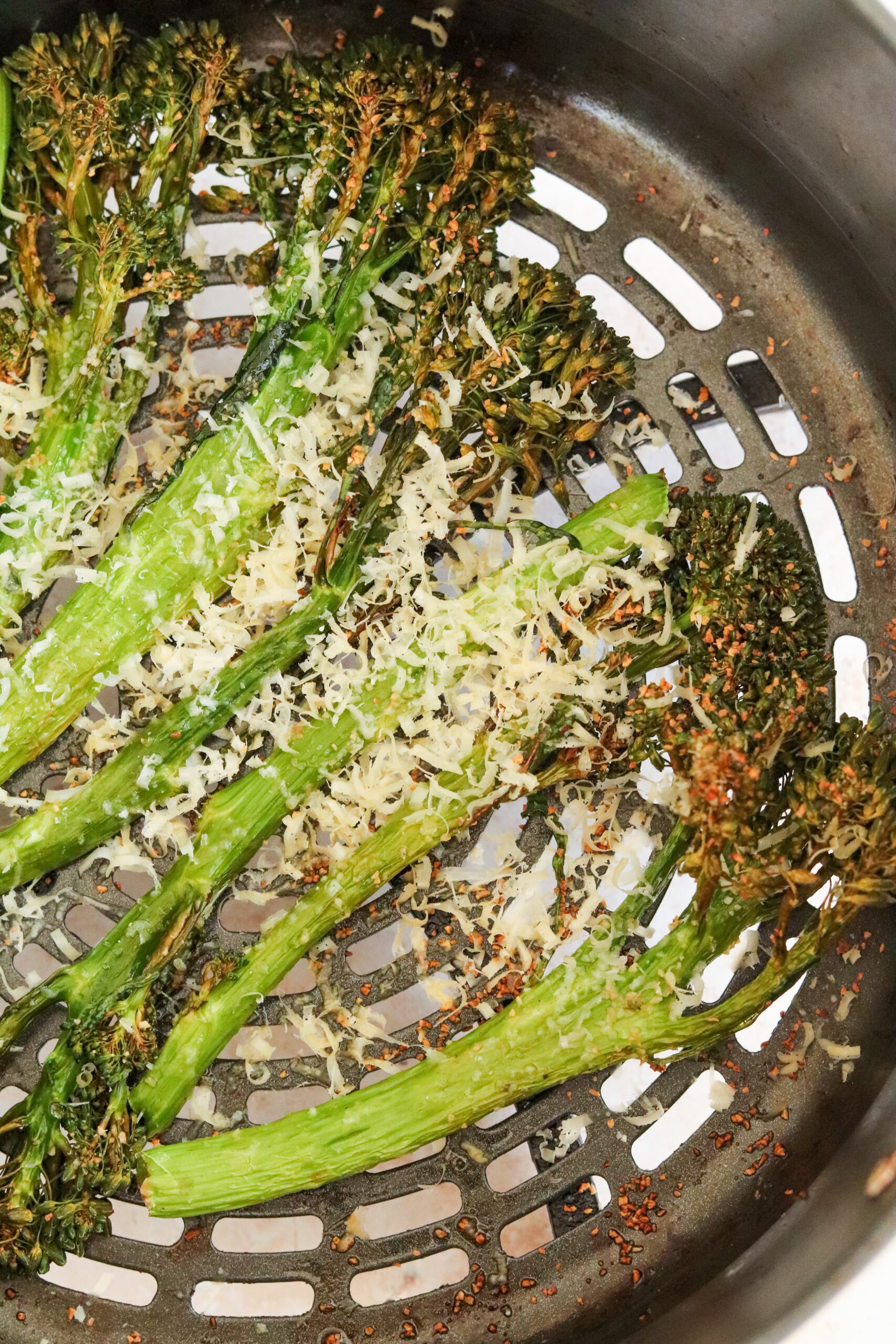 How to serve Air Fryer Parmesan Tenderstem Broccoli
This broccoli is a very versatile side dish and can be served with a whole list of meals. It works well with all types of protein but I particularly like it with my Air Fryer Roast Chicken, Honey Glazed Ham or Air Fryer Sausages.
Alongside your chosen protein and broccoli you could serve Air Fryer Baked Potatoes, Air Fryer Roast Potatoes or Roasted New Potatoes.
If you're looking for a meat free meal suggestion, this Parmesan Tenderstem Broccoli would be great with my Puff Pastry Potato Tart.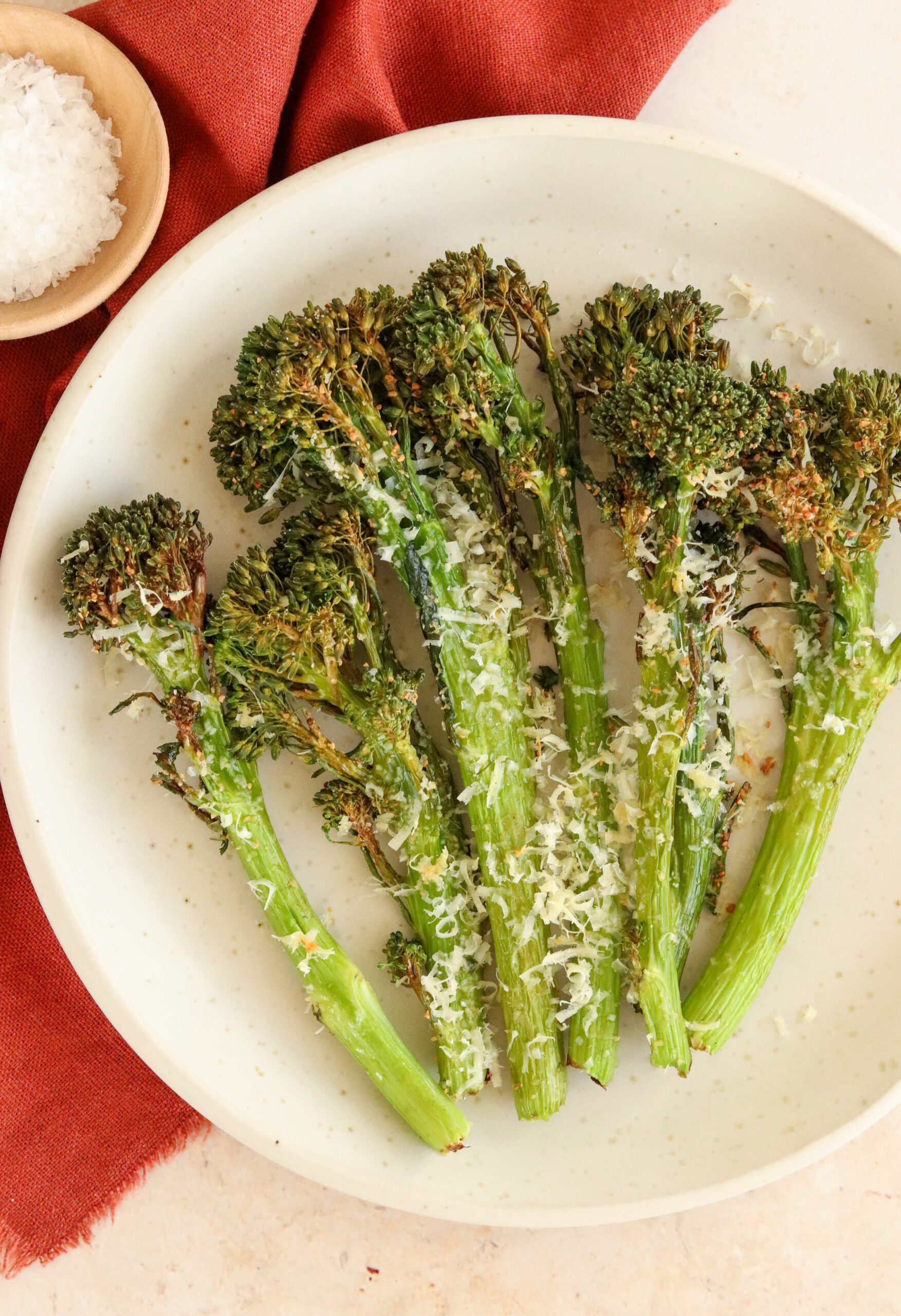 other recipes you might like
Pin for later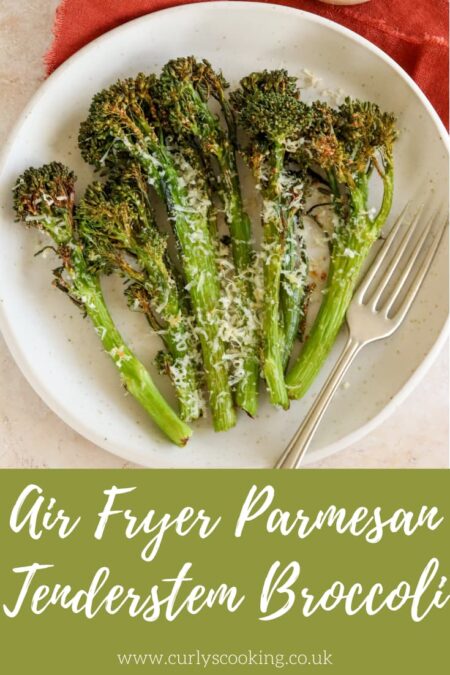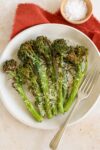 Air Fryer Parmesan Tenderstem Broccoli
Air Fryer Parmesan Tenderstem Broccoli is the most delicious way to serve broccoli. It is the perfect side dish for so many meals and takes only ten minutes.
Ingredients
150

g

tenderstem broccoli

vegetable spray oil

pinch

salt

¼

tsp

garlic granules

15

g

Parmesan

grated
Instructions
Preheat your air fryer if needed

Trim the ends off 150g tenderstem broccoli if required. Add them to your air fryer

Spray with sunflower or vegetable oil. Sprinkle over a pinch of salt and ¼ tsp garlic granules. Cook for 7 minutes at 170°C

Grate over 15g Parmesan and cook for a further 3 minutes
Recipe Notes
Nutritional information is given as a guide only and my vary.
If your air fryer requires preheating, check your broccoli a couple of minutes before the recipe states.
Nutrition Facts
Air Fryer Parmesan Tenderstem Broccoli
Amount Per Serving
Calories 60
Calories from Fat 18
% Daily Value*
Fat 2g3%
Polyunsaturated Fat 0.04g
Cholesterol 5mg2%
Sodium 120mg5%
Potassium 11mg0%
Carbohydrates 1g0%
Protein 3g6%
Vitamin A 59IU1%
Vitamin C 0.01mg0%
Calcium 89mg9%
Iron 0.1mg1%
* Percent Daily Values are based on a 2000 calorie diet.