A delicious, lighter version of an American Classic. My Skinny Slow Cooker Turkey Chilli is not only tasty and healthy, it is really easy too! Grab a bowl and load with your favourite toppings.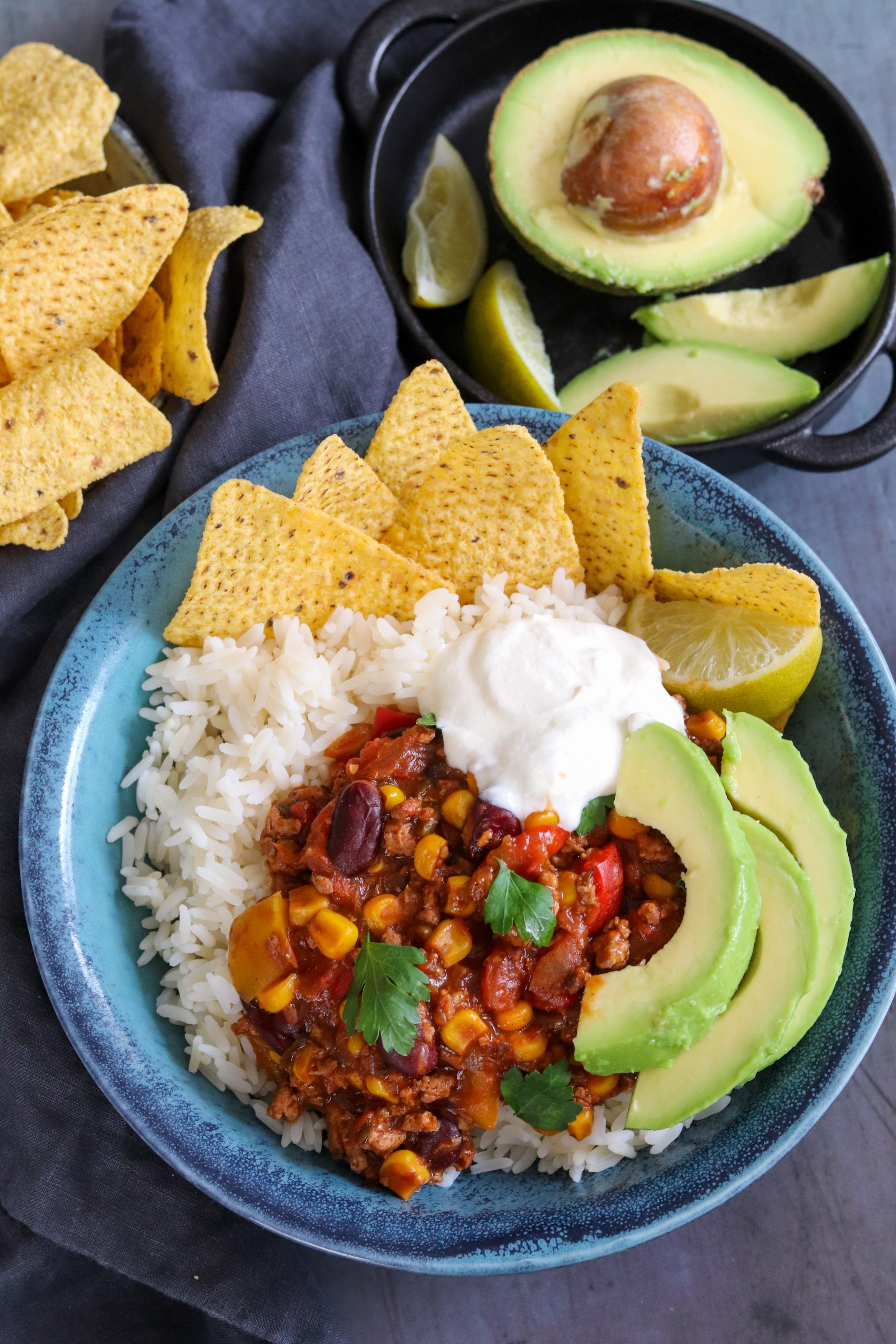 Turkey Chilli – An alternative to an American classic
Chilli Con Carne was the first meal my Mum taught me to make as a child. It is still one I make often and really love.
I am quite strict on how I make my Chilli because it is how my Mum made it, so I like to come up with different variations where I can be a little bit more creative.
However I do like to try and adapt tasty recipes to make healthier versions. Obviously healthier recipes can't compromise on taste and my Skinny Slow Cooker Turkey Chilli definitely doesn't.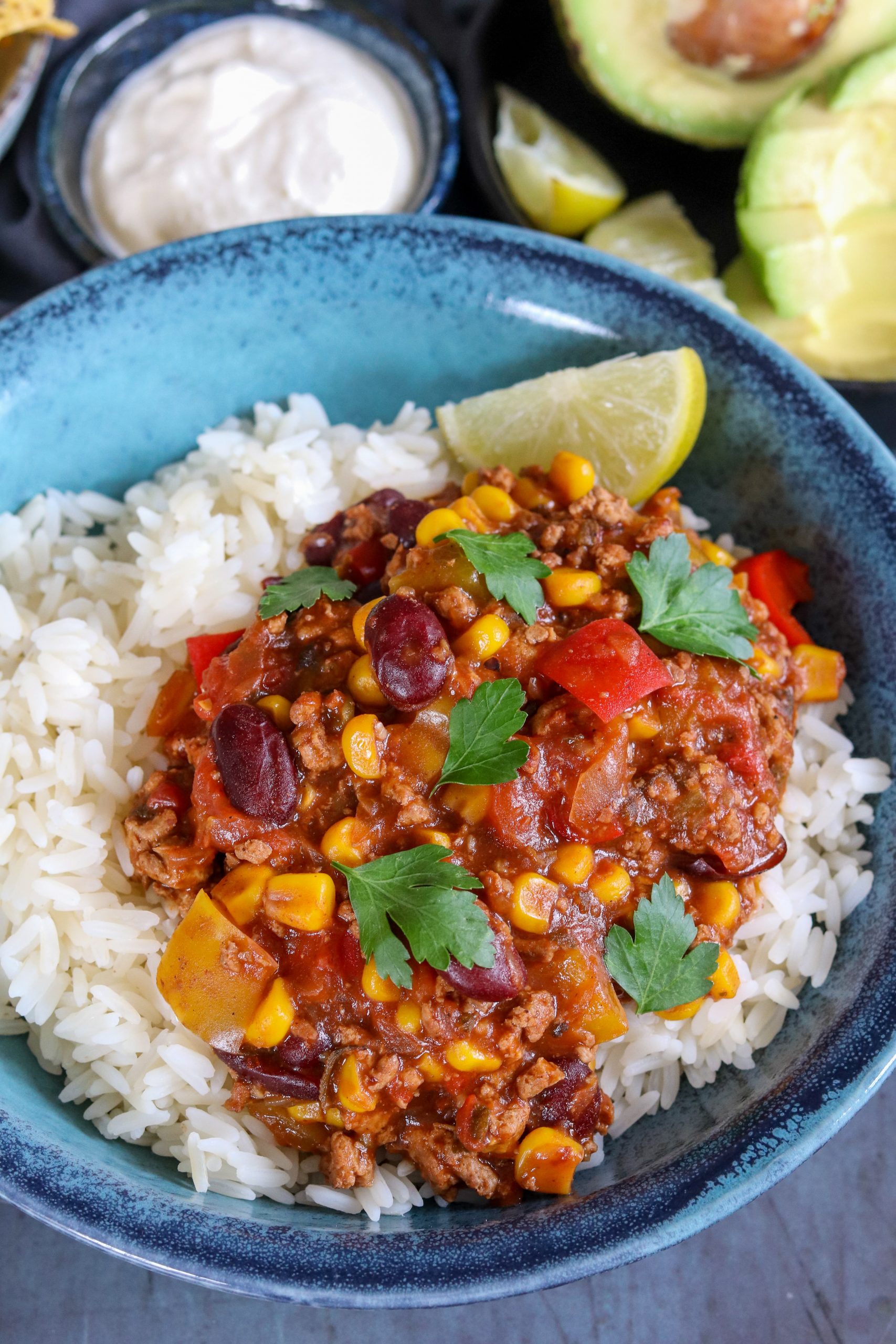 Is Chilli American or Mexican?
Chilli Con Carne is a well known recipe but there are sometimes questions about it's origin. Although it is inspired by Mexican flavours, it is definitely an American dish.
I don't think Mexicans would generally like Chilli Con Carne to be credited as a Mexican recipe!
However, in this Skinny Slow Cooker Turkey Chilli I have tried to use a few more ingredients that you would find in Mexican cooking.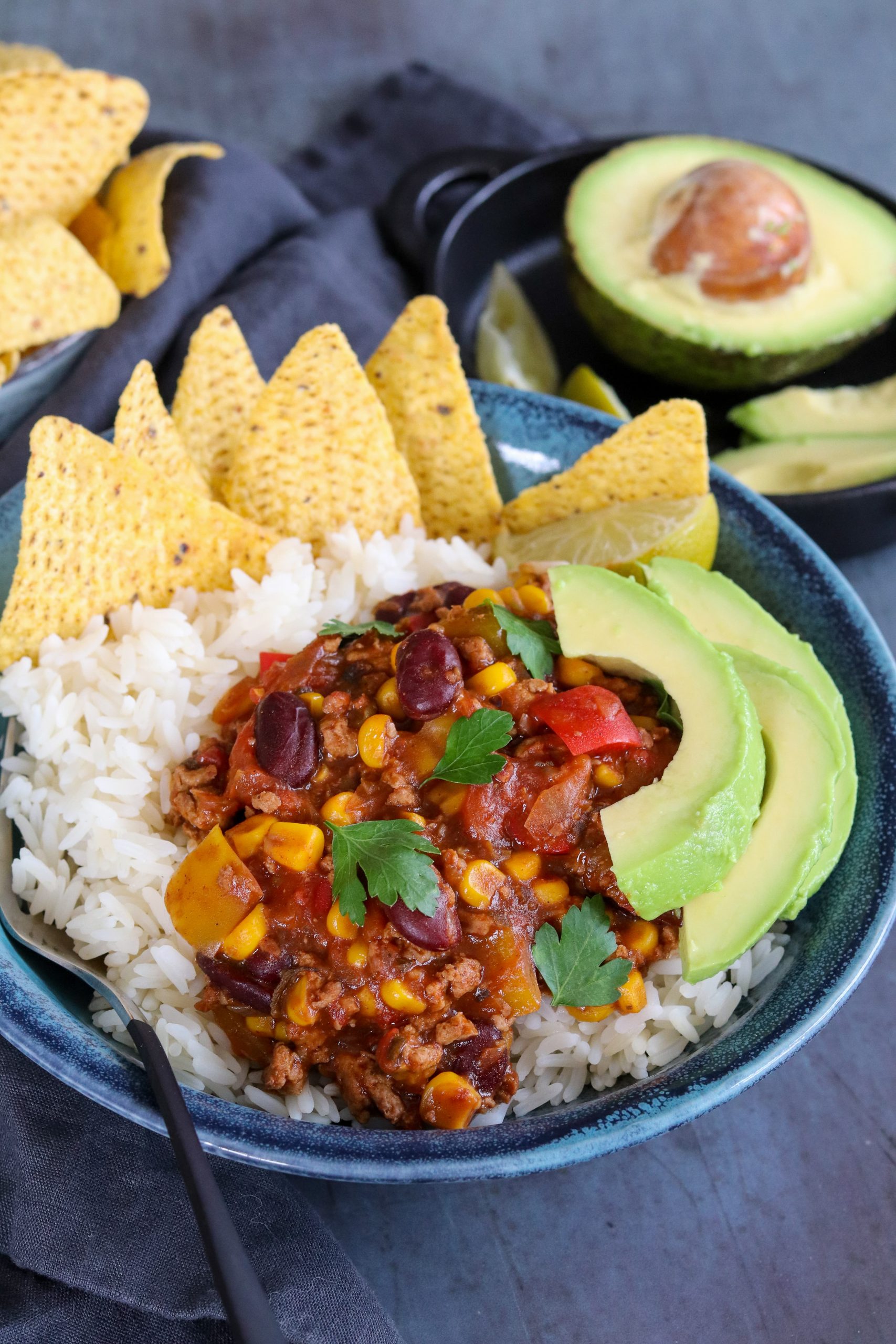 Switching from beef to turkey mince
The most noticeable change from the usual chilli to my Skinny Slow Cooker Turkey Chilli is the change in the meat.
Instead of using beef mince (ground beef), I decided to use turkey mince (ground turkey) as a way to make the meal healthier.
It makes it a lighter dish altogether which makes it especially perfect for the warmer months.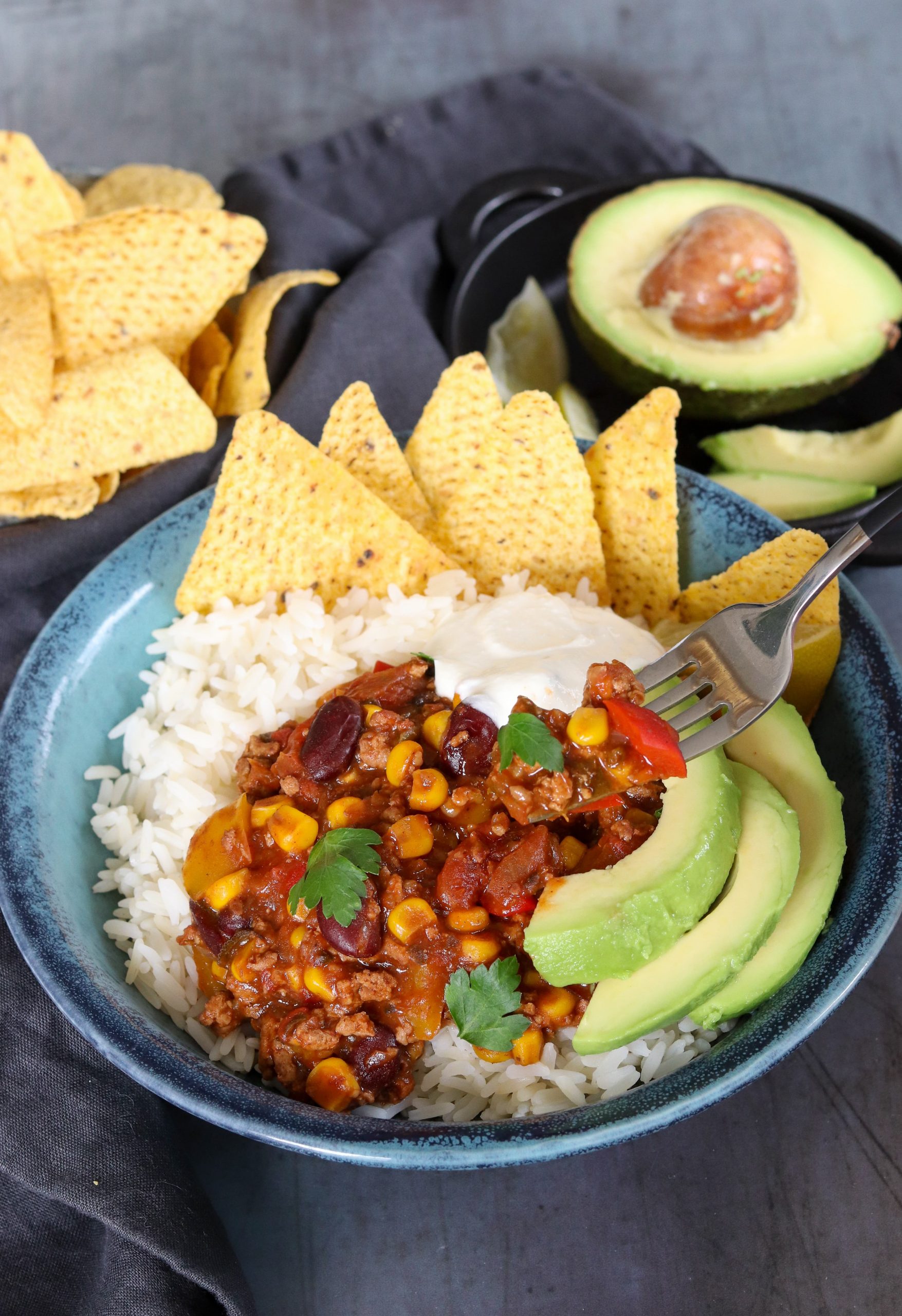 Which turkey is best to use?
Most supermarkets and butchers will offer two types of turkey mince. This is either breast or dark meat from the leg and thigh.
The breast mince is usually around 2% fat whereas the dark meat is around 5% fat. I use both but it depends on the recipe as to which I use.
If I am making something like my Herby Turkey Burgers I would use the ground thigh mince to add moisture and flavour.
With this recipe you can use the breast meat mince as there are so many flavours in the dish it will be far from bland!
However as always, use whichever you prefer.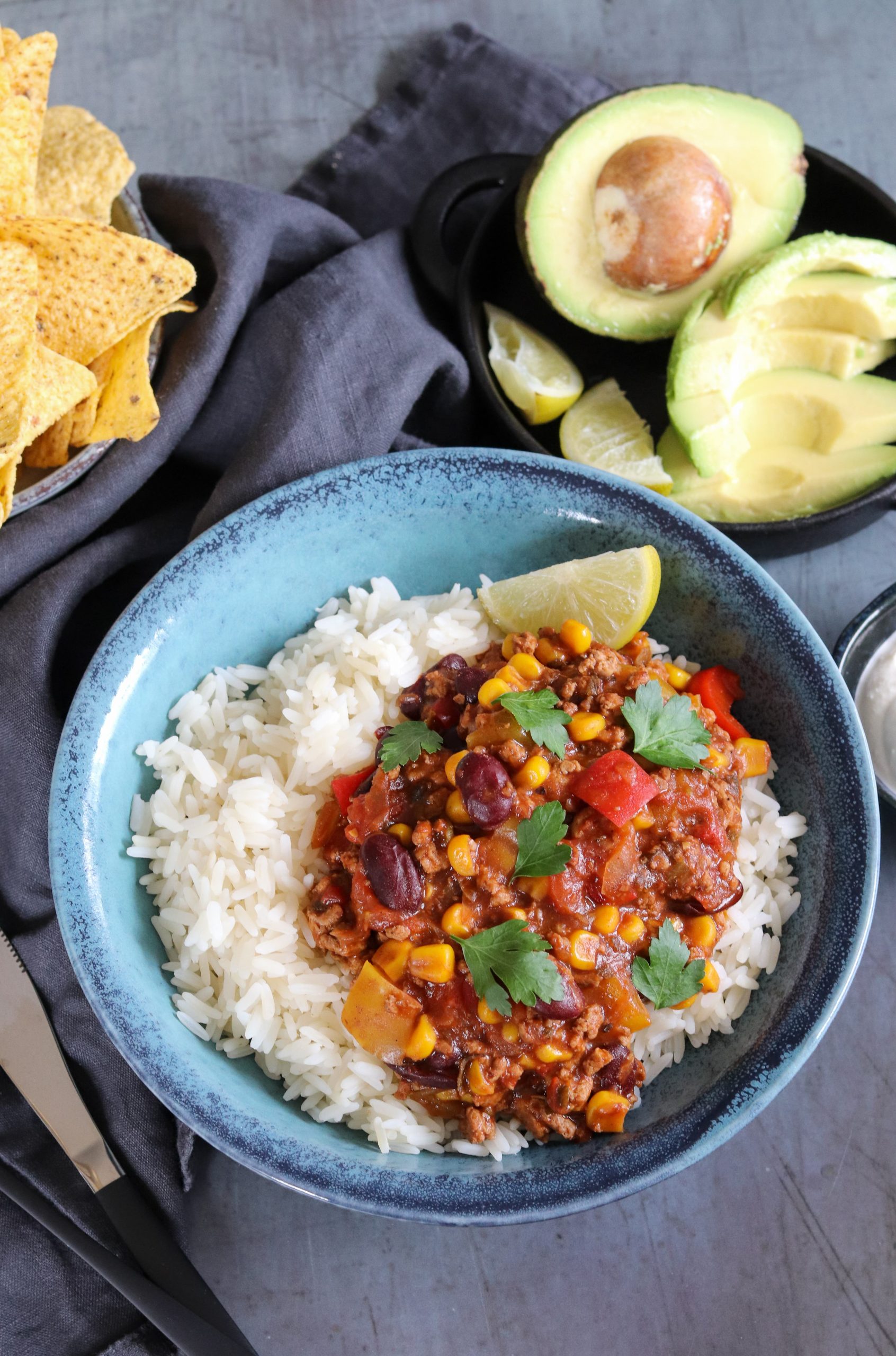 What makes this turkey chilli skinny?
Aside from switching the meat to a leaner, healthier option there are other things that make this a skinny meal option.
The amount of meat in the recipe would usually serve four people. However in dishes that include pulses as well as meat (like my Slow Cooker Fiesta Chicken); I like to stretch the portions to serve a few more people.
This is because the pulses and vegetables help bulk out the dish without adding additional meat. It is also a great way of keeping a meal healthier.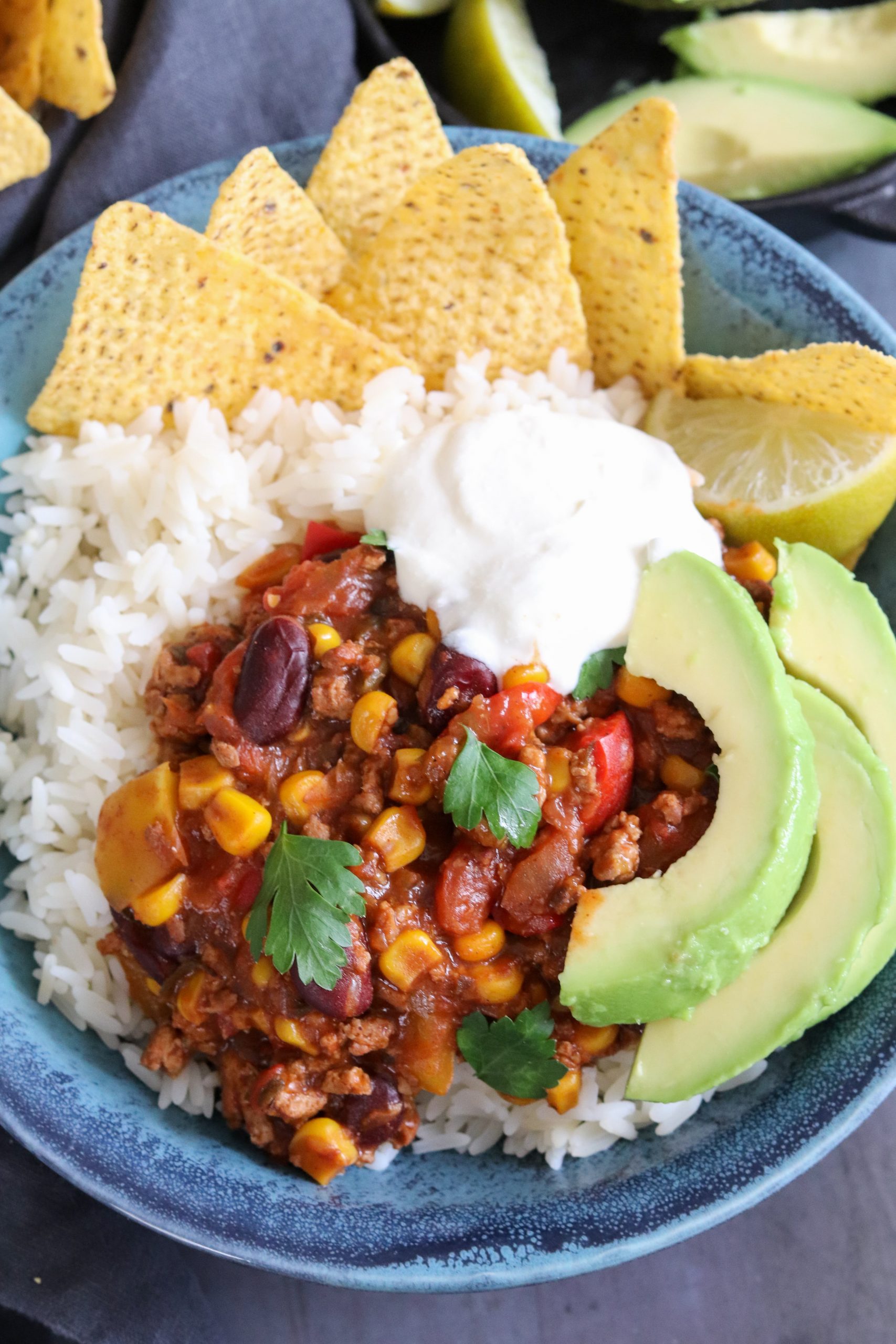 Adapting this slow cooker turkey chilli
As with a lot of my recipes, you can easily adapt my Skinny Slow Cooker Turkey Chilli. If you don't like sweetcorn, leave it out. If you really love peppers, add more.
You can also play around with the heat depending on your taste. Obviously everyone's spice tolerance is different, but I would say that this has a mild to medium spice level. If you are making this recipe for children or spice intolerant people, you can add less chilli.
One advantage of this recipe is that you can taste it after an hour or so to see how the flavours are developing and then add a little bit more chilli powder if needed.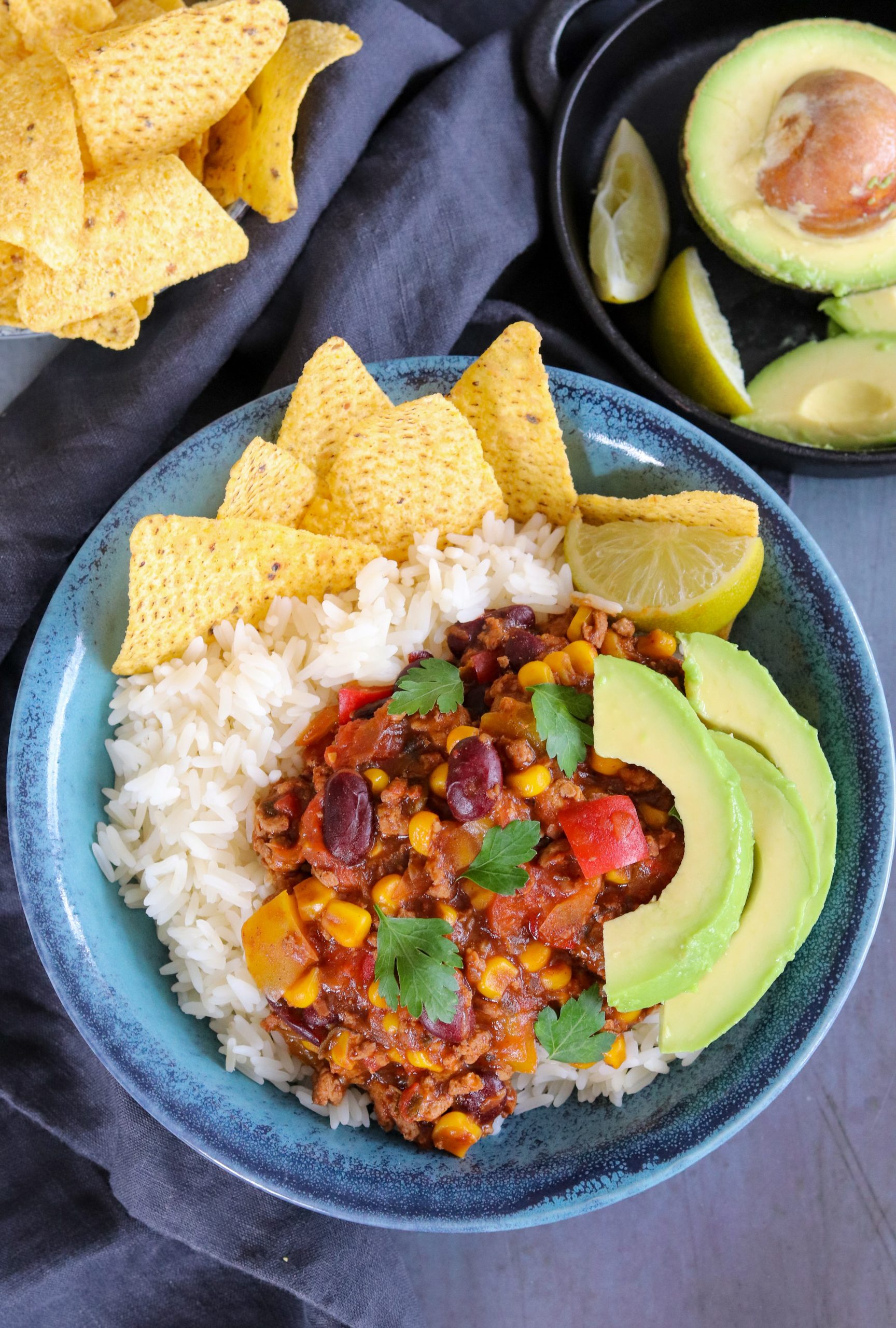 Can I use different chilli powders?
I have used some of my favourite chilli powders for this recipe. You should be able to buy ancho and chipotle chilli powders in most large supermarkets or online.
However if you can't find them or would prefer not to buy them, you can use other chilli powders. Standard mild or medium chilli powder would be suitable depending on how spicy you like it.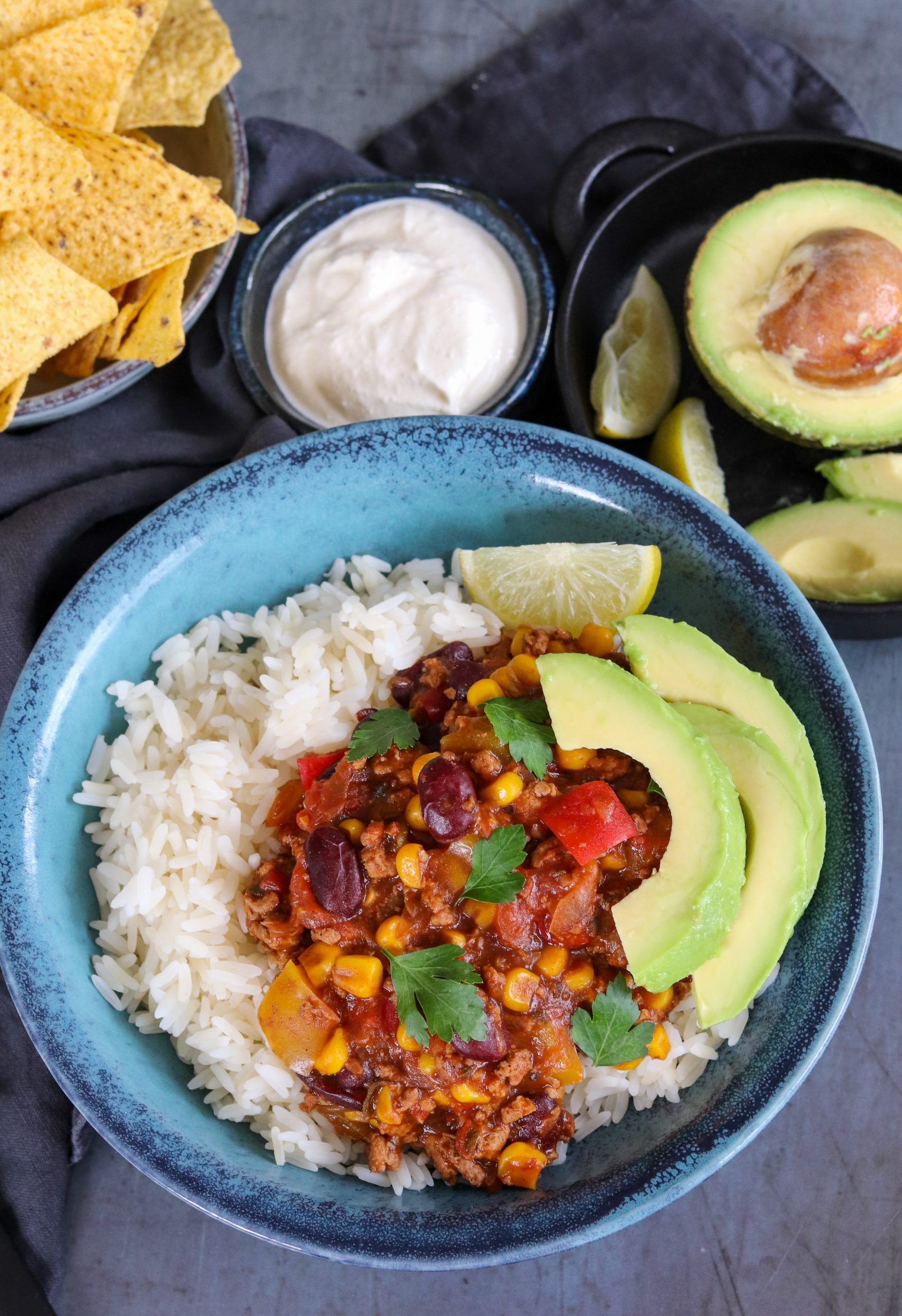 What to do if you don't have Mexican oregano
Mexican oregano is a completely different plant family to the more commonly known oregano.
It has a more earthy flavour with citrus notes which means it compliments Mexican cooking really nicely.
Mexican oregano isn't unfortunately readily available in supermarkets. But it is fairly inexpensive to buy online. If you do like cooking Mexican food I would recommend buying some.
However if you don't have any, I would just leave it out altogether. It isn't a flavour that will make or break the final dish, but more a flavour enhancer.
I wouldn't be tempted to simply replace it with standard oregano as it has a different flavour that wouldn't necessarily compliment the rest of the flavours.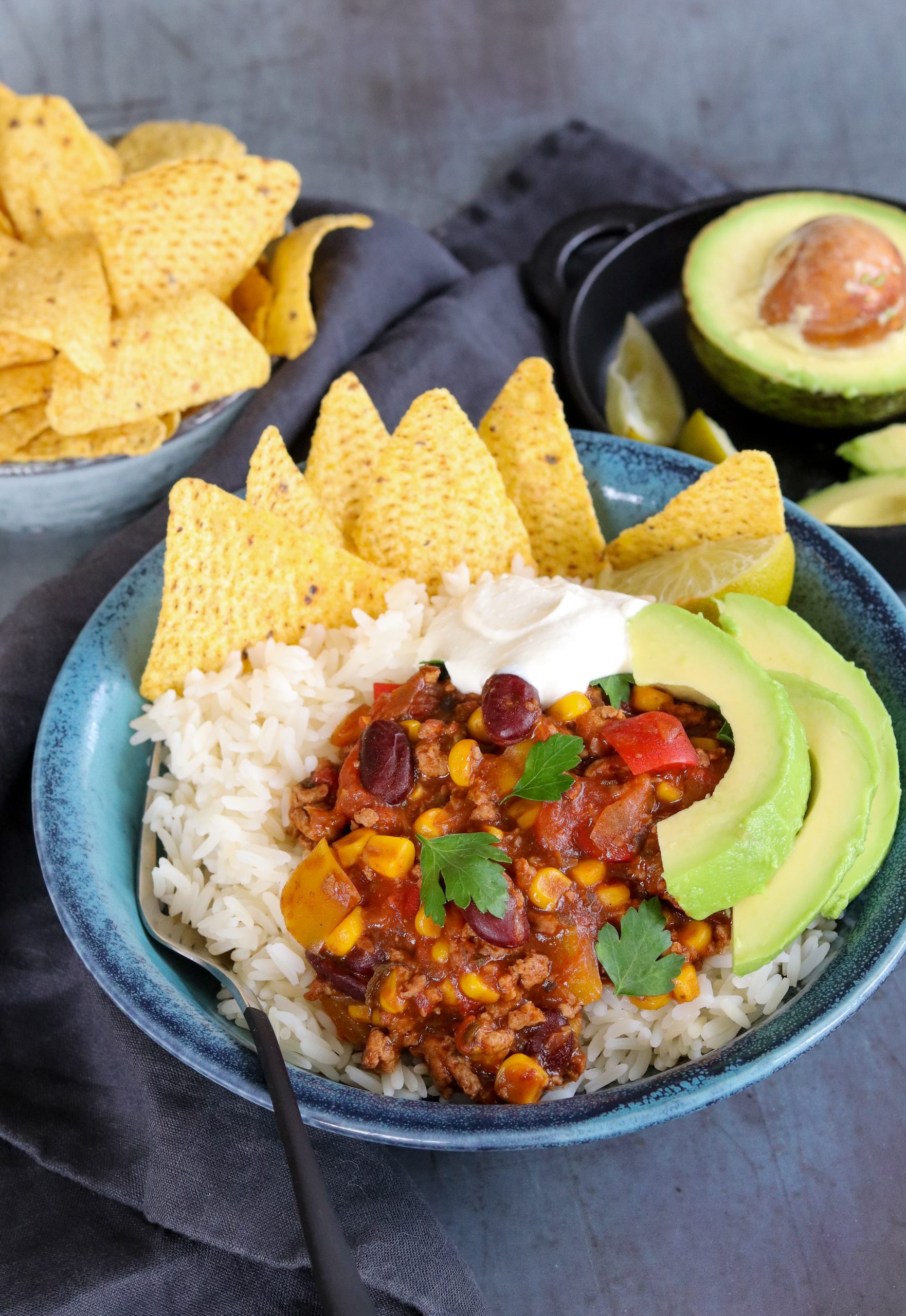 How to serve this skinny slow cooker turkey chilli
I always serve chilli with rice, soured cream and tasty toppings and my Turkey Chilli is no exception.
Add whichever toppings you like – Chunky Guacamole would be a perfect addition. You can keep it simple and add coriander, red onions or even some crumbled feta.
You could also use this as a filling to enchiladas and burritos or even on top of nachos or a baked potato. It is a really versatile recipe.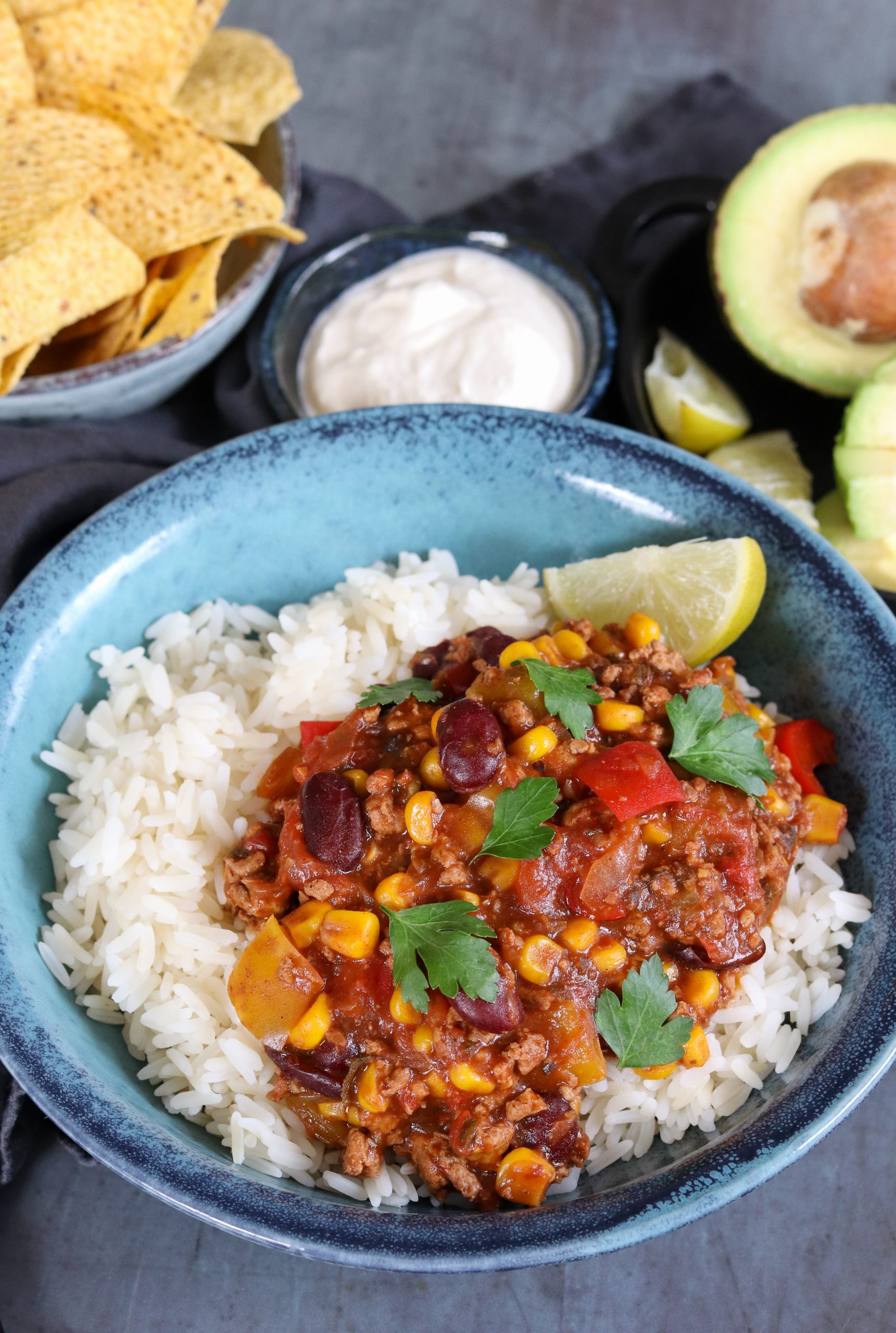 Can I still make this without a slow cooker?
Absolutely! Start by sweating down the onions in a small amount of oil until slightly softened. Add the ground turkey and break up and cook until browned.
Add the spices and tomato puree and stir through for a couple of minutes before adding the rest of the ingredients.
Allow to simmer on a medium/low heat, stirring occasionally for 30 minutes. You may need to add a splash more water if it starts getting a little dry.
You could also put the chilli in an ovenproof dish with a lid on a low temperature for a few hours if you'd rather not have something cooking away on the hob.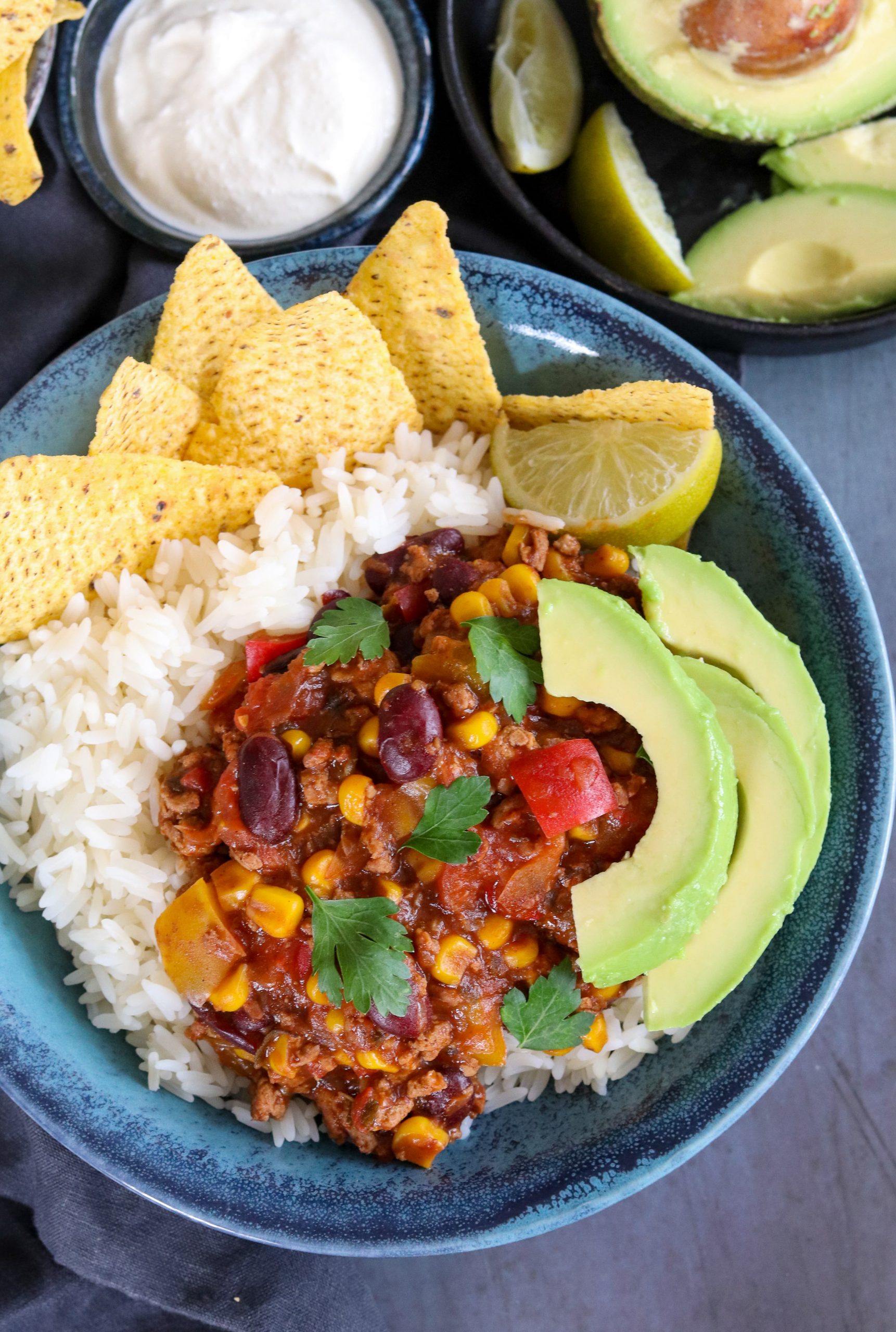 Can I freeze this Skinny Slow Cooker Turkey Chilli?
Yes, it freezes really well. I often make a batch of this so I have extra portions to freeze for a quick midweek meal in the future.
Make sure you freeze it within two hours of it finishing cooking. It can then be frozen for up to three months.
When you want to defrost it, leave it in the fridge to defrost for eight hours or overnight.
When it comes to reheating it, I like to do this in a pan on the hob. You can reheat it in the microwave if you prefer. Just make sure it is piping hot before serving.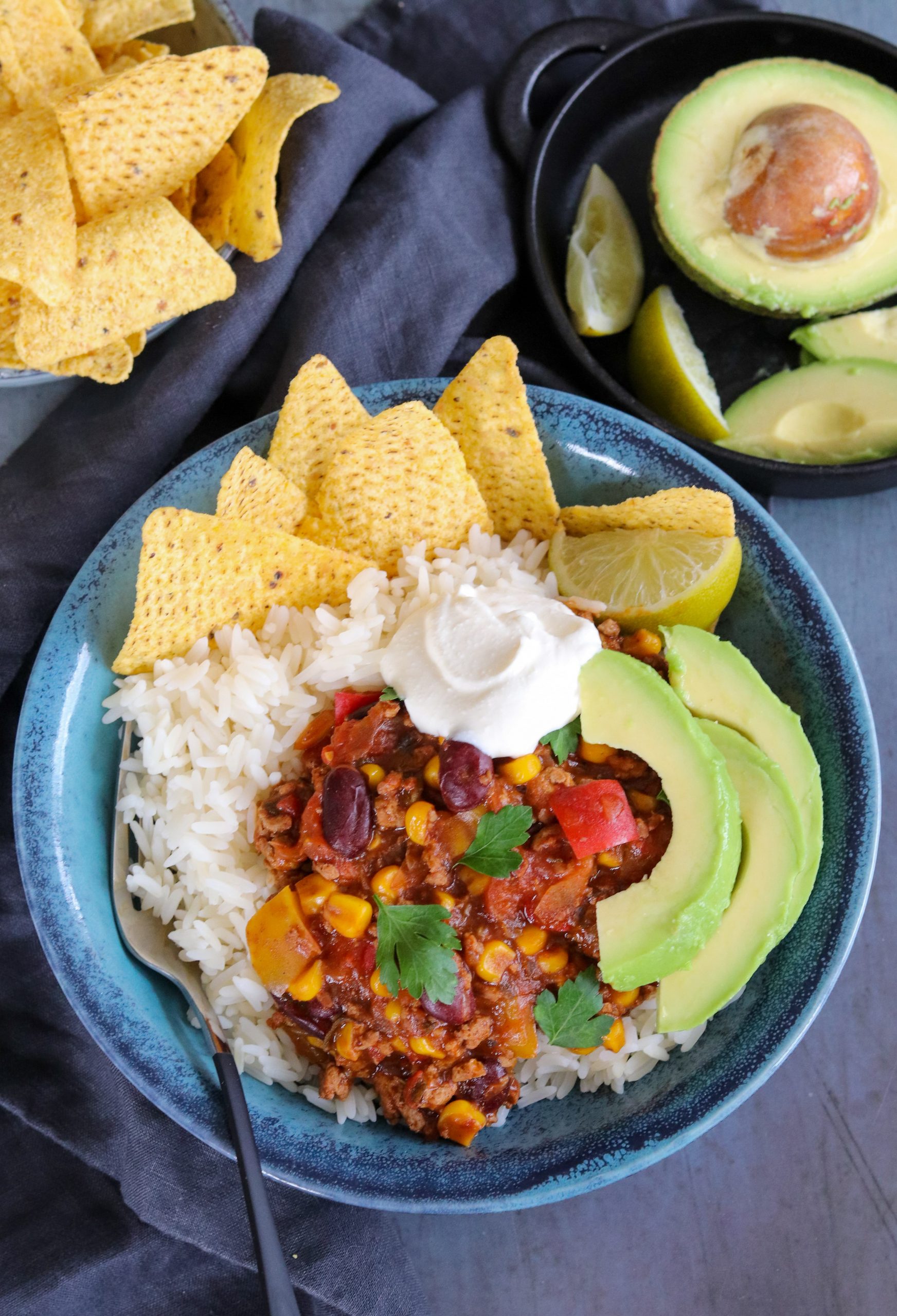 Making this chilli gluten free, vegetarian or vegan
This Skinny Slow Cooker Turkey Chilli is naturally gluten free. I would always recommend checking the dark chocolate you use is gluten free.
To make this vegetarian or vegan you could use any meat substitute. I would personally use one of the options that has the same look as meat mince. You would then just need to use vegetable stock instead of chicken.
You might also like to check out my Vegan Lentil Chilli as it is intentionally vegan.
other recipes you might like
Pin for later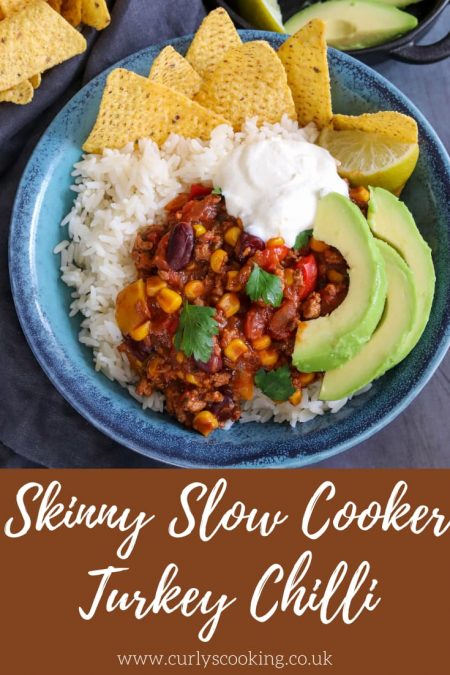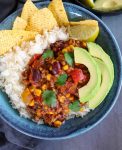 Skinny Slow Cooker Turkey Chilli
A delicious, lighter version of an American Classic. My Skinny Slow Cooker Turkey Chilli is not only tasty and healthy, it is really easy too! Grab a bowl and load with your favourite toppings.
Ingredients
500

g

2% turkey mince

1

onion

diced

400g

tin

chopped tomatoes

340g

tin

sweetcorn

2

peppers

diced

395g

tin

kidney beans in chilli sauce

3-4

cloves

garlic

1½

tsp

sea salt

¼

tsp

pepper

¼

tsp

ancho chilli powder

¼

tsp

ancho chilli flakes

¼

tsp

chipotle chilli powder

1½

tbsp

Mexican oregano

1

tbsp

tomato puree

150

ml

chicken stock

1

tbsp

cornflour

(optional)

30

g

dark chocolate

(at least 70% cocoa)
Instructions
Brown the turkey mince either in the dish from your slow cooker (if it allows) or in a pan on the hob

Add all of the ingredients to the slow cooker dish

Stir all of the ingredients together and cook for 5-6 hours on high or 7-8 on low. Stir every couple of hours if possible

An hour before the end of the cooking time, look to see if the sauce needs thickening. If it is thinner than you would like, mix the cornflour with water to make a slurry and add to the dish

Serve with rice and toppings of your choice
Nutrition Facts
Skinny Slow Cooker Turkey Chilli
Amount Per Serving
Calories 221
Calories from Fat 72
% Daily Value*
Fat 8g12%
Cholesterol 62mg21%
Sodium 783mg34%
Potassium 620mg18%
Carbohydrates 20g7%
Protein 19g38%
Vitamin A 500IU10%
Vitamin C 54.9mg67%
Calcium 49mg5%
Iron 2.3mg13%
* Percent Daily Values are based on a 2000 calorie diet.