These Chorizo & Potato Quesadillas are absolutely delicious. Lightly spiced potato, chorizo and vegetable filling sandwiched between tortillas. Great hot or cold but extra tasty with soured cream.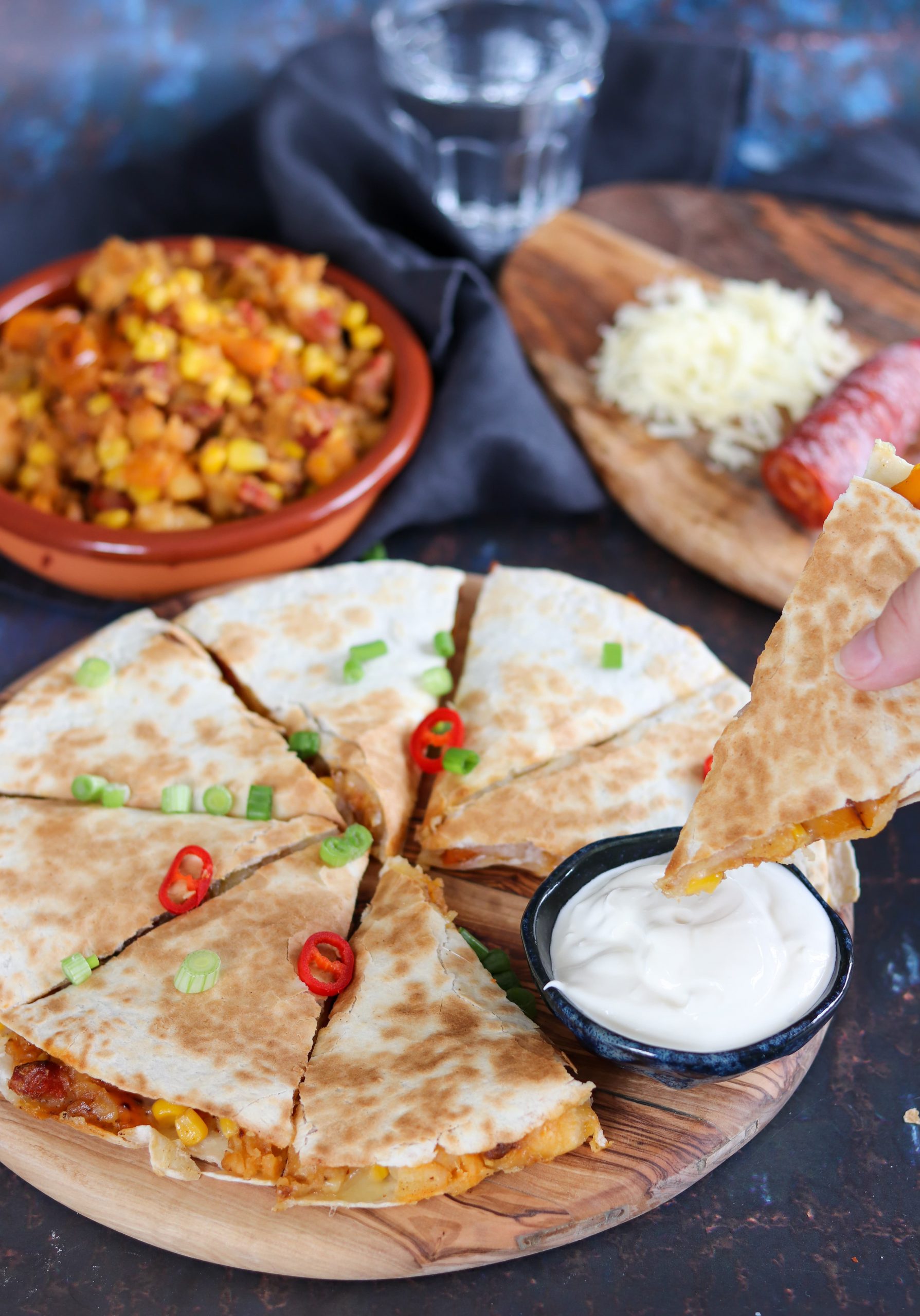 What is a quesadilla?
Quesadillas are a traditional Mexican food that are also popular in the United States.
They are made from tortillas filled with a number of fillings which can be meat and or vegetables. However quesadillas always include cheese. This is essential!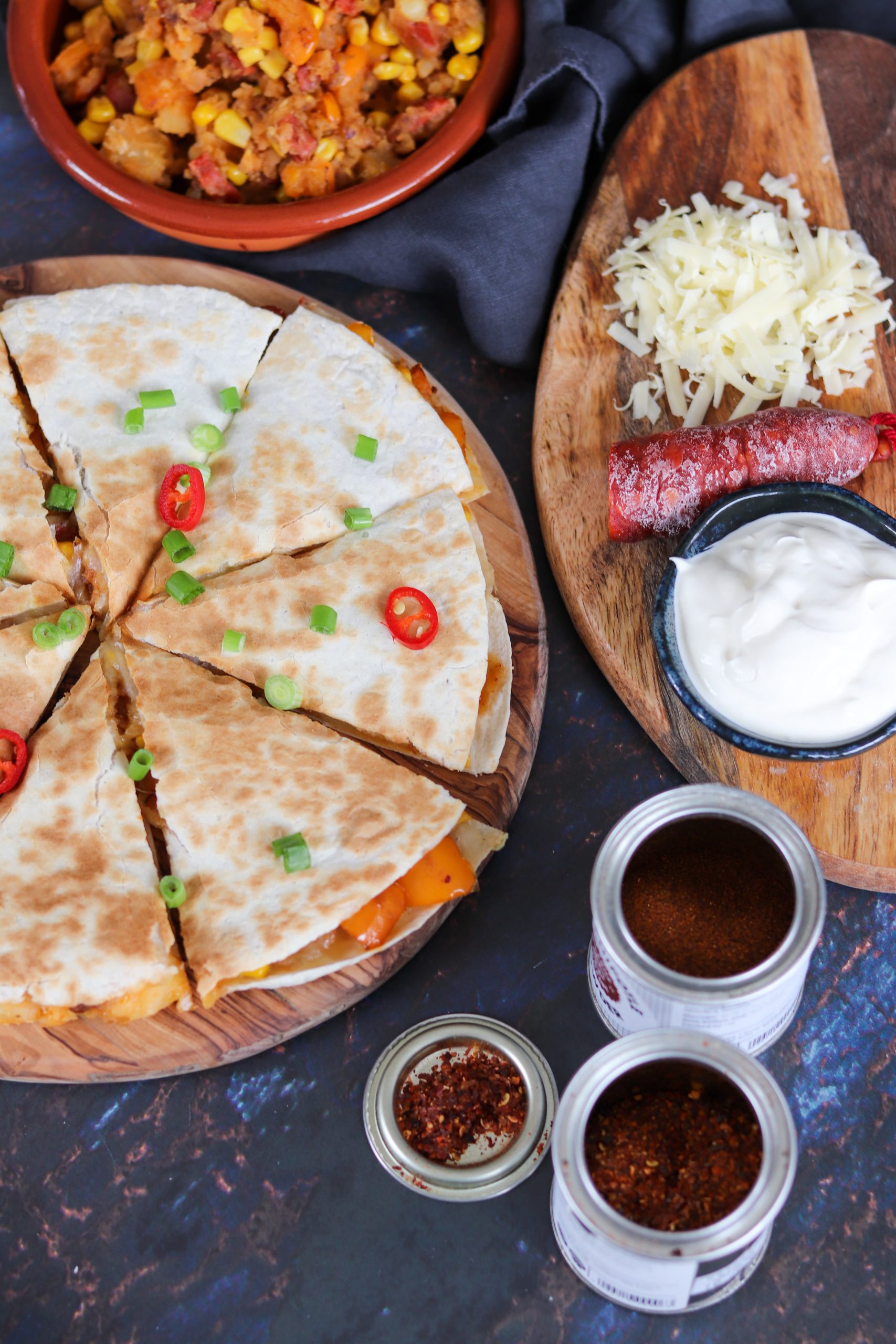 Quesadillas are easy and delicious to make
Quesadillas are such a delicious meal perfect for dinner, lunch or even a snack. They are relatively quick and easy to make which means they are perfect for a midweek dinner.
You can also tweak them to use whatever you have in your fridge.
These Chorizo & Potato Quesadillas are a traditional Mexican flavour combination with some added extras. I like to add sweetcorn and peppers to mine, but you can add anything you like.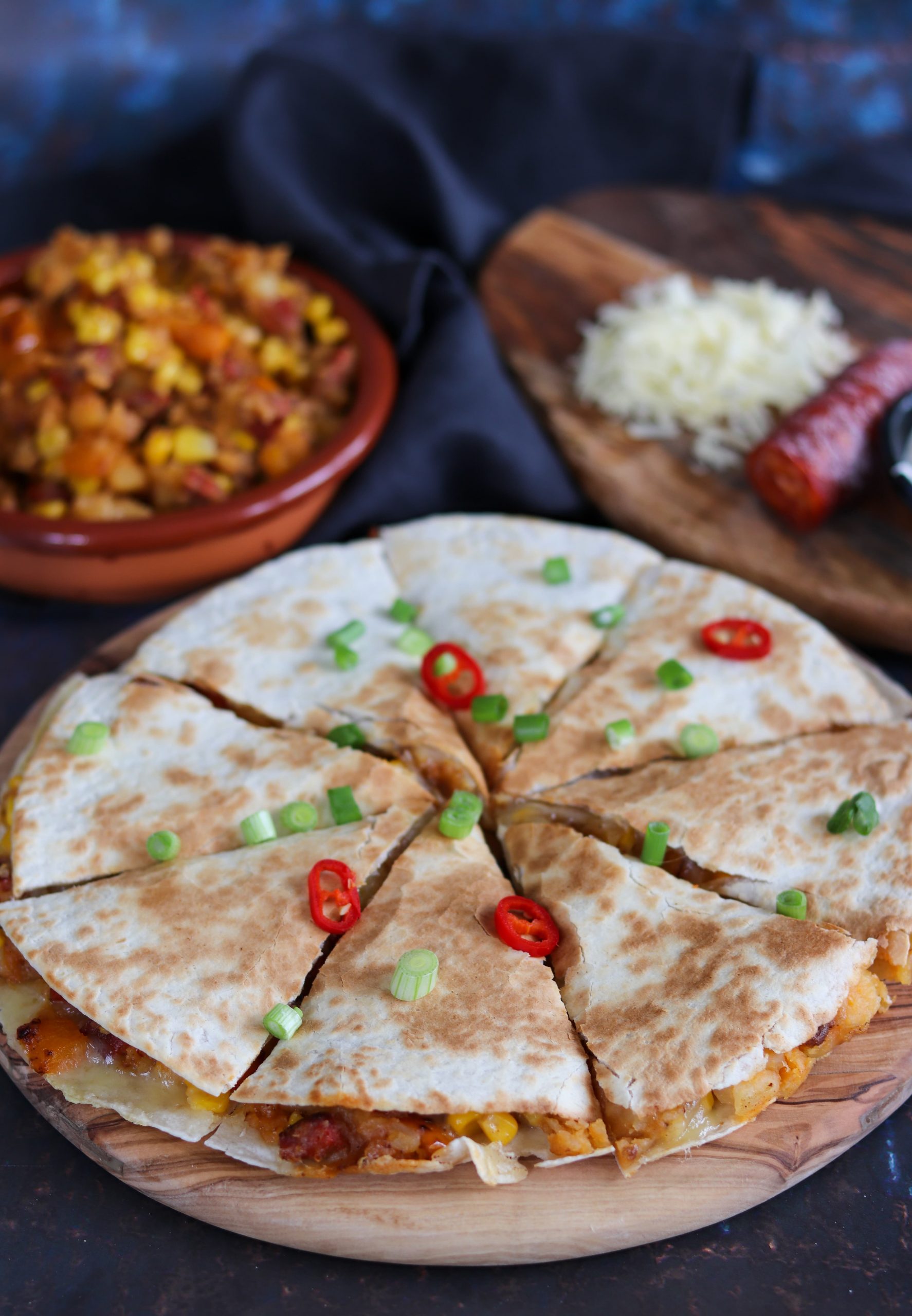 Which tortillas are best to use?
Here in the UK we are a bit more limited on the tortillas we have available. I always get so jealous to see how many different types you can buy in Mexico and the US!
I think it is more traditional to use corn tortillas for quesadillas, however here in the UK I have only seen then in small sizes in supermarkets.
I tend to use flour tortillas for quesadillas as they are very widely available and are a bit more flexible.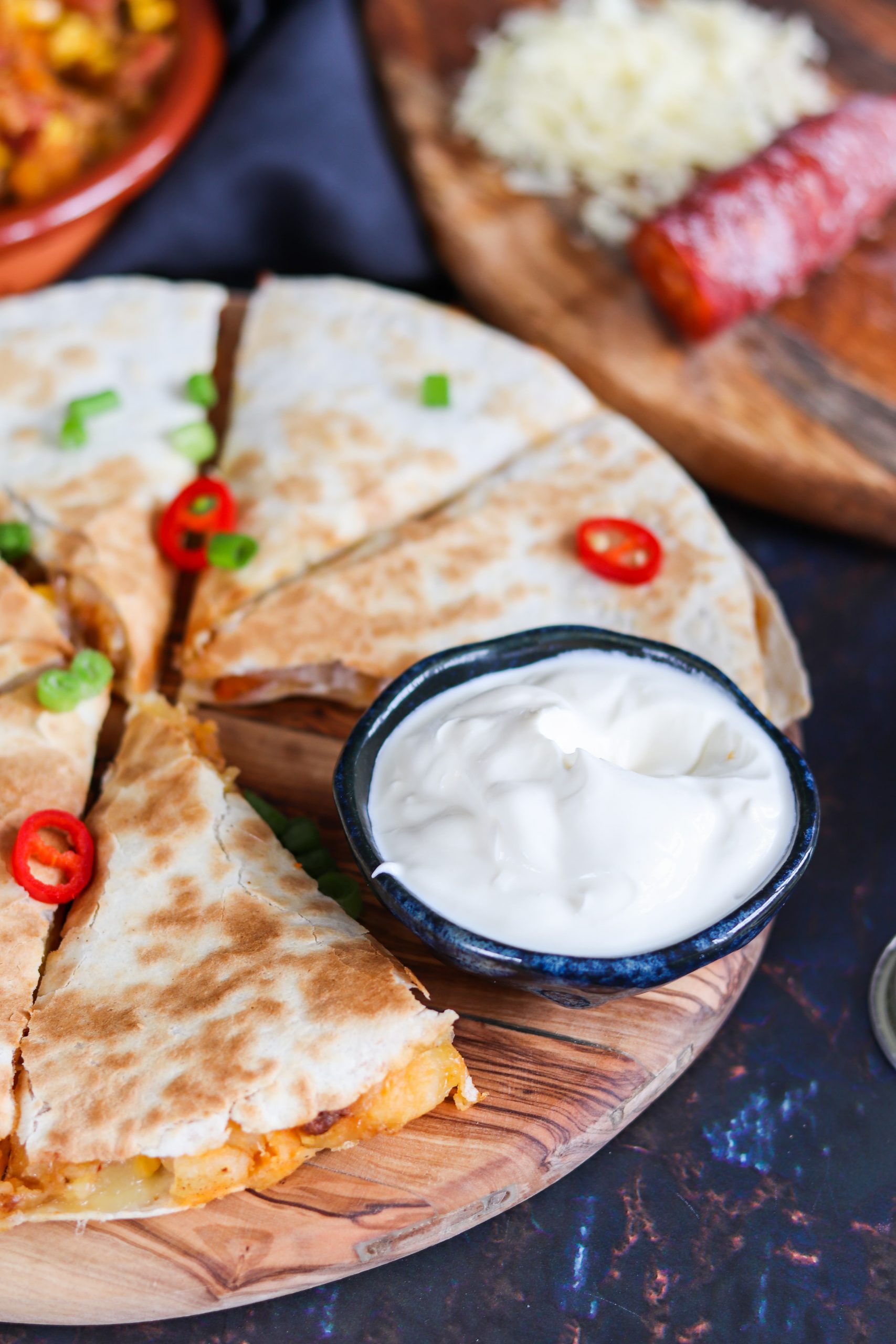 Which cheese is recommended?
Cheese is an essential ingredient for quesadillas! You need to choose a cheese that melts really well. This is because the melted cheese acts as a delicious, edible glue to not only stick all of the fillings together but to also secure them to the tortillas.
Oaxaca is a Mexican cheese that would traditionally be used, however this isn't very readily available. I use a nice mature cheddar as this melts really well.
I know cheeses like monteray jack are popular in the US so feel free to use this, or any other cheese that melts well.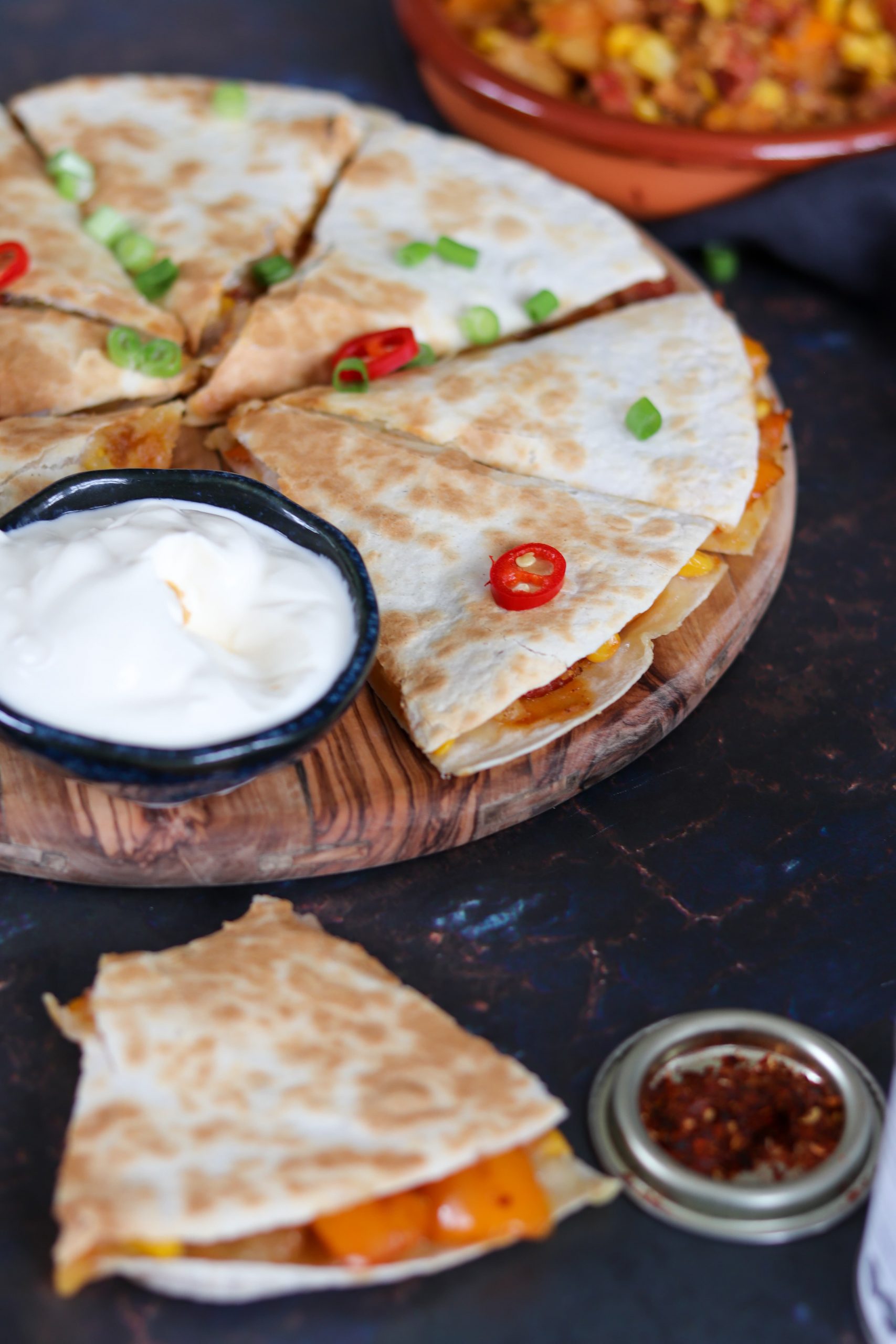 Are these quesadillas spicy?
These quesadillas are intentionally quite mild. I haven't included much chilli powder in the recipe so they should suit most people's tastes.
If you wanted to make it more mild, you can use mild chilli powder. Chorizo also usually comes in two options; standard and spicy. This is an easy way of controlling how spicy the finished quesadillas are.
If you would like a bit more spice, feel free to either add more chilli powder or use a hotter chilli powder.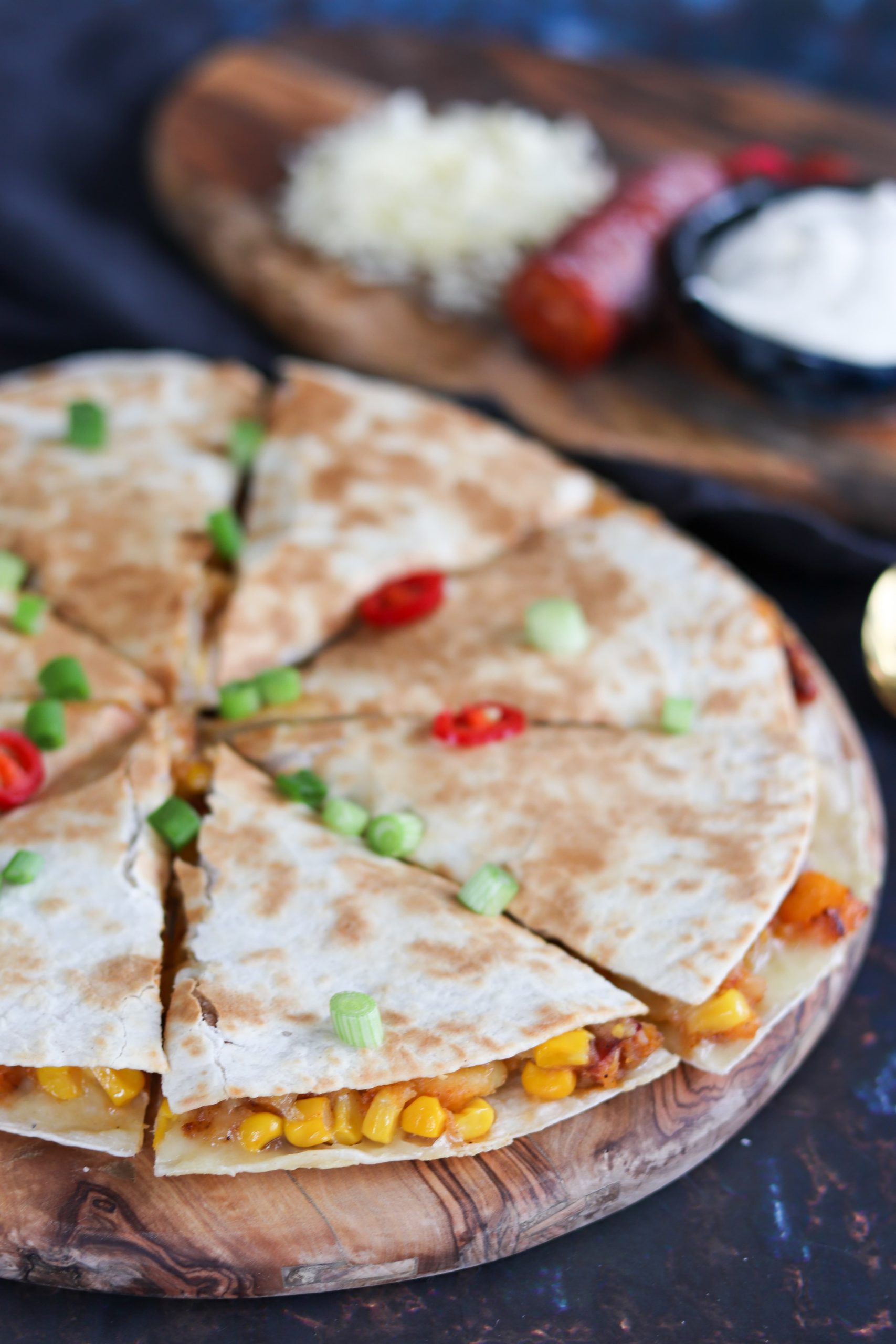 How many people does this recipe serve?
That really depends when you are planning to eat them. These Chorizo & Potato Quesadillas work really well as a starter, for lunch or as your main meal.
They are also really easy to make for a crowd. The quantities below make three whole quesadillas which if you cut them into eight triangles makes twenty four.
So you decide how many people you want to share them with, but be warned you may eat more than you intended to!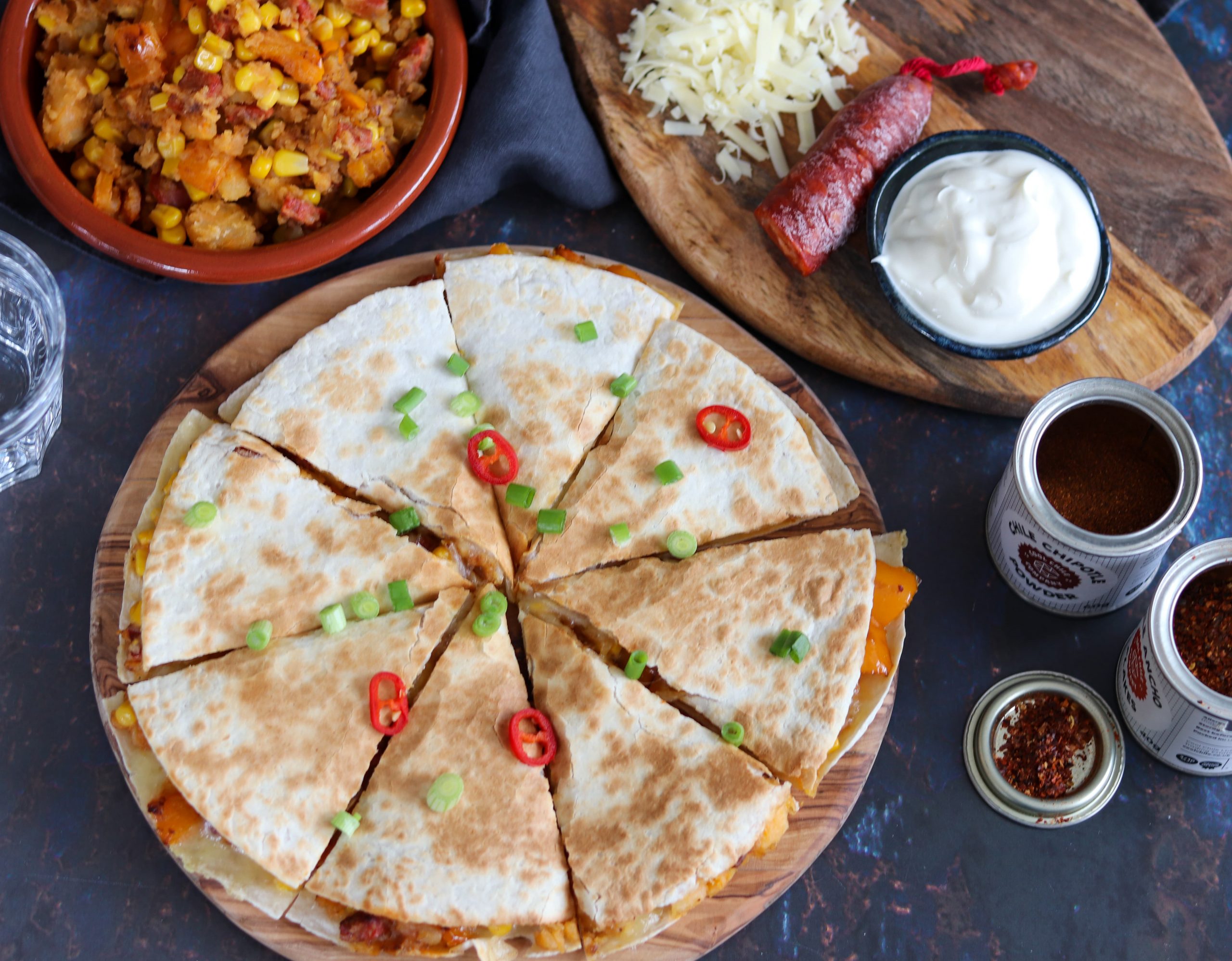 How to serve Chorizo & Potato Quesadillas
As I mentioned, these quesadillas are great as a starter, lunch or as a main meal.
You can serve them as they are, but I particularly like to serve them with soured cream and guacamole.
They would also be a great addition to a picnic, or even cut into smaller pieces and served at a party.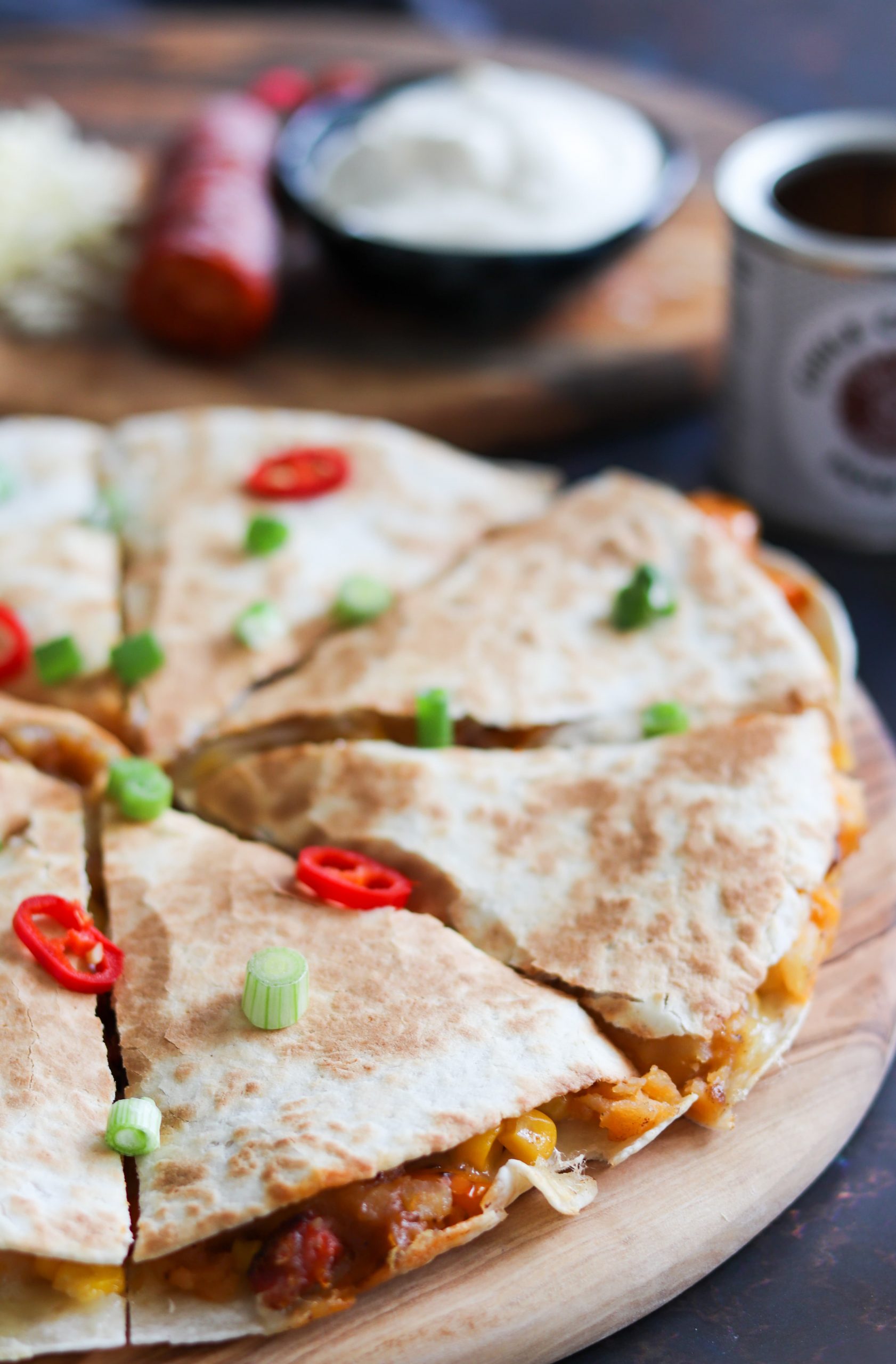 Quesadillas make great leftovers
I always make more of these Chorizo & Potato Quesadillas than we intend on eating. This is because I love having them as leftovers.
I really like to eat these cold the next day but you can easily reheat them. If you don't mind them going a little bit soft, you can microwave them.
If you would prefer for them to be crisp, I would heat them through in a pan or the oven. Make sure you keep any leftovers in the fridge until you are ready to eat them. They will keep in the fridge for two days.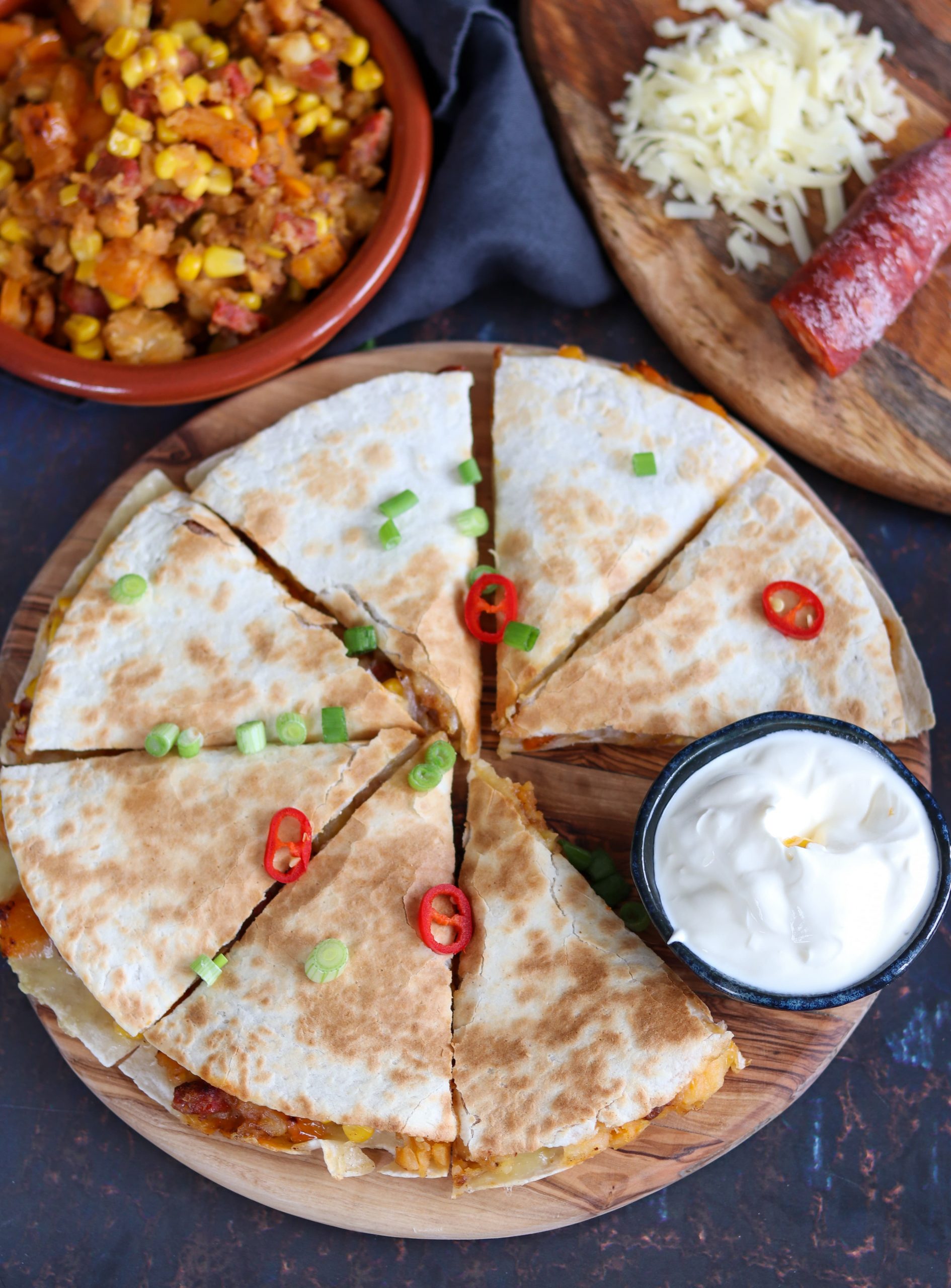 Chorizo & Potato Quesadilla flipping techniques
The only slightly challenging part of this recipe is deciding how you are going to flip the quesadillas. There are a number of ways to do this which vary depending on how brave you are feeling!
If you would like to play it safe, hold a chopping board over the frying pan and flip the frying pan over so the quesadilla turns out onto the chopping board. You can then slide it back into the pan so it can cook on the other side.
If you are feeling a bit more adventurous, you can try and flip the quesadilla. At the very least I would recommend using something like a large fish slice to help.
This method is likely to result in some filling spillage but feel free to give it a go!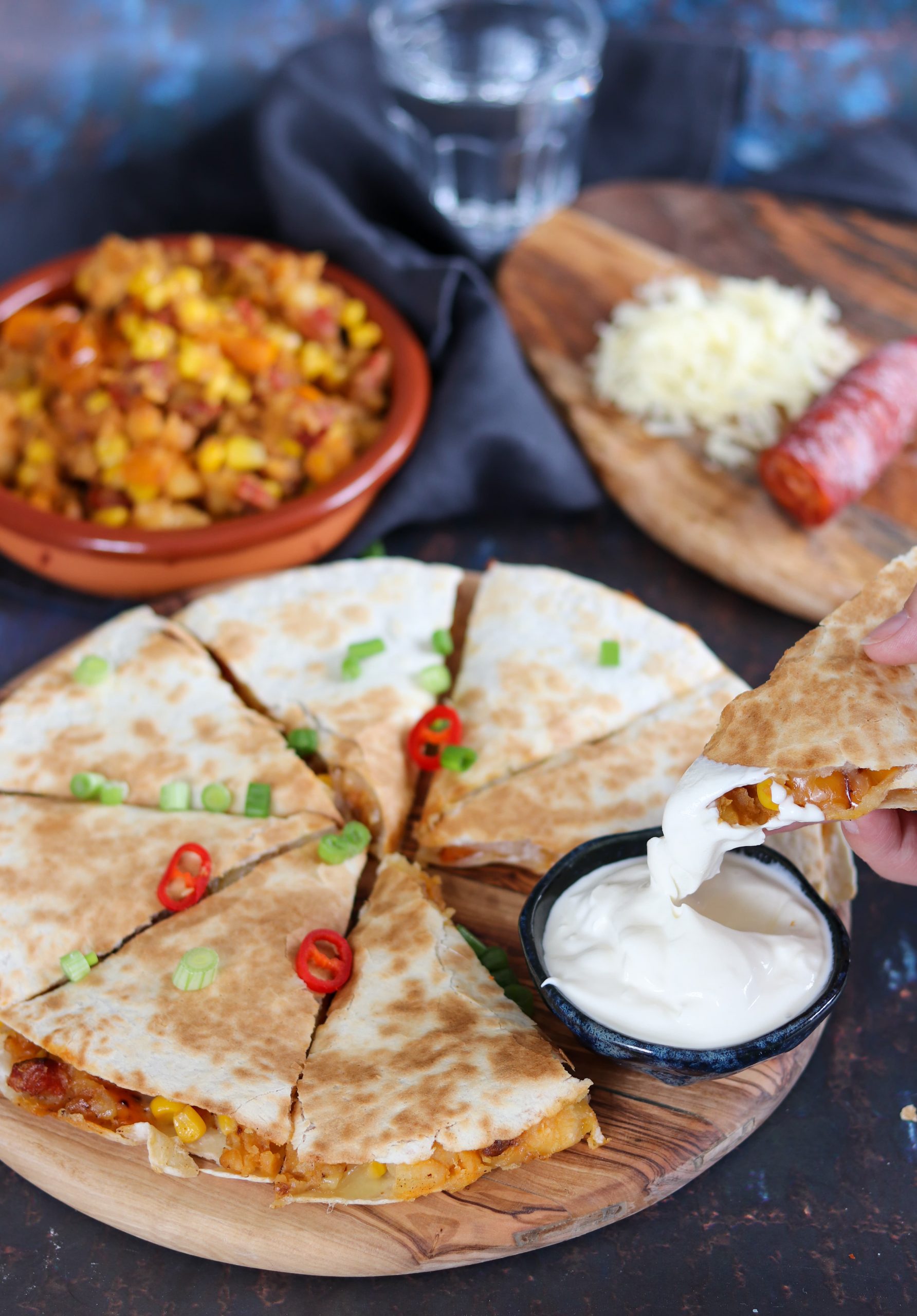 Can these quesadillas be made gluten free?
To make these Chorizo & Potato Quesadillas gluten free is quite simple.
Instead of flour tortillas, use corn tortillas as these are naturally gluten free. Obviously check the ingredients of any packets to make sure.
The majority of chorizo I have seen is gluten free, but it is definitely worth checking the ingredients too.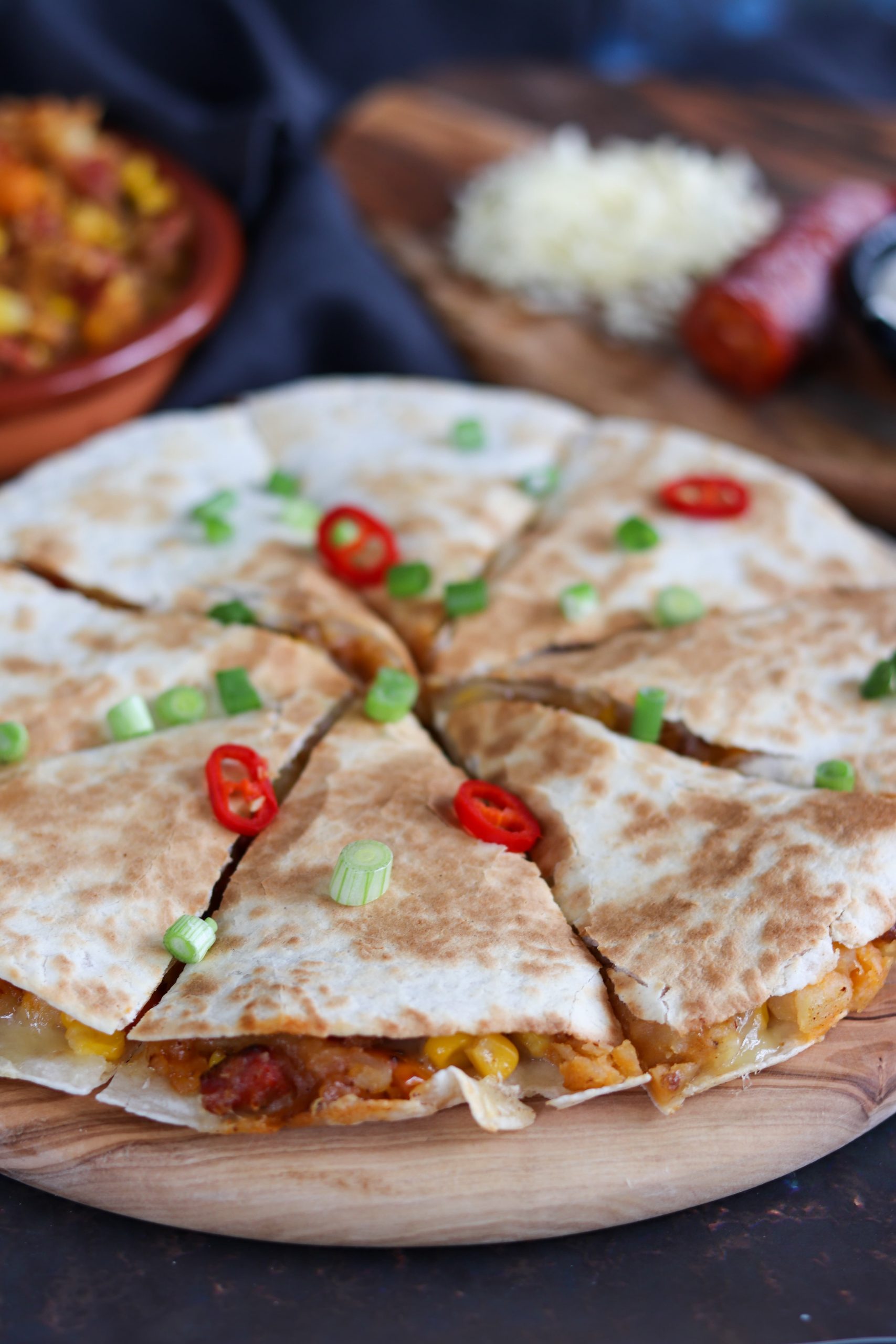 How to make these quesadillas vegetarian or vegan
If you wanted to make these Chorizo & Potato Quesadillas it is fairly simple.
Make sure the tortillas you use are vegan. Most recipes now use vegetable oil instead of lard so this shouldn't be a problem, just make sure you check.
There are lots of plant based chorizo alternatives in supermarkets these days. These could easily be used in this recipe.
You can miss out the chorizo altogether if you don't want to use meat alternatives. I would add half a teaspoon of smoked paprika to get the smoky flavour the chorizo would provide.
If you are making this vegan, use a vegan cheese that melts well as this is essential!
As an alternative, try my Cavolo Nero & Sweetcorn Quesadillas or Mexican Street Corn Quesadillas.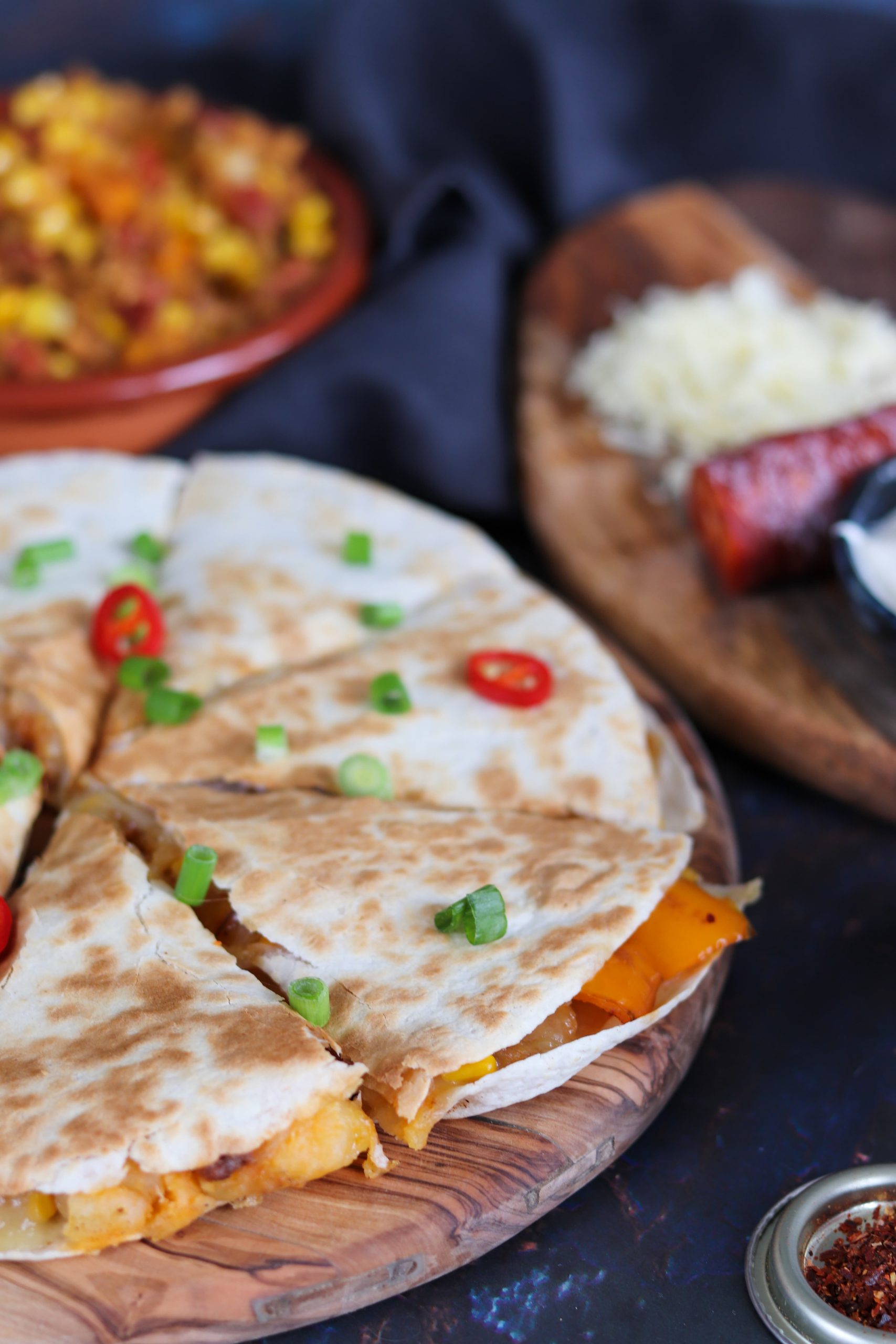 Other recipes you might like

Pin for later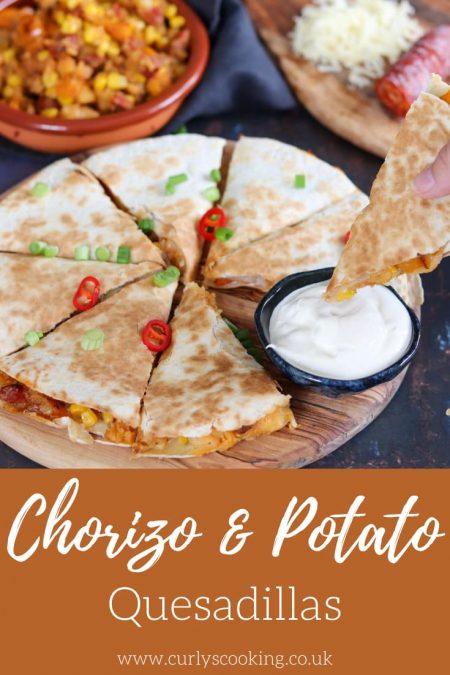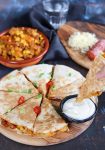 Chorizo & Potato Quesadillas
These Chorizo & Potato Quesadillas are absolutely delicious. Lightly spiced potato, chorizo and vegetable filling sandwiched between tortillas. Great hot or cold but extra tasty with soured cream.


Ingredients
600

g

potatoes

peeled and diced

1

onion

diced (optional)

130

g

chorizo

diced

2

cloves

garlic

minced

198g

tin

sweetcorn

drained

1

pepper

diced

150

g

cheese

grated

½

tsp

chili powder

(I use ancho and chipotle)

½

tsp

sea salt

pinch

black pepper

1-2

tsp

sunflower oil

6

large flour tortillas
Instructions
Peel and dice the potatoes and boil them until cooked through in salted water

Add the peppers to a frying pan over a medium heat and cook for a couple of minutes before adding the chorizo. Keep stirring to allow the oils from the chorizo to be released and then add the onions (if using) and garlic.

Allow the onions (if using), garlic and peppers to soften for a 2-3 minutes and then add the potatoes. Using your wooden spoon, squash the potatoes slightly. Cook for around 5 minutes adding some of the oil if it begins to stick

Add the sweetcorn, chilli powder, salt and pepper and stir through. Leave to cook stirring occasionally for 2-3 minutes before turning out into a bowl

Place one large tortilla in a clean frying pan over a medium heat. Scatter the tortilla with some of the grated cheese

Add a thin layer of the potato filling, spreading it to the edges of the tortilla

Sprinkle with more grated cheese

Place another tortilla on top and press down to squash the filling to the edges. By now the bottom tortilla should be browned and slightly crispy. Carefully flip the tortilla over so the bottom becomes the top

Once flipped, allow the tortilla to cook for 1-2 minutes until browned and crispy and you can see the cheese has melted inside

Turn out onto a board and cut into eighths
Recipe Notes
Nutritional information is given as a guide only and my vary.
Nutrition Facts
Chorizo & Potato Quesadillas
Amount Per Serving
Calories 718
Calories from Fat 243
% Daily Value*
Fat 27g42%
Cholesterol 68mg23%
Sodium 955mg42%
Potassium 1011mg29%
Carbohydrates 34g11%
Protein 23g46%
Vitamin A 678IU14%
Vitamin C 47mg57%
Calcium 330mg33%
Iron 6mg33%
* Percent Daily Values are based on a 2000 calorie diet.