This American Style Chocolate Fudge Cake is hands down my favourite cake. Moist, rich and decadently chocolatey; this cake really is something special. Perfect for any occasion, or if you just want to make yourself an amazing cake.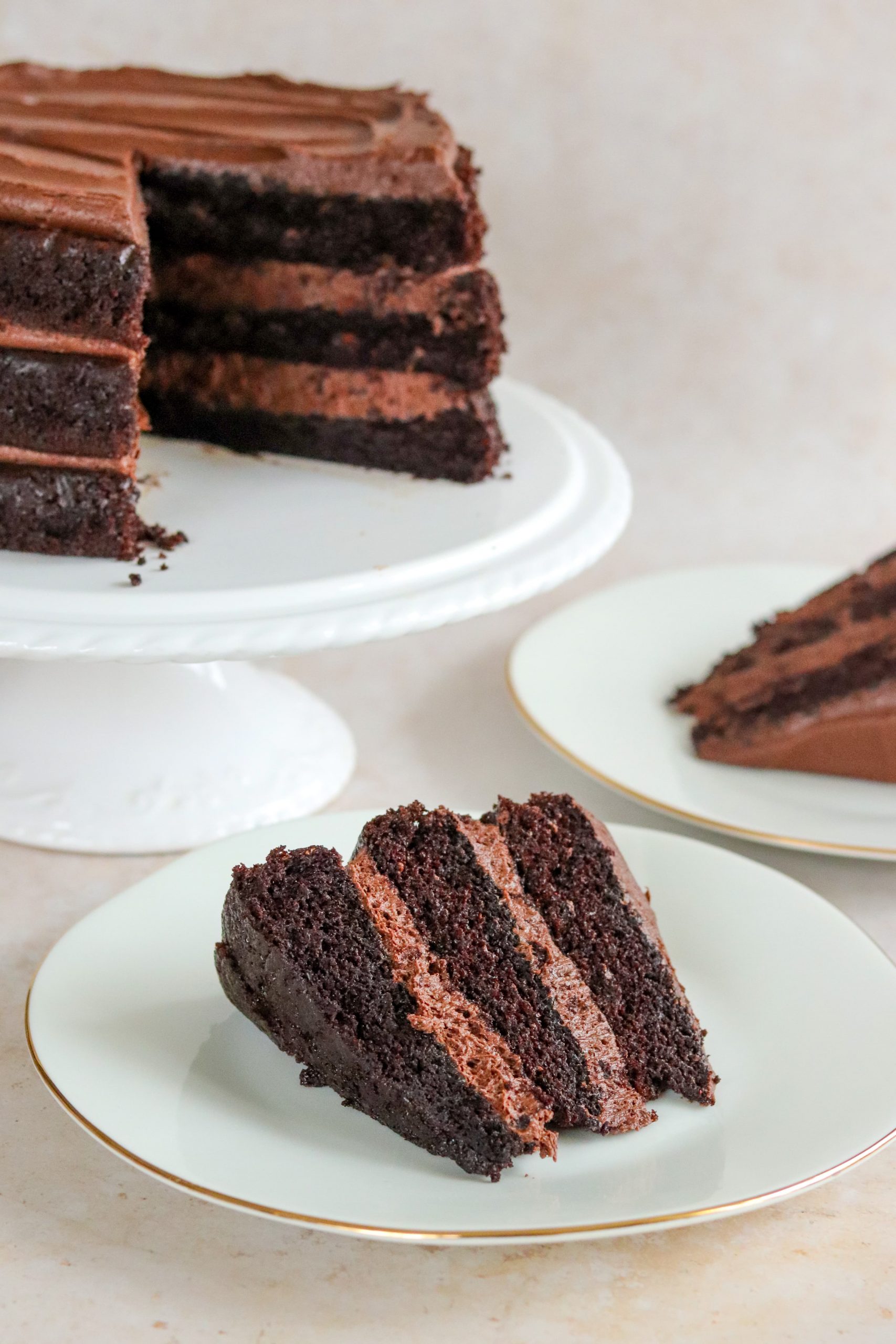 What is an american style chocolate fudge cake?
Imagine the most deliciously rich, moist chocolate cake and that is an American Style Chocolate Fudge Cake. Chocolate fudge cakes are often served as desserts in American style restaurants. This cake is like them, but much better!
Chocolate cakes are often my go-to flavour when it comes to cake. My Small Chocolate Layer Cake is one of my favourite cakes and my Small Batch Chocolate Cupcakes are always delicious.
Sponge cakes tend to be lighter and fluffier whereas chocolate fudge cakes are rich, more moist and a little more dense.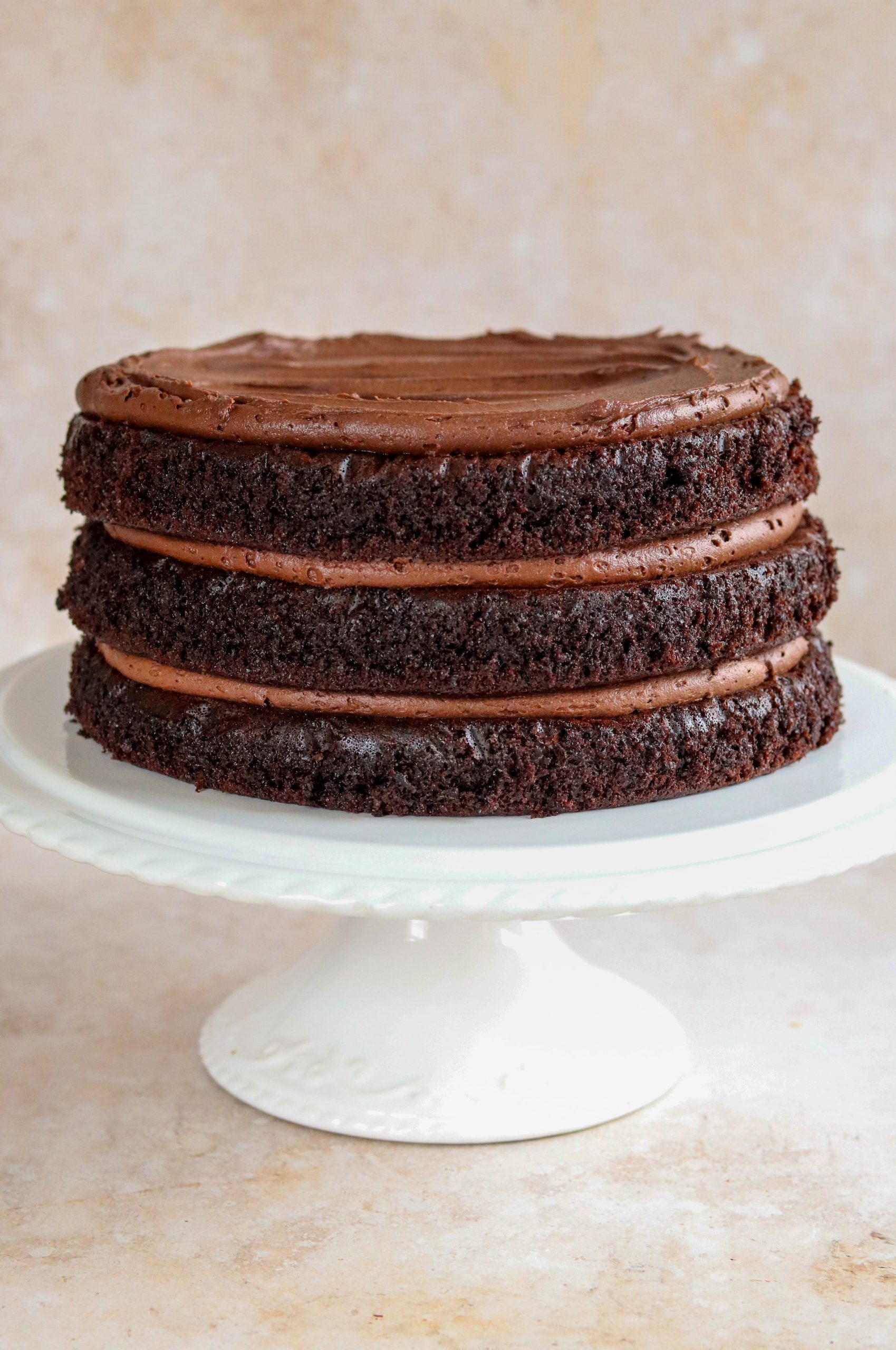 Does this cake taste like coffee?
No, definitely not! I don't like coffee but I always add it to my chocolate bakes.
Coffee acts as a flavour enhancer to chocolate and makes it taste even more rich and delicious. I particularly like to add it to bakes when it is mixed with boiling water so it dissolves and distributes evenly throughout the cake.
The salt in the recipe also enhances the chocolate flavour. But don't worry you won't taste this either!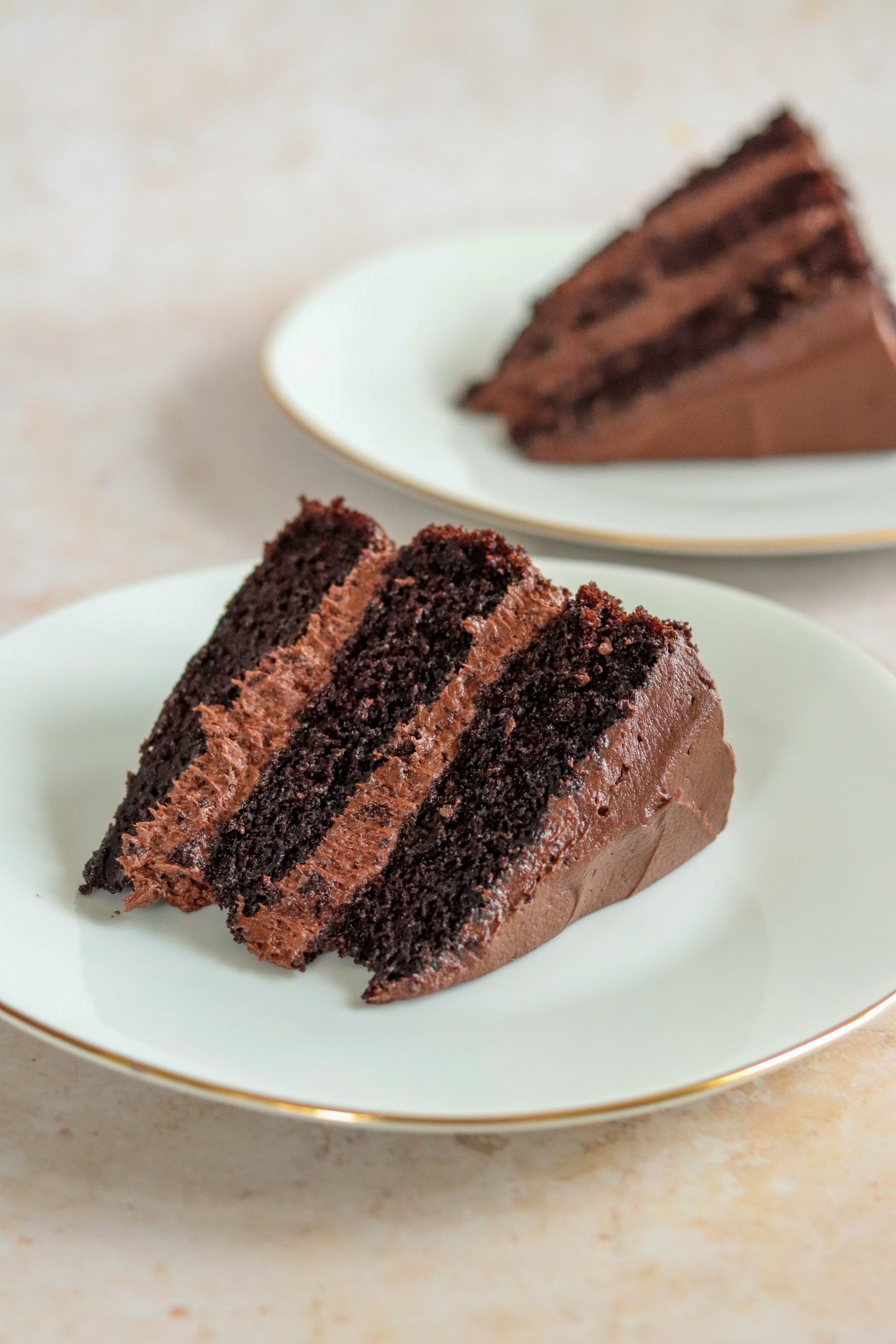 Which cocoa powder is best to use?
Depending on where you live, there are different types of cocoa powder you can buy. The distinction is more obvious in the US where they have Dutch processed and natural cocoa powder.
When making Dutch processed cocoa powder, the cocoa beans are washed in an alkaline solution which reduces the acidity. This means that it doesn't react when mixed with bicarbonate of soda (baking soda).
Natural cocoa powder as the name suggests, is natural. It is acidic and bitter with a more concentrated chocolate flavour. Natural cocoa powder is often used in recipes with bicarbonate of soda as it reacts and helps bakes to rise.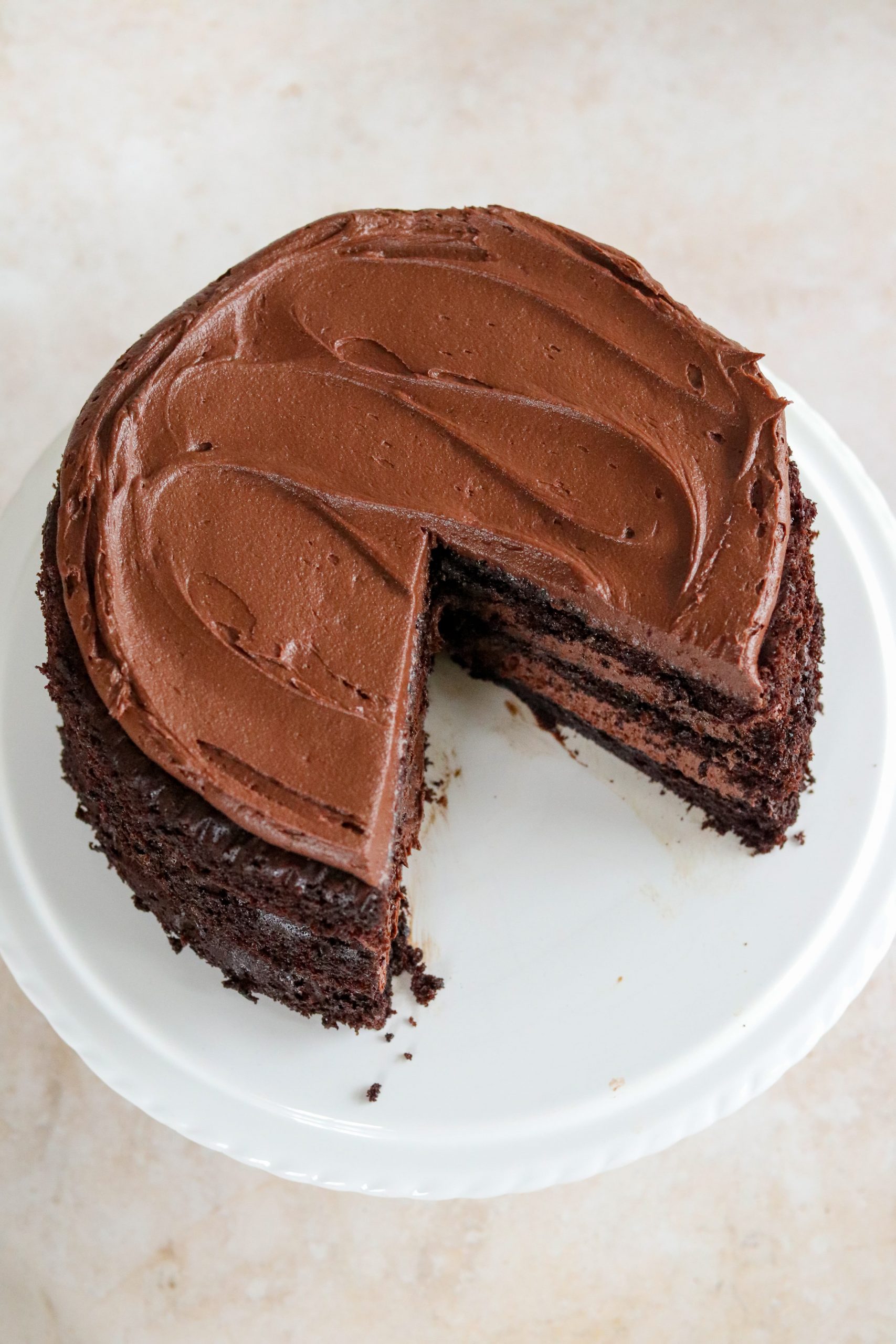 For this American Style Chocolate Fudge Cake I would use Dutch processed cocoa powder. Read more about Dutch processed vs Natural Cocoa Powder over at Sally's Baking Addiction.
Here in the UK all of our cocoa powder is Dutch processed unless otherwise specifically stated. Natural cocoa powder only tends to be found in speciality and health food stores. So chances are, if you are buying cocoa powder it is Dutch processed.
Just make sure you don't buy drinking chocolate and use cocoa powder found in the baking aisle.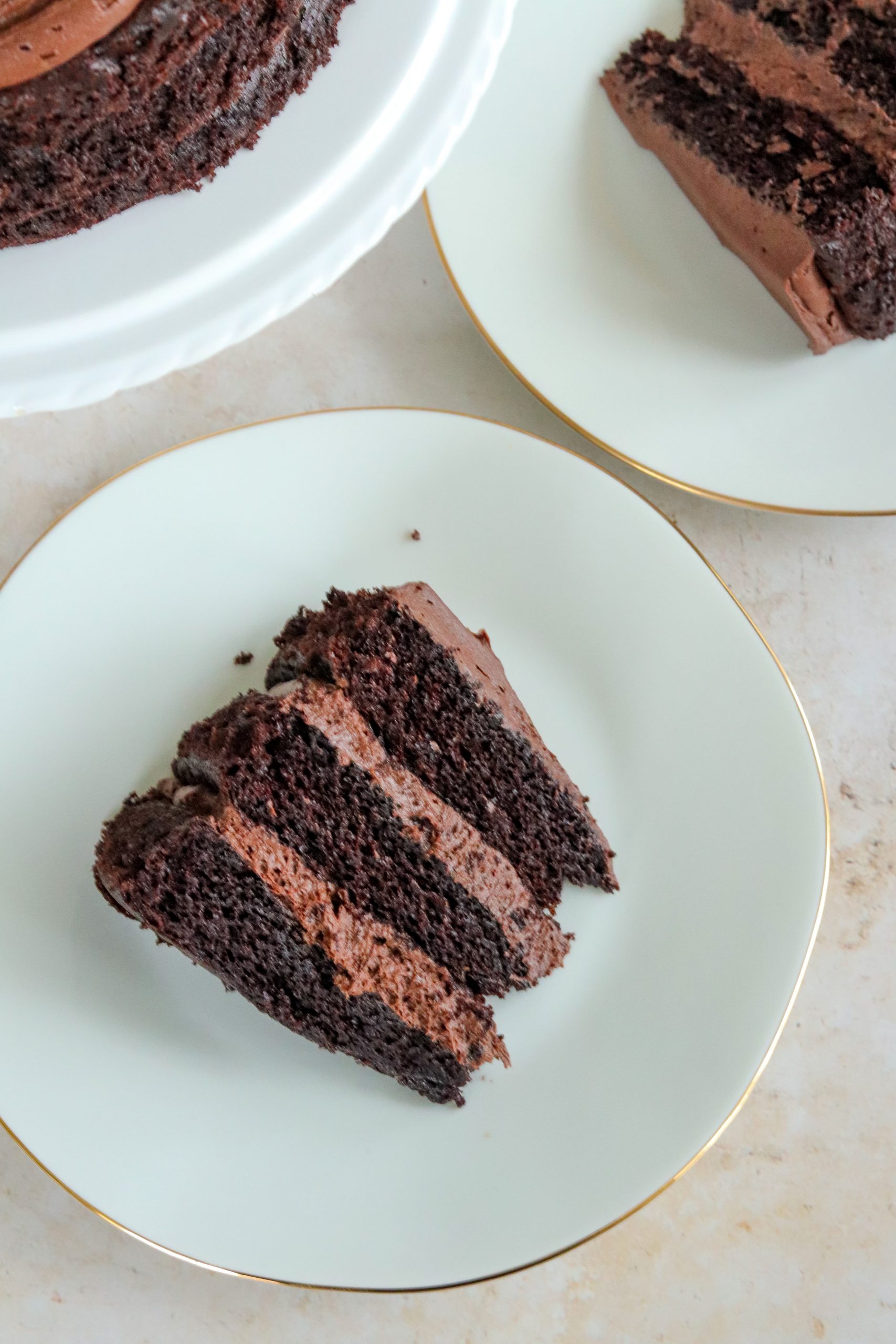 How to make smooth buttercream
Whenever I make buttercream, I always ensure I have room temperature butter. I usually get my butter out of the fridge a good few hours before I want to make the buttercream.
If you are making buttercream in the winter or when it is particularly cold, you will need to allow for more time for the butter to soften. On a warmer day in the summer, it will take less time. But watch it because you don't want melted butter!
I also beat my butter separately before adding the rest of the ingredients. This helps to get the butter really smooth and means it incorporates better with icing sugar and helps prevent any lumps.
When adding the milk, don't add it all at once. Add a tablespoon at a time because you might not need the full amount in the recipe.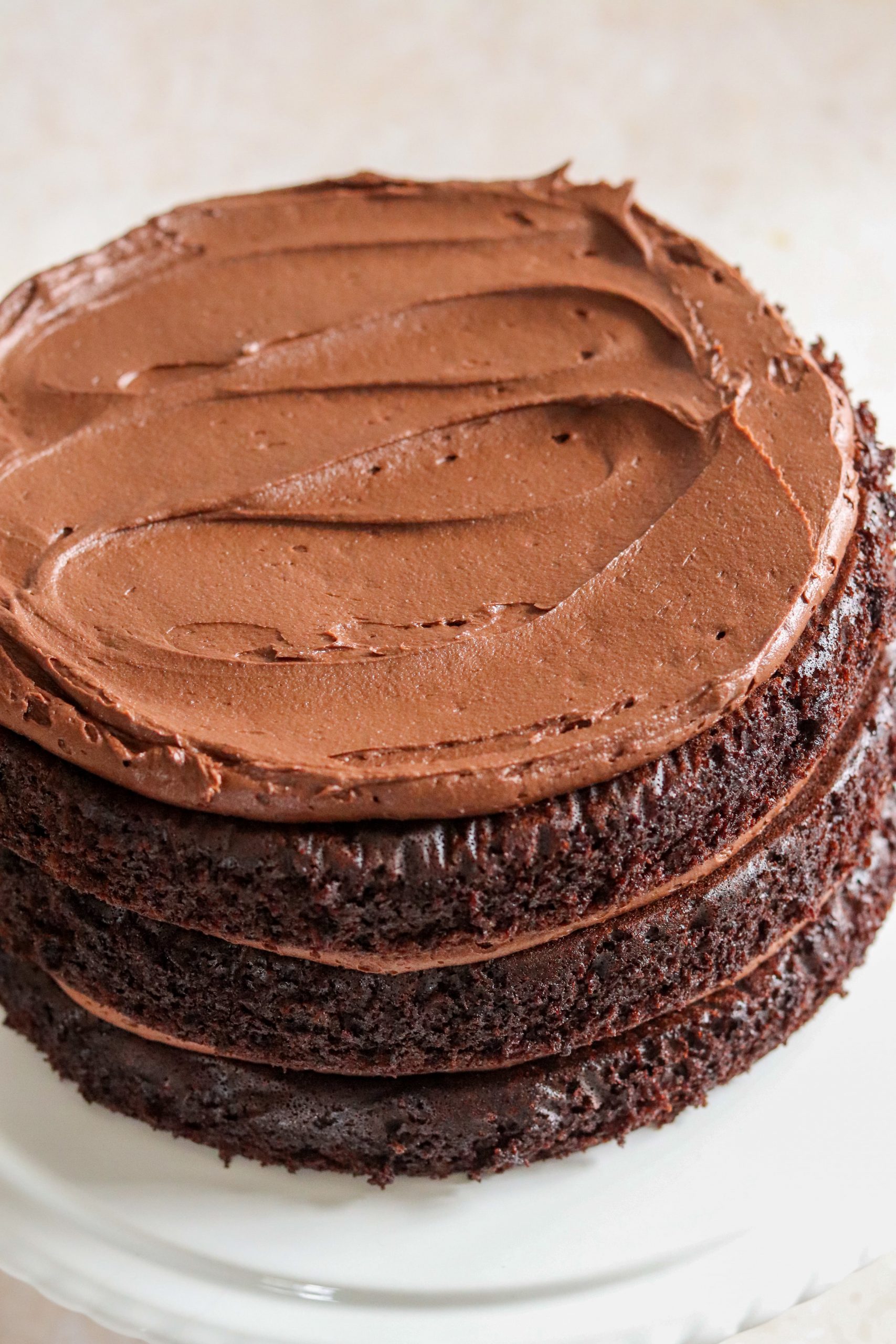 how to decorate this chocolate fudge cake
I like to keep the decoration for this cake really simple. If I want it to look extra neat like in these photos, I pipe the buttercream in the middle layers.
But usually if I am just making this cake for me to eat, and believe me if I'm making a cake for me, it is this one; I just spread the buttercream out with a pallet knife.
I also leave the top layer of the cake plain. No extra piped buttercream or sprinkles. This cake really is amazing just as it is. It doesn't need anything else to grab people's attention in my opinion.
This cake is so incredibly moist that anything too fancy might not hold up. You can obviously add some sprinkles or any other decorations you like.
If you wanted to change up the buttercream, my Nutella Buttercream would be fantastic with this cake.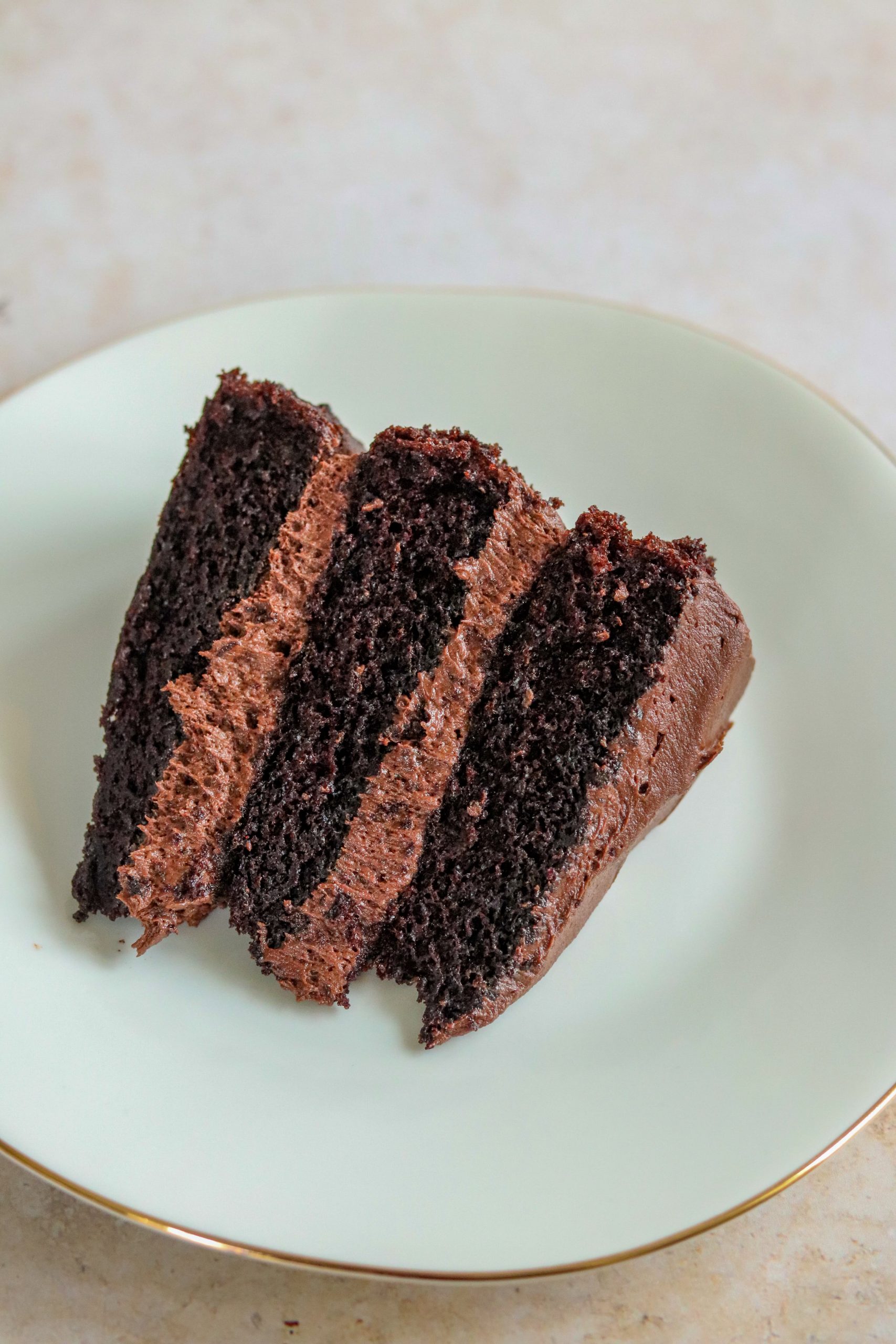 can you stack this chocolate fudge cake?
This cake is not one that lends itself to being stacked as part of a tiered cake. It is very moist and would be a disaster if you tried to stack anything on top of it or place it on top of another cake.
I also wouldn't recommend making this cake with more layers than three. This is as tall as I would like to make it before it runs the risk of a layer slipping off.
You could use two deep eight inch cake tins if you prefer a thicker cake. This would affect the baking time as they would be thicker cakes and therefore take longer to bake. I would recommend reducing the buttercream by one third if you decide to make two layers.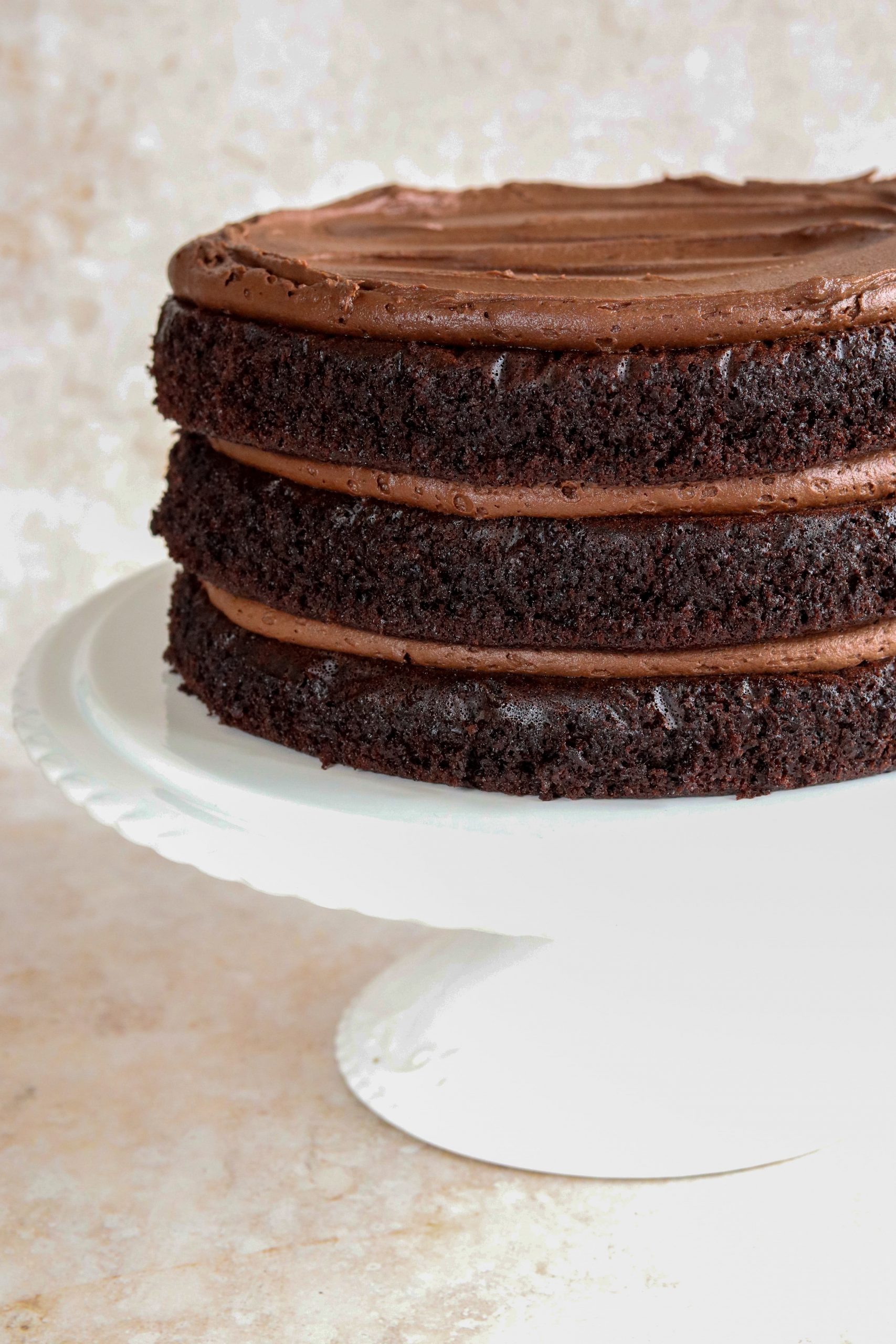 how long will this cake keep for?
Oil based cakes like this one and my Carrot Cake are really moist and therefore keep for longer than butter based cakes.
I have happily kept this cake for 5-6 days and it is still incredibly delicious and showing no signs of becoming dry.
Your cake probably won't last this many days, but I have been known to make this cake and eat the majority of it myself so I am pleased it keeps for so long!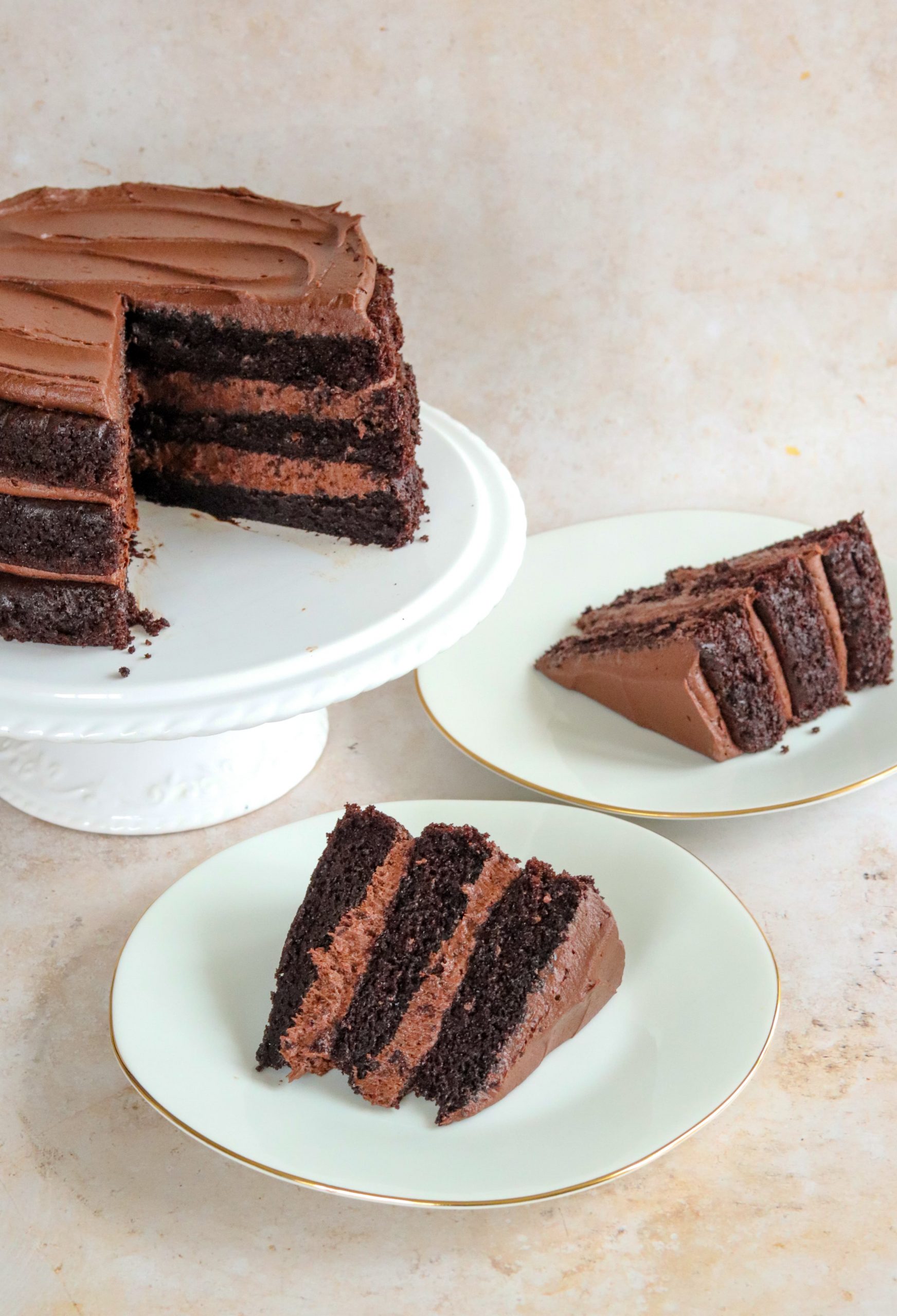 other recipes you might like
Pin for later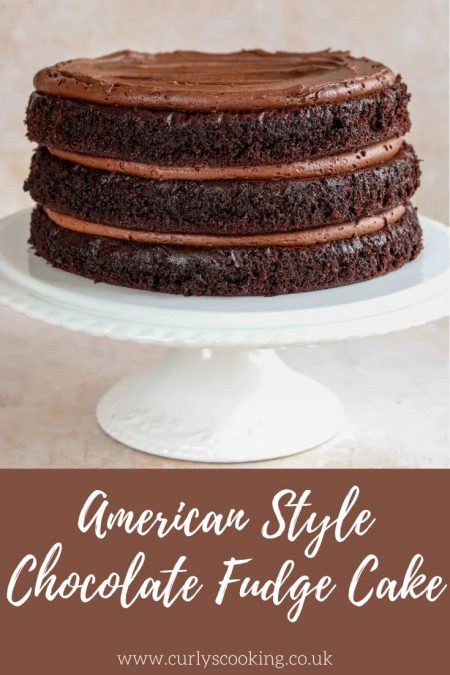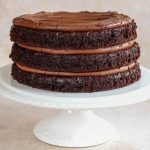 American Style Chocolate Fudge Cake
This American Style Chocolate Fudge Cake is hands down my favourite cake. Moist, rich and decadently chocolatey; this cake really is something special. Perfect for any occasion, or if you just want to make yourself an amazing cake.
Cooling & decorating
2
hours
30
minutes
Total Time
3
hours
25
minutes
Ingredients
For the cake
120

ml

boiling water

2

tsp

coffee

220

g

plain flour

65

g

cocoa powder

325

g

caster sugar

2

tsp

bicarbonate of soda

1

tsp

baking powder

1

tsp

salt

120

ml

semi skimmed milk

180

g

fat free Greek yogurt

120

ml

vegetable oil

2

eggs

2

tsp

vanilla extract
For the buttercream
290

g

unsalted butter

softened

420

g

icing sugar

65

g

cocoa powder

¼

tsp

salt

3-4

tbsp

whole milk
Instructions
Preheat your oven to 180°C (fan assisted, 200°C non fan) and line three 8 inch cake tins

Add 2 tsp coffee to 120ml boiling water, mix to combine and set aside

Add 220g plain flour, 65g cocoa powder, 325g caster sugar, 2 tsp bicarbonate of soda, 1 tsp baking powder and 1 tsp salt to a large bowl. Mix to combine

Mix together 120ml semi skimmed milk, 180g low fat Greek yogurt, 120ml vegetable oil, 2 eggs, 2 tsp vanilla extract and the coffee you made earlier in a large jug

Pour the wet ingredients into the dry ingredients and mix until completely combined

Divide the cake batter between the three prepared tins. Bake in the oven for 20 minutes or until a cocktail stick comes out clean

Leave the cakes to cool n the tins before removing them and allowing them to cool completely on a wire rack

Once the cakes have completely cooled, make the buttercream. Beat 290g unsalted butter until smooth

Add 420g icing sugar, 65g cocoa powder and ¼ tsp salt to the butter and beat until combined

Once smooth, add 3-4 tbsp whole milk until you get a smooth, soft consistency that will spread easily but not run away

Assemble the cake by turning one of the layers upside down on your serving plate

Add ⅓ of the buttercream and spread out, repeat with the next two layers but place the last cake the right way up

I like to serve the cake as it is, but feel free to add any sprinkes or decorations
Recipe Notes
Keep the cake in an airtight container for up to 5 days.
Nutritional information is given as a guide only and may vary.
Nutrition Facts
American Style Chocolate Fudge Cake
Amount Per Serving
Calories 451
Calories from Fat 171
% Daily Value*
Fat 19g29%
Cholesterol 46mg15%
Sodium 379mg16%
Potassium 222mg6%
Carbohydrates 73g24%
Protein 5g10%
Vitamin A 532IU11%
Vitamin C 1mg1%
Calcium 47mg5%
Iron 2mg11%
* Percent Daily Values are based on a 2000 calorie diet.