This Chicken Fajita Burrito Bowl is one of my favourite salads and is perfect for any time of year. Packed with seasoned chicken and delicious vegetables, this salad is super easy to make and so tasty!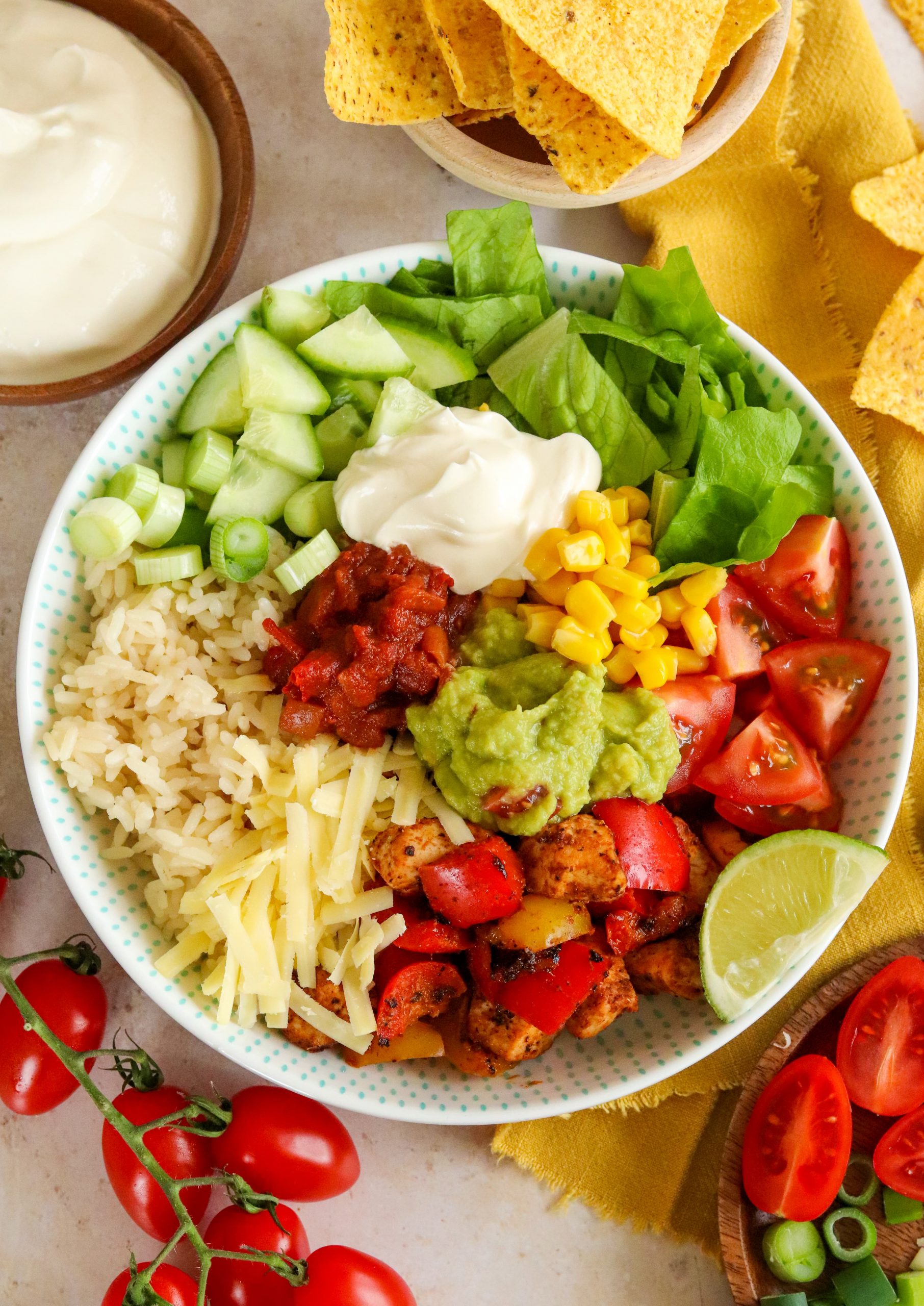 A burrito bowl that's better than a takeaway!
I started seeing people make Chipotle inspired burrito and fajita bowls on Tiktok and instantly wanted to make my own version.
Initially it was never my plan to write up the recipe for my blog. But every time I posted a video of me making it on my Tiktok it was incredibly popular.
So here we are with my easy and delicious version of a Chipotle bowl. I have tried to make it as simple and quick as possible so it is perfect for a easy midweek meal.
Since I first made this burrito bowl, it has become one of our favourite meals which we have a couple of times a month.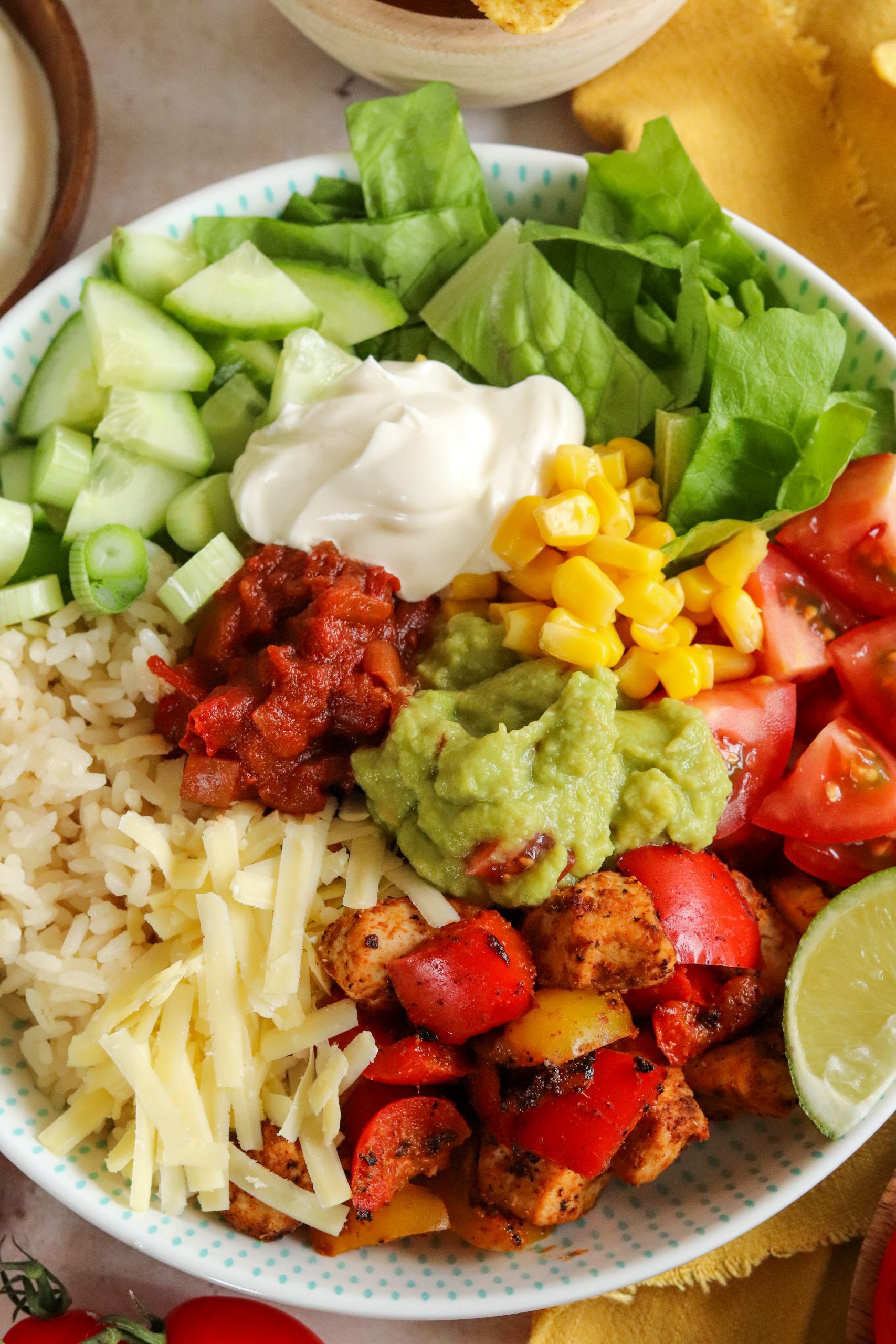 what goes into a burrito bowl?
You can add whatever you like into your burrito bowl, but I like to include the following:
fajita seasoned chicken
rice
peppers
lettuce
cucumber
tomatoes
sweetcorn
cheese
onions
But make sure you don't forget the toppings! Guacamole, salsa and sour cream are essentials in my opinion. They mix together to create a 'dressing' for the salad making it even more delicious.
I also like to serve some tortilla chips alongside these burrito bowls. They are great little scoops to eat the salad with and add some great crunch.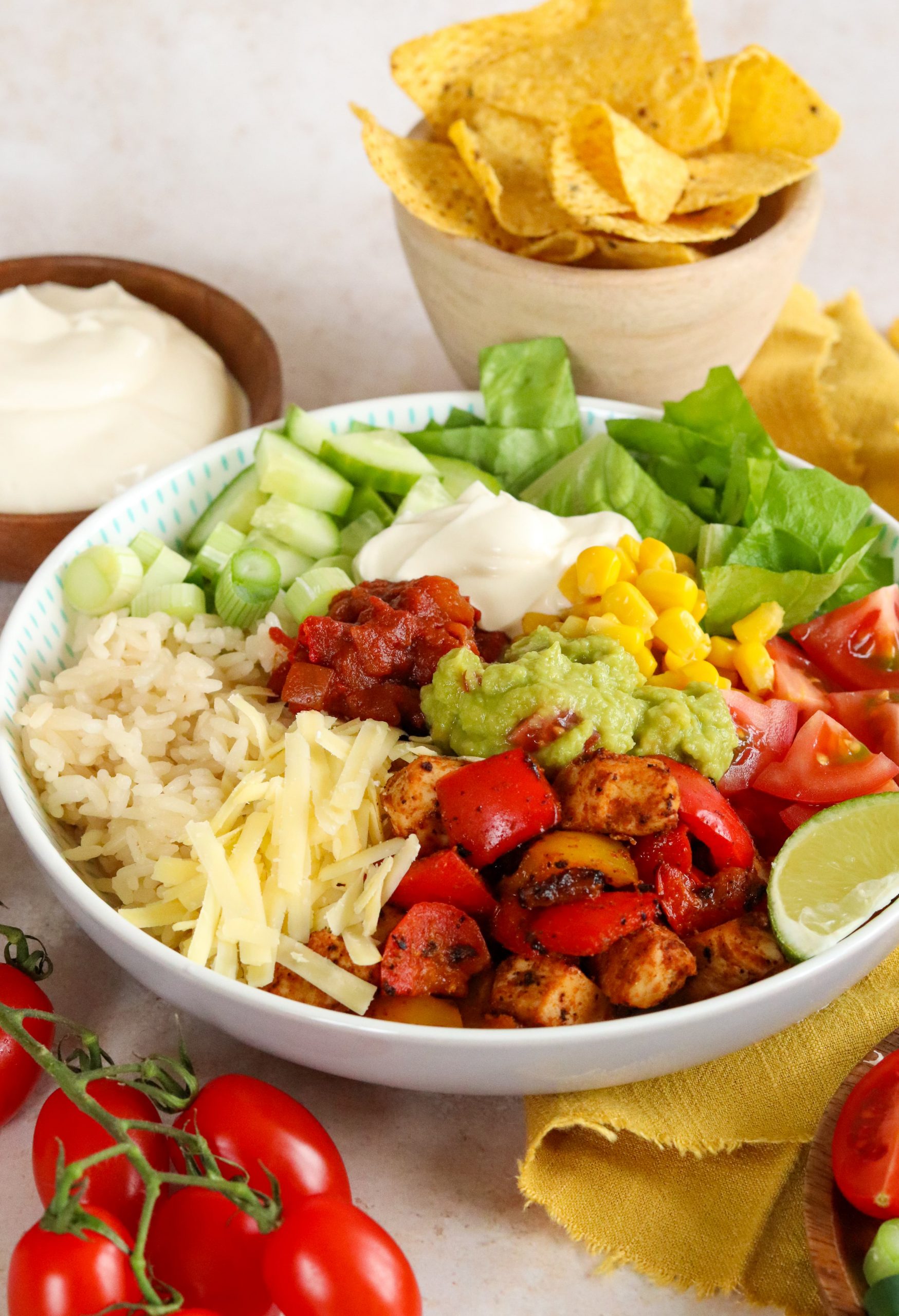 Customise your burrito bowl
I think most recipes should be customised to your preferences, but none more so than my Chicken Fajita Burrito Bowl.
Beans would be an obvious addition to these bowls. Black or pinto beans would be the obvious choices, but you could add any you fancy.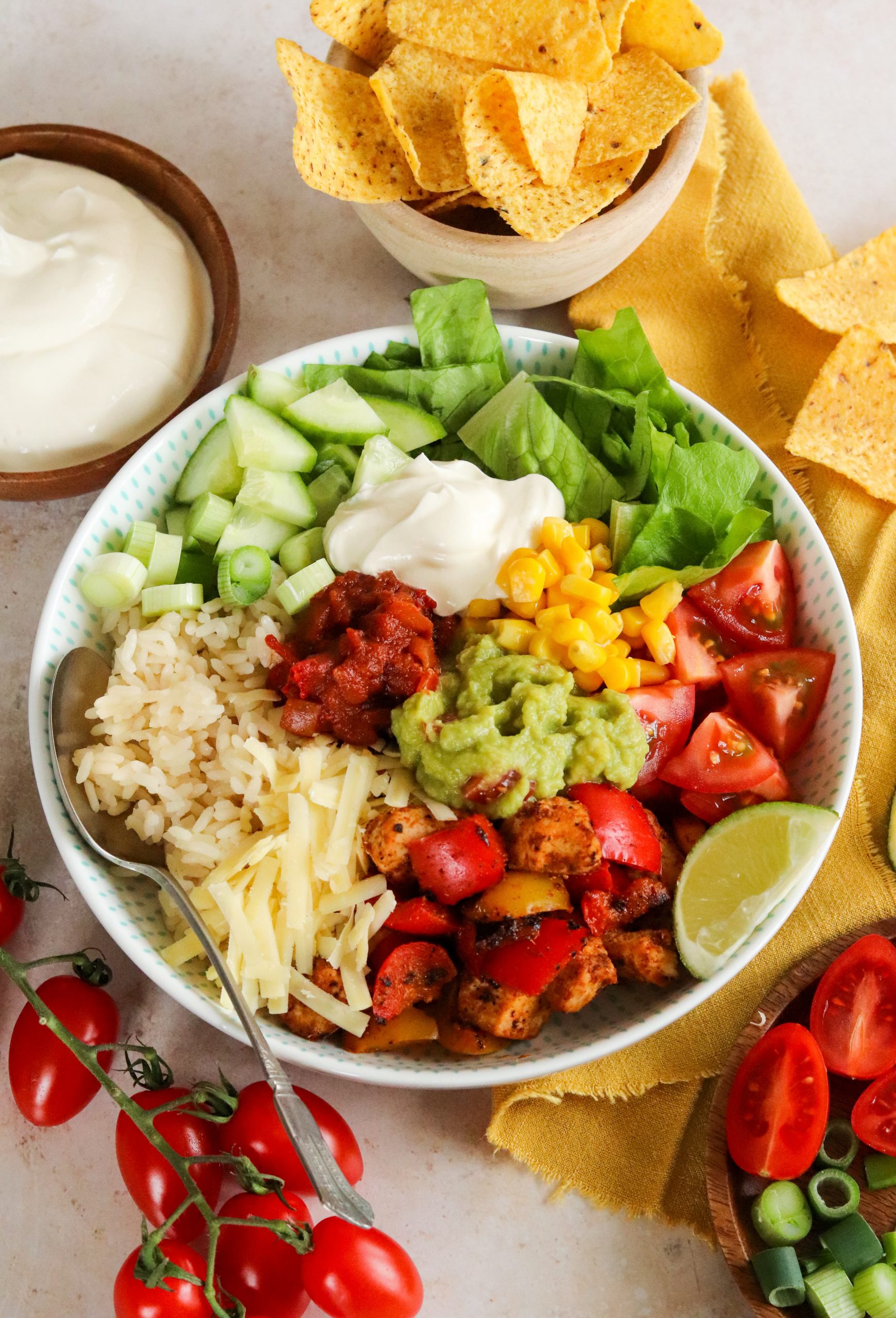 Change up the chicken
I use chicken because that is usually the meat I use when I make fajitas. You could very easily swap this. Steak would work really well.
Leftover Carnitas would also be so delicious for these burrito bowls. You could also use pork steaks with the fajita seasoning. Leftover roast chicken would be great heated through in a pan with the seasoning.
If you didn't want to use meat you could obviously leave it out altogether. You could use a meat substitute instead or tofu.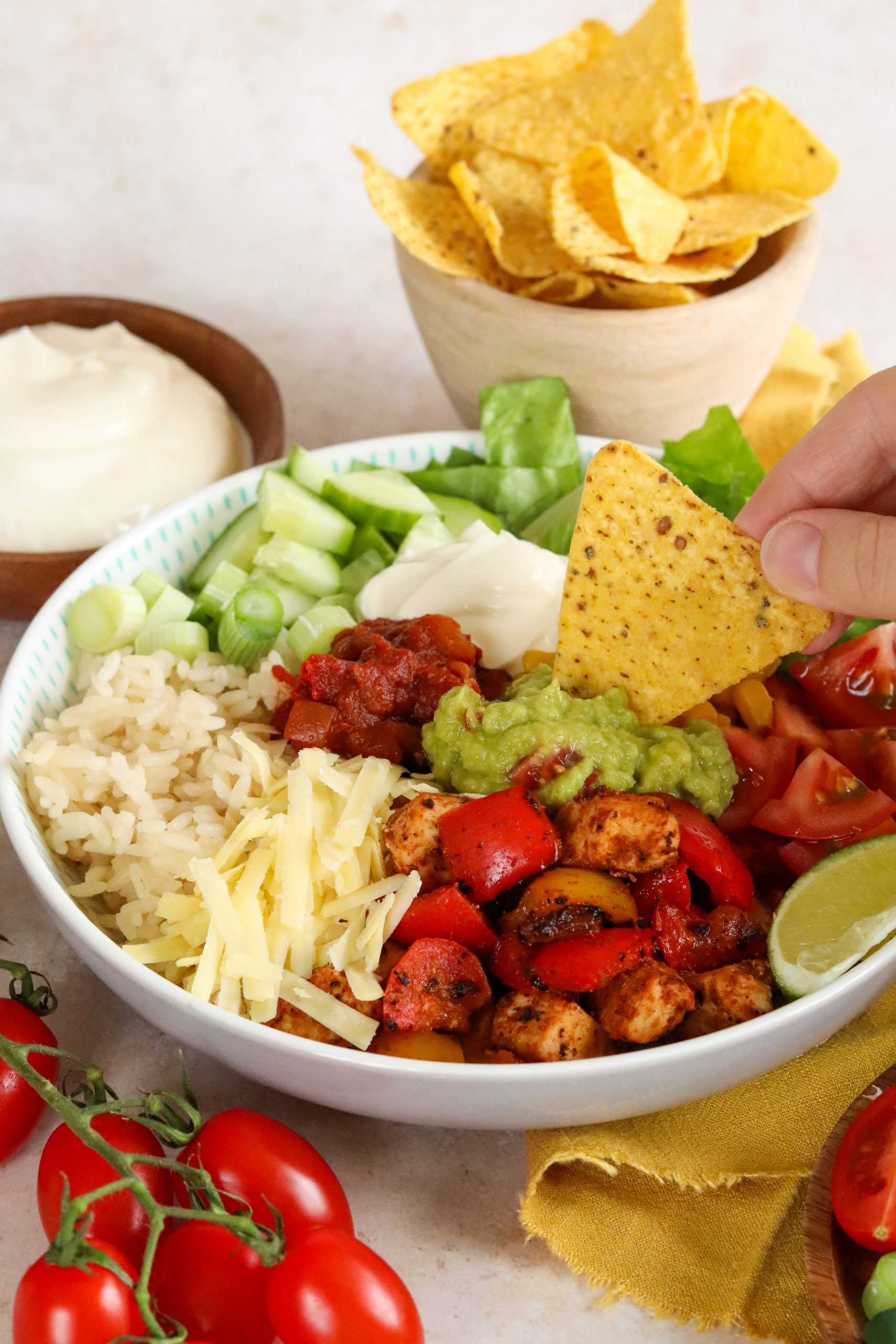 which rice is recommended to use?
I have tried to keep these Chicken Fajita Burrito Bowls as simple and quick as possible. This is why I have used a packet of microwave rice.
More often than not I do cook my own rice, but there are instances when a packet of microwave rice is perfect. These burrito bowls and fried rice are two of those instances!
One packet of rice is the perfect portion size for two people and couldn't be quicker or easier.
You can of course cook your own rice if you would prefer. This coriander and garlic rice would be extra delicious.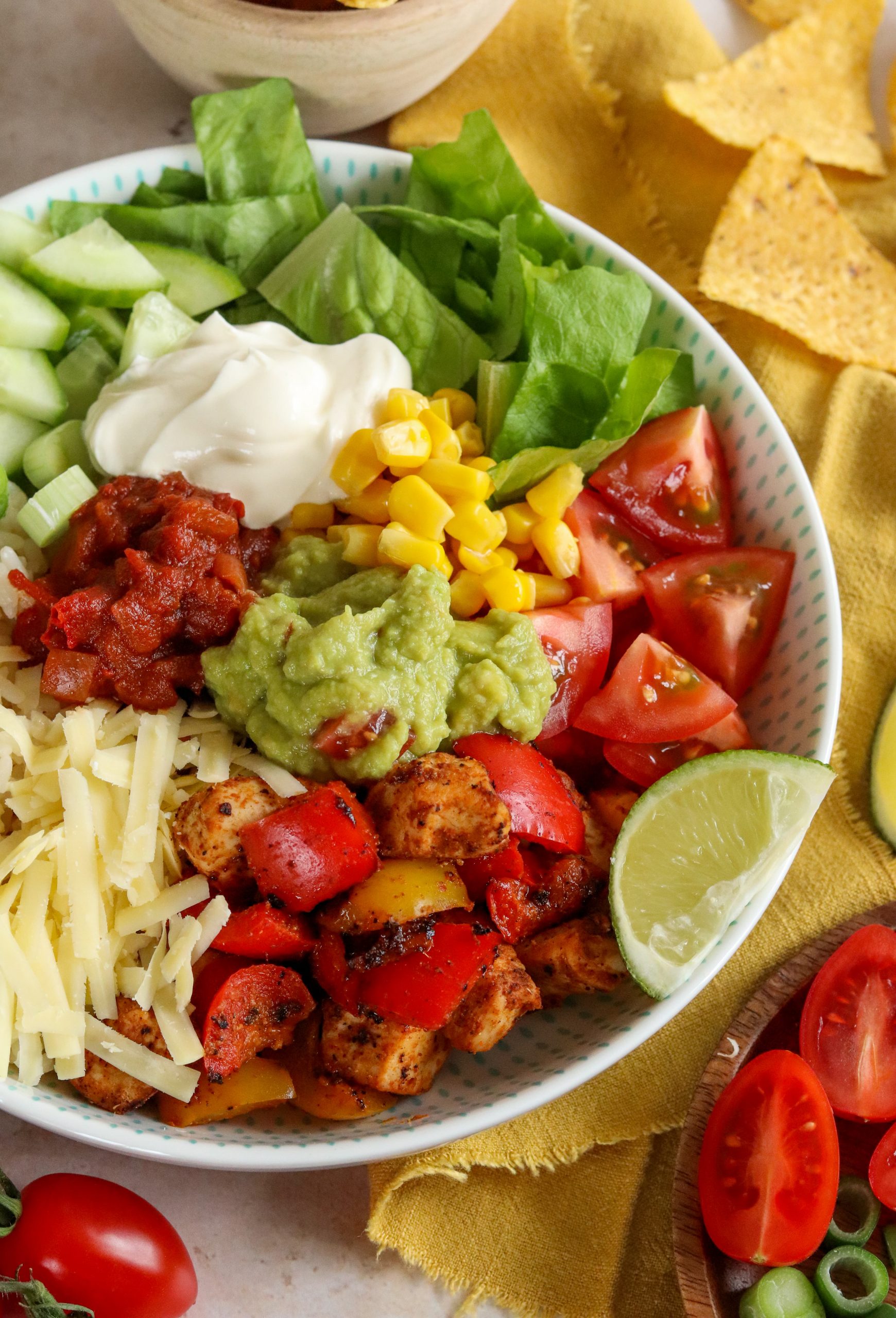 Which Fajita seasoning to use?
I love to use my Homemade Fajita Seasoning for this dish. It's super simple to make and you probably have most of the ingredients in your cupboard already.
If you don't want to make your own seasoning, you can absolutely use your favourite shop bought fajita seasoning.
My Garlic & Lime Chicken Thighs and Ancho Chilli Chicken would be absolutely delicious in these burrito bowls.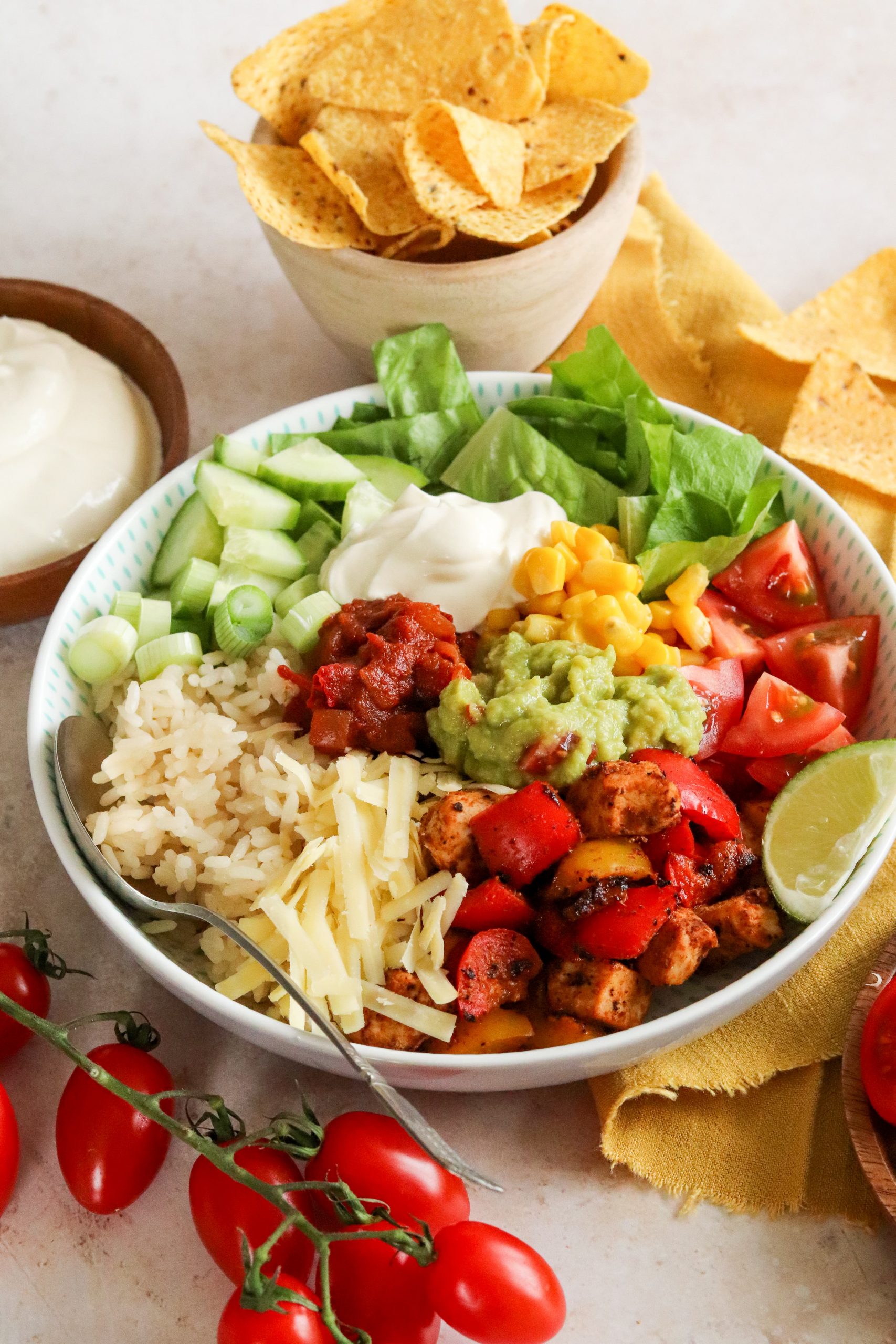 Are Chicken Fajita Burrito Bowls healthy?
I am not a nutritionist but I definitely think so. They are made up of lean protein, carbs, vegetables, healthy fats and dairy.
You could swap the white rice for brown rice and the sour cream and cheese for reduced fat alternatives if you prefer.
You can also leave the rice out altogether and enjoy it as a salad bowl. I have done this many times for lunch when I want something a bit lighter.
Burrito bowls swap out the tortilla wrap for more veggies so it is definitely going to be lower in calories than a standard burrito.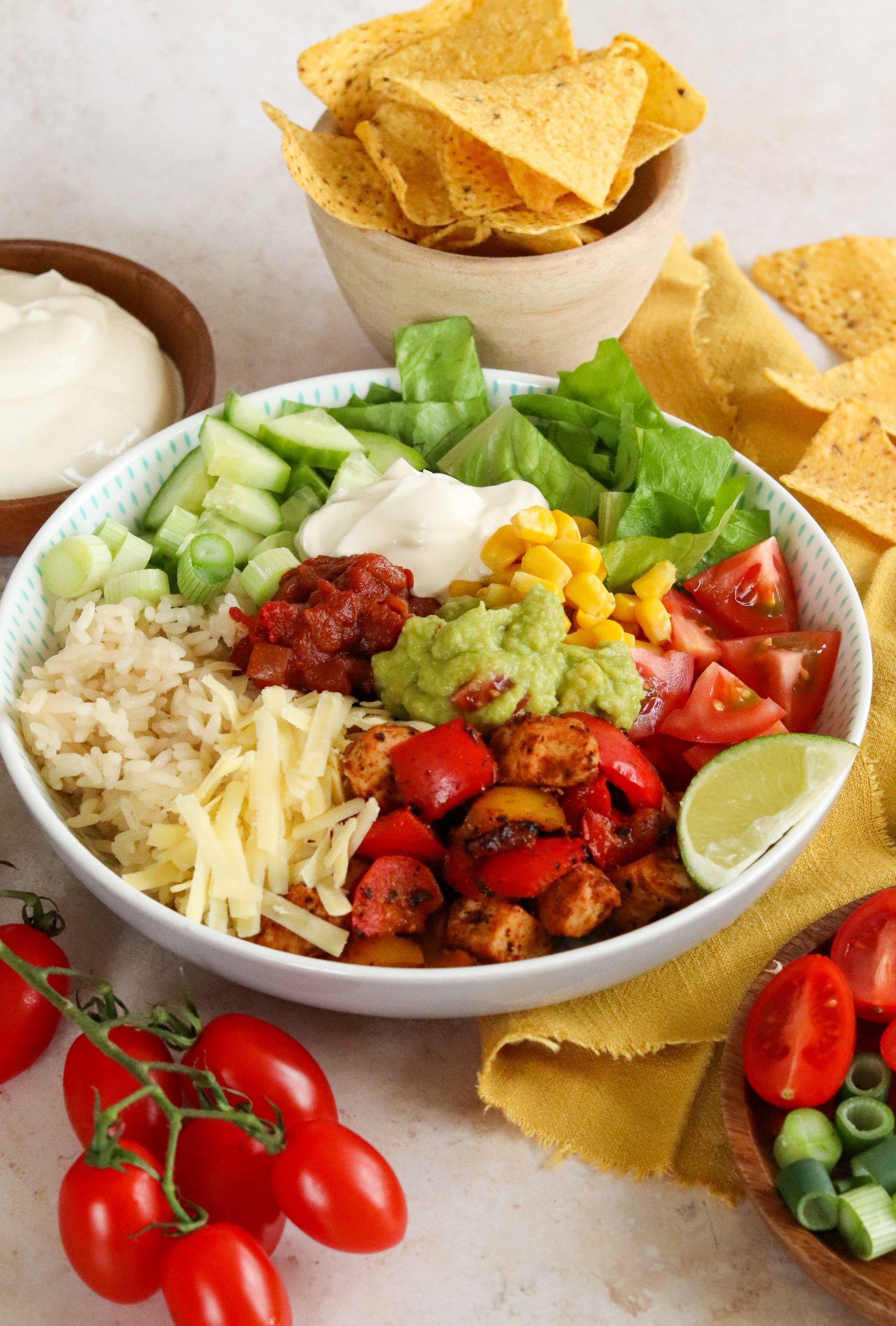 How to make these burrito bowls gluten free, vegetarian or vegan
As long as the fajita seasoning you use is gluten free then your burrito bowls will be too.
To make vegetarian burrito bowls you will obviously need to leave out the chicken. You can then decide whether you want to use a meat substitute or tofu. You could just add beans as your protein if you prefer.
Aside from swapping the meat, you would need to also swap the cheese and sour cream to make these bowls vegan.
Use your favourite dairy free cheddar or feta alternative for the cheese. Vegan sour cream seems to be a little harder to come by, but crème fraiche or yogurt would work if that is all you can find.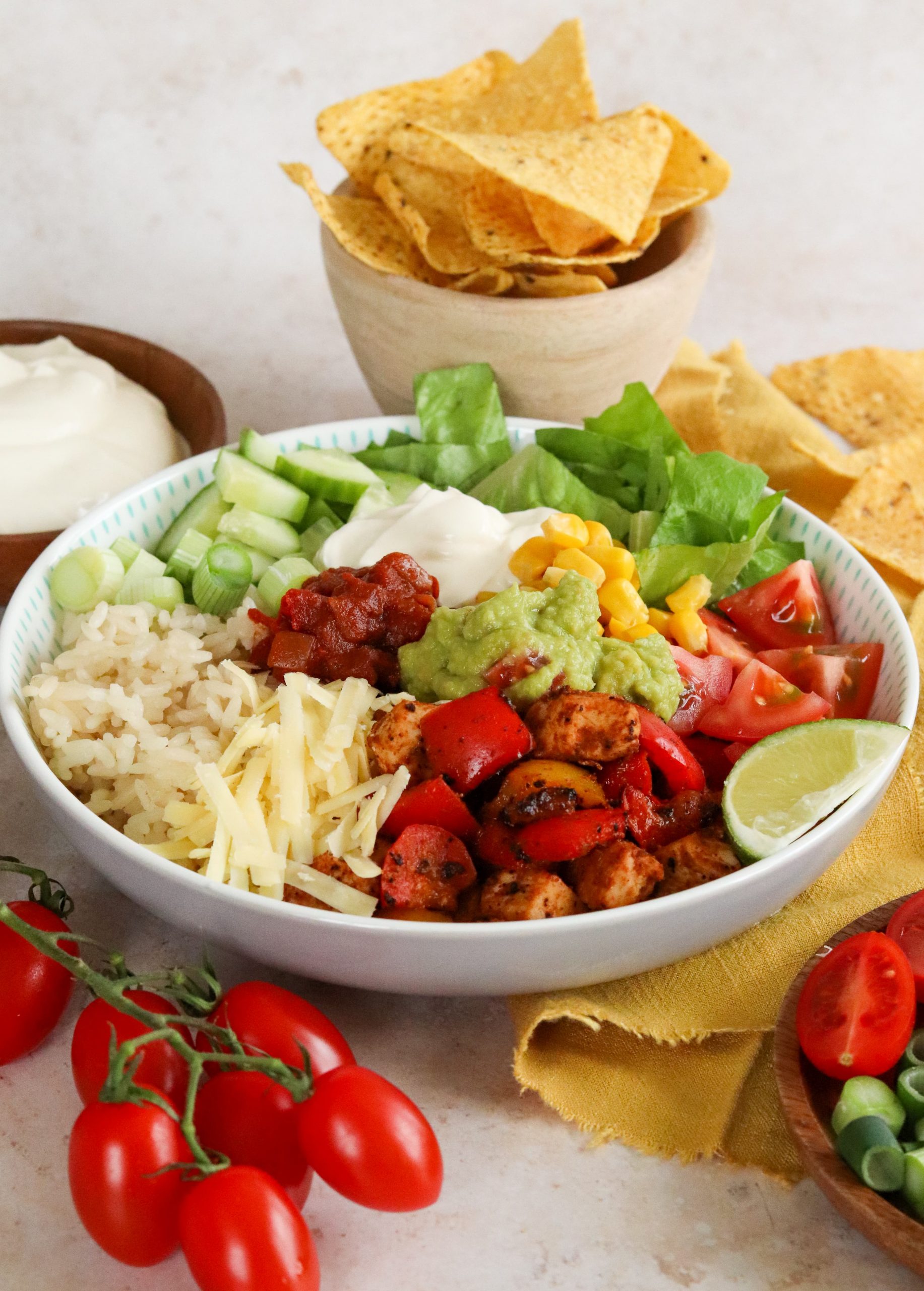 how many people does this serve?
The quantities below are enough for two people, but it is super easy to scale up these burrito bowls to feed more people.
It is a great recipe for making meat go further. You can use one chicken breast between two people and people definitely wouldn't complain.
I really don't expect you to weigh out your lettuce and other ingredients, so treat the recipe as a guide. The good thing about these bowls as you can build them as you go.
Cut up the vegetables for however many people you're serving and put it in the bowls and you'll see if it looks enough or whether you need more.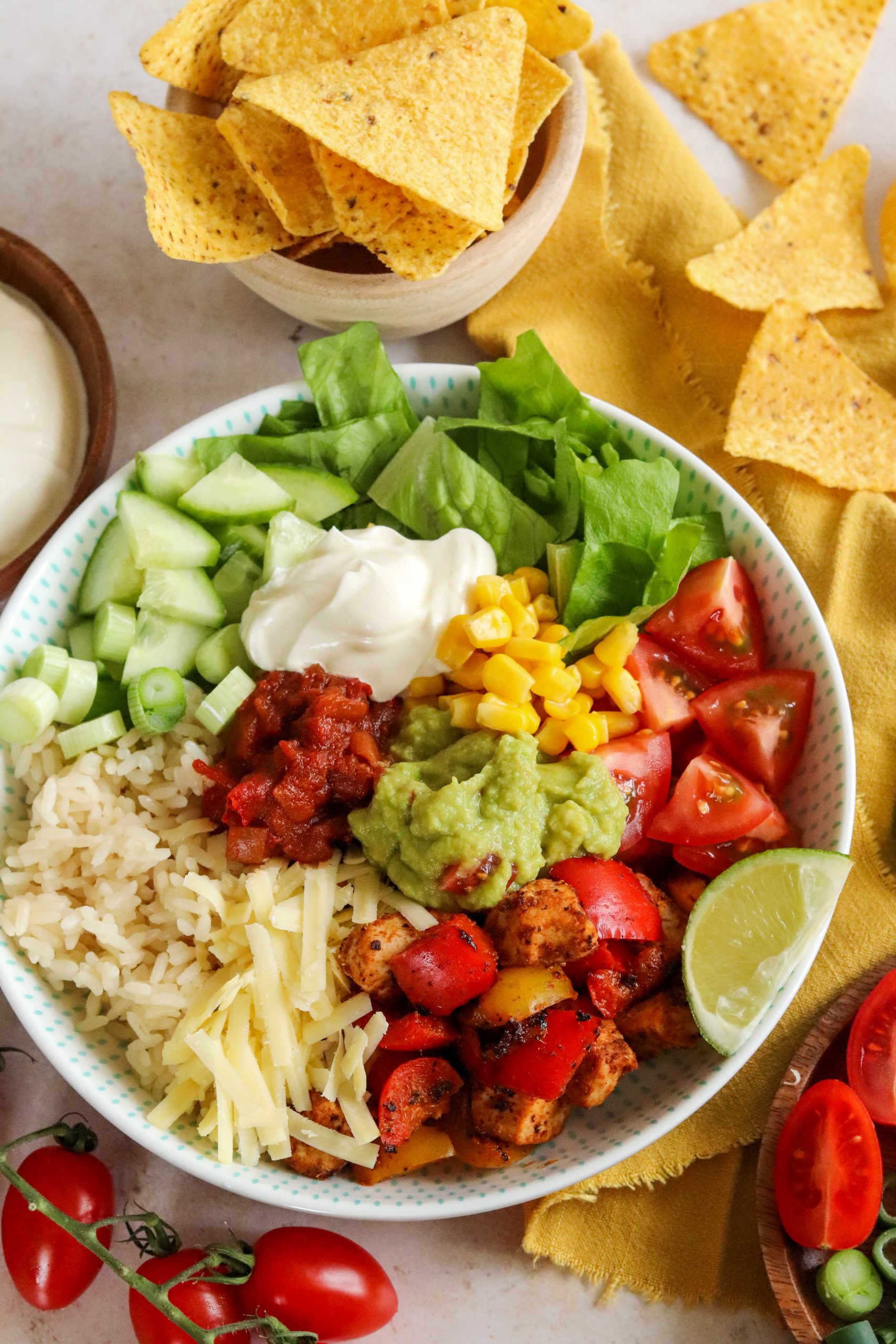 Other recipes you might like
pin for later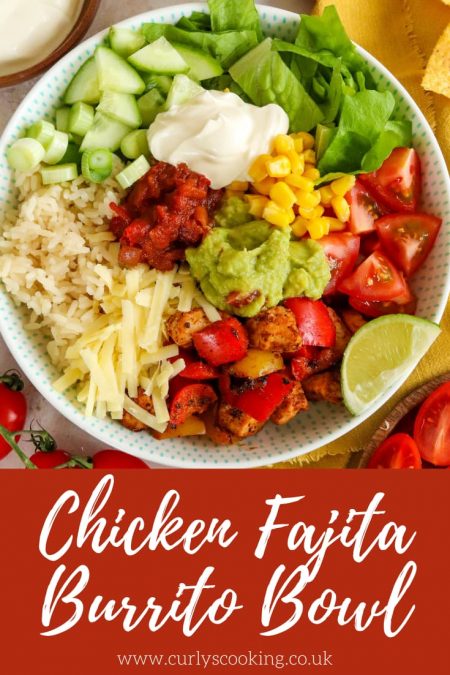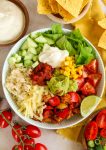 Chicken Fajita Burrito Bowl
This Chicken Fajita Burrito Bowl is one of my favourite salads and is perfect for any time of year. Packed with seasoned chicken and delicious vegetables, this salad is super easy to make and so tasty!
Ingredients
300

g

chicken breast

cubed

1½

tsp

vegetable oil

1

pepper

diced

1

tbsp

fajita seasoning

80

g

romaine lettuce

100

g

cucumber

150

g

tomatoes

165

g

sweetcorn

50

g

cheese

grated

2

spring onions

80

g

sour cream

80

g

guacamole

80

g

salsa

250

g

rice

(1 pack microwave rice)
Instructions
Dice 300g chicken breast into bitesize pieces. Heat 1½ tsp oil in a pan over a medium heat

Add the diced chicken to the pan and stirr occasionally for 3-4 minutes until opaque and starting to brown

As the chicken is cooking, wash and cut 80g romaine lettuce, 100g cucumber, and 150g tomatoes. Cut into bite sized pieces

Add 1 pepper diced and stir for 2-3 minutes so the peppers begin to soften

Add 1 tbsp fajita seasoning and stir thoroughly. Cook for a further 2-3 minutes or until your chicken is compltely cooked through.

Start to assemble the salad igredients in two bowls. I start with the lettuce, cucumber and tomato. Divide 165g sweetcorn between the two bowls

Cook 250g microwave rice as per the packet's instructions. Once cooked divide between the two bowls

Divide 50g cheese and 2 spring onions between the two bowls. Finish by topping the bowls with 80g sour cream, 80g guacamole and 80g salsa
Nutrition Facts
Chicken Fajita Burrito Bowl
Amount Per Serving
Calories 727
Calories from Fat 261
% Daily Value*
Fat 29g45%
Cholesterol 145mg48%
Sodium 645mg28%
Potassium 1770mg51%
Carbohydrates 133g44%
Protein 54g108%
Vitamin A 5434IU109%
Vitamin C 76mg92%
Calcium 320mg32%
Iron 4mg22%
* Percent Daily Values are based on a 2000 calorie diet.