This Apple & Sultana Fruit Bread is packed full of delicious fruit and spices. Perfect served for breakfast or at any time of day, it is a real treat! Serve toasted and slathered in butter to enjoy it at it's best.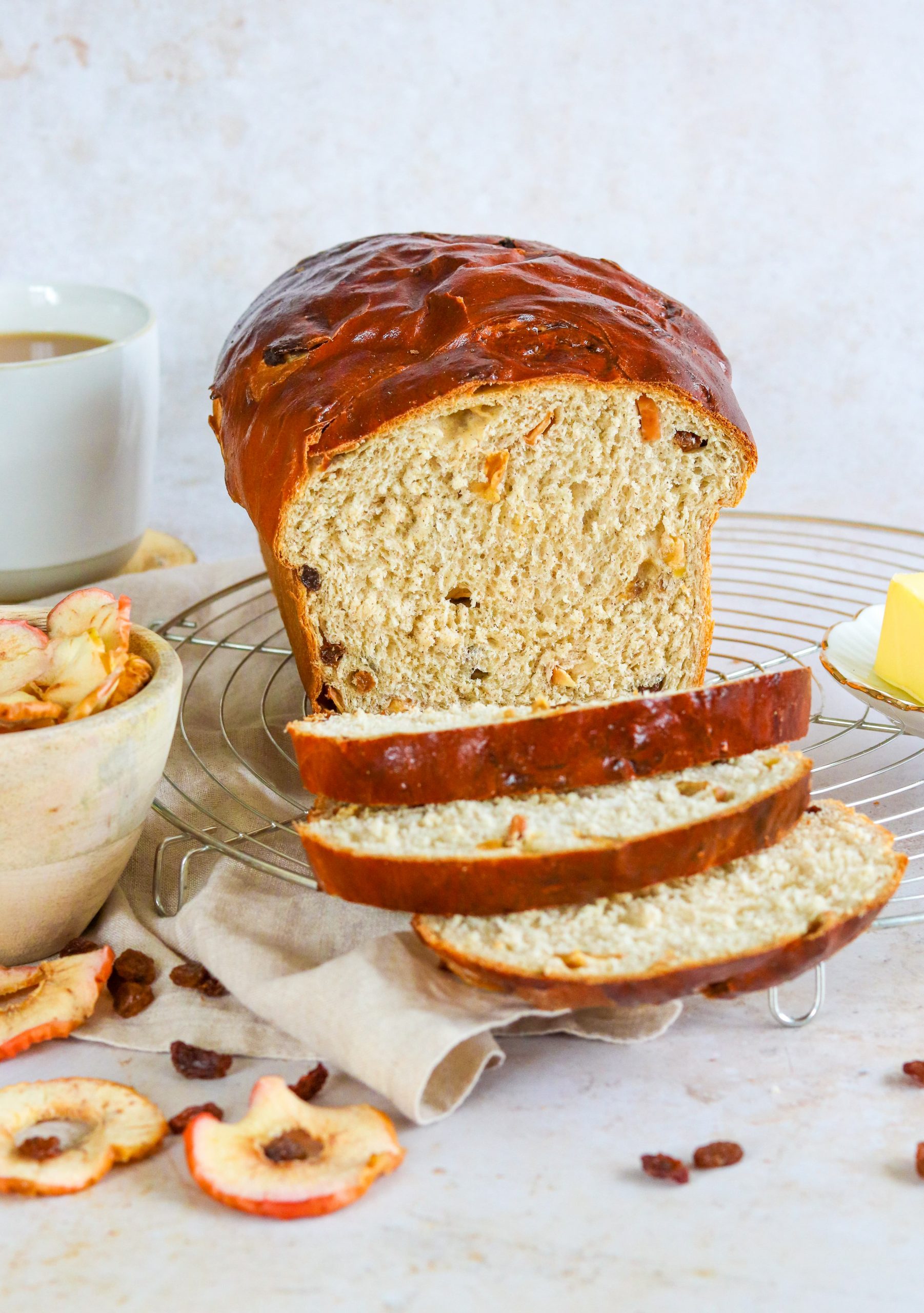 what is Apple & Sultana fruit bread?
Fruit Bread is, as the name suggests, sweetened spiced bread dough filled with dried fruit. It is often smaller than regular sized bread loaves with a dark brown glaze.
It is very similar in flavour to a teacake or a hot cross bun so if you like those, you will love this Apple & Sultana Fruit Bread.
The fruit used differs from recipe to recipe but sultanas, raisins, currants and mixed peel are common. I choose to use dried apple and sultanas because I love the flavours together.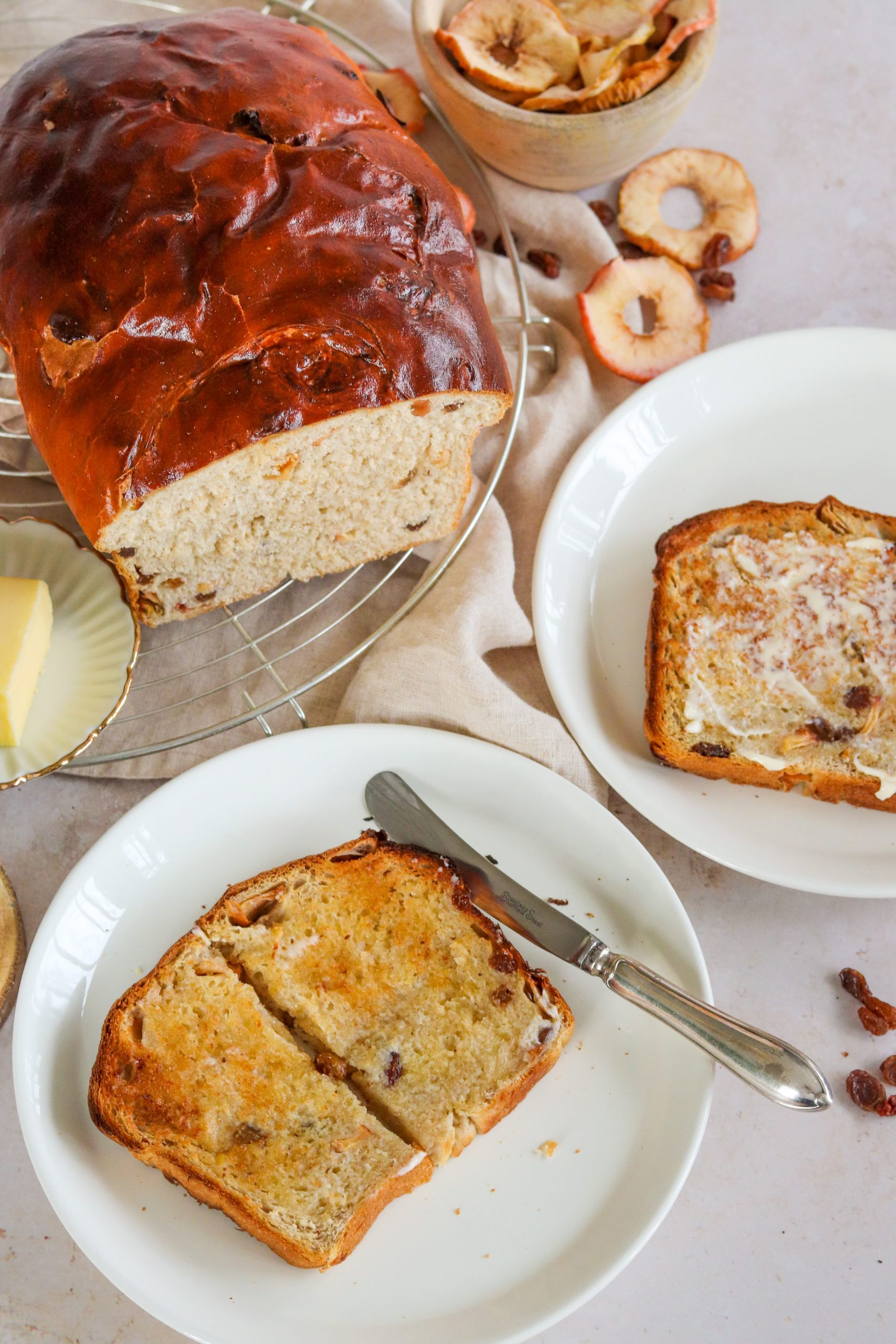 what is enriched dough?
Enriched dough is simply dough that has had fats, sugar and dairy added. These ingredients give the finished bread a soft and buttery texture with a soft crust. It is my favourite bread dough!
Enriched doughs do tend to take longer to prove which is why they typically have more yeast than lean doughs (doughs made with water and without dairy).
The enriched dough works really well for this Apple & Sultana Fruit Bread. The crust and dough is soft and delicious!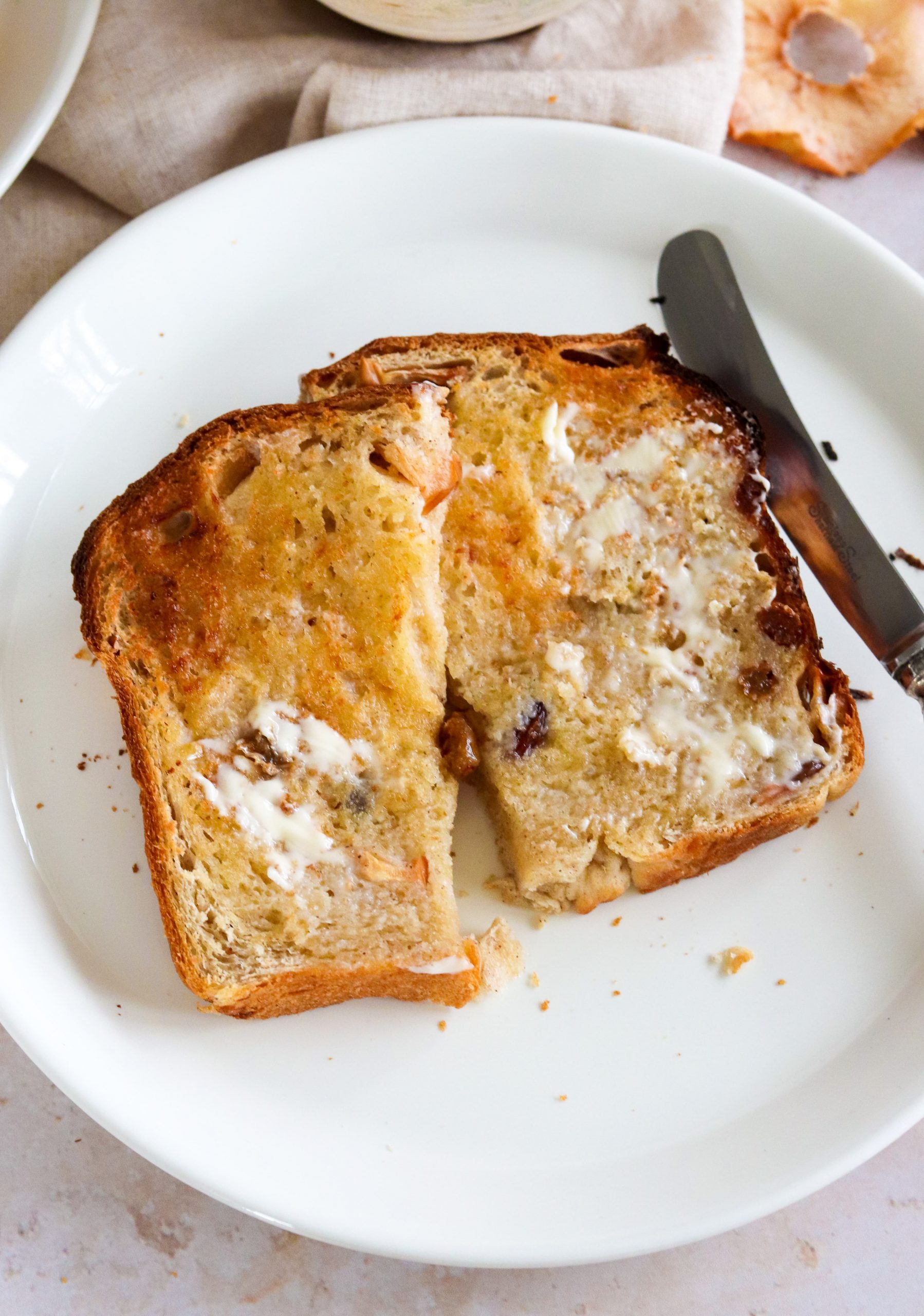 Why do you need to heat the milk?
I heat the milk so it is just warm whenever I am making enriched dough. It helps activate the yeast and it is always better to not use fridge cold ingredients.
You don't want the milk to be hot, just a little warm. I heat it in the microwave for 50 seconds or so just to take the chill off.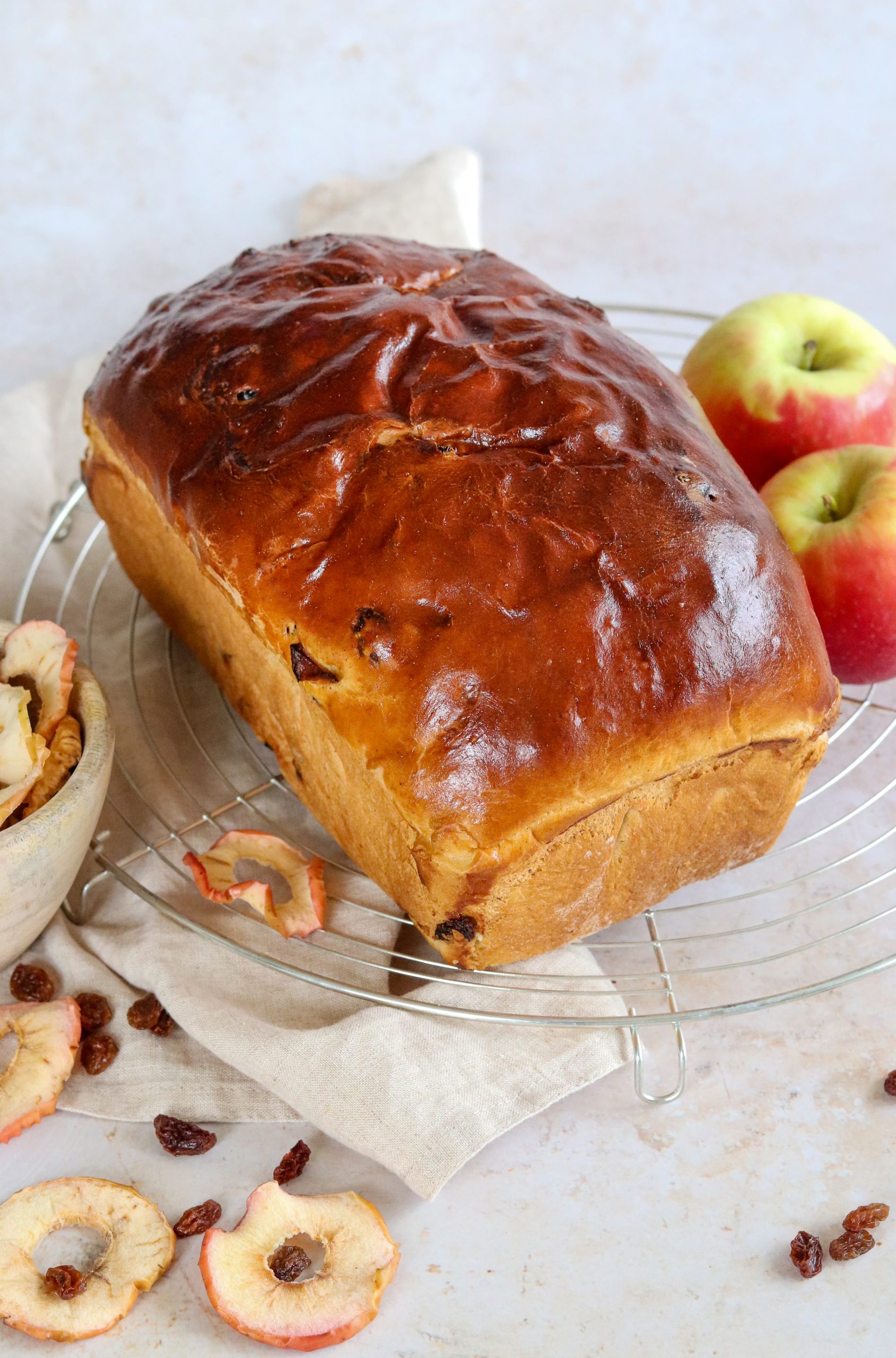 sultanas, apples and cinnamon are the perfect combination
I absolutely love these flavours together. They are so warming and comforting and go together so well.
You can use sultanas, raisins or currants for this fruit bread. I like to use sultanas because I think they are sweeter and juicier. Personally I find currants a bit too hard but that is just my preference.
I wanted to add apple to my fruit loaf because it would really compliment the other flavours. Everyone knows apples and cinnamon are amazing together!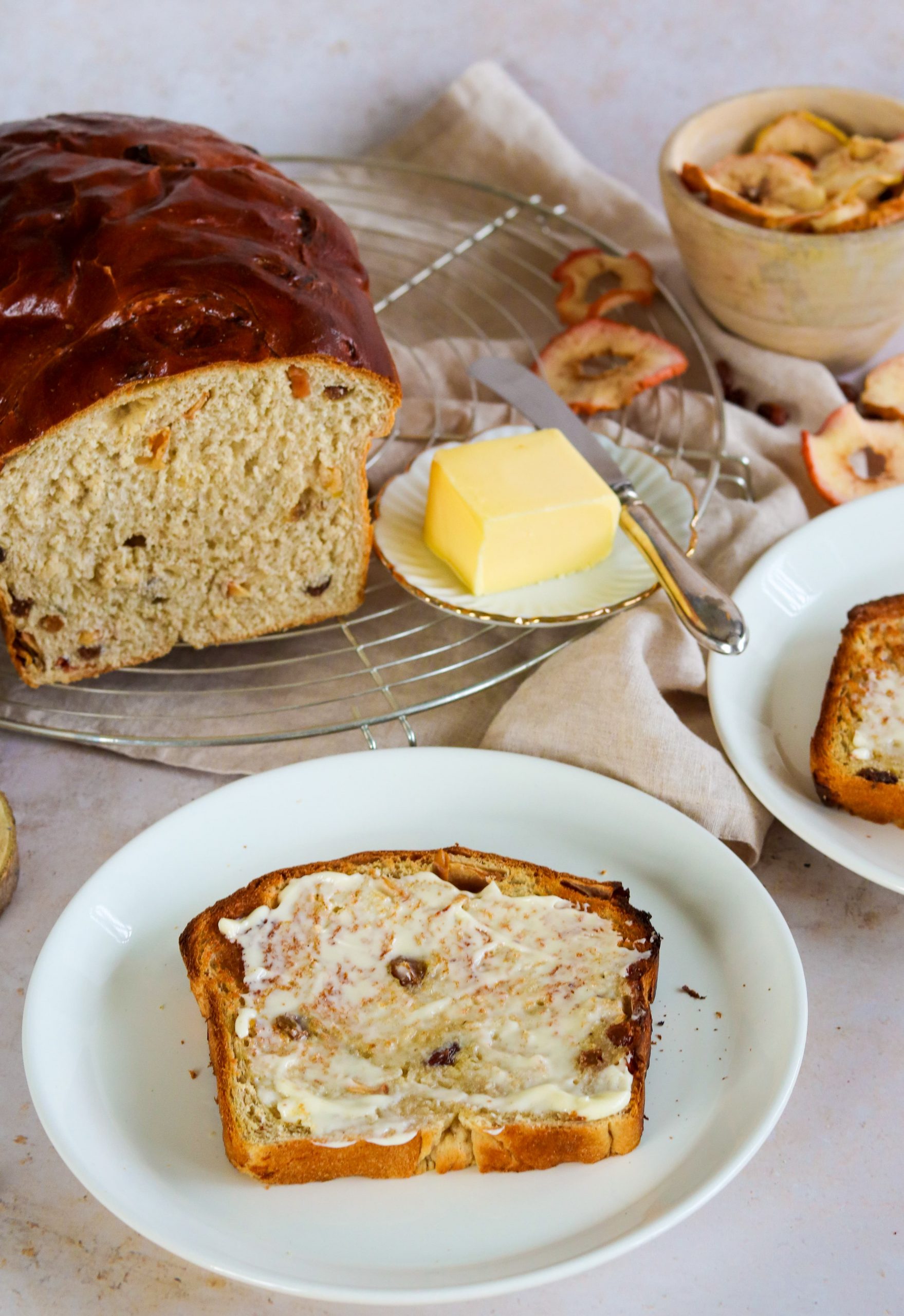 why use dried apple in this fruit bread?
I chose to use dried apple in my fruit bread because I didn't want the extra moisture fresh apples would provide. I didn't want the dough to absorb the extra liquid from the apples.
Instead I chose to use dried apple which works really well. Making your own Oven Dried Apple Slices couldn't be easier. They keep for a few months so you can make this fruit bread a few times.
If you don't want to make your own dried apple, you can always buy it. You can buy dried apple in most large supermarkets; it isn't usually available in smaller stores.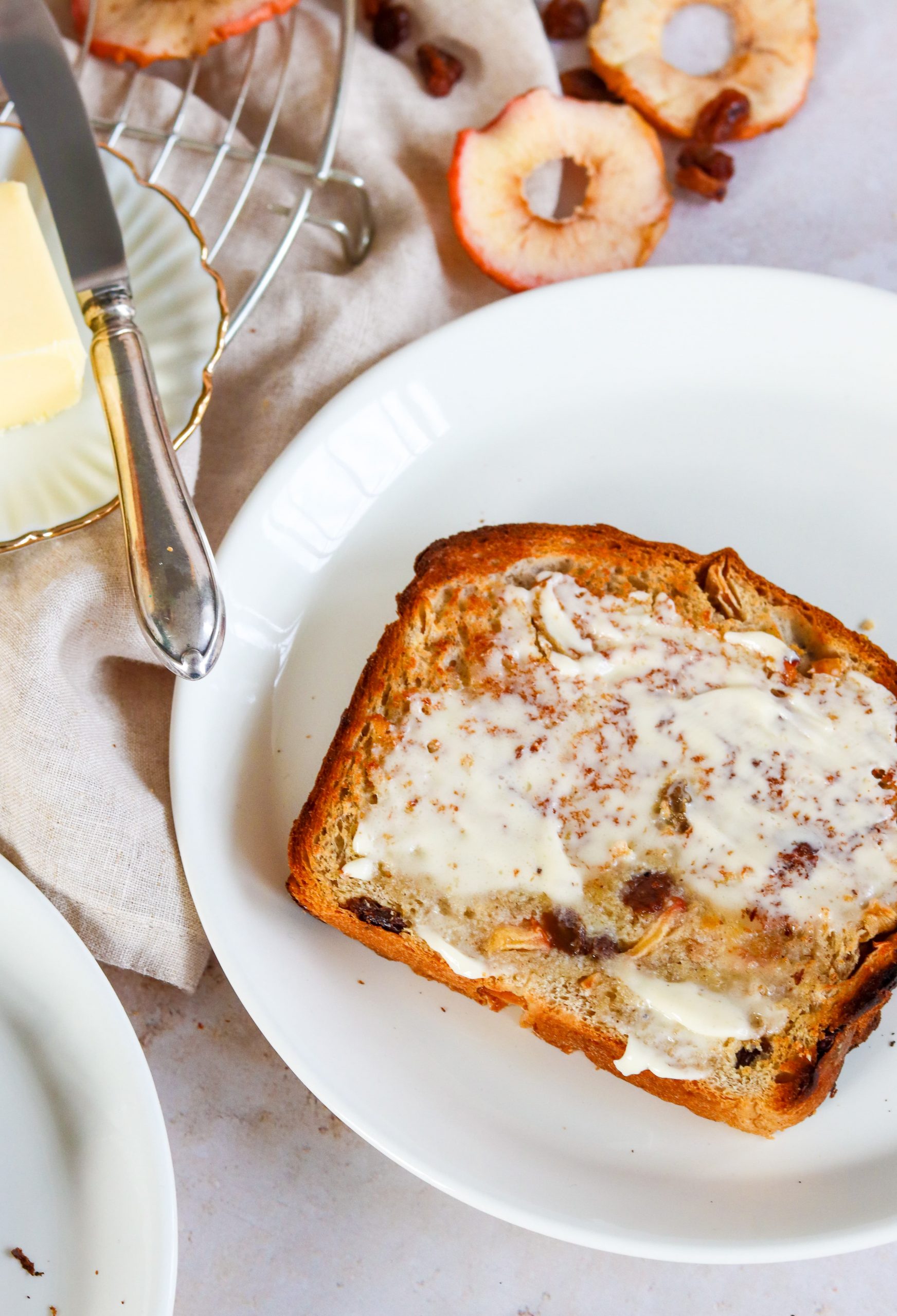 Which kind of yeast can be used?
There are three types of yeast. All could be used for these Apple & Sultana Fruit Bread, but you will need to know how best to use them.
Instant yeast – also sometimes known as easy bake yeast. This is the yeast I always have because I think it is the easiest to use. It is ready to use straight away, you just need to add it with the rest of your ingredients. This is the best yeast to use if you are ever using a bread maker.
Active dry yeast – similar to instant yeast, but it has to be dissolved in water or milk to activate it. Sugar can be added to speed up the activating process. It usually takes 5-10 minutes for it to get nice and bubbly which means it is ready to use.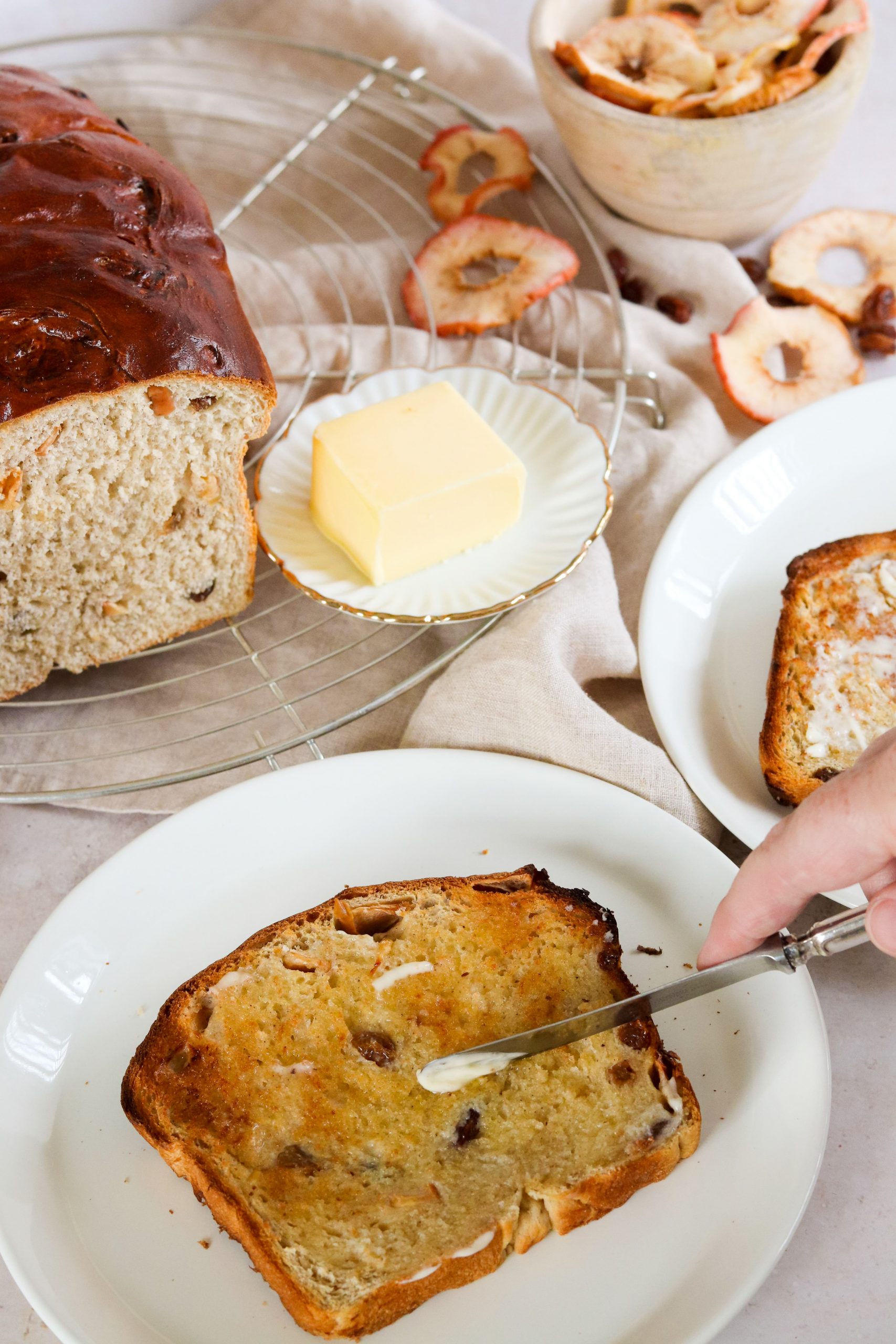 Fresh yeast – less commonly used in home baking but very popular in commercial bakeries. Fresh yeast isn't as readily available and has to be kept in the fridge. Whereas instant and active dry yeast have a long shelf life, fresh yeast doesn't. You can't substitute the same amount of fresh yeast as the other two so if a recipe doesn't specify fresh yeast you will need to convert it to work out the amount you need.
Although I don't pay a huge amount of attention to best before dates, you need to with yeast. Yeast is 'alive' and if it has died, it won't help your bread to rise no matter how long you wait!
If you are ever not sure if your yeast is alive, just add it to some water and leave for 5-10 minutes. After a few minutes if you have bubbles you are good to go; if it doesn't you need to buy more yeast.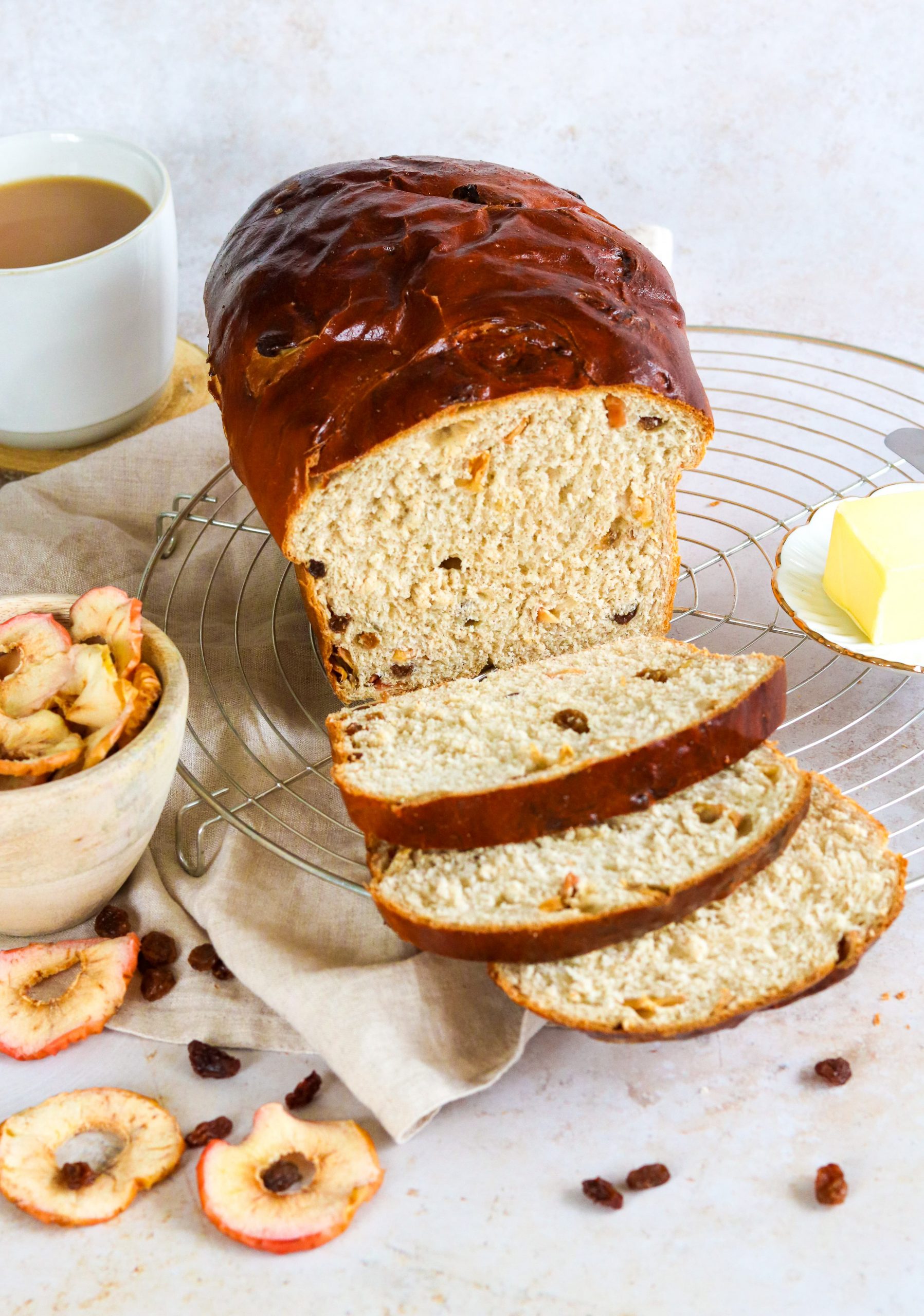 Proving time can vary
Giving a specific proving time is tricky because there are many variables. If your kitchen is warm, your dough can prove more quickly and if it is cooler, it can be much slower.
For the first prove, you are looking for your dough to double in size. For the warmer months of the year, I cover my dough and leave it to prove on a sunny window sill.
However when it is cold, it can often need a bit of help! Turn just the light of your oven on and leave the covered dough in there with the door closed. The light will create a slight warmth which will help speed up the proving process.
You can of course leave it on the counter but it could take considerably longer. This isn't a problem if you're in no rush.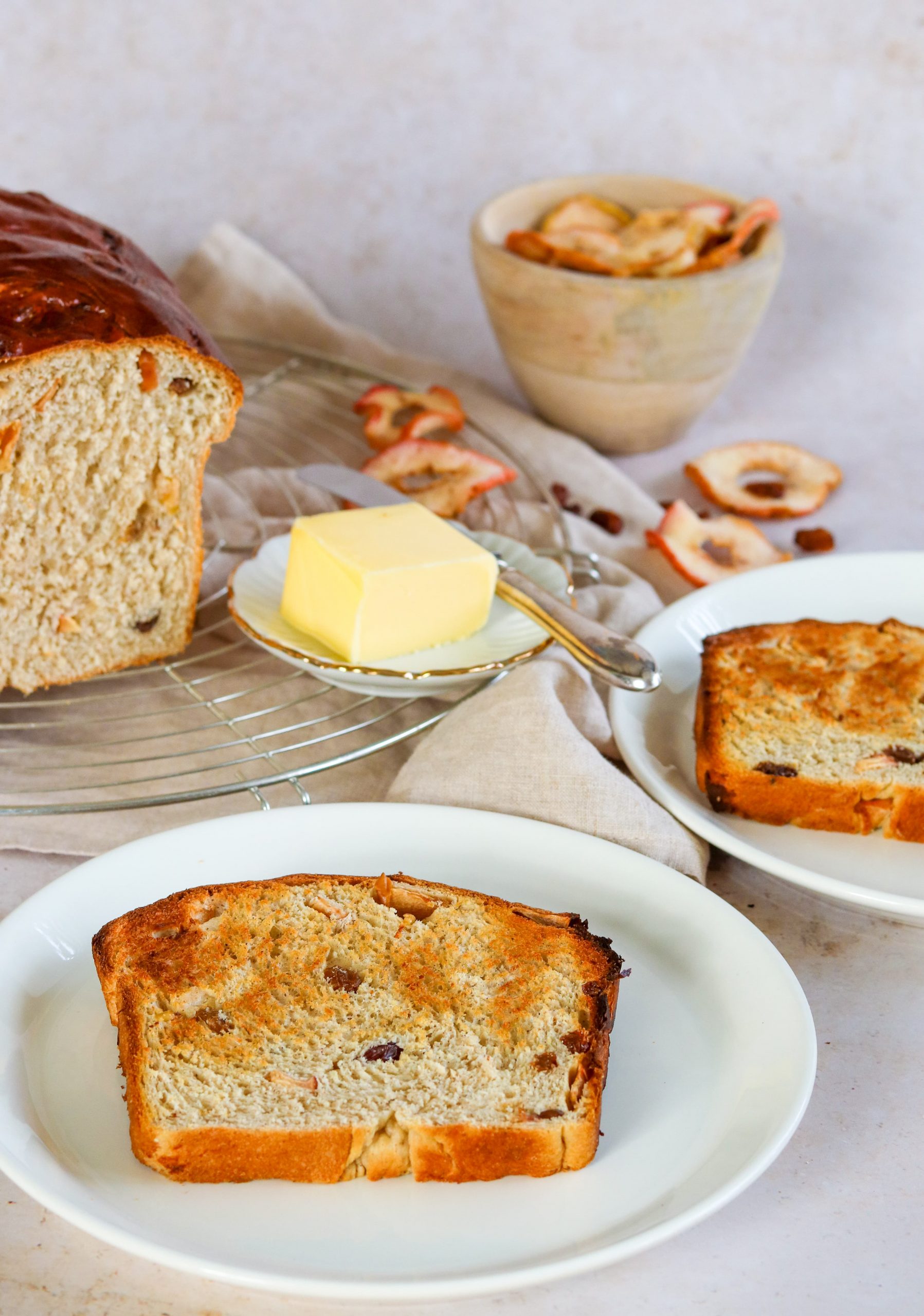 how to serve fruit bread
Obviously you can eat this fruit bread as it is and it'll be delicious. But my preferred way to serve it is toasted and slathered in butter. Like you would a teacake or a hot cross bun.
Although tea cakes were traditionally served for afternoon tea, I think most people eat fruit bread for breakfast. That is when my family and I like to eat it, but it does make a great snack whatever time of the day.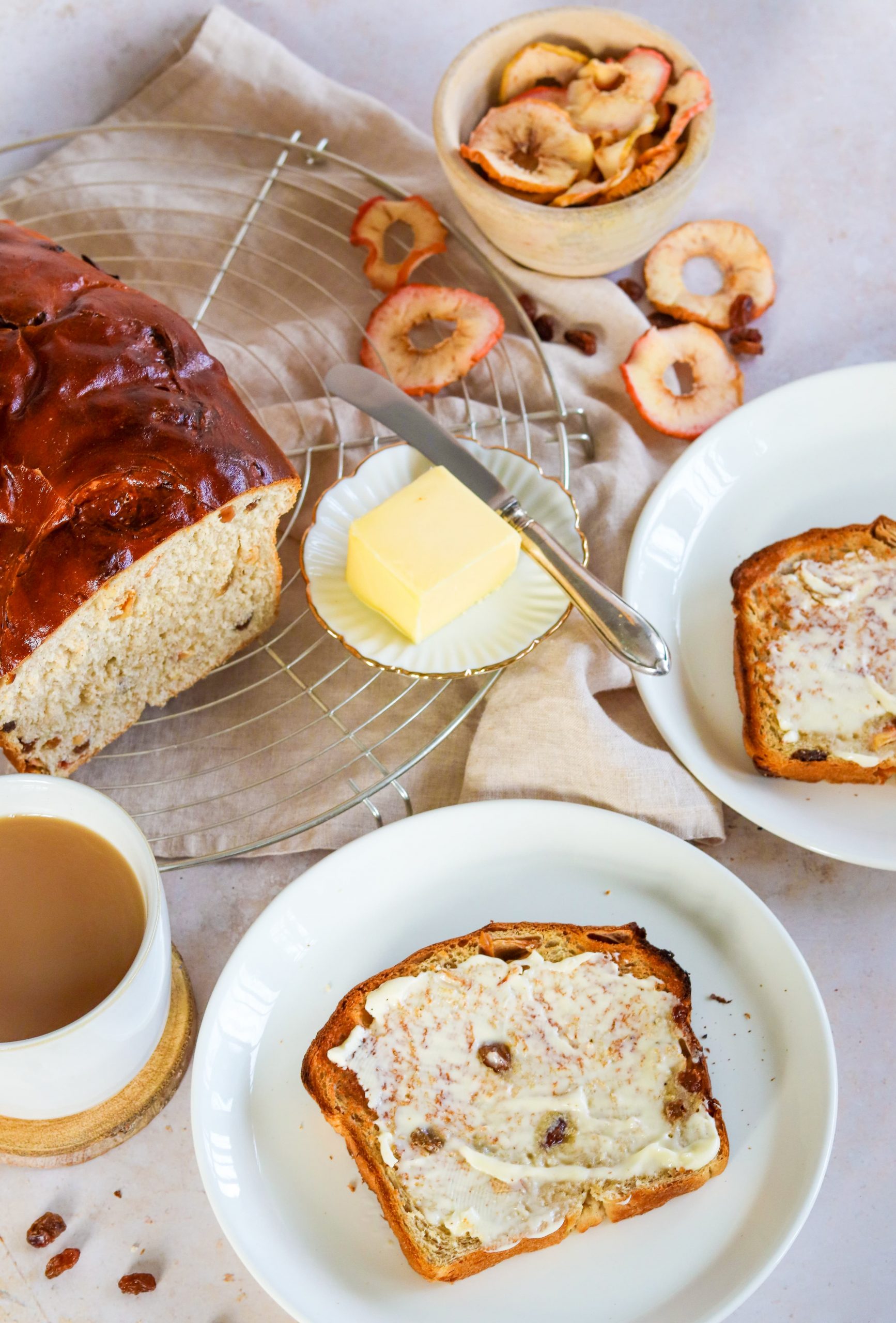 how long with this apple & Sultana fruit bread keep for?
As this fruit bread is typically served toasted, it does keep longer than bread you would eat untoasted.
It will keep in an airtight container for 3-4 days. After that you probably wouldn't want to eat it untoasted.
If you would like it to keep for longer I would recommend freezing it. I would slice it and then freeze it to make it easier to take out slices as and when you want to eat them. You can toast it from frozen.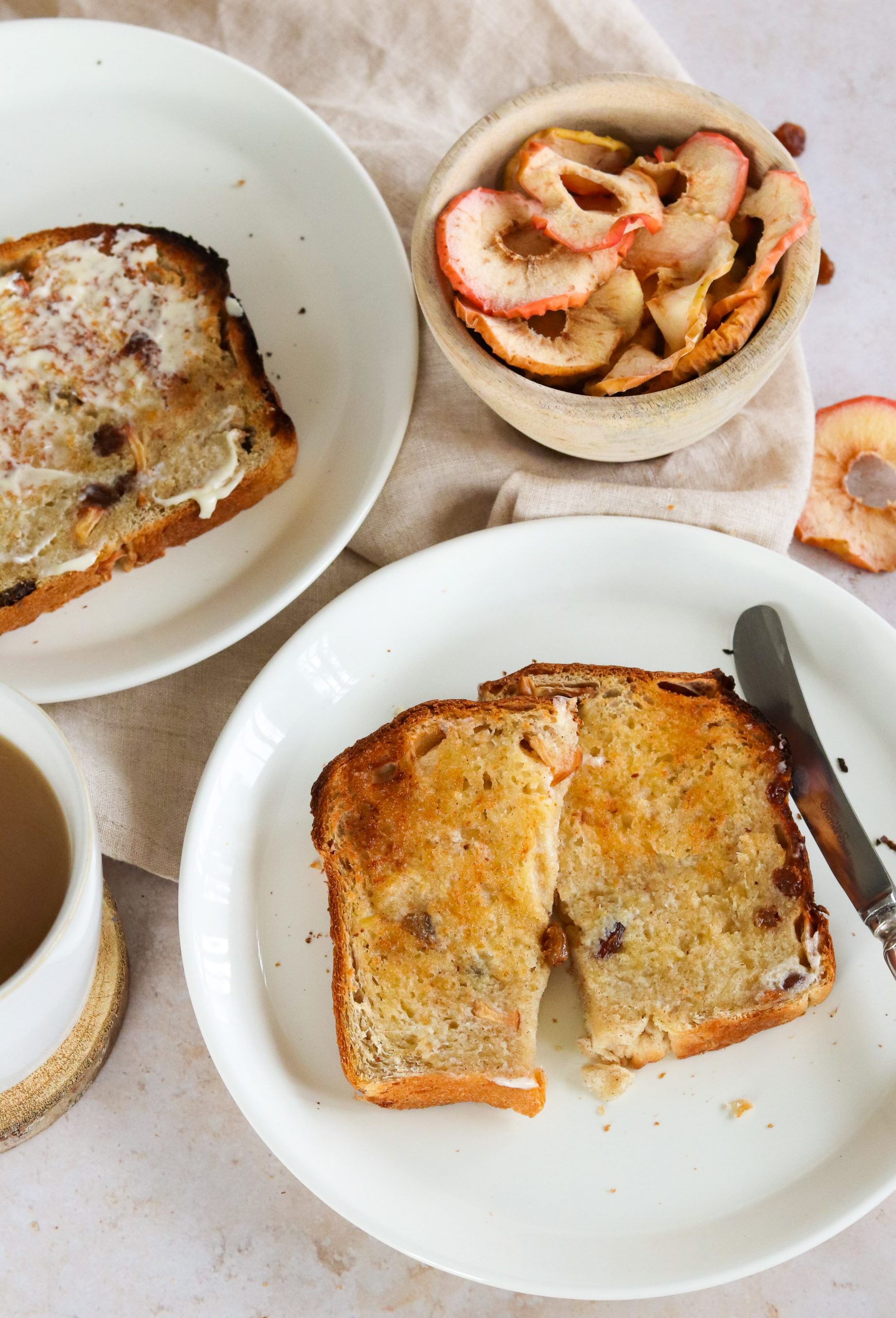 Other recipes you might like
Pin for later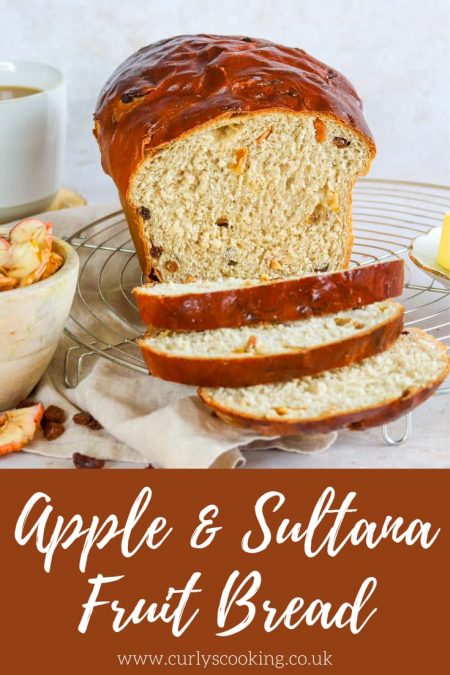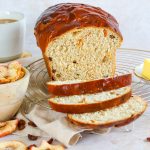 Apple & Sultana Fruit Bread
This Apple & Sultana Fruit Bread is packed full of delicious fruit and spices. Perfect served for breakfast or at any time of day, it is a real treat! Serve toasted and slathered in butter to enjoy it at it's best.
Total Time
3
hours
35
minutes
Ingredients
400

g

strong white flour

14

g

instant yeast

5

g

sea salt

50

g

caster sugar

1

tsp

ground cinnamon

½

tsp

mixed spice

40

g

unsalted butter

softened

240

ml

semi skimmed milk

warmed slightly

80

g

sultanas

50

g

dried apple

1

egg

beaten

spray oil
Instructions
Add 400g strong white flour into your mixer and add 14g yeast to one side of the bowl and 50g caster sugar, 5g salt, 1 tsp cinnamon and ½ tsp mixed spice to the other

Add 40g of unsalted butter and 240ml of warmed milk. Mix briefly by hand with the dough hook

Set the mixer to a medium speed and knead the dough for 5 – 10 minutes. You may need to pull the dough from around the hook if it gets stuck to make sure it keeps getting kneaded

Once the dough is soft and smooth and springs back when touched, cover it with a tea towel and leave to prove until it has doubled in size. This should take 1-2 hours

Uncover the dough and knock back by punching it with your fists. Add 100g sultanas and 50g dried apple. Start mixing them into the dough in the bowl before turning the dough out onto a lightly floured surface and kneading for a minute or so to fully incorporate the fruit

Shape the dough into a loaf shape and lay into an oiled 2lb loaf tin

Cover with a tea towel and leave to prove for 45 mins to 1 hour

Preheat the oven to 180°C (fan assisted, 200ºC non fan). Brush the top of the loaf with with 1 beaten egg. I do this twice to get a good coating

Bake for 25 minutes until deep brown and it sounds hollow when the base is tapped

Leave to cool on a wire rack before cutting. I like to serve toasted with lots of butter.
Recipe Notes
Nutritional information is given as a guide only and may vary.
Nutrition Facts
Apple & Sultana Fruit Bread
Amount Per Serving
Calories 205
Calories from Fat 36
% Daily Value*
Fat 4g6%
Cholesterol 22mg7%
Sodium 182mg8%
Potassium 115mg3%
Carbohydrates 14g5%
Protein 2g4%
Vitamin A 124IU2%
Vitamin C 1mg1%
Calcium 34mg3%
Iron 1mg6%
* Percent Daily Values are based on a 2000 calorie diet.