These delicious Bacon Wrapped Pineapple bites take the classic combination of ham and pineapple to the next level! Sweet and juicy pineapple chunks are wrapped in salty bacon then baked until crisp – they're the ultimate pineapple snack!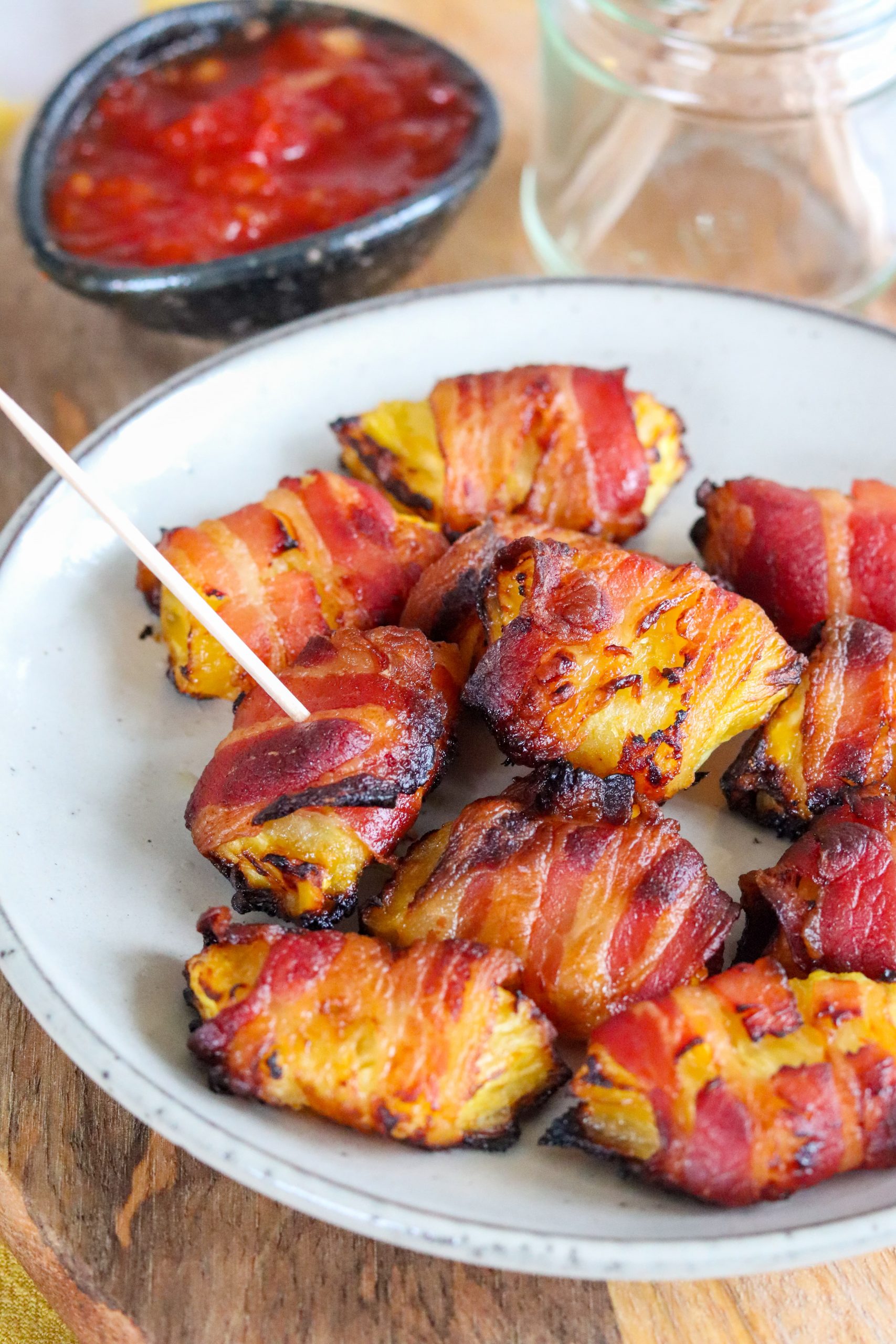 Bacon & Pineapple are meant to be together
Ham and pineapple is one of my favourite pizza flavours. Now I know this is controversial but I will not apologise! But that is where the idea for this delicious Bacon Wrapped Pineapple came from.
I have already wrapped dates and halloumi in bacon, so pineapple was just a natural progression. And in all honesty, it might be my favourite variation yet!
Pineapple is delicious, but wrapping it in bacon makes it even better! The perfect pineapple snack or canape.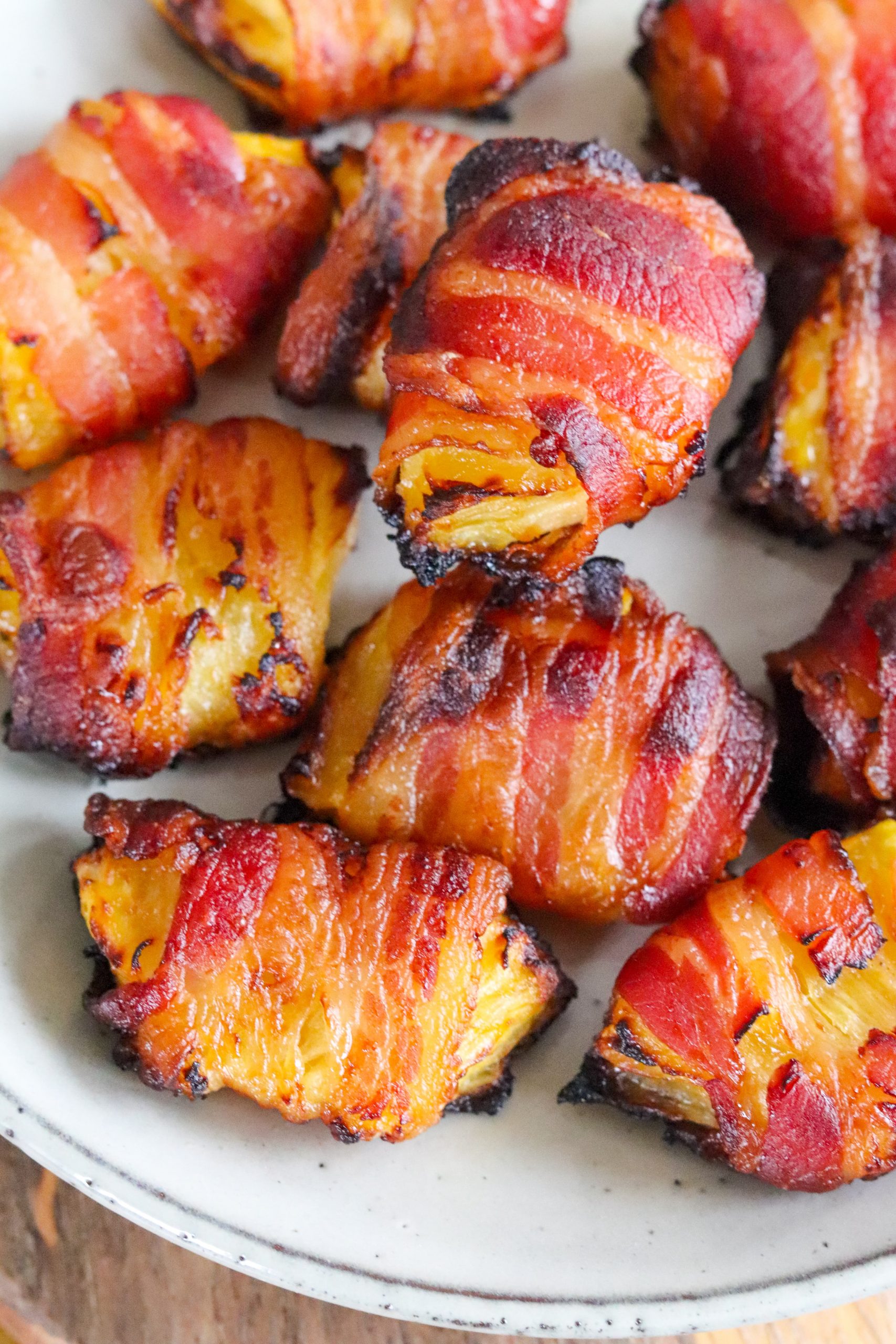 Incredibly easy and quick
This Bacon Wrapped Pineapple is so simple that I almost feel cheeky calling it a recipe. But easy recipes are always needed and sometimes overlooked and therefore missed.
This recipe is just two ingredients so you can't get much easier than that. But when those two ingredients go together so well, you don't need anything else.
Anyone no matter what their cooking ability can whip up these delicious morsels!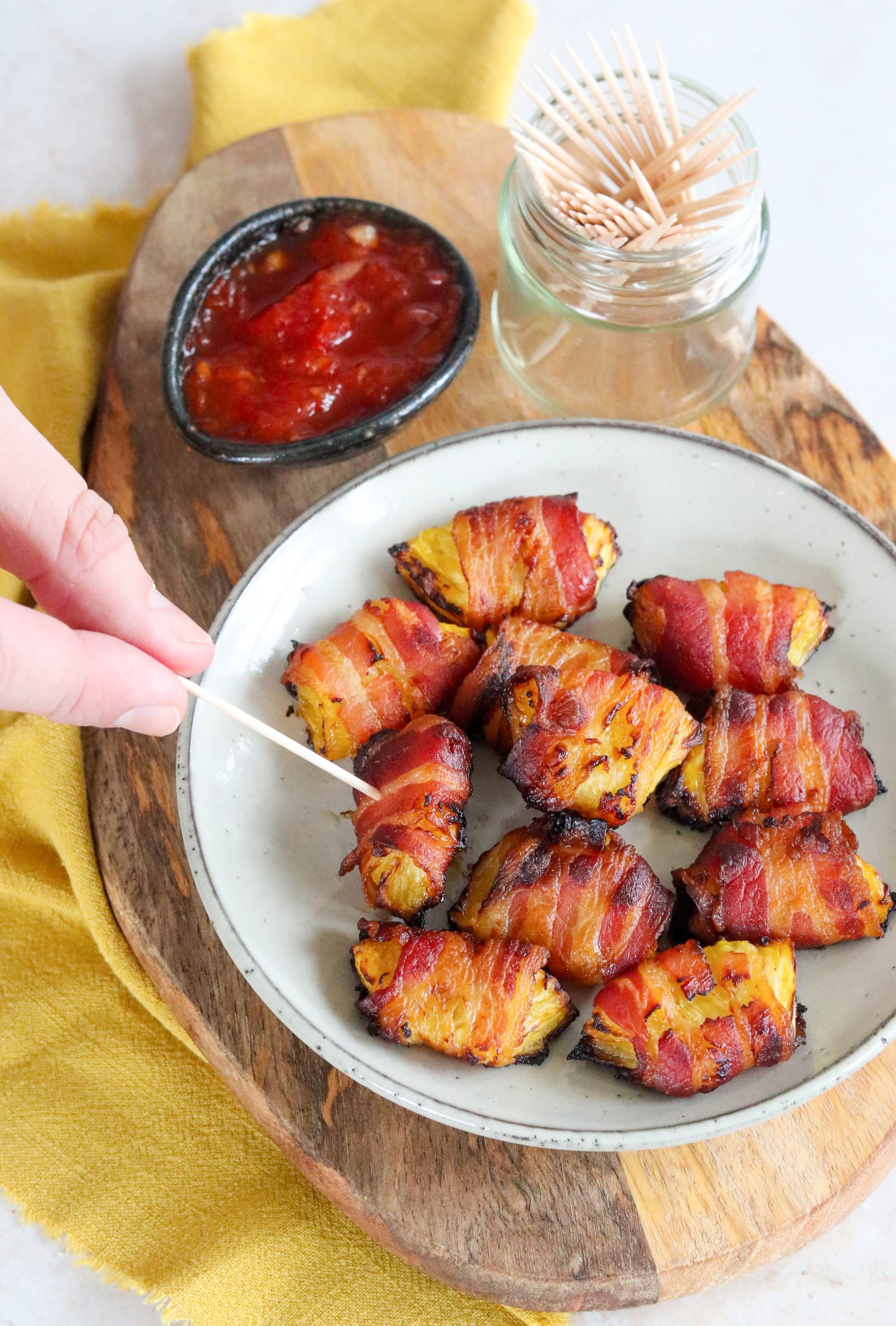 which pineapple is best to use?
I prefer to use fresh pineapple for this recipe. I am definitely not adverse to using tinned pineapple and it definitely has a place in my kitchen for recipes like my Baked Sweet & Sour Chicken.
But I do think that a ripe, fresh pineapple has more flavour which really shines through in such a simple recipe like this. And when a recipe is as simple as bacon wrapped fruit, you want to make sure that fruit is the best it can be.
Cutting pineapples really isn't anything to be scared off. Just remove the skin with a sharp knife before removing the core in the centre. You can then cut it into slices ready to be wrapped.
If you don't want to prepare the pineapple yourself, you can buy prepared fresh pineapple in most supermarkets.
And if you want to use tinned pineapple you absolutely can do. It will still be really delicious.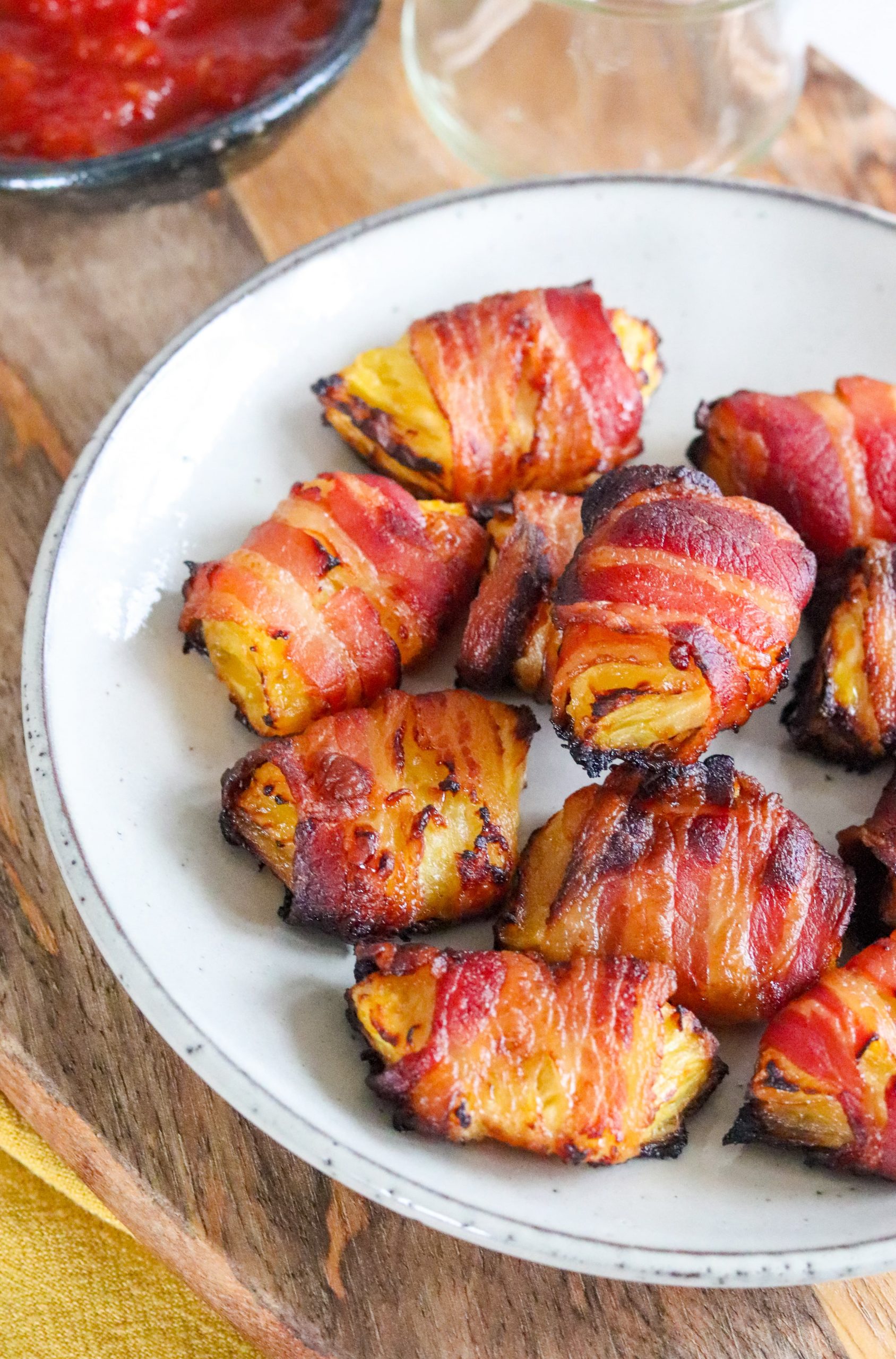 which bacon is best to use?
I recommend using streaky bacon because it is the right thickness to wrap around the pineapple. It would be too fiddly to use back bacon in my opinion.
Although I am a big fan of thick cut bacon, it isn't the best option in this instance. I would recommend using standard bacon that is relatively thin.
I always use smoked bacon because personally it is the only bacon that should be bought! However if you want to break my heart, go ahead and use unsmoked bacon.
Alternatively you could use turkey bacon cut in half or a vegetarian/vegan alternative if you don't eat pork.
If you're in the US, your standard bacon would work perfectly for this recipe.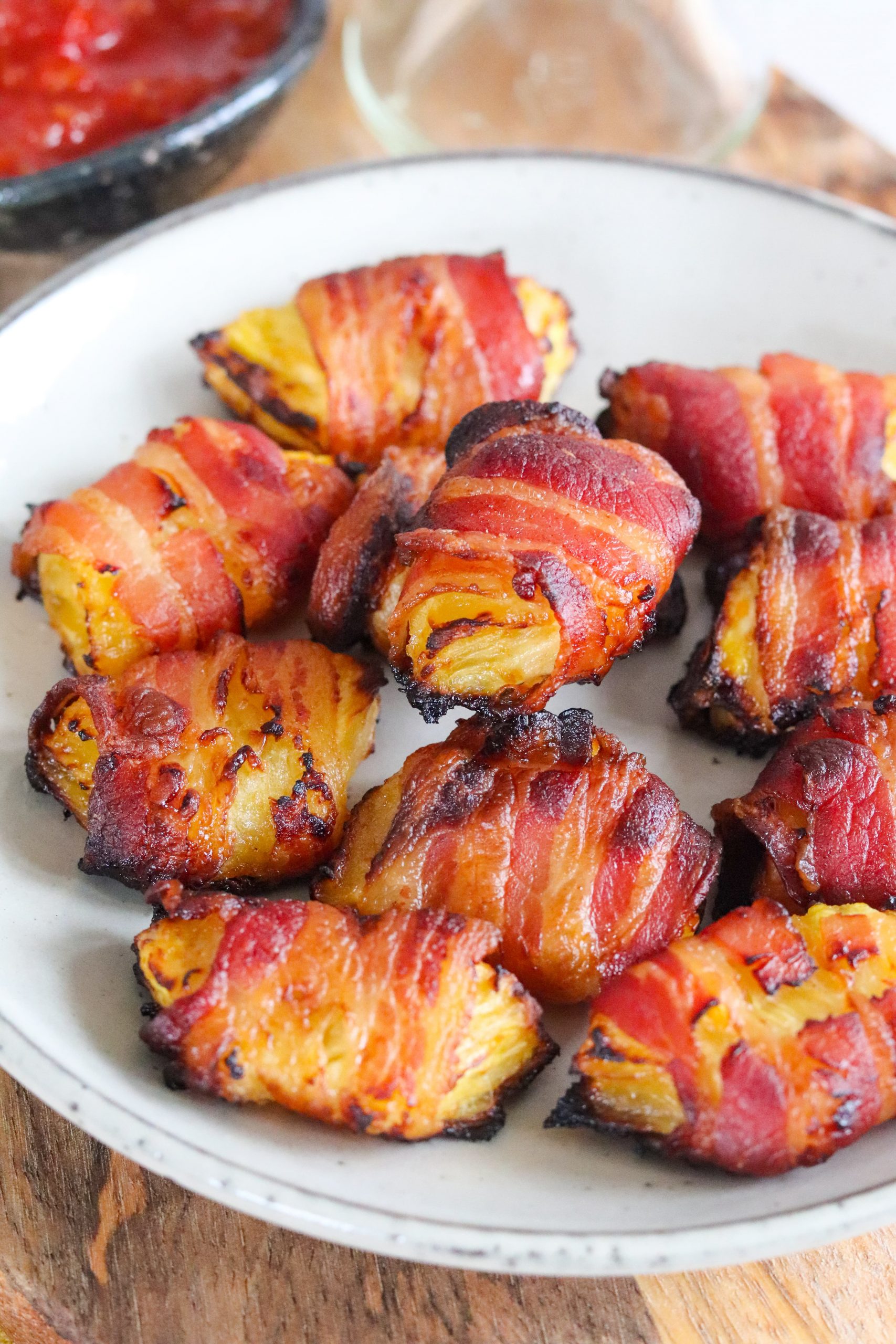 Air fryer or oven?
Air frying is a great way of making crisp and delicious food with little or no oil. Most people seem to have one these days and are looking for more recipes to cook using them.
The air circulates around the food so you may not need to turn them over, but check them just in case!
If you don't have an air fryer, you can cook this Bacon Wrapped Pineapple in the oven with exactly the same results.
You will definitely need to turn them half way through the cooking time to make sure the bacon gets crispy on both sides.
Whether you cook them using an air fryer or in the oven, the instructions include a small range of times. This is because everyone likes their bacon cooked to different levels of crispness. Some people like it cooked but not that crisp; whereas if you're my sister, you like it burnt!
You could also cook these Bacon Wrapped Pineapple on the barbeque. They will only take a couple of minutes to cook on each side; but cook them until the bacon is how you like it.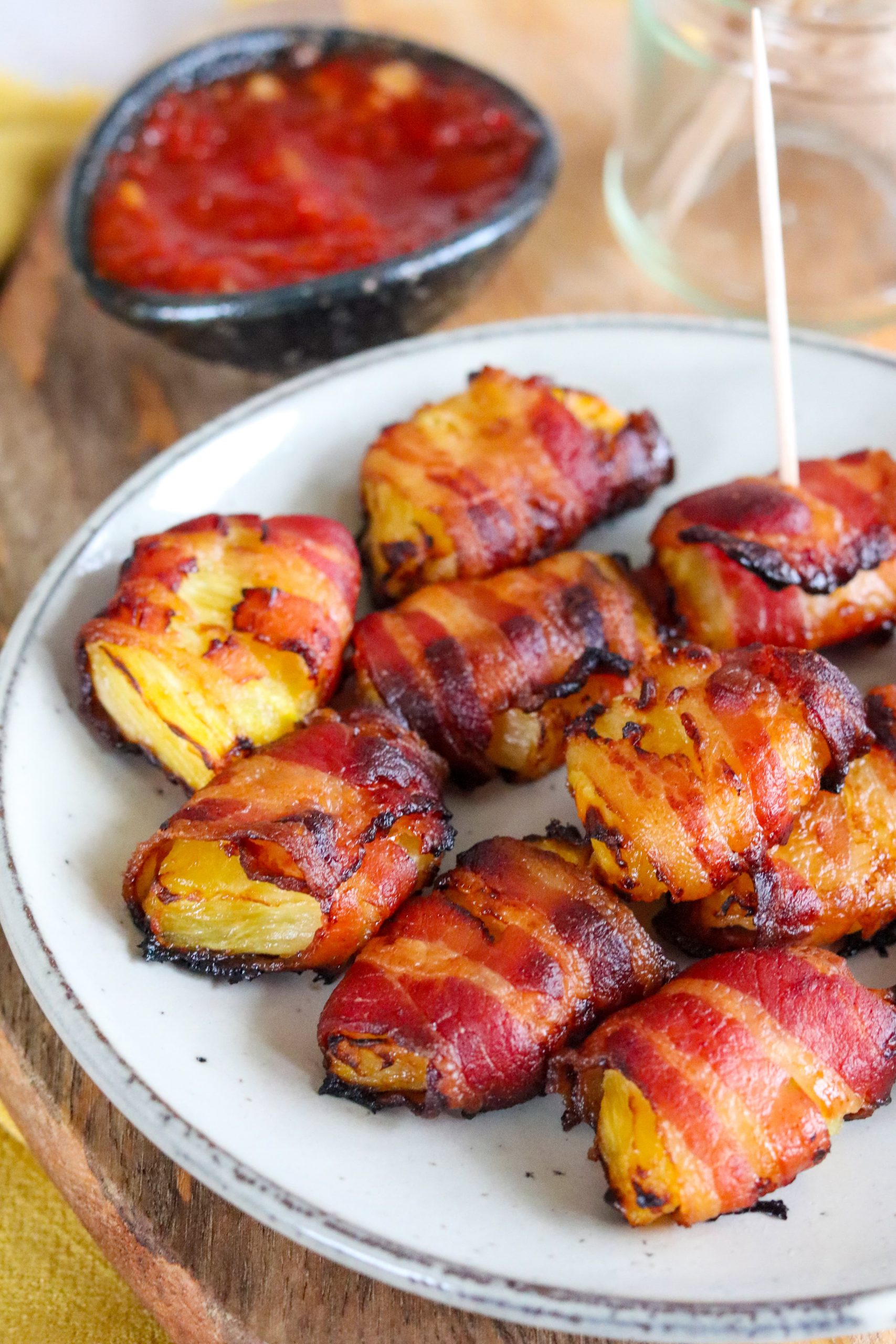 how to serve bacon wrapped pineapple
Pineapple wrapped in bacon is going to be delicious however you serve it! I think this makes a great starter, canape or addition to a buffet table.
If you don't need them to be bite sized, you could cut finger sized slices of pineapple and wrap a whole piece of bacon along it. This would be a good idea if you were serving them as a starter or just a tasty pineapple snack.
It is particularly tasty dipped into some Sweet Chilli Jam. The slight spice works so well with the sweetness of the pineapple and saltiness of the bacon.
I also think this would be amazing in a burger. You could add some Bacon Wrapped Pineapple instead of the bacon in my Ultimate Bacon Cheese Burgers. And it would also be a delicious addition to a Herby Turkey Burger.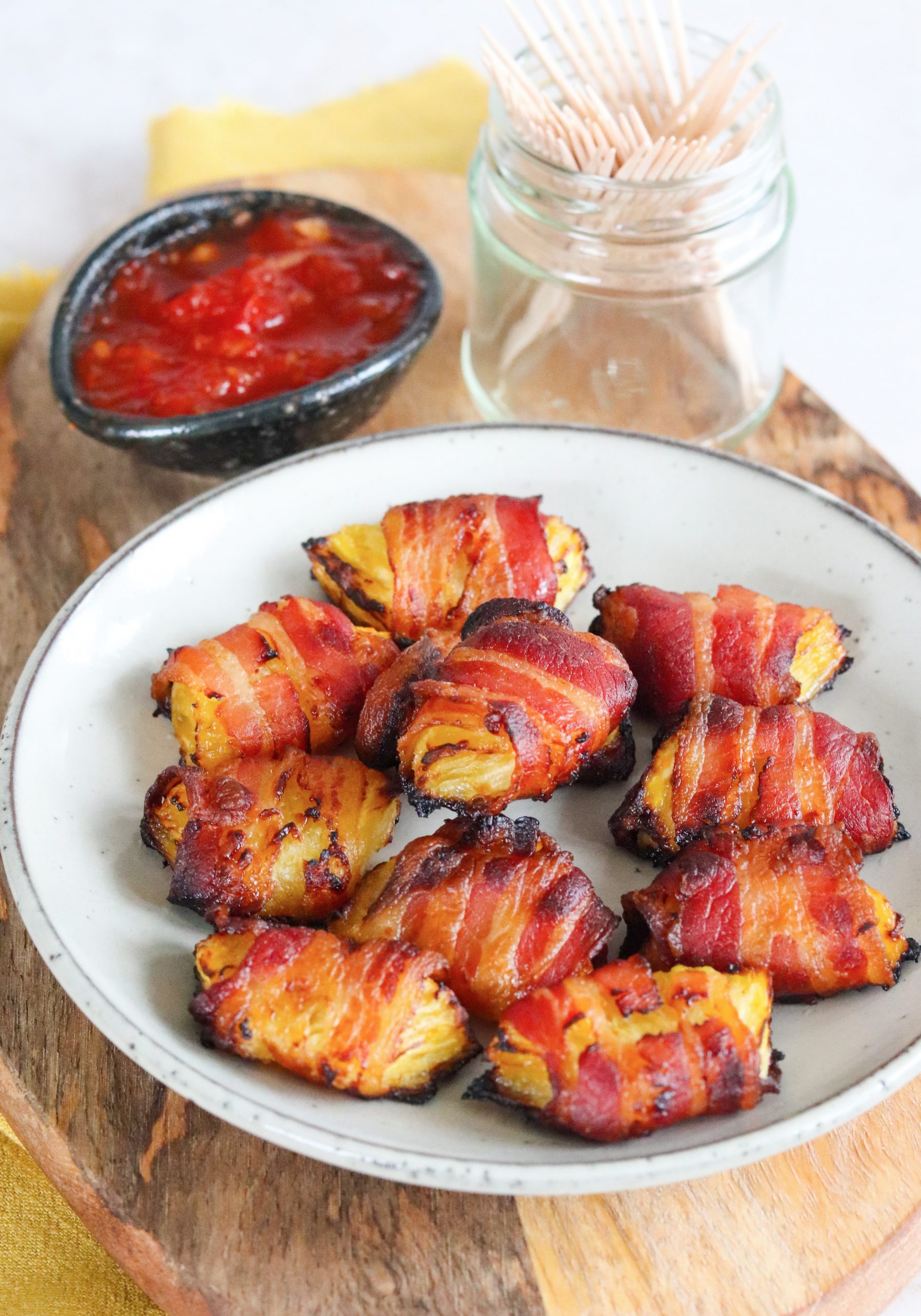 HOW TO MAKE THESE GLUTEN FREE, VEGETARIAN OR VEGAN
This Bacon Wrapped Pineapple is naturally gluten free.
To make them vegetarian or vegan you will need to swap the bacon for a suitable alternative. The meat free bacon I have seen is usually the same sort of size as streaky bacon so this would be perfect for wrapping around the pineapple.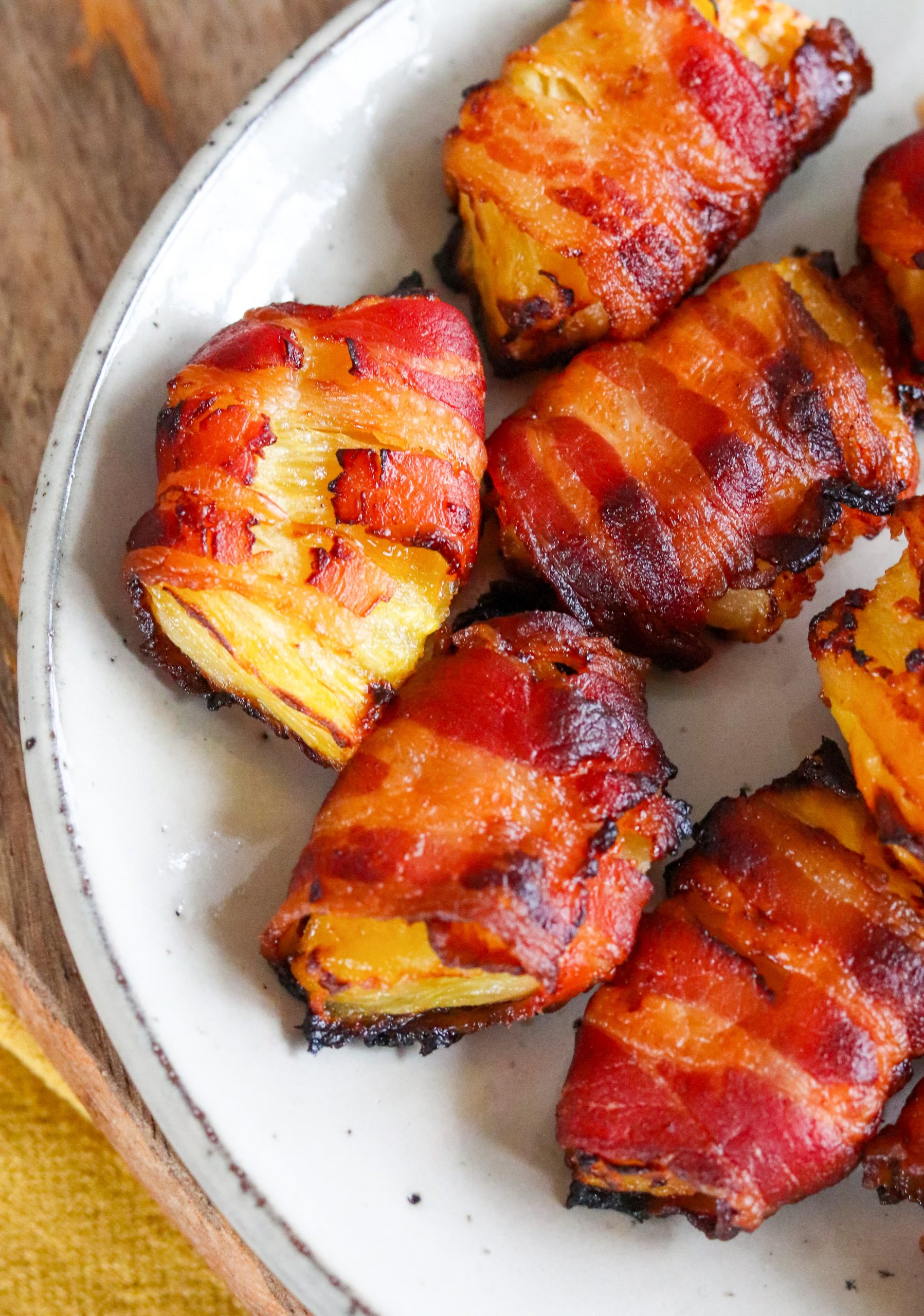 CAN YOU MAKE BACON WRAPPED pineapple IN ADVANCE?
I think this recipe is best served just as they are cooked. That way the pineapple is still hot and the bacon is crisp. You could serve these at room temperature and they would still be very tasty.
You could reheat them once they have been cooked, but I think it is just as easy to cook them fresh.
If you want to get ahead, I would recommend wrapping the pineapple in the bacon and then covering them and putting them in the fridge until you are ready to cook them.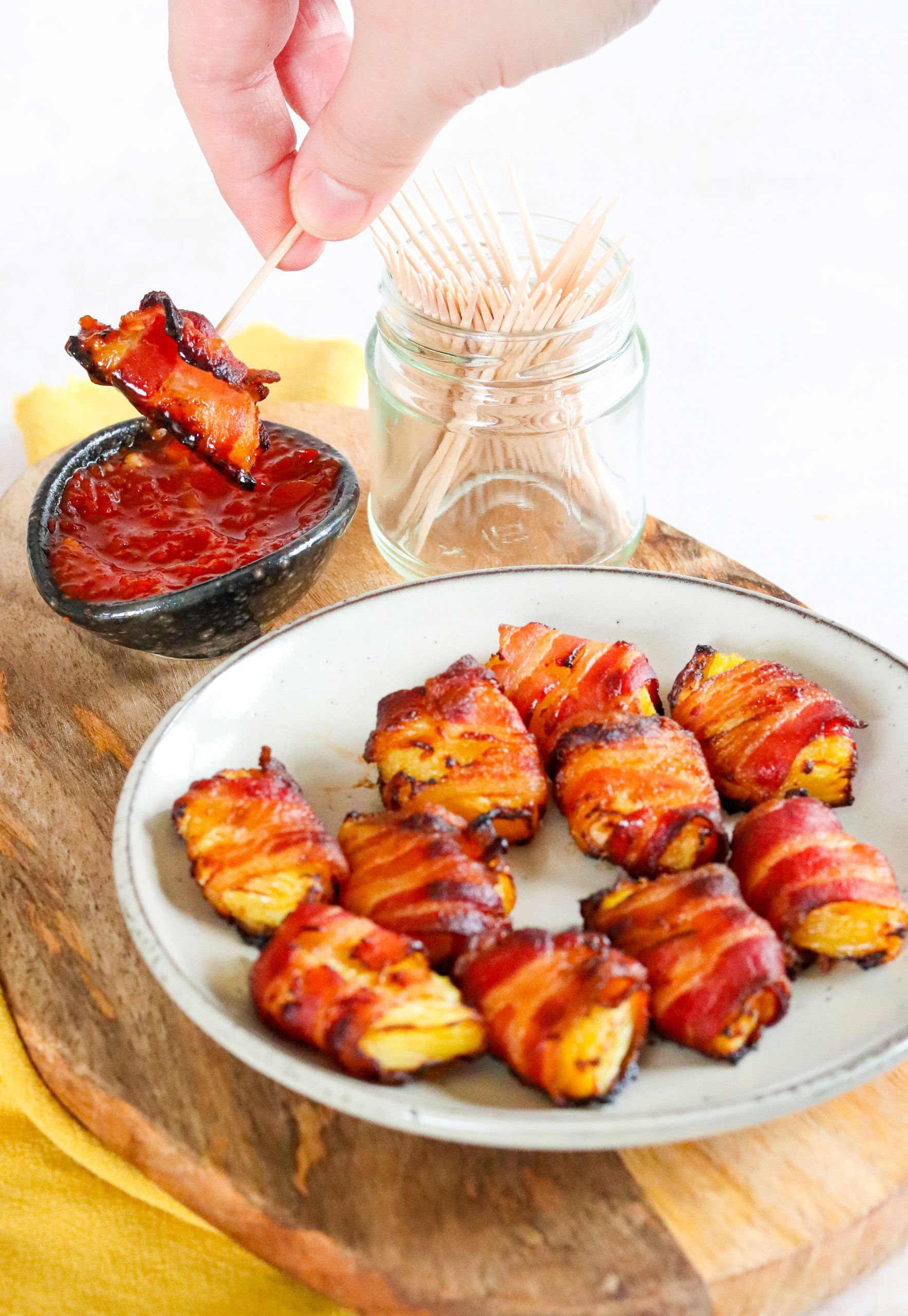 Other recipes you might like
Pin for later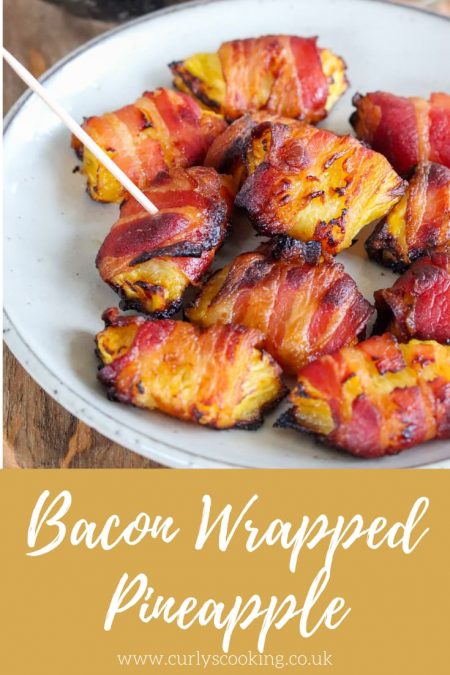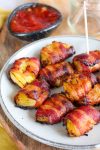 Bacon Wrapped Pineapple
These delicious Bacon Wrapped Pineapple bites take the classic combination of ham and pineapple to the next level! Sweet and juicy pineapple chunks are wrapped in salty bacon then baked until crisp – they're the ultimate pineapple snack!
Ingredients
150

g

pineapple

6

rashers

smoked streaky bacon
Instructions
If you are using an oven, preheat it to 190°C (fan assisted, 210°C non fan)

Prepare 150g pineapple by cutting it into 3-4cm pieces

Lay 6 rashers of streaky bacon on a chopping board. Cut each rasher in half

Lay a piece of pineapple on each rasher and wrap it around the pineapple

Lay the wrapped pineapple either on a baking tray or into the basket of your air fryer

If using an oven, cook for 12-14 minutes turning half way, until the bacon is cooked to your liking. If you are using an air fryer, cook for 8-10 mins at 190°C turning if you need to
Recipe Notes
Nutritional information is given as a guide only and my vary.
Nutrition Facts
Bacon Wrapped Pineapple
Amount Per Serving
Calories 36
Calories from Fat 9
% Daily Value*
Fat 1g2%
Sodium 1mg0%
Potassium 14mg0%
Carbohydrates 2g1%
Protein 1g2%
Vitamin A 7IU0%
Vitamin C 6mg7%
Calcium 2mg0%
Iron 1mg6%
* Percent Daily Values are based on a 2000 calorie diet.