This rich and flavoursome Beef Mince Chilli is subtly spiced and a delicious family meal. It can be cooked on the stove or slow cooker, but make sure you don't forget the toppings!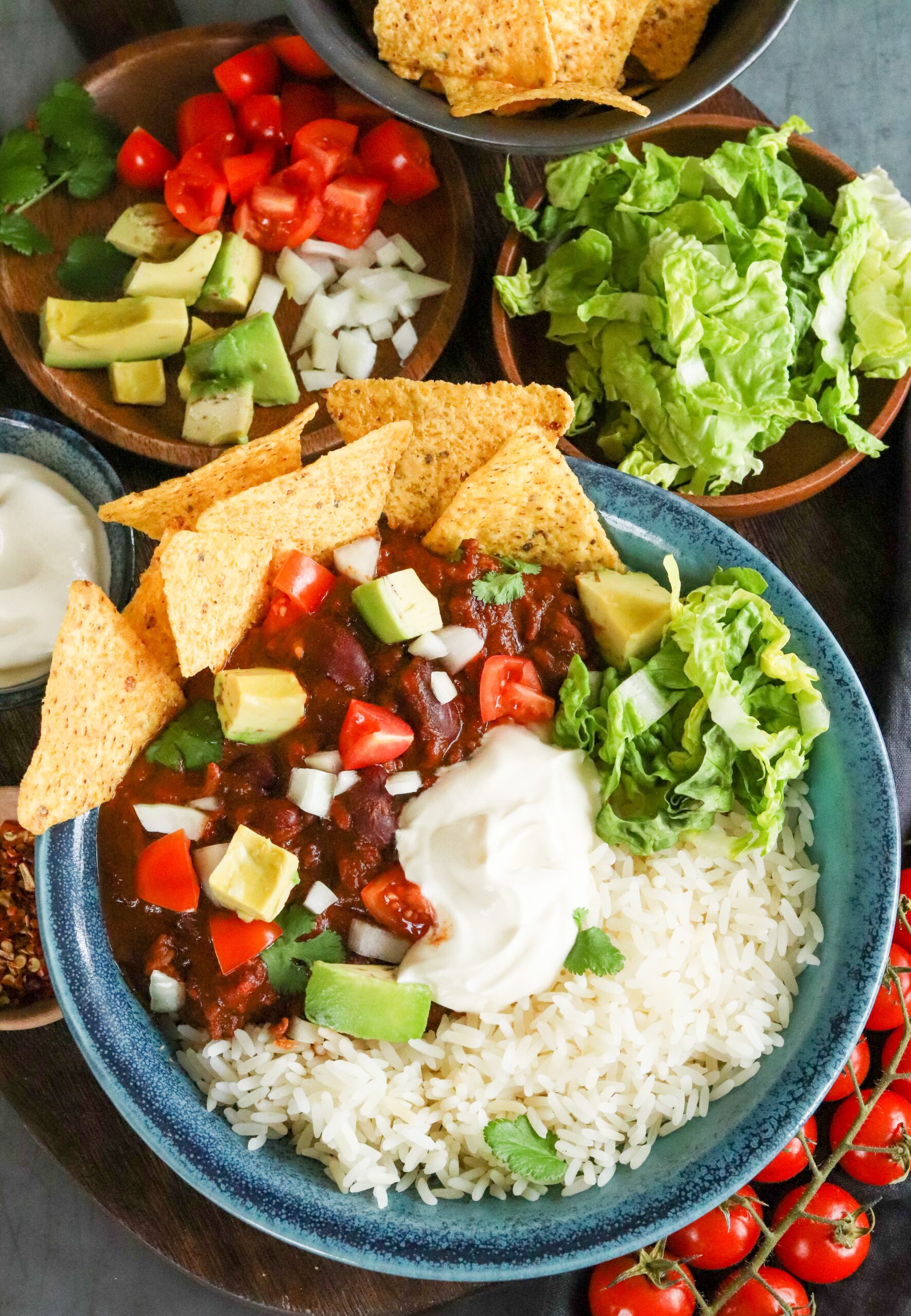 Beef mince chilli – a tex mex classic
Chilli con carne is a popular Tex Mex recipe created in America in the 19th century. Most families have their own way of cooking it, however most include some form of beef, tomatoes, chillies and tomatoes.
Chilli is the first recipe I learnt to make as a child from watching my Mum cook. It is one of my most tried and tested recipes as I've been making it for over 20 years.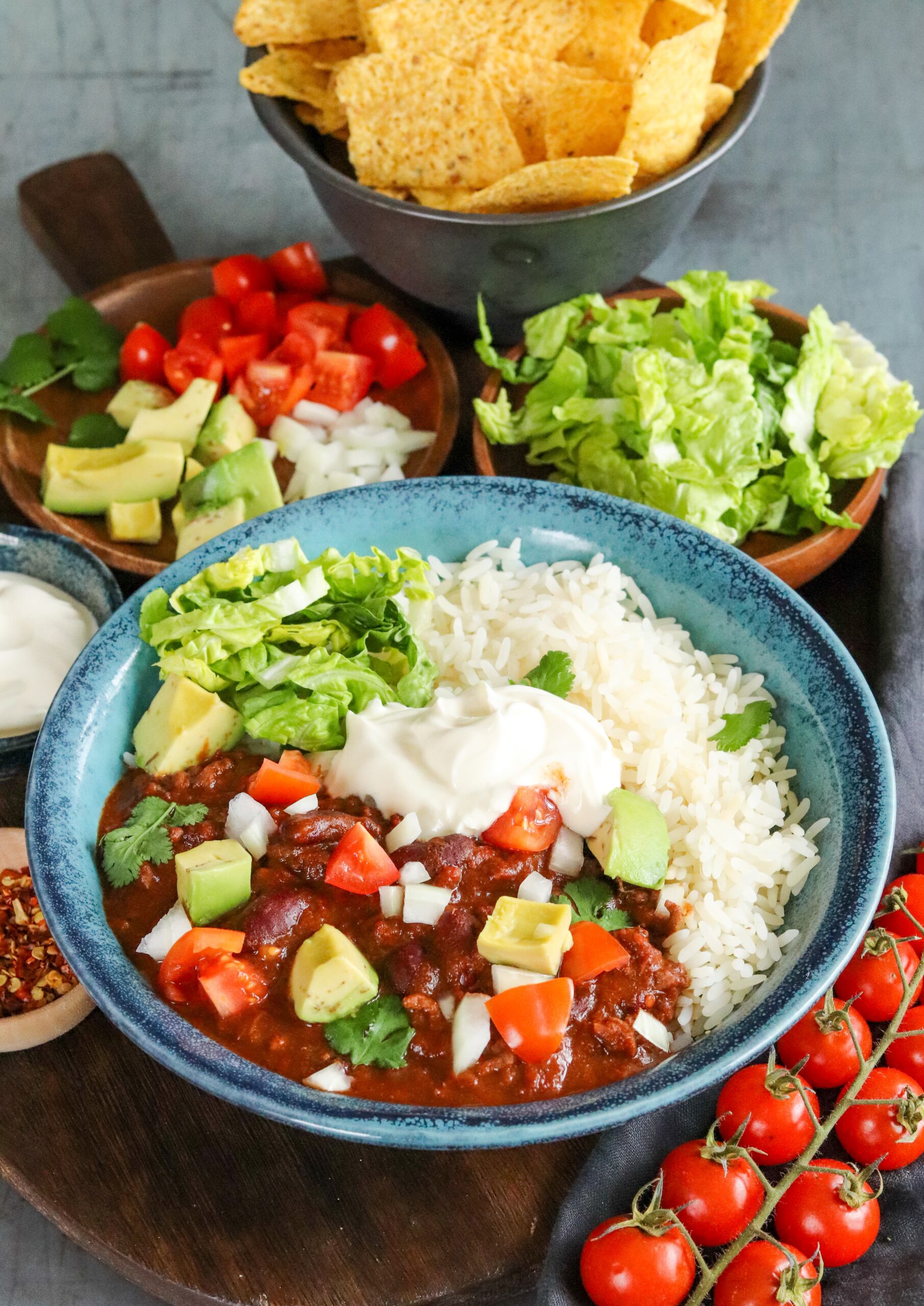 Ditch the jarred sauce or prepacked spices!
I know a lot of people make dishes like chilli using either a jar of sauce or a sachet of spices.
Although these are marketed to be easier and a time saver, I really don't think it takes much longer to make it from scratch. You can also see exactly what is going in the finished dish.
Sometimes the jars of sauce and spice sachets have preservatives and extra salt and sugar that aren't necessary. I also think making it from scratch will have a lot more flavour.
It might cost you slightly more initially to buy the individual ingredients, but once you have them it will be more cost effective to make it in the long run.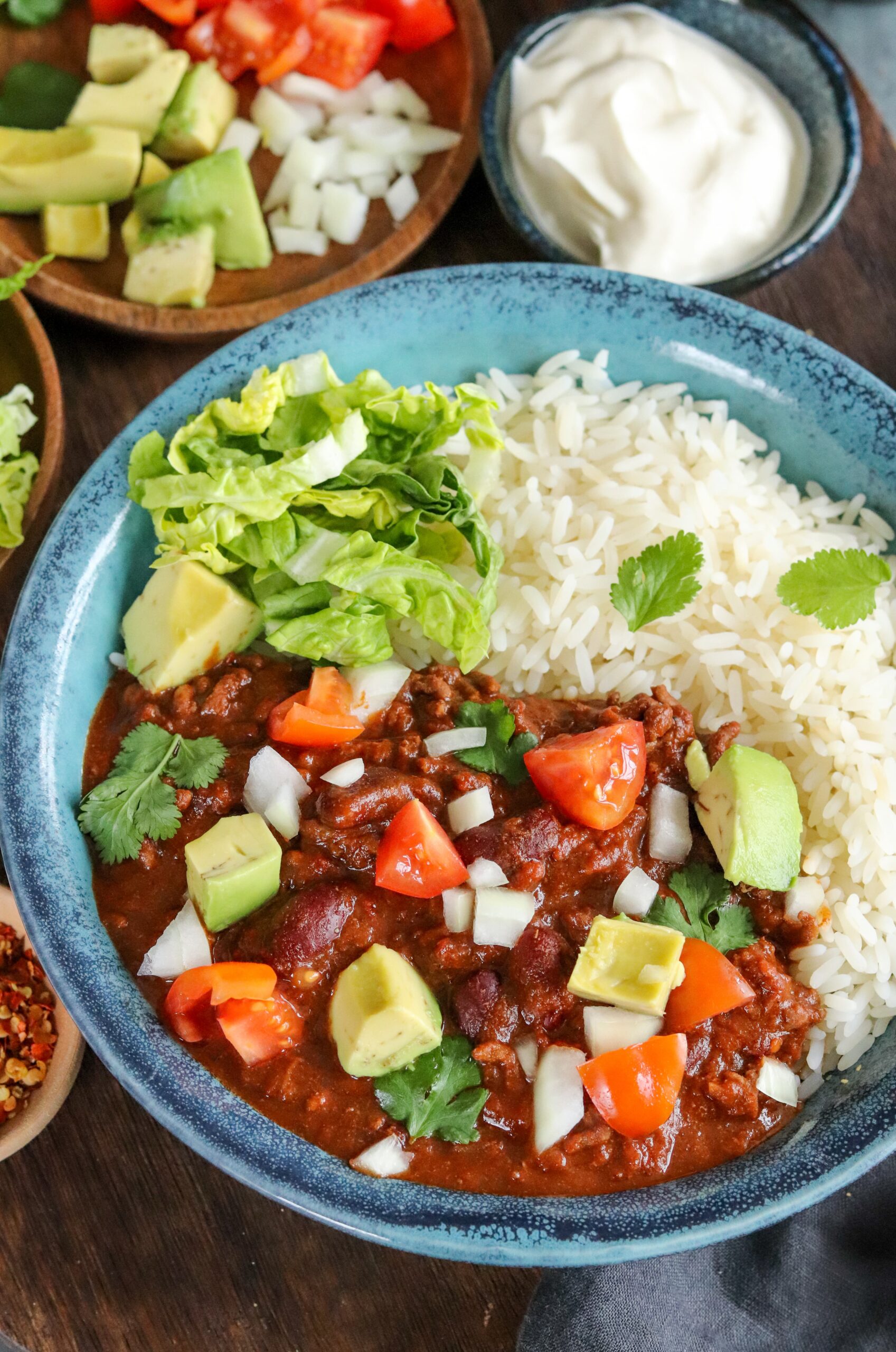 Which beef mince is best to use?
For recipes like this where I am adding a lot of flavourings, I prefer to use lean beef mince. I opt for the 5% fat mince that most supermarkets offer.
If it slightly more expensive than mince with a higher fat content. You can absolutely use beef mince with 10%, 15% or 20% fat. If a lot of fat is released from the mince into the pan I would recommend draining it.
If you don't want to use beef, check out my Turkey Chilli or Vegan Lentil Chilli. Both are really delicious!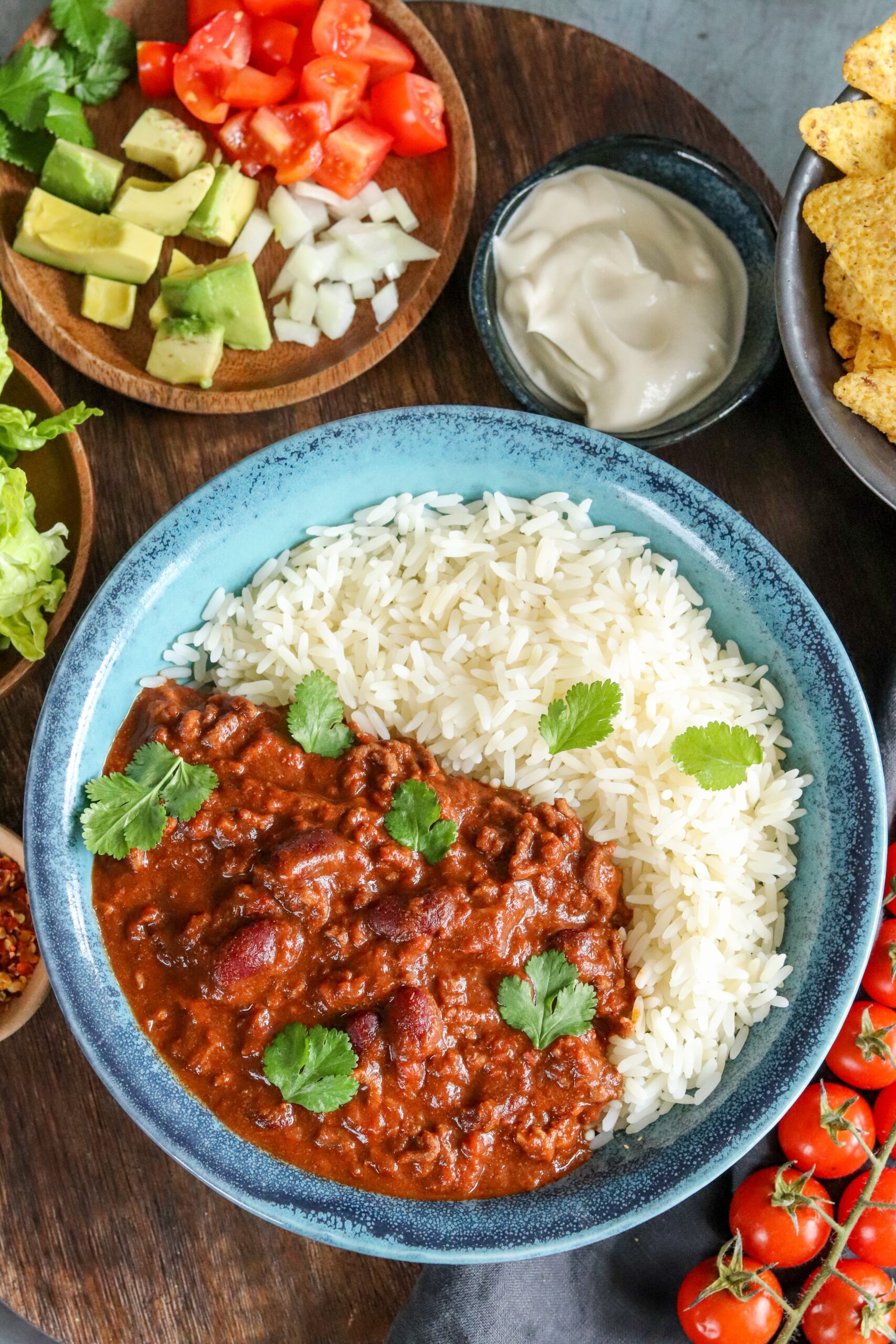 Which Chilli powders are best to use?
I love Mexican food so I have a few more chilli powders than other people may have in their cupboards. I like to add ancho and chipotle chilli powders to my chilli because they add a delicious smokiness.
Large supermarkets have started to stock a wider range of chilli powders so you should be able to find ancho and chipotle chilli flakes if not powders.
You could of course buy the chilli powders online. But you can definitely just use standard chilli powders you can buy in any supermarkets instead.
If you use the chilli powders in the recipe the finished chilli will be relatively mild but I would recommend decreasing the quantities if you are cooking for children.
It is your choice whether you want to use mild or hot chilli powder for this beef mince chilli.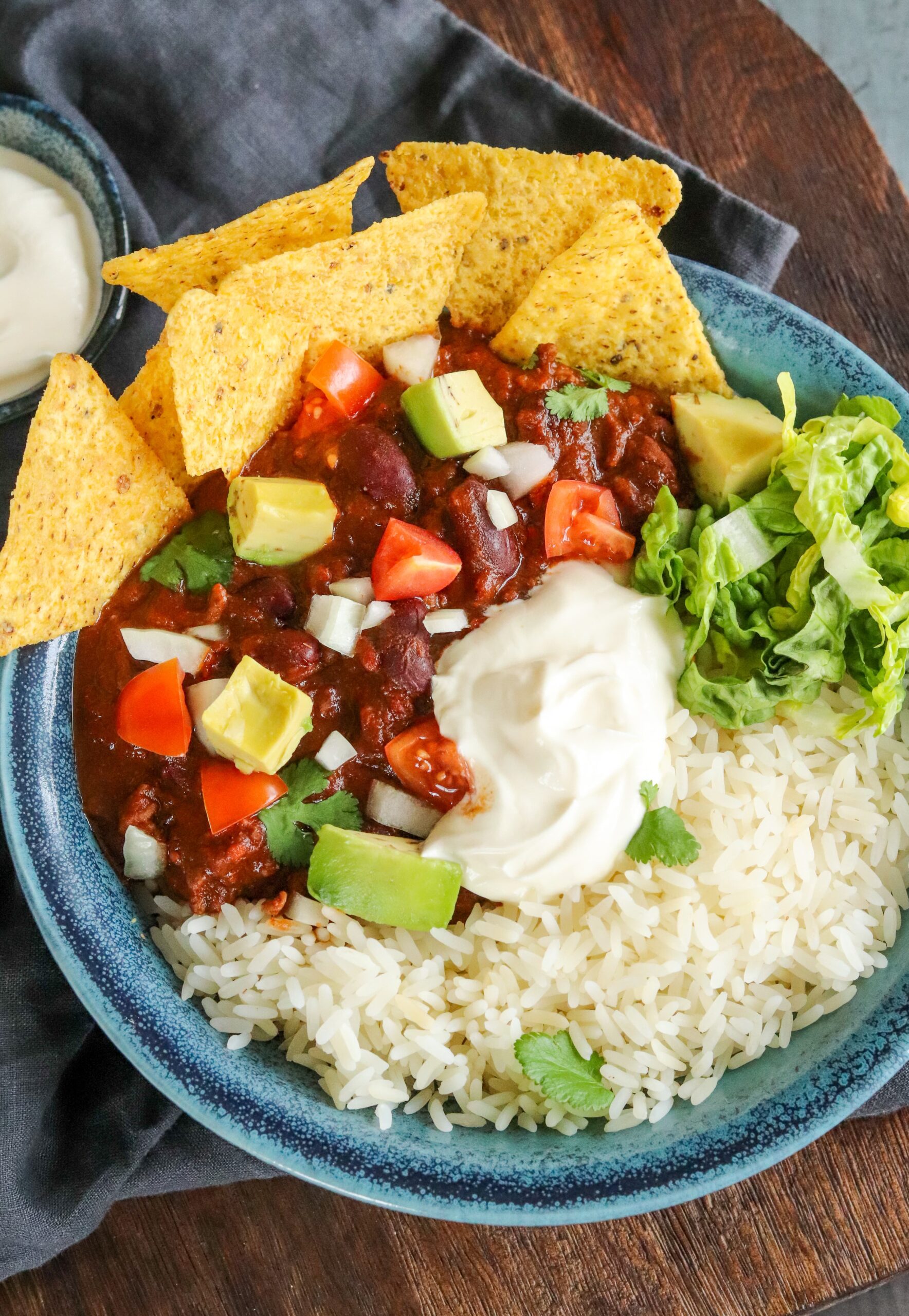 does the chilli taste like chocolate?
By adding a few squares of dark chocolate it doesn't make the chilli taste like chocolate, but adds a lovely depth of flavour to it. Make sure you use dark chocolate with at least 80% cocoa.
Chocolate was first cultivated and processed in the Americas and has been used in Mexican cuisine for centuries. Chocolate is a common ingredient in mole which is a rich and flavoursome sauce used in a variety of dishes.
Although this chili is definitely not an authentic Mexican dish, that doesn't mean you can't use their methods to enhance the delicious flavours.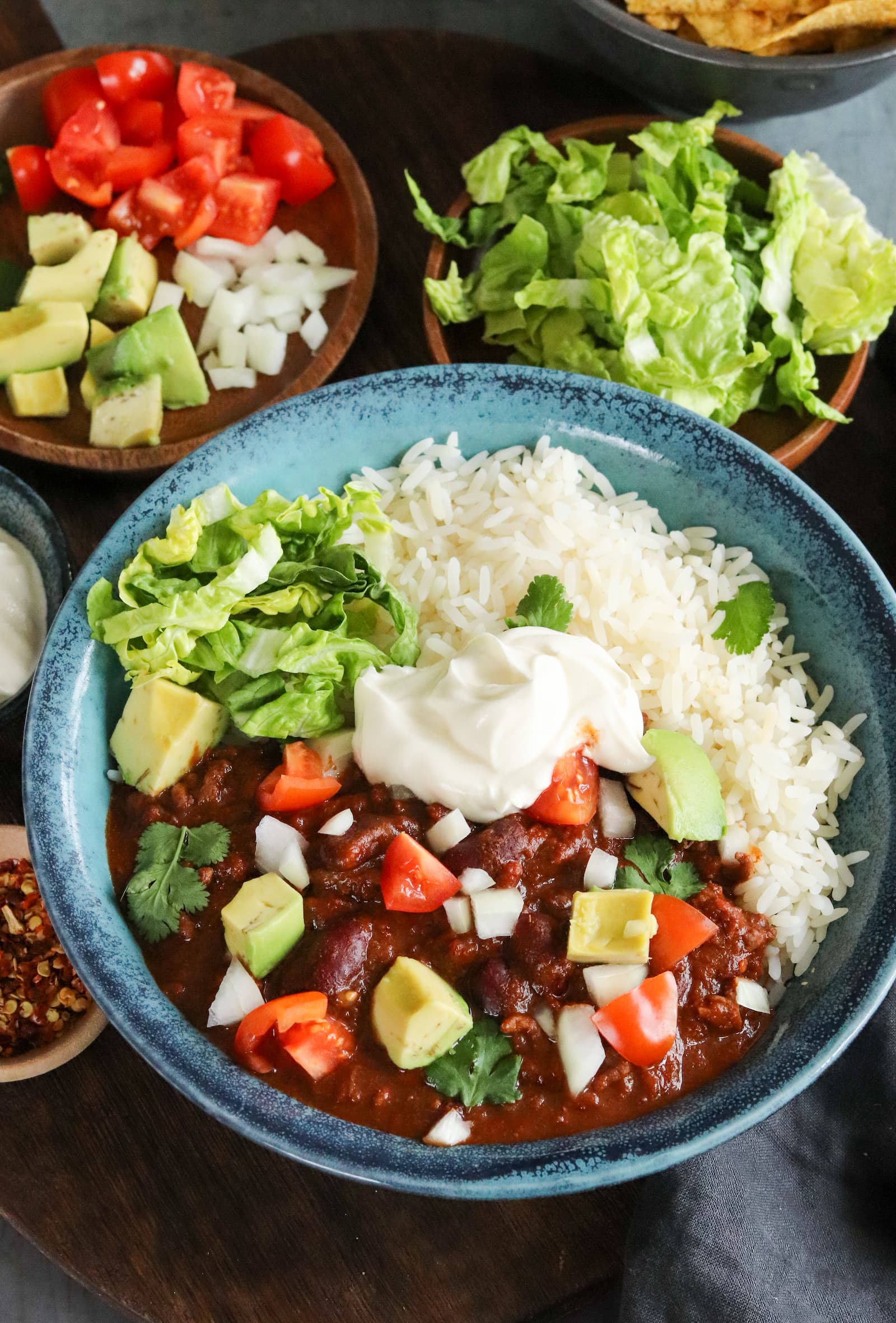 Make this Beef Mince Chilli in your slow cooker
You can easily make this chilli in a slow cooker by reducing the liquid slightly. I would cook it on low for around 8 hours or high for 4 to 5.
I wouldn't add the kidney beans until the last hour if you're cooking on high or the last couple of hours if you're cooking on low. If they cook for too long they might start to disintegrate.
I would definitely recommend browning the meat before you add it to the slow cooker. If you don't, the texture does change and become more mushy which isn't something I like.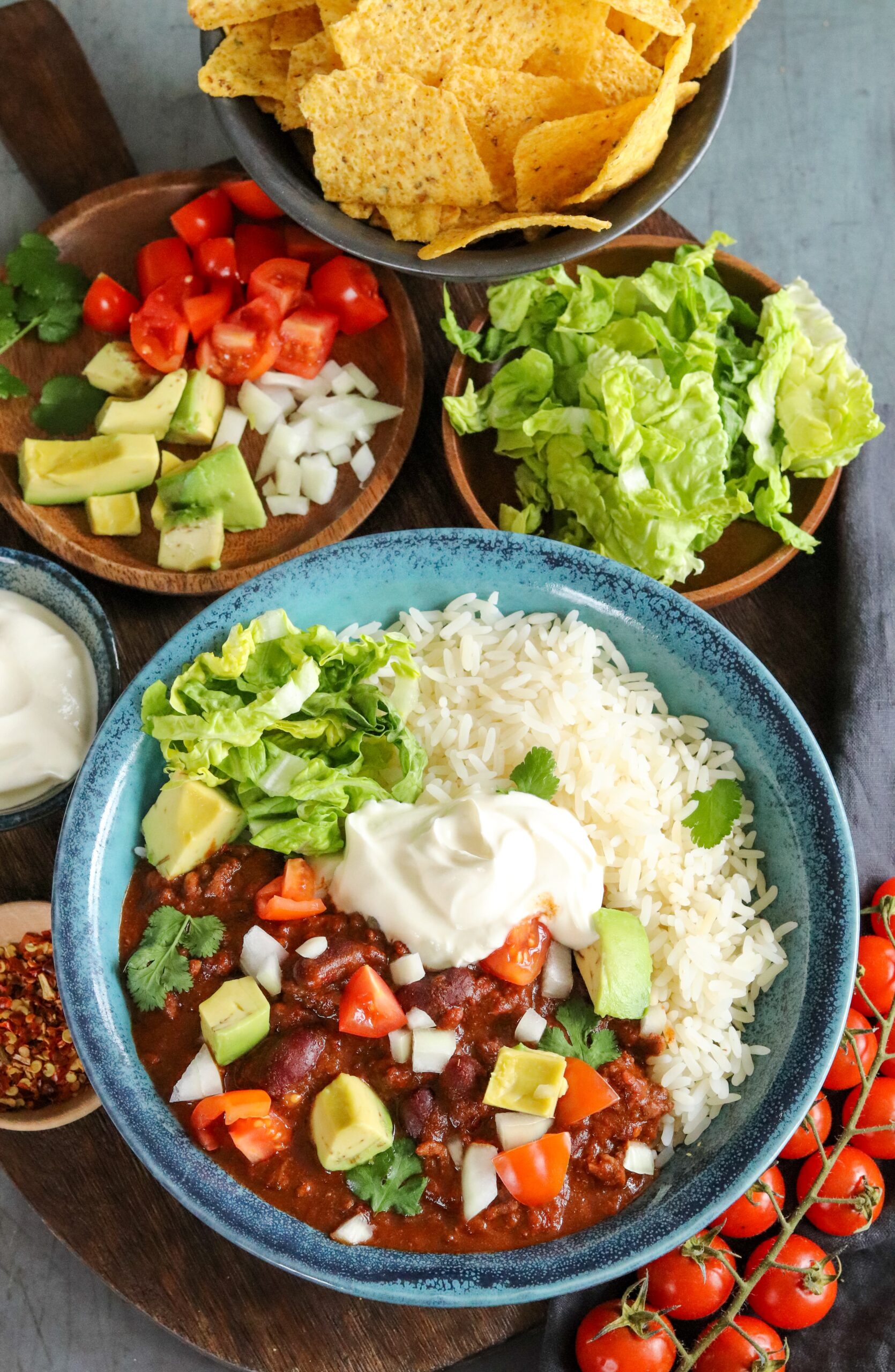 how to freeze your leftover chilli
Beef mince chilli freezes really well. I like to make a big batch of it and freeze in portions. This then makes really quick and easy mid week meals.
When you freeze the Chilli Con Carne, make sure it is put in the freezer within two hours of it being made. It will keep in the freezer for up to three months.
To defrost, leave it in the fridge overnight or for about eight hours. Once reheated make sure it is piping hot before serving.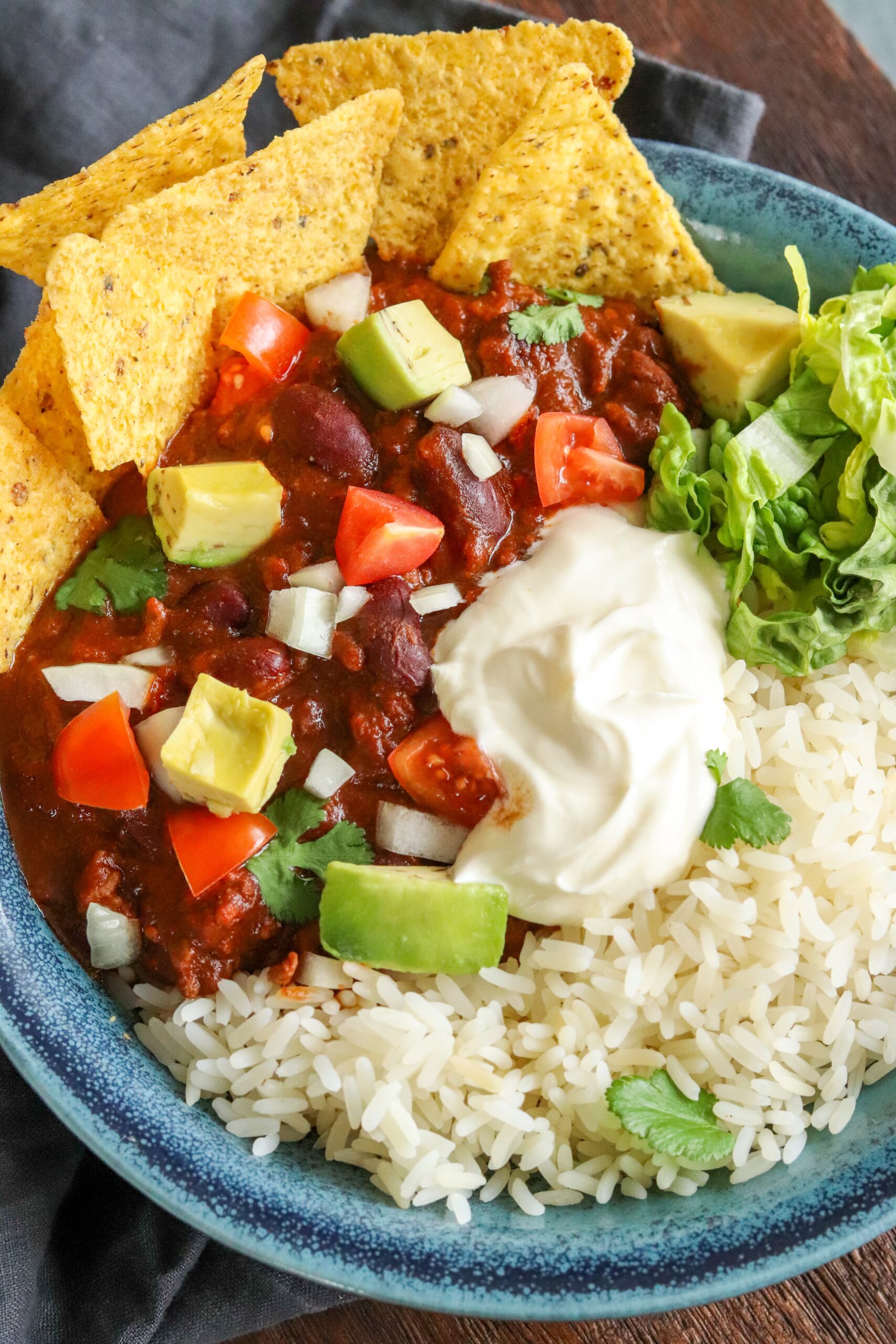 how to serve beef mince chilli
I have grown up eating chilli with rice, however this isn't the case with everyone. In America, it is more often eaten just as it is. However you choose to eat it – toppings are a must.
Diced onion, tomatoes, coriander and soured cream are classic toppings. I also like to add some diced avocado or guacamole as well as some lettuce. You can also add some cheese if you like.
As well as rice, I also like to serve some tortilla chips with this chilli. You could also use the chilli to make delicious nachos.
Chilli also makes a delicious filling for baked potatoes. The potatoes make a lovely alternative to rice but you can still add all of the same toppings as you usually would.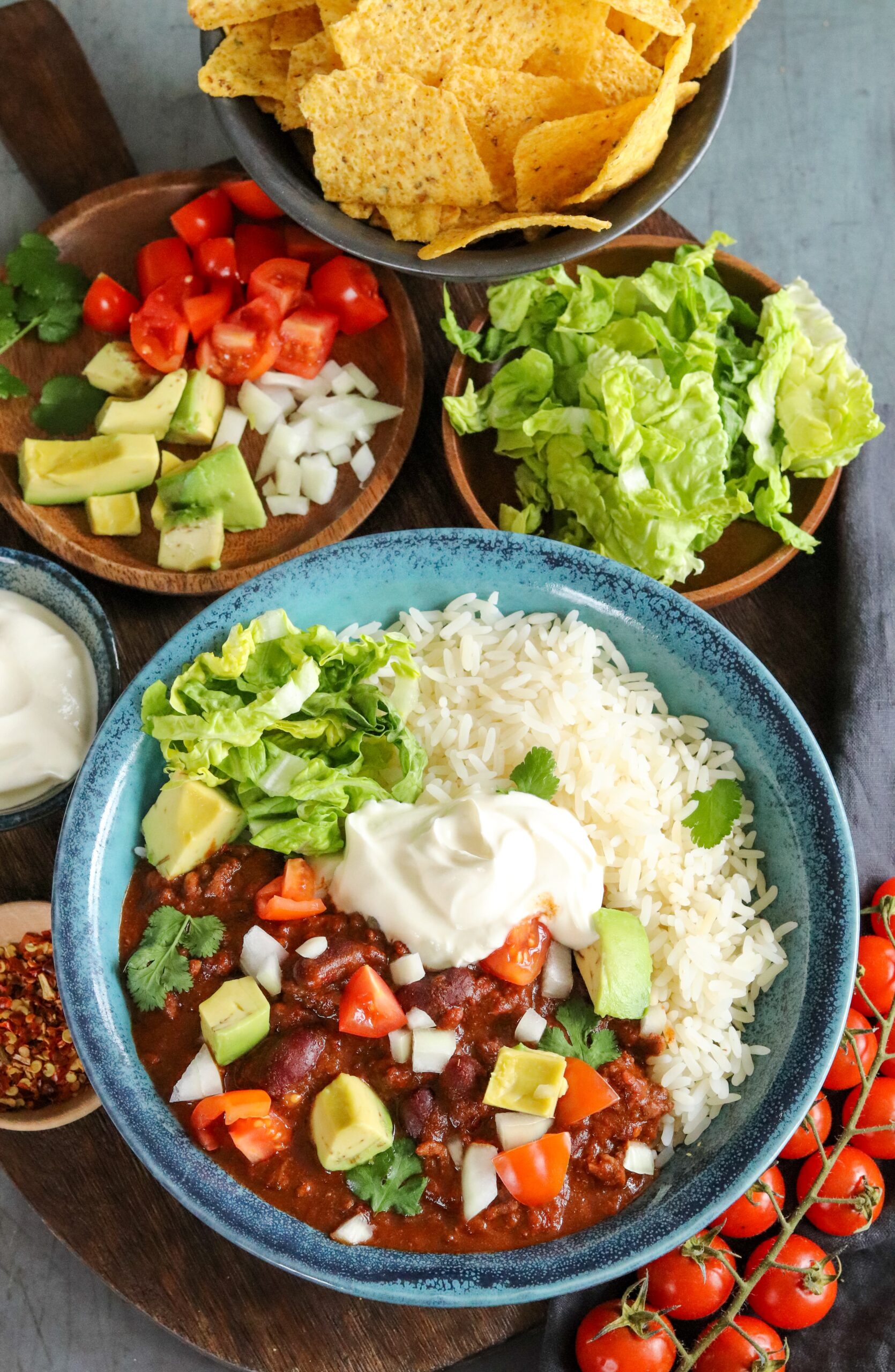 Other recipes you might like
Pin for later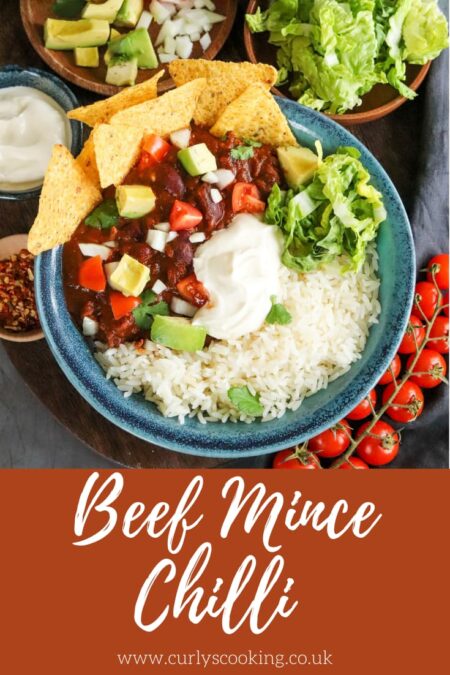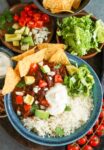 Beef Mince Chilli
This rich and flavoursome Beef Mince Chilli is subtly spiced and a delicious family meal. It can be cooked on the stove or slow cooker, but make sure you don't forget the toppings!
Ingredients
Spray oil

1

onion

diced

3

garlic cloves

finely chopped

500

g

beef mince

5% fat

2

tbsp

tomato puree

1

tsp

sea salt

¼

tsp

black pepper

1

tsp

mustard powder

¼

tsp

paprika

¼

tsp

ancho chilli powder

¼

tsp

chipotle chilli powder

1

tbsp

Worcestershire sauce

400

g

tin chopped tomatoes

700

ml

water

fill the tinned tomato tin twice

2

OXO cubes

395

g

tin kidney beans in chilli sauce

30

g

dark chocolate
Instructions
Put a large pan on a medium/high heat and spray with oil. Add 1 diced onion and 3 cloves of garlic. Cook for 5 mins stirring occasionally

Add 500g beef mince and break it up. Cook for 5 mins or until the mince is browned all over

Add 2 tbsp tomato puree and stir thoroughly. Cook for 2 minutes to cook the puree out slightly

Add 1 tsp salt, ¼ tsp pepper, 1 tsp mustard powder, ¼ tsp ancho chilli powder, ¼ tsp chipotle chilli powder and 1 tbsp Worcestershire sauce and stir well

Add a 400g tin of chopped tomatoes. Add two tin's worth of recently boiled water (approx 750ml) to the pan

Crumble in 2 OXO cubes and let cook uncovered for at least 15 minutes stirring occasionally making sure it doesn't stick to the bottom. If it starts to look dry at any point add a splash of water

Next add a 400g tin of kidney beans in chilli sauce and stir. Leave to gently bubble uncovered for another 15 mins

Add 30g of dark chocolate to the pan. Mix through and allow to bubble for 5 mins before serving
Recipe Notes
If you do not have ancho and chipotle chilli powders, use ½ tsp of standard chilli powder.
You can leave the chilli gently simmering for a couple of hours for the flavours to develop. Make sure you stir every so often so it doesn't stick to the pan.
If at any point it starts to look dry, add a splash more water.
Nutritional information is given as a guide only and my vary.
Nutrition Facts
Beef Mince Chilli
Amount Per Serving
Calories 363
Calories from Fat 90
% Daily Value*
Fat 10g15%
Cholesterol 78mg26%
Sodium 678mg29%
Potassium 561mg16%
Carbohydrates 7g2%
Protein 28g56%
Vitamin A 112IU2%
Vitamin C 3mg4%
Calcium 28mg3%
Iron 4mg22%
* Percent Daily Values are based on a 2000 calorie diet.