These Chicken & Chorizo Nachos are packed full of delicious flavours. Crispy tortilla chips covered in melted cheese with heat from the chillies topped with my rich and tasty Slow Cooker Chicken & Chorizo Stew.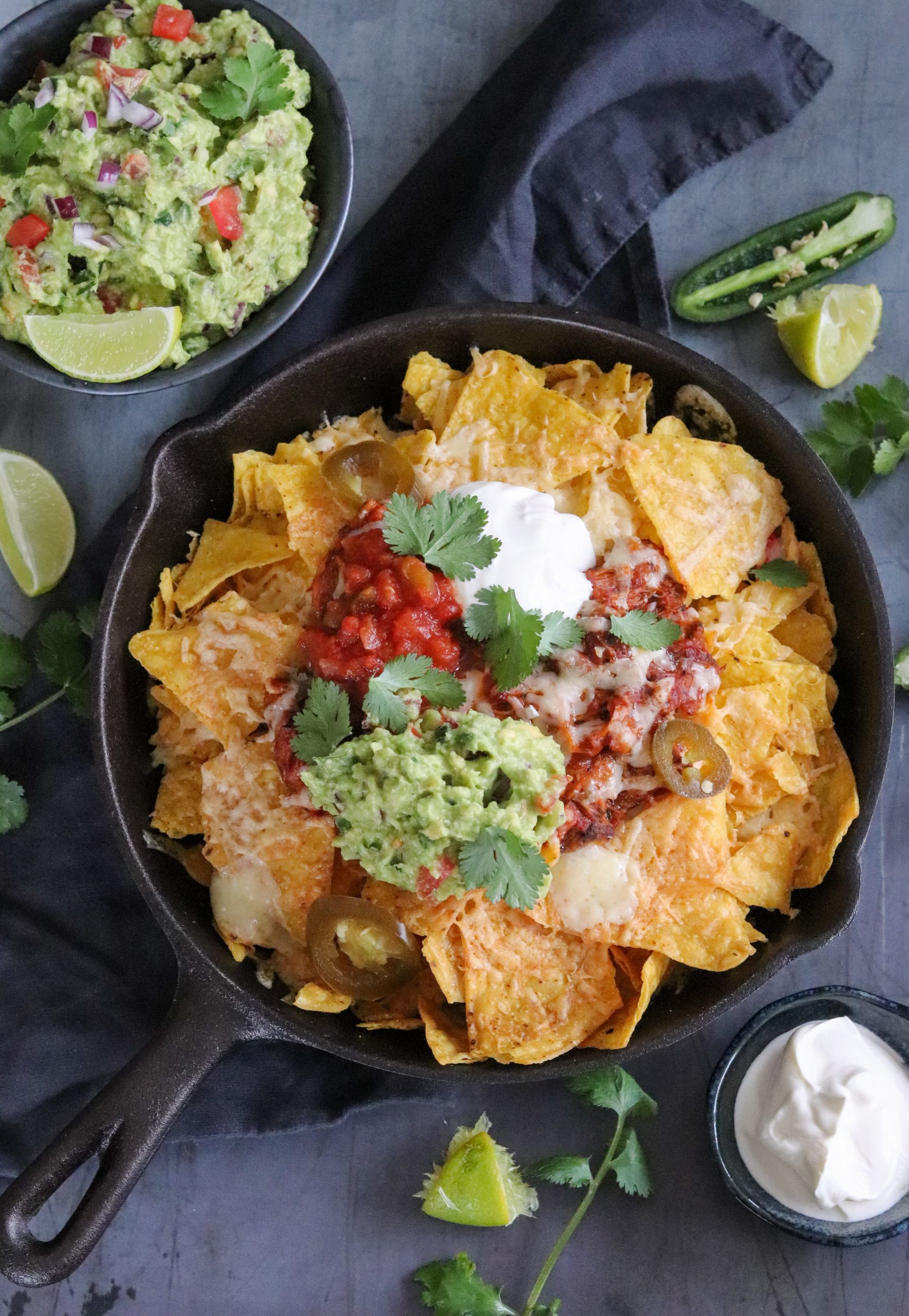 What are nachos
Nachos are a a Mexican dish originating in the north. They are tortilla chips covered in melted cheese and served with toppings.
Although commonly served as a snack or appetiser, they can also be served as a more substantial meal. This usually involves the addition of meat or beans.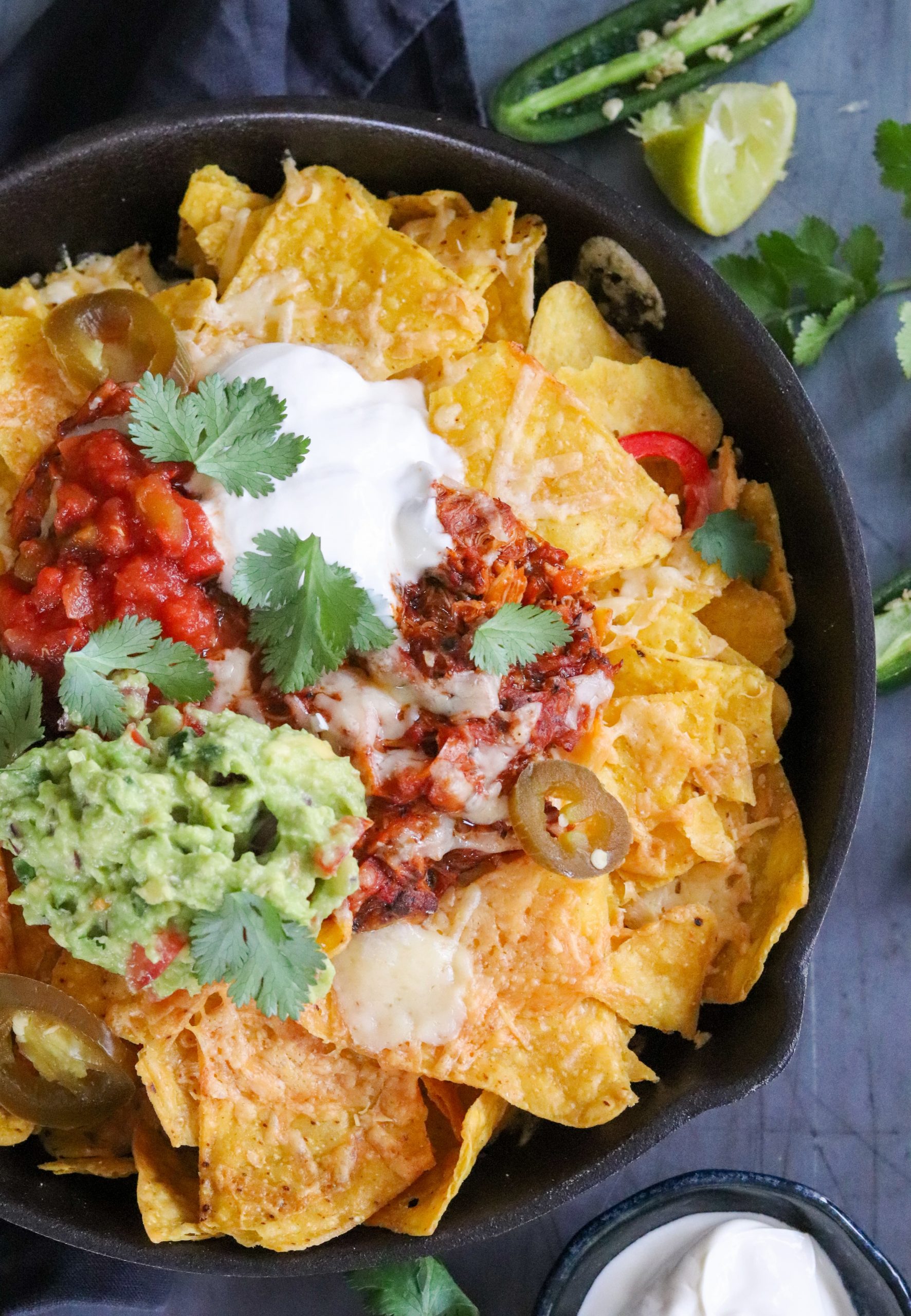 Using leftovers to create another delicious dish
My Slow Cooker Chicken & Chorizo Stew has been one of my most popular recipes since I added it to my blog. It is so simple to make and packed with such tasty flavours that I can see why people like it so much!
When you make my Slow Cooker Chicken & Chorizo Stew you might have some left over. If you didn't want to freeze this for another time, these Chicken & Chorizo Nachos are a great way of using it.
It is a great way of making meals go further. This is because you don't need a huge amount of the stew to make another tasty meal.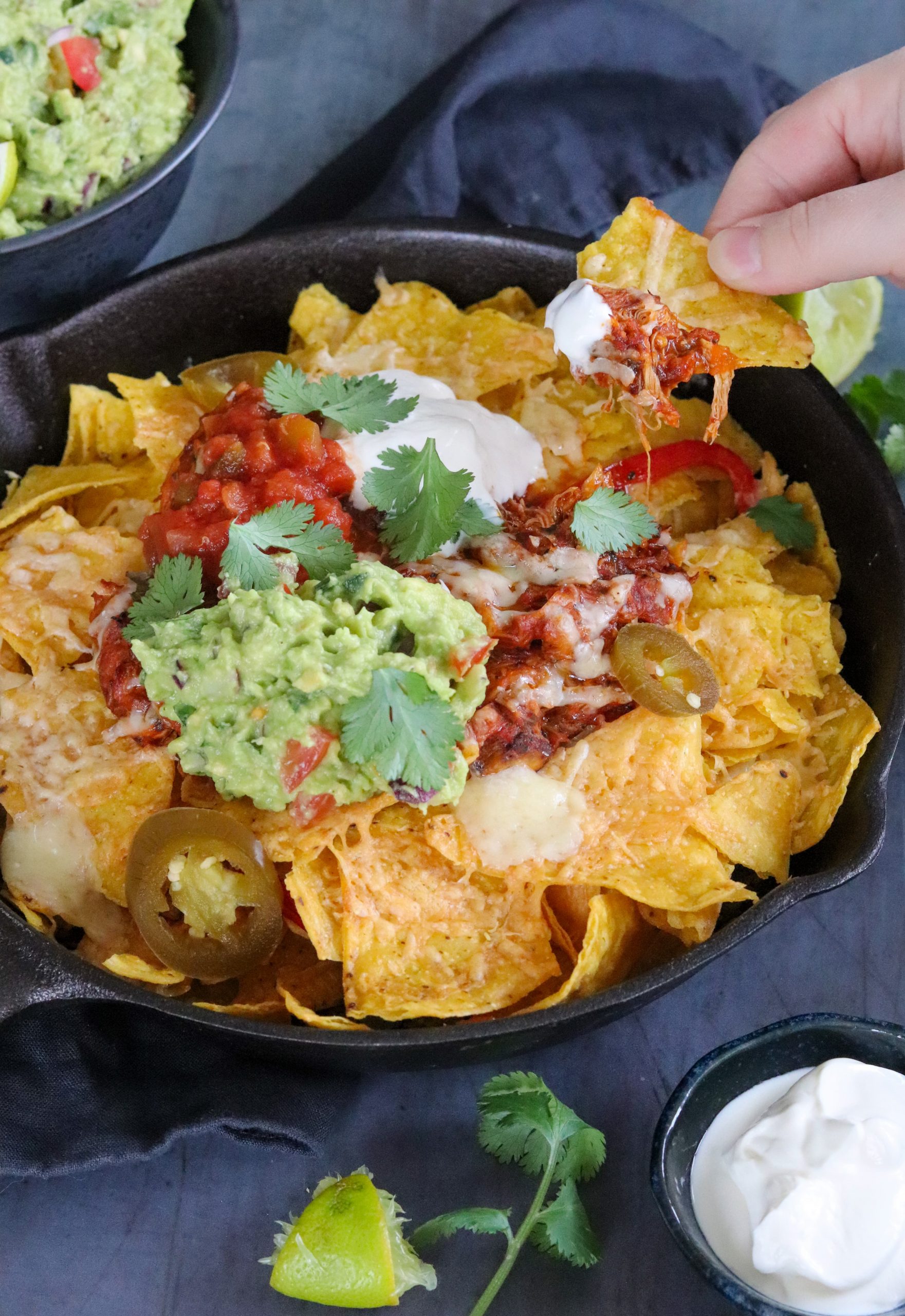 Which tortilla chips are recommended to use?
There are lots of tortilla chips available these days. You can buy the big brand chips, supermarket own brand or more authentically Mexican tortilla chips.
Whichever you decide to buy, I would recommend that they are lightly salted. Although the other flavours are tasty, you don't want anything that will clash with the flavours of the stew.
If you are a fan of other flavours and like to use them for your nachos, you can of course use them.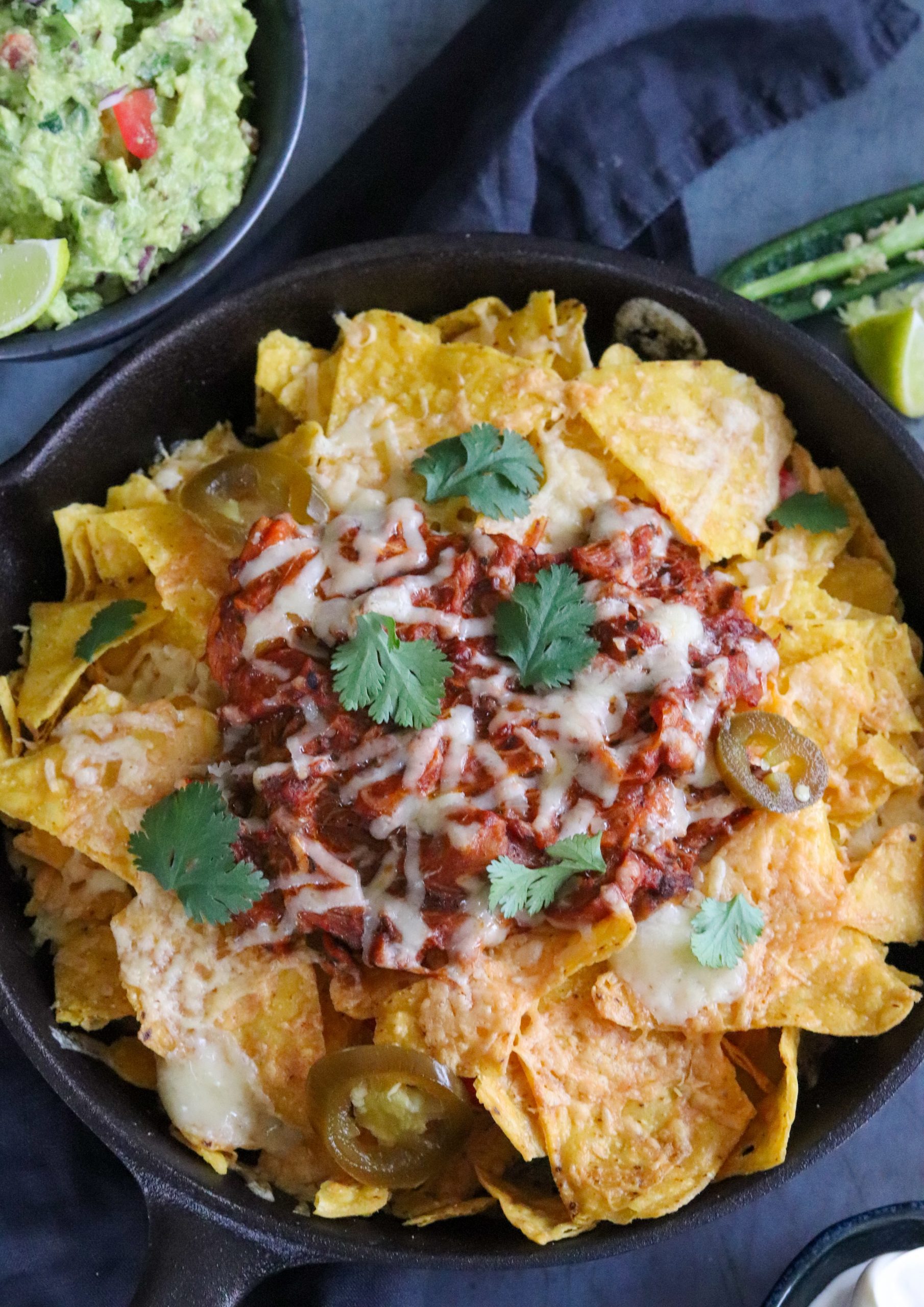 Which jalapenos are best to use?
I like to use the sliced jalapenos that you buy in jars. They are incredibly convenient as they are already prepared and their slight pickling gives them a lovely flavour.
You can buy them in different colours and levels of spice. I use the green jalapenos because these are most common but you can use the red ones if you prefer.
I tend to look for the mildest jalapenos because I don't want the heat to overpower the rest of the dish. However this is personal preference and if you like a bit of heat, use whichever you like.
Bear in mind that different brands' jalapenos can vary in heat. Just because two brands claim to be mild, one might be hotter than the other!
You can of course leave the jalapenos off altogether if you aren't a fan of them.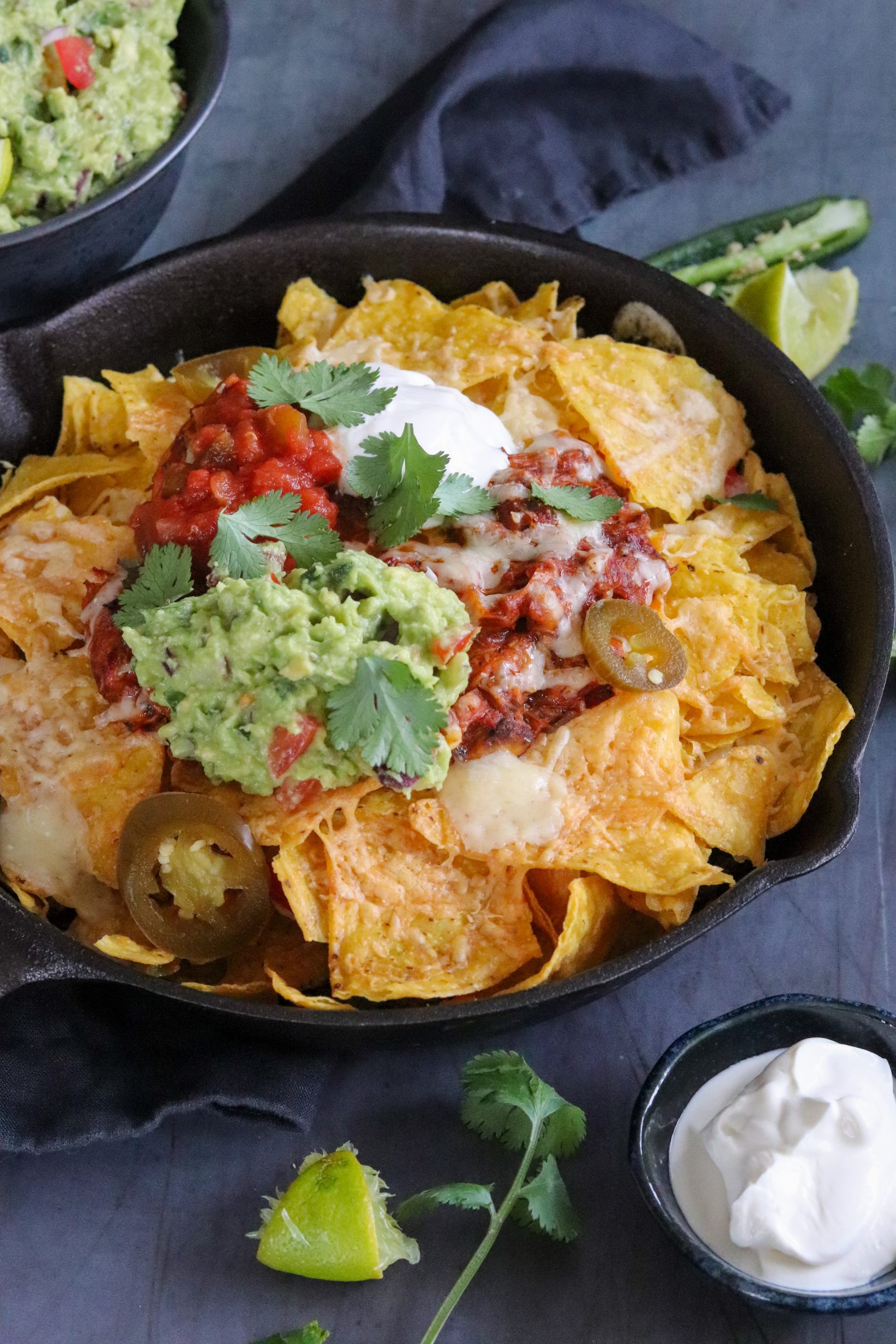 How much cheese is enough cheese?
You will probably have your own preferred way of making nachos so please feel free to adapt my recipe below. If I left Mr Curly in charge of making these I would worry that he might use a whole block of cheese.
Feel free to use more or less cheese depending on your preferences. I don't really expect anyone to weigh their cheese when making nachos. You know when you have enough and its a personal preference.
You can use reduced fat cheese if you prefer, however from my experiences this doesn't seem to melt as well.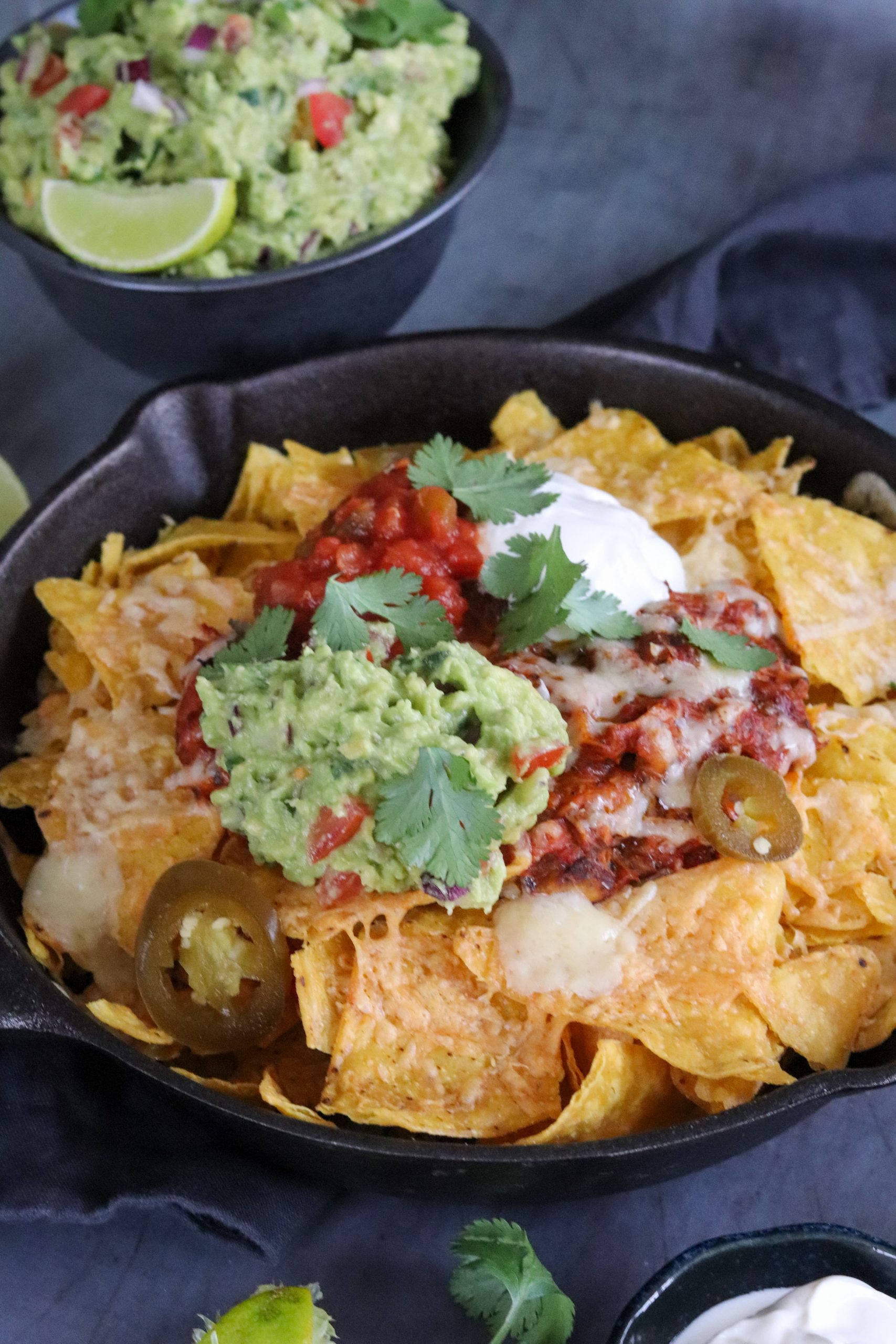 How to serve chicken & chorizo nachos
Nachos aren't fancy or complicated, but they are very tasty! They can be eaten as a meal with maybe some salad or as a starter for more people. I also like to serve them alongside chicken fajitas for a Tex Mex feast.
They can even be eaten as a snack whilst watching a film. Nachos are very easy to adapt to cater for more or less people so can be great for any occasion.
Nachos aren't nachos without the toppings! In my opinion you have to have sour cream, salsa and guacamole.
Of course you can buy all of these, but I think they are much tastier if you make them yourself. My Chunky Guacamole is really simple to make and a real essential when having nachos.
A fresh and tasty Tomato Salsa is also always a must. It helps cut through the richness of the cheese and cool any heat from the jalapenos.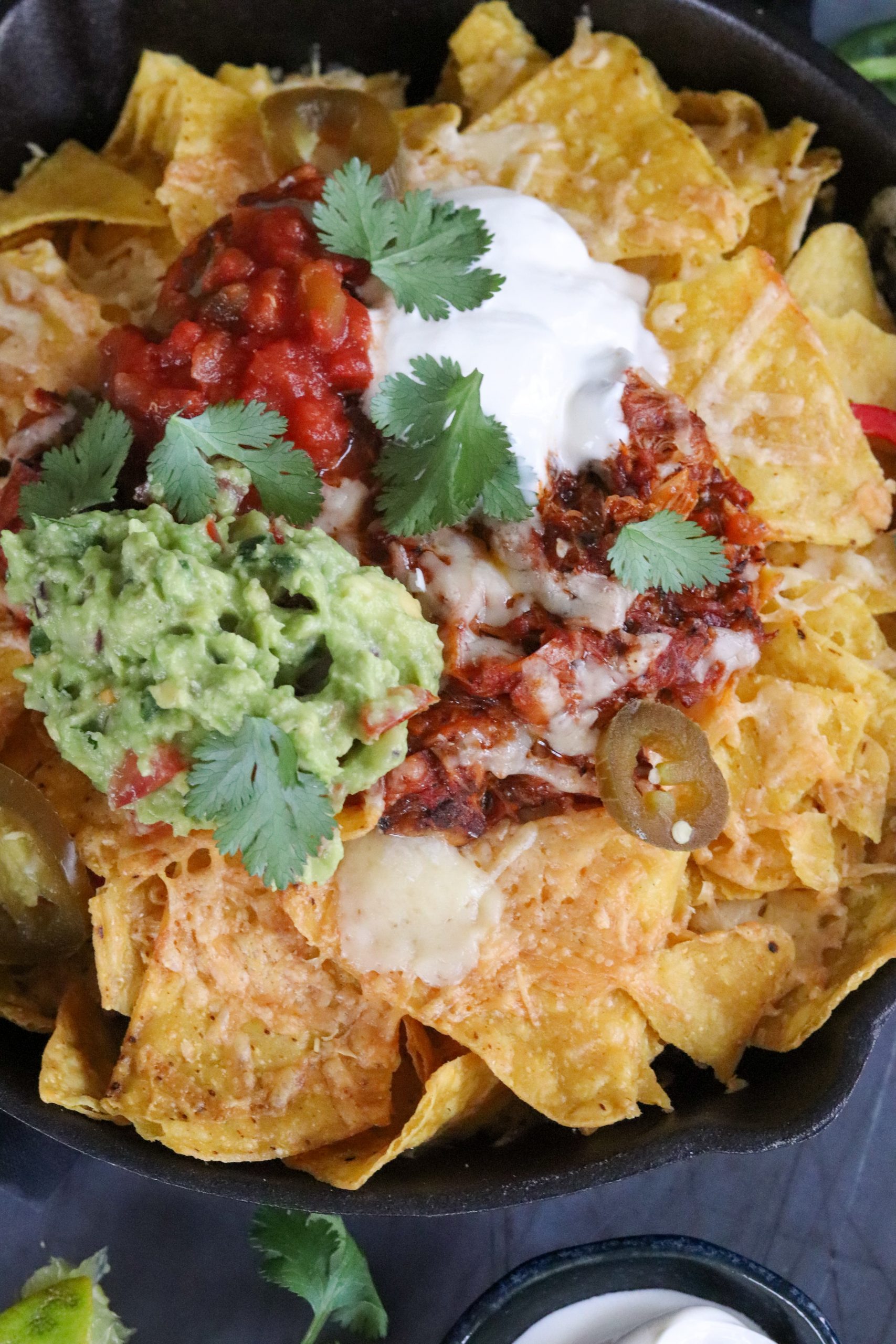 Making these nachos gluten free, vegetarian or vegan
Tortilla chips are typically made from maize and should therefore be gluten free. Check the packet though as some might be made in factories with traces of gluten.
To make these nachos vegetarian, you would need to make changes to the Chicken & Chorizo Stew. Tips on how to do this can be found in the original post.
To make it vegan and dairy free, you would need to use a vegan cheese. Use your favourite that melts well.
Instead of the Chicken & Chorizo Stew, you could use my Vegan Lentil Chilli to make these nachos suitable for vegetarian as well as vegan diets.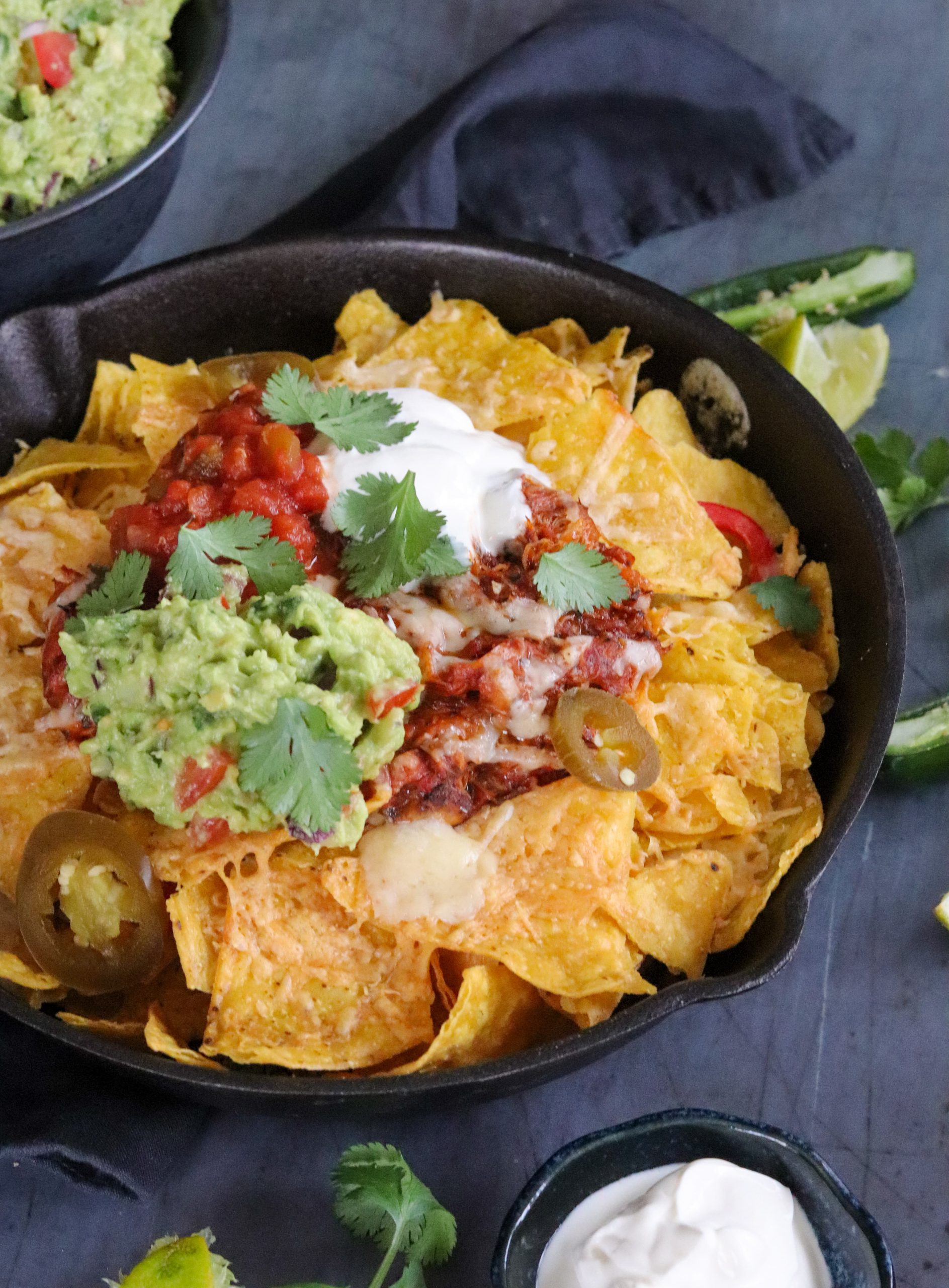 Do nachos make good leftovers?
I don't think so I'm afraid. Nachos are always better served fresh in my opinion. I am not a fan of melted cheese being reheated.
If you do make a few too many and don't want to waste them, the best way to reheat them would be in the oven. The microwave would make them a bit floppy and sad.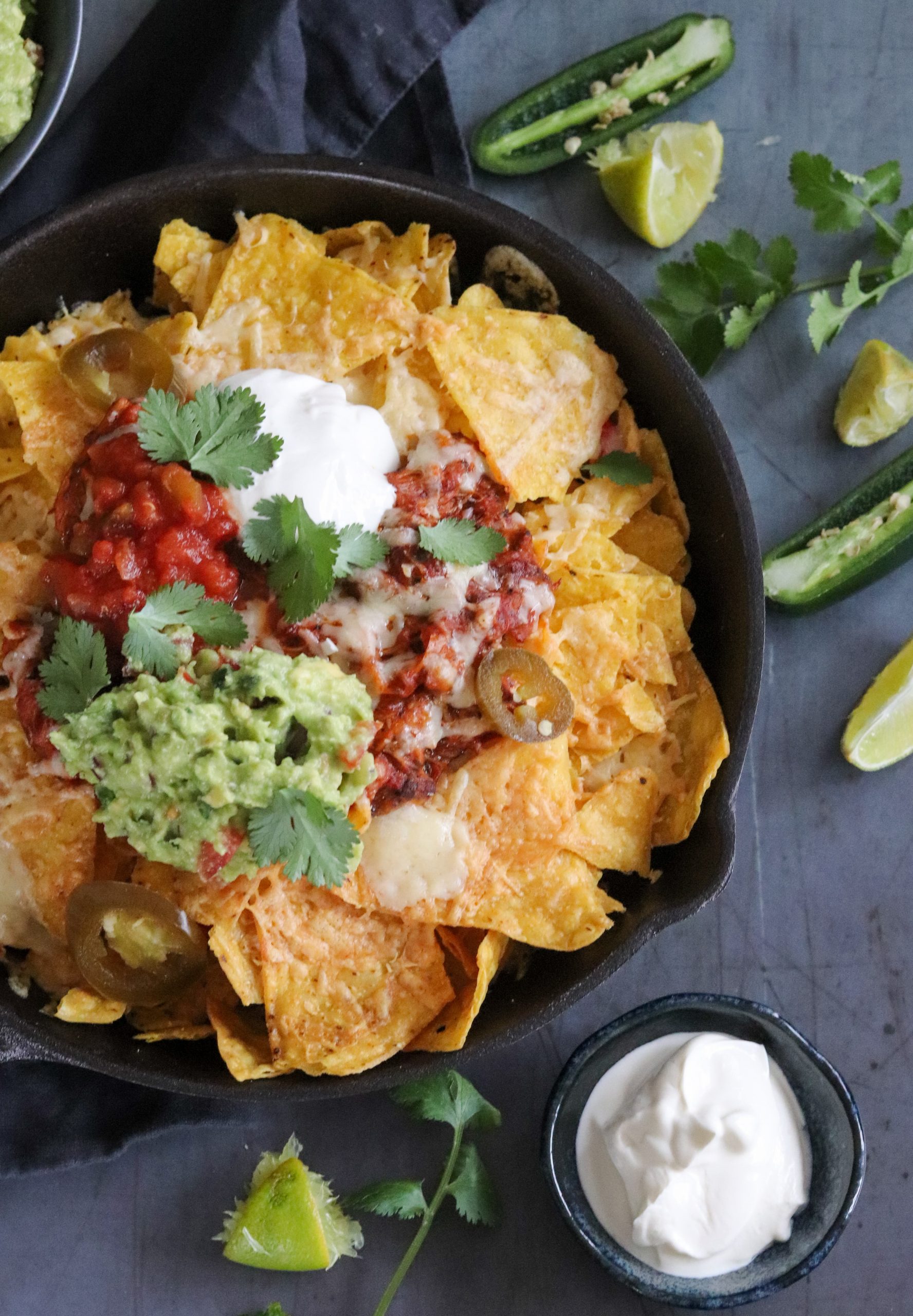 Other recipes you might like
Pin for later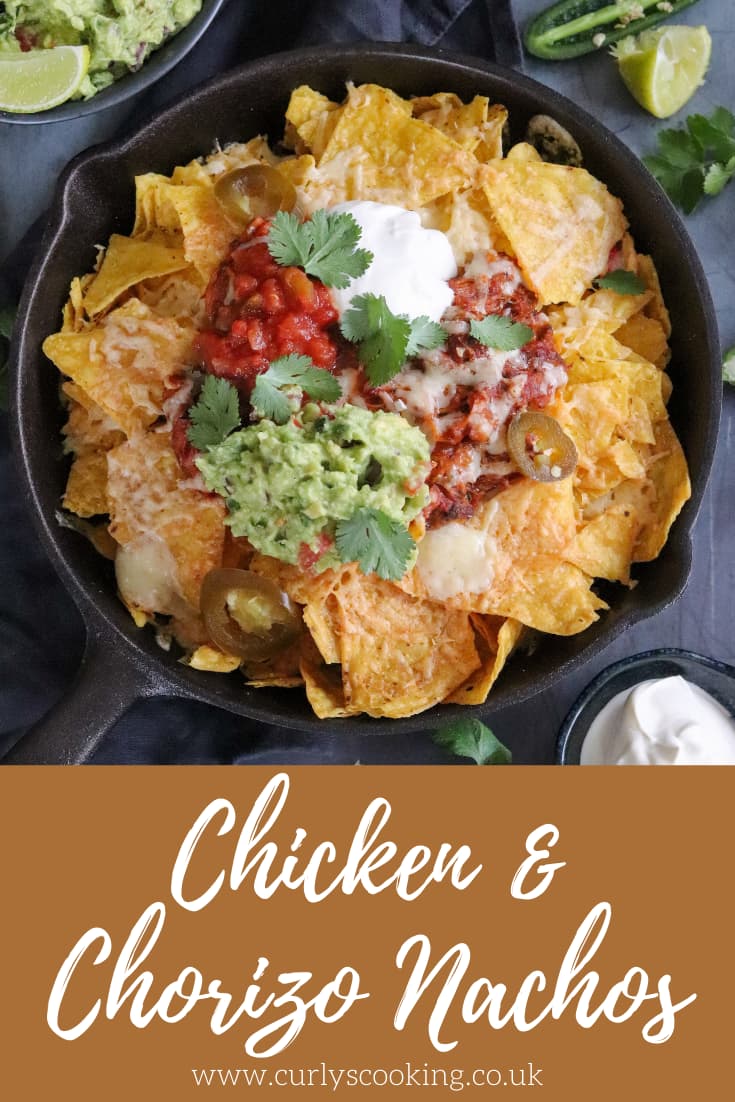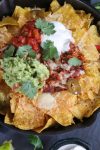 Chicken & Chorizo Nachos
These Chicken & Chorizo Nachos are packed full of delicious flavours. Crispy tortilla chips covered in melted cheese with heat from the chilies topped with my rich and tasty Slow Cooker Chicken & Chorizo Stew.


Ingredients
200

g

lightly salted tortilla chips

(1 large bag)

½

pepper

2

tbsp

sliced jalapenos in brine

100

g

cheese

grated

One portion of Slow Cooker Chicken & Chorizo Stew
To serve
sour cream

salsa

guacamole
Instructions
Preheat the oven to 180ºC (fan assisted, 200°C non fan)

Grate the cheese using a coarse grater and finely slice the pepper

Using an oven proof dish, scatter the tortilla chips to cover the bottom of the dish. Scatter with some of the cheese

Add some of the peppers and however many jalapenos as you like

Repeat until you have used up all of the tortillas making sure your last layer is cheese

Bake in the oven for 10-15 minutes until golden and the cheese has melted

While the nachos are in the oven, heat through the Chicken & Chorizo Stew if it isn't already hot

Once the nachos are nice and golden brown, spoon over the Chicken & Chorizo Stew. Scatter with a little more cheese and put back in the oven until the cheese has melted

Serve with sour cream, salsa and guacamole
Recipe Notes
Nutritional information is given as a guide only and my vary.
Nutrition Facts
Chicken & Chorizo Nachos
Amount Per Serving
Calories 212
Calories from Fat 72
% Daily Value*
Fat 8g12%
Cholesterol 26mg9%
Sodium 156mg7%
Potassium 51mg1%
Carbohydrates 1g0%
Protein 6g12%
Vitamin A 306IU6%
Vitamin C 12mg15%
Calcium 182mg18%
Iron 1mg6%
* Percent Daily Values are based on a 2000 calorie diet.
Linking to