These Air Fryer Chicken Fajitas are super simple, quick and delicious. The air fryer does all of the work for you giving you time to prepare additional toppings for the perfect mid week meal.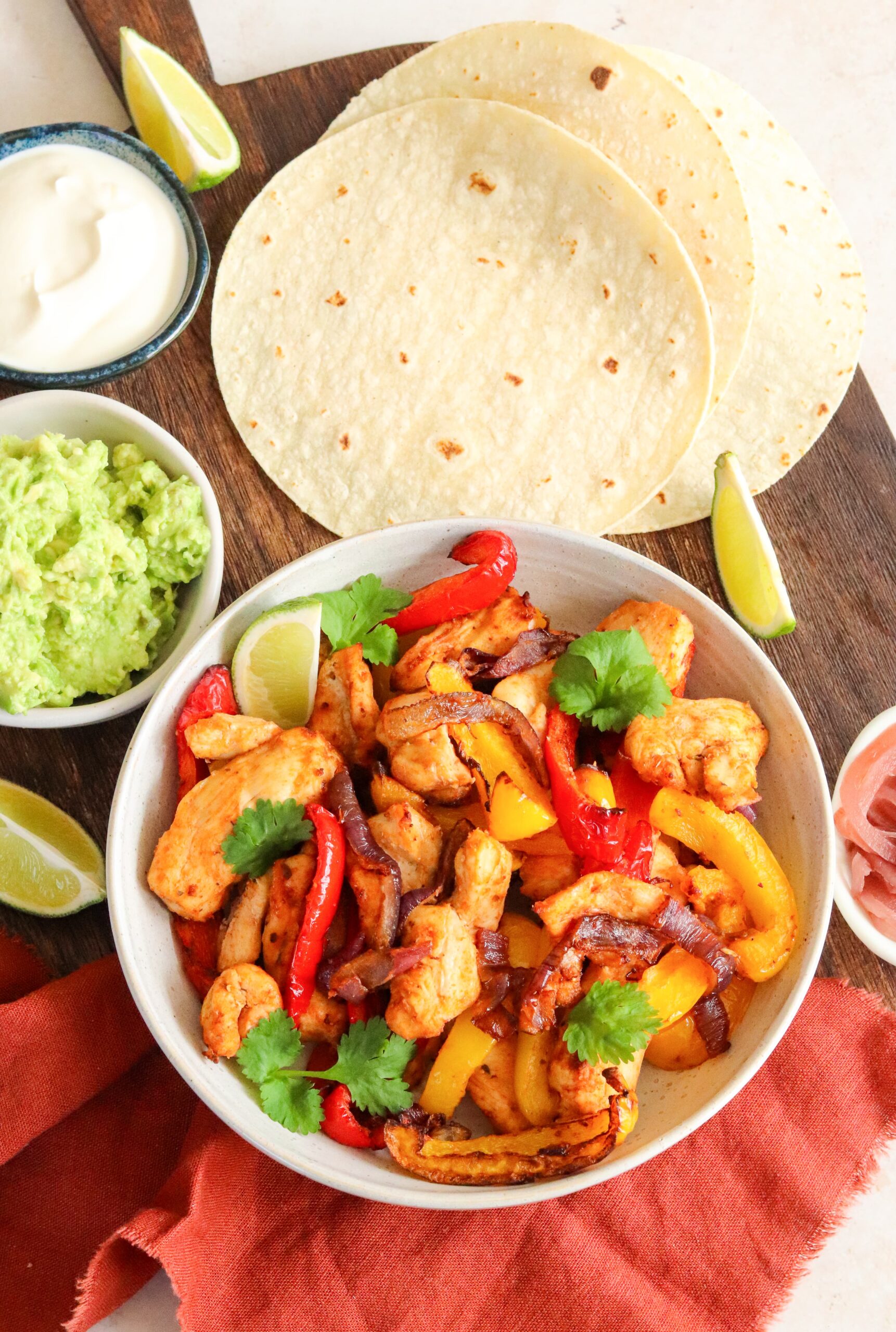 Why make fajitas in an air fryer & not on the stove?
I have been making fajitas in a pan on the stove top for all of my life. That is until I tried them in the air fryer and I haven't looked back!
Cooking fajitas in a pan is by no means difficult or time consuming. But you do have to keep an eye on them and stir quite frequently.
By cooking fajitas in an air fryer, you can leave the air fryer to do all the work. This gives you time to prepare any toppings you want to serve with the fajitas. Or load the dishwasher or any other jobs you maybe couldn't do if you were needing to monitor a pan on the stove.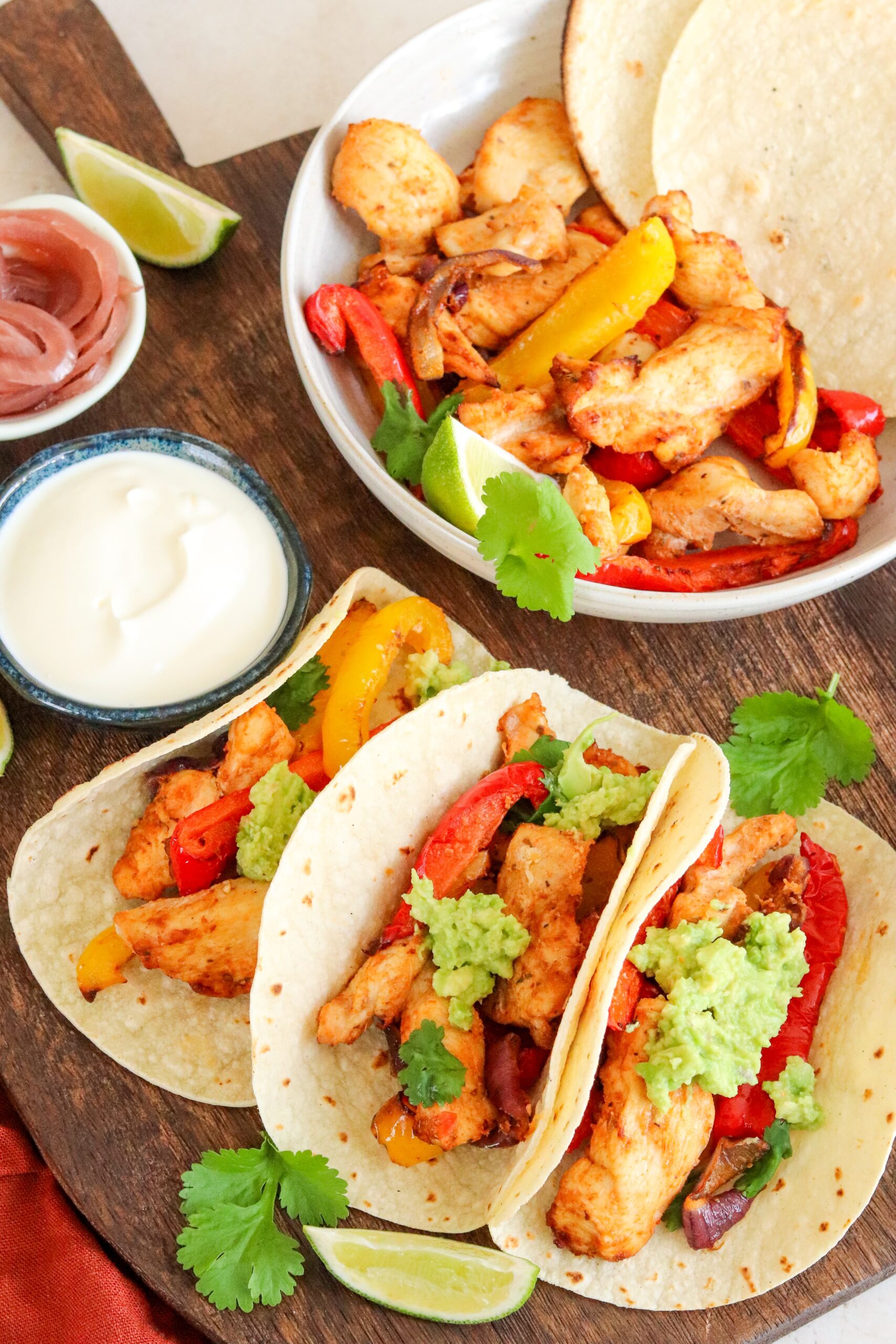 Which Chicken is best to use for fajitas?
I have always used chicken breasts when making fajitas. As you are cooking the chicken quite quickly, the chicken doesn't have time to dry out like breasts sometimes can with longer cooks. You can of course use chicken thighs if you prefer.
If you have some leftover roast chicken you can absolutely use this too. I would add the oil and seasoning to the vegetables and cook them for around six minutes.
I'd add a little bit of oil and some seasoning to the chicken and then add it to the air fryer to cook for the remaining time with the vegetables.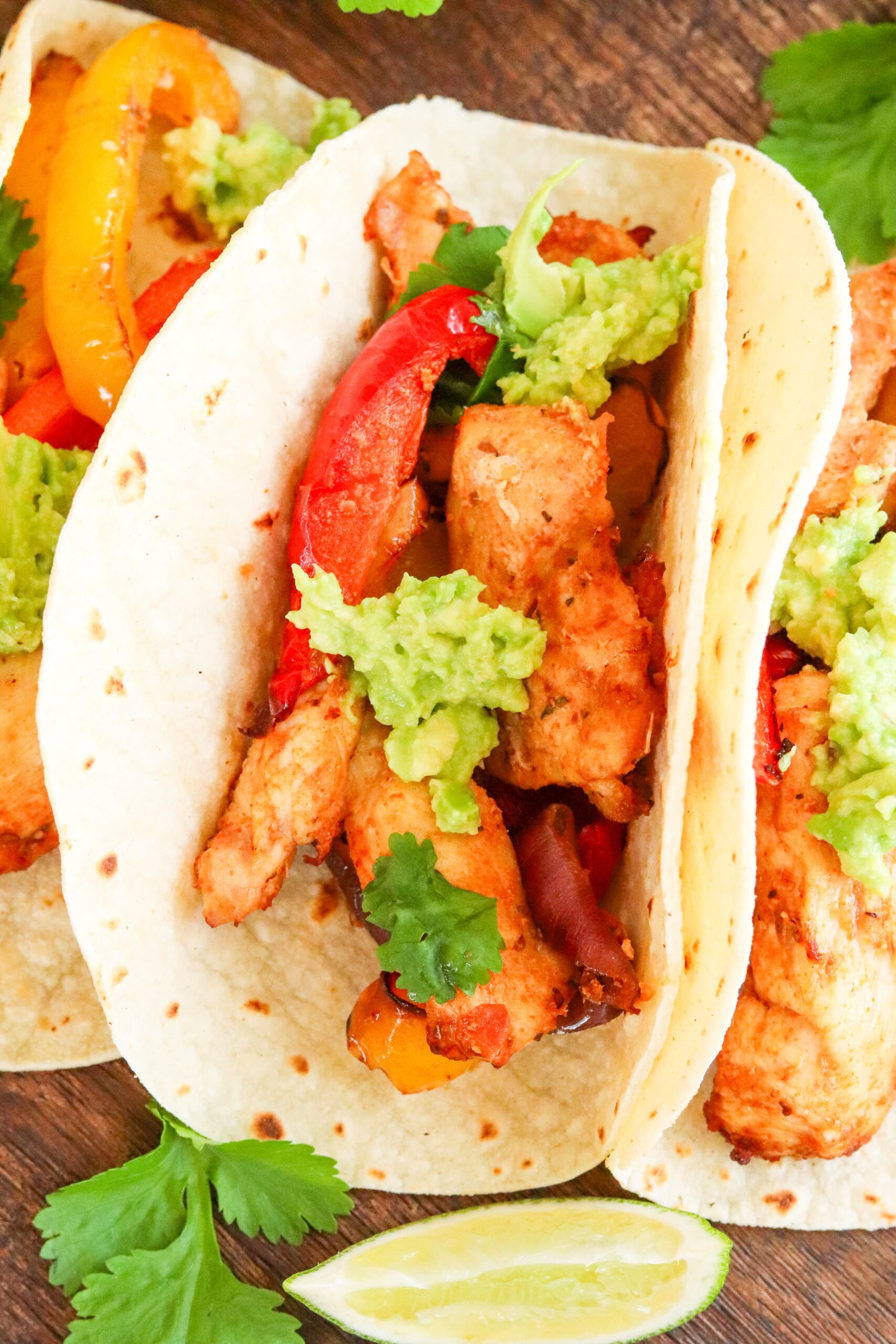 how to cut your ingredients
I am very particular with how I cut the chicken and vegetables for my fajitas. For me it has to be slices; cubes are not acceptable.
But most people are calmer about these things. As long as you try to cut the ingredients to roughly the same size then you can cut them however you like.
do you have to use chicken for fajitas
I know this is a recipe for chicken fajitas, but you don't have to use chicken. Steak, pork or prawns would all work if you want to use a different protein. You would need to adjust the cooking time accordingly.
If you don't want to add meat, you can use halloumi, a meat alternative or just add more vegetables. Courgettes and mushrooms would work really well.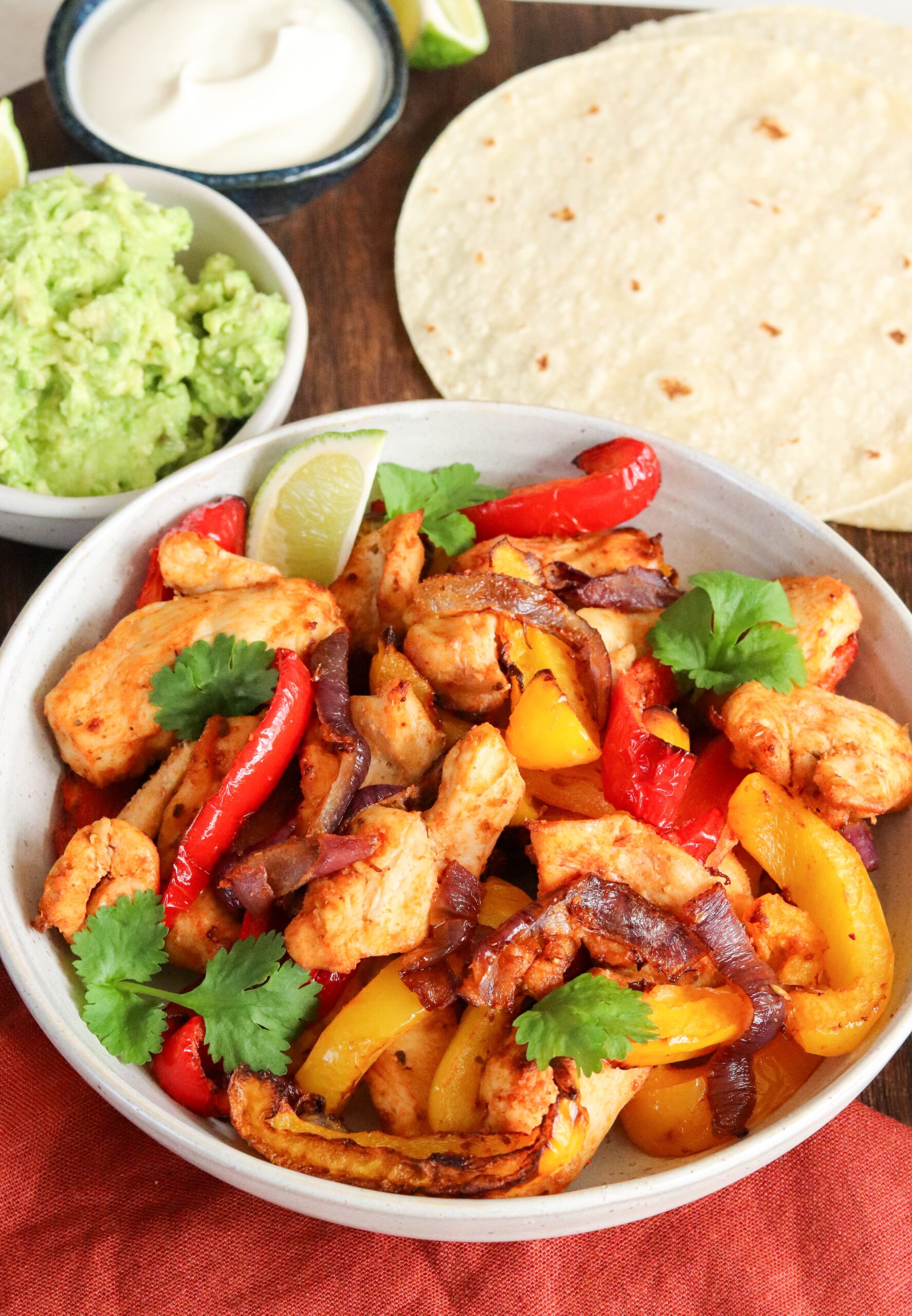 how long do fajitas take in the air fryer?
How long the chicken fajitas take to cook depends on how thick you cut the chicken and vegetables.
I have kept the chicken and vegetables quite chunky and even then the fajitas only take 10-12 minutes to cook.
You can cut them thinner if you prefer, but you will need to adjust the cooking time slightly as they will cook even quicker. Perfect for a super speedy dinner!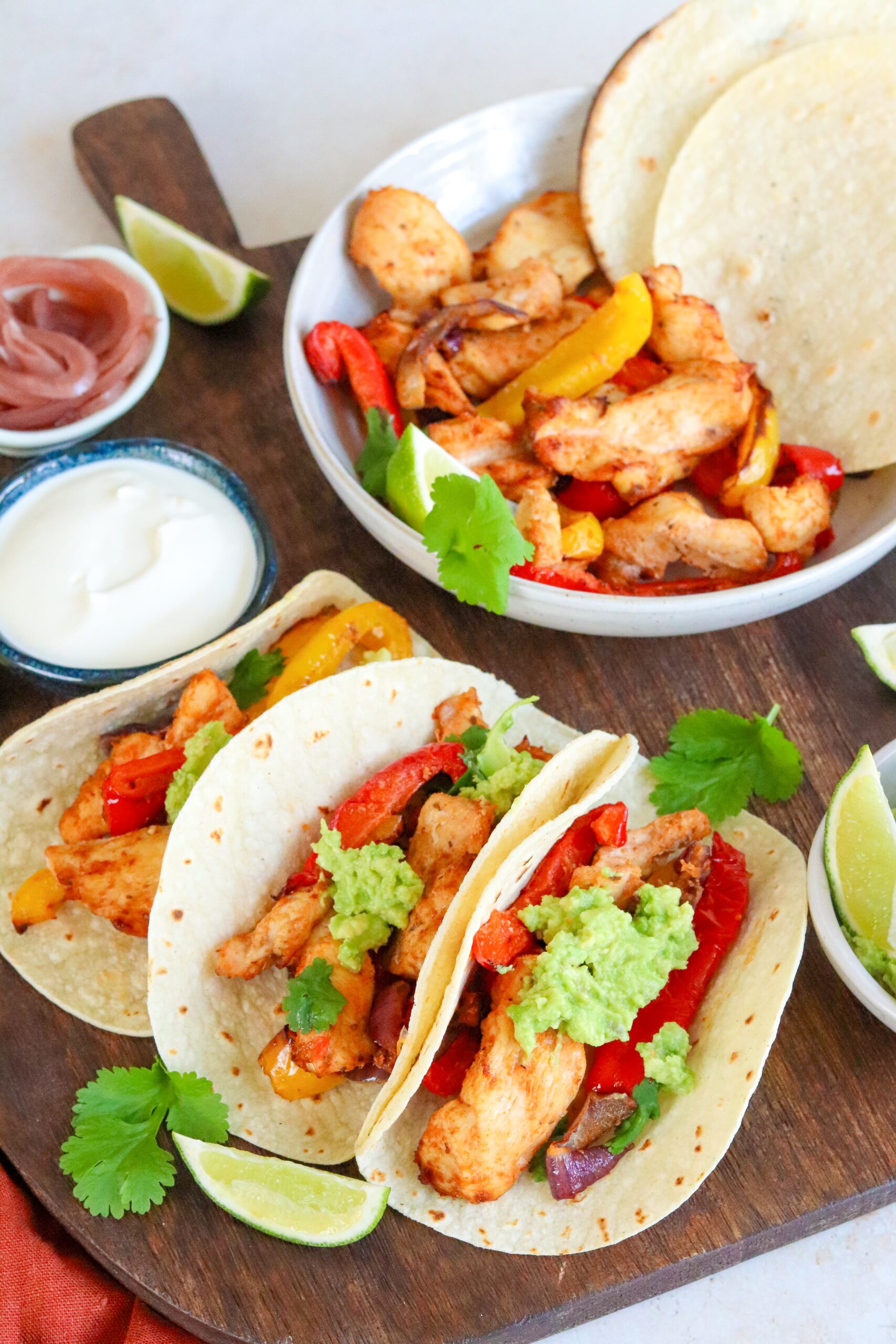 Which fajita seasoning is best to use?
I may be biased but I think you should use my homemade fajita seasoning. It is super easy to make and very customisable. You probably have most, if not all of the ingredients in your cupboard already.
You can absolutely use shop bought fajita seasoning if you don't want to make your own. There are a lot of options out there, so just pick your favourite.
Depending on which fajita seasoning you are using, you may need to adjust the amount you add. I'm afraid this requires a bit of trial and error as the seasonings can vary quite a bit. But you will very quickly work out the amount that works for you.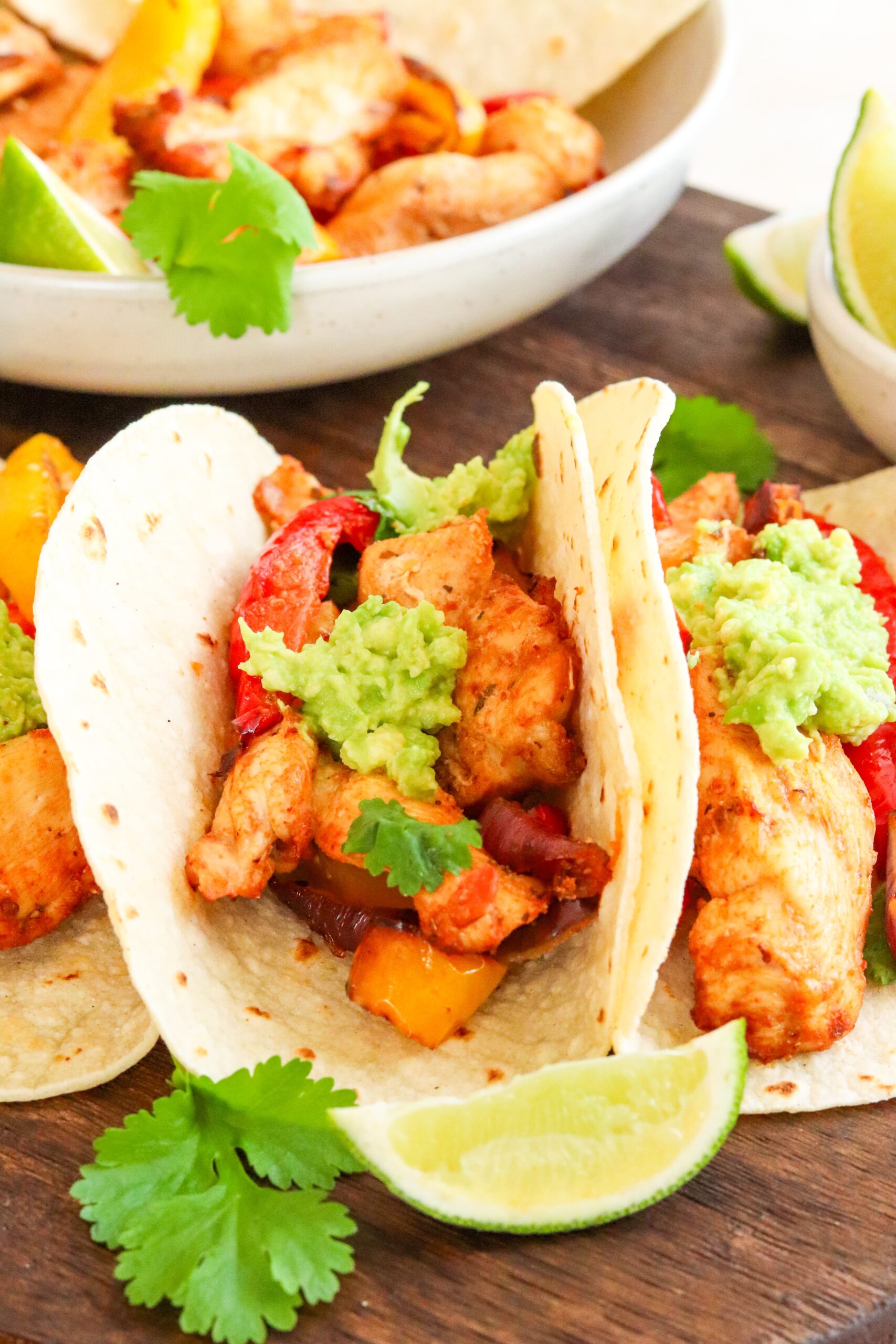 do you need to preheat an air fryer?
That depends on your air fryer, some require preheating whilst others don't. I have a Ninja 7-in-1 multicooker and a Ninja Foodi Flexdrawer and I have never preheated either of them.
If your air fryer does require preheating, check the chicken a few minutes sooner than the recipe states. If your air fryer is warm, food is likely to cook a few minutes faster.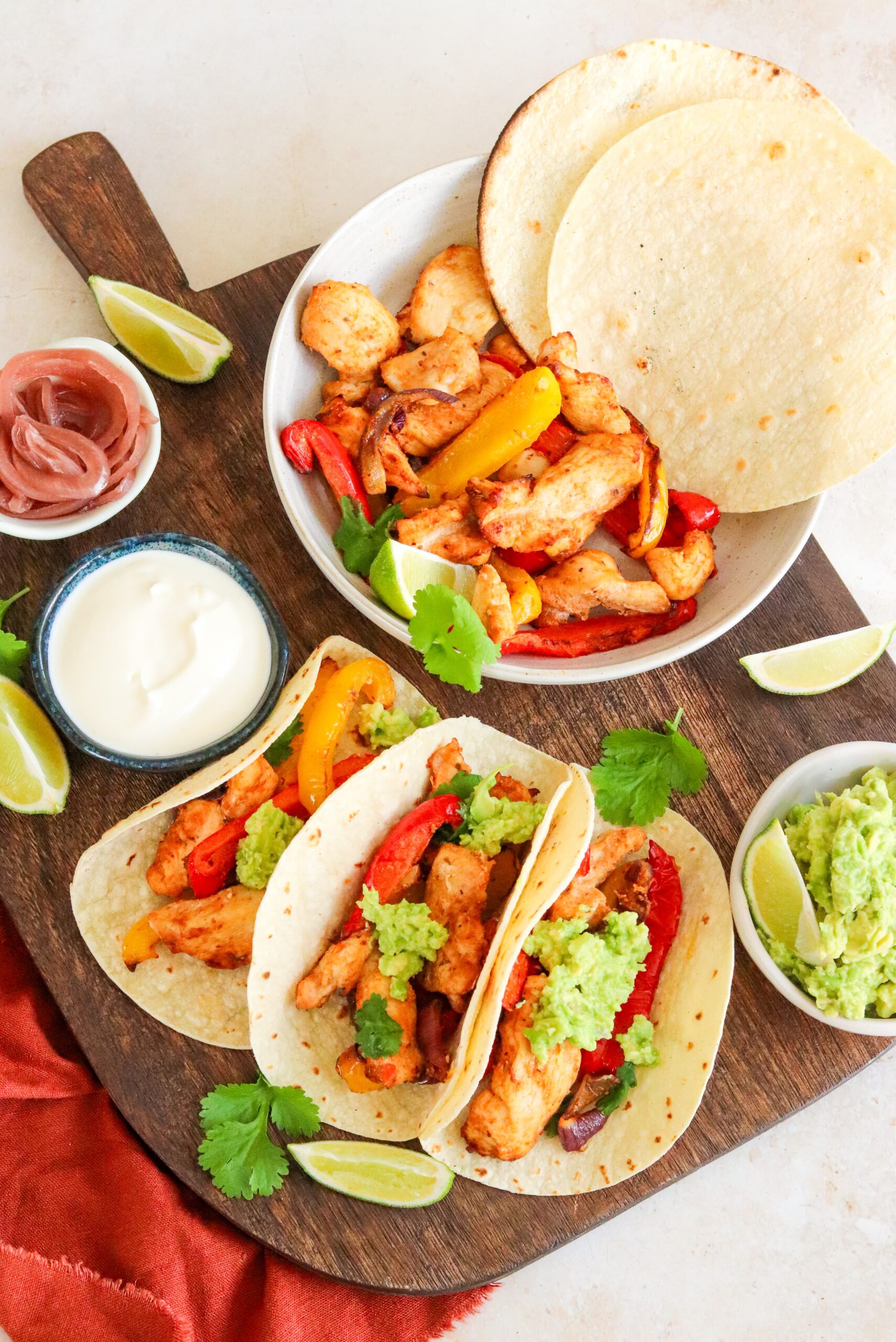 can you use an air fryer liner?
Air fryer liners are a great time saving addition because they are usually easier to wash than the basket of your air fryer.
Most reusable air fryer liners are silicone and although they are handy to have, I wouldn't recommend using them for all recipes.
A liner would make cleaning up easier, but the chicken is likely to need a couple of minutes longer to cook.
I've written a whole post on whether you should use an air fryer liner, check it out for more information.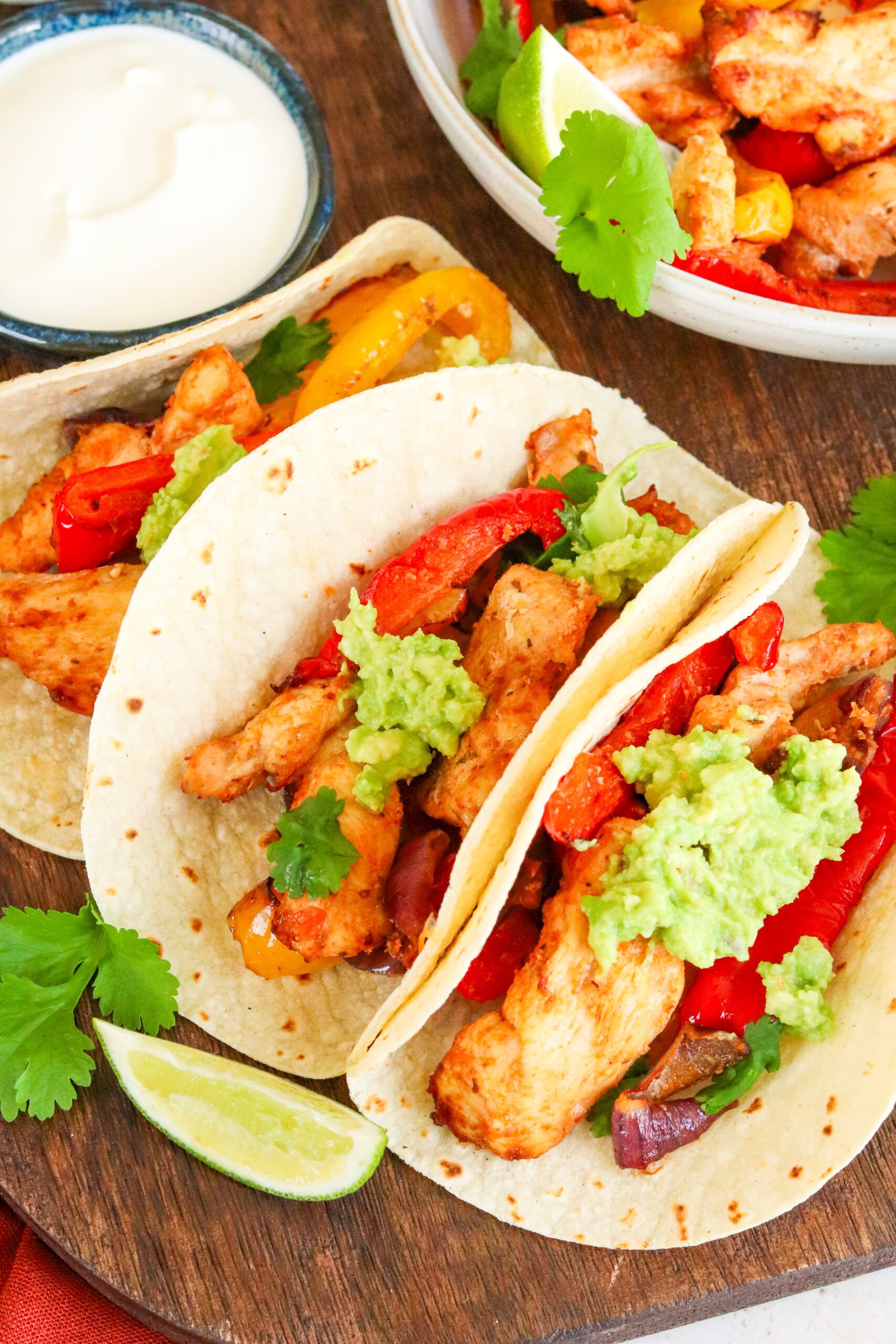 can you reheat air fryer chicken fajitas?
Yes you can reheat chicken fajitas, I like to do it in the air fryer. Store any leftover fajitas in the fridge and then reheat them in the air fryer for 3-4 minutes until piping hot. You could also reheat them in the microwave if that is easier.
But don't automatically think you have to reheat them. It might just be me, but I really like eating leftover chicken fajitas with a dollop of soured cream just as they are.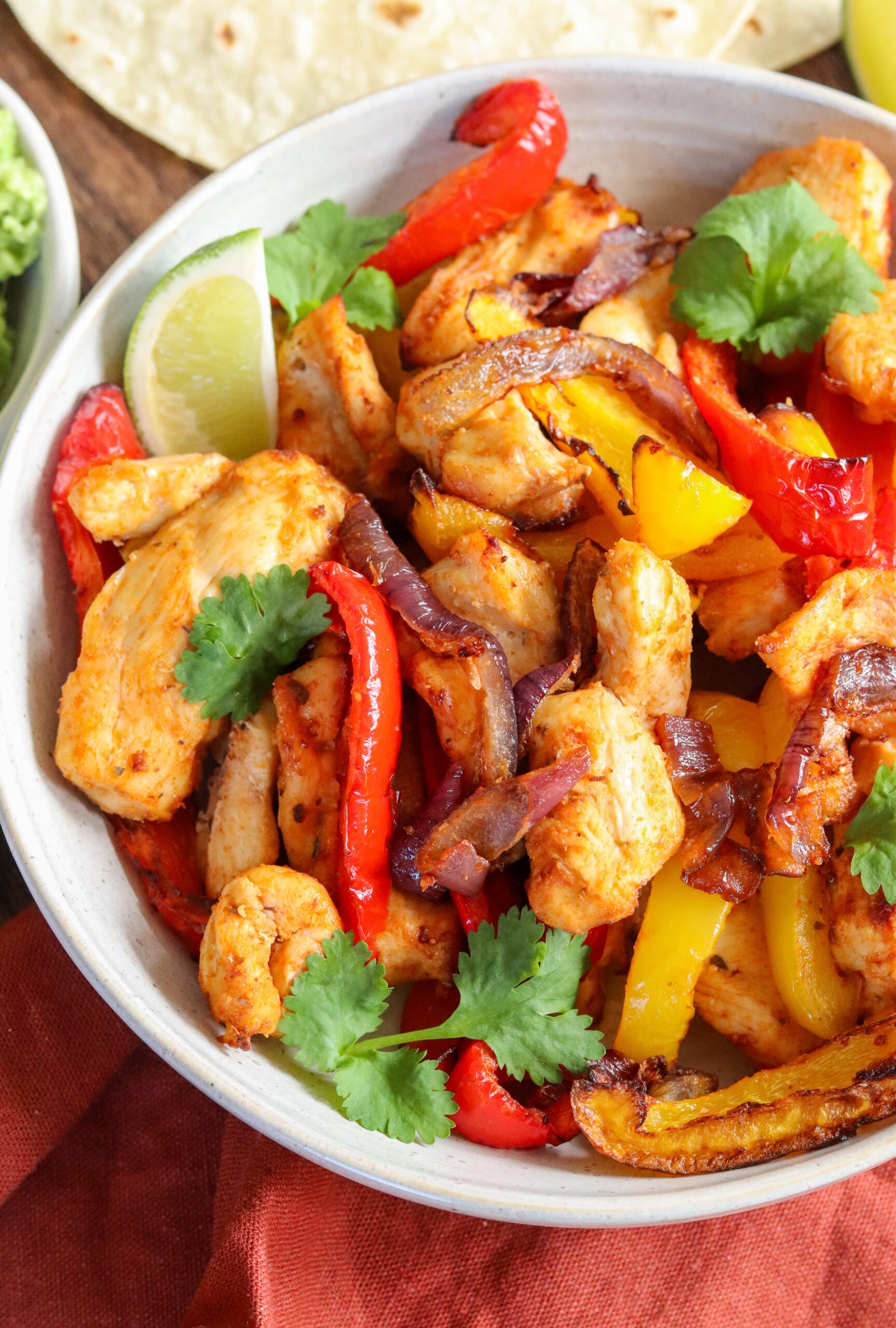 Freezing air fryer chicken fajitas
You can freeze the chicken fajitas before or after cooking. You could prepare the chicken and vegetables and then add the oil and seasoning and then freeze.
This would make great meal prep for an even quicker meal at a later date. Although you could cook it from frozen, I would usually opt for defrosting the fajitas in the fridge before air frying.
If you have leftover fajitas, leave them to cool slightly before adding to a container or bag and freezing for up to three months.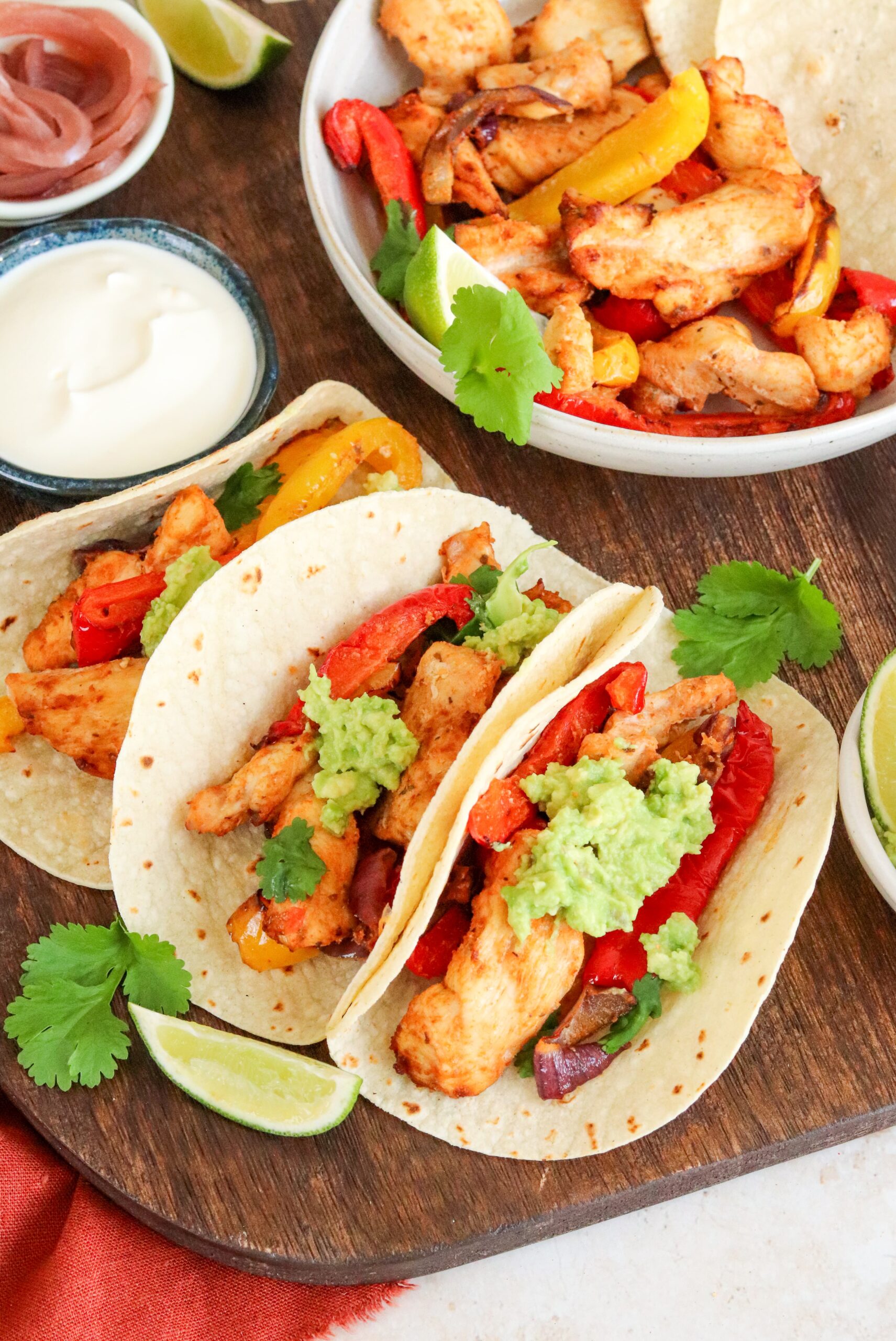 how to serve chicken fajitas
The most common way of serving chicken fajitas is in tortillas. You can use flour or corn tortillas of any size you like. If I'm keeping things simple with just some guacamole and soured cream then I like medium corn tortillas.
However my husband prefers it when I use large flour tortillas and we load it up with lettuce, cheese and salsa as well as the soured cream and guacamole.
Probably my favourite way to serve this is in my chicken fajita burrito bowl. When I tell you I am obsessed with this meal, I'm really not lying. It is just so delicious!
You could also use the chicken fajita filling in quesadillas or to top nachos.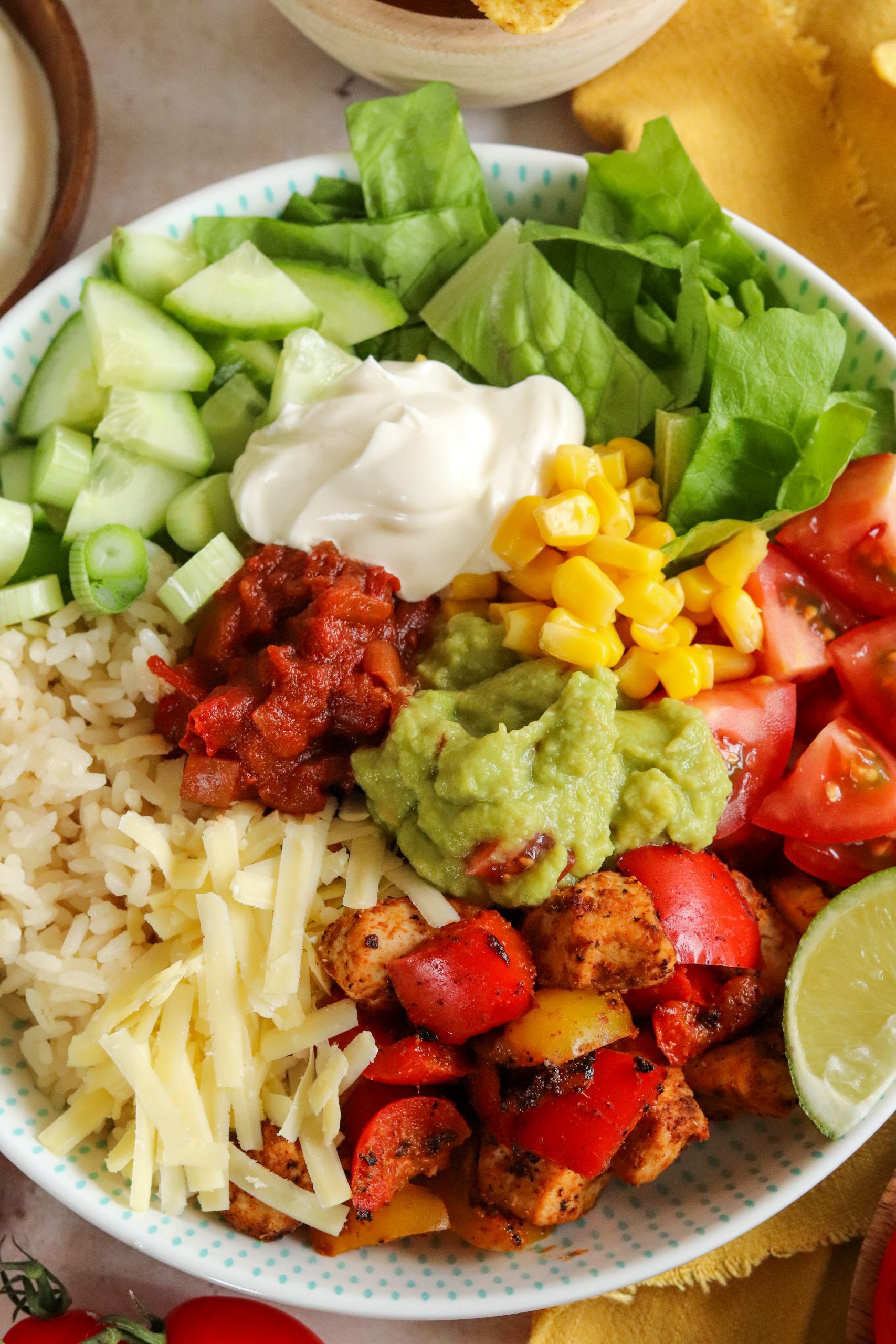 other recipes you might like
Pin for later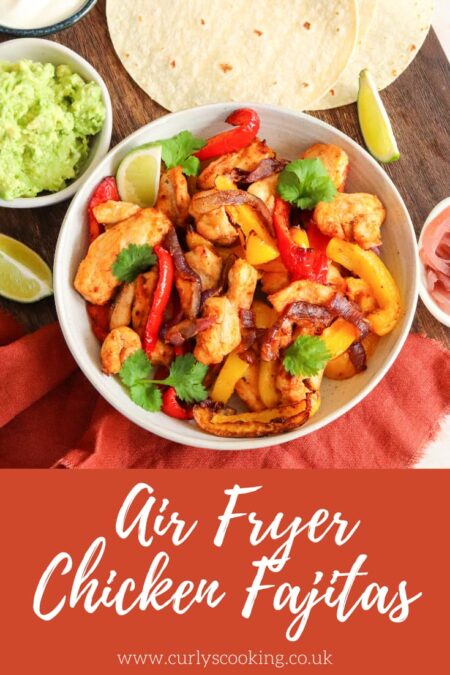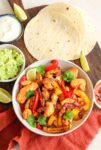 Air Fryer Chicken Fajitas
These Air Fryer Chicken Fajitas are super simple, quick and delicious. The air fryer does all of the work for you giving you time to prepare additional toppings for the perfect mid week meal.
Ingredients
200

g

chicken breast

1

pepper

1

onion

1

tbsp

sunflower oil

2

tsp

fajita seasoning
Instructions
Preheat your air fryer if required

Cut 200g of chicken breasts into thick slices and add to a large bowl

Slice 1 pepper and 1 onion and add it to the bowl along with the chicken

Drizzle over 1 tbsp sunflower oil and 2 tsp fajita seasoning

Toss so all of the ingredients are coated in the seasoning and add to your air fryer basket

Cook for 10-12 minutes, turning the chicken and vegetables half way through
Recipe Notes
Cut the chicken and vegetables into roughly the same sized pieces.
If you are in any doubt the chicken is cooked, always check by cutting into it or using a food thermometer.
Nutritional information is given as a guide only and may vary.
Nutrition Facts
Air Fryer Chicken Fajitas
Amount Per Serving
Calories 214
Calories from Fat 90
% Daily Value*
Fat 10g15%
Cholesterol 64mg21%
Sodium 120mg5%
Potassium 554mg16%
Carbohydrates 8g3%
Protein 22g44%
Vitamin A 251IU5%
Vitamin C 53mg64%
Calcium 24mg2%
Iron 1mg6%
* Percent Daily Values are based on a 2000 calorie diet.