Essential at Christmas and throughout the whole festive season; this homemade Quick Mincemeat is a must for mince pie lovers. So easy to make and much tastier than any shop bought varieties.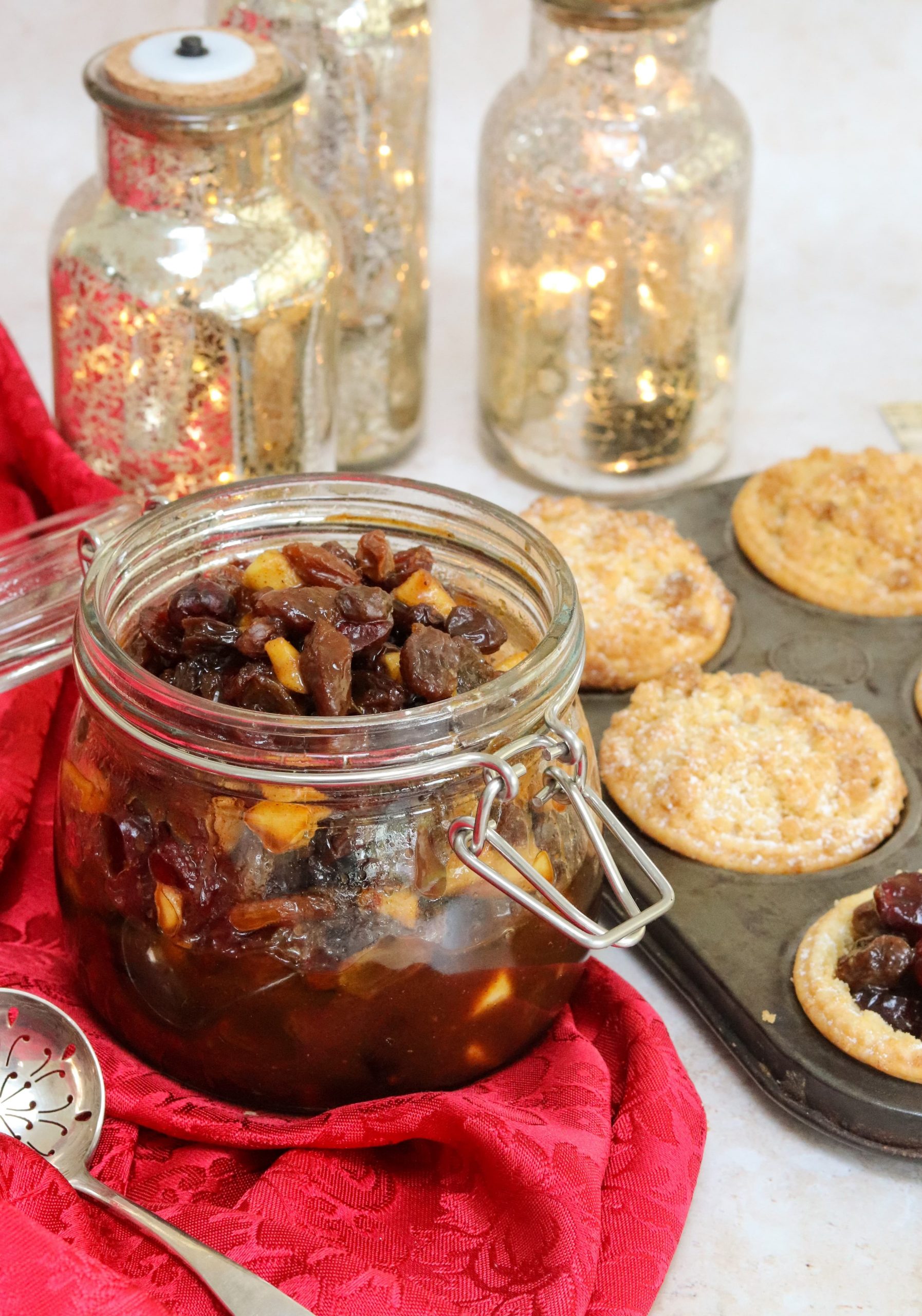 What is mincemeat?
If you're not from the UK, you might not have heard of mincemeat. It is a sweet mixture of dried fruits, spices and spirits.
So where does the name come from? Well back in the 12th century mincemeat was made using meat as a way of preserving it. Over the years the meat has been swapped for the fruit.
So don't panic, despite the name there is no meat in mincemeat anymore and it is really tasty!
Mincemeat is an essential Christmas ingredient because what is Christmas without a mince pie?!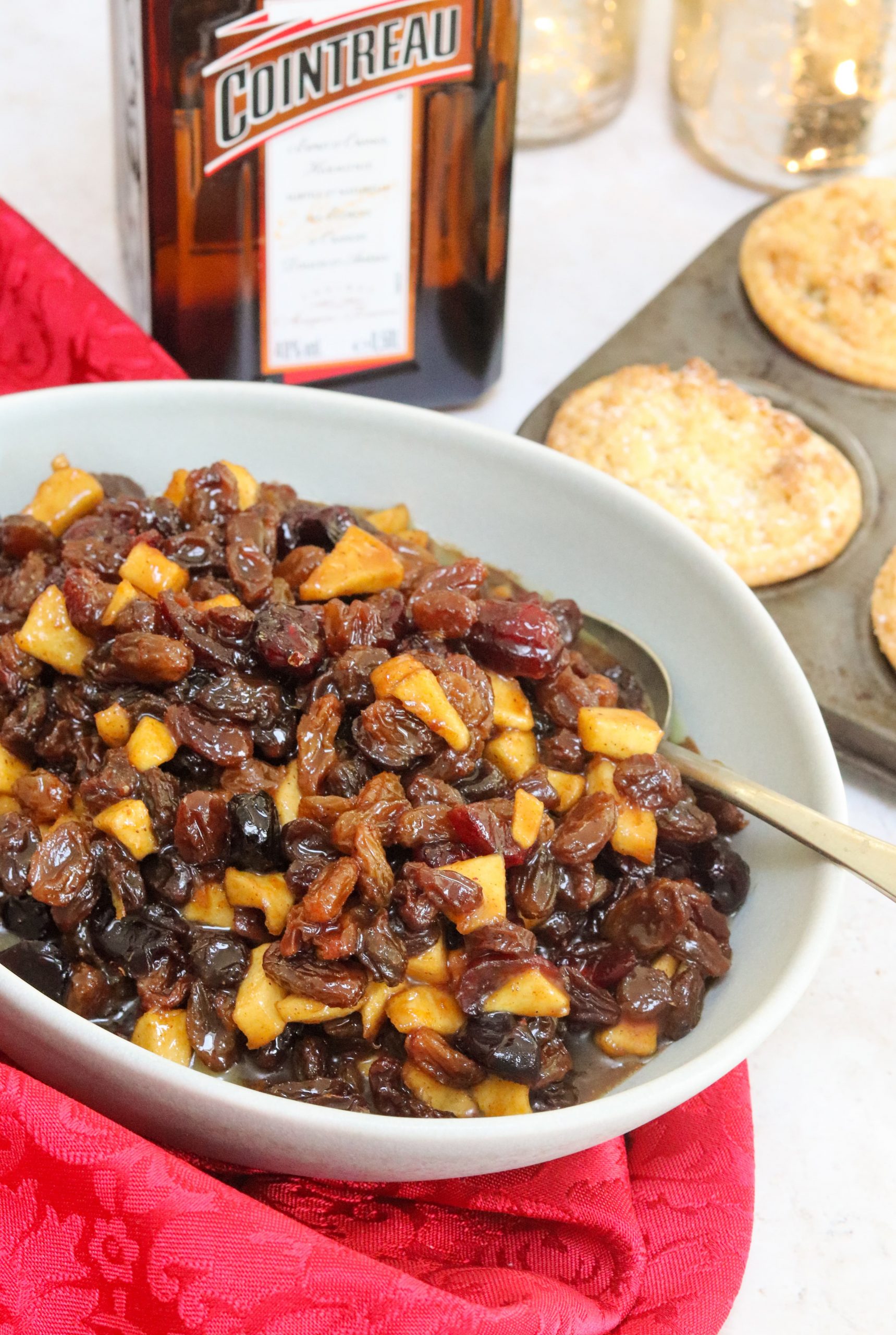 is mincemeat easy to make?
Making your own Quick Mincemeat really couldn't be easier. It is basically measuring all of the ingredients into a pan and chopping and peeling a couple of apples and some zesting.
You do need to peel and core the apples, but then how you decide to prepare then really is your choice. I find it easier enough to cut them into a small dice.
But if you would prefer you can grate them with either a coarse grater or with a grating attachment on a food processor.
It is then as simple as gently heating the mincemeat through before putting into sterilised jars.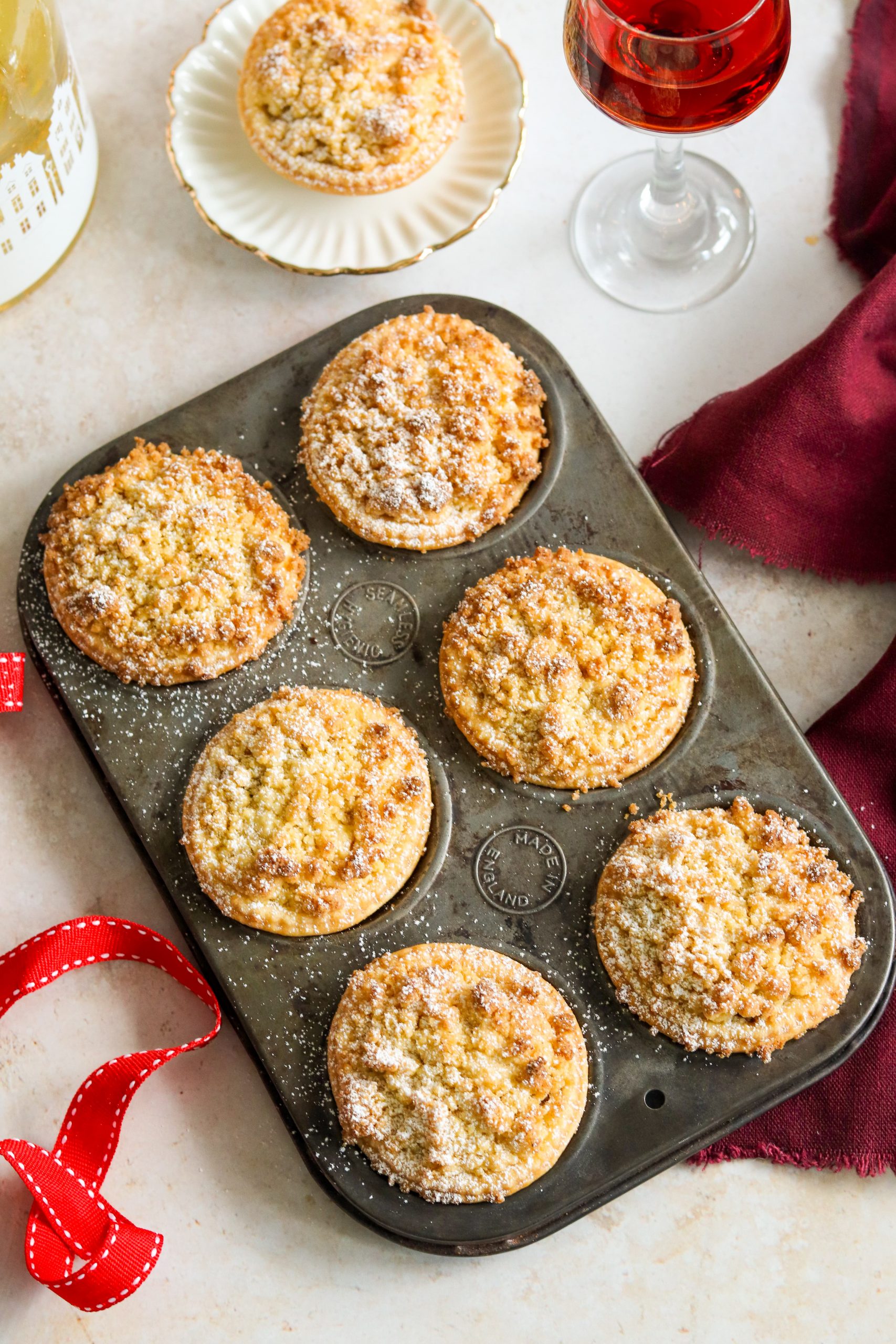 why make mincemeat instead of buying it?
I bought mincemeat for years and was perfectly happy with it; but that was until I made my own.
Aside from it being so easy to make, it tastes so much better than shop bought mincemeat! You can customise the mincemeat so it only has ingredients you love in it.
If you make your own mincemeat, it is also a great gift to give to friends and family. Who wouldn't like to receive a jar of delicious homemade mincemeat?!
Once you have made your own, you will never buy it again!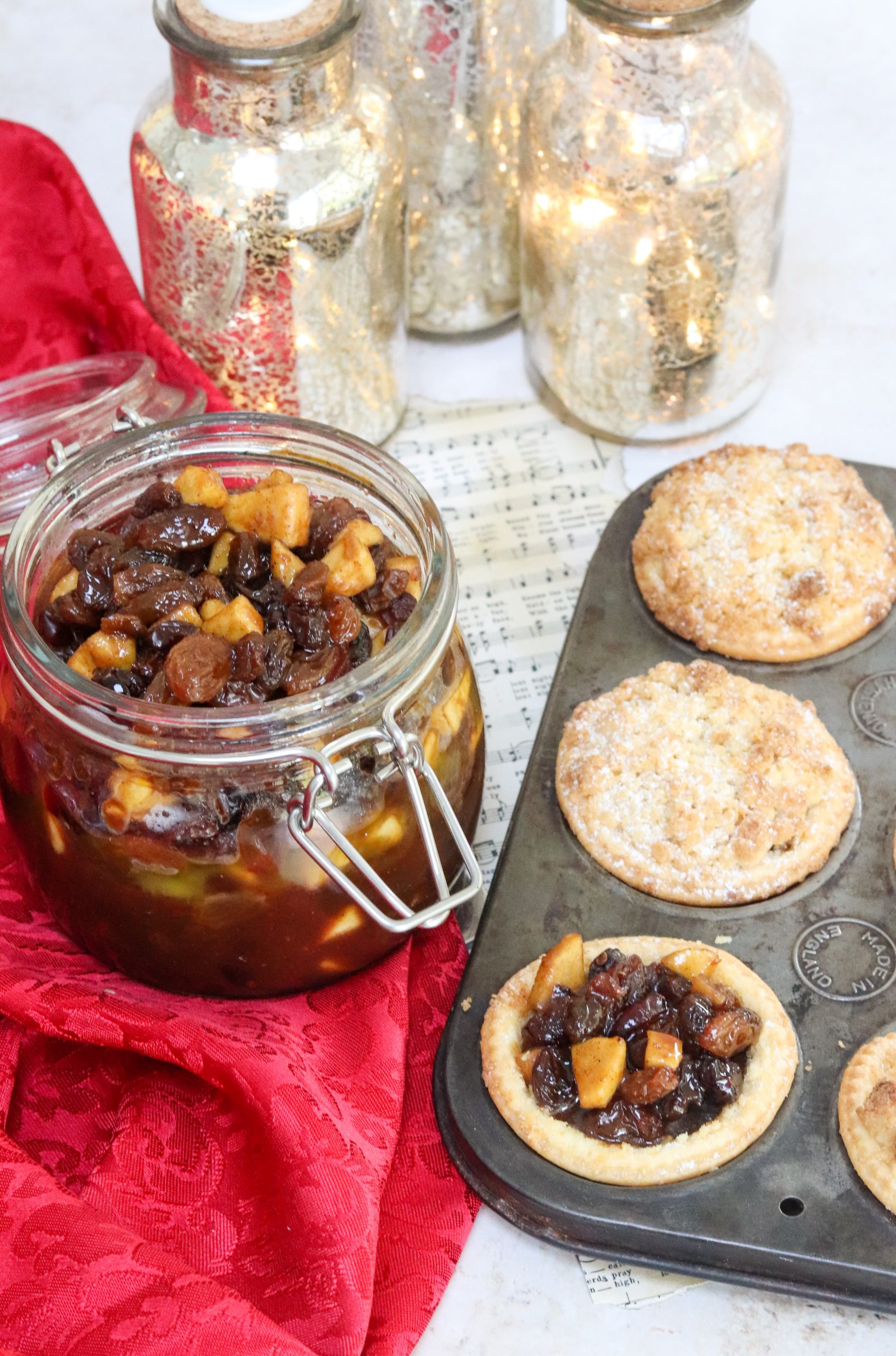 what is suet
Suet is fat which is found around an animal's kidneys. This is what would have typically been used to make mincemeat and people often still use it today. If you used beef suet, it won't make your mincemeat taste 'meaty'.
However I prefer to use vegetarian suet which is made using vegetable fat. It means this Quick Mincemeat is suitable for vegetarians and vegans.
To make mincemeat gluten free you need to make sure the suet you are using does not contain any gluten. Tesco and Morrisons have their own suet which is gluten free but the popular big name brand Atora is not gluten free.
If you open the jar of mincemeat and the suet seems to have congealed a little but, don't worry this will melt perfectly when you bake it in something like my Frangipane Mince Pie Slices.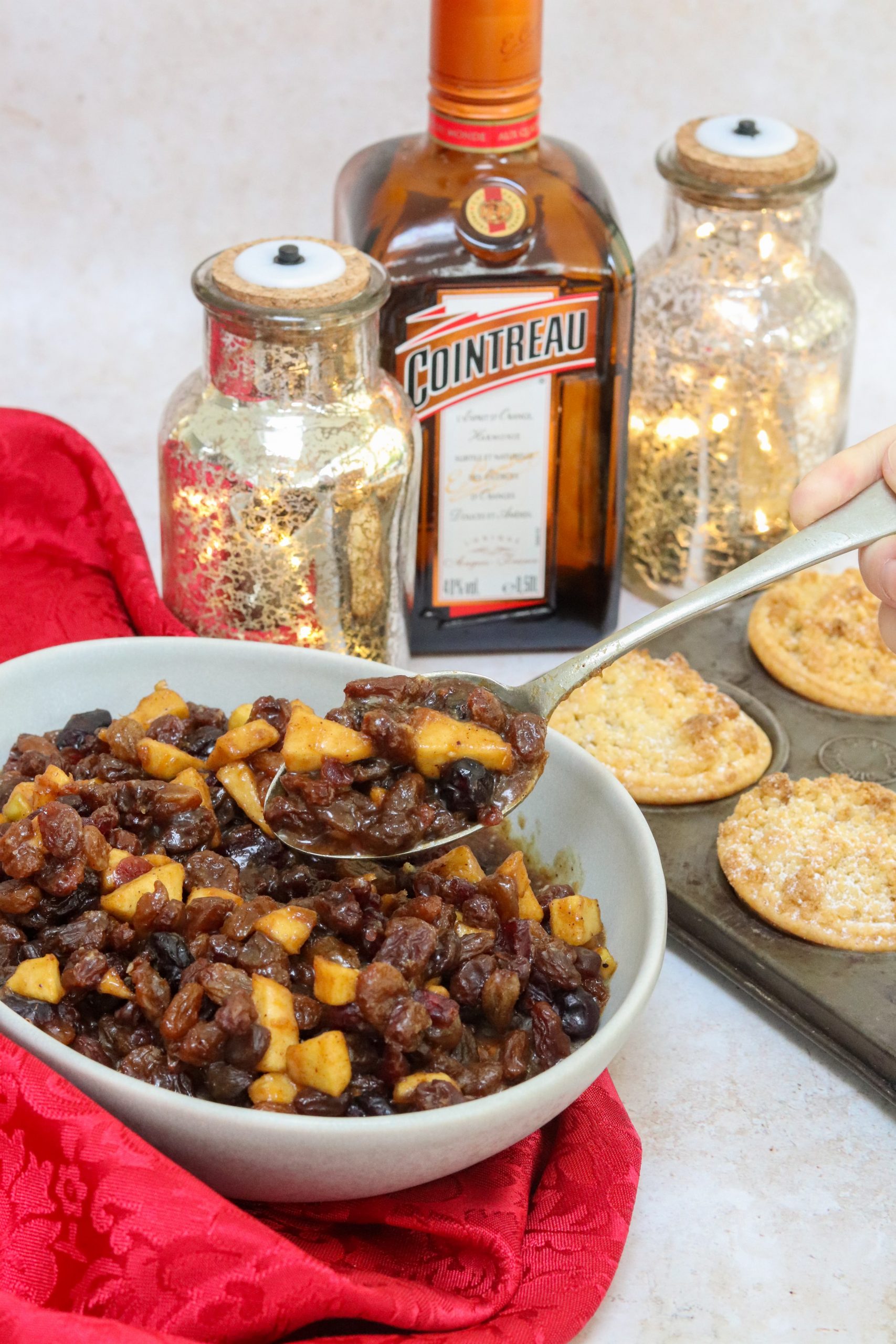 customising this quick mincemeat
Making your own mincemeat is the perfect way to customise it to your own tastes.
If you tweak the recipe, I would aim to keep the dried fruit to around 1kg. I use raisins, sultanas and cranberries because this is what I like. Supermarkets sell bags of mixed dried fruit these day which have a variety of fruits which would work really well.
These bags do tend to have mixed peel in them though which I am not a huge fan of. But it is a common ingredient in traditional mincemeat so please feel free to add it to yours.
You can get as creative as you like and add dried cherries, dried pears or even dried apple for more apple flavour.
I have chosen to use Cointreau in my Quick Mincemeat, but you can use brandy or rum if you prefer. You could even use a combination of them.
If you don't want to use alcohol, just use the same amount in orange juice.
how to use mincemeat
The most common way to use mincemeat is in mince pies. For years I really disliked making mince pies because I would always overfill them and the mincemeat would get stuck to the tin.
You don't have that issue with my Crumble Topped Mince Pies and they are hands down my favourite mince pie recipe!
Before making a mince pie recipe that I love, I used mincemeat in as many different ways as possible. My Mincemeat Pinwheels are much easier way of using mincemeat with pastry.
My Mincemeat Thumbprint Cookies and Mincemeat Christmas Flapjacks are other really simple ways to enjoy mincemeat.
If you are looking for something a little bit special, try my Mincemeat & Almond Cake. It is a great alternative to a traditional Christmas Cake and is packed full of delicious mincemeat.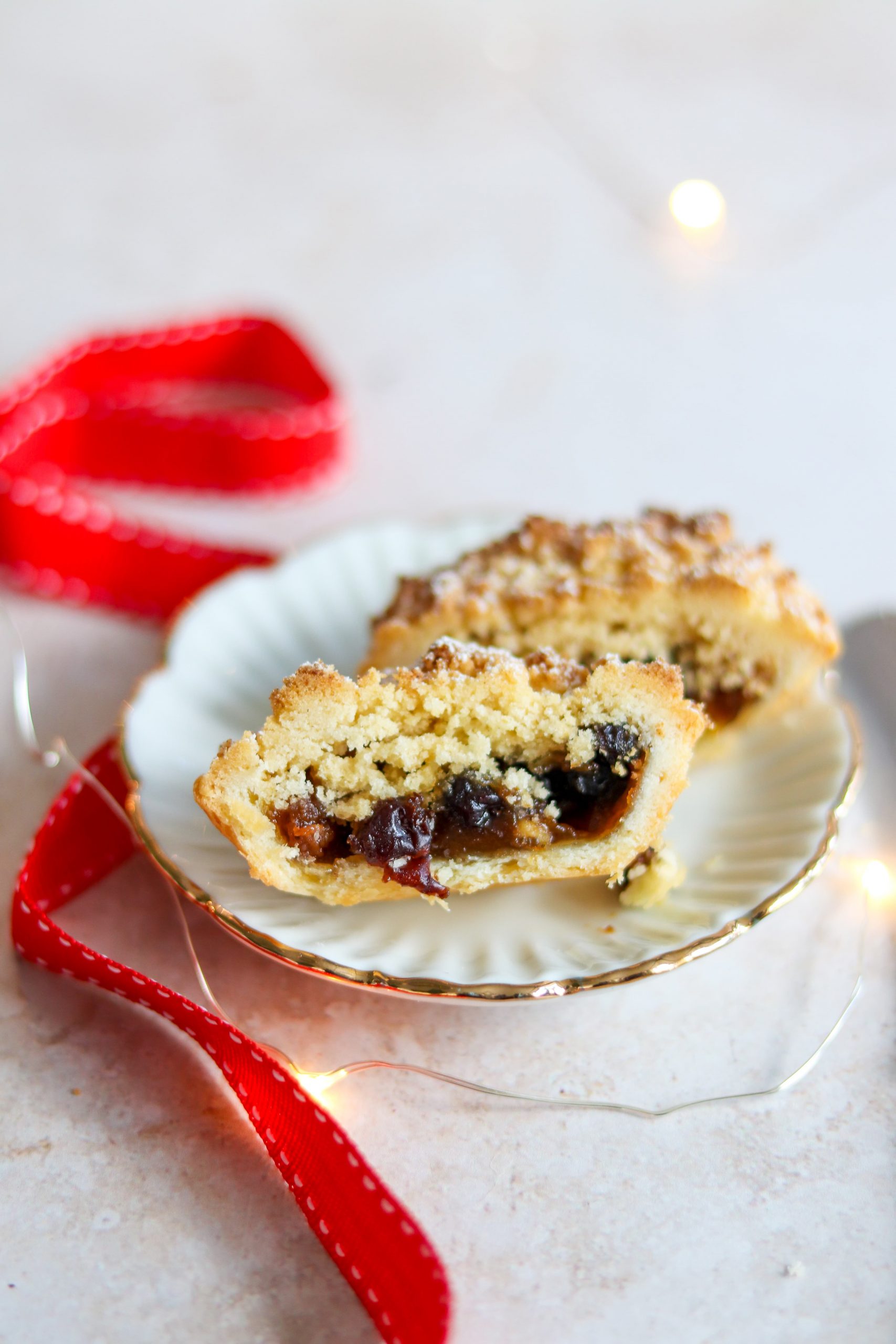 How to sterilise jars
There is lots of different information about how to sterilise jars when making preserves.
I am not an expert, but I have always used the same method. Firstly, I wash the jars and their lids in the dishwasher and leave them to dry completely when the cycle has finished.
I then put the jars and lids on a baking tray in the oven at 160°C fan for 10 – 15 minutes. I then fill them with warm mincemeat while the lids are still warm.
There are other methods for how to sterilise jars. I recommend checking out Tin & Thyme's post with lots of information.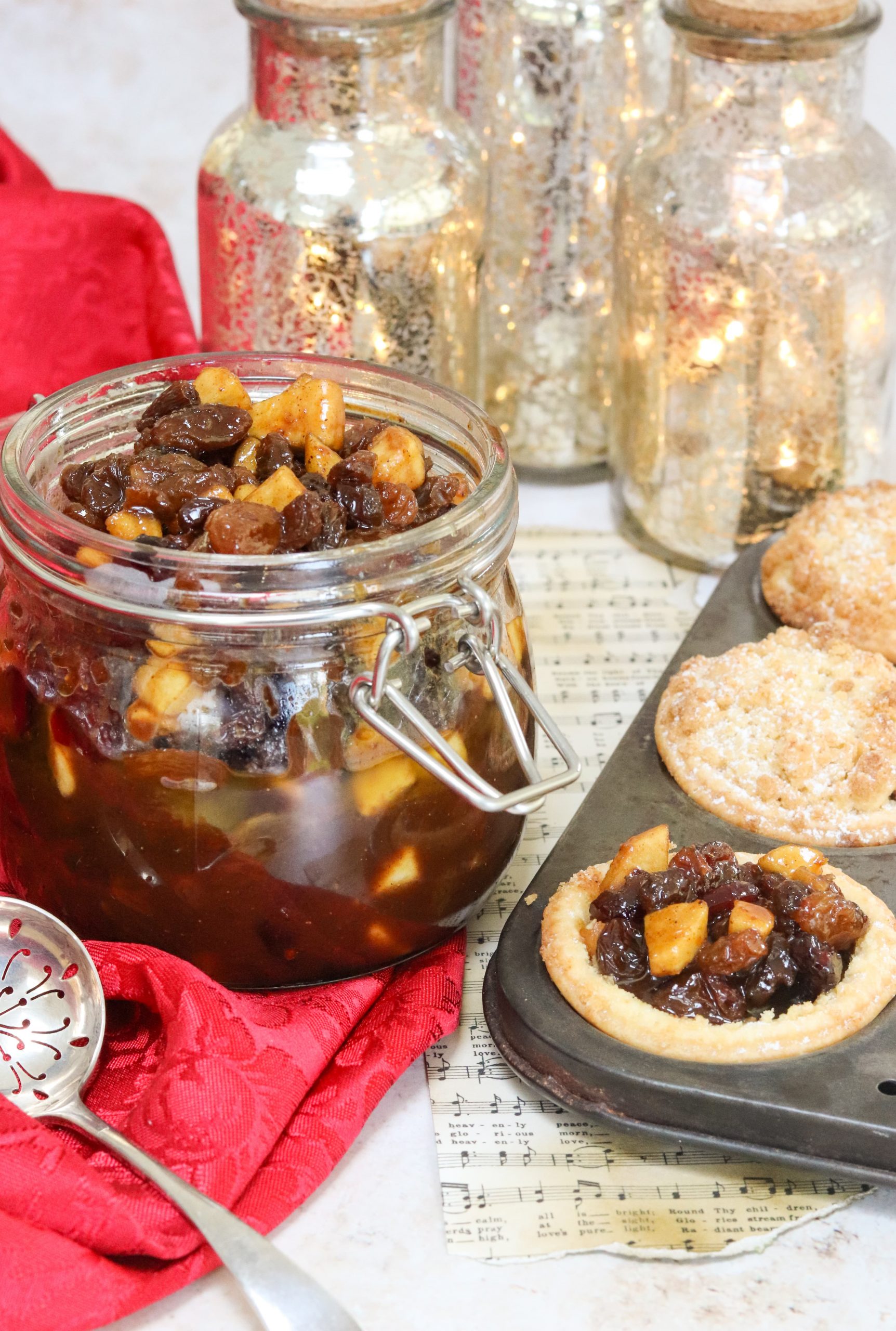 can this mincemeat be made last-minute?
Yes, absolutely! If it is the week of Christmas and you realise you haven't made your mincemeat yet don't panic!
Not only is this quick and easy to make, but it is an instant mincemeat so you can use it straight away. Mincemeat does tend to develop in flavour as it matures, but this Quick mincemeat is delicious and can be used as soon as you have made it.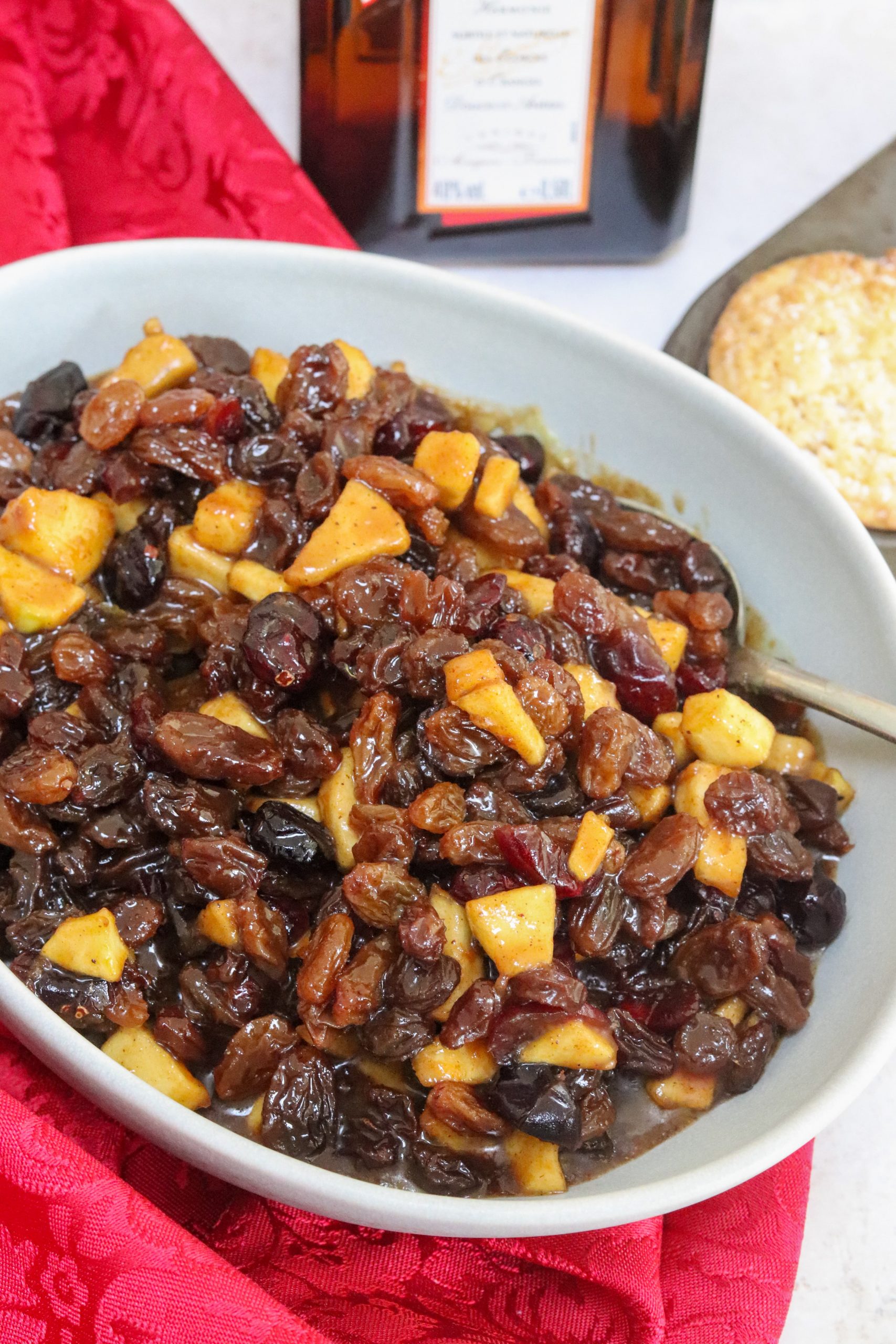 How long does mincemeat keep for?
When the mincemeat is stored in sterilised jars it will keep for at least one year in a cool, dark place.
Although this mincemeat doesn't have to mature and you can use it as soon as it has been made, it is something you can make in advance.
I like to make my mincemeat a good few months before December as it is a job I can get ahead and do. You then can use homemade mincemeat to make delicious recipes as and when you want.
If you don't think you want to make a full batch of mincemeat as per the recipe below you can half or quarter the quantities to make a smaller amount.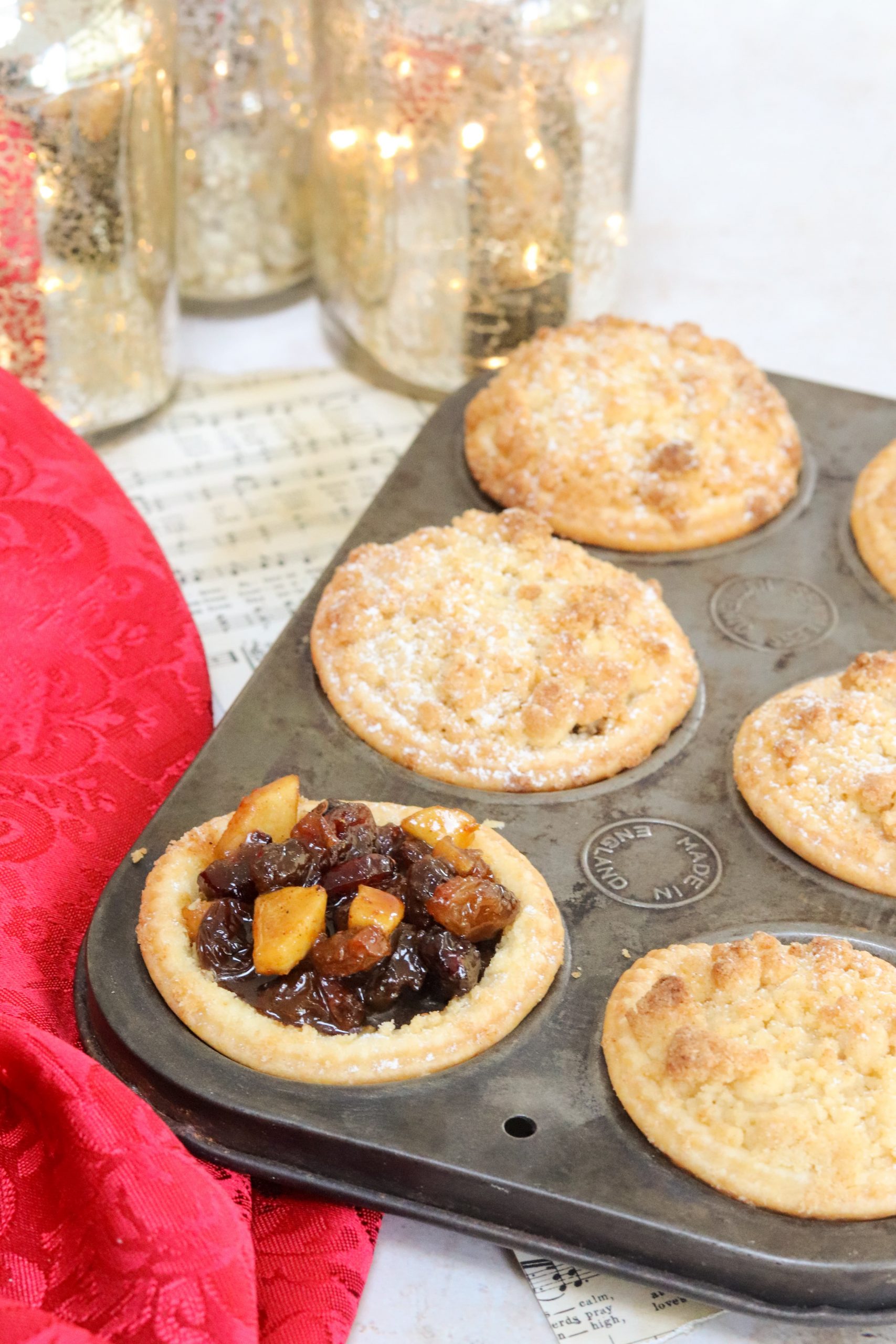 what does mincemeat look like when it's cooled?
As the mincemeat starts to cool, the suet will start to solidify again. This will form pools of fat in the mincemeat. Do not panic! This is completely normal and nothing to worry about.
When you want to use the mincemeat, just give it a quick stir through which will disperse any pockets of solidified suet.
Then when you reheat the mincemeat again, for example when making mince pies; the suet will melt away and your mincemeat will look perfect again.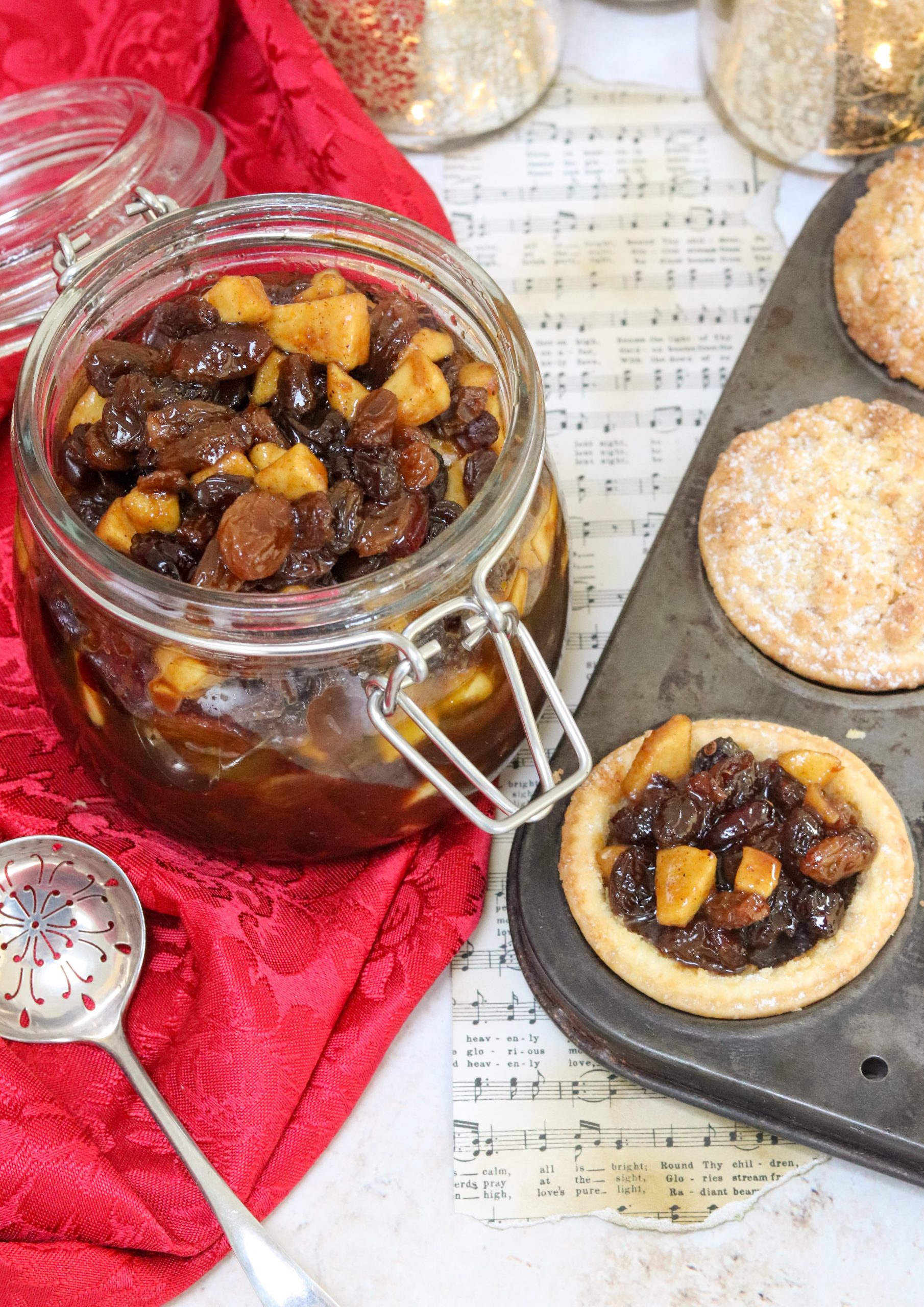 other recipes you might like
Pin for later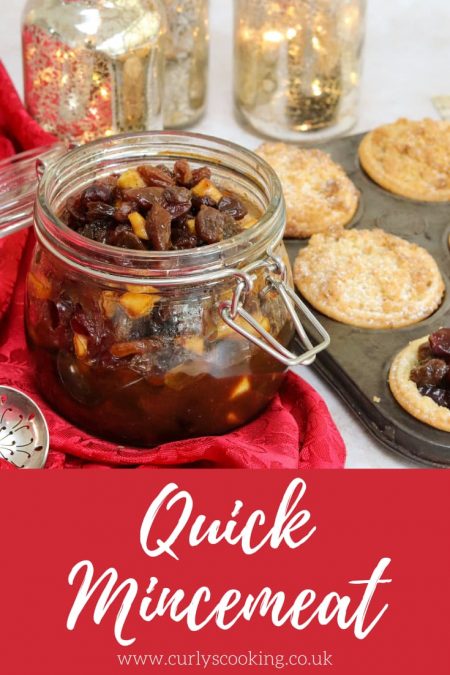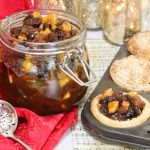 Quick Mincemeat
Essential at Christmas and throughout the whole festive season; this homemade Quick Mincemeat is a must for mince pie lovers. So easy to make and much tastier than any shop bought varieties.
Ingredients
500

g

Bramley apples

peeled, cored and diced small

400

g

raisins

400

g

sultanas

200

g

dried cranberries

225

g

vegetarian suet

350

g

soft dark brown sugar

4

tsp

mixed ground spice

½

tsp

ground cinnamon

¼

tsp

ground nutmeg

100

ml

Cointreau

2

oranges

zest & juice

2

lemons

zest & juice
Instructions
Add 500g Bramley apples, 400g raisins, 400g sultanas, 200g dried cranberries, 225g vegetarian suet, 350g soft dark brown sugar, 4 tsp mixed ground spice, ½ tsp ground cinnamon, ¼ tsp ground nutmeg, 100ml Cointreau, zest & juice of 2 lemons and the zest and juice of 2 oranges to a large pan

Thoroughly mix all of the ingredients together

Over a medium heat, cook the mincemeat for 10 minutes stirring frequently

Add the warm mincemeat to sterilised jars and seal
Recipe Notes
Recipe uses 500g of apples weighed before peeling and coring.
The suet from the mincemeat will begin to solidify as it cools. Don't worry this will melt when you cook the mincemeat again in mince pies for example.
Nutritional information is given as a guide only and may vary.
Nutrition Facts
Quick Mincemeat
Amount Per Serving (1 tbsp)
Calories 49
Calories from Fat 9
% Daily Value*
Fat 1g2%
Sodium 1mg0%
Potassium 55mg2%
Carbohydrates 7g2%
Protein 1g2%
Vitamin A 7IU0%
Vitamin C 2mg2%
Calcium 4mg0%
Iron 1mg6%
* Percent Daily Values are based on a 2000 calorie diet.