These Mincemeat Christmas Flapjacks are the perfect festive treat. Simple to make and very moreish; you'll find yourself making these mince pie inspired treats throughout the holiday season.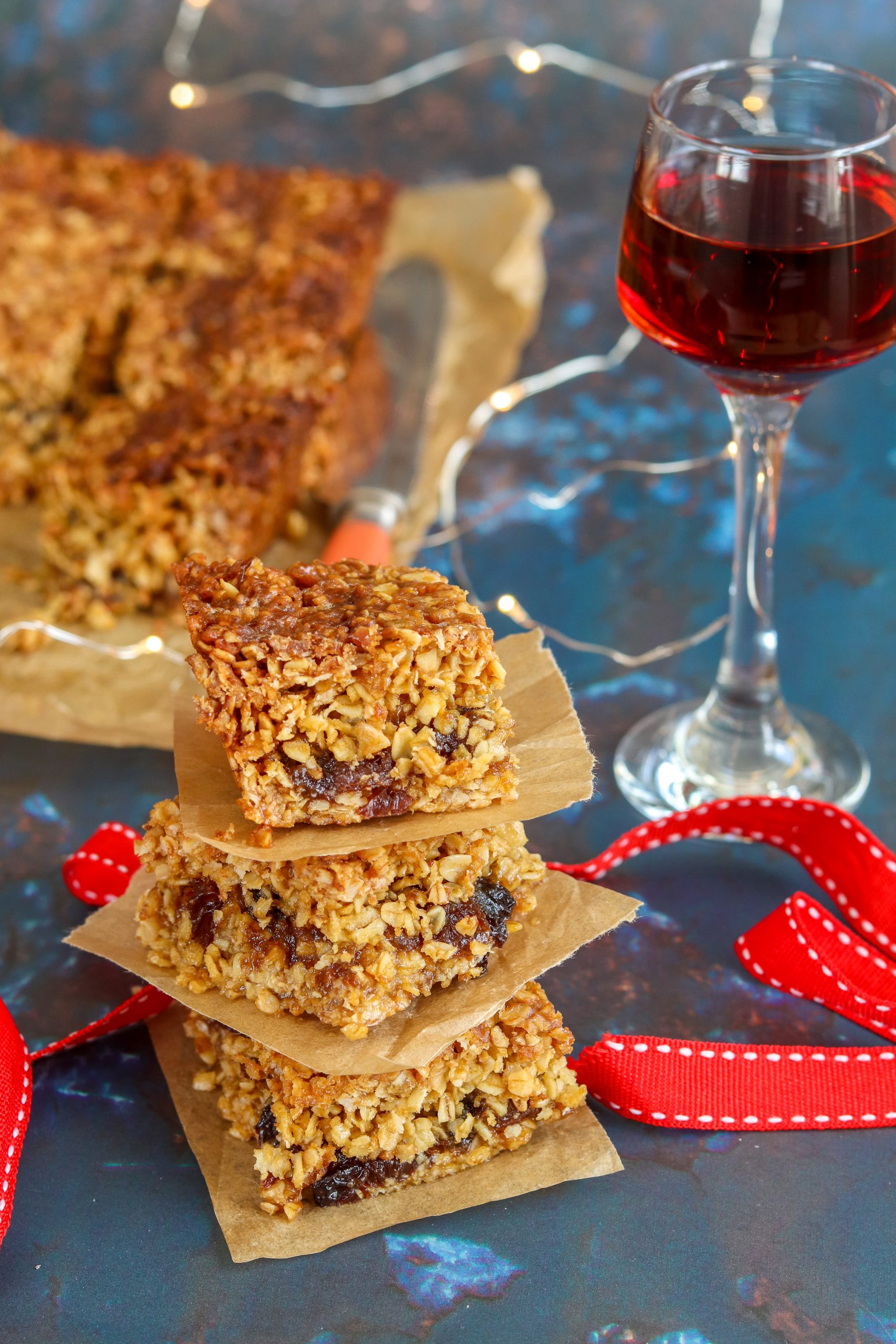 What are Mincemeat Christmas Flapjacks?
These festive flapjacks are a twist on my Easy Jam Flapjacks. Delicious soft flapjacks with a layer of flavoursome mincemeat in the centre. Think of a combination of a mince pie and a flapjack.
The flavours from the mincemeat transform these flapjacks into the perfect easy Christmas bake. They are simple enough for children to help with and need very little prep so are ideal to make when unexpected guests are dropping in over the festive season.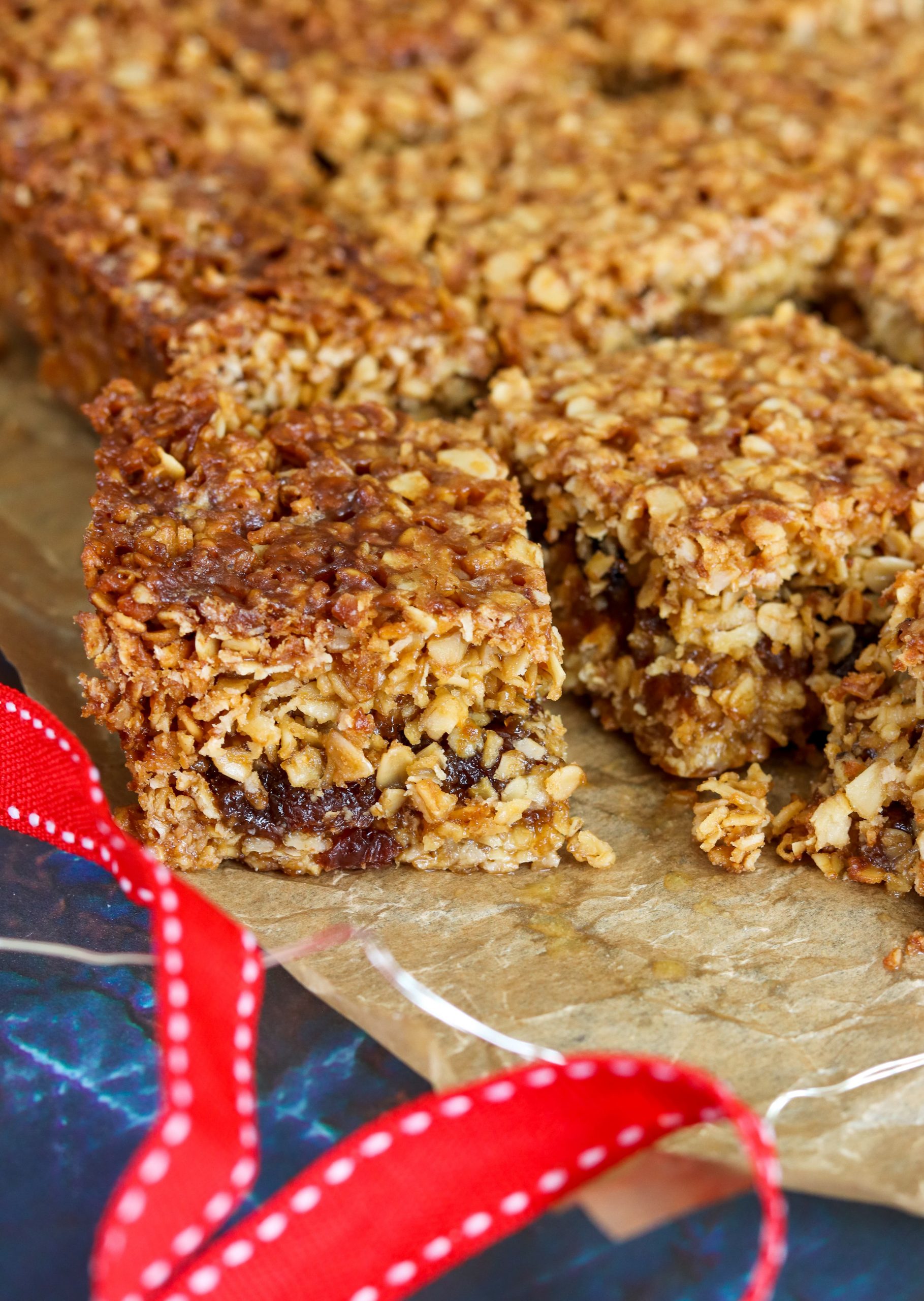 What is mincemeat?
If you're not from the UK, you might not have heard of mincemeat. It is a sweet mixture of dried fruits, spices and spirits.
But why is it called mincemeat? Well back in the 12th century mincemeat was made using meat as a way of preserving it. Over the years the meat has been swapped for the fruit – thankfully!
So don't panic, despite the name there is no meat in mincemeat anymore. It is an essential element of a British Christmas and is so tasty!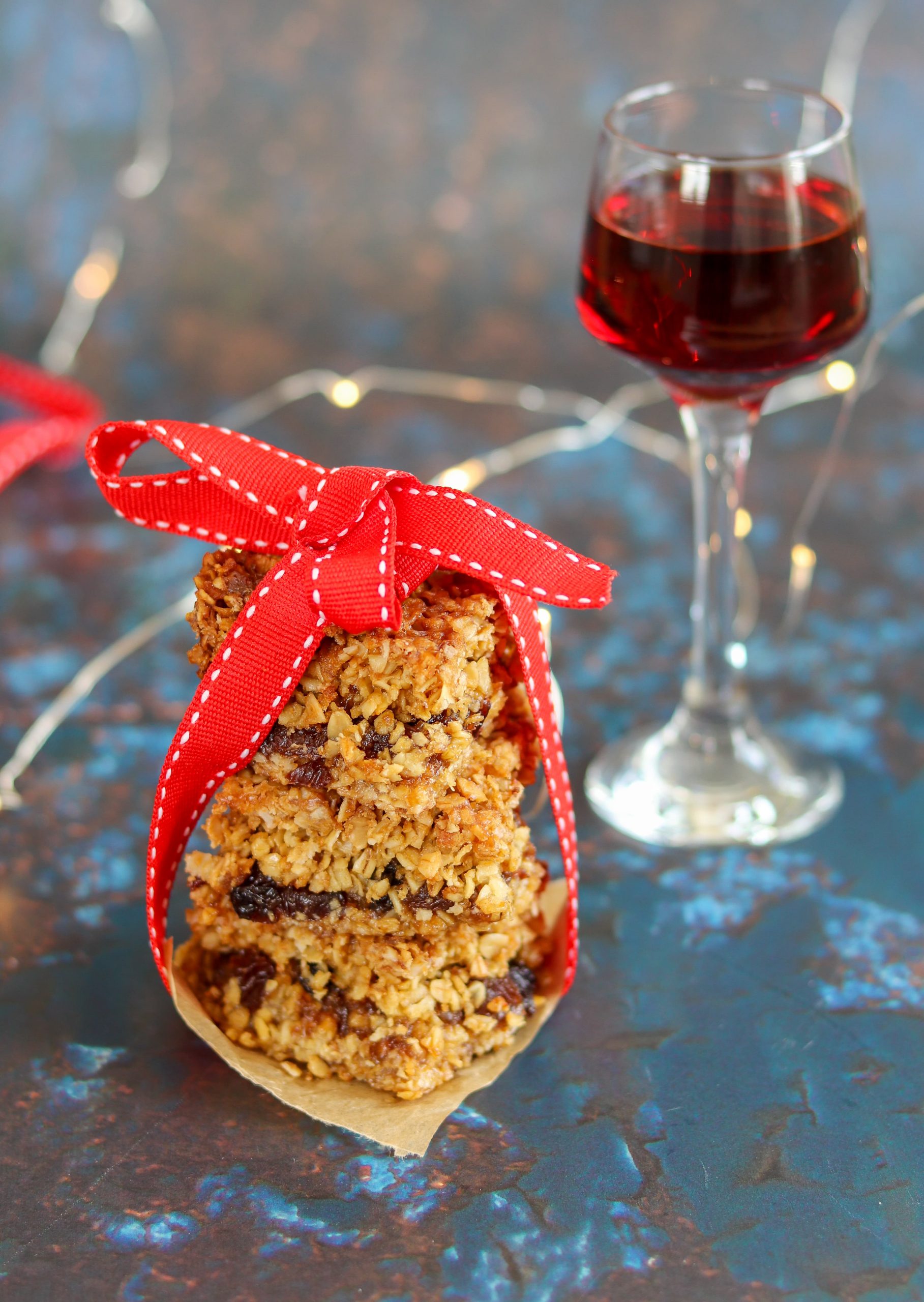 A different way to use mincemeat
If you've been following my blog for a while, you will know that I have never hidden my dislike for making mince pies. I get too carried away and fill them with too much mincemeat and it's a bit of a sticky mess.
That is until I started making Crumble Topped Mince Pies which are honestly the best I have ever made.
But just because I have developed a mince pie recipe that works perfectly every time doesn't mean I will stop finding other ways to use mincemeat over the festive season.
I already have recipes for Mincemeat Pinwheels, Frangipane Mince Pie Slices, Mincemeat Thumbprint Cookies and my Mincemeat & Almond Cake. So these Mincemeat Christmas Flapjacks were the perfect addition to my repertoire.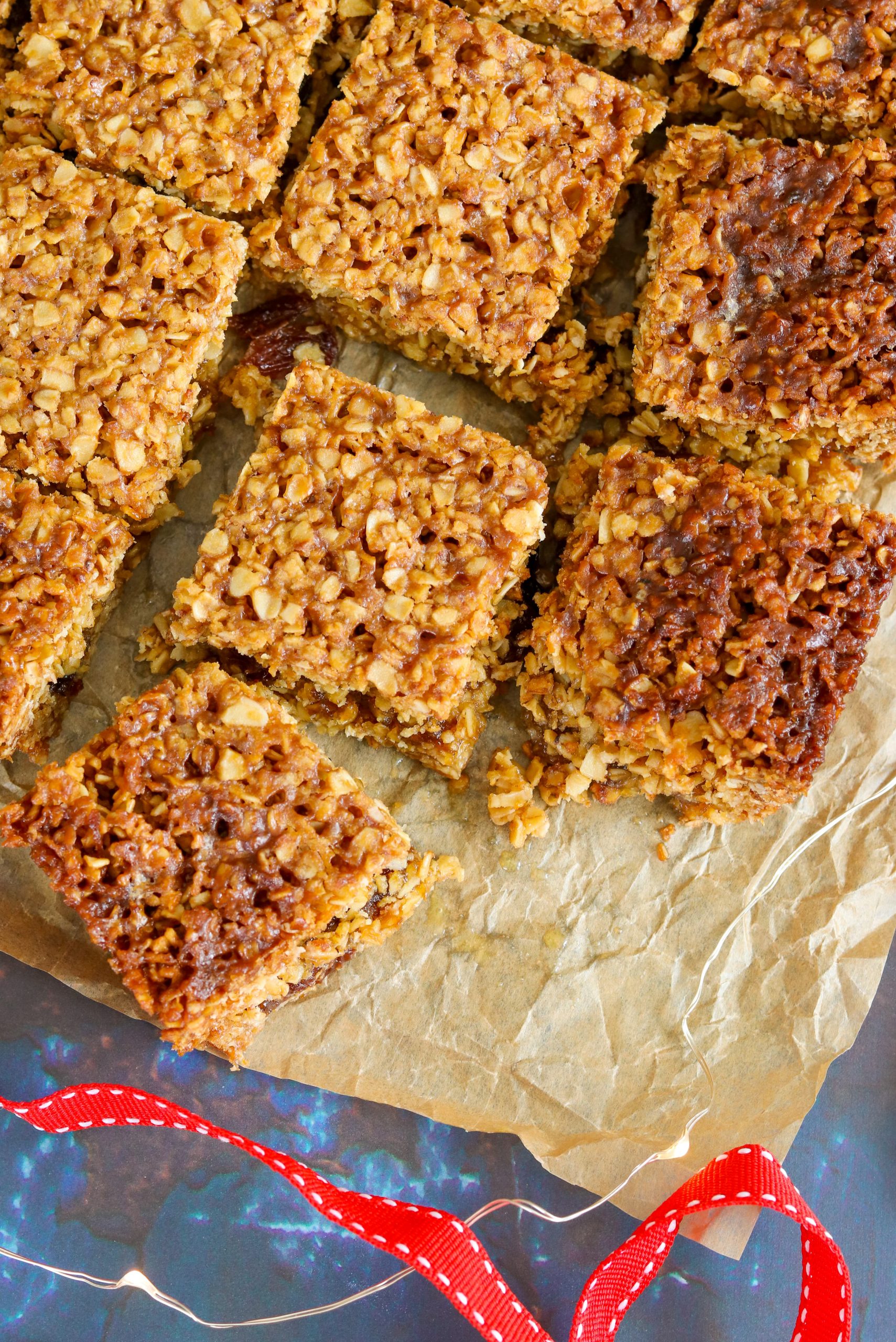 which mincemeat is best to use?
I would always recommend making my Quick Mincemeat because it is so delicious and easy to make. You can make a batch and have it ready to make festive treats.
I don't think there is anything wrong with using shop bought mincemeat. This is what most people tend to do and it is convenient.
I would recommend trying to choose a good quality mincemeat. There are quite a few choices; the fruits and spirits used vary and some may even include nuts. Pick one that appeals to you.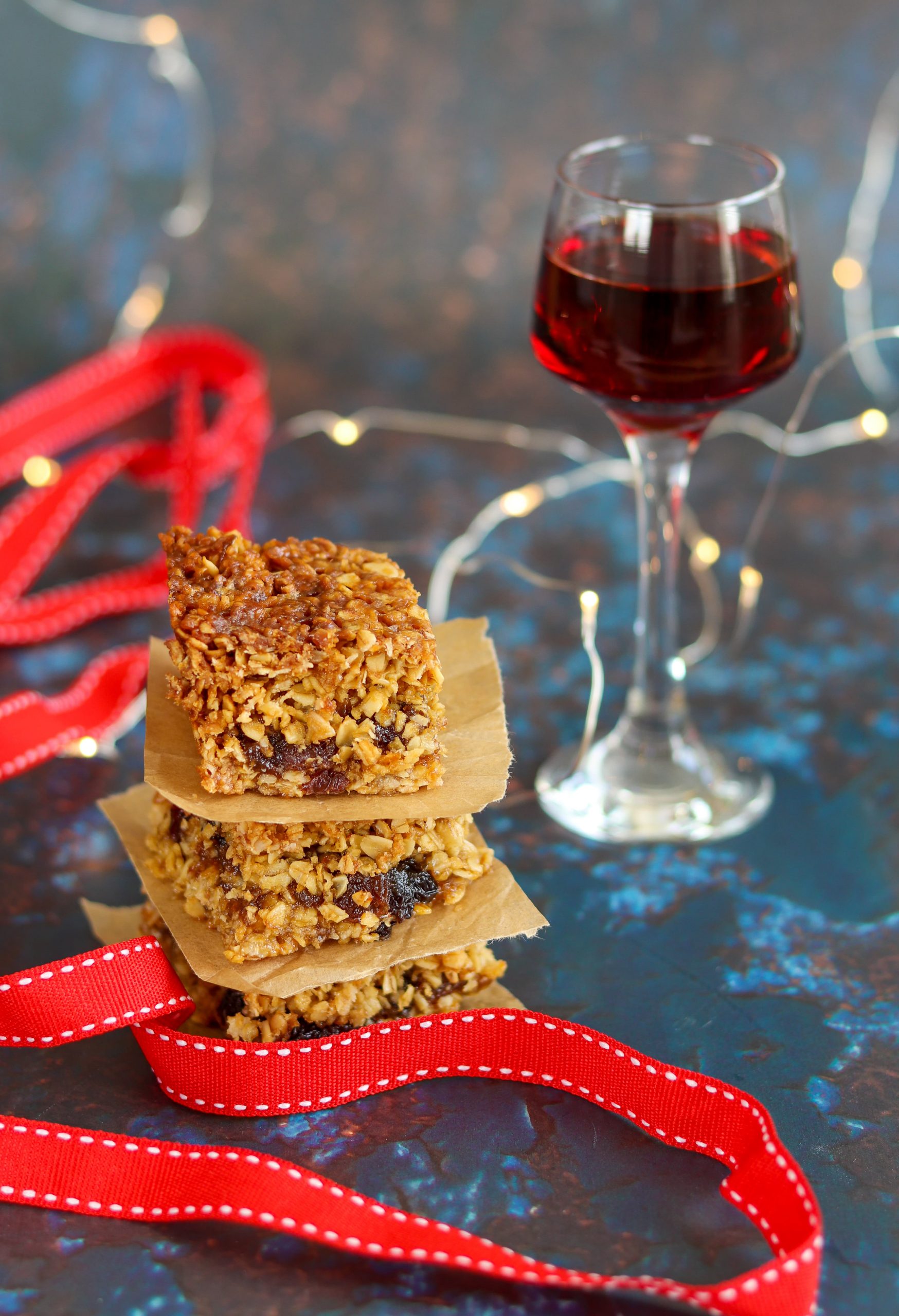 Do you prefer Soft or crisp flapjacks?
That is one of the most important questions when talking about flapjacks. I am 100% team soft flapjack.
These Flapjacks are deliciously soft apart from the outside edges that are slightly crisp. If you are strictly team crisp flapjack and need more than the edges to be crisp, bake them for five minutes longer.
The mincemeat really helps to keep these moist and soft. So even if you prefer a crisper flapjack and bake them for a little longer, the mincemeat will prevent them from becoming too crisp in the centre. An advantage in my opinion!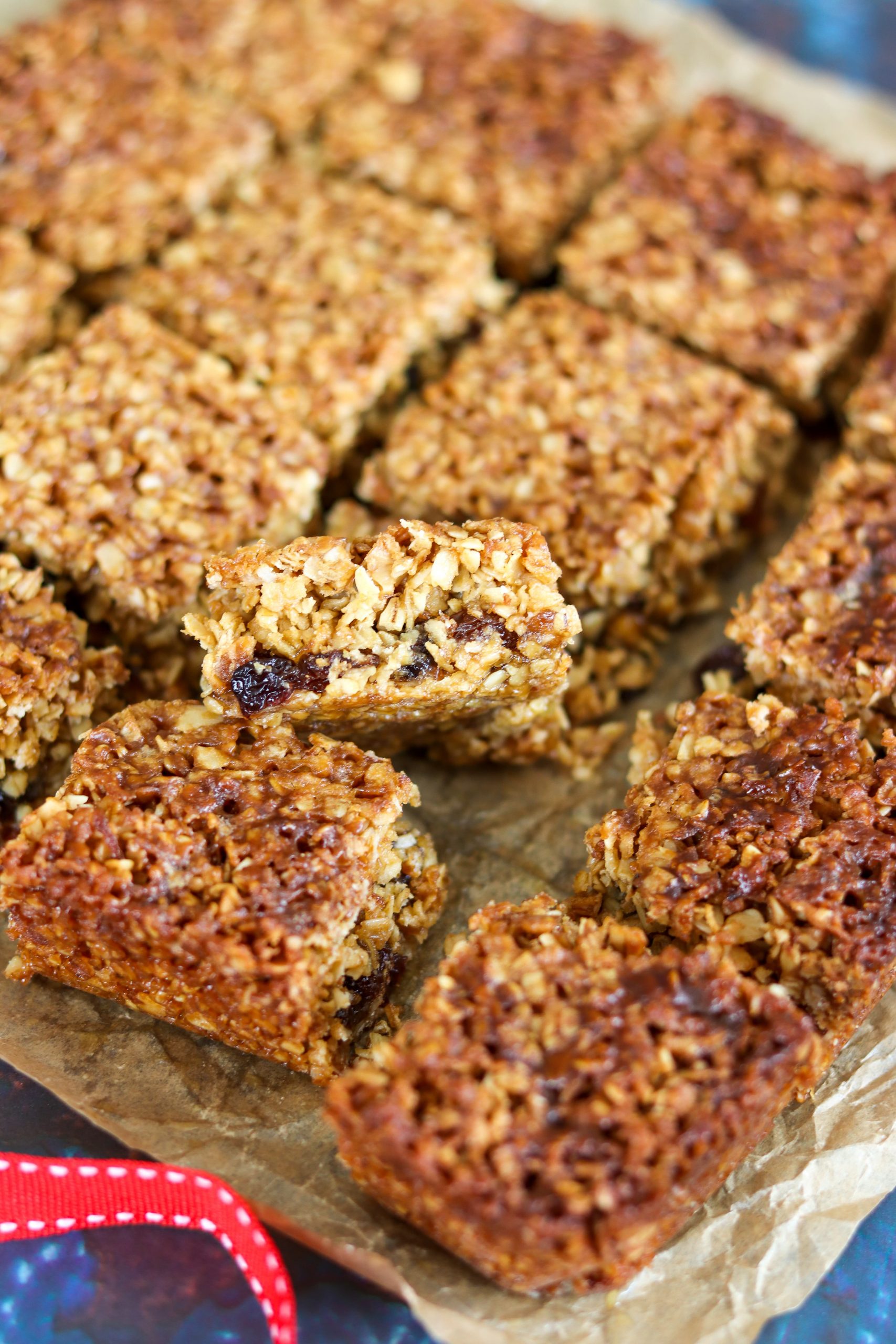 Which oats should be used for these flapjacks?
The most readily available oats in supermarkets tend to be rolled oats, porridge oats and jumbo oats.
Jumbo and rolled oats are a little larger and will provide a crumblier texture. Porridge oats will make a denser flapjack which is what I like.
I use porridge oats to try and ensure minimal crumbling when I cut the flapjacks. But please feel free to use the other varieties.
Flapjack purists might disagree with me, but I don't think any oats will result in a bad flapjack.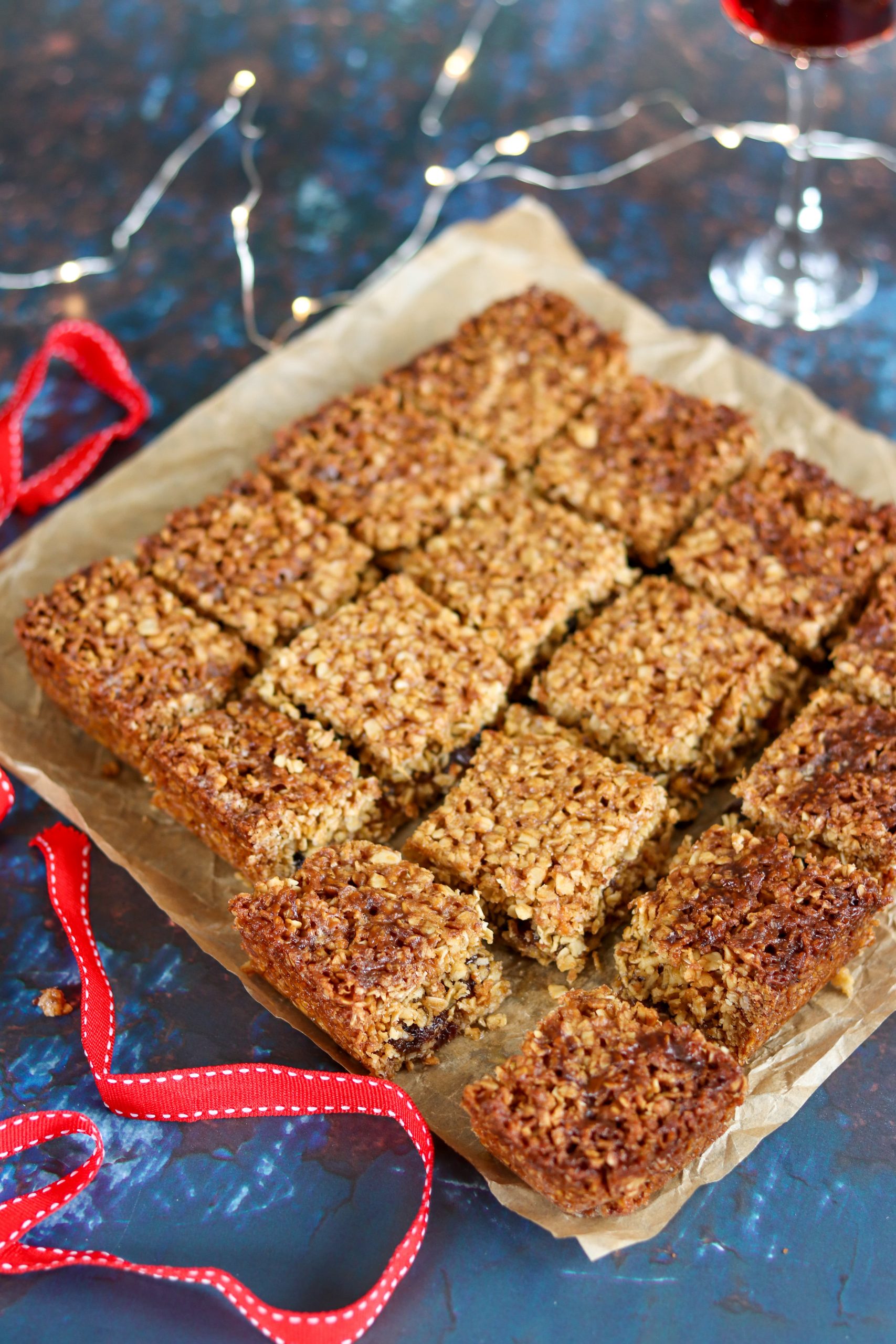 How long will these flapjacks keep?
These Mincemeat Christmas Flapjacks will keep in an airtight container for up to a week. They become slightly softer and chewier each day after baking which I really like.
So if you prefer a softer flapjack and can resist eating them all on the day you bake them, leave them for a day or so for maximum yumminess!
This also makes them perfect for over the festive season because you can bake them ready for if guests pop in. They don't take long at all to bake which is crucial at a time of year when everyone is busy.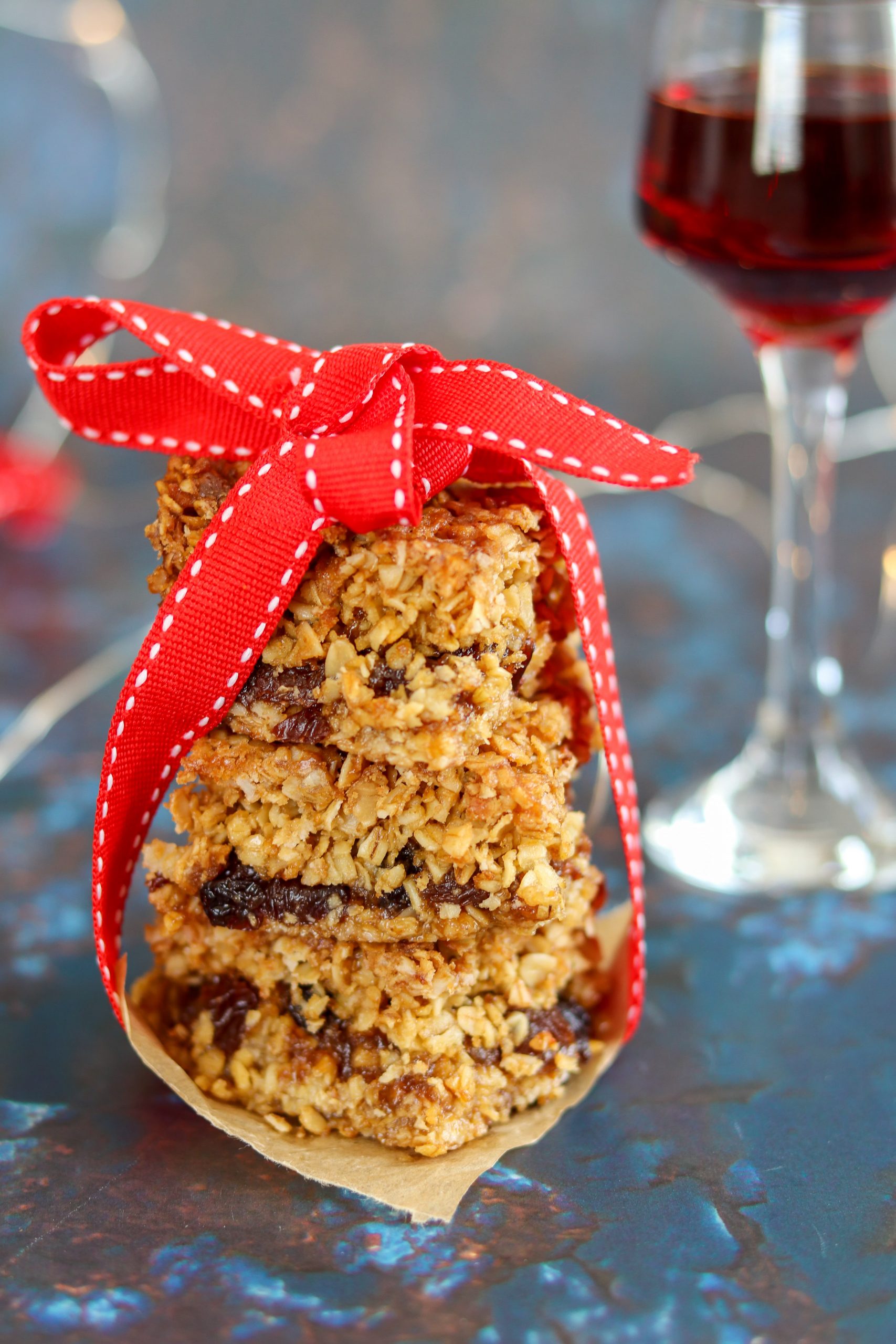 Naturally gluten free and easily made vegan
If you want to make these Mincemeat Christmas Flapjacks gluten free, make sure the oats you buy state that they are gluten free.
Although oats are naturally gluten free, some are prepared in factories that deal with gluten so it is always worth checking.
You can also easily make these flapjacks vegan and dairy free. Instead of butter, use dairy free margarine instead. This would then make the flapjacks gluten free, vegan and dairy free.
You will also need to make sure the mincemeat you are using is vegan. This is becoming more common these days so should be easy to find if you don't want to make your own.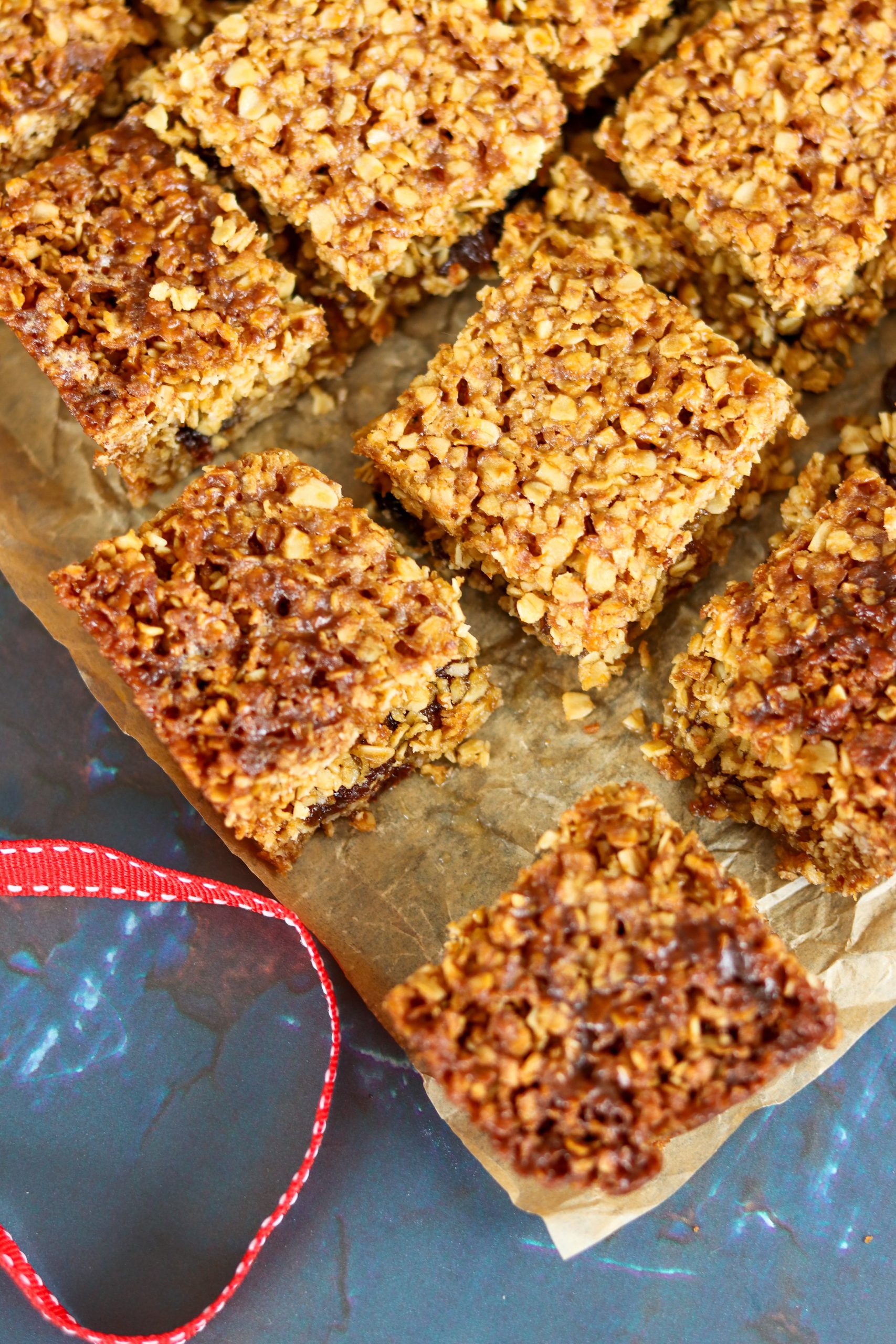 How many flapjacks does this recipe make?
That really does depend on how big you want to cut them!
I like to cut these into 16 squares because for me they are the perfect size when you want a sweet snack.
If you are making these for children, you could cut them into smaller pieces quite easily. They make a great addition to lunchboxes.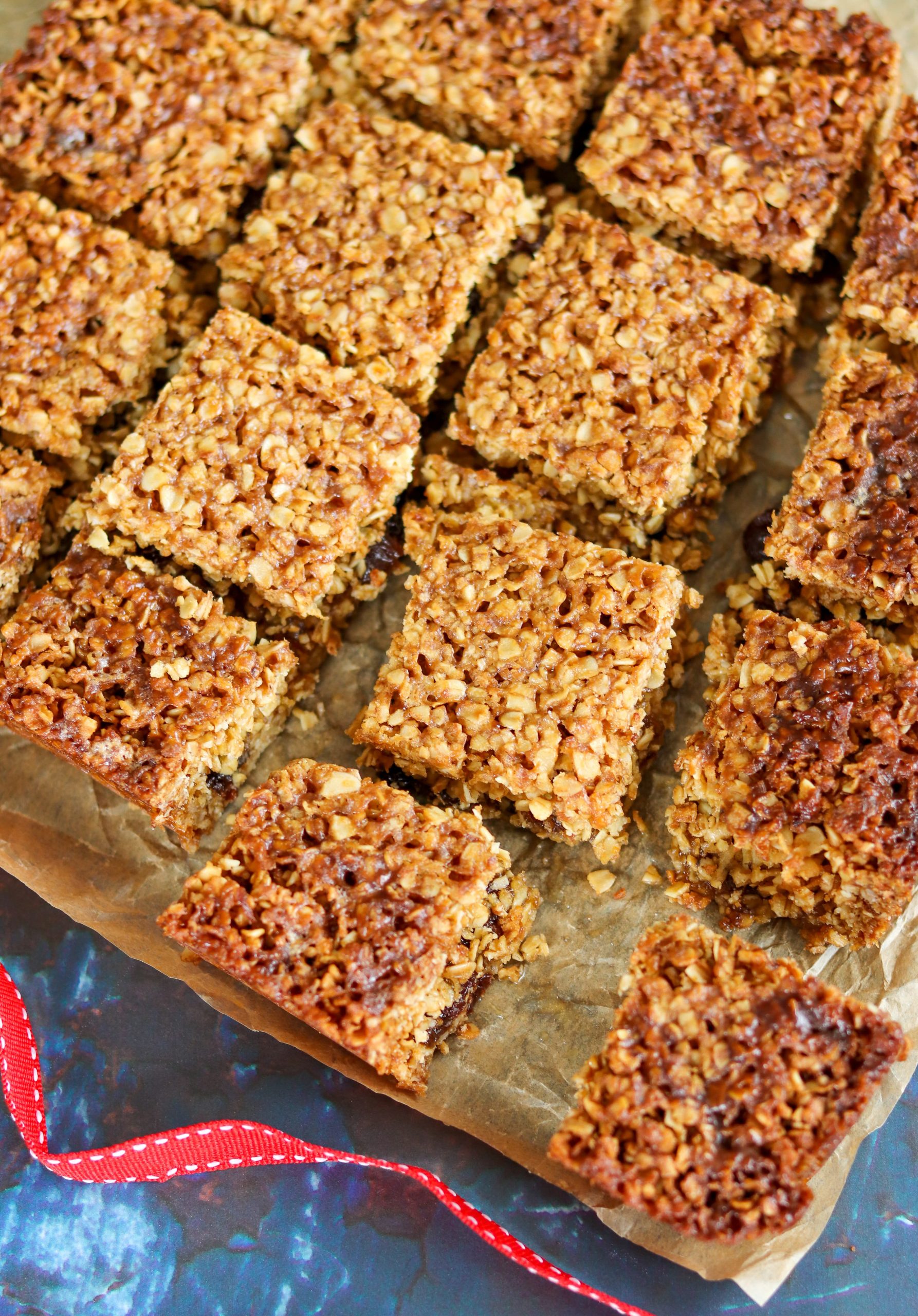 Other recipes you might like
Pin for later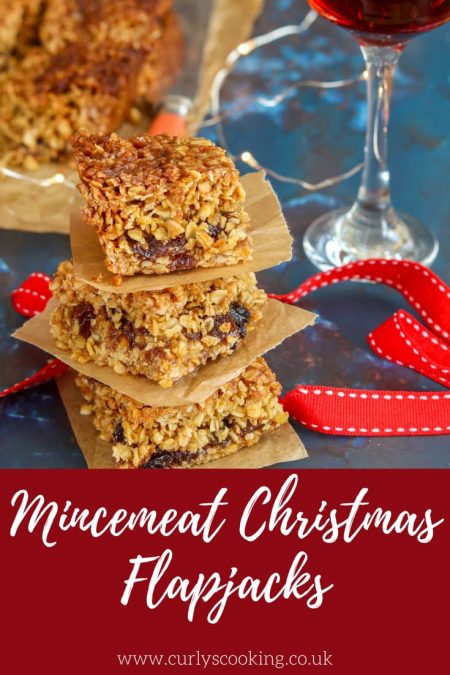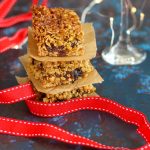 Christmas Mincemeat Flapjacks
These Mincemeat Christmas Flapjacks are the perfect festive treat. Simple to make and very moreish; you'll find yourself making these mince pie inspired treats throughout the holiday season.
Ingredients
250

g

unsalted butter

150

g

light brown sugar

2

tbsp

golden syrup

350

g

porridge oats

180

g

mincemeat
Instructions
Line a 20x20cm tin and preheat the oven to 170ºC (fan, 190ºC non fan)

Melt 250g unsalted butter, 150g light brown sugar and 2 tbsp golden syrup in a pan over a medium heat. Stir regularly

Add 350g porridge oats to the pan with the melted butter and stir until they are completely coated in the butter mixture

Tip half of the oats into the lined tin and spread them in an even layer

Add 180g mincemeat on top of the layer of oats and spread evenly

Add the rest of the oats on top and spread evenly. Bake in the oven for 35-40 minutes

Leave to cool in the tin for 30 minutes before removing from the tin and leaving to cool completely on a wire rack. Cut into squares
Recipe Notes
Keep in an airtight container for up to 7 days.
Nutritional information is given as a guide only.
Nutrition Facts
Christmas Mincemeat Flapjacks
Amount Per Serving
Calories 273
Calories from Fat 117
% Daily Value*
Fat 13g20%
Cholesterol 34mg11%
Sodium 67mg3%
Potassium 16mg0%
Carbohydrates 20g7%
Protein 1g2%
Vitamin A 390IU8%
Calcium 12mg1%
Iron 1mg6%
* Percent Daily Values are based on a 2000 calorie diet.