Fluffy on the inside and crisp on the outside; these Simple Air Fryer Roast Potatoes are a fantastic quicker alternative to oven roasted potatoes. You'll want to make these roast potatoes to accompany every meal!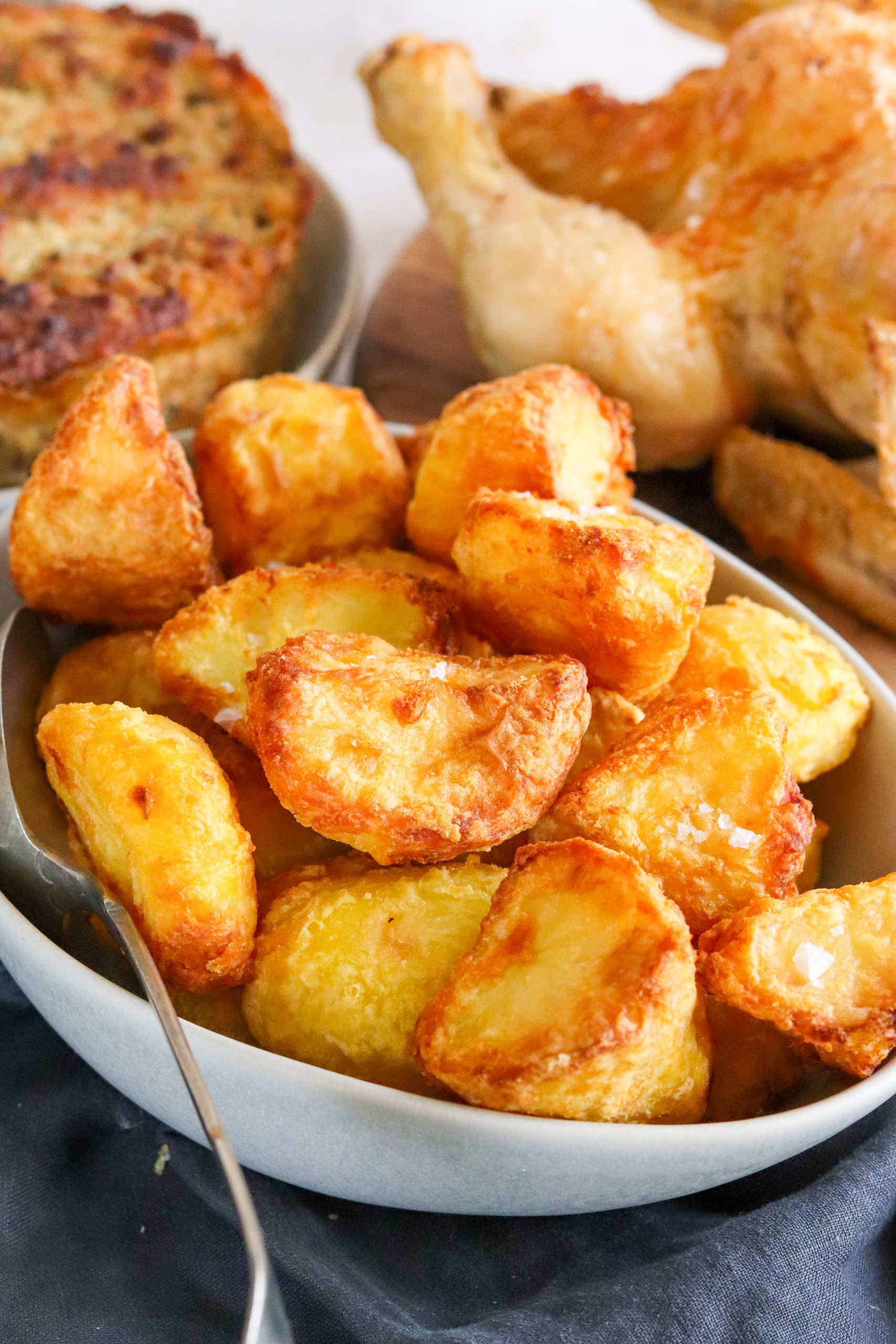 why use an air fryer instead of an oven?
Air fryers cook food quicker than a standard convection oven which is great for saving energy and pennies but also for busy families that want to be able to make food quickly.
Another advantage is that air fryers are smaller than ovens so you're not heating up a full-sized oven but instead a smaller air fryer. This means you're using less energy because you're heating up a smaller appliance as well as the food cooking quicker.
When it comes to cooking roast potatoes, they cook much quicker in an air fryer. I also think you are less likely to use an excess of oil when air frying them which is easier to do when oven roasting them.
Air frying roast potatoes also frees up space in the oven which is very much needed when cooking a roast dinner – especially at Christmas.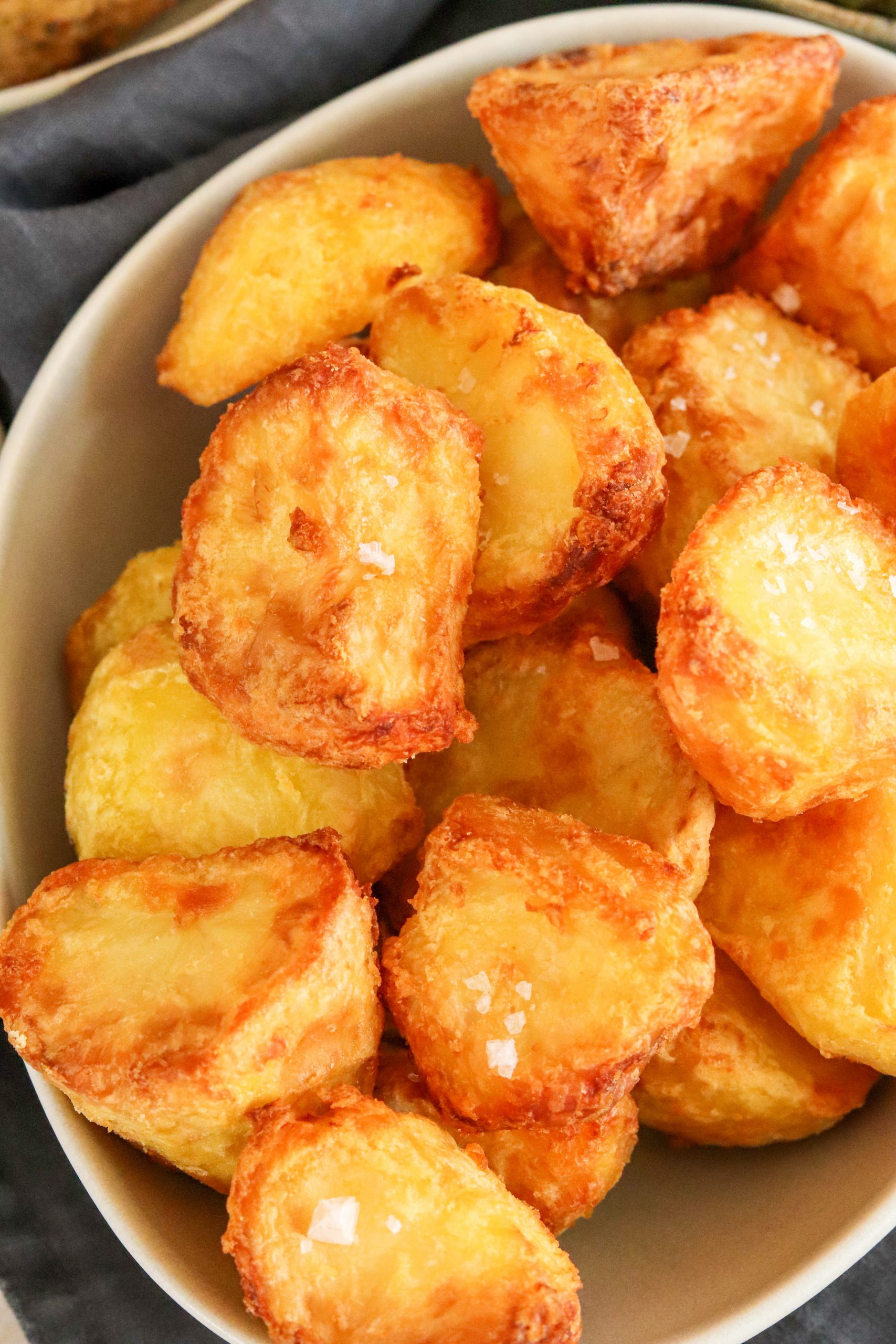 simple air fryer roast potatoes as the name suggests
I have deliberately kept these roast potatoes really simple. I like to keep roast potatoes simple however I'm cooking them. I like the salty, crisp potatoes to speak for themselves.
Another reason for keeping the recipe is so people can add their own twists. I'm sure people will have their own flavourings they like to add to roast potatoes and once they have the basics of how to air fry them, they can add extra flavours.
Adding herbs like rosemary and thyme are popular ways of adding extra flavour as is garlic. My herby potato seasoning would be a great way of adding delicious flavour to these roasties.
You could also heat up some goose or duck fat to toss the potatoes in. This is a great extra indulgence perfect for Christmas.
Remember to save your potato peelings to make Air Fryer Potato Peel Crisps.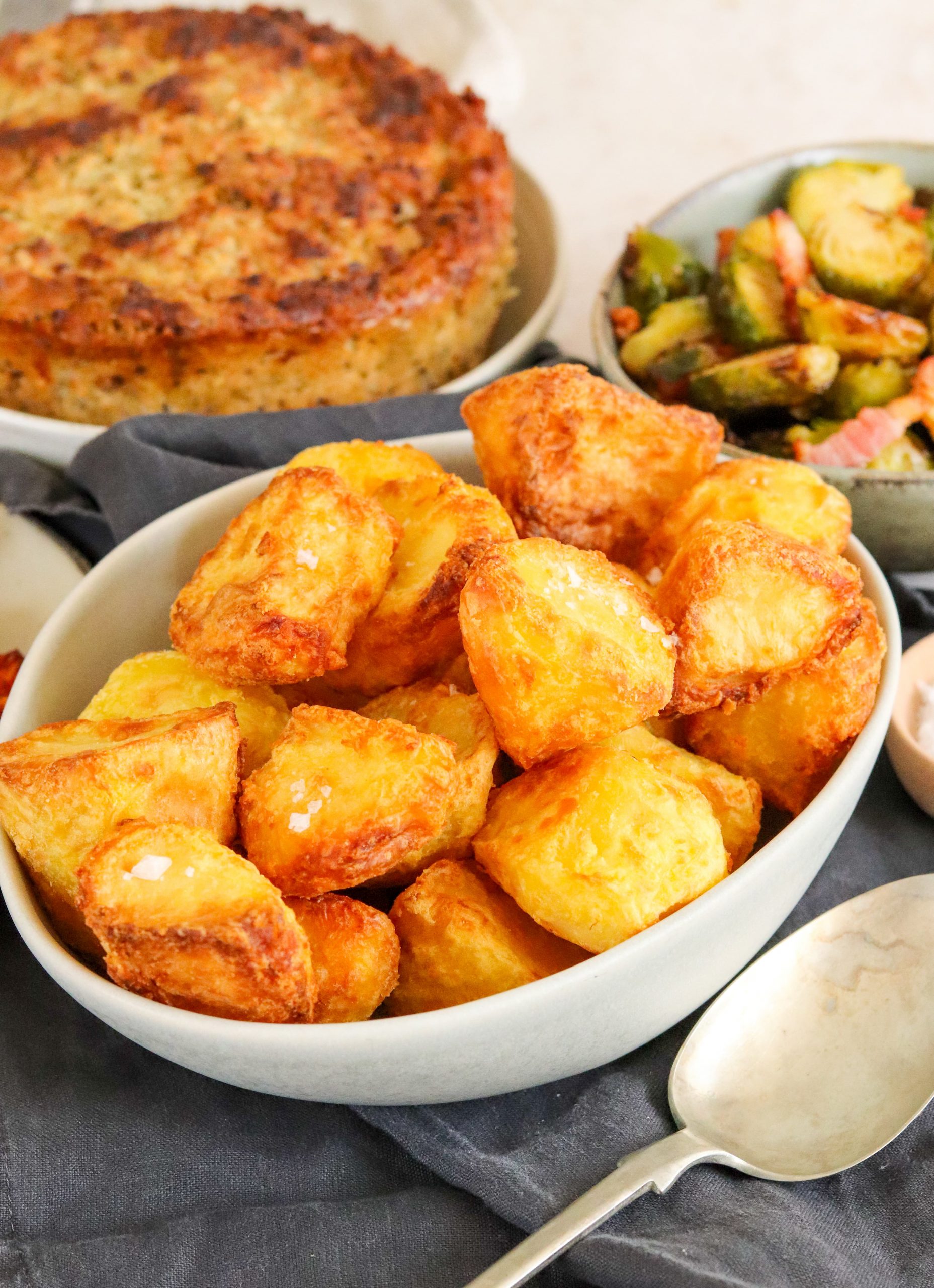 which potatoes are best for roast potatoes?
The main goal for a good roast potato is a crisp exterior with a super fluffy interior. To get that, you need to start with the right potato.
In the UK, the best options are Maris Piper and King Edward potatoes. It helps that these are also the most commonly found potatoes so you shouldn't have any problems finding them.
If you look for any potato variety considered an 'all rounder' such as estima, melody or marfona then you can't go wrong.
If you're in the US, Yukon Gold potatoes will work really well.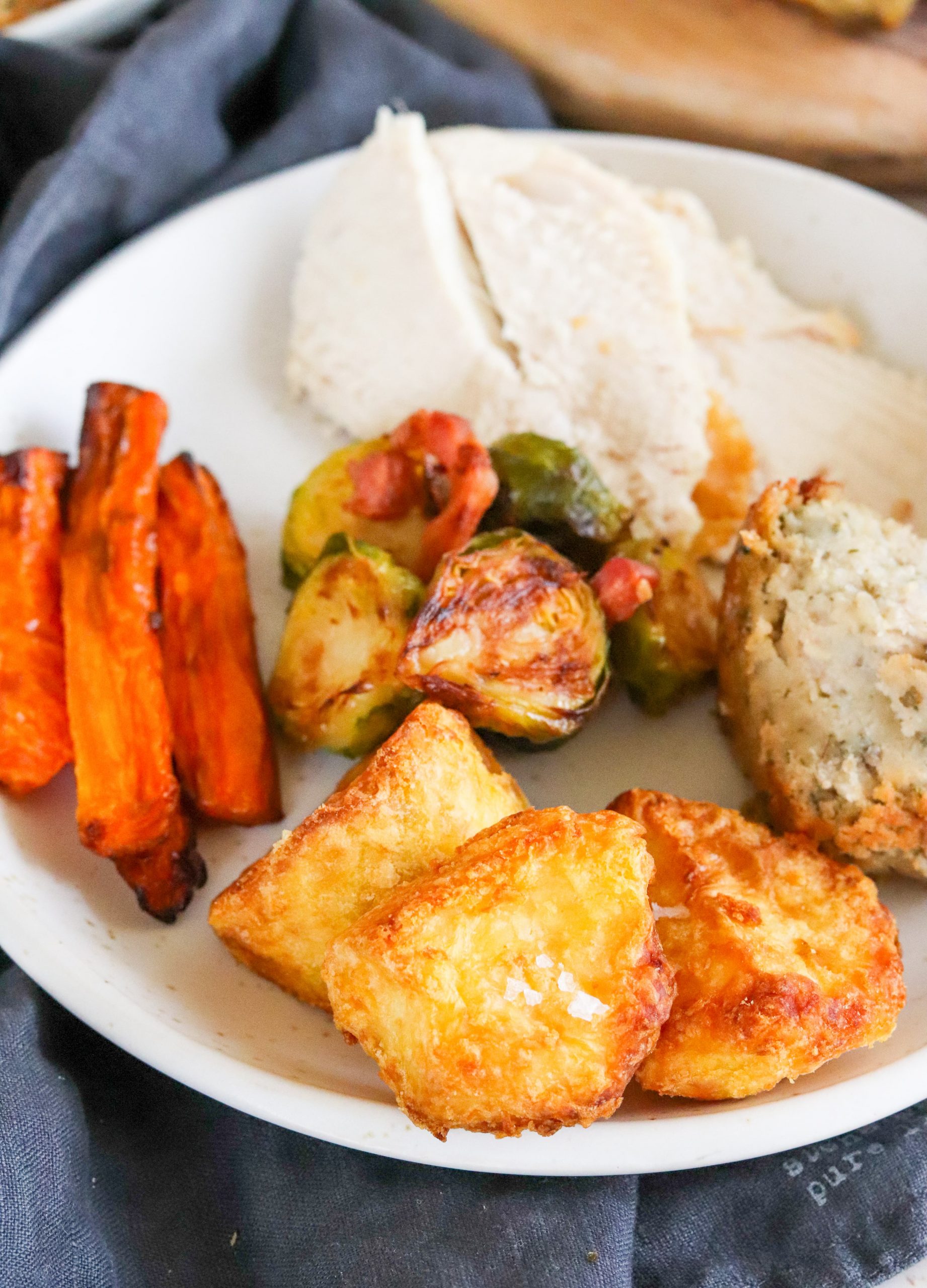 is parboiling needed for these air fryer roast potatoes?
I have always parboiled my potatoes when making roast potatoes. It's the way my Mum taught me and I really do think it makes a difference.
Parboiling the potatoes helps provide the deliciously crisp crust that we all want. If you don't parboil your potatoes the fat won't be able to get into the cracks and you won't get the crispness.
So in my opinion parboiling is an essential step to a good roast potato and is worth the extra step.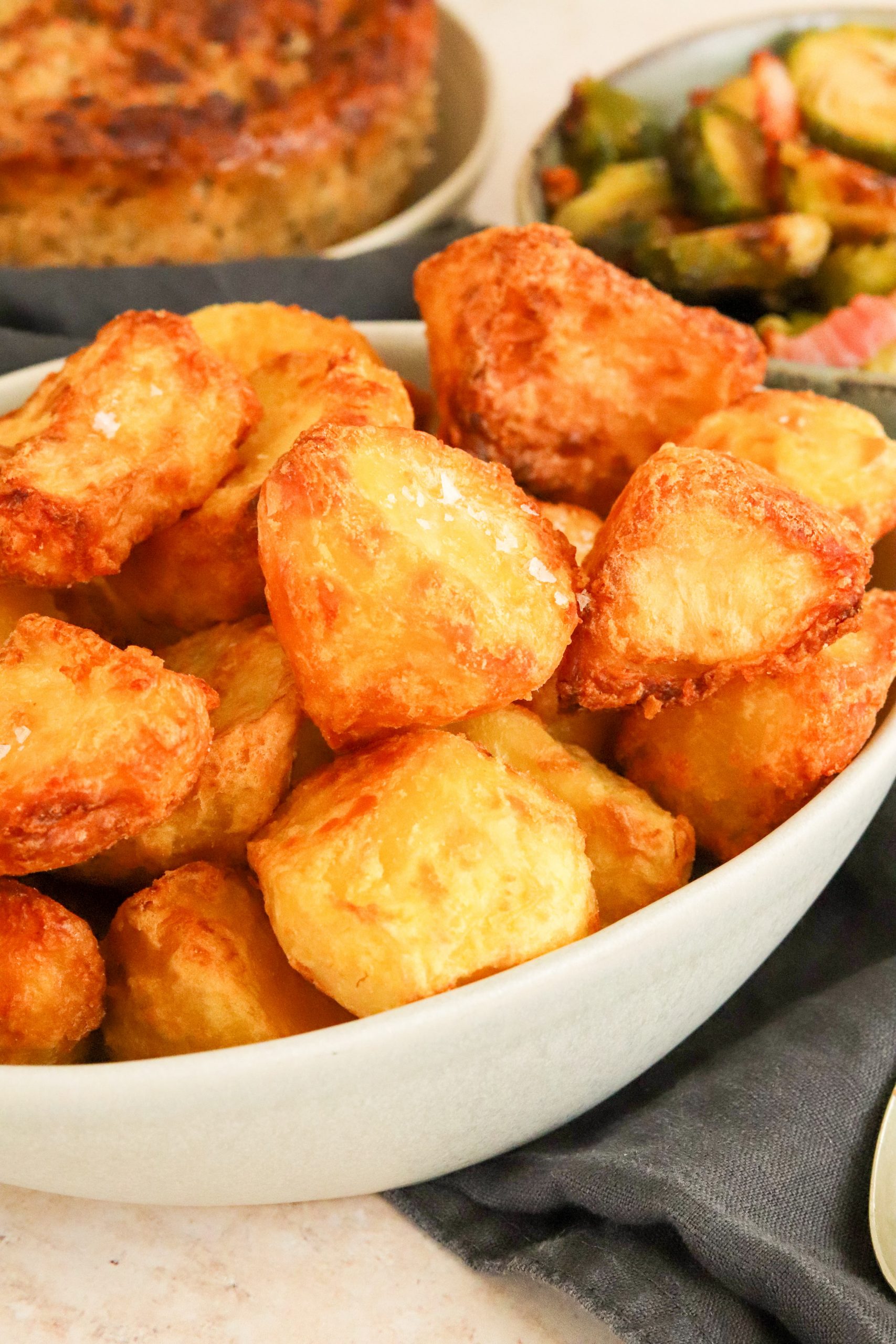 tips for the best roast potatoes
Even though these Air Fryer Roast Potatoes are really simple, there are a few tips to ensure they are as delicious as they can be.
Parboiling your potatoes
We've already been over this, but yes it is essential in my opinion! But don't cook the potatoes too long.
You want the potatoes to be soft enough so you can insert a sharp knife with a little resistance. You don't want them to be completely cooked through and starting to fall apart.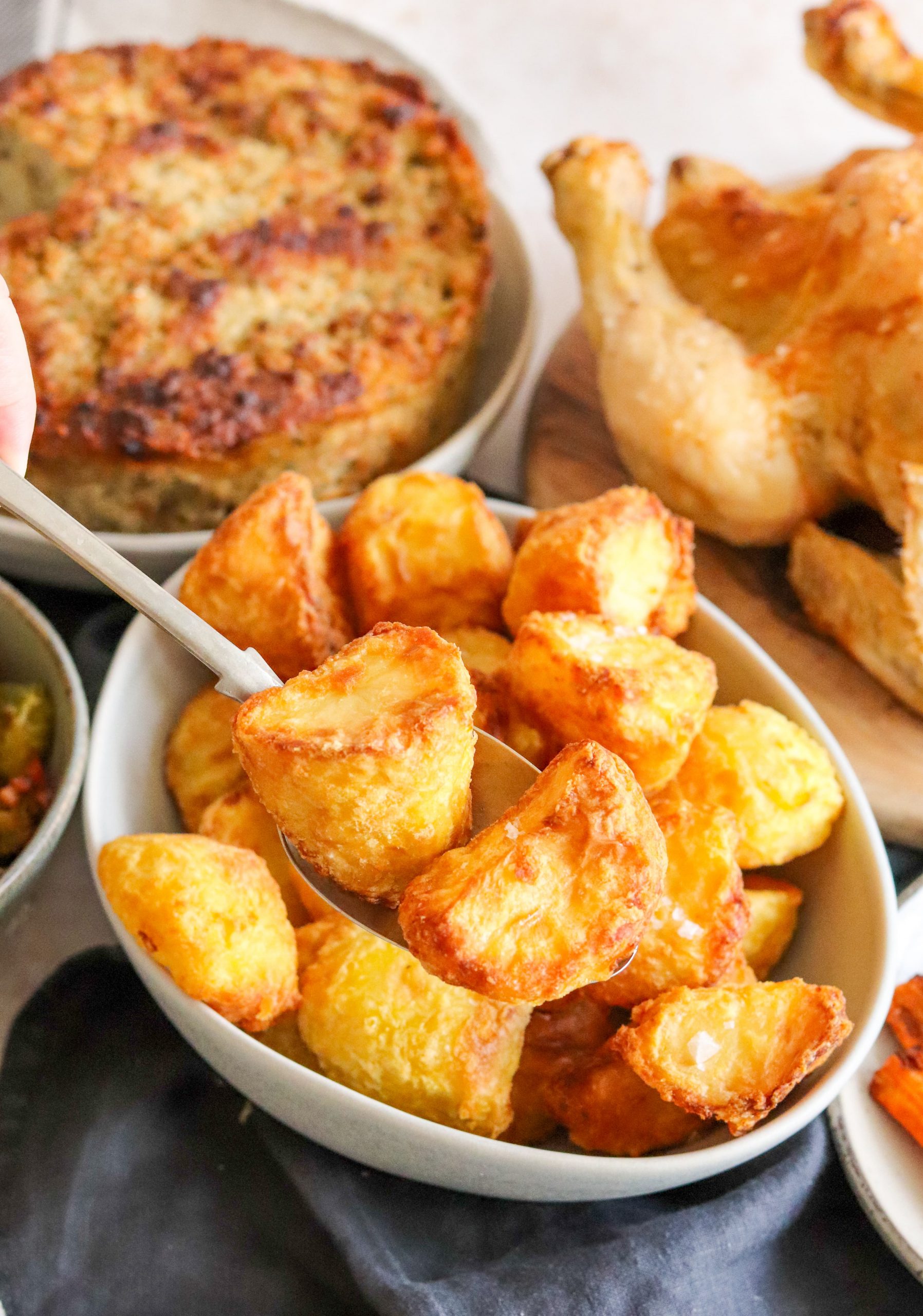 Chuff your potatoes
I don't know if that is the technical term, but it's what my Mum always referred to is as. Chuffing the potatoes is roughing up the edges to ensure the fat can crisp them up perfectly.
I do this by tossing the parboiled potatoes in a colander quite vigorously so the edges get bashed up.
This along with the parboiling will help create deliciously crisp roast potatoes.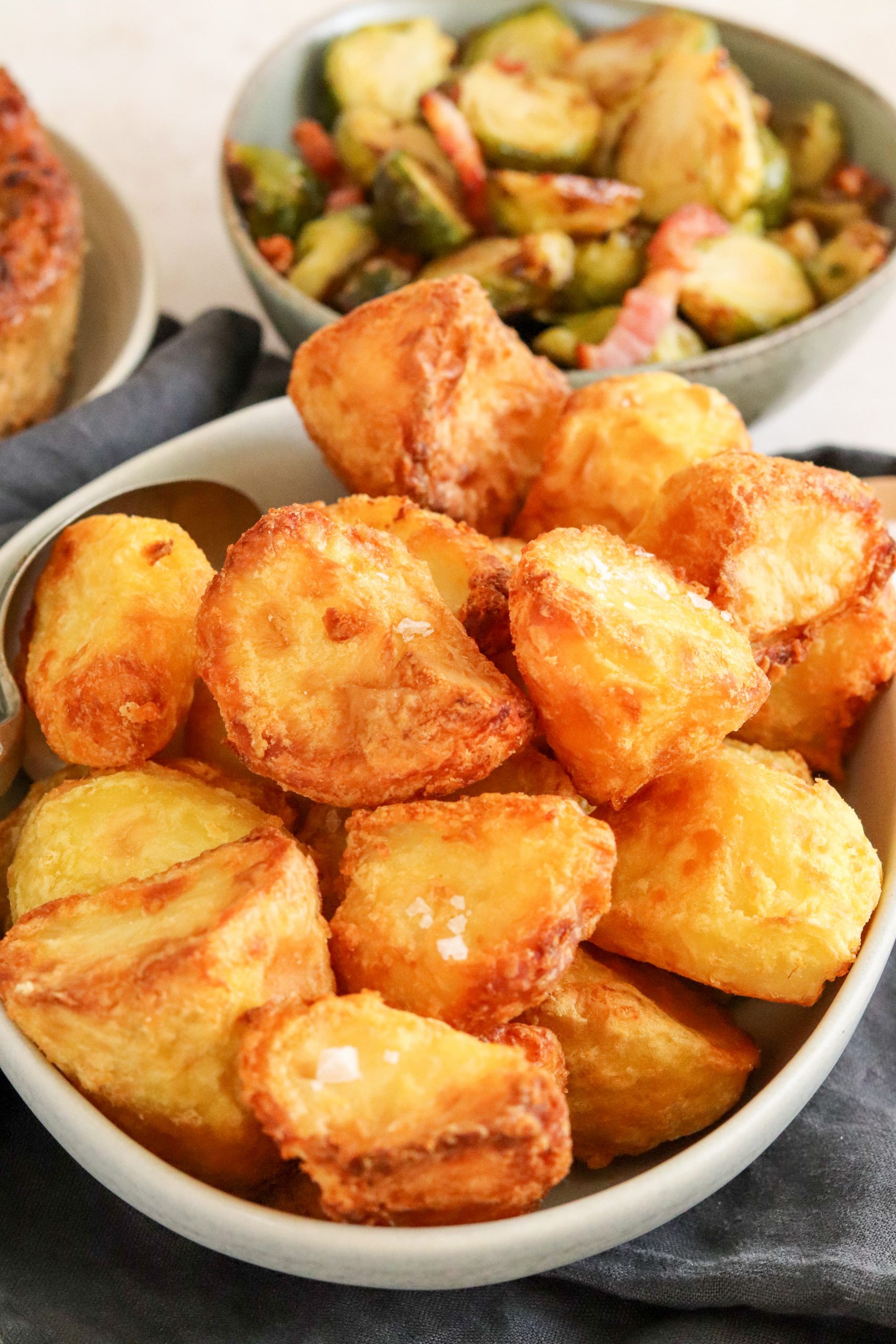 Cut your potatoes into irregular shapes
I can't remember which TV chef told me to do this years ago, but it has stuck with me. The idea is to cut them into irregular shapes so there is more surface area which means more potato to get crispy.
Do you get the theme here? Everything we do is for ultimate crispiness!
Leave your potatoes to steam dry
Before you put the potatoes in the air fryer, make sure you let them steam dry. Wet potatoes won't crisp up as well.
All you need to do is to leave them sitting in the colander for a few minutes to dry and then you're good to go.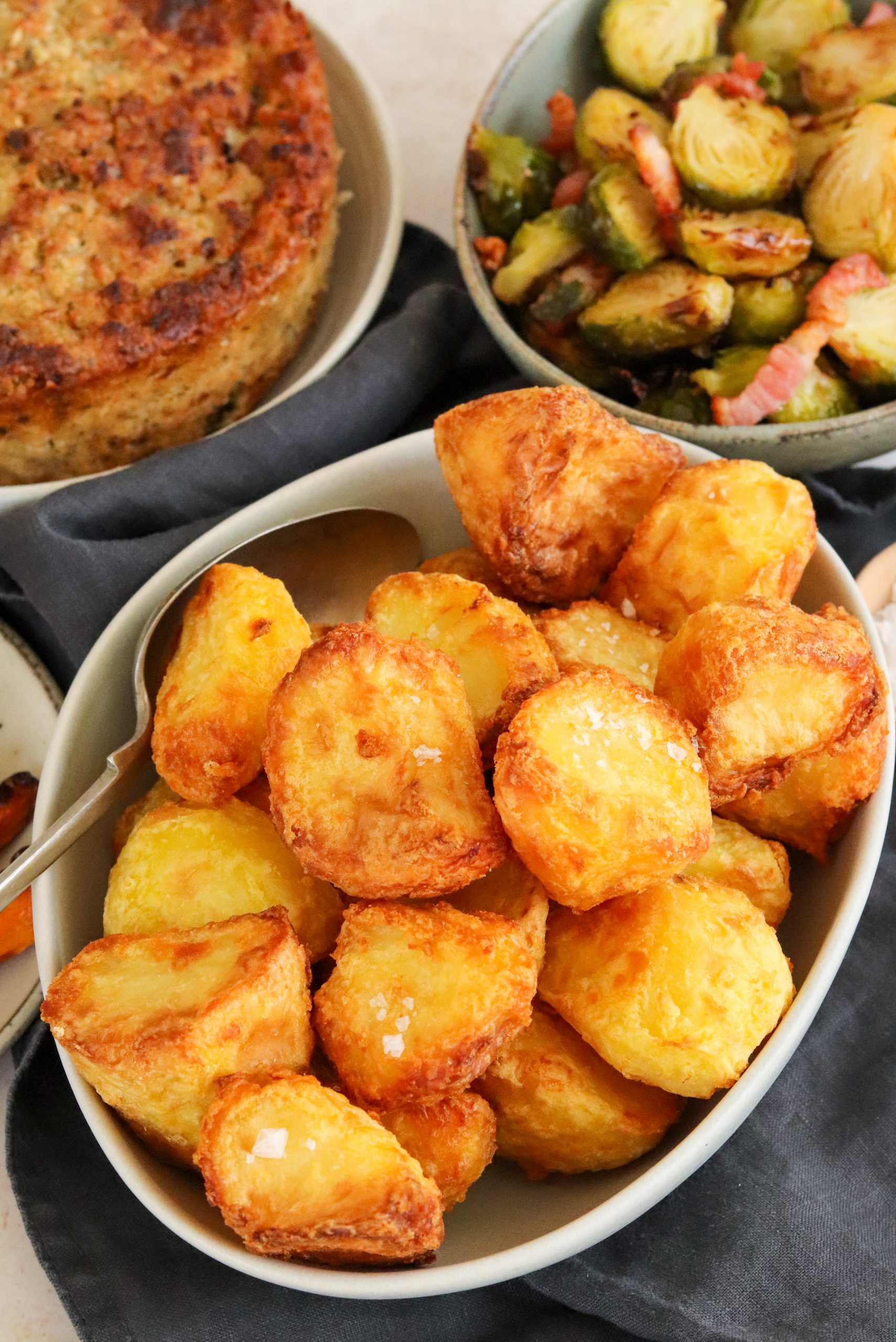 Don't over crowd your air fryer
One of the most important things to remember when air frying is to not overcrowd your basket. You want the air to be able to circulate properly around the food to get it nice and crisp.
That does mean that you might have to cook these roast potatoes in batches depending on the size of your air fryer. I have a Ninja 7-in-1 multicooker which has a 3.7L basket and I cook this amount of potatoes in two batches.
If you already have your oven on, you can keep the first batch of roast potatoes warm in there while the second cooks. Alternatively you could just quickly reheat the first batch before serving.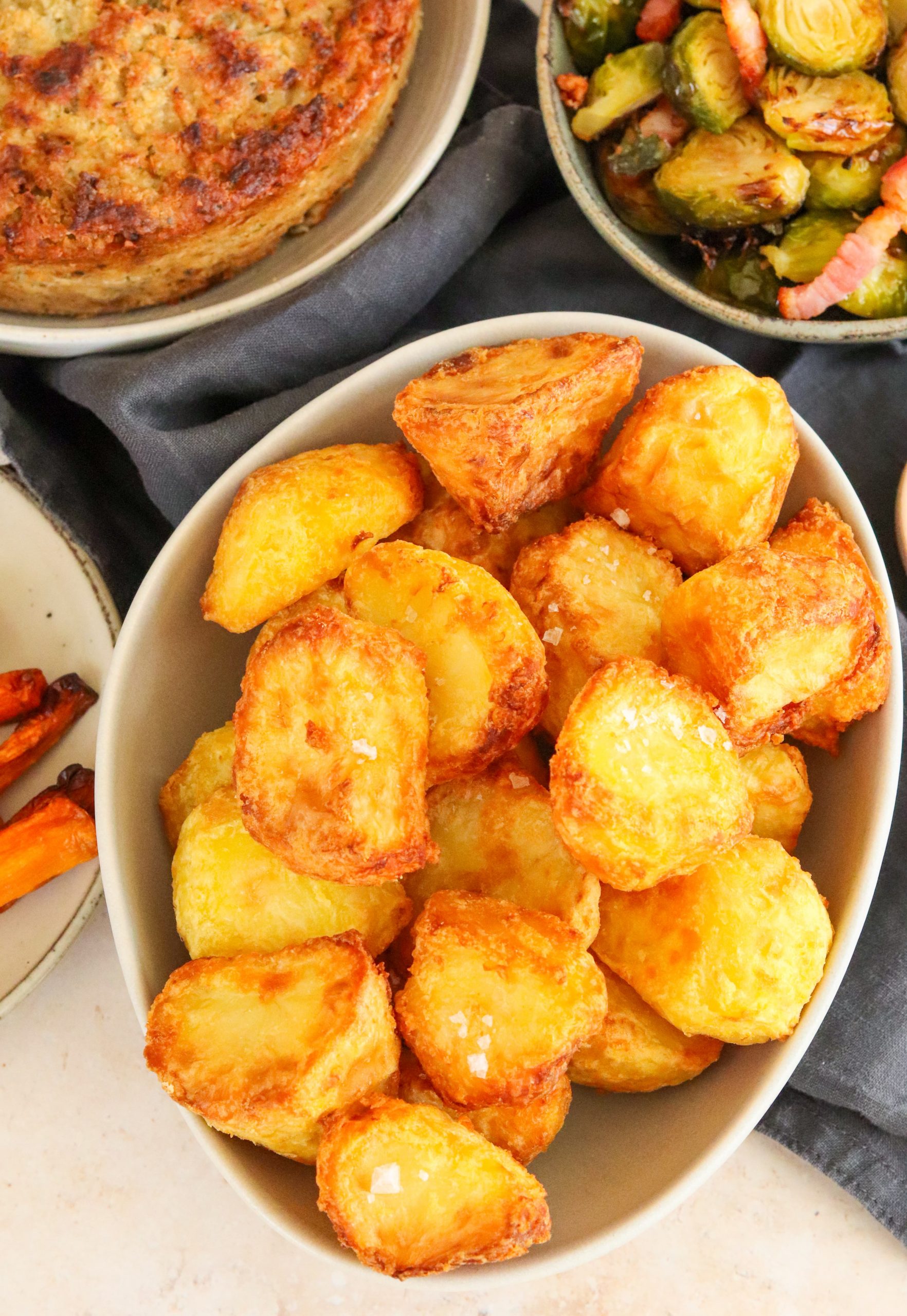 reheating & storing the potatoes
If you want to get ahead you can make these roast potatoes earlier in the day, or even the day before. Store them in an airtight container in the fridge until you are ready to reheat them.
Reheating them couldn't be easier. Just put them back into the air fryer and heat through for 5-7 minutes until they are piping hot in the centre and crisp on the outside.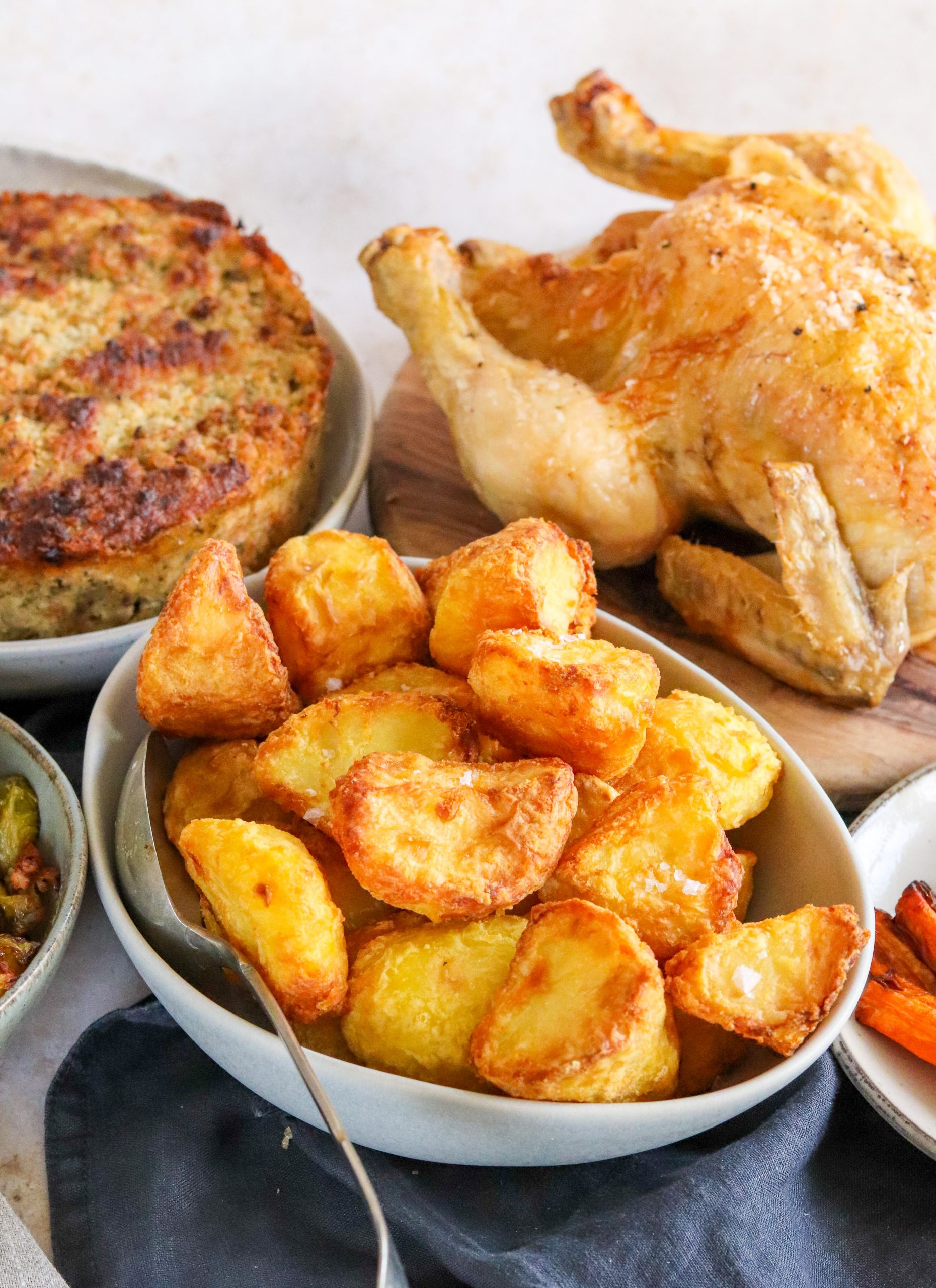 what to serve these air fryer roast potatoes with
The most obvious way to serve these roast potatoes is as part of roast dinner, however there are loads of ways to enjoy them. The following would go perfectly:
But a roast dinner isn't the only way you can enjoy these potatoes! They'd be perfect served alongside my Slow Cooker Beef & Ale Stew, Slow Cooker Pork & Mustard Stew and Slow Cooker Chicken Casserole.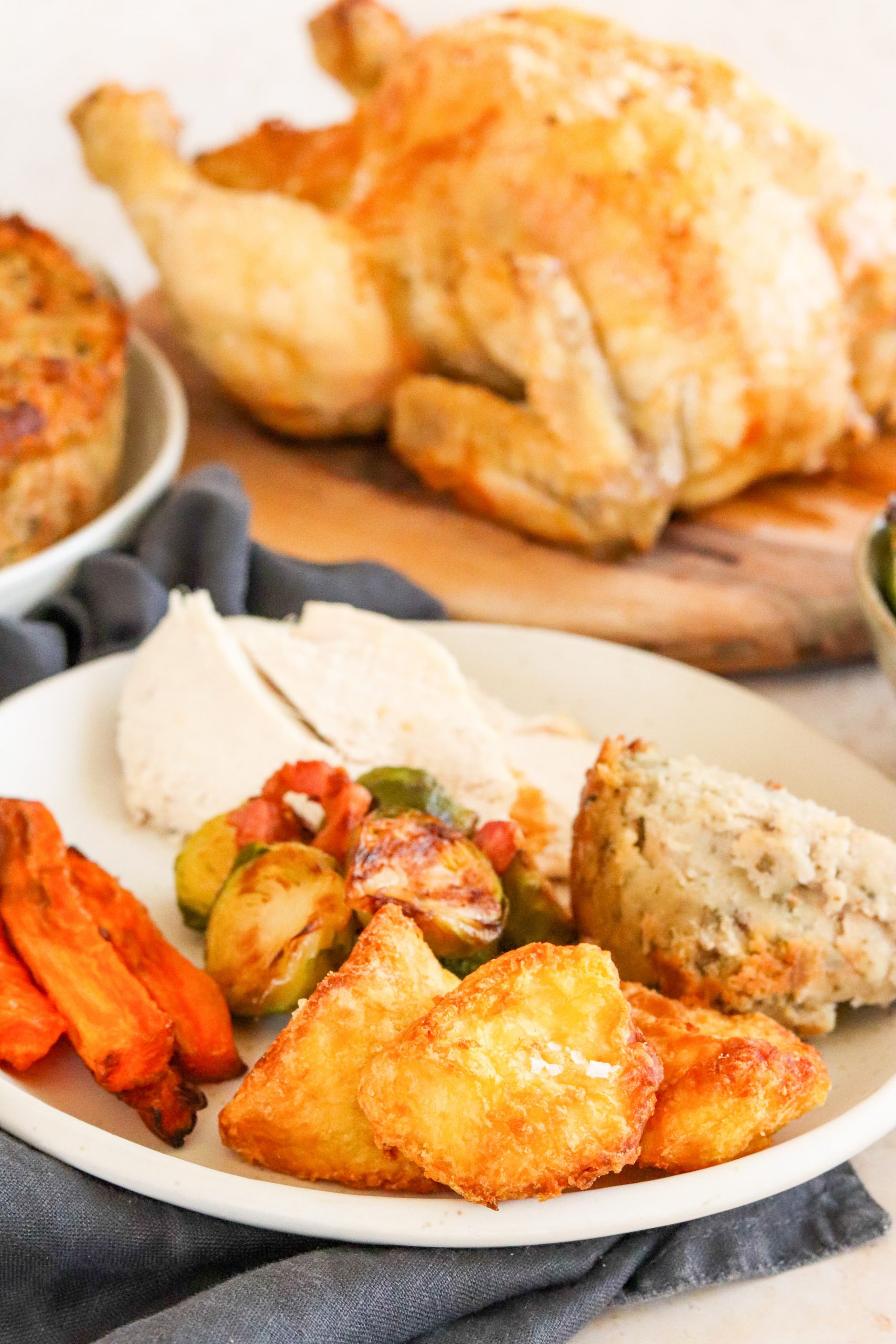 Other recipes you might like
Pin for later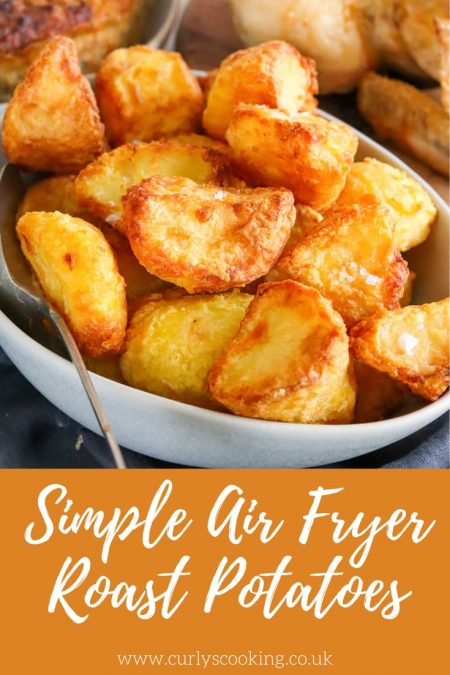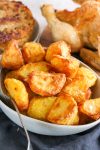 Simple Air Fryer Roast Potatoes
Fluffy on the inside and crisp on the outside; these Simple Air Fryer Roast Potatoes are a fantastic quicker alternative to oven roasted potatoes. You'll want to make these roast potatoes to accompany every meal!
Ingredients
1.5

kg

potatoes

2

tbsp

sunflower oil

1

tsp

sea salt
Instructions
Peel 1.5kg potatoes and cut into large chunks. Add to a large pan

Par boil the potatoes for 7 or until you can insert the tip of a sharp knife

Drain the potatoes thoroughly in a colander

Toss the potatoes in the colander to rough up the edges. Leave the potatoes to steam dry for a few minutes

Preheat your air fryer if needed

Put the potatoes back in the pan and add 2 tbsp oil and 1 tsp sea salt

Add the potatoes to your air fryer basket – you might need to do this in batches. Make sure you don't over crowd the basket

Cook the potatoes for 25 minutes at 190°C, turning half way

If you want them even more crisp you can cook them for a little longer, just check them every few minutes
Recipe Notes
I use an air fryer with a 3.7L basket.
Nutritional information is given as a guide only and may vary.
Nutrition Facts
Simple Air Fryer Roast Potatoes
Amount Per Serving
Calories 244
Calories from Fat 45
% Daily Value*
Fat 5g8%
Sodium 388mg17%
Potassium 1mg0%
Calcium 1mg0%
Iron 1mg6%
* Percent Daily Values are based on a 2000 calorie diet.