This Air Fryer Sausage Meat Stuffing is a speedier version of a super easy family favourite recipe. Such an incredibly simple dish that will have everyone coming back for more.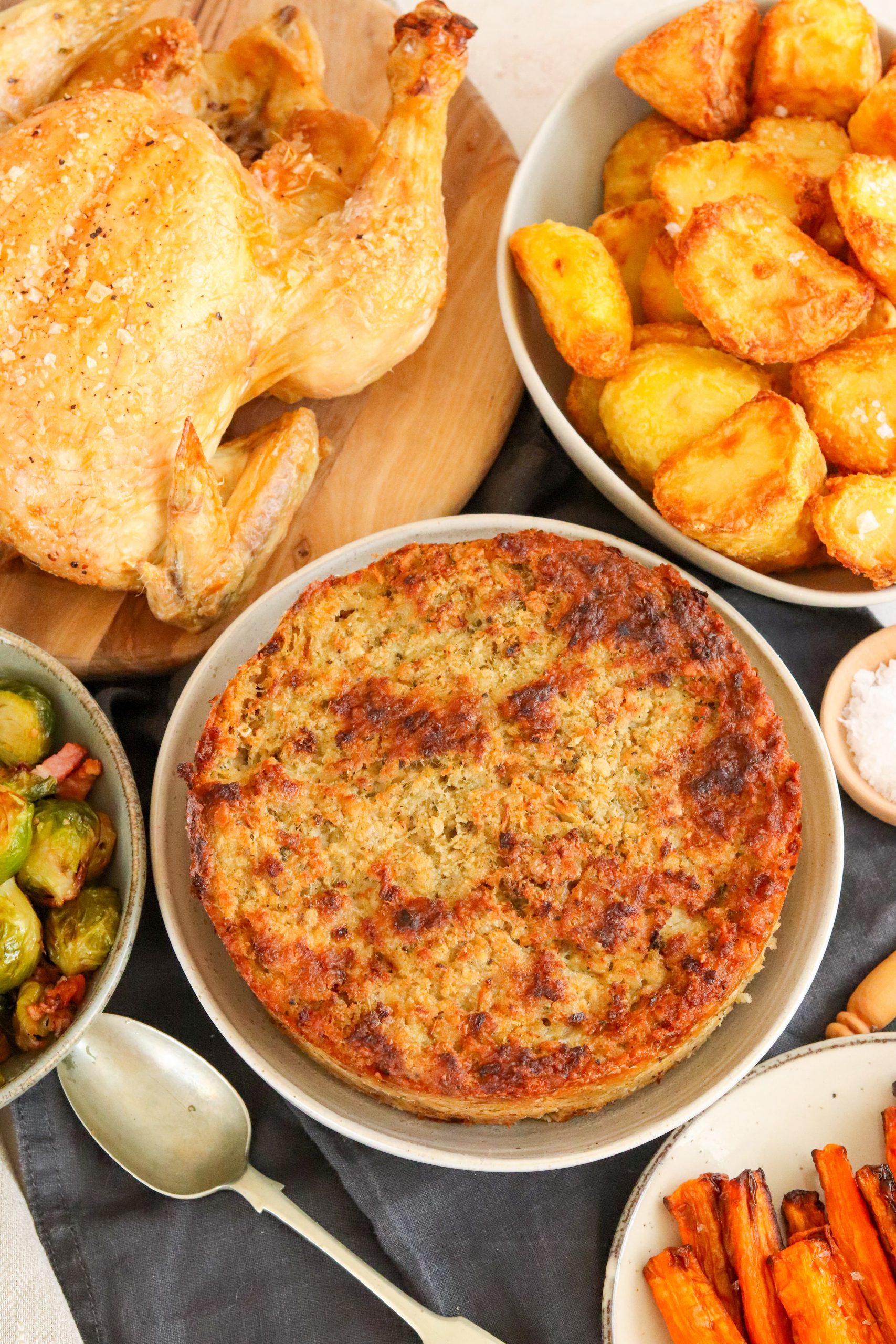 Why use an air fryer instead of an oven?
Air fryers cook food quicker than a standard convection oven which is great for saving energy and pennies but also for busy families that want to be able to make food quickly.
Another advantage is that air fryers are smaller than ovens so you're not heating up a full-sized oven and instead a smaller air fryer. This means you're using less energy because you're heating up a smaller appliance, as well as the food cooking quicker.
Stuffing is more often than not served as part of a roast dinner. Meals like this can lead to a very full oven. Cooking this stuffing in the air fryer frees up some space in the oven for other elements.
You can also use the directions below to cook my Pork, Sage & Apple Stuffing in the air fryer.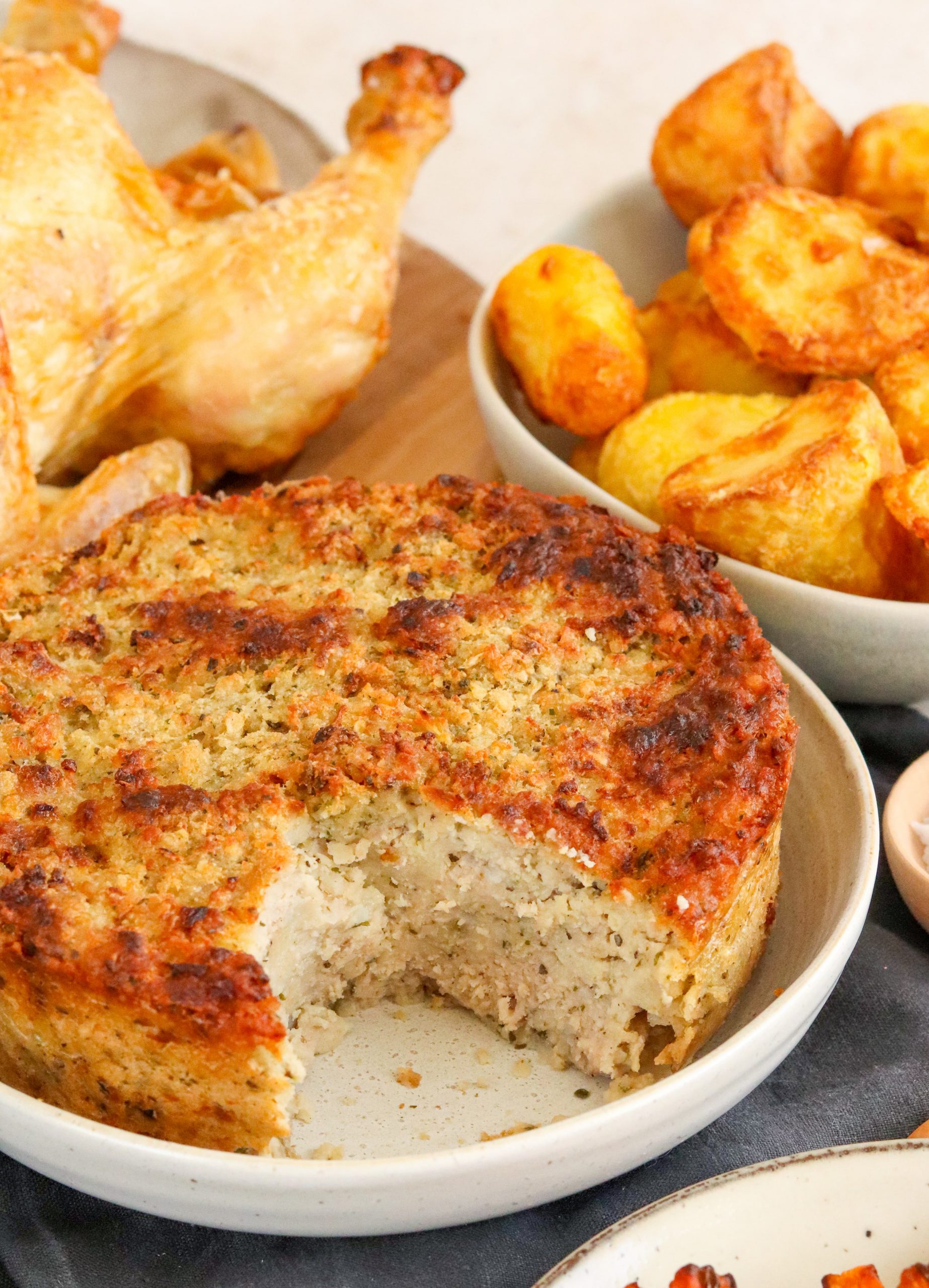 which dish to cook this air fryer sausage meat stuffing in
The shape and size of the dish you should use heavily depends on the shape of your air fryer.
I have a Ninja 7-in-1 multicooker which has a round air fryer basket so I needed to find a circular dish that would fit. I managed to find a glass Pyrex style dish that has a 1.6L capacity and is a perfect fit.
The more common shape for air fryer baskets seems to be a bit more rectangle which should offer more dish options.
Also the capacity of your air fryer basket will affect the size of your dish. My air fryer basket is 3.7L in size which means the dish is smaller in diameter. This results in my stuffing being quite thick.
If you have a larger basket, your stuffing might be a thinner layer which would mean it might cook slightly quicker. This Air Fryer Sausage Meat Stuffing is very forgiving and quite hard to overcook, but it is worth checking on it as it might be cooked sooner.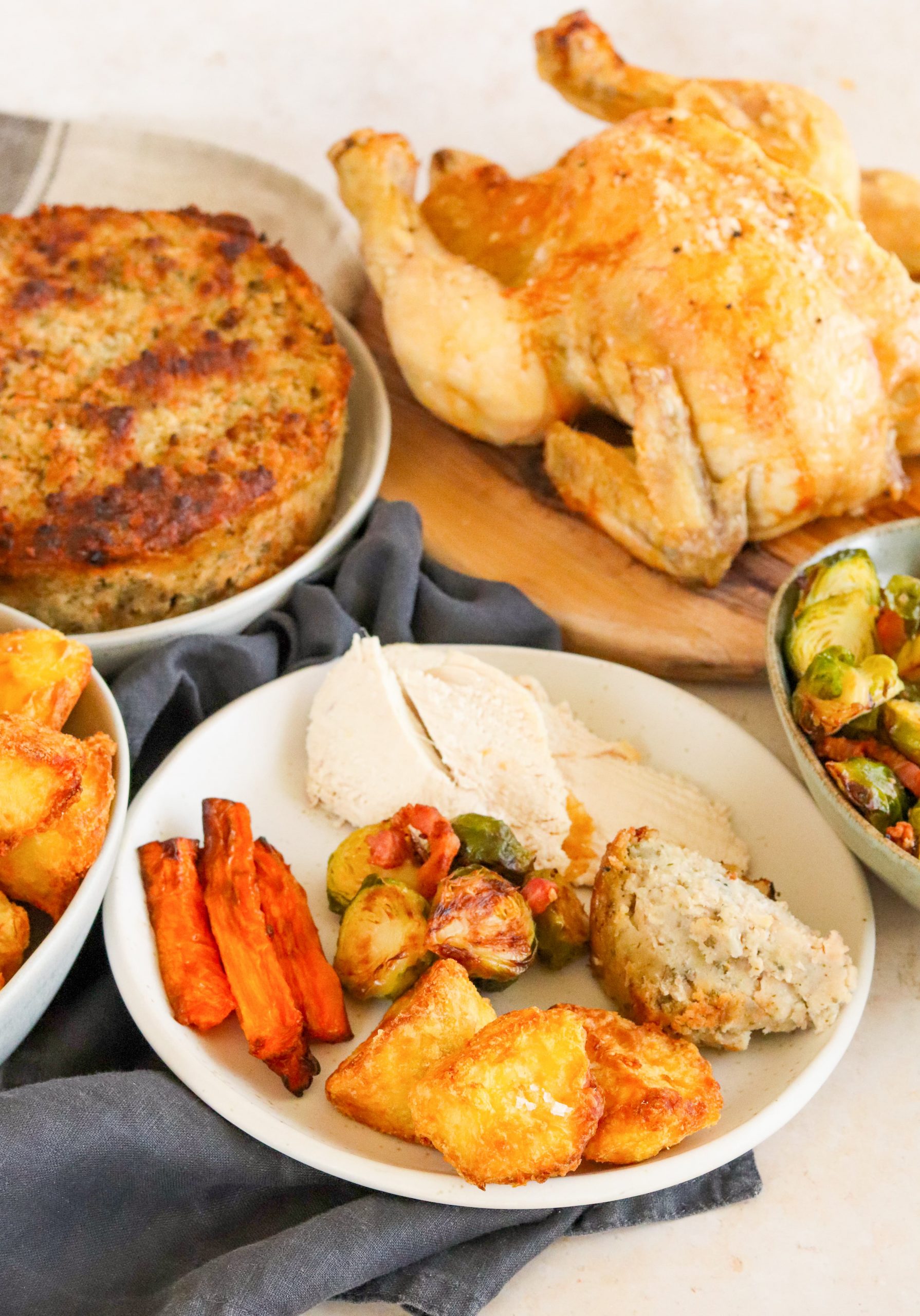 Do you need to preheat an air fryer?
Whether you need to preheat your air fryer depends on your air fryer. I have never preheated my air fryer, but that is not me saying I am right!
If you do preheat your air fryer, the stuffing might cook slightly quicker as it is already warm.
As with all air fryer recipes, I think people get used to their individual machines and will know what works best.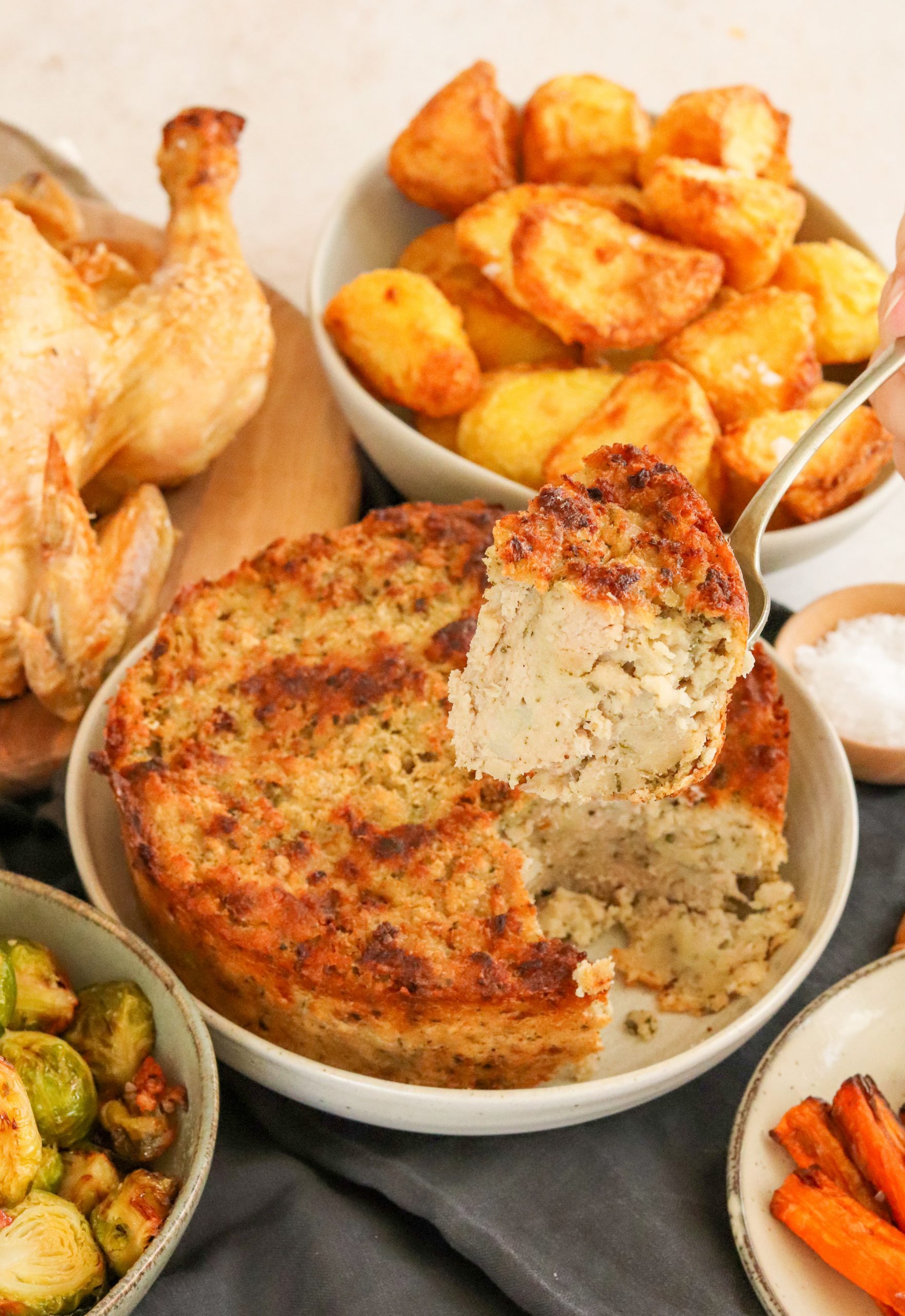 How much water should be added to the stuffing?
I have noticed that different packets of stuffing mix require you to add different amounts of water.
The well known brand Paxo, needs less water than some supermarket own brands. The recipe below shows the amount Paxo recommend adding but make sure you check the packet of the brand you have.
I noticed Lidl's stuffing mix needed over 500ml of water so it is definitely worth checking the packet for directions.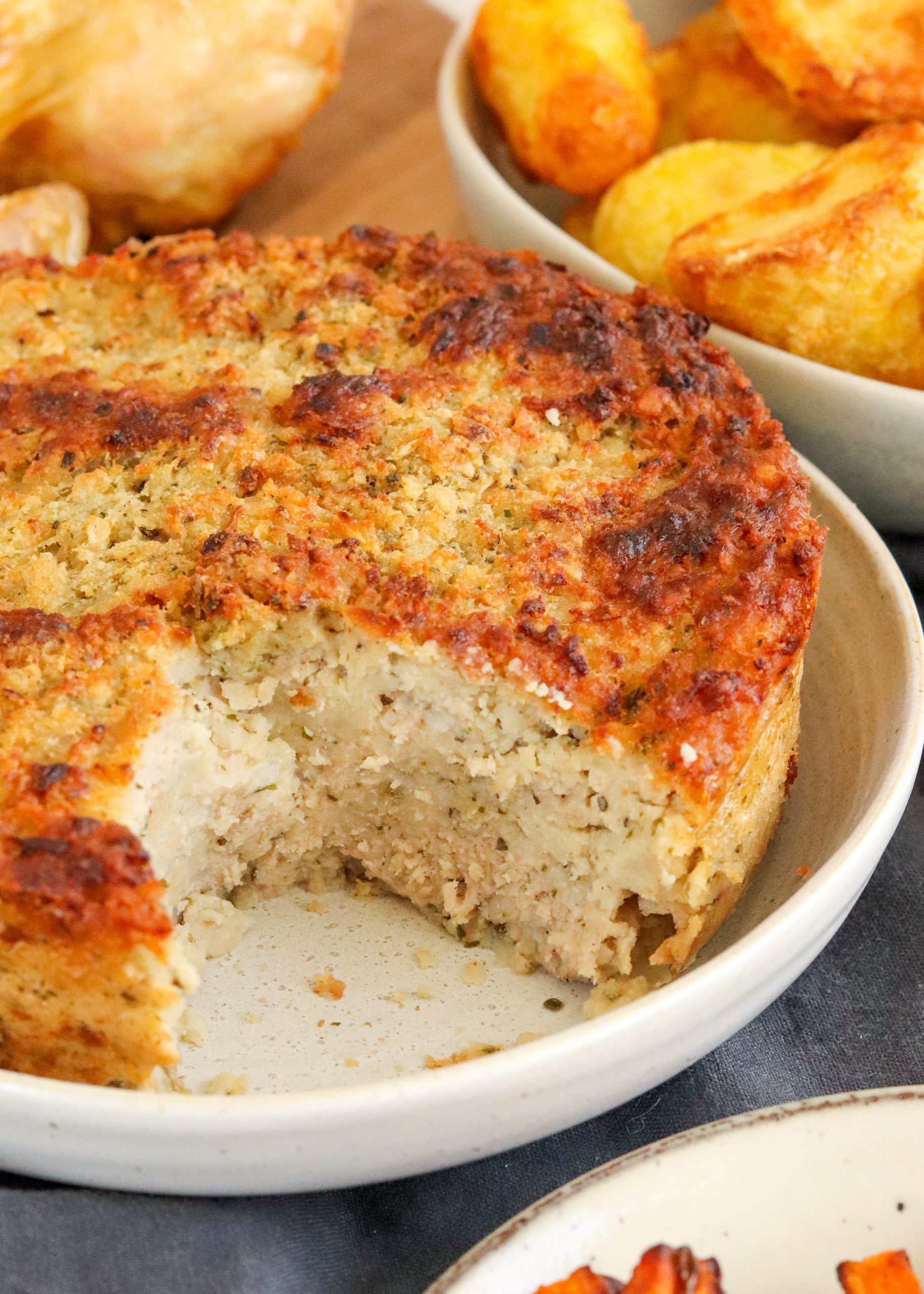 make your air fryer sausage meat stuffing ahead of time
Roast dinners can get a little bit hectic as there are so many elements to prepare and cook.
To save yourself time and to get ahead, you can prepare this stuffing in advance.
Mix all of the ingredients together and keep it in the fridge until you are ready to cook. It will be fine in the fridge for two to three days.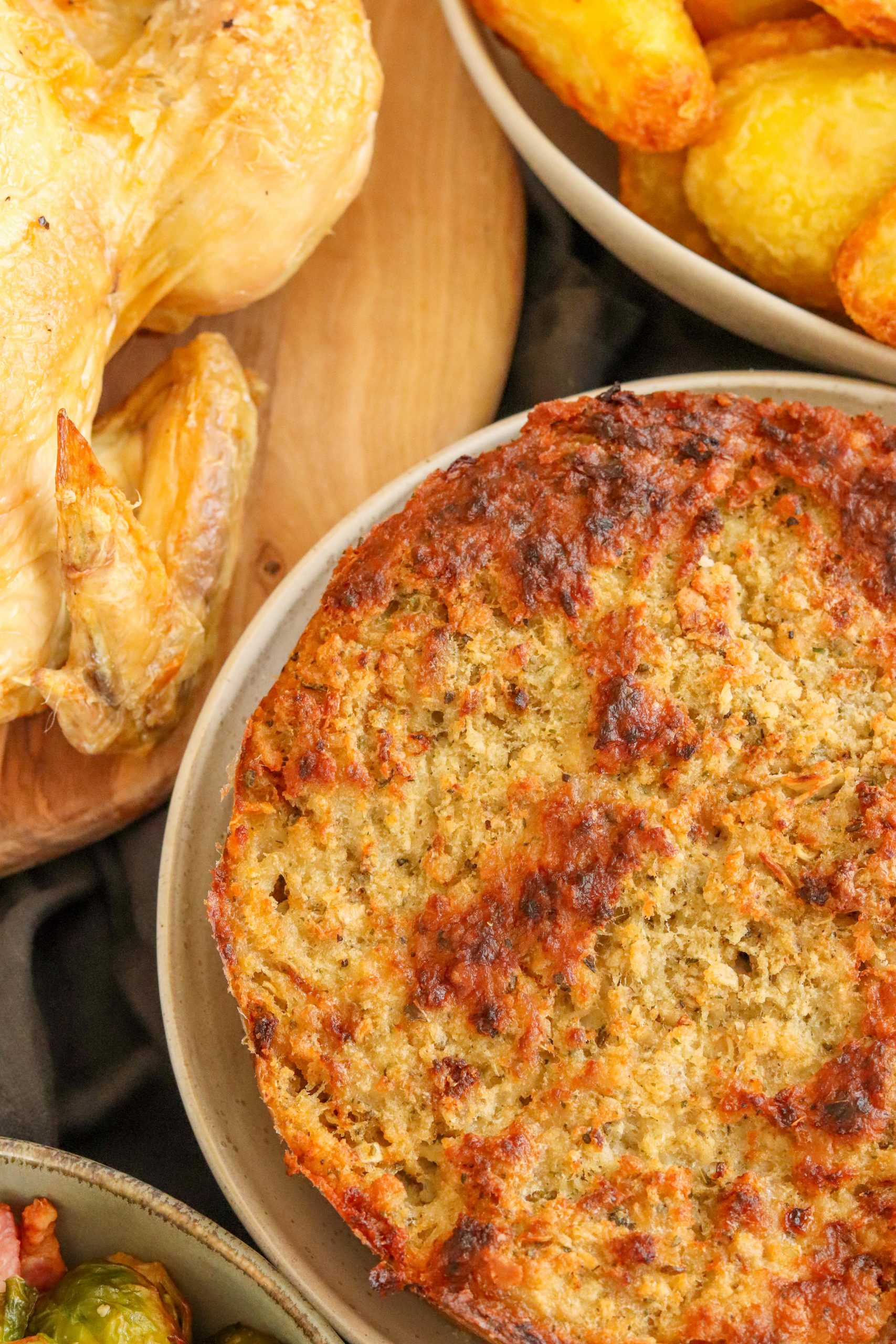 what to serve with this air fryer sausage meat stuffing
The most common way of serving this stuffing is as part of a roast dinner. My Simple Air Fryer Whole Roast Chicken would be a perfect accompaniment.
However that doesn't mean a full roast is the only way to enjoy it. You could easily serve the stuffing as the centre piece and add some tasty sides for a quick and easy midweek roast.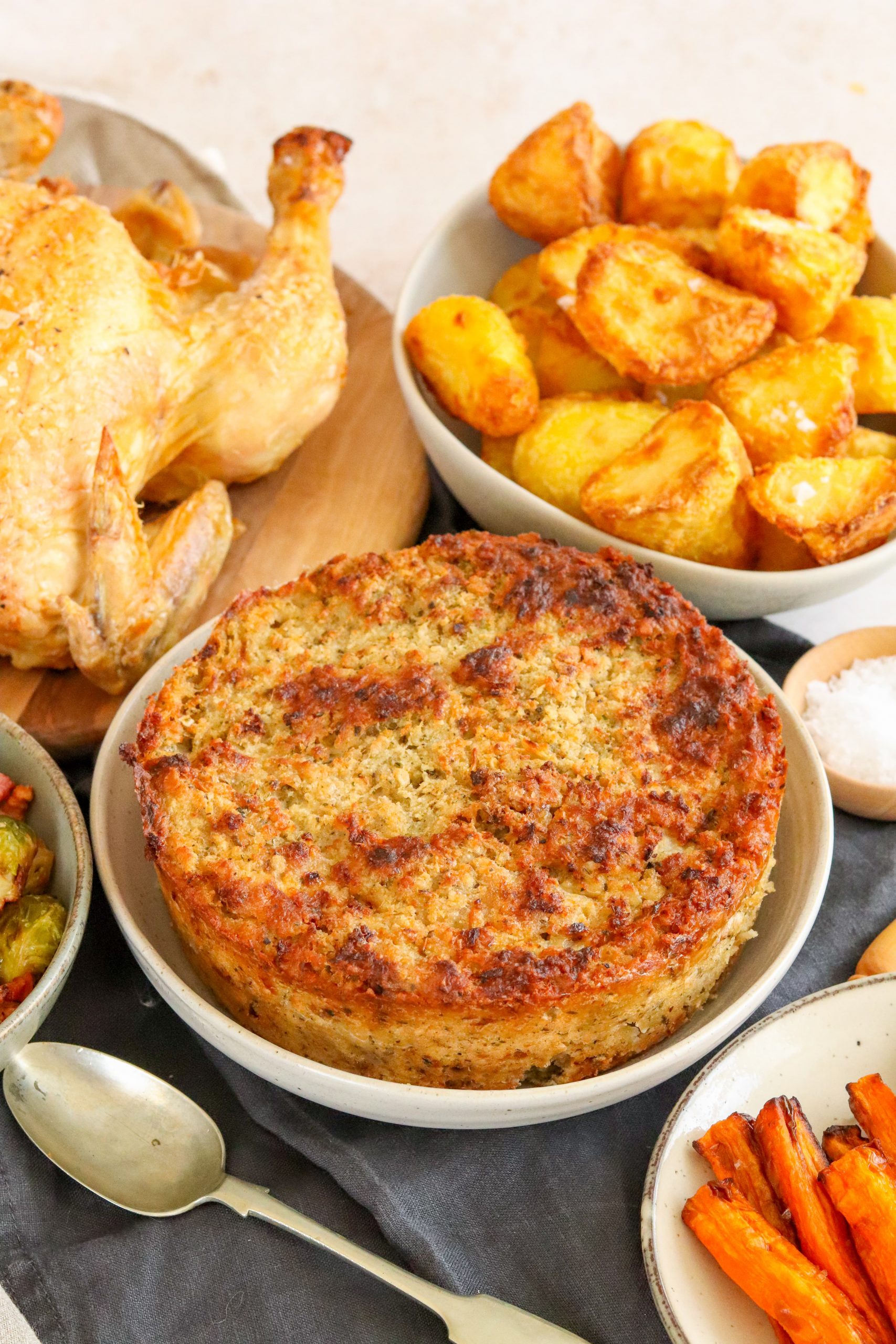 What to do with leftover air fryer stuffing
If you're lucky enough that everyone hasn't eaten all of the stuffing, it makes great leftovers. It is particularly tasty in thick white bread along with some leftover meat from your roast.
You don't have to worry about reheating it as it is delicious cold. Store it in the fridge for up to two days.
It would also be delicious the next day served with Bubble & Squeak.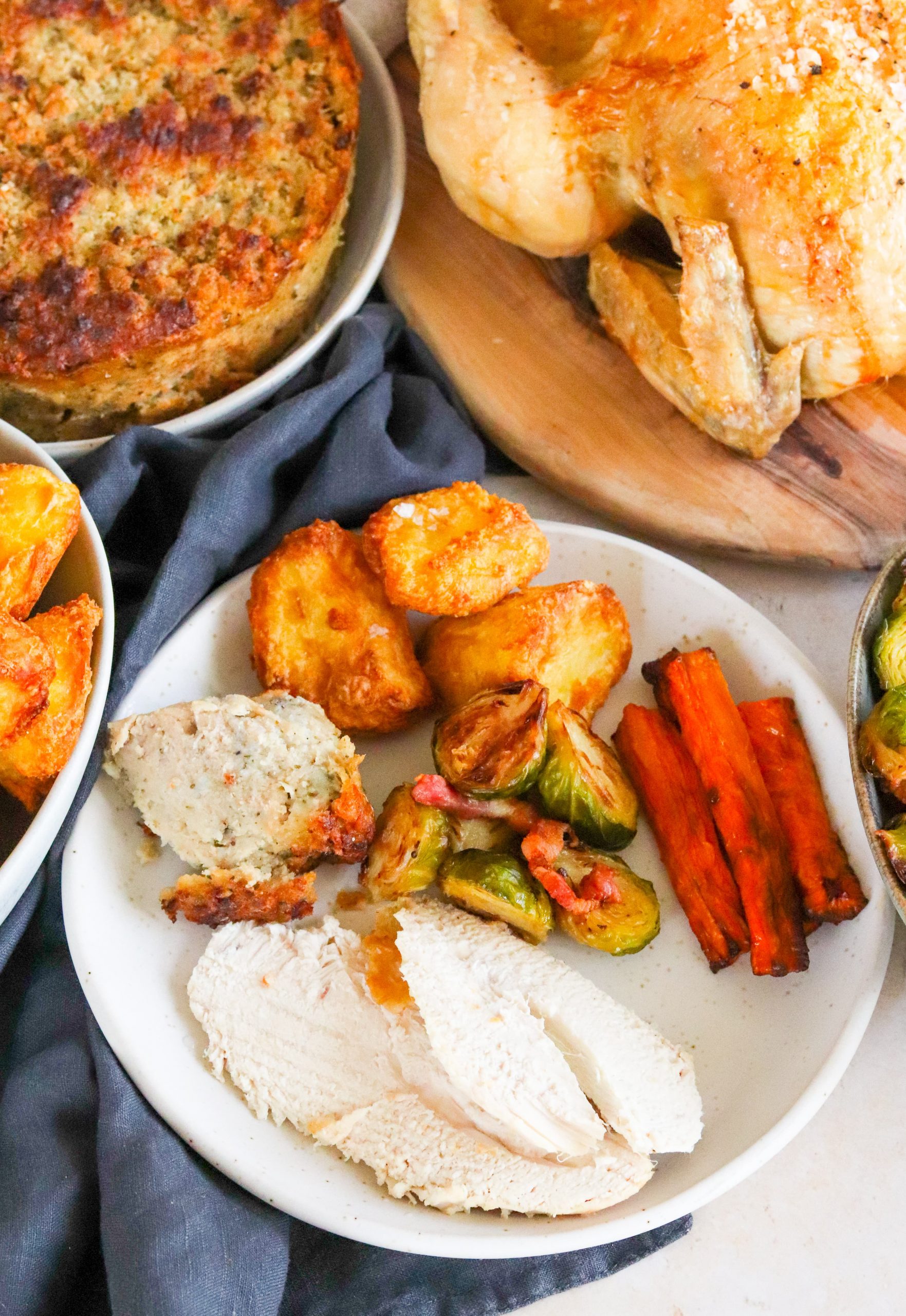 How to freeze this stuffing
You can freeze the stuffing for up to three months. You can freeze either raw or cooked. This would one of the rare occasions I would recommend a foil disposable container.
If you want to freeze it raw, mix all of the ingredients apart from the butter on the top. When you want to use the stuffing, leave it to defrost in the fridge overnight. Add the butter to the top and cook as per below.
If you want to cook the stuffing before freezing it, cook exactly as per below. Put it in the freezer within two hours of it finishing cooking.
Defrost in the fridge overnight and cook in the air fryer until piping hot throughout.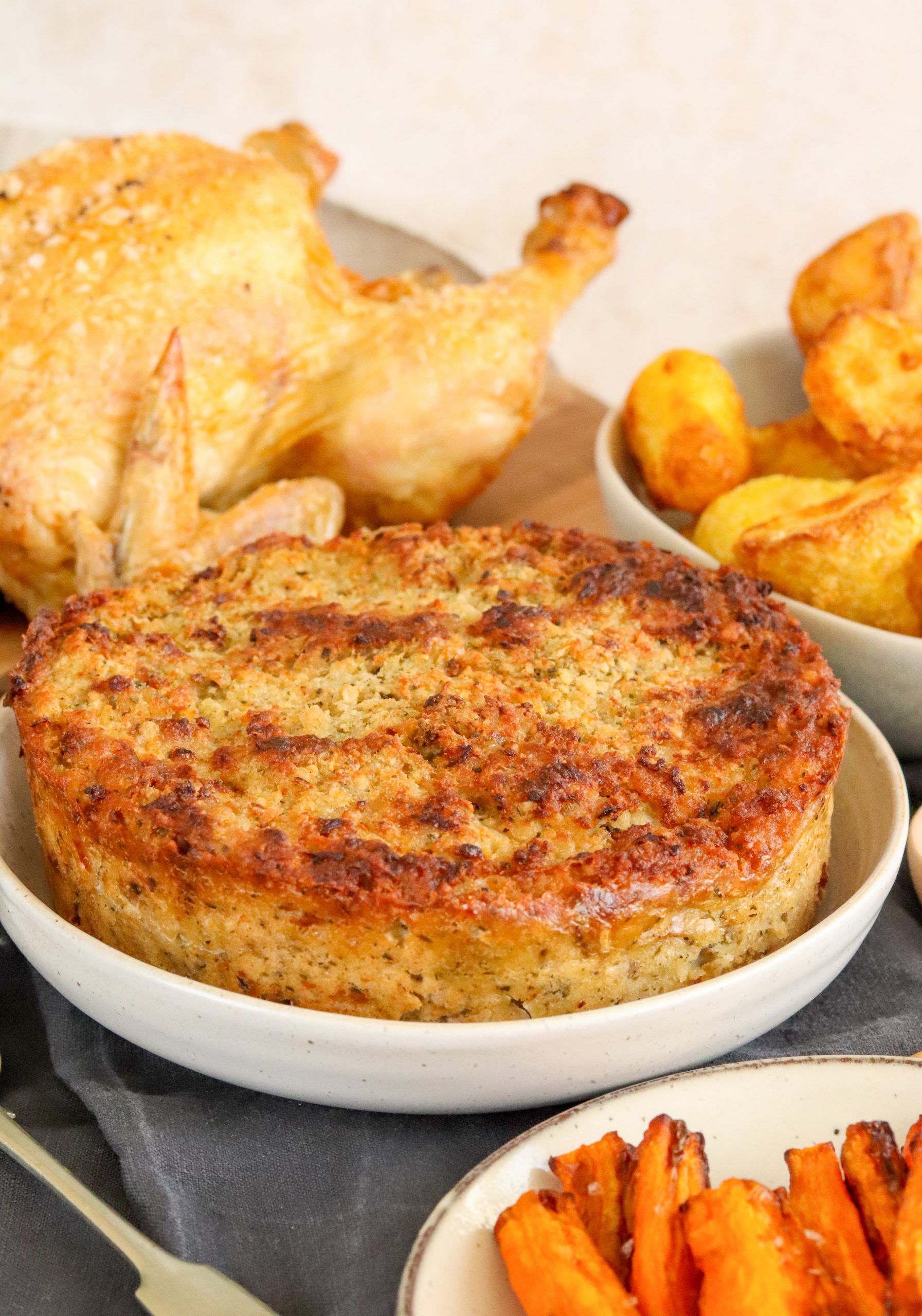 Can this stuffing be made gluten free?
Yes, very easily!
Make sure your sausage meat is gluten free. If you can't find gluten free sausage meat, you can remove the skins from gluten free sausages and add this instead.
Gluten free sage and onion stuffing mix should be easily available in your supermarket's free from section.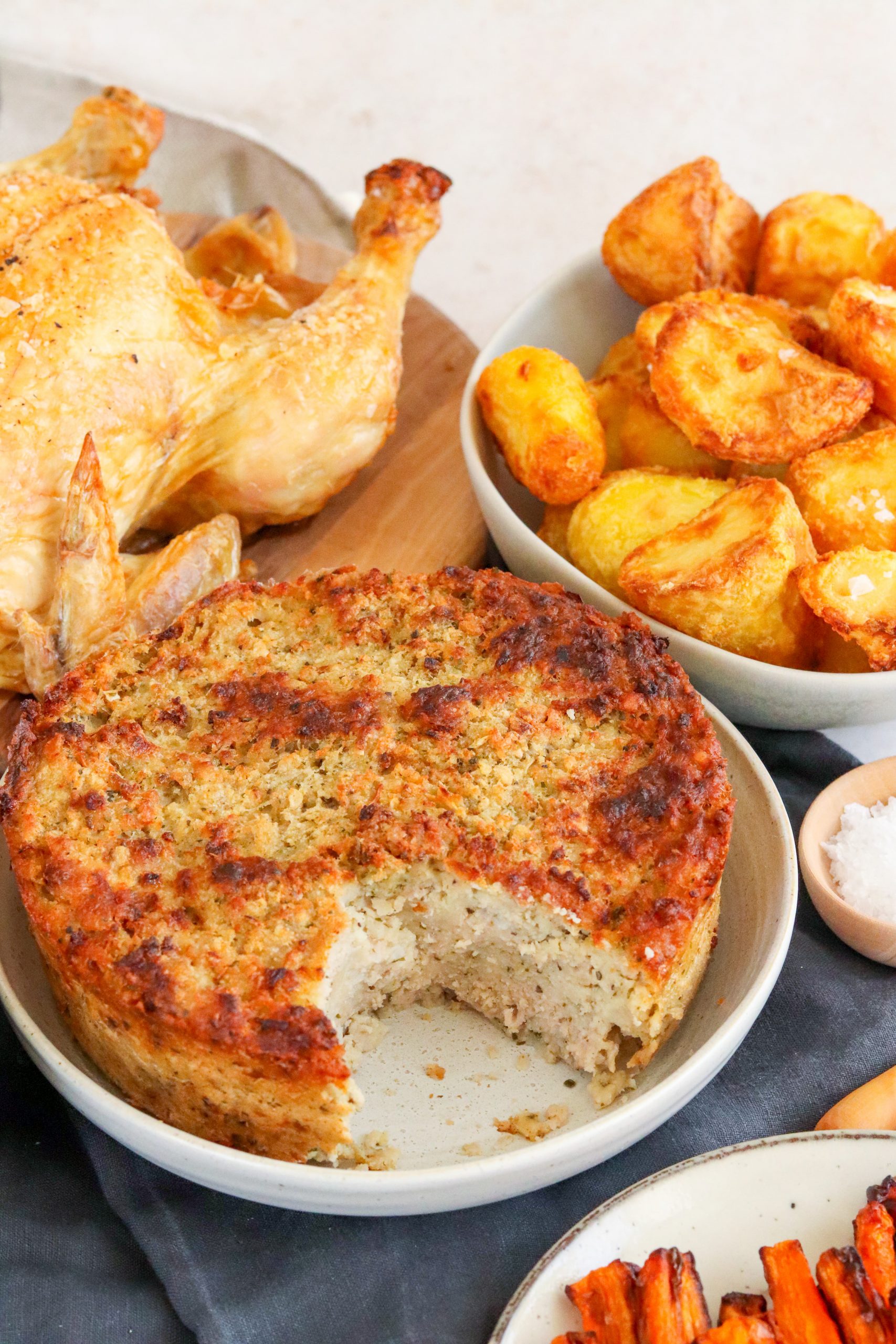 other recipes you might like
Pin for later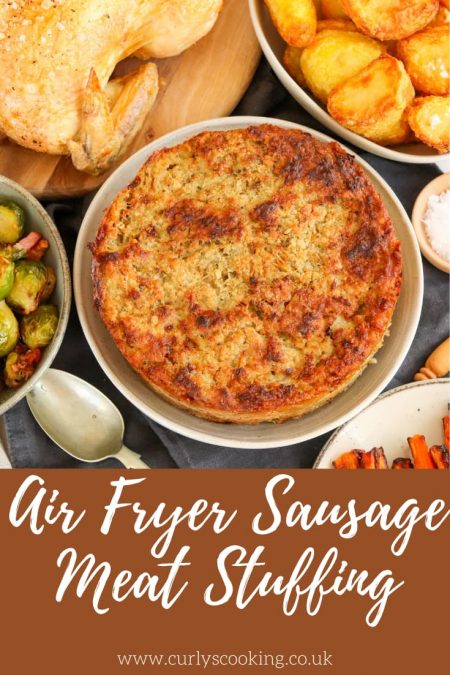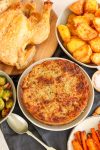 Air Fryer Sausage Meat Stuffing
This Air Fryer Sausage Meat Stuffing is a speedier version of a super easy family favourite recipe. Such an incredibly simple dish that will have everyone coming back for more.
Ingredients
375

g

sausage meat

170

g

sage & onion stuffing mix

425

ml

boiling water

(follow the packet's instructions)

1

egg

30

g

unsalted butter
Instructions
Preheat your air fryer if required

Add 375g sausage meat, 170g sage & onion stuffing mix and 1 egg to a bowl or dish that will fit into your air fryer

Pour over 425ml boiling water

Mix thoroughly and smooth the top of the stuffing

Cut 30g unsalted butter into slices and place them on the top of the stuffing

Set your air fryer to 170°C and put your dish in your air fryer. Cook for 20 mins

Increase the temperature to 190°C and cook for a further 10 minutes
Recipe Notes
If you are unsure whether the stuffing is cooked all the way through, test with a food thermometer for an internal temperature of 75°C.
Nutritional information is given as a guide only and may vary.
Nutrition Facts
Air Fryer Sausage Meat Stuffing
Amount Per Serving
Calories 211
Calories from Fat 144
% Daily Value*
Fat 16g25%
Cholesterol 62mg21%
Sodium 306mg13%
Potassium 125mg4%
Carbohydrates 1g0%
Protein 8g16%
Vitamin A 159IU3%
Vitamin C 1mg1%
Calcium 8mg1%
Iron 1mg6%
* Percent Daily Values are based on a 2000 calorie diet.