Crispy on the outside and soft within, these Roasted Air Fryer Parsnips are not only a great addition to any roast dinner but to so many other meals too. Simple and quick to make, air frying parsnips will become your new favourite way to cook them.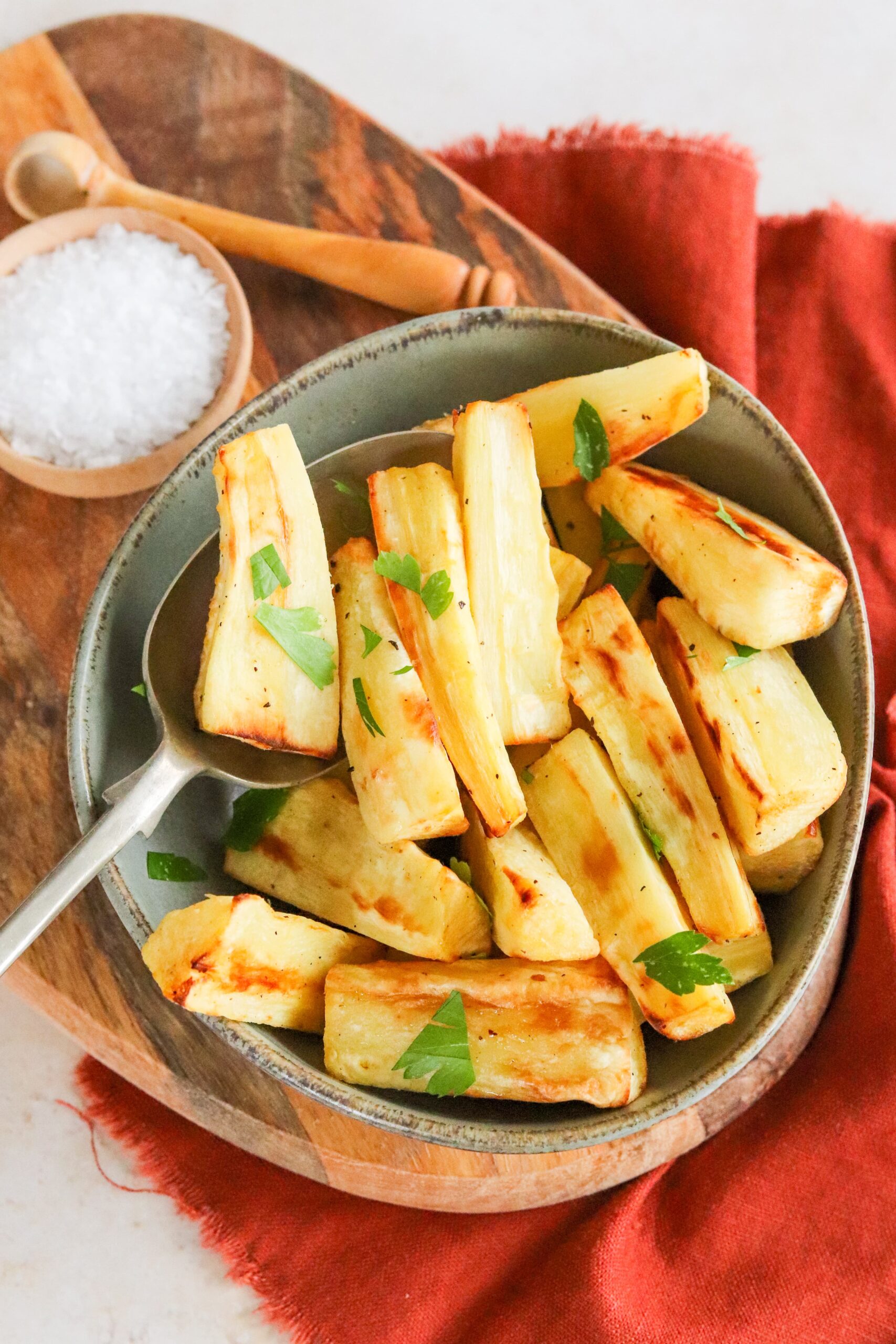 WHY USE AN AIR FRYER AND NOT AN OVEN?
Air fryers cook food quicker than a standard convection oven which is great for saving energy and pennies but also for busy families that want to be able to cook food quickly.
Another advantage is that air fryers are smaller than ovens and grills so you're not heating up a full-sized oven and instead a smaller air fryer. This means you're using less energy because you're heating up a smaller appliance as well as cooking the food faster.
I think air frying the parsnips gives them a more even cook which is harder to achieve in the oven.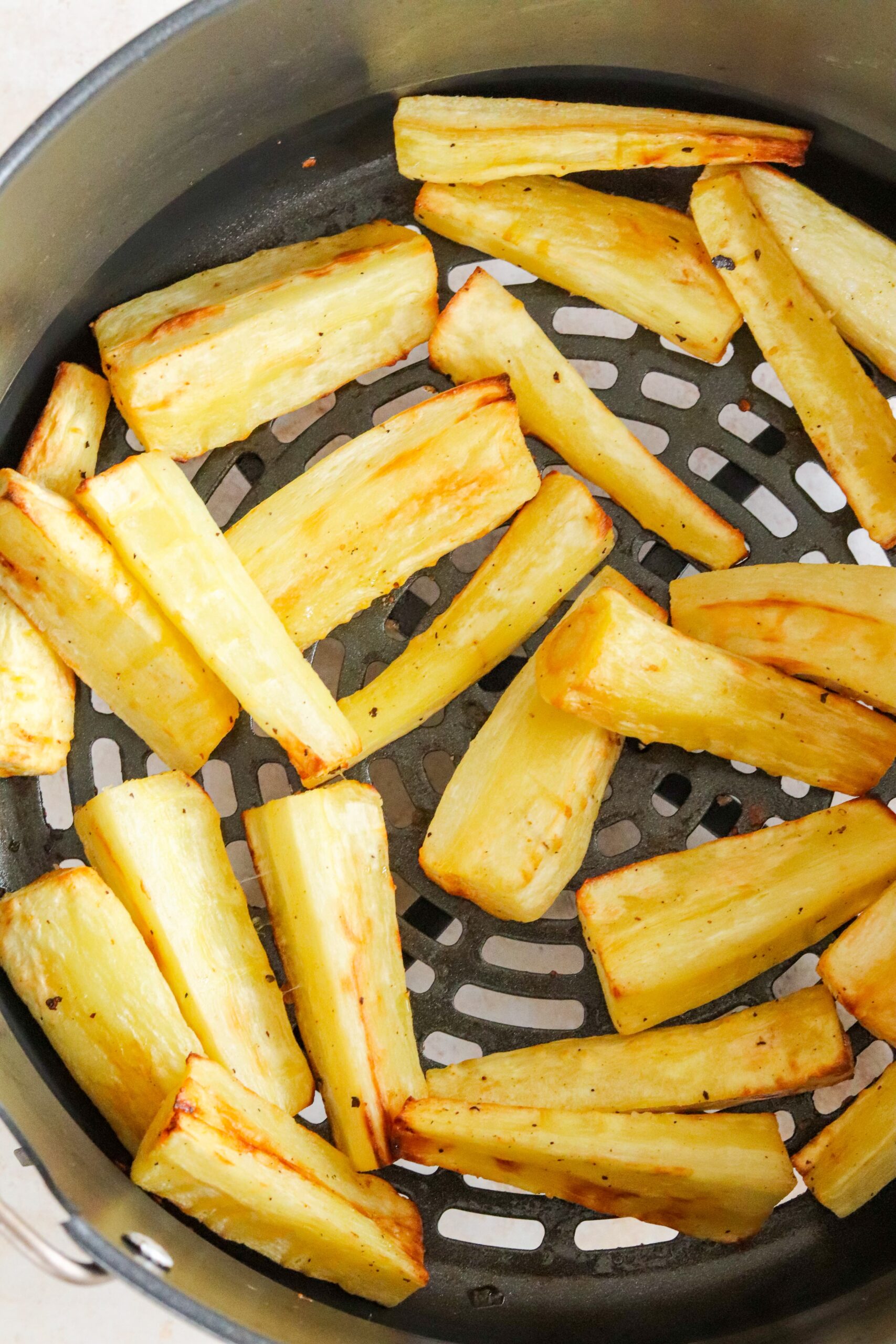 how to cut the parsnips
Parsnips come in all shapes and sizes, which isn't a problem until you want them to cook evenly. You can get some parsnips that are huge at the top and taper down into the smallest point.
Obviously a chunky piece of parsnip is not going to cook at the same time as a thin piece. So you just need to bear this in mind when cutting them.
If in doubt, leave them slightly bigger because I don't think there is anything worse than a burnt parsnip because they taste bitter.
It is worth noting that the time they take to cook might differ depending on what size you have cut them.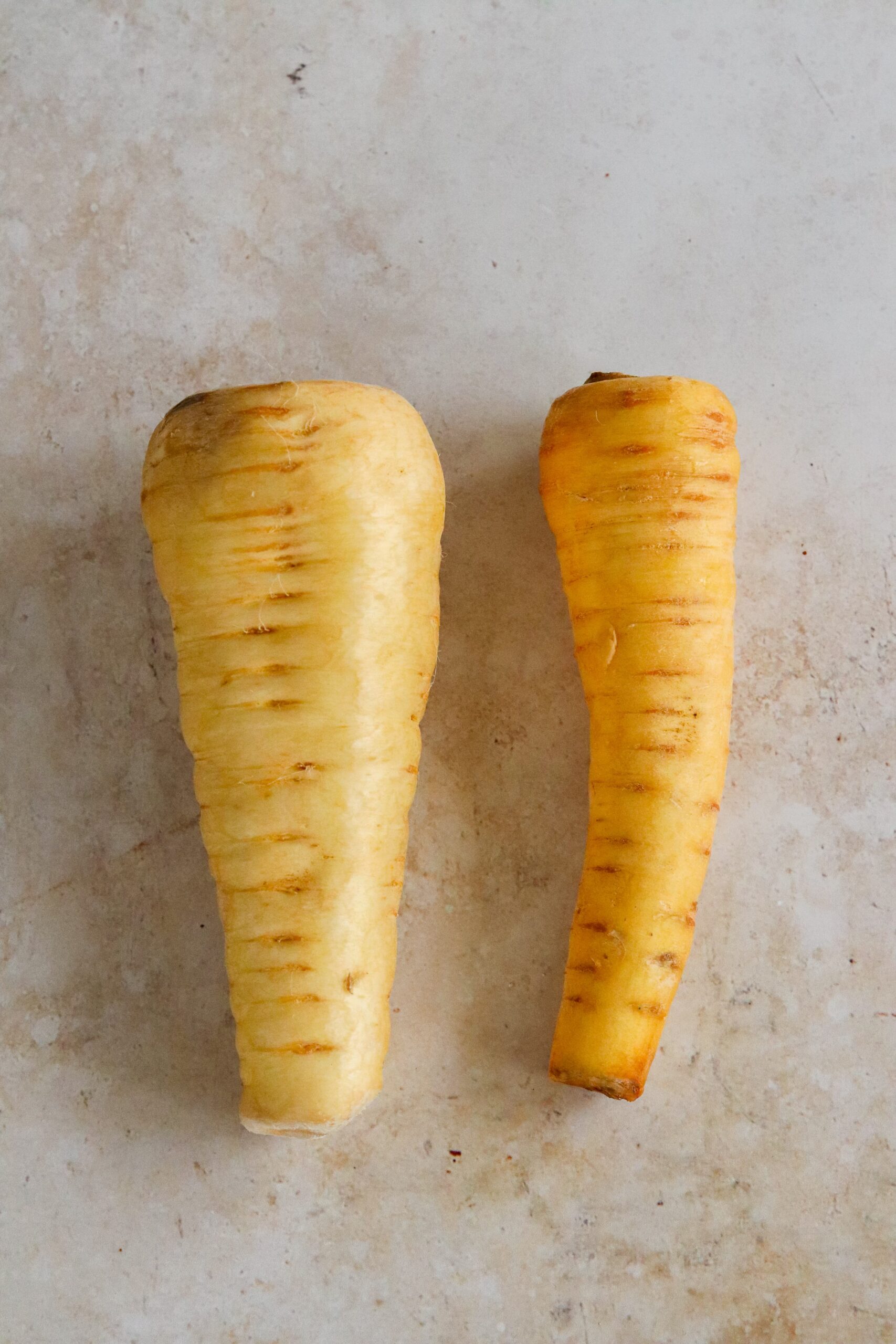 do you need to parboil the parsnips?
Like with my roasted air fryer carrots, I don't think you need to parboil these parsnips before air frying them.
I am a firm believer in making cooking as simple as possible and if an extra step doesn't benefit the final dish then I won't recommend doing it.
For example I think parboiling is essential with my air fryer roast potatoes and shouldn't be skipped. But if you were to parboil parsnips they would take less time to air fry, but you have spent that time parboiling them. And I still believe the outcome is similar.
If you would like to parboil your parsnips, please feel free. It might be one way to get ahead with meal prep for big events like Christmas and Thanksgiving.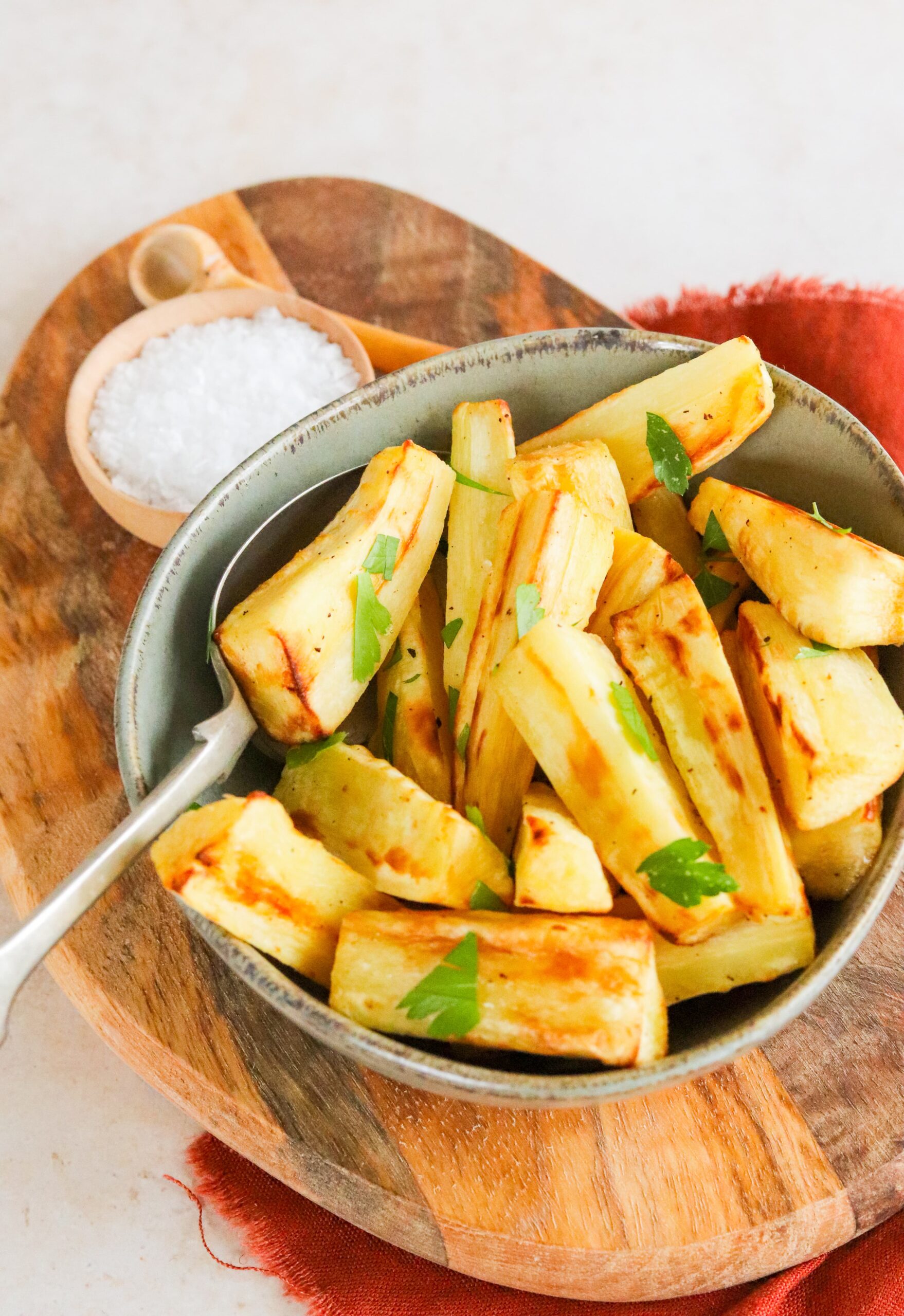 adding extra flavours to the parsnips
I have deliberately kept these parsnips simple in their flavours. This is so they can make a great accompaniment to most dishes without the flavours clashing.
You can of course add additional flavours to these parsnips. Here are some options you might like to try: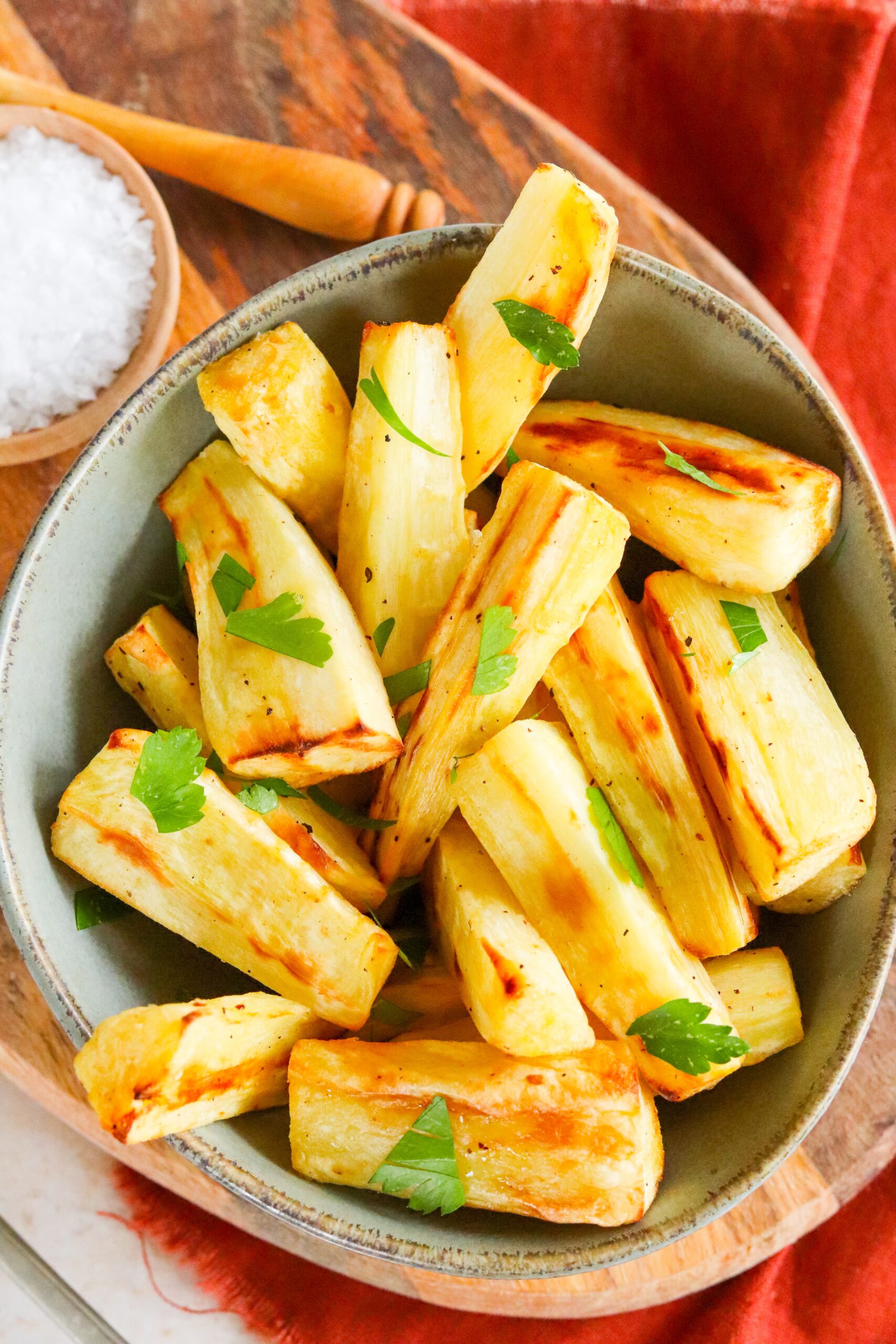 sweet options
Although parsnips naturally have sweetness, some popular ways of flavouring them are with honey, maple syrup or brown sugar.
If you would like to add any of these options to your parsnips, I would recommend adding them at least half way through the cooking time.
Sugary ingredients have a tendency to burn, especially when cooked at a high temperature. If you add them towards the end they will add their flavour without burning and becoming bitter.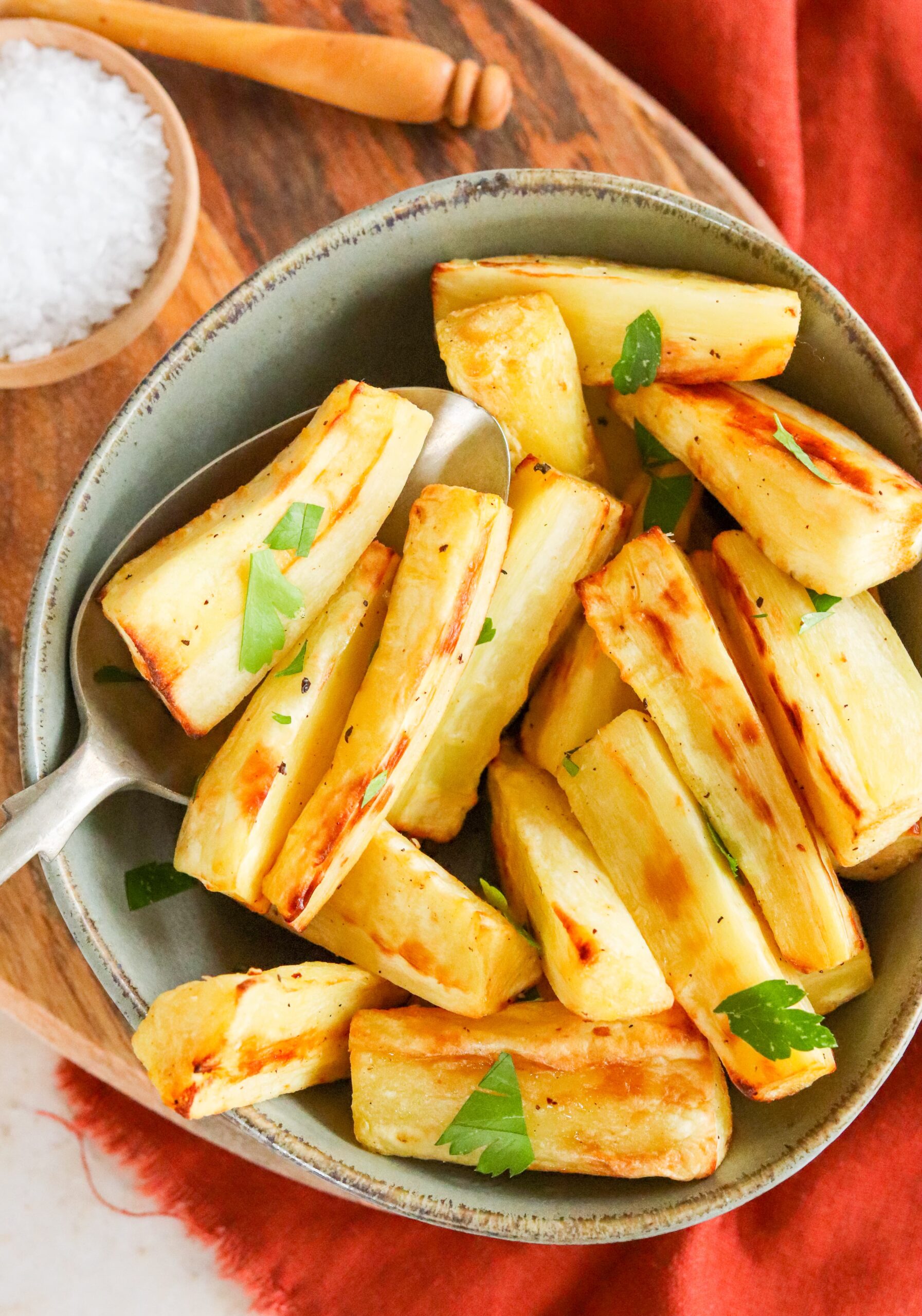 Herbs
Herbs are a great way to add freshness to parsnips. Parsley, sage and thyme all compliment the flavour of parsnips well.
You can use fresh or dried herbs. Dried herbs have a stronger flavour than fresh so you would need to use less.
You can add dried herbs at the start of the cooking however if you are using fresh I would add them half way through the cooking time.
spices
Due to their sweetness, spices work really well with parsnips. Ginger and nutmeg as well as spice blends like ras el hanout, za'atar and baharat would all be great additions.
Obviously the flavours you add depend on what you plan to serve the parsnips with.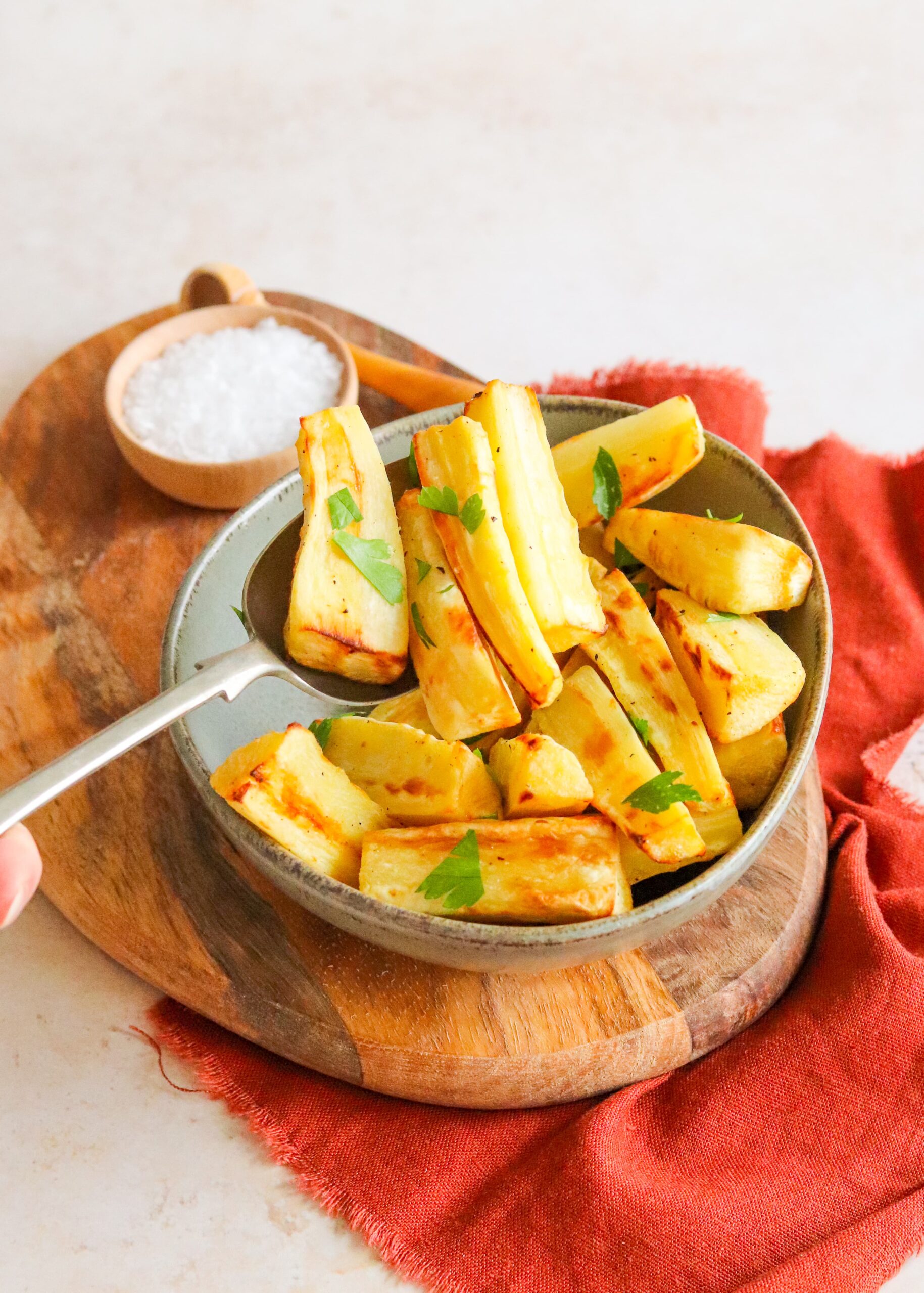 do you need to preheat an air fryer?
That depends on your air fryer, some require preheating whilst others don't. I have a Ninja 7-in-1 multicooker and I have never preheated mine.
If your air fryer does require preheating, check the parsnips a few minutes sooner than the recipe states. If your air fryer is warm, food is likely to cook a few minutes faster.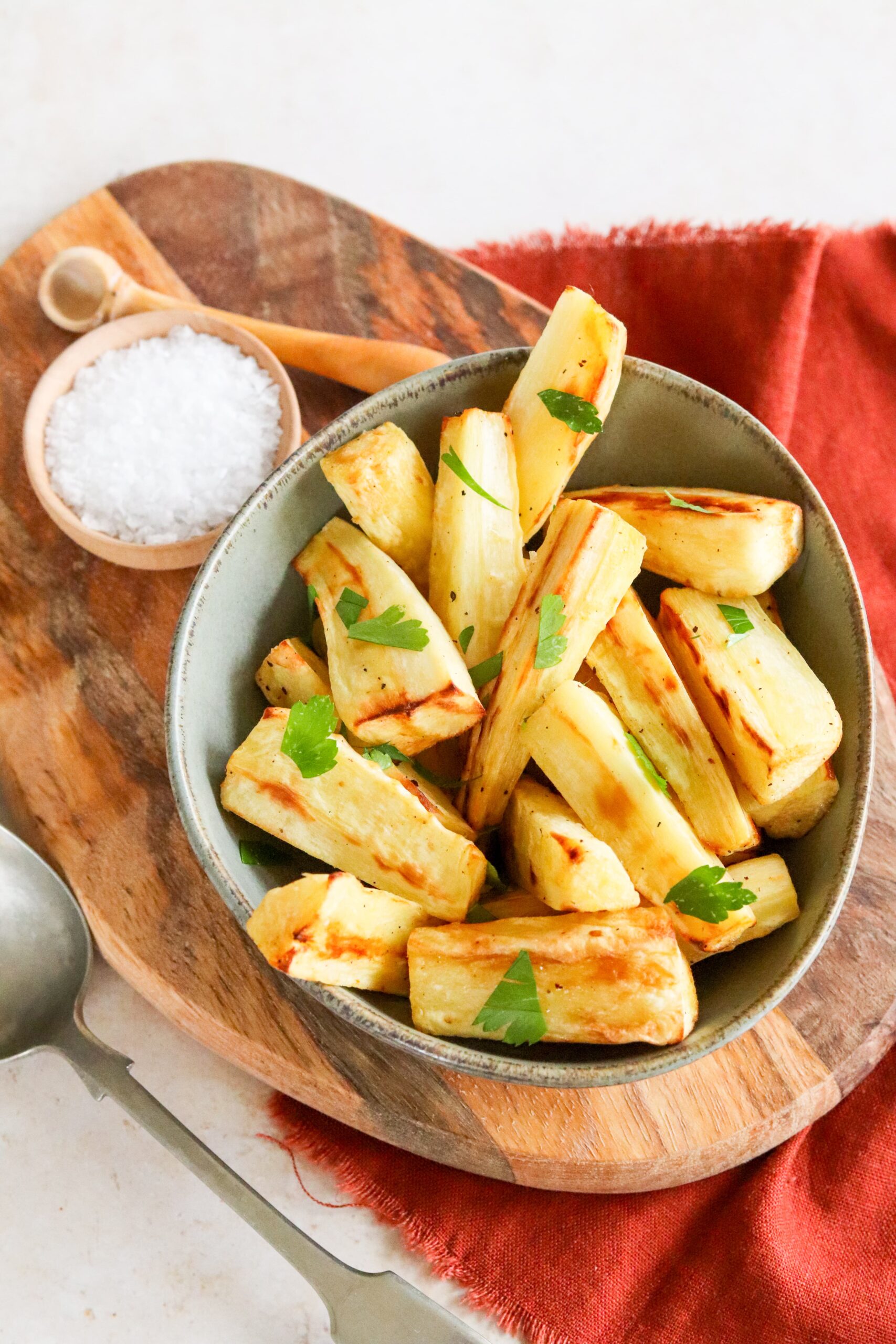 can you use an air fryer liner?
Air fryer liners are a great time saving addition because they are usually easier to wash than the basket of your air fryer.
Most reusable air fryer liners are silicone and although they are handy to have, I wouldn't recommend using them for all recipes.
I don't think there is much benefit using a liner for these parsnips but feel free to use one if you want.
I've written a whole post on whether you should use an air fryer liner, check it out for more information.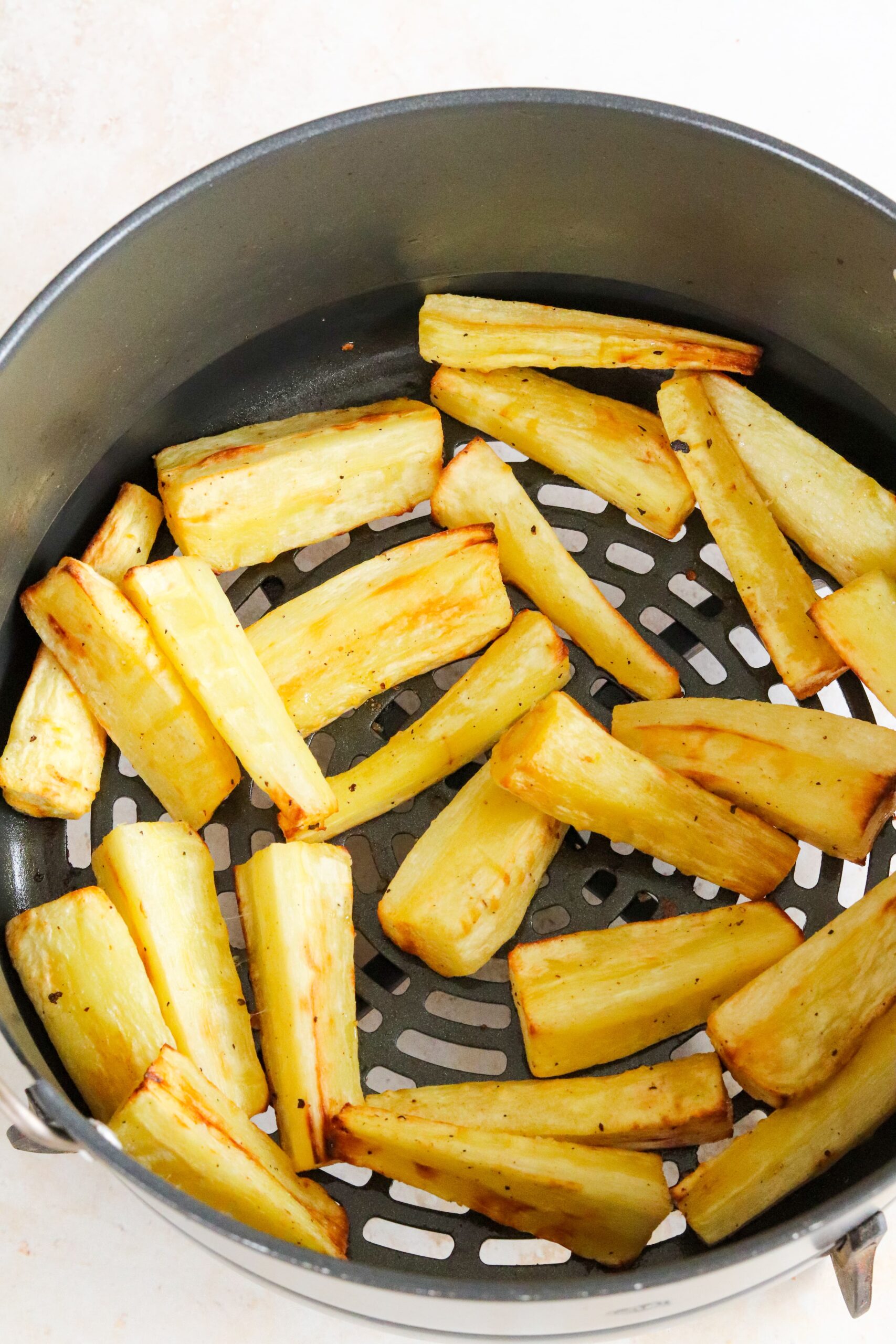 how to serve roasted air fryer parsnips
These roasted air fryer parsnips are very versatile and can be served with a whole variety of meals.
The most popular way to serve roasted parsnips is as part of a roast dinner. They would be delicious served with the following recipes:
You could also add them to my Za'atar Chicken & Couscous Salad which makes a lovely light meal.
Any leftover parsnips and other vegetables can be used to make Bubble & Squeak.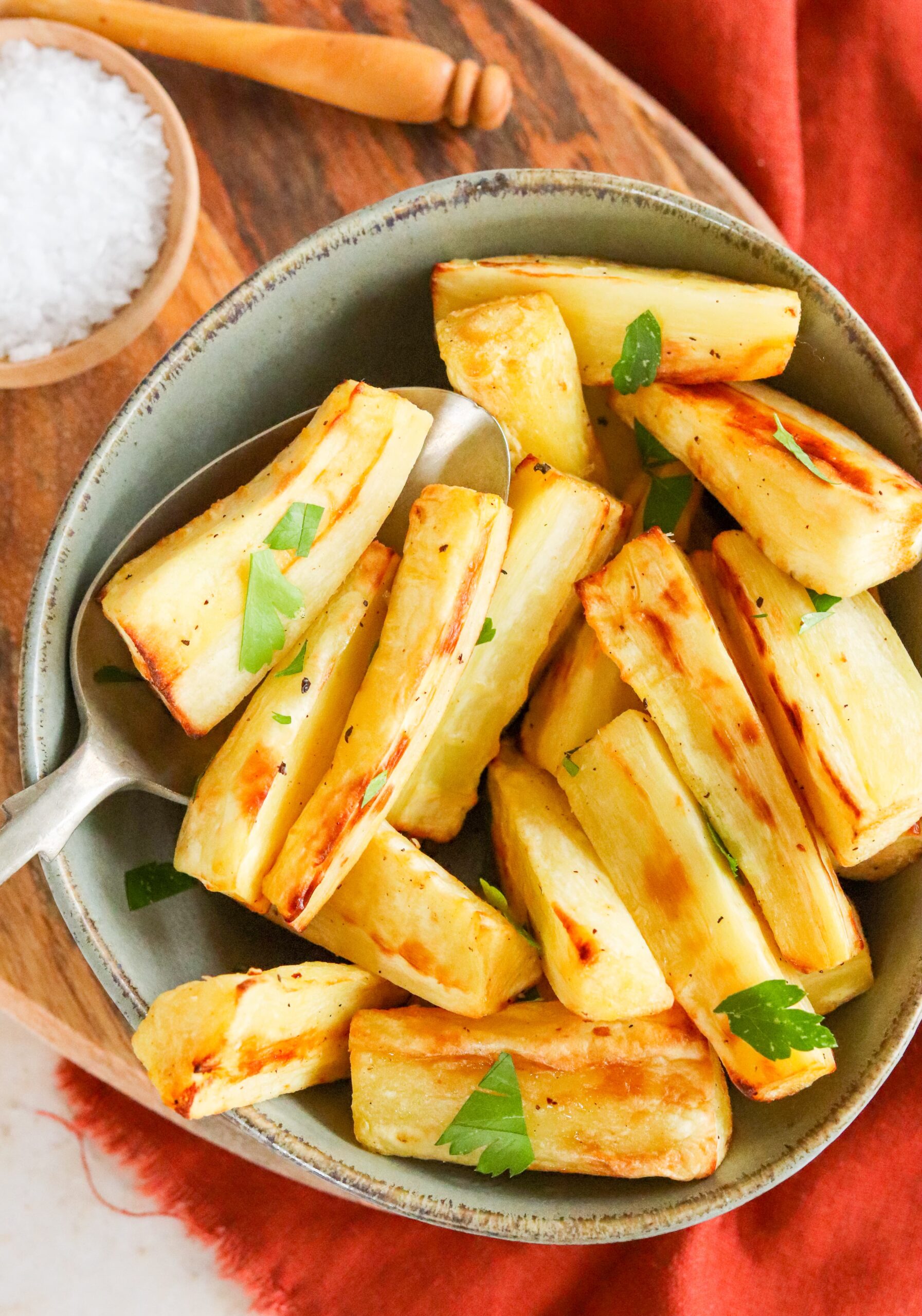 other recipes you might like
Pin for later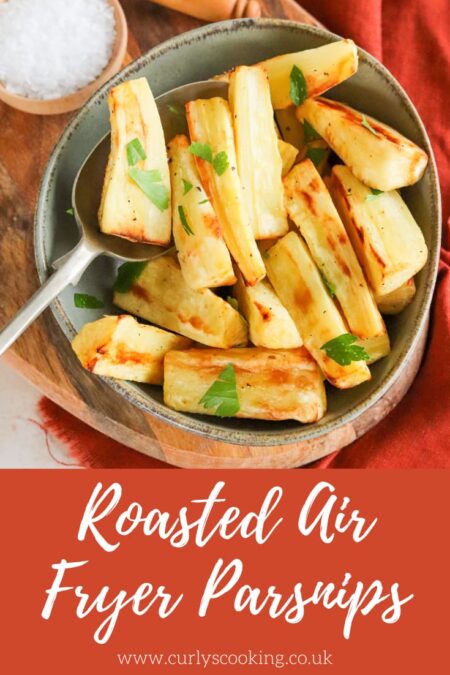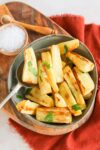 Roasted Air Fryer Parsnips
Crispy on the outside and soft within, these Roasted Air Fryer Parsnips are not only a great addition to any roast dinner but to so many other meals too. Simple and quick to make, air frying parsnips will become your new favourite way to cook them.
Ingredients
350

g

parsnips

1

tbsp

sunflower oil

1

tsp

sea salt

pinch

black pepper
Instructions
Preheat your air fryer if required

Peel 350g parsnips and cut them into as equal sized batons as you can

Add the parsnips to a bowl and drizzle over 1 tbsp sunflower oil, 1 tsp sea salt and a pinch of black pepper. Toss until all of the parsnips are coated

Tip your parsnips into your air fryer basket keeping them in a single layer if possible

Cook the parsnips at 200°C for 12-17 minutes, turning at least once.
Recipe Notes
Cooking time will vary slightly depending on the size you cut your parsnips. Try to cut the parsnips into similar sizes so they don't cook at different times.
Nutritional information is just a guide and can vary.
Nutrition Facts
Roasted Air Fryer Parsnips
Amount Per Serving
Calories 97
Calories from Fat 36
% Daily Value*
Fat 4g6%
Sodium 590mg26%
Potassium 328mg9%
Carbohydrates 16g5%
Protein 1g2%
Vitamin C 15mg18%
Calcium 32mg3%
Iron 1mg6%
* Percent Daily Values are based on a 2000 calorie diet.